Camping de Civray Review Contents This basic, rustic 1* has more than meets the eye
It's definitely not a 1* from us…
Perfect for a short break, Camping de Civray is a small, traditional pitch up and camp campsite. It's a 1-star site and is located in the Vienne region of France. For many, it's a stop-off location when travelling further south, but for others, it's a quiet escape to the country.
This is the second time we have stayed at Camping de Civray. The first was back in 2018 when we bought our house in France. We stayed in our tiny 3 man decathlon tent and roughed it!
This time, now that we have a baby, we stayed in our new Skandika Gotland 5 tent. We actually booked this campsite because it's local to us and as we don't have a garden, we needed somewhere to test our tent for a couple of nights. At 15euros a night, it was perfect!
The site has 40 camping emplacements, 12 mobile homes and four Safari-style tents.
Pros of Camping de Civray
The best basic site, there's a lot of pro's here
Cons of Camping de Civray
Every family prefers certain things about a campsite, so our "cons" could be on your "pros" list!
Check Availability And Book Camping de civray Today
Clicking the button below will open the providers website in a new window.
Heated Pool at Camping de Civray Review
The campsite pool is heated between 16 and 28degrees, and it's 11 meters by 7 meters. During our stay, because of Covid restrictions, they only permitted 14 people inside at any time. It's got a reasonable depth of 1.2meters, so it's great for older children but a little too deep for armband-less young ones. 
It's open for the same hours as the bar/restaurant, meaning it's open from 11 am until 10 pm. Baby and I took a quick dip in it during our second day, and I loved how warm it was. The only issue we had was that the children playing in the pool wanted to play with our baby and ended up crowding around us a bit too much.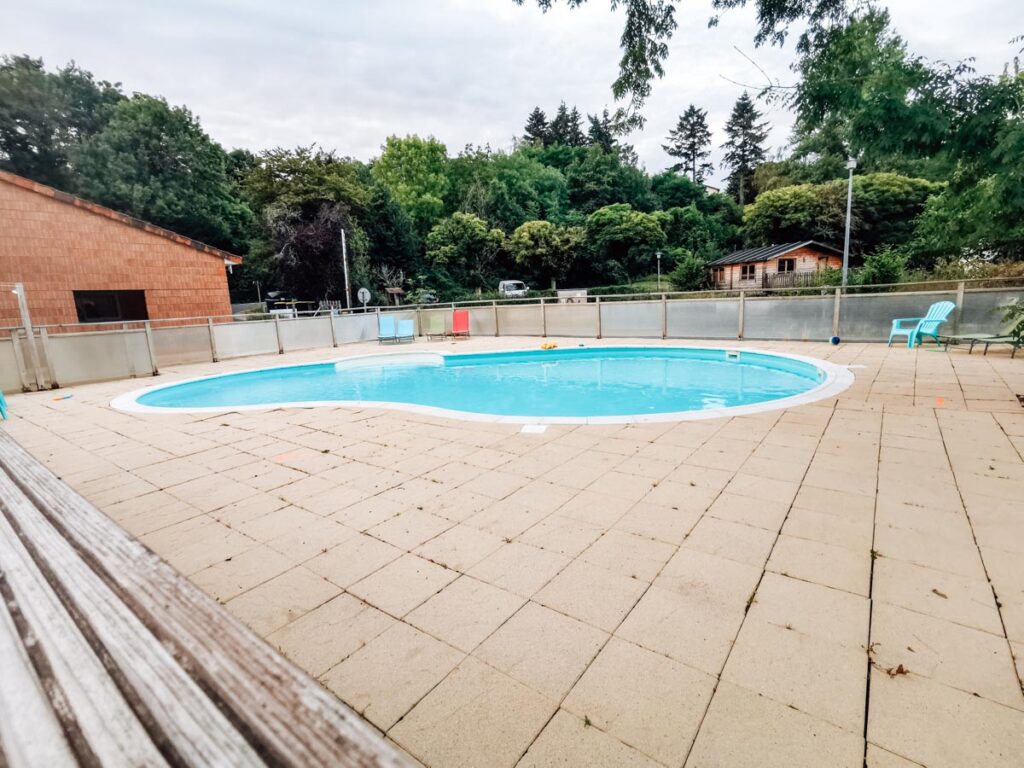 The campsite borders along the River Charente. A river that is popular with both Fishermen and Canoeists. You can do both, right from the campsite. There is a fence between the site grounds and the river, however, there are gates to allow people entry to fish right next to their emplacements.
Campsite Facilities Review
This campsite, although very basic, has everything you could need for a short break away with (or even without) children. There's pools, parks, a bar/restaurant and a supermarket nearby. It's the ideal site for an escape to the country.
Check in was easy. We booked the same day online and received an email within the hour to say our booking was confirmed and that they would see us later. The reception was behind a window near the car park and Clotilde, one of the owners, checked us in.
Clotilde speaks amazing English so don't worry too much if your language skills aren't great. However, I always think it's polite to at least give it a go (even if you sound like Joey from Friends).
There are loads of fun activities at the campsite. We saw families doing Archery, playing petanque, football, ping pong and badminton all on the campsite grounds. Equipment can be hired from the reception/bar and is disinfected between customers.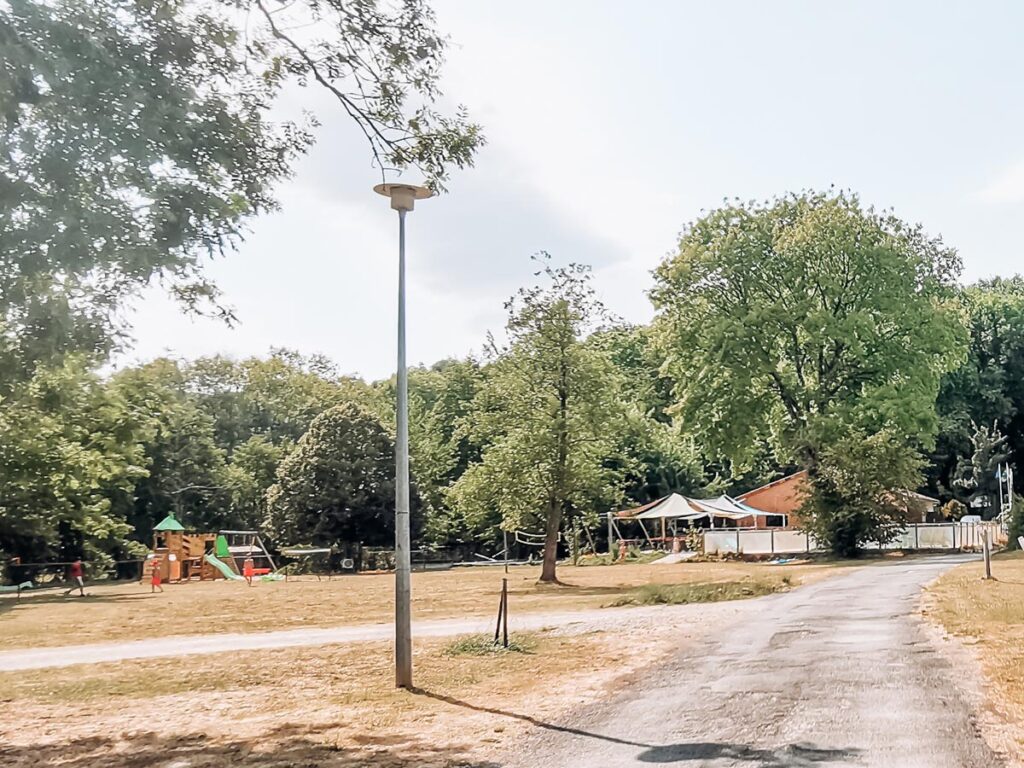 The campsite has installed their own play area with climbing frames, swings and slides but there is also a larger play park just across the river  with ziplines, a football pitch, see-saws and more. There's even a mini golf area, and I think you can hire that equipment from the campsite too.
Bars, Restaurants and Takeaway Review
We discovered that the campsite has live music at the bar/restaurant on Tuesday nights so decided to make the most of it and have dinner there. The entertainment was some singers/musicians, a little cheesy but all good fun. They came over and sang to the baby, which she loved.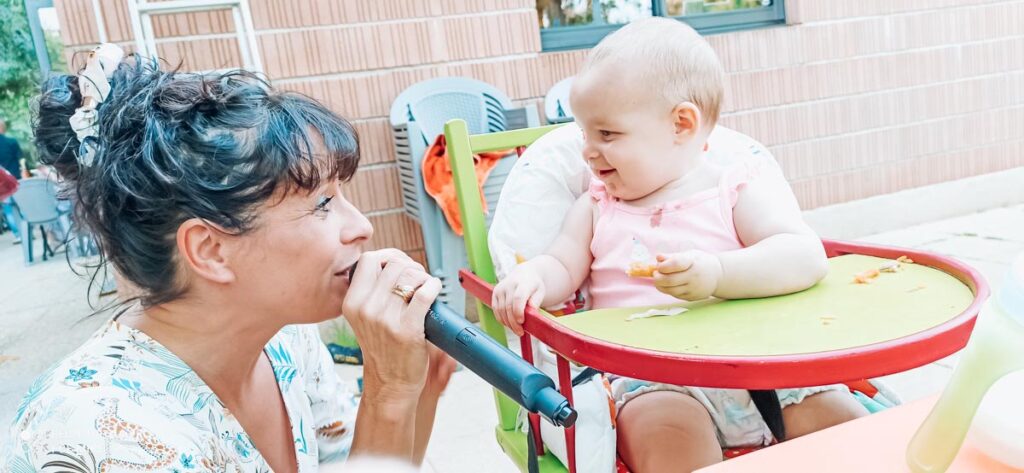 Our food was good, not gourmet luxury, but definitely more than expected for a 1* campsite. There was a good selection of foods and drinks on the menu and everything came promptly.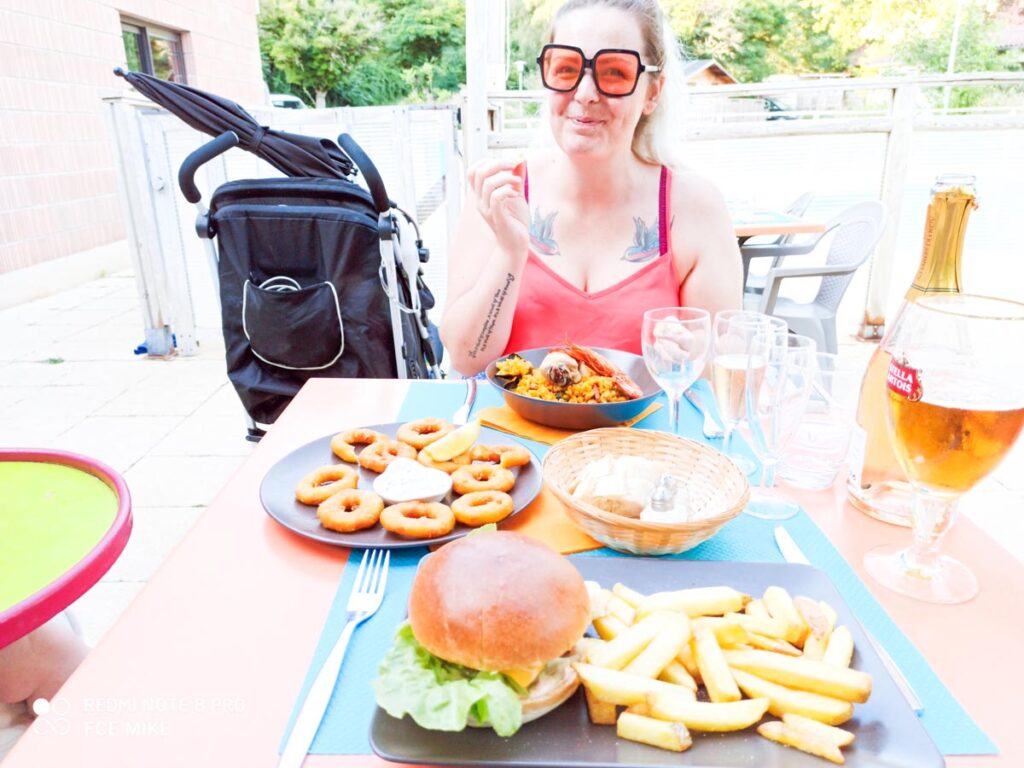 Review of the Other Facilities
WIFI is available at the campsite at the cost of 3euros a day but as we had good 4g signal, we didn't need to use it.
Pets are allowed on the campsite. It says dogs are allowed on the website, but we saw a family with their cat at their campervan as well as a dog, so I assume they can come too.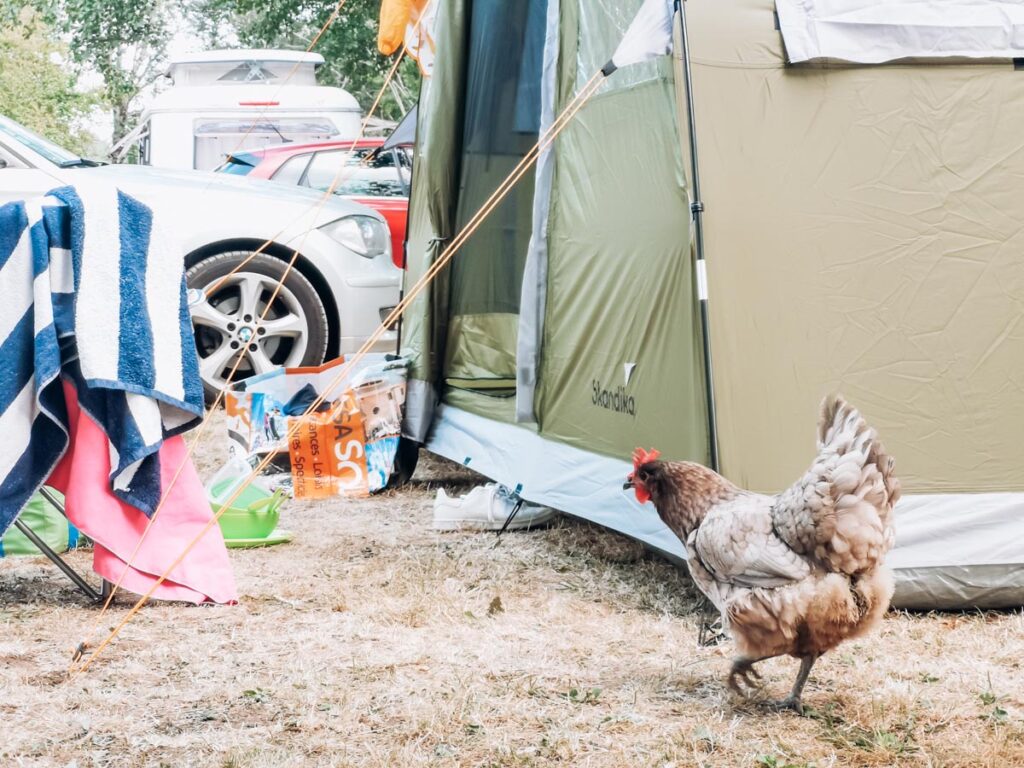 The campsite also has its own animals roaming. We saw 2 hens strutting around the site and just behind the gate to the river were 4 goats and 2 sheep. They seemed to enjoy doing loops around the campsite. The baby absolutely adored them and I imagine many other children do too.
Shower Blocks and Laundry
As we camped, we used the toilet blocks regularly. They're very basic but more than clean enough. The showers have a push button that lasts for around 30seconds a time and they were always warm when we used them. Remember to bring your own toilet roll.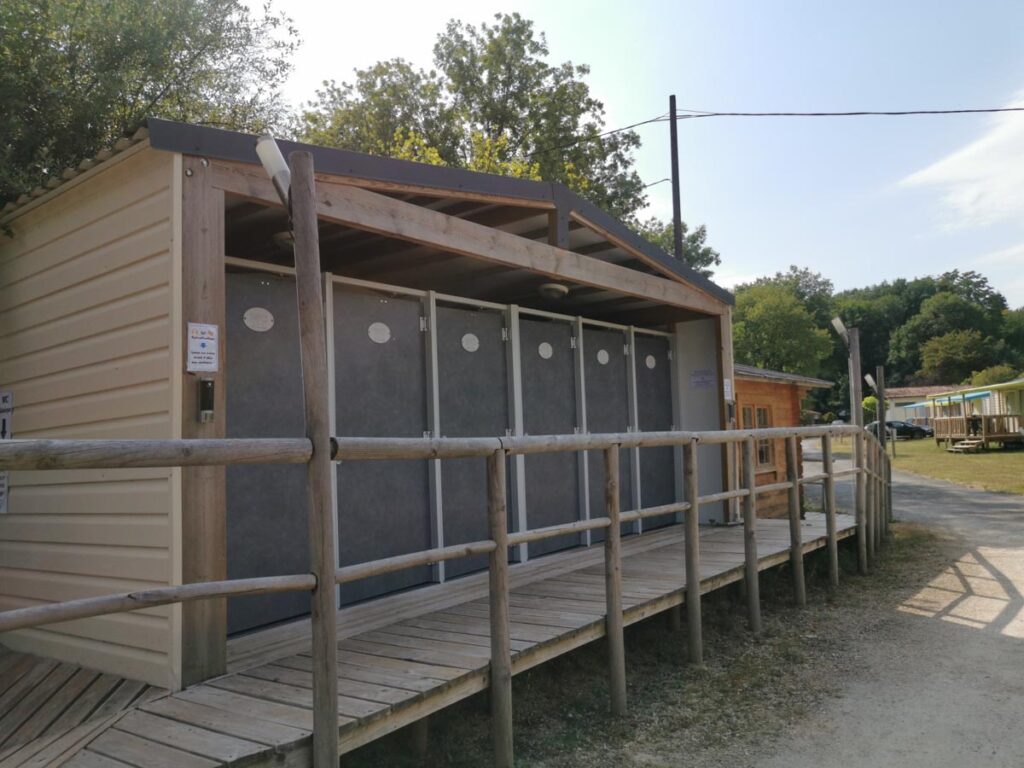 The showerblock is cleaned once in the morning, but there are signs up asking you to leave the shower room how you'd expect to find it. There is a squeegee to be used after your shower and plenty of hand sanitisers outside the block. 
Accommodation at Camping de Civray
Camping de Civray has 40 camping emplacements, 12 mobile homes and 4 Safari style tents. You can book a basic pitch without electricity or with electricity for 3euros extra per night. We booked a basic pitch because so far, our camping kit consists of a tent and an airbed. Maybe next time we would add electricity.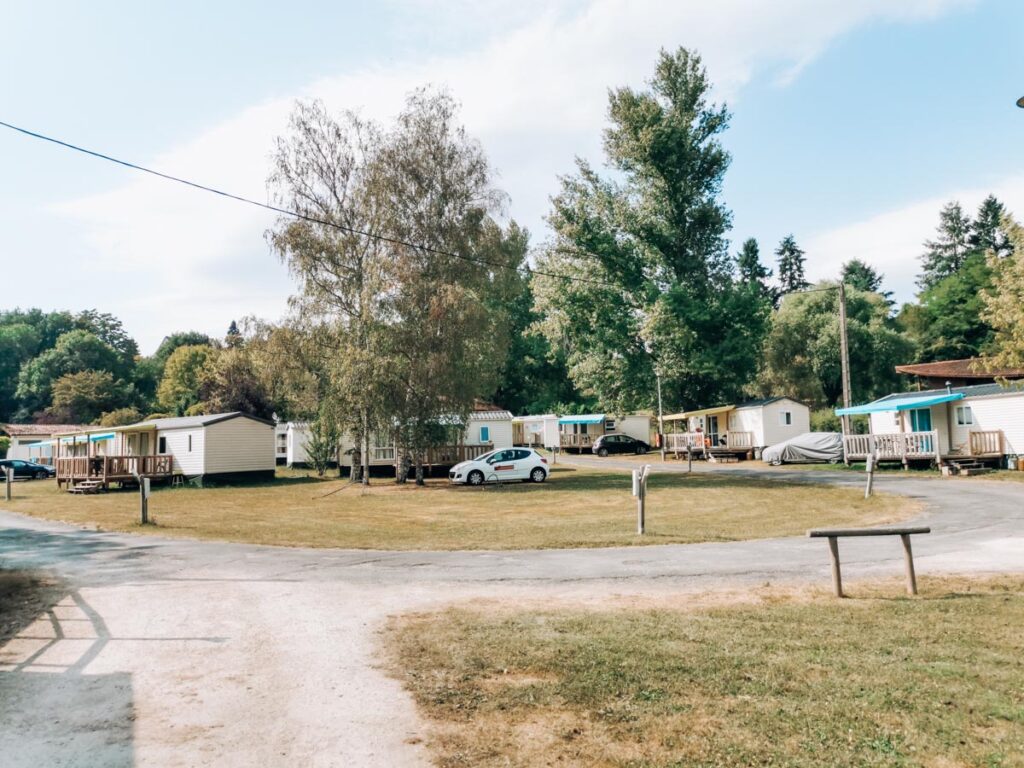 As the site was quite quiet, we were instructed to pitch up wherever we liked so we chose a nice shady spot by the river. Most of the campsite is quite shaded but you can definitely find an area to suit you whether you like the shade or the sun.
Other accommodation options include mobile homes and the Safari style tents. The mobile homes have recently been refurbished but I'd probably pick the tents over them for a unique trip.
Do You Need a Car to Get Round?
I would say, yeah. This part of France isn't very modern when it comes to public transport and you'd struggle to get around otherwise. The supermarket is within walking distance but to visit anywhere else you'd definitely need a car.
How to get to The Campsite
Driving would be our favourite option, but you could also fly and hire a car.
If flying over then definitely, 100% hire a car.
The closest ferry port is St Malo however, it isn't that much further to go to le Havre or Dieppe for a cheaper crossing.
Address: Route de Roche, 86400 Civray
GPS Coordinates: 46.158295, 0.301638
Day Trips from Camping de Civray
We live locally so know of quite a few places to visit during your stay at Camping de Civray
Frequently Asked Questions
Are the Pitches close together?
We had lots of space between us and the other campers. The campsite was pretty tranquil when we stayed.
Are there mosquitos at Camping de Civray?
No. This region doesn't really get them that much.
Is it easy to get a sunbed around the pool?
There were only a couple out while we were there but nobody was using them. I imagine when busy it may be harder.
Do men have to wear swim trunks?
I'm not sure. Everyone was wearing them in the pool, but they were all French, so I'm unsure how much it is enforced here. I advise buying a pair of speedos or jammers in the UK for "just in case" and if you don't end up needing them, you can take them back when you return.
There is a communal bbq area in the center and the mobile homes we saw all had charcoal bbqs provided. 
What's the weather like in Spring/Summer?
Amazing! The Poitou-Charentes region is renowned for being one of the sunniest regions in France.
Can you park on your pitch/Emplacement?
Yes, there seemed to be no problem with parking at your emplacement.
Can you take pets on the campsite?
Yes, and it's free to do so. Just make sure you clean up after them.
Where's the nearest supermarket?
The local Intermarche of Savigne is a 15-minute walk away. 
Is It Loud In The Evenings?
Only when there is entertainment on. I think Tuesdays are the only nights with live music.
What Can We Do If It Rains?
There is a cinema in the town of Civray which provides mainy films in "version original" but you may need to check beforehand. There's also lots of nice cafes in the local villages where you can drink coffee and watch the world go by.
Camping de Civray Review Conclusion and Summary of Stay
We had a lovely 2-night stay at Camping de Civray. For the price of 15 euros a night on a campsite with a heated pool and bar, it can't really be beaten!
The grounds are lovely and green, with plenty of trees for shade and it's in the idyllic Poitou-Charentes countryside.
Location wise it's perfect, not just for us being local, but for families travelling across the country. It makes a great stop off campsite.
We loved the atmosphere. The owners are friendly, and the restaurant is a great space. For a small, basic campsite this wins the 5* from us.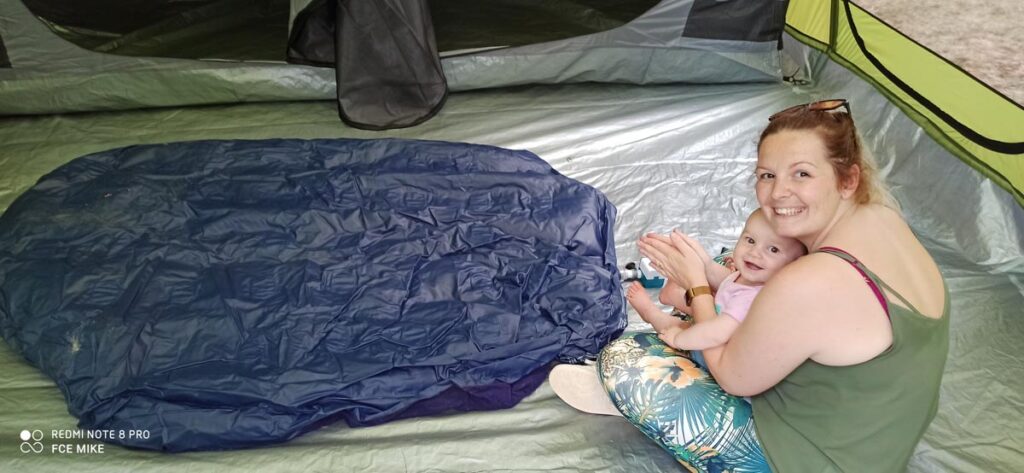 Check Availability And Book Camping de civray Today
Clicking the button below will open the providers website in a new window.
If you liked this Camping de Civray review, don't forget to share it with your friends and family.