Premium Cottage (6 people) At Camping Natureo
Check Availability And Book This mobile home Today
Clicking the button below will open the providers website in a new window. A Lovely Cottage with spacious living space
This accommodation is perfectly suited for those who love hosting
Camping natureo 6 Person cottage
Pros of The Premium Cottage at Natureo
We've stayed in a lot of places and, this was definitely the best equipped
Cons of The Premium Cottage at Natureo
There's little to complain about here!
Tour Of The Natureo premium cottage
This mobile home had loads of hidden quirks which you can read about here – or head to the end of this written tour to find our video tour.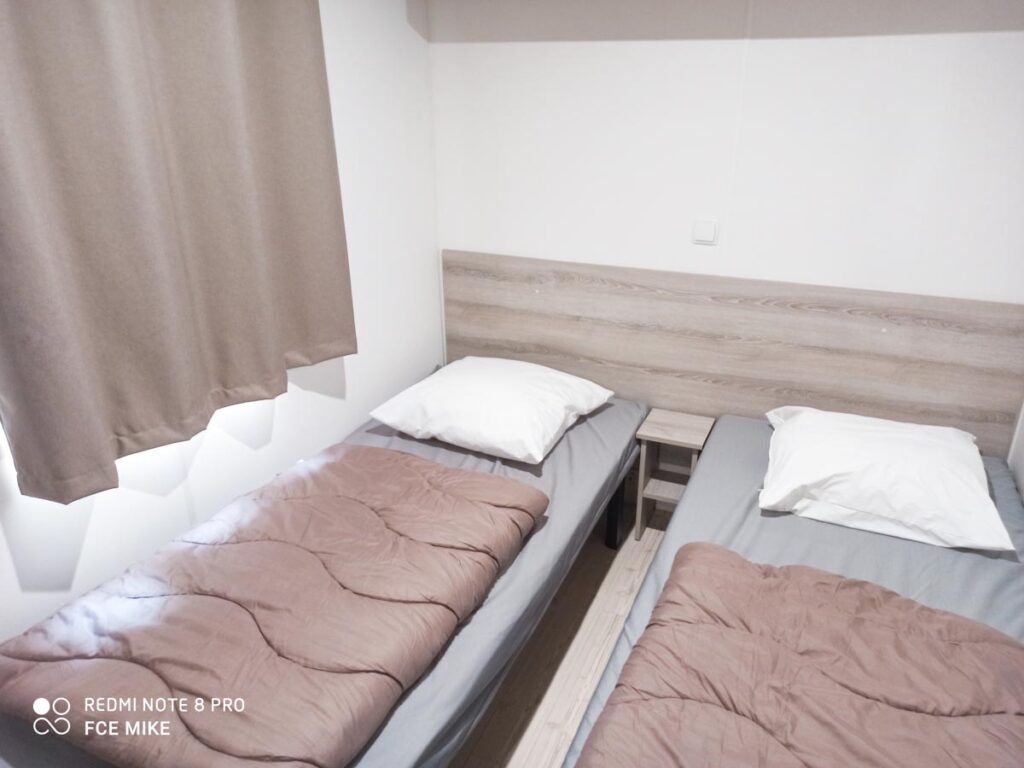 This 6 person cottage has 2 almost identical twin rooms perfect for larger families. In our cottage, the room on the left was a standard two bed with fixed frame beds whilst the second room had the handy fold-under-bed. This meant we were able to fold it under and make room for the travel cot provided by the campsite (at a small fee). But not only did it make space for a cot, once the bed was removed, there was also a cool foldout desk table.
Otherwise, both the rooms were the same. They came with a plug socket each as well as 2 USB sockets, A small nightstand, and an electric heater. The rooms both came with wardrobes and overhead cupboards with sliding doors, so there's no need to worry about storage space.
Both pillows and duvets were provided to us. However, they were the standard French square ones, so we took our own. In each room, we had mirrors as well as large windows with outside blackout shutters.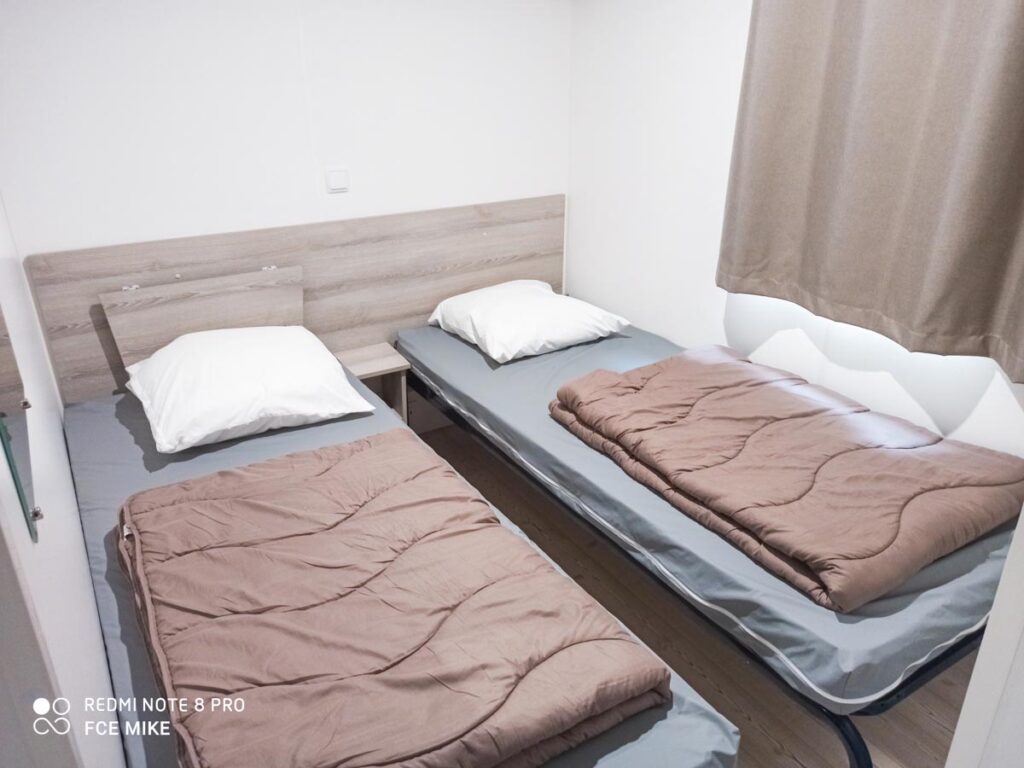 Blackout shutters

Foldout desk

Fold under bed

Duvets and pillows

Storage space

USB Sockets

heater
Our double room in this 6 person cottage was probably the smallest room we have ever stayed in. Whilst it was an excellent room, with a huge queen-sized bed, there really wasn't much room for anything else. Personally, I'd take a smaller bed for a bit of walking space, especially when you consider that they've also crammed in an ensuite and fitted wardrobe.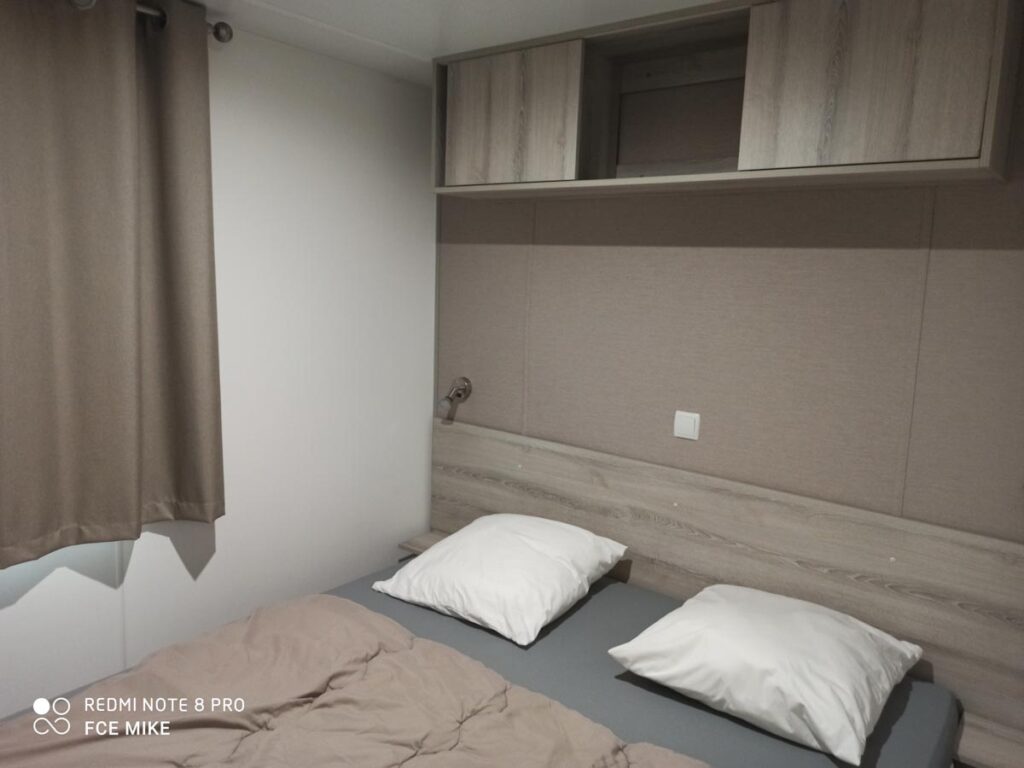 Like the twin rooms, the main bedroom also comes with USB sockets, normal EU sockets, an electric heater, blackout shutters, a mirror, nightstand, sliding overhead storage and of course the duvet and square pillows. Extra perks included the reading lamps, en suite and built-in wardrobe.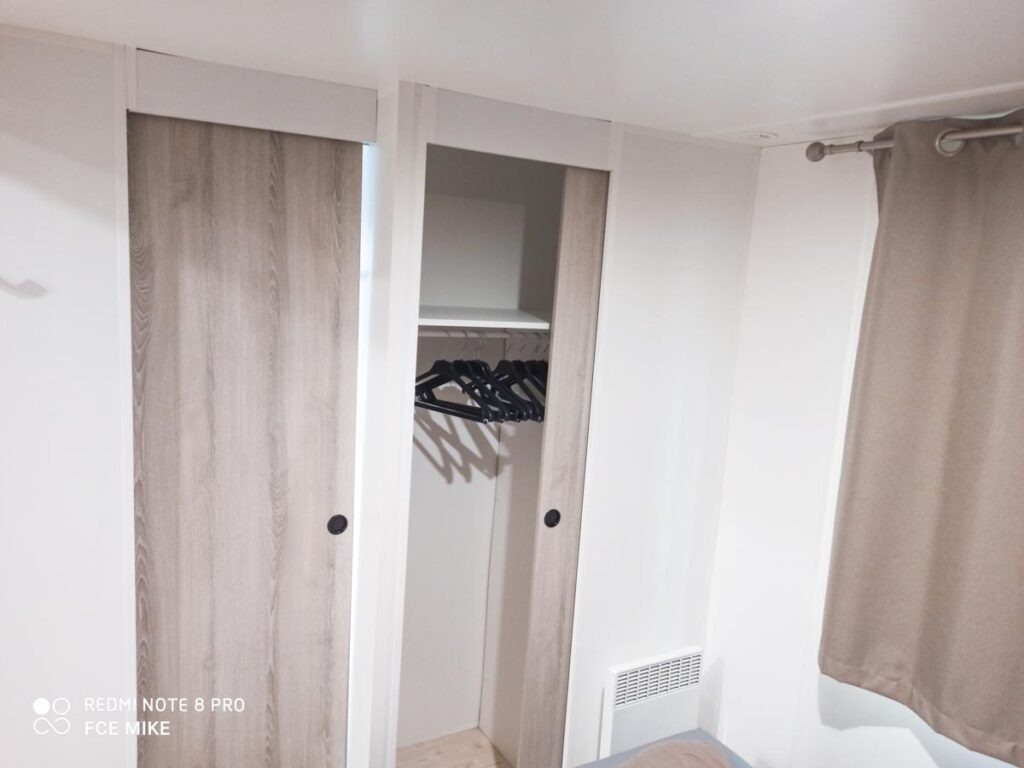 Built in wardrobe and overhead storage

USB sockets

Ensuite

Queen size bed

Heater

Duvet and pillows

Blackout shutter
Ensuite and Main Bathroom
The large cottage comes with 2 bathrooms. There's an ensuite attached to the main bedroom as well as a family bathroom situated at the other end of the mobile home. The ensuite contains a shower, toilet and sink whilst the family bathroom has a shower and sink in one room, and the toilet is opposite in a separate room.
The family bathroom was slightly more spacious; however, for the sake of convenience, we only ever used the en suite bathroom. Although, it really wasn't spacious and we found ourselves heading into the equally unspacious bedroom to get dressed in.
The bathroom had an electric heater which is quite handy when the weather is cold, and you don't want to get out the shower, but I don't remember seeing any shaving sockets.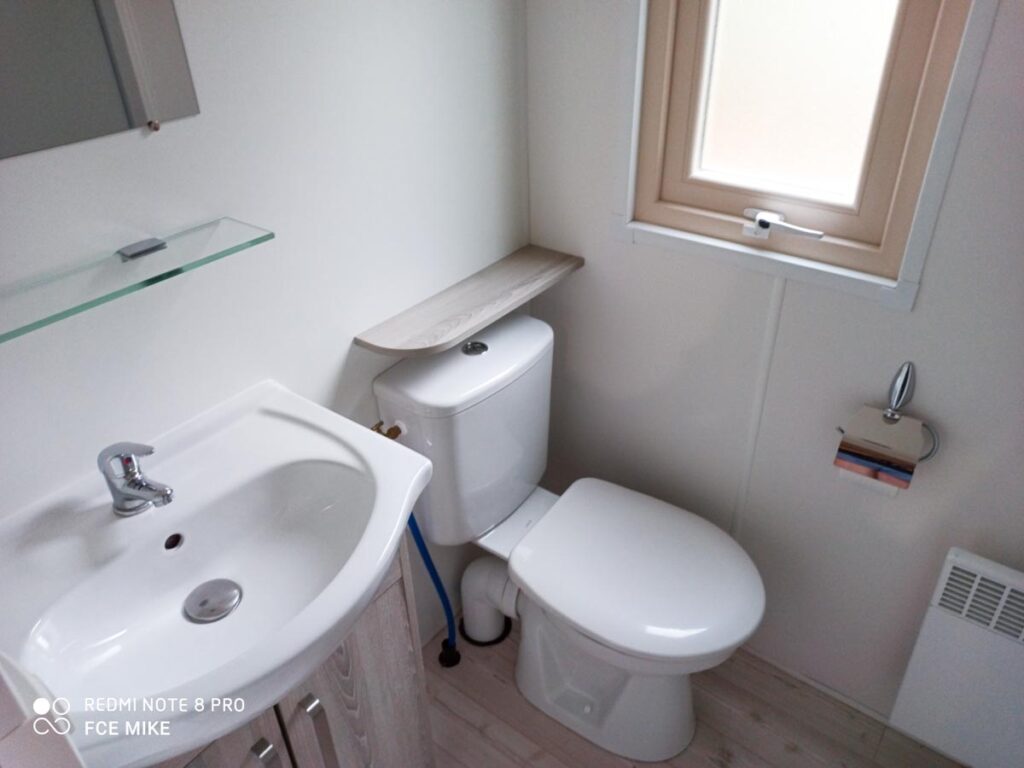 2 bathrooms

Separate toilet

Heater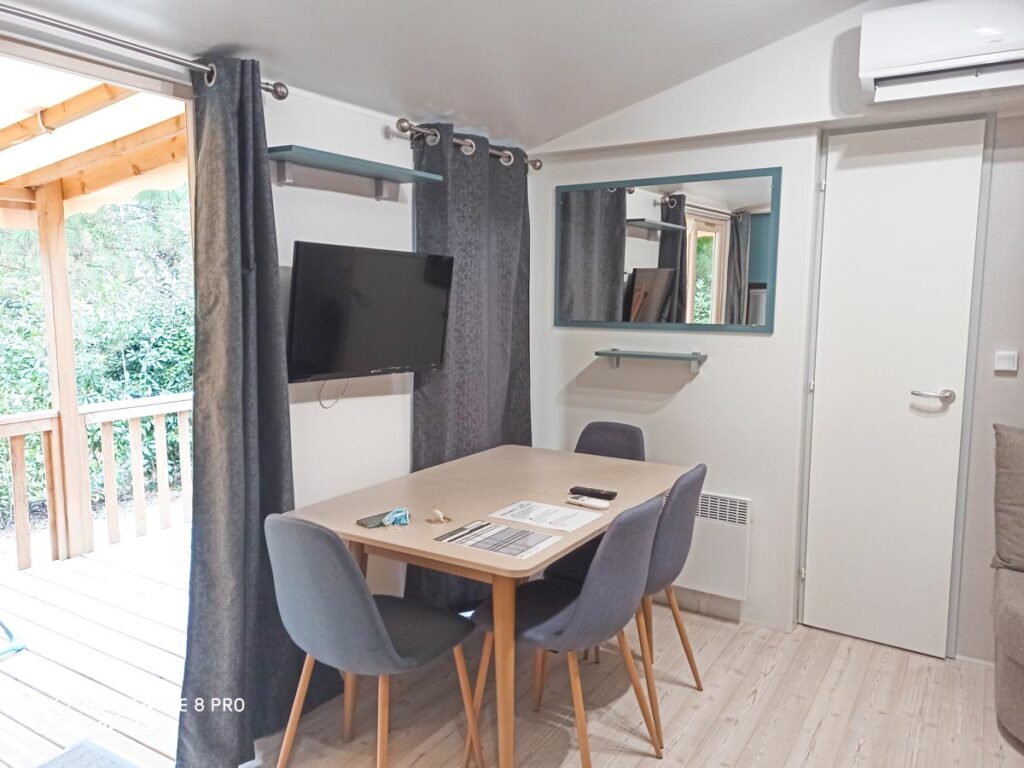 This mobile home is focused on the living space. Prioritised over the rest of the cottage, the living room is massive. The sofa could fit a whole family, and the dining table is long, there's a TV and a Bluetooth soundbar. It's very well equipped, just like the rest of the mobile home.
Like the bedrooms, there are plenty of USB sockets as well as standard EU sockets. The soundbar even comes with a few extra USB sockets too. There's air conditioning, an electric heater, large mirror, overhead storage, under sofa storage and there's also a pull out sofa bed.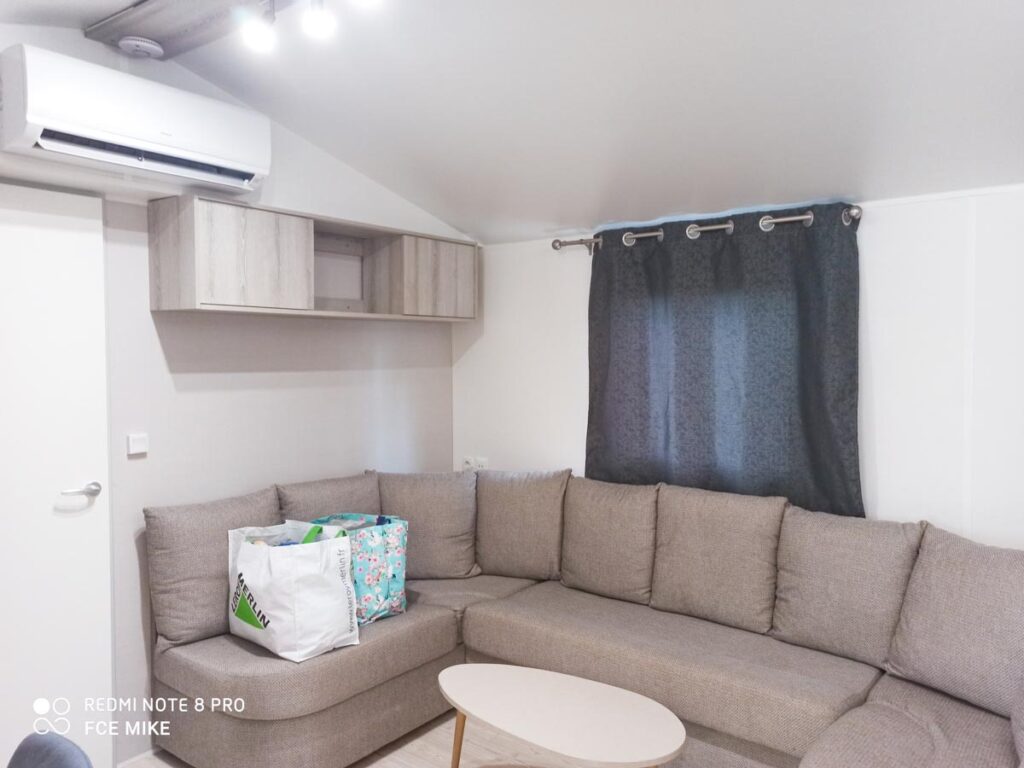 The sofa is made of a nice cosy fabric, and there're plenty of cushions for your comfort, or in our case, for baby throw around and climb on. Whilst comfier though, fabric sofas can hold onto more dirt and stains. Being a beachy campsite at the end of our stay, we were shaking so much sand out of the cushions. It's something to consider when you are cleaning at the end of your stay to get your cleaning deposit back.
TV

Bluetooth speaker

Large fabric sofa

Sofabed

Storage space

USB sockets

Air con
The super well-equipped kitchen not only comes with a dishwasher but a washing machine as well. We couldn't believe it when we opened the cupboard door to see that inside. It's not very large, but it was way more convenient than heading to the campsite laundrette to get the washing done.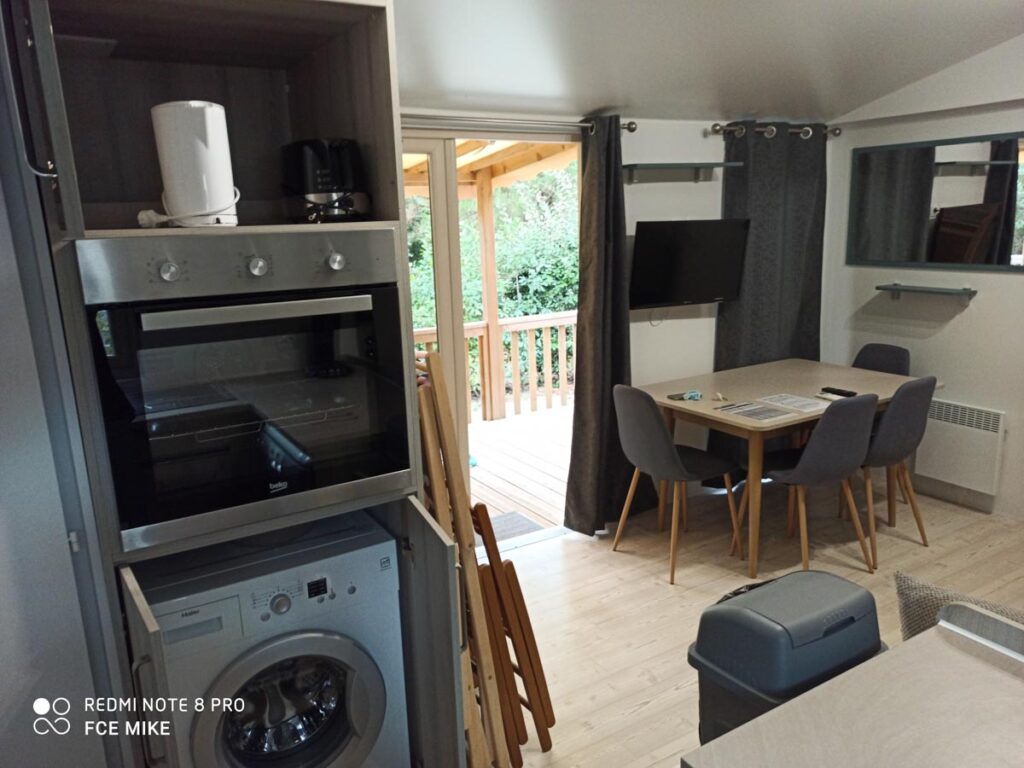 There's also a coffee machine, microwave, kettle, toaster, oven, fridge and so much inventory. It was quite possibly the most well equipped mobile home we have ever stayed in. 
We loved that it was a social kitchen in that you could chop your vegetables whilst still seeing/speaking to the people in the living area and we really enjoyed cooking in it. I loved having an electric hob instead of the usual campsite gas hobs, and the oven was really high out of baby's reach.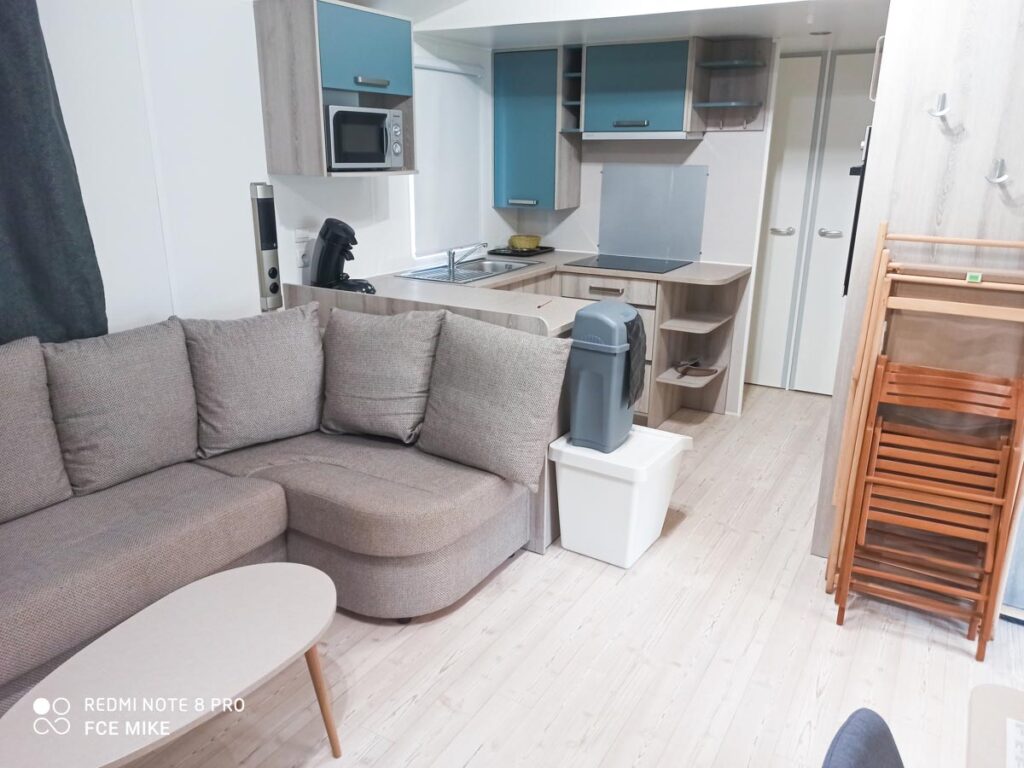 Washing machine

Dishwasher

Coffee machine, toaster, kettle

Electric hob

Plenty of storage space

Very well equipped
The outside space of our 6 person cottage was great. We had a large decking which was mostly covered by a canopy, a large outdoor table, chairs, deck chairs and an airer. The patio doors from the living room open onto the decking, making a lovely indoor/outdoor space, and there was a good outside light for evening eating. There's even an outside plug socket if you wanted to use a laptop, listen to a stereo or add some extra lighting.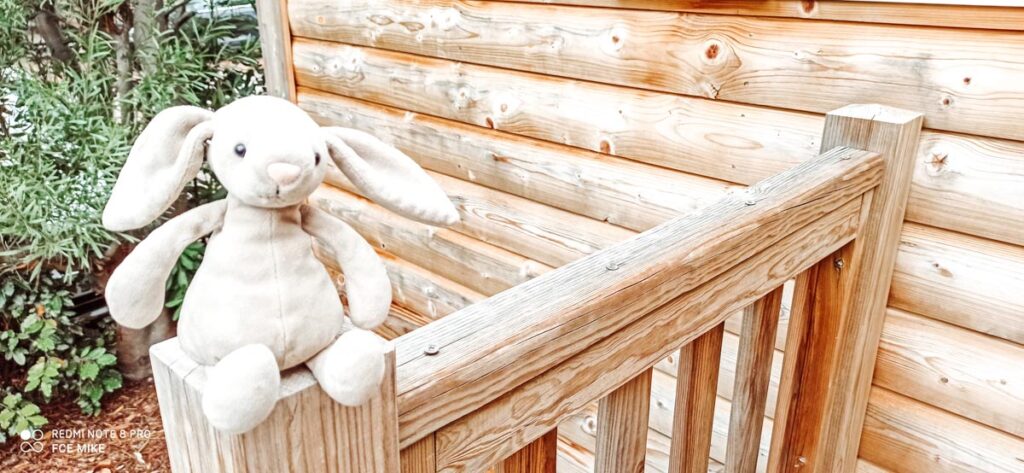 We enjoyed our outside space even during rainy evenings. The canopy kept us nice and dry, and in fact, the sound of the rain was very atmospheric. The only complaint I have about the outside is the lack of a decking gate. We ended up using the deck chairs to make a makeshift one.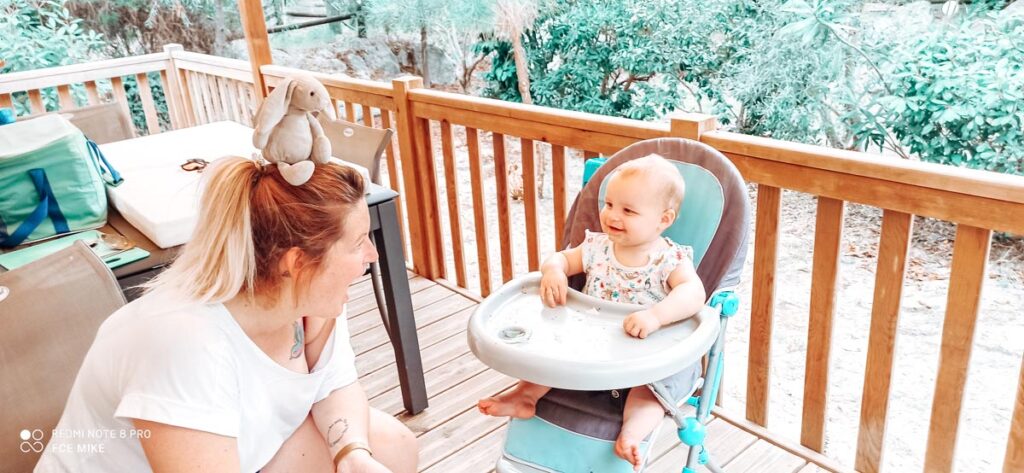 Plug socket

Nice furniture

Large Patio doors

Partially covered canopy
Video tour of the Eurocamp Azure Mobile Home
We loved staying in this well equipped six-person cottage at Natureo campsite in Seignosse. Our only complaints were space-related in the bedroom and bathroom, and to be honest, we hardly spent that much time in either. 
This accommodation is all about the living and outdoor spaces, and both of them were perfect. We would 100% stay in it again and actually; we can't wait to go back to the Hossegor region. So expect to see us here again soon…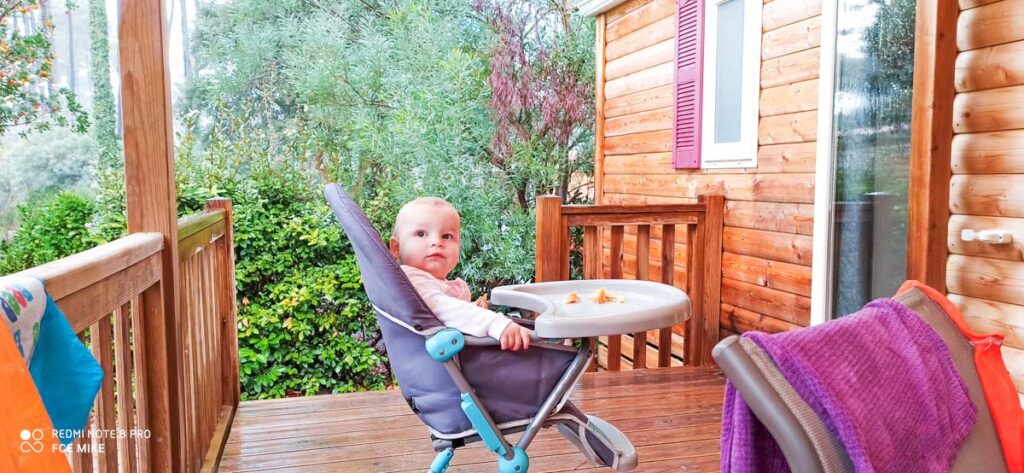 Check Availability And Book This mobile home Today
Clicking the button below will open the providers website in a new window.