Lodge premium 4p Jacuzzi at Camping le Vieux Port This Mobile home/lodge screams luxury
but so does the price tag…
Premium 4 person lodge with Jacuzzi
Situated in Camping le Vieux Port's new for 2020 premium area, the Premium Lodge 4 person with Jacuzzi screams luxury. From the hot tub, the keyless locking, the outdoor bar/chill area all the way to the fresh sheets and coffee machine. Seemingly, this mobile home has it all.
And as the most expensive mobile home I have, and probably ever will pay for, I bet you all want to know if it lived up to the photos… Well… You'll have to keep reading for that one.
Pros of The Lodge Premium 4p Jacuzzi
We've stayed in nearly every type of Eurocamp mobile home, and this was one of our favourites.
Cons of The Lodge Premium 4p Jacuzzi
A few issues unfortunately
Tour Of The The Lodge Premium 4p Jacuzzi
If you head to the bottom, you can see our video tour inside our lodge, but for a detailed written review we'll start with the bedrooms.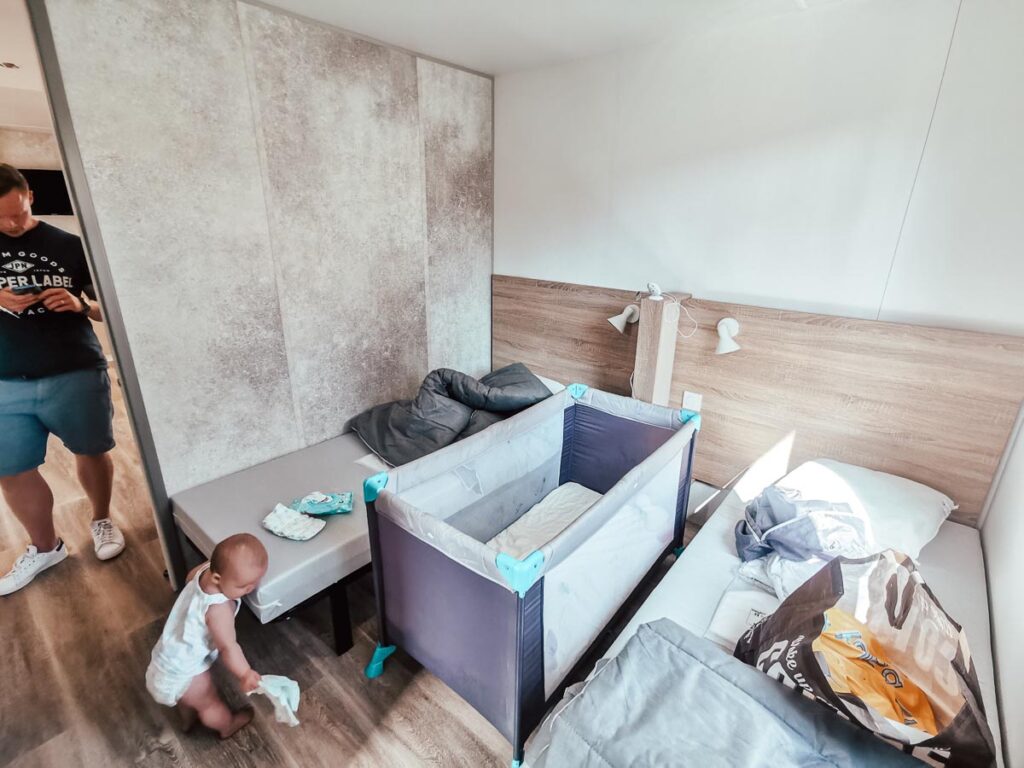 The twin bedroom in this premium lodge was a fantastic size. We even had room to put the baby's cot in between the two beds. Normally we spend ages folding up beds or trying to Tetris the room to fit a cot, but not here. 
The nicely styled bedroom came with duvets, pillows (albeit square ones), linen and towels. Which was so helpful and meant we didn't have to carry as much luggage around with us.  
The bedroom window had both blackout blinds and mosquito blinds (although we didn't see a single insect during our stay) and there were 2 coat hooks on the wall next to the window. It was definitely a room designed with practicality in mind.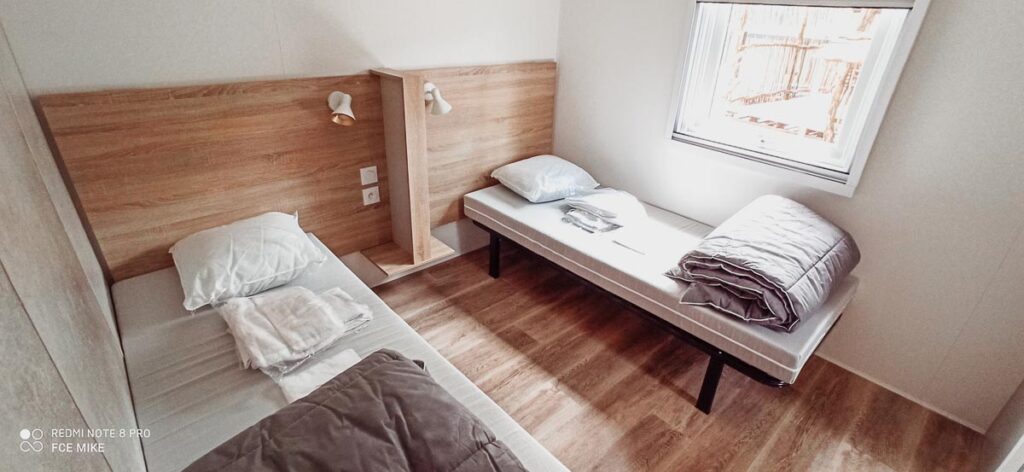 The fixed bedside table unit with 2 plug sockets above was the perfect height and design to rest the camera for our baby monitor on. There was also plenty of storage on the other side of the room with a lovely wardrobe. The thing I liked most about the wardrobe is that some shelves were exposed, while others were closed behind the door – a unique style feature.
But the thing I loved most, besides the ensuite which I'll get to later is the walls. Sounds ridiculous, I know, but so often we stay in mobile homes with these bland, boring, off white walls. No style, no effort. But here, they looked first-class. It was like someone truly cared about producing an attractive holiday home to stay in.
The twin room was more than big enough for us, a family of 3, so would definitely be ideal for more and the en-suite shower room was really convenient.
Ensuite shower room
Mosquito and blackout
blinds
Modern design
Spacious
Plenty of storage space
Linen included
Duvets and pillows
The double room in our premium lodge was everything we expected it would be and more. The queen-sized bed fit perfectly whilst leaving space to walk around. There was a lovely wardrobe area, like the twin room half closed and half exposed, as well as a nice shelving area behind the bed. 
The window had the same blackout and mosquito blinds. 2 plug sockets on the wall, either side of the bed. But I think the biggest shock was that we had a personal TV in the bedroom. We don't even have a TV in our room at home! I'll be honest, we're not the type of family to watch TV whilst we are on holiday, and it didn't get used during our stay, but I imagine for some families it's a blessing. There was also a TV in the kitchen, but I'll get to that bit later.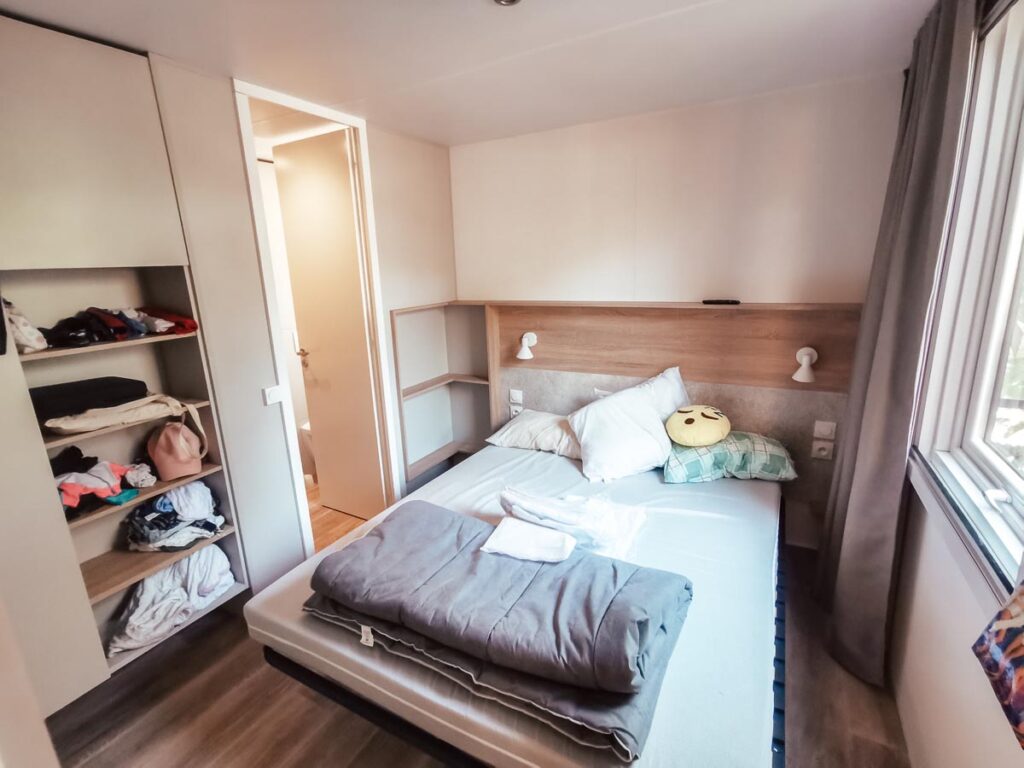 Like the twin room, we were supplied with our bed linen as well as a duvet and square pillows. We opted to bring our own pillows though as we really don't get on with the awful square ones.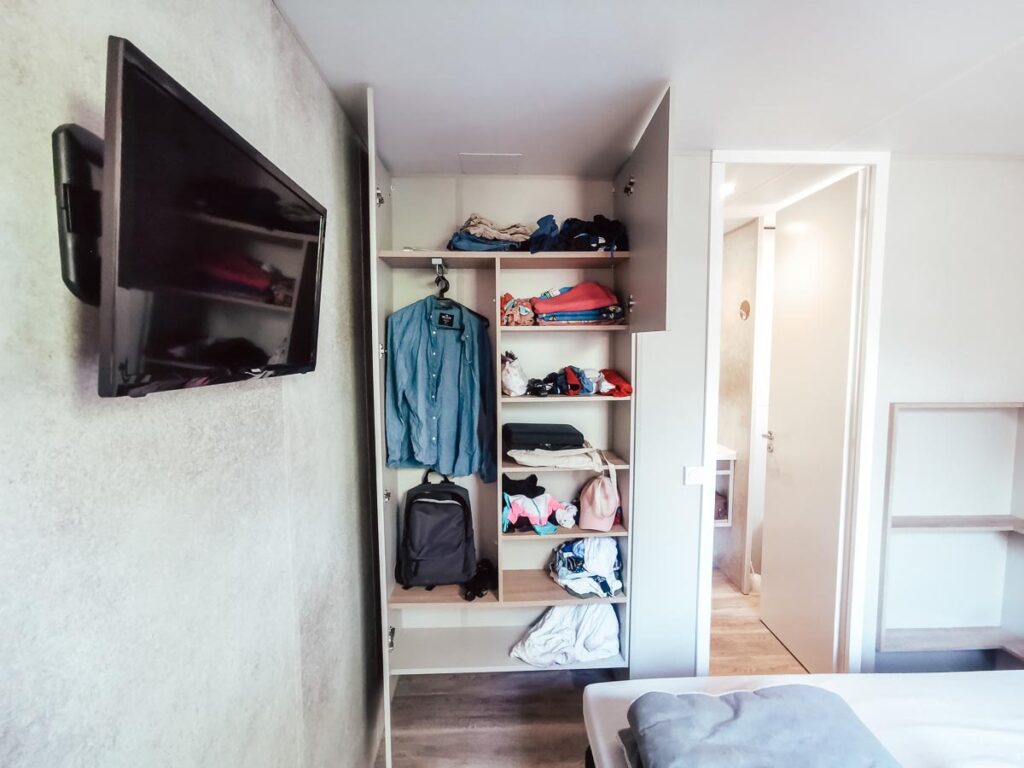 Bedroom TV
Linen included
Duvet and Pillows
Modern design
Queen sized bed
Mosquito and blackout
blinds
Ensuite bathroom
Lots of storage space
Both of the bedrooms in our 2 bedroom Premium lodge at Camping le Vieux Port came with en suites. Although they weren't identical. The shower en suite off of the twin bedroom had just a shower, and sink area whilst the double room had a full en suite with a toilet too. 
The shower in the main en suite was far larger than the one in the twin room. However, the one in the twin was still much larger than a standard mobile home shower.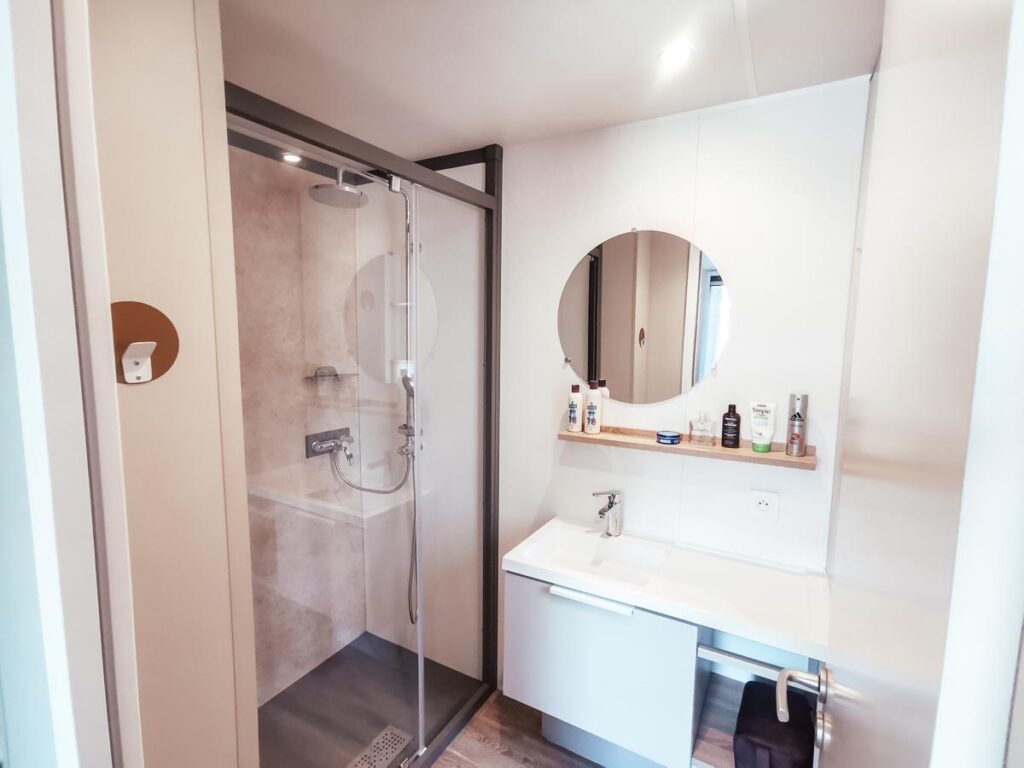 The bathroom designs were flawless. Everything looked so nicely finished, modern and on-trend. They are both the most luxurious mobile home bathrooms I have ever seen. I especially loved the double shower in the main en suite.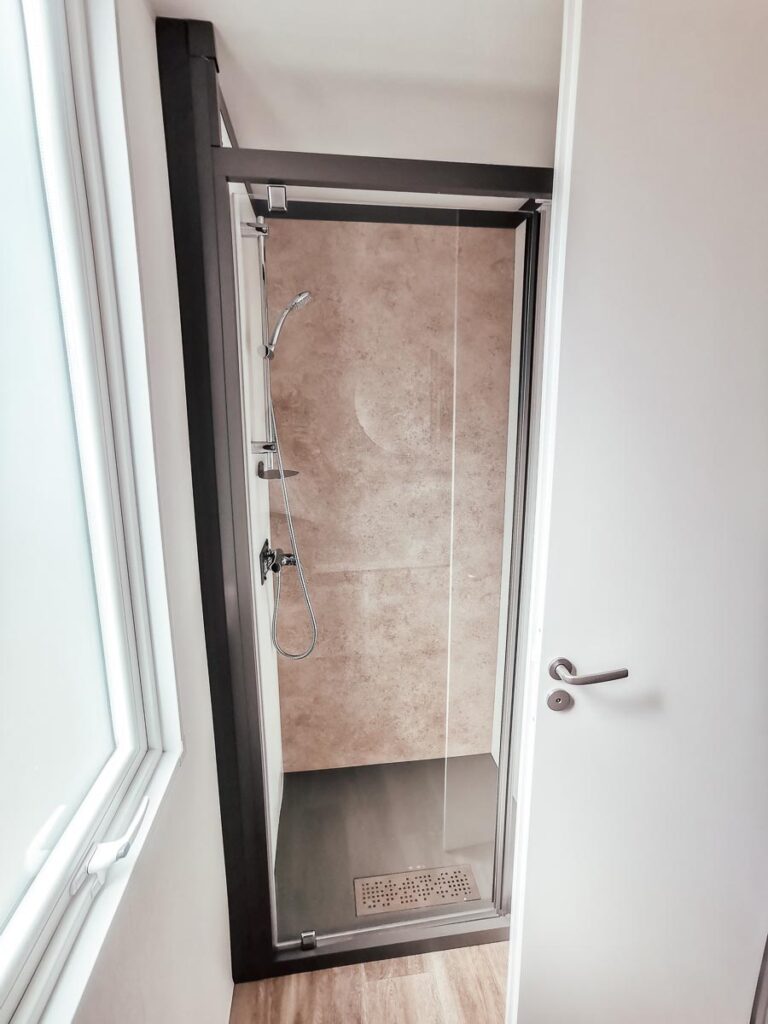 Both the ensuites had shaver sockets, mirrors and storage cupboards. However, I was disappointed not to find a hairdryer as most accommodations we have stayed in have provided one.
I was also disappointed to find there wasn't a bag for the sanitary bin, we normally use that one for our nappies and of course sanitary items, but find it really unhygienic to put things directly in the bin without a bag. As someone who used to clean those bins daily, I don't think it's acceptable to leave your stuff in there at all, let alone without using a bag.
Beautifully finished
Large shower areas
Shaver sockets
Storage space
Mirror
Large sink area
The living area in our mobile home at Le Vieux Port was super spacious. It was the perfect space for socialising and hosting. The bar stool table made a great area for aperos and the cosy, comfortable sofa area was great for those quiet nights. The only downside of the high barstool tables is that the high chair provided for children doesn't come with a tray and is far too short to reach the table, so I'm not sure how you're supposed to feed the baby from it.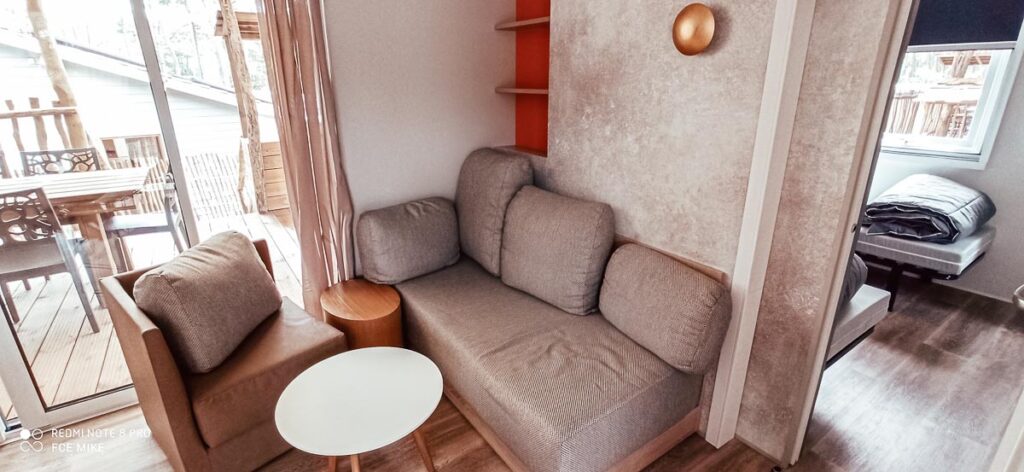 In our accommodation we were provided with an aircon unit which was definitely a bonus. The weather in that region can be temperamental but in Summer you can definitely guarantee some sunshine. When booking through a tour operator, especially, make sure you check to see if you have an aircon unit as I know lots of Eurocamp mobiles don't have AC.
One of the usual downsides of having a spacious living area is the lack of storage space however that really didn't seem to be a problem here. There was a shelving unit behind the sofa area as well as one close to the front door. Which is another point. This mobile home doesn't just have one door. There are 2 entry/exit points and 2 large door areas meaning there is so much light coming in. Plus, the back door, leading to the outdoor area, opens full length so it almost feels like you could be cooking outside.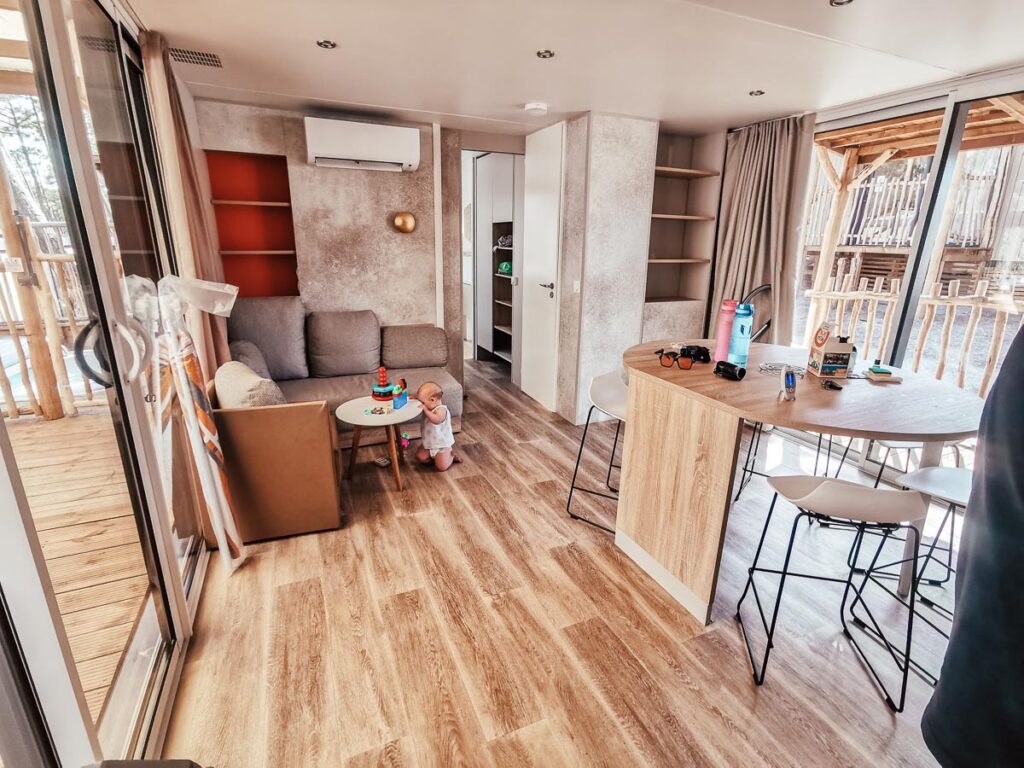 I really like the style of this living area. The layout is so open and welcoming and if you are travelling with a large group, it definitely feels like the place to invite people round for drinks and snacks.
Modern style
Great for hosting and socialising
Large and spacious
Storage space
Very light because 2 patio doors
Back door opens to the entire length
Cosy, comfortable seating area
I questioned adding the kitchen review to the living area as the whole space is so open. However, as I'd already written so much about the living space, I figured I'd give the kitchen the section it deserved.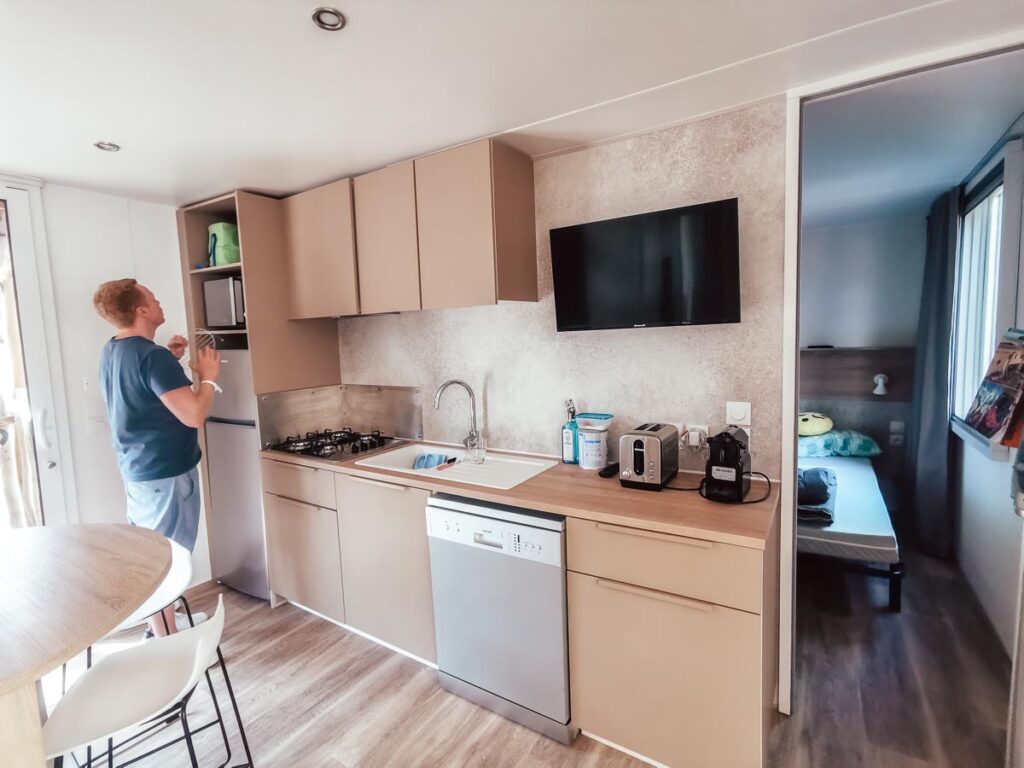 The kitchen in our premium lodge at Camping le Vieux Port looked fairly small, but don't be fooled. We had lots of inventory in the cupboards yet still more than enough space to store all our food. There is no oven, like many French-owned mobile homes that we stay in but there is, however, a microwave with grill features. We didn't try it out, but from what I've heard, they work like normal grills.
There is also a dishwasher. These are clearly more prioritised in French mobile homes, although ours didn't actually seem to work. We only tried it once, on our final day. It all started well, seemed ok and then all of a sudden started flashing red on the image of the glass, and that was it. We thought maybe it had finished, but it wasn't. I did report it to the campsite management after we left along with another complaint (that I'll get too shortly).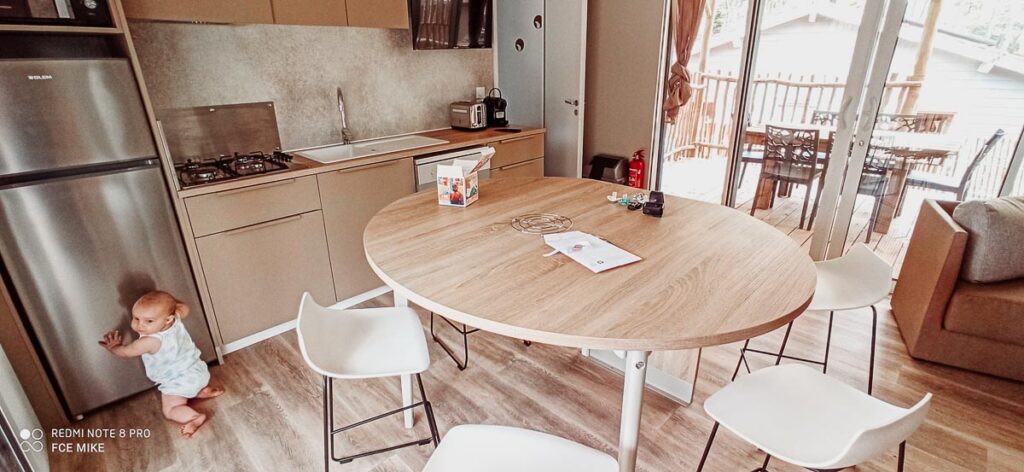 The cupboards in the kitchen are all slam proof which is especially helpful when you have a baby who's just learnt about opening and closing doors…
As I mentioned earlier, the mobile home has a kitchen TV, and this one is a little larger than the bedroom one. It's perfectly positioned to be watched either on the sofa, at the dining area or while chopping vegetables. I did put it on the music channels for a bit of noise while I prepared some food.
Dishwasher
Slam Proof cupboards
Lots of inventory
Lots of storage space
Coffee machine
Microwave
Toaster
Large Fridge freezer
TV
The most important and luxurious area in our 4 person Lodge at camping le Vieux Port is, of course, the outdoor area and hot tub. Whilst I wish I was giving it a glowing review, I'm actually pretty disappointed.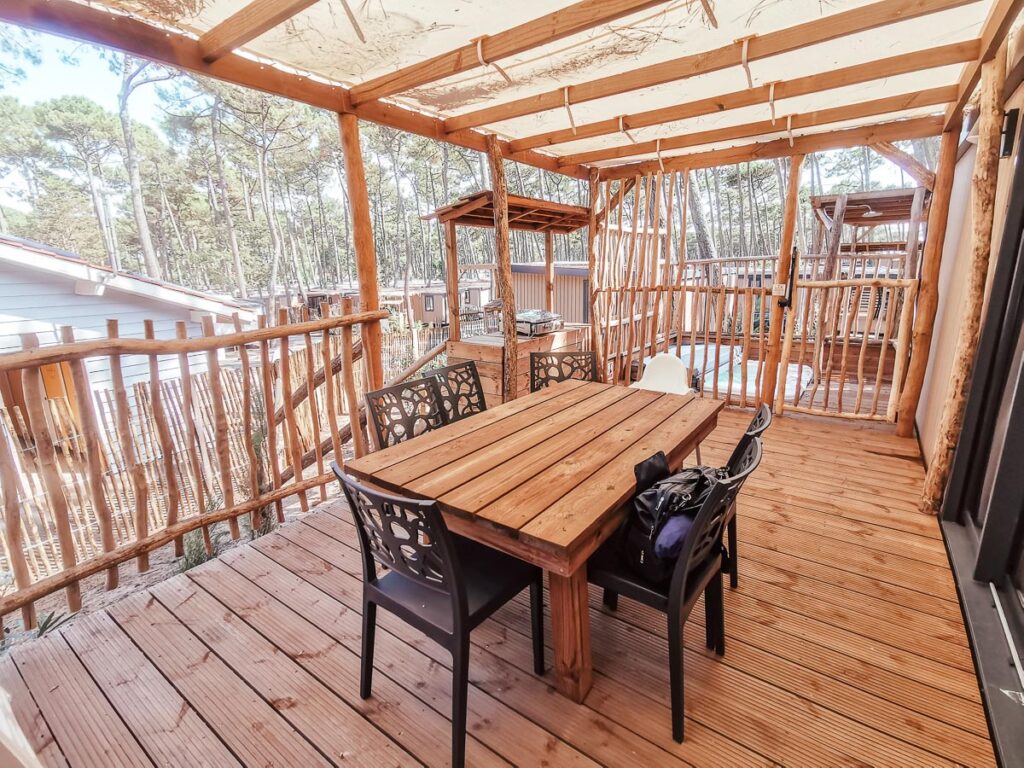 But first, I want to talk about the parts I love. The outdoor table, situated under a sheltered canopy, was a thick, sturdy wooden table — a nice feature on such a wooded campsite. The chairs around the table were comfortable and modern, and the whole decking area was a beautiful wooden deck.
The outside doors, as previously explained open out extremely wide and there's even an outdoor plug socket for some music or lights, (although there are already a couple of good outdoor lights).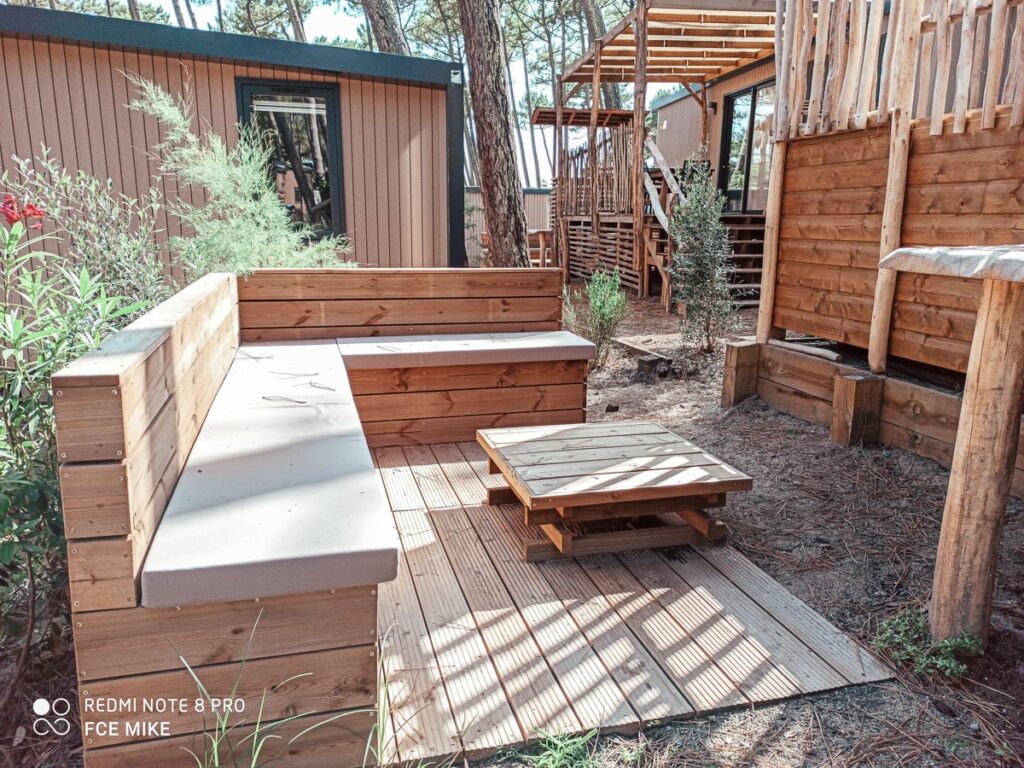 There is an outdoor shower so that those coming from the beach can shower off all the sand before going in the mobile home. I think it's a brilliant feature because it's also incredible for cooling down on a hot day.
Down from the deck is the relaxing seating area, great for hosting, but definitely not like the marketing photos described it to be. In the photos there is an almost bar area leading from the Plancha grill/bbq to the seating area. However, unless you're Stretch Armstrong or Mr Tickle reaching down a few meters, that wasn't happening at our lodge. We did spot a few that were like the marketing photos suggested though, so it must just be a design flaw with those situated in hillier areas like ours.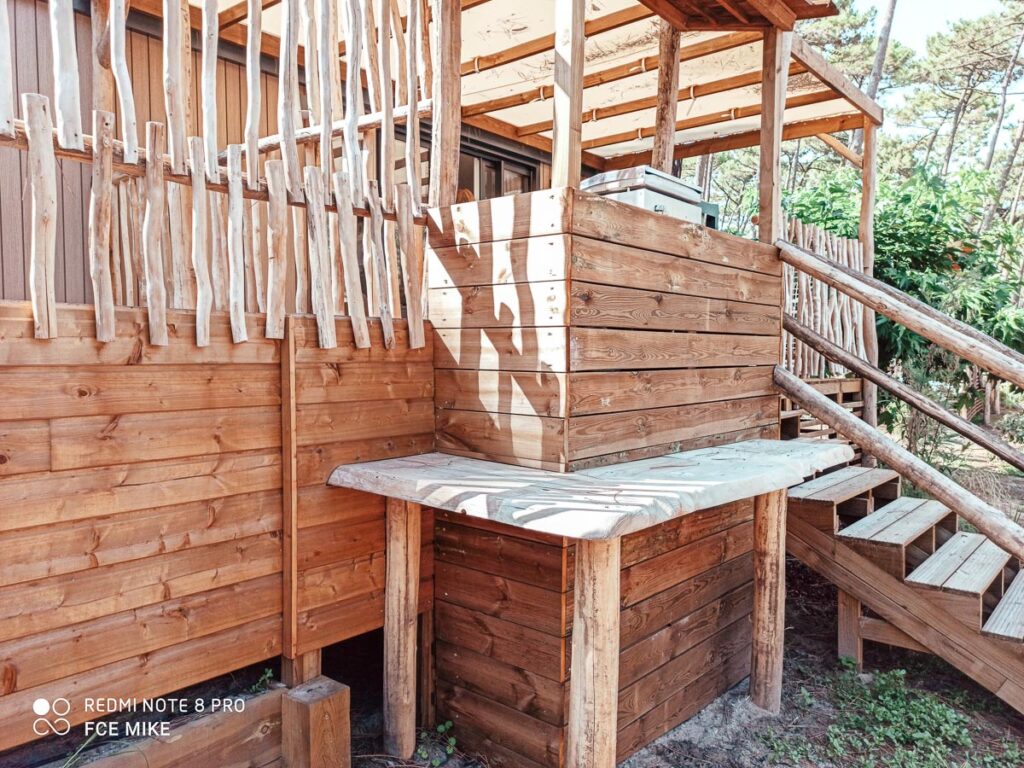 The main downfall was the hot tub. Well, actually, the maintenance and customer care related to the hot tub.
For our first two nights, the hot tub was incredible. Warm, relaxing and perfect. It was actually the only reason we booked this mobile home. If you've got kids, you'll know what it's like. Baby's in bed, you can't go out; therefore, it's time to relax and having a hot tub was perfect for that.
However, on our last day (day 3 of 3), at around 4pm, I looked out onto our deck to find a man draining our hot tub …WTF… "  we're still here", couldn't he tell by the kid's toys all over the decking? Anyway, I left it because I thought "4pm? I don't know how long they take to warm up, I'm sure it'll be fine by 7pm". 
Well, it wasn't. 
And look, I know, it's such a first-world problem, but when you pay for a service you expect to get that service, and I paid (quite a lot actually) to get a hot tub. 
So, we tried again to go in at 10pm and nope. Still cold. It was such a bitter end to our holiday on a campsite we really enjoyed (you can click here to read my campsite review).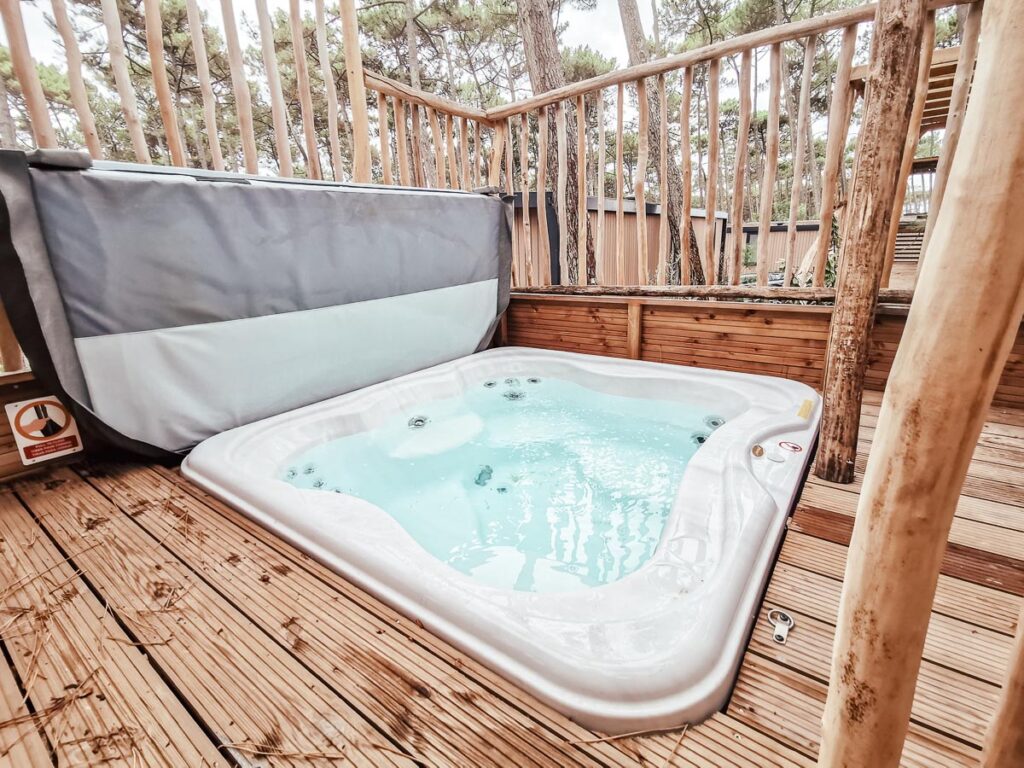 I logged my complaint with the campsite reception when leaving and the followed it up the next day when we got home. It's the first time I have ever complained about anything, and my complaint got dismissed with: 
"The technicians clean and restart it. Soon after, it becomes clean and warm again. However, the technicians take their turn but inevitably, all the mobile homes cannot be done at the same time in the morning. I am sorry." 
Ok, so why is that my problem? I, a customer paying lots of money, shouldn't have to suffer because something went wrong with their organisation/procedures. And what about if the campsite was full? Which it definitely wasn't. I hardly saw anyone even in the premium area.
 But, what do I know?
All I know is that it was disappointing. 
I replied to the email stating I was still really unhappy with their response. I wanted assurance that this wasn't going to happen again to another family. That they would perhaps look into their procedures. But nothing. No response. Completely ghosted.
Please forgive me if I sound entitled, I have NEVER really complained before, in fact, it's something I have hated doing, but I truly feel when paying ( a lot of money) for a service, I should receive it.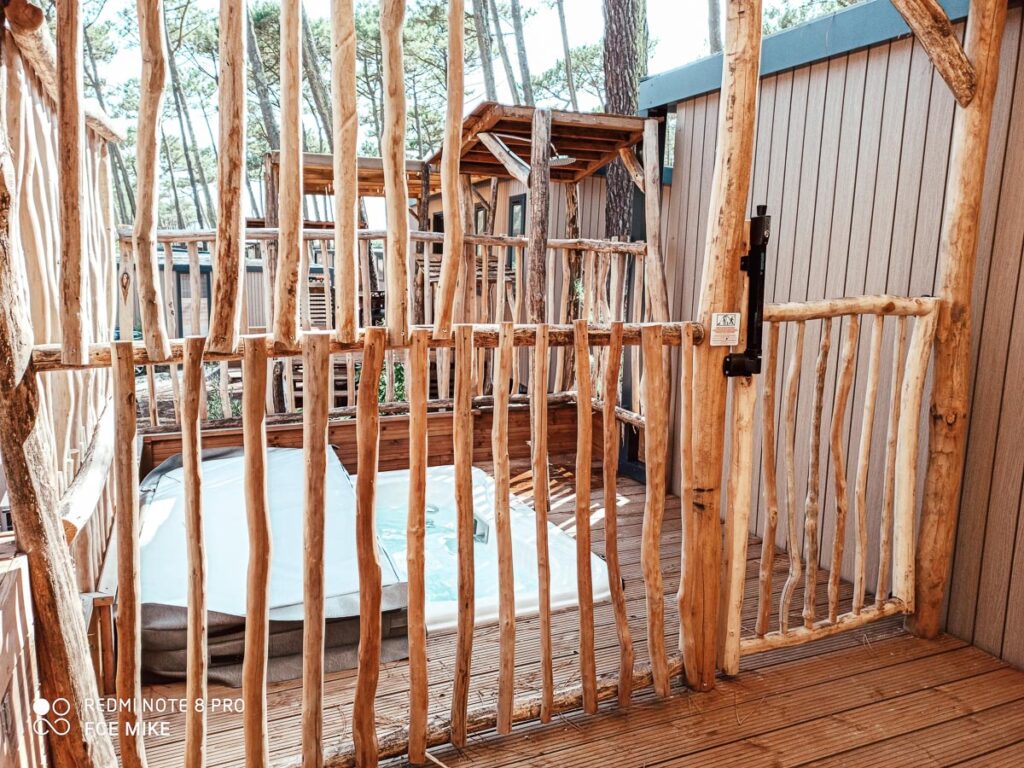 Another issue, although not complaint worthy, is the parking situation and emplacement. We had to park away from our mobile home, which isn't really a problem for us but for some, it may be and to get to our car we had to walk through the "garden area" of another mobile home. I definitely thought the premium area would be a little bit more spacious and privatised. Instead, it was like us, and 4 other areas could all be sharing the same plot/seating area. It definitely seems a little higgledy-piggledy and like they have tried to cram more mobile homes in for more profit instead of thinking about making the area more luxurious for the guests they did have there…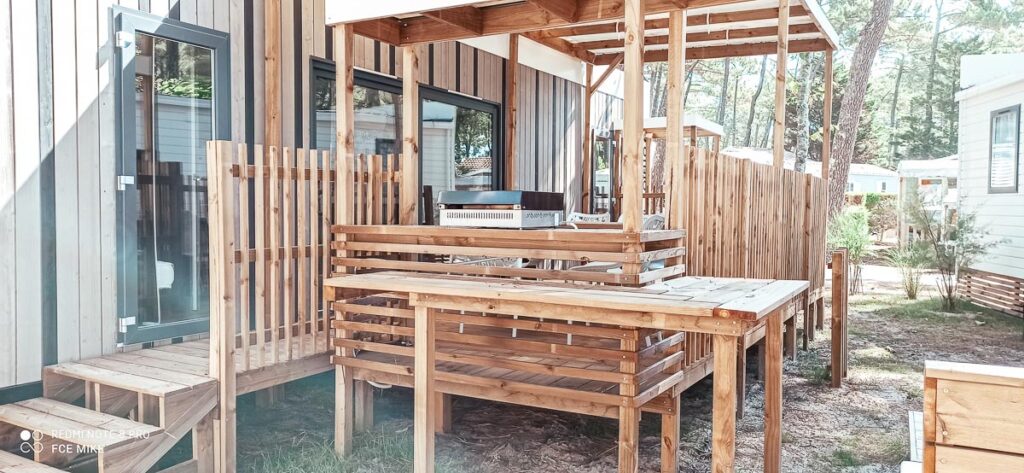 Other Features Of The premium lodge at Le Vieux port
There are many unique features to the premium lodge accommodation at Camping le Vieux Port one of them being the keyless entry system. At the reception, everyone is provided with a wristband. If your mobile home has the keyless entry system, then your wristband will contain a chip. 
The system is pretty convenient and excellent if you want to head to the beach without many possessions. But, like most new technologies, it does have its problems. 
Our key decided to fail on our second night, meaning we were locked out of the mobile home at 21:45. Possibly the worst time to discover the key had stopped working as the reception had closed and the person on-call basically said he's "very busy", and he'll come when he gets time.
 Urrrr right…so Mike then mentioned we have a 9-month-old baby who definitely needed her sleep and I think it bumped us up on his priorities list. However, he still took a good 20 minutes to get to us in his van. 
The system is good, handy, helpful and modern, but the flaws need to be fixed. I'm not sure why all our keys failed at the same time, one can only assume (from working in hotels) that they weren't programmed with the correct amount of days.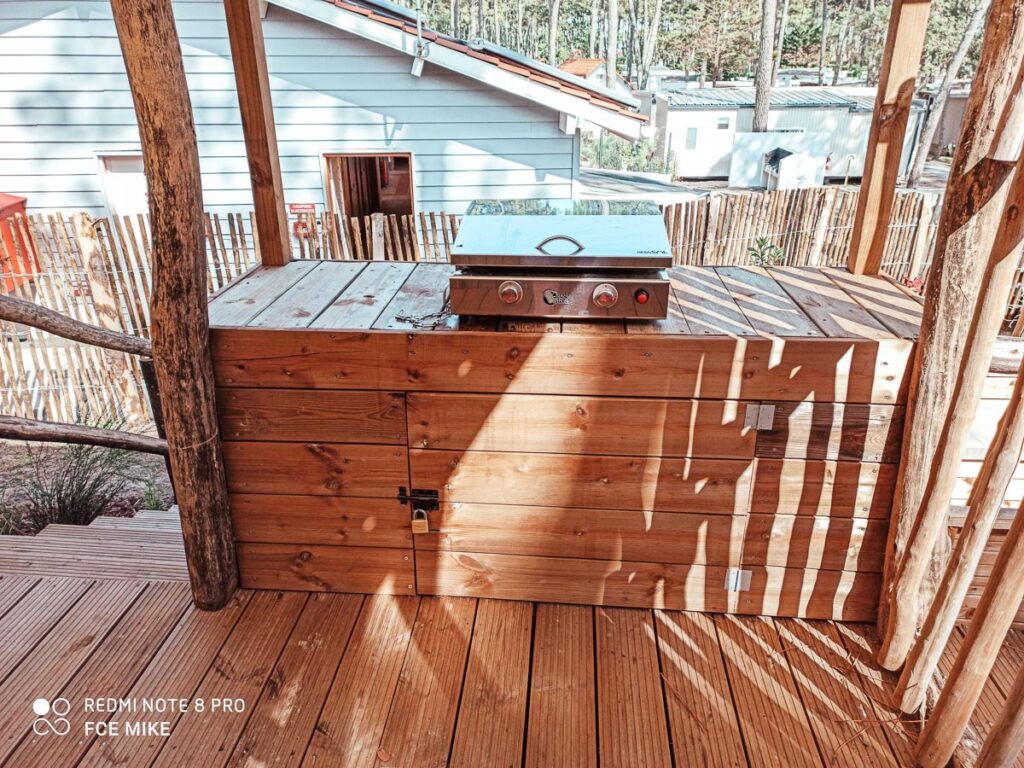 Another feature included in our mobile home was WIFI. When booking a mobile home in the premium area, WIFI for one device is included for free. We were given a code on our receipt at check-in. However, we didn't actually end up using it because our phone signal was so good. 
A couple of other important features with the premium mobile home is that cleaning fees are included as is all the linen and towels and tourist taxes.
Video tour of the 4p Premium lodge
There was nothing we really needed to bring with us. The inventory here was great, and everything we could have wanted to bring was already in the mobile home. There was no oven, so no need to bring an oven glove.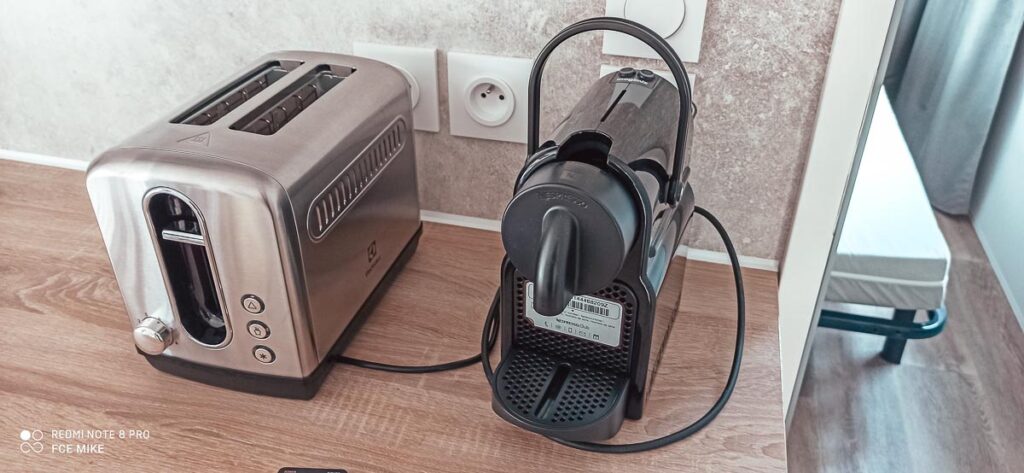 I really wanted to love everything about this mobile home. We loved the campsite so much and actually, the design and inside of our mobile home was so liveable I loved it. It is just a massive shame that the problems we've had and the post-stay customer service hasn't been up to scratch. It really corrupted our view of Resasol as a company.
Whilst I love the accommodation, due to the problems we had with it I can't 100% recommend it. If I was going back, I'd probably book with a tour operator. I know for a fact, had I have had these problems with a tour operator, their customer service would be a million times better.
In fact, we ended up using the services of Eurocamp during our stay as they were kind enough to lend us a tray for our high chair and even a baby bath.
So my conclusion is. Whilst the mobile home seems luxurious, the premium area wasn't all that premium after all, and I won't book with Resasol again until they have ironed out their issues.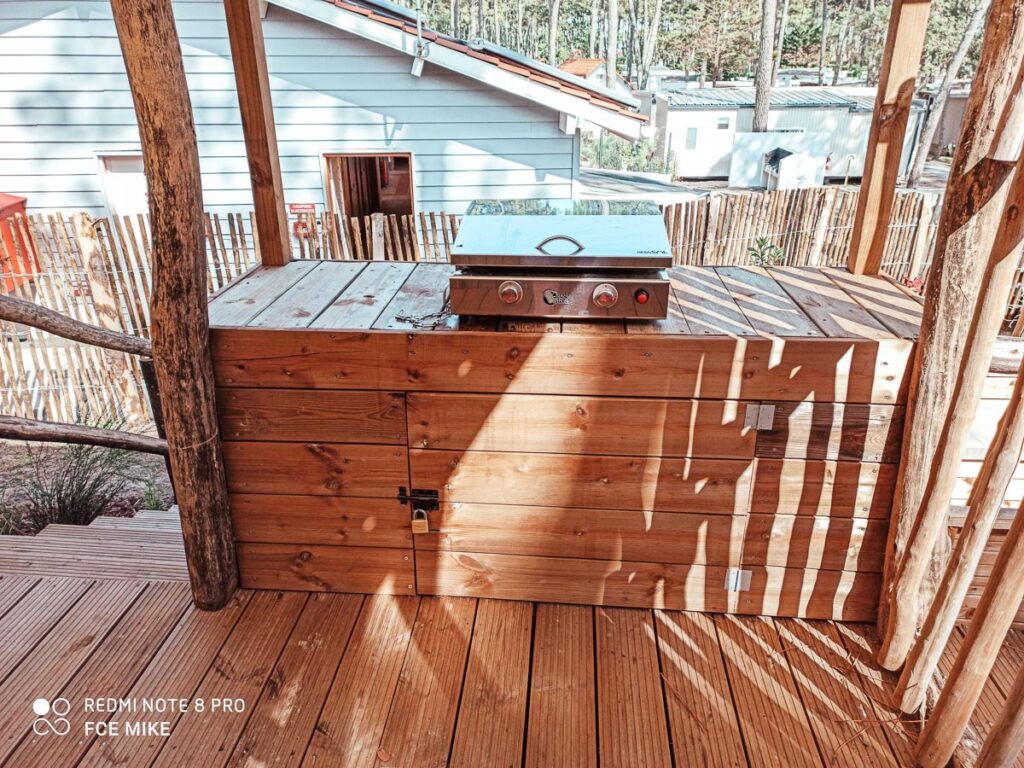 Check Availability And Book a Premium Lodge
Clicking the button below will open the providers website in a new window.