Gamme duo premium plus mobile home
Check Availability And Book This mobile home Today
Clicking the button below will open the providers website in a new window. It has a frikkin hot tub!!!
The perfect way to social distance? Add a hot tub to your mobile home!
The Gamme duo premium plus
Staying, in June 2020, this is our first post lockdown camping break and the second camping holiday with our daughter. Choosing this mobile home for our holiday was a no brainer. The hot tub on the decking has meant we can still enjoy the holiday feeling whilst adhering to social distancing protocols as much as possible.
This 32m2 holiday home has been a real dream and we've absolutely loved it.
Pros of The Gamme Duo Premium plus
We've stayed in so many mobile homes but this was one of our favourites
Cons of The Gamme duo premium plus
There's little to complain about here!
Tour Of The Gamme Duo Premium plus at camping de l'ocean
If you head to the bottom, you can see our video tour inside the duo premium mobile home, but for a detailed written view we'll start with the bedrooms.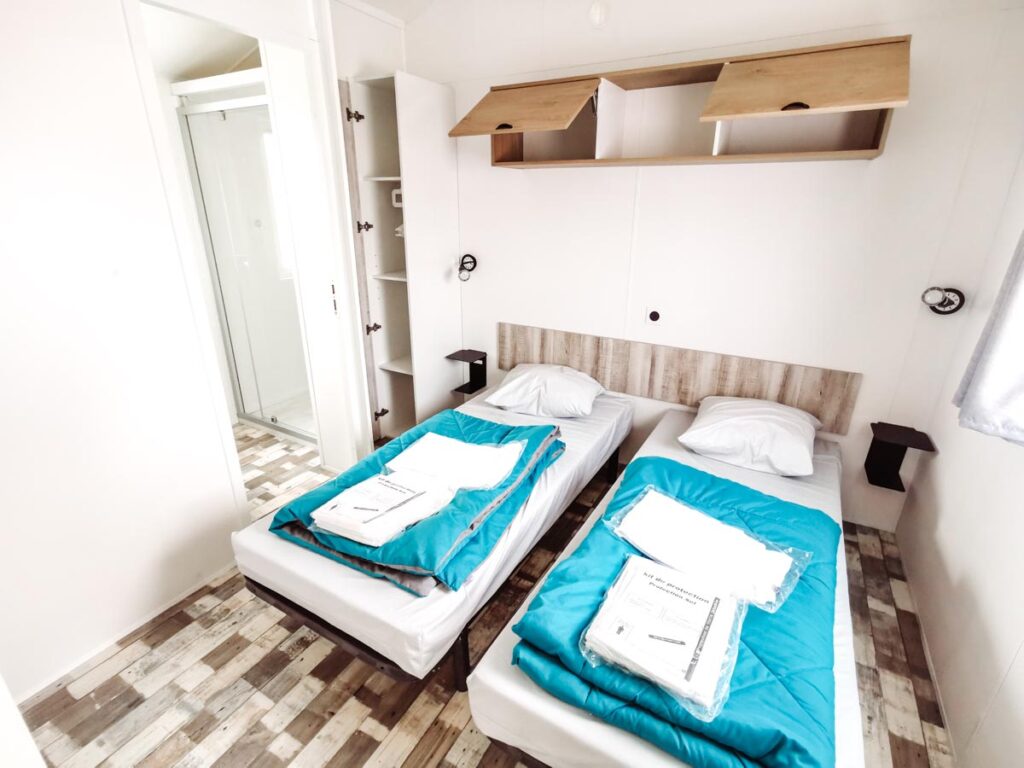 The twin bedroom in our Duo Premium Plus Mobile Home is the same size as the main bedroom, which means there's plenty of space to walk around the beds. 
The room comes with plenty of storage space (overhead and a small wardrobe) 2 beds and an en suite shower room (no toilet). The beds can even be made into a double bed at your request, and the room would be suitable for another couple to share.
Unlike the other mobile home holidays we've stayed at, there' isn't a foldable bed that we could push under to make space for the cot – but we did manage to make enough space by rearranging the room slightly.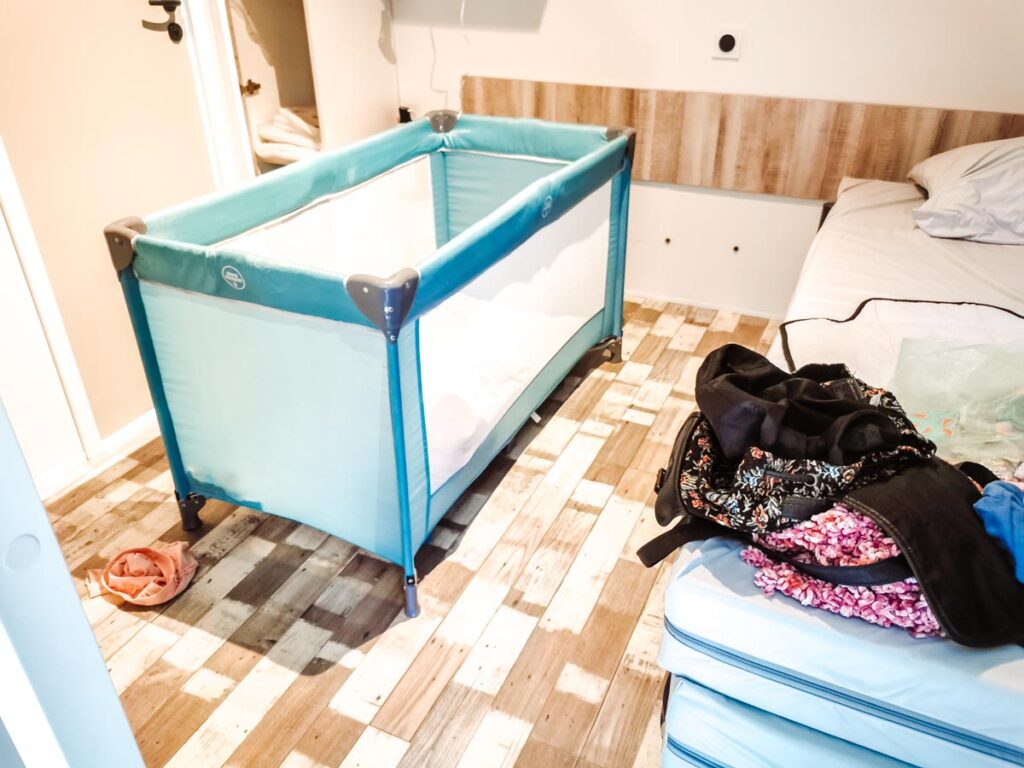 The bedroom window comes with a shutter which took me a little bit of time to figure out how to use. You have to pull the strap from the bottom and pull the slack for it to work – but once it does, the room can be completely blacked out. 
The twin beds both come with duvets, pillows and protectors. We also had linen provided even though we didn't book it. I'm unsure if this was a new safety procedure with regards to Corona Virus or as standard with this particular type of accommodation.
The only issue we've noticed about the twin bedroom is the lack of plug sockets,  there was only one, so if You're staying in this room and wanted to bring a few electricals, pack an extension lead.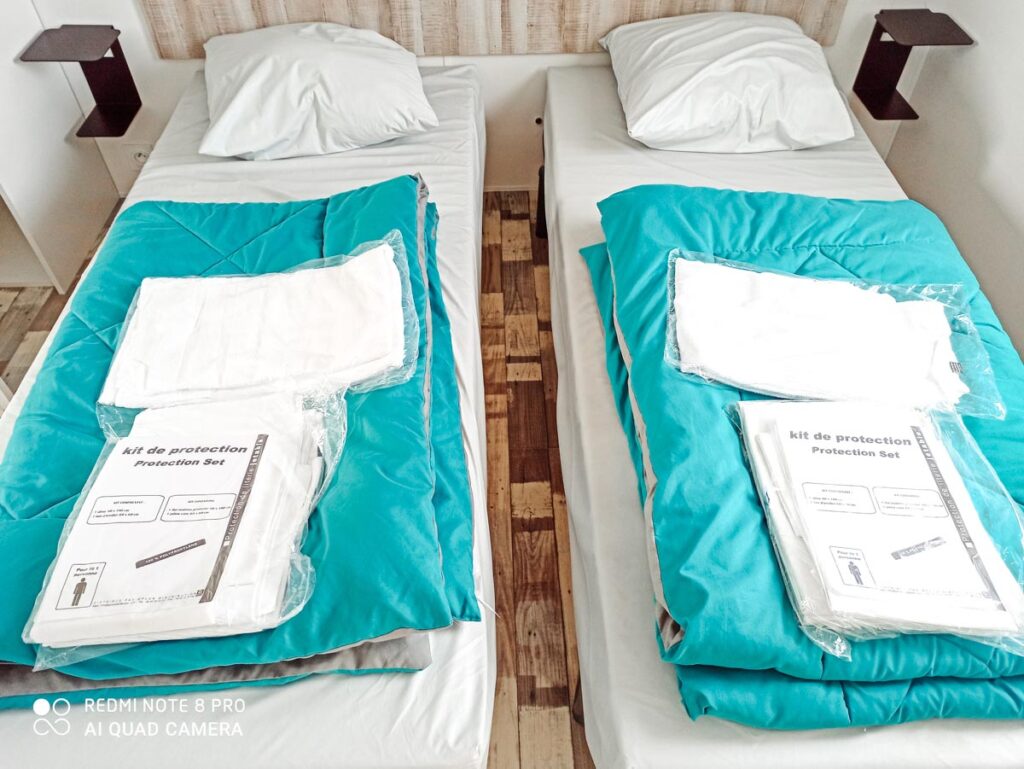 Shutters
Ample storage
Electric heater
Square pillows and Duvets
Linen
Plug socket
En suite shower room
Plenty of space
mirror
The double room, like the twin room, has an attached en suite, (but this one also has the toilet included), blackout shutters, duvets and pillows, overhead storage and a small wardrobe.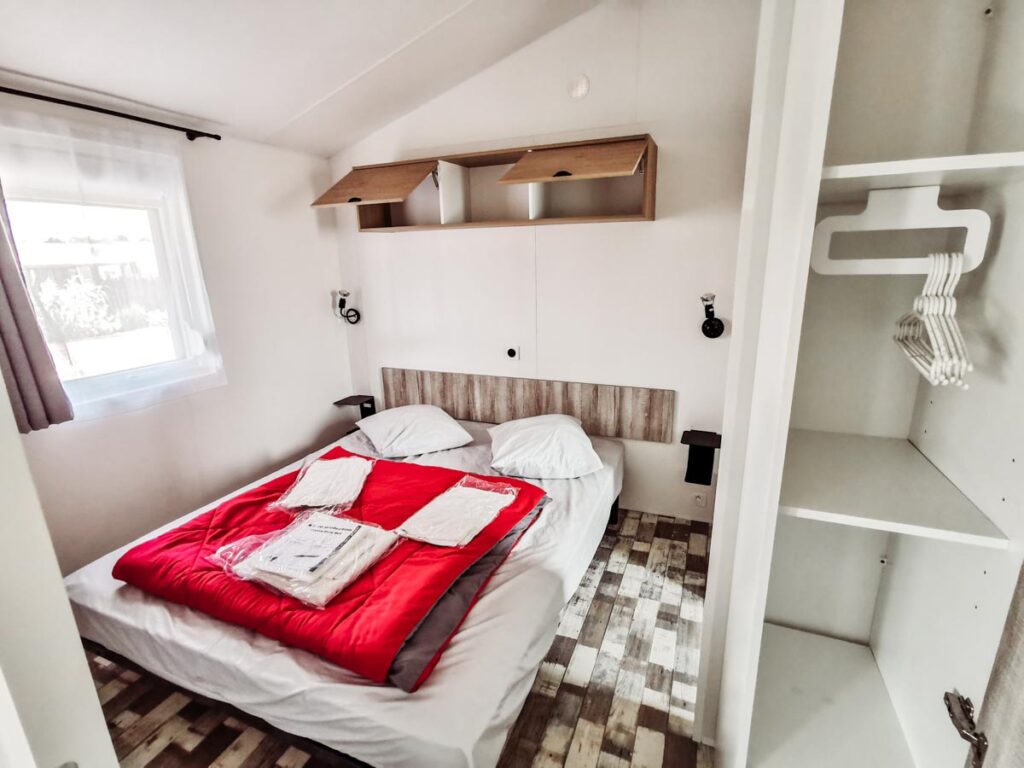 The rooms are almost identical. The only real differences are the fact that there's a double bed in there, a toilet in the en suite and more than one plug socket.
The bed is a queen size, meaning the linen we brought with us didn't fit, so it was really useful to find linen provided for us. Otherwise it'd be a costly trip to the supermarket, especially as we ended up buying new pillows because the provided ones were waaaay too big for us.
Shutters
Ample storage
Electric heater
Square pillows and duvet
Linen
2 pin Plug sockets
En suite
Spacious
Queen sized bed
Both the double and the twin bedroom come with en suite bathrooms. The Double room is an en suite with a shower and toilet and the twin room has just the shower as the toilet is off the main living area.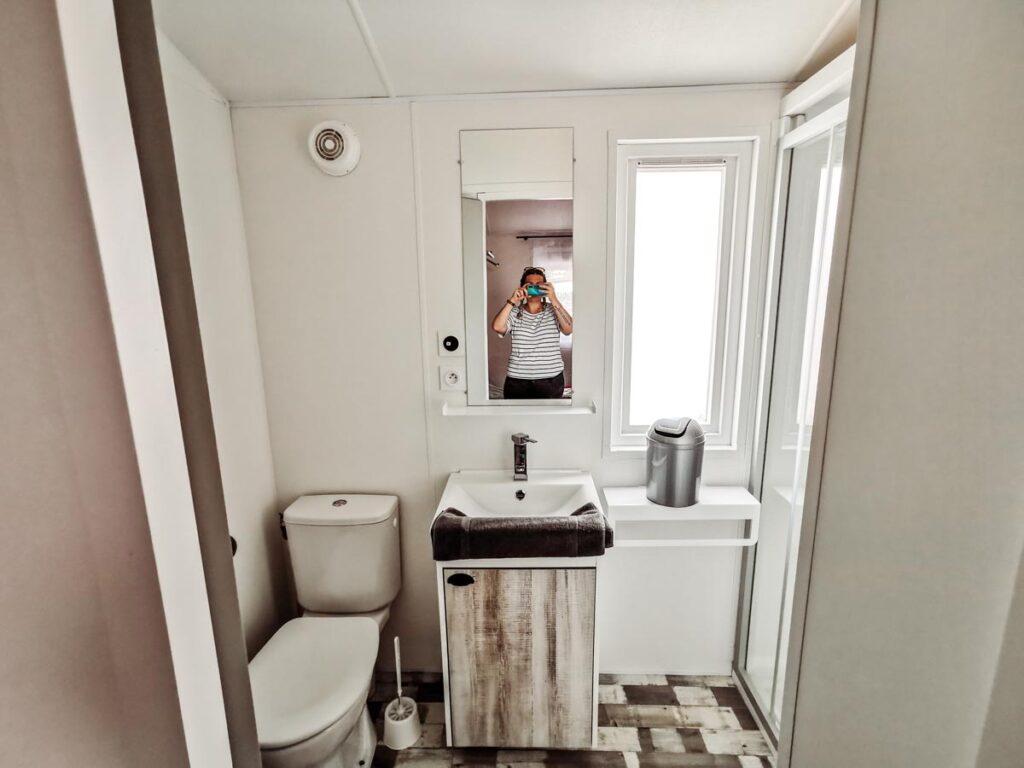 Both of the shower cubicles were larger than a standard mobile home, meaning there is plenty of room to wash your hair without knocking everything over. The design and layout meant the rooms were nicely spaced, didn't feel overly cramped and partnered well with the overall theme of the mobile home.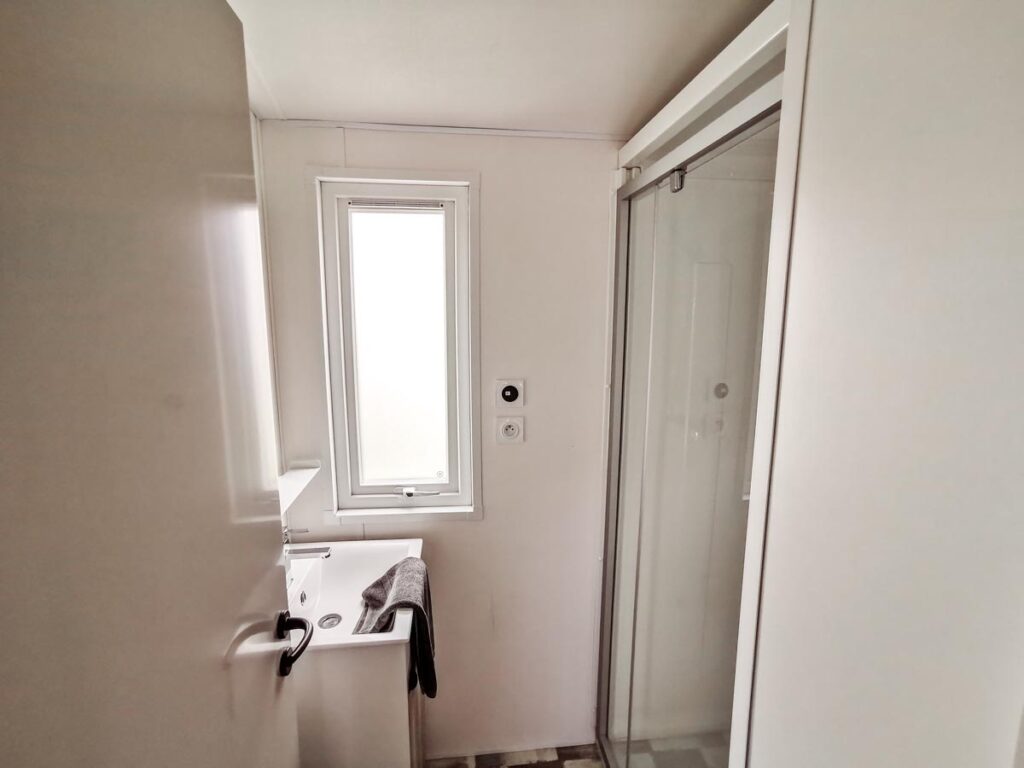 Powerful Shower
Shaver sockets
Good amount of space
Bath mat
Toilet bin
The living area in this Premium Plus mobile home really was great. It's spacious, bright and has a fantastic design. The laminate flooring has a funky wood effect to it, and the walls had a different wood effect. We loved how well themed and styled it all was instead of regular plain coloured walls.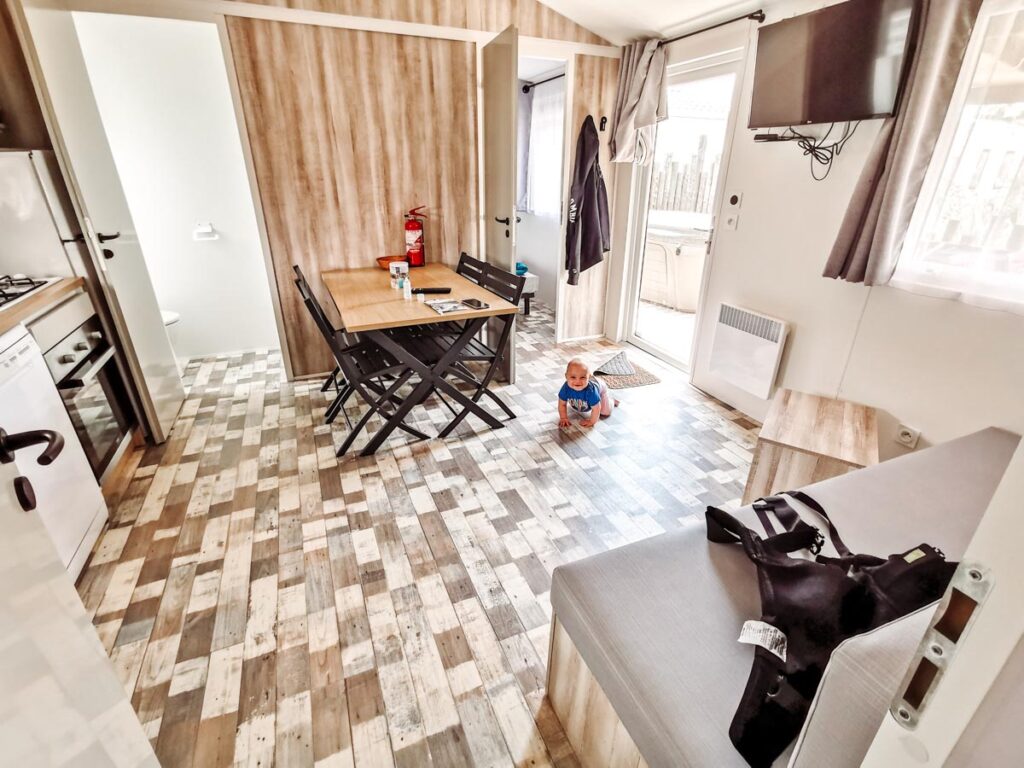 The sofa has underneath storage space and the dining area is sturdy, good quality and the chairs are made with strong metal (instead of flimsy plastic like some other accommodations we've stayed in).
There's an air conditioning unit as well as a heater and, the mobile home even comes with a Television!
Heater
Air con
TV
Storage Space
Seating area
Spacious
Good design
The kitchen in the premium plus mobile home was nice; however, I struggled with the lack of storage space in there. All the cupboards were full of crockery and kitchenware. Unlike most French mobile homes we had an oven, toaster, hob and 2 coffee machines.
The premium quality kitchen cupboards were slam proof and blended nicely with the rest of the mobile home.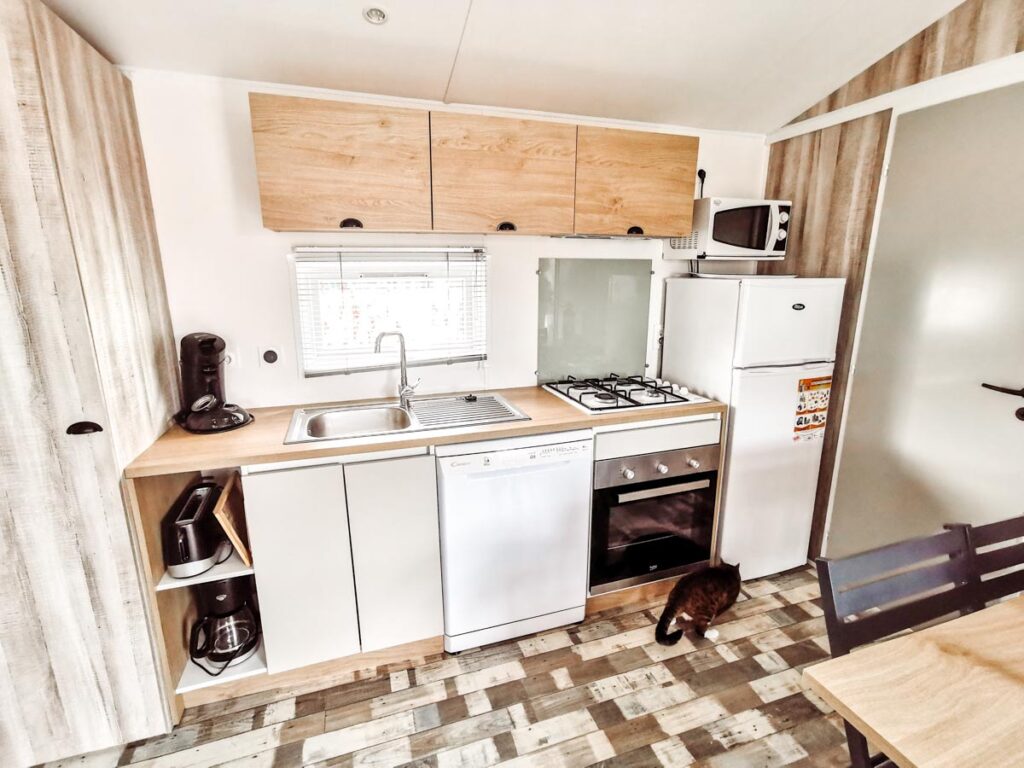 The kitchen area itself is fairly small but feature-wise, it had everything you could ever ask for—an oven, fridge freezer, dishwasher, microwave, toaster, coffee maker, and so much more. I really couldn't complain about the equipment we were provided with.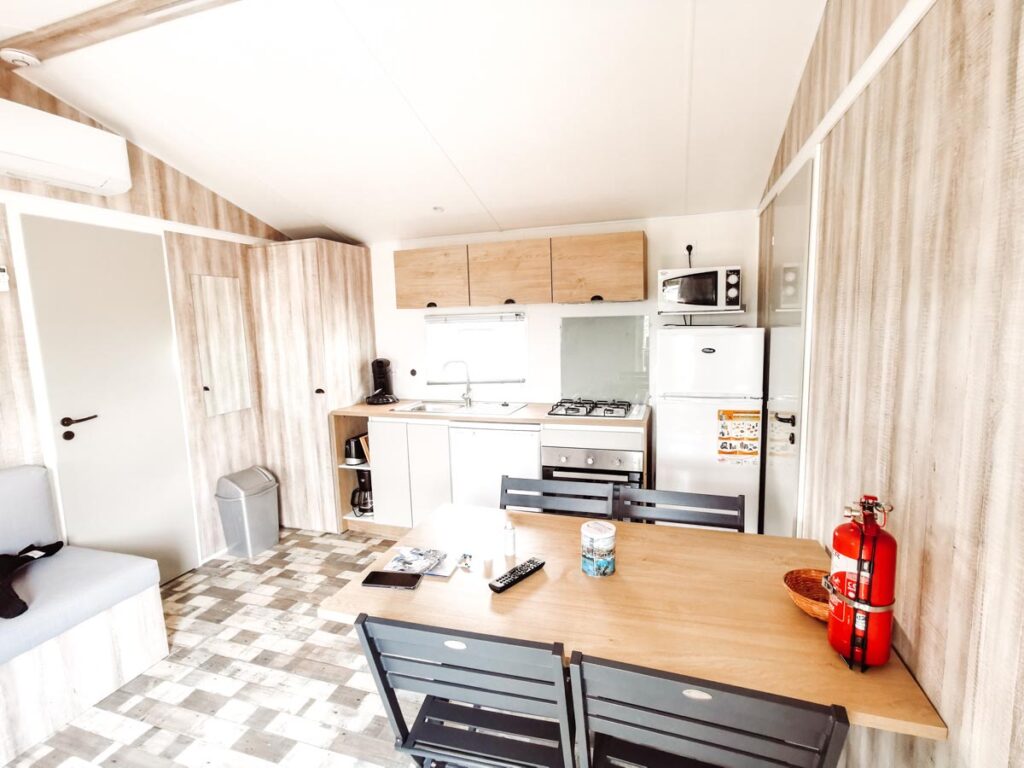 Full inventory
Dishwasher
Oven
Hob
Fridge freezer
Microwave
Coffee machines
Toaster
Slam proof cupboards
Window
Cleaning cupboard with a hoover
We loved our outdoor space in our Premium plus mobile home. We had a nice outdoor seating area under the covered canopy which we ate on regularly. The included "bbq" was more of a gas-powered hot plate, but it suited us perfectly and was easy to clean. There were 2 sun loungers, although we didn't end up using them as the weather wasn't the greatest.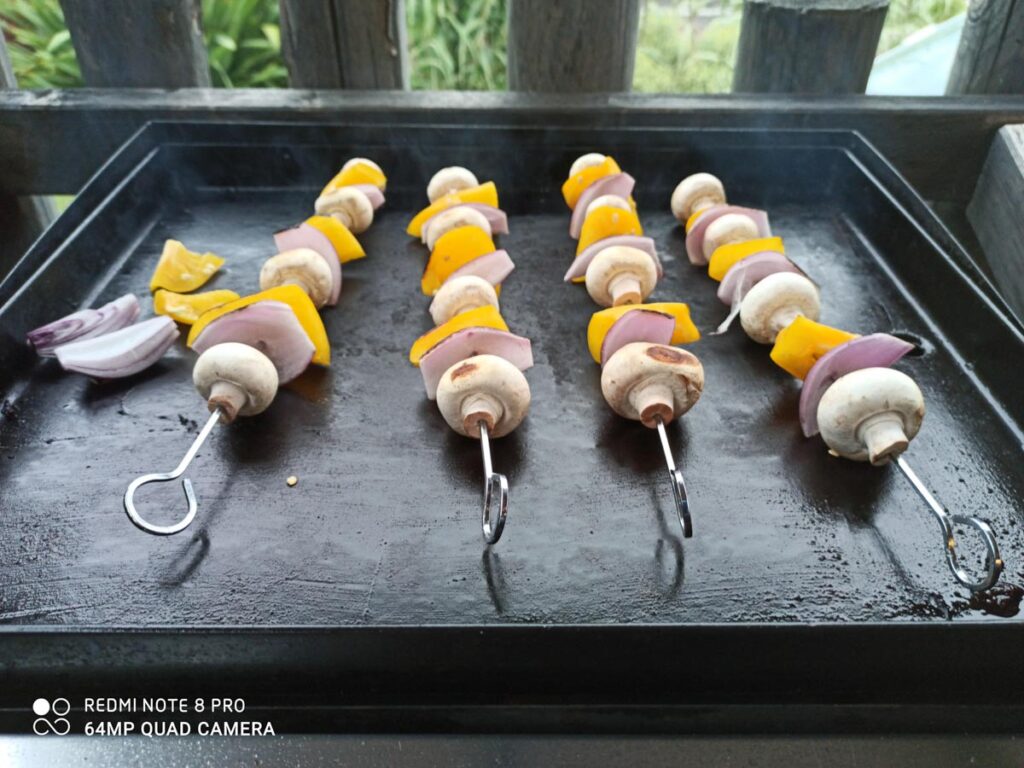 The pitch size wasn't that big but it did include a marked out parking space and a small grassy area as well as the decking area.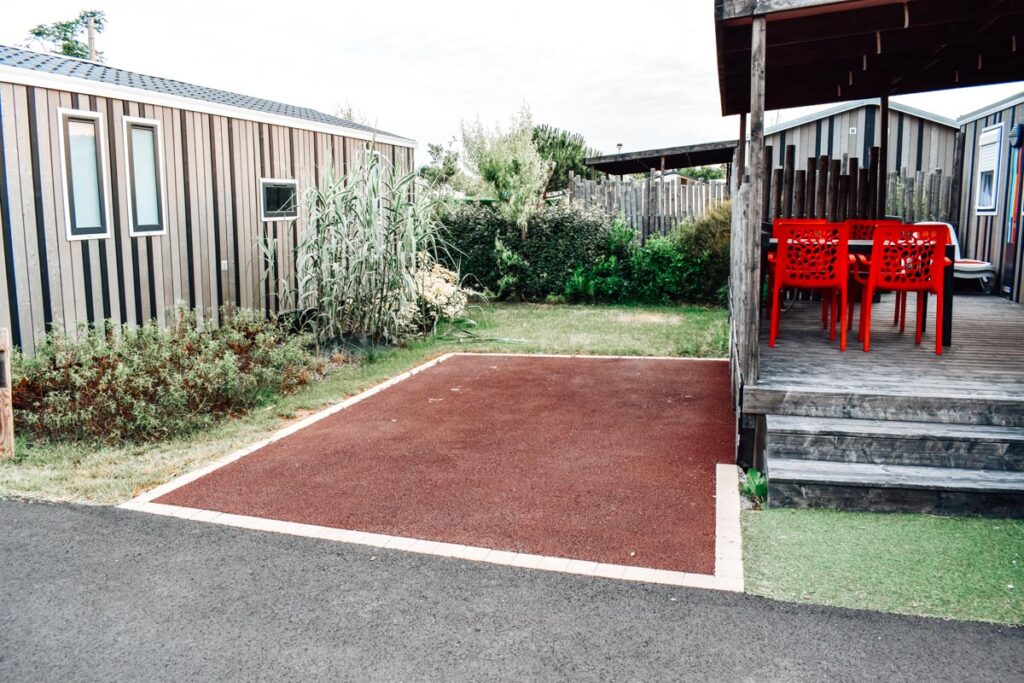 But, ultimately, the BEST part about this outdoor area was obviously the hot tub. Mike and I spent every evening enjoying some cold bubbles in the warm bubbles, and it really helped take our holiday vibe to the next level.
We visited during the first week of post lockdown so having a hot tub was fantastic for social distancing and not needing to use the pool as much.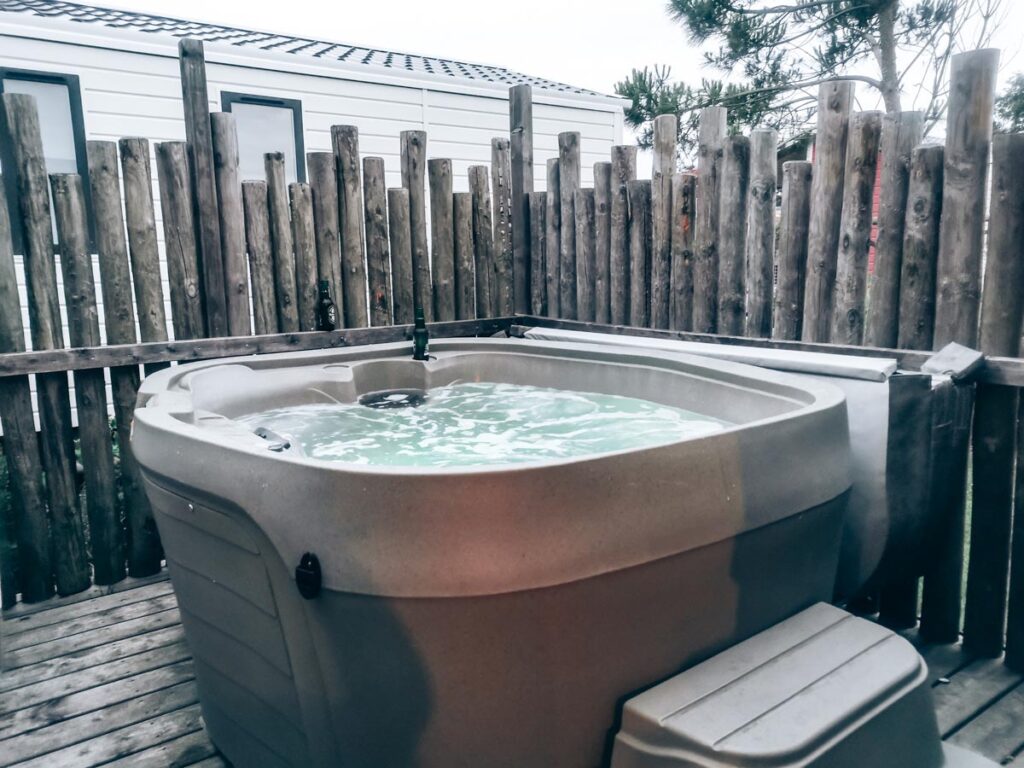 Other Duo Premium plus Perks
A couple of other things I wanted to discuss were the animal policy for this mobile home and the baby kit we hired.
Because the baby is now 10 months old, she is eating and crawling, which is hectic. We really needed not only a travel cot but a high chair too, so we booked the "kit bebe" for 5e a night. They weren't in our accommodation when we arrived so Mike went to the main reception to query it and someone was at our door with the equipment within minutes. 
It wasn't the cleanest of high chairs, but I imagine it had been in storage for quite some time waiting for the campsite to open and we had plenty of cleaning products, so it wasn't a big deal to us.


But we didn't just camp with the baby. We brought our little cat along with us too. Kitcat loves a camping trip, and we love it when a campsite allows her to come. The campsite rules state that animals are allowed unless they weigh over 10kg or are a category 1 or 2 dog. You must have all documentation and vaccinations up to date.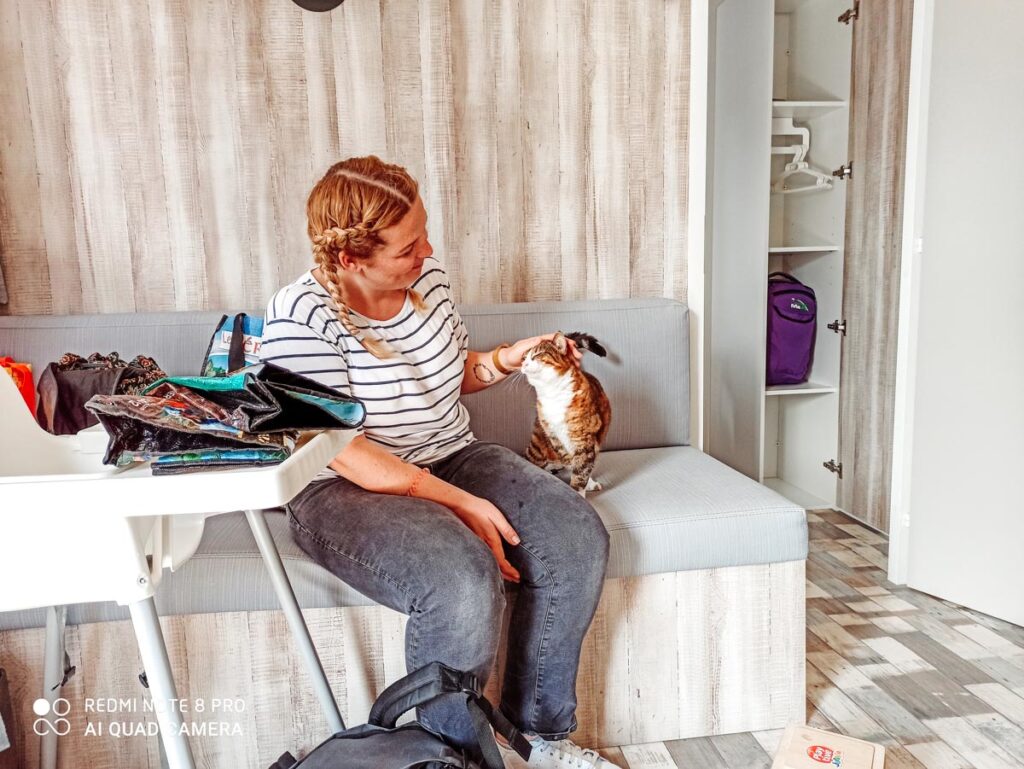 Features Of The Azure Mobile Home
The reason we booked this mobile home was for the hot tub. We wanted to enjoy the pool atmosphere without compromising on our safety, so this mobile home was perfect for that. But it wasn't just the hot tub that took this mobile home to the next level. It was full of great, handy features that you don't see everywhere.
So these are our favourite features of the Premium plus Mobile Home:
Hot tub
Dishwasher
Oven
Toaster
TV
Large Beds
Included Duvets
Air conditioning
Covered Canopy
En suite bathrooms
Coffee maker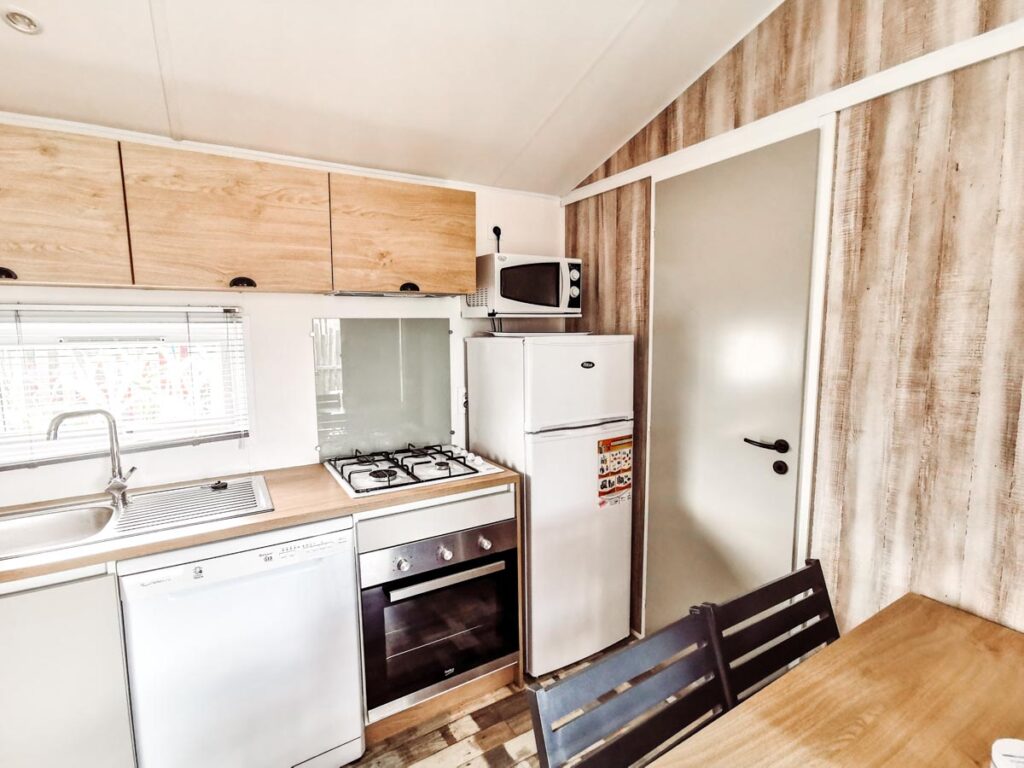 Video tour of the Gamme Duo Premium Plus Mobile Home:
Recently we've been staying in a lot more French-owned mobile homes, and I've noticed they never seem to have a kettle. I imagine this is because Tea isn't as big here as it is in the UK and if they provide you with a coffee maker, they don't see why you need a kettle. If you're desperate for a proper cuppa, then bring a kettle. We tend to boil our water in a pan and pour it into mugs though, so it isn't really a priority.
There are a few things I always advise guests to bring with them on holiday and these are:
Oven glove
Tea towels, sponges, cloths, washing up liquid and other cleaning products
Veg peeler and sharp knives (most self catering accommodation knives are rubbish!)
Baby extras unless you have prebooked them.
We LOVE the Premium Plus Duo and can honestly say it has been my favourite designed mobile home we have ever stayed in. There seemed to be so much effort that had gone into it and many of the other mobile homes around the campsite. 
I love that each room has an en suite. I love that there's a hot tub. I love the gas grill outside. I pretty much loved every part of it.
My only complaints were that the pillows were square, huge and really uncomfortable and that there wasn't enough storage space in the kitchen. But other than that everything was absolutely perfect. I would love to stay again.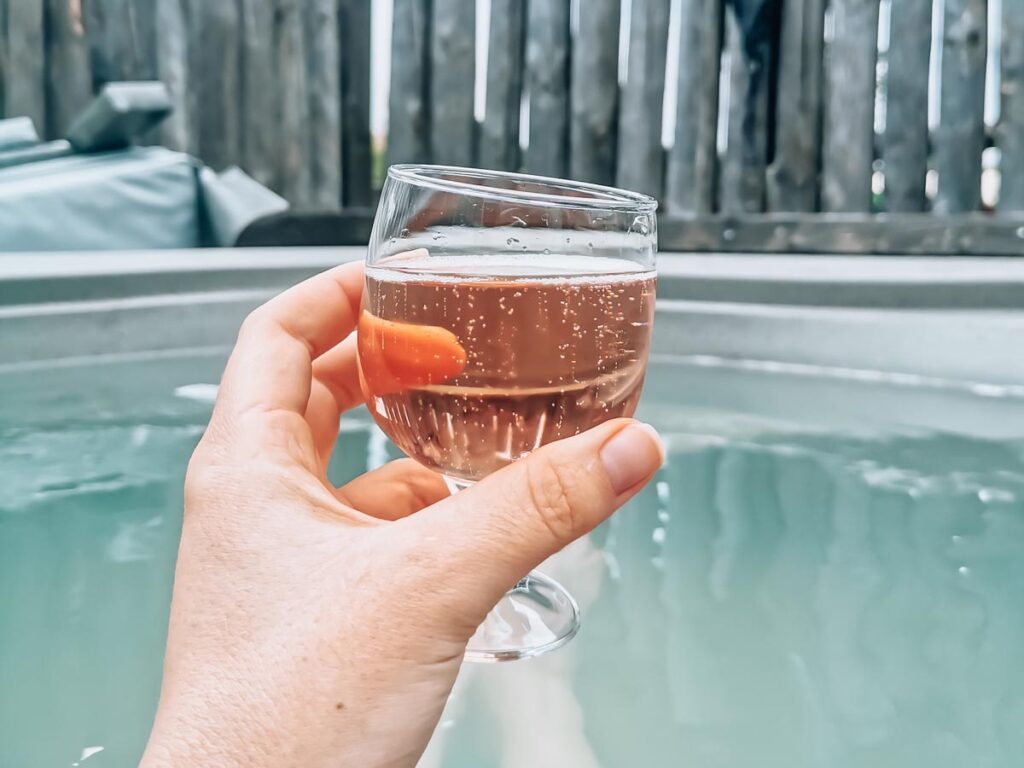 Check Availability And Book This mobile home Today
Clicking the button below will open the providers website in a new window.