Yelloh Village Cottage Loupiac Authentic and natural design;
The outside of this mobile home blended in to the natural surroundings so well and is exactly what all campsite holiday homes should look like
Yelloh Village Cottage Loupiac at Bordeaux Lac
During March 2020 we've been staying at the fantastic Yelloh Village Bordeaux Lac campsite just 8km away from Bordeaux. Keep reading to hear our thoughts on our accommodation and to view our video tour…
Pros of The Cottage Loupiac
We've stayed in lots of mobile homes and know exactly what we like!
Cons of The Cottage Loupiac
There's little to complain about here!
Tour Of The Cottage Loupiac Mobile Home
If you head to the bottom you'll find our video tour inside the loupiac cottage but for a detailed written review we'll start here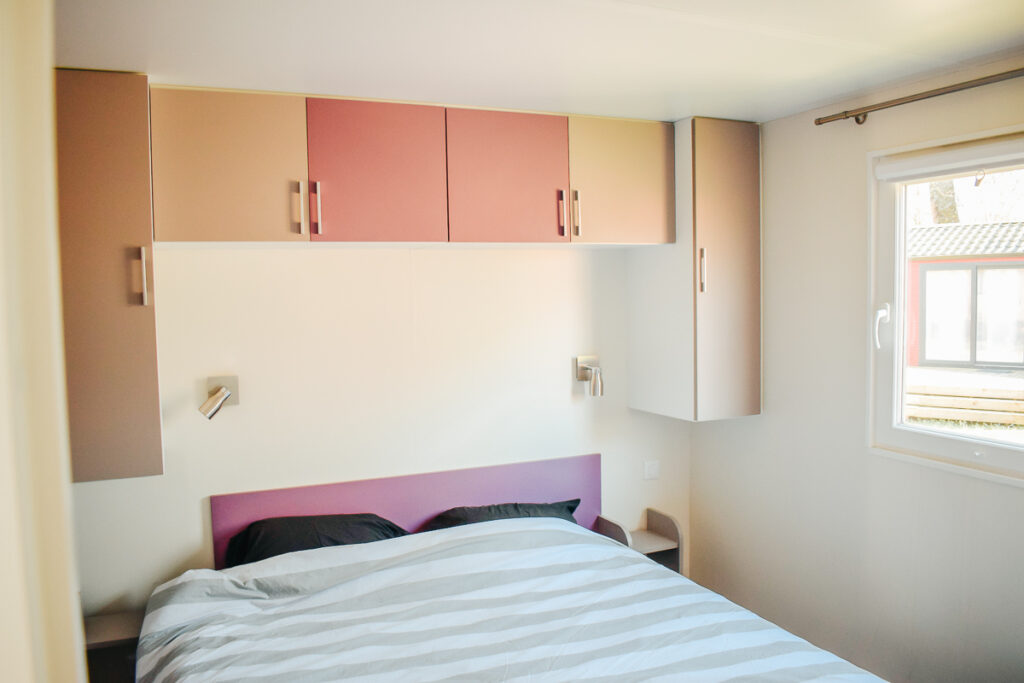 The double room in our Loupiac cottage was spacious enough for us to easily walk around whilst still having a large queen sized bed. It has plug sockets on both sides of the bed as well as having 2 overhead lamps for night time reading. 
Storage wise the main bedroom comes with a half sized wardrobe, complete with hangers and overhead storage cupboards too – meaning there's plenty of space for all your holiday wear and even a full length mirror to try it all on in front of. 
The bedroom window is wide opening and comes with blackout blinds as well as a curtain. Unlike other mobile homes we have stayed in the windows in the Loupiac cottage don't come with mosquito blinds.
We stayed on the campsite during March so thankfully the Loupiac cottage came with electric heaters and duvets. 
One thing to note about the bedrooms in French owned mobile homes is that the pillows are square. That's right SqUaRe…That means your usual English pillowcase will struggle to fit it. You can always squash it in, but as we've discovered on many occasions, it really doesn't work that well. So, unless you have square pillowcases, I would advise hiring your linen from the campsite (usually done via pre booking) or even buying French linen when you arrive (sometimes this actually works out cheaper than hiring).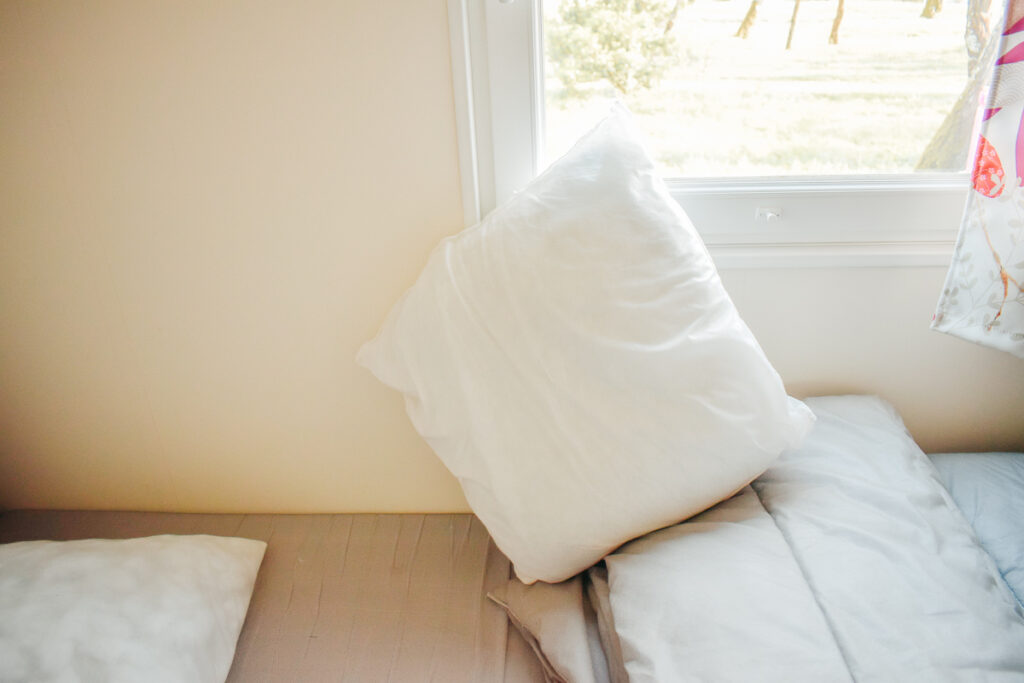 Spacious for a double
bedroom
Queen sized bed
Large window
Lamps & Plug
Sockets
Wardrobe & overhead cupboards
Full length mirror
Square pillows provided
Duvet provided
Bedroom heater
As usual, the two twin rooms are the same. Although there's only 3 of us, we prefer to have an extra room which we like to use as a walk-in wardrobe room. Although there is a good amount of cupboard space in the bedrooms, we still prefer to have a spare bedroom to store all our things.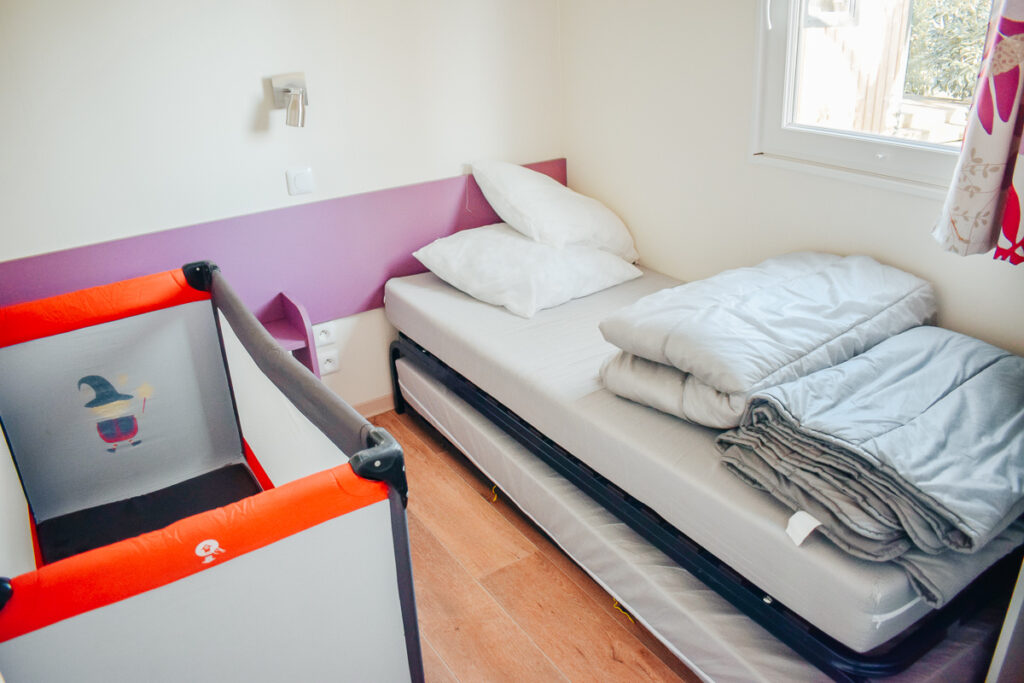 In one of the twin rooms, there's a bed that's foldable and slots nicely underneath the other bed. This is so that you can easily fit a travel cot in there. We like to hire ours directly from the campsites we stay on and usually this is free.
Storage wise the bedrooms come with plenty of storage space in the overhead cupboards as well as the small wardrobes with hangers already inside.
Like the main bedroom, each twin room comes with its own heater as well as duvets and pillows (to provide your own/rent your own bedding)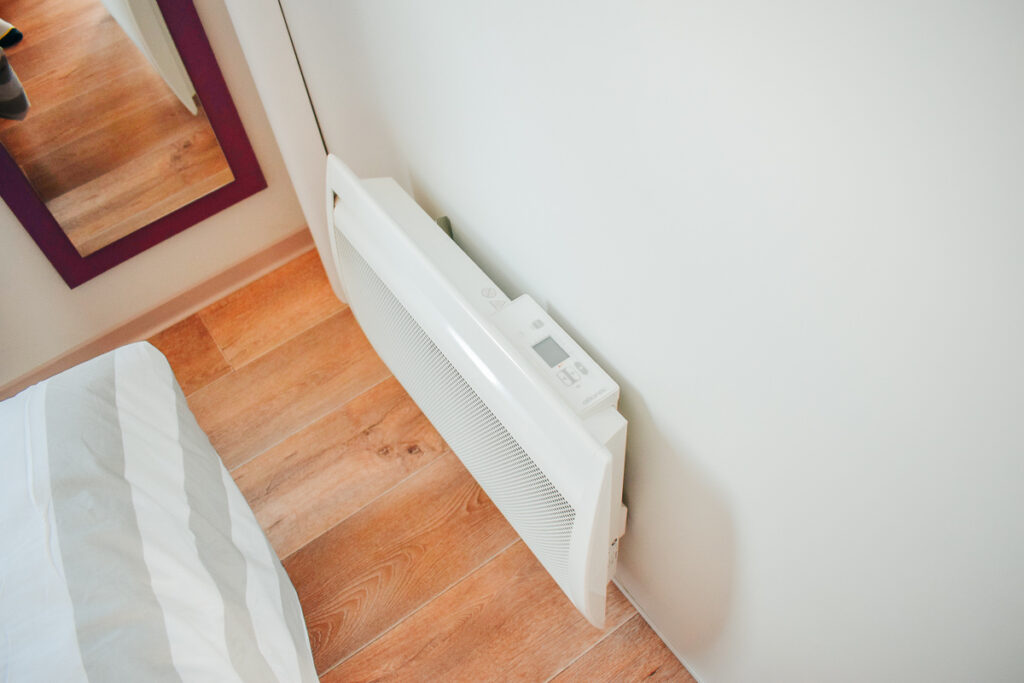 Foldable bed for cot space
Wardrobe & overhead storage
Plug sockets & reading lamps
Bedroom heater
Square pillows provided
Duvet provided
The shower rooms and toilet are both of a standard mobile home size, not massive, but enough for an average/above average sized person to access and use appropriately.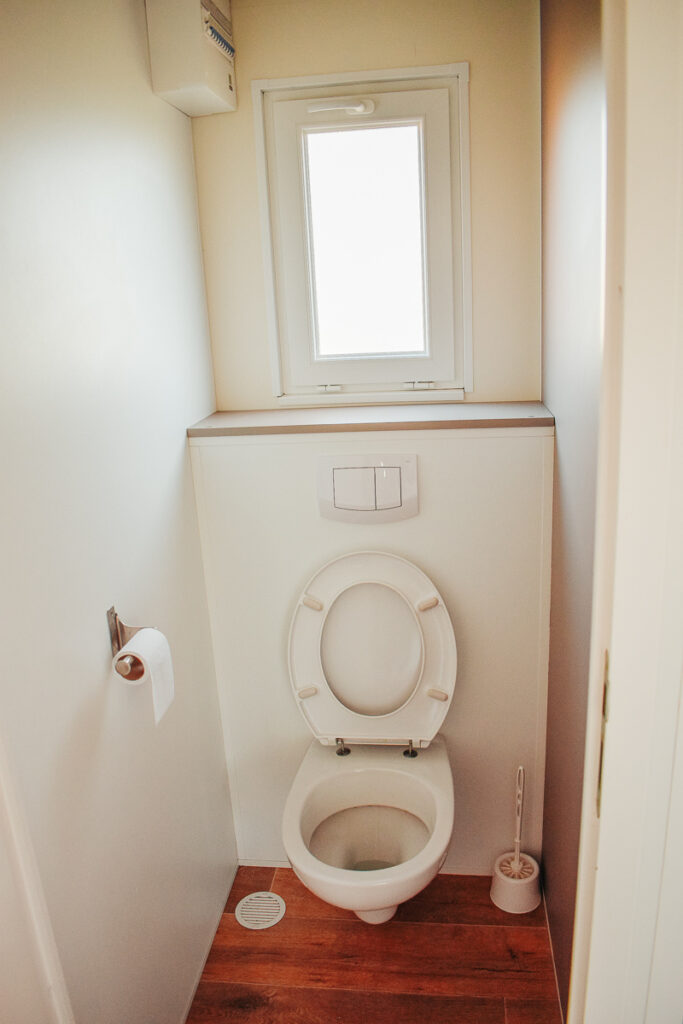 The shower in this Loupiac Cottage mobile home was in fact the most powerful mobile home shower we have ever had, which is always nice to jump into after a long hard day of sightseeing and exploring.
There's an electric heated towel rail, blockout blinds and a large bathroom mirror and sink area. We even found, on the sink, complimentary shampoos and soaps.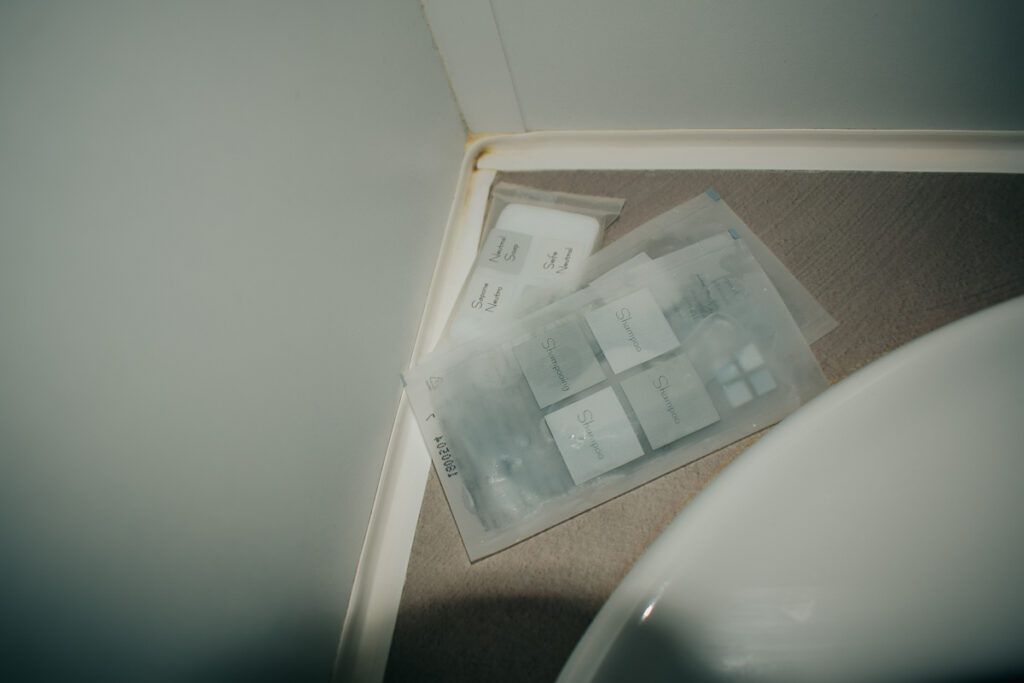 Toilet and Shower room Features
Powerful shower
Complimentary shampoo & Soaps
Heated towel rail
Large mirror & Sink with storage underneath
Throughout the mobile home there is a strong purple and grey theme. All the rooms reviewed so far follow the theme, and the living room is no different. The sofa is a bright, bright pinky/purple and stands out as soon as you walk in the mobile home.
Above the sofa there is a Television which featured French TV channels and on the other wall, an air conditioning unit. Although it didn't get used as much as the electric heater did.
In the main living space of the Loupiac cottage there's a large dining table and chairs and although it's a very attractive dining area, we think it takes up too much space. A mobile home is small enough as it is without plonking a large table in the middle of it – I definitely think a foldable table would be a much better solution to space issues.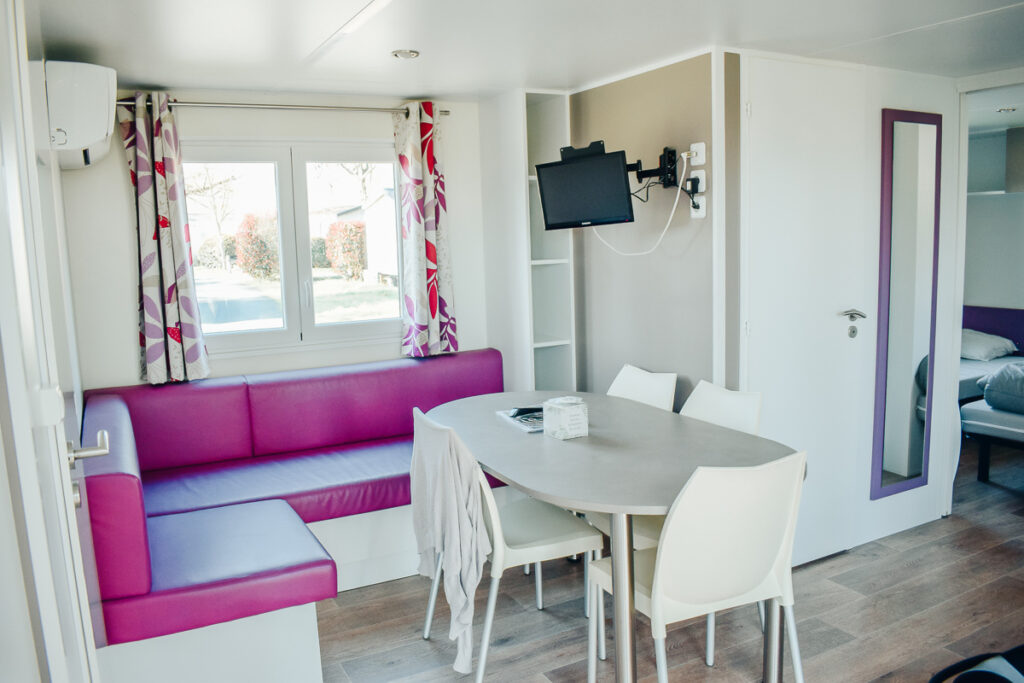 On the table was a welcome folder, with details about the local area, activities, campsite details and markets as well as a welcome pack containing cleaning products and cloths. I love it when campsites leave local information guides in the mobile homes as I feel it really adds that extra touch and helps you plan out your time a little easier.
Other features of the living space included a large cupboard with cleaning equipment in, a full length mirror and a thin bookcase style furniture unit
Large table
TV
Aircon
Bright, large sofa
Welcome guides
Welcome pack with complimentary cleaning products
Large cupboard and shelves
Full length mirror
The French owned holiday homes are very different to those of UK companies like Eurocamp. I've already told you about the square pillows, but another difference you may notice is that the French owned mobile homes don't have an oven. Instead, the prioritise the space for a dishwasher. This mobile home is no different.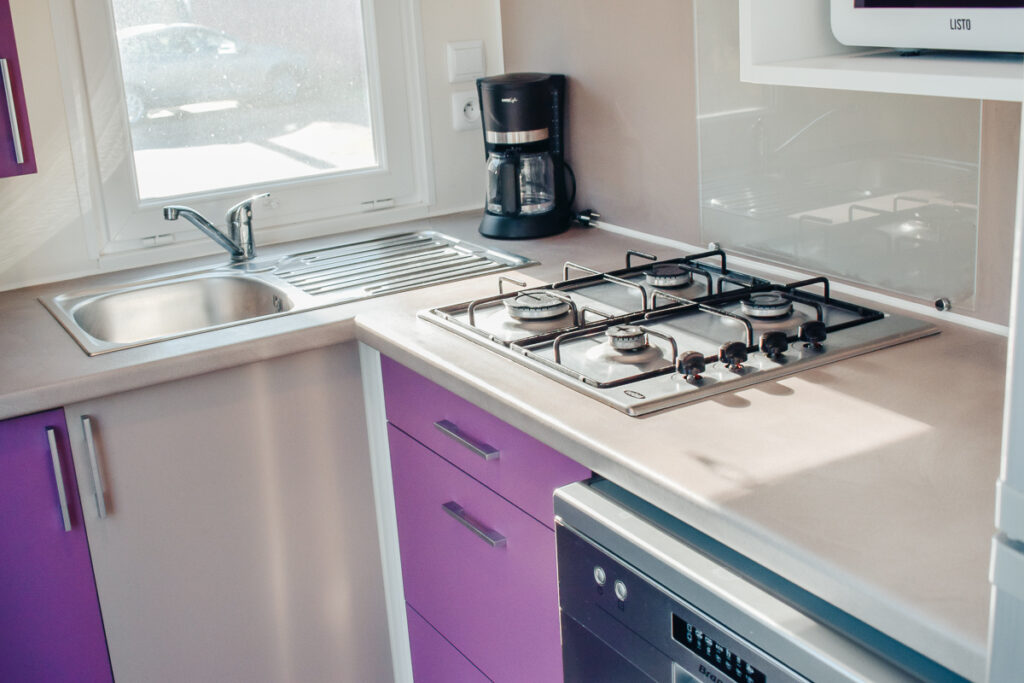 The lack of an oven is no problem for us, but the lack of a toaster or grill could be a slight problem for families wishing to warm their croissants or have toast for breakfast.
Size wise, the kitchen is reasonably small, there is, however, plenty of cupboard space. There are large windows and a patio door leading out to the decking area, meaning that the kitchen area is a really bright and airy space.
There's a large fridge, microwave, electric coffee maker and plenty of plug sockets if you want to bring your own kitchen accessories.
There were a few things I noticed about the inventory. I'm not sure if it was because it was the start of season or if it's just the way it is but, there wasn't a kettle which I found quite unusual. They did have the electric coffee maker – so assumably it's just because the French prefer coffee to tea.
The other thing was that the utensils, cutlery and other inventory seemed really unstandardised. There was 1 wine glass in one style 3 in another and the rest were a different style, the crockery was all different, as were the quantities of each. I'm used to mobile homes with a set amount of inventory, all in the same styles.
Overall the kitchen was ok. The lack of an oven really didn't impact our stay and to be honest we much prefer the luxury of having a dishwasher over an oven anyway. However, I would have liked a kettle especially for making up the baby's formula bottles and a toaster wouldn't have gone amiss.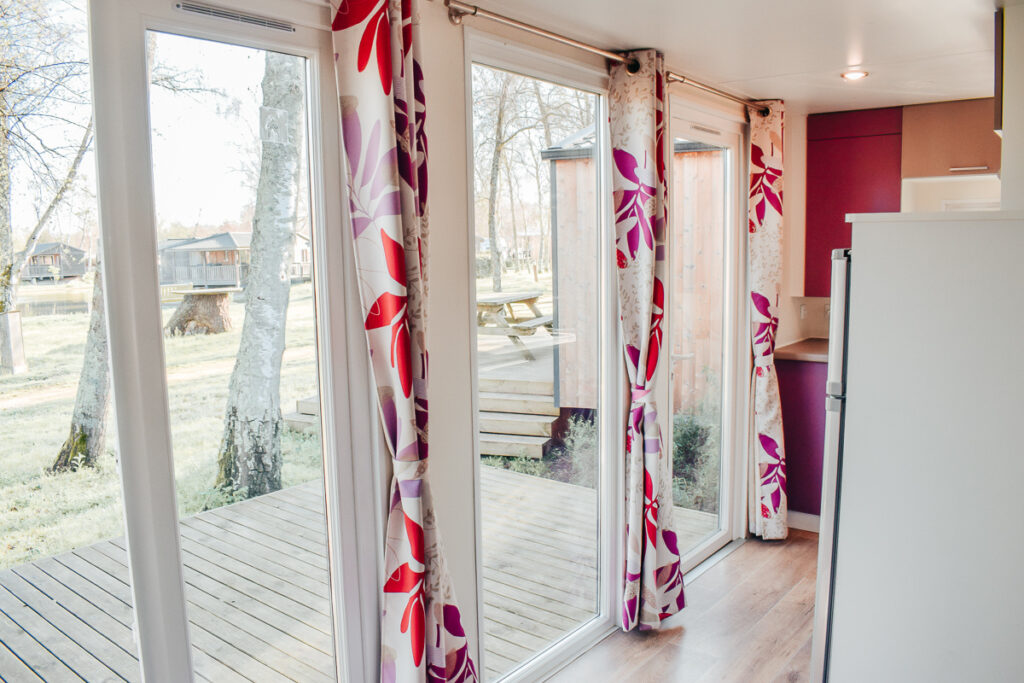 Dishwasher
Microwave
Large fridge
Coffee maker
Plenty of plug sockets
Large amounts of crockery
Gas Hob
The outdoor space of the Loupiac Cottage is incredible. We had a beautiful view of the lake from our lovely large decking area and thanks to the wooden cladding, the mobile home fits in wonderfully with the trees and natural surroundings.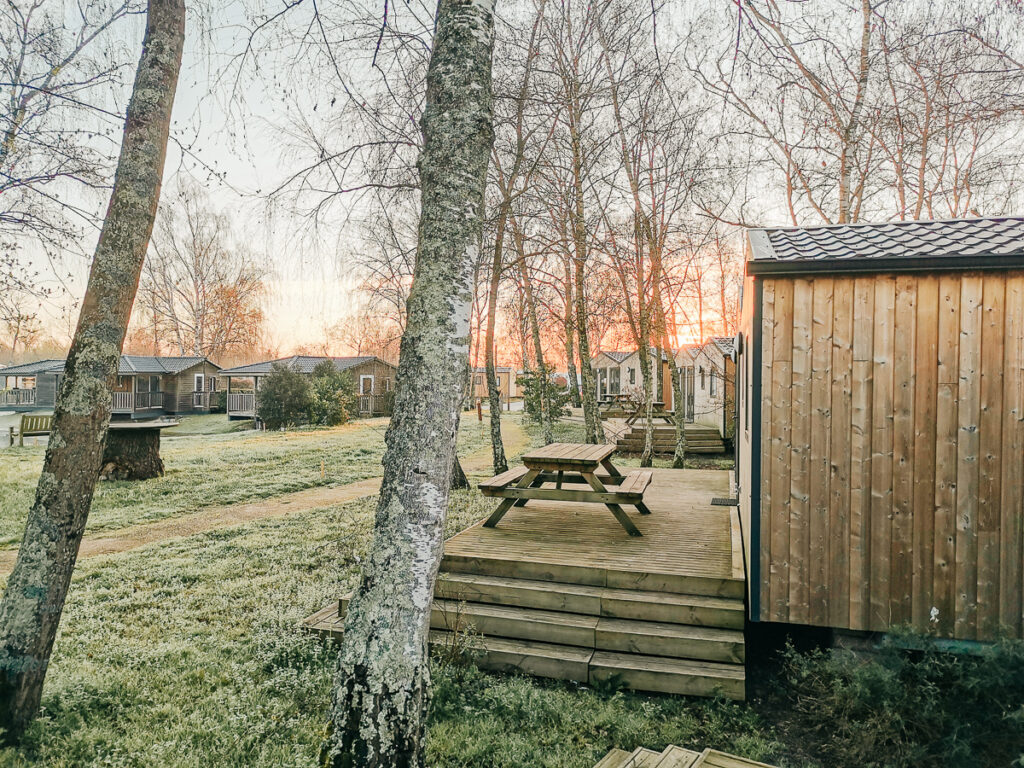 Outdoor furniture wise we were provided with a large picnic table and an airer. So you can sit outside with your picnic while watching your clothes dry (should you wish)…There's also outdoor plug sockets if you want to plug in any electrical equipment. However, you won't need to plug in lights as there is already some outdoor lighting.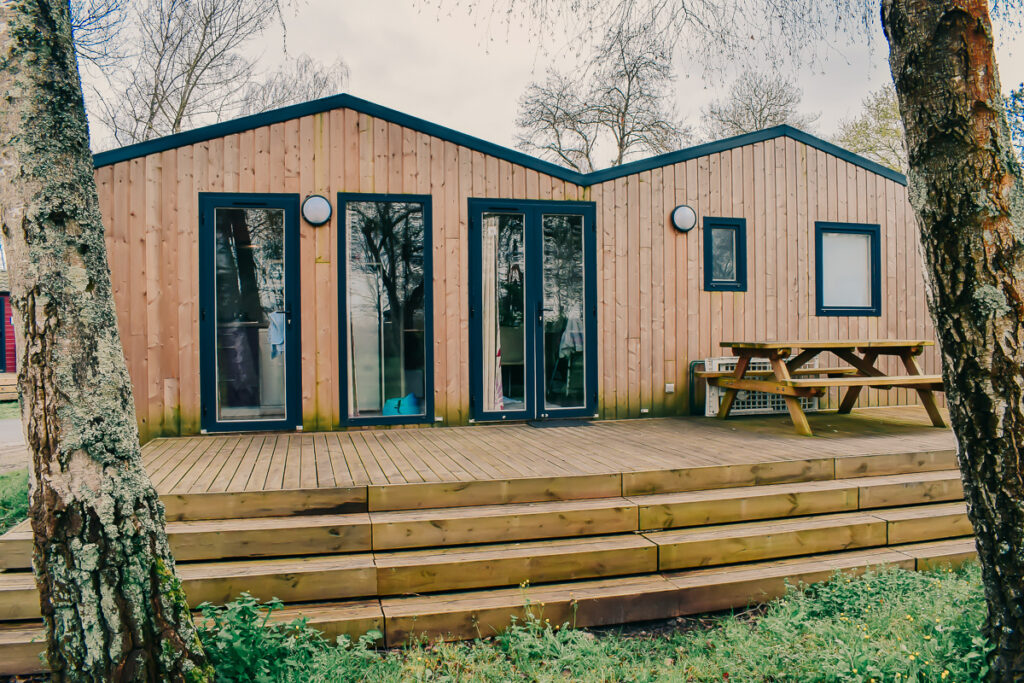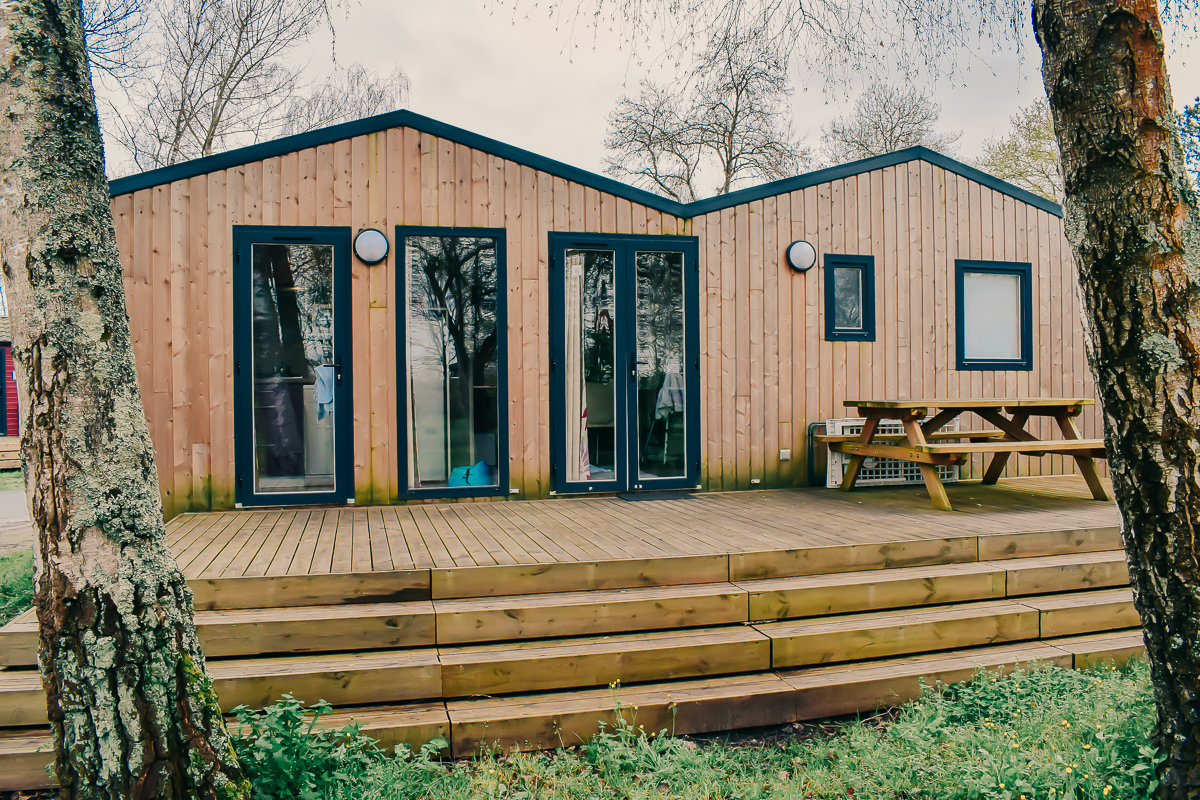 My only complaint about the outdoor space is that there is no fence/decking gate and that the decking area is completely open around the sides – meaning you have to really keep your eye on your children to ensure they don't climb/fall off.
Video tour of the Cottage Loupiac Mobile Home
Different types of accommodation at Bordeaux Lac Campsite
The Loupiac cottage wasnt the only bookable accommodation we could have stayed in. We chose it because it sat in the mid-range price bracket and had all the space we required as well as a lovely view of the lake. 
All the accommodation at this campsite looked fantastic and well kept and would each suit different families and different budgets.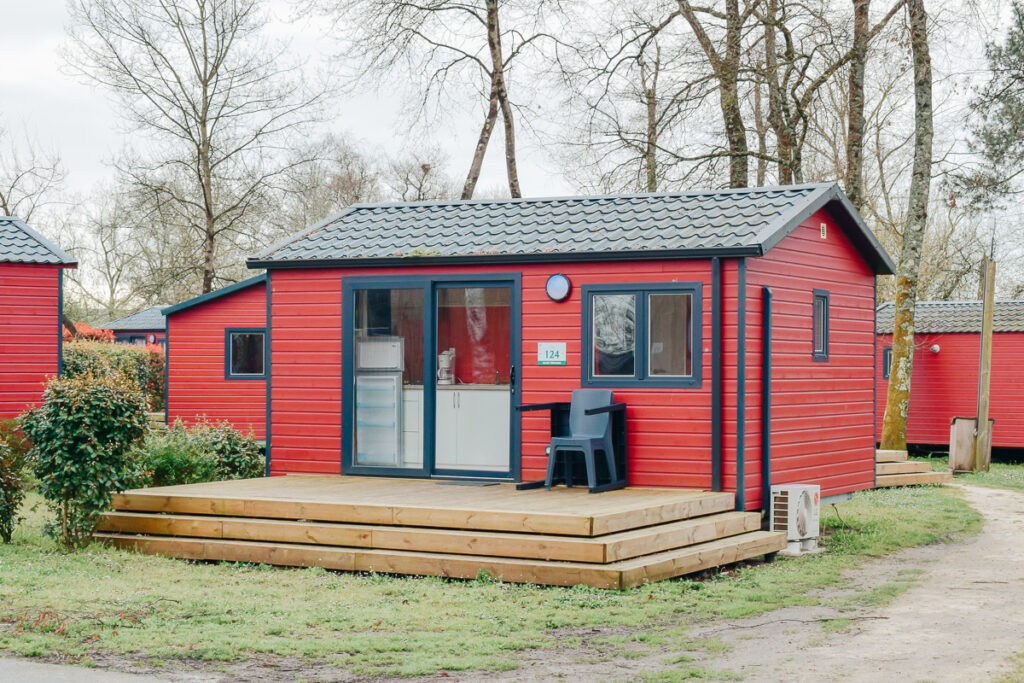 The cheapest priced mobile homes were the
Cottage Saint-Emilion and the Cottage Saint-Estephe. These mobile homes are perfect for a couple (either alone or with a pet) looking for a small mobile home and a budget stay. They are just 19m2 but come with air conditioning, bedroom, shower room, small kitchen and a cute decking area.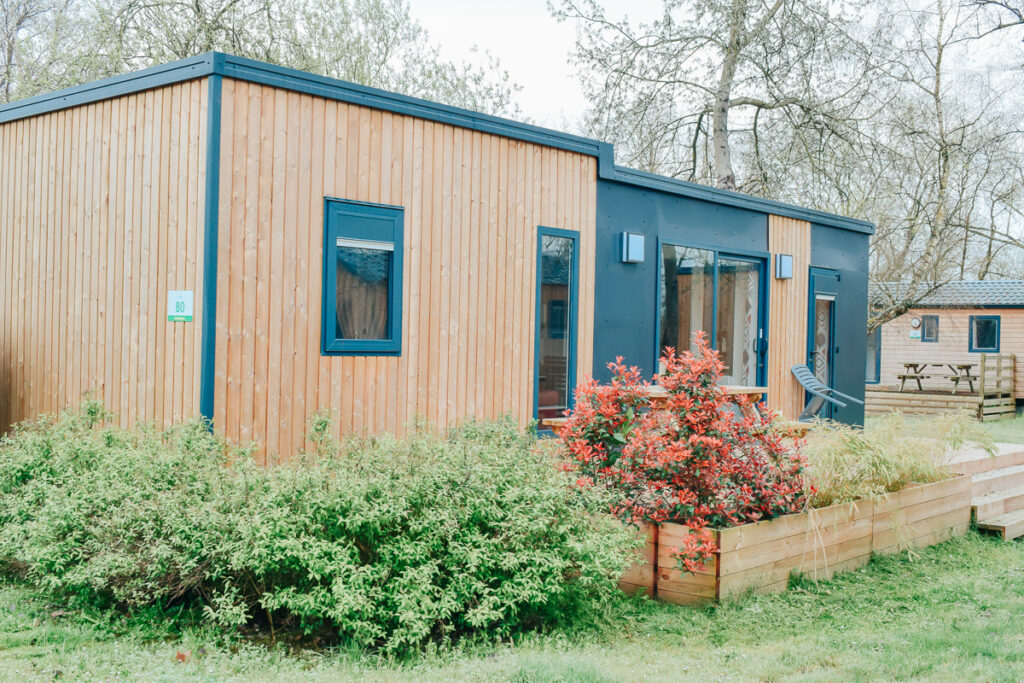 The most expensive accommodation is the Cottage Pauillac.
This mobile home can hold 6 people in 3 bedrooms with 2 bathrooms and even has space for guests to bring a pet. It's 40m2, comes with aircon and a fully equipped kitchen (but still seemingly no oven) and has a lovely sleek design.
There are a whole bunch of other mobile homes priced in between all with different features so it's well worth having a look for yourself on the Yelloh Villages Website to find out more. 
There are many extras you can add to your stay. Some of these extras are free, whilst others have a cost.
One of the best things about yelloh village resorts is that you can actually add half board catering options for your family, which may, in the long run save you a bit of money. However, we prefer to spend our camping holidays bbqing or picnicking outside with potentially only one or two meals at the restaurant.
But catering options aren't the only bookable extra. You can add your pets, bed linen and towel hire, baby kit hire and end of stay cleaning.
Now, if you're used to staying with British camping companies like Eurocamp, you may never have experienced the end of stay cleaning or cleaning deposit costs. Basically, these self catering accommodations are also self cleaning which means you are responsible for cleaning the mobile home to a high standard ready for the next customer.
If you choose not to do this, you will either lose your cleaning deposit or you can pay (before you stay) for the end of stay cleaning to be done.
If you're driving over and don't need to book linen or added extras then don't forget to bring these along with you (and to check the – a few other things we always remember to pack include:
Oven glove
Veg peeler & sharp knives
Baby Extras if needed (or add to your booking)
As we couldn't find any in Cottage Loupiac – I would also pack:
A kettle
a toaster
I loved this mobile home for its lake view, wooden cladding and lovely spacious outdoor decking but there are a few things I disliked including the lack of kettle, grill/toaster and the large table taking up too much living room space.
Overall we have rated it a 3.5 as it was perfect for what we wanted it for but these issues did bring the score down slightly.
I would definitely stay in the loupiac Cottage again but maybe I would bring my own kettle and toaster