Camping Des Ribières Review We really enjoyed the peacefulness of this campsite. It's a great place to meet other campers, relax for a few days and explore this region of France.
Check Availability And Book Camping des ribieres Today
Clicking the button below will open the providers website in a new window.
Camping Des Ribieres is a small family run campsite in the Charente region of France. We headed there recently for the weekend to see what facilities the campsite has to offer and to take our pet cat camping for the first time – because family camping isn't just about children, but the whole family (pets 'n' all).
Pros of Camping Des Ribières
We loved the family run feel this campsite had
Cons of Camping des Ribières
Every family prefers certain things about a campsite, so our "cons" could be on your "pros" list!
This small, cosy campsite is perfect for a quiet, relaxing break. Not all families want pools, animations and noise and if you're one of those families, then this campsite is perfect. 
Camping des Ribieres is a 3* riverfront campsite situated in a small village called Confolens. The campsite is animal friendly (hence why we took our cat), has disabled access and wifi throughout. However, we didn't need to use the wifi as our phone/internet signals was also good enough for use around the whole site – a perk of camping in a town center.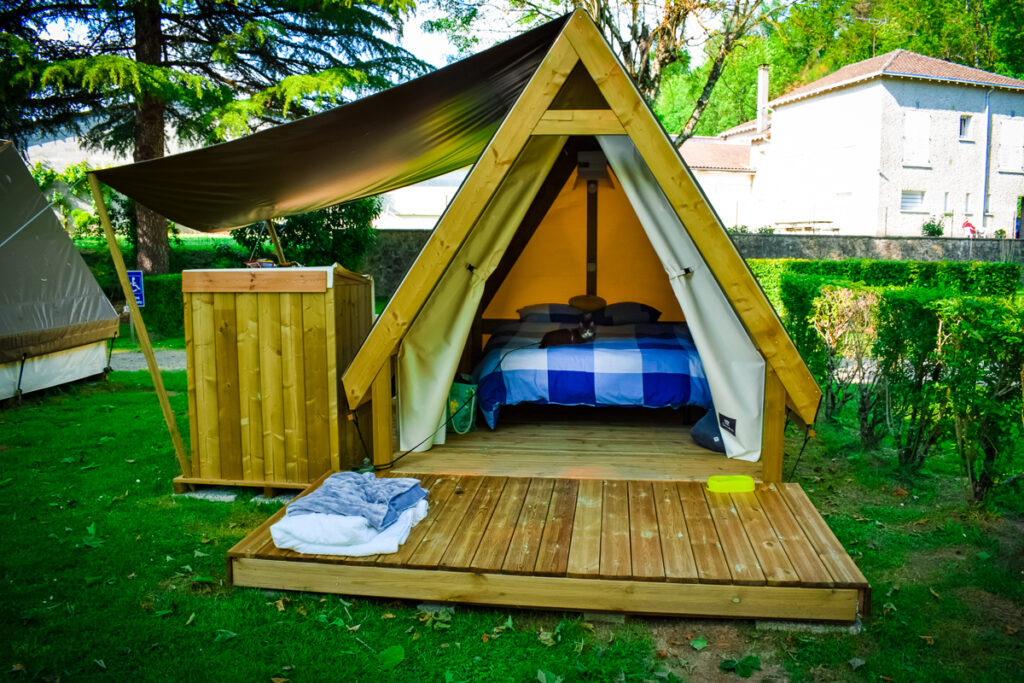 For children, there is a play park with climbing frames and swings, a small beach on the riverfront for sandcastles, free toys/books and game hire as well as a small animal corner where they can watch chickens and ducks. I think they previously had goats too but unfortunately these were not there during our stay.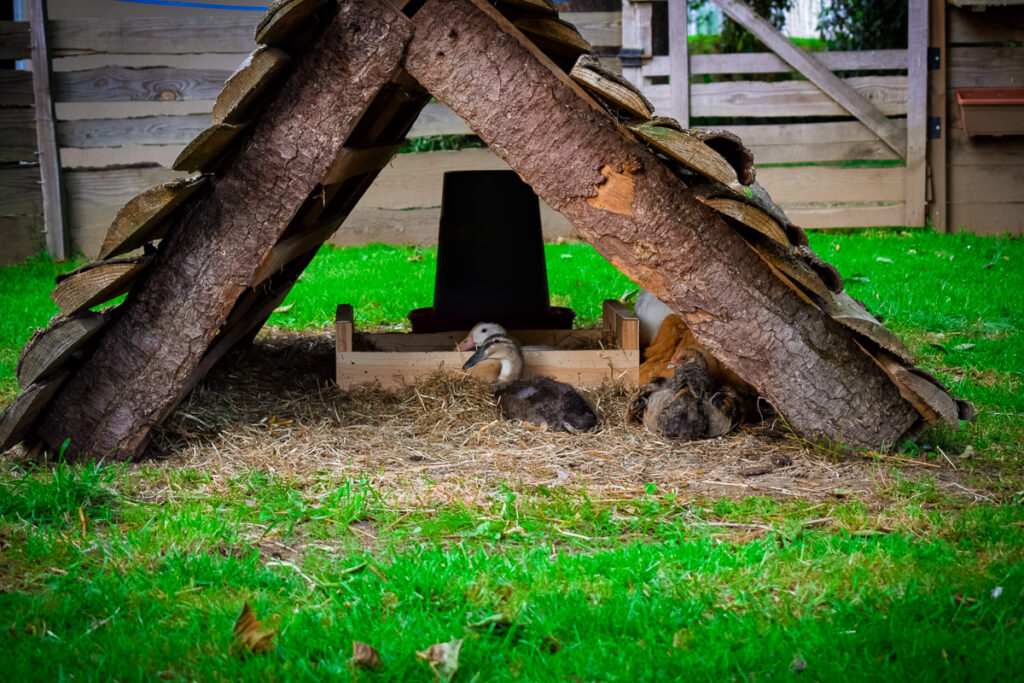 For the adults, there's a communal bbq area where you can sit around, socialise and make friends with your neighbours as well as relax on the beautifully crafted wooden seats. And you can also hire fishing equipment and canoes for free. The campsite is super friendly and we found many of the guests to be British, French or Dutch and really easy to talk to.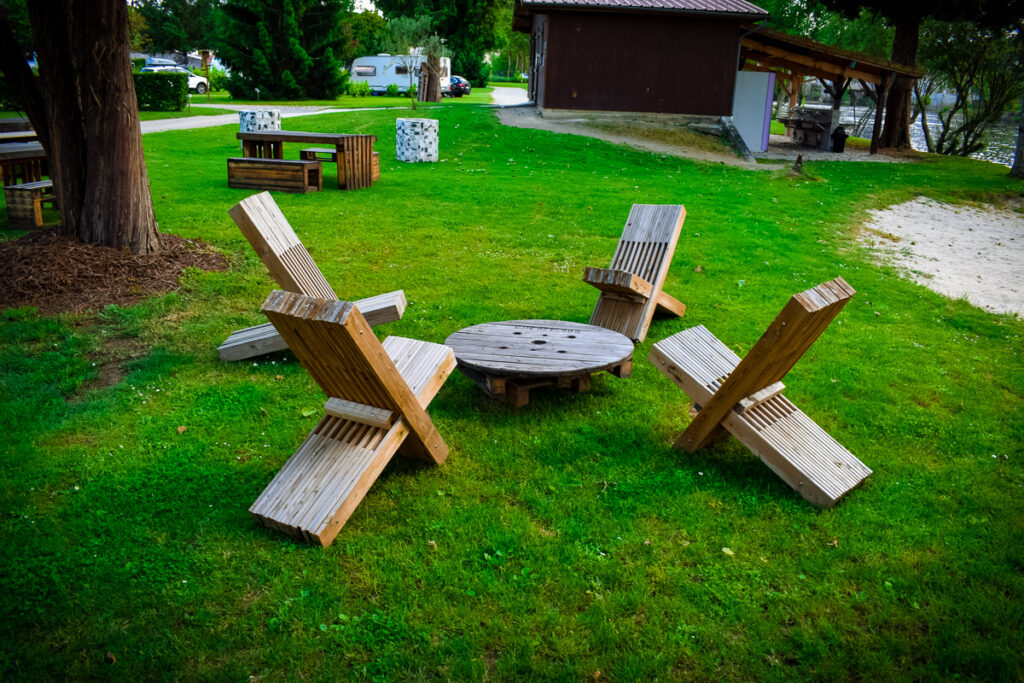 Just steps away from our tent was one of the campsites toilet and wash blocks. It was a very basic wash block, however it had everything you could need. Showers, toilets, chemical toilet disposal, washing machines, tumble dryer, washing up sinks, clothes washing sinks and more. 
Across the way, towards the river there was another wash block which looked way more modern. The inside was beautifully decorated with mirrors, modern sinks and even had a baby change/bath area. 
Mike used a shower in the modern toilet block. Which was warm, clean and just about spacious enough! There is a separate cubicle on the opposite side of the shower block for getting changed – which I didn't realise. I'd tried to get dressed in the shower cubicle itself which is tricky as the floor gets completely soaked! There were plenty of sinks and mirrors which is ideal for those wanting to do hair and makeup.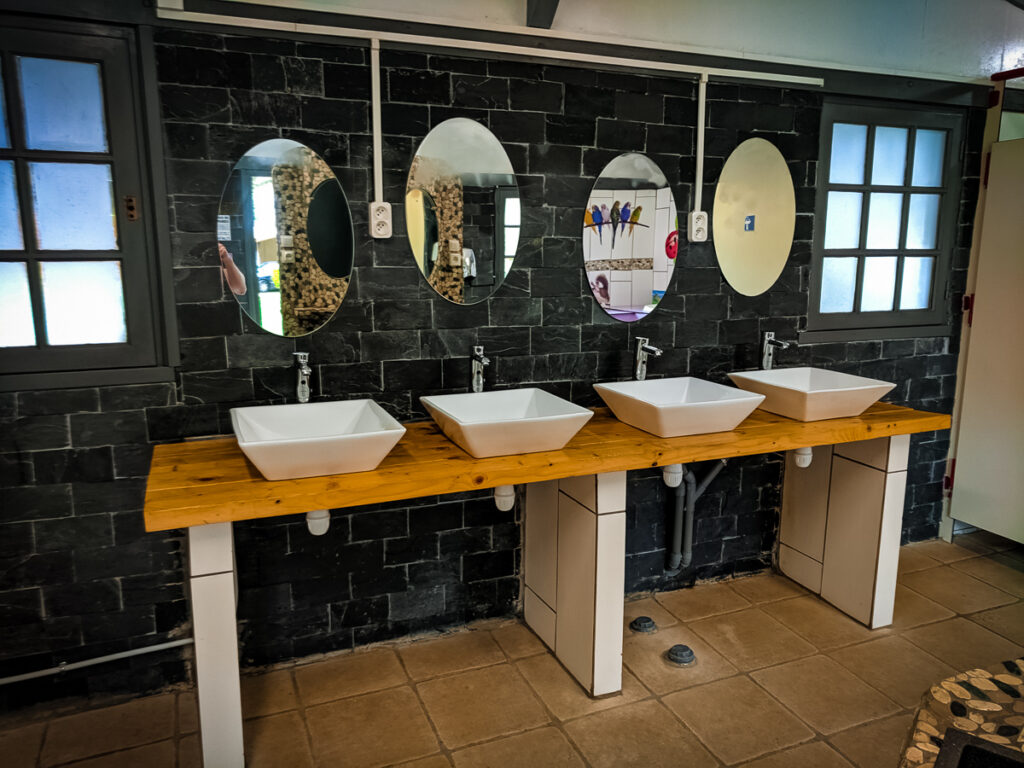 There is a bakery on-site every morning from 8.30am till 9am with fresh bread and pastries but unfortunately we cannot report on this as we slept so well in our Tente Randonnee that we overslept and missed it. 
From the main reception, there is the opportunity to buy Ice-creams, lollies and cold drinks like water, beer & wine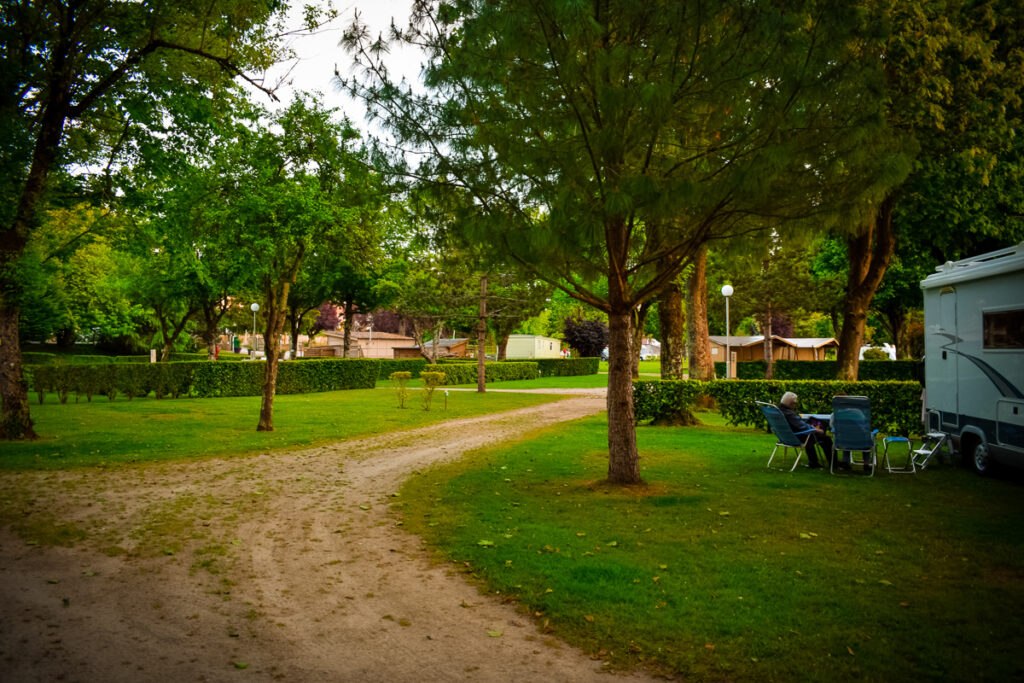 Accommodation at Camping des Ribieres
As well as plenty of pitches for tents, campervans and caravans (with EHU) the campsite also provides a number of their own accommodations which we took advantage of.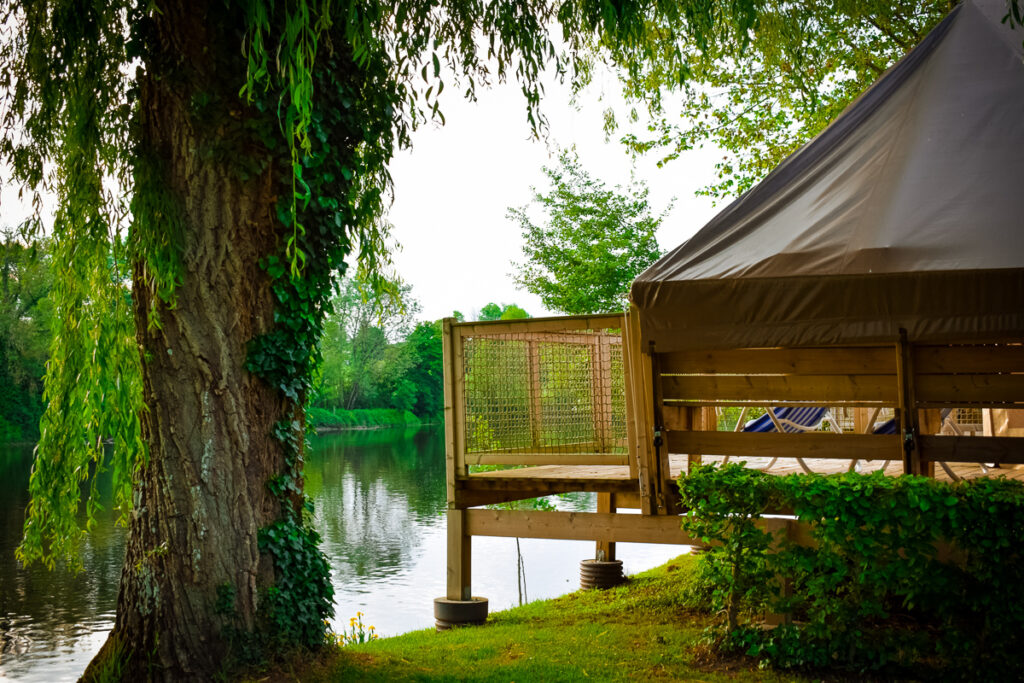 Literally translated to the hikers tent, this basic, but nicely crafted tent had everything a couple camping alone would need. There was enough room for both of us plus the cat and you can read our full review here or watch our video tour on Youtube.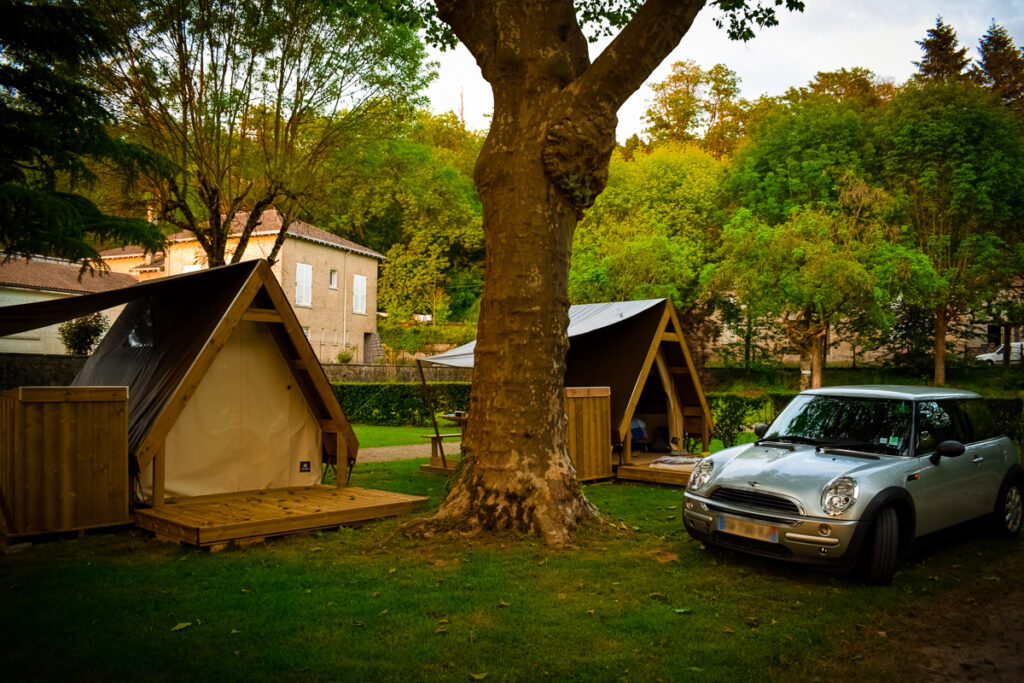 This is the next tent up. I would definitely recommend getting one of these if there's more than just the two of you. We had a sneaky peek inside one of the ones on the river front and were really impressed with the space you get inside. The tent is on a raised decking and outside you get a range of patio furniture to enjoy including a bbq.   
This is the top tent. Larger than the other two and also beautifully wooden crafted the cotton comes with really swanky outdoor furniture, more kitchen equipment and even its own bathroom! There's a double bedroom for the adults and a bunk room (with 3 beds) in the other room and it really is a stylish looking tent.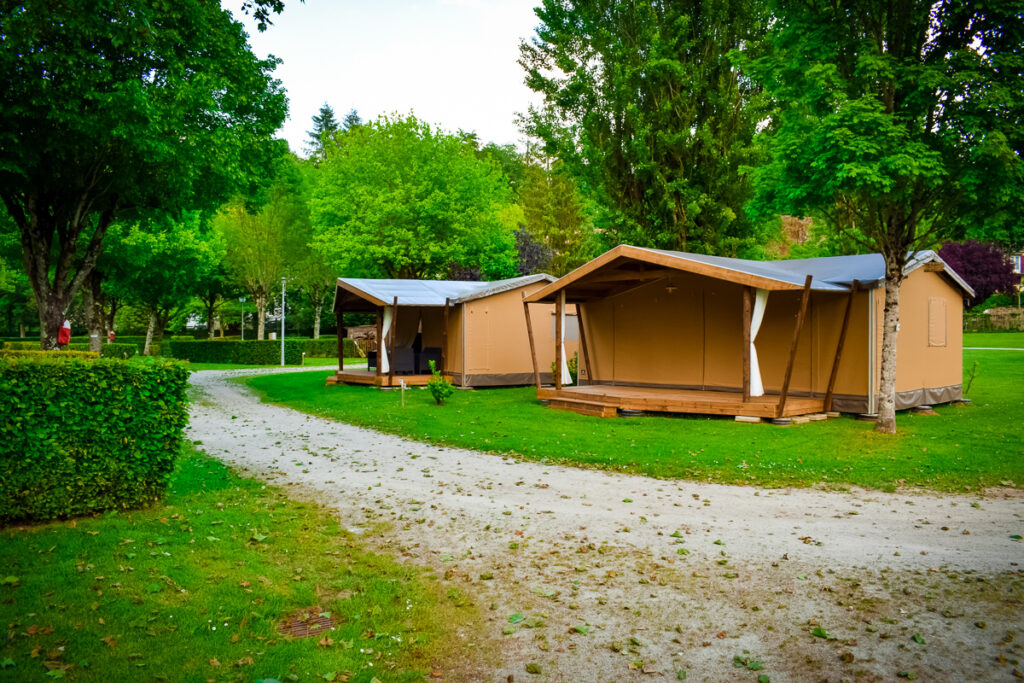 Day Trips from Camping des ribieres
The campsite is situated in a small town called Confolens and although a beautiful looking town, I feel it's very dated with not much going on unless visiting during the confolens festival or height of Summer. There's a few small shops, a sports bar, an english fish and chip shop and some bakeries. But if you're looking for a bit more to do, fear not, the Charente and it's bordering department the Vienne have plenty to offer campers in the area. 
ith around 30 different species of primate from small marmosets to large gorillas, this park is great fun for kids of all ages. You can walk around in their environment free from cages (dangerous monkeys are on islands so don't worry). There's also a mini farm with goats and other strokeable animals near the end. It's a great family friendly day out and we really enjoyed our trip there. 
This one's more for the adults than the kids. Take a tour of the Cognac distilleries as well as exploring the beautiful old town all along the Charente river. And of course, stop for some lunch with some local dishes and a cognac cocktail, because, well, you're on holiday too!
Futuroscope is a scientific theme park in the Vienne region of France. Based on multimedia many of the parks attractions are centered around cinematographic and audio-visual techniques. You'll find several 3d and 4d cinemas as well as magic shows, planetariums and "robocoasters". It's a great day out if you're wanting an educational yet fun trip.  
The Martyr village. Destroyed in the war this village stands as a memorial to the villagers who were massacred by the Germans. There is a memorial museum just outside and you are able to walk around what's left of the village. It's an eerie place. Sombre. Words can't describe the feeling. It's well worth a visit and if you've never heard of it before, you'll be shocked once you read into the history of what happened here.
Frequently Asked Questions
What are the barrier times?
The barrier is between 7am and 11pm. You'll have a pin code to enter which is given to you at check in.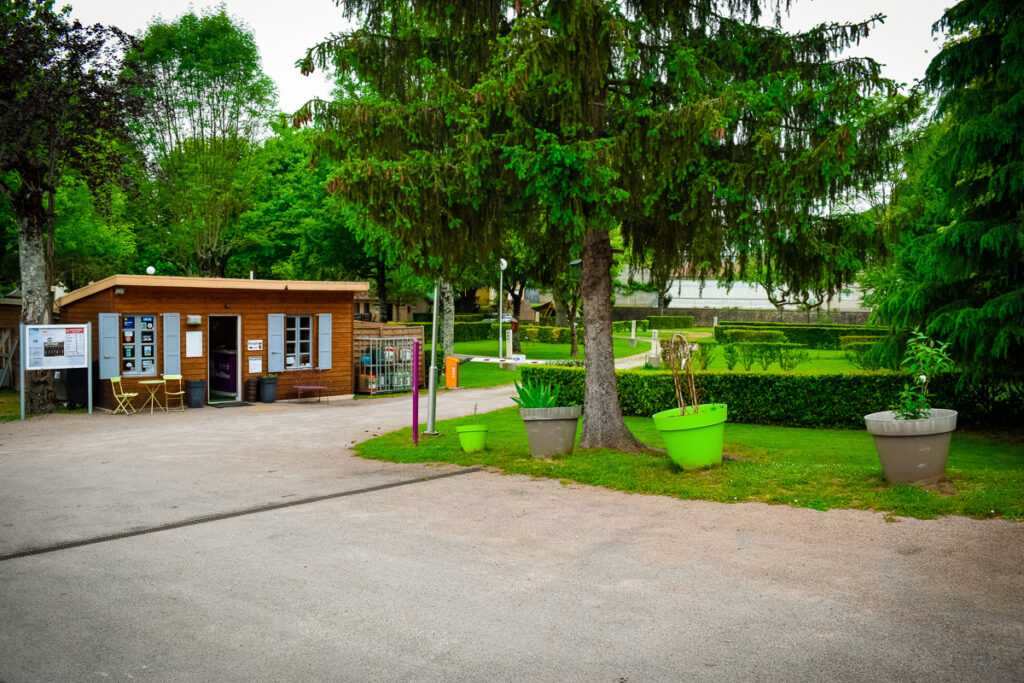 Nope, but the campsite is on the riverfront with its own small beach corner. 
Do the pre-erected tents come with Inventory?
Yes. I was worried as I couldn't find any information online about what to bring or what's included so we did bring everything we needed but it turns out a lot of it was already there – except a corkscrew – definitely bring a corkscrew.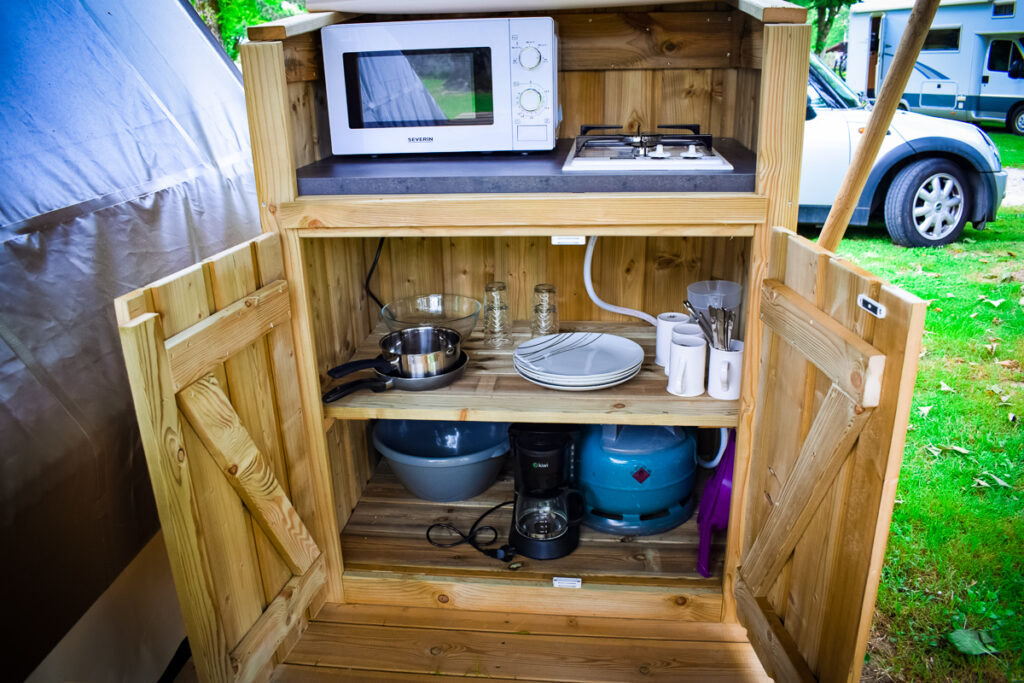 Is this campsite family friendly?
YES! There's a park, kids cames, animal park and plenty for young children – don't be put off by its quiet label, children can definitely still have fun here
YES! We took our baby KitCat and she was allowed in our pre-erected tent at no extra cost. She had to be on a leash, of course.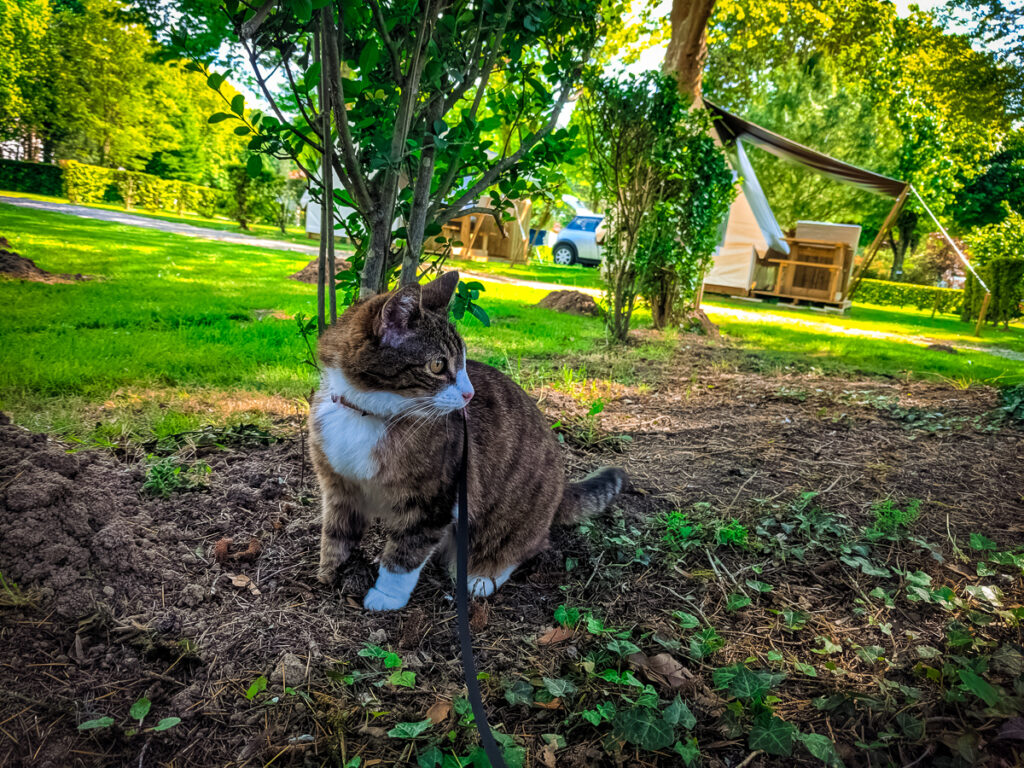 You can – and you don't even need to bring one as there's a communal bbq area
We really enjoyed the peacefulness of this campsite. It's a great place to meet other campers, relax for a few days and explore this region of France. We love that we were able to take our cat for her first camping experience – even if she was scared of every dog that walked past and preferred hiding under the tent than inside it!
As much as we do enjoy a campsite with a bar and animation every once in a while we also like one where we can relax, read a book and feel at one with nature. And here we could do just that. 
I find that sometimes smaller campsites can be untidy or unclean but in fact, the facilities here were really well maintained, looked after and spotlessly clean – I have absolutely no complaints about the cleanliness whatsoever. For what the campsite is, my expectations and what it offers, it has to be a solid 5 out of 5. 
I'd recommend this site for older couples or families with young children. I feel older children could get bored too easily and may not get the desired stimulation from the campsite and/or local town.
Check Availability And Book Camping des ribieres Today
Clicking the button below will open the providers website in a new window.