Swanage is probably one of my favourite places to camp. The beautiful Dorset town with the vast countryside and incredible scenery is just perfect for Camping. When I think of Swanage, I think about the outdoors.
Swanage is a typically British seaside town. There's seagulls, fish and chips, flashy arcades and Ice cream shops selling Mr Whippy's. It's the epitome of Summer in an English town. Every time I've been to Swanage, the sun has been shining, the people are happy, and I've managed to get the best English suntan (red with a hint of peeling).
But Swanage is more than just a seaside town. One of our favourite Swanage activities is taking a trip on the old steam railway. We usually head over to Corfe castle for a little scenic walk and some lunch.
And that's why I love Swanage; it's more than just a beach. It has incredible scenery. Old Harry Rocks, Dancing ledge, Peveril Point, Prince Albert gardens; these are only a few of my favourite sites – all within walking distance from the beachfront.
I've camped at two different campsites in Swanage, both within walking distance to the town centre and both very rustic.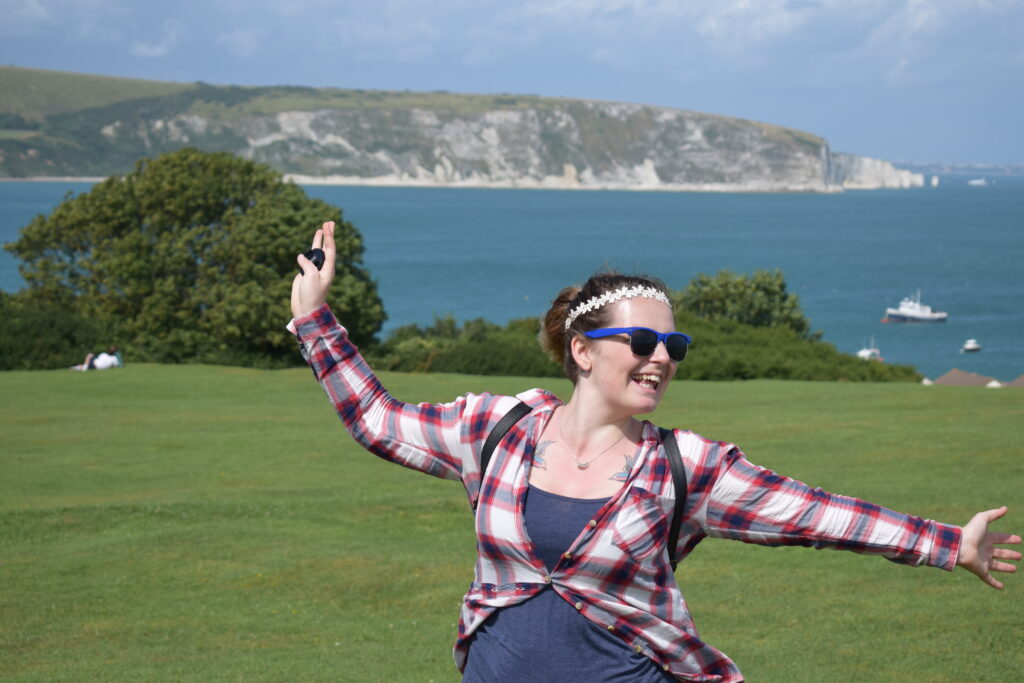 Downshay Farm, Haycrafts Lane, Swanage BH19 3EB, United Kingdom
A working farm with a campsite attached. Situated in Dorsets' beautiful countryside this campsite has some fantastic views of Corfe Castle and the steam railway. It's located perfectly for exploring the scenery that Swanage and Dorset have to offer. Although Swanage is around 4 miles away, it's an easy walk into the town centre. However, if you're not into the long walk, the steam railway stop of Harmans cross is situated very close by.
Downshay farm has been a turn-up and pitch-up kind of campsite in standard years, but with Covid19 and the pandemic, it is now a bookings only site.
I particularly love this site for its space, relaxed vibe, cleanliness and friendliness. The facilities are well looked after, and we have always found the shower and laundry rooms to be clean.
It's a very welcoming campsite and perfect for every member of the family. The only problem we've found is that because it's on a hill, you have to pitch your tent in a way that you won't end up with your feet above your head.
Toms Field Rd, Langton Matravers, Swanage BH19 3HN, United Kingdom
I've known about this campsite for years. I had a friend from school who regularly went here every year, but I hadn't tried it as we'd always used Downshay. That was until 2016 when Mike thought we should give it a go.
Again, it's another basic campsite, although it does have its own small shop on-site. The location is good for walking into Swanage and also the country paths to the Dancing Ledge. The campsite itself is a lot flatter than Downshay Farm, and it seems a lot more popular, as in Summer it can get jam-packed.
We phoned up earlier to inquire about the space, and we found the person on the phone quite rude. However, we put it down to Summer stress as, when we arrived, the campsite was super busy.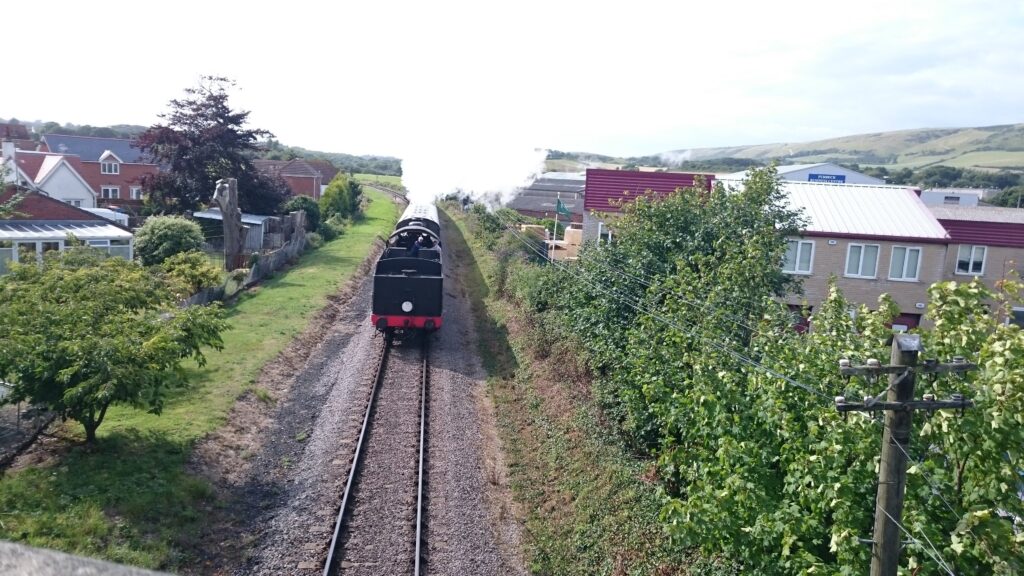 We enjoyed it, but ultimately, I think I preferred my stays at Downshay farm as they had always been a little more peaceful with plenty of "spreading out" space.
However, in future – we may have to try one of the other campsites in the area as there are quite a few. 
Some well-reviewed campsites include:
Acton Field Campsite:
Langton Matravers, Swanage BH19 3BN, United Kingdom
Herston Caravan and Camping:
ashpond Ln, Swanage BH19 3DJ, United Kingdom
Swanage Bijou Camping:
Kirkwood Park, Victoria Ave, Swanage BH19 1AR, United Kingdom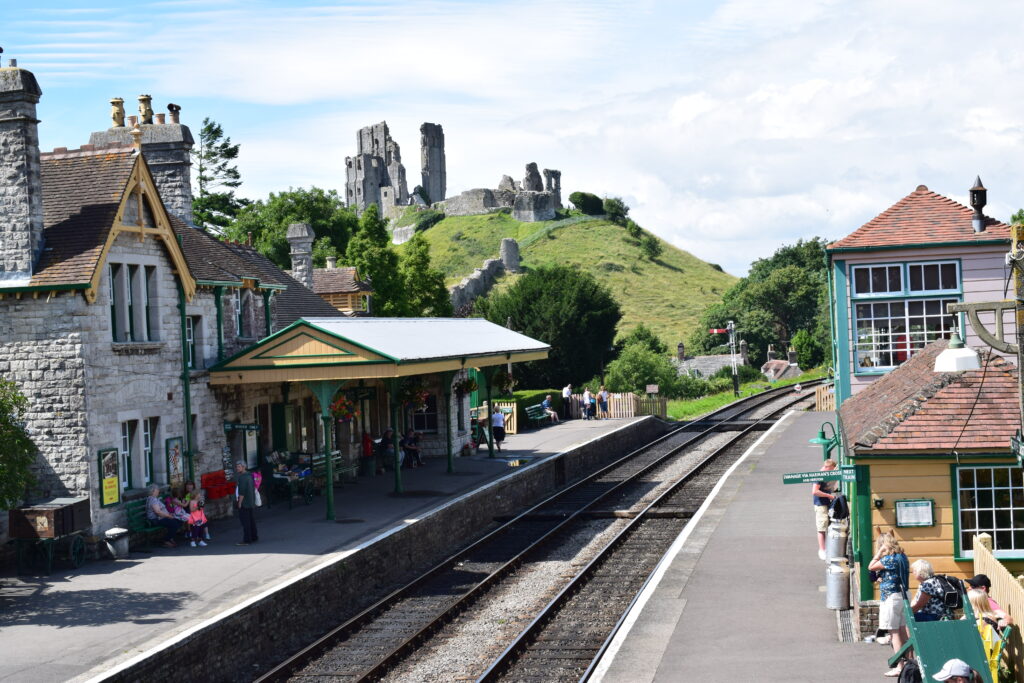 So what about my camping experiences in Swanage?
I've always camped in Swanage during the busy carnival week at the end of July beginning of August. There's such a fantastic vibe, and I think the town comes alive during the week-long party. It has a great atmosphere, and I've met people from all over the country who travel there just for the carnival.
My first Time Camping here was in 2008, and I then camped every year with friends up until 2011 when I started working on a campsite in Italy. Once I'd met Mike finished working on European campsites I couldn't wait to show him the carnival. It was one of my favourite things about being back in the UK.
So in 2016, we arrived at Downshay farm to pitch up our cheap 2-man Tesco tent. Normally, when I'd been camping with friends, we'd always had large 4-man+ tents that we could stand up inside. But this time was very different.
We found a pitch and started unpacking the tent. Because the campsite was on a hill, the wind was picking up, so much so that we almost gave up, but we persevered, that was until the tent pole snapped in half.
I thought that was our trip over.
However, in the search for spare poles, we found a camping shop in the town centre and found a low-cost pop-up tent to use. We didn't have much money back then, so £25 on a pop tent was a big purchase.
Because of the wind at Downshay Farm, Mike was hesitant to return, so we ended up at Toms Field campsite instead. We arrived at our pitch and chucked out the pop up tent. It was up in seconds, so easy!
The next challenge was getting the blow-up bed in. Safe to say, pop up's were not made for blow-up beds. It didn't fit. But, as it was Summer we thought no worries – we'll sleep with the tent open. And so we did. In our pop up tent, we slept on a blow-up bed with the zip half done up and our feet sticking out the door. What a bloody state we must have looked. Alongside all of these experienced campers with their super setups, there was us, with our crappy socked feet hanging out the doorway.
It was not enjoyable. Our feet got cold and dewy wet, and it took copious amounts of Cider to deal with, but hey, it was an experience and an amusing anecdote of our first time camping in a tiny tent. It's no surprise that we have now opted for tents with enough room to stand up inside.