Camping L'Ocean Cybele Vacances Brem-Sur-Mer
Check Availability And Book Camping De L'Ocean Today
Clicking the button below will open the providers website in a new window. I want to stay another night or two
The 3 nights we spent here just wasn't enough!
It's our final morning on the lovely Camping L'Ocean in the Vendee. 3 nights never seems enough time on a campsite, and even though I can hear the pitter-patter of rain on our mobile home roof, I'd love to book another night or two. 
What is it about this campsite that makes me want to stay longer? Keep reading to find out.
It might have a little something to do with the hot tub on our decking though…
It's safe to say we absolutely loved this campsite and already want to return.
Every family prefers certain things about a campsite, so our "cons" could be on your "pros" list!
Pool complex at Camping L'Ocean
The temperature during our stay in June left a lot to be desired, but fortunately, Camping de L'Ocean has an amazing indoor pool area, as well as an outdoor in their "aqua fun" area.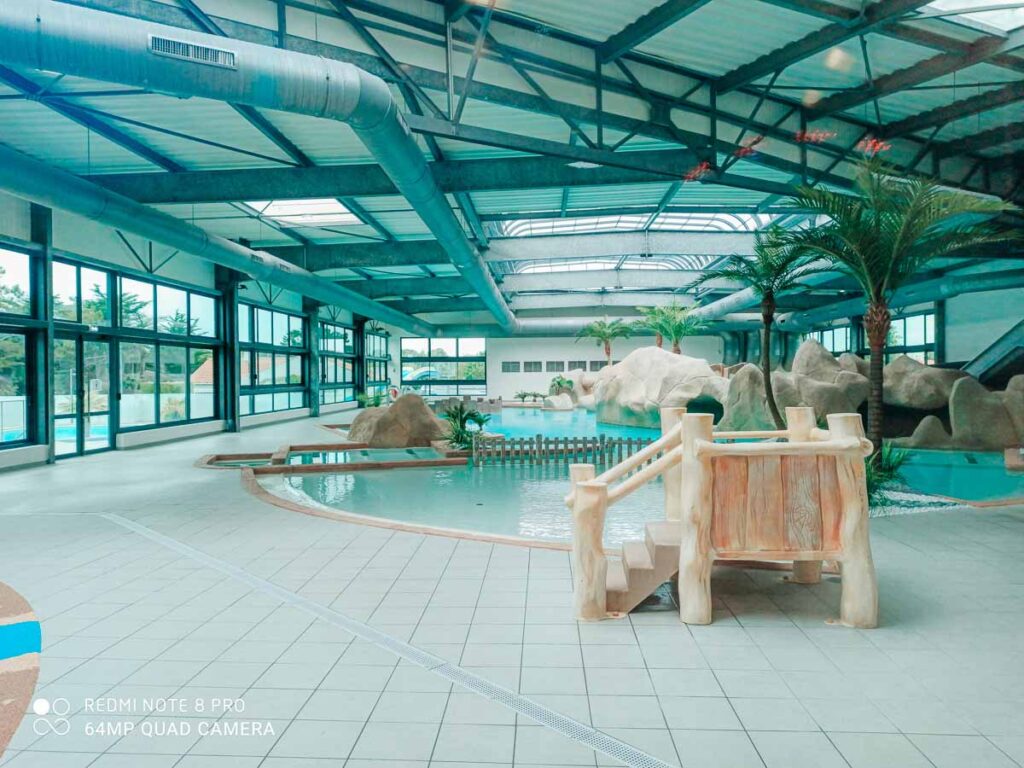 There's lazy rivers, flumes, slides, jacuzzis, a toddler splash park and a toddler pool all in the indoor area. Now that we have a baby, we tried them all. She didn't seem too keen on the splash park part; maybe she needs to be a little older than 9 months to appreciate it fully.
The indoor pools are all heated to a good temperature, and the room itself was warm enough to relax in.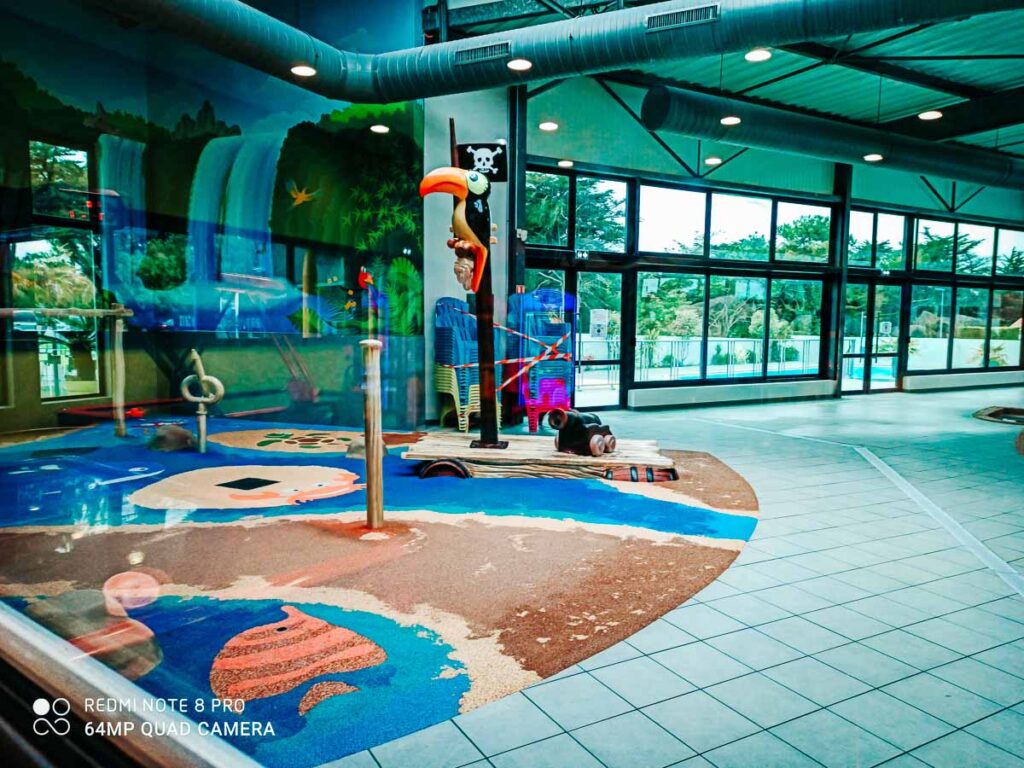 We didn't risk the outdoor pool area because the weather just wasn't warm enough to take the baby out into them, but had we, we would have enjoyed some more slides, another normal swimming pool and a cool pirate ship play area.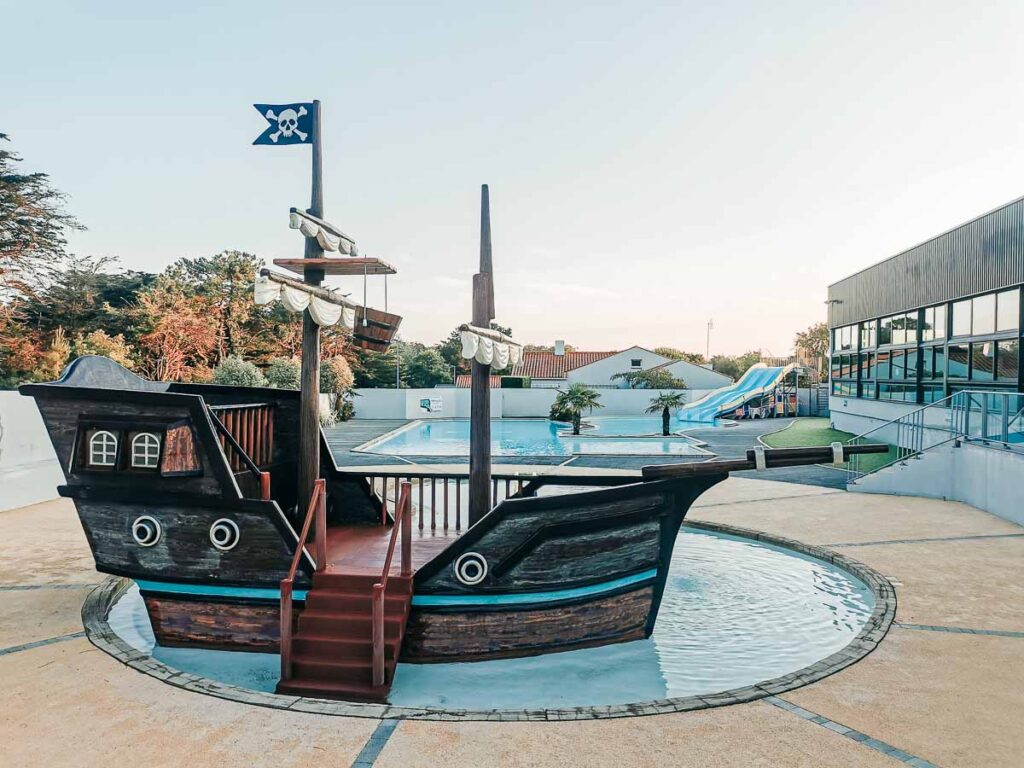 There's actually another pool area on the campsite located near the main entrance and reception area. This is called the "Aqua Cool" area. It's a smaller swimming pool with a mushroom fountain that I imagine, from the name, that it's more of a cooling down in the heat of Summer kind of pool. We did see a few people using it on our first day, but in the colder subsequent days, it was empty.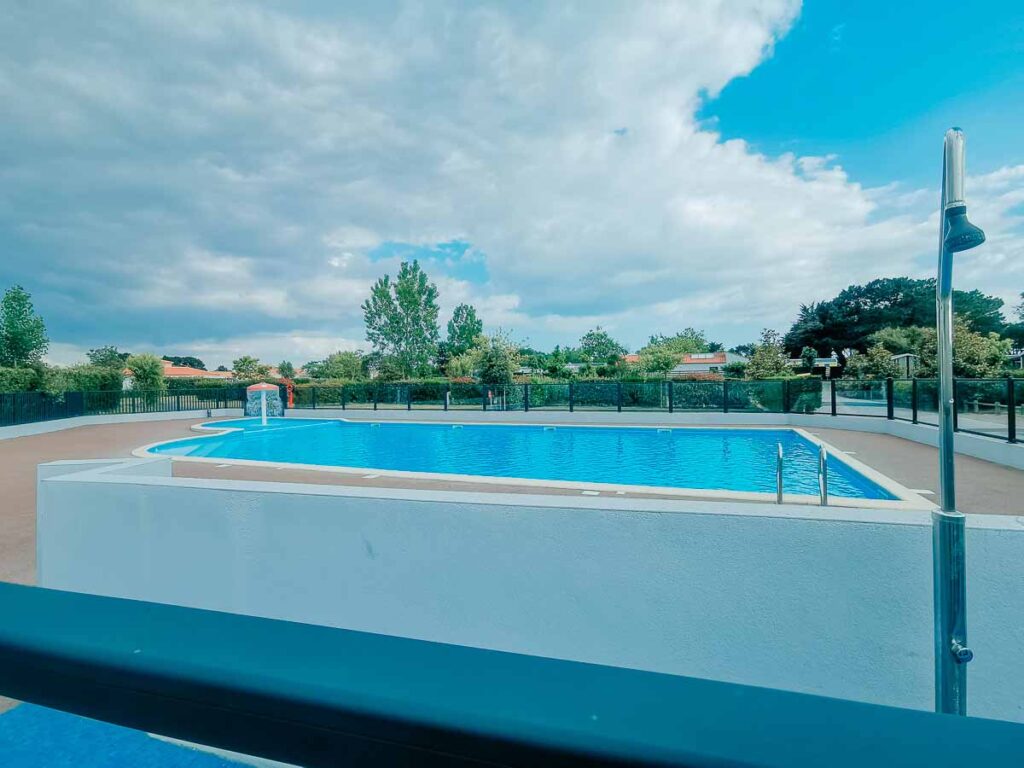 None of the pools during our stay were manned, and we saw no life guards whatsoever, this could change in high season, but there are signs up saying unmanned pools.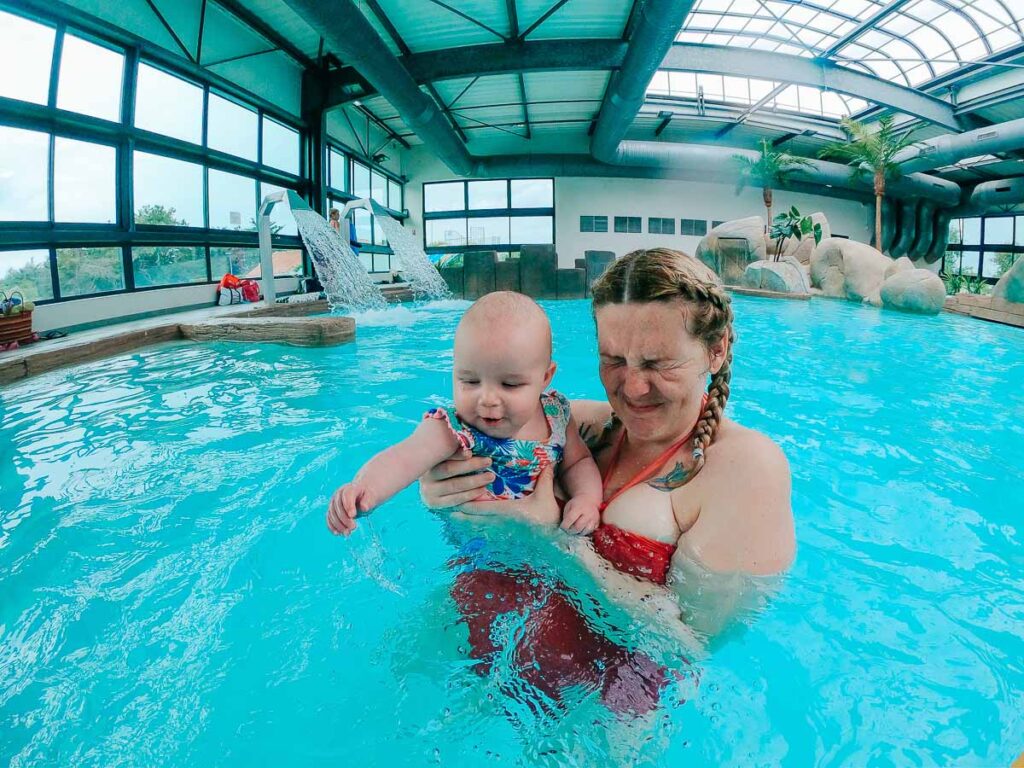 Covid Restrictions to the pool area
As you can probably imagine, there were a few changes to the norm thanks to the Coronavirus pandemic. At the entrance door to the pool area, there are arrows on the floor directing the flow of guests and ensuring customers are using a one way in, one way out kind of system. There's also a large bottle of hand sanitizer at the door and many posters explaining best prevention methods.
In the changing rooms, all the lockers and changing rooms are closed off, and the open (shared) shower area has every other shower sealed off. Showers are also obligatory before entering the pool.
Around the pool areas, there are no sun loungers. Instead, people are leaving bags, towels, etc. on the floor and whilst it isn't the driest solution, it is the safest.
Thankfully, there were no masks needed around the pool area, and thanks to the lower number of guests, we were able to keep the required 1-meter distance between people. None of the slides were cordoned off and everything was exactly how you would expect it to be during a normal holiday.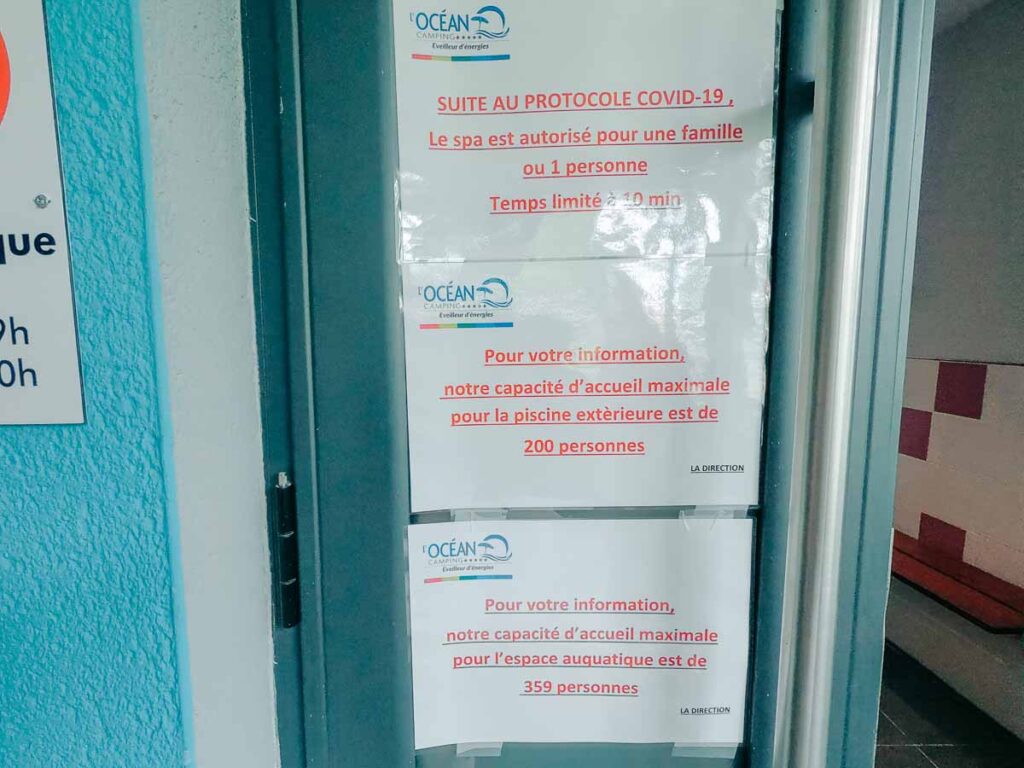 It's a really French campsite, and as with most campsites in France, swimming shorts are not allowed, and guests are required to wear speedo or jammers style swimwear. This is French law, so I always advise bringing a pair with you from the UK no matter what campsite you go to just in case. 
Mike hates wearing his jammers so usually wears his Bermuda style shorts over the top until he gets in the pool.
The Beach and dunes de la gachere
I probably shouldn't be including this in the campsites review because it's actually located just off-site, but I definitely feel it's worth noting. 
I believe the beach is around 600m outside the campsite. If you exit by the bar area and turn left it's an easy straight road there and after a few minutes, on your right, you'll see a sign for "Dunes De La Gachere" and a bridge. Take the bridge and follow the path, and it will take you directly to the beachfront.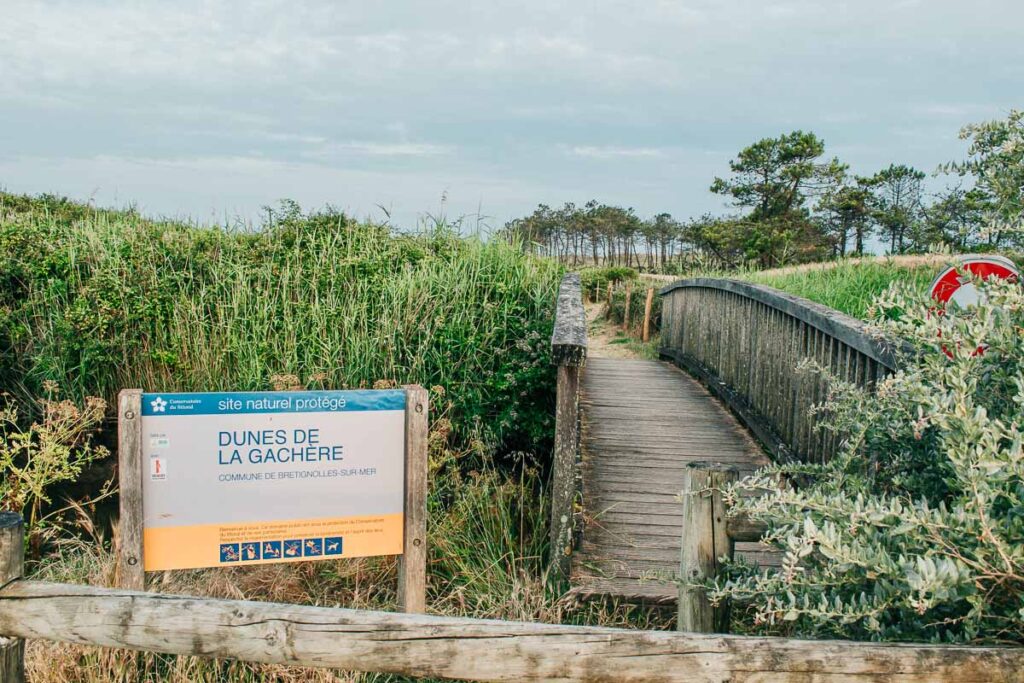 We loved the beach, especially when the tide was out as it left so much sand for Baby to play with. It was her first time at the beach, and it was so much fun to watch her taking it all in. She mainly enjoyed crawling around, trying to eat sand and licking pebbles…
The walk is definitely not for pushchairs. If you have young children, I would definitely recommend getting a baby carrier for walks like this as it would be impossible to push a pushchair up the dunes. We use a Lillebaby, and it's honestly been the perfect thing for our camping trips. It means we have our hands free, we can hike places and it's just so much easier than lugging a pushchair around.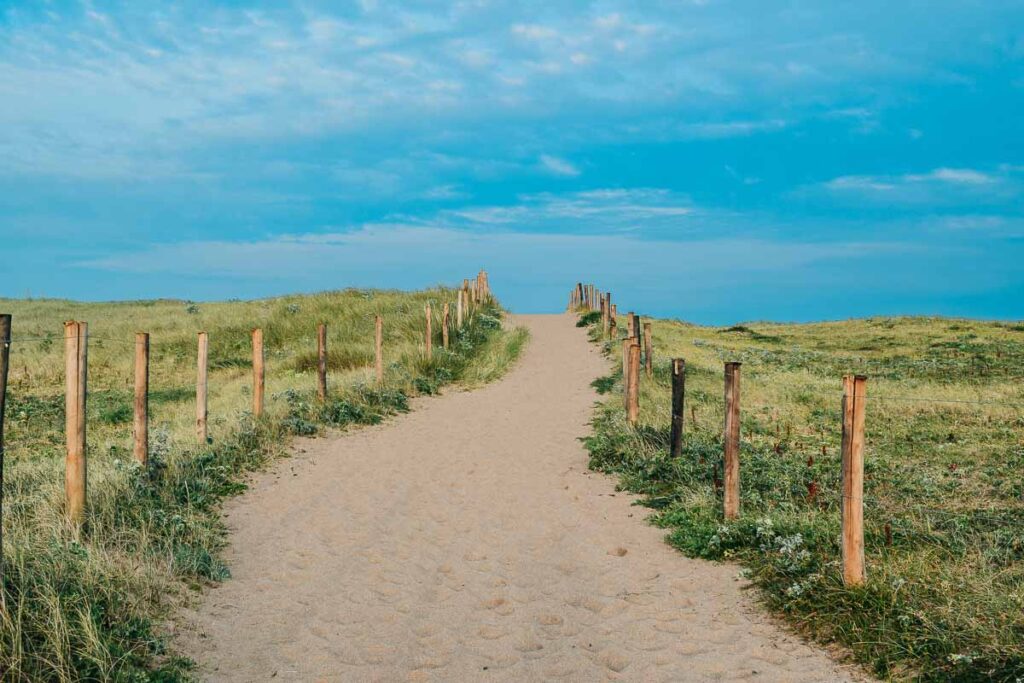 I'd also say that the walk may be an effort for those who are unfit or struggle. They're not exactly steep dunes, but coupled with sand, it does become a little harder to walk on. 
I would advise driving to a local town like Saint-Gilles-Croix-de-Vie and going to a beach there instead.
There are around 520 pitches at Camping de L'Ocean. Some of these are taken up by mobile homes, others with privately owned holiday homes and others are touring pitches for tents and caravans. The campsite caters for all of these campers with its range of facilities which I'll discuss in detail below.
Our check-in was unusual compared to what we're used to. Thanks to Covid, the reception building stayed closed during our stay and reception was held from a table outside.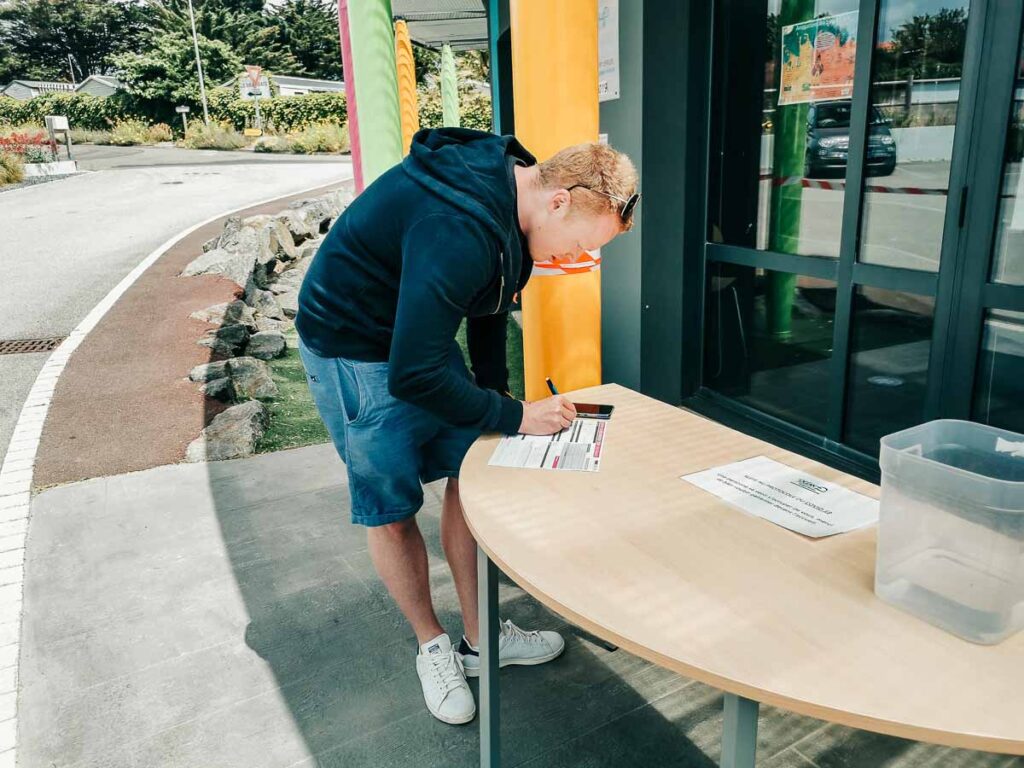 When we arrived at 1 pm the reception was closed for lunch, so we had a quick wander around and headed back for opening at 2 pm When we got there, a few other families had also arrived to check-in too. So we all stood around outside, maintaining the 1 meter distance and the masked receptionists came out to greet us one by one.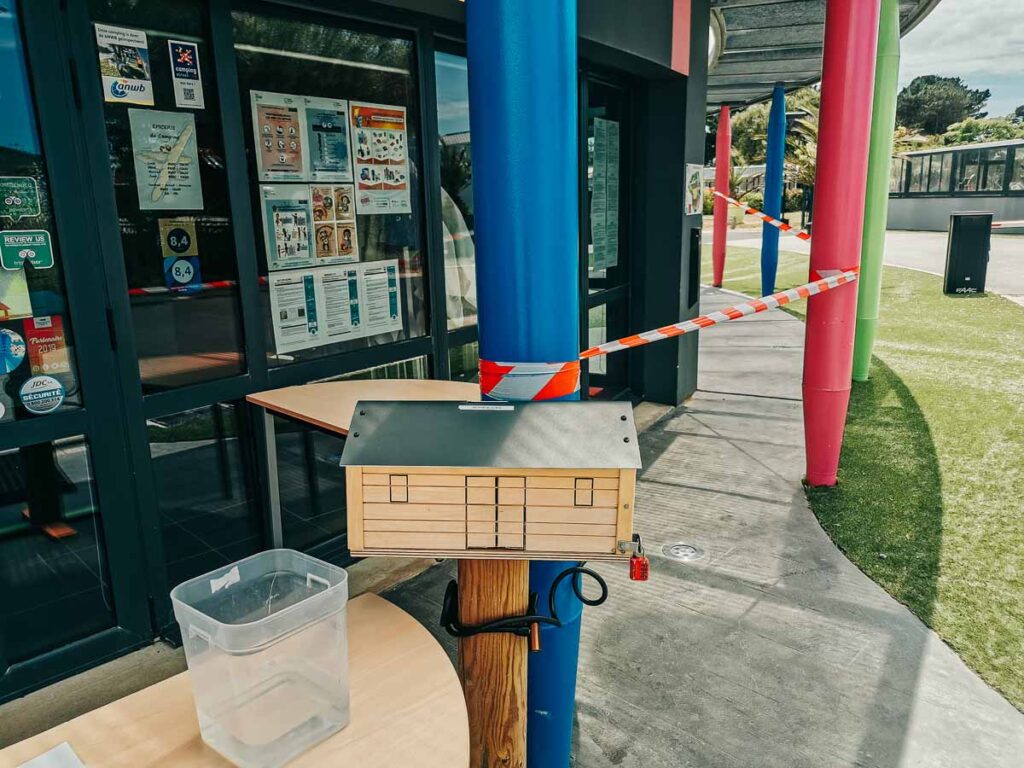 The reception process took a while, and we needed to fill in an arrival form which the receptionists then took inside to put on their computer before coming back outside with our keys.
On arrival at our mobile home, we didn't have the baby kit we ordered (cot and high chair), so Mike returned to the reception building to request it. As the weather had turned slightly, the outdoor reception desk now had a marquee over it, protecting the staff from rain.
The reception staff were all friendly and kind. I can't imagine what it must be like for them to be wearing masks all day, especially when Summer hits.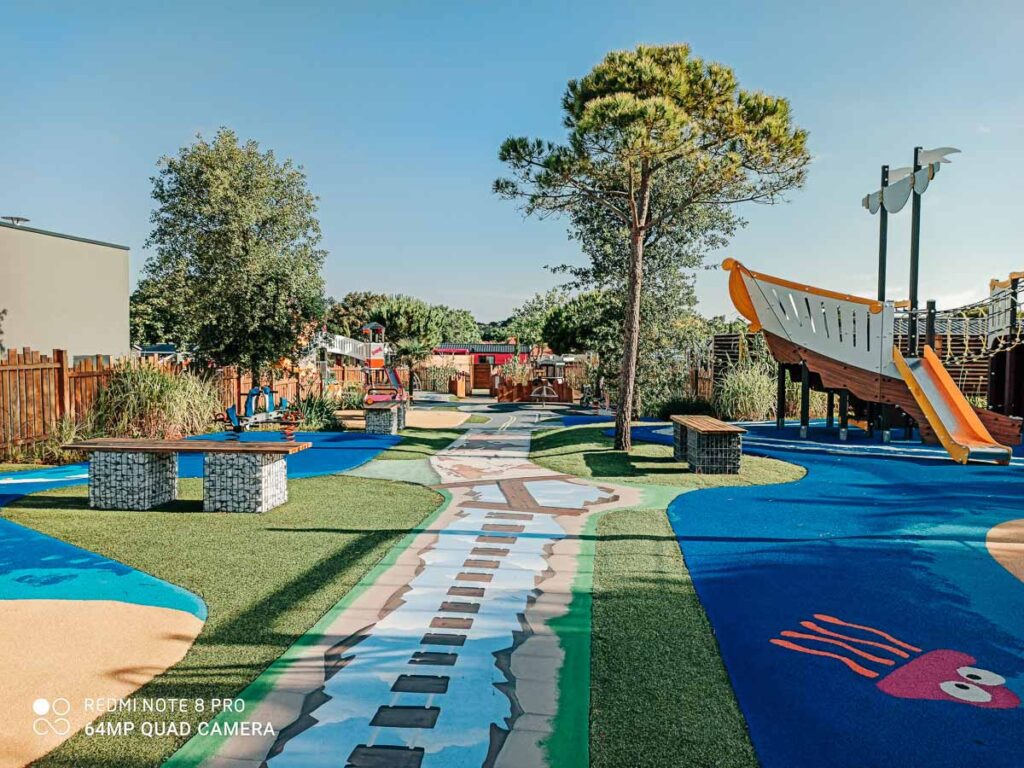 There are 3 main play areas here. One located right next to the pool area, another just a few meters away with an outdoor multi-sports centre and there's also another indoor multi-sports centre.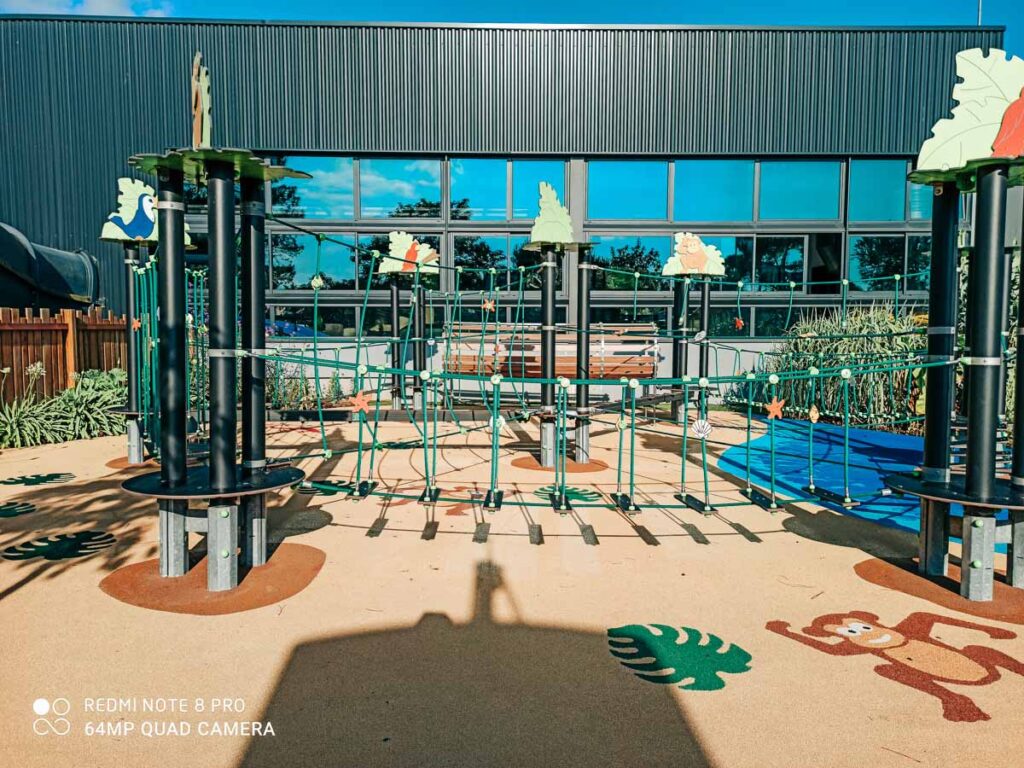 The play park by the pool at Camping de L'Ocean was incredible. It must have been newly built because it looked in such great condition. There are a few different climbing frames, all with different themes, some see-saws, slides and more. Every time we walked through it during opening hours, it was full of kids enjoying the range of activities.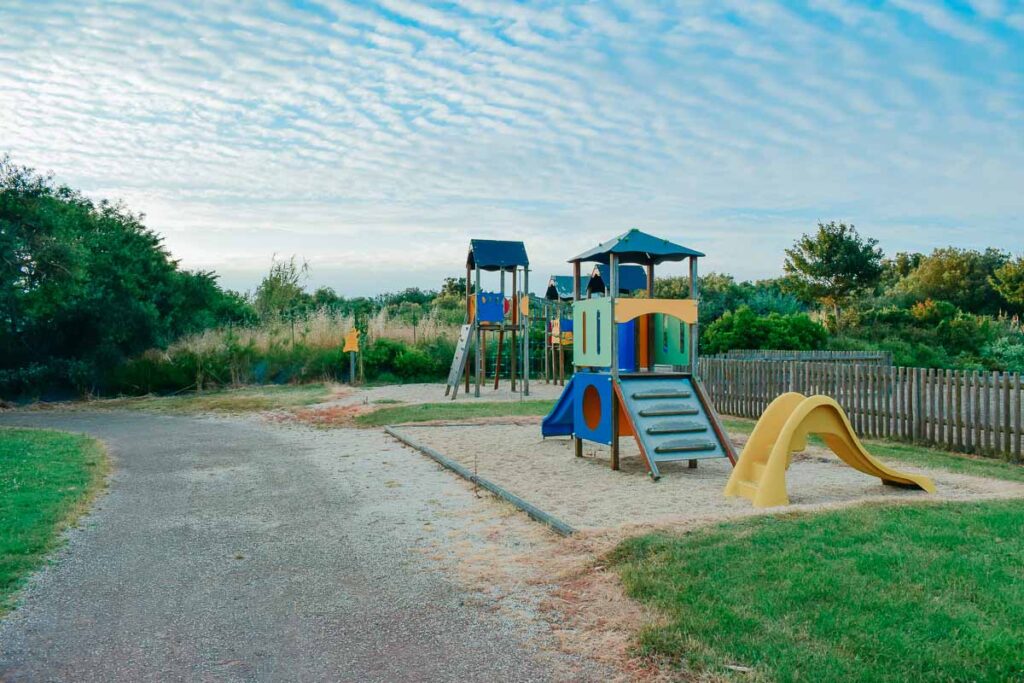 I think this park must have been the original one as it looked a bit older and more "rustic". There's a climbing frame, small slide, solo see-saw things and a multi-sports court. I didn't actually see anyone here during our stay, so maybe a good alternative if you want some quieter play time away from others.
Inside, next to the pool area, there's an Indoor multi-sports court. I didn't see this get used during our stay so I can't comment on it. I think it actually may have been locked due to Covid. There are currently (as of writing 11/06/2020) restrictions on contact sports.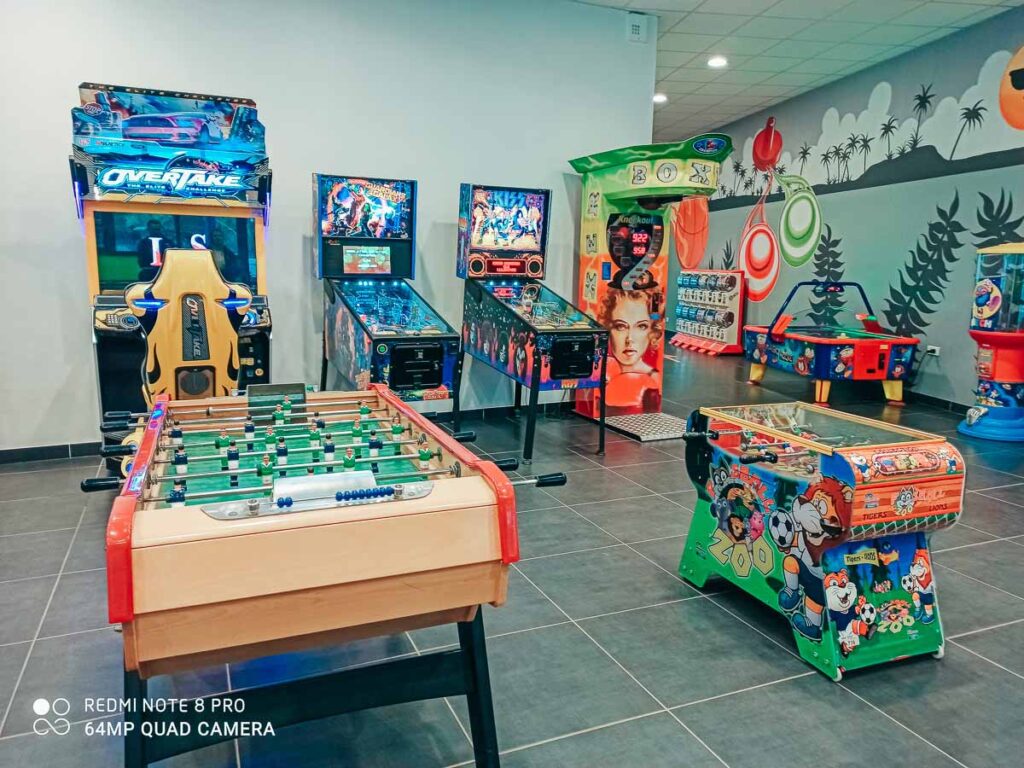 The arcade room here is one of the largest we've seen on all the campsites we've been too. There are lots to keep children occupied so that you can have 5 minutes of peace and a drink in the bar.
There's air hockey, ride on car/motorbike games, grabby things that you can never win, pool, basketball and loads more. Just make sure you pack your euros.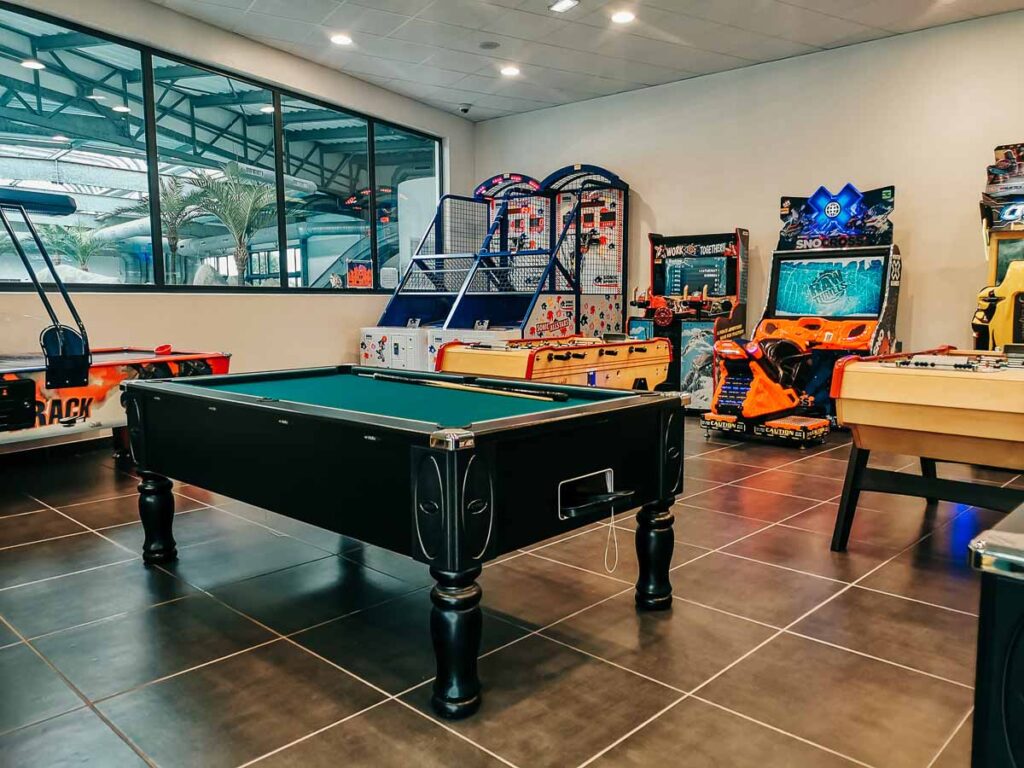 The campsite has a kids club for children aged between 4 and 10. There is also a group for adolescence (or as the French call them "ados") between 11 and 17. The clubs are only available in July and August, and they are free to join. They run daily, except Saturdays and activities vary day by day.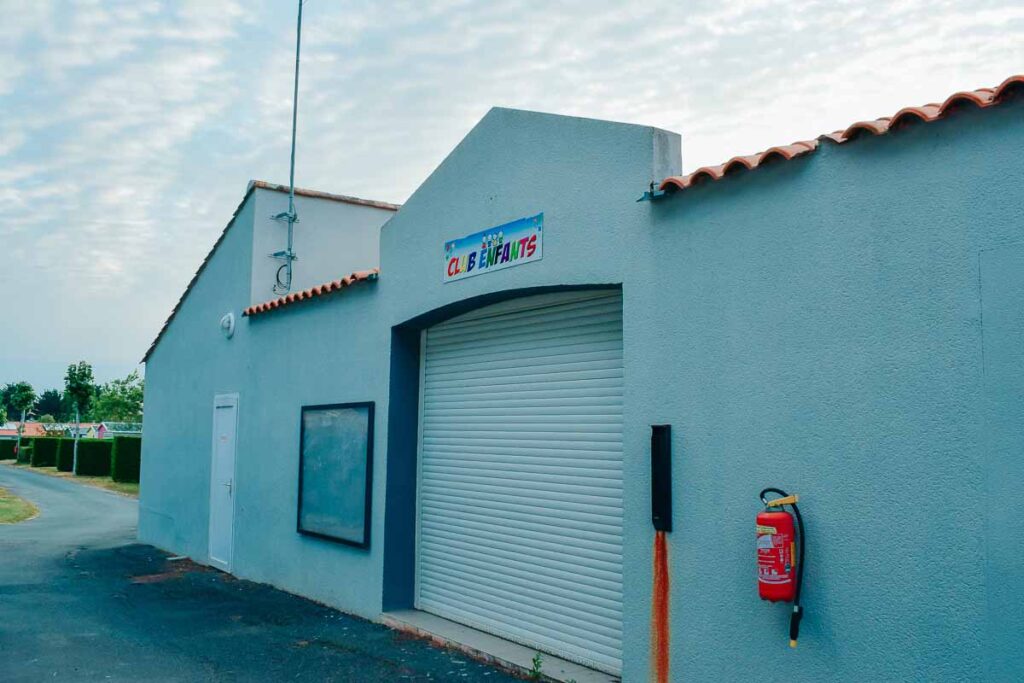 Animation for kids and adults
Covid hasn't affected the animation schedule, and things are still running as planned. Although, I imagine there are a lot fewer people going to the events and social distancing will be required. 
We arrived at the bar on the second night just after the mini-disco had ended and there were only two sisters there dancing away. I think many are and will be still cautious with events like this as it can be hard for children to social distance.
The animation schedule for our stay included things like Line dancing, music quizzes, step, apero petanque and a beach walk however in the height of Summer this list is magnified with loads more activities like concerts, tournaments, aquafit, Soiree Espagnol, paintballing, horse riding and so much more.
Bars, Restaurants and Takeaway
Covid hasn't changed too much at Camping de L'Ocean, but you will have to take extra precautions and be sure to pack a face mask.
This bar is situated in the area near the outdoor pool and is open to outside guests as well as those staying on the campsite. The outdoor space is lovely and in these current times definitely welcome.
Wearing of a mask isn't obligatory inside if you are sat at your table, but they are required when moving around, ordering drinks or walking to the toilet, so make sure you pack one. There was a wide selection of drinks, and the bar staff seemed friendly and welcoming. We ordered at the bar, and the drinks were brought to our table. 
Because we sat outside, baby made the most of it and crawled around the astroturf to her heart's content.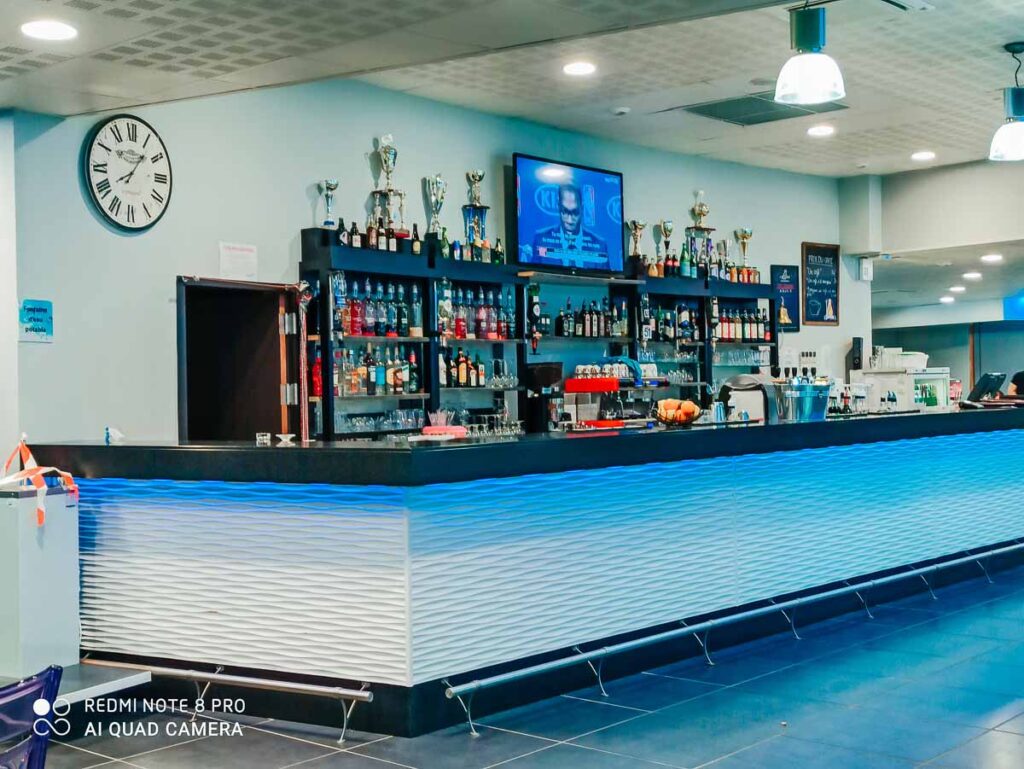 Restaurant - "La Table des Gabelous" restaurant
"La Table des Gabelous" restaurant, like the bar is open to the public, which I think, especially in low season, is great as that means there is still an atmosphere even when there aren't that many campers.
Unfortunately, we didn't get to try the restaurant during our stay, as much as I tried convincing Mike to stay another night so we could try it out, it just wasn't happening. 
It looked really nice in there. The tables were laid really well, and although it was a modern-looking restaurant, it wasn't soulless like many others. Photos of the food on Instagram and their website look fantastic, and should we return; I won't be packing as much "self-catering" food as I did.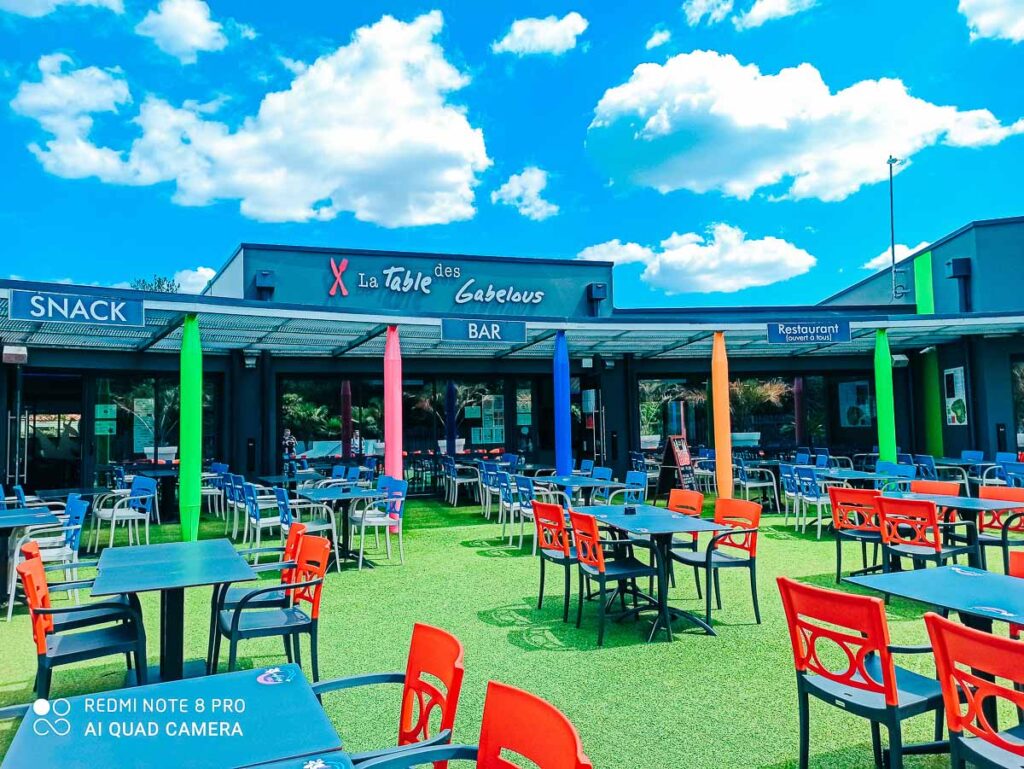 The snack bar menu was really long, and there were loads of items we could have ordered for takeaway to our mobile home ranging from pizzas to crepes and paninis to waffles. We didn't use it during our holiday but had we stayed longer I imagined we would have. Items seemed reasonably priced, and like the restaurant, it's closed on Mondays and Tuesday mornings.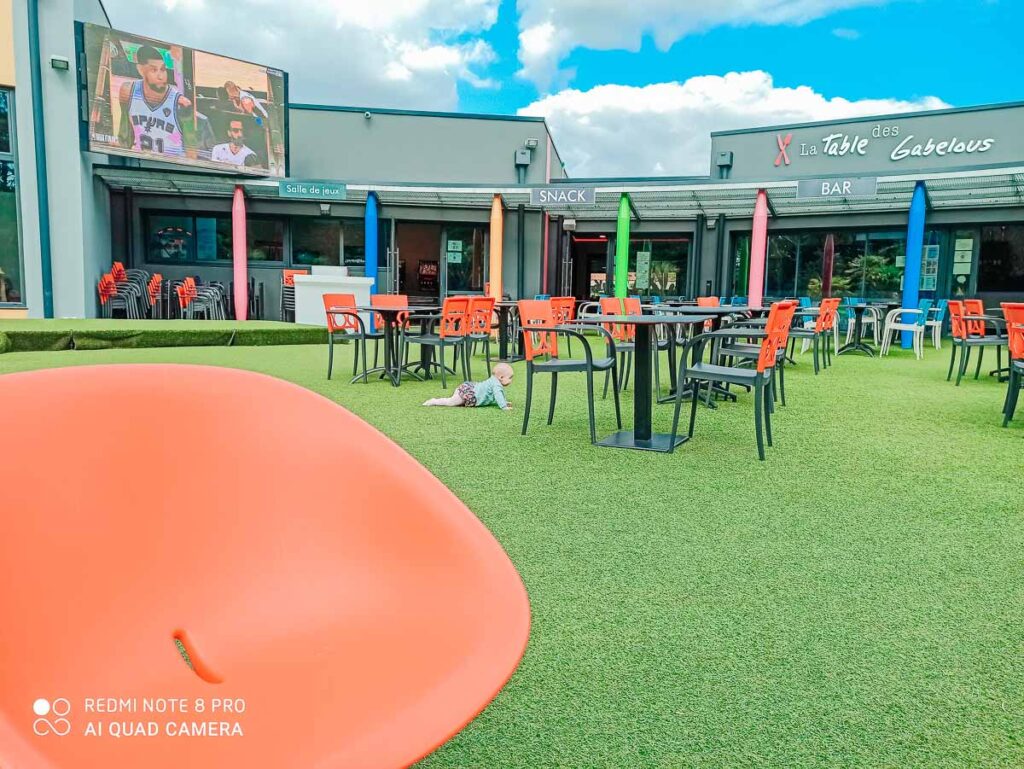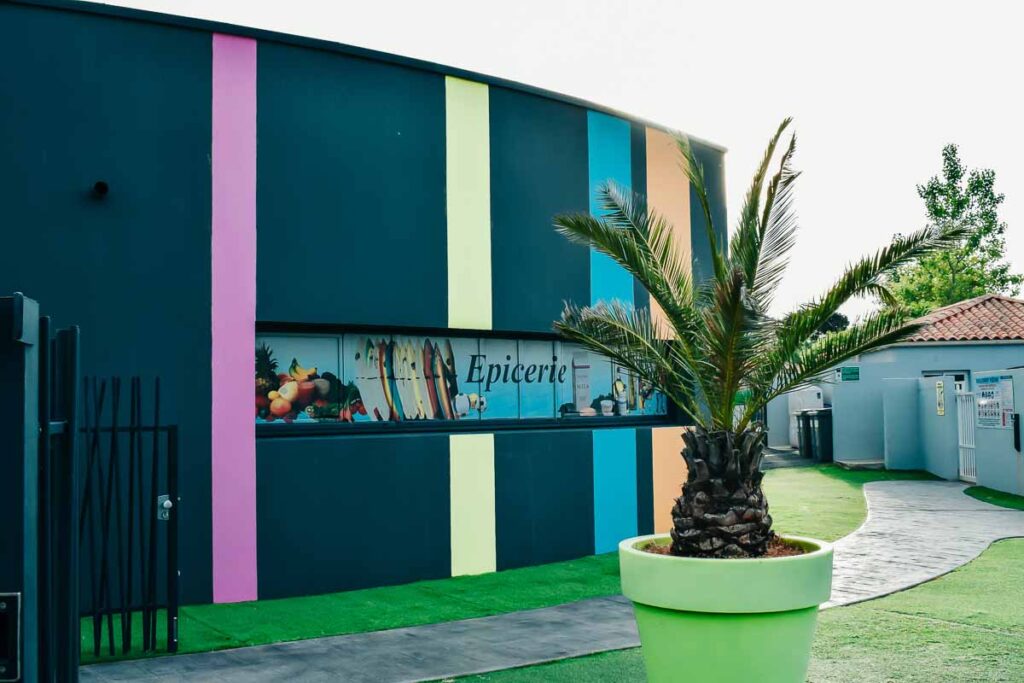 The campsite shop here is one of the smallest we've seen. Whilst you can get all the essential items, you definitely couldn't survive on just this shop alone. There is a Lidl 4 minutes by car from the campsite and a large Super U 7 minutes drive from the campsite. We used the Super U a lot because it was an excellent supermarket, but you do need to wear your mask.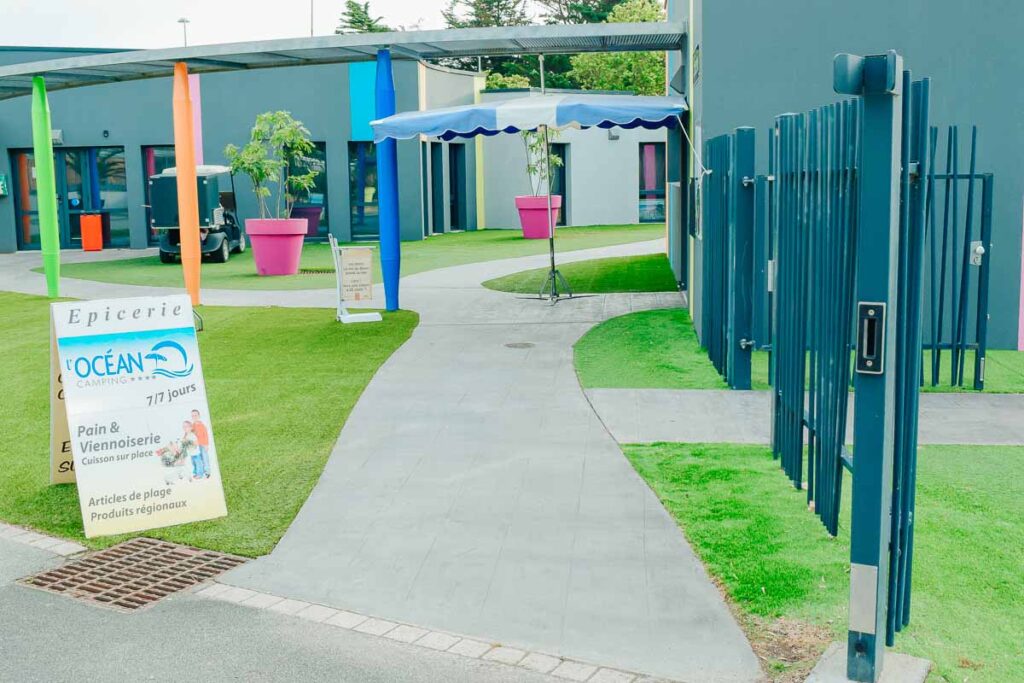 The spa was closed during our stay (covid) however, according to their website, there is a free spacious sauna and comfortable hammam. There is also a new beauty salon and hairdressers with massages ranging from 29e to 59e and treatments like hair removal and manicures available.
There is wifi in mobile homes, but this isn't free and must be paid for at the reception. There is a family option that costs 40e for the week and works for 3 devices. There is also a 30 minutes free wifi available from the bar area.
We didn't use wifi during our stay as our mobile data worked perfectly and we had mobile signal throughout the campsite.
Bike hire is big here, and many families can be seen cycling around. Perhaps it's because the Vendee has such great cycle paths. For an adult bike, you'd be looking to pay 18e a day with a 250e deposit.
You can also hire infant buggies to hook on the back of the bike, children's bikes and electric bikes. There are deals available if hiring bikes for the whole family.
Pets are allowed on the campsite at a fee and as long as they weigh less than 10kg which means this site was perfect for our little feline companion to come with. Kitcat loved it and even made friends with some of the local strays who tried to steal her food. I say made friends, but actually – I think she wanted to hurt them.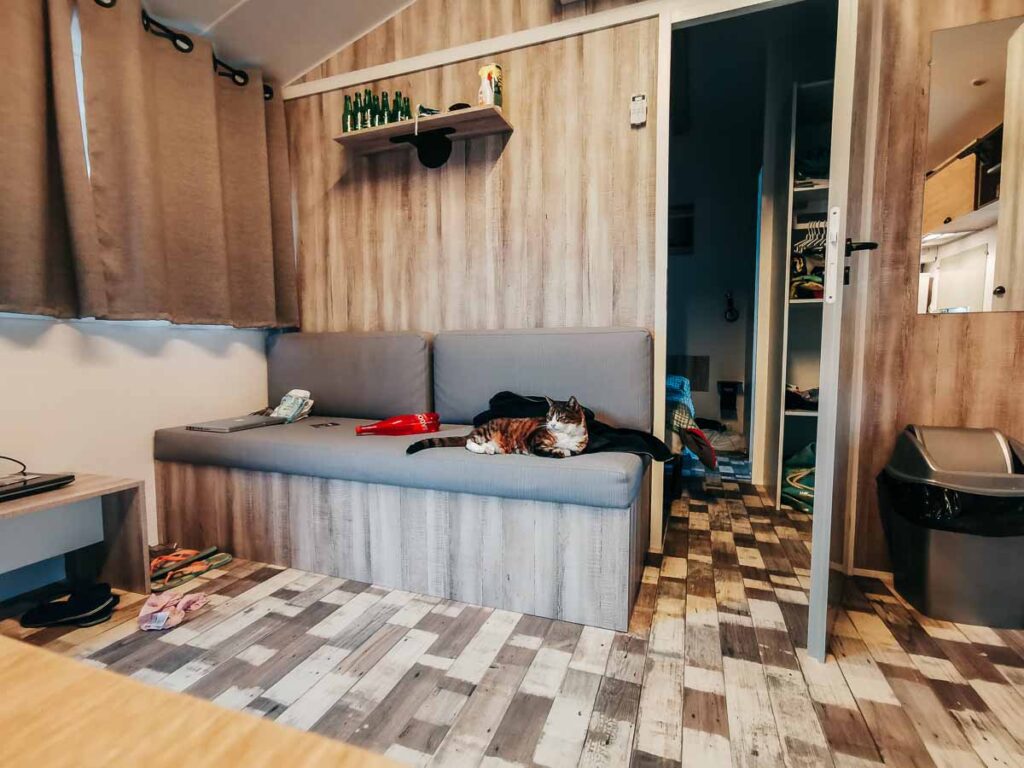 The campsite is flat and easily accessible, but as previously explained the walk to the beach wouldn't be suitable for wheelchair access.
Accommodation at Cybele Vacances Camping de l'ocean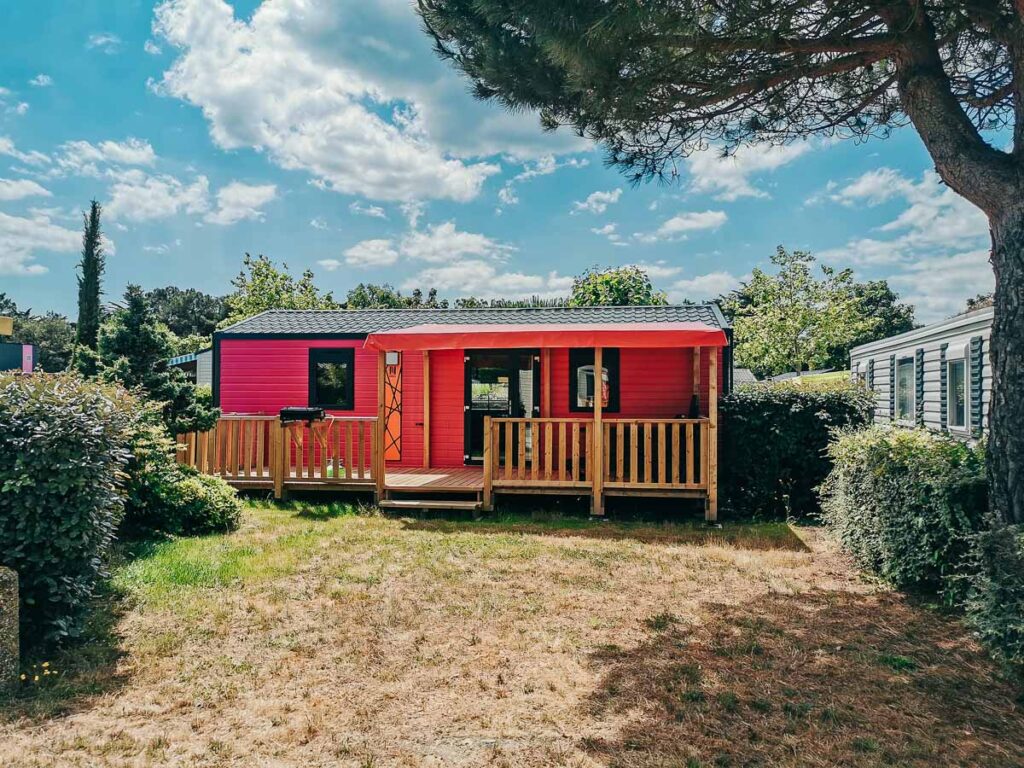 There are no tour operators on this campsite, just privately owned mobiles and the campsites own. There's a whole host of different accommodation types you can stay in. My favourites were the Natura tents, The duo range (especially the multi-coloured ones) and the premium mobile homes with hot tubs (like the one we stayed in).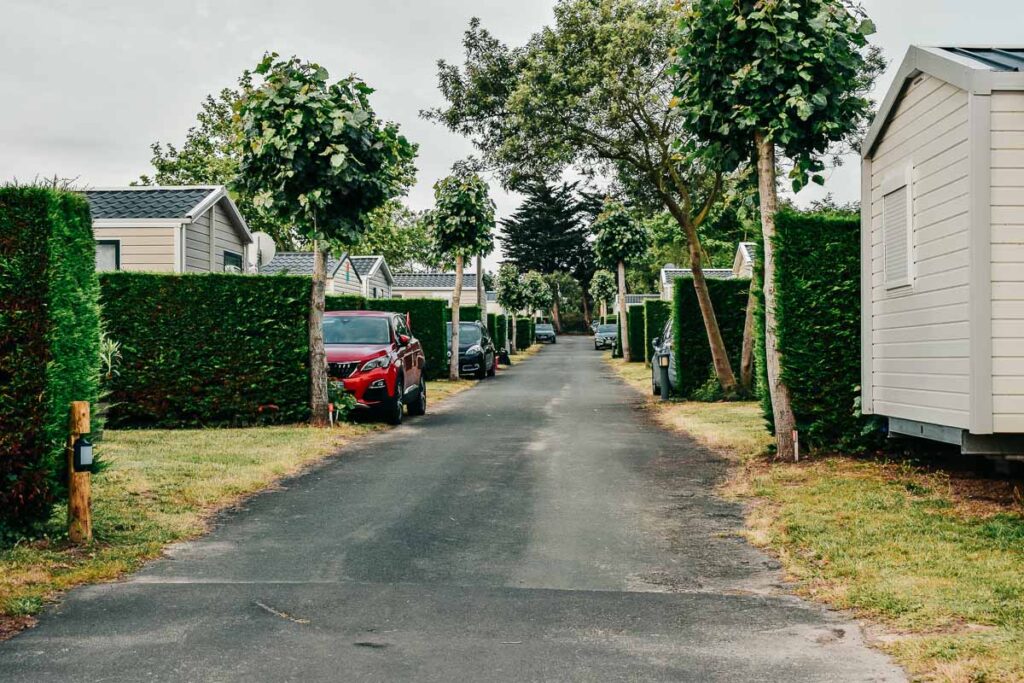 Should I Book Direct Through the Campsite or Through and Operator?
As there are no tour operators, we booked direct with the campsite via the website which you can find here.
Do You Need a Car to Get Round?
The campsite shop is tiny, and although you can easily walk to the local Lidl supermarket in 15 minutes or the large Super U in around 45 minutes you won't be able to carry much shopping back.
The campsite itself has a fair few facilities, the beach is close by and whilst you probably could stay entertained just by staying on-site – you could miss out on so much exploring by not having a car. 
How to get to The Campsite
The campsite is situated in a small village called Brem-Sur-Mer. If flying, your closest airport is Nantes. If driving you would want to get any of Brittany Ferries crossings to St Malo, Caen or Le Havre. If you're thinking of getting the channel tunnel or Dover Calais ferry, you'll be in for a long trip.
If you prefer to fly than ferry and drive, then yes – I definitely recommend hiring a car. I do think you'd struggle without one. Although the campsite isn't massively secluded, I just find cars a necessity on holidays like this.
The nearest ferry port is Saint Malo which is around 3 hours 15 minutes away, but it's easily accessible from other ports like Caen, Le Havre and Roscoff. Take a look at our guide on Brittany Ferries crossings post lock down to see what it's like to travel on a car ferry since the Covid crisis. 
The nearest airport is Nantes and it will take around an hour and a half via car to get from the campsite. Other airports include:

Poitiers = around 2 hours away
La Rochelle = around 1 hour 45
Address: 
17 Rue du Brandais, 85470 Brem-sur-Mer
GPS Coordinates:
46°36'07.4″N    1°50'40.8″W
Day Trips from Camping de L'Ocean
We didn't take many trips during our stay, but we did visit the nice seaside town of Saint Gilles Croix de Vie. It's perfect for a day at the beach with seafood restaurants, tapas restaurants and an Ice-cream. 
Other recommended places to visit include:
Frequently Asked Questions
Are the mobiles close together?
I would prefer a little more pitch space but I wouldn't say they were crammed together, no.
Yes it is but the route to the beach isn't.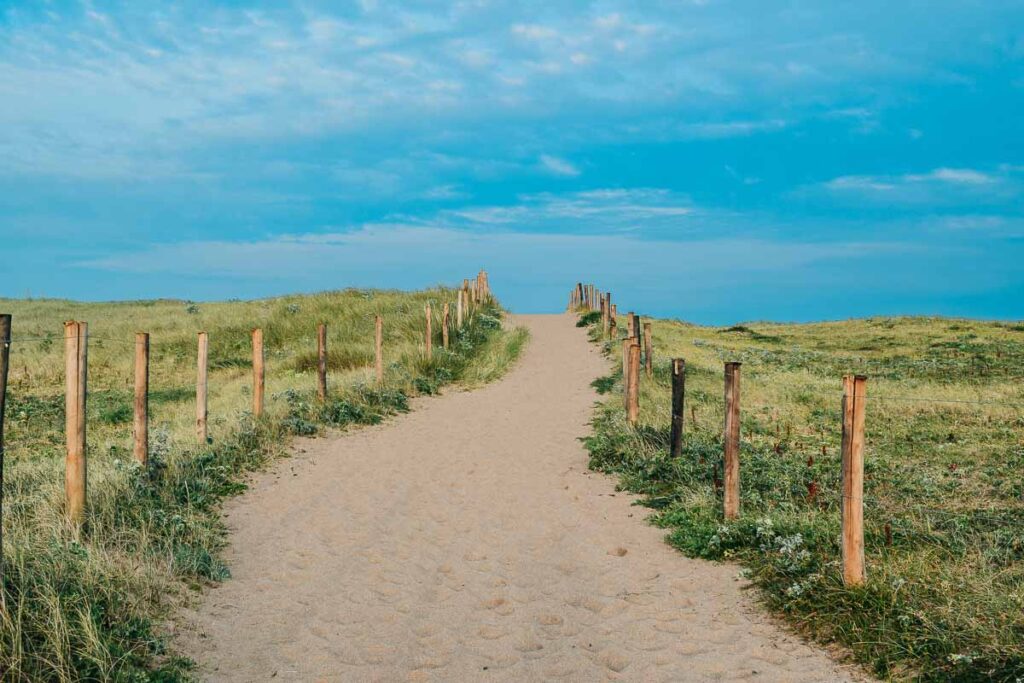 Are there mosquitos at Camping de L'Ocean?
I did spot and kill a couple during our holiday. Pack some bug spray just in case. France has recently had an influx of tiger mosquitos and they are a right pain.
Is it easy to get a sunbed around the pool?
Sunbeds were cordoned off during our stay due to the Covid-19 pandemic. So I have no idea what it's like when normal.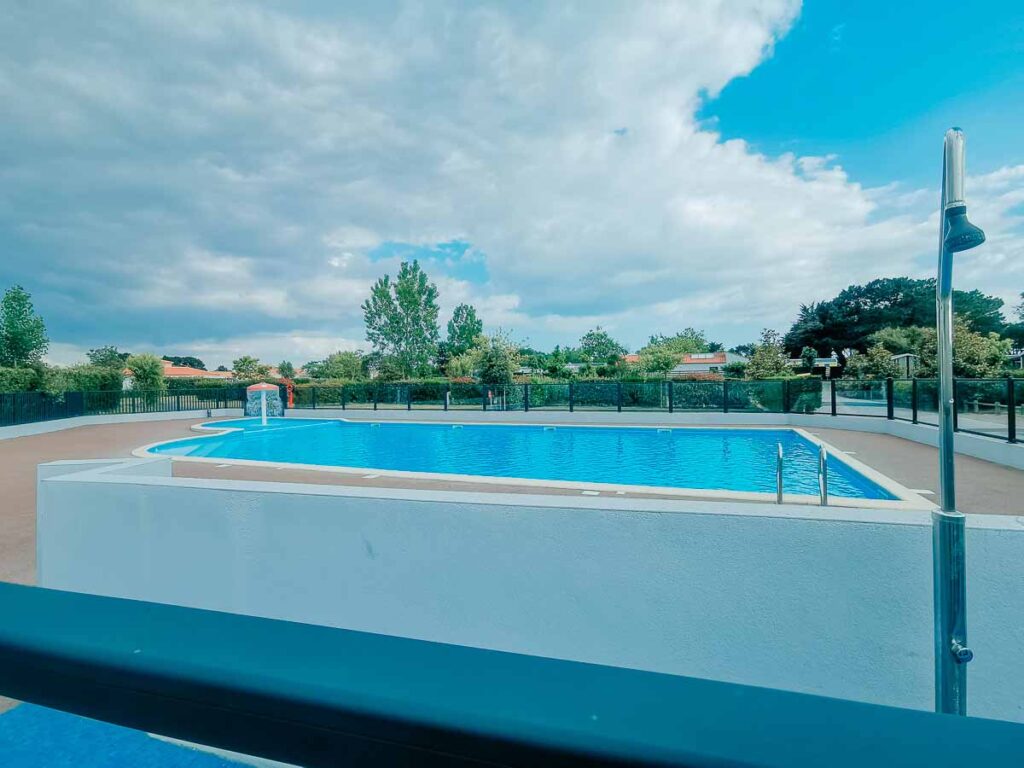 Do you need to wear a wristband?
We were given wristbands at the main reception when checking in for using the pool. We were never checked anywhere, but I imagine the spot check to ensure nobody is sneaking in.
Do men have to wear swim trunks?
They do indeed. However, you can wear Jammers, not just those tiny budgies. I'd always advise bringing a pair from home whenever you holiday in France just in case.
Charcoal bbq's are a no-no. With our mobile home, we were provided with a gas flat top grill which we used every day of our stay. It's perfect for cooking breakfasts lunches and dinners and also pretty easy to clean after.
Is the beach sandy enough to do sandcastles and play, or is it more shingle?
Yes it's really sandy and perfect for digging moats and building sand castles.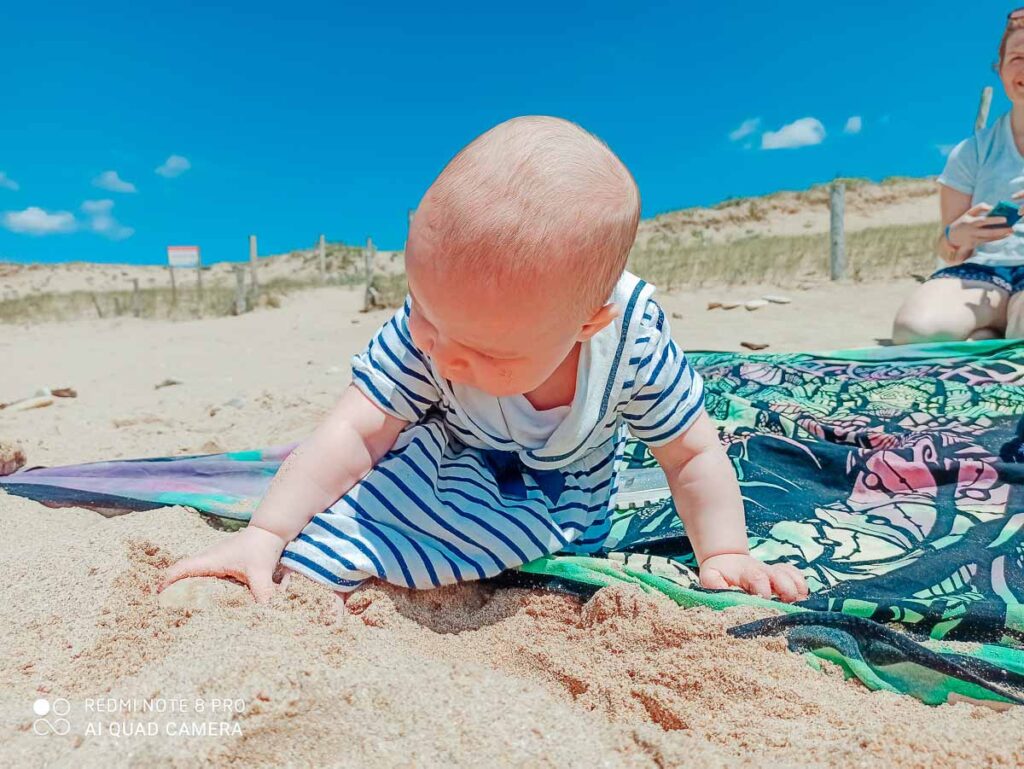 Can you use inflatables at the pool?
We didn't see anyone using any but we also didn't see any signs saying it wasn't permitted. I would imagine no though as the pool area would be rammed with them in Summer. For one of the slides use of a rubber ring is required but these are provided.
What's the weather like in Spring/Summer?
The weather can be so hit and miss, we had a bit of rain, winds and cloud but the week previous they were receiving really high temperatures. I'd personally pack and prepare for all weather types and hope for the best. Also, don't always listen to the weather man. Our first day we were told 10% chance of rain but they expected full sunshine and we got caught in a massive rain storm.
Where can you watch the sunset?
I believe the sun sets over the beach direction and have been told to visit Les Sables d'Olonne for sunset.
Can you park on your pitch/Emplacement?
Yep, we had no problem parking on our pitch and couldn't see any problems for others parking at theirs. We even had our parking space nicely cordoned off next to our accommodation.
Can you take pets on the campsite?
Yes, we took our little cat and there were plenty of others and a few dogs on site. There is a limit of 10kg on dogs though and they are a paid for add on. 
Where's the nearest supermarket?
Lidl is just  minutes drive (15 minutes walk) away and Super U is 7 minutes drive (44 minutes walk) away. We chose to use the Super U as there is a wider range of products to fit our needs.
My flight isn't till late, can I stay on site after check out?
I can't see why not. As long as you check out your mobile and park your car in the main car park so that your mobile home/tent can be turned around.
Is It Loud In The Evenings?
It wasn't during our stay but I can imagine in the height of Summer, with their packed entertainment program that some mobile homes can hear the noise. Our mobile home was quite a walk away from the bar and entertainment area so we wouldn't hear it anyway. I'd recommend booking a prestige duo with hot tub like we did as they are quite secluded near the front of the campsite.
What Can We Do If It Rains?
Puy du Fou is still a good day out in the rain. All the shows will still take place no matter the weather and ponchos are available to buy there, just make sure you have some waterproofs as the seats will get wet.
The pool is indoor so great to use in wet conditions. There's also the games room to keep kids occupied. Although, our favourite memories from when we were younger was just playing card and board games with our families in the mobile homes. 
Can I Use My Transferwise Card On SIte?
Yes, card is accepted in the bars, restaurant and shop and due to Covid is actively encouraged. Nobody wants to be touching and passing around money at the moment. Contactless cards are preferred and we had no problem using our cards during our stay. 
I love this campsite so much. As I sit writing this, I feel emotional that I have to leave already after what feels like such a short time. If the weather was better, I imagine we would be staying even longer. I think we will return here again. Baby absolutely loved the pool area and had a blast crawling on the astroturf at the bar. 
It's a great place for young children as well as the older ones, and I would recommend this campsite to anyone looking for a "normal" holiday right now. You would have no idea anything was going on in the world (except for the constant hand washing and occasional mask-wearing). It's a welcome break from the doom and gloom of the current news.
5/5 – no complaints. Would LOVE to visit in high season to see live music and entertainment. 
Check Availability And Book Camping De L'Ocean Today
Clicking the button below will open the providers website in a new window.