Camping Natureo Seignosse, Hossegor Review A Place to put well-being first
and surround yourself  with nature in the beautiful Landes department of France
Check Availability And Book Camping Natureo Today
Clicking the button below will open the providers website in a new window.
Camping Natureo is a 4-star campsite situated in a town called Seignosse, part of the Landes department of France. The camp is just 600meters from the beach, and a short walk away to the famous surf town of Hossegor.
With a name like Natureo, It's no surprise that this campsite has a strong focus on nature and well-being. During our stay, the animation list included activities like Morning meditations, Bread/washing up liquid/moisturiser making classes, Yoga and more. Plus, Camping Natureo even hosts its own Surf/Yoga camp.
With a focus on all things healthy and green, this campsite sounded right up our street. Did it live up to our expectations? Keep reading to find out.
It's safe to say we absolutely loved this campsite and already want to return.
Every family prefers certain things about a campsite, so our "cons" could be on your "pros" list!
Pool complex at Camping Natureo
Because we prioritised the beach waves, we didn't get to use the pool during our camping trip. However, we did manage to have a quick look around. The aquatic area is located just beyond the bar area and features a sizeable 2,500m2 terrace, a relaxing whirlpool, a heated swimming pool and a paddling pool with toddler-friendly slide.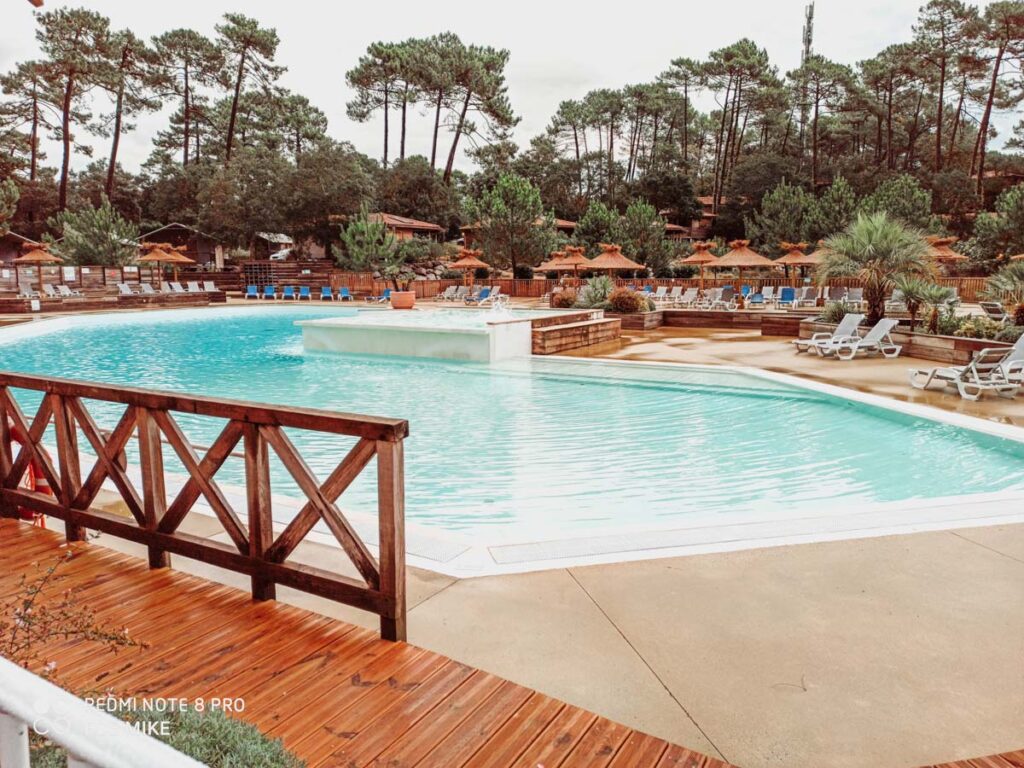 The pool is open between April and September because, although it's heated, the outdoor temperature will play a big part in just HOW heated it is. During the high season, there are activities like aqua gym/dance and also swimming courses. We stayed in the middle of September so just missed the high season by a couple of weeks.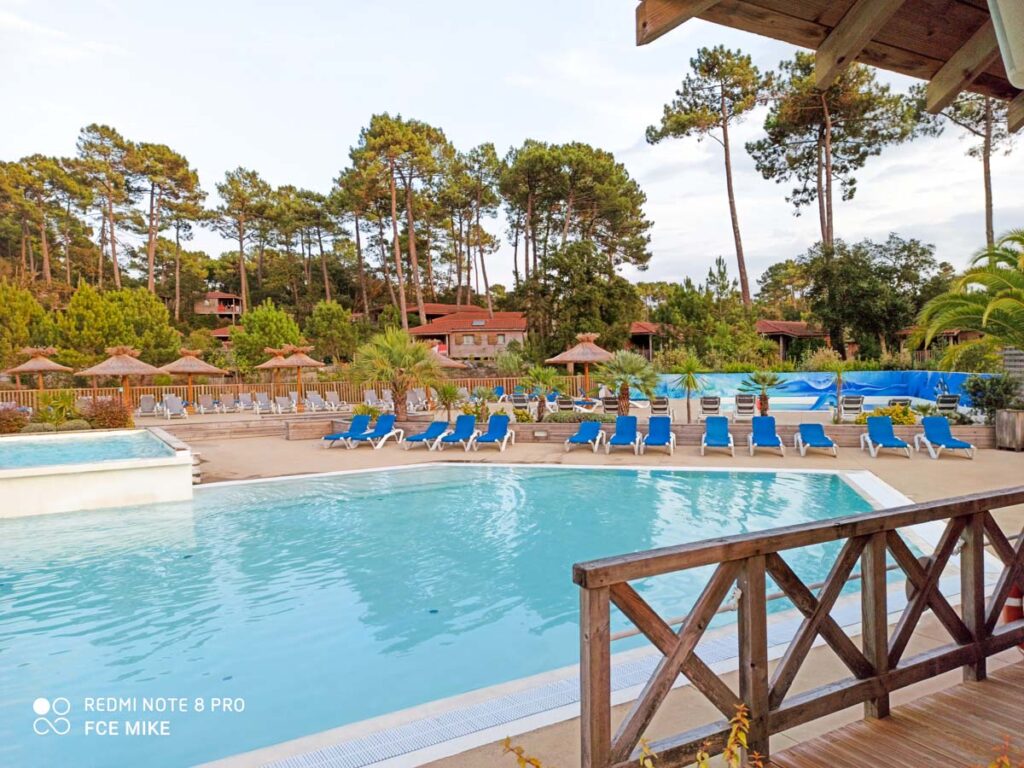 Like most swimming pools in France the men's speedo rule is enforced here, so make sure you remember to pack your jammers/budgies – if not, you can always head over to the beach instead.
Although it's not attached to the campsite, I have to mention the nearby beach. With some of the best waves in, well, the WORLD, this area is very well known. The beaches here bring in surf lovers from around the globe.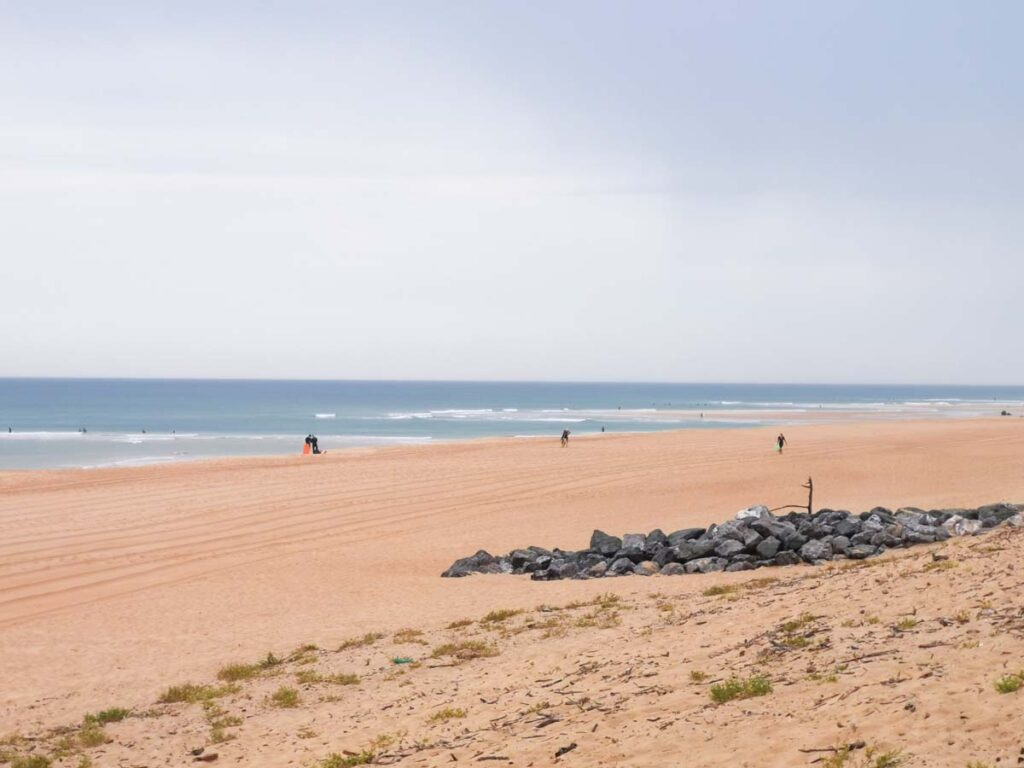 The sand is golden and soft, the waves are wild, and the vibe is just insane. Just 600 meters or so from the campsite you'll find the entrance to the beach. If you leave the exit and turn right, go straight across the roundabout, follow the road to the end, and you'll find a path leading directly to the beach. Or if you're anything like me, you'll go left at the roundabout instead, get lost, and end up climbing a giant dune just to get to the beach.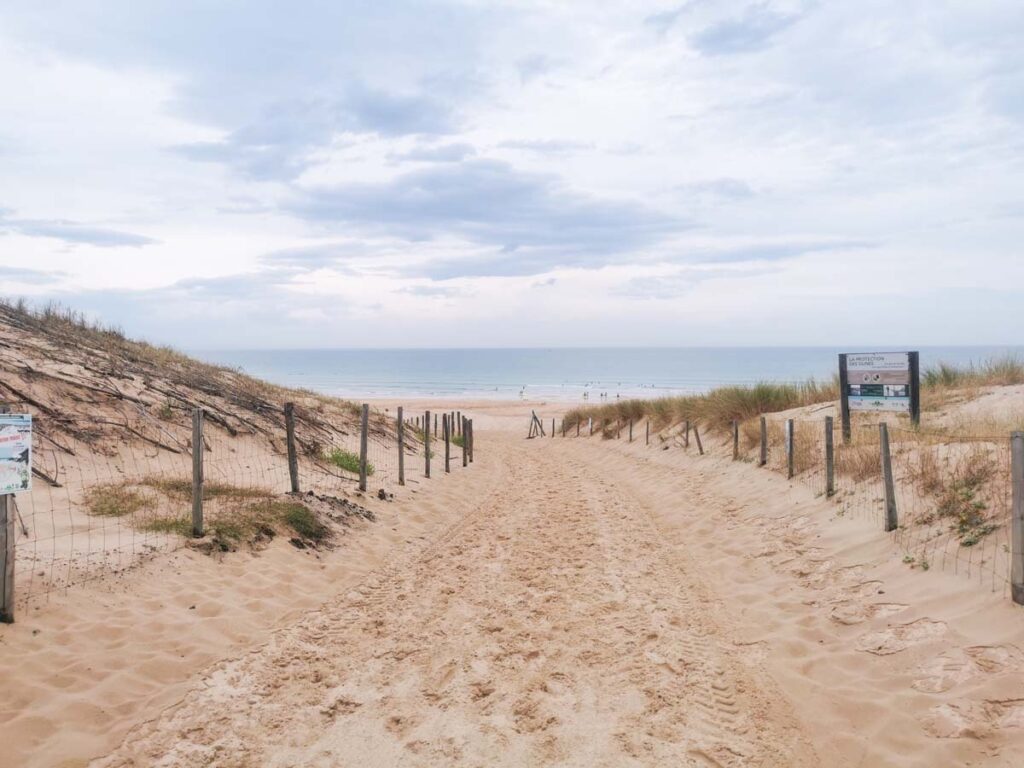 Anyway, the beach is fantastic. I took a lovely stroll on our first morning to Plage Sud in Hossegor which took me around one hour. If you're a keen beach runner, you won't be alone. I passed tons of runners, walkers, electric bikers, surfers and bodyboarders on the beach all before 9 am.
Again, it's not part of the campsite itself but I feel if I've discussed the beach I should probably also discuss the lake and forest. Seignosse and specifically Camping Natureo is a unique place. You literally have a beach, lake and forest all within a long walk/short cycle distance. I've never stayed at a place quite like it.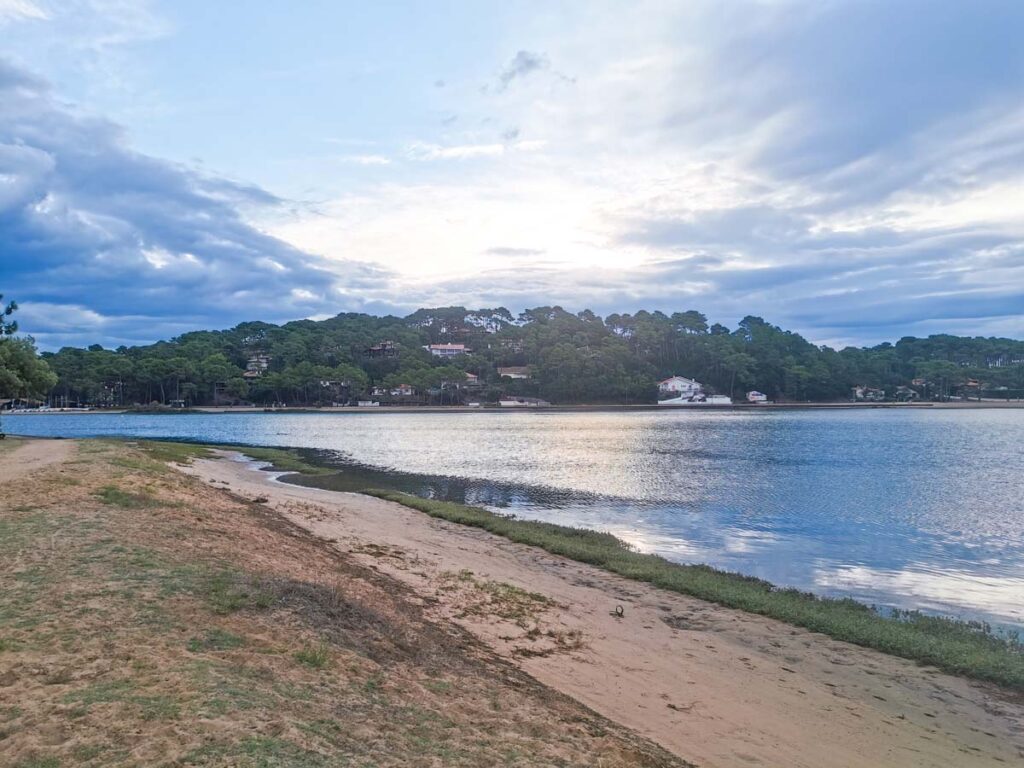 The lake is HUGE. It's just a 23 minute walk from the campsite and 1.7km away. It's perfect for stand up paddle boarding, especially if surfing at the beach isn't your thing. Although,I did see a couple of girls gliding across the lake on motorised surfboards (who knew that was even a thing).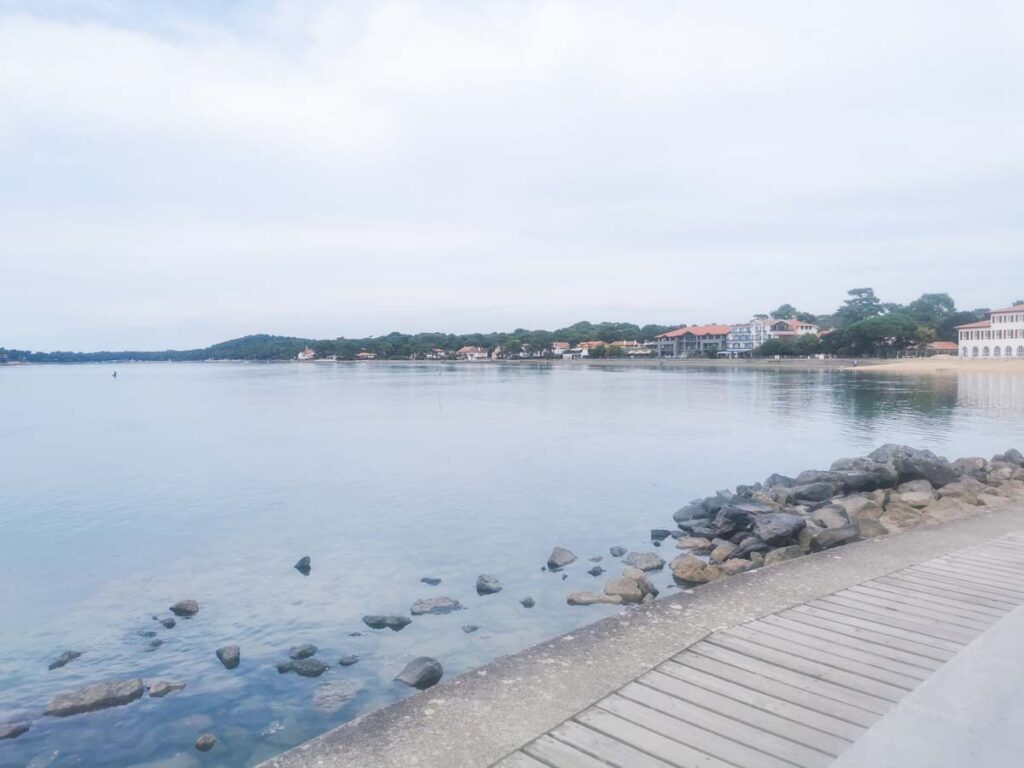 Because it's connected to the ocean, the lake not only moves with the sea, but it has a unique ecosystem. It's full of birds, marine plants, oysters, other shellfish, sea bass and more.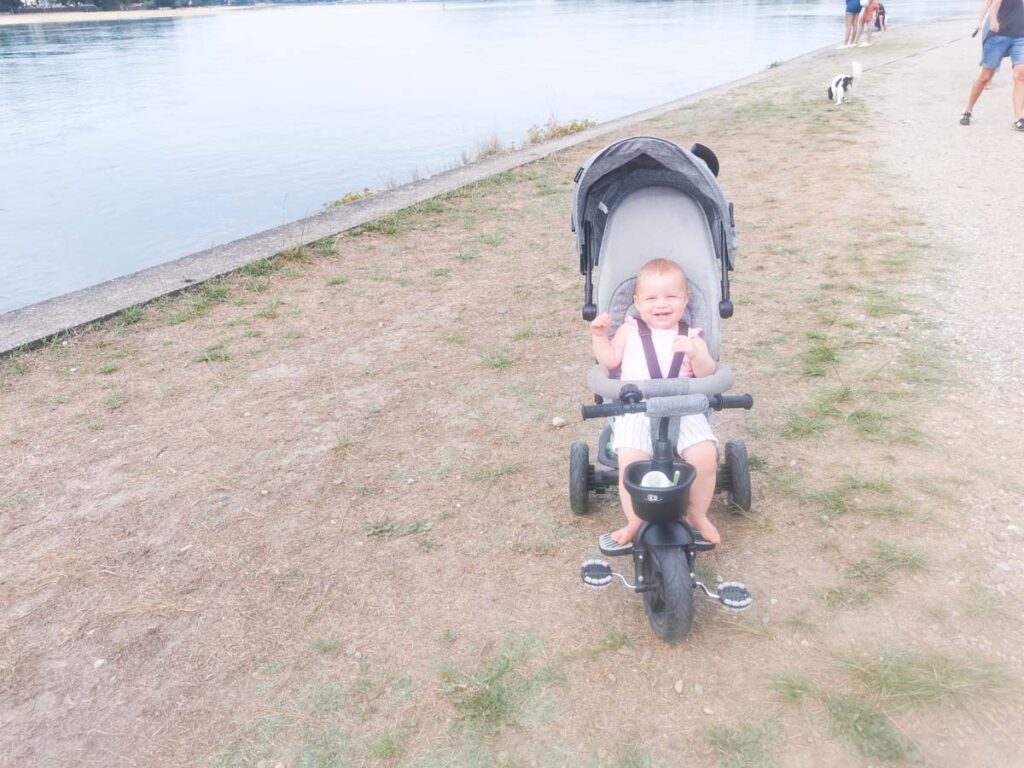 There are 4 lake beaches which are great for paddling in, especially if you have young children. In high season they are staffed by lifeguards. If you fancy a walk, there's 6kms of the lake to circle, and it's open exclusively to pedestrians only (sorry cyclists and skaters).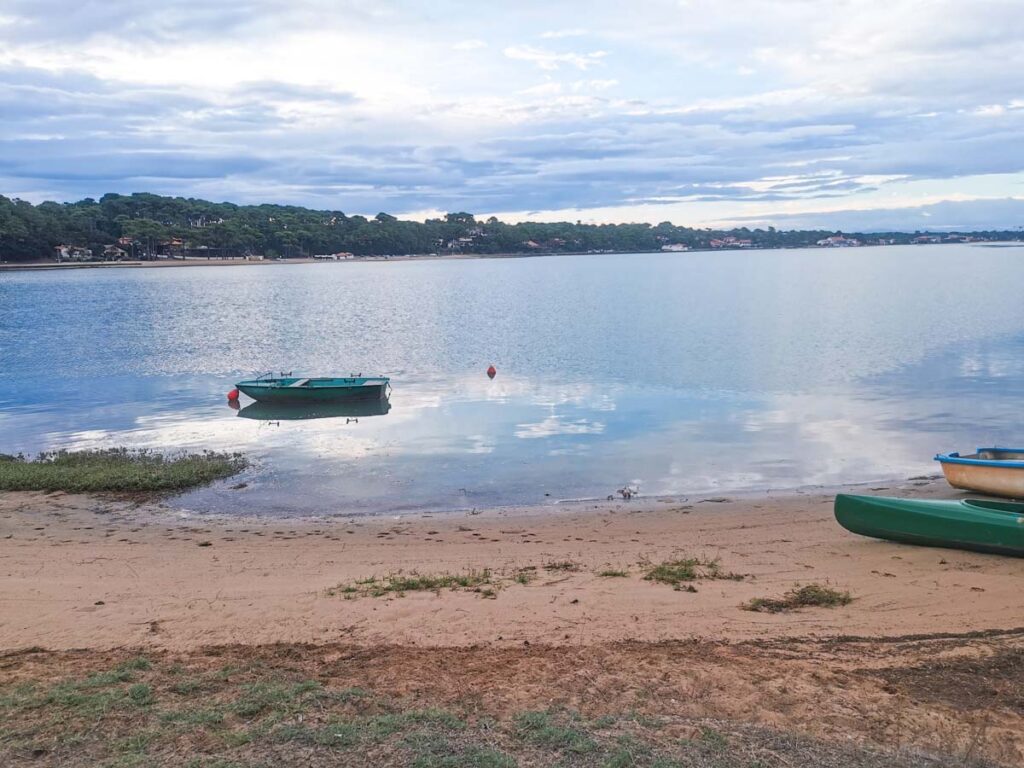 If you fancy a break from the water, the forest is around a 15-minute walk away and takes up 70% of the total land area of Seignosse. Walking/cycling trails are colour coded so you don't get lost and there's over 40km worth of footpaths. And thanks to the grand oaks and towering pine trees, it's a great place to escape the coastal vibe and take in even more natural energy.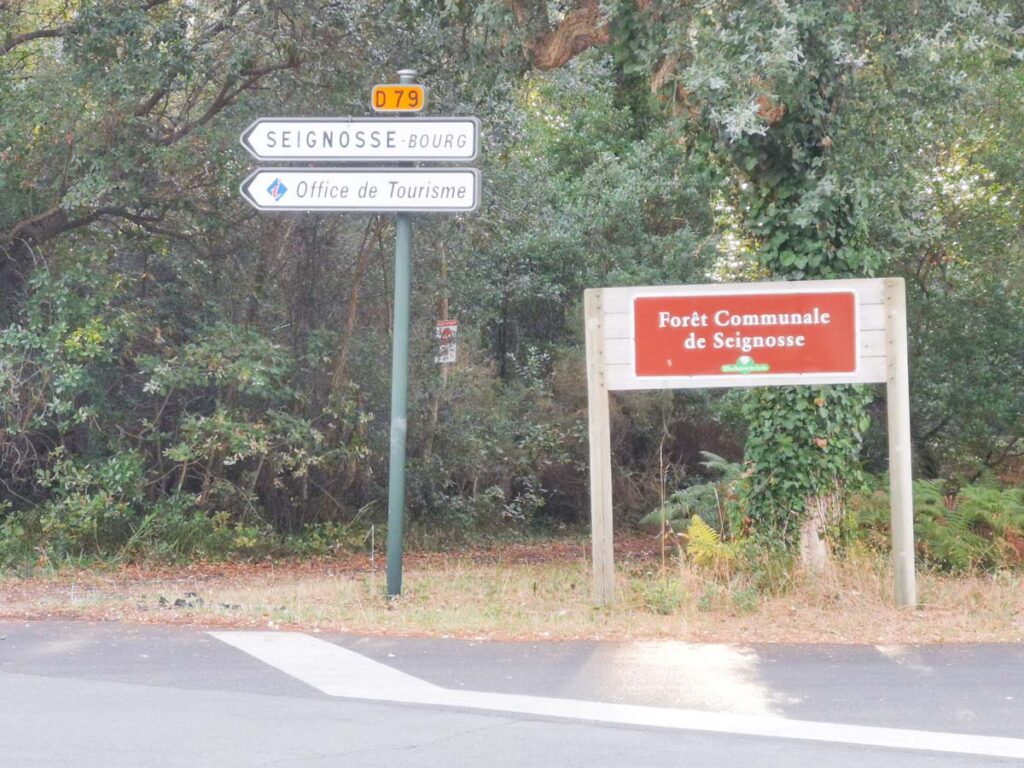 Whilst the campsite is relatively small, rustic and nature friendly; it does not lack in facilities. Camping natureo has everything you would want/need and more, for a camping holiday on the Atlantic coast.
The reception area is clean, tidy and well decorated. There's a map of the region on the wall which tells you exactly where everything is. The reception desks contained tons of local/campsite information, and there were even television screens showcasing more details.
The staff were friendly, professional and spoke a range of languages – And they only laughed at me a little bit for my poorly worded French attempts (BTW the word for a map in France is "carte" if you're wondering…).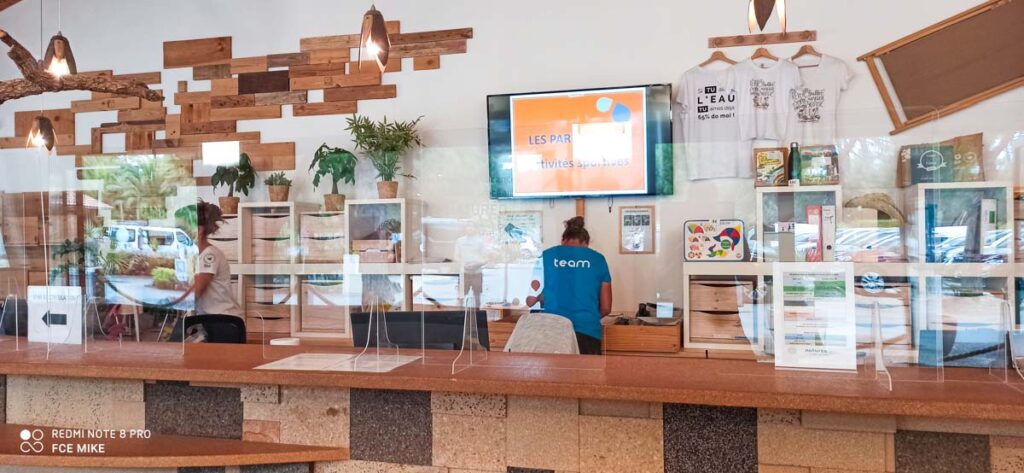 Things are different thanks to COVID19. The reception staff were all sat behind plastic screens and of course wearing masks. There are arrows, and signs pointing guests in the direction of travel and everything is marked out to ensure that social distancing is being adhered to.
Our check-in was quick and easy. Requiring just our car details and cleaning deposit, it was a very brief encounter. 
Cleaning deposits are a widespread practise here in France. It's not a big concern. If you are clean, tidy and respectful of the items in your accommodation, the reception will return your deposit.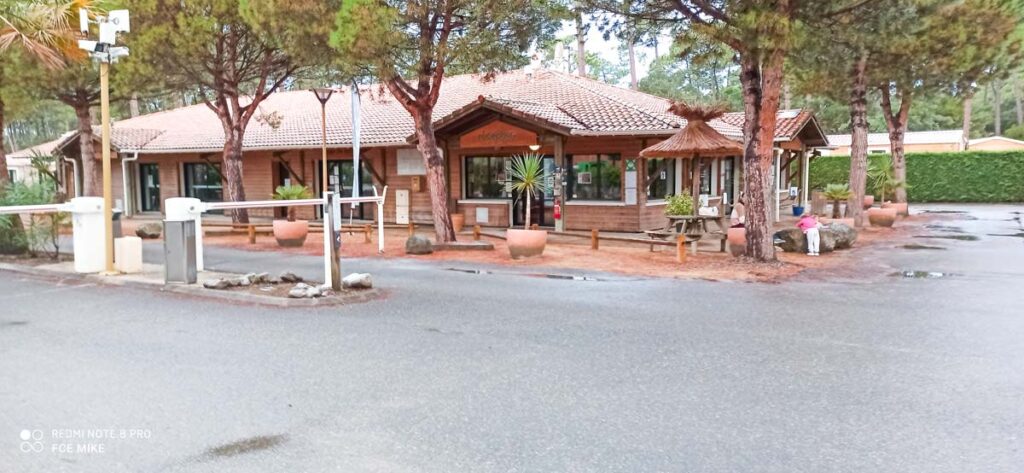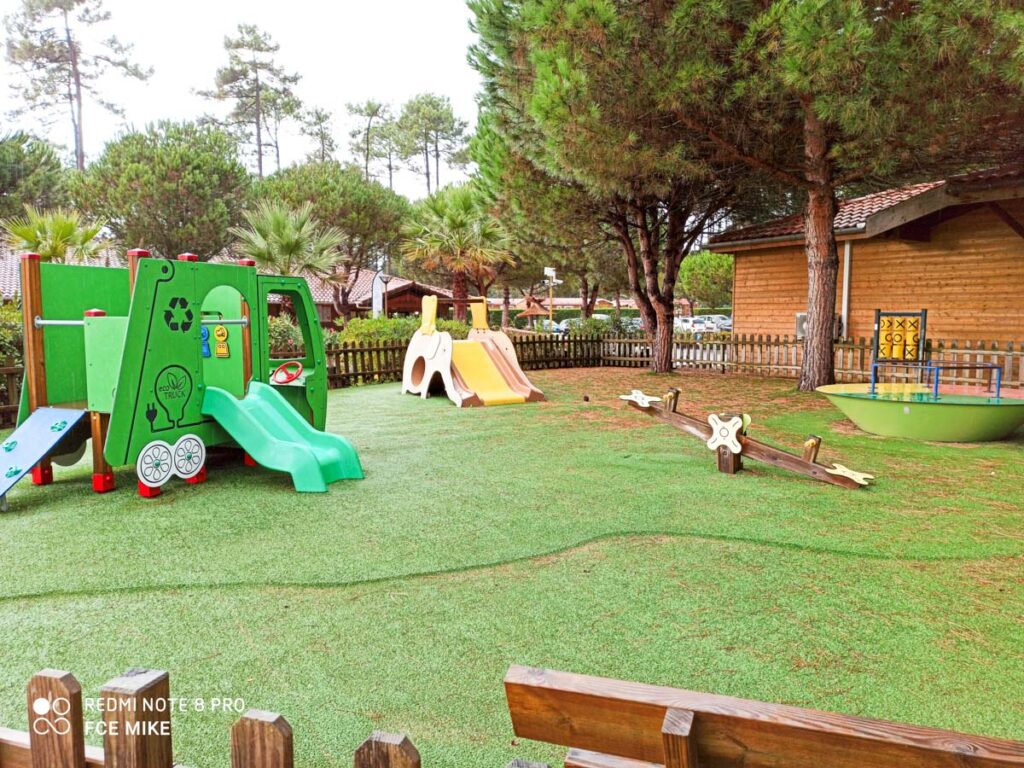 The campsite features a few different play areas.
Just off the bar area is a small play park for children. There's climbing frames, slides, seesaws and a play-style merry go round. The only time I saw the park empty during our stay was whilst it was raining on our final day. We discovered that the campsite was very popular with young families. It could be because the low season is an excellent time to take young children who aren't yet in school without having to pay school holiday prices.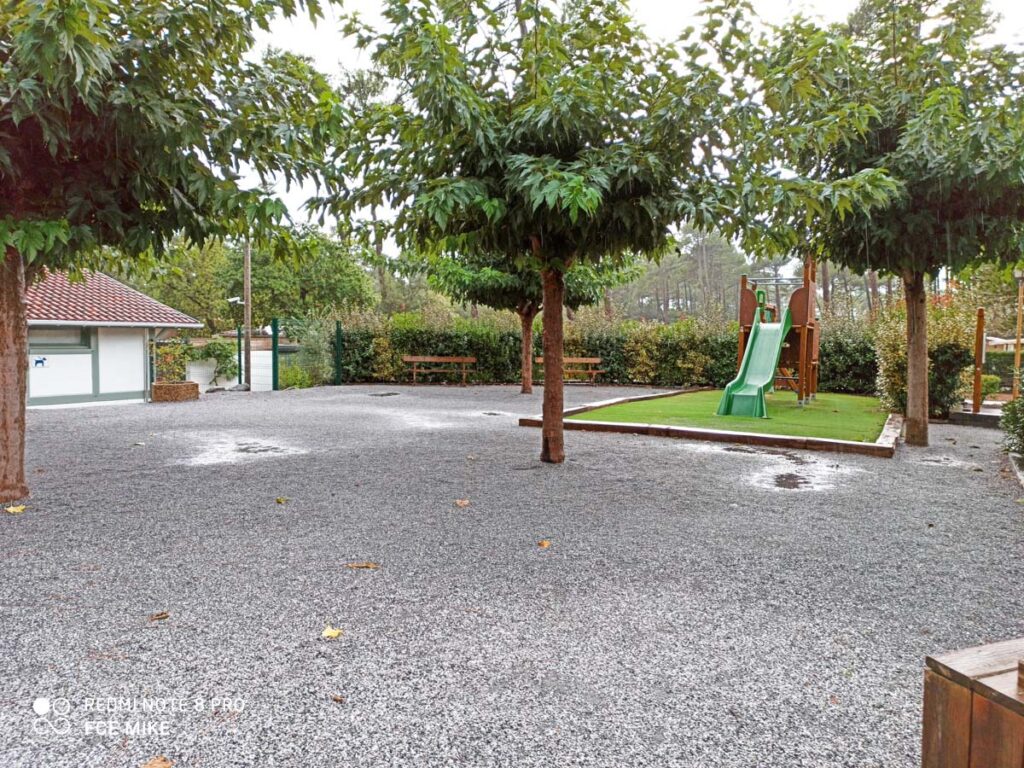 Also situated near the bar area is the mini golf course. You can hire equipment from the Natureo reception.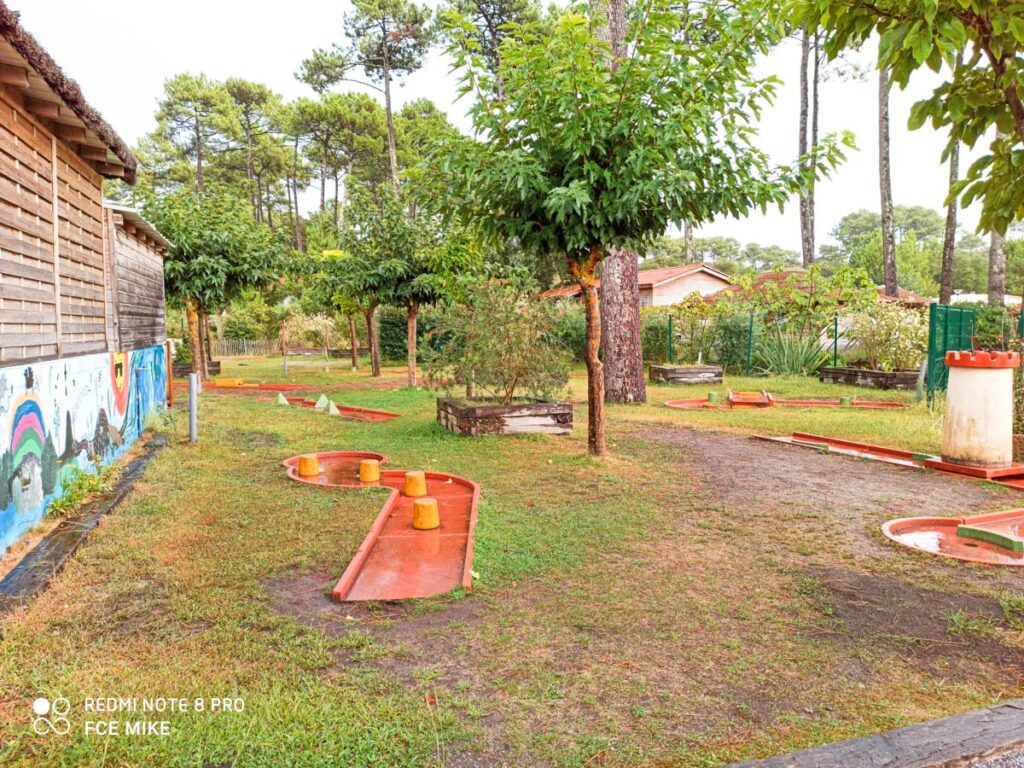 Towards the entrance to the campsite is the multi sports court. Whether you're into football, basketball, netball you can play everything on this all in one court. During our stay, we rarely saw anyone using the equipment but I imagine in high season it can get quite busy.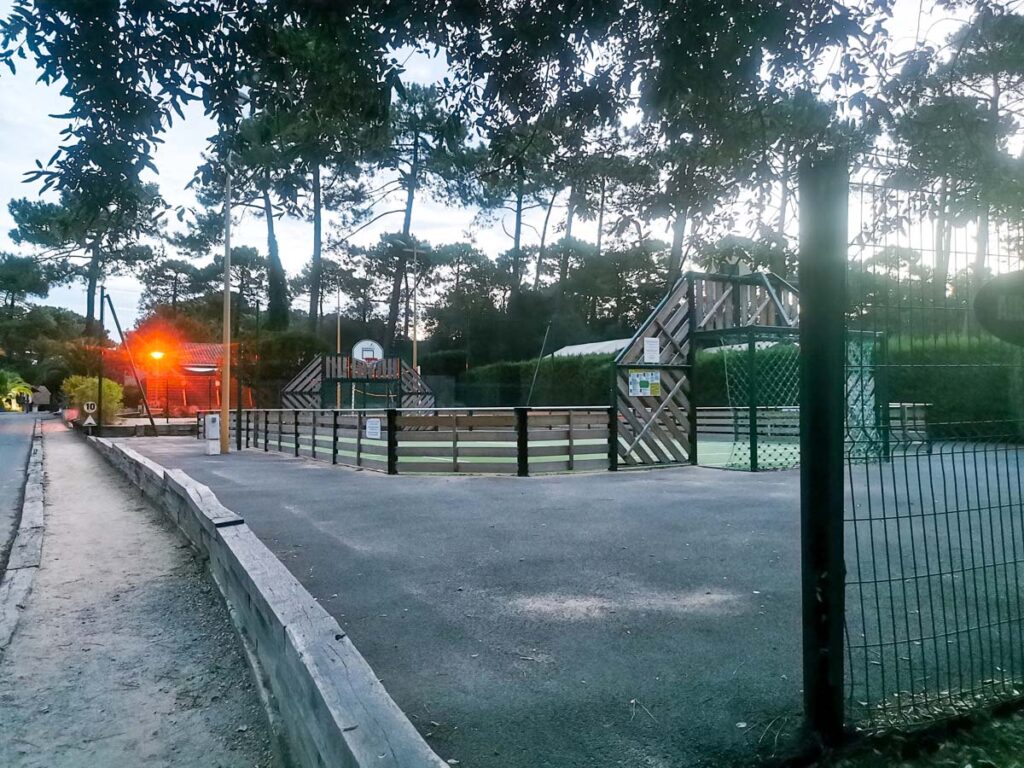 Near the bar area there were a few ping pong tables and you can hire equipment from the main reception.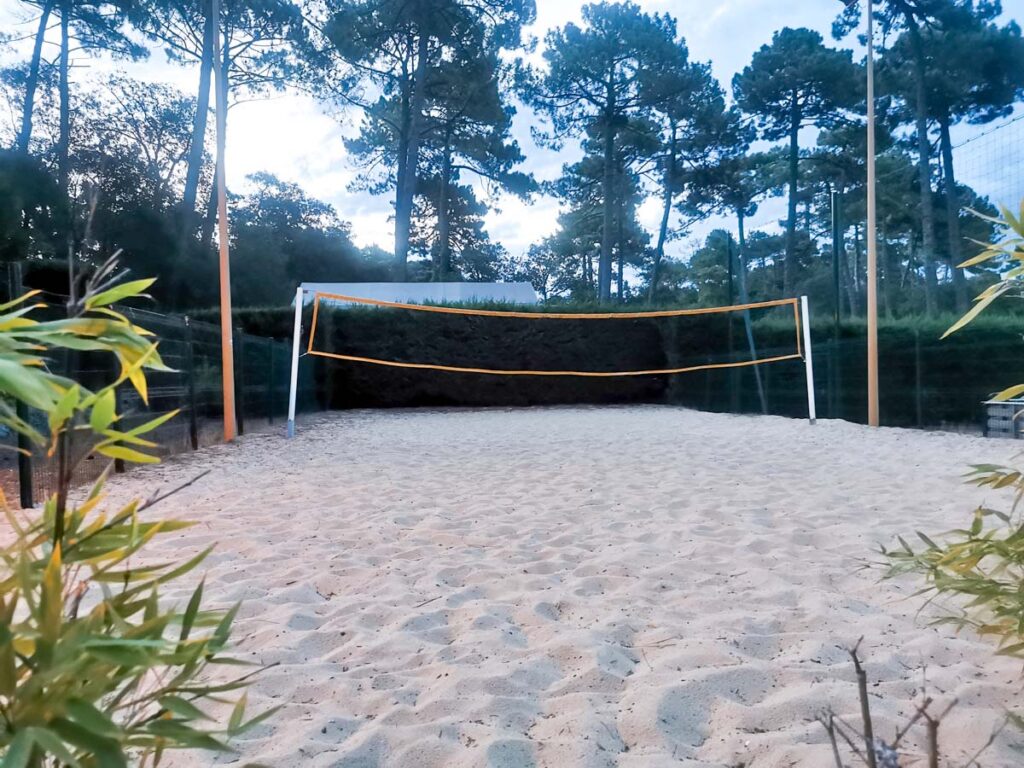 Next to the multi sports court is the sanded volleyball court. These courts are also ideal if you fancy playing a sandy game of badminton too.
Table Football & Pool Table
You can find Table Football and a Pool Table inside the bar/restaurant/shop area.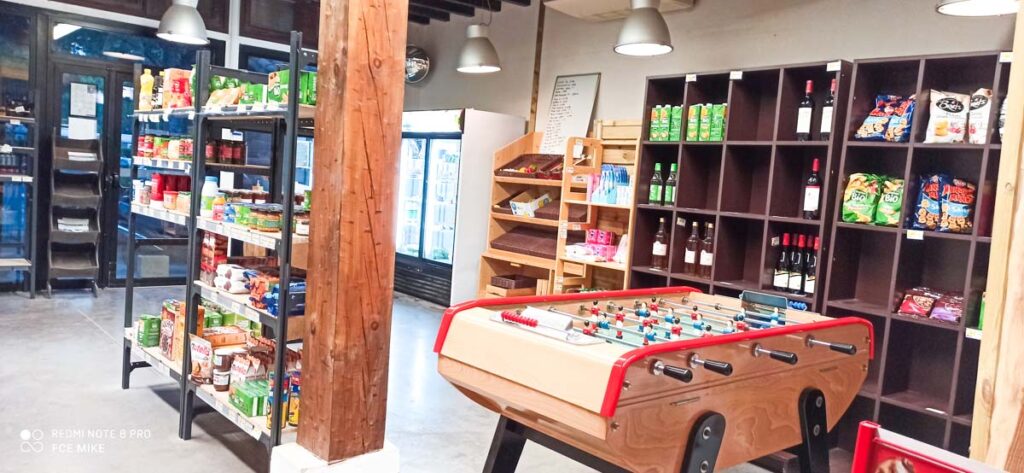 Like on all French campsites Petanque is king and there are plenty of places to play.
Kids Clubs, Entertainment and Animations
Low season is pretty quiet but what's on offer during the High season?
During high season the campsite runs kids clubs. There are two different age groups. One starts at four years old and goes up to 12 years old. It's free, and there's a wide range of daily activities. Kids can do painting, treasure hunts, head to the beach and loads more. On the weekends there's even a Garderie service from 3 pm till 6 pm so parents can experience a break before dinner.
For the bigger kids, camping natureo runs a group for 13 – 17-year-olds running activities like sports tournaments, film screenings, nature outings and more. They even let the teen clubs suggest their activities for the next day.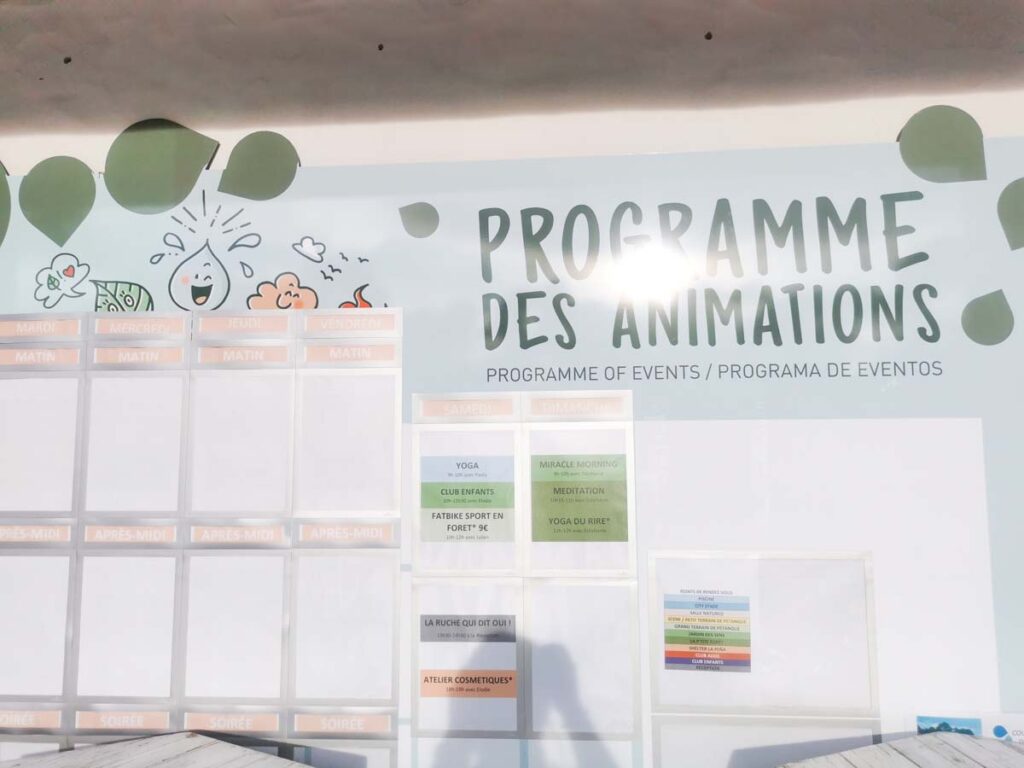 The animations run all week during the high season (July and August) and then just at the weekends in low season. During our visit in Mid September, the only activities that were on were Yoga, meditations and "atelier cosmetics" (although I wasn't quite sure what that means). 
However, I've seen loads of reviews talking about their other exciting activities though like making bread, washing up liquid and all things to do with living a more natural, eco-friendly life.
There are also other activities (in the Summer) like concerts, sporting events and other cultural activities.
Natureo Surf and Yoga Camp
Another part of the campsite that I'm not sure how to categorise is the Surf and Yoga Camp. A separate camp hosted by Natureo but managed by a young couple called Paola and Pierre. Pierre Rollet is a professional surfer, and Paola is a yoga teacher who also takes care of the surf camp reception.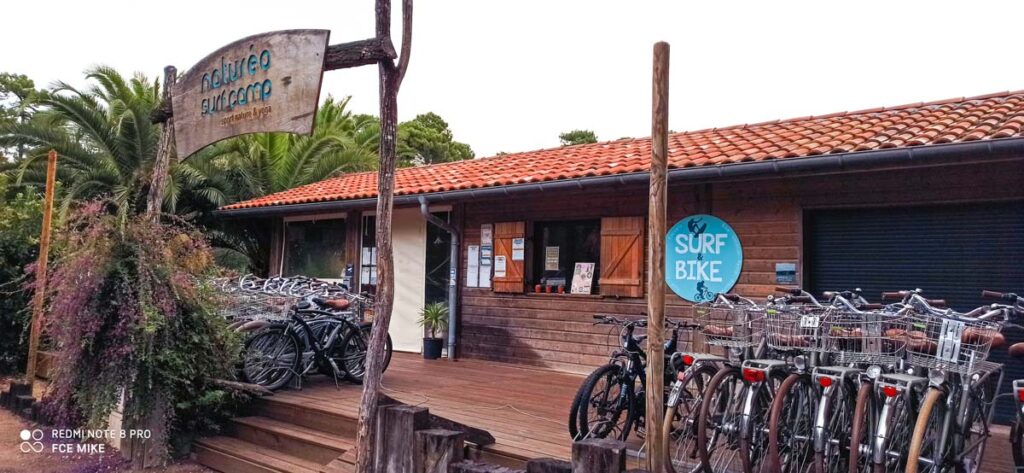 I can't share too much about the Surf camp because sadly, we stayed with the campsite direct and not through the surf camp. Although I'd love to be a part of it and would like to go through the surf camp next time and do a week-long surf course. 
Through the surf camp, you can take part in the surf, stand up paddleboard and yoga courses as well as hire bikes, surfboards, paddleboards, bodyboards and more. You can even go on discovery bike tours and explore the area with like-minded people.
Also offered through the Natureo Surf Camp is the well-being treatments. You can have a massage, speak to a dietician, see a reflexologist, osteopath or naturopath and even get onsite beauty treatments like getting your nails and hair done.
Bars, Restaurants and Takeaway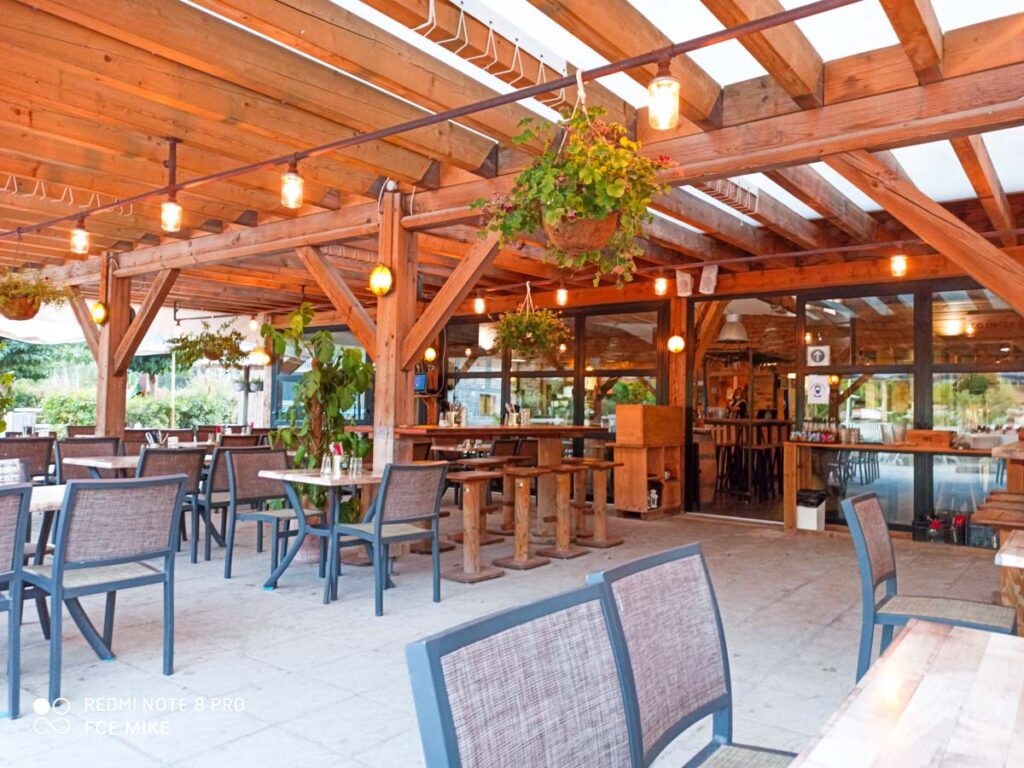 The bar-restaurant and takeaway were all in one area and are run independently from the campsite. It's are also open to outside visitors which we figured meant there would be a good atmosphere.
Bar/Restaurant SHELTER – LA PEÑA
Our impressions of the bar/restaurant aren't good. On our first evening, we sat down for some drinks, and the waiter greeted us with a "yes?". I mean, maybe it's lost in translation somewhere, but that's not how you welcome a customer.
We also found that all the restaurant/bar staff were wearing their masks beneath their noses. I get it. Nobody wants to wear one, but really? You're working with food, in a customer fronted environment around people who are generally pretty concerned about their health and wellness.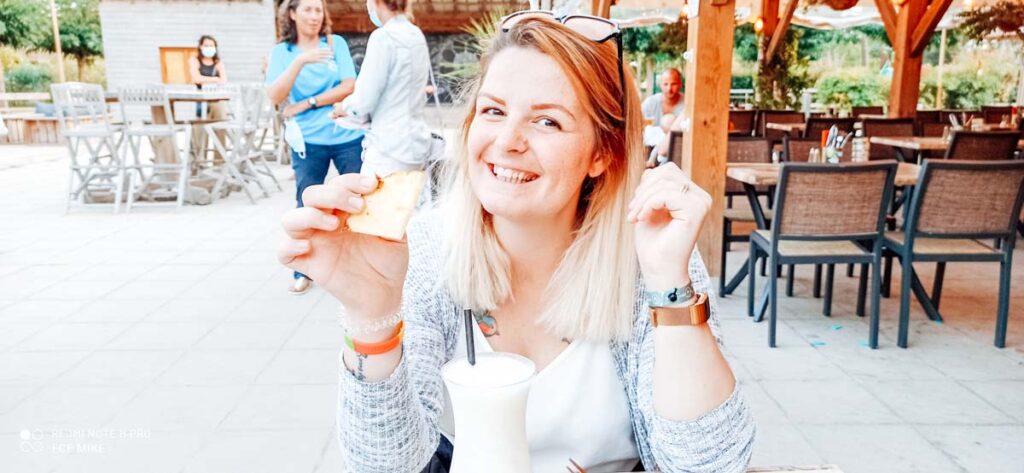 After suggesting to the waiter that we just wanted drinks for now but would decide on food later, he came back to the table 3 times to see if we'd made up our minds yet, which was pretty attentive but actually, it was early. We wanted a drink before we'd even thought about food. However, we caved and ordered a takeaway pizza to eat back at our mobile home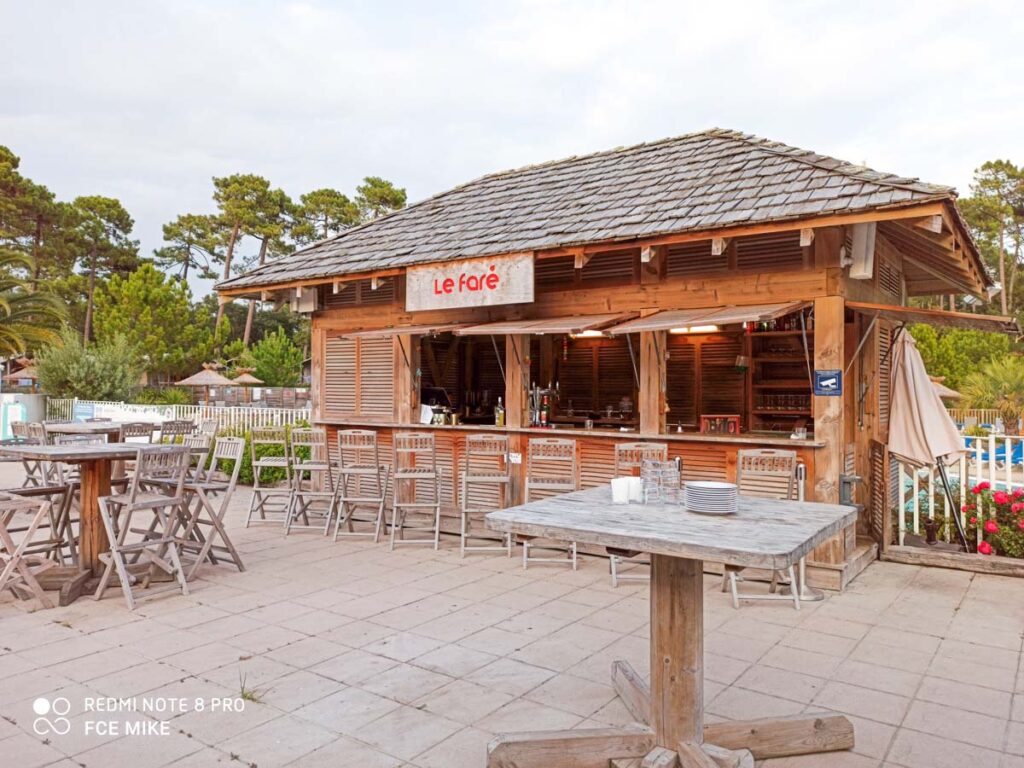 I'll be honest; our pizzas were pretty average. We've had many a campsite pizza, and I'd probably rank these two pretty far down the standings. The crust was quite soggy and not like a standard crisp woodfired pizza, the toppings were sparse, and it just wasn't great.
However, we decided to give the bar/restaurant a second shot and went there again on our last night for dinner. We had an enjoyable meal of Burger and Chips. A more than adequate portion size which also tasted delicious. This time we were served by a woman who was a bit chirpier than the waiter last time, but still could've been more friendly. I get that it's the end of the season, but this campsite is open until December so the staff can't be that demotivated already surely?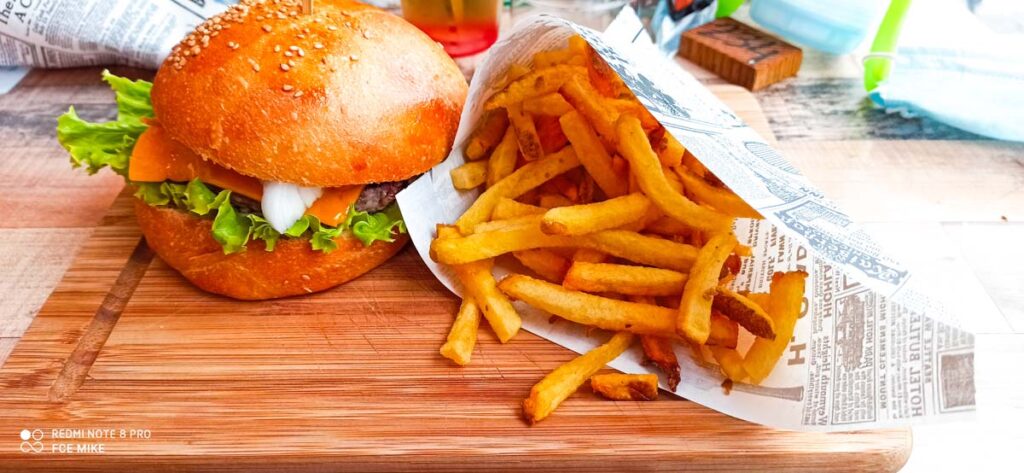 The bar itself is a lovely space with excellent decor, free wifi (for a limited time) and tropical vibes. Had the bar staff been a little friendlier and maybe followed covid19 guidelines/laws correctly, the place could have been fantastic. I think there are a few people who share my thoughts about the bar as it was empty pretty much our entire stay. That says a lot, especially when it's open for outside custom. I've also read quite a few reviews with similar experiences to ours.
I think the campsite deserves and could do so much better with different management running the restaurant/bar. I'm convinced that a bio/organic/local produce style restaurant would work a lot better on a site like this?
If I were a customer visiting again, I would probably not bother with the campsite bar and head into one of the more notable bars/restaurants in town or on the beach.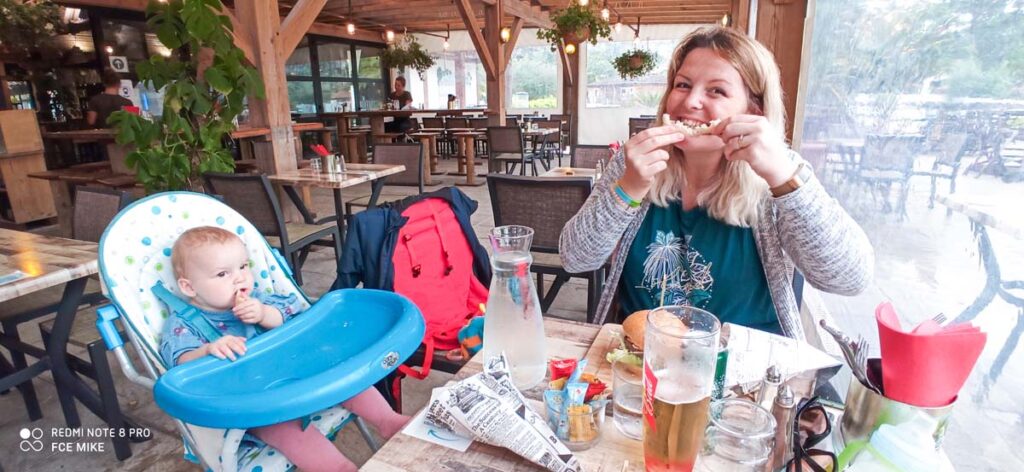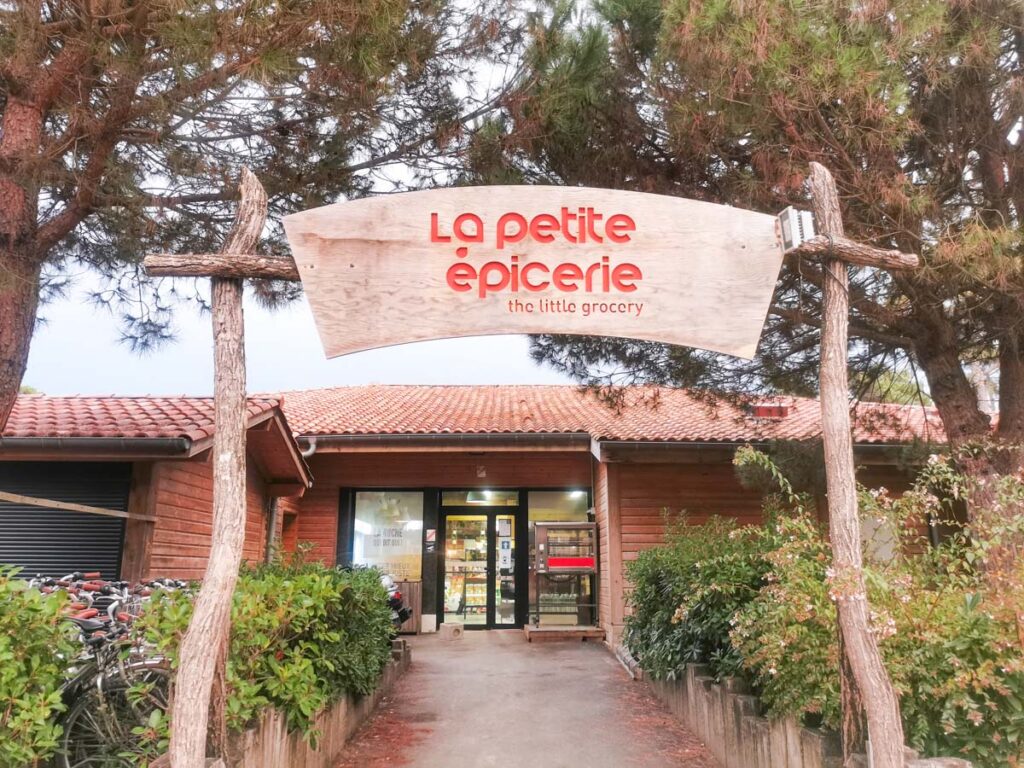 Camping natureo has a lovely, quirky little epicerie selling all the basic necessities needed for a stay including fresh fruit and veg, washing up liquids and local and bio produce. There's even a small bakery serving fresh bread and pastries, although the baguette we got was pretty stale so it's probably best to go first thing in the morning.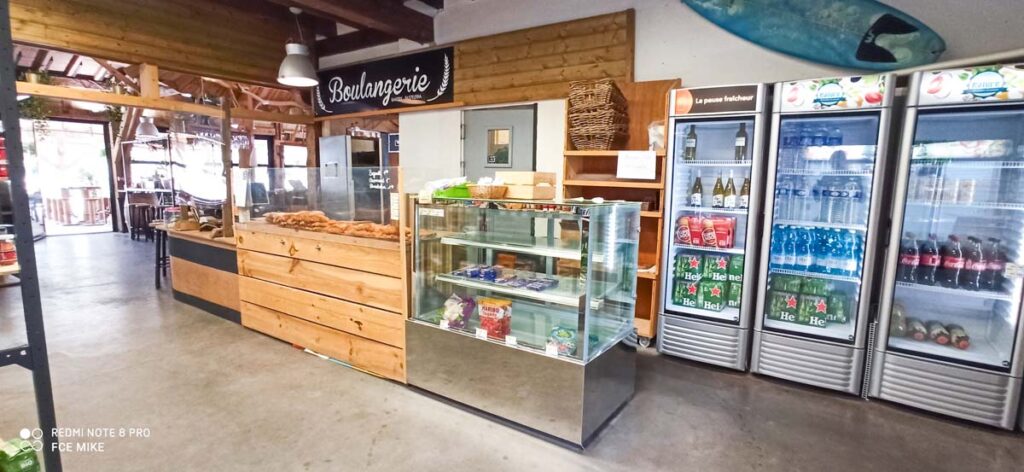 Bike hire is available through the Surf Camp reception. For seven days adult bike hire you'd be looking at paying 55euros. It's worth it though as the area is incredible for cycling. The paths are excellent and go on for miles, and the location is just made for cycling and active living. So, hire bikes if you have the chance. I've popped a picture with all the prices during our stay (obviously these may have changed over time).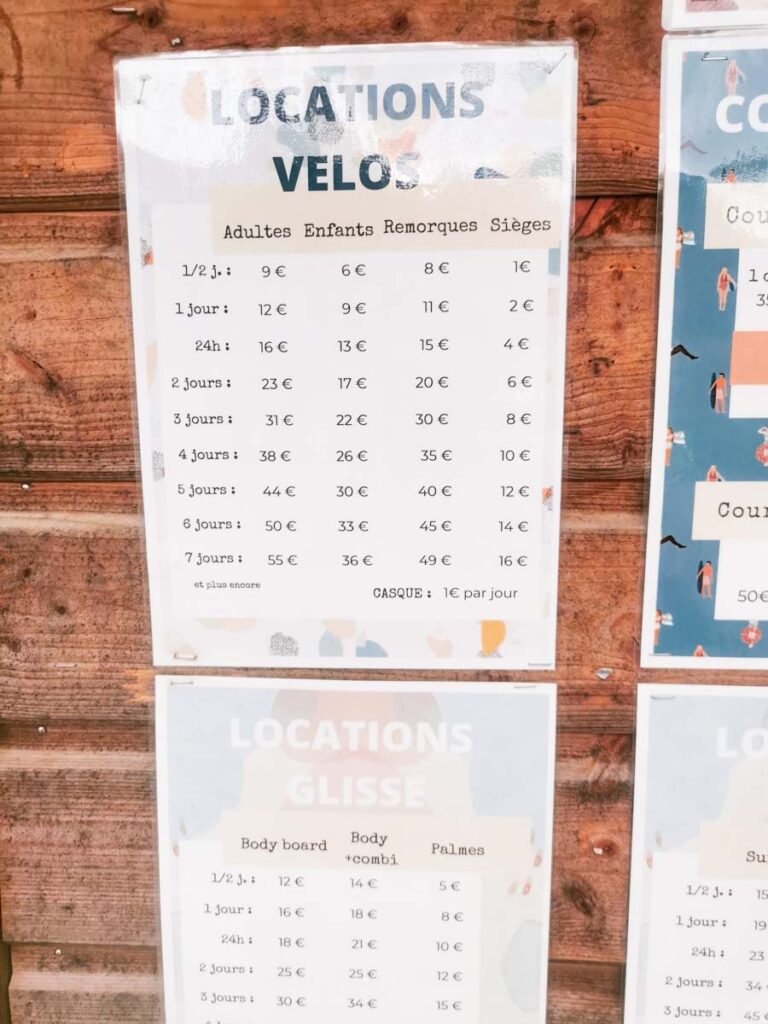 The campsite has a lot of customers owned mobile homes in which pets/animals are allowed. However, animals are not permitted in Natureo's accommodations. So basically, animals are allowed on-site, but not in your mobile home/chalet.
Accommodation at Camping Natureo
There are no tour operators at this campsite, so the only way to book is either by staying in a privately owned mobile home or booking through the Natureo campsite direct. There are loads of different accommodation options to choose from. We stayed in a Bungalow Cottage Premium, and you can read our review here.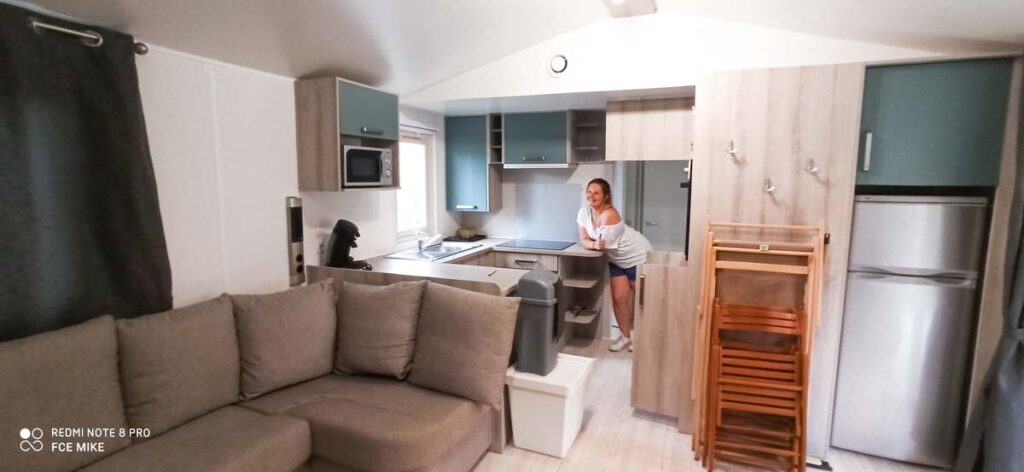 Other options include Cosy and Confort mobile homes and the fantastic looking wooden cabins. We like the look of the Bali & Africa ones.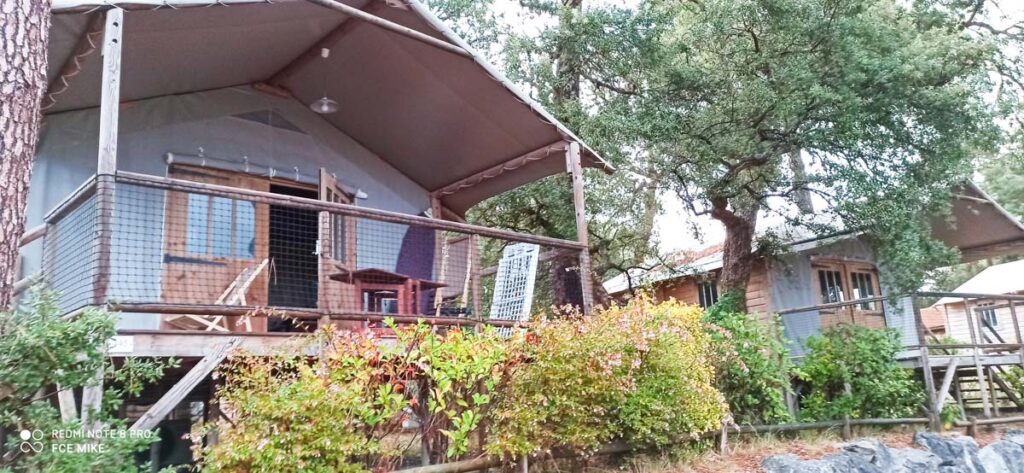 Do You Need a Car to Get Round?
If you enjoy walking and cycling, then definitely not. The area is so accessible by cycle/pedestrian routes. However, if you'd prefer to get around quickly, then a bike would be better. Plus, it depends on how you're getting to the campsite. Flying and car hire may be favoured as the nearest train station is 36km away in Dax. Alternatively, there is a bus that goes from Biarritz to Seignosse if you're adamant you don't want to drive. This is, after all, an eco-living style campsite.
How to get to The Campsite
Flying to Biarritz or ferry to Bilbao are your two best options when travelling from the UK.
If you want to explore more than just the local area, then yes. There are loads of places to discover by taking a day trip to Biarritz, Bayonne, San Sebastian, etc.
The nearest ferry port is Bilbao in Spain.
Address: Avenue des Tucs, 40510 Seignosse Hossegor
GPS Coordinates: 43°41'41.6″N 1°25'46.2″W
Day Trips from Camping Natureo
Whilst sticking to the campsite and immediate facilities is enough to keep some people busy, there is so much to do in the local area. It's definitely worth taking the time to go out and explore some of these amazing places.
Frequently Asked Questions
Are the mobiles close together?
The whole campsite is a bit higgledy-piggledy. Some accommodations are close together, while others have lots of space. We were happy with our pitch and found there wasn't anybody overlooking us.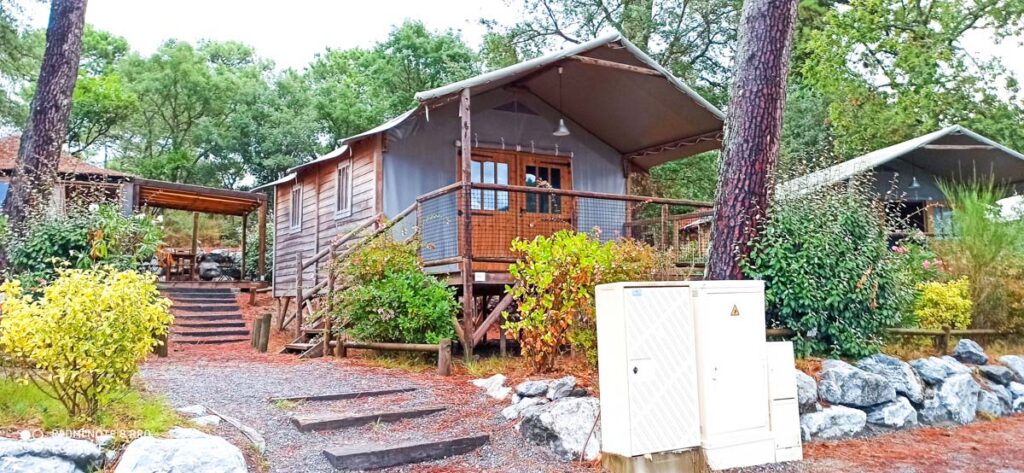 Mostly yes, there are some very slight hills but nothing extreme.
Are there mosquitos at Natureo?
Yep! I got eaten alive one day and had over 15 bites down 1 leg. Luckily, they weren't too itchy. If you're like me, tasty to mozzies, then pack your best lotions and potions. I hear the Avon skin so soft is apparently great at keeping mosquitos away.
Is it easy to get a sunbed around the pool?
The pool was empty every time we went past, so in low season I don't think you'd have a problem. In high season though? That could be another story. The pool terrace is pretty massive and does have lots of sun loungers though, so I imagine it wouldn't be too bad.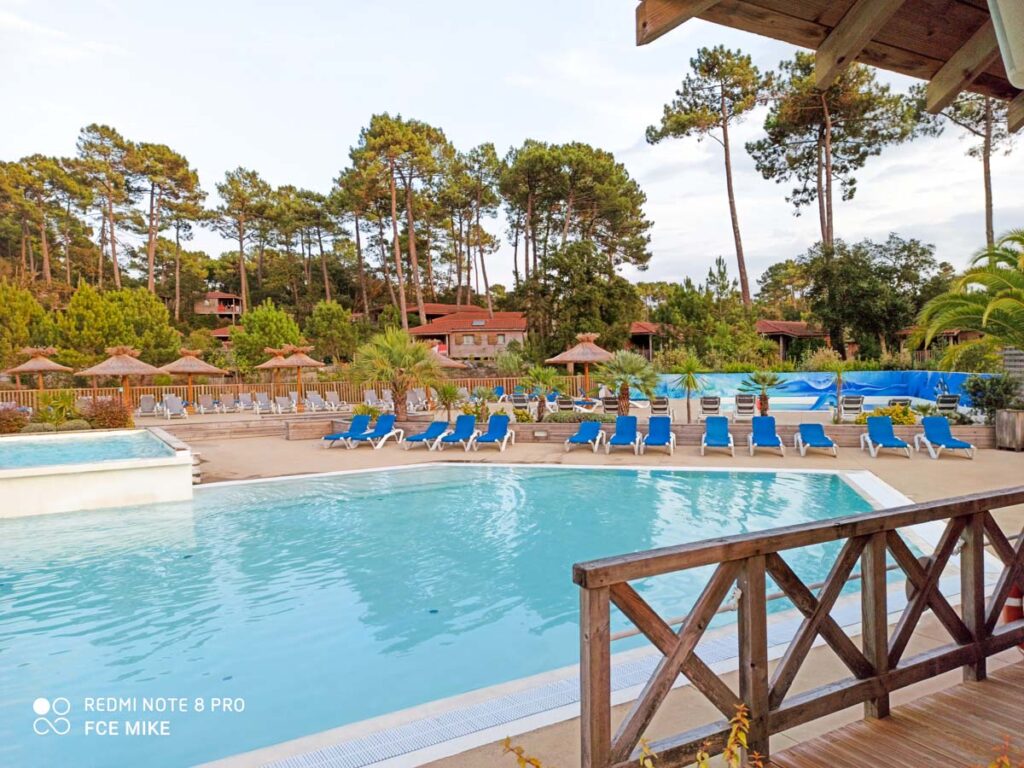 Do you need to wear a wristband?
Yes, we got given wristbands. Because the facilities like bar and restaurant are available to outside customers, there's a risk they could be sneaking into the pool. Wristbands are mainly there to prevent that from happening.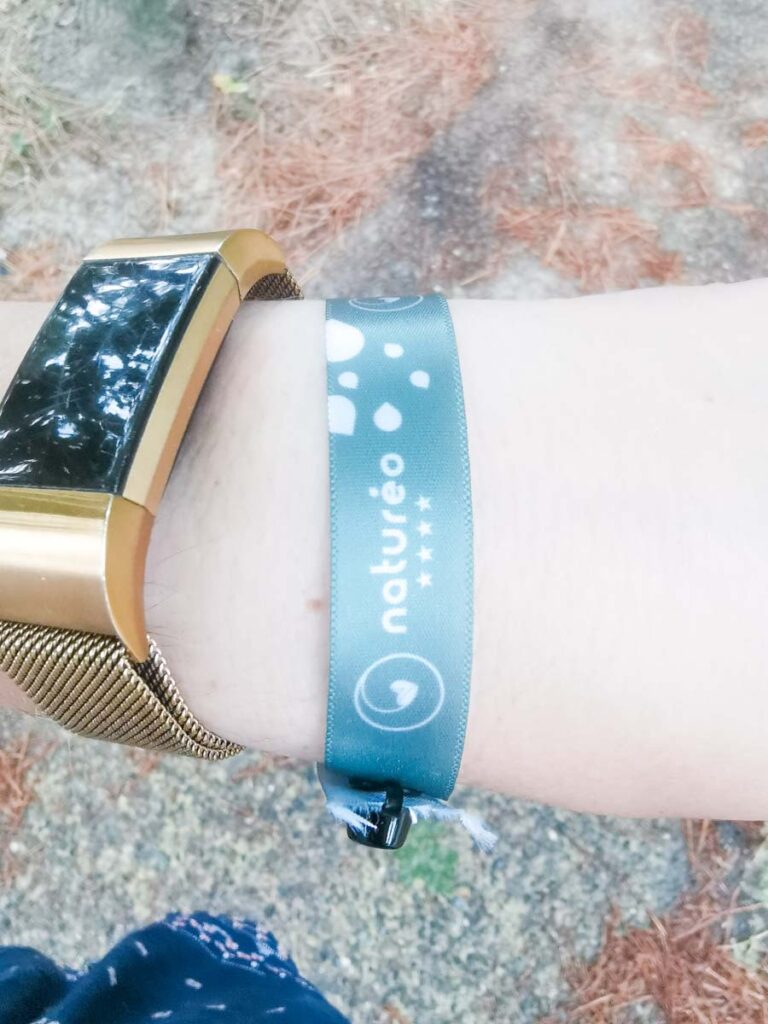 Do men have to wear swim trunks?
Is the beach sandy enough to do sandcastles and play, or is it more shingle?
Yes, it's sandy and perfect for digging moats and building sand castles.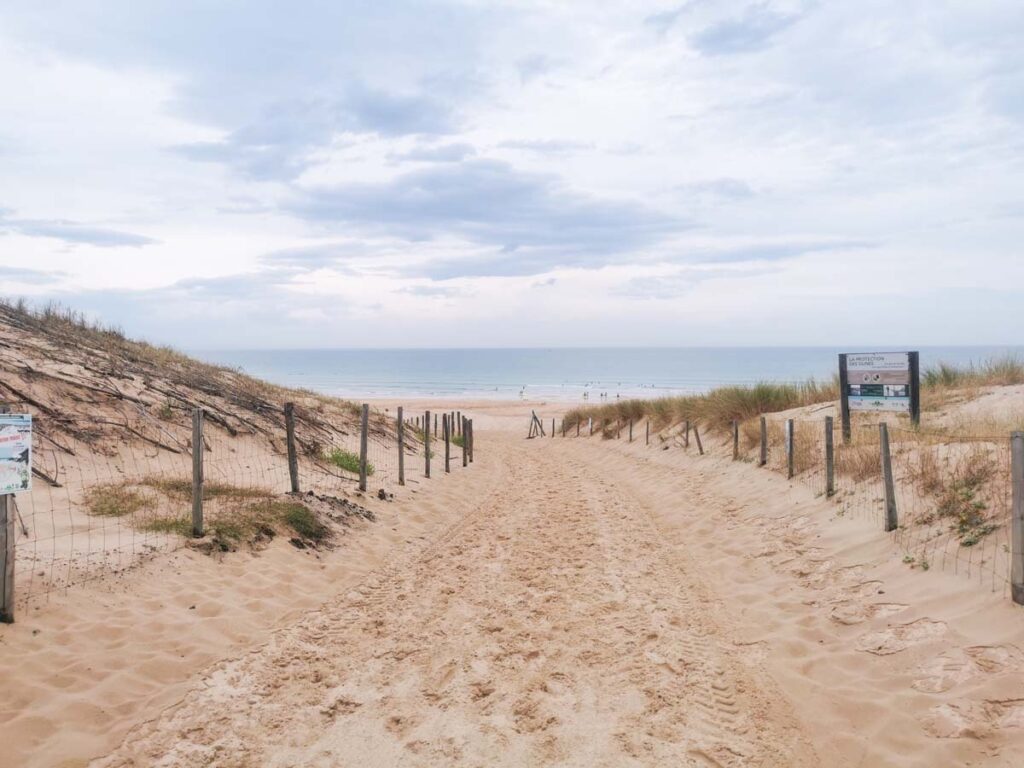 What's the weather like in Summer?
The Summer averages are as follows:
June 23° / 15°
July 25° / 17°
August 25° / 17°
The Atlantic coast is renowned for having varied and unpredictable weather. This year we've been to 3 Atlantic coast campsites, and at each one, our weather apps were consistently wrong. If it's raining in Summer, know that it probably won't last your whole holiday.
Where can you watch the sunset?
Head to the beach. Dicks Sand Bar in Hossegor is a great spot to watch the sunset with some drinks and live music.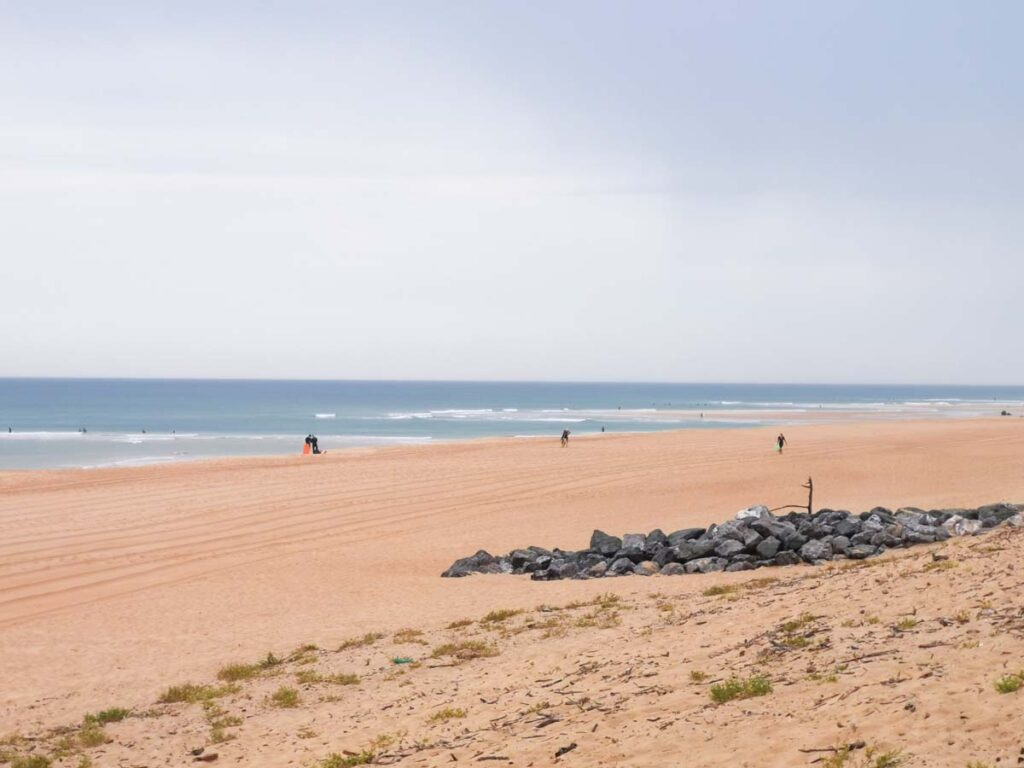 Can you park on your pitch/Emplacement?
We had a designated parking space just outside our pitch. So no, it wasn't on our pitch, but it was very close.
Can you take pets on the campsite?
If you're a private owner then yes. If you are a campsite customer, then no.
Where's the nearest supermarket?
The nearest large supermarket is an Intermarche 7km away. There is however a small Epicerie on site for essentials as well as a small convenience store Le Relais Des Mousquetaires, 1.4km (17 minute walk) away.
Is It Loud In The Evenings?
During our stay in mid-September, we were awoken a couple of times around 3 am by people coming back from nights out. The campsite itself was quiet; it was just a few loud guests. I imagine in the middle of Summer it could get quite noisy, mainly if you're staying near the bar.
What Can We Do If It Rains?
Helicopter museum in Dax. The 2000m2 building is home to an incredible collection of aircraft including aeroplanes and helicopters. There're also movies, photos, souvenirs, uniforms and documents relating to the aviation industry.
Can I Use My Transferwise Card On SIte?
We had no problem using our Transferwise cards during our holiday. We find that Cards are preferred in many places in France due to Covid19.
We loved our stay here and had the bar and restaurant been a friendly place we would be giving the site a 5/5. I've always loved the concept of campsites focused on nature, and I like how even the animations are centred around helping people live more earth-friendly. 
The area is phenomenal too, and I wholeheartedly recommend it to anyone who loves the surf/yoga atmosphere. I can't wait till the baby is old enough to be enrolled in some surf classes so she can join in on the action too.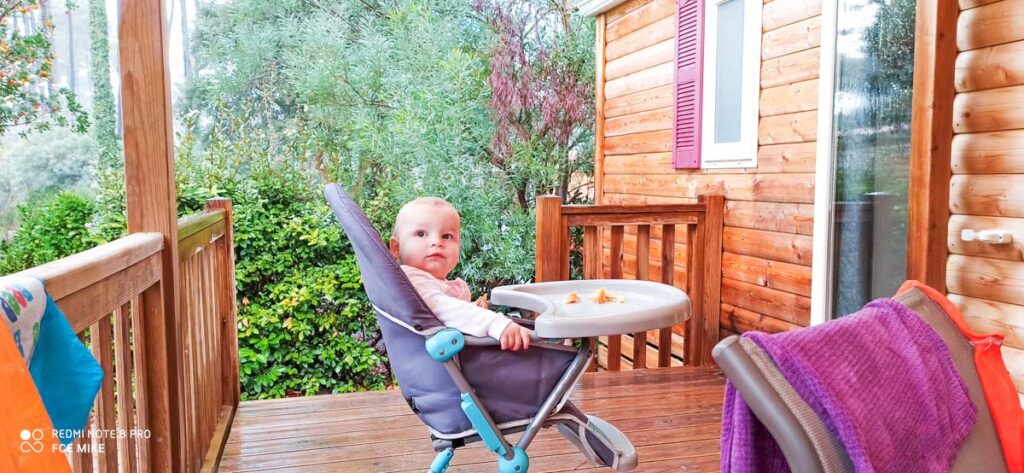 Check Availability And Book Camping Natureo Today
Clicking the button below will open the providers website in a new window.