Eurocamp comfort plus Accommodation Review The perfect balance between cost and quality
With a Scandinavian, minimalist feel, this mobile home is exactly what we hoped it would be: clean, well maintained and fit for purpose.
Check Availability And Book Your comfort plus (formerly the Azure) holiday home Today
Clicking the button below will open the providers website in a new window.
Eurocamp comfort plus Mobile Home
We've just returned from a lovely stay at Domaine de la Rive in Biscarrosse with Eurocamp. Staying for 2 nights in a Comfort Plus (Formerly The Azure) mobile home, here's what we thought about our accommodation.
New Mid-Range Mobile Home For 2019
The Comfort Plus (Formerly The Azure) by Eurocamp is a brand new mid-range mobile home. Fresher and newer than the Esprit, Classic, Espace and Vista models, yet not as upmarket as the Avant and Aspect mobile homes, this mobile is the perfect balance between cost and quality. 
With a Scandinavian, minimalist feel, this mobile home is exactly what we hoped it would be: clean, well maintained and fit for purpose. However, as with all campsite accommodations there are a few cons to go with the pros – but I'll get to that shortly.
The Comfort Plus (Formerly The Azure) mobile home markets itself with its contemporary feel, and perfect hosting/socialising spaces.
Thanks to its beautifully spacious kitchen, living area and its covered patio decking, you can enjoy everything about camping whilst also enjoying all the comfort that comes with a home.
We loved being able to sit on the decking under the canopy even when the weather wasn't at its best – because isn't that what camping's all about? Alfresco dining and outdoor living…
Pros of The comfort plus Mobile Home
We've stayed in nearly every type of Eurocamp mobile home, and this was one of our favourites.
Cons of The comfort plus Mobile Home
There's little to complain about here!
Tour Of The Comfort Plus Mobile Home
If you head to the bottom you can see our video tour inside our Comfort Plus 3 bed mobile home, but for a detailed written view we'll start with the bedrooms.

The two twin bedrooms in our Comfort Plus were almost exactly the same.
As you walk in the room, unless you've ordered a cot, you'll see two beds. One of these beds will be collapsable and will fit underneath the other, therefore giving you more space and allowing for addable extras like baby cots to be added.
Compared to some other mobile homes there is a fair amount of storage space within the bedrooms. Above the beds there're storage cupboards (which are easy open and slam proof), and near the door there's a wardrobe with some smaller cupboards underneath.
To the side there's a large bedroom window which comes with both a blackout blind, a mosquito blind and a curtain.
The beds come with pillows and light duvets, so all we needed to bring was linen.
For your electrical items, there's a French 2-pin socket situated between the two beds.
Space wise, the room is a little tight but there's more than enough space for two children to happily share a room together. Plus, we found the bedrooms are only ever really used for sleeping in as there's so much to do throughout the day.

Mosquito blinds
Blackout blinds
Collapsable bed
Ample storage
Mirror
Electric heater
1 pillow per bed
Light duvets
2 pin plug socket
Our double bedroom in the Eurocamp Comfort Plus was quite tight, but the reason being is that they've crammed in a massive queen sized bed. So although it took me a little longer to walk round to the other side of the bed, we got a comfier more spacious sleep out of it.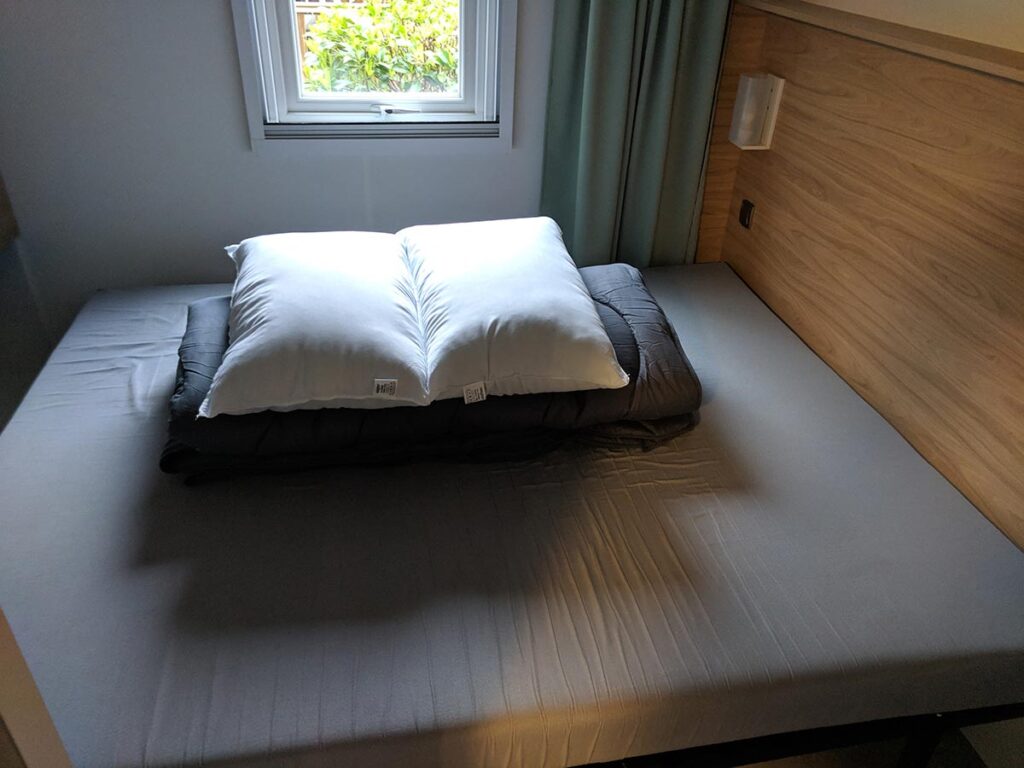 So if you're bringing your own bed linen, you may want to take note of the sheet size, as our normal double definitely didn't stretch across.
Like the twin rooms, there is a window with a blackout and mosquito blind as well as ample storage.
There's even some coat hooks in every bedroom, a feature I always felt most other mobile homes had missed out on.
Conveniently you'll find a 2 pin European style plug socket on each side of the bed. 
And finally, as with the twin rooms there's 2 pillows and a duvet in there – again, the duvet will likely be bigger than a standard double size, so either pre-book linen to your accommodation, squeeze it in a standard double, or pack a bigger duvet cover.
If you require any extra pillows and all the others from the twin beds are in use then ask at the Eurocamp reception and they should be able to provide you with some extras.

Mosquito blinds
Blackout blinds
Ample storage
Mirror
Electric heater
2 Pillows
Light duvet
2 Plug sockets
The toilet room is a squeeze and I managed to knock the toilet roll of the holder at least 3 times with my "big bootay".
Being pregnant, I'm getting myself used to squeezing into smaller spaces but really, this was tight.
The toilet itself was fine, I mean, there's not really much you can say about a toilet – it was clean and it worked…
The room is also used as a bit of a broom cupboard and both the brush and mop are hanging on the wall in there alongside the mobile homes fuse box.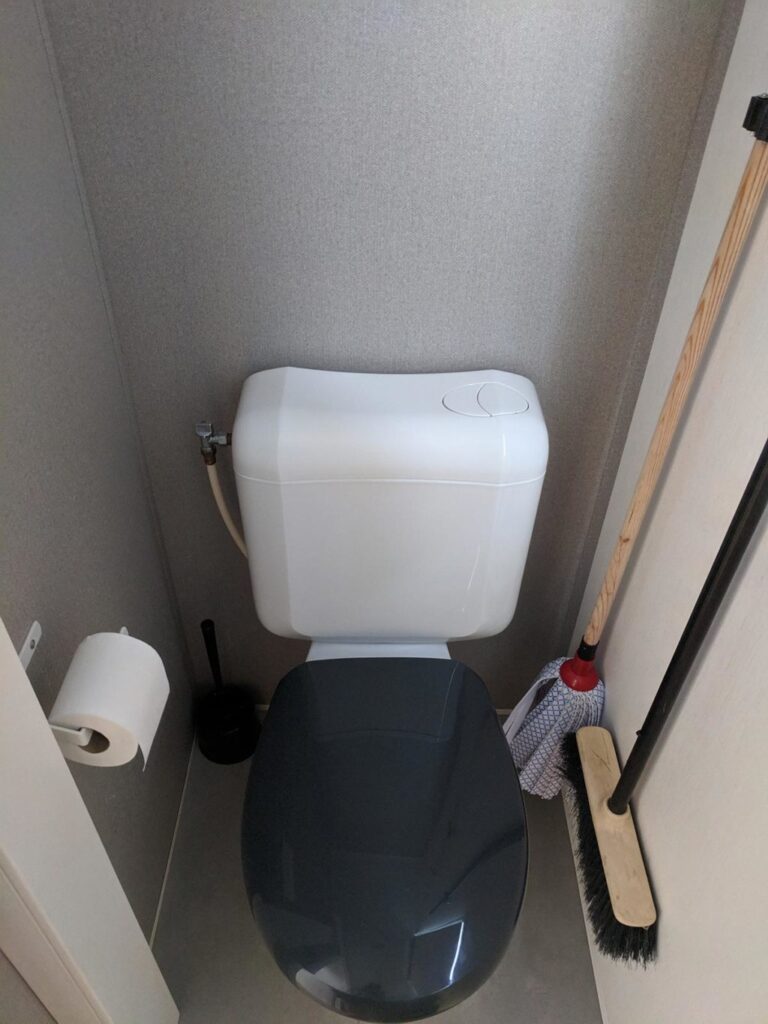 The shower room on the other hand was lovely and spacious, with probably the biggest shower unit I've been in with Eurocamp.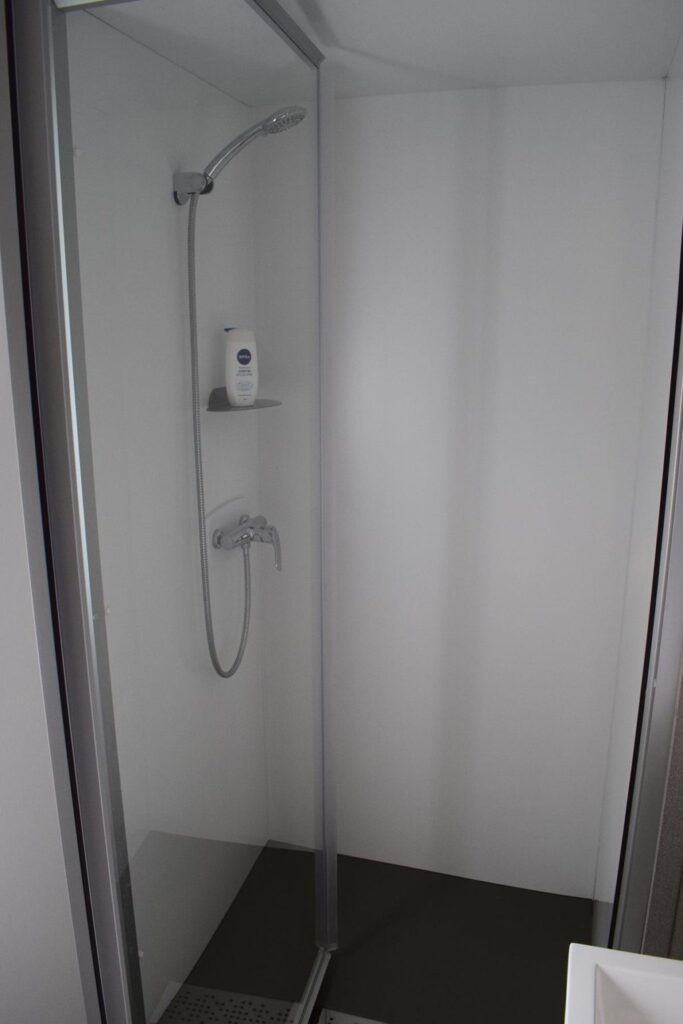 It was clean, modern and fresh looking and we really loved the space.
I have absolutely no complaints about this room at all.
There was enough storage, plenty of towel hooks, a window to air it out, a hair dryer, big mirror and the shower was powerful enough to wash your hair.

The central space really is perfect for spending time together.
There's plenty of seating, sofa space and, well, just space in general.
It's clean, modern and the colourful sofa and curtains really make the room "pop".
The sofa cushions are covered with a leathery material which makes them easy wipe, great for sticky fingered children, and really aren't as uncomfortable as they may look.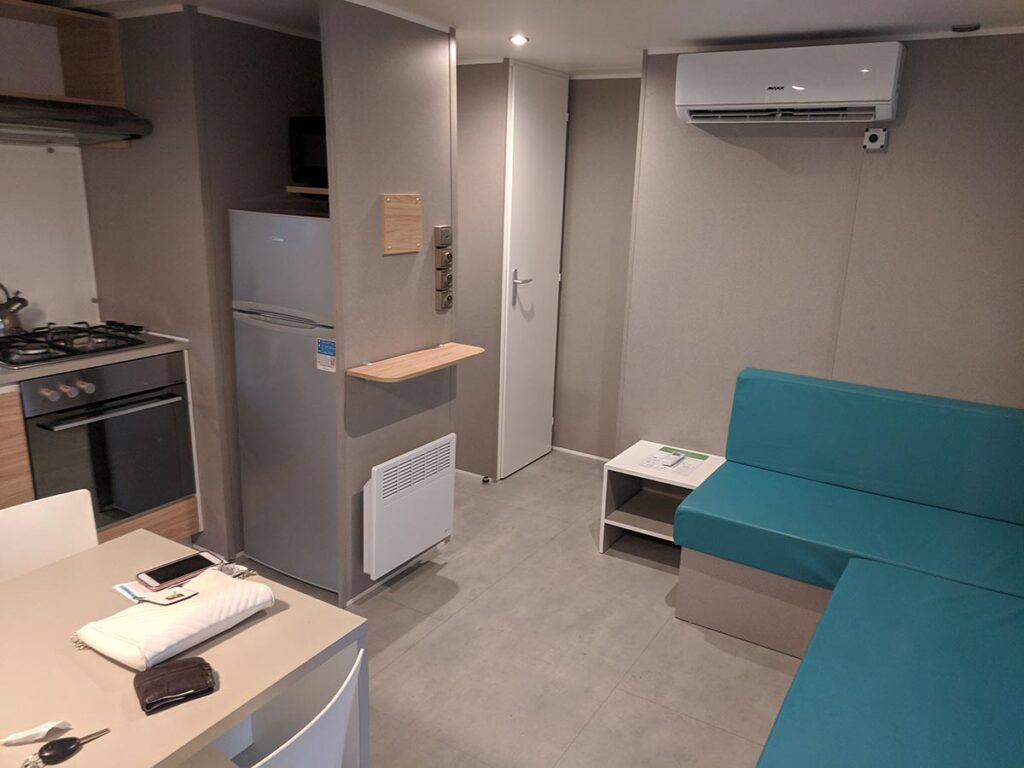 Underneath there's storage space to hide away your suitcases or if you're in a 2 bed model, there's even a pull out sofa bed.
As we visited in April and the weather wasn't quite warm enough to sit out until midnight, once the sun went down we spent some of our evenings sat on the sofa playing games like noughts and crosses.
Sofa
Dining area
Under sofa storage/pull out bed
Storage
Air Con Unit (not sure if available at all parks)
Electric Heater
Large Window
3 lots of 2 pin plug sockets
I love this kitchen.
So often with Eurocamp I've found the cupboards are full of so much inventory that there's nowhere to actually put your food. However, this mobile was different, there was plenty of space for both kitchenware and food goods.

Better yet, the kitchen cupboards are slam proof! It's the first time I've seen a mobile home with slam proof doors, and I may have got a little over excited about it…
In the kitchen, we had a modern electric oven with a gas hob and under cupboard lighting.
There was plenty of space to cook, wash and chop food and if you wanted to get the family involved there was extra space at the kitchen table.
The kitchen was fully stocked with all the equipment necessary including an on the hob kettle, plenty of mugs, glasses, egg cups, cutlery, pots, pans, plates and utensils. The only thing I would advise people is that if they are driving bring a sharp bread knife/veg knife and an apple peeler.

Kettle
Kitchen utensils
Electric oven
Gas hob
Slam proof cupboards
Sink
Ample plug sockets
Plenty of Space for food
Large Fridge Freezer
Microwave
Reeeeaaally Funky Lampshade
Outdoors is where we spend most of our camping holidays and the Comfort Plus outdoor area was perfect for this.
We had a gas bbq (although some sites may have charcoal or none at all – double check when booking), sun loungers, deck chairs and a patio table with chairs.

The outdoor furniture was fresh, new, and had a luxurious look and feel – way better than the old white Eurocamp furniture they used to give you.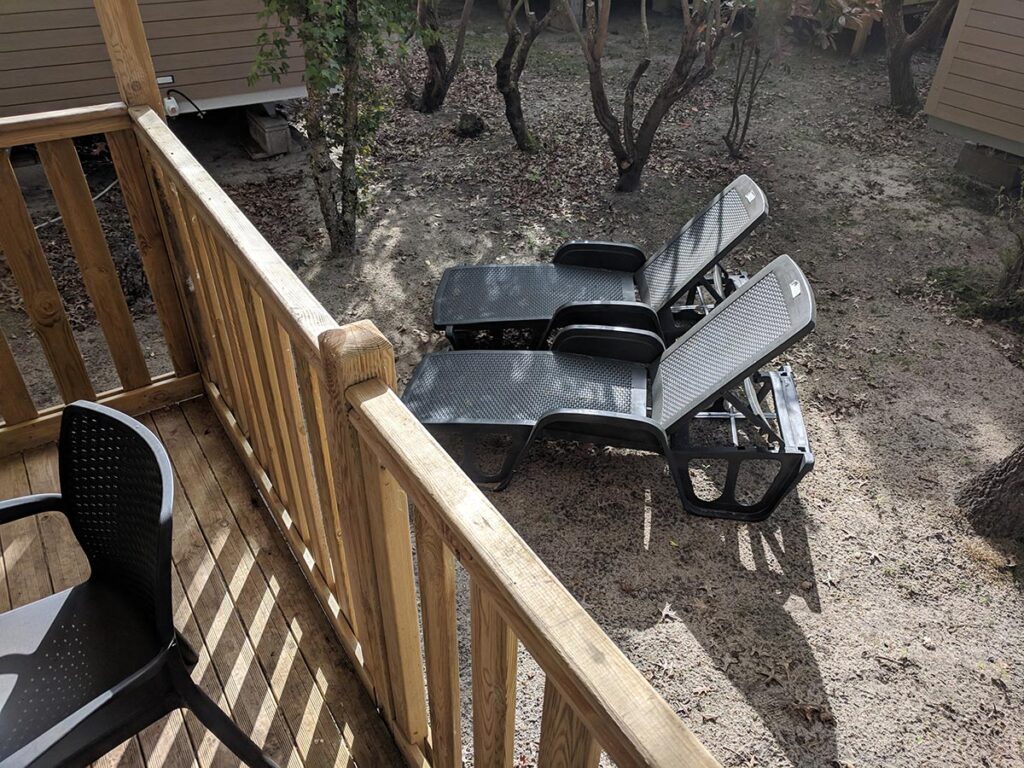 The outdoor decking was covered with a large canopy which meant the Comfort Plus was ready for all types of weather and if warm enough, you could even sit out in the rain.
There's also a baby gate on the decking to stop children falling down the stairs.

Features Of The Comfort Plus Mobile Home
BBQ's (where permitted)
Hairdryer
Microwave
Fully Equipped Fitted kitchen
Open plan living
Mosquito nets and blackout blinds
Covered Terrace
Duvets and Pillows Provided
Ample storage and plug sockets

Video tour of the Eurocamp Comfort Plus Mobile Home
Check Availability And Book Your Comfort Plus holiday home Today
Clicking the button below will open the providers website in a new window.
If you're flying over and can't pack everything in your luggage then Eurocamp have the handy option to add bookable extras to your mobile home – These include:
Linen and Towel Hire Packs (Including Cot linen)
Essentials pack, full of cleaning products like washing up liquid and cloths
Welcome pack, perfect if you're arriving late and don't have time to get to the supermarket as it contains some nibbles and drinks
Travel cots (free)
High Chairs (free)
Baby baths (free)
Potties (free)
Changing Mats (free)
Bed Rails (free)
If you're driving over and don't need to book linen or added extras then don't forget to bring these along with you – a few other things we always remember to pack include:
Oven glove
Veg peeler & sharp knives
Sponge, Washing up liquid & cleaning products
Bed linen (queen size for the Azure)
Baby Extras if needed (or add to your booking for free)
The Eurocamp Comfort Plus is well worth trying.
The newest mobile home on the scene is clean, fresh, modern, and we loved the space.
The prices for an Comfort Plus mobile home will vary, depending on the time of your visit. When booking out of peak season like we did, we found the nightly cost extremely reasonable.
The mid-range Comfort Plus does lack a few extras like a dishwasher, coffee machine and toaster that are present in the higher end models such as the Premium or the Ultimate.
The Comfort Plus is outstanding in terms of a luxurious mid-range mobile home. If you're looking for campsite accommodation that's new, spacious, family friendly, bright, airy and modern – then look no further than the Comfort Plus.
Check Availability And Book Your Comfort Plus holiday home Today
Clicking the button below will open the providers website in a new window.