Hoburne Bashley Holiday Park Review A great base for exploring the beautiful New Forest
A nice British holiday park, but not without its downsides.
Hoburne Holidays Bashley park holiday park is situated in the stunning New Forest national park. This campsite is an excellent option for families wishing to explore the forests, the villages and the beaches that this incredible location offers. We stayed for a short trip at Bashley Park in June 2021, and this review will detail everything we experienced during our UK camping holiday. From the accommodation to the campsite itself we've collated all the details into this one Bashley Park review.
Check Availability And Book Hoburne Bashley Holiday Park Today
Clicking the button below will open the providers website in a new window.
Pros of Hoburne Bashley Holiday Park
Cons of Hoburne Bashley Holiday Park
Every family prefers certain things about a campsite, so our "cons" could be on your "pros" list!
Pool complex at Bashley Park
We loved the holiday park's fantastic pool facilities. As the weather was so lovely during our stay, we spent a lot of our time in the outdoor toddler pool. With indoor and outdoor aquatic areas, there's a pool for everyone.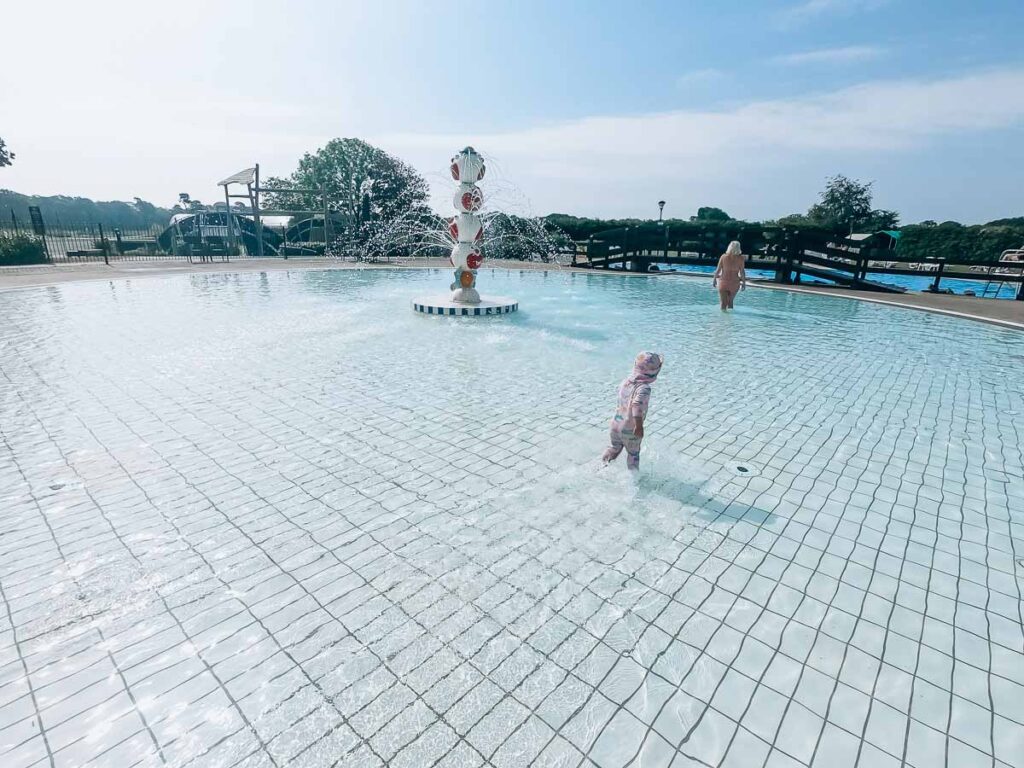 The toddler pool is a shallow depth and perfect for splashing fun. There is also a larger pool outdoors, suitable for adults and bigger kids who want to play or swim.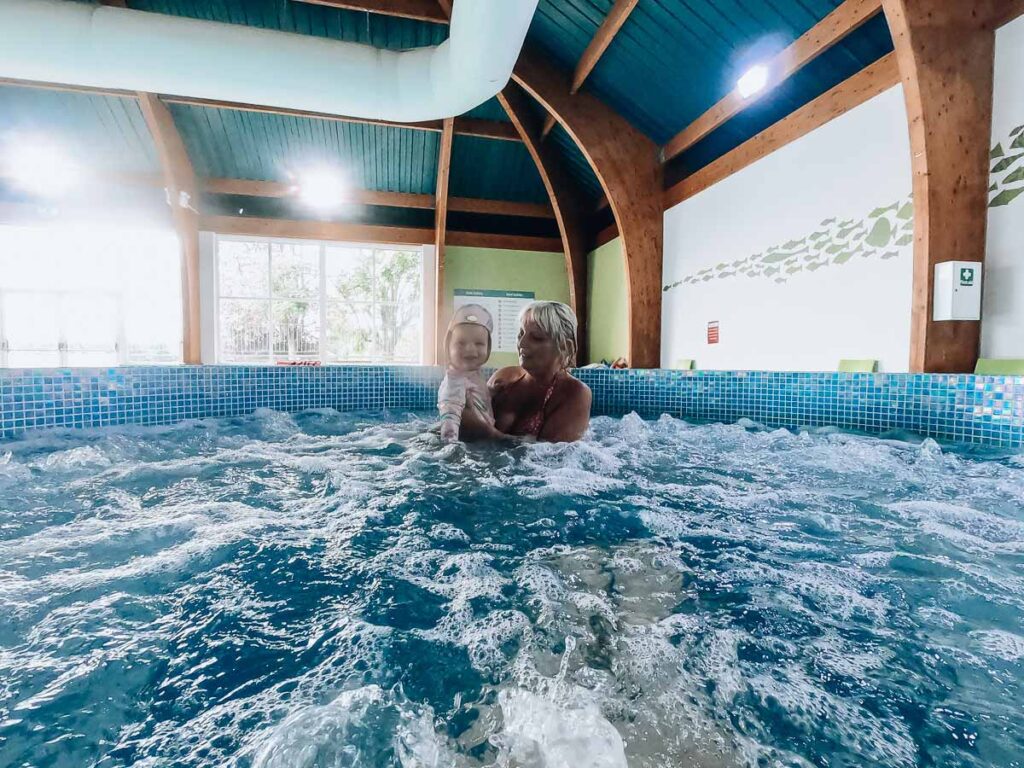 Indoors there's another toddler splash area which HB thoroughly enjoyed. I love campsites that think about splash parks. They are a good option for families with young children who can't yet swim but enjoy splashing around in the water.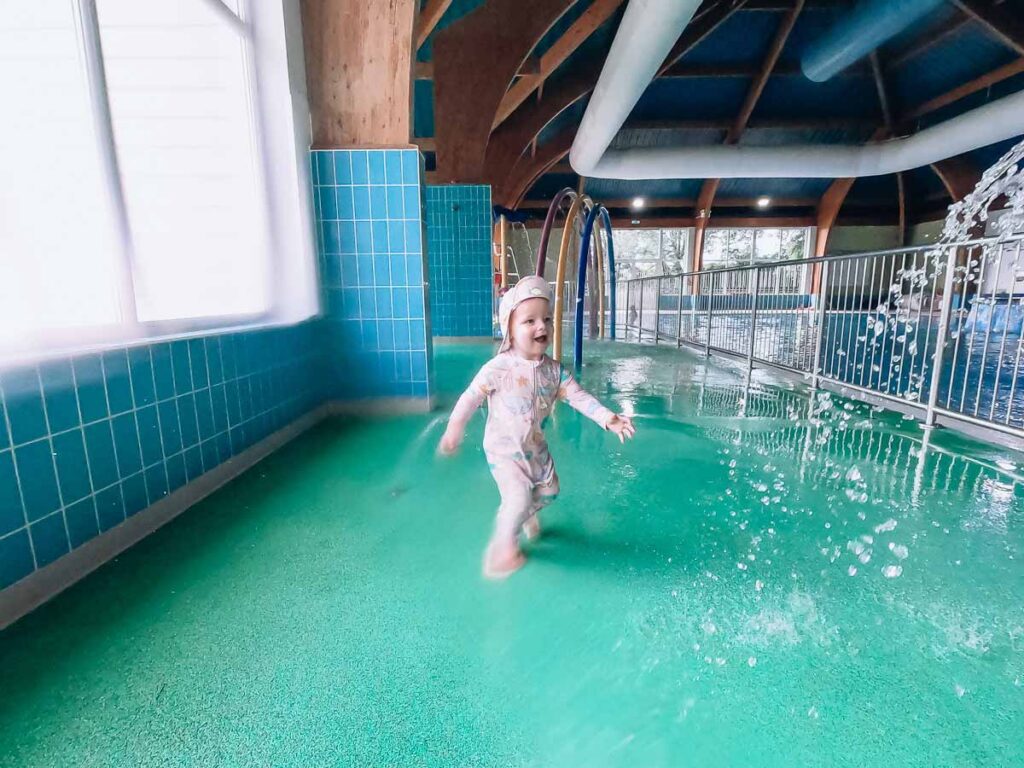 Situated next to each other, the indoor and outdoor pools are easy to access without traipsing around the facilities in your wet swimwear.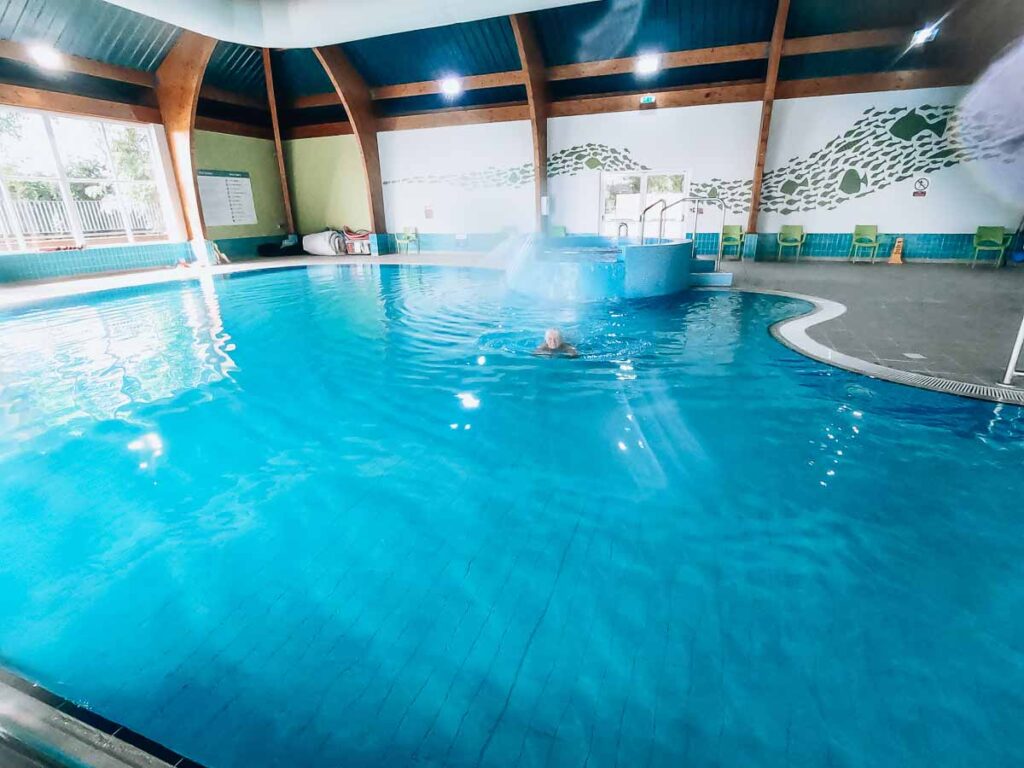 The pool changing facilities are clean, large and great for families. There are plenty of lockers, toilets, showers, and changing rooms for individuals and families.
Sauna and steam room
Next to the indoor pool facilities is a steam room and sauna; however, these were both closed during our stay, I think due to covid, but it could also be due to low season.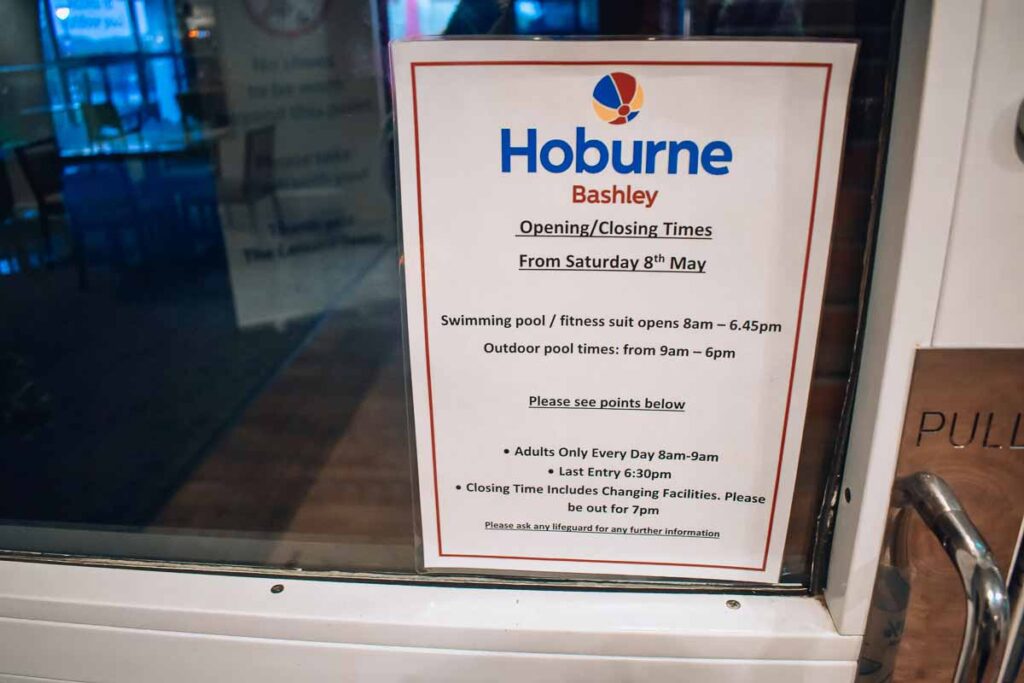 Covid Restrictions to the pool area
We didn't notice any real restrictions to the pool areas, but that was presumably because the holiday park wasn't very busy during our stay. We only saw 2 other families in each of the pool areas during our time there.
As we are in the UK, anything goes with regards to swimwear. Long Bermuda style shorts are, of course, accepted.
Whilst our short visit meant we didn't get to experience all of the campsite facilities, we did manage to use quite a few. I'll go into detail below about the facilities we did use.
The reception staff were friendly and approachable. However, the queues were short during our stay as the site has particular check-in and check-out days/times. I imagine there can be busy periods.
Not necessarily reception-related, but I'm unsure where else I would add this: The check-out time for Bashley park is 9am, which is exceptionally early if you are trying to pack up, clean and tidy with a toddler.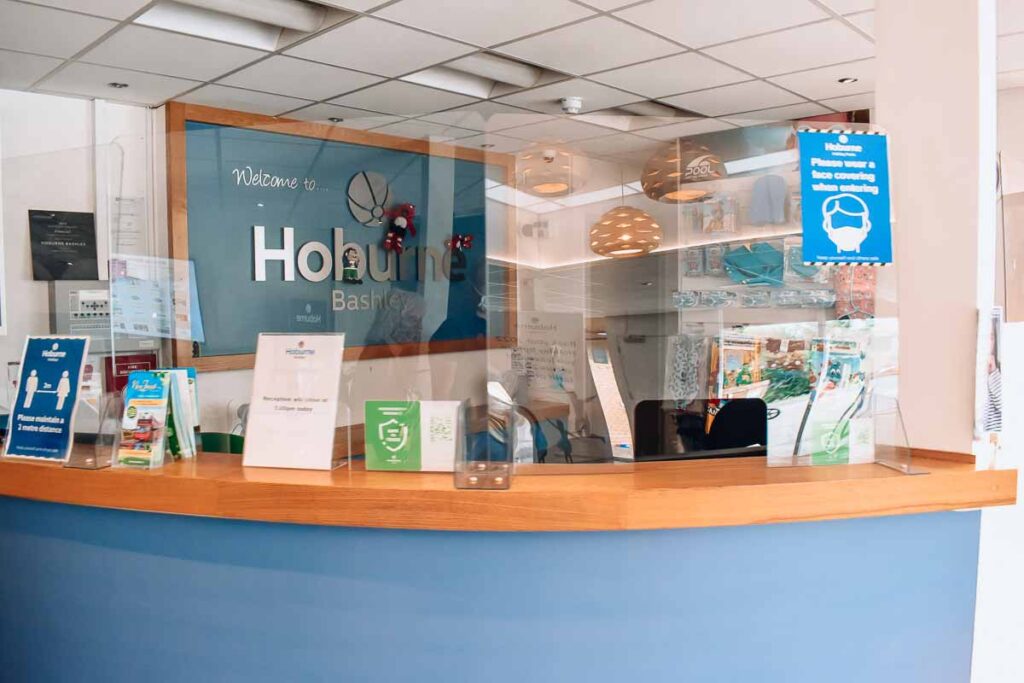 The campsite features a genuine 9 hole, par-3 golf course and an adventure golf course for entertainment. The adventure golf is situated alongside the adventure play area and pool facilities, whilst the main 9 hole golf course is to the right of the long entrance drive. We didn't get to use these facilities during our stay so I can't comment on the costs. However, we did see quite a few young families making the most of the mini-golf, and it seemed like a good fun course.
As always on a campsite, Hoburne Holiday Park at Bashley features a typical multi-sports court. Situated near the pool area and central facilities, the multi-sports court is perfect for children and adults alike to play football, basketball and more.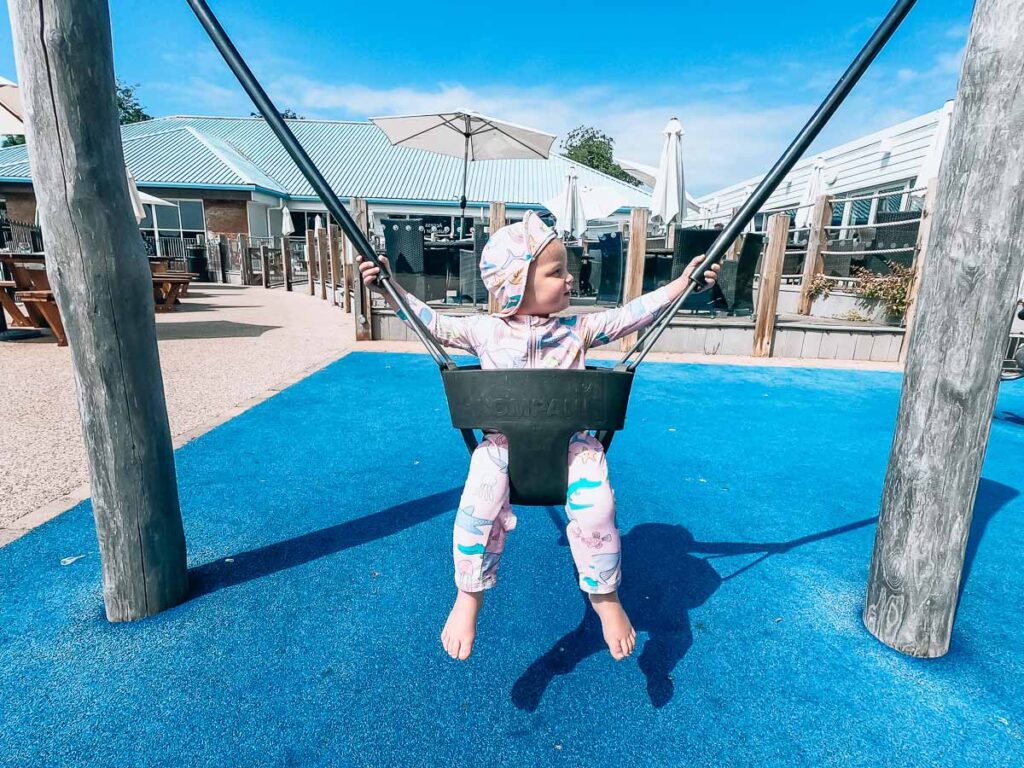 Also situated in the main facility area are the two parks. An adventure park for older children with larger equipment and a small toddler park for younger kids. We had no need to check out the larger play area as the toddler park was great for our almost 2-year-old, and she enjoyed playing on the little swing. However, our toddler is an escape artist, and as the park isn't contained, she ran off quite a lot, so monitoring children is always necessary (need I state the obvious?)
This arcade is a lot bigger and better than we expected. From small fruit machines with jackpots of a fiver to 2p machines and typical arcade games. It's a full arcade with tickets and prizes to be won. Make sure you pack LOTS of pennies to keep your kids entertained.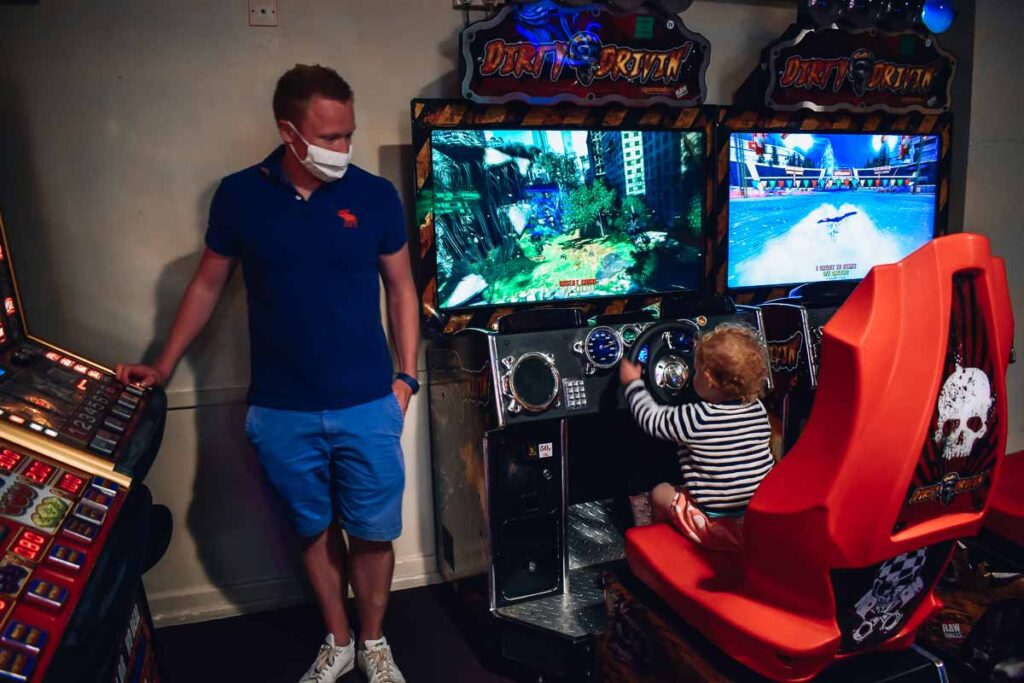 We were so gutted that we were unable to use the gym facilities. Thanks to covid, these facilities were on a booking system, and Mike only realised once he'd got to the door and saw the sign. Thankfully, we didn't miss much. If you're expecting a complete gym with free weights like we were, you'd be disappointed as the leisure suite was small and featured really only cardio equipment. I wish we had taken a photo, to be honest, as it was the one thing we couldn't find pictures of when we were investigating the campsite pre-stay. 
This was closed during our stay. From what I have read, it's only open from July. Therefore, we just missed out.
Kids Clubs and Facilities
We didn't really use the kid's clubs or entertainment facilities during our stay, so I can't comment on my own experiences. However, we did pop our heads in the door at "The Venue" (the evening entertainment area) and saw lots of families playing bingo.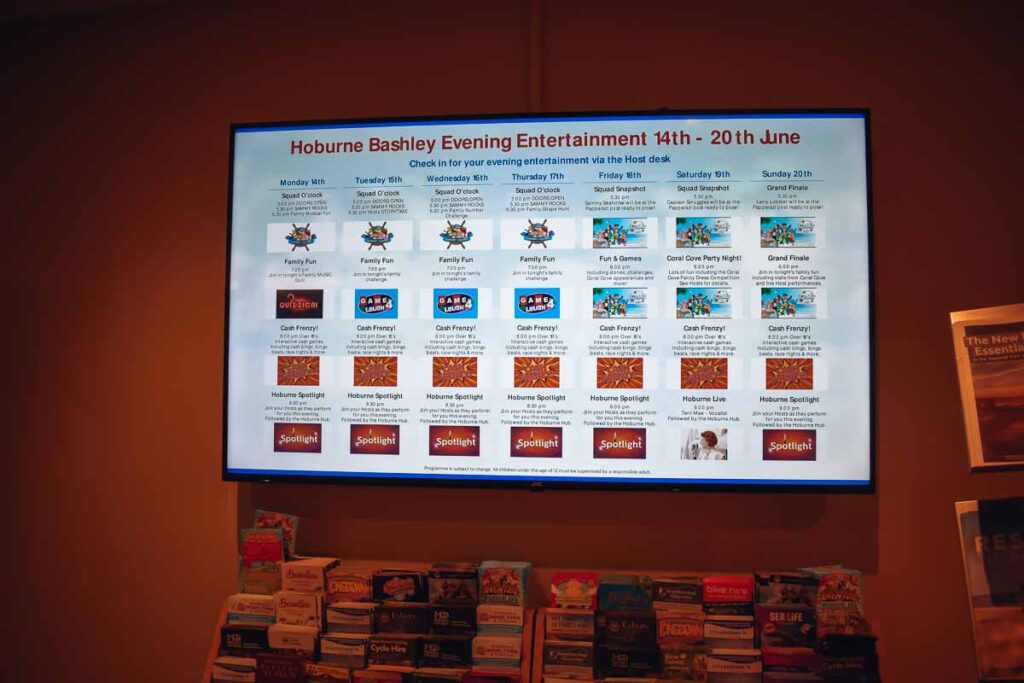 Check Availability And Book Hoburne Bashley Holiday Park Today
Clicking the button below will open the providers website in a new window.
Bars, Restaurants and Cafe
My view of the bar/restaurant facilities isn't great. Firstly, thanks to covid, like many places, there's an app ordering system in place. Whilst I think these apps are a great idea, they need to work correctly. 
As someone who doesn't drink alcohol or "pop" drinks, all I wanted to drink was bottled water, still or sparkling. I didn't really mind – heck, I'd have even had tap water. Yet, I couldn't find water on the app at all! So I still had to enquire at the bar, which then took away the app's point in the first place. 
The app was right though, they don't actually do any bottled water, which I actually find pretty disappointing.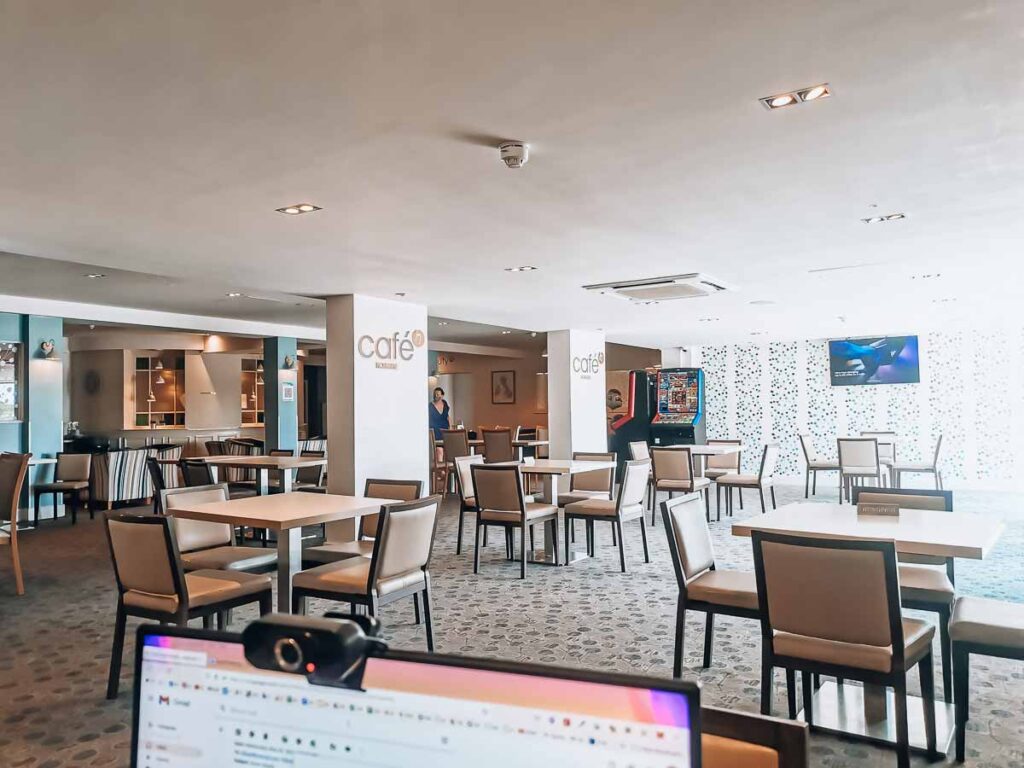 The second app issue was with regards to allergies and the ability to amend food orders. My mum is lactose intolerant and wanted to order her food without cheese, yet this wasn't possible on the app, so we had to order at the bar…again.
It turns out we weren't the only ones having these issues. On more than one occasion, we witnessed other guests complaining about the app being too confusing or not working. I feel sorry for the staff who have had to deal with this.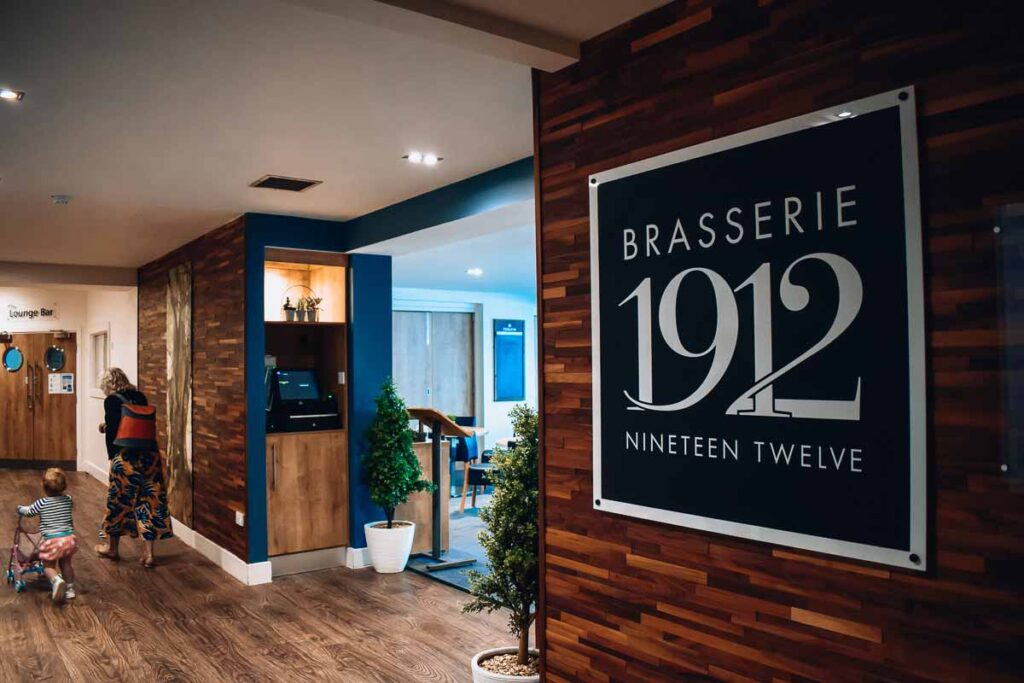 Another complaint is that on our last night we went to the bar to order some ice creams to take back to our accommodation and they took over 20 minutes to get to us. It wasn't a hectic night, so I'm unsure why it took so long, considering, on our first day, our ice cream order came before we'd even finished paying for them.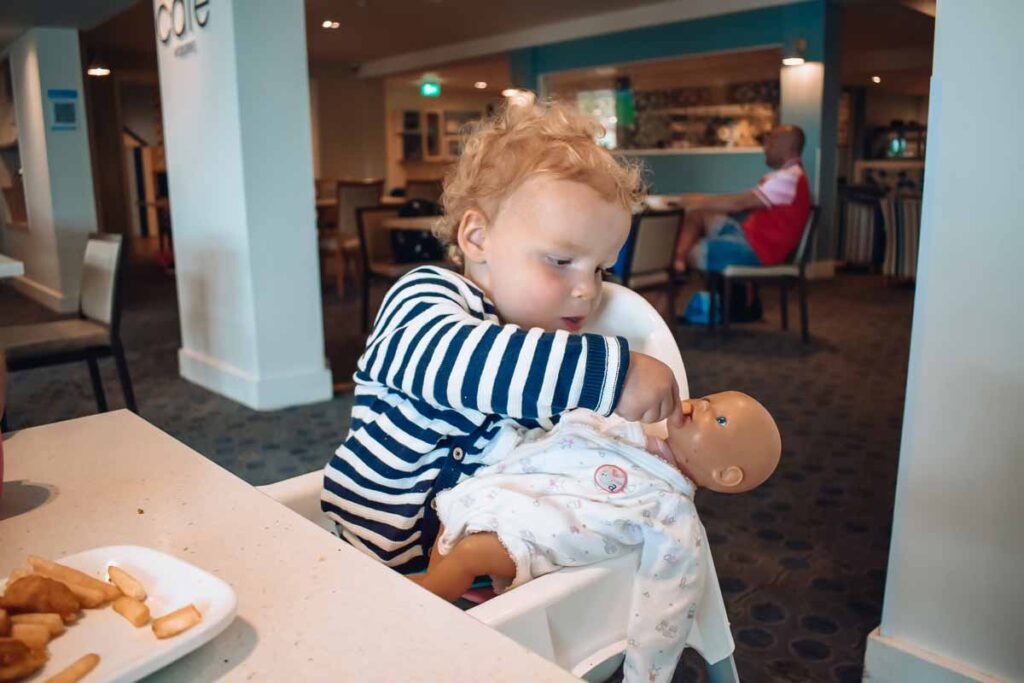 My final complaint is with the restaurant menu itself. There was really only one "healthy" option on the menu, which I think was a bacon and avocado salad. This was also available on the children's menu but was out of stock when we ordered. 
I get really disappointed when I see a food menu aimed at children when there are literally no healthy nutritious options. Perhaps it's a personal issue, and others may not feel the same, but I'd really like to see the menu updated to suit a healthier lifestyle. I think that holiday parks, campsites and the likes are all about outdoor living, which I believe goes hand in hand with healthy and active lifestyles. We need to fuel these outdoor lifestyles with healthy and nutritious foods, not chicken "bites" and chips.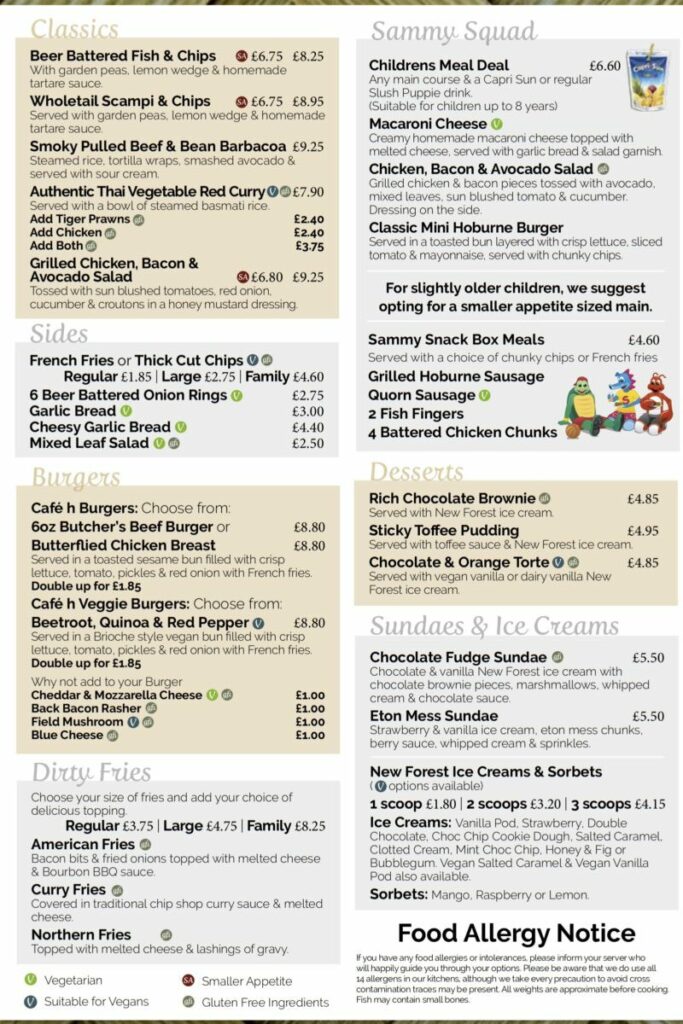 There were, thankfully, a few positives to report on. The staff we spoke to were all very friendly, well dressed and well mannered. The outdoor and indoor seating areas were clean, tidy and well maintained, and the New Forest ice creams were delicious. 
The campsite shop was small but had all the essentials we needed during our stay. Although, we did find the opening times a little odd as it closed midday and would sometimes also be closed in the evenings (when the sign says open till 7). If you wanted to do a "full" shop, you'd need to head out a bit further afield into New Milton, where you'll find Tesco, Morrisons, Lidl and more.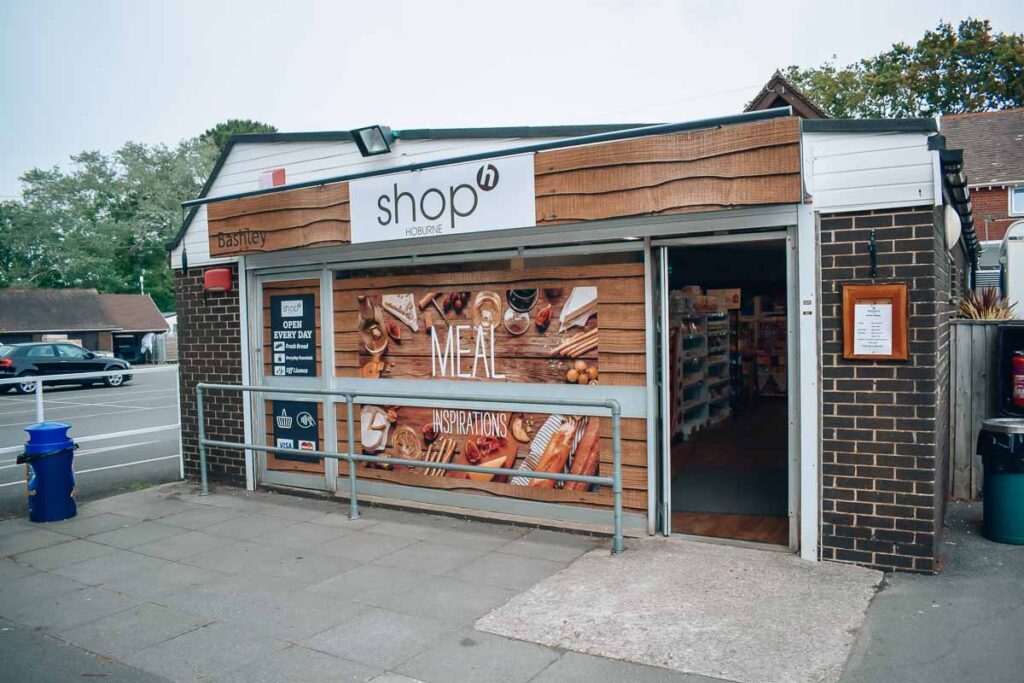 There is a beauty salon on-site situated next to the cafe and brasserie area. I can't comment on the treatments as I didn't use them during our stay.
The wifi is quite frankly terrible. We stayed in the sycamore section and couldn't pick up any wifi in our accommodation – which wasn't great when trying to work online. We also had an important meeting with our doctor on zoom. We went to the bar to do as we figured the internet would be better, yet we could still not complete the video meeting. It does state in the welcome package that the wifi is unable to stream and download, but when you're booked onto a campsite in the middle of nowhere with little to no 4G signal, having strong wifi is really important, especially in the "new normal" where so many of us are now working online.
Pets are accepted on the site, and the mobile home next to us had a beautiful husky dog with them. There were lots of families with animals on Bashley Park, which were all kept on leads. We didn't have any issues with animals during our stay. I am unsure of the costs to add a pet to your booking, so this would have to be discussed with the reception service when making your booking.
Day Trips from Hoburne Holidays Bashley Holiday Park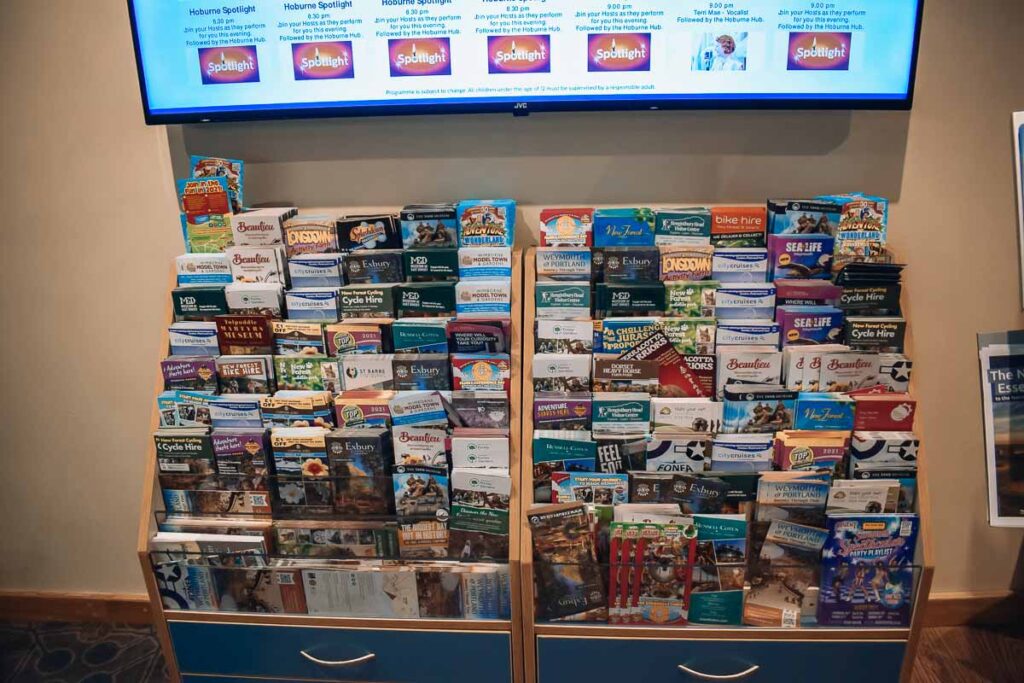 The New Forest is one of the UK's 15 National Parks and, personally, my favourite. There is so much to do locally and a whole load of day trips available. Whether you want to explore the beach, forests, towns, villages or amusements – it's all within easy reach. Below are my favourite days out local to Hoburne Holidays Bashley Park. You can also click here to read my list of all the places to visit around the new forest.
Paultons Park and Peppa Pig World
A child focused theme park with lots of rides for young children and a few for adults too. Also home to Peppa Pig World! 
Beaulieu and the motor museum
Beaulieu is a beautiful New Forest Village full of chocolate shops and boutiques. It's also home to the famous Motor Museum which houses the Top Gear collection.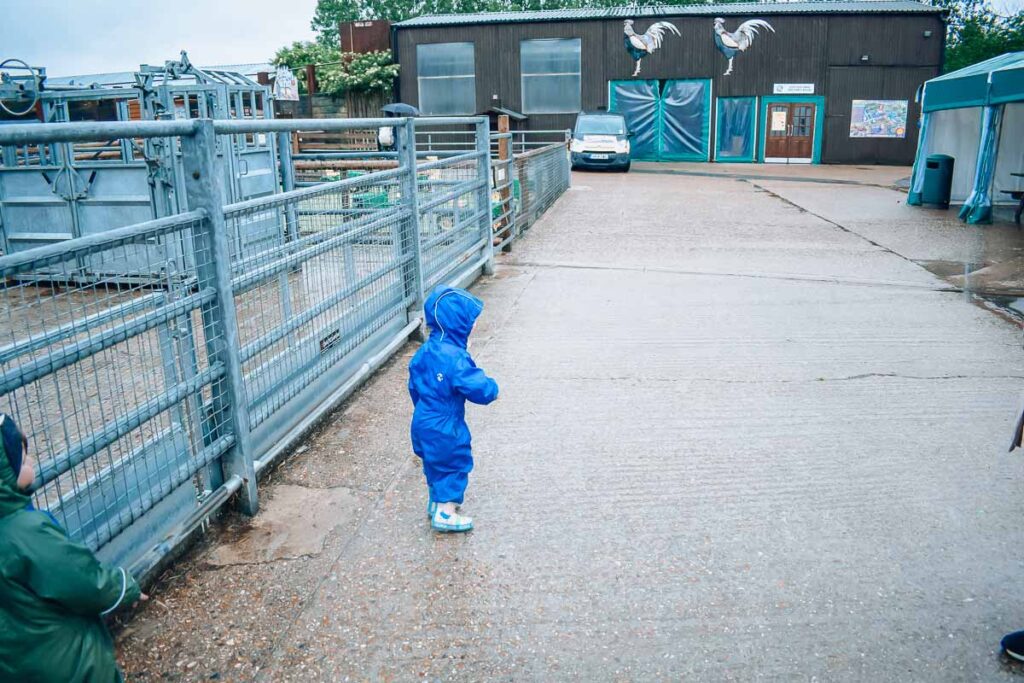 A small family run farm which gives you the opportunity to feed and pet animals and discover how the New Forest farm works.
Partially sandy, partially stoney seaside area close to the Hoburne Holiday Park
The New Forest itself is full of amazing scenery and the best way to explore it is by foot or pedal. Spend a day cycling around horses, cows and other forest wildlife. Stop for a picnic at Boltons bench and see if any wild ponies come to greet you. 
A great country park with nature trails, tree top adventures and the NEW gruffalo trail.
Check Availability And Book Hoburne Bashley Holiday Park Today
Clicking the button below will open the providers website in a new window.
Bashley Holiday Park Accommodation
Hoburne holidays have a small range of accommodation types available at Bashley park. There are premium caravans, select caravans and classic caravans available. The campsite used to have touring pitches and accept tent and campervan customers, but unfortunately, this is no longer available.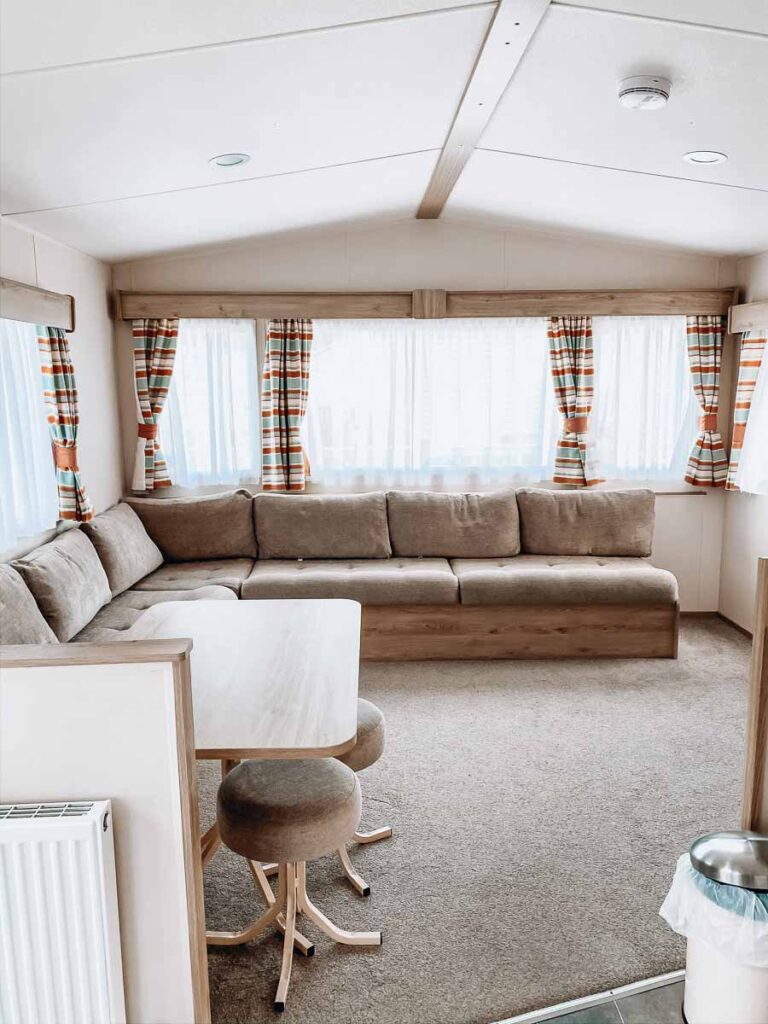 Our Classic Caravan From Hoburne Holidays Review
We stayed in a 2 bedroom classic caravan. The caravan was situated at number 210 in the Sycamore area of the park. We were really surprised by how spacious the living room of the accommodation was, considering it was only a 2 bedroom unit, and would gladly rent out the same mobile home if staying again.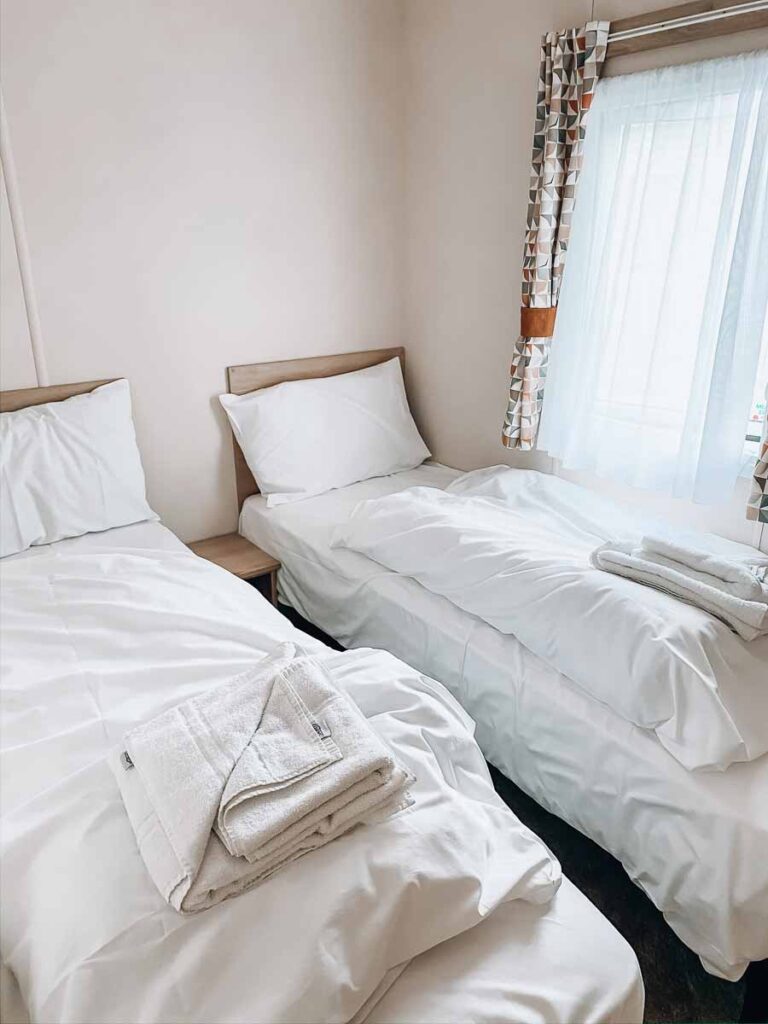 The twin bedroom was a relatively small room with 2 twin beds. Neither of these beds folded under, which meant we had to layer them on top of one another to fit our cot in the room. By moving these beds around, we realised the room hadn't been cleaned as well as it should have been as we discovered a (thankfully unused) sanitary towel and some clothing labels under the bed.
We were pretty disappointed with the lack of storage in the room. The only storage available was a small wardrobe at the entrance, and unlike the Eurocamp accommodation we usually stay in, there were no overhead storage cupboards.
The room had standard curtains and net curtains but no blackout blinds, which made nap time with a toddler slightly more challenging than usual, and we found ourselves blocking up the light with whatever blankets we could find.
There was only one plug socket in the room so remember to pack an extension lead if you need more.
The double room was a good size (for a caravan) and had slightly more storage. Though there were still no overhead cupboards, we did have a more extensive wardrobe. The room had a small stool and mirror area, perfect for hair and makeup. But, the best feature of this room was definitely the Ensuite toilet that meant we didn't have to creep past the baby's room to the main bathroom.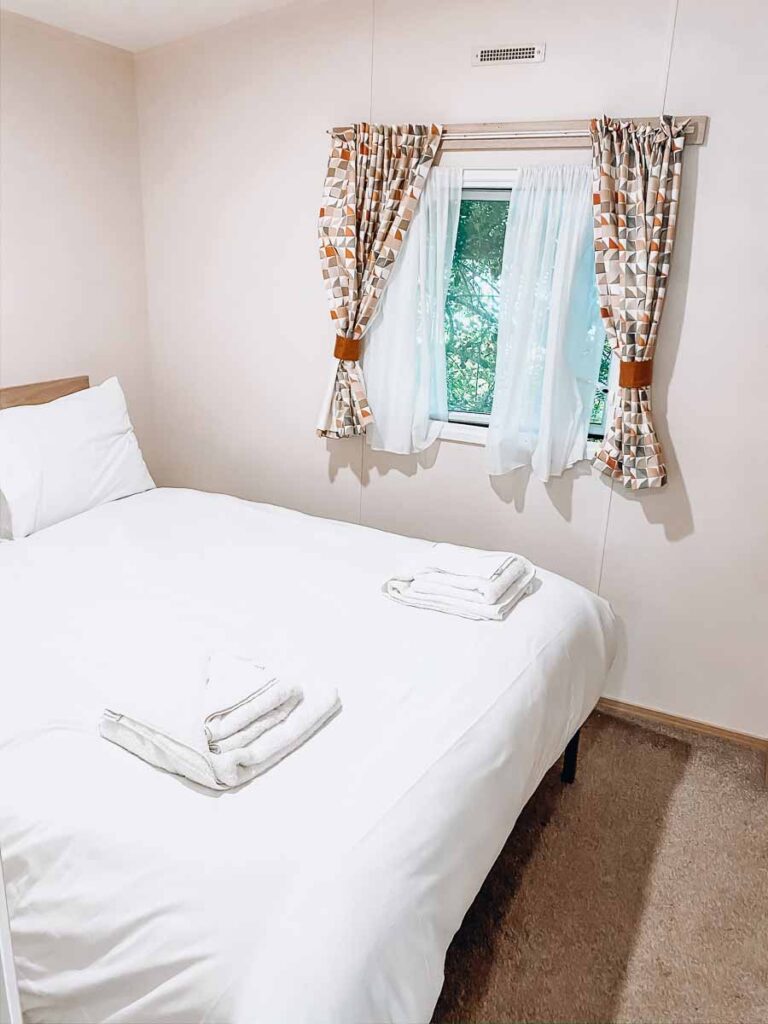 The main bathroom was an average size with a reasonably sized shower cubicle. The water pressure was good, and the room was clean and tidy. I found that my fat bum knocked the toilet roll off the holder a few times when I sat down, though, unsure if other people ever have the same issue…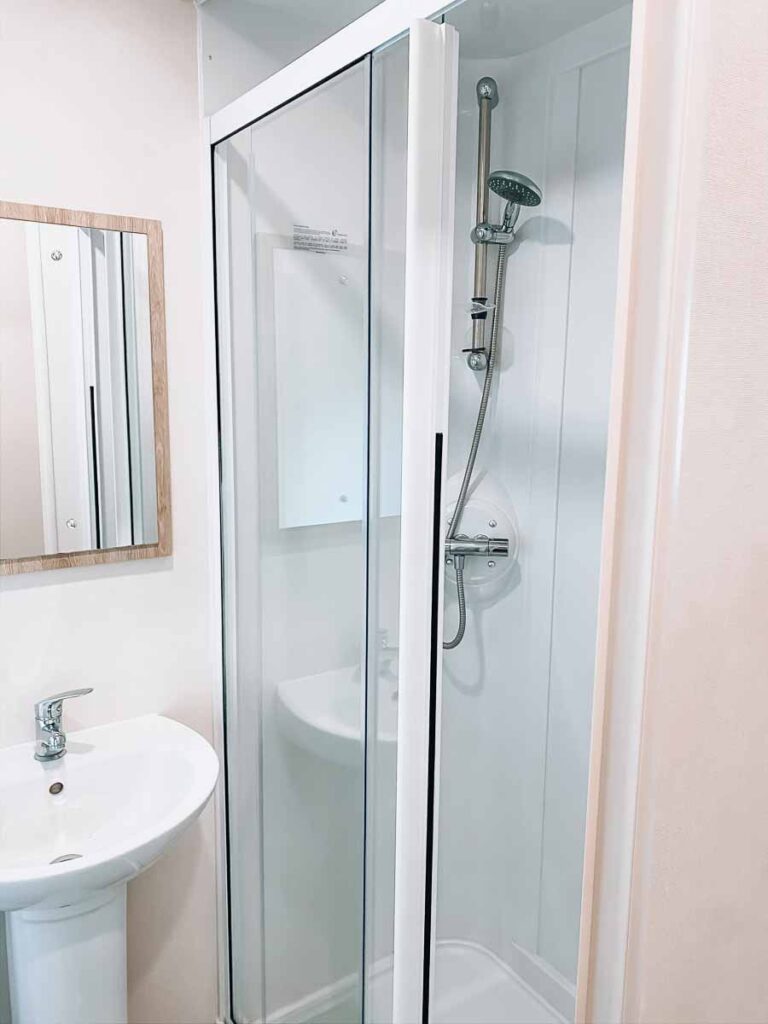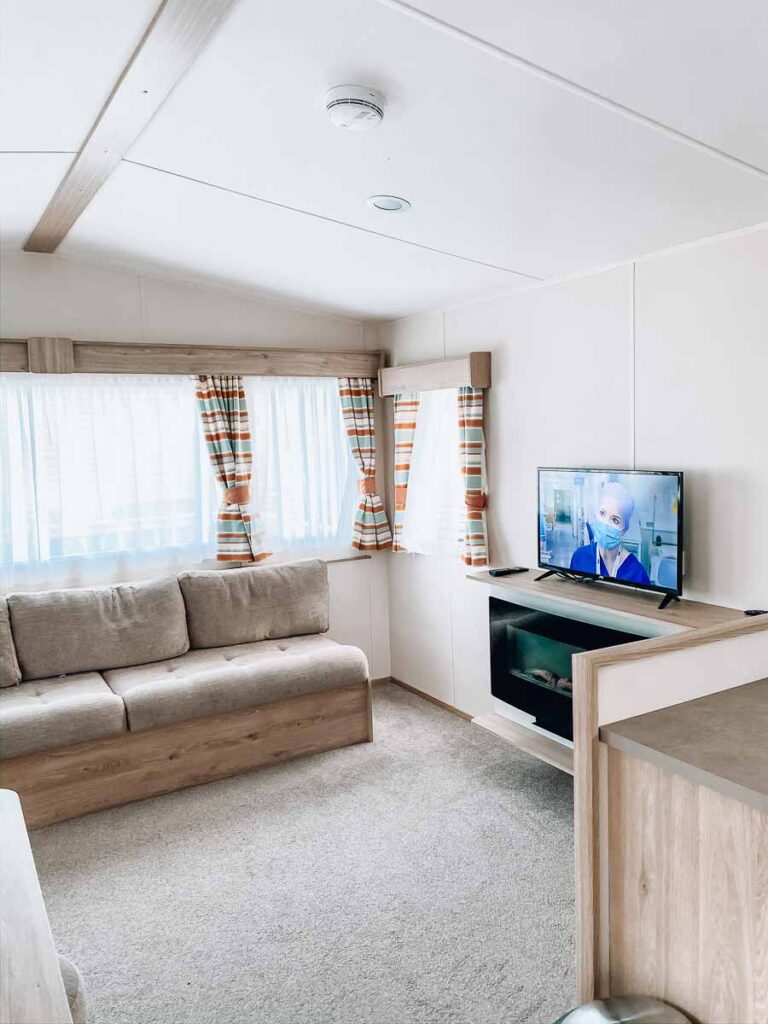 This living area is perfect for hosting! There's so much space for a large family to sit around. The sofa is extremely comfortable and even converts into a sofa bed. There are plenty of windows which means the room is airy and bright, yet the net curtains provide privacy. The room features a medium-size TV with Freeview channels and a lovely little fireplace, giving the caravan a nice cosy feel.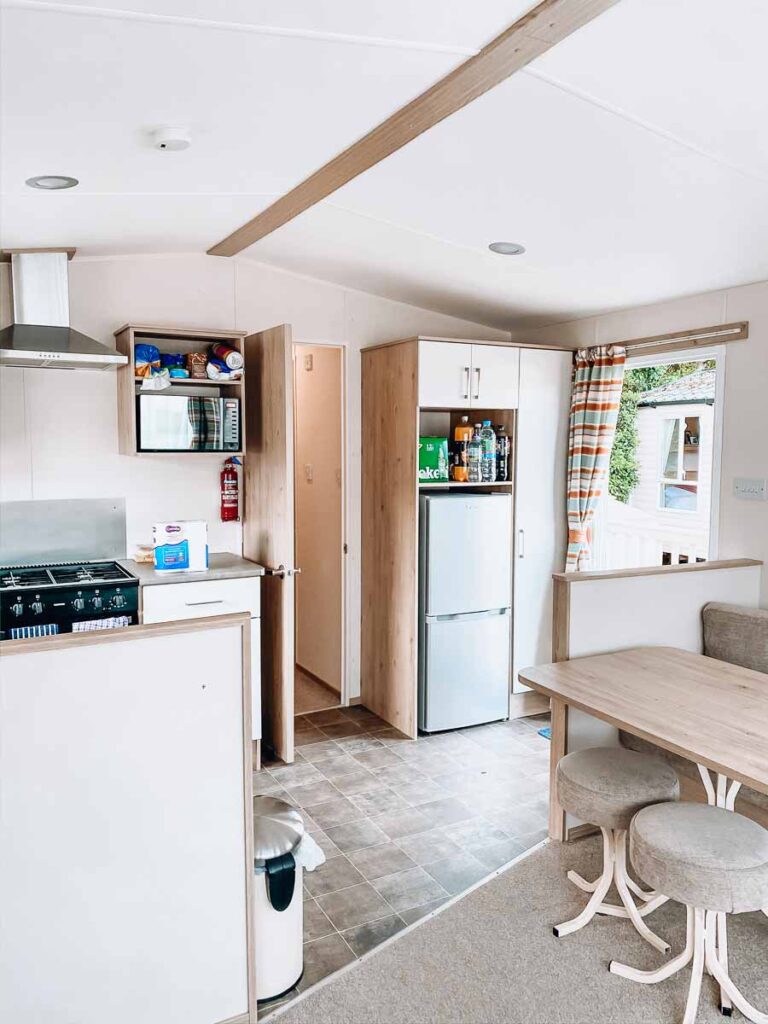 The kitchen is a good size with all the necessary utensils, crockery and equipment. Plus, we had plenty of kitchen storage for food items and drinks.
Although we couldn't park outside our accommodation, we were provided with good outdoor space. The decking was extensive with all the necessary outdoor furniture included, and it also came with a decking gate as standard. A huge plus if you have young children like us.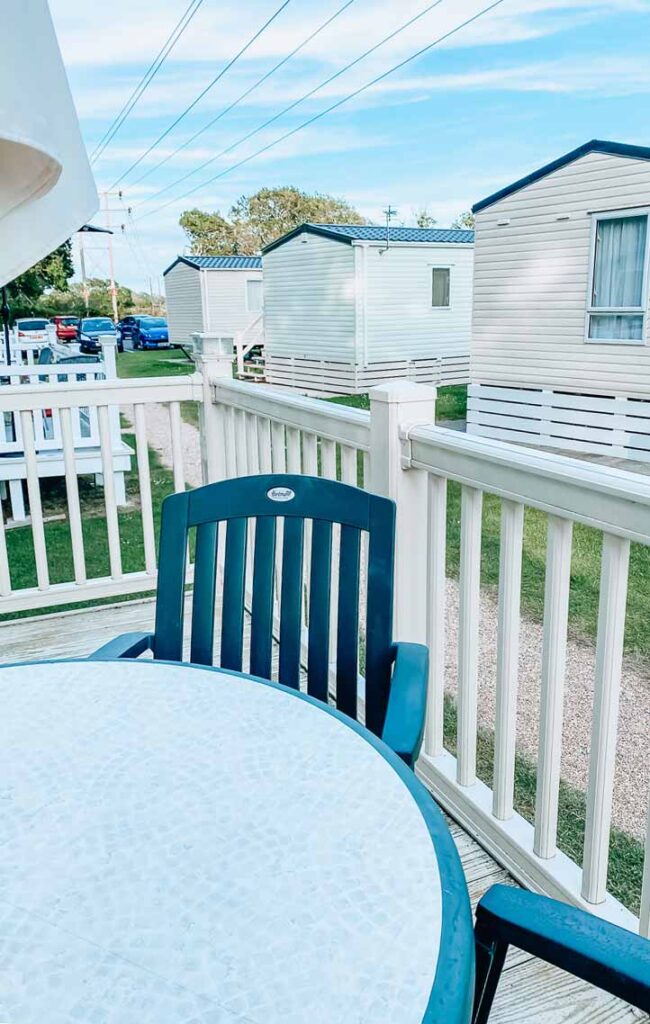 Other Perks Of The Classic Caravan At Bashley Holiday Park
Linen and towels were included, as was a welcome pack, including teas and coffees.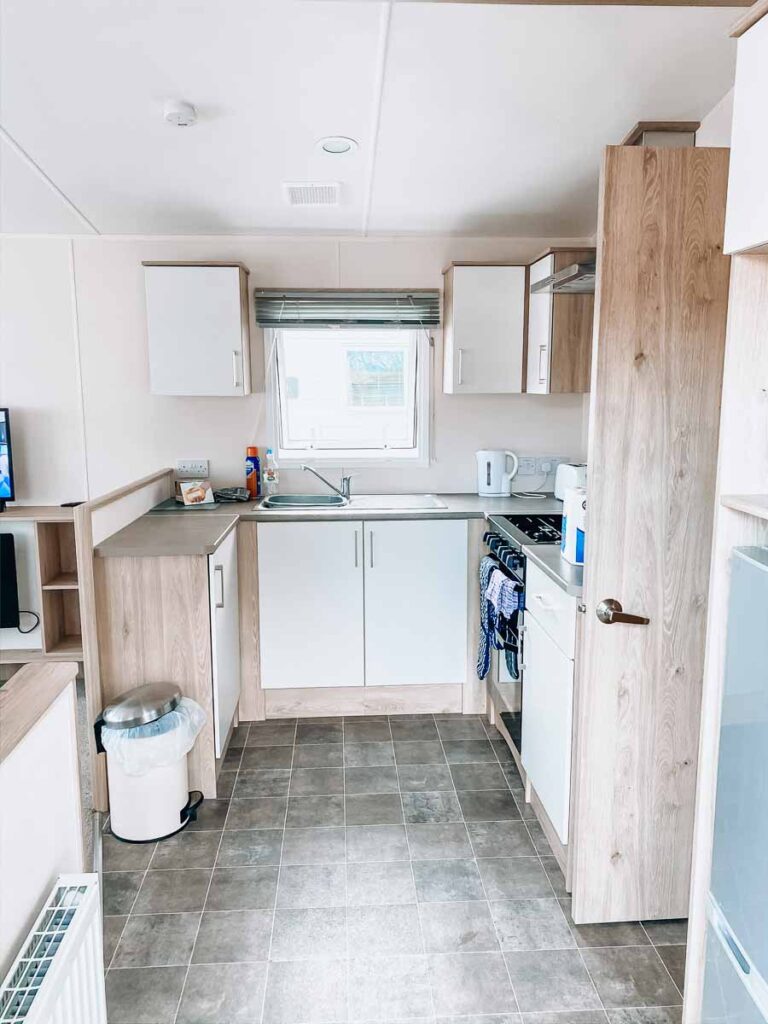 Check Availability And Book Hoburne Bashley Holiday Park Today
Clicking the button below will open the providers website in a new window.
Frequently Asked Questions
Do You Need a Car to Get Round?
A car or a bike. The New Forest is an incredible place to explore, and I personally feel it's best discovered by bike. However, if you are not into cycling long distances, then a car would be necessary. 
How To get to bashley park campsite?
Are the mobiles close together?
There's something funny about English caravan sites. For some reason, they have a distinctive creamy look. They are all structured and regimented alongside one another, but I didn't think the other caravans were close to us.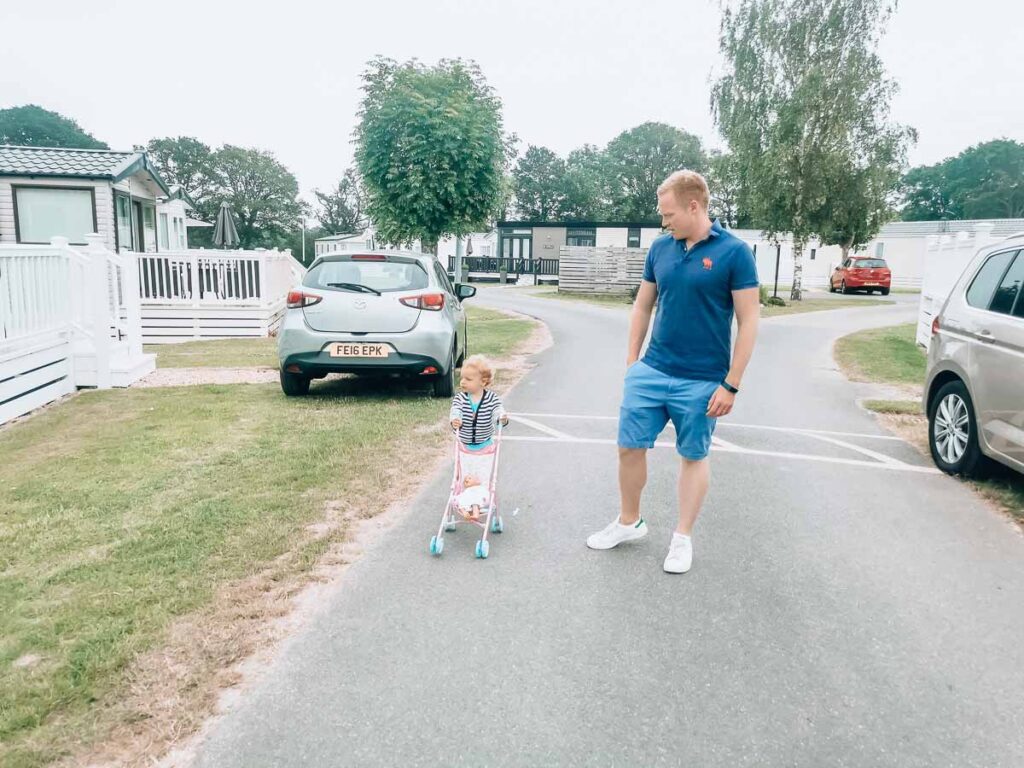 Yes, the walk from our accommodation to the main facilities was entirely flat.
Is it easy to get a sunbed around the pool?
We didn't have a problem getting a table around the pool, but that's because it was ridiculously quiet, and there was only one other family there. It would definitely have been more of a struggle if it was busier, as seating did seem limited.
Do you need to wear a wristband?
No wristbands, but we were given a paper pass with our names and arrival/departure days (although this was never checked).
What's the weather like in Spring/Summer?
Like all UK caravan sites, the weather can be temperamental at any time of year. Ensure you have some rainy day activities lined up as well as outdoor.
Can you park on your pitch/Emplacement?
I did see cars parked on some emplacements, but this wasn't possible for everyone. There are lots of small car parks available nearby your accommodation.
Can you take pets on the campsite?
Yes, pets are allowed but must be discussed beforehand with the reception. 
Where's the nearest supermarket?
In the town of New Milton, you'll find lots of different supermarkets to do a "full shop" however the campsite has its own small shop for essential purchases.
Is It Loud In The Evenings?
The campsite does have entertainment every evening but as it's indoors the noise is reasonably well contained. We didn't hear any noise during our stay.
What Can We Do If It Rains?
We went to Paultons Park and Longdown activity park in the rain. Whilst they are outdoors, if the weather is warm enough and you have waterproofs, you can still have a great day out. If you'd prefer to be inside, then the motor museum in Beaulieu is a good shout.
The holiday park also has an indoor swimming pool.
Can I Use My Transferwise Card On SIte?
Our card was accepted across the holiday park and preferred over other methods of payment.
Review Conclusion For Hoburne Bashley Holiday Park
We really enjoyed our short trip to Hoburne Holidays Bashley Park. Our stay, which was only 3 days, definitely didn't feel long enough to explore all the park had to offer, especially when we had a few days out lined up.
We would definitely like to return here, but the internet issues are a big deal breaker for us as we honestly don't get much actual "holiday" time off. Many of our holidays involve working online, and our stay here made that almost impossible.
That being said, we really enjoyed the swimming pools and toddler splash areas, so we would definitely want to take advantage of those facilities again as our toddler had so much fun.
Check Availability And Book Hoburne Bashley Holiday Park Today
Clicking the button below will open the providers website in a new window.