Huttopia Sarlat Campsite Review An authentic, rustic campsite on the outskirts of a very popular town
It was just what we had expected and a great start to 2022's camping holidays
Fancy a quiet weekend in the Dordogne, then the Huttopia campsite in Sarlat might just take your fancy. Having already explored historical Sarlat in 2019, when we stayed on Saint Avit Loisirs, we decided, this time, we'd like to stay somewhere within walking distance of the town and couldn't be more pleased with our choice. Just 800meters down a straight road from the Huttopia campsite and we were there in the town centre.
A basic campsite but with all the amenities we could have needed, Huttopia Sarlat provided us with swimming pools, parks and nature. What more could we have asked for.
Pros of Camping Huttopia Sarlat
Rustic and Authentic aren't everyone's cup of tea – but we love it!
Cons of camping Huttopia Sarlat
Every family prefers certain things about a campsite, so our "cons" could be on your "pros" list!
Pool complex at Huttopia Sarlat
The aquatic area at Huttopia Sarlat featured 3 different swimming areas. A heated indoor pool, an outdoor pool and a toddler pool. As we travelled with a toddler, we spent most of our pool time around the toddler pool.

Whilst the tiled pool area looked beautiful, unfortunately, it wasn't practical in the intense Dordogne heat. The floor was burning hot. Our toddler was in tears and we had to ignore the signs to "remove our shoes".

Otherwise, we found all the pool areas clean, looked after and unbelievably peaceful. In fact, for most of the day, we were the only ones there! 
I did find the outdoor pools extremely cold, but then again…I am a complete wuss!

There was nobody around the pool enforcing the speedo rule and we didn't notice any signs to suggest that you had to wear them. Therefore, my husband just wore his usual board shorts.
Although an authentic campsite, Huttopia Sarlat had everything we needed.
The reception area is close to the campsite entrance. We parked, walked up some stairs and headed inside. We were slightly later than expected but the campsite staff were more than happy to explain everything we needed to know and directed us via map to our pre-erected tent.

The reception area is also where you'll find the petite epicerie area. This little shop area sells things like washing up liquid, shower gels, pasta sauces, etc (basically anything you've forgotten to pack). 

Just along from the reception is the children's play park. As per usual our toddler loved it and could have spent her whole holiday playing here. There's a climbing frame, slide, see-saw and more. The park is for 2/3+ and supervision is necessary. There is a bench to the side where you can sit with a nice chilled drink from the bar.

There was also another play park just up the first hill. This one looked more modern and suited for young children but as it was out of the way, we never managed to use it. 

Table tennis, Table football and other small games
There are 2 or 3 ping pong tables available just opposite the reception. Outside the bar area is a table football set and inside the bar area, you'll find a lot of board games to borrow as well as books, balls, bats and more.

Above the swimming pool is the campsites tennis courts and I noticed in the bar area you could borrow rackets and balls. Perfect if you don't have the room to pack your own.

Bars, Restaurants and Takeaway

During our stay, we used the bar every evening. It was very quiet, but as we visited out of season I didn't expect it to be busy. The bar is nicely decorated with typical Dordogne features like stone walls. Drinks were reasonably priced. We enjoyed sitting outside and listening to the birds singing.

There was no on-site restaurant during our stay. In Summer, I believe there is a Pizza-grill but this wasn't yet open. In the mornings, during our stay it was possible to pre-order bread and pastry and sit outside the bar with some fruit juice to enjoy, however as we were so close to the town centre, we decided we'd rather check out what the town had to offer in the mornings. 

Also located just outside the bar area is a communal freezer. I LOVE when campsites have these as they are such a great addition to campers like us who love ice-cream.

As previously mentioned, the campsite has a small epicerie behind the reception. There is no real shop on-site, however, it's only a ten-minute walk into Sarlat where you'll find a few convenience stores. 

There was an area to hire bikes at the front of the campsite however we didn't enquire into this. I did see holidaymakers riding electric bikes which I believe they had hired from the site.
Wifi is available at the main reception/bar area but not across the park. Although we had no problems with our phones 4g.
Pets are welcome on site but as per the rules, Huttopia has a 1 animal per pitch rule. We thought about bringing our cat with us, but after travelling on the very windy Dordogne roads we are glad we chose to leave her with friends. 
The shower blocks were open-air, clean and well maintained. We did have to queue on one occasion but most of the time we were able to shower or use the toilets straight away. There was a place for washing clothes, dishes, hand and face sinks, showers, toilets and urinals. 

This campsite is extremely hilly and I wouldn't recommend it for anybody in a wheelchair or who struggles to walk. Whilst it's lovely being in natural surroundings, I struggled at 6 months pregnant – and I'm generally pretty fit when it comes to hills. 

Available accommodation at Huttopia Sarlat
The campsite offers a wide range of accommodation options. Whilst we found there was plenty of space for tent, camper and caravan pitches, we were also surprised to learn that the campsite rent out their own gites too. 
If neither of those options takes your fancy – there's still definitely something for you.
We chose to stay in a pre-erected tent, of which you can find many different sizes and styles. Plus there are also chalet and mobile home options to choose from too.
If you want to read our accommodation review, click here.

Do You Need a Car to Get around?
Whilst you won't need a car to get from the campsite to the town centre, you would need one to get to the campsite and to explore the beautiful chateaus of the Dordogne. So yes – I would 100% recommend having a car at this campsite. 
How to get to The Campsite
If you are flying and wish to stay at this campsite then I definitely recommend hiring a car. Expedia is a great place to compare car hire prices but you may find in the current climate it's cheaper to drive over than to fly and hire. Since covid-19 car hire prices have increased a lot.
Whilst crossing to Calais usually works out cheaper, your journey will be a lot longer. We usually recommend Brittany Ferries Portsmouth – Caen for convenience or DFDS from Newhaven – Dieppe for lower costs. 
Address:
Rue Jean Gabin, 
24200 Sarlat-la-Canéda
GPS Coordinates: 
44.893633, 1.227531
Day Trips from Camping Huttopia Sarlat
The Dordogne is renowned for its historical days out. We've happened to go on quite a few of them. Below are some of our favourite days out in the local area.

Sarlat La Caneda is one of the most famous towns of the Dordogne and for good reason. It's absolutely stunning. You could easily spend a day here browsing the arty shops, the local produce stores and enjoying the sun on a bar terrace. There's even a play park and picnic area so the kids can let off some steam. You don't have to worry about parking either when the campsite is just 800 meters away.
For a Game of Thrones inspired day out then definitely explore chateau de castelnaud. It's a museum of medieval war held in a 12th-century castle. It's open every day of the year, however, more activities will take place in the Summer months. Tickets are reasonably priced and children under 10 go free. It says on their information free parking in the village however we couldn't find this so did have to pay for parking nearby. When exploring the Chateau there are a few tight squeezes and steep steps, so I would only recommend visiting if an able walker.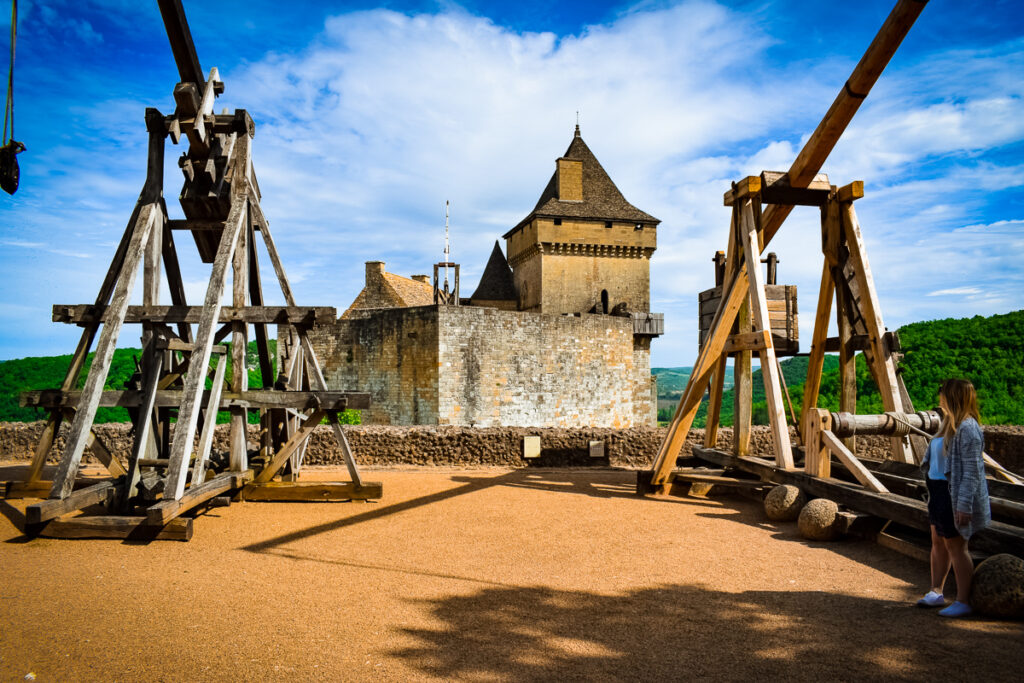 Luckily we had great sunshine during our stay so we didn't have to use our rainy day card, however, I had planned a whole itinerary for rain which included exploring the tons of caves the Dordogne has to offer.
Rouffignac cave was the main cave I wanted to visit. At more than 8km long this cave is one of the largest and most famous caves in Europe. There is an electric railway that you can board to explore some parts of the cave. The cave contains over 250 paintings dating back to the palaeolithic era and is classified a Monument Historique since 1957 and a world heritage site since 1979 by UNESCO. Visitors are strictly restricted to just 550 people a day and are open from April the 1st till November 1st.
Other caves/Grottes we wanted to visit in the area include:
Grotte de Lascaux, Gouffre de Proumeyssac, Les Grottes du Roc de Cazelle and the Grotte de Villars.
Frequently Asked Questions
Are the mobiles close together?
I didn't feel like the accommodations were too crammed in. Pitches generally had a good amount of space to them.
Definitely not. This is a very hilly campsite.

Are there mosquitos at Camping Huttopia Sarlat?
Yes, and quite a lot of other insects too. I've heard good things about Avon Skin So Soft being good for avoiding bugs – however I am yet to get my hands on any to try out.
Is it easy to get a sunbed around the pool?
We had no problem. There weren't many sun loungers out but more than enough for the number of people at the pool.
Do you need to wear a wristband?
No wristbands for us during our stay.
Do men have to wear swim trunks?
We didn't see any signs enforcing the swim trunks' rules. 
What Happens If I Arrive At The Campsite Late?
We arrived fairly late and I had a missed call from the campsite reception. I imagine you can ring them and let them know at what time you think you'll arrive and they can make arrangements. 
What's the weather like in Spring/Summer?
The Dordogne is a very warm and sunny region, but it's also known for being unpredictable. Just ask my dad, every time he's visited there in the height of Summer it's rained for him. We, however, have always been very fortunate with the weather there. Pack your suncream and hats, but remember a pac'a'mac just in case. 
Can you take pets on the campsite?
Yes animals are allowed on this campsite.
Where's the nearest supermarket?
There are a few smaller Carrefour supermarkets nearby however I would recommend the e.leclerc supermarket in Sarlat as this is a good size and a good value supermarket 
Av. de Madrazes, 24200 Sarlat-la-Canéda
Is There Disabled Accessibility On The Campsite?
The campsite is very hilly and I would not recommend it for the mobility impaired. 
Is It Loud In The Evenings?
During our stay, it was extremely quiet in the evenings. The only noise we heard was the soothing sounds of the cicadas. 
What Can We Do If It Rains?
One of the best activities in the Dordoge, especially on a rainy day is visiting one of the many grottes/caves. Also, one of the swimming pools on-site is indoors.
Can I Use My wise/Revolut Card On SIte?
We use our Wise cards all over France and had no problem using them on this campsite.
We had a very peaceful and lovely stay at Huttopia Sarlat. An authentic, rustic campsite on the outskirts of a very popular town. It was just what we had expected and a great start to 2022's camping holidays. We were a bit rusty with our packing and managed to forget all our essentials like shower gels and washing up liquids but thankfully the on-site epicerie was there to save the day.
It would have been nice if the pizza/grill area was open during our stay, however, the website had already informed us that it wouldn't be so we knew what to expect.
The only disappointments we had were with the distance between the sanitary facilities and our accommodation (though this may just be because I'm pregnant – other people may not have found it that far). And with the temperature of the pool area tiles.
Otherwise, all in all, a lovely little campsite, in an incredible location which I would recommend to anyone looking to stay in the Dordogne for a few nights. I would definitely say it's more of a weekend stopover campsite than a "stay for a week" style campsite.