Tente Randonneur at Camping des Ribières for what we wanted and what we got we were super pleased. the tent was well above our expectations.
We had no idea if we'd have electric let alone a kitchen area with invent.
Tente Randonneur / Hikers Tent
The Tente Randonnee was perfect for us during our stay at Camping Des Ribieres in Confolens, France. With just the two of us and our small pet cat, the tent offered more than enough room and facilities.
Pros of The Tente Randonneur
This was such a different style of accommodation than we've experienced before, but we still loved it!
Cons of The Tente Randonneur
There's little to complain about here!
Tour Of The Tente Randonneur
Literally translated to hikers tent, the Tente Randonneur is perfect for couples looking for basic accommodation without the need to lug around their own tent. 
Although we do have our own tent, we decided we wanted to check out what the Tente Randonneur at Camping des Ribieres had to offer and here's our tour for you. 
We've also made a video tour which you can watch at the end of this post, but here's our detailed written tour, let's start outdoors: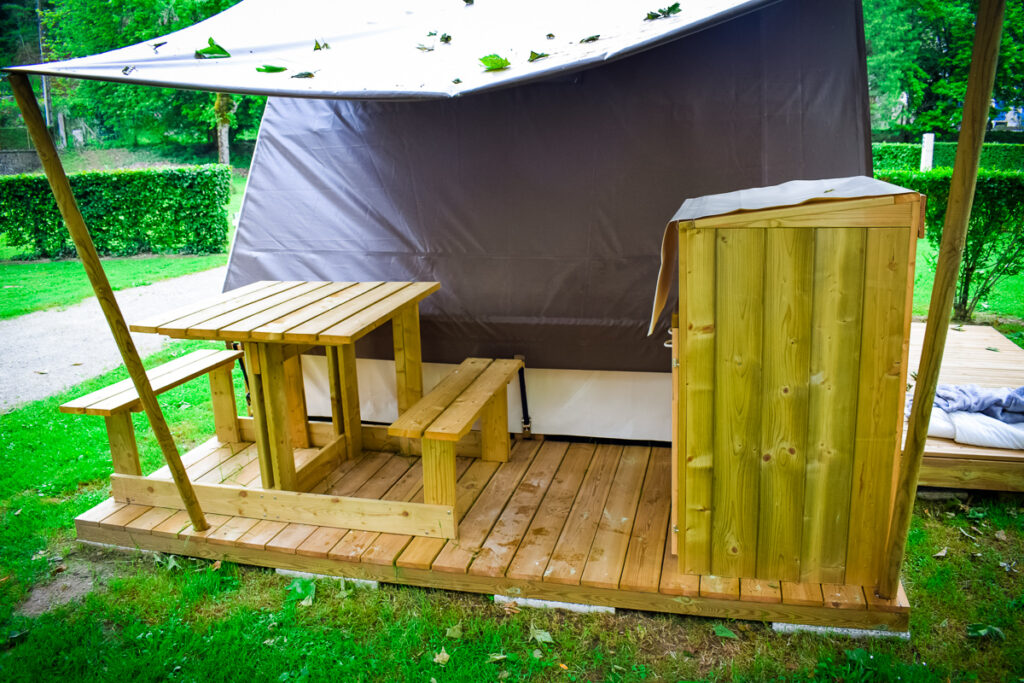 We love a reasonable sized pitch and as we pulled up to our pre-erected tent, we were not disappointed.
With more than enough room to park the car and have some outdoor grass space we were more than satisfied. Outside the tent there is a small decking area to the front where you can put some chairs, but we decided it was the perfect place to put the bed for our cat and her food, and put our camping chairs on the grass in front.
Round to the side of tent is a covered seating area and small kitchen with hob, microwave and 2 cupboards full of kitchenware.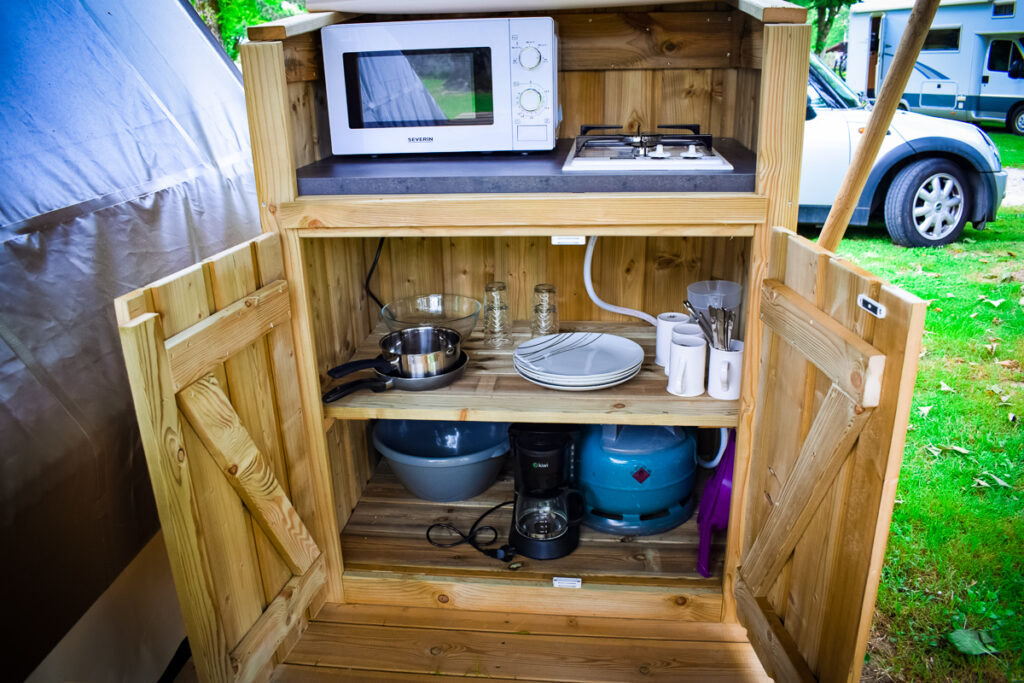 Included in the Kitchen cupboard was:
A small frying pan

Saucepan

Salad bowl

4 Plates

4Glasses

4 Muugs

Measuring jug

4 Sets of knives forks spoons

Washing up bowl

Coffee maker

And a dustpan (there was a broom on the decking).
Although the kitchen did provide the basics, I would have also loved to see a corkscrew/bottle opener and a tin opener in there – although we were fine because we brought our own.
Inside The Tente Randonneur
When we arrived one of the tent flaps was folded back and the other was left alluringly open. I couldn't wait to look inside.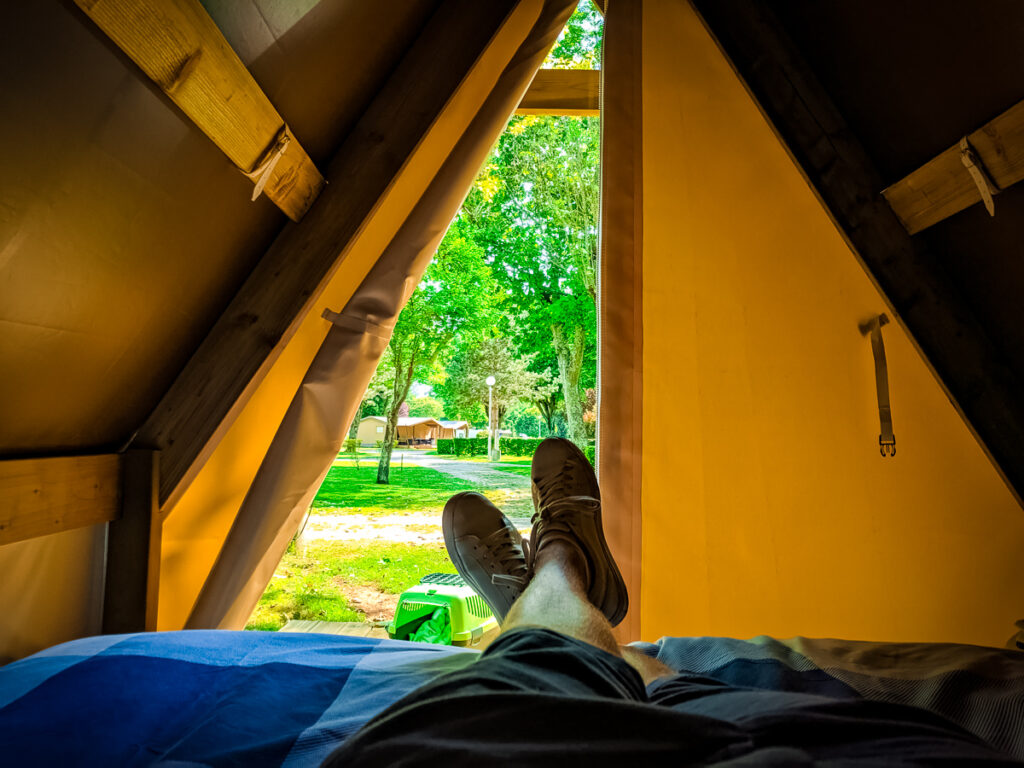 Although small, the inside of this Randonnee tent was so cute and cosy. The bed was raised off the ground and definitely comfier than the air matress we would have brought to camp on and it came with a duvet and 2 pillows. Just so you know, standard pillows in France are actually square, so you're best off bringing large cushion covers over pillow cases. We tried to squeeze the square pillows into our rectangle pillow cases and unfortunately it made them too tightly packed and massive to sleep on.
Next to the bed on each side is a small nightstand to put your drinks on and on the right side (as you're looking in) we had two plug sockets. Above the bed there was a fuse box and just underneath was a light. I was surprised at how bright the light actually was but I'd definitely suggest waiting until the tent doors are closed before using it otherwise you'll have bugs flying into it.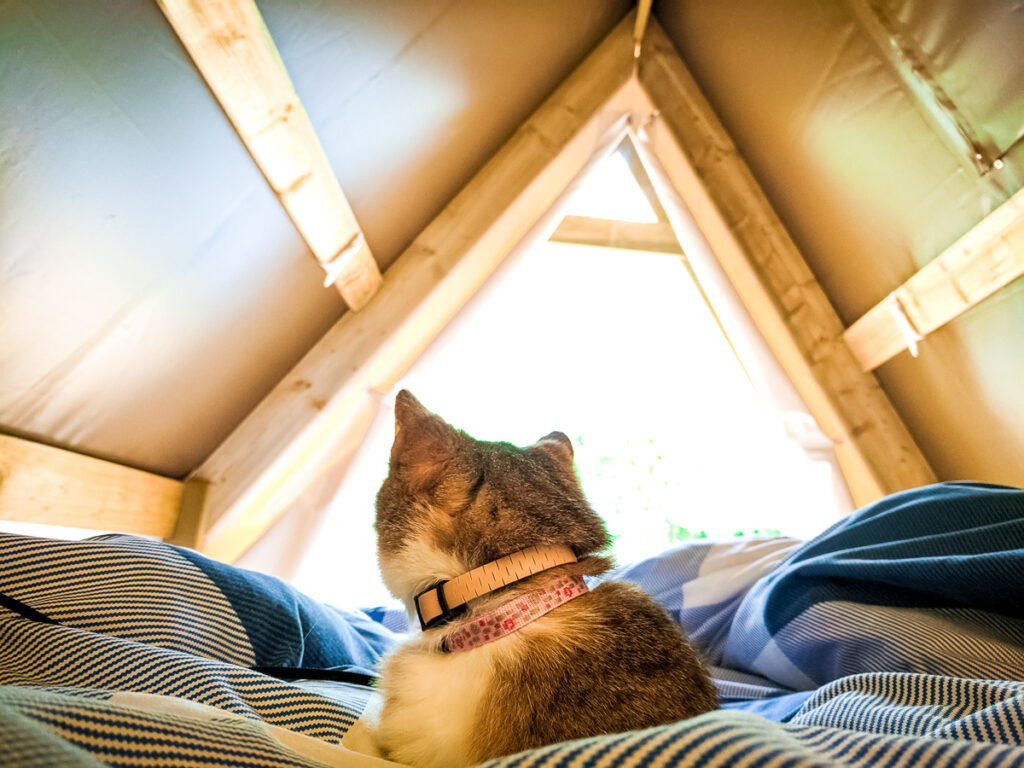 We were really impressed with the tent itself. 
There were no poles and everything was mode with wood and canvas. If I was to ever own/run my own campsite (which is the future plan if I ever make enough money to buy one) I would definitely want to invest in some structures like this – they must have had a good carpenter/joiner or some great skills to make these.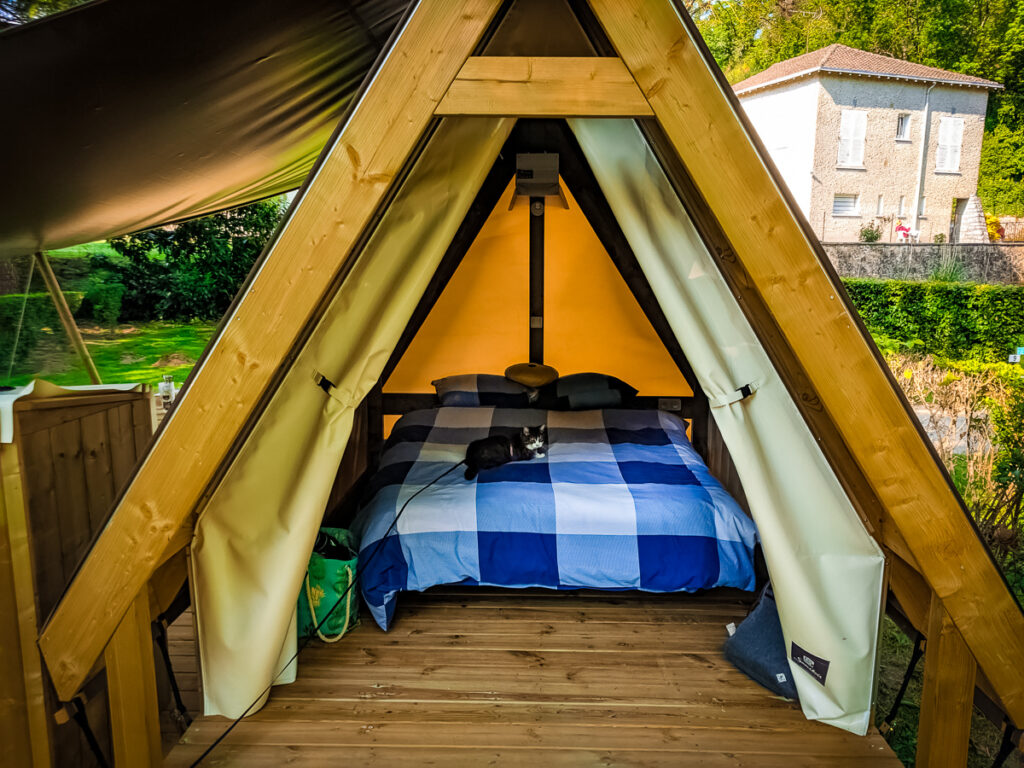 We were really lucky in that our pitch was very close to the toilets – Vital when camping while pregnant.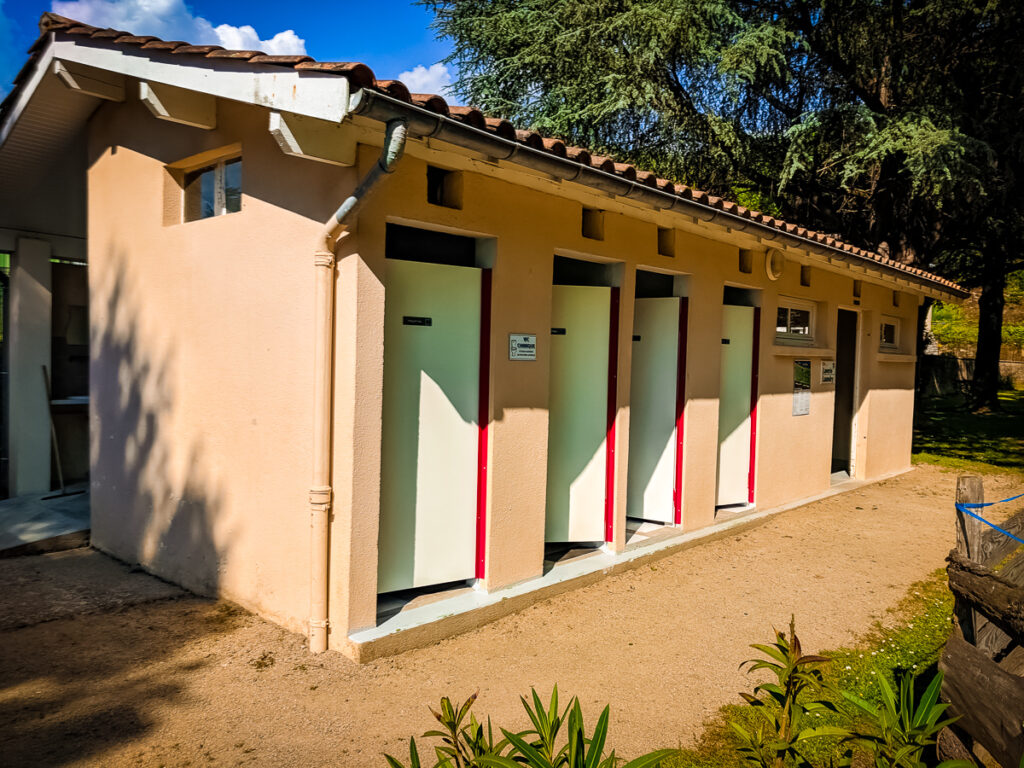 The campsite actually seemed to have a few toilet blocks dotted around so as far as I'm aware, you'd probably be fine staying in anyone of their pre-erected tents. You'd definitely be fine in their cotton tent as that actually comes with its own bathroom and toilet.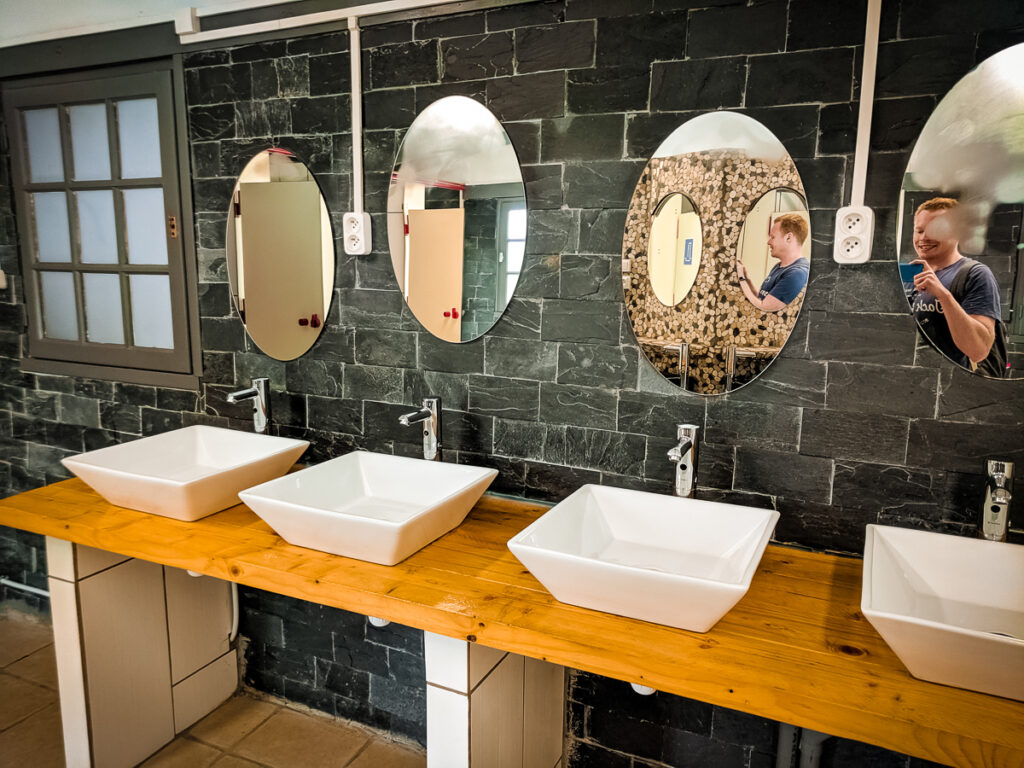 Features Of The Tente Randonneur
Wooden Structure
Basic Kitchen Equipment
Basic Kitchenware
Thick sturdy canvas
Bedroom Window
Covered outdoor eating terrace
Large Pitch
Raised bed
Lights and Electric
Duvet & pillows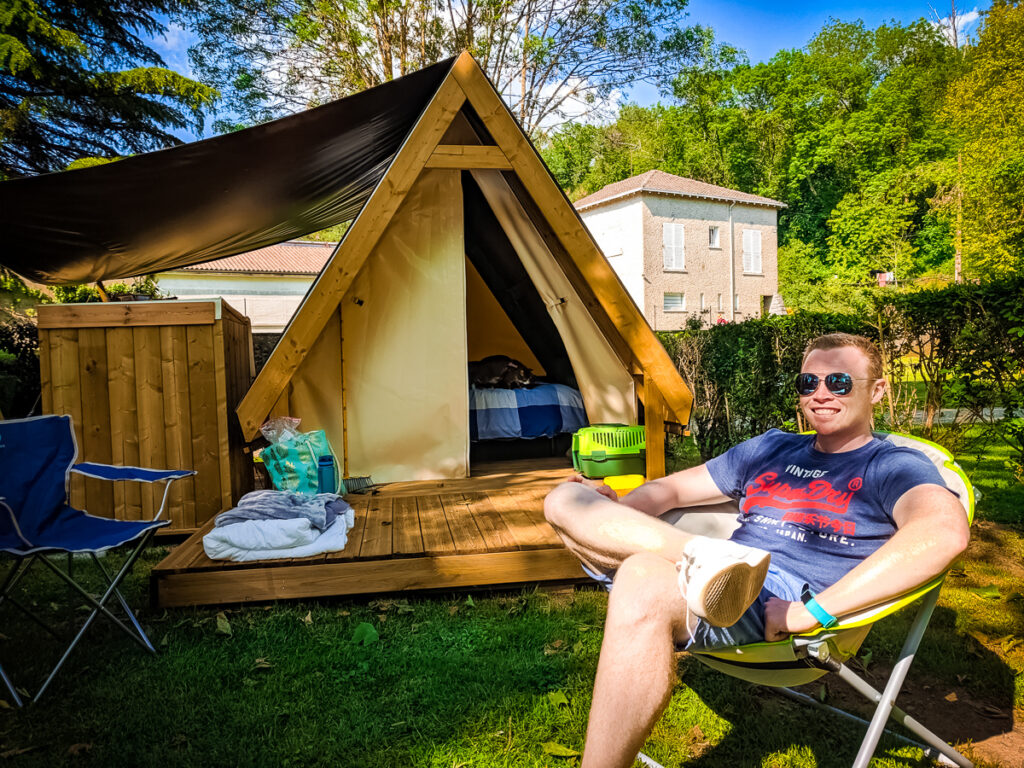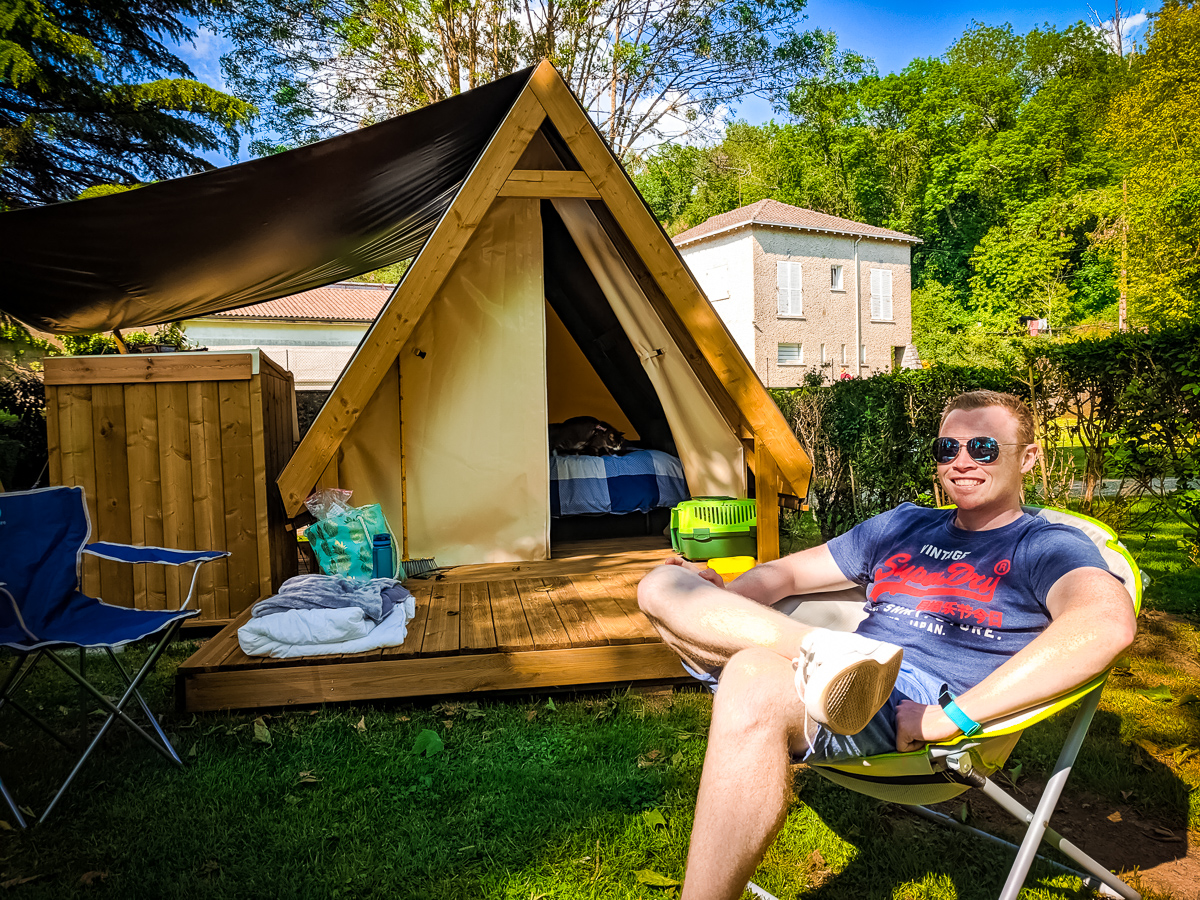 Video tour of the Tente Randonneur
Other Pre-erected tents at Camping des Ribières
There are 3 types of tent available, depending on the requirements for your family.
Tente Randonneur
Tente Sahari
And Tente Cotton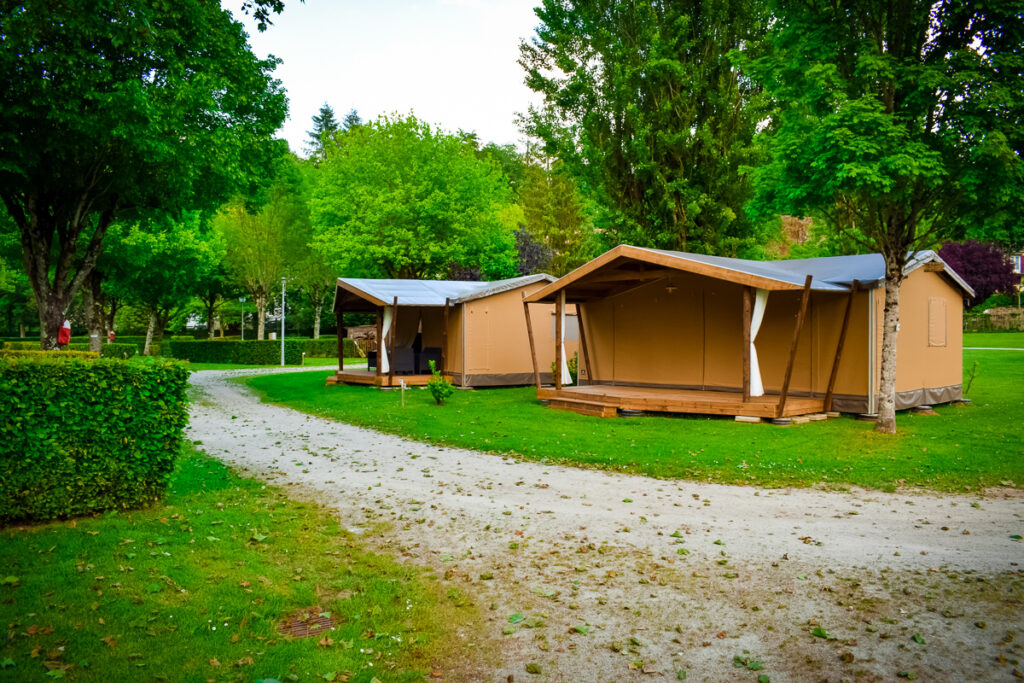 It's so easy when camping in a new place to forget the basics like toilet roll – especially if the last place you stayed provided this. Hopefully this little list will give you a few reminders on what to pack when staying in a Tente Randonneur
Veg peeler 
Sharp knives
Sponge, Washing up liquid & cleaning products
Bigger pans if needed
Bed linen
Toilet roll
Corckscrew
For a couple and our pet cat this tent was absolutely perfect. 
For a family you would definitely need something bigger. However, for what we wanted and what we got we were super pleased and actually the tent was well above our expectations. We had no idea if we'd have electric let alone a kitchen area with invent. 
So I'll score it a 4.5/5 the only reason I'm dropping half a star is because I definitely feel a corkscrew/bottle opener is an essential camping item