Yelloh Village Camping La Roche Posay Review The most perfect campsite we could have booked with a toddler
We will definitely be returning…
This week we've been staying at a charming Yelloh Village campsite called Camping La Roche-Posay. Situated in the Vienne department of France, the campsite is located just next to the famous town of La Roche Posay.
After booking this campsite on a whim, when we realised there was some last-minute August availability for us and our tent, we hadn't researched beforehand, so everything has been a discovery for us. A good discovery or a bad discovery? Keep reading to find out.
Pros of Camping la roche posay
It's safe to say we absolutely loved this campsite and already want to return.
Cons of camping la roche posay
Every family prefers certain things about a campsite, so our "cons" could be on your "pros" list!
Pool complex at Camping la roche posay
The pool complex is the perfect size for the campsite. It can get a little busy at certain times during the day, but that's to be expected everywhere at this time of the year. Camping La Roche Posay has both an outdoor pool area and a covered pool area.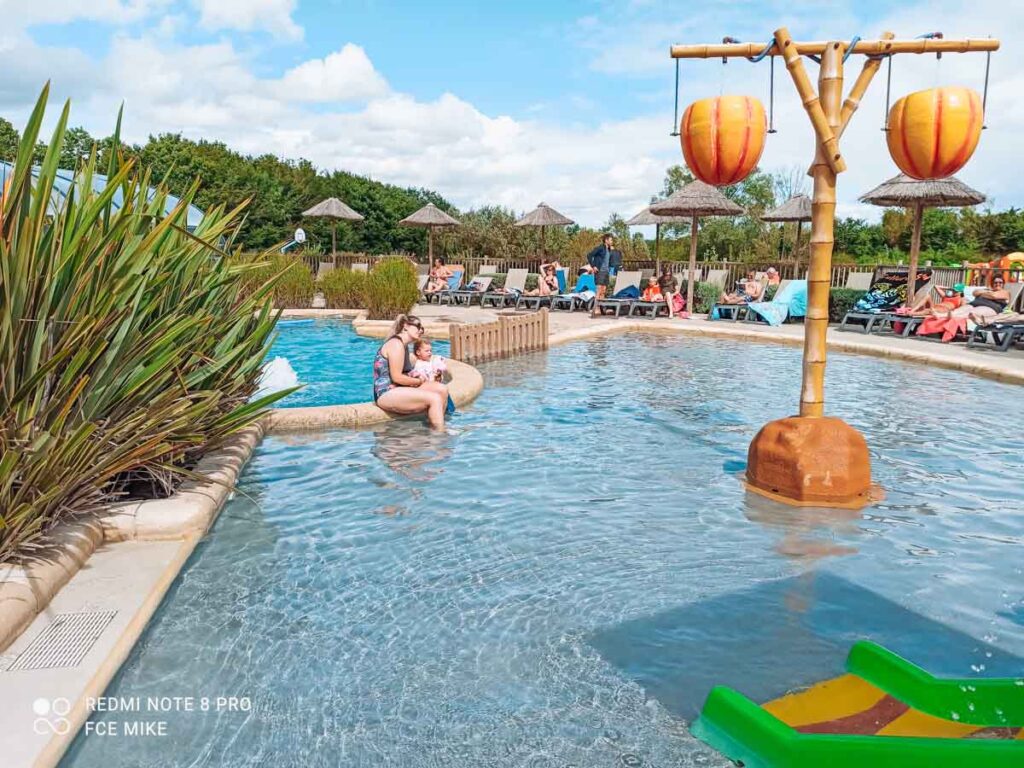 You'll find a rectangular lane-style swimming pool in the covered pool area and a smaller rectangular shallow pool for toddlers. Our toddler absolutely loved it. She spent most of the time throwing balls and splashing around with other toddlers.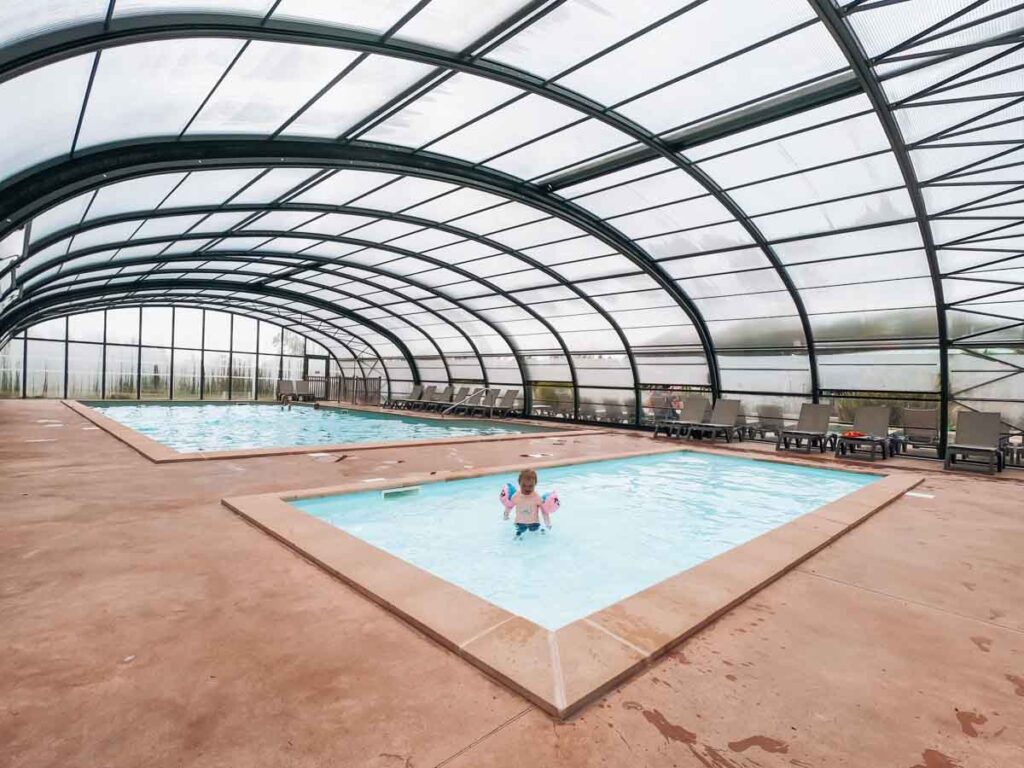 At the outdoor area, you'll also find a toddler pool, this time with splash fun. There's a small slide that sprays water at you as well as tipping buckets. Our daughter was a little hesitant with these, but after watching a few other children splash around, she enjoyed splashing around too.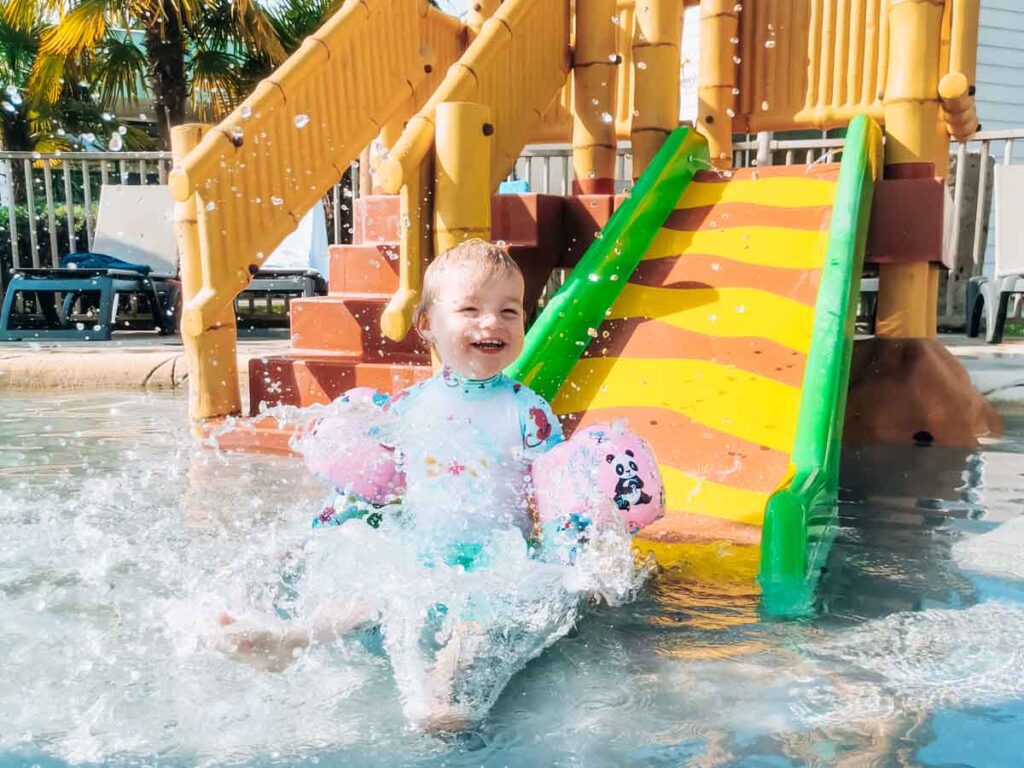 There is also another outdoor swimming pool, a jacuzzi and of course water slides! 3 FAST descents catapult you into a landing pool. Be warned as you enter the aquatic area via the foot pool; you may get splashed by some heavy landers.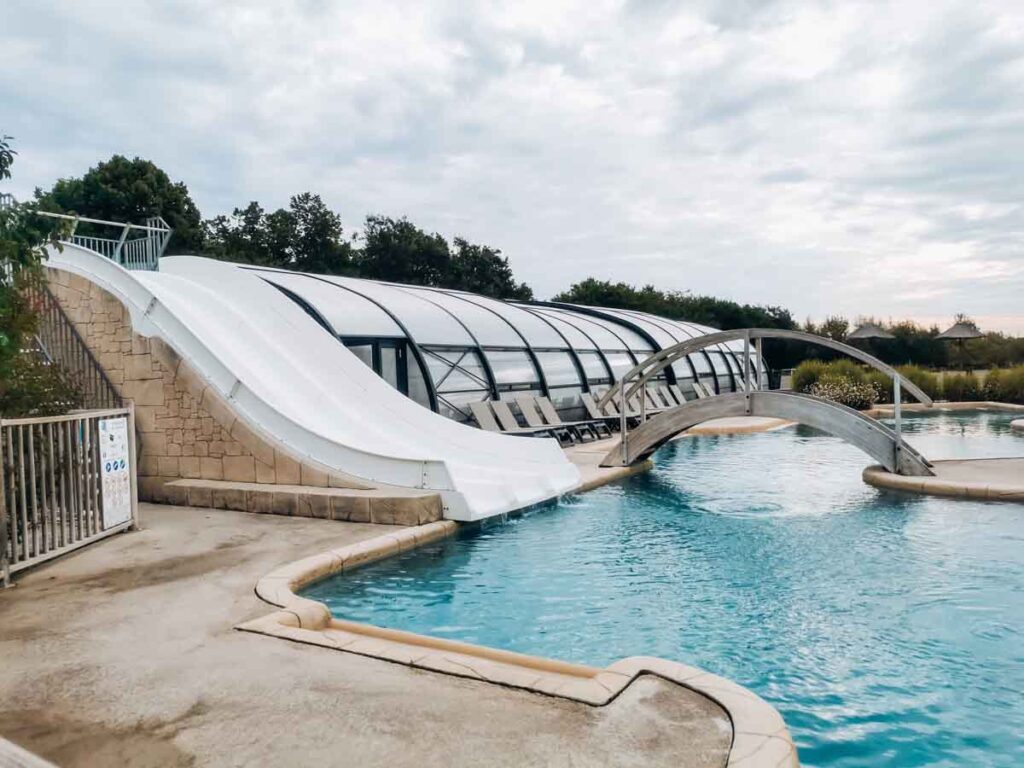 The swimming pool is heated, all-season round to 28 degrees celsius, and there are plenty of sun loungers available indoors and outdoors. There was a lifeguard during our stay, although he was in a far corner, and I'm unsure one person could monitor all of the pools efficiently, so stay on guard.
The mornings are the best time to visit the pool as we found the high season afternoons very busy. Head there for opening time at 10, and you'll probably have the whole aquatic centre to yourself for a while. The pool area closes at 8 pm, and it's still fairly busy at this time, especially on a sunny day.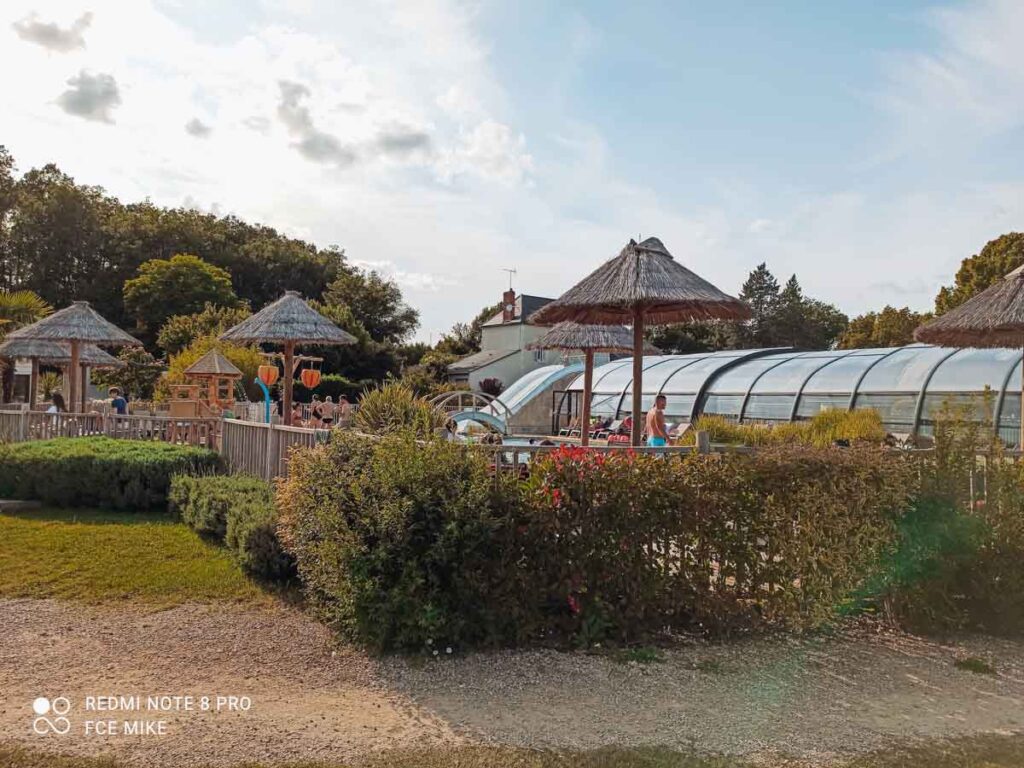 Covid Restrictions to the pool area
No noticeable restrictions.
A few families were in Bermuda style shorts, and I didn't see the lifeguard telling anyone off.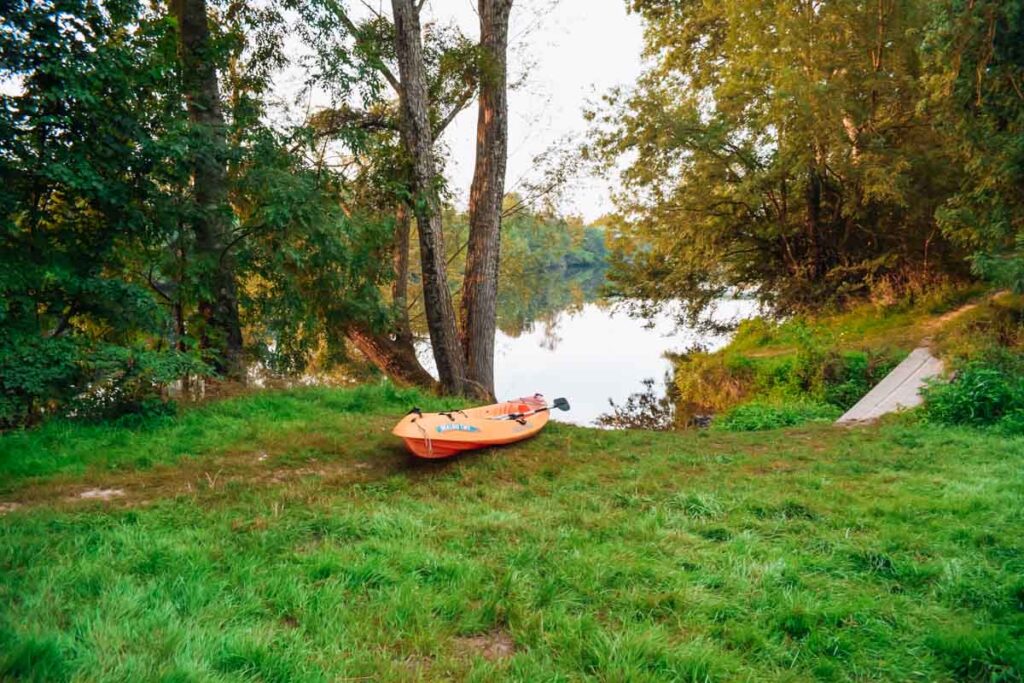 In the theme of all things water, we have to tell you about the river facilities. There are free to use canoes and stand up paddleboards situated by the gate entrances to the river. Paddles and life jackets are available from the main reception.
During the high season, you can take part in lessons and group activities for both canoes and stand up paddleboards.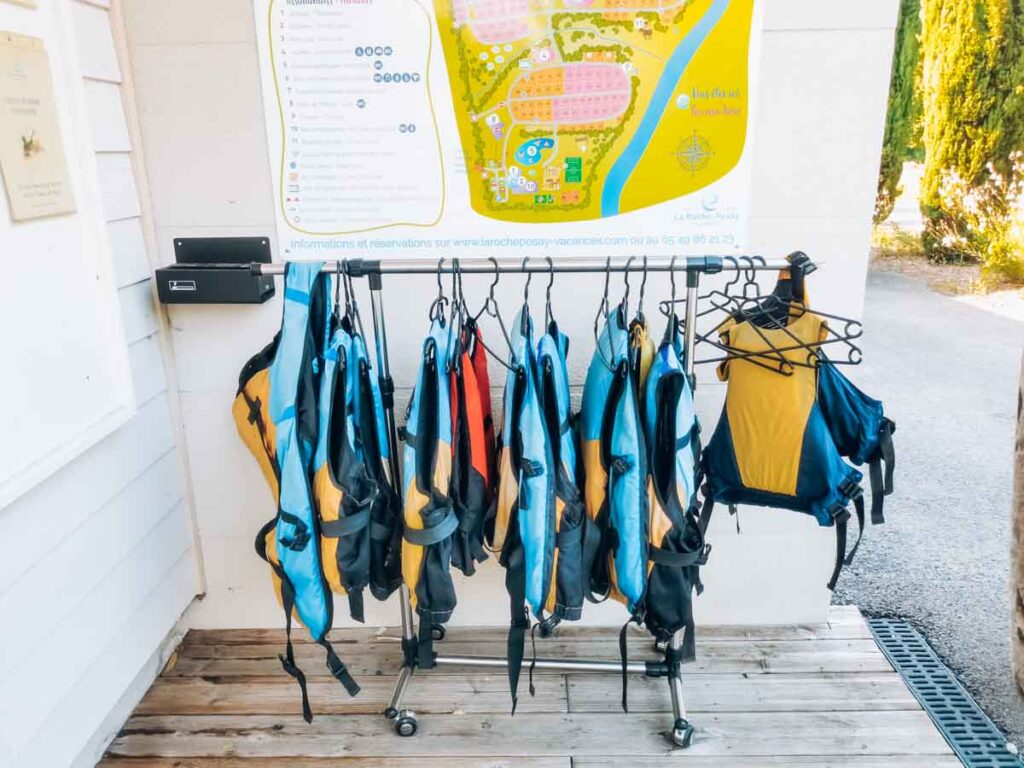 One afternoon, we briefly hired a canoe to "test the waters" (pardon the pun) with our toddler on one. Unfortunately, the life jackets provided by reception weren't suitable for her age/body type and were all too big, so we had to adapt with some armbands and an oversized life jacket. 
If you are travelling with younger children and would like to test out the canoe/SUP, I'd advise bringing your own life jackets.
Setting off on the canoe is from a tiny bank, and it's not something I could do alone with a child. If you head from the bank towards the bridge, you'll come to a small beach area.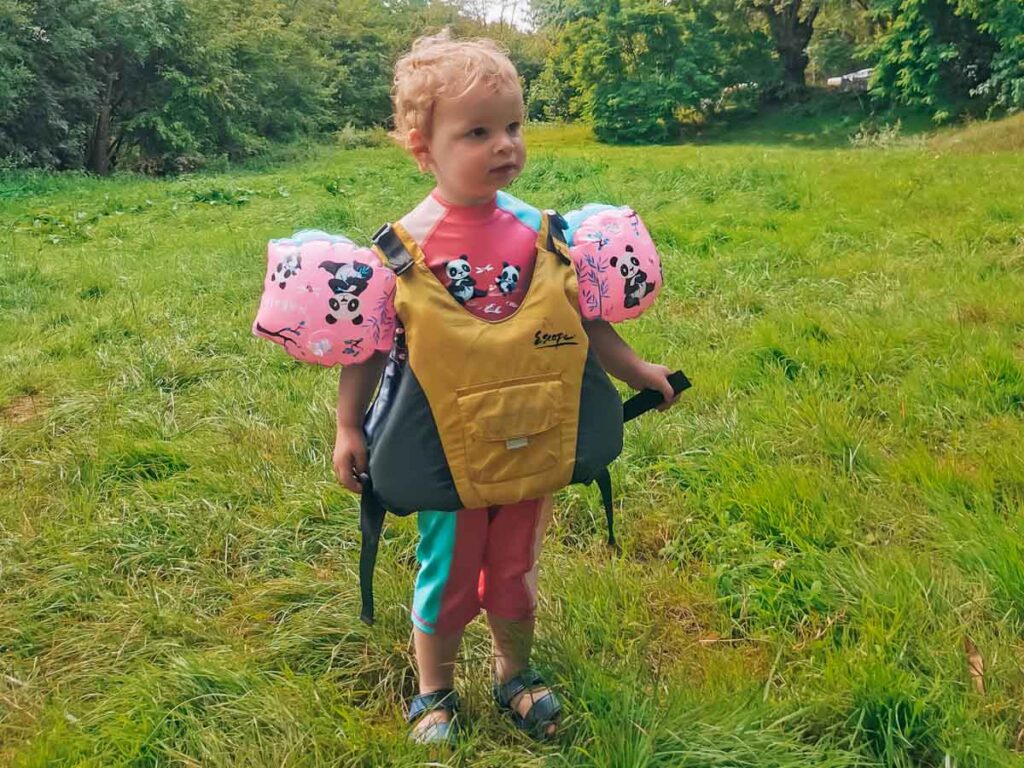 This campsite is of medium size and has lots of excellent facilities for the entire family. We were particularly impressed with the toddler facilities.
Reception and check-in were smooth. We were required to show our pass sanitaires to access the site and also our booking voucher. The receptionist will explain all the information you need, such as the entertainment schedule, kids clubs, pool hours and they'll answer any questions you have. Then, you'll be handed a map with your accommodation circled, more information, a barrier code to access the site and any wifi codes you need.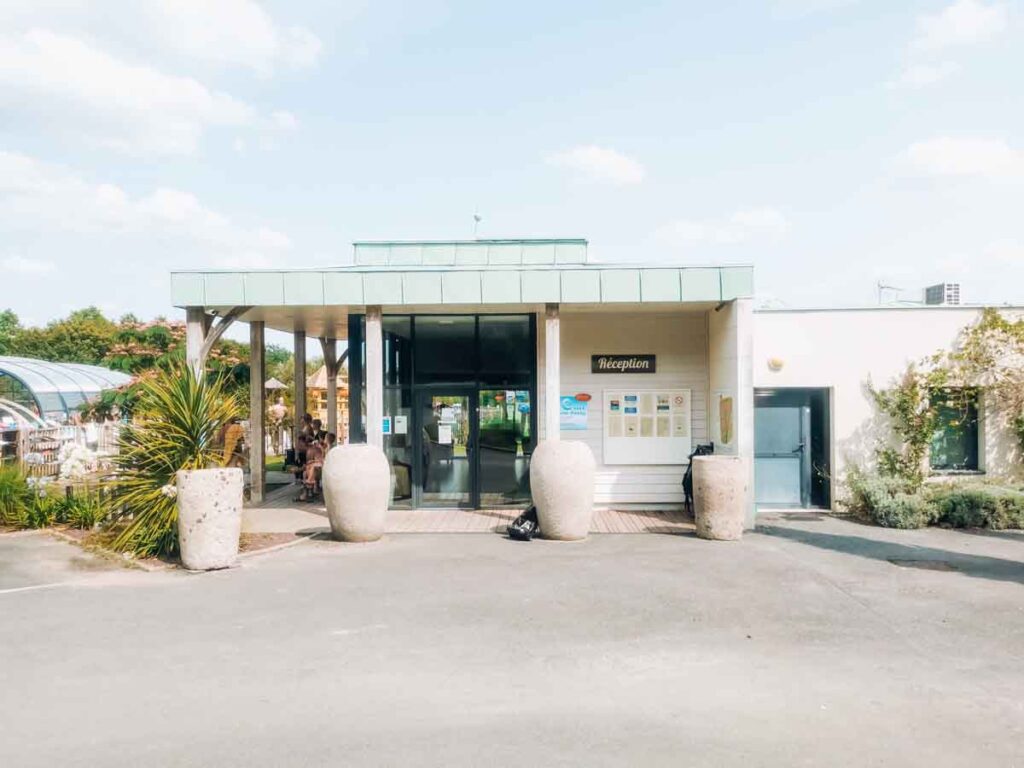 I think the check-in procedure here was a bit of an information overload. For guests, especially those with young children or who have had a long drive, they usually just want to get in their accommodation as soon as possible. During busy check-in days, there was only one receptionist working the check-in desk. The amount of information given at check-in was causing a lot of queues at reception, meaning many guests were arriving in a frustrated mood. First impressions count for many people, and getting settled into their accommodation is most people's main priority. I think it's better to tell the customer where they can find out the information for themselves (i.e., on the app, signs on doors, etc.) than to overwhelm them with opening times on arrival. But maybe that's just me?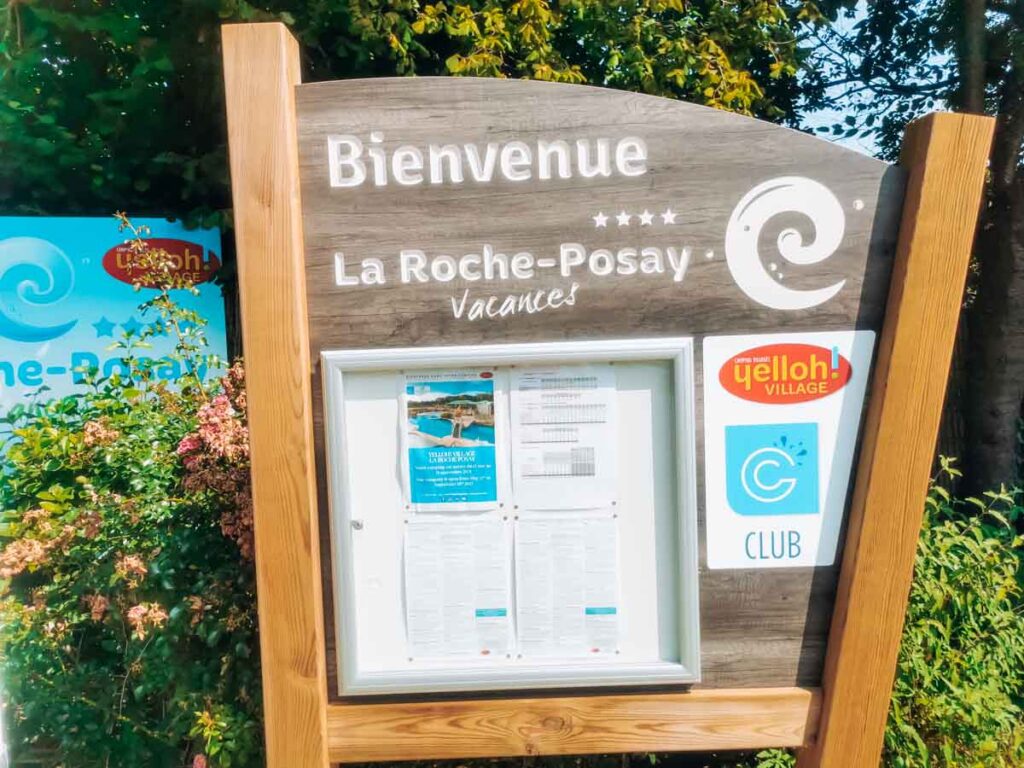 The reception is also the place to go for any local information leaflets, laundry tokens, baby equipment hire, laundry hire and basically, everything.
Reception staff during our stay have all been friendly, polite and accommodating. There are screens up at the desks for protection, staff are all wearing masks, and hand sanitisers are readily available.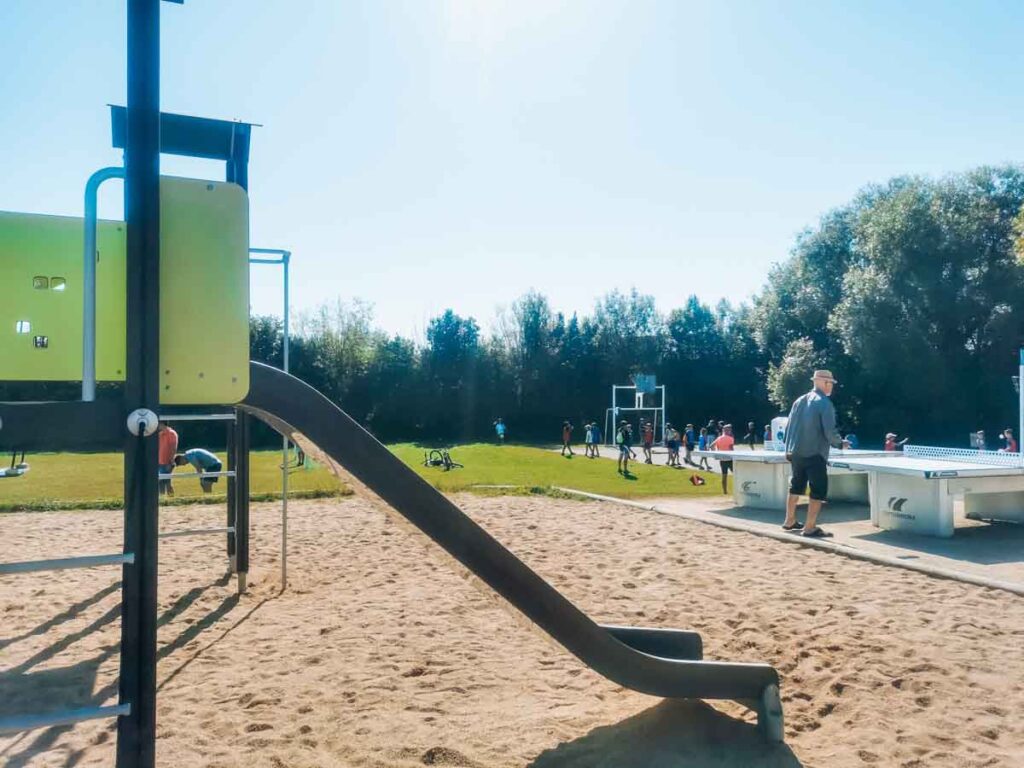 One of our favourite things about this site has been the play areas for children.
The play park in the main campsite village is extensive. Large climbing frames with multiple slides and different courses. Great for kids of all ages. There are also two normal swings, a baby swing and two seesaw things.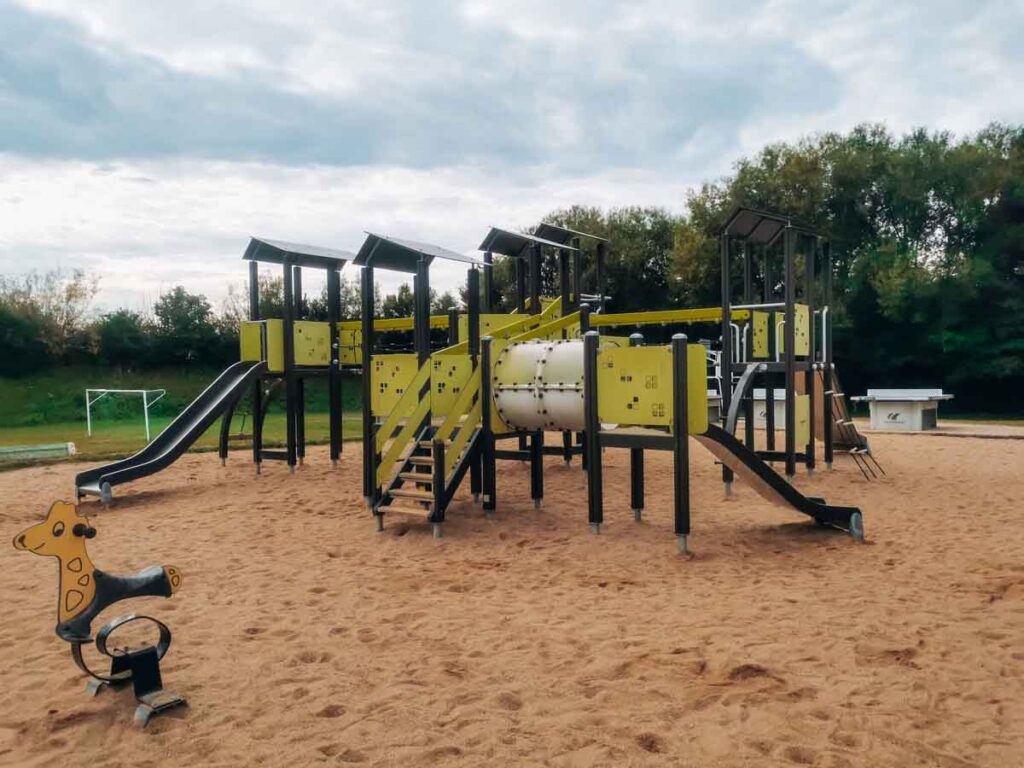 Just next to the primary park is a small plastic toddler climbing frame and slides. This park was the HIGHLIGHT for our toddler. She would spend hours just trying out different climbing methods and sliding away. It was such a welcome break watching her play safely and not having to be the sole entertainer.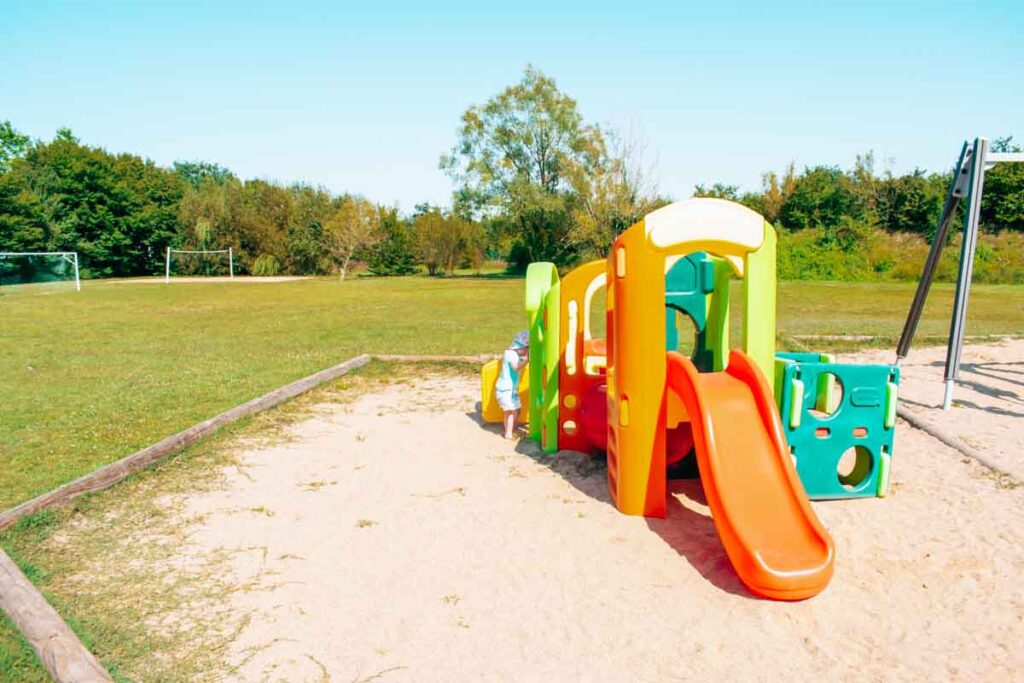 Play Park Near Wash Block
There's another smaller play area situated in between the two wash blocks. Every time we walked past, the toddler wanted to climb and slide. The climbing frame consists of a large rock climbing wall or an easier stepped route up to the top platform where you can find a slide.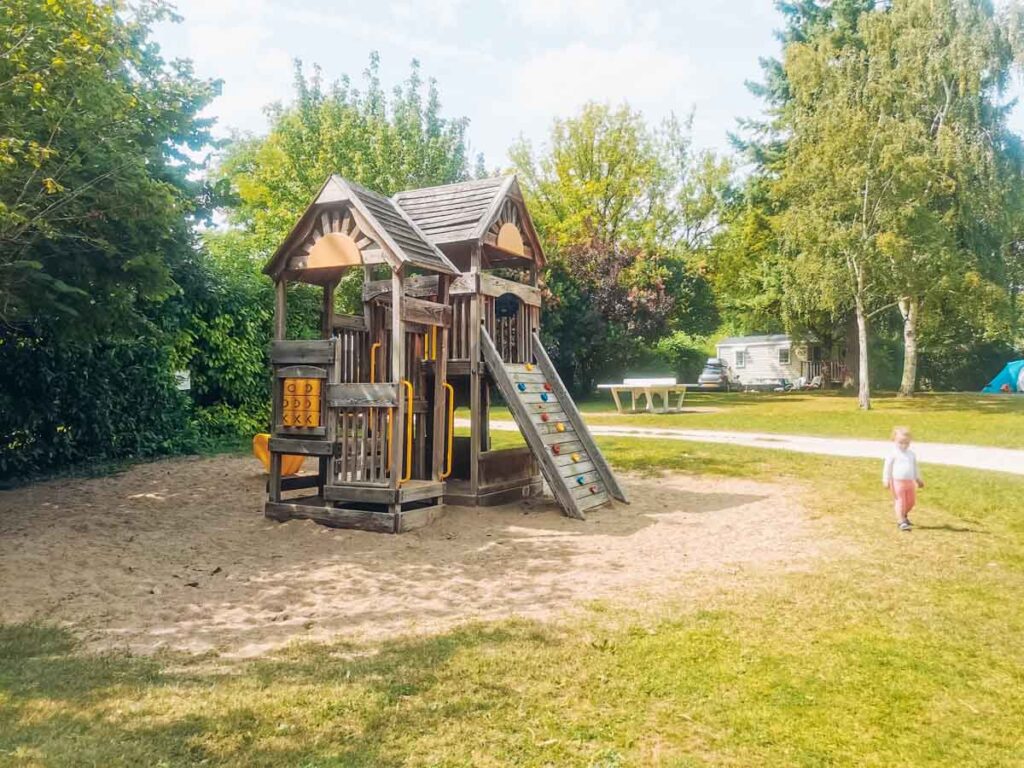 Another hit. The bouncy castle tends to be empty in the mornings and at particular points during the day, but at other times The bouncy castle can get packed with boisterous kids. Pick your times wisely. With a young toddler, we went every morning while picking up our bread from the restaurant. But in the evenings, I had to deal with a few "but I want to go on it" tantrums, as I decided it was too rough for her.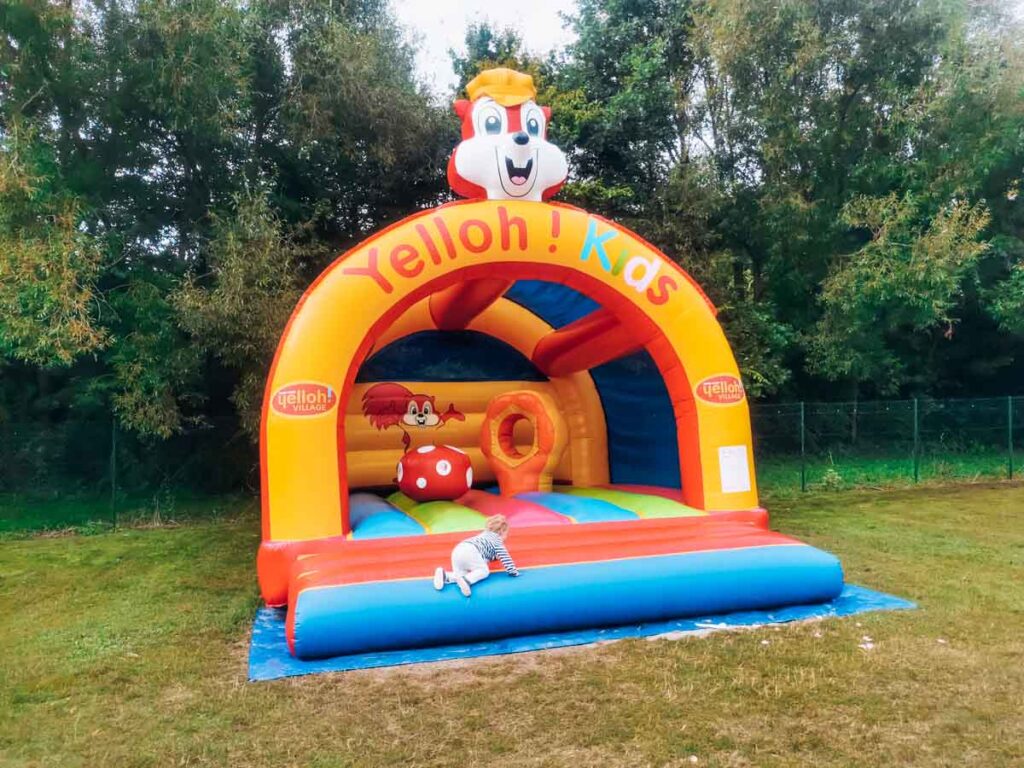 Two table tennis courts are next to the main play area. There's also another next to the smaller park. In addition, the campsite holds ping pong tournaments as part of its animation schedule, so if you're a fan – this could be something to take part in.
There is a volleyball court on the main lawn area. The animation teams regularly set up Volleyball tournaments for guests.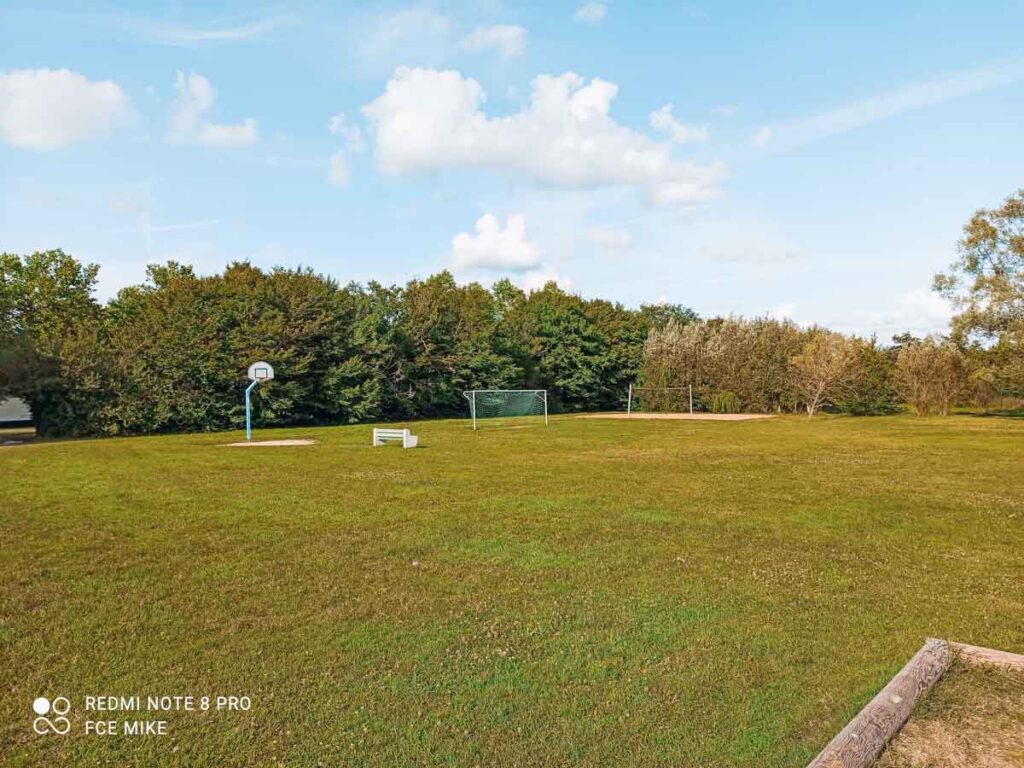 A large football pitch in the main village is also used as part of the animation schedule. During our stay, we watched a football tournament. Adults were playing on the main pitch, and kids were playing on the multi-sports court.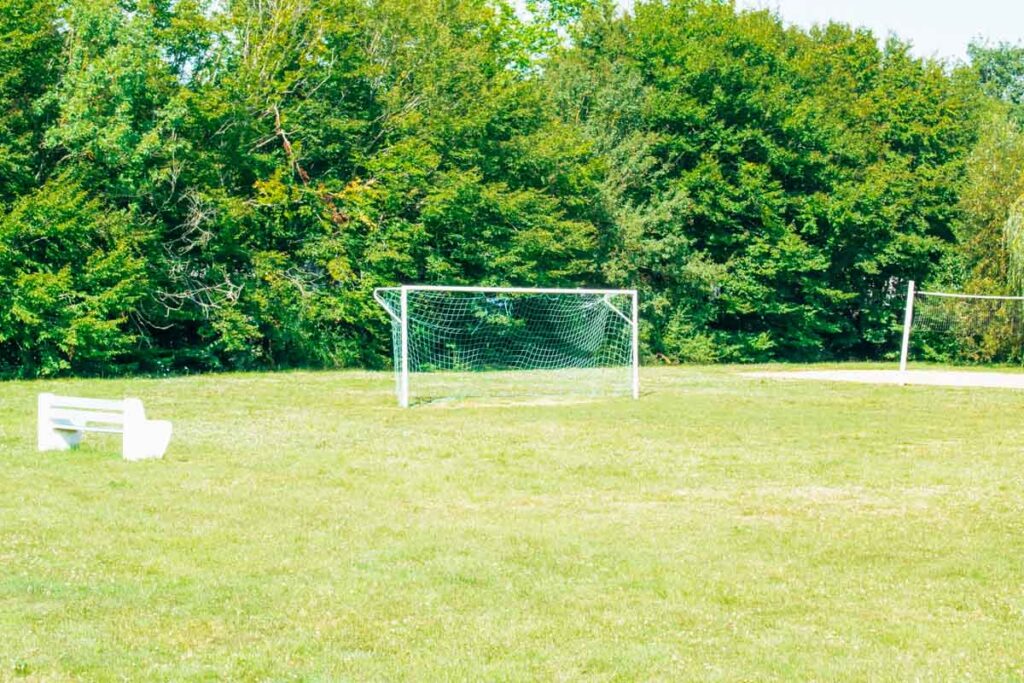 As explained above, the multisports court can be used as a football pitch and lots of other games and tournaments. The court was in use a lot during our stay by both kids and adults.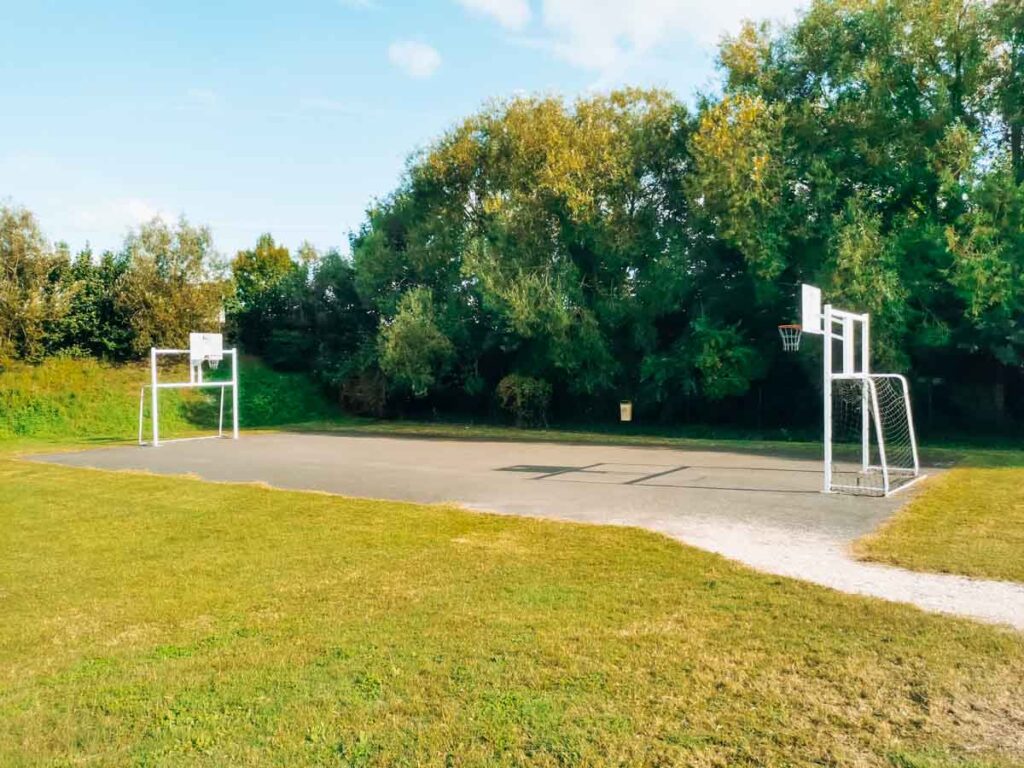 The campsite has a few hireable pedal karts, which you can ride around the site. There is one small one that is the perfect toddler size. To hire, it'll cost 5euros for half hour or 7 euros for an hour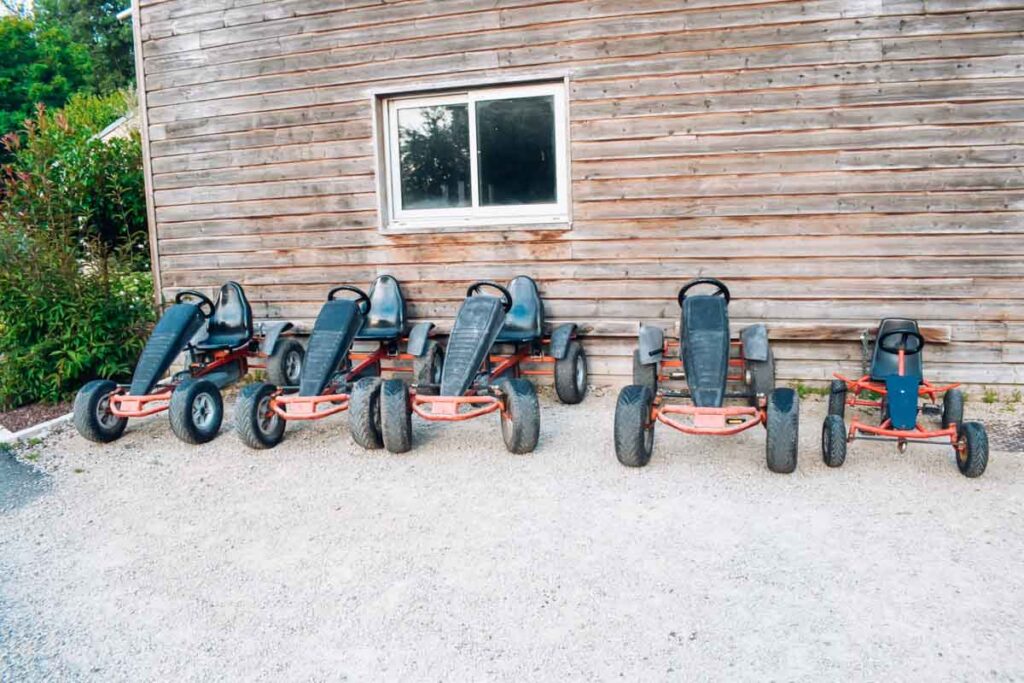 Camping La Roche Posay's Kids Club is for children aged from 5 years old to 12 years old. Unfortunately, there isn't a club for younger children, although I feel The campsite could consider this based on the number of toddlers we have seen.
Animation for kids and adults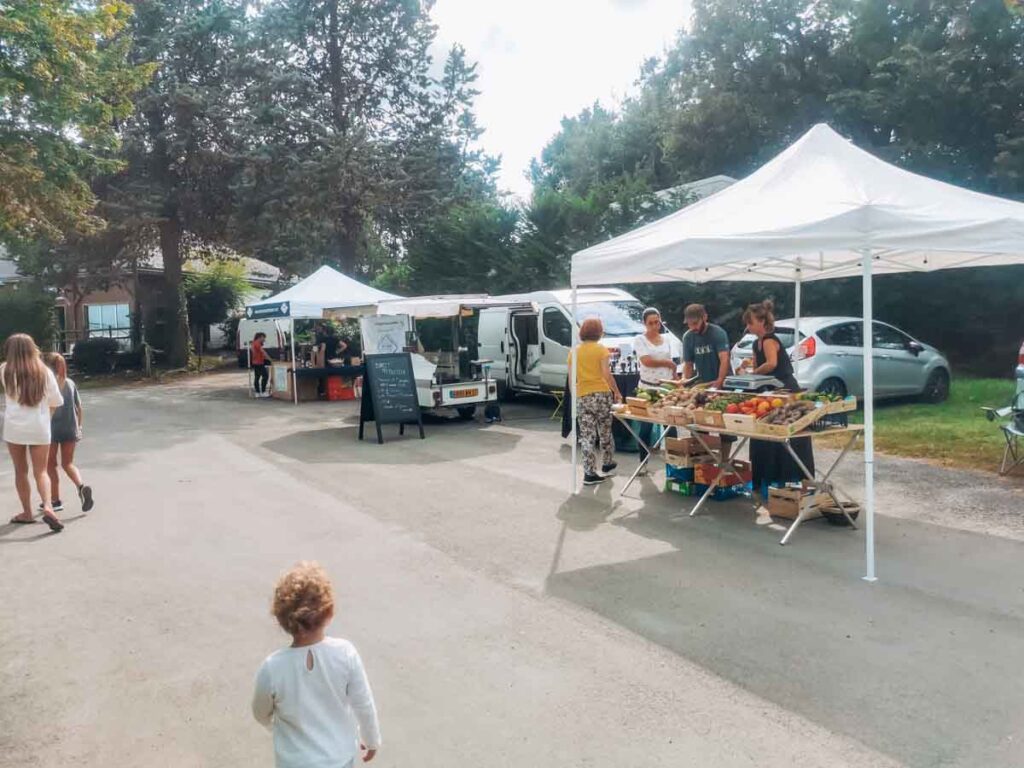 The animation schedule is thorough. There are so many activities for every member of the family. From yoga and fitness to discos and sports tournaments, produce markets and more – there is something for everyone. There are even stand up paddle boarding and canoe group sessions as part of the schedule. If I weren't solo camping with the toddler, I would have 100% taken part in some fitness-related and fun activities.
The only complaint I have regarding the entertainment schedule is that they don't have any animations over the weekend (Saturday and Sunday). As a family who usually only book weekend stays, I'd be gutted to arrive and find out there was no entertainment at all – considering how good it is during the rest of the week.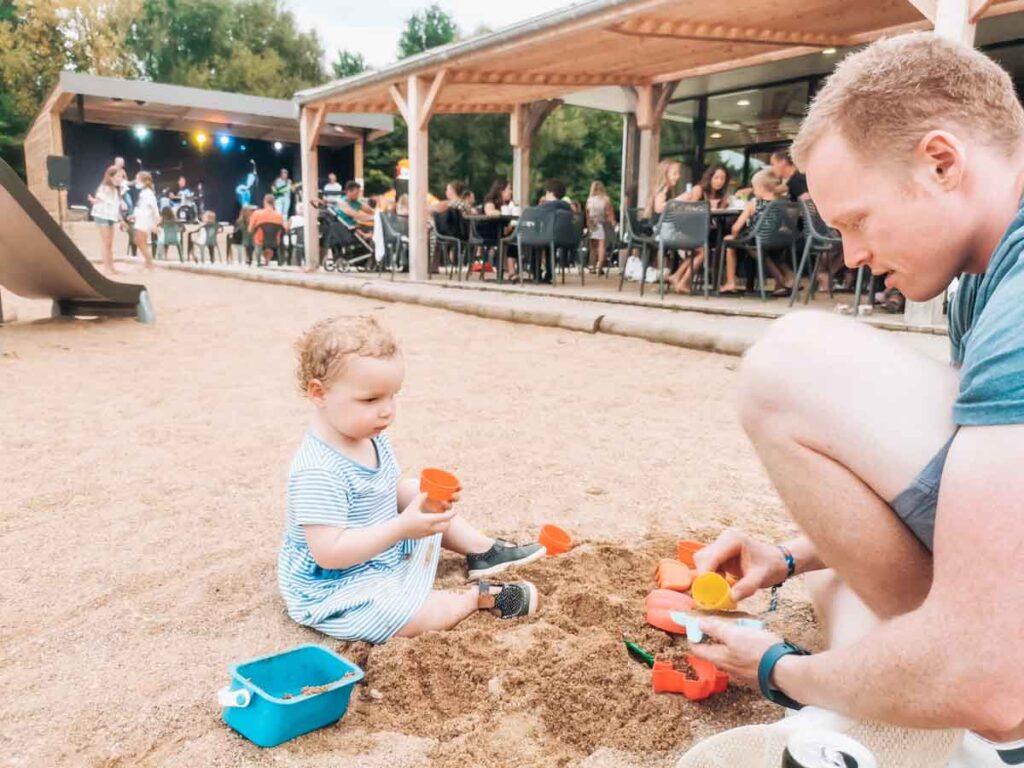 Our favourite part of the entertainment schedule has to be the mini disco. At 6.30 every evening (except weekends), camping la Roche Posay is filled with mini dancers, bopping away to their favourite pop songs. Our toddler was in her element. It was so much fun. Although kids these days do not know how to do the macarena, shocking!
Bars, Restaurants and Takeaway
The bar and restaurant area is in the main village area. It's a fabulous space, indoors and outdoors. Parents with older children can sit on the terrace and watch their kids at the pool. At the same time, those with younger children can sit and watch their kids at the parks. And those with no children can sit, relax and enjoy the lack of responsibility with a cocktail!
The restaurant is more of a snack bar than a "fancy" restaurant, but it had the basic meals available. We ate at the restaurant twice, primarily for convenience as we spent so much time at the parks and pools we didn't have time to prepare food. The first time we ate at the restaurant, Mike was still with us. We were disappointed with the lack of healthy options on the child menu and requested a smaller version of the salmon salad, but unfortunately, they said no. Therefore, we ordered a large adult salad for our 2-year-old. A salad of lettuce, avocado, tomatoes and salmon. Although, it never actually came with any tomatoes. Our three meals and two soft drinks came to around 56 euros. Standard campsite prices for traditional campsite food. But, it was a welcome meal before a week of stovetop recipes.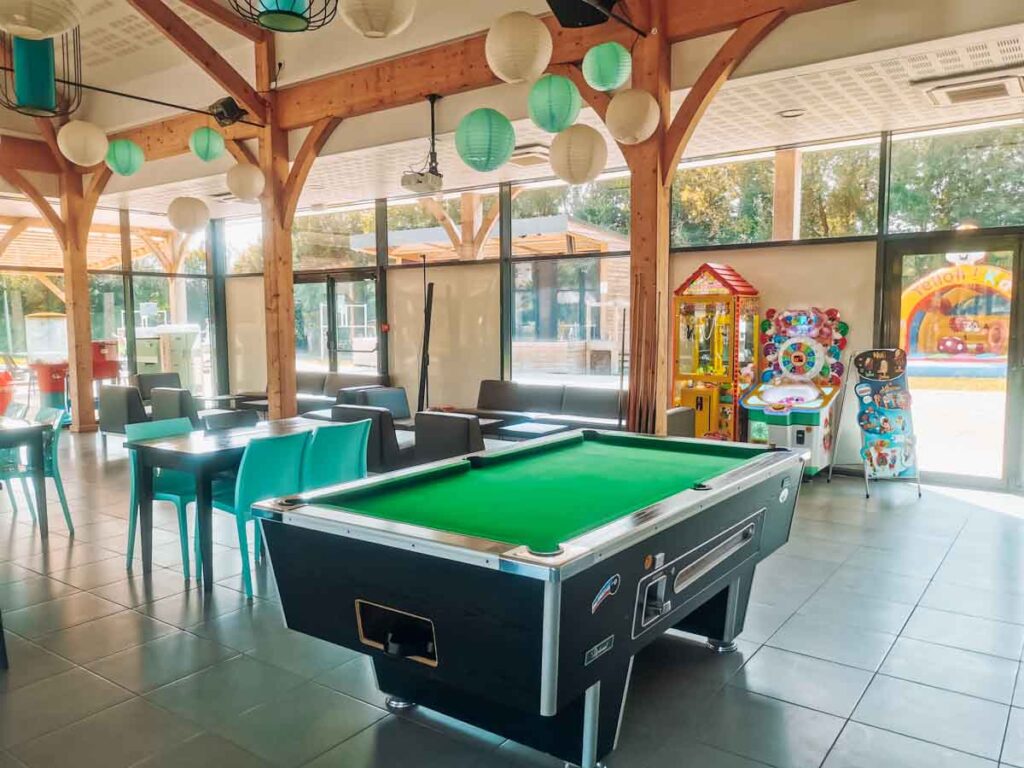 The toddler and I also ate another night as we stayed late for the mini disco. It took over half an hour for me to get served, but I imagine it was because I was alone, and most staff members would have expected a family to be ordering. I ordered the bbq burger for myself and chicken nuggets from the kid's menu. I was very pleased with the size of the kids' meals; they could easily have been large enough for an adult. Our food arrived very quickly, which is excellent with a restless hungry child. However, my burger was missing the bacon. I brought this up at the end of the meal, and The restaurant staff changed the price to reflect the missing ingredient and apologies were made – however, this really wasn't a big deal to me, and I enjoyed the burger regardless.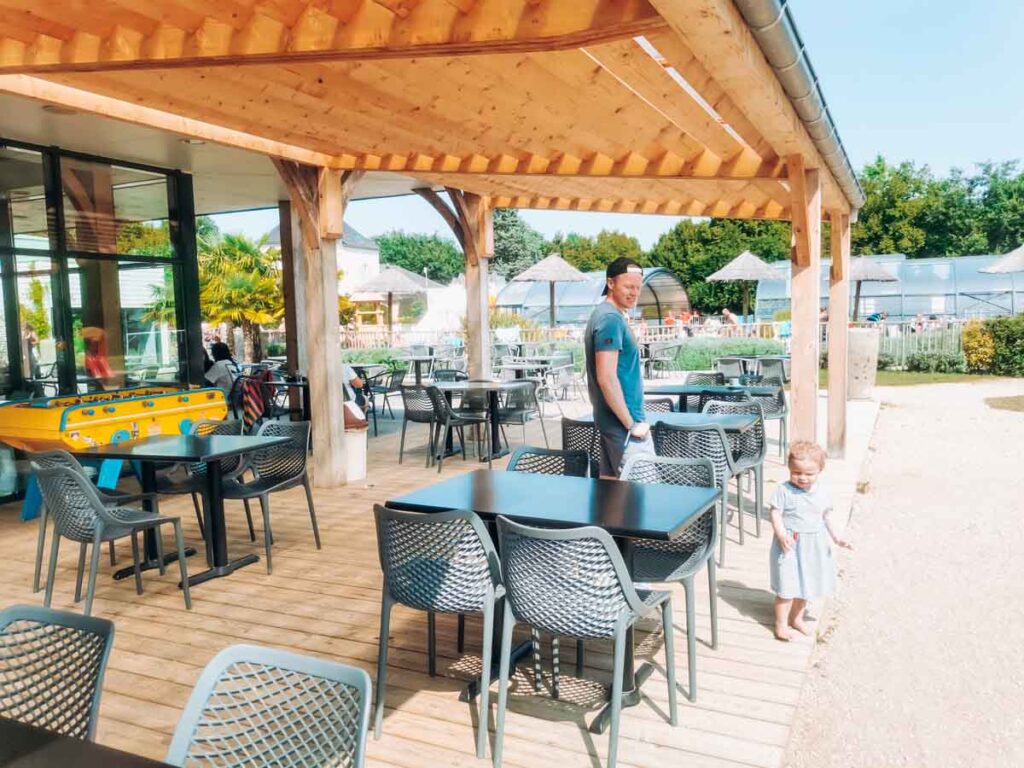 Camping La Roche Posay doesn't have a shop. It has a kind of epicerie, but it only stocks a tiny amount of essentials. It's situated just in front of the takeaway/ice cream stall. It's also the place where you order and pick up your bread for the next day. 
Each day we ordered a loaf of bread with a croissant to share. The first day we ordered a baguette. I don't recommend it, too crusty for us, although some like it that way. On day 2, we ordered a Boule cereal, pretty good but not the best. Day 3 I reserved a pain campagne, and we haven't looked back since. By far the best bread to order.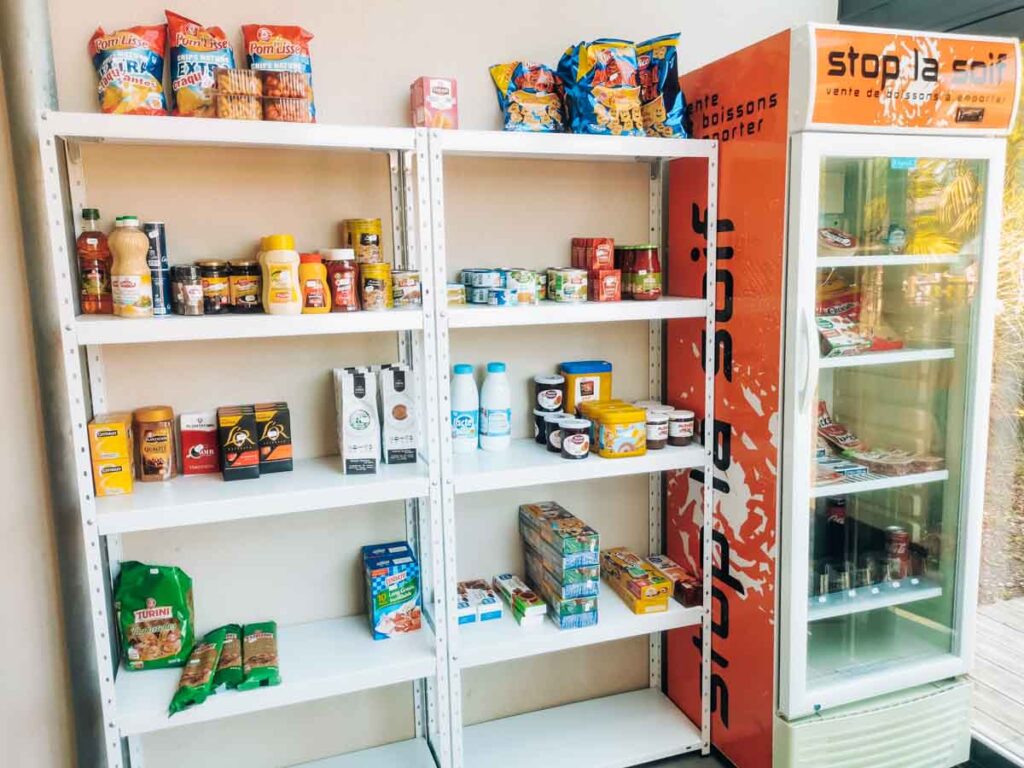 The campsite has a small but very functional gym. It was often busy, which is always a good thing to see, and it even had a (very) small free weights area, which is rare to see on a campsite gym.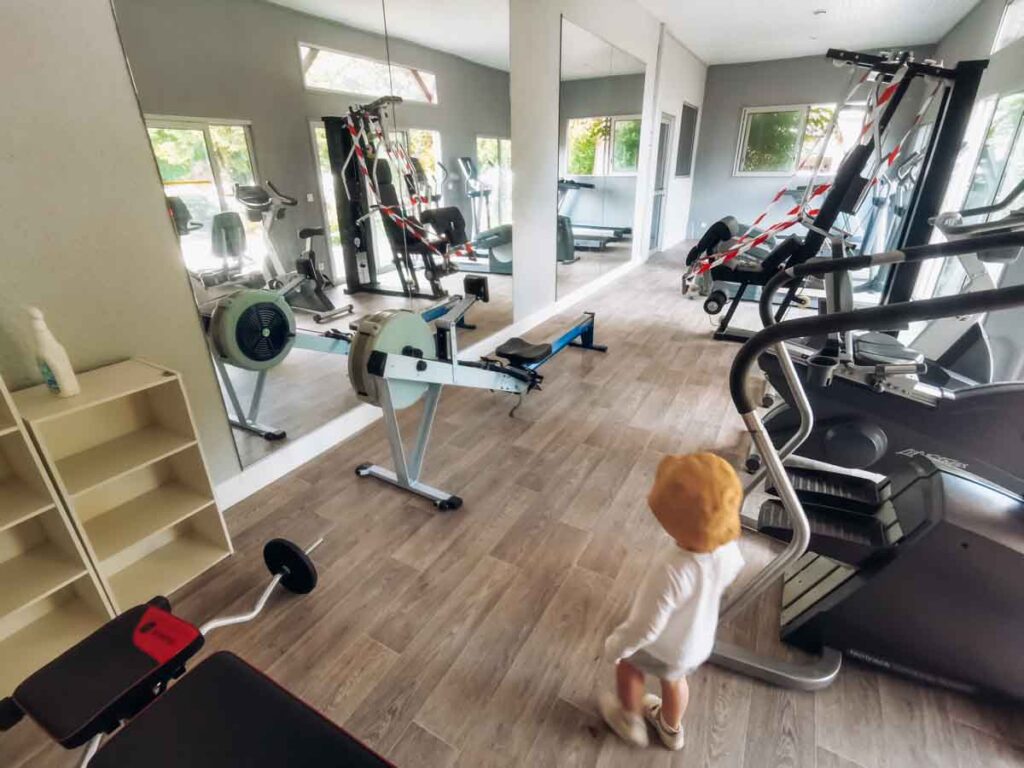 Bike hire at camping La Roche Posay costs 7euros per day. We hired a bike on one of the days during our stay to help with minor chores like washing clothes, washing up and taking the bins. Unfortunately, I only have so many hands, and a toddler doesn't walk that fast. 
We only used the bike on-site as I was wary about the fast road outside towards the supermarket, and I'm not confident enough riding with a baby seat on the back just yet.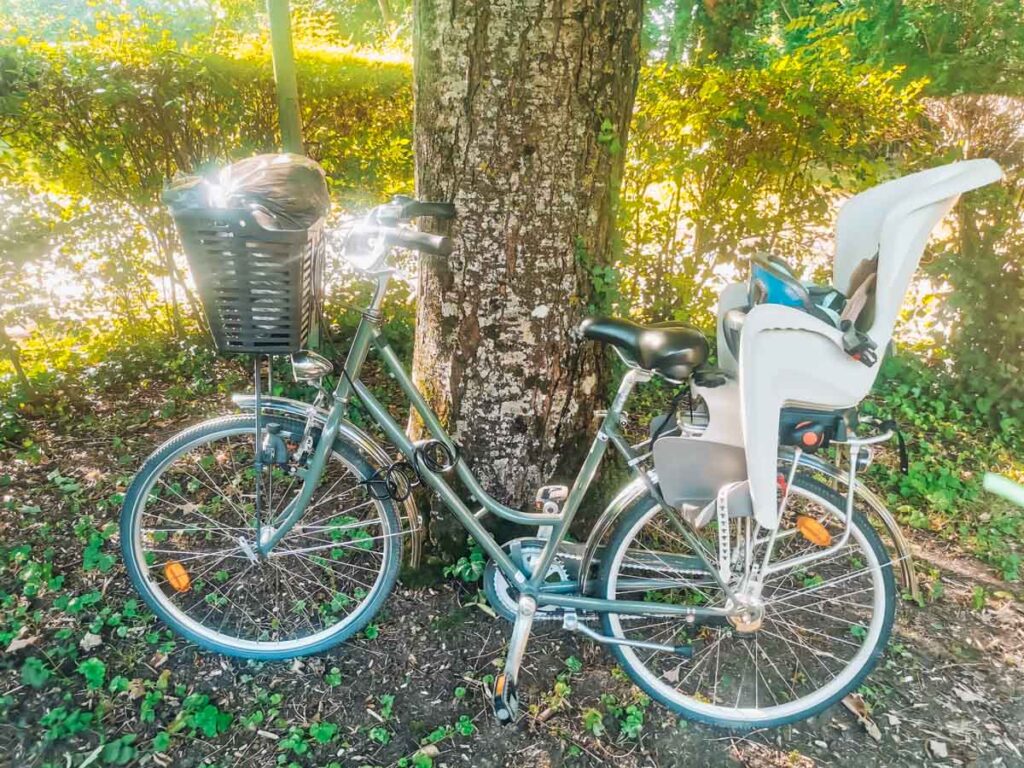 Pets are welcome, and that includes cats as well as dogs. We saw a lot of cats around the campsite, which our toddler loved. Unlike some sites we have stayed at, they didn't seem to venture near our pitch, but they did seem to hang out by the main village area.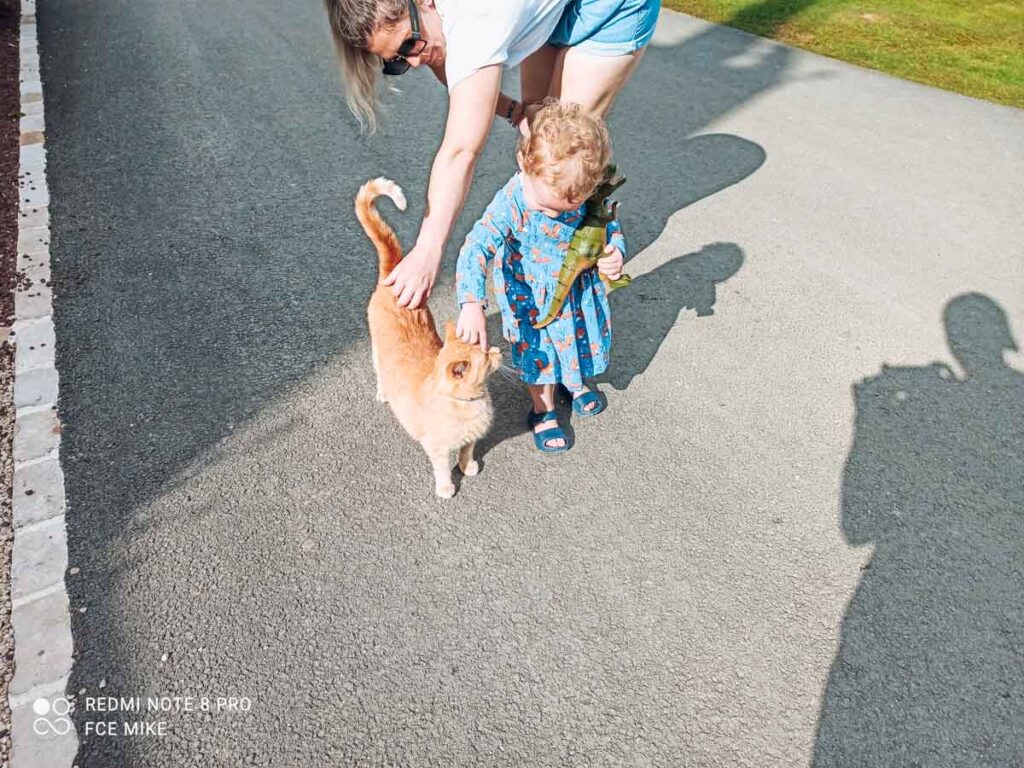 Shower blocks, Laundry and Freezer
I *think* The shower blocks are heated. I went in late one night when it was cold outside and was surprised by how warm it was inside the toilet area. There are many toilets, shower and sink cubicles, and we always found an empty shower even at peak times.
The showers have a push-button which you can turn to change to the perfect temperature. Everything was clean, and squeegees are available for people to use and clean behind themselves. We saw lots of staff cleaning throughout the day.
Every shower block also had a "cabin enfant" with a fitted baby bath with an interchangeable shower tap. The tub is a large size and can be used for older toddlers too.
Around the back of the shower block is where you'll find the washing up and hand (clothes) washing areas. There are plenty of sinks here, some with plugs and others without, so bring a washing up bowl if possible.
In the shower block closest to the main village, you'll also find the laundry room; it has three washing machines, two tumble dryers, an ironing board and the communal freezer. This communal freezer was a great find for us, and we regularly used it to chill our ice packs and frozen vegetables.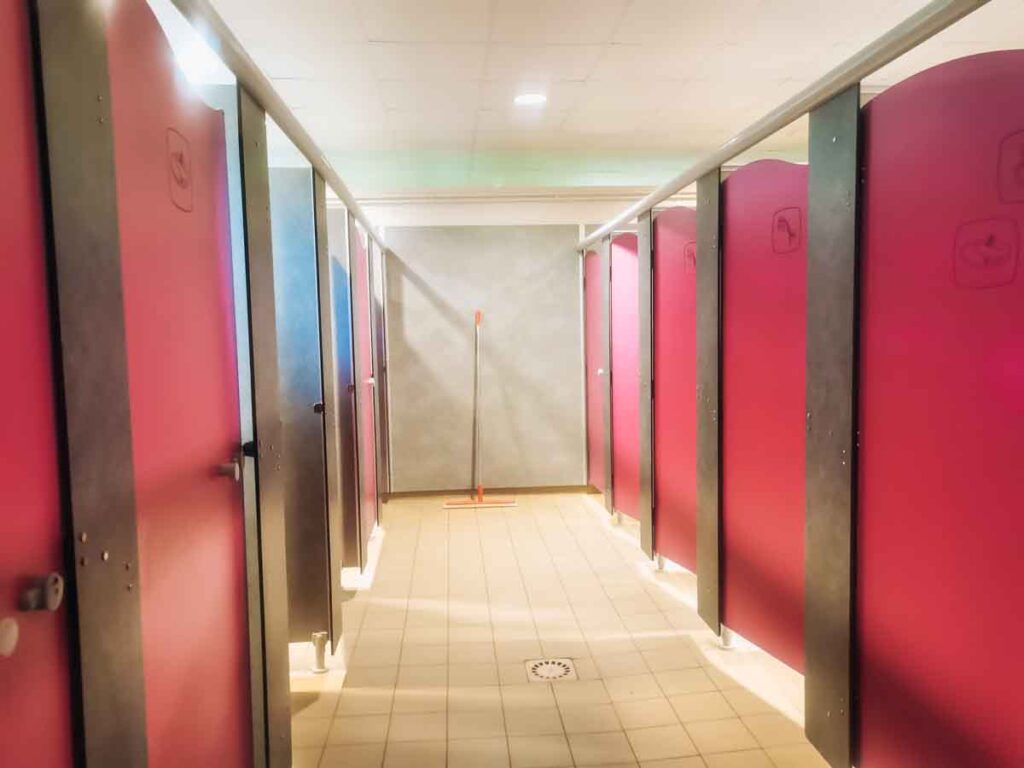 The campsite is reasonably flat with only minor inclines. I have seen a few people here in mobility vehicles who can get around effortlessly. The shower block near us did have stairs leading up to it from one side but a flat entry from the other side. There were also accessible toilets available. The cottage life mobile home is adapted to those with reduced mobility and has spacious rooms, an adapted bathroom and an outdoor access ramp.
The only area I feel those with reduced mobility will struggle in is the route down to the river. I don't think this would be possible for those in wheelchairs or mobility scooters.
Our Video Review and Vlog of camping la roche posay
Available accommodation at camping la roche posay
You can book to stay in either a mobile home or a camping pitch. There are nine different cottage types and a pre-erected coco tent to choose from.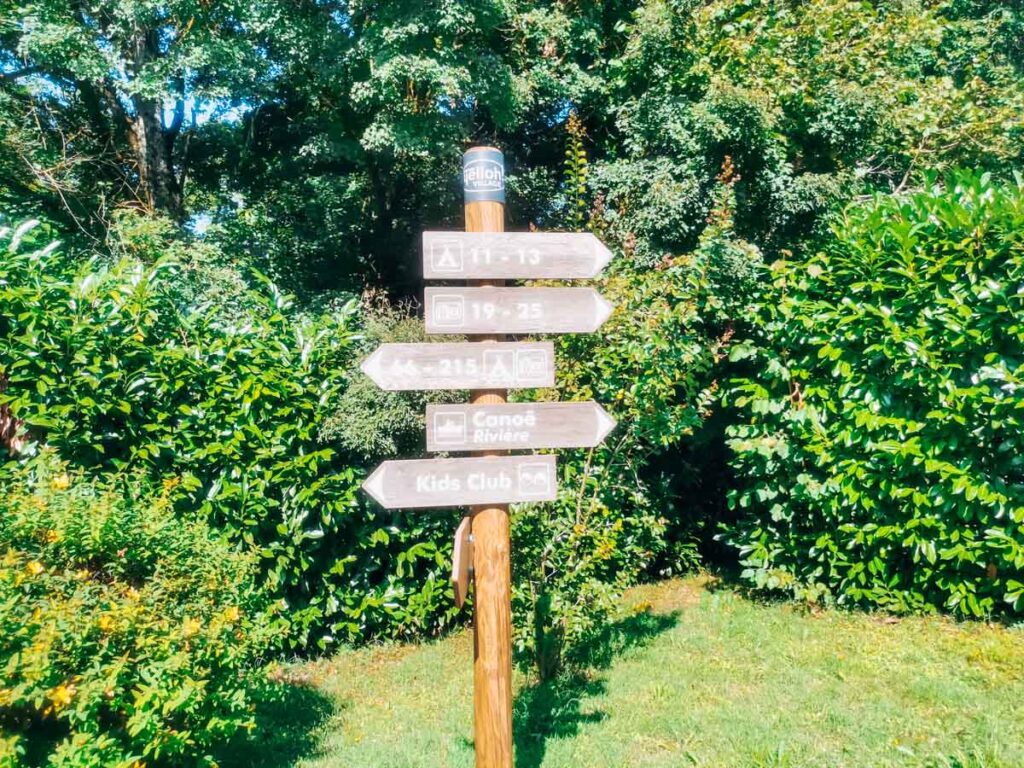 There are no tour operators on site, so all the available accommodations are listed on the Yelloh village website. You can choose from the high-end premium cottage village with three bedrooms, two bathrooms, air conditioning, dishwasher and Nespresso machine. On the other hand, you could choose the cheapest accommodation: the pre-erected tent with one bedroom and basic facilities. Or you could choose something in the middle. There's perfect accommodation for every family and every budget.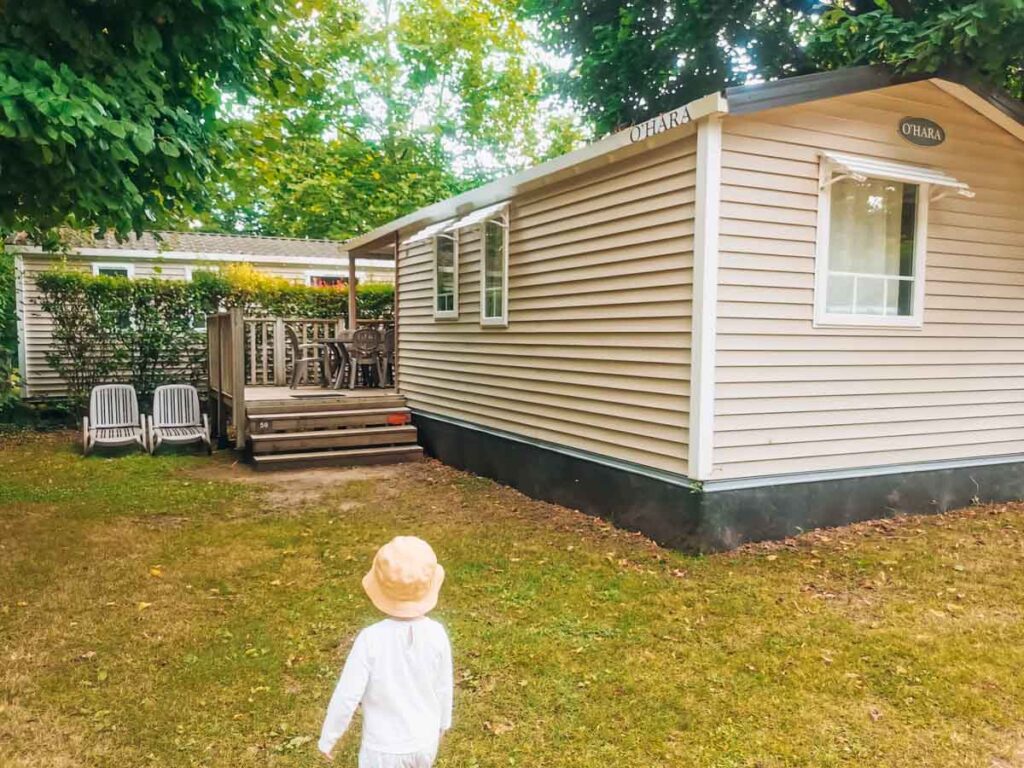 I would say camping pitches take up over half of the emplacements on this site. If you enjoy camping over mobile home holidays, then you'll love this site. Our pitch was fantastic. It was mostly shaded, which was perfect for our toddler and nap times, yet while she was napping, a small amount of the pitch would become sunny while the giant tree shaded the rest. I wholeheartedly recommend pitch 73 to toddler parents and pitching up under the tree. 
Our pitch was surrounded by bushes which kept us privatised and separated us from our neighbours. However, I did notice the other emplacements, closest to the main village, were more open.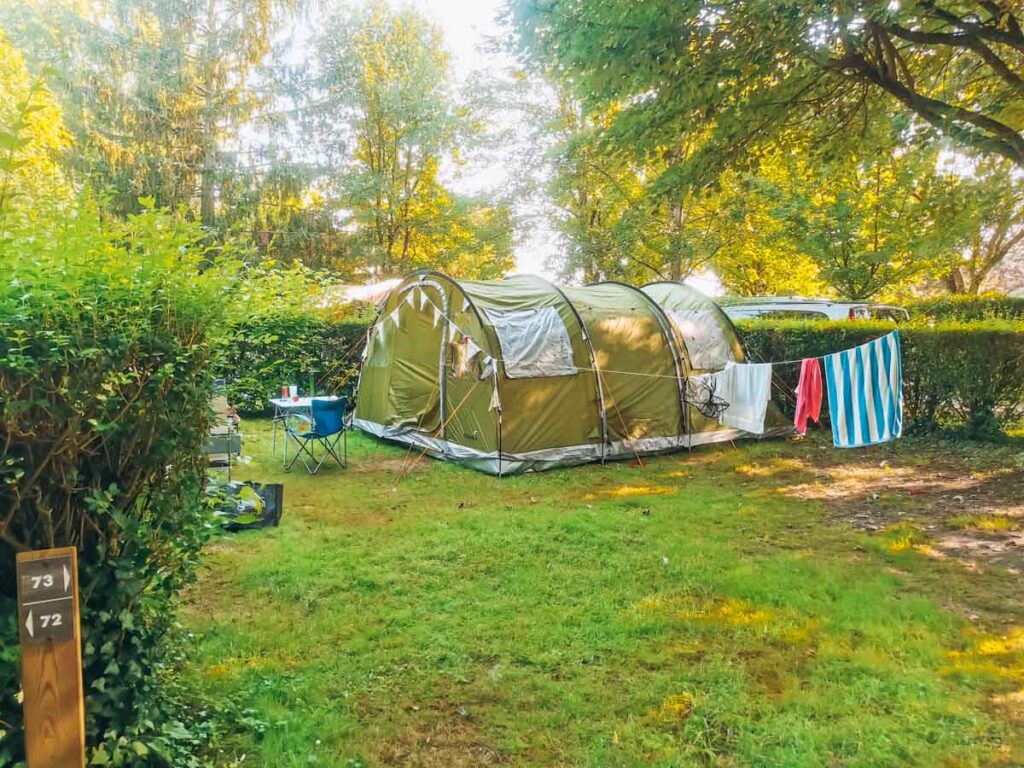 Do You Need a Car to Get around?
We didn't have a car, so we were very restricted to the campsite. However, there was more than enough to do on-site to keep us occupied. However, we did stock up on food from the nearby Super U whilst Mike was with us (with the car).
I would recommend having a car to do the shopping. Whilst you can walk, there wasn't a path to the shop, and cars drive very fast along the main road.
How to get to The Campsite
Address: Camping La Roche Posay, Rte de Lésigny, 86270 La Roche-Posay. 
46.799083, 0.809291
Travelling from the port at Caen will take you around three and a half hours. Whereas travelling from Calais will take you about 6 hours.
If you are flying, then I would recommend hiring a car for convenience. As there is no real on-site shop, it's much better to drive to a local shop. There are also lots of days out which will require a car to access. 
The Brittany Ferries ports of Caen, Le Havre and St Malo will be the fastest routes to get to the campsite. However, Calais will be the cheapest. I often find a happy medium is the Newhaven Dieppe ferry from DFDS, which gets you close to the location but costs less than Brittany Ferries.
Address:
Camping La Roche Posay,
Rte de Lésigny,
86270 La Roche-Posay.
GPS Coordinates: 
46.799083, 0.809291
Day Trips from Camping la roche posay
We didn't take many day trips during our time at camping La Roche Posay. However, as we live in the are, we know quite a bit about the location…
This scientific theme park is just 40 minutes away from the campsite. Many of the park's attractions are based on multimedia, and you'll find it's centred around cinematographic and audio-visual techniques. In addition, there are magic shows, planetariums, and "robocoasters". It's a great day out if you want an educational yet fun trip. 
This day trip is a little further away at 1h20, but it's worth it. At Vallee des Singes, you'll find a whole host of different primates in a beautiful natural environment. The monkey village hosts 30 different species, from tiny marmosets to giant gorillas, a fun day out for all ages. The park is free from cages and metal bars, but don't worry as the "dangerous" animals are separated on their islands. You'll also find a mini-farm with goats and other strokable animals near the end. We've been quite a few times now and have loved every trip.
The zoo of Beauval is an hour away from camping La Roche Posay. With around 4000 animals on 44 hectares of land, this zoo is one of the best in the world. With a wide range of animals, you're sure to love this animal park.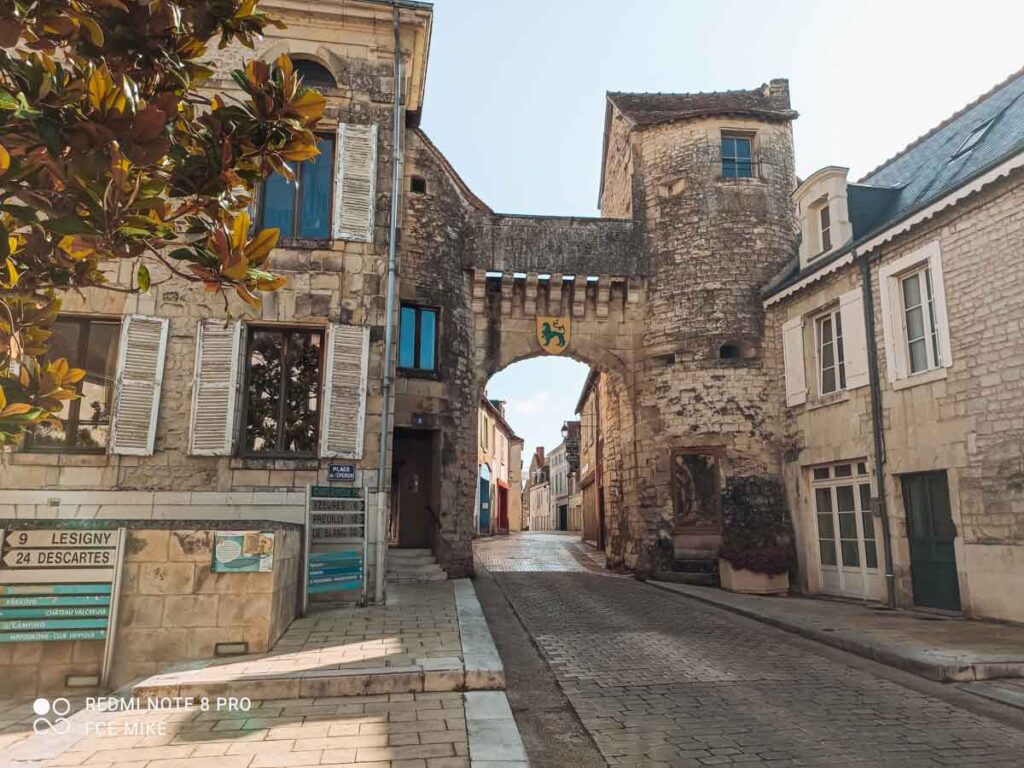 The town of La Roche Posay is a quaint, typically French-style village. With bars and restaurants dotted around a square, butchers and bakers, this lovely village is excellent for a wander and a meal. There is also, of course, the famous spa. 
Camping La Roche Posay is situated just on the edge of the Loire border, meaning it's effortless to access the beautiful towns of the Loire. Many incredible chateaus to explore in the Loire, including Chambord, Blois, Usse and Chenonceau.
Frequently Asked Questions
Are the mobiles close together?
No, we found there to be plenty of space
Mostly. There are slight inclines but nothing extreme. The route down to the river is the only noticeable incline.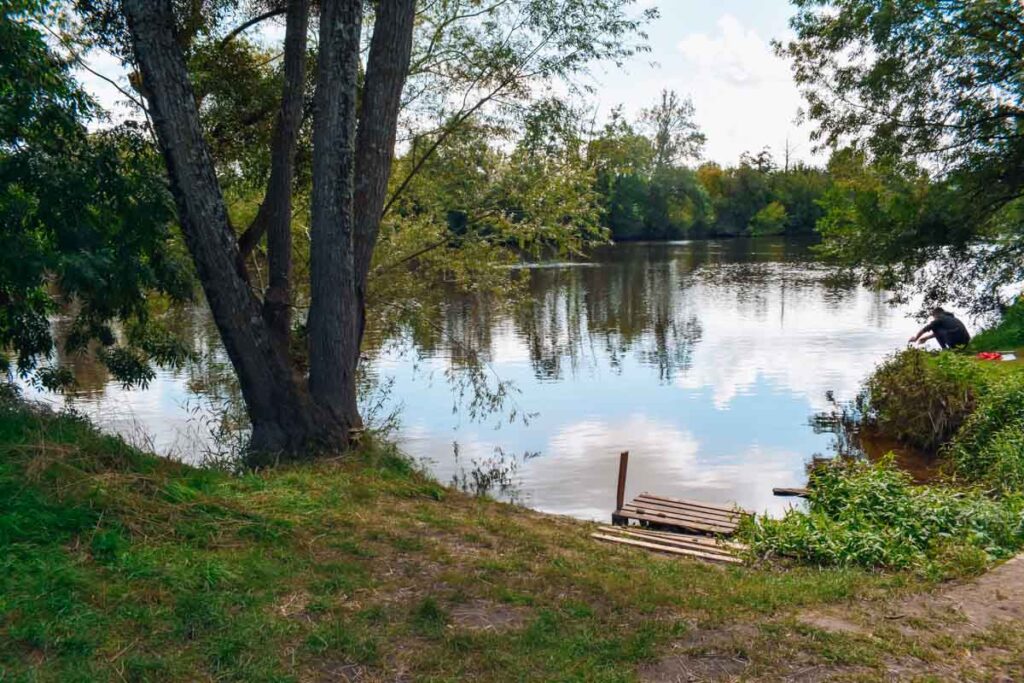 Are there mosquitos at Camping la roche posay?
There were a few, and I did get bitten during our stay, but nothing out of the ordinary.
Is it easy to get a sunbed around the pool?
At peak times, it can be a struggle, yes. However, I found that going to the pool in the morning meant plenty of free sunbeds.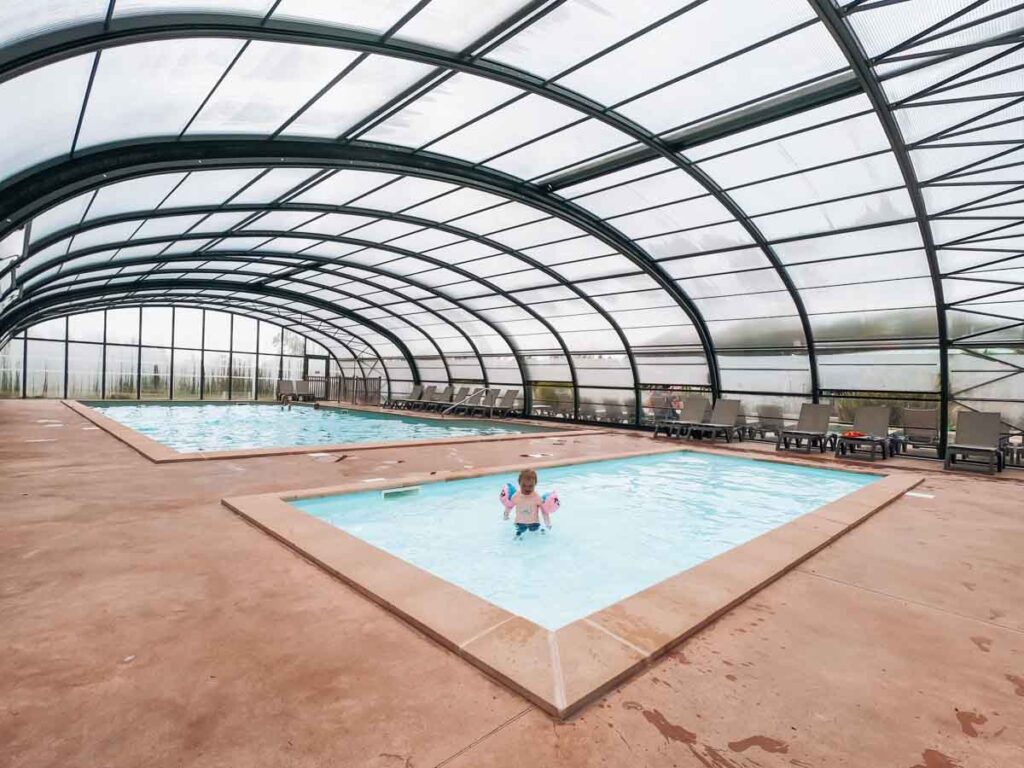 Do you need to wear a wristband?
Yes, wristbands are necessary, especially now with the Pass Sanitaire.
Do men have to wear swim trunks?
The swimwear rule wasn't being enforced, and I saw many men in regular swim shorts in the pool.
There are communal bbq's dotted around; however, I did see people BBQing at their pitch. So I would assume it's ok, but I'm not 100%.
What's the weather like in Spring/Summer?
The region is known for having some of the best Summers in France. The weather here is *usually* incredible from around May onwards.
Can you park on your pitch/Emplacement?
We had no problem doing this, though we noticed many campers opted to park away from their pitch to allow more space.
Can you take pets on the campsite?
Yes, there's no problem with having animals on-site here. However, you will, of course, have to pay a supplement for them.
Where's the nearest supermarket?
There's a Super U around 1km from the campsite.
My flight isn't till late, can I stay on site after check out?
I don't think there would be a problem with this. As long as you are off your pitch and parked in the central car park, I don't see why you can't still use the facilities.
Is It Loud In The Evenings?
We could hear the live music from our pitch, but it wasn't overly loud. We did find the campers behind us making a lot of noise with banging car doors at 11:30 pm, but otherwise, it wasn't too bad. However, it is the high season, and you HAVE to expect a lot of noise at this time of year.
What Can We Do If It Rains?
There is a covered pool area with the main swimming pool and a toddler pool, perfect for rainy days. 
Can I Use My Transferwise Card On SIte?
Cards are actively preferred across France right now, thanks to the coronavirus pandemic.
Camping La Roche Posay is amazing. It's the perfect size for little legs and has a good but not overwhelming amount of facilities for young families. The animation schedule is extensive, and there's always something going on. I am so pleased we booked this campsite. After an underwhelming experience at Domaine De La Breche a few weeks previous, I didn't hold out much hope for a lively, vibrant holiday, but that's precisely what we got!
My toddler loved the slides, pools, mini disco and more. I loved the friendliness of both staff and other guests. You can tell the campsite is well maintained and well run. Staff seemed to care about their jobs and would do their utmost to ensure you enjoyed your stay. The only two issues we had were the length of time check intakes and the restaurant problems. But honestly, it didn't even slightly tarnish what a perfect camping holiday it was.
4.8/5