Yelloh village Bordeaux Lac Campsite
Check Availability And Book Camping lac de bordeaux Today
Clicking the button below will open the providers website in a new window. This campsites style blends in perfectly with its natural scenery, I can't believe we're just 8km outside of France's 9th largest city.
Village du Lac campsite, Bordeaux is an authentic, rustic style campsite just 8km from Bordeaux city centre. With easy transport links, a half board restaurant and a swimming pool, this campsite is the perfect place to take a city break with a difference. Recently the campsite teamed up with the Yelloh Village Franchise meaning they can provide their holiday makers with even more benefits – including the Yelloh village Loyalty Card.
Pros of Camping lac de Bordeaux
Lovely campsite with family friendly feel. We'll return when we want our next relaxing city break.
Cons of Camping lac de Bordeaux
Every family prefers certain things about a campsite, so our "cons" could be on your "pros" list!
This quiet and peaceful campsite is perfect for families looking for a mix between relaxing camping trip and bustling city break. You wouldn't believe this campsite is only 8km away from such a large, vibrant city. Its rustic features make you feel like you're in complete solitude somewhere in the middle of nowhere. 
Camping Bordeaux Lac has 3 lakes on the campsite grounds, a swimming pool/splash park and is just steps away from Bordeaux's beautiful lake with watersports, beaches and stunning scenery.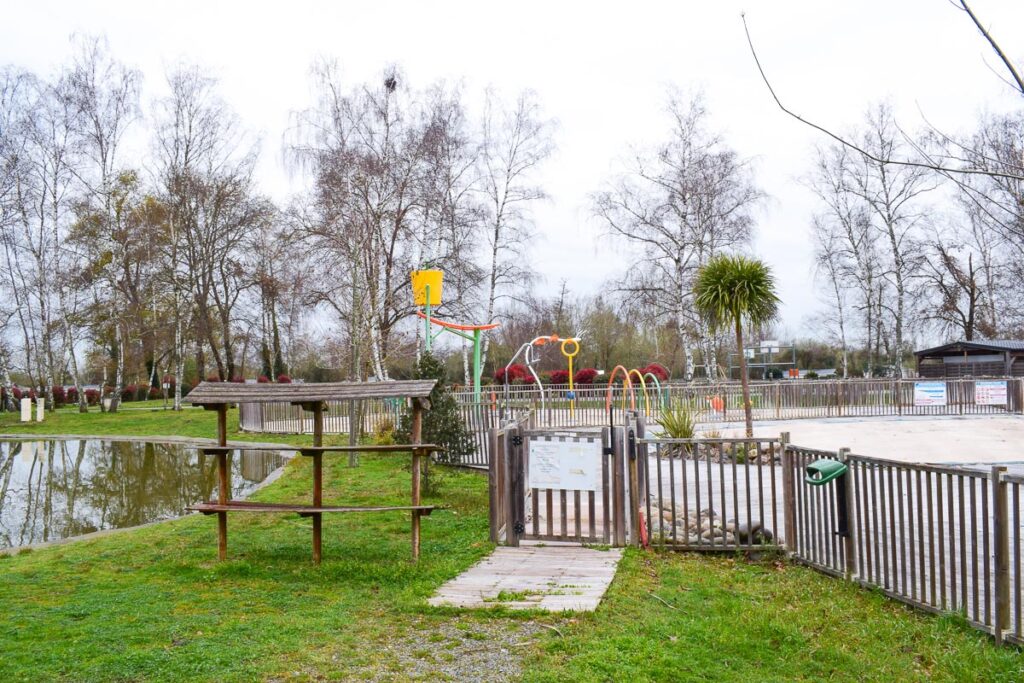 The heated pool on-site, during our stay in early March, was still covered over, despite reading on the Yelloh Village website that it is open in low season. And although I was disappointed with the misinformation, I don't doubt it would have been empty as it was absolutely freezing outside.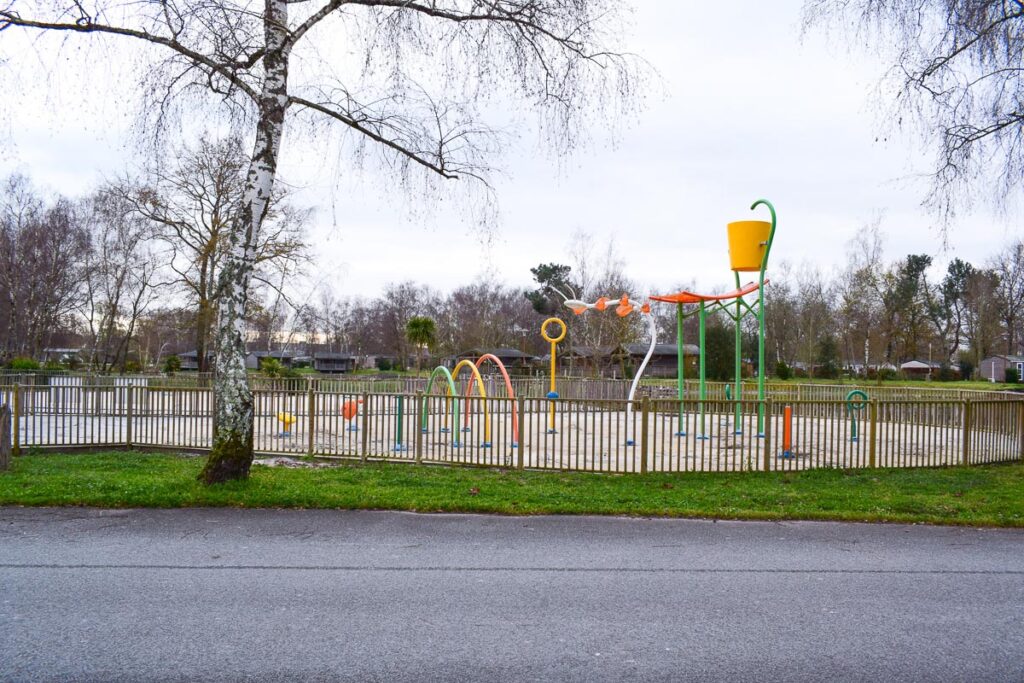 Next to the pool there is a fun splash park for children, with water jets, canons, tipping buckets and more to keep them occupied till dinner time.

The campsite lakes, unfortunately not for swimming in, are lovely to sit next to and watch the world go by. The sunrise over them is stunning, and we loved watching ducks swimming through life without a care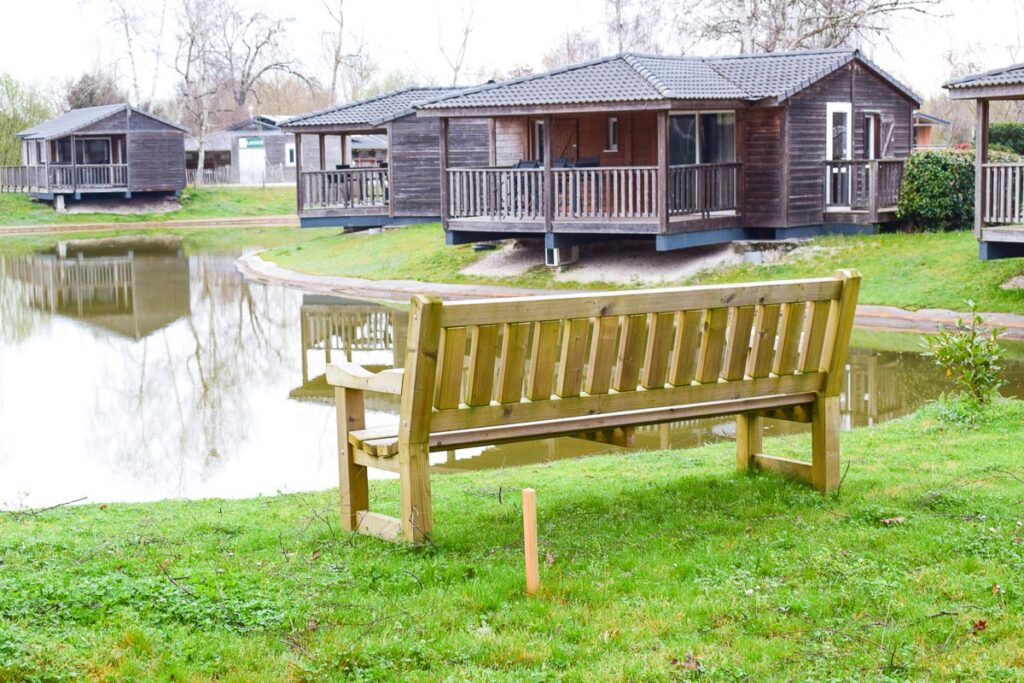 If you did want a natural swim in the lake – Bordeaux Lac, which the campsite borders on is excellent and swimming it's permitted from a small supervised beach area
This campsite may be small, but who needs a big site full of fancy facilities when you're right next to one of the most beautiful cities in Europe?
Check-in at Bordeaux Lac campsite couldn't have been easier. We arrived at around 3 pm, parked in the main car park and Mike went in with our booking forms. Within minutes he was back with our mobile home keys and ready to begin our first camping holiday with a baby.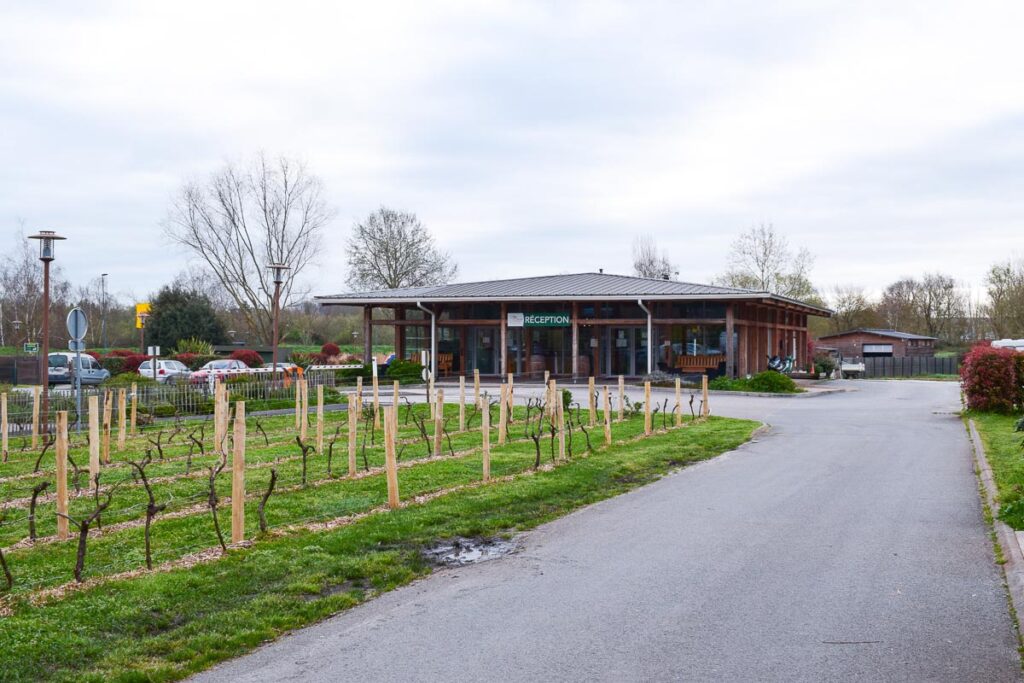 The reception area is nice, neat, clean and tidy. There's a large selection of local information/attraction leaflets, and the campsite shop is actually attached to the reception. The staff we dealt with in the reception/shop area were all friendly. Helpful and humoured our average French skills
Play Areas And Sports Field​
If you're travelling with children, it's especially important for there to be some child-friendly activities, and at Bordeaux Lac campsite there's quite a few options. The campsite even promote themselves as "A campsite designed for your youngsters".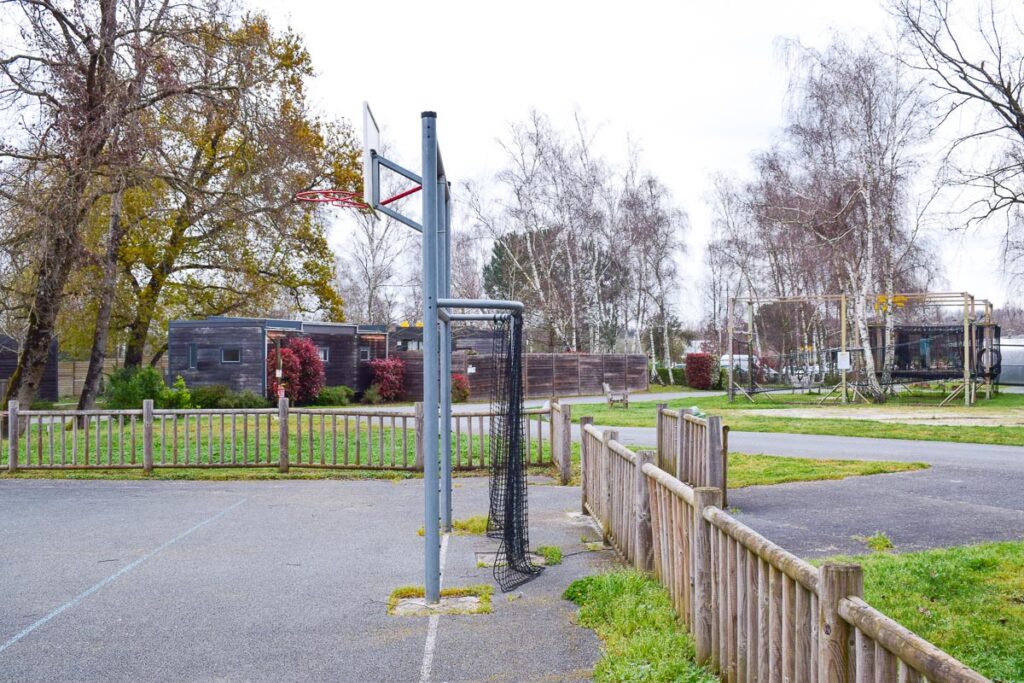 Most family friendly campsites we go to have a multi sports court, and Bordeaux Lac is no different. They're fab for kids who want to play netball, basketball or football. This one is outdoors and tarmac.
Parcours Acrobatique and Grand Trampoline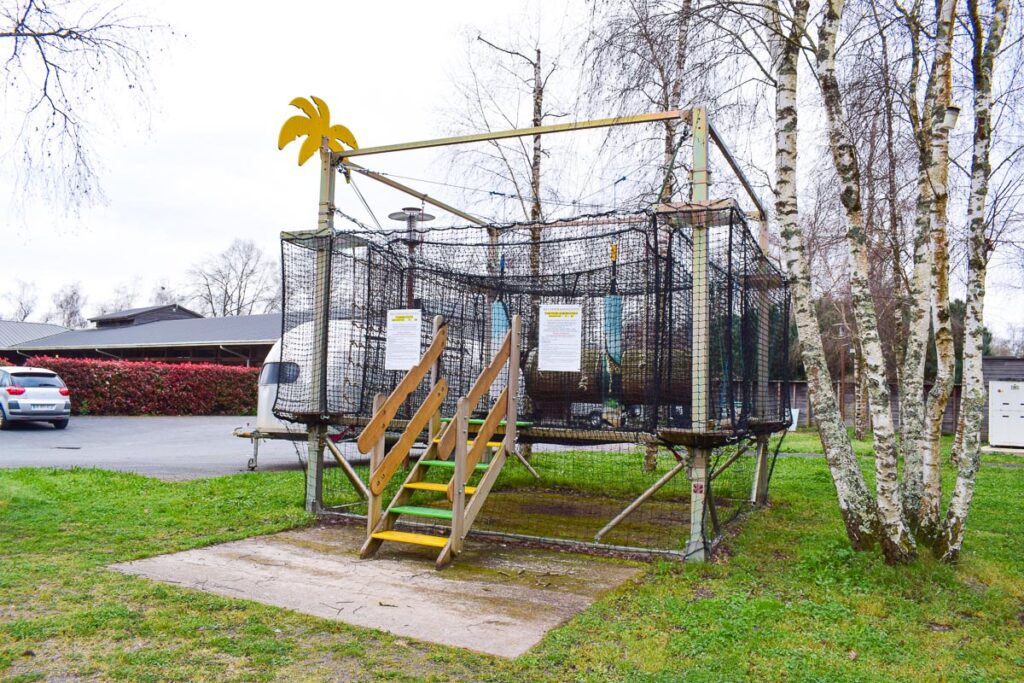 The Parcours Acrobatique and Grand Trampoline is some kind of netted trampoline play area for 5-12 year olds. It's like an off ground soft play in nets and on a trampoline base with a large trampoline attached to it. There are some climbing activities, and it all looks a little bizarre, still a fun activity centre for young kids. It's hard to explain, so instead, I'm just going to show you a photo.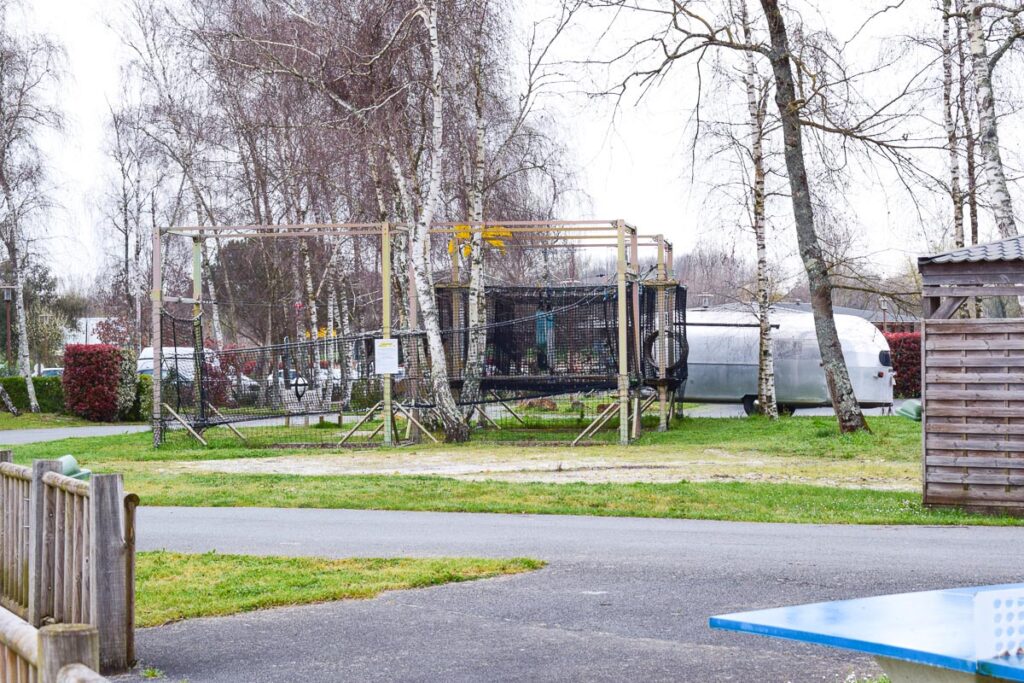 Another campsite favourite – table tennis. Camping lac de Bordeaux has 2 table tennis courts near there play activities and potentially more on their large grounds (but I didn't spot them). Make sure you pack your bats and balls.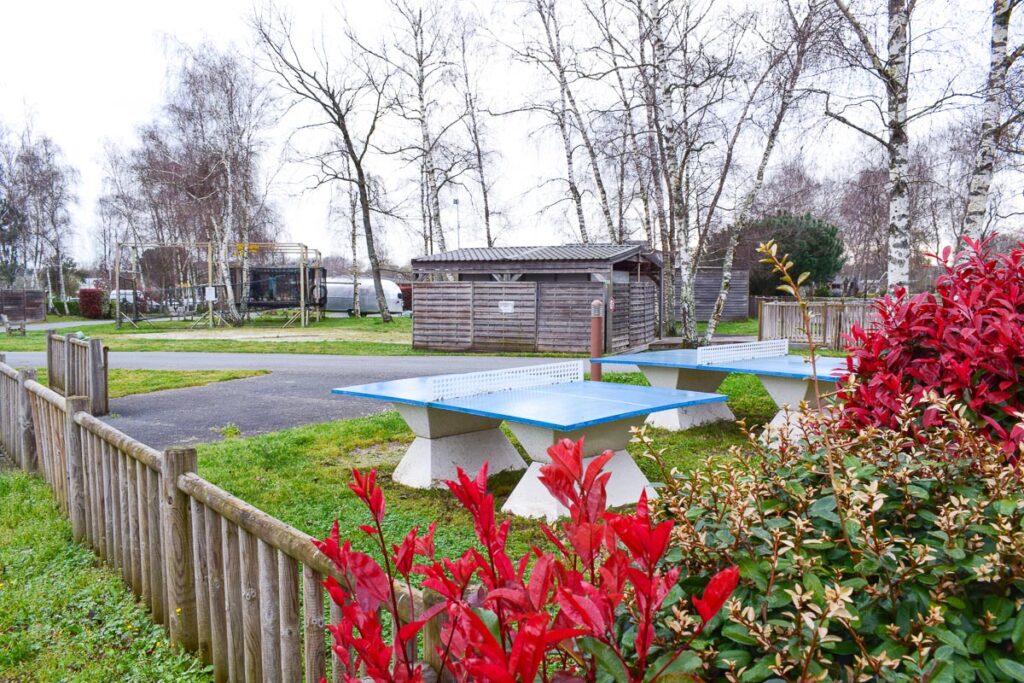 I didn't get any photos of the play area because it was always full of children, which must mean it's a good park, right? Even at 7 am when I usually go out to take my photos, there was already a family there. Eager beans!
I didn't see it, so maybe I'm stupid or perhaps it's only a high season activity, but apparently, there is a zipline for children aged between 5 and 12.
I actually didn't see this, but for good reason. The bouncy castle only comes out in high season, but it's a great activity for young kids. I know from working on small campsites here in France how much the kids appreciate a bouncy castle.
Last but by no means least, there is, of course, a Boulodrome-France's national camping sport (yeah, I totally made that up). The French absolutely love a game of Petanque so you'll find a Boulodrome here and plenty around the city.
Camping Bordeaux Lac doesn't have any kids clubs or evening entertainment. This is probably because the majority of families will head into the centre of Bordeaux if that's what they are after; the rest of the guests are probably there for a quiet night.
Bars, Restaurants and Takeaway
This quiet campsite has options for half board should you wish to eat in the restaurant. When we visited in mid-March the restaurant/snack bar/pizza facilities didn't really look open, or in use, they may have been, but everything was extremely quiet. Bear in mind we were at the very start of lockdown and actually, during our second-night Macron announced the closure of all bars/restaurants as of midnight.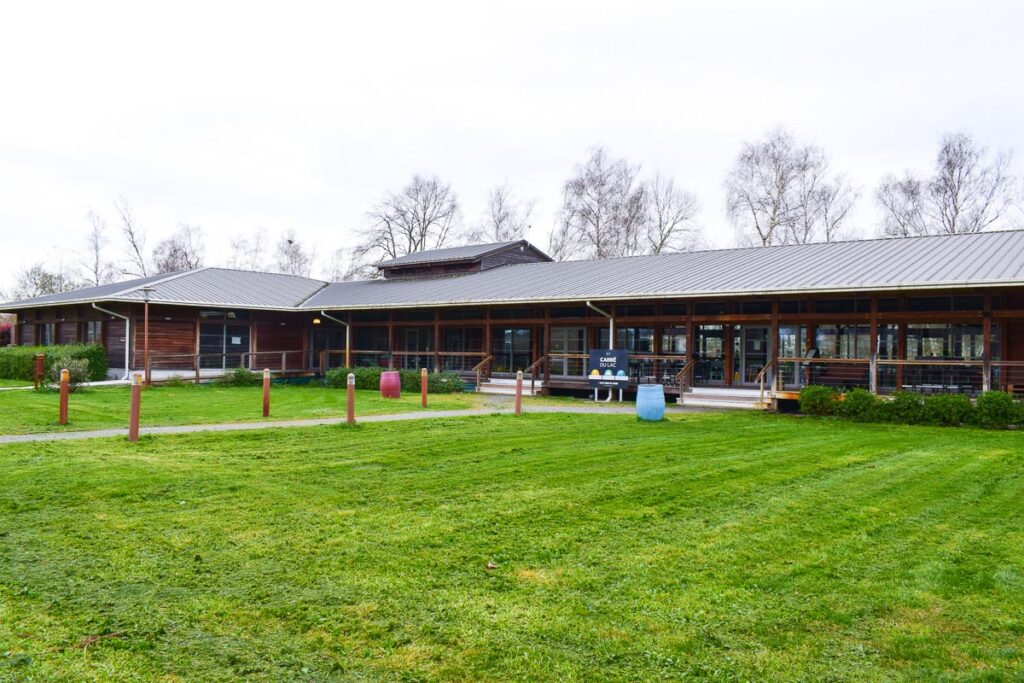 The campsite shop is a 24-hour convenience shop attached to the reception. We were sceptical about it being 24 hours. I've never seen a 24 hours shop in France, let alone on a campsite before. But, I can confirm it is. We used it very late one evening to buy some bottled water for the baby, and it was open. It is, however, tiny and really just for the essentials.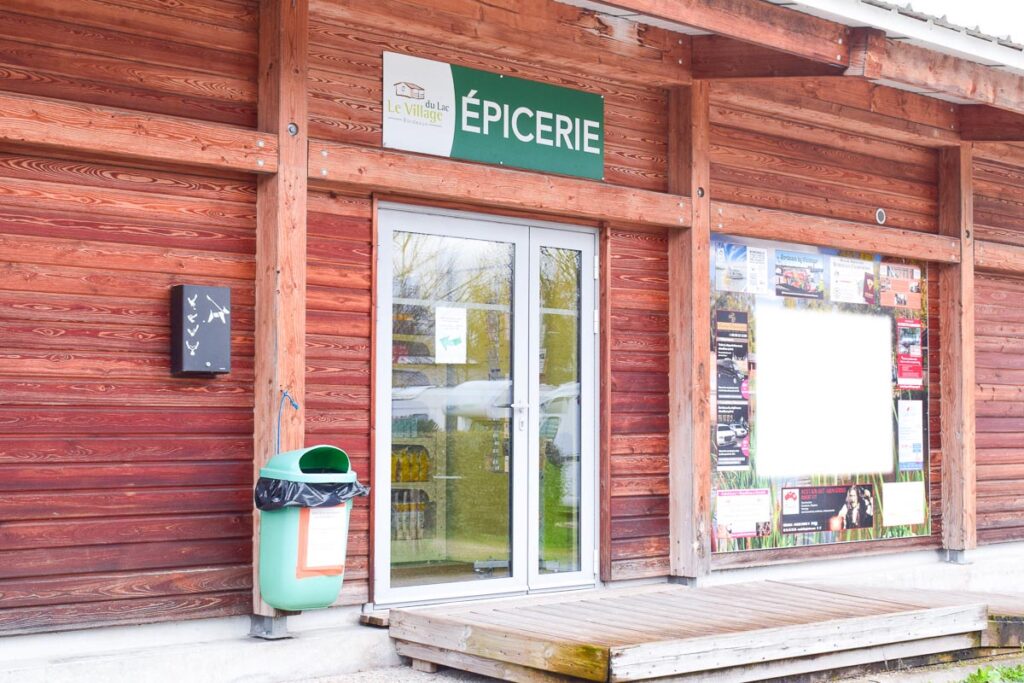 WIFI is free and available at every emplacement, which is great for when you're on a working holiday or when you have kids to amuse in the rain. We didn't really use it though as our 4g signals were excellent on the campsite too. 
The campsite is pet friendly and animals are allowed in all of their accommodations on site.
Shower Blocks and Laundry
We didn't use the campsites toilet blocks as we stayed in a mobile home, so I'm afraid I can't comment on the cleanliness. But I can tell you about the laundry area. It's open 24hours a day and has both washing and drying machines. It's 5euros a wash and 3 euros a dry.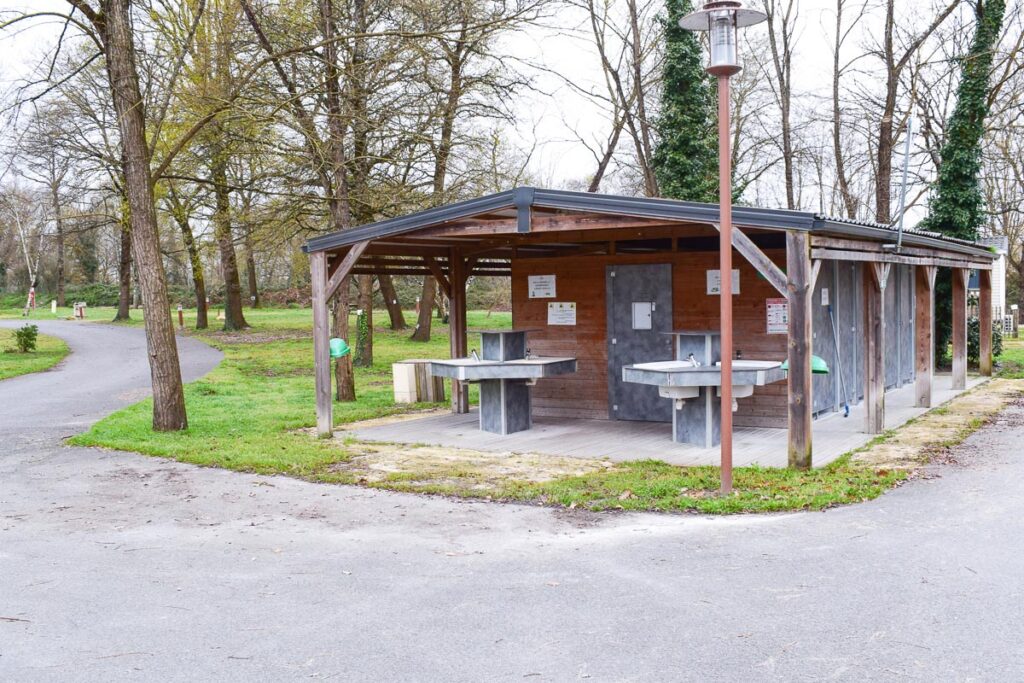 The campsite is flat and has some wheelchair accessible mobile homes like the Cottage Barsac with a ramp.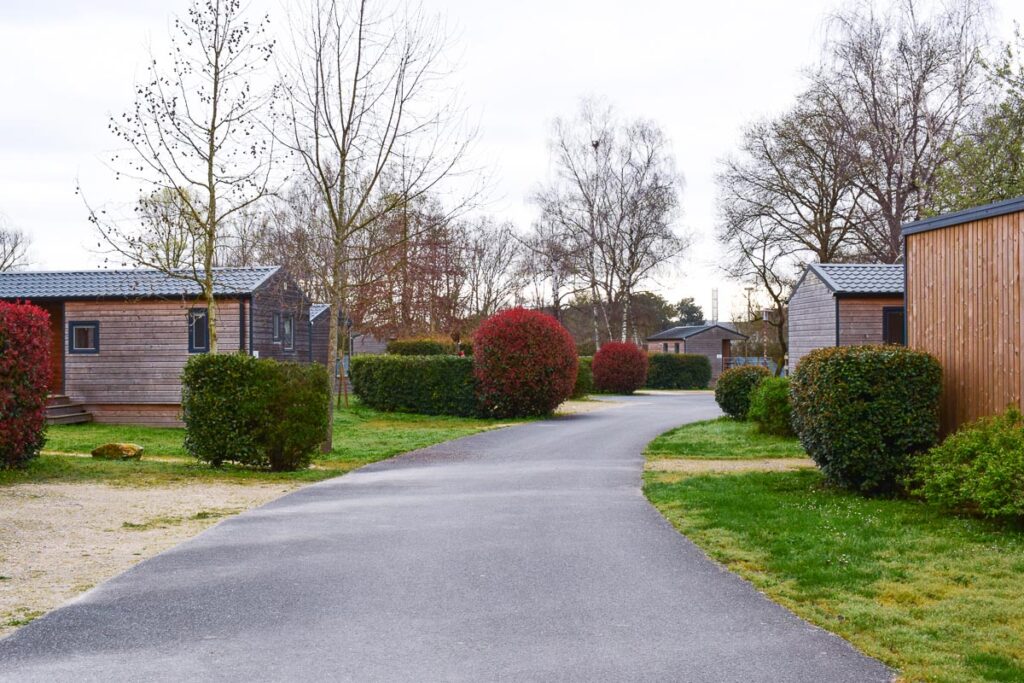 One thing I love about this site is how they have prioritised nature and greenery instead of cramming loads of mobile homes on site and filling all the space. There are plenty of grassy, forestry areas with picnic benches to relax on and there's even ducks roaming around.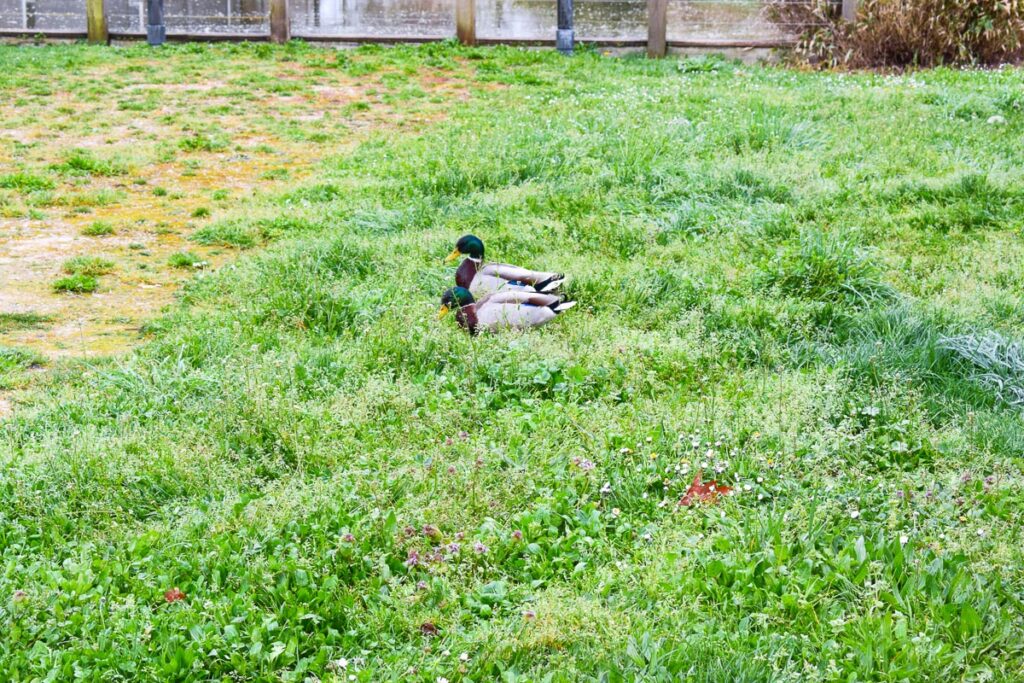 Accommodation at Camping lac de bordeaux
There is a good range of accommodations available on site, all for different budgets and different family sizes. We stayed in the Loupiac Cottage and it was perfect for us and spotless. Couples on a budget may benefit from the Saint Emilion or Saint Estephe cottages whereas more extravagant families may benefit from the Pauillac cottage or chalets.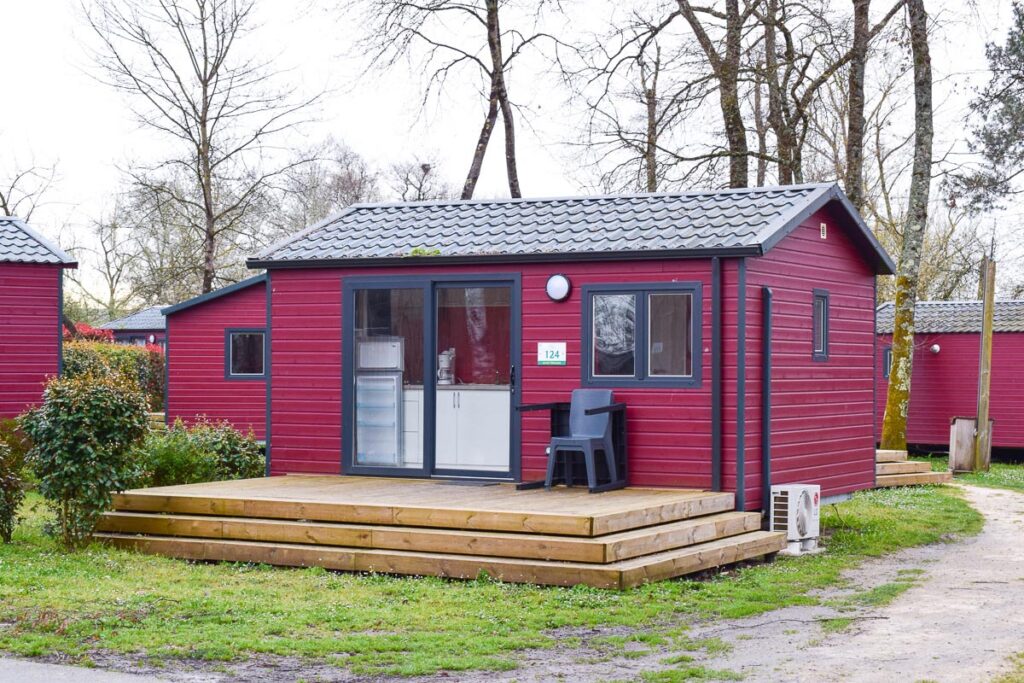 Should I Book Direct Through the Campsite or Through and Operator?
There are no tour operators on site so it's a case of booking through yelloh Villages for a mobile home or a camping pitch. There is no middleman involved here.
Do You Need a Car to Get Around?
Nope. Public transport is accessible to all. There is a good train service to Bordeaux, a tram and then a bus service to just outside the campsite gates. No vehicle is needed here.
How to get to The Campsite
Flying, driving, public transportation, it's all possible. If you fly in to Bordeaux airport the campsite is just minutes away via taxi.
Nope, not unless you want to explore away from the city and places unreachable via bus or train.
I think your closest ferry port would be Saint malo at 5h20 away.
Address: Boulevard Jacques Chaban-Delmas, 33520 Bruges
GPS Coordinates: 44.897931, -0.582763
Day Trips from Camping Lac De Bordeaux
Obviously, the main place to visit from here is Bordeaux. We spent every day of our trip in this wondrous city. But, there is so much more around if you want to explore it.
Frequently Asked Questions
Are the mobiles close together?
Nope. Camping Bordeaux Lac really seems to prioritise their natural surroundings. All the accommodations are spread out in such a beautiful setting.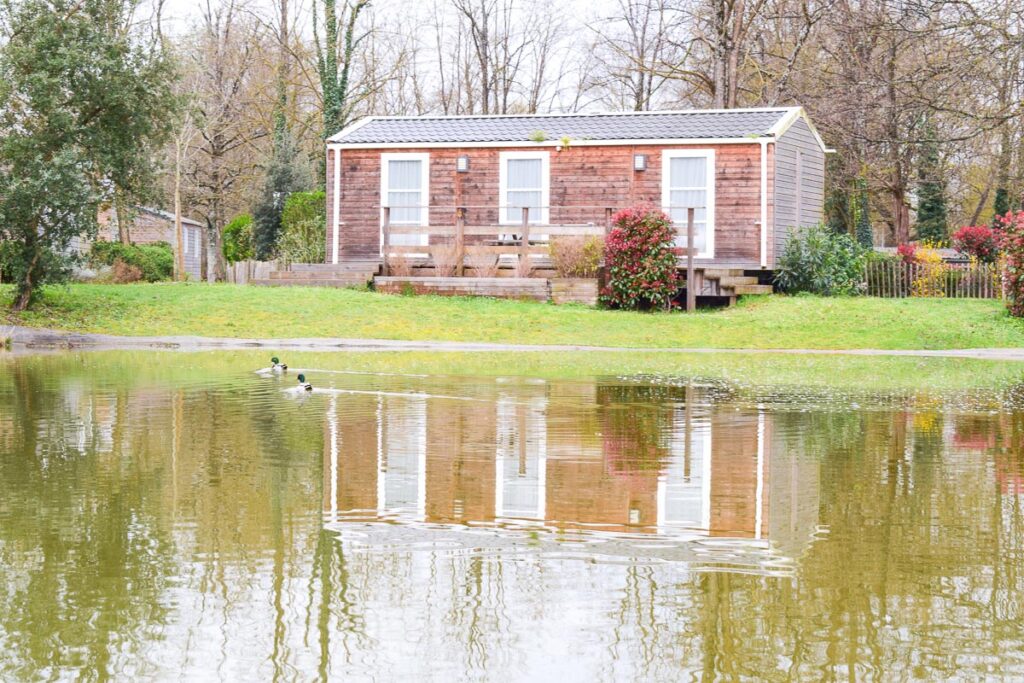 Yeah. I don't remember noticing any inclines at all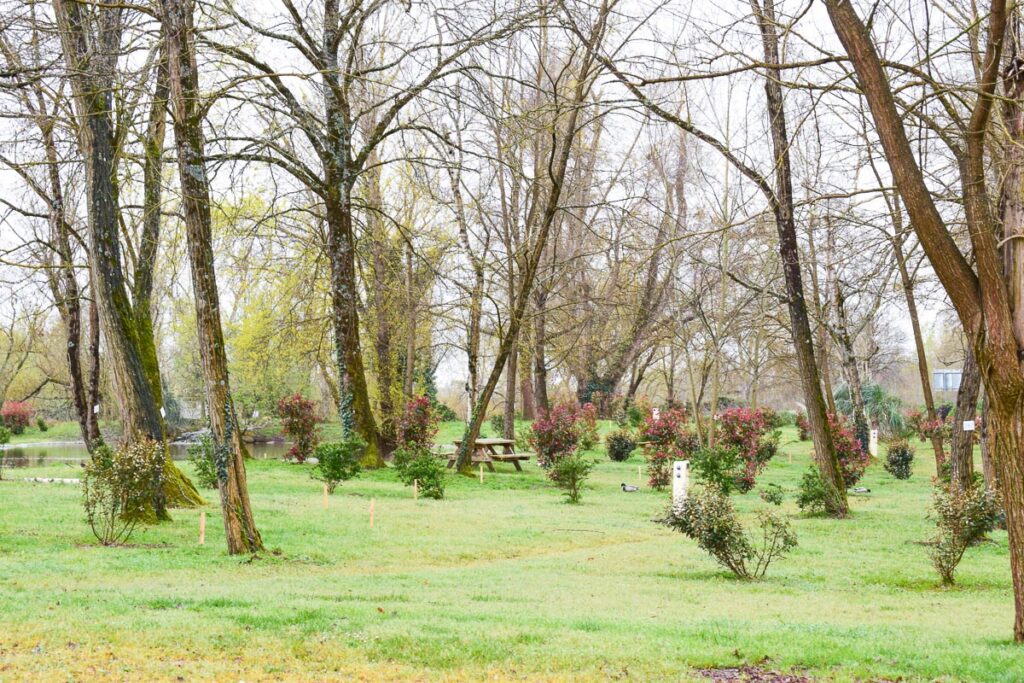 Are there mosquitos at Camping Bordeaux Lac?
Is it easy to get a sunbed around the pool?
The pool wasn't open when we went and I didn't see any sun loungers around it.
Do you need to wear a wristband?
Nope. There were no wristbands during our holiday.
Do men have to wear swim trunks?
Unsure because the pool was closed.
We did notice communal bbq areas, but none at the pitches. I imagine this is because the campsite is quite wooded so bbq's have been placed at the safest areas.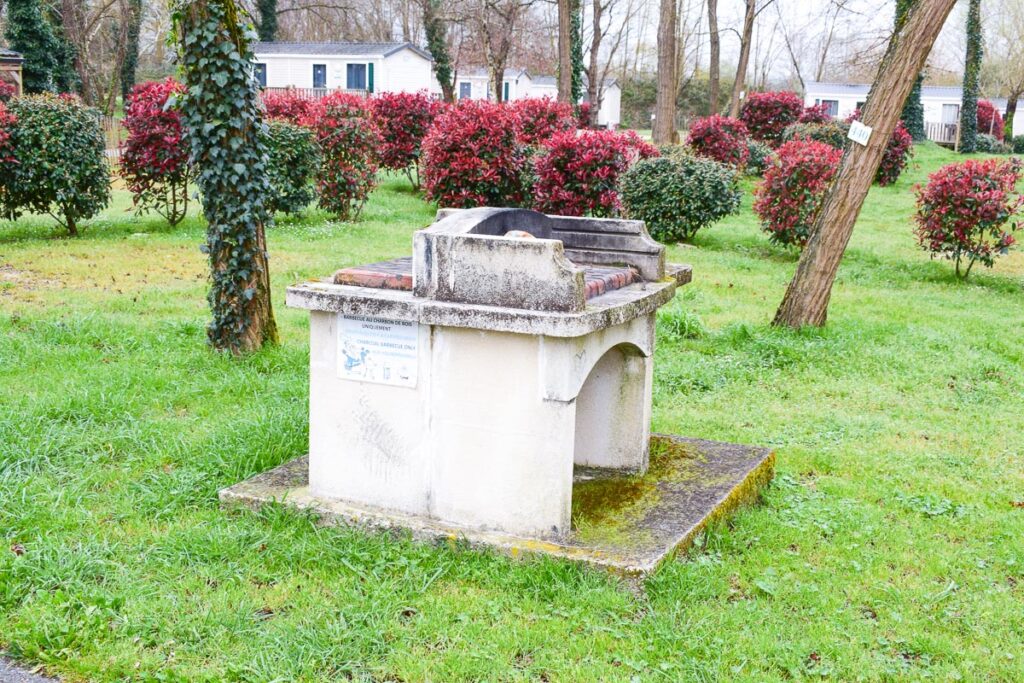 What's the weather like in Spring/Summer?
Bordeaux weather can be temperamental in Spring but Summer is usually pretty amazing.
Can you park on your pitch/Emplacement?
Yeah, we had no problem parking at our mobile home.
Can you take pets on the campsite?
Animals are allowed in all of the accommodations at Camping lac de Bordeaux
Where's the nearest supermarket?
There is a large E.Leclerc sup[ermarket a 6 minute drive away from the campsite.
Is There Wheelchair Accessibility on Site?
Yes, there's even wheelchair friendly mobile homes.
Is It Loud In The Evenings?
This is tricky to answer. The campsite itself had no bar or evening entertainment to cause a sound. However, the local "drag racers" who decided to use a road nearby to re-enact some "fast and Furious" cut scenes caused a lot of noise.
We walked home past them from the Bordeaux tram one night and it was honestly like being in a film, there were even spectators there. So yeah, on the weekend we visited, local drag racers did impact our quiet night sleep.
I had hoped this was just a "once a year" thing but after researching a little bit I found a few newspaper articles and it seems like a problem the police have been dealing with for years.
What Can We Do If It Rains?
There are a few indoor places in Bordeaux to visit like the Cite du Vin and the numerous art museums. You could also spend lunch at one of the covered markets in and around the city. Halles des Bacalan is very close to the Cite du Vin, whereas Marché des Capucins is situated in the city center.
Another fantastic option is the Wave Surf Cafe. Try your hand at body boarding or surfing on  an indoor wave machine, and after, finish up with a nice coffee.
Camping Bordeaux Lac provided us with a nice peaceful stay so close to the bustling Bordeaux City centre. It's a lovely site that prioritises nature above all, and you know that in Summer it'll be a lovely place for families.
The only downside we experienced during our trip was the loud drag racing outside, but otherwise, everything was perfect and exactly what we were looking for from our holiday. Yes, the site is quiet without entertainment, but sometimes that's exactly what you want/need.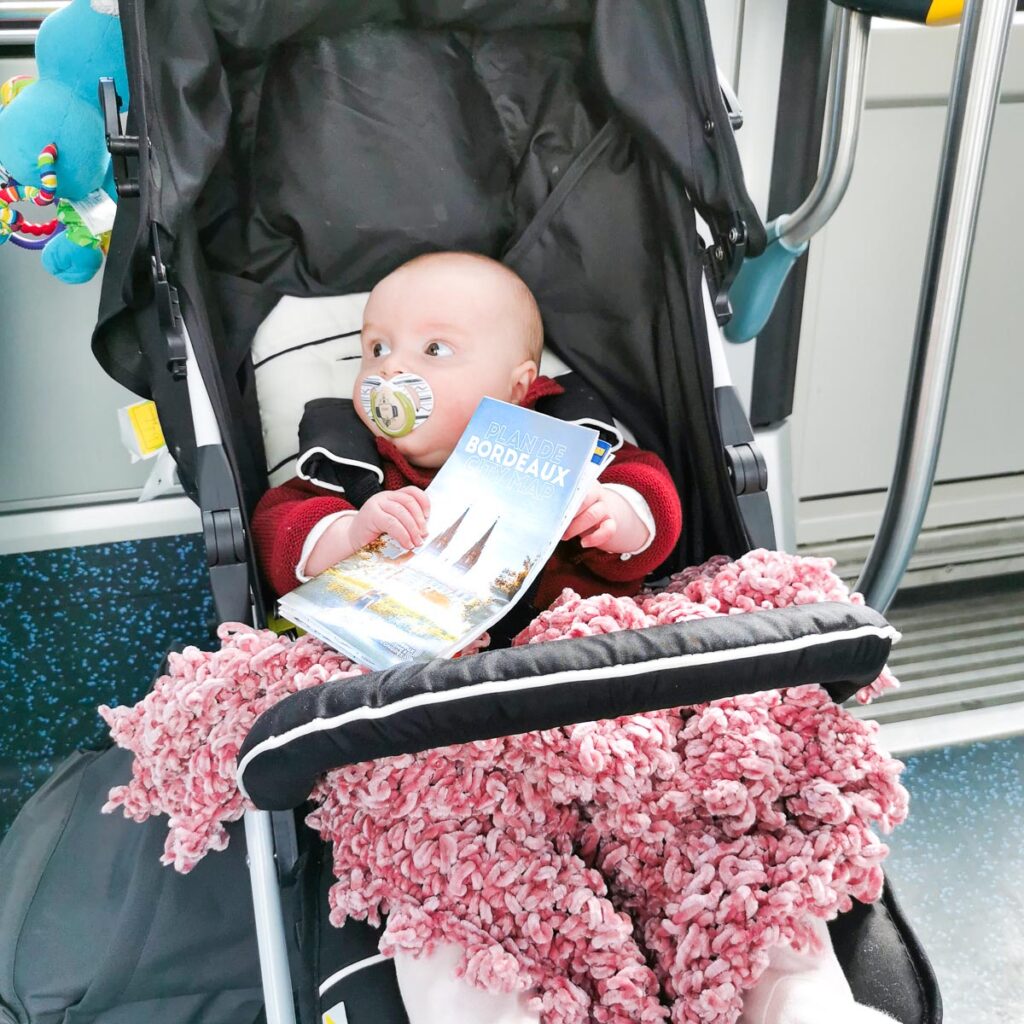 Check Availability And Book Camping lac de bordeaux Today
Clicking the button below will open the providers website in a new window.