Eurocamp PREMIUM (formerly Azure Plus) 2 bed Review The perfect Mobile Home for hosting and socialising
Whatever the weather this PREMIUM mobile home makes the perfect space for living Al Fresco
Check Availability And Book a PREMIUM Today
Clicking the button below will open the providers website in a new window.
Eurocamp PREMIUM (Formerly Azure Plus) Mobile Home
The PREMIUM (Formerly Azure Plus) , 2 bed mobile home from Eurocamp, is perfect for social families. It has a dishwasher, large covered decking and patio doors that open out from the kitchen and living area. It's the perfect choice for holidaying with a large group. 
We needed it because our holiday to Camping Des Menhirs was supposed to be shared with 2 other mobile homes full of family and we definitely didn't want to deal with all the washing up. Also, we knew that in Brittany, rain was likely (although never actually happened during our stay) and the covered canopy meant we would still be able to eat our meals outdoors.
After staying in an PREMIUM (Formerly Azure Plus) 3 bedroom in 2019, we decided to give the 2 bedroom version a try this time. We worried that it would be smaller, that we would lose some space, but that couldn't be further from the truth. In fact, We GAINED space. A whole bedroom worth of space. You see, without that 3rd bedroom the living area, kitchen and even the bathroom became a whole lot bigger.
But size wasn't the only thing we were impressed with. The mobile home was absolutely spotless. We've usually been able to find a few cleaning faults in accommodations we've stayed in – It's life, it happens, and occasionally something will get missed. But here, the cleaning was incredible. I'm not sure if it was due to extra Covid cleaning measures or the experienced team of staff Eurocamp have on this campsite, but really it was the cleanest mobile home we've had all year.
So as you can see, our first impressions of the 2 bed PREMIUM (Formerly Azure Plus) were good, but how did we feel at the end of our stay? A 10-night stay gave us lots of time to notice potential flaws in this seemingly perfect holiday home…
Pros of The Premium Mobile Home
We've stayed in nearly every type of Eurocamp mobile home, and this was one of our favourites.
Cons of The Premium Mobile Home
There's little to complain about here!
Tour Of The Premium Mobile Home
The PREMIUM (Formerly Azure Plus) 2 bedroom model is very similar to a Eurocamps Vista mobile home as the 2 sets of patio doors and full-length windows ensure a light and bright living space. Please keep reading for our written review and video tour.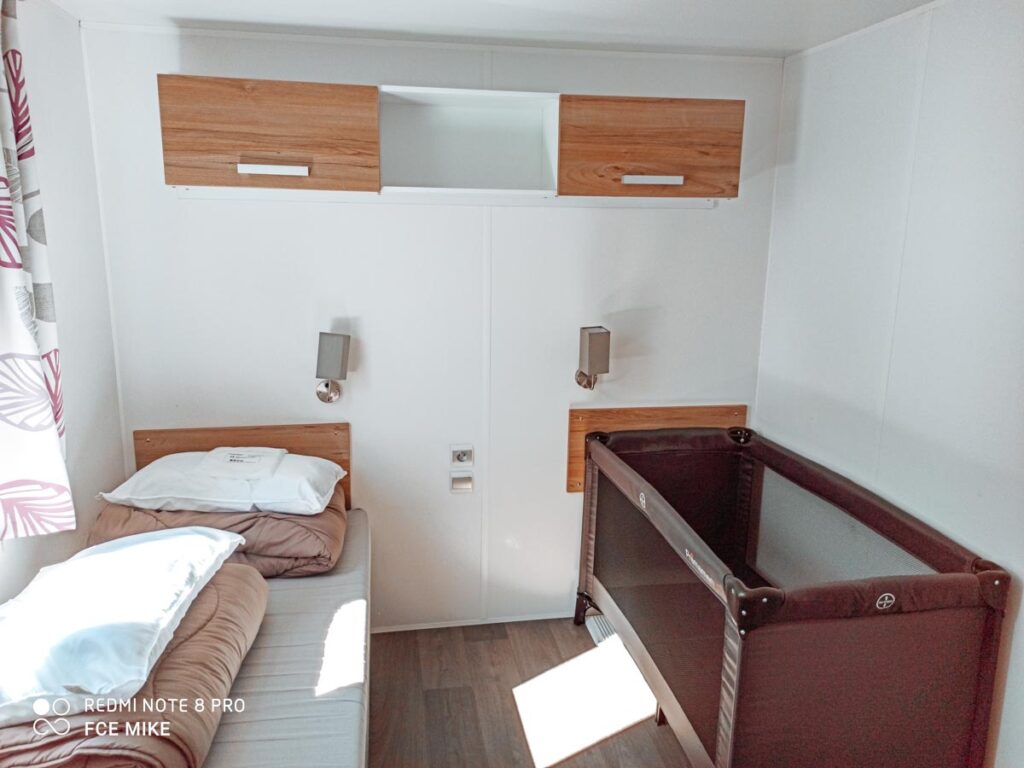 The twin bedroom in the PREMIUM (Formerly Azure Plus) 2 bed is a very spacious room. It was perfect for a baby as there was a fold-under-bed leaving plenty of space for a travel cot (which we hired from Eurocamp for FREE). She also had plenty of crawl space in the room. 
Pillows and duvets were provided for both beds but obviously not necessary for a baby. The pillows are also standard UK size (unlike French square pillows) meaning your home-brought linen will fit the beds, or you can hire linen from Eurocamp. 
At the centre of the room, there's a small nightstand (which we had moved when taking the photo, but you'll see it in the video) with reading lamps above and a plug socket underneath. There is only one plug socket in this bedroom, so if you require more, make sure you don't forget an extension lead. 
For storage, the twin bedroom has both overhead cupboards as well as a medium-sized wardrobe by the door. There was more than enough space for 10 days worth of baby clothes, nappies, wipes, toys and all the other baby items we now lug around everywhere with us.
Our PREMIUM (Formerly Azure Plus) 2 bedroom also came with electric heaters in all the bedrooms. I think this is standard across all PREMIUM (Formerly Azure Plus) mobile homes but double check when booking especially if you're heading somewhere out of season or somewhere cold.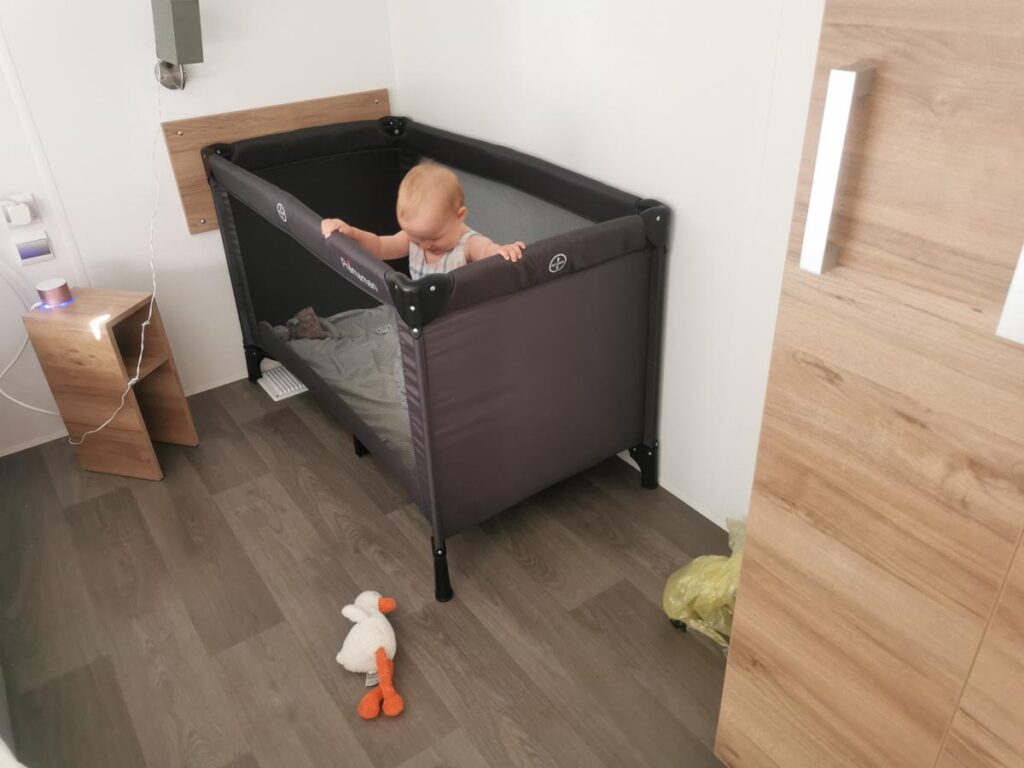 2 beds – 1 that folds under

Spacious

1 plug socket

Mirror 

2 coat hooks

Pillows & duvets

Electric heater

Plenty of storage
The double room in our 2 bedroom PREMIUM (Formerly Azure Plus) came with a large queen size bed. In some mobile homes, when there's a queen-size, it usually means there's no room to swing a cat in there. However, in the 2 bed PREMIUM (Formerly Azure Plus) we had loads of floor space. We didn't even have to shuffle along sideways to get around each side of the bed.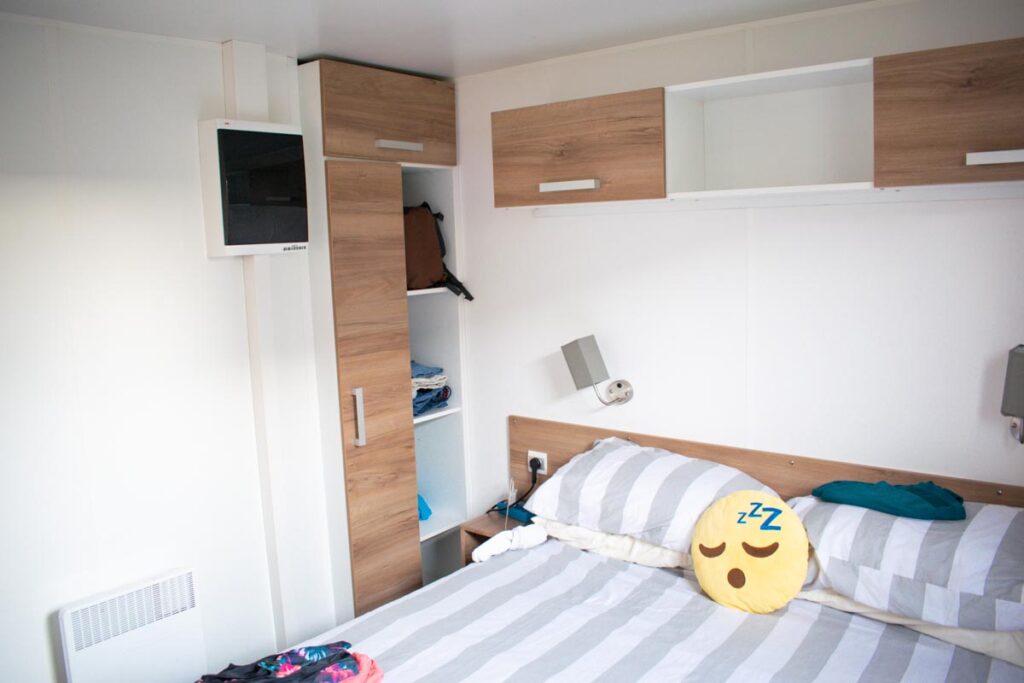 Like the twin room, the bedroom has lots of storage, but not quite enough for us staying 10 nights. There's overhead cupboards as well as a wardrobe with hangers. Mike likes to spread his clothes out in the wardrobe, so I ended up using the space on top of the overhead cupboards to organise my clothes, so perhaps just a tiny bit more storage space would help. Although, I imagine I'd find a way to fill that too. 
The bedroom had its own door into the bathroom, which meant we could easily sneak in and out in the night without having to go via the living room. Although this wasn't ideal when you only remember to lock the door, you go in through and then get interrupted by a baby letting herself in the other door…
As with the twin room, we had an electric heater on the wall as well as duvets and pillows on the bed. Unlike the twin room though, this bedroom came with 2 plug sockets. Still, we brought another small extension lead for this room.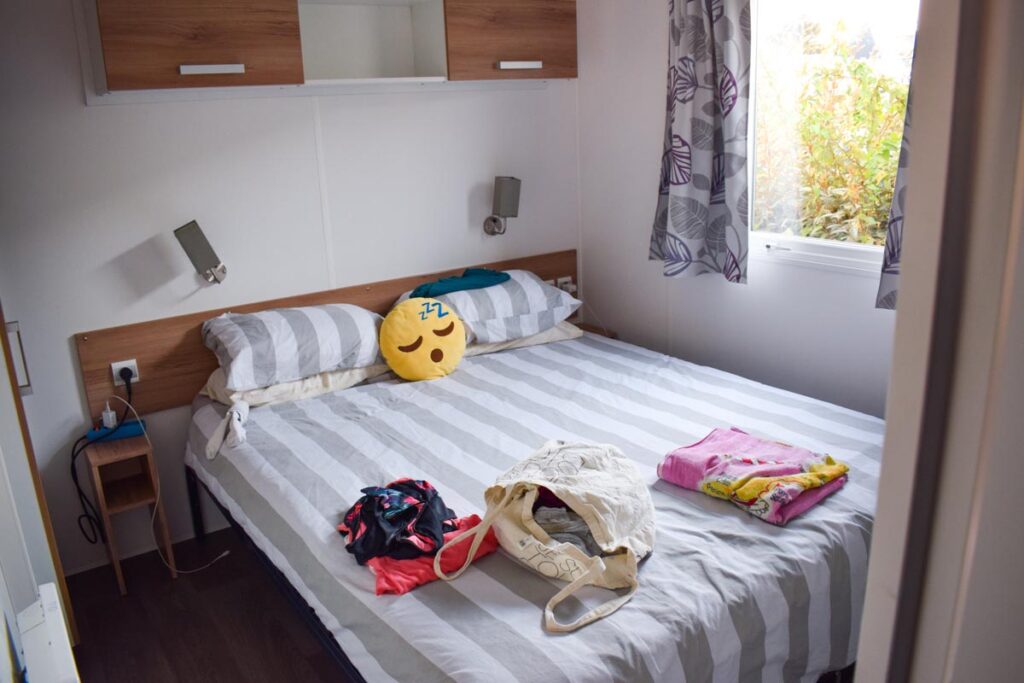 Large bed

Plenty of floor space

2 modes of storage

Duvets and pillows

2 EU sockets

Mirror

Coat Hooks
As I mentioned in the bedroom section, the bathroom comes with a convenient 2 door system. This meant we had an entry from both the main bedroom as well as the living area.
The bathroom was fairly small, but definitely not as small as the bathroom in the 3 bedroom model of PREMIUM (Formerly Azure Plus). In fact, in comparison, I'd say this one was fairly spacious.
The bathroom was pretty standard. I mean, they're never really anything special. It was amazingly clean, practical, had a plug socket, towel hooks and shelves, what more could you need? 
Oh, and it also comes with a hairdryer.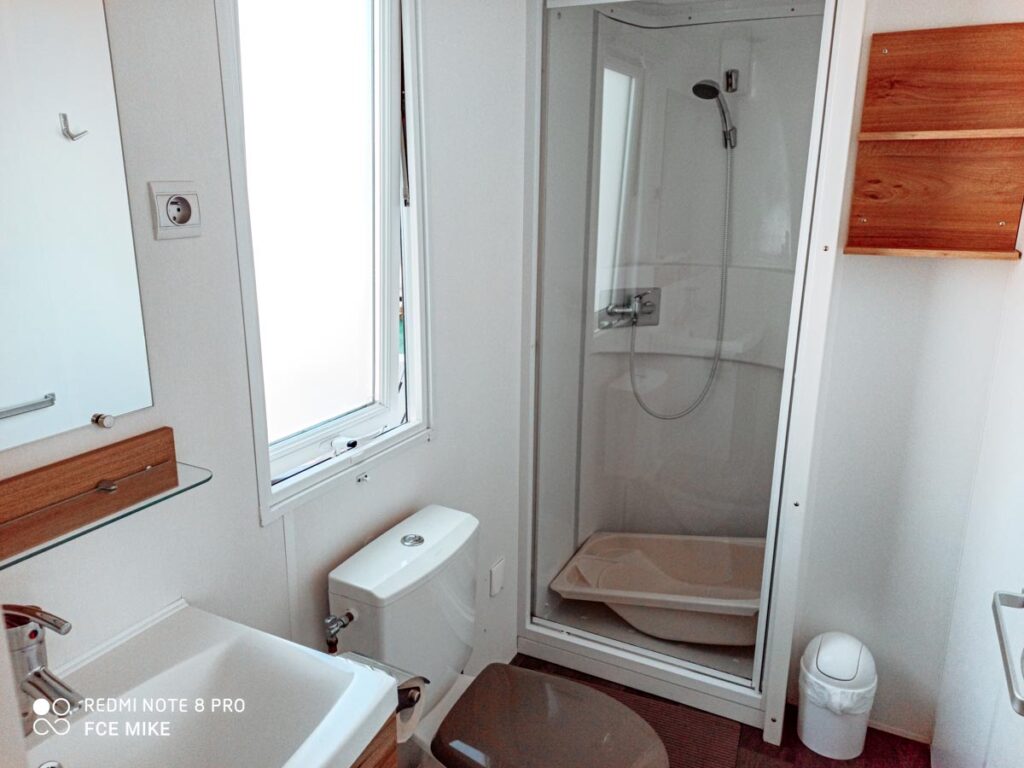 Plug socket

Double height shower clips

Reasonably spacious

Large Mirror

Hairdryer

Blackout blind

Bath mat
The living area in our 2 bed PREMIUM (Formerly Azure Plus) was really spacious. The table was interchangeable so that it could go from a small coffee table to a large dining table in seconds. This meant our living space was maximised at all times. There were also extra chairs for the dining tables that were folded and stored inside the living room cupboards.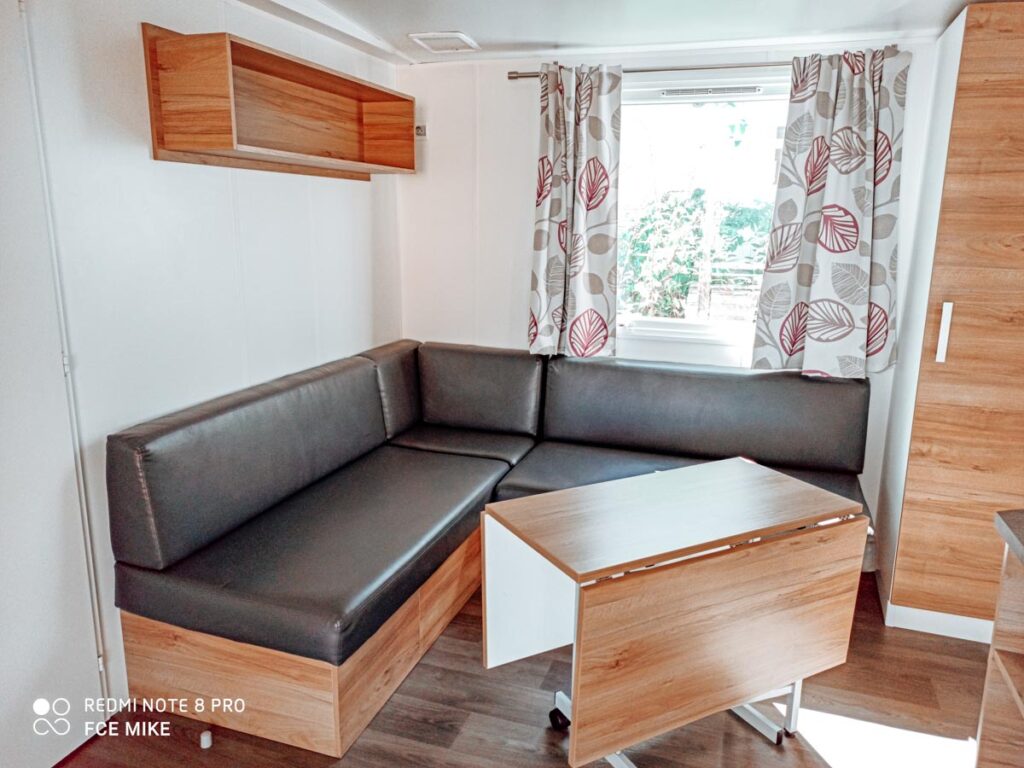 The sofa was large, and one side could be converted into a sofa bed. Underneath the other side of the sofa, there is also some free space for storing suitcases or in our case, kids toys. I don't really like the sofa fabrics in Eurocamp mobile homes; however, they are intentionally like that so they can be easily cleaned. With a messy one year old, easy clean is exactly what we need!
As well as the under sofa storage, the living room also featured a huge storage unit connected to the kitchen worktops. 2 wardrobe style cupboards, one with cleaning items in and the other with dining chairs in (with plenty of free space too) and a shelving unit above the sofa.
The room also came with 3 plug sockets, a mirror and coat hooks.
Lots of storage

Sofa bed

Easy clean sofa

Extendable table

Spacious

3 plug sockets

Patio doors and large windows
Like the living room, the kitchen has its own patio doors as well as large full-length windows. It meant that although the kitchen units are dark coloured, the outside light shines in and keeps the room looking bright and fresh.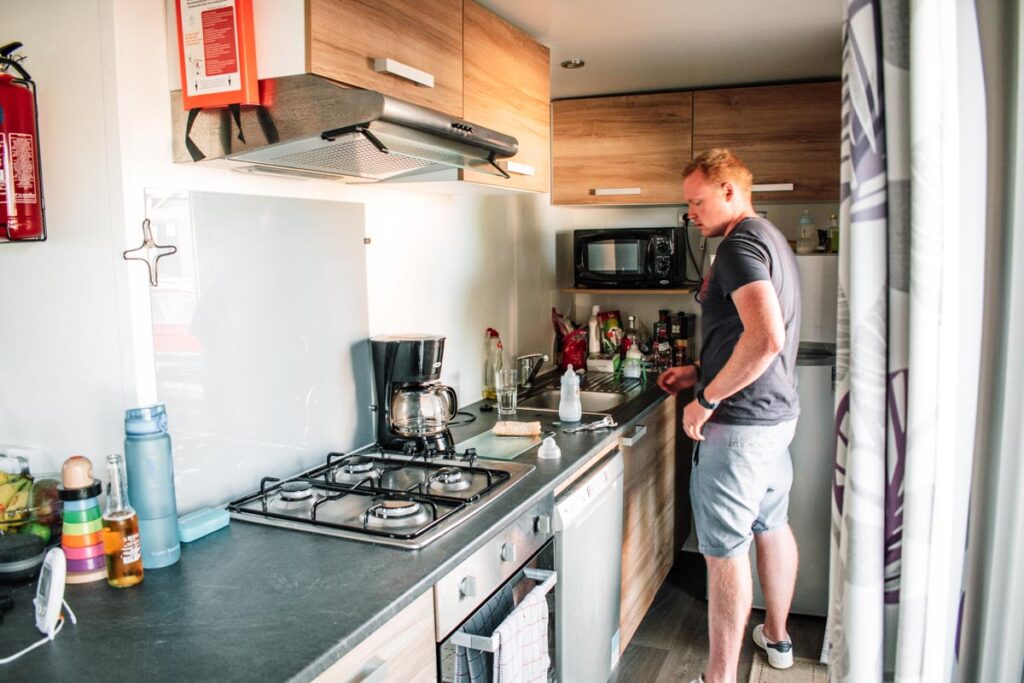 The biggest perk of the PREMIUM (Formerly Azure Plus) Mobile home has to be the full-sized dishwasher, but that's not the only perk… The kitchen also comes with a coffee machine, toaster, electric kettle, microwave, fridge freezer, oven and a cooker.
There are plenty of plug sockets and also lots of cupboard space. The mobile home was well stocked with all the necessary items. The crockery was neat and standardised, and the whole kitchen was sparkling clean and well organised.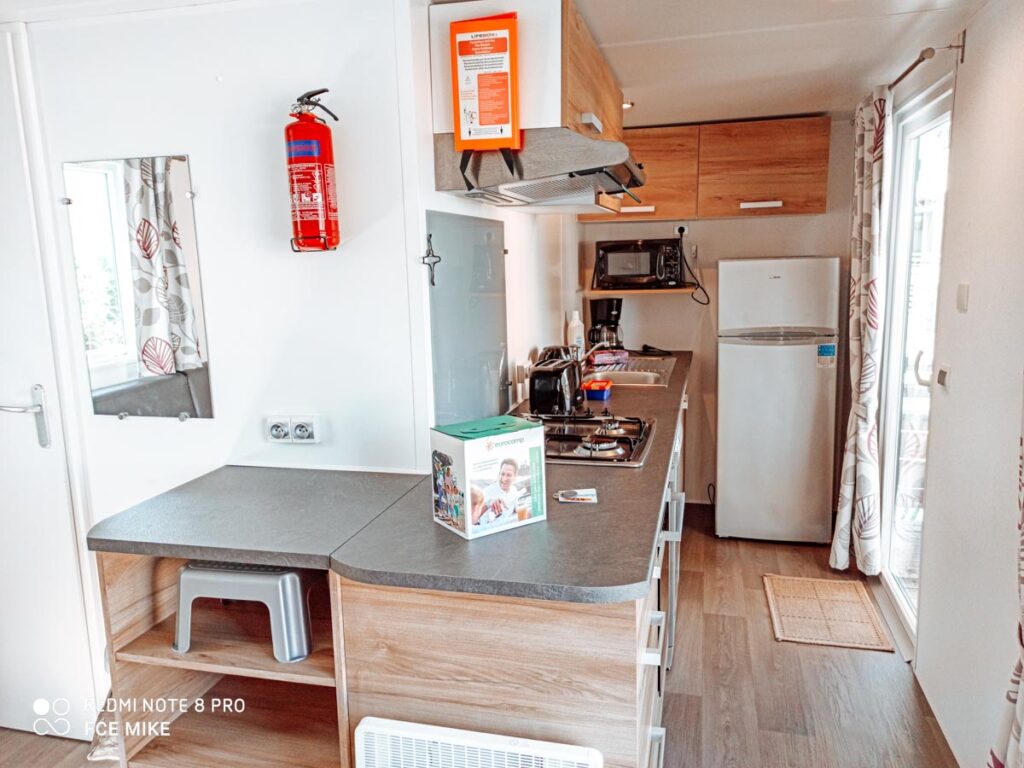 Large amount of worktop space

Clean, matching crockery and well organised

Coffee maker, electric kettle and toaster

Dishwasher

Patio doors and large windows

Plenty of plug sockets
Many things make the outside of this mobile home superior to others we have stayed in. Firstly there's the covered canopy. The canopy covers half the decking, which means you can choose whether to sit out in the sunshine or under the shade. It's also perfect for eating outside even when it's raining.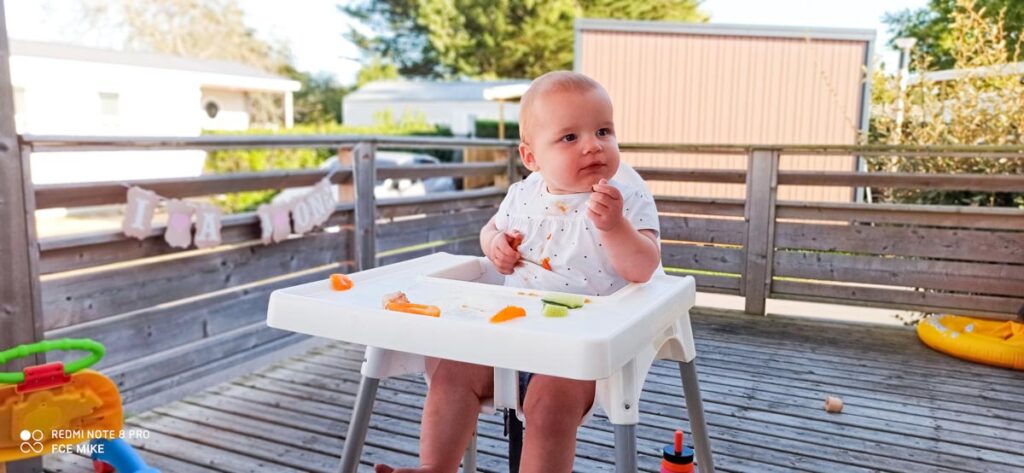 Secondly, it also has decking gate, and although after nearly a week our 1-year-old figured out how to bust it open (most kids probably couldn't figure it out, but we gave birth to Houdini), it really is so helpful to have. At most campsites, we find ourselves using whatever equipment we have so that the baby can roam free on the decking without falling downstairs.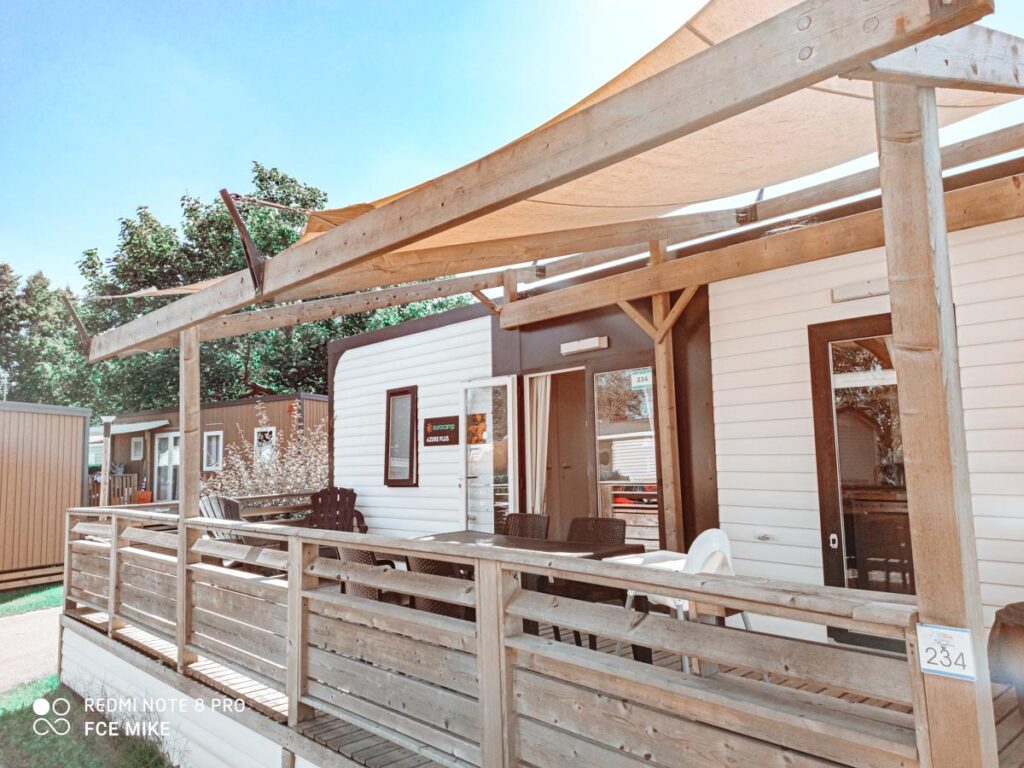 The 3rd thing that makes it superior is how open it is going from living space to outside. Almost half the length of the mobile home can open out onto the patio. I LOVE indoor/Outdoor living. In fact, my dream is to have an outdoor kitchen area, and with the large patio doors and windows in the PREMIUM (Formerly Azure Plus) mobile home, it felt like I had one.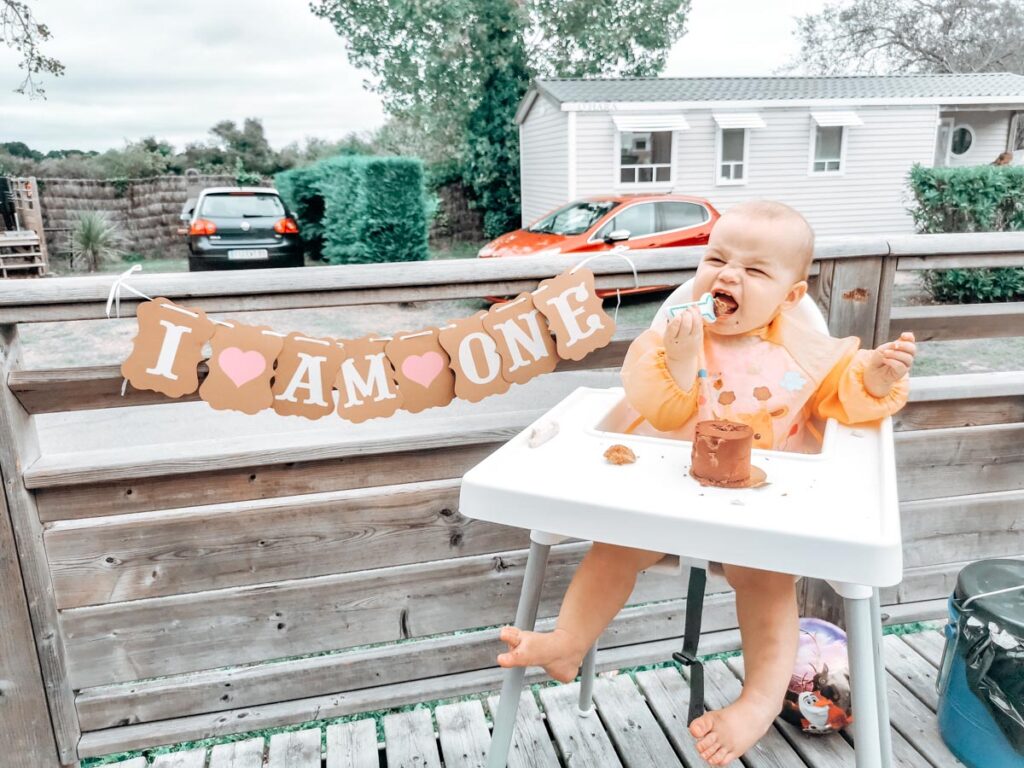 The 4th superior thing was the size of the decking. It's HUGE! It covers almost the whole length of the accommodation and means there's plenty of space to do whatever you want. Our baby is in the process of learning to walk, so it was like a playground for her. 
And the final superior thing is the classy black furniture. There's none of those horrible, standard white chairs and tables here. Instead, we had these lovely black ones. It's not quite as classy as the Aspect outdoor furniture, but it's the next best thing.
Outdoor lights

2 patio doors

Covered canopy

Nice furniture

Decking gate

Gas bbq

Large and spacious
Features Of The Premium Mobile Home
We booked this PREMIUM (Formerly Azure Plus) 2 bedroom mobile home solely for the covered canopy and the dishwasher, but that wasn't all it had to offer. This mobile home really is one of the best in Eurocamps repertoire. The main things we loved about it are below:
Dishwasher

Coffee maker

Toaster

Electric Kettle

Good amount of storage

Queen sized bed

Large part covered decking

Gas bbq

Floorspace in bedrooms

Covered decking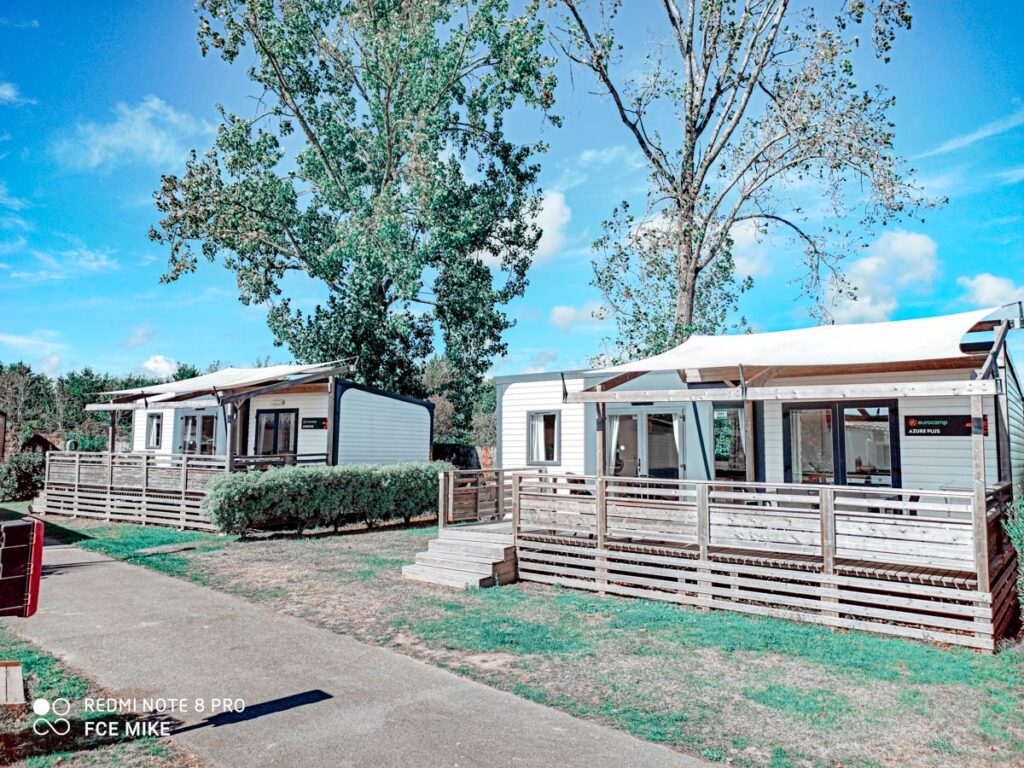 Video tour of the Eurocamp Premium Mobile Home
Eurocamps Premium Changes:
Originally, in 2015 when first sold to the public these mobile homes were sold as Avant's, in 2020 they changed to Azure plus' and now for 2024 they have been renamed Premiums. 
It's also worth noting that dimensions, layout and decor can vary between mobile homes, and not all will look the same as ours. Some may be mirrored, have the kitchen on the other side, different style curtains, lights, etc. – but all extra features like the dishwasher and toaster should all still be included.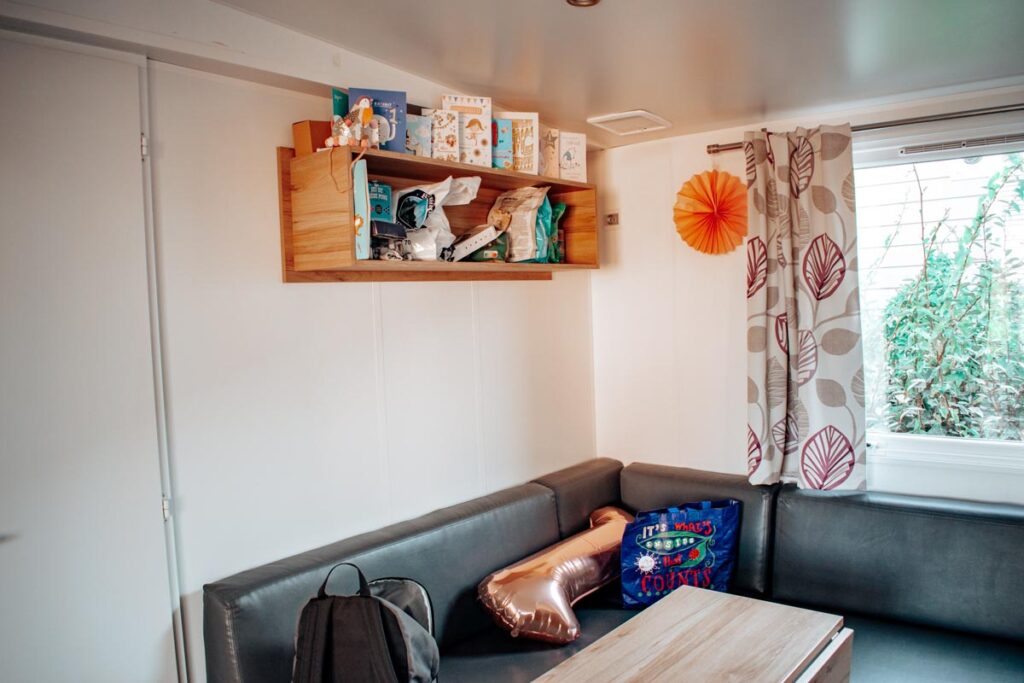 Other Eurocamp Accommodations
We have stayed in such a vast range of Eurocamp accommodations. We've reviewed lots of them for you, and you can find our reviews here. I have to admit, this may be our favourite so far, it's pretty hard to beat and although the Ultimate is a higher-end mobile home I still think I prefer this one. But if you'd like to read our other Eurocamp accommodation reviews, please check them out: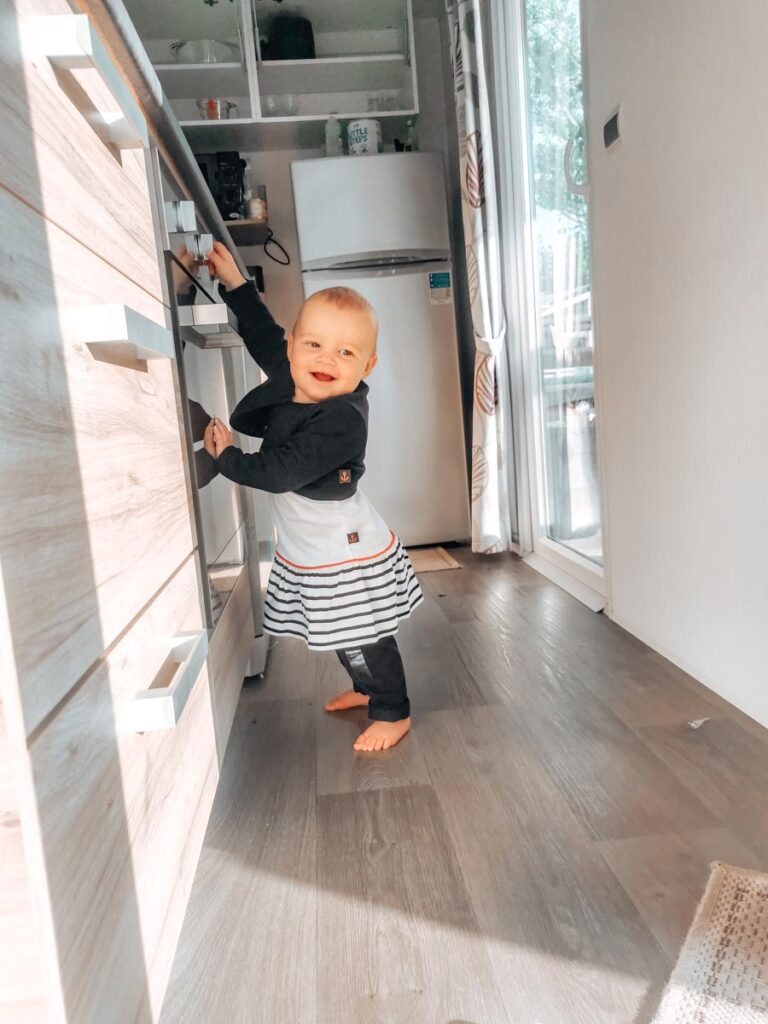 If you're flying over and can't pack everything in your luggage then Eurocamp has the handy option to add bookable extras to your mobile home – These include:
Linen and Towel Hire Packs (Including Cot linen)
Essentials pack, full of cleaning products like washing up liquid and cloths
Welcome pack, perfect if you're arriving late and don't have time to get to the supermarket as it contains some nibbles and drinks
Travel cots (free)
High Chairs (free)
Baby baths (free)
Potties (free)
Changing Mats (free)
Bed Rails (free)
I always take a sharp knife because the ones provided never seem to be good enough, tea towels, oven gloves, a good bath mat, bed linen (don't forget it's a queen size), cleaning products for keeping it clean and departure cleaning and of course our usual luggage.
This has been the best Eurocamp mobile home we have stayed in since…Well…ever. It was perfect for our family of 3 and had plenty of space so that we could have friends and family over for dinner.
Everything was great. We had lots of space, lots of storage, and it was ridiculously clean. The only thing missing was the blackout/mosquito blinds, and I'm 99% sure they were supposed to be there but were perhaps broken by a previous guest.
We really wanted to book the same mobile home for our return trip in 2021, but as there was only 2 of them on Camping Des Menhirs, we're gutted to find that it's already booked up. I'm secretly hoping whoever books it cancels so we can nab it again.
Check Availability And Book a Premium Today
Clicking the button below will open the providers website in a new window.