Eurocamp PREMIUM (Formerly Azure Plus) Review The PREMIUM (Formerly Azure Plus)is a great mobile home
It's fresh, clean and modern. We loved having the added extras and the outdoor space really sells it to us.
Check Availability And Book Your PREMIUM (Formerly Azure Plus) holiday home Today
Clicking the button below will open the providers website in a new window.
Eurocamp PREMIUM (Formerly Azure Plus) Mobile Home
The PREMIUM (Formerly Azure Plus) mobile home is one of Eurocamps high-end holiday homes. This weekend, the first weekend of June, we had the opportunity to stay in one at sequoia parc campsite in the Charentes Maritime region of France.
With more of a chalet feel than that of a mobile home, this caravan is light, bright and super airy. It has a real Summer holiday feel to it thanks to its full length doors and windows. And it has been designed in a way that maximises living space.
New name for 2024! The aZURE pLUS becomes A PREMIUM
The AZURE PLUS mobile home is having a rebrand for 2024 and will now be called PREMIUM. Therefore, I will use Azure plus and PREMIUM interchangeably through this post so you know exactly what I'm talking about.
We've done a little video tour which you can find at the bottom. But, for our full written review, keep reading. 
Pros of The Azure plus Mobile Home
We've stayed in nearly every type of Eurocamp mobile home, and this was one of our favourites.
Cons of The Azure plus Mobile Home
There's little to complain about here!
Tour Of The PREMIUM Mobile Home
The premium, formerly Azure plus 3 bedroom model has a design not dissimilar to a Eurocamp Vista model, with 2 sets of patio doors and full length windows the living space has ensured brightness. The bedrooms and bathrooms are centred around the living space and to see a full tour you can watch the video below.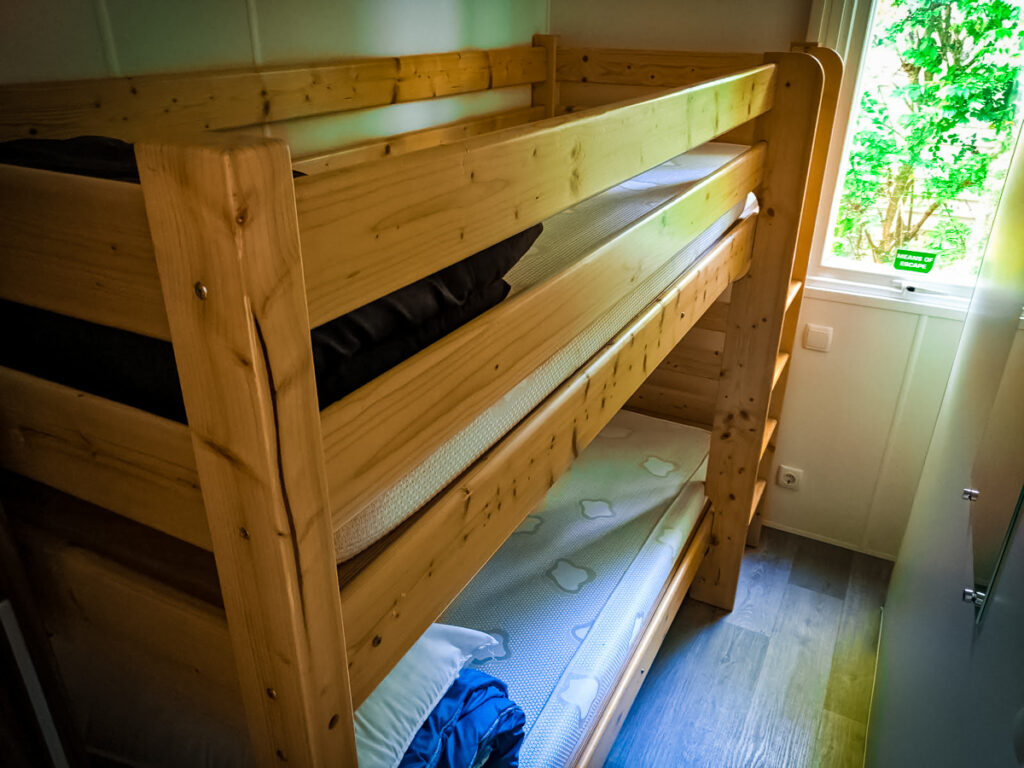 The bunk room was the first room to the left as we walked in. It's pretty small. However I imagine most people that would be using it are pretty small too! The bunk bed was made of sturdy wood and even though I'm 7 month pregnant it took my weight easily and I felt really safe sat on the top. Bedding wise, we were provided, as standard, pillows and duvets. 
There's a fair amount of storage in the room. As you walk in you have a full length wardrobe to the left with room to hang up and fold up clothes. Then, if you walk to the far end of the room there is another small shelving unit. 
There was only one plug socket (european standard) in the room and this was situated just under the bedroom window. There was 2 large coat hooks a good sized mirror and the window came with curtains, mosquito blinds as well as a blackout blind.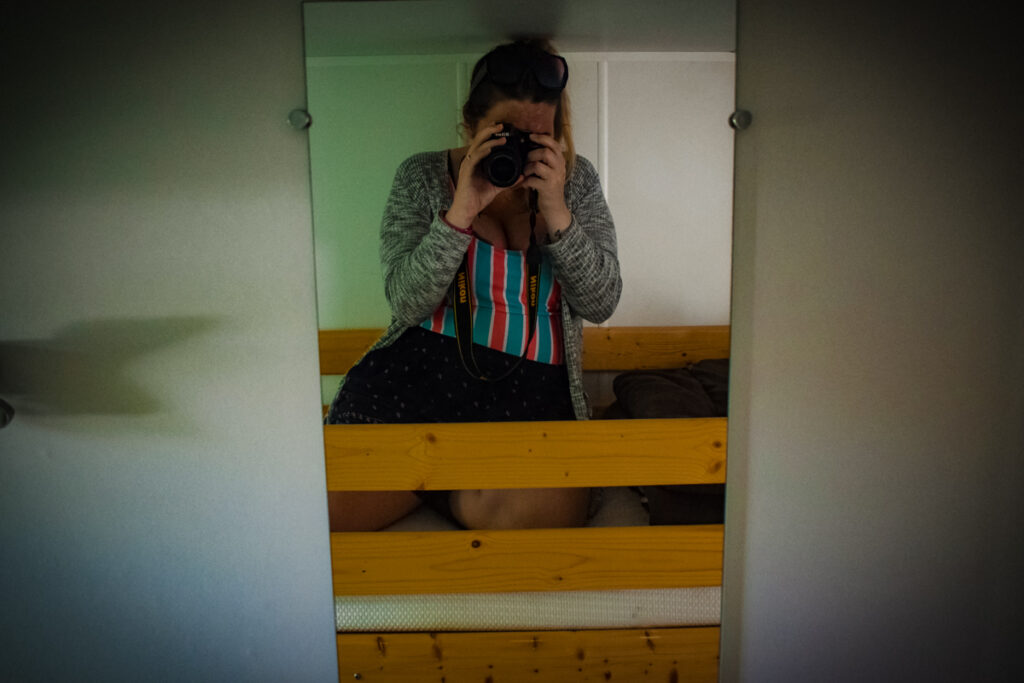 2 sets of storage space

1 EU standard plug socket

Mirror

2 coat hooks

Mosquito and blackout blinds

Pillows and duvets (linen to book separately or bring your own)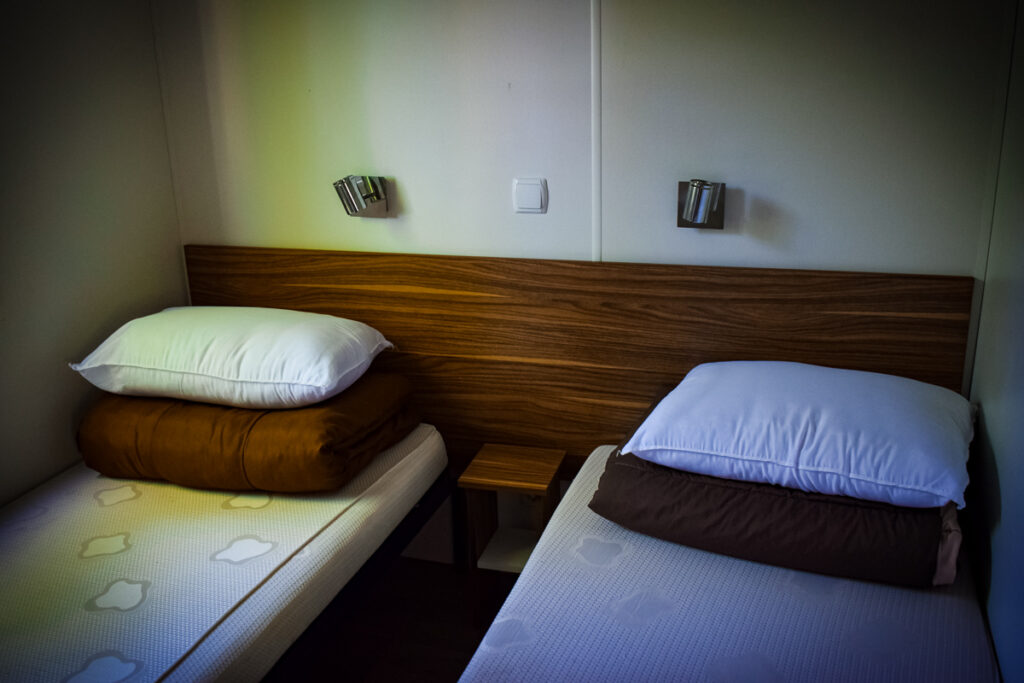 The twin room has a lot more space than the bunk room and also features a bed which can be folded up and slotted underneath the other bed for extra space or to add in a cot. Like the bunk room there were 2 sets of storage available. There was the main full length wardrobe near the room entrance which also had an extra chair in. Then, there was some overhead cupboard space above the beds. 
In between the beds there was a small nightstand/bedside table which is perfect for holding a cup of juice and underneath it was the rooms only plug socket. 
As standard the windows also came with mosquito blinds, blackout blinds and curtains and the bed came with pillows and duvets.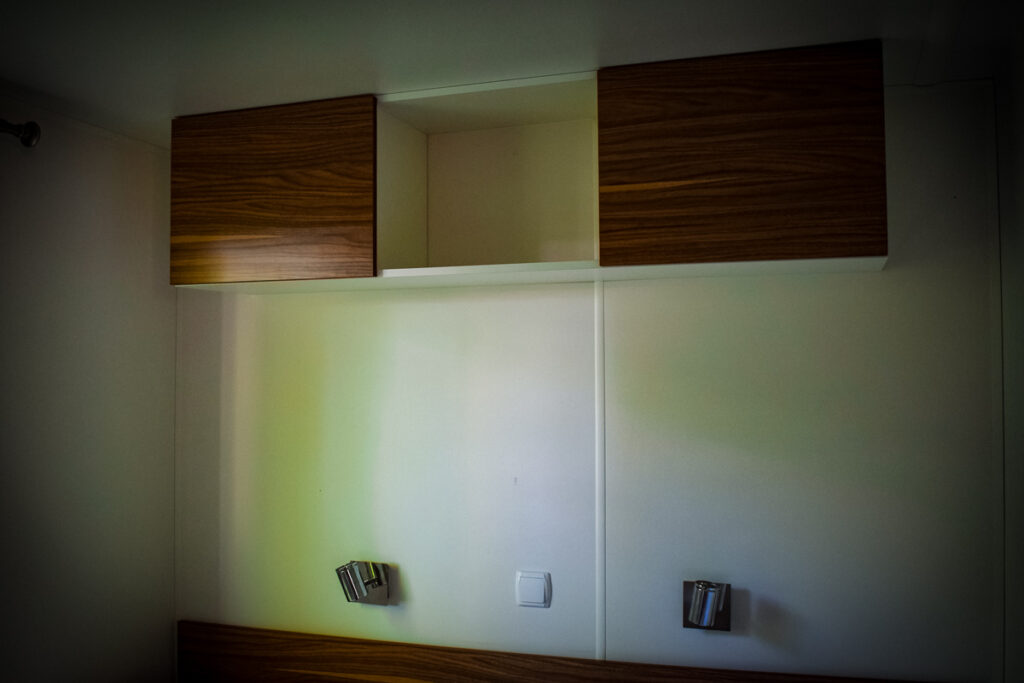 2 beds – 1 that folds under

Spacious

1 plug socket

Mirror 

2 coat hooks

Pillows & duvets
The double bedroom features a large queen sized bed – so if you're bringing your own linen, make sure you pack the right size. Unlike some mobile homes there is plenty of space to walk around the outside of the bed even with the larger bed. It's great for pregnant people like me who are currently struggling to maneuver anywhere!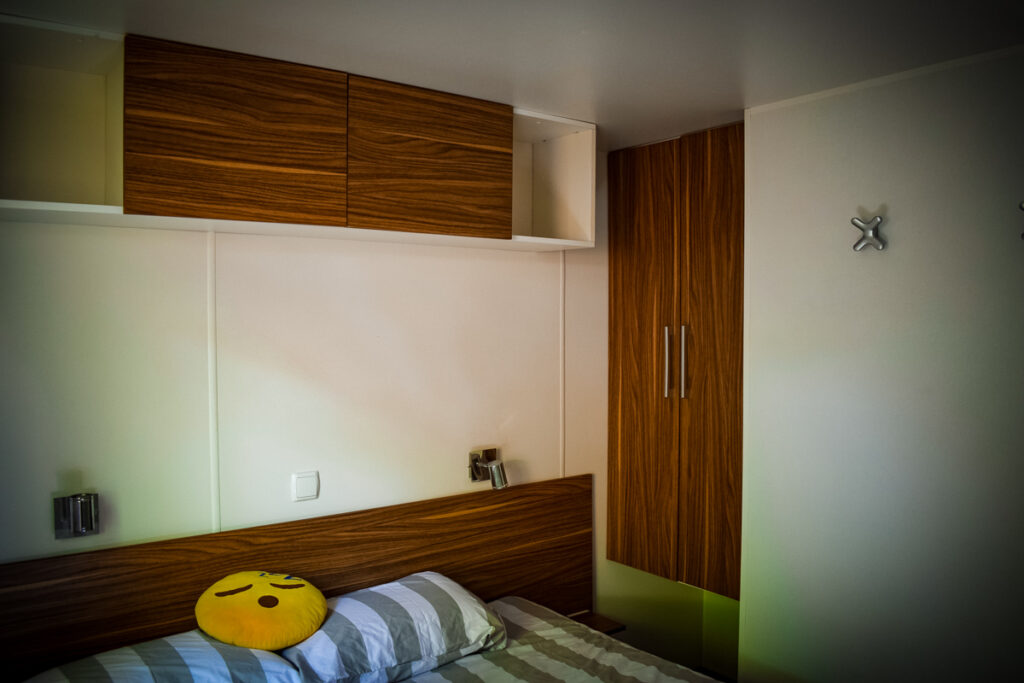 There's 2 plug sockets and 2 night stands on each side of the bed and a bedside lamp above your head so you can read a book in bed. Plus, there's a main light switch in the middle so nobody has to get back up to switch it off when they've forgotten. 
Storage space wise, we had a large double wardrobe to the right hand side of our bed and some overhead cupboards with plenty of room to store our belongings in. 
As with all bedrooms – as standard we had our pillows, duvets and window with both blinds and curtains.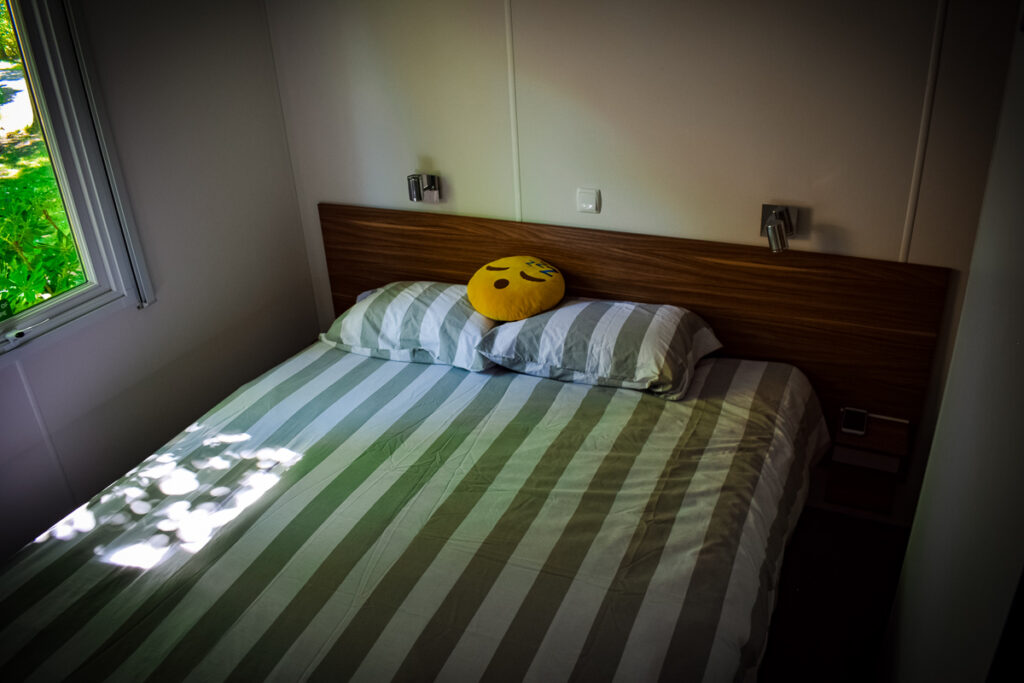 Double wardrobe & overhead cupboards

2 plug sockets

2 coat hooks

Mirror

Mosquito and blackout blinds

Duvet and pillows

Large amount of walk around space

Queen sized bed
The bathroom wasn't one of the largest we've had, but it was functional and had everything we required. The shower cubicle was clean, basic and the water pressure was good enough for hair washing.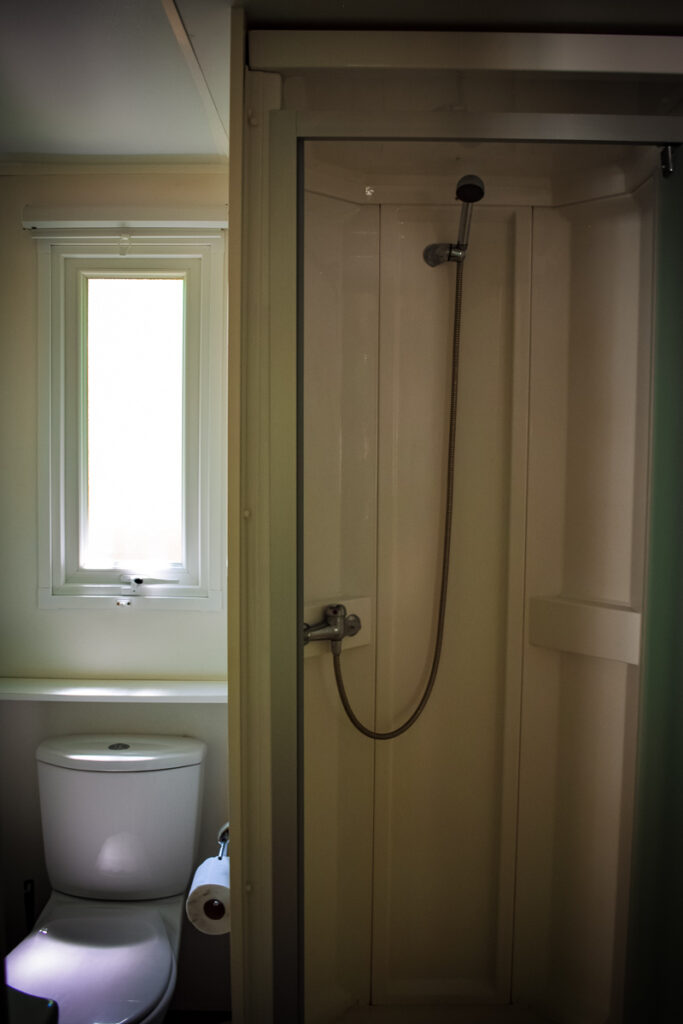 The sink area had a mirror with shelf for hand washing and teeth brushing and underneath was a small cupboard which contained a hairdryer. We used the hairdryer in the bathroom as there was plug socket just the other side of the door.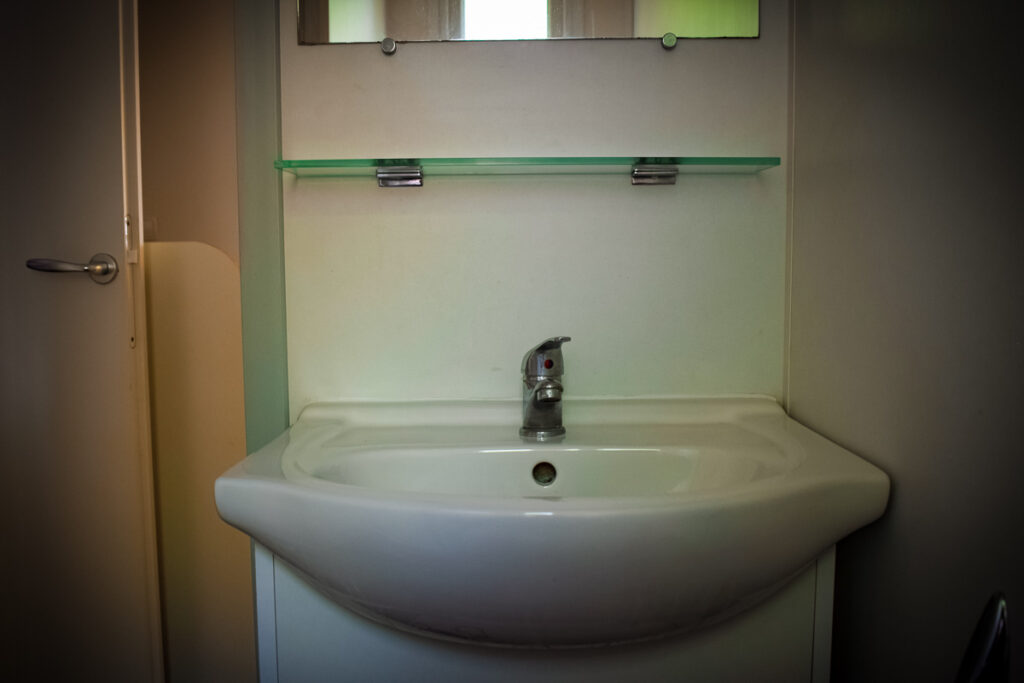 The toilet was clean and we had no problems with it during our stay and there was more than enough room to sit down comfortably. It was also in the same room as the shower and sink which means no kids crossing the mobile with grubby hands ready to wash. 
My only complaint about the bathroom is that it was just a little to small for drying in. I like to be able to flail my arms around and get the towel in all those places but it was slightly cramped. Maybe a smaller sink area would have solved this? 
Large sink

Mirror

Toilet

Shower

Plug socket

Hairdryer

Black out blind

2 towel hooks

Anti slip bath mat
The living area was large and spacious and featured a really big sofa which could also be pulled out into a sofa bed. If you were to remove the sofa cushions you would find under the long side a sofa bed and under the short side some extra space for storage – we find this space great for hiding away our suitcases when we stay somewhere for a long time.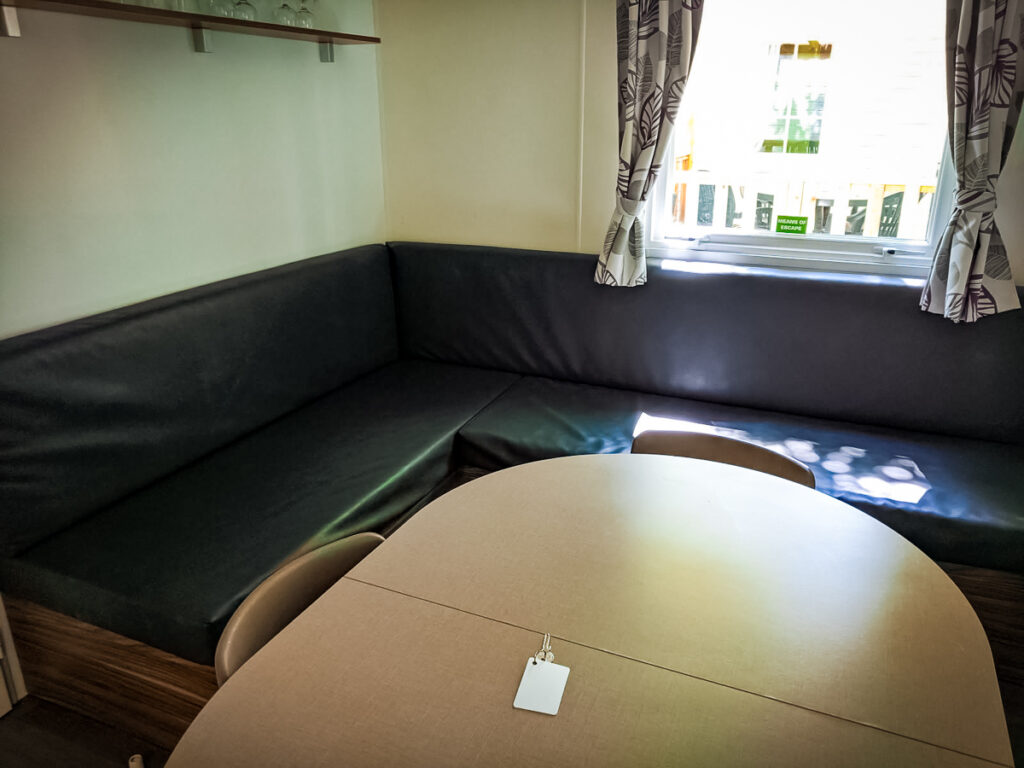 There was a dining room table which could be adjusted to make it smaller or larger and when we arrived had 4 chairs around it, although there were an extra 2 sat outside. 
We found 2 plug sockets situated under the nearly full length mirror and behind the sofa was a nice large window with curtains. 
To the side of the sofa there was some extra shelving space where the cleaners had neatly placed the wine glasses and tumblers. 
At the entrance to the mobile home, above the first set of doors, there was an aircon unit that, due to the 32degree temperatures during our stay at Sequoia parc, we took full advantage of. 
Extendable dining table

Mirror

Large sofa

Pull out Sofa bed

Under sofa storage

Aircon (may not be available everywhere)

Shelf

2 EU plug sockets

Reasonable sized living space
I love the light in the kitchen. Thanks to the large full length windows and patio doors this area is really bright. One thing I hate is a dark miserable kitchen. One of the reasons we booked a high end mobile home like the premium was for the added extras and the kitchen is where they all come into play. 

Firstly there's a dishwasher. That's right, a DISHWASHER. Who'd a thought it – on a camping holiday! There's also a toaster, electric kettle and a coffee maker. Those who have previously holidayed with Eurocamp you'll know the standard gas whistle kettle can be a little annoying, especially when you're trying to make coffee while everyone's in bed. An electric kettle is definitely something to get excited about. 
The kitchen was sparkling clean and felt really nice and fresh. Our hob and oven were sparkling. Both the hob and oven are gas powered and there's an extractor fan with light above. We also had a pizza sized oven tray, as well as the normal one. I'm not sure if this was standard in an Avant or if we were just lucky, but it was perfect for a lunchtime pizza picnic.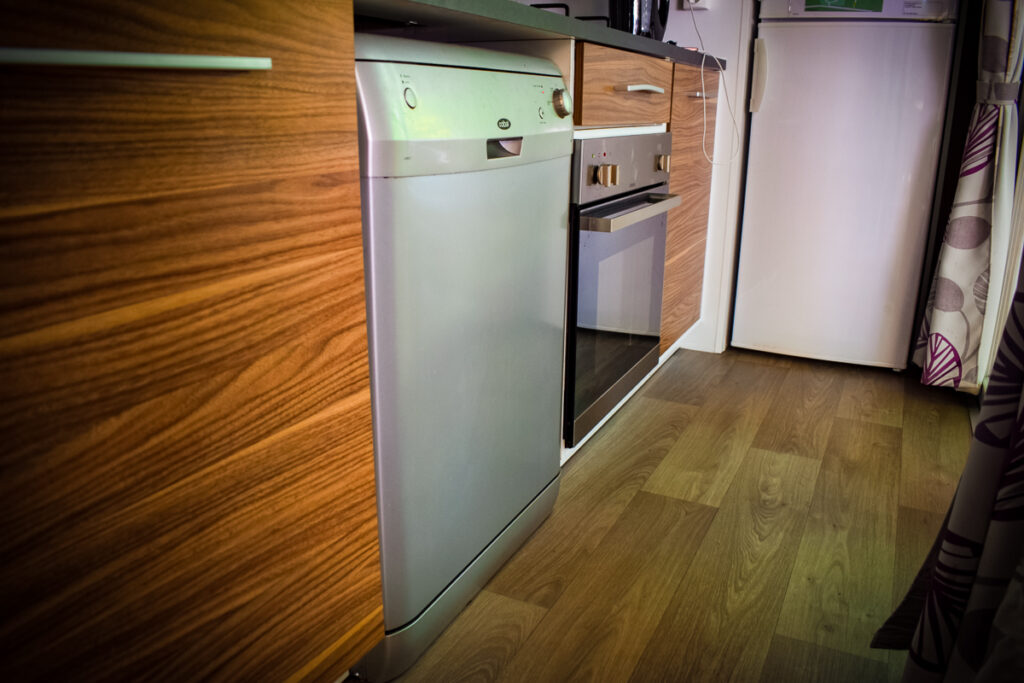 The kitchen cupboards were fully stocked with kitchenware and all the necessary goods but it did leave very little room to store your food items. Some shuffling of items could help make a small amount of space, but really they could have done with an extra cupboard or too. 
To the end of the kitchen we had a full sized fridge/freezer, a microwave and a small hidden area to store the sweeping brush and mop. There were also 2 plug sockets near here which we used for phone charging and kettle using. 
Patio doors opening straight from decking to kitchen

Clean, reasonable workspace

Gas hob and oven

Fridge and microwave

Fully stocked invent with cleaning utensils

Coffee maker

Dishwasher

Toaster

Electric kettle

2 plug sockets
One thing I love about these higher end/newer mobile home models is the outside space. Not only do they feature a covered canopy decking but the the outdoor furniture is so much classier. Our decking at Sequoia parc was partly covered and partly open, although our pitch was quite shaded anyway. We had a decking gate which seemed really secure and childproof and we had so.much.SPACE.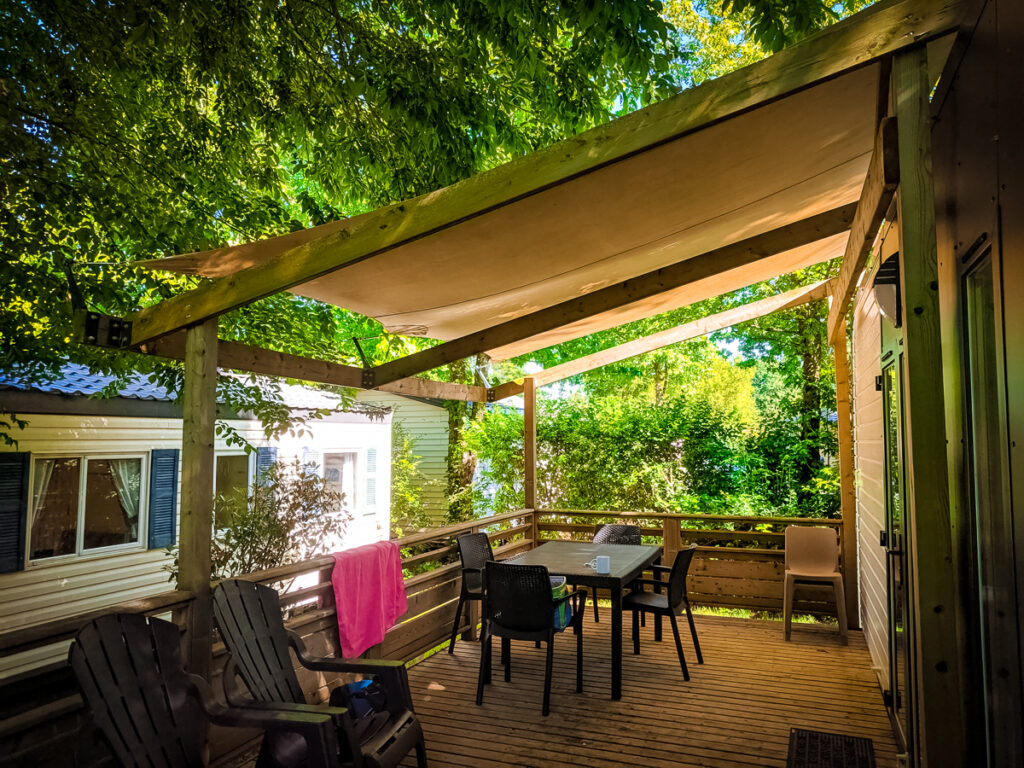 Our pitch was massive. 
There was enough room to park our car, lie out the sun loungers and still have some green space to play with.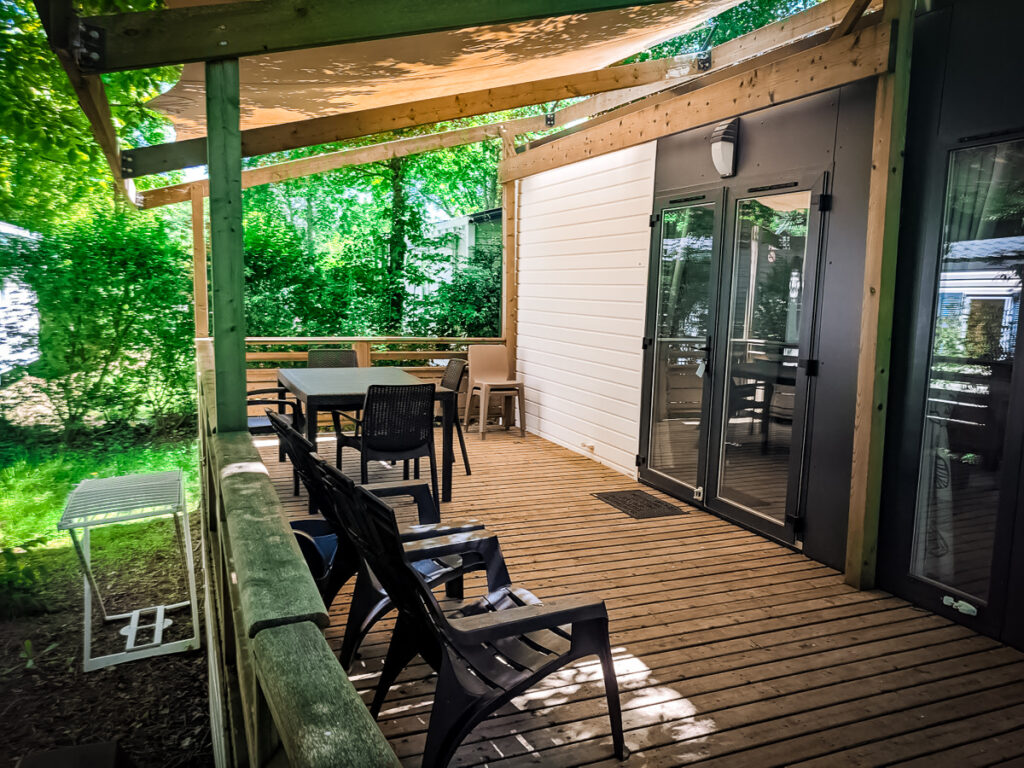 Our Avant accommodation came with a gas bbq although we didn't get a chance to use it, an airer, 4 chairs and a table, relaxing chairs, a small bin and sun loungers. The covered canopy made sitting outside nice in all weather types especially when the sun was blazing hot. 
Features of the Avant 3 bed and added extras:
Features of the Avant 3 bed and added extras:
The reason we booked the 3 bed Avant mobile is because we wanted to maximise our living space and take advantage of the added extras included. With loads more features than a normal mobile home, here's what we found great about our Avant:
Dishwasher

Coffee maker

Toaster

Electric Kettle

Good amount of storage

Queen sized bed

Large part covered decking

Gas bbq
Video tour of the Eurocamp Azure Mobile Home
Check Availability And Book Your premium holiday home Today
Clicking the button below will open the providers website in a new window.
Other Eurocamp Accommodations
We've stayed in so many types of Eurocamp mobile home now it's hard to say which is our favourite, but this Avant is definitely up there. The other high end holiday home is the Ultimate which we tried out in June
We've also recently stayed in the mid-range Comfort Plus mobile home, which was brand new last year and you can read our review of it here. 
But if you want a more authentic camping experience you can do what we recently did and stay in one of their classic tents or even, glamp in one of their safari tents. 
As of 2024 Eurocamp will be rebranding the names of some of their current mobile homes and now: 

Aspect Plus > Ultimate Plus
Aspect > Ultimate
Azure > Comfort Plus or Premium
Comfort Vista > Comfort
Comfort XL or Classic XL > Classic XL
Comfort or Classic > Classic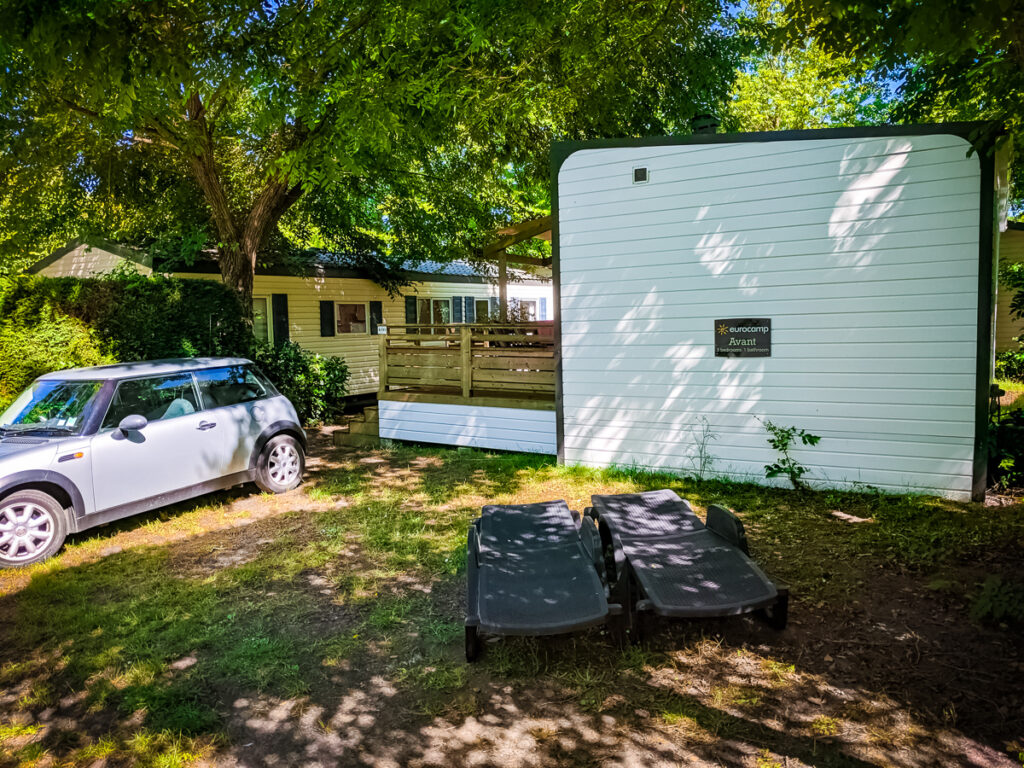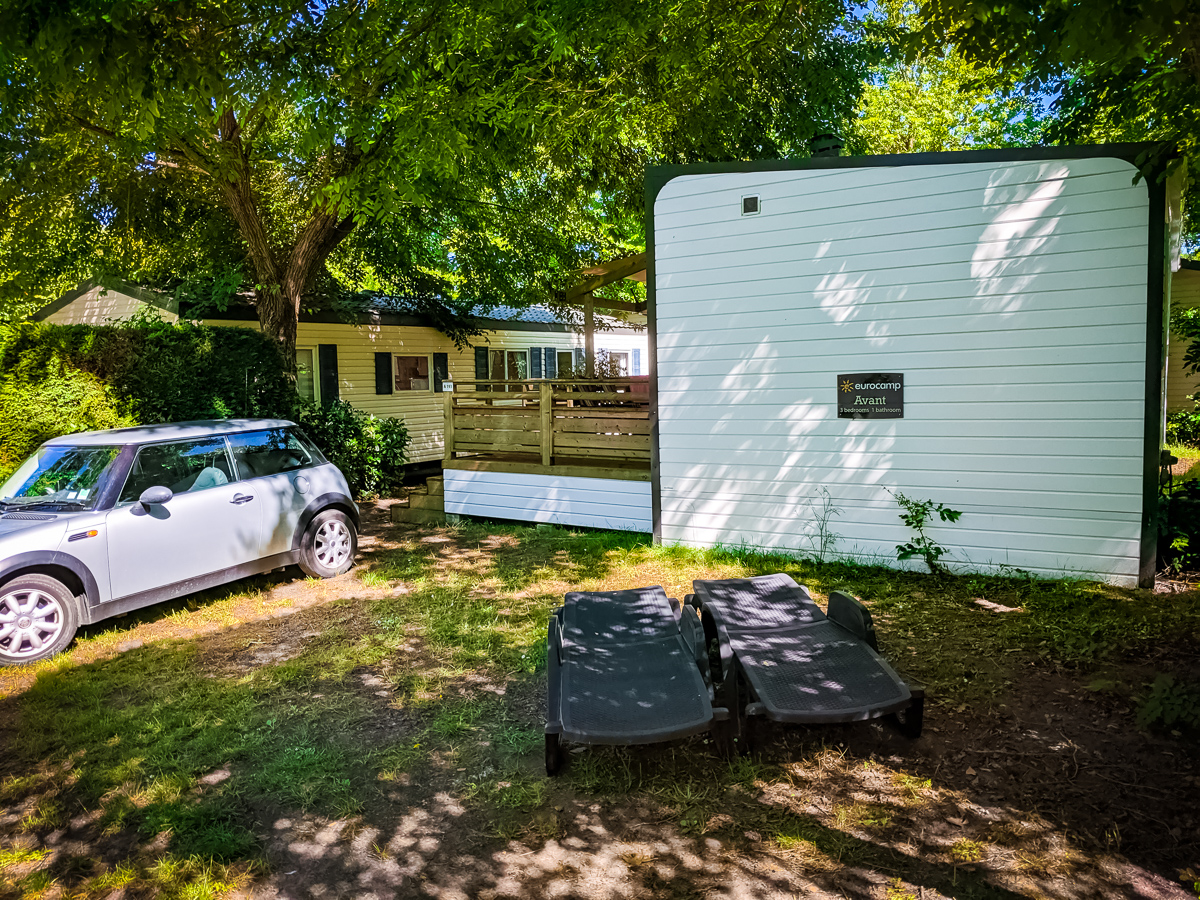 If you're flying over and can't pack everything in your luggage then Eurocamp have the handy option to add bookable extras to your mobile home – These include:
Linen and Towel Hire Packs (Including Cot linen)
Essentials pack, full of cleaning products like washing up liquid and cloths
Welcome pack, perfect if you're arriving late and don't have time to get to the supermarket as it contains some nibbles and drinks
Travel cots (free)
High Chairs (free)
Baby baths (free)
Potties (free)
Changing Mats (free)
Bed Rails (free)
If you're driving over and don't need to book linen or added extras then don't forget to bring these along with you – a few other things we always remember to pack include:
Oven glove
Veg peeler & sharp knives
Sponge, Washing up liquid & cleaning products
Bed linen (queen size for the Azure)
Baby Extras if needed (or add to your booking for free)
The Prmium is a great mobile home. It's fresh, clean and modern.
We loved having the added extras and the outdoor space really sold it to us.
I love that the main bedroom is quite spacious and that we had a really large bed, but I do wish the rest of the holiday home had some extra space too.
My complaints are with the size of the bathroom and lack of storage space in the kitchen, but really, these are only small complaints and everything else to do with our stay in here was perfect.
Check Availability And Book Your premium holiday home Today
Clicking the button below will open the providers website in a new window.