Camping Sandaya Séquoia Parc Review Sequoia Parc is such a well maintained campsite
The hard work and effort that must go into keeping the campsite so green and natural is unbelievable. It's definitely worth a visit. 
Check Availability And Book sequoia Parc Today
Clicking the button below will open the providers website in a new window.
Everytime we visit a new campsite I think to myself it can't beat the last. Yet, everytime, it does. Each and every campsite we visit seems to get more and more beautiful. 
And camping at Sequoia Parc in Marennes was no different. As soon as we arrived we knew we were going to love it. Instantly, we could tell how hard the grounds staff work to keep this place looking as lovely as it does. 
There were colourful flowers everywhere. Loads of different tree types. The birds were singing and the sun was shining. Although, I'm sure the ground staff weren't responsible for that one.
Arriving during the last weekend of the Whit week school holidays meant the pools were alive with the sound of kids having fun and the campsites atmosphere was really lovely.
It's safe to say we absolutely loved this campsite and will definitely be back again sometime.
Every family prefers certain things about a campsite, so our "cons" could be on your "pros" list!
Pool Complex at Sequoia Parc
We arrived on the Saturday morning in absolutely roasting weather. Knowing our accommodation wouldn't be ready until 3pm we took the opportunity to use the pool complex. Here's what we thought about it…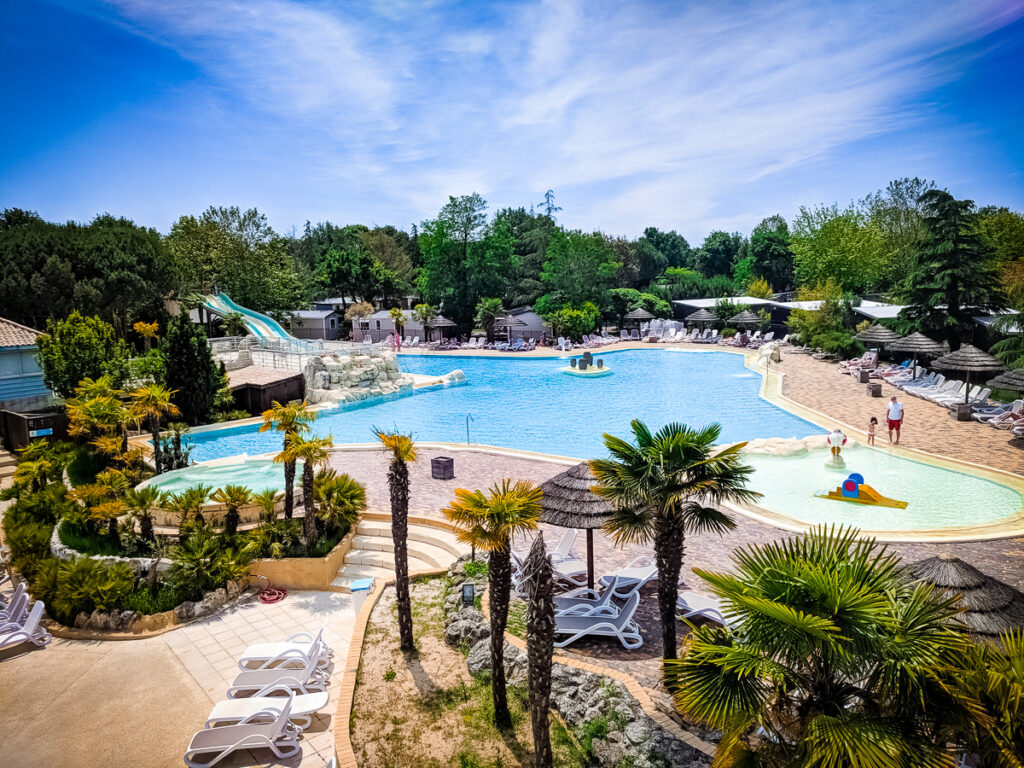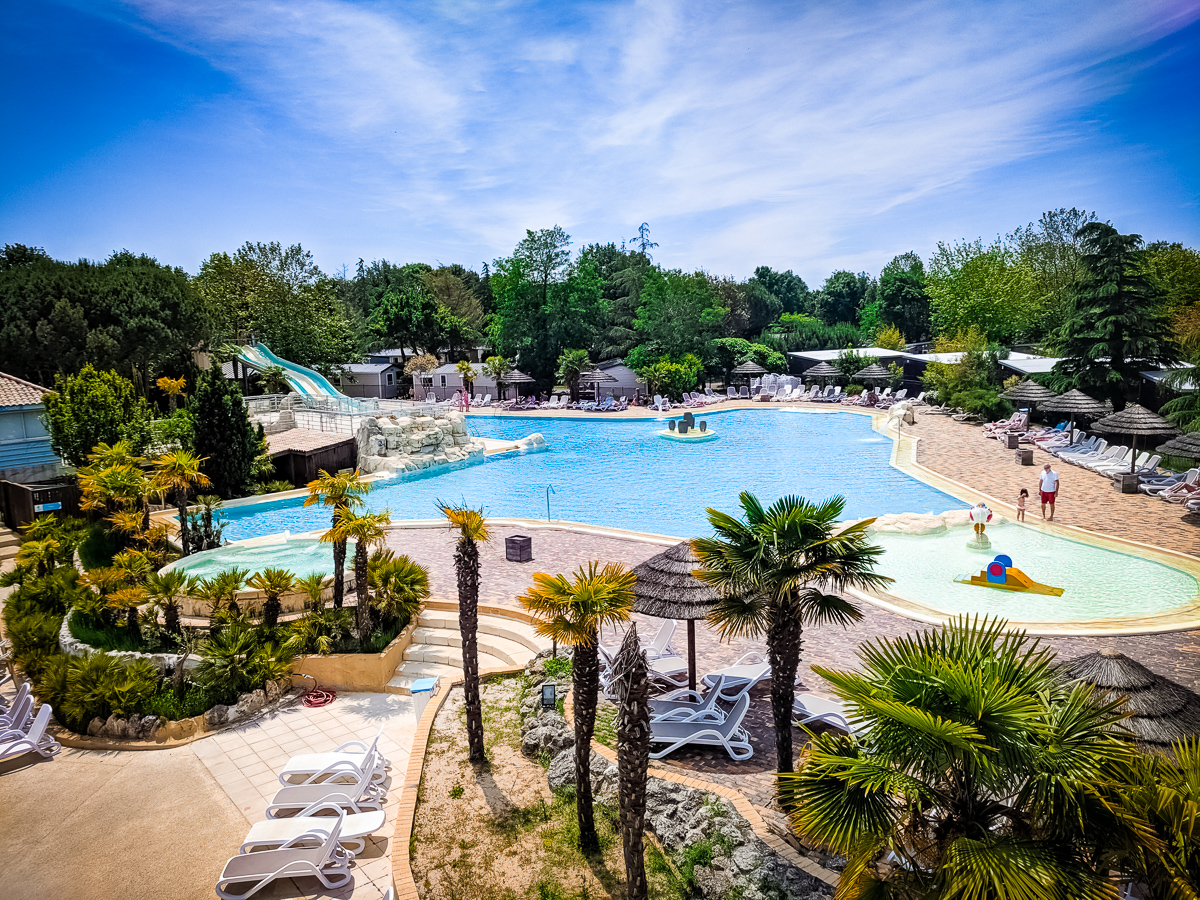 Although we were only in the first weekend of June, it seemed like almost every sun lounger was marked with a towel or bags. Frustrating. But, eventually we found some, right next to the unheated pool. At first, we had no idea this pool was unheated. We didn't even know that the others were heated. But, it was clear to see, after dipping our toes in, why this pool was a lot emptier than the others.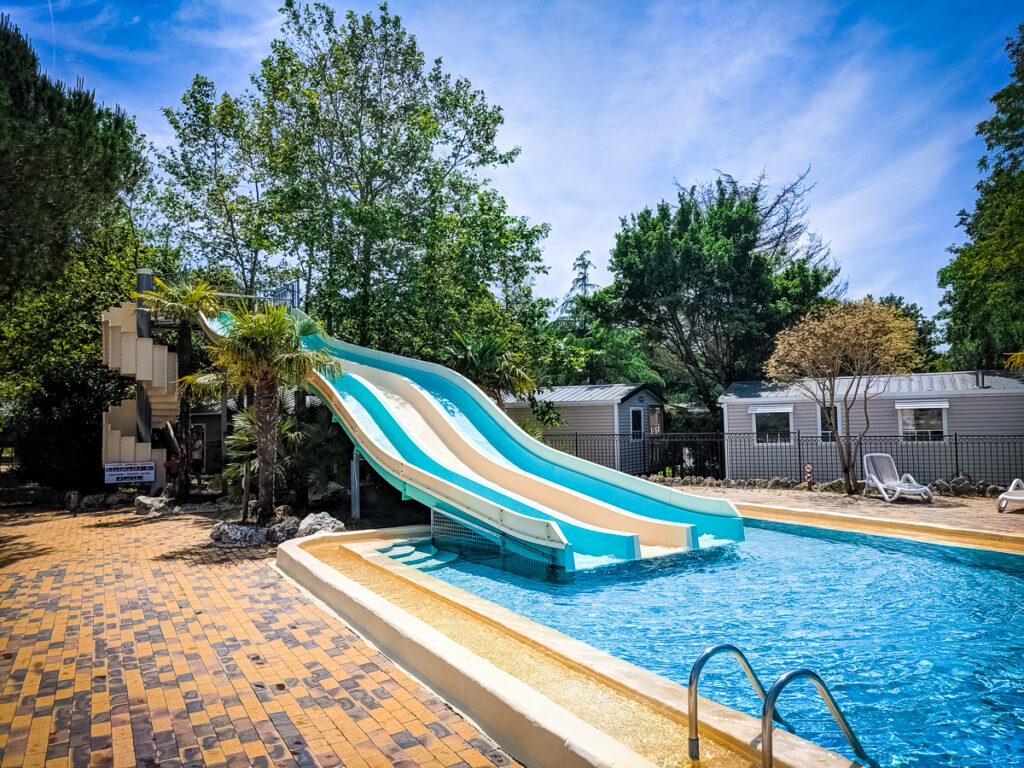 But, like with many unheated pools, it's just a case of throwing yourself in there. Which, they make easy with their 3 lane slide.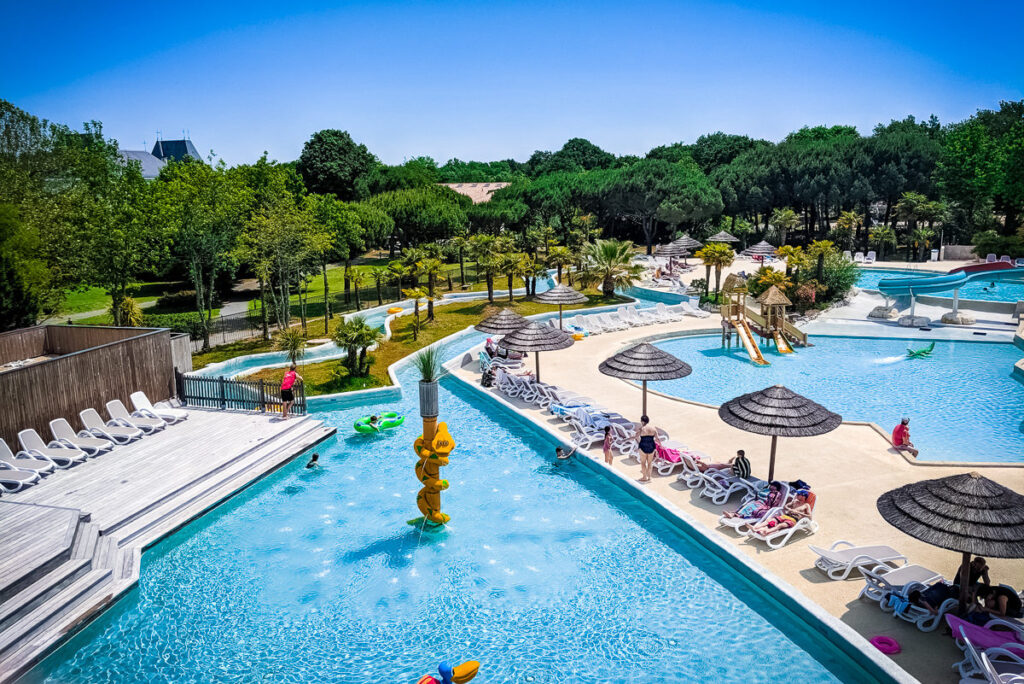 The next day we arrived to the pool at a much better time. Or maybe it was after a large departure day? This time we had no problem finding a sunbed nearer the warmer pools. The warmer pool near the entrance, is a great pool for advanced swimmers as it had a deep point of 1.75m and it also had another fun slide into it. 
And there was also a lazy river – with inflatable rubber rings included, a small kids splash area and a Jacuzzi pool outdoors. The one thing I felt was missing was a swim only lane pool but we had no problems just swimming during quiet times.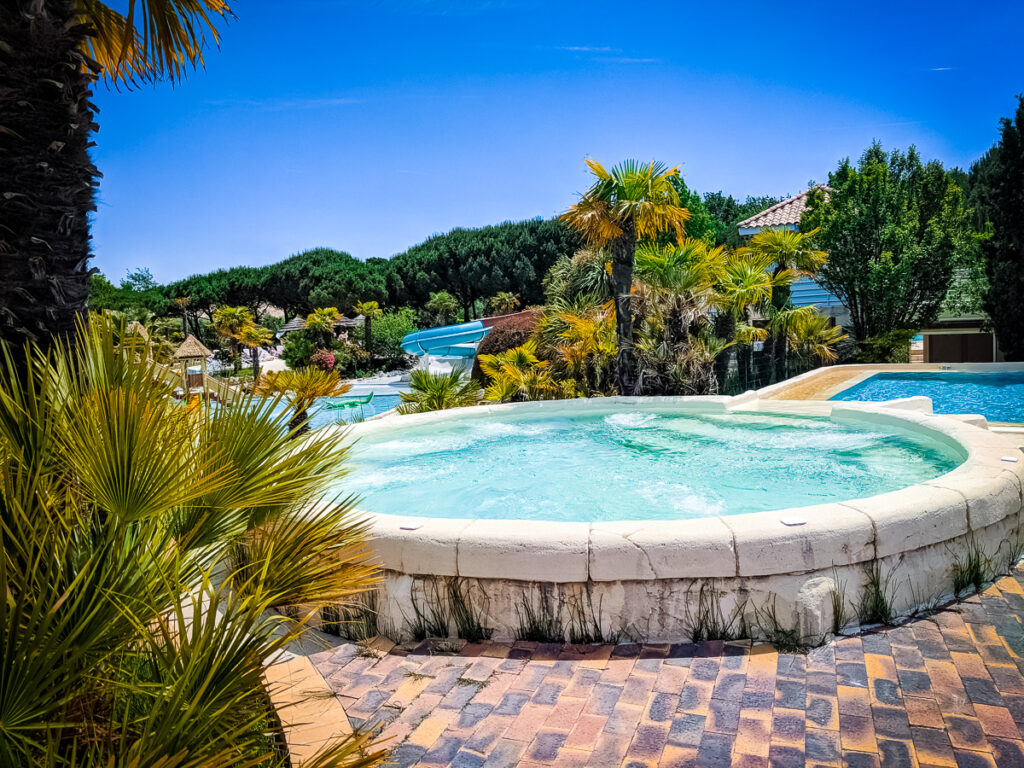 In low season the indoor pool area is open for free between 10am and 2pm. However, in high season, I believe this becomes a paid for spa only pool. It can be accessed either by entering the spa itself or through a door in the outdoor pool area. 
Inside there are loads of different and fun pool features, such as, infinity pools, Jacuzzi and a small toddler slide. As the weather was so great during our stay we didn't really make the most of this space, however I imagine if on holiday during bad weather or at a colder time of year this indoor pool area would be a welcome option.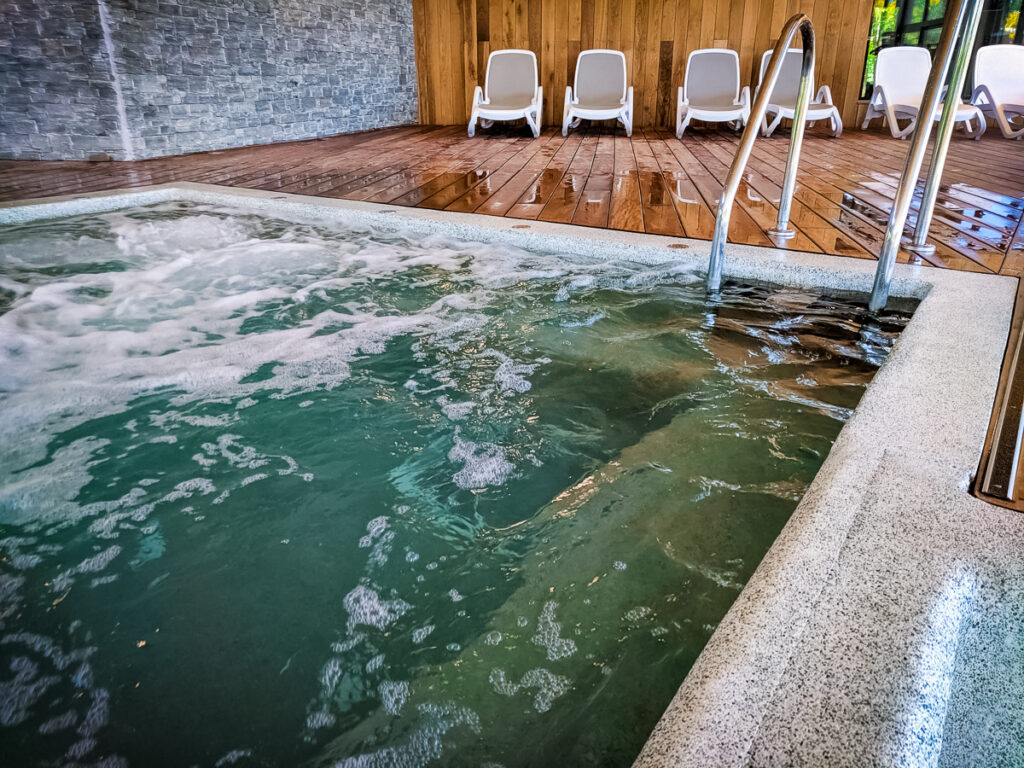 Spa Area 
The campsite spa "Les Brises Wellness" welcomes customers for all sorts of treatments and there is also a free gym to use. Although basic, the gym had a good amount of facilities for a short campsite stay and had I not been pregnant I imagine Mike and I would have made good use of it.  
As well as the pool area which is accessible for both kids and adults, there is an adults only wellness area with sauna, hammam, sensory shower, whirlpool, and 3 massage cabins, for body and face treatments. Above the spa building there is a beautiful solarium filled with sun loungers and there's a great view looking down over all of the outdoor pools. 
I went into the front desk to ask for some more information, prices and what spa treatments are available and I personally think the prices are quite steep, however that's to be expected from a campsite spa. There was a wide range of massages, facials and body treatments available and could definitely be a great escape for a stressed mum mid holiday. And if you're not willing to ditch the kids, You can also have parent & child treatments together.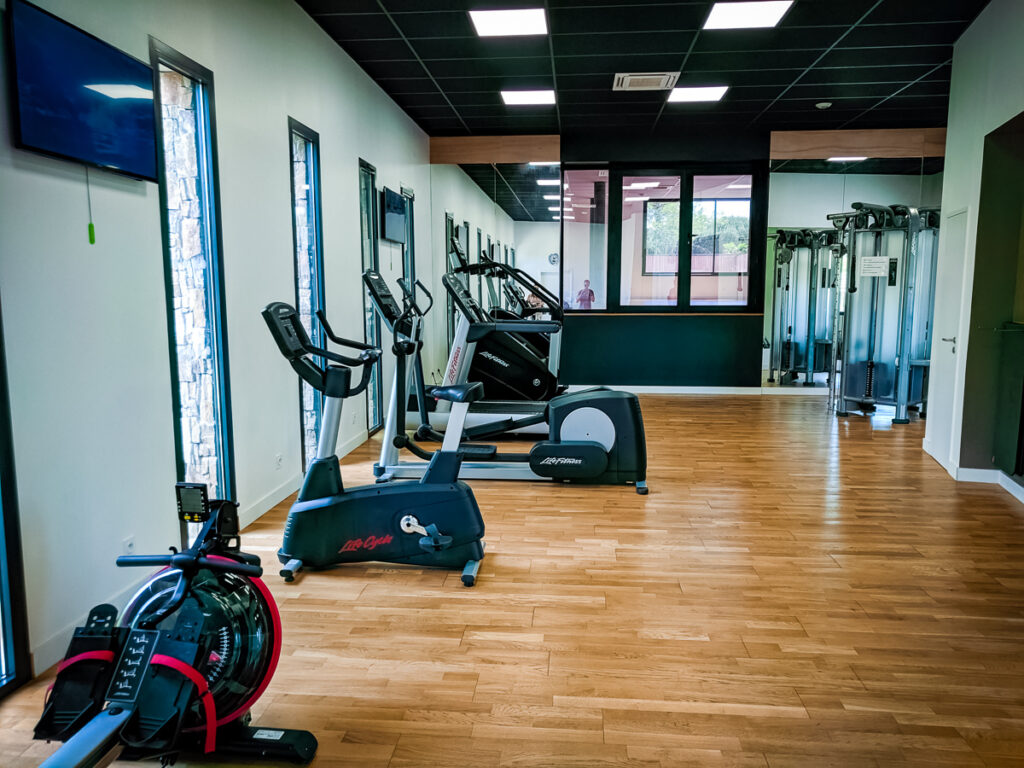 As with most French pool complexes, shoes must not be worn around the pool area and can be stored outside the foot bath in the storage units when you walk in. However we like to keep our shoes in our beach bags to avoid the theft potential. It may be a safe and secure campsite but I still don't want to risk it.  
With regards to swimwear, Mike was able to wear his normal swim trunks. They are above the knee but not tight like speedos. However, the conventional swimwear rule is law in France and if any campsite or pool facility in the local area gets fined by the government for not observing, you'll notice a change. 
The best option is always to buy a pair of swimming trunks from the UK and bring them just in case. You don't have to get budgie smugglers, a pair of Jammers or square legs should be sufficient. Plus, if you don't end up using them, you can just return them when you get back home.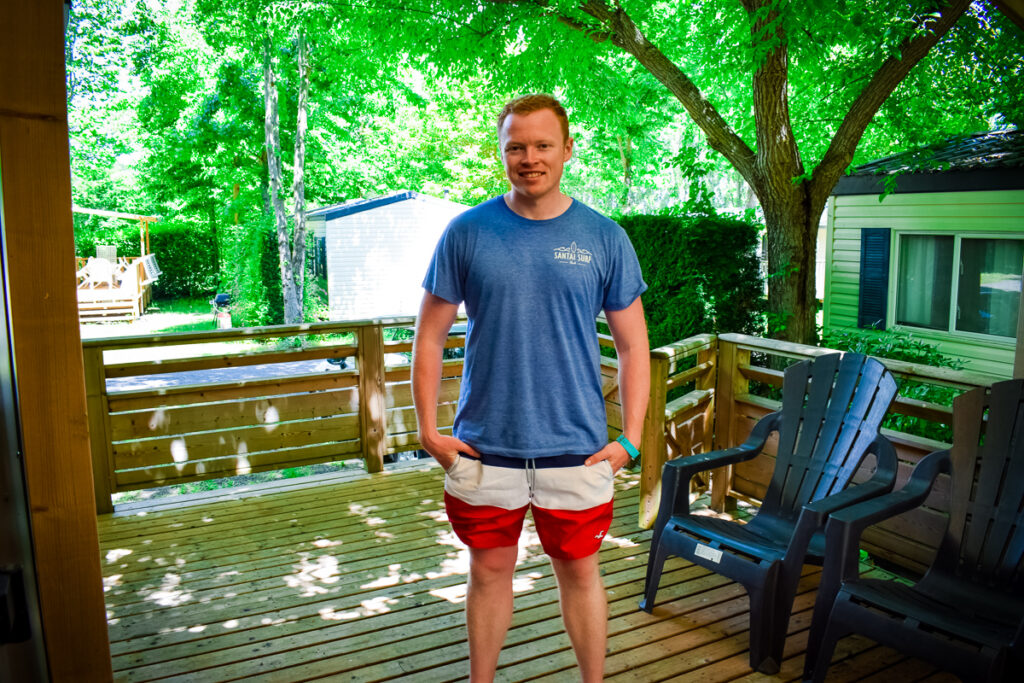 Bar, Restaurant Le Carrousel and Takeaway
The front of the bar area is located in the main square where there is also a stage area for evening entertainment, the shop, coffee shop, kids club and plenty of seating. It's just past the tourist office at the main entrance of the campsite. From the square you can also access the restaurant.
During low season (when we visited) the bar was only open from 5pm until 11pm. It was a shame it wasn't open in the day as the weather was so lovely. We really enjoy sitting outside a bar at lunch time with a few drinks and maybe an ice-cream. Luckily, in high season the bar opening time changes to 10am till midnight. 
The bar was in a really nice converted barn and is decorated with old merry go round style horses (hence the name Le Carrousel). At the back of the bar is the restaurant area and the room is really big and spacious. 
We watched the champions league final in the bar on the Saturday night and although it was busy and we found it difficult at first to get a seat, there was a great, lively atmosphere. 
The bar itself had a wide selection of drinks and I was even able to get alcohol free beers as well as cocktails, mocktails, standard beers, wines, spirits and coffee. There was also a small selection of sugar filled sweets and crisps to keep the kids happy. 
We also noticed there were a couple of computers and a printer situated in here for guests to use. I remember camping holidays 10 years ago and these little "internet cafe" spots used to be full, but I don't think many people really use them these days.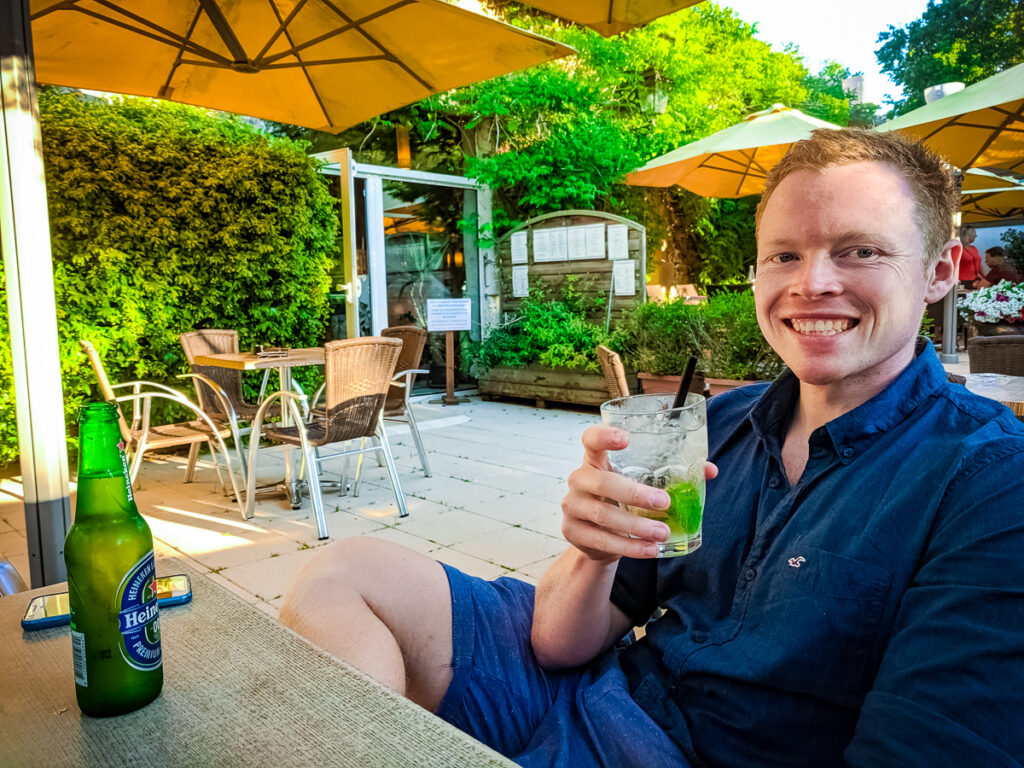 To the back end of the bar was the indoor part of the restaurant, but, as the weather was so lovely we, and pretty much everyone else, decided to sit outside and enjoy the sunshine. The staff in the restaurant were lovely. Although they did seem slightly rushed and completely forget our cutlery. So when our pizza promptly arrived we had nothing to eat it with, but this was soon sorted after a quick attention grab. The restaurant opens at 6pm and I believe this stays the same in high season.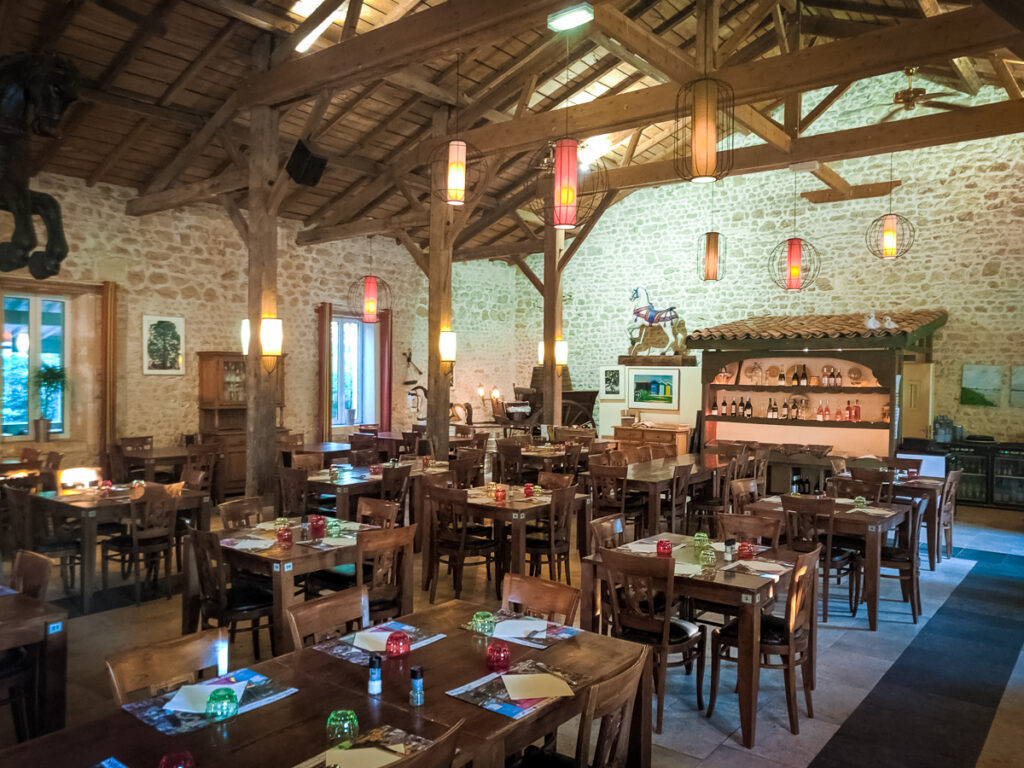 After the recommendations we both got pizzas. I had The Indiana: a vegetarien one which I really enjoyed as I felt they were super generous with the toppings and I love a good doughy base. Mike had Le Guiness: a chicken and onion one but he wasn't very keen and thought there was too much cheese (he's pretty picky with pizza). So, if you like a really cheesy pizza, I'm sure you'd enjoy it! 
To be honest, a whole pizza is pretty filling. I could only eat half so I asked the waitress if she wouldn't mind wrapping up the left overs, and I could have it later on – which she was completely fine with, I also noticed another couple doing the same. 
All in all, the restaurant was absolutely lovely and although the staff seemed quite rushed, they were friendly, polite and very smiley. I enjoyed the food and the atmosphere and had we be spending more time at the campsite, I'm sure we'd have enjoyed another meal. Price wise, I do think the pizza was a little more expensive than I would normally pay and I believe (although I may be wrong) it's cheaper to get a takeaway pizza than it is to eat it in the restaurant.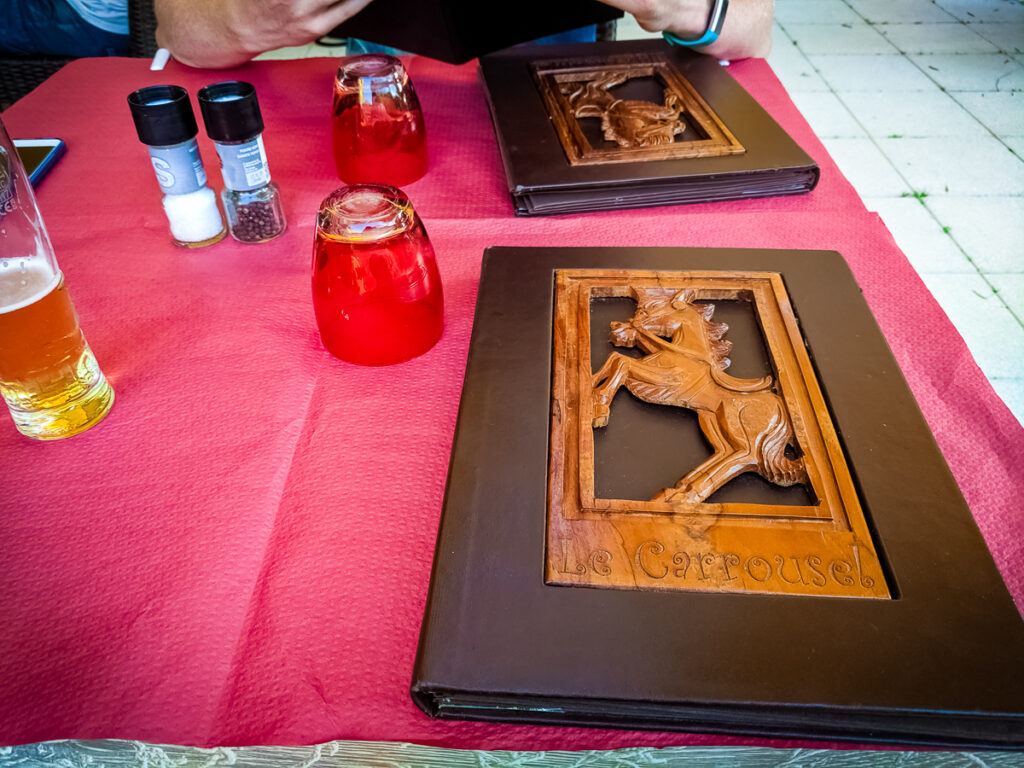 The takeaway is situated just past the restaurant, although, I believe many people were ordering their takeaways from the main restaurant till. I think in high season however, there is a dedicated takeaway counter which is open from 12 – 2 and 5.30-10.30pm
Not only do they cook pizzas but you can also get Salads, French fries, burgers, fried chicken and more from there. You can also enjoy your takeaway in the beautiful Balinese style seating area.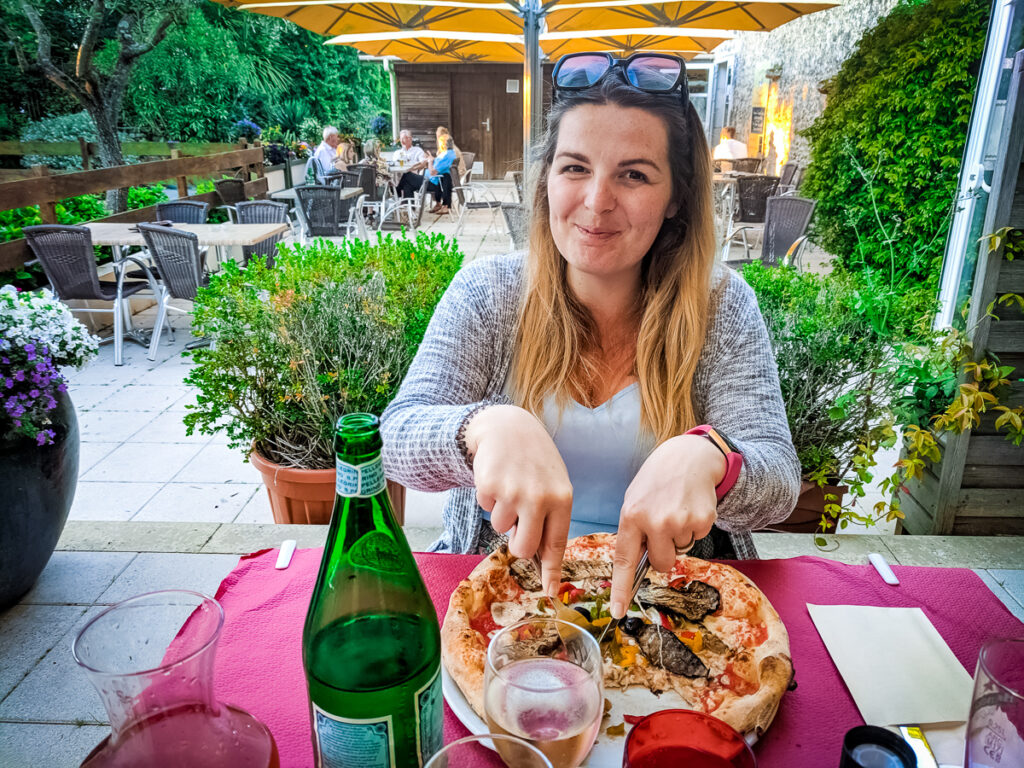 We found this campsite had everything we required during our stay. There was a bar, a restaurant, takeaway, shops, pools, parks, fields, spa, gym and more. Although, we did note that the pool bar was still closed due to low season even though, I feel, with the amount of guests on site, they could have definitely opened it early or just for the week.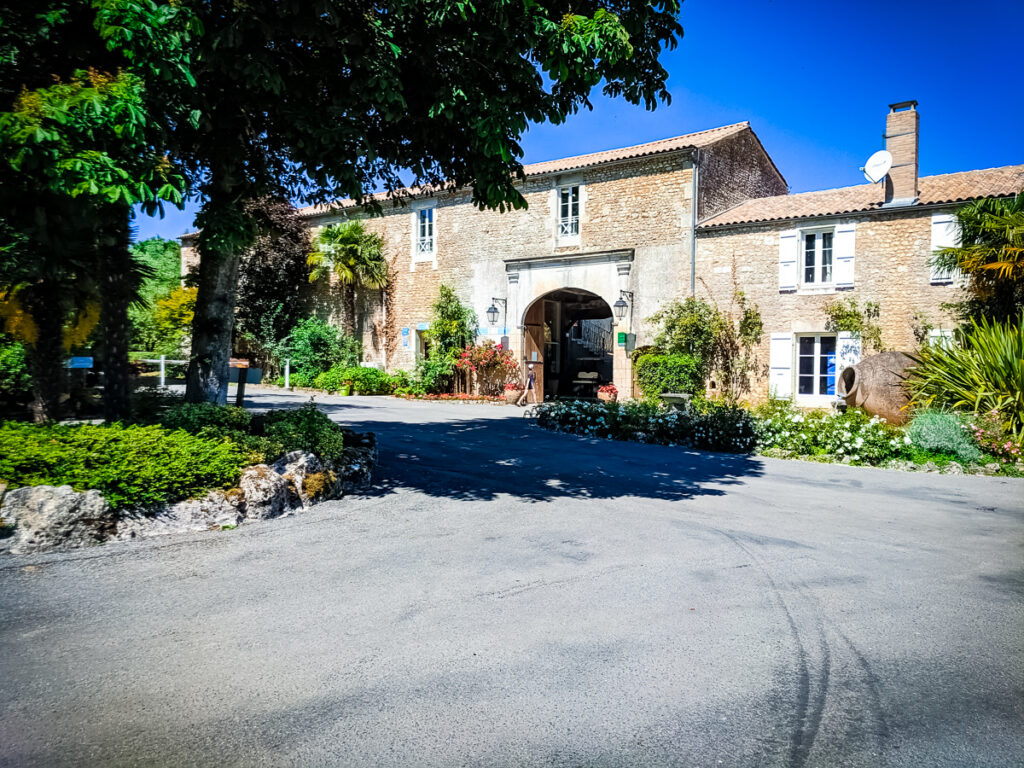 Sequoia parc Receptions and Check In
When we pulled up to the campsite we were immediately directed to the car park where the tour operators have their receptions. As we were staying with Eurocamp we went to their reception first, however other tour operators included Canvas, Al Fresco and the Irish tour operator Kel Air. 
We arrived at around 11am. I knew our accommodation was unlikely to be ready, however I called the Eurocamp rep to see if there was anything we needed to do first or if we could just go on site and use the pool before we check in. The rep on the other end of the phone assured us it was fine to walk on site and use the facilities and to just leave our car in the car park and return at 3 where he would be able to check us in and give a code for the barrier. 
Fab, that meant we could head straight to the pool with no fussing. 
I always have a pool bag ready in case of a delayed check in, I advise you to do the same, especially if you have inpatient kids who can't wait to dive in.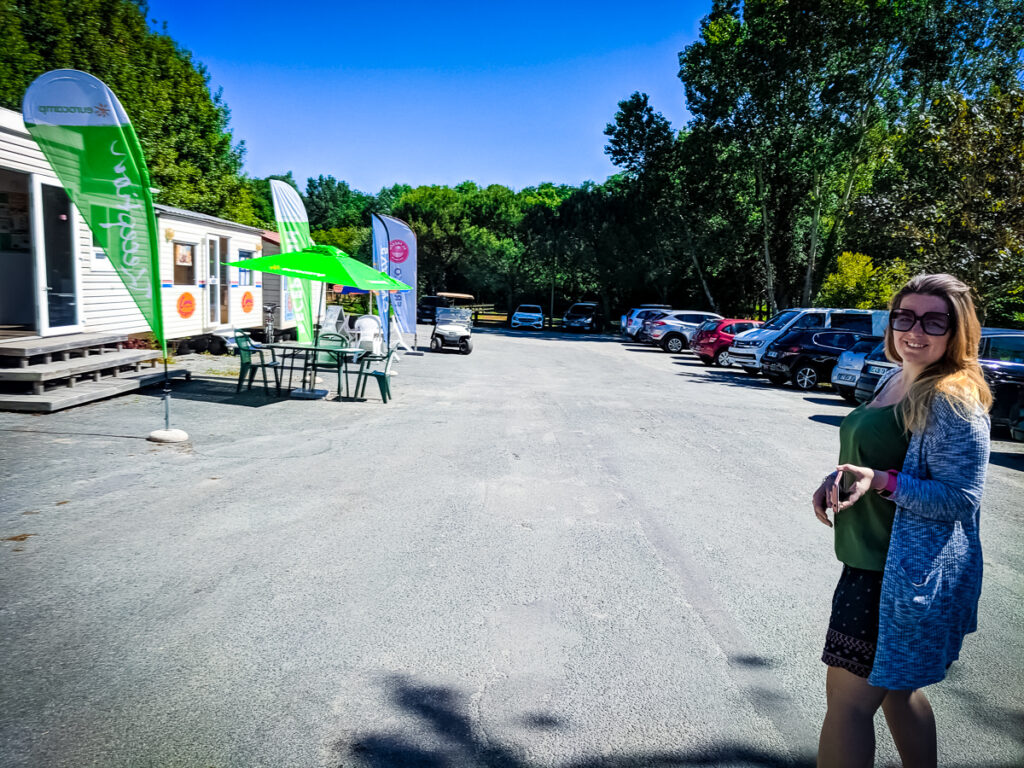 At 3pm we headed back to the reception and found out we were actually the only arrival for the day. Which really surprised me, based on the business of the pool. While in reception our friendly rep explained where things were on the campsite and directed us on the map to our accommodation. He gave us all the information we required for a smooth arrival. He even told us that the campsites pizza chef was flown in by the owner from Naples and recommended we try them that evening. 
If you're booking a holiday through a tour operator I highly advise you to use their reception facilities. They are there for a reason. The Eurocamp reception at Sequoia parc had free to use toys, games and books as well as lots of information about market days in the local area and it's definitely worth utilising if you're booking through them. I'm sure other tour operators have a similar games borrowing and local information system too.
Sequoia Parc doesn't just have one, but 3 different play parks for children. There's rope swings, zip wires, slides and massive climbing frames as well as table tennis and other fun activities. The parks were all in sandy areas and very well equipped for children of all different ages. They are of course unmanned so parental supervision is necessary at all times.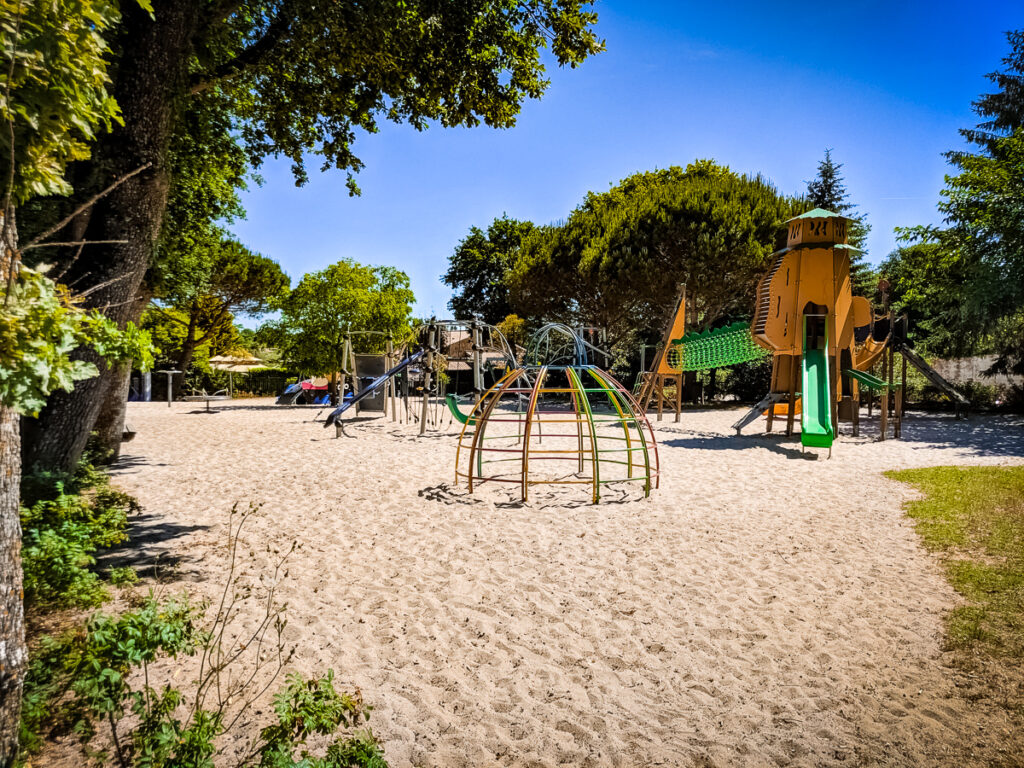 As well as play parks, and boules areas, children can make use of the giant sports field with goals at each end, the tennis courts and the multi sports terrain where they can play football, basketball and other team sports. There's even a volleyball pitch. 
In July and August the campsites entertainment team organise regular sporting tournaments here which you can get involved in by speaking to them at the Ibou club.
Ibou club Is the campsite run kids club and is situated in the main facilities square. They are open from 10-12 and 3-5pm. The days may vary depending on season times but we noticed plenty of boards outside explaining exactly what days they were open and what activities they were proposing. They also had an evening animation schedule. 
The clubs are for children aged between 4 and 12 and you can register at their office in the main square. Parents are advised when taking kids to kids clubs to stay on the campsite grounds for safety reasons.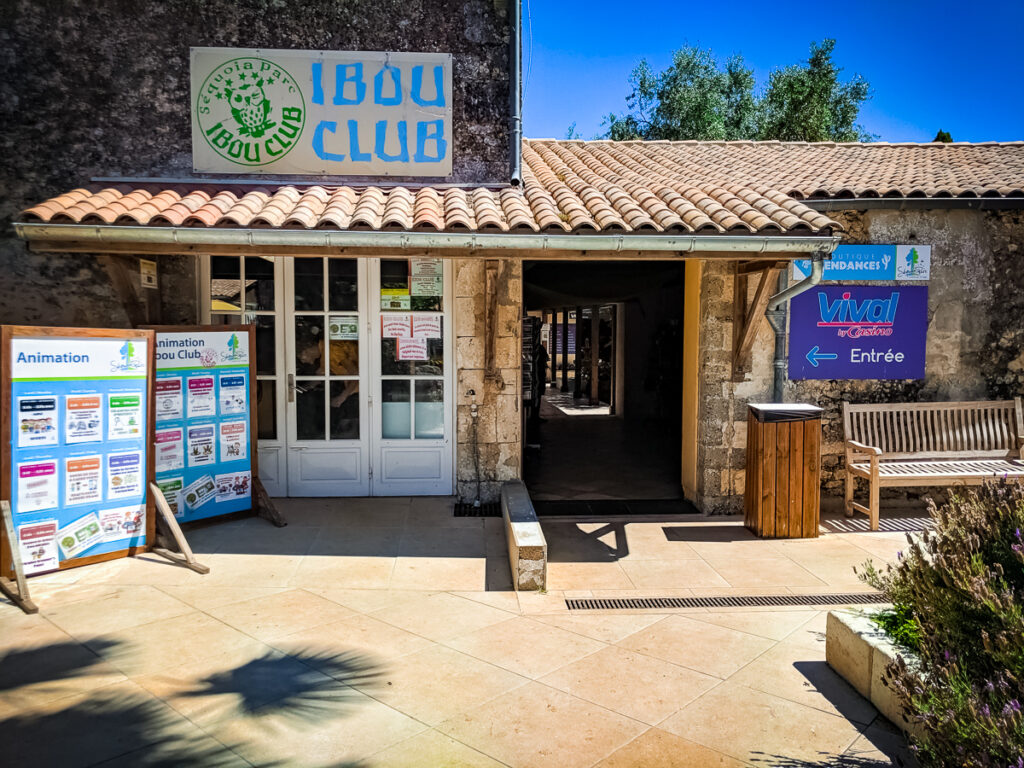 Billiards and Arcade rooms
From the bar area you can access the billiards room. There's two tables and they each take a 2euro coin. There are pool cues available and you can only access this area when the bar is open. 
From the main square you can also access the mini arcade. This is open from 10am till 11pm and features family favourites like slot machines, pinball, air hockey and the standard racing video games.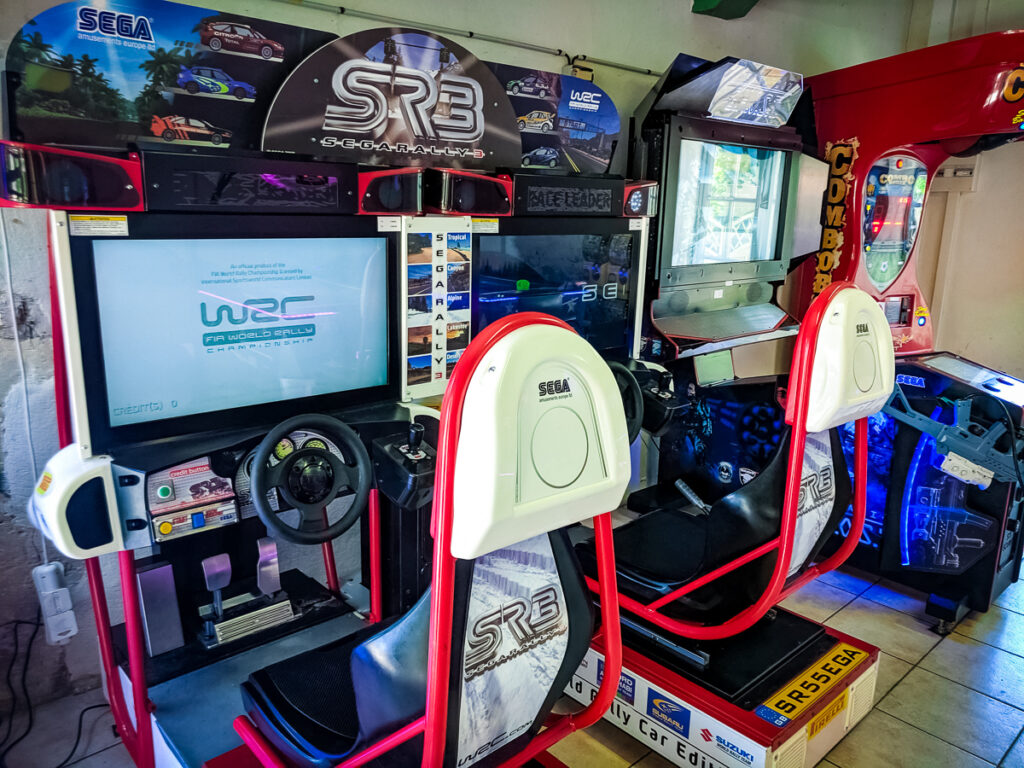 Also in the main square is the Cocoon cafe. Although, it's not really a real cafe and is in fact more of an information area. There's a coffee machine in the corner, one large table with a few chairs and the room is surrounded by leaflets, flyers and information posters. I imagine it's a great place to sit down and take 5 minutes to peruse the local activities. I grabbed loads of informative leaflets from here.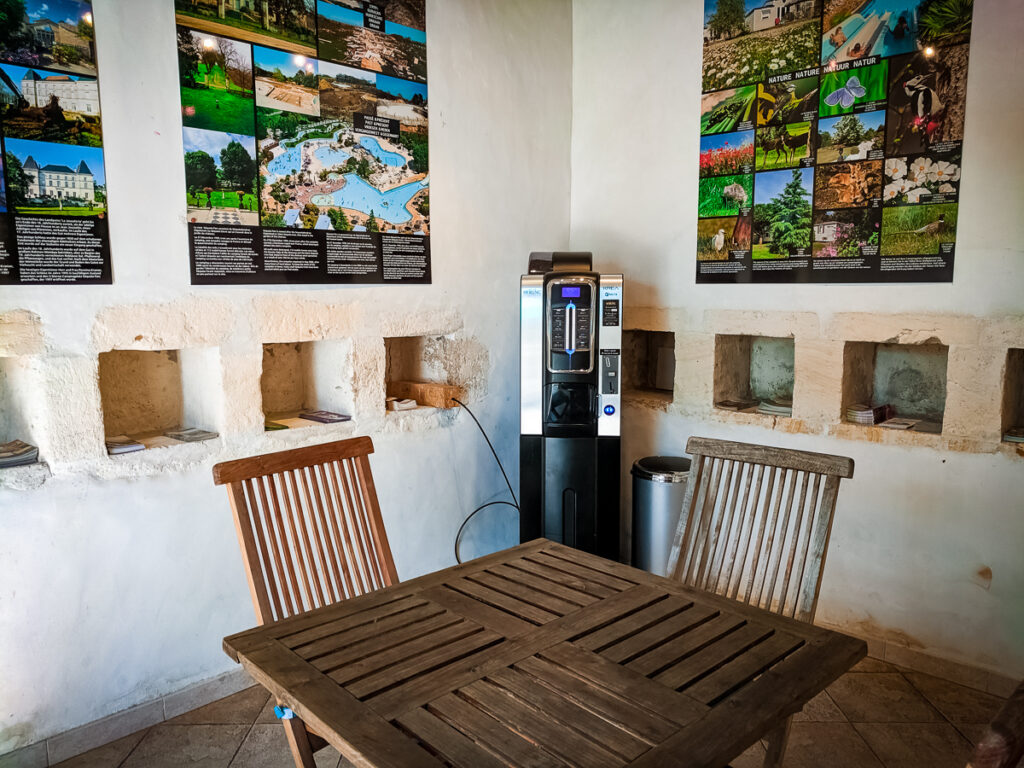 Information on the bike and go kart hire is available during low season from the information center and in high season has its own dedicated kiosk. There's a deposit of 100euros per bike and 30euros per pedal go kart and these can be made via credit card. There was wide selection of bikes available and they (and pedal go karts) all looked well maintained and in good condition.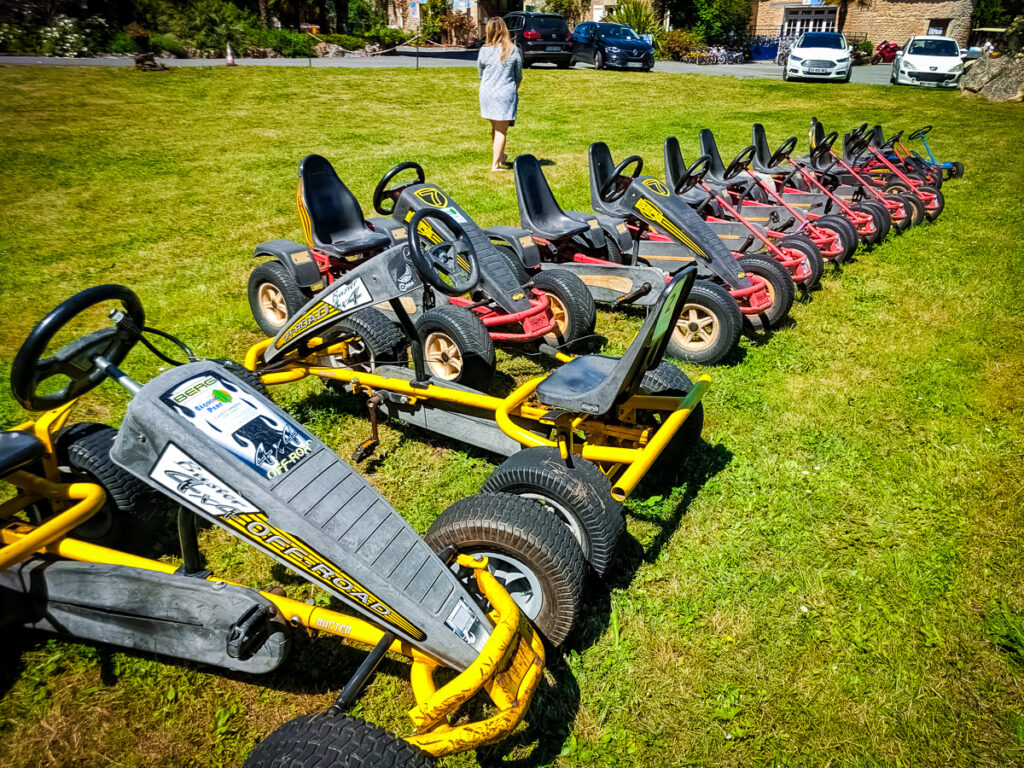 Campsite Shops at Sequoia parc
Sequoia Parc had 2 campsite shops. One was the campsites on-site mini supermarket and the other was a gift shop
The on-site supermarket is a Vival and was a pretty impressive size for a campsite shop. You could very easily survive for a week just shopping in here, but for a more cost effective shop it is always advisable to go off site. 
The shop had fresh bread and pastries in the morning and plenty of kids toys to buy inside, as well as freezers full of ice lollies, which I obviously took full advantage of. You can, of course, buy your normal everyday food items as well as wine, newspapers, beer and you can even hire charcoal bbq's from here. 
The opening times are season dependant and in low season the shop closes between 1pm and 3pm. In high season it runs continuously between 8am and 8pm.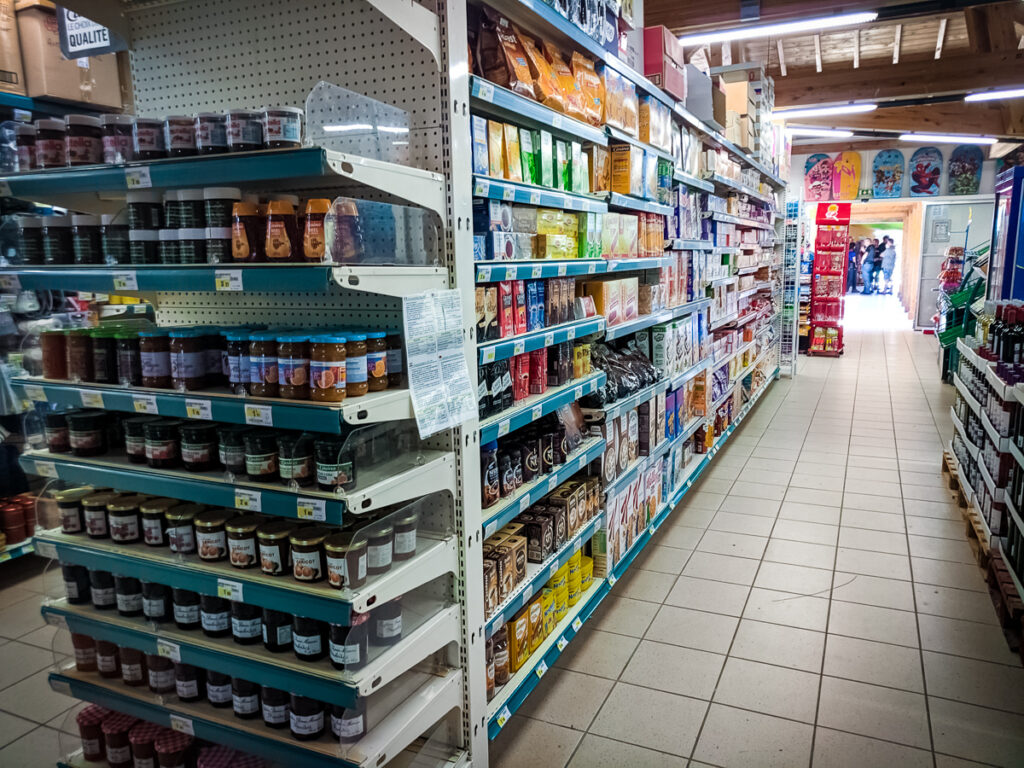 Tendances Boutique, Swimwear & Gift Shop
Next door to the shop was the boutique style gift shop. Normally we don't really check these out as we try to avoid gifts however, Mike managed to forget his towel so we bought one in here for just 12e50. So, if you forget your towel or any swimwear, here's where to go – unless you want to drive to the nearest supermarket in the town of Marennes. 
As well as gifts, towels and swimwear, you can also buy regional produce from here, jewelry and soft toys. Opening times do vary by season but there is a display on the door explaining when it will be open.
Other Facilities & High/Low Season Changes
The main reception we didn't use at all during our stay but you may want to use it for the ATM, hiring of safety boxes and photocopying. However, you're more likely to use the campsites information center located just opposite from the reception. Here's where you'll find all of the tourist information leaflets, computers, a library, bike hire and where you're able to purchase wifi.
The prices for the wifi are 1hour for 5euros and 5 hours for 10euros. We didn't use wifi during our stay because we felt the charge was a little steep, and we have good mobile data allowances, although phone signal could be a little hit and miss.  
Another facility we didn't make much use of was the shower blocks, in fact we couldn't find the open ones – which was a shame because I've seen some photos online and they look like excellent shower blocks with special children's areas decorated with cartoon characters. When walking past one of the blocks I even noticed a special shower especially for dogs! 
The campsite isn't just fun for the family. It actually has its own seminar room which is perfect for guests wanting to hold meetings or events, it can hold up to 50 people and is in a really light and airy space. I didn't even know campsites had things like that, but what a cool idea for a meeting place, especially when you can cool off in the pool after a long productive meeting.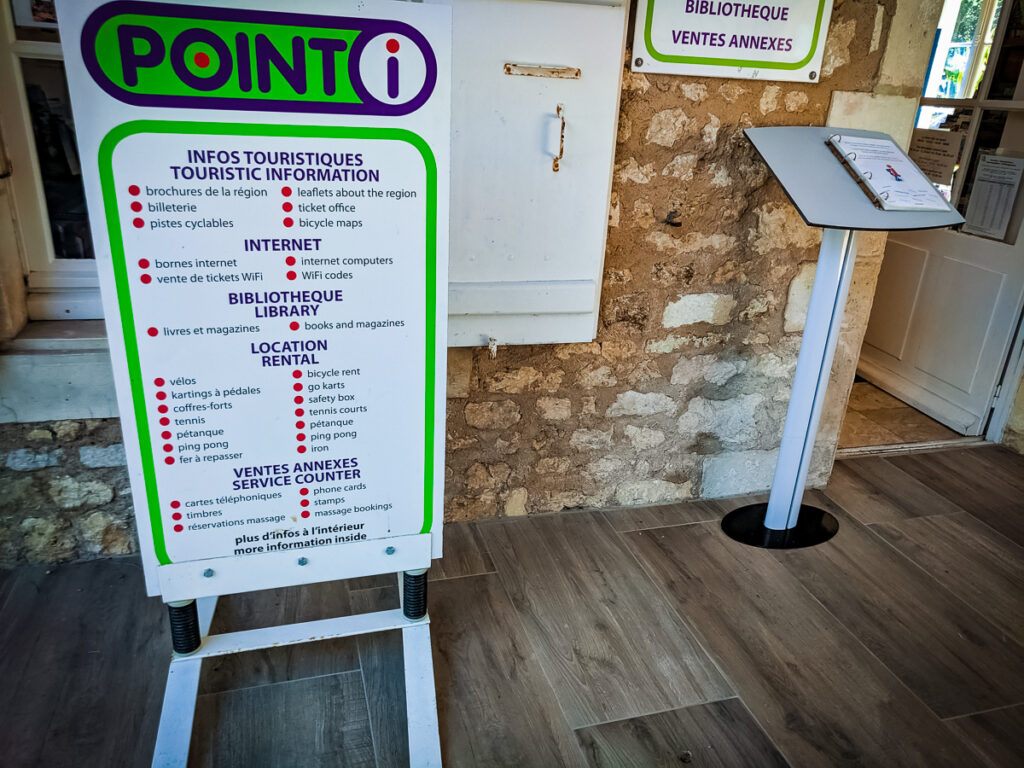 High season/Low season extras
As with all campsites there's a switch over between high and low season around mid July thanks to the British school holidays. In high season many more things are open and available, but with that availability also comes extra noise and crowding. 
One of the things we noticed that was only open in high season was the Aqua bar situated in the center of the pools. Apparently, here you can grab ice creams, drinks, crepes, paninis and even more snacks and thanks to its location, in the pool complex, you can enjoy a relaxed holiday atmosphere.
Another feature we couldn't find during low season but seems to be available during the high season is the mini farm area where you can meet goats, ducks, chickens, swans, rabbits, and an alpaca. However, we did find some chickens running free around the site and a few geese and ducks beside a pond. 
And the last we thing we noticed that was a high season activity was the equestrian park. Although we did see a horse in a field at the front of the site and some stables, the equestrian park is open during July and August and the horse riding club organises riding lessons for advanced as well as beginner riders.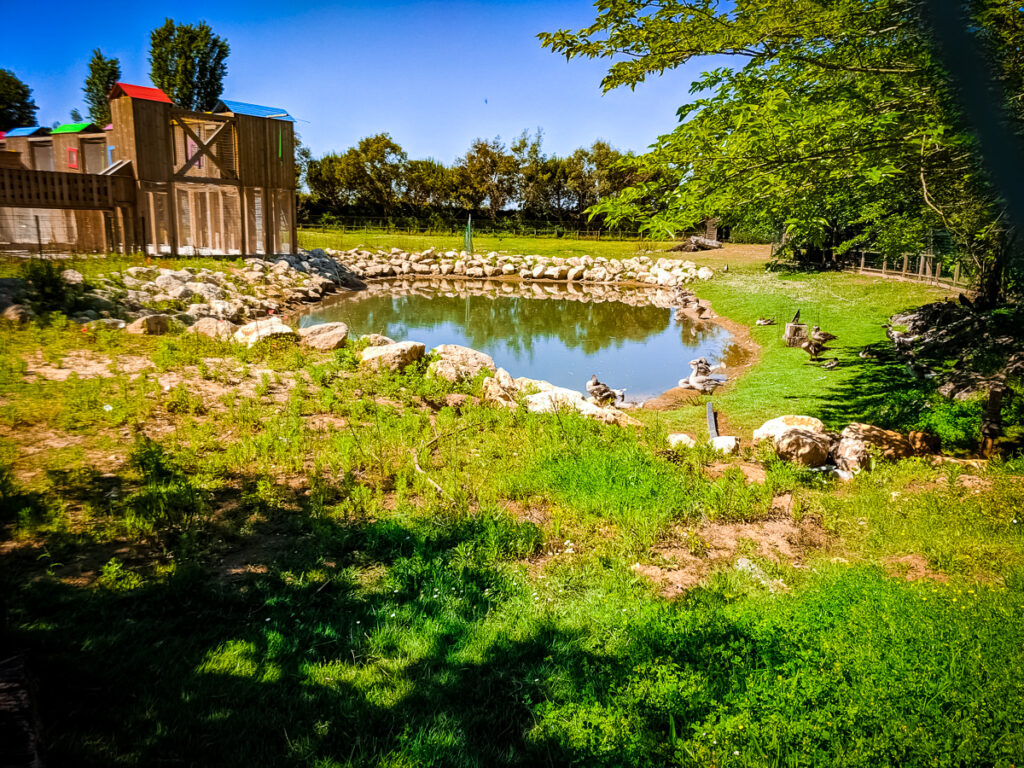 Check Availability And Book sequoia Parc Today
Clicking the button below will open the providers website in a new window.
Accommodation at Sequoia Parc
Sequoia Parc has around 640 pitches and is a very large campsite. With a range of tour operators and their own mobile homes and touring pitches there's plenty of accommodation options to suit your needs.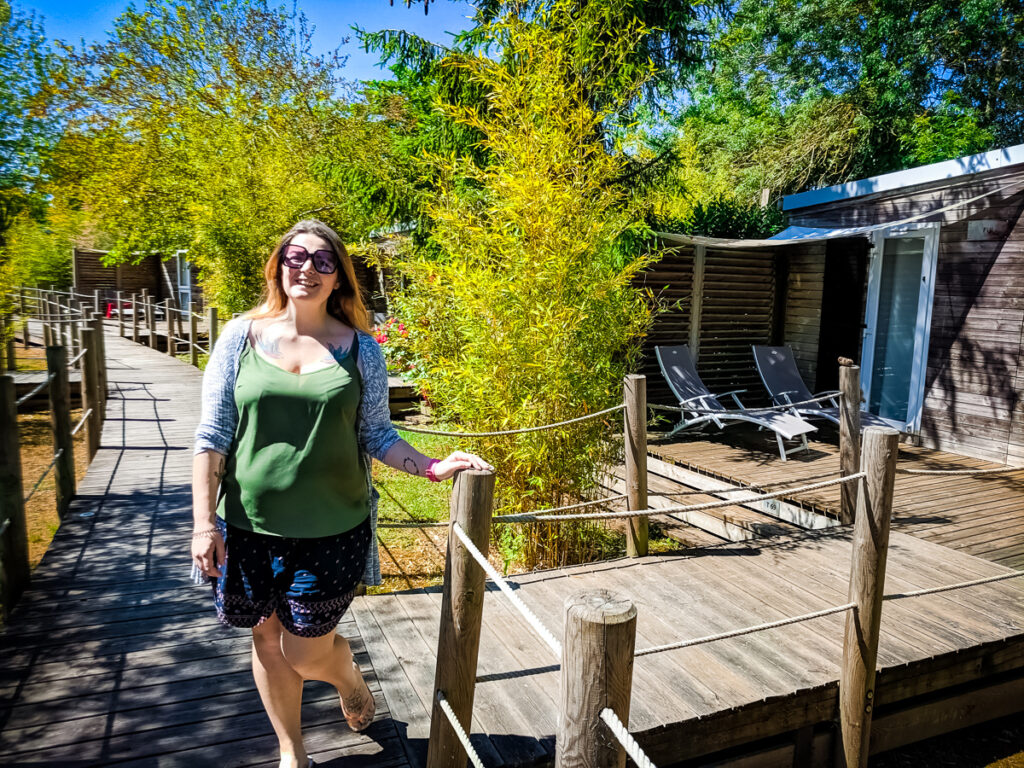 The campsite calls their own mobile homes cottages and there's a wide range you can find on their website. They also have slightly classier chalet units with a nicer outdoor area. However my favourite has to be the Key West cottages. For these you can't park at your pitch and you have an allocated parking area, but you walk across a beautiful boardwalk to your wooden cladded holiday home and it just looks really lovely and modern. 
As well as mobile homes and chalets you can also stay in some of their glamping options like safari tents and even their balinese style chalets.
For the really upmarket experience, you could even stay in a campsite owned villa. Or, if you're looking for a more authentic camping feel why not bring your own tent and stay in one of their 3 different pitch types.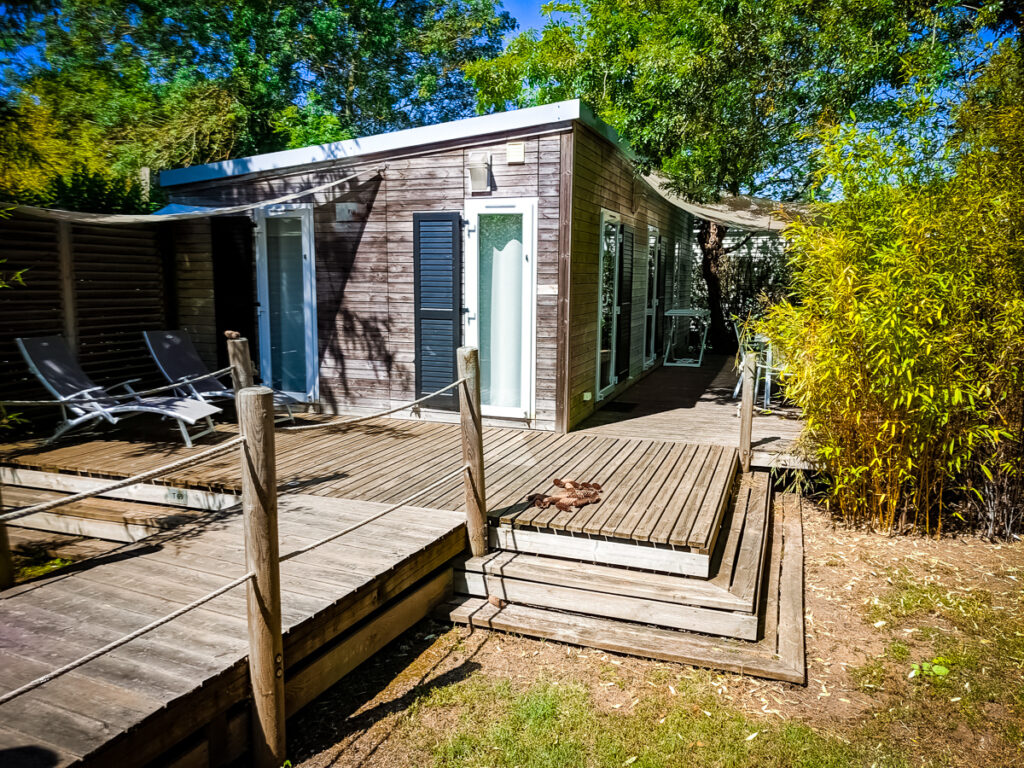 We stayed with Eurocamp in one of their high-end Azure plus (formerly the Avant) mobile homes, which you can have a look at in our tour video on Youtube. Like the campsites own selection, Eurocamp have a wide variation of different mobile home types to suit every family and you can take a look on their website here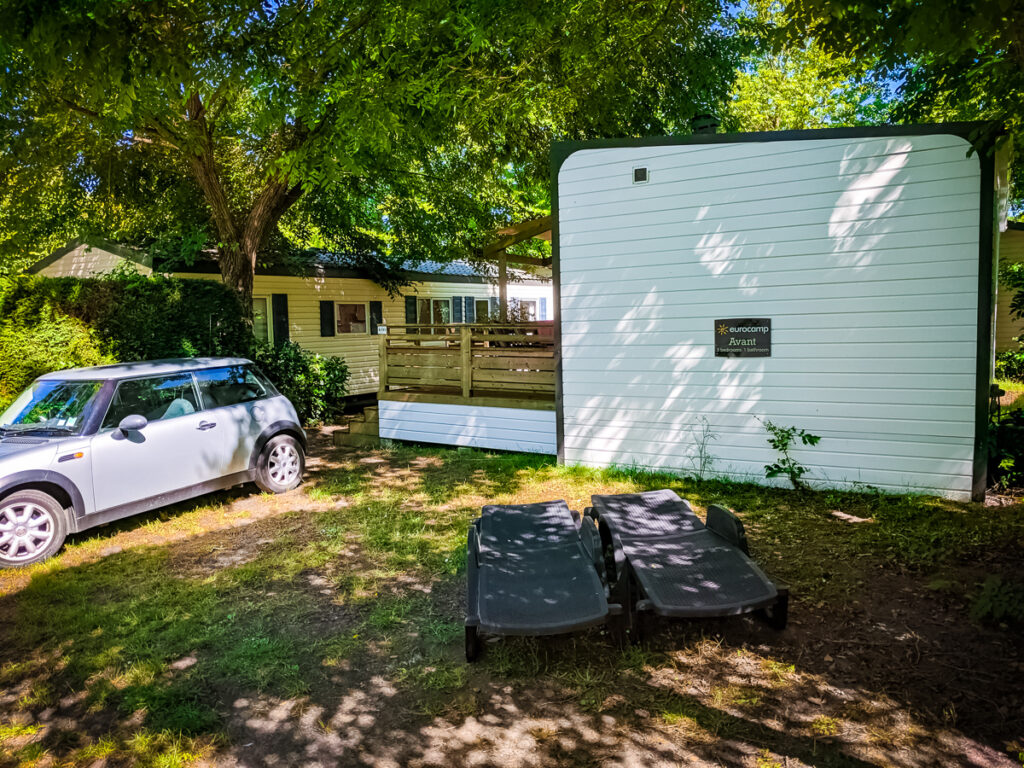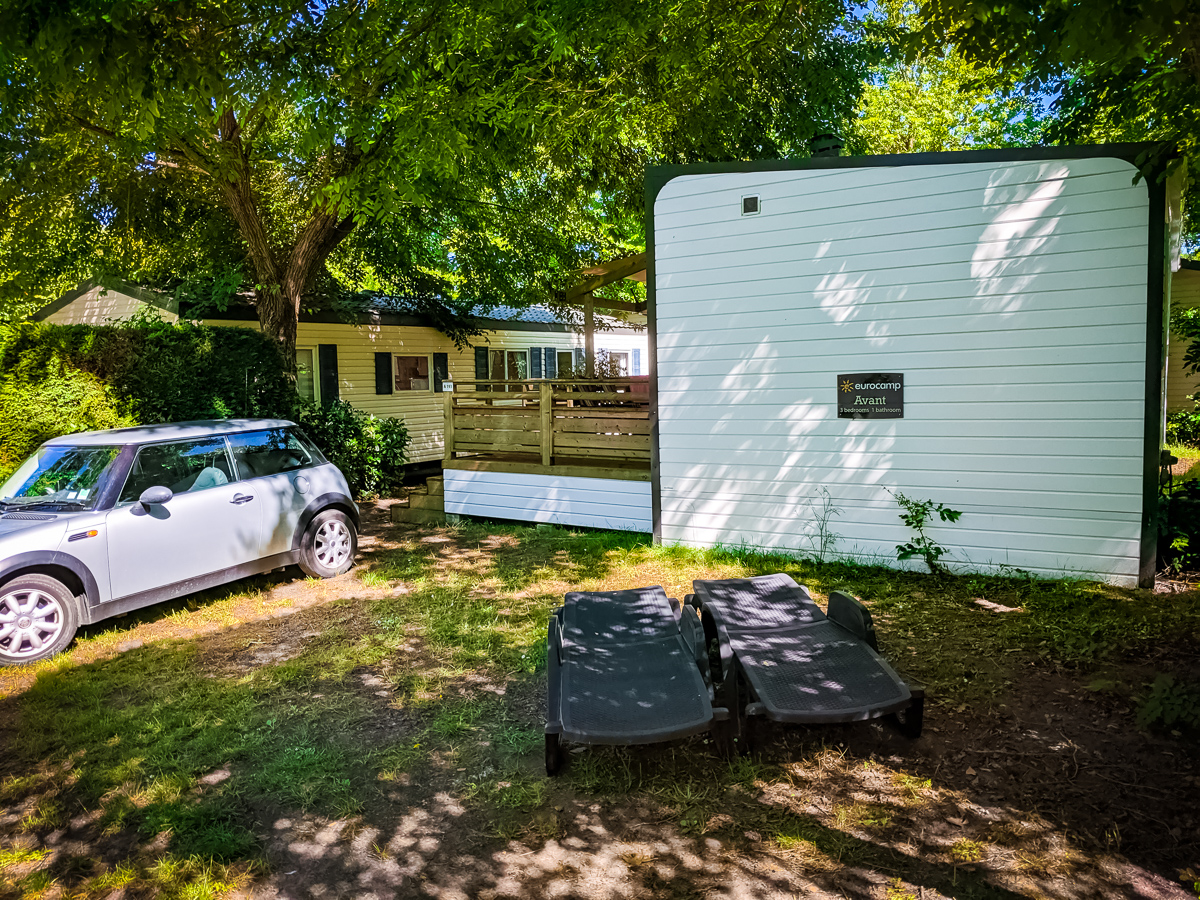 Not only is there Eurocamp, but other tour operators here include Alfresco, Canvas and an Irish company called Kel Air. all of these companies provide different accommodation options for you to have a look at.
Should I Book Direct Through the Campsite or Through and Operator?
Most people wrongly assume that booking direct with the campsite will save them money, but this isn't always the case. We have actually found some really amazing offers through eurocamp this year which is why we have been taking full advantage of it. 
One of the other perks with booking through an operator like Eurocamp is that the price doesn't change per person. Whether there's two people staying in a mobile home or 6 people, the price for the mobile home will stay the same.
It's really worth searching around though. Sometimes one tour operator will have great offers and another will be really expensive and sometimes booking with the campsite is the cheaper option. Definitely look around.
Check Availability And Book sequoia Parc Today
Clicking the button below will open the providers website in a new window.
Do You Need a Car to Get Round?
YES. The nearest village was around an hour walk away with no footpaths. It could be cyclable but I personally wouldn't like to do it. Like most smaller towns in france public transport is minimal and if you're thinking of exploring anywhere other than the campsite itself then I would recommend hiring a car at the airport or bringing your own.
How to get to The Campsite
The nearest airport to the campsite is La Rochelle 60 km away and around an hour drive. It may be possible to get an airport taxi, however it wouldn't be advisable and I imagine would be very expensive. I would always advise guests coming to this park that driving is best.
We drove from within France so luckily our journey was a short 2 hours. We also found the roads really nice to drive on however there is quite a busy main road near the campsite which we found hard to pull out on as there was a constant stream of traffic.
Yes, I will always recommend hiring a car to most campsites. As much as I love exploring via foot and bike, many of these campsites are far away from civilisation and don't have great walking or cycling paths.
The closest recommended ferry port is St Malo at 369km. You could do the drive in one day however there are plenty of lovely campsites on the way down if you wanted to break up your journey.
The nearest train station is 45km away in Rochefort so it wouldn't be an advisable transport option.
Address:
Sequoia Parc Campsite 
La Josephtrie, 17320 Saint-Just-Luzac
GPS Coordinates: 45.811217 -1.060894
Day Trips from Sequoia Parc
Although our stay was short, we still managed to pack in a few activities and explore some nearby locations and the day trips we'd recommend are below. Of course if you'd rather, which I'm sure many families do, you could just stay on the campsite the whole stay – there really is plenty to do.
Local village of Marennes
Good for the local supermarket, a wander round and a morning coffee in a small French town. Also famous for its oysters.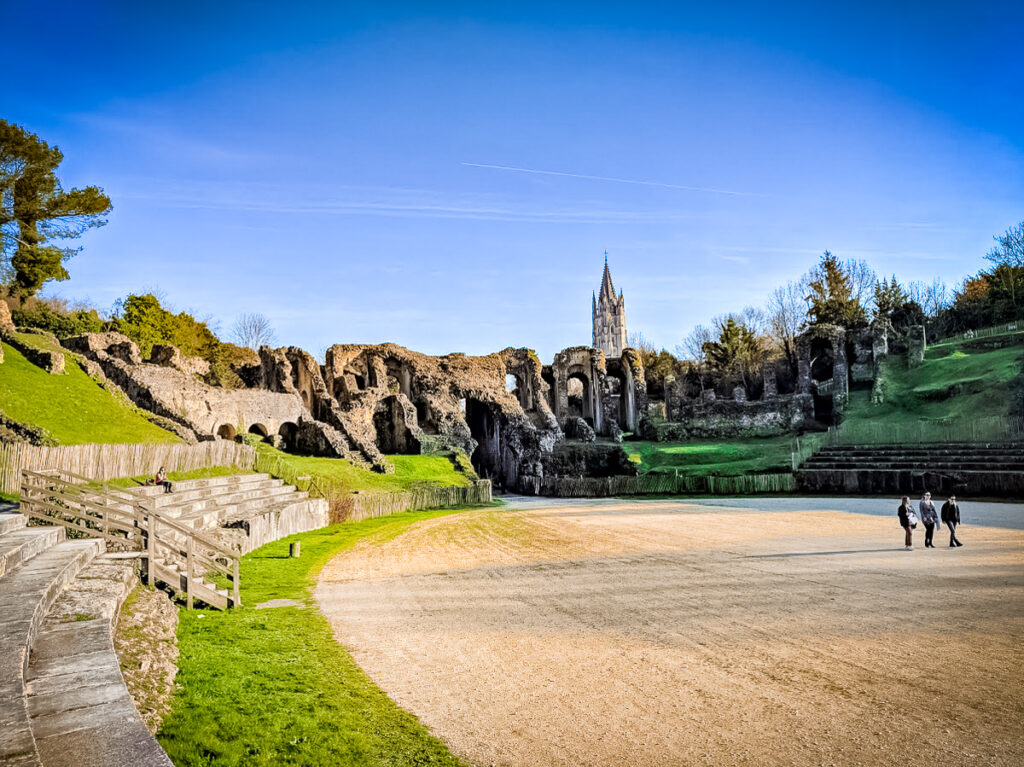 Lovely city around 40 minutes away. Stroll along the River and enjoy the scenery.
A French seaside town with 5 beaches and a large fishing port. It's classified as a Town of Art and History.
The Aquarium in La Rochelle is highly recommended and makes a perfect day out when the weather's bad. The coastal city of La Rochelle is also lovely for a sunny day out.
That's right, remember that TV show? Well it was filmed just off the coast of France and you can easily visit it for days out.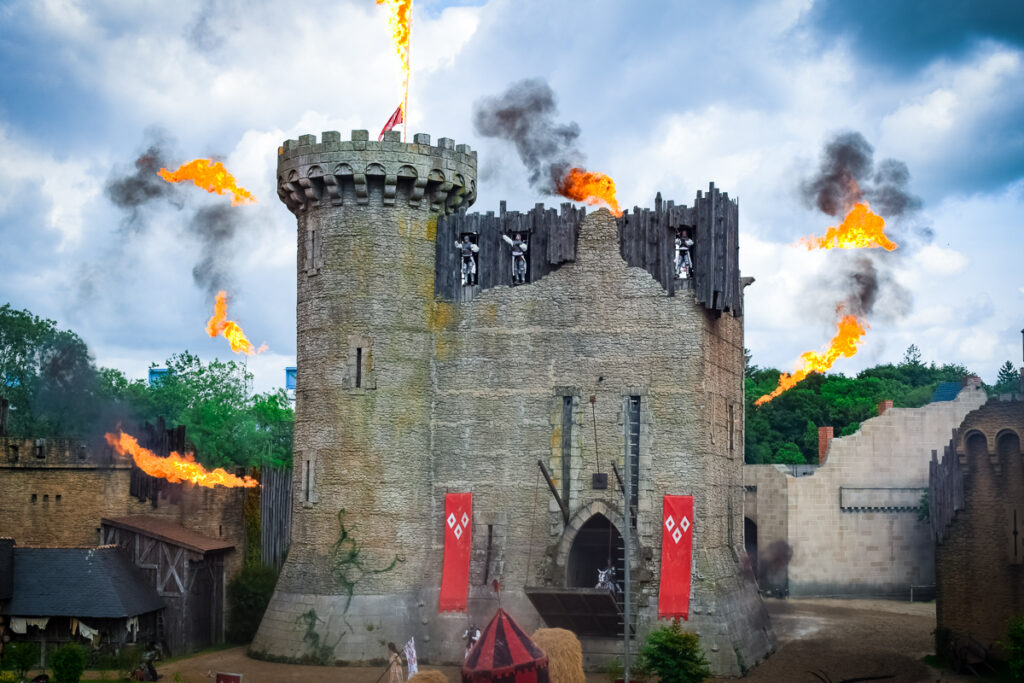 Another French theme park, but this time it's all about the live action shows. This theme park is an incredible day out but may be better suited to older children. 
This large zoo has an amazing array of animals and is a great day out with children. 
his French theme park is all about science, multimedia, cinematographic and audio-visual techniques. It may not sound like a "fun" day, but it definitely is. 
Frequently Asked Questions
Are the mobiles close together?
We didn't think so. In fact we had one of the largest pitches we've ever had in our Eurocamp Avant. When looking at other pitches it also seemed like they had plenty of space.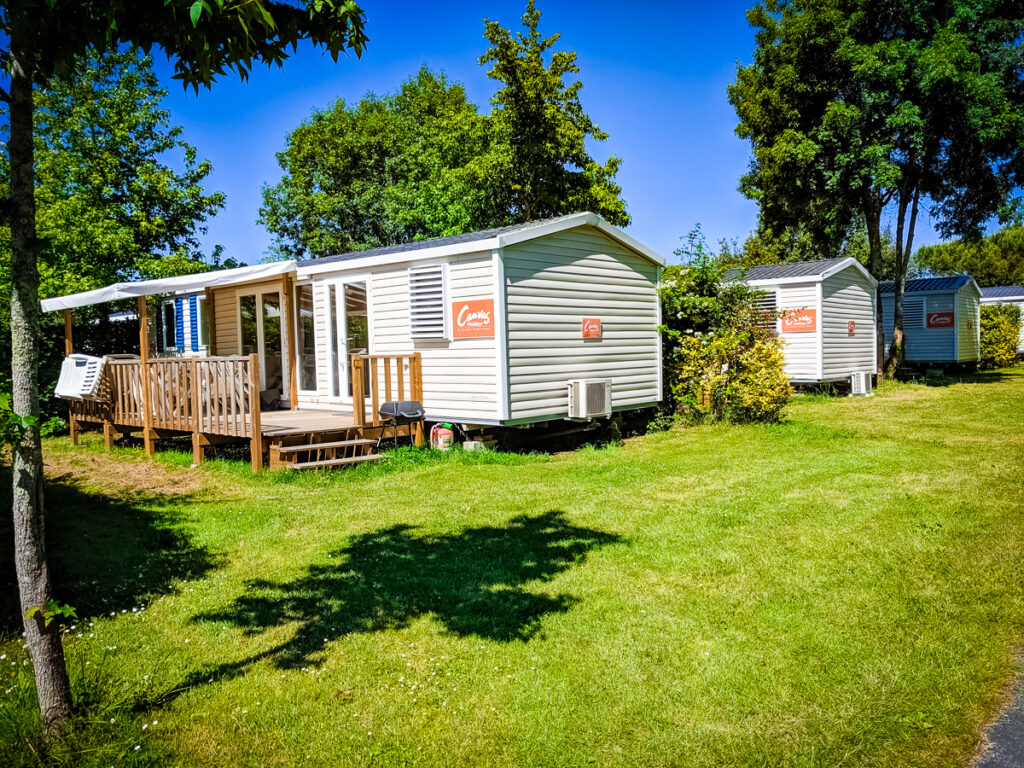 Yep. The campsite is perfect for children to cycle and scoot around. The floor is slightly graveled but still easy enough to push pushchairs and wheelchairs on.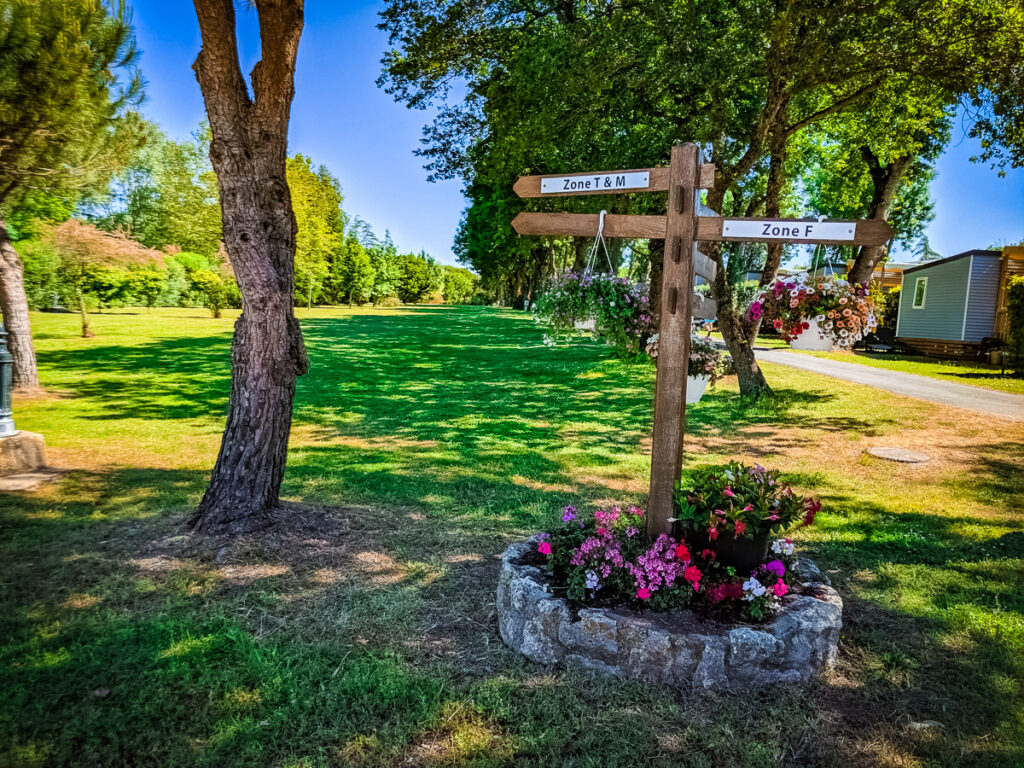 Are there mosquitos at Sequoia Parc?
We didn't see any during our stay but have heard from various sources that they can have a problem with Mosquitos in the Summer months. Pack insect repellent to be on the safe side. 
Is it easy to get a sunbed around the pool?
I didn't think so. We struggled on our first day but not so much on the second day. If you time it well, early mornings and lunch times are best, you should have no problem. There is a rule about not holding loungers but unfortunately we know many people do.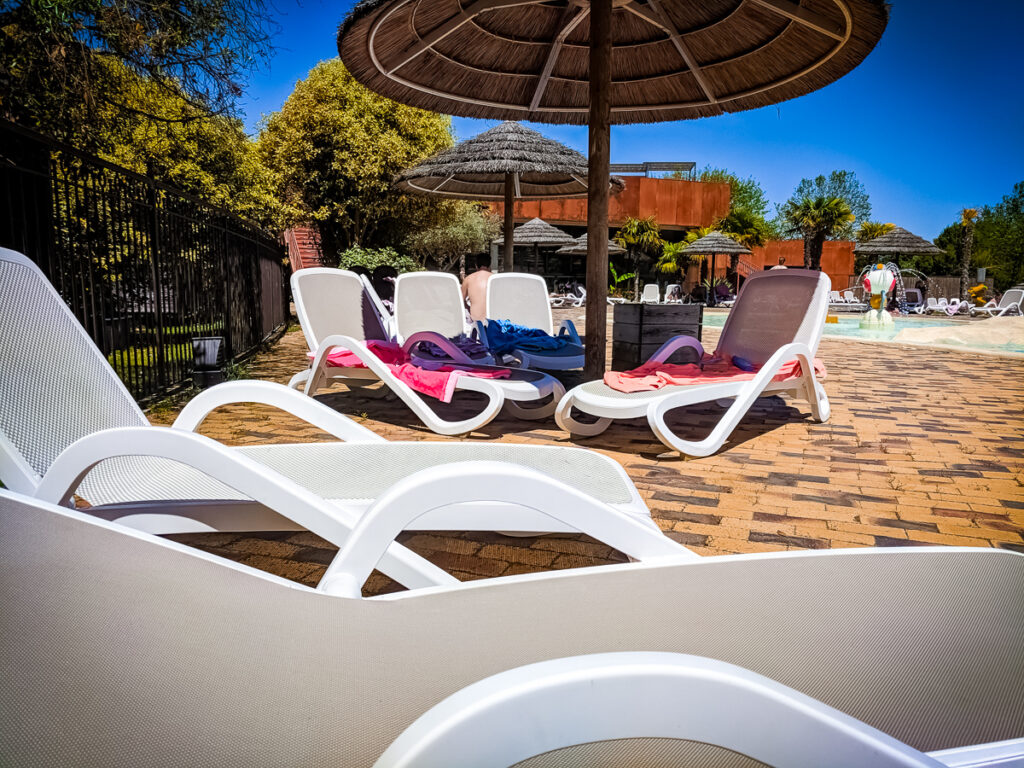 What happens if I arrive to the campsite late?
The campsite barrier requires a pin code which you'll receive from your rep. If your rep's office has closed you can call their emergency number and they will advise you on how to get to your accommodation and what to do next. The barrier is closed between 12-7am so you may need to leave your car in the car park and just take out the belongings you require for the night. 
Do you need to wear a wristband?
We didn't on the first weekend of June, but that may change in high season. Many campsites add wristbands during high season for safety reasons. 
Do men have to wear swim trunks?
No and yes. Officially yes, although it didn't seem like they were enforcing the rule. Mike was able to wear his short, above the knee trunks with no problem.
Yep. We had a gas bbq included with our mobile home. You can also hire them from the shop on site. 
Can you use inflatables in the pool?
Nope. the only allowed inflatables are those provided by the campsite for the lazy river. 
What's the weather like in Spring/Summer?
It can be beautiful but like most of france it's hit and miss. Generally, on average, in Summer you're going to have great weather.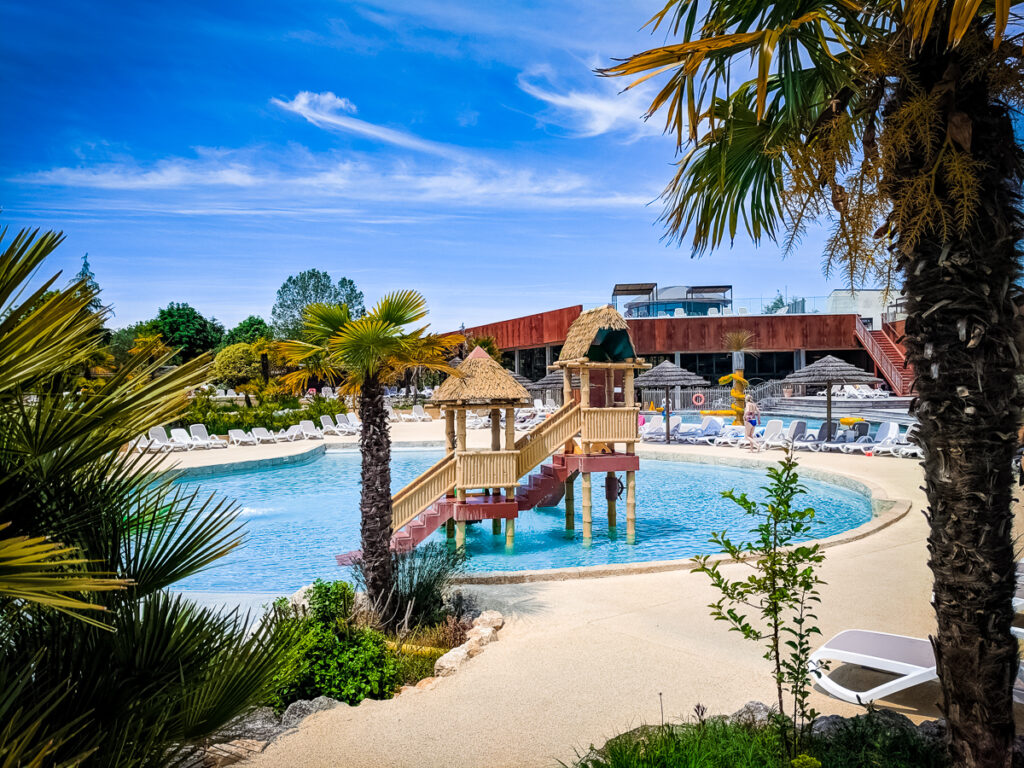 Can you park on your pitch/Emplacement?
Yep, we did. Although, the campsites own KeyWest chalets have their own parking and you can't park on your pitch. I'm unaware if any other mobile homes are like this. 
Can you take pets on the campsite?
You can, there's even a shower specifically for dogs. However, they cannot be taken into the campsites own accommodation unless you are staying in a tent and if you book through a tour operator like eurocamp, you'll have to check which accommodations allow animals. 
Is there disabled accessibility on the campsite?
There is & the ground is flat and easy for wheelchair users. However, the site is very large so when picking your mobile/accommodation you may wish to request being closer to the facilities you require. 
There is one in the main reception. However, most shops will accept card payments too – but watch out for bank charges. We use a transferwise card to ensure the best exchange rates when taking out money or making card payments in Europe.
Where's the nearest supermarket?
We found an Intermarche super very close to the campsite and used this to park in while we walked into the town of Marenne. While walking we also noticed a E.Leclerc which is known for being one of France's cheapest supermarkets. I believe there is also a Lidl nearby.  
Is It Loud In The Evenings?
We didn't notice any noise at all during our stay but we were far away from the facilities. Although, I don't remember there being any loud evening entertainment while we were there anyway. Maybe in high season it will change. If you don't like to be near the noise, try putting in a request with the campsite/your tour operator and I'm sure if they can do it, they will.
What Can We Do If It Rains?
There are so many things to still enjoy on holiday even when it's raining. If the rain's warm you can use the pools or buy a pass for the indoor pool (free in low season). Why not visit the aquarium at La rochelle or one of the many indoor museum/chateaus. Puy du Fou is also a great day out even when it rains. They ensure all shows still take place and sell ponchos. 
Can I Use My Transferwise Card On SIte?
Yes. The campsite shop, bar and restaurant all take card payments and there's an ATM in the main reception. 
The Restaurant expensive? Pizzas/takeaway?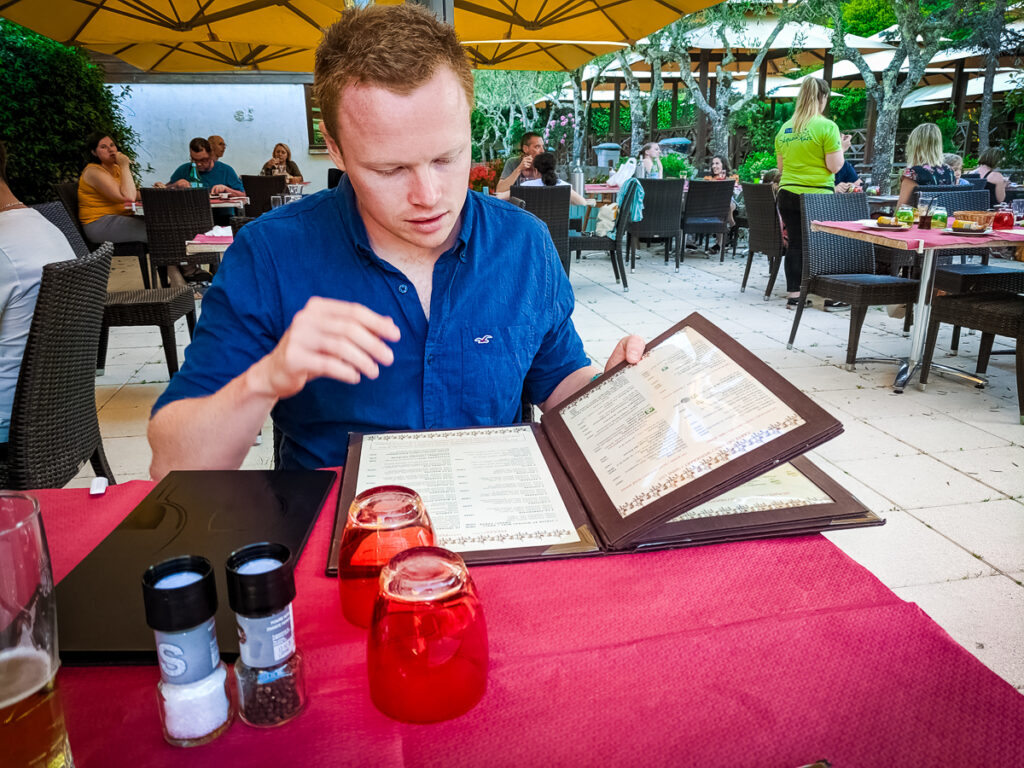 We did find the restaurant fairly expensive but I enjoyed my meal and the atmosphere. 
Do you have to pay for the indoor pool? is it part of the spa?
We didn't. In low season the pool is open to all guests for free between 10am and 2pm after this it's only for paying spa users. In high season it is only available to paying users. 
Is there wifi - what are the costs?
There is. This can be bought from the information center at the front of the campsite for 1hour for 5euros and 5 hours for 10euros. 
Video Tour Of Sequoia Parc
We absolutely loved the style of this campsite and how beautiful it was. It was lively and atmospheric yet calm and tranquil all at the same time. I loved the pool area but do wish there was more sun loungers and I can imagine in the height of summer the pool area being too small for the amount of guests. 
All of the facilities we used were great, our accomodation was great and the service we got from both campsite and Eurocamp staff was fantastic. I'd definitely recommend this campsite to friends and family. 
Although I'd previously read about how the campsite is full of mosquitos and how I need to pack tons of repellent we didn't actually see or get bitten by a single one. This could be down to the time of year or maybe they have treated the tree's to help prevent them, I don't know. 
My only complaints are with the lack of daytime bar/ice-cream facilities in low season and I did think the cost of things like the restaurant/spa were a little steep – but otherwise I have no real complaints and would rate this campsite at a great 4/5.
Check Availability And Book sequoia Parc Today
Clicking the button below will open the providers website in a new window.