Eurocamp 4 bed villa Lodge Review The lodge was perfect for our family, had everything we needed, there was plenty of space and the accommodation and pitch was beautiful
If You Have A Large Family Of Campers Then Do Consider Booking One Of These For A More Luxurious Break
Check Availability And Book Your villa lodge Today
Clicking the button below will open the providers website in a new window.
Eurocamp 4 Bedroom Villa Lodge
I'm not sure if it can really be called camping, when we stayed in a large 4 bedroom wooden lodge, 2 floors high with its own bathtub. But, hey! They say camping is all about the outdoors, and there was plenty of that at La Croix du Vieux Pont.
When I last visited the campsite in 2012, these lodges originally belonged to Canvas Holidays. However, this year (2019) they have been acquired by Eurocamp Holidays. 
Initially, I was worried when my family suggested booking one of these. 
What if the changeover wasn't smooth? Would the lodges be plagued with problems? Why did they sell them? Can they really hold up to 10 people? And the final, most important question…
Will staying in a lodge with my whole family drive my insane? 
Luckily it didn't, however our stay didn't come without its problems. I'll go into details in the relevant sections, but we did have a few issues with our accommodation. That being said, we cannot praise the staff (especially managers Justin and Ash) enough for firstly, dealing with the accommodation problems and secondly their customer care, efficiency, problem solving and perfect hosting on what became a fantastic family holiday.
Pros of The 4 bedroom wooden lodge
We've stayed in nearly every type of Eurocamp accommodation, so how did this compare?
Cons of The 4 bedroom wooden lodge
There's a few small niggles here
Tour Of The 4 Bedroom villa lodge
If you head to the bottom you can see our video tour inside our 4 bedroom villa lodge at la croix du vieux pont, but for a detailed written view we'll start with the bedrooms.
Double bedroom downstairs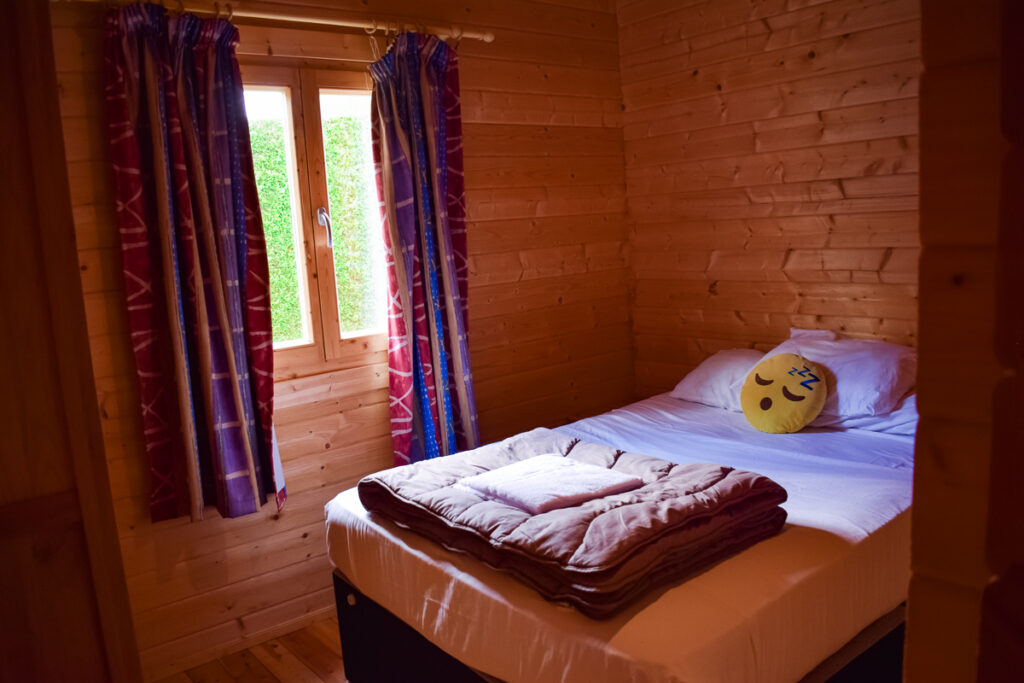 Our downstairs bedroom in the 4 bed wooden lodge was of a reasonable size and was perfect for my mobility impaired nan who can't walk up stairs. The bed, which was apparently a double definitely seemed a little more like a ¾ size but maybe that's because we've been recently spoiled by the queen sized beds we've stayed in with the Azure's and Aspects. 
Being situated on a campsite in the north of France, all the bedrooms in the lodge came with heaters. Although, with the weather we had, I think air con would have been more appreciated. Though, it doesn't really make sense to invest in aircon when the campsite usually receives weather not too dissimilar to the UK. 
There were enough plug sockets and storage spaces in the downstairs bedroom and it came with a large wooden wardrobe and bedside cabinets. 
But do note, styles do tend to differ between lodges and another lodge we took a look into only had a clothes rail instead of a full sized wardrobe.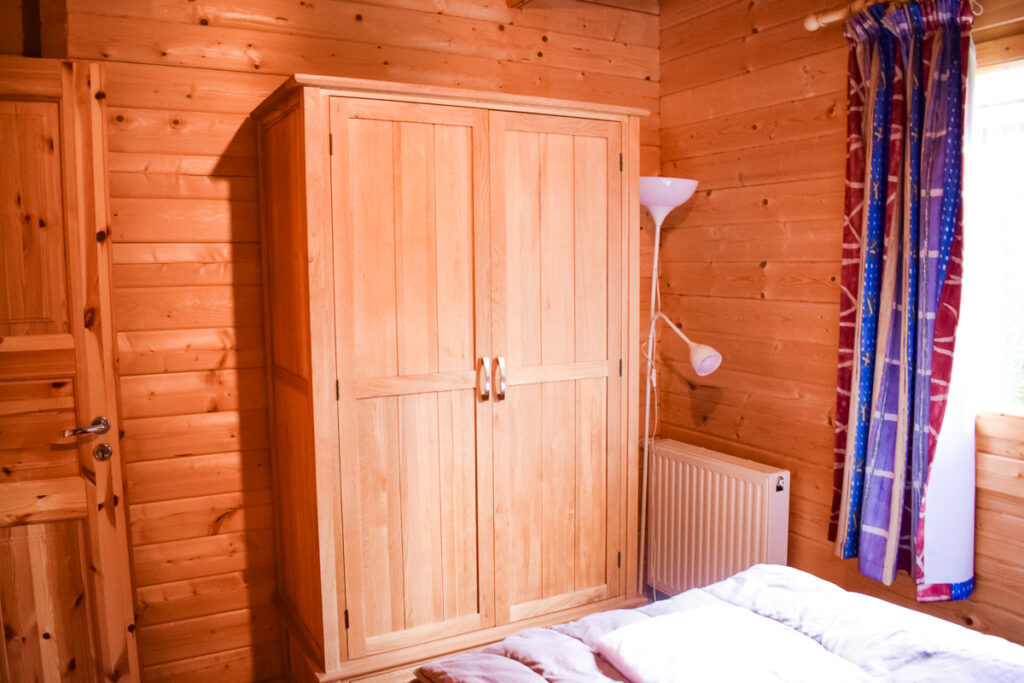 Downstairs bedroom Features
Wardrobe or clothes rail

Heater

Bedside cabinets with Lamps

2+ Plug Sockets

Easy to use for mobility impaired. 

Duvets and pillows included

Bedding made on arrival
The double bedroom upstairs was slightly different. It had a larger bed with a shelving style area behind. 
Against the front wall there was a wardrobe, although, like the downstairs bedroom, this may be replaced by a clothes rail in different lodges.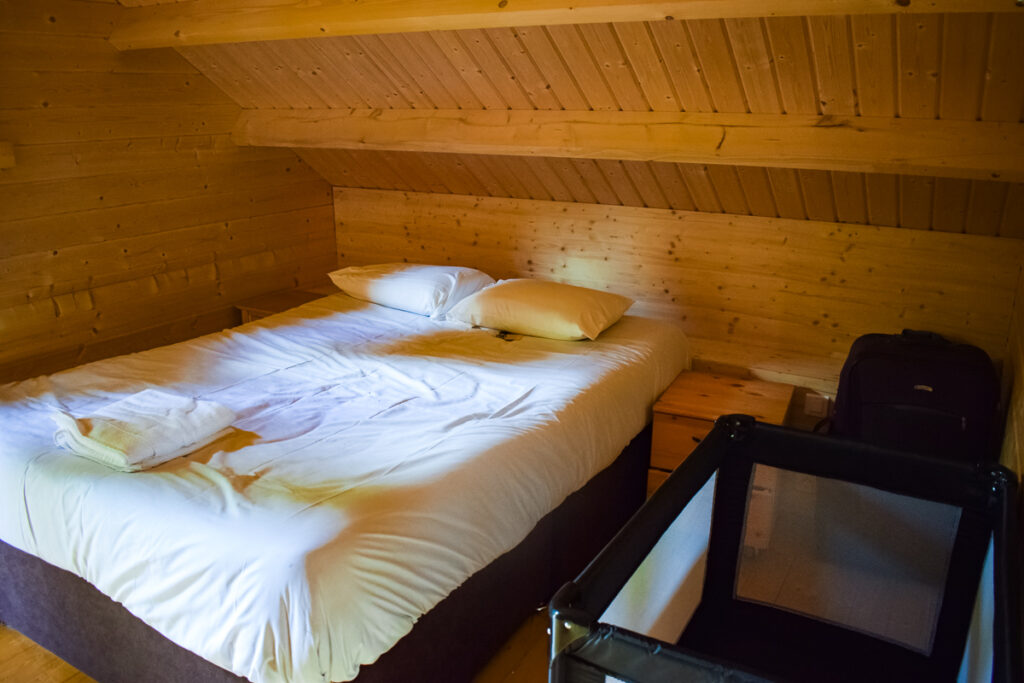 To each side of the bed was a bedside cabinet with drawers, perfect for storing clothes and other small items. But, my favourite feature of this room, was the beautiful balcony we could sit on, enjoy the sunshine and listen to nature sounds. 
The sloping ceiling adds a nice quirky feature and there's plenty of space in the room itself. Similar to the downstairs bedroom, the room has plenty of plug sockets and a heater.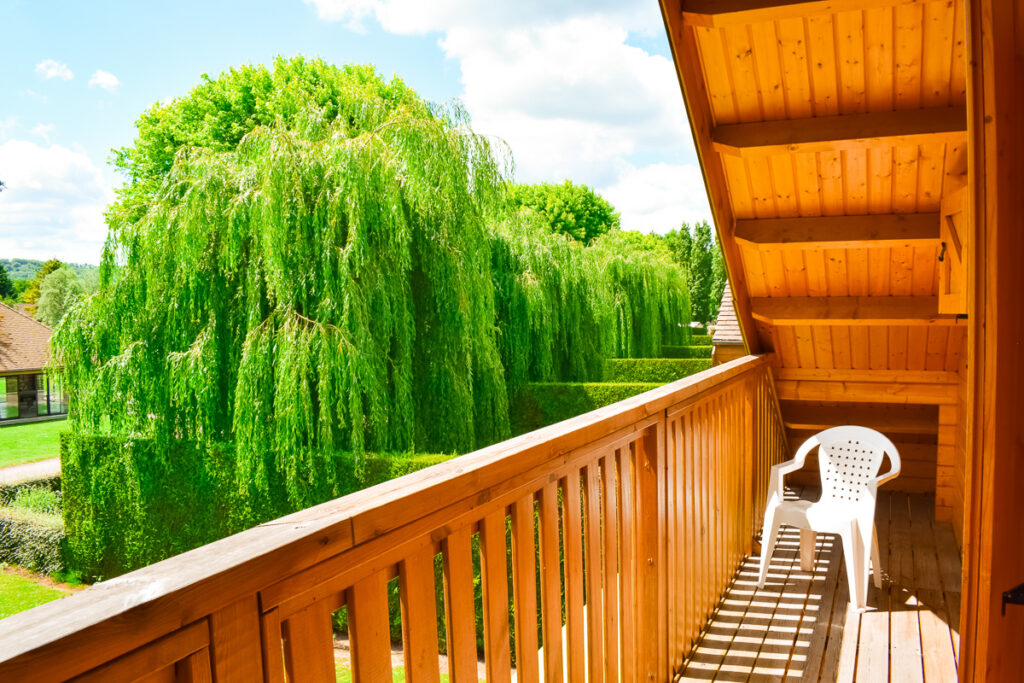 Wardrobe or clothes rail

Heater

Beautiful Balcony

Bedside cabinets with Lamps

2+ Plug Sockets

Duvets and pillows included

Beds made on arrival
Twin room number one features two single beds and an extra pull out bed. The room is extremely spacious and could easily fit the 3 guests it caters for (if not more). There is a medium sized built in cupboard, which can hold a lot of clothing as well as suitcases and bags and there's also a couple of bedside cabinets. Mike and I used this room and had no problem at all with the amount of plug sockets, room or storage space. In fact, we thought the room was pretty perfect for us. It's easily suitable for adults as well as children.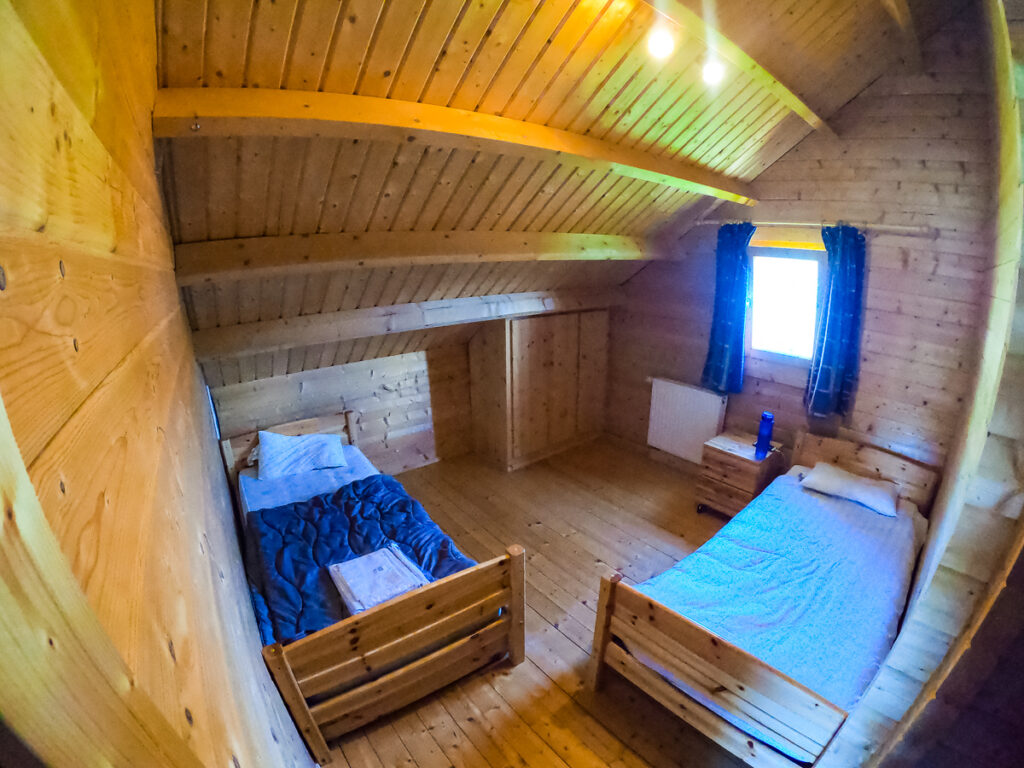 3+ Plug sockets

Built in cupboards

Bedside cabinets with lamps

Duvets and pillows

Beds made on arrival

Pull out bed for extra guests
The bed in the bunk room was a sturdy wooden bunk bed and like the twin room, came with an extra pull out bed underneath.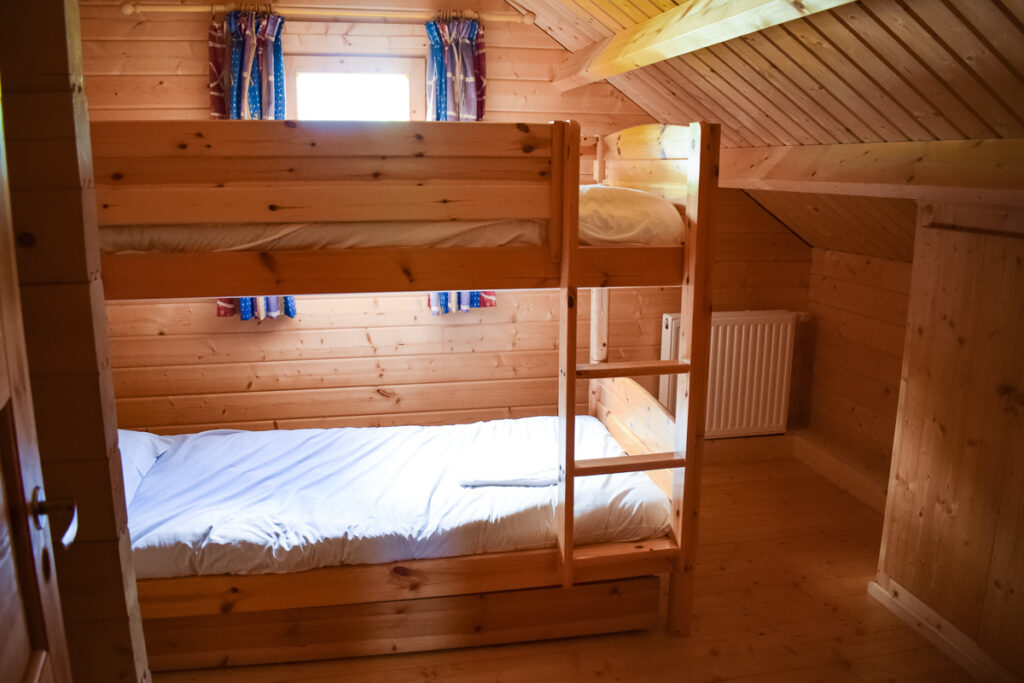 It's a roomy bedroom with plenty of space to walk around in and also has another built in cupboard unit. 
There's a slanted ceiling, however this didn't really impact on the space above the bunk as it was on the other side of the bedroom. Like all the other rooms there was a radiator on the wall, bedside cabinets with lamps and plenty of plug sockets. 
My mum and young nephew were sharing this bedroom and we'd definitely say the bunk is made more for children than adults. The stairs up are quite narrow and only really suitable for older children. My mum ended up sleeping on the pull out bed while my nephew took the bottom bunk, which seemed to be the optimal solution.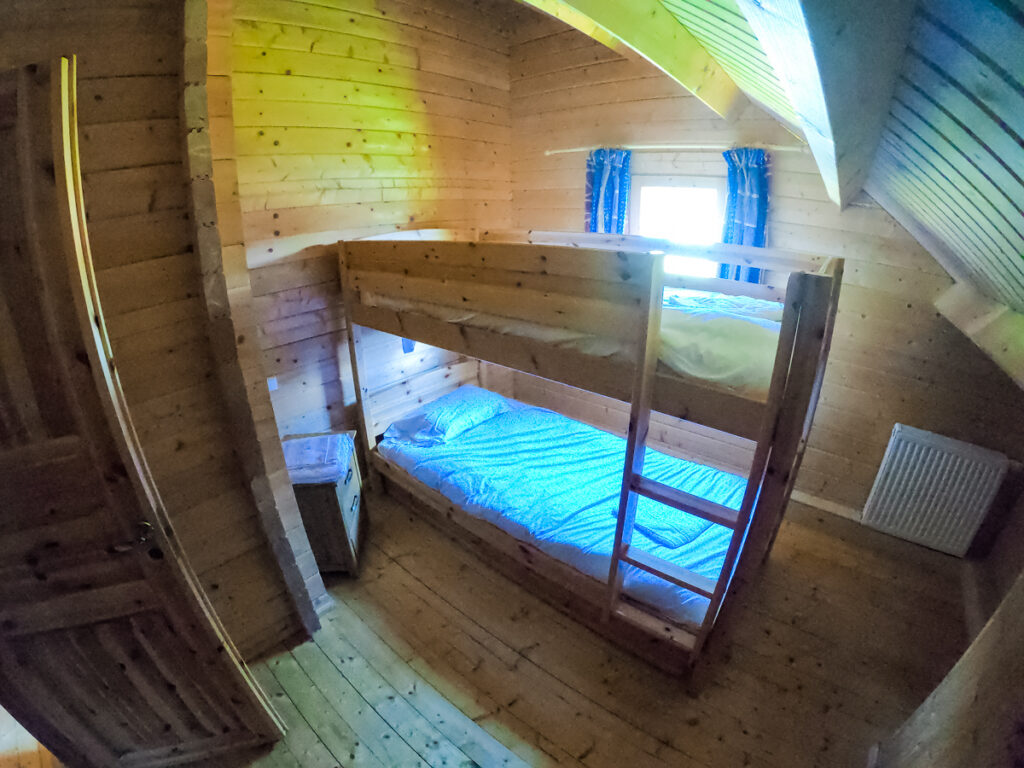 3+ Plug sockets

Built in cupboards

Bedside cabinets with lamps

Duvets and pillows

Beds made on arrival

Pull out bed for extra guests
Can you believe it? …a bathtub…on a campsite! That's right! The 4 bedroom lodges BEST feature (especially for a pregnant woman with no bath tub at home) is the relaxing bath. Located in the upstairs bathroom, the bath was of a good size and perfect for chilling in after a hectic day on site. There's also an over tub shower, so if you're not keen on baths there's still  the option to have a shower. Plus, there's also a shower in the downstairs bathroom.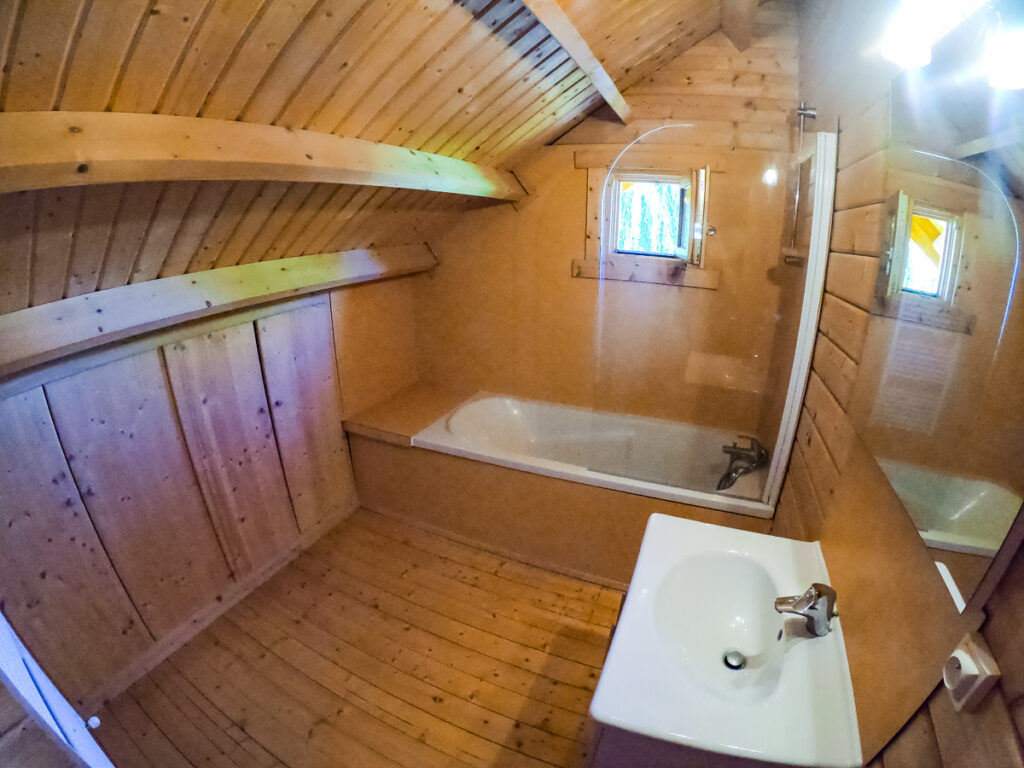 Our upstairs bathroom came with a large sink area with under cupboard storage, a mirror with nearby plug socket, a large heated towel rail and a large built in cupboard unit. The toilet is in a separate room at the end of the upstairs corridor and is also where the lodges boiler was located. 
Bathtub

Over tub shower

Sink with storage underneath

Plug socket for shaving/hair stuff

Mirror

Built in storage

Heated towel rail

Toilet

Boiler
Downstairs was the other shower room and toilet. We had a walk in shower and it was perfect for my nan to use, however she did find the floor quite slippery, so it may be wise to bring an anti-slip mat for anyone who struggles.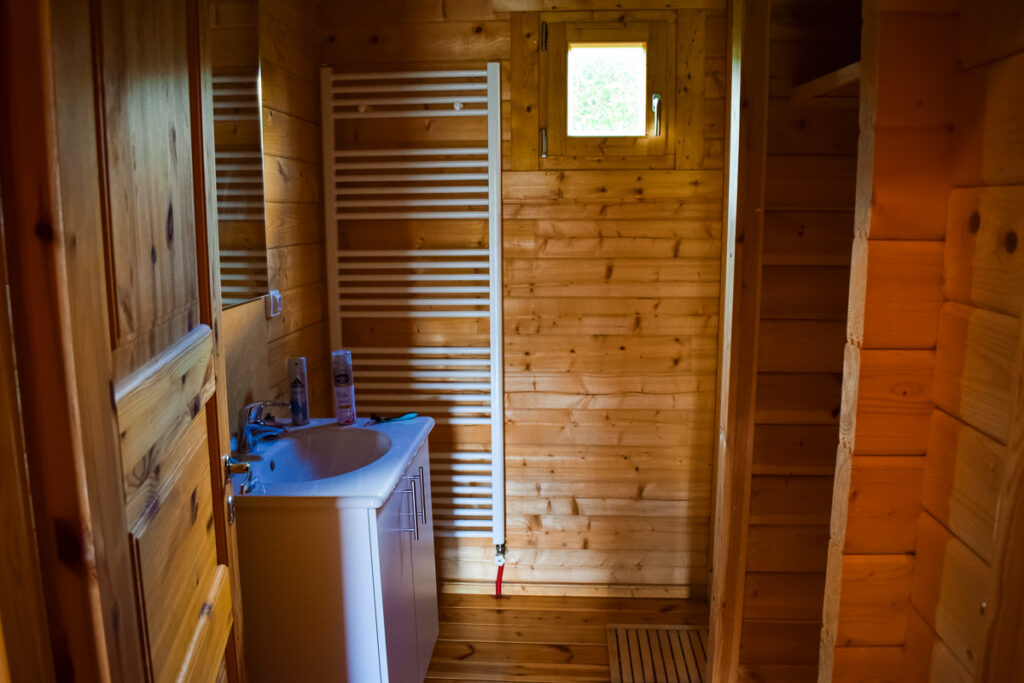 This bathroom is a little smaller than the one upstairs and does have a lot less storage – but with only one bedroom downstairs, it kinda makes sense. Storage wise, there was just a set of shelves and some under sink storage as well as some towel hooks.  
Like the upstairs bathroom the room came with a heated towel rail, sink with mirror and plug socket as well as a separate toilet room next door. 
Under Sink storage

Walk in shower

Heated towel Rail

Mirror with plug socket
A great feature for some families with young children is the DVD player/TV monitor. Although this doesn't pick up any channels, you can bring your dvd's, or even borrow them from the Eurocamp reception, sit down on the large comfy sofa and relax.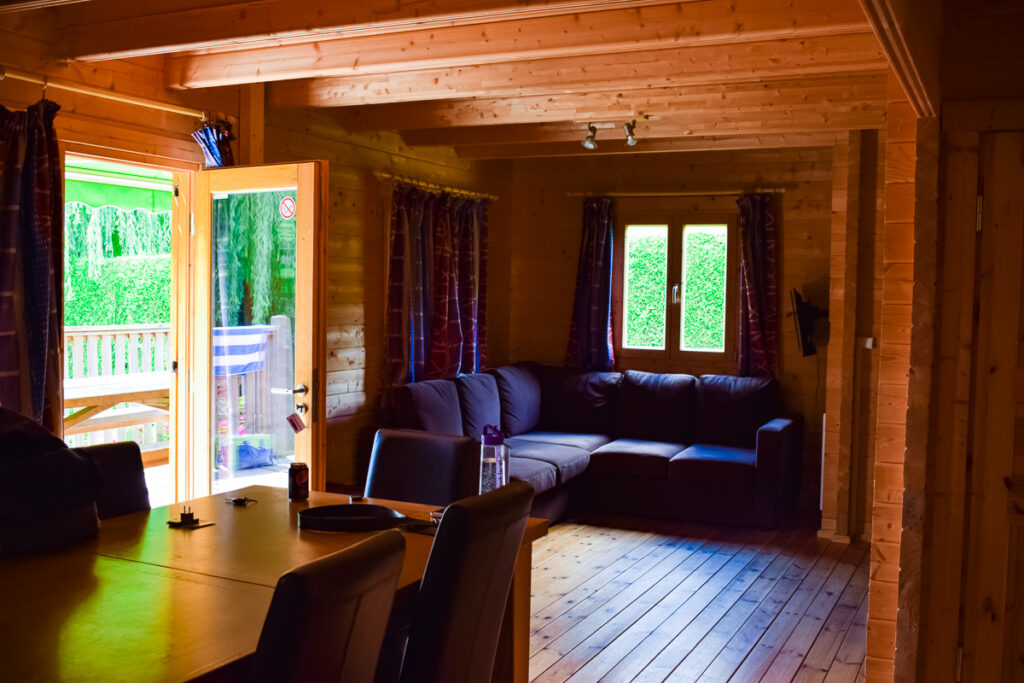 When we arrived the DVD player/Monitor was on a table just underneath the stairs however when we were out one day the maintenance team came in and screwed it to the wall. 
Now, I know in a hotel it's to be expected that staff would come in and service a room, however on a holiday like this we definitely weren't expecting the staff to come in without our permission. 
I brought it up with the Eurocamp receptionist who said that we should have been informed and that there was a definite communication error somewhere along the way. 
It's not a massive complaint, but something we weren't impressed with at all.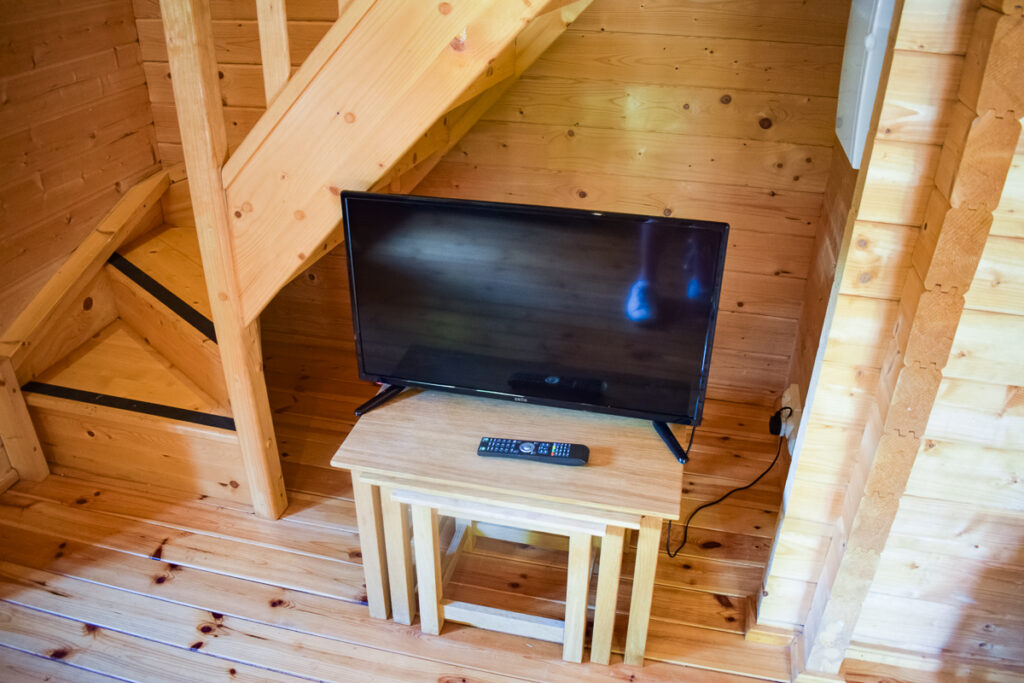 The sofa in the living room was a comfy fabric sofa. I actually managed to fall asleep on it rather comfortably one night after struggling to sleep in bed with a sickness bug. It isn't a sofa bed, it's just a normal sofa, but definitely cosy enough for a quick nap. 
Living room storage was great. Not only was there a large cleaning/storage cupboard and a large chest of drawers, but we also found lots of space under the stairs for tidying away kids toys. Other living room features included the copious amount of plug sockets and a massive dining room table with enough chairs to fit the whole family.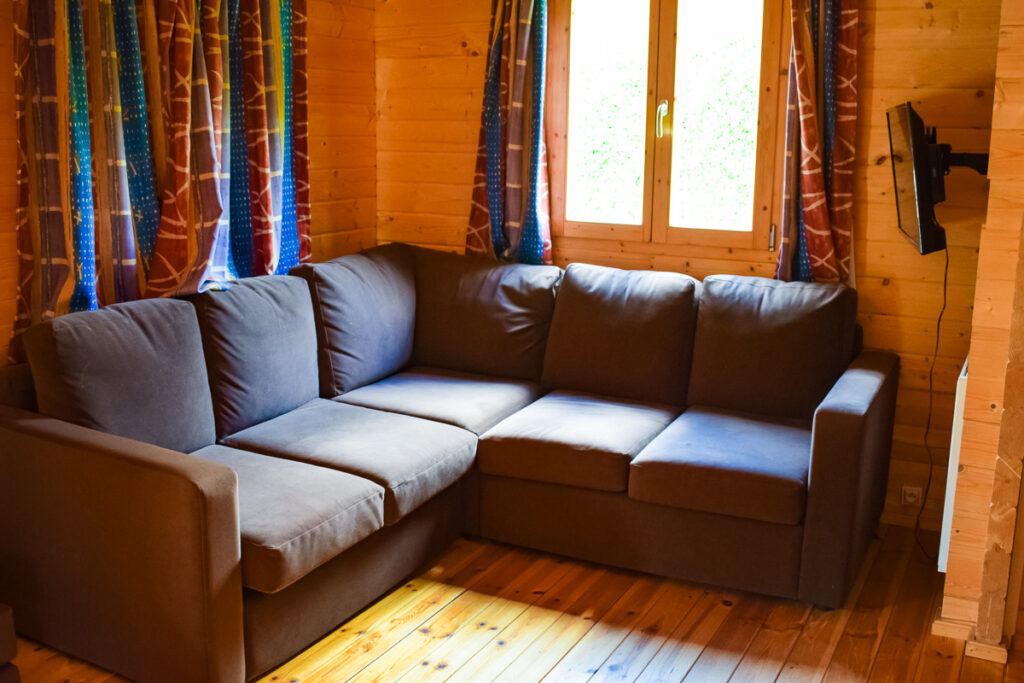 An important feature to note is the thermostat location. Under the stairs in the living area, you'll be able to see the large fuse box, but you might not be able to see that just to the side of this is the lodges central heating thermostat. I'm not sure why it's so hidden and it took us ages to find it (with the help of the Eurocamp staff) but it's there. 
If you're there during hot weather you'll definitely want to make sure it's turned all the way down. The heated towel rails are controlled by the central heating and have no separate on off switch, so will always be on when the heating is. 
Tv Monitor/DVD Player

Comfortable sofa

Lots of Plug Sockets

Under stair storage

Chest of Drawers

Clock

Mirror

Pretty photo decoration

Large dining room table
The kitchen in the 4 bed villa lodge was a little bit smaller than I expected it to be, given the amount of space every other room has. I almost feel like the living room should have been made open plan or cut into slightly to give the kitchen a bit more space – but hey – I'm not the one in charge. 
I mean, there was definitely enough room for one of us to be in the kitchen, but add two people trying to make food together or prepare some drinks and you've got one of those awkward squeezing past each other kinda situations.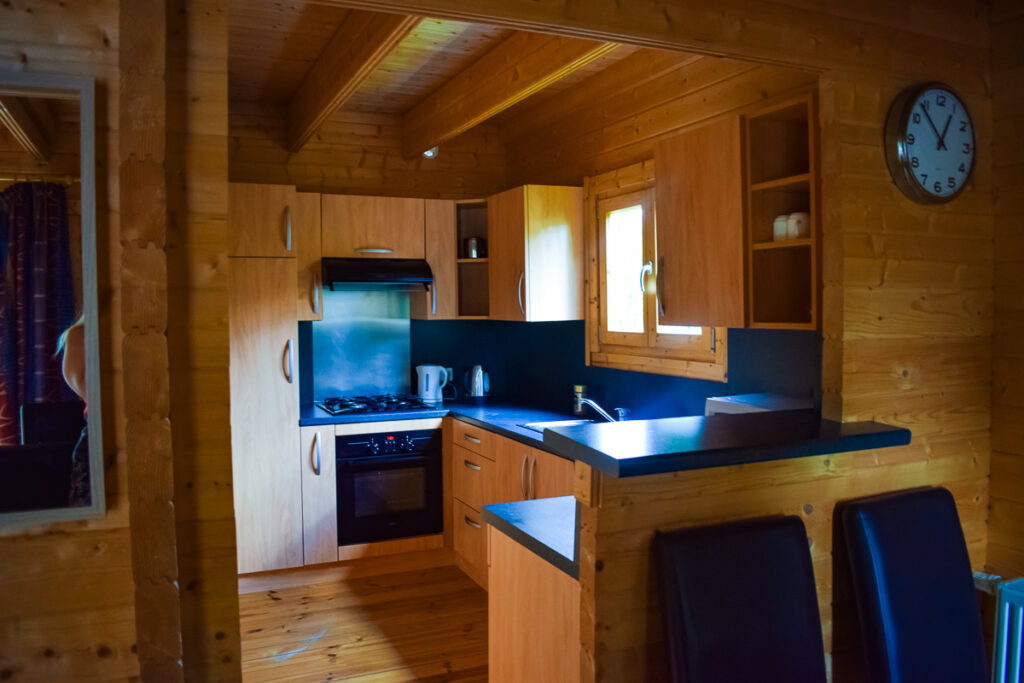 The kitchen cupboards however, had plenty of space which is great because I was really worried when I realised how much food my mum had brought over from the UK (seriously, there was a lot). However, it all fit perfectly in the cupboard spaces provided. 
There's even a large pantry style cupboard which is where they'd stored the kitchen bin.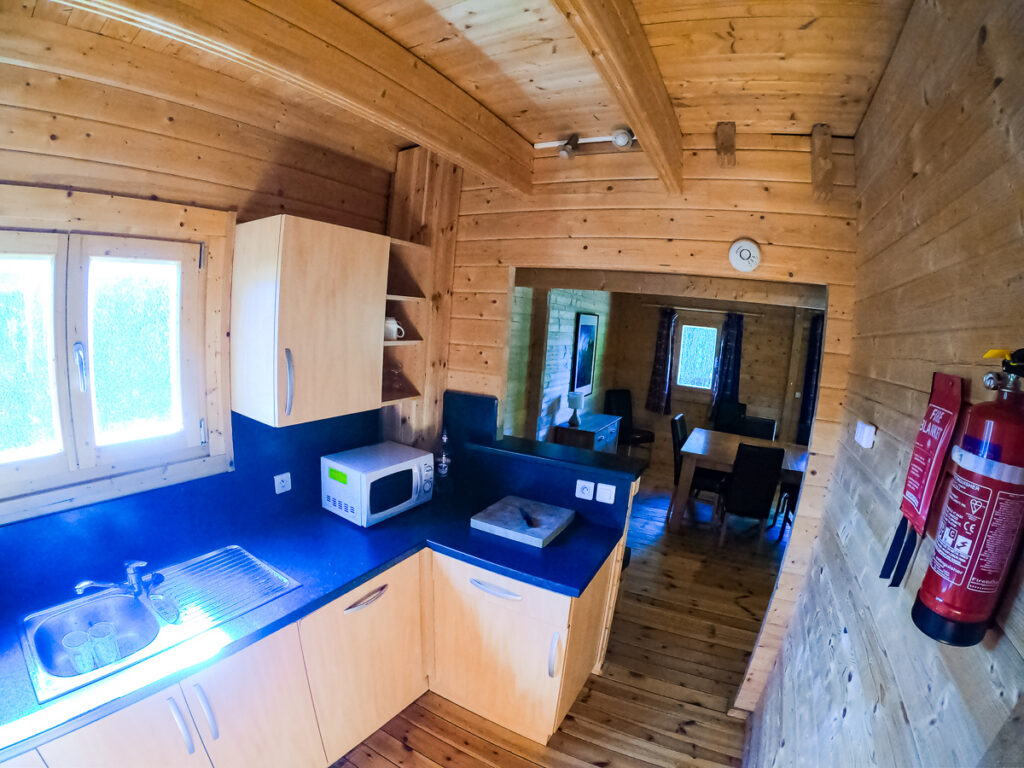 My favourite kitchen perk is the built in dishwasher. It's a full sized one, just like you'd get in a normal home and is an absolute lifesaver when 8 people are all sharing one lodge together. 
Can you imagine the amount of dish-washing we had? 
Unlike the dishwasher, I think the fridge freezer could have been a little more roomier especially when the lodges accommodate for 10 people, however we got by ok thanks to some tetris style jiggling. 
The lodge came with a toaster, electric kettle, gas hob and oven as well as all the usual kitchen inventory you get with Eurocamp but I think I'd also like to see a coffee maker to "luxury" these lodges up a little more. 
Oven and hob

Plenty of cupboard space

Extra inventory as opposed to a mobile home/tent

Kettle

Toaster

Dishwasher

Good amount of plug sockets
This is where the largest of our issues took place but also the most beautiful of spaces. The pitch sizes at la Croix du Vieux Pont are incredible. Not only could we fit 3 cars on there, but there was also plenty of room to play. One of my favourite things about our pitch was actually the wildlife that we got to share it with.  We regularly saw rabbits, ducks (with their babies), swans and even cats enjoying the green space.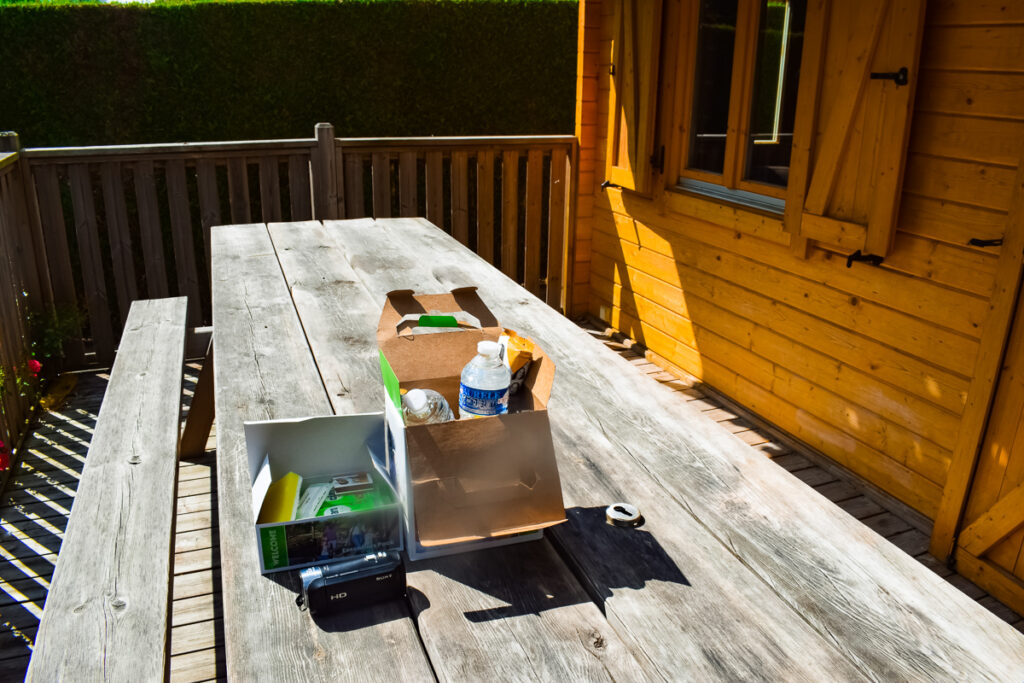 Furniture wise, we were informed that Eurocamp had been having some issues acquiring the usual outdoor furniture. It was only on our last day that we managed to obtain a set of sun loungers after a delivery. It wasn't a big problem though, because we had an absolutely humongous picnic bench style patio table which we could all fit around, however it would have been nice to have had the lounger option too.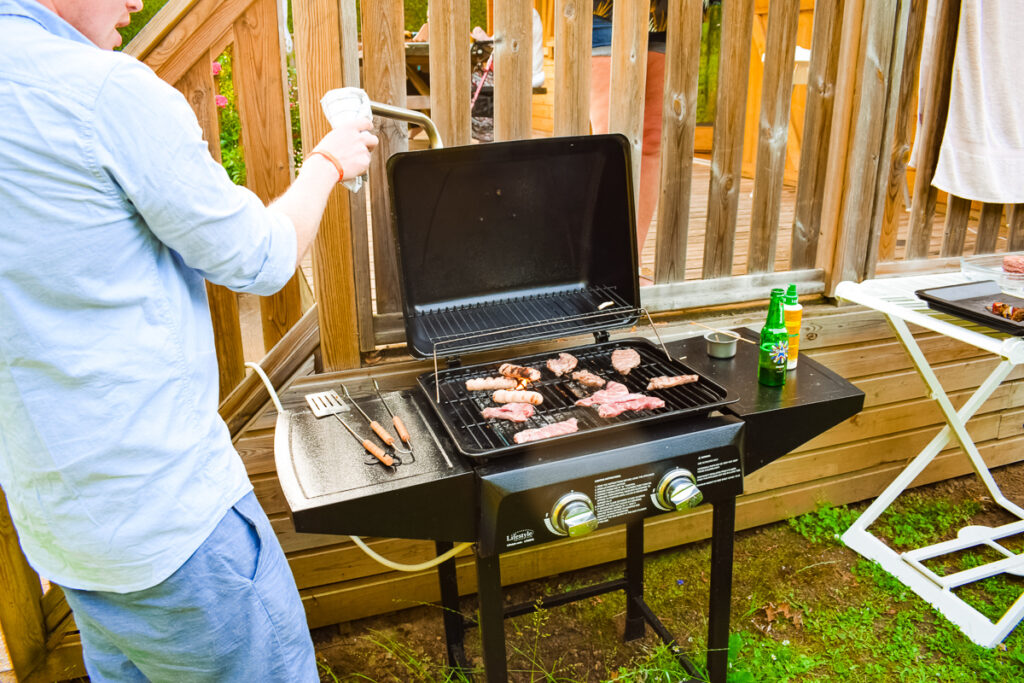 The bbq we had was a large style gas bbq that was great for such a big group of people. It was situated on the grass area, so bbq chef Mike missed out on the social aspect of dinner. We ate dinner outside on the decking underneath the fantastic retractable awning every night, even when it was slightly raining. 
Now to the decking…
Approximately 4 hours after arriving one of the members of our party managed to fall through the decking. Literally, their whole leg went straight through and caused a pretty severe injury. Accidents can (and in our family especially – DO) happen but, we definitely weren't expect this.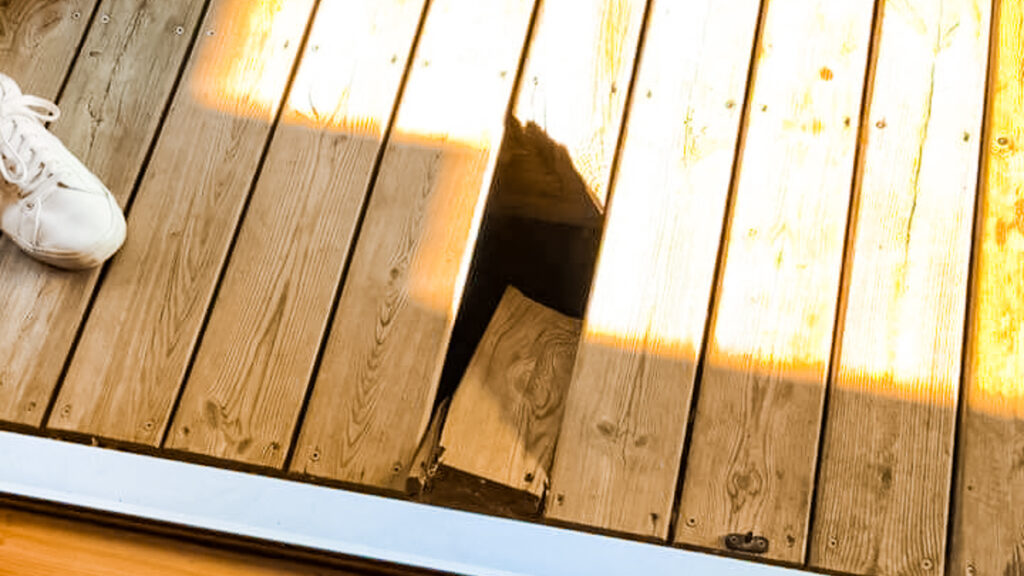 Mike and I went to grab some help and quickly managed to find a member of staff who came straight to the rescue. Just as surprised as us, the staff went into fast action mode. Within half an hour, not only had the whole decking panel been removed and replaced by the maintenance team, but a first aider had been round to patch up the injury.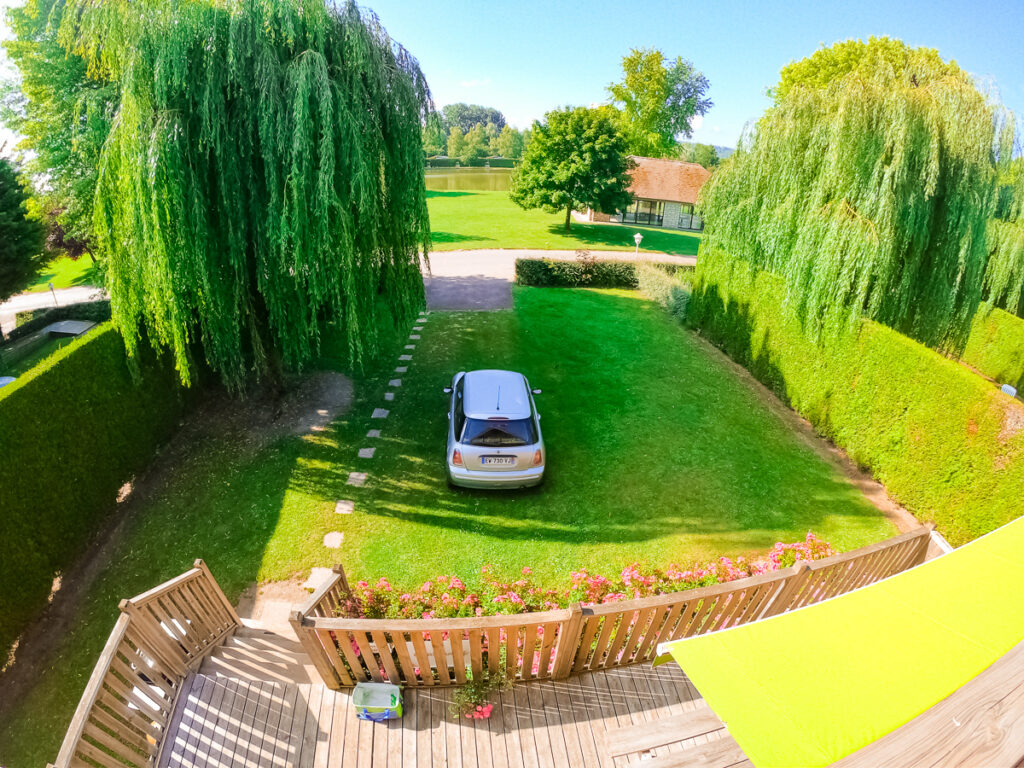 I honestly can't fault the staff for their promptness and how they handled the situation. The accident took place after 7pm, which means on most campsites the staff would have finished up for the day. But not here, they were still working. I'm not sure whether there's anyone to blame for the incident or whether it was just a freak accident, but although there was no preventative action – the reactive action was more than satisfactory. 
2 outdoor plug sockets on decking

2 outdoor lights

Airer

Sun loungers (now)

Large picnic table

Large retractable awning

Amazing sized pitch

Can book lake side view
Features of the 4 bed villa lodge
The 4 bed villa lodge was fantastic and came way more equipped than the standard campsite accommodation we're used to. Not only was there an upstairs with its own balcony, but there was a bathtub too! They're perfect for campers seeking a home away from home or those with large families like ours. The dishwasher was also a great addition for an accommodation that can hold up to 10 guests. 
Having 2 separate bathrooms with separate toilets meant, nobody seemed to get in the way of each other while getting ready and the room/storage space made life so much easier. The large decking with retractable awning was perfect for use come rain or shine and the upstairs balcony was a great view point for the mornings sunrises.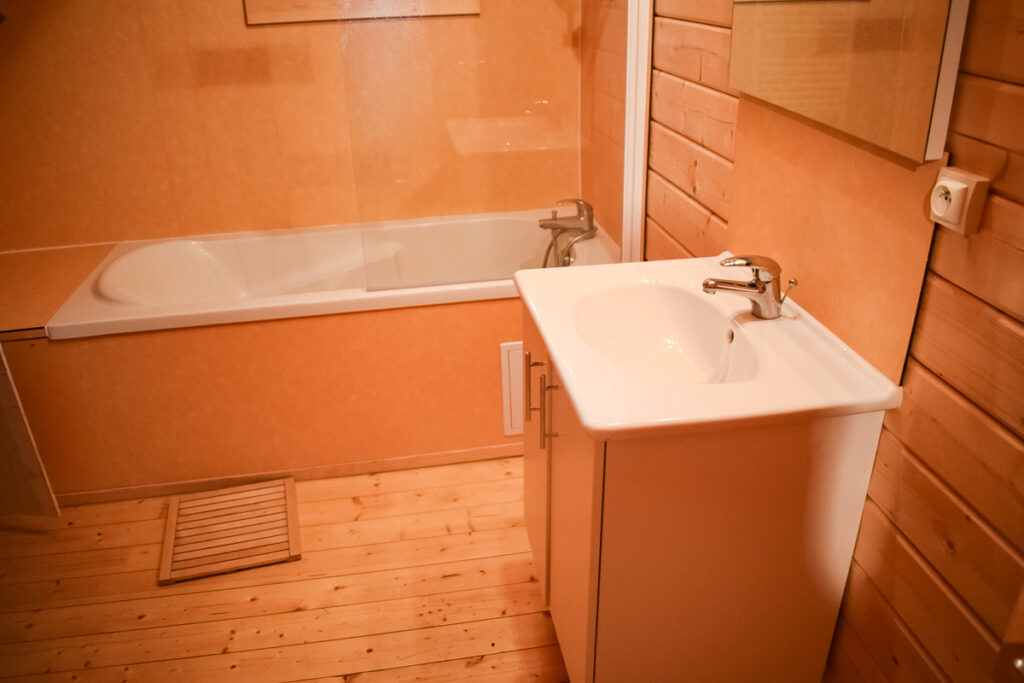 So what extras do you get in the lodge as opposed to a standard mobile home?
Dishwasher

Lots of storage space

Room to walk around without bumping into things

Electric kettle

Lots of plug sockets (even outside)

TV/DVD monitor

Ready made beds with pillows and duvets

Space for 10 guests

Toaster

Large pitch and decking

Picnic bench 

Large gas bbq

Heaters

Possibility of a lakeside view (extra costs)

Each "twin" room features a pull out bed

Bathtub

2 washrooms & two toilets
Video tour of the Eurocamp 4 bed villa lodge
Check Availability And Book Your villa lodge Today
Clicking the button below will open the providers website in a new window.
Lodge types on La Croix du Vieux pont
The villa lodges aren't the only style wooden lodge you can book at La Croix du Vieux Pont. In fact there are a few different style lodges you can stay in. With Eurocamp you have the option of the 4 bed wooden villa lodges we stayed in either booked with lakeside view or not and you have the 3 bedroom deckhouse lodges which are just a little smaller and sleep up to 8. 
With Alfresco you can book a 2 bedroom wooden lodge, very similar to the Eurocamp style lodges either with lake view or river view and you can even book a lodge direct with the campsite.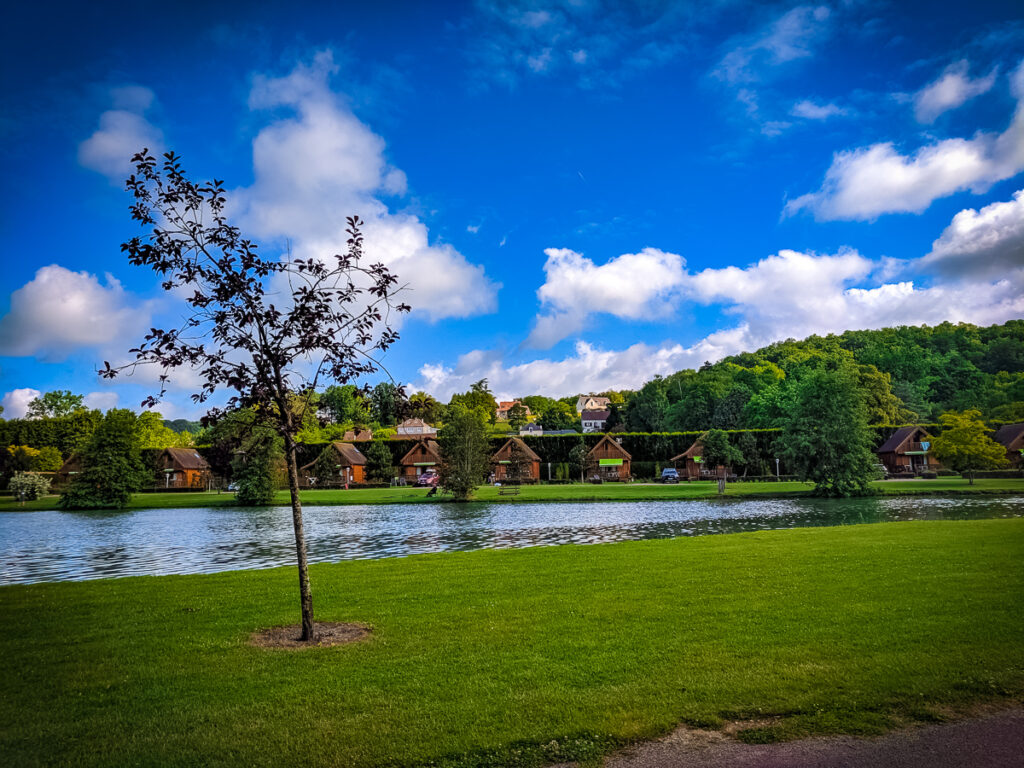 Can pets go in the lodges?
One of the best things about the lodges is that they are perfect for ALL the family and that includes our furry friends. However, whilst normally we take the opportunity to take our Kitcat on holiday with us, due to my nephews allergies we left her at a cat hotel for the week. Next time though we would definitely think about taking her along with us.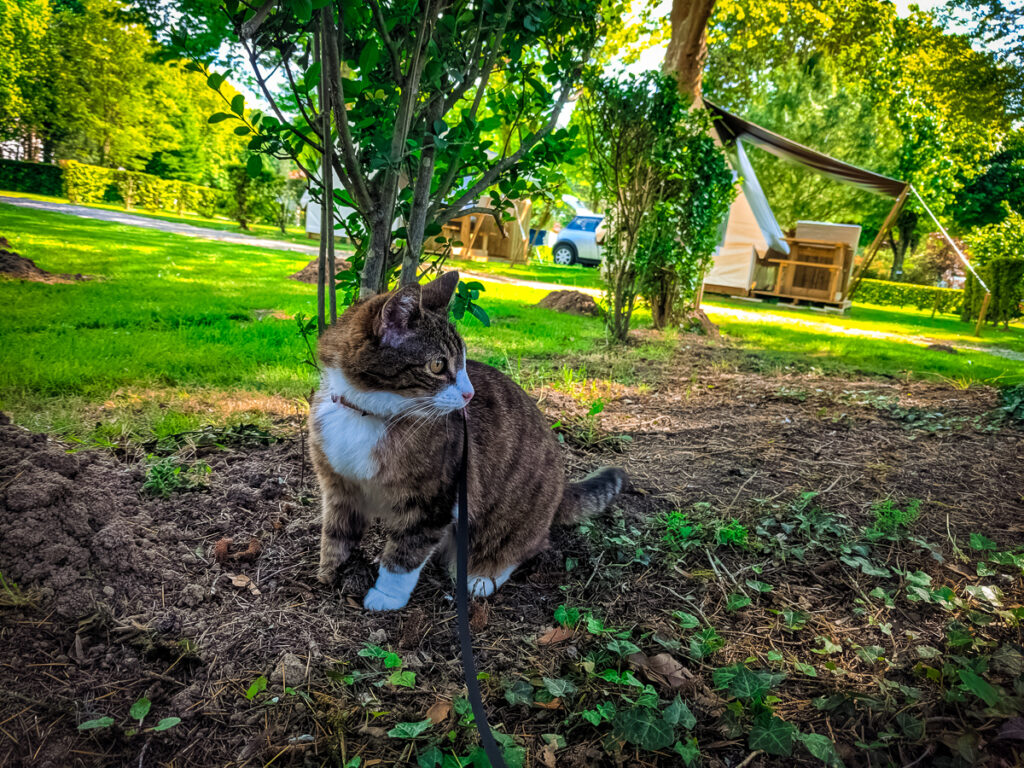 If you're flying over and can't pack everything in your luggage then Eurocamp have the handy option to add bookable extras to your accommodation – These include:
Linen and Towel Hire Packs (no need to add for the lodges as these are included)
Essentials pack, full of cleaning products like washing up liquid and cloths
Welcome pack, perfect if you're arriving late and don't have time to get to the supermarket as it contains some nibbles and drinks
Travel cots (free)
High Chairs (free)
Baby baths (free)
Potties (free)
Changing Mats (free)
Bed Rails (free)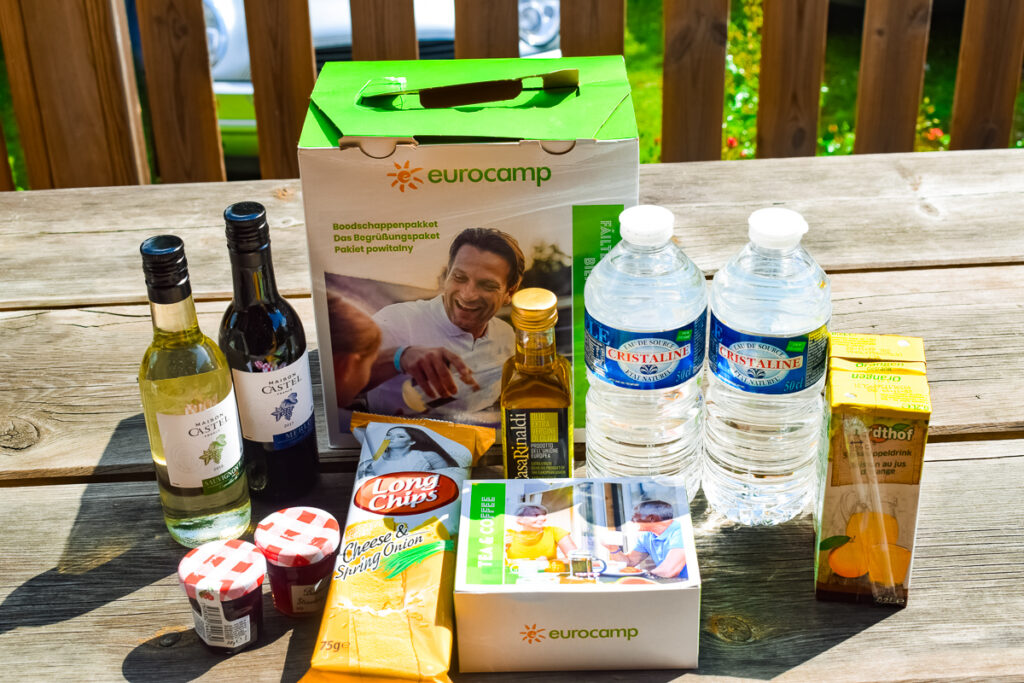 If you're driving over and don't need to book linen or added extras then don't forget to bring these along with you – a few other things we always remember to pack include:
Oven glove
Veg peeler & sharp knives
Sponge, Washing up liquid & cleaning products
Bed linen (Already included when booking a lodge)
Baby Extras if needed (or add to your booking for free)
Overall we had a lovely stay in the 4 bedroom wooden lodge. There were problems with the decking, maintenance coming in without permission and outdoor furniture not having arrived on time but I truly believe the on site staff were doing everything the could to try and minimise problems and many of these factors were completely out of their control. 
I think most places have their issues and the main reasons for complaints isn't the problem itself but how they're dealt with and thanks to the incredible way these situations were dealt with – we have no complaints. 
The lodge was perfect for our family, had everything we needed, there was plenty of space and the accommodation and pitch was beautiful. If you have a large family of campers then do consider booking one of these for a more luxurious break, but do bear in mind they can get very warm when the suns out and they're also quite loud and creaky. 
There's no aircon in the lodges but we found the best way to keep it cool was to turn down the thermostat under the stairs, keep all curtains and shutters closed during the day and at night open all the windows and ventilate. 
Overall I'd give the lodges an 8/10 or ⅘
Check Availability And Book Your villa lodge Today
Clicking the button below will open the providers website in a new window.