Eurocamp Classic Tent Review The classic tent gives an authentic camping in europe feel
Without the hassle of bringing and erecting your own.
Check Availability And Book Your Classic Tent Today
Clicking the button below will open the providers website in a new window.
This week we stayed at Saint Avit loisirs, Le Bugue in the Dordogne with Eurocamp. Staying for two nights in one of their classic tents. Here's what we thought about our accommodation.
The original way to camp in europe
Long before their mobile home holidays, Eurocamp were always known best for their tents. Back when I was a child camping with family, I'd see rows and rows of well maintained dark green, red and yellow Eurocamp tents in the pitches opposite and remember feeling a pang of jealousy over how kitted out they were, when all we had were the basics.
In 2012 these old tents were updated to the new style Classic Tent, a much brighter green and yellow. Still 7 years later the same tents still stand and although I expected the quality to have deteriorated over the years, they seem to have been well maintained and not much different from when they were first introduced.
We've stayed in nearly every type of Eurocamp Accommodation, and this is one of the classics.
There's little to complain about here!
We love being in a tent! Personally, I much prefer it to being in a mobile home. Isn't being out in nature under a canvas what camping is all about? Whether you agree or not, these tents can't be faulted for their functionality and comfort.
We've given you a video tour which you can watch below – But, for a detailed written view, we'll start with the outdoors.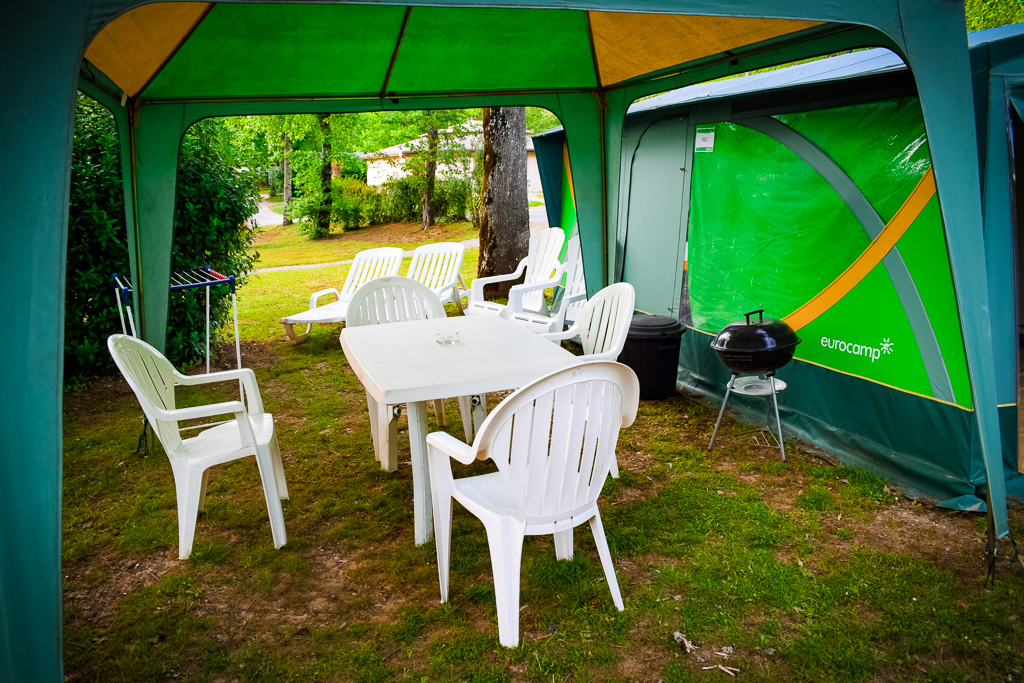 When you arrive at your pitch, normally (dependent on your site) you'll be able to park your car outside. At Saint Avit Loisirs, we had more than enough space to do this and still enjoy a large sized camping pitch.
Underneath our provided gazebo, that matched the tent colours, we had the standard Eurocamp white table and chairs – basic and nothing spectacular, but comfortable enough for al fresco dining and enjoying the outdoors.
There was also a charcoal bbq, that unfortunately we didn't get to use, a clothes airer, and a big black dustbin. I do hope that, in the near future, Eurocamp will start providing two smaller bins, one for recycling and one for general waste, but until then it's up to us to ensure we're doing what we can.
Included in the white furniture, we also found 2 sun loungers and 2 "relaxing chairs" or recliners, I'm not sure if they're still called recliners, because they are fixed position, so, who knows…

Outdoor Furniture includes
White garden table
4 Chairs
Gazebo
2 Sun loungers
2 Recliners
Bbq (where permitted)
Black dustbin
Clothes airer
Next, into the tent. The door opens on one side and you can roll it up and pin it back should you wish – as you'll see in the video below, I do a terrible job of rolling ANYTHING, so hopefully you'll be better.

On the floor you'll find a thick sturdy door mat, this is handy especially in the rain as it's inevitable that you'll end up walking mud inside. One way to deal with this is by bringing a box to store your shoes in right near the door entrance and keeping some warm fluffy slippers nearby for indoors wear.
Once inside, we were amazed by the space, we could stand up with ease – maybe even jump, but we didn't try and Mike even decided to sprawl out on the floor just to show you how much room there is. 
There isn't a seating area in the living room, but what's camping without some hacks? 
You can use a spare bed (if you have one) as a sofa, you can use picnic blankets on the floor, or you can do what we did and bring the relaxing chairs inside.

Here's where you'll find everything you need for cooking your family meals. There's a 4 ring gas hob, with grill underneath. Plenty of invent including: kettle, cutlery, plates, bowls, mugs, wine glasses and normal glasses, salad bowls, egg cups, tray, frying pan, saucepans, roasting tin, colander, measuring jug, grater, chopping board, tin opener, corkscrew, kitchen knives, scissors, serving spoons and spatulas.

If you're in a tent that comes with a bbq, you'll also find bbq tools too. But remember, whatever you use, you have to walk to the shower block to wash up – One thing we hate doing! 
As much as I love tent camping, I do like the convenience of having a sink in the mobile homes. Thankfully, Eurocamp do provide a washing up bowl and drying rack, but unless you book their essentials pack you'll have to bring your own washing up liquid and sponges.
Also in the kitchen area you'll find your half size fridge. The fridge isn't big, but for camping it's more than enough. There is a small freezer section, but we only really end up using that for ice and a few ice lollies. There's a cool box as well. This is really handy for storing dry foods in, as the cupboards are mostly taken up by the kitchenware and leaving food out in a tent isn't ideal with all the wildlife around.
To the back of the kitchen is the tent power unit. Above it is a lamp and there's also another at the entrance. Plugged into the power unit is the fridge, which leaves just one plug socket for you to use. Most people choose to bring an extension lead with them. We brought a small one to give us an extra 3 sockets as Eurocamp advice is that " The plug in this tent must not be used for hair dryers or hair straighteners, and is suitable only for the light, fridge and to charge any electric items like mobile phones and MP3 players, etc."
I find it better to dry and straighten my hair in campsite shower blocks anyway as you usually get a big mirror with good lighting and plug sockets nearby.

The bedroom. The beds in these tents are surprisingly comfy. Our double was more than spacious enough for the two of us and it's raised off the ground like a normal bed.

It came with a thick duvet as well as two pillows and even though the temperature dropped to 6 degrees during the night, we were more than warm enough in just our pyjamas.
I did have a small problem with the bed being on a slant, but with a quick turn of the bed, we managed to fix it, and on the second night I slept so well! 
Of course, being in a tent, it is easier to hear outside noise and much to our amusement we heard a few trumps coming from nearby tents. If you are a light sleeper then I suggest bringing some ear plugs, However, Mike finds a few glass of wine does the job just as well.
Clothes storage wise, in the tent there's a really good Outwell Wardrobe. It's got compartments in to store your clothes or if you want to move it out the way, it's foldable too. We kept it in the bedroom but some people prefer to store them in the living area or hide them under beds.  

Unlike the older tents (which had 2 separate inners), the inner inside these classic tents is one long tube inner with dividers separating the bedrooms. As a standard the inner is divided into two, but if required, there's an extra divider to split is into 3 separate rooms.

In the twin side there are 2 beds, just like the double (off the ground and comfy) with pillows and duvets. As well as a fold open z-bed underneath one of the beds. If there's 6 people staying in the tent, you can request an extra.
There's also a smaller Outwell wardrobe in this room which can be used like a bedside table thanks to the sturdy top – however if you're trying to fit 4 single beds in the inner, you're definitely going to have to move this out the room or tuck it away somewhere.
Shower Blocks and Water Taps
We were really lucky where we stayed on Saint Avit loisirs as we had a water tap just outside our tent (you'll see how close in the video below).

This meant we could fill up our Water tank (provided by Eurocamp), water bottles, brush our teeth and rinse out our glasses with ease.
Although, we were also very lucky in that the toilet block was only meters away too.
Generally I think campsites accommodate tent campers well and will always place them as close to a toilet block as possible so there's no need to worry about distance.
Our toilet block at Saint Avit loisirs was clean, tidy & well maintained and thanks to the quietness of the campsite, we hardly had to share it with anyone!
Depending on the campsite you choose to book with all toilet blocks and showers will be different. At St Avit we had to push the shower button for it to run for 30 seconds and we could choose the heat, at some campsites you can't choose the temperature – at others you get normal showers like you would at home, it's so variable.

There were few other bits inside our tent including:
A broom and dustpan and brush: Super handy for dusty and dry days, tents need a lot of sweeping.

A bucket: I'm not really sure what this was for and I'm not sure what to advise using it for, maybe cleaning, maybe a child's toilet – I have no idea.

A water carrier: These are really handy especially if your nearest tap is a bit of a walk away, ours even had a little tap on the bottom.

A Fan: We didn't need this because it was May however, I imagine in the Summer months, sticking your face in front of one of these with an ice lolly in hand being a great idea.

Video tour of the Eurocamp Classic Tent
Check Availability And Book Your Classic Tent Today
Clicking the button below will open the providers website in a new window.
Different Types of Eurocamp Tent & Accommodations
There are two types of tent available with Eurocamp and the Classic Tent, which we stayed in, is the most basic. 
The next tent up is the Safari Tent and we are so excited to stay in one of these soon. 
There are two versions of the Safari Tent, a 5 berth and a 6 berth. They come with all the same items as a Classic Tent, however they are just a touch more classy. The outdoor furniture is wooden and modern looking and there's no groundsheet as it's all upon a wooden decking. Really, I think the safari tent is definitely more glamping than camping.
But you don't have to stay in a tent to go camping with Eurocamp. There's a whole host of different mobile homes, chalets and lodges available for you to stay in while Family camping in Europe so head to the Eurocamp website to check it out.
We've also reviewed the Eurocamp Azure mobile home here if you're thinking of staying in one of those

If you're flying over and can't pack everything in your luggage then Eurocamp have the handy option to add bookable extras to your mobile home – These include:
Linen and Towel Hire Packs (Including Cot linen)
Essentials pack, full of cleaning products like washing up liquid and cloths
Welcome pack, perfect if you're arriving late and don't have time to get to the supermarket as it contains some nibbles and drinks
Travel cots (free)
High Chairs (free)
Baby baths (free)
Potties (free)
Changing Mats (free)
Bed Rails (free)
There were a few things we didn't think of until we got there and realised it would have been a great idea to bring them so below is our 
"Do Not Forget" list: 
Umbrella or a raincoat- great for toilet block walks in the rain




Shoe box to put near the door and comfy slippers to wear indoors

A mirror – there was no mirror in the tent so a quick hair or makeup fix needed a shower block trip.

Outdoor lighting – I like sitting outside in the evenings but sometimes, especially once the sun starts setting early, it's too dark. Some solar lights around the gazebo would look great or a little battery powered table lamp.

Bunting – sounds ridiculous, but if you're on a campsite with loads of tents that all look the same, it's easy to walk into someone else's thinking it's yours. I love the idea of some cute bunting outside to make it stand out.

Matches or an igniter – The gas cooker needs an igniter to light and matches aren't provided so definitely pack a lighter of some sort.

Bed linen – Unless you're booking Eurocamps own

Baby Extras – if needed, or add to your booking for free

Veg peeler & sharp knives – the Eurocamp ones can be a little lacklustre

Sponge, Washing up liquid & cleaning products – or book an essentials pack with it included
Where can you stay in a classic tent
If you want to try a tent in 2019, there's a list of some of the campsites with Classic Tents on below. If you're thinking of trying a Safari Tent then head over to the Eurocamp website to see where you can book one.
Stay in a Classic Tent at:

If you want the authentic camping feel in Europe without the hassle of bringing and erecting your own tent then staying in one of these is definitely worth it.
It's also a great introduction to camping for your family if you have never done it before, because all the essentials you need are in the tent ready.
We've always loved staying in these tents and in fact, when working on campsites, we've lived in them for up to 5 months at a time!
However, it's basic camping, it's what we love but others may not. For more of a glamorous camping experience you may want to try a safari tent or mobile home instead.
Check Availability And Book Your Classic Tent Today
Clicking the button below will open the providers website in a new window.