Camping La Croix du Vieux Pont Review This campsite has the best facilities in France
This campsite has the best facilities we've ever experienced from a camping holiday. 
Whether your kids are young or old there's something here to keep them occupied
Check Availability And Book La Croix Du Vieux Pont Today
Clicking the button below will open the providers website in a new window.
I honestly have no idea where to start with this review. La Croix du Vieux Pont, also known as Berny Riviere (after the village it's in), is possibly one of the most action packed campsites I've ever visited. 
It has everything. 
There is so much to do here for every single member of the family. From soft play to laser quest, fishing and climbing walls the campsite has everything to keep guests entertained even when the weather is bad. It's the kind of campsite you could stay on for 2 weeks and never actually need to leave. 
We travelled here as a family of 8 in June 2019 and again in September 2021 and barring Disneyland and supermarket trips, in June, we actually didn't leave the site once! So what did we think about it?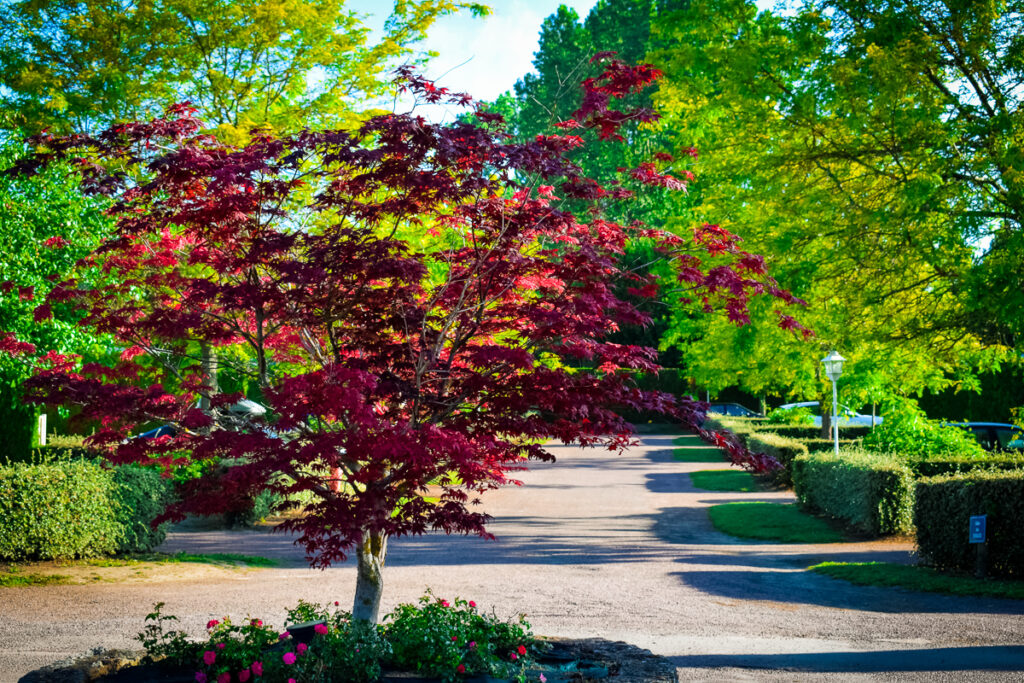 Pros of La Croix du Vieux Pont
I think this campsite will become a yearly family tradition
Cons of La Croix Du Vieux Pont
Every family prefers certain things about a campsite, so our "cons" could be on your "pros" list!
I first visited the campsite in 2002 and then again in 2012 and I remember thinking the pool area was quite basic. However, I was pleasantly surprised during our recent holidays. There was so much more than I'd remembered! There's a kids splash park, slides, pools and tons of wet fun to keep the family entertained…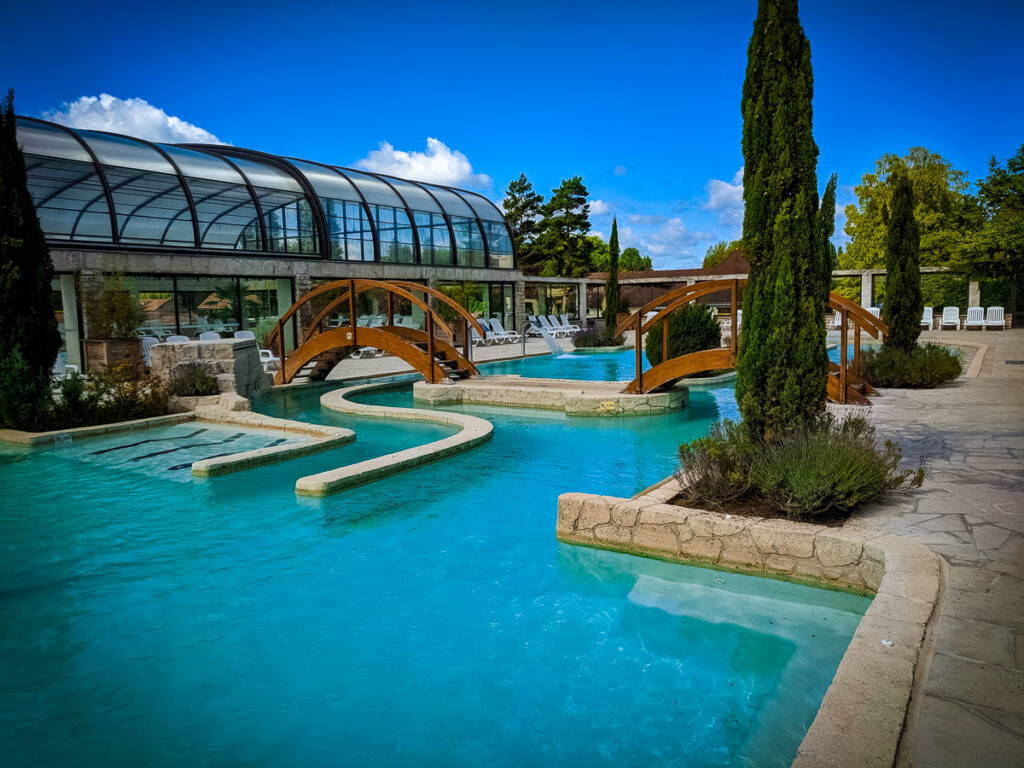 The outdoor pool area at la Croix du Vieux Pont is quite basic. Being in the north of France the campsite can experience similar weather to the UK so I believe more emphasis has been made on the indoor pools instead.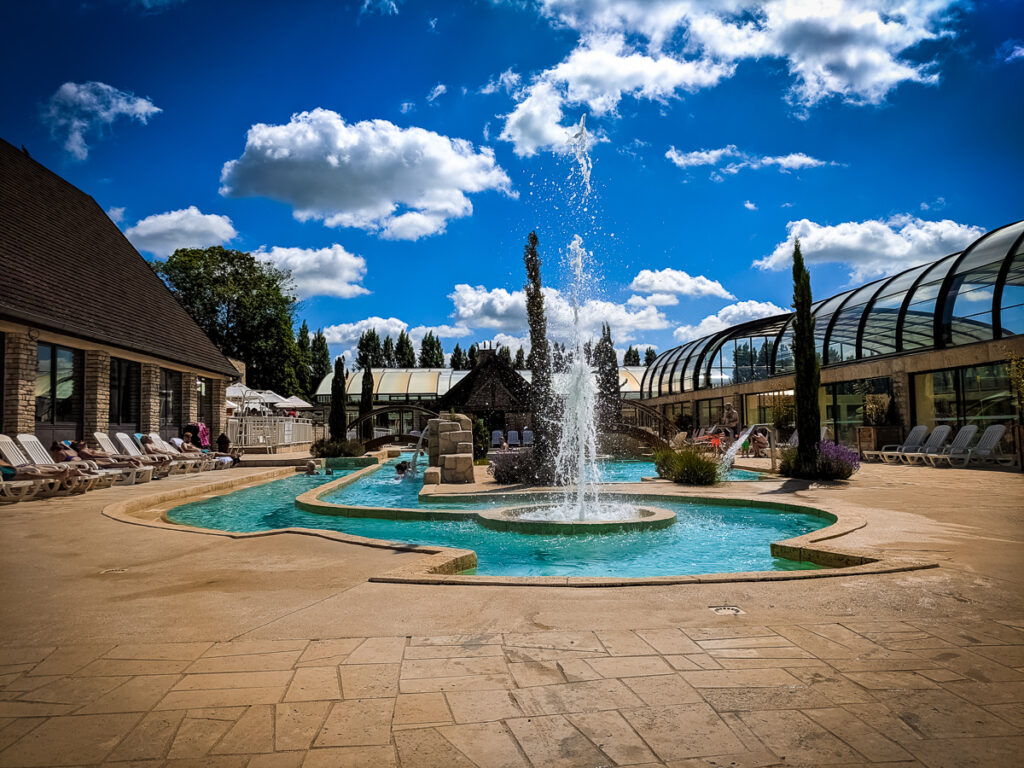 The outdoor pool area features a lazy river with some waterfalls, hydro massage seats and a small area for swimming and paddling. 
There were plenty of sun loungers around the outside of the pool and we always managed to find some to use.
We really enjoyed the outdoor space during our stay in June as the weather we had was brilliant. Not too hot for the babies and elderly in our group, but also not too cold for everyone else.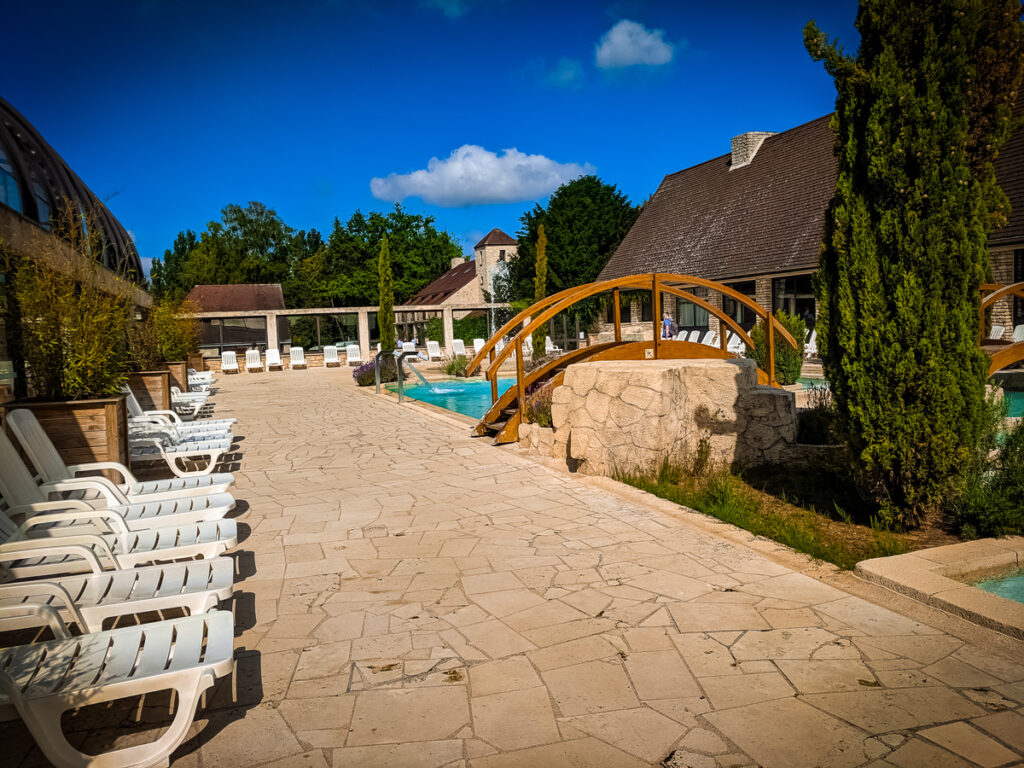 My elderly, disabled nan particularly enjoyed being able to walk a loop around the lazy river, enjoying the weightlessness on her ailments. It was the first time she'd been in a pool in over 10 years!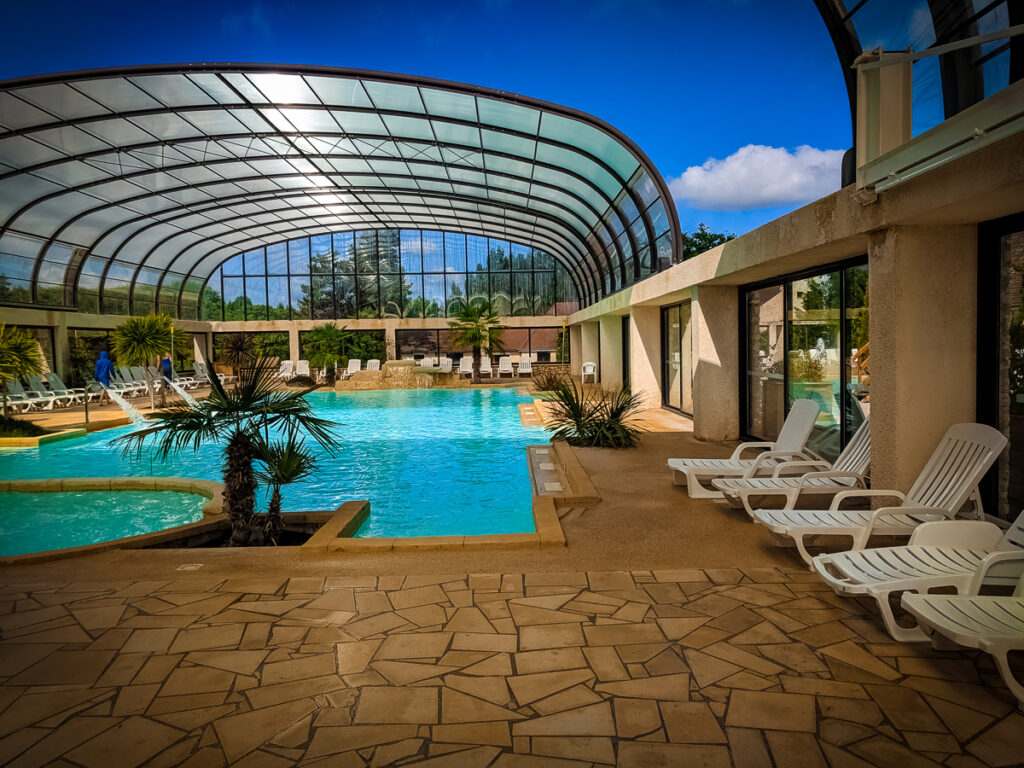 Indoors is where most of the water action is at. The main pool is in a glass covered building which can be retracted back in good weather and closed over in bad weather. This means the pool is ideal in every weather form.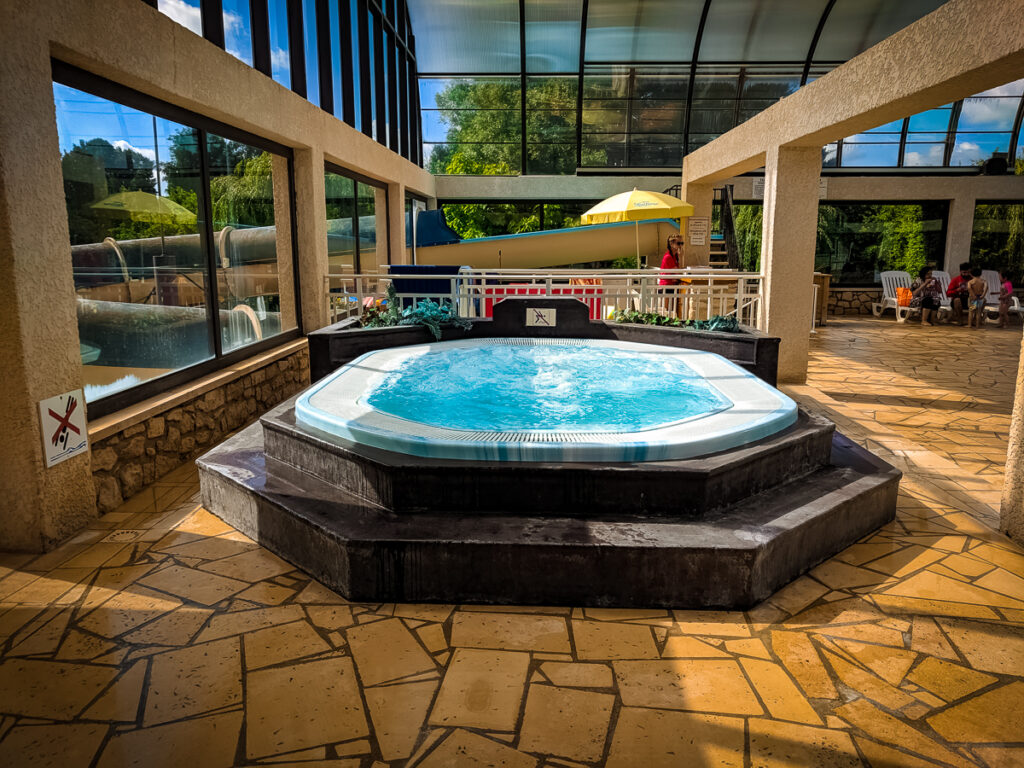 The main pool is good for normal swimming as well as playing and has a nice jacuzzi area at the end. Like the outdoors pool, it's also surrounded by sun loungers to chill on. The pool itself is heated so even during a cold wet day, it could still be enjoyed.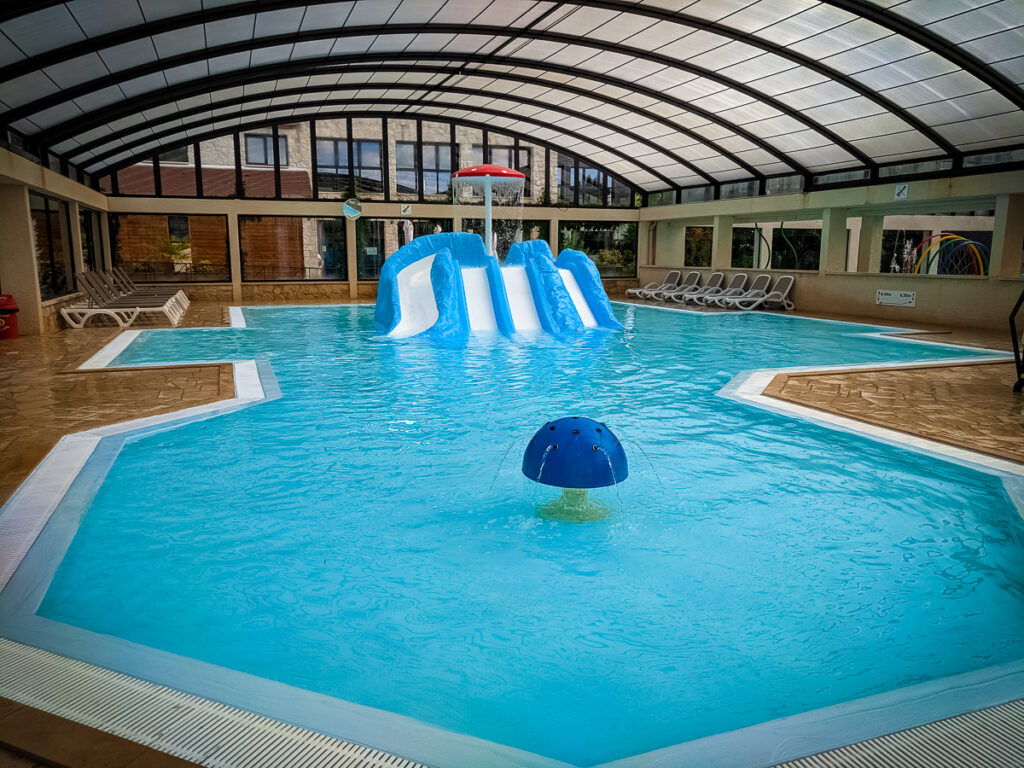 For relaxing, there's a separate jacuzzi just nearby, also with a nice warm temperate.  
For the young kids there's a small toddler pool which is perfect for paddling and even has a kiddies 4 lane slide and there's also a fun splash park area filled with different water features – though this was unfortunately not working during our 2021 stay.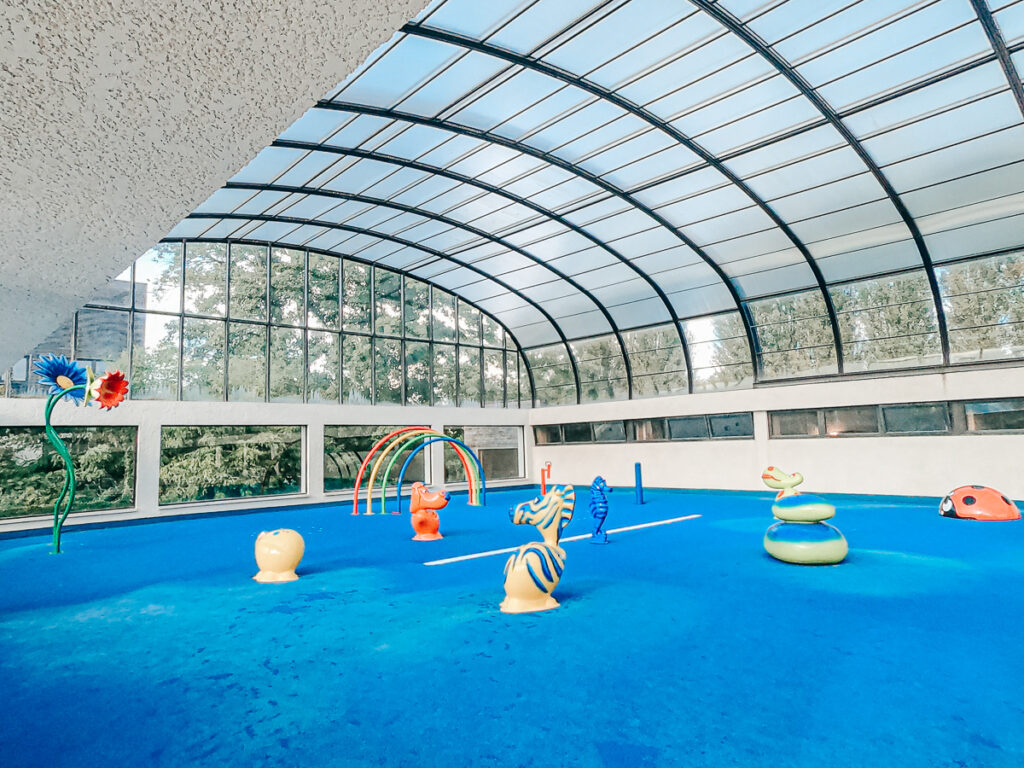 For the big kids there's a 3 lane slide, which goes super fast, and a covered flume. 
I think the pool area here is great and really has something for everyone, however I do feel it needs a bit of cosmetic work. Some repainting and a bit of extra cleaning around the slide area could really improve the whole look and feel. Functionality wise, we had no complaints. The pool was fun, spacious, there was plenty of loungers, plenty to do and enjoyment was had by every member of our family.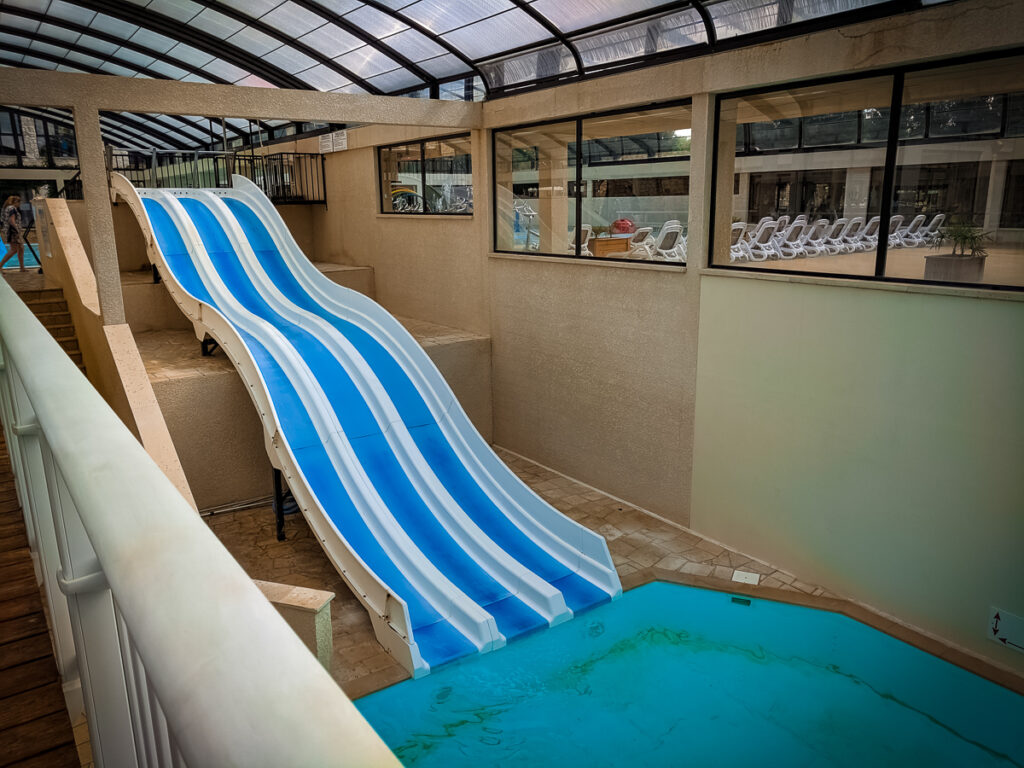 The campsite didn't seem to be strict with the speedo rule and men were allowed to wear bermuda style trunks as long as they were above the knee. However, as I advise each and every time the rules could easily change and all it takes is another local campsite to be fined for not adhering to the law and things will change. 
I advise buying a pair of speedos or jammers in the UK for "just in case" and if you don't end up needing them, you can take them back when you return. 
Another pool rule, is that you need to leave your shoes at the entrance in a shoe cupboard. I never do this, I always pop my flip flops in my bag instead. Someone did lose a pair of shoes while we were staying there so I'd always advise people to bring them through to the pool area, but keep them in your bags.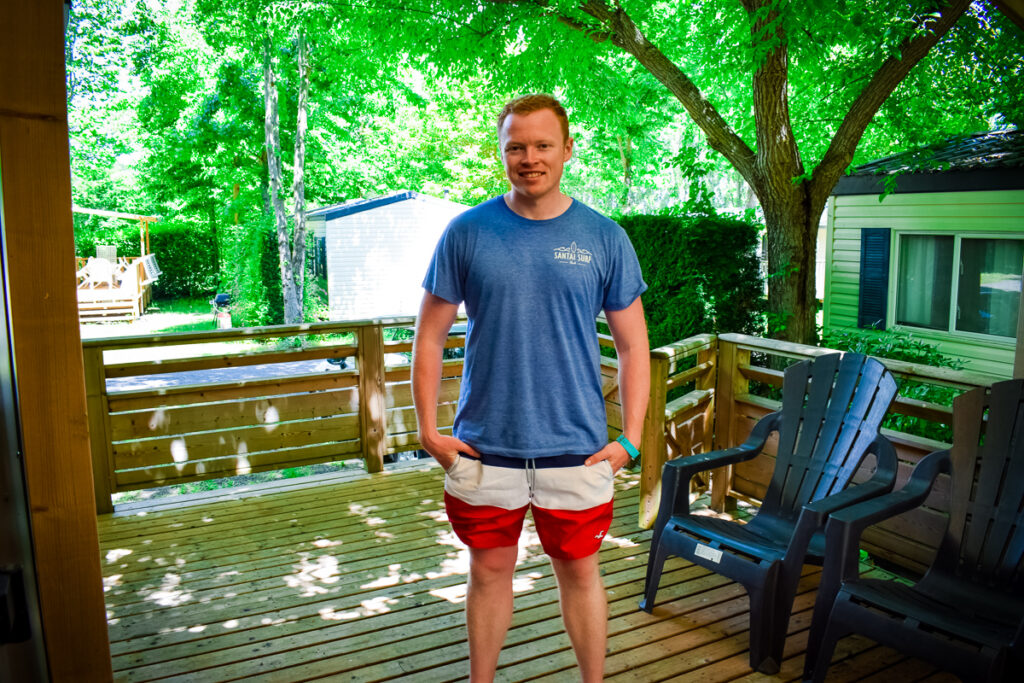 Beach Lake & Fishing lakes
Being located away from any coasts, some campsite guests may feel like they're missing that beach style holiday. But, there's no need to miss out. La Croix du Vieux Pont has its own – man made – naturally filtered beach lake. It's surrounded by sand and straw sun shades so it really felt like we were at the beach.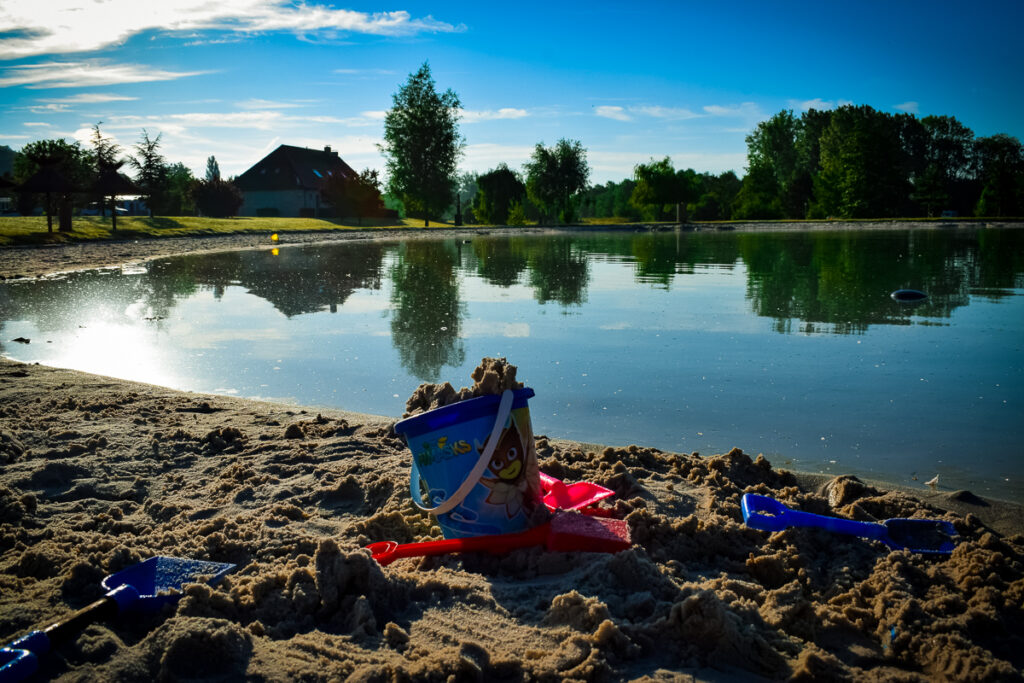 In the lake itself children were able to use inflatables, water guns and generally enjoy a playful, recreational pool area. The surrounding sand was also great for building sandcastles and digging holes. There's also a beach bar just next door so the adults can have some fun too, (I'll discuss this in the bar/restaurants section of this review).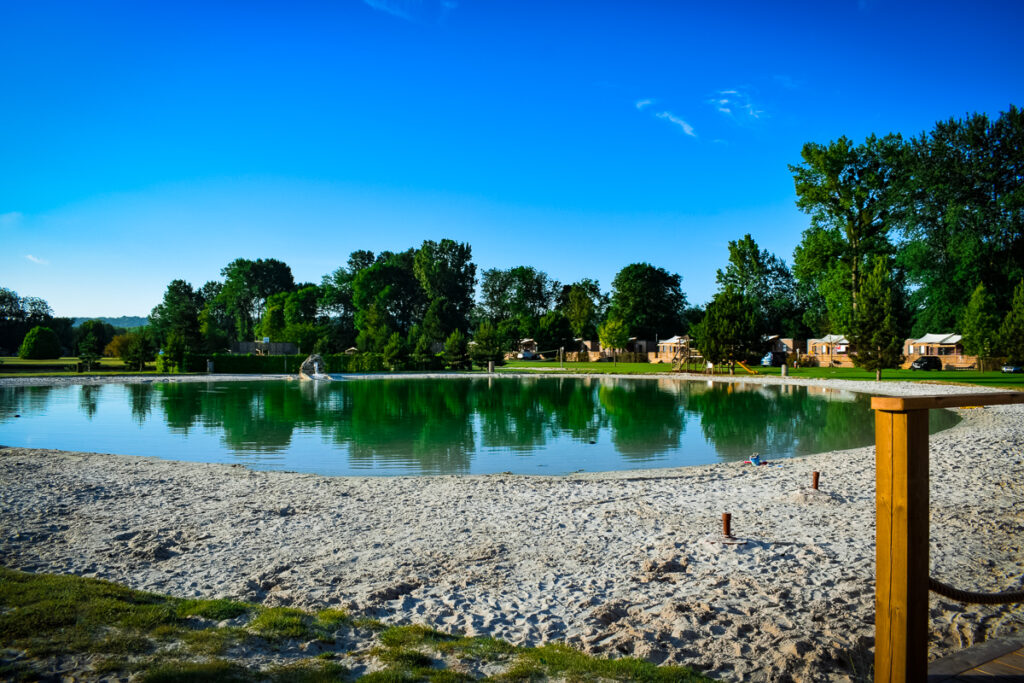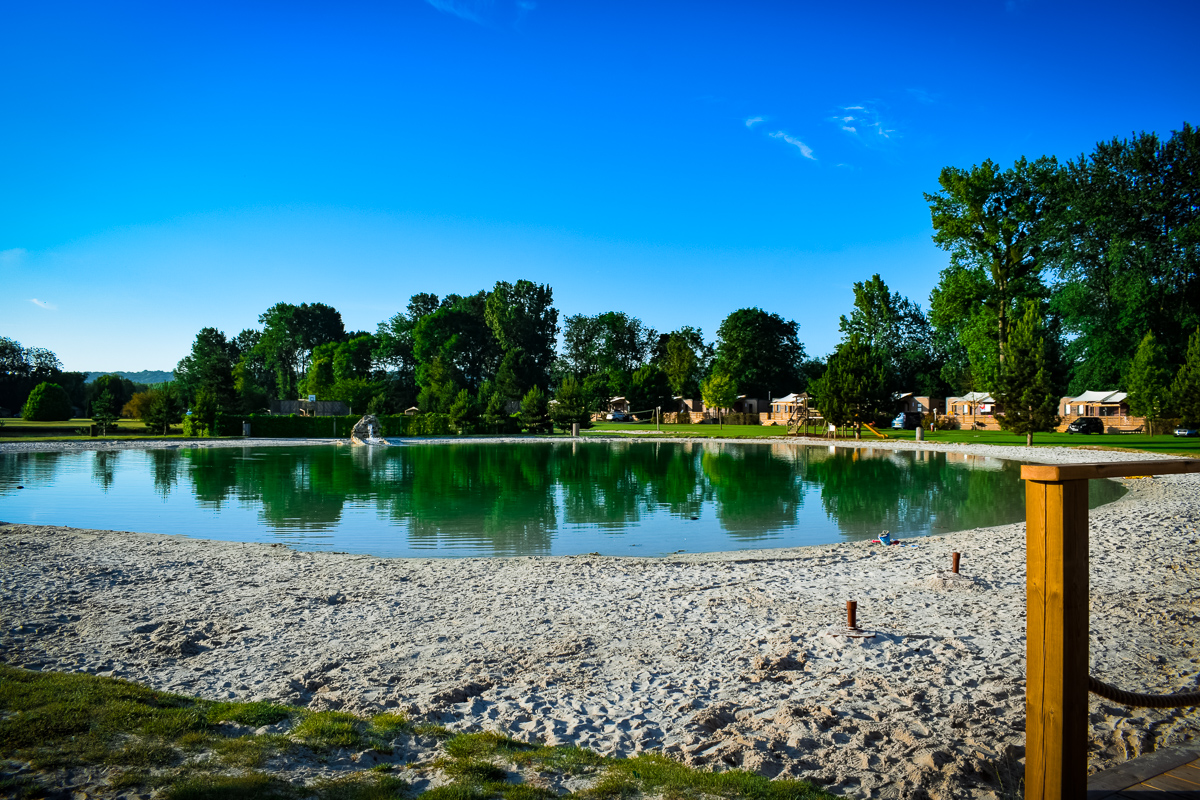 However, supervision is required. Some parents were leaving their toddlers in the lake and going to the bar for drinks. There's not always a lifeguard on duty and it's your responsibility to watch your kids. The lake can get very deep and is very uneven, so please be aware of where your kids are at all times. Drowning is silent. There was a moment when Mike thought he was going to have to rush in and save a child but luckily they seemed to recover themselves. 
Fishing at La croix du vieux pont
Fishing is such a massive deal at la Croix du Vieux Pont. There's even a dedicated Facebook group just to discuss the fishing there. You can fish in both the boating lake and the top lake as well as the river, but you will need to buy a permit from the kiosk. There's no night fishing and everyone must be off the water by dusk (10pm at the latest).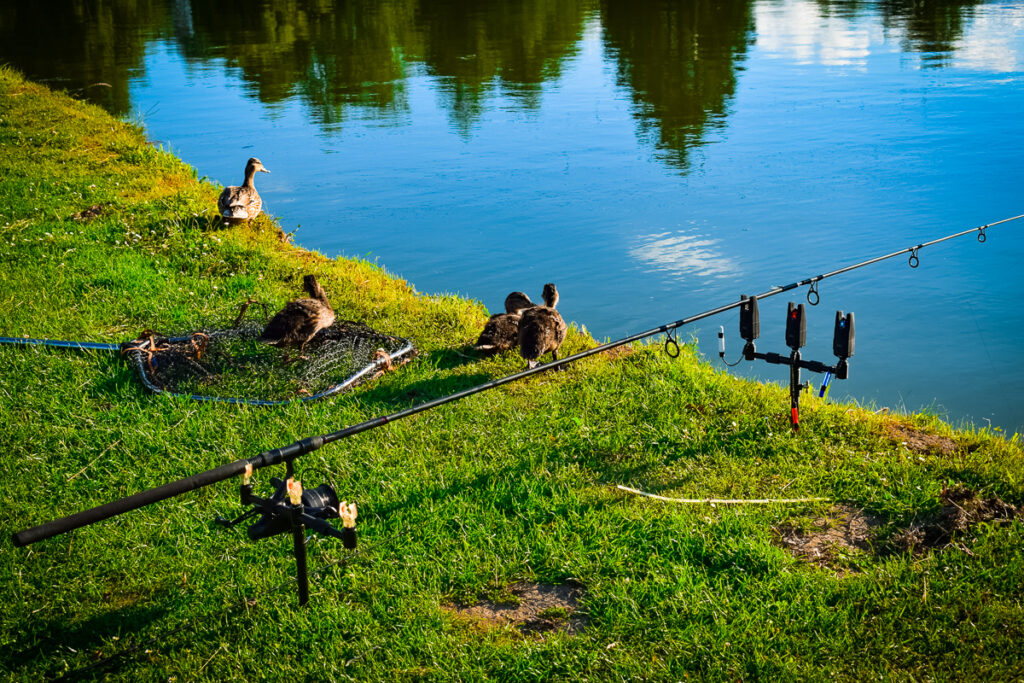 The fishing here is taken very seriously and you can tell a lot of people holiday here just for that. Some of the set-ups are incredible. 
It costs 60 euros per week/per person for a half day pass or 96euros per week/per person for a full day pass. You can also grab a season ticket at 120euros per person or if over 60 years old a senior season pass at 90euros per person. For children under 14 years old the prices are 1rod per child. 5.00€/day and 25.00€/week.
As I mentioned earlier, this campsite has so many facilities, I fear it's going to take me a few weeks just to write up about them all! 
Eurocamp and Alfresco Guest services reception
Here's where we went to check in and with any queries or complaints about the accommodation/package. It's where we found information on days out, borrowed games and toys, booked kids club activities and was basically our hub of information during the holiday. The staff in here are fully trained and so personable. We spoke to them on numerous occasions and they honestly couldn't be more helpful.
Justin and Ash, two of the managers we dealt with during our holiday were honestly fantastic and helped ensure our family holiday was a success even after a few accommodation issues which you can read about in our Villa Lodge review.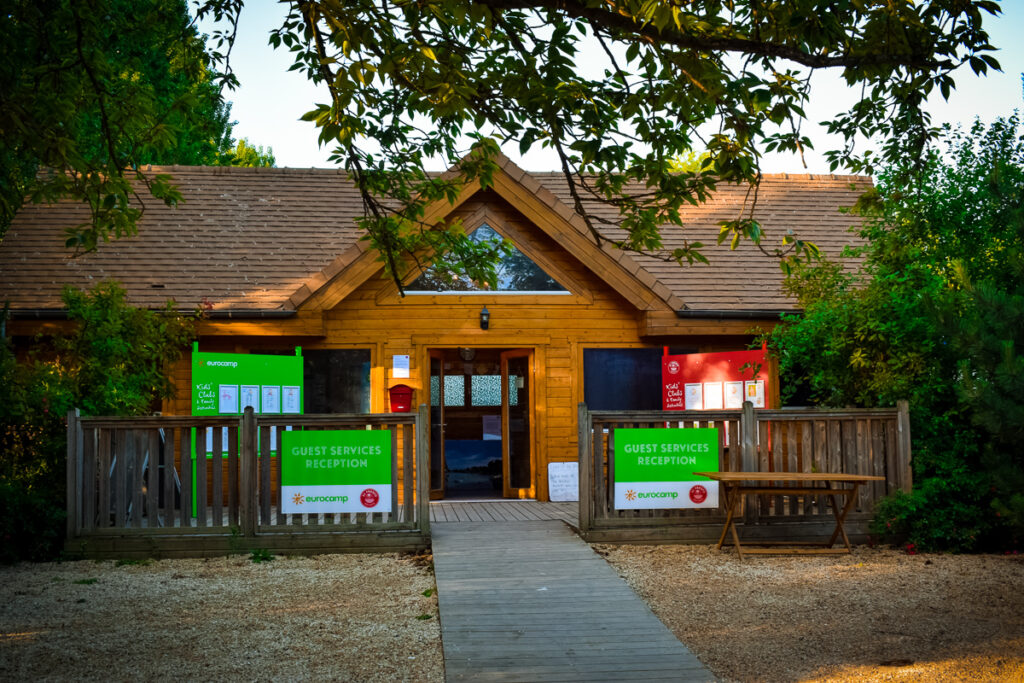 The final reception is the main reception desk. This is where we could pay for wifi, got our tokens for the washing machines, booked our tickets for Disney via the campsite bus and where we could also book for the Paris trip. 
Some people will never need to step foot in here. 
Unlike the Eurocamp, Al fresco and other rep receptions, the staff here are French so I always feel it's common courtesy to at least greet them with a "Bonjour!". You won't believe the amount of "alright mate can I…"I heard, which I think is fine when speaking to English speakers, however I think manners wise, when speaking with the French staff around the campsite at least greet them in French and maybe a "Merci" and "S'il Vous Plait" wouldn't go a miss.
If you're not booked with Eurocamp or Alfresco
Then your check in system will be different. If you book through the campsite itself then you'll head straight to their reception. 
If you're booked with Lifestyle, venue, Canvas or Roan then you'll head direct to their reception for further details – it's as simple as that.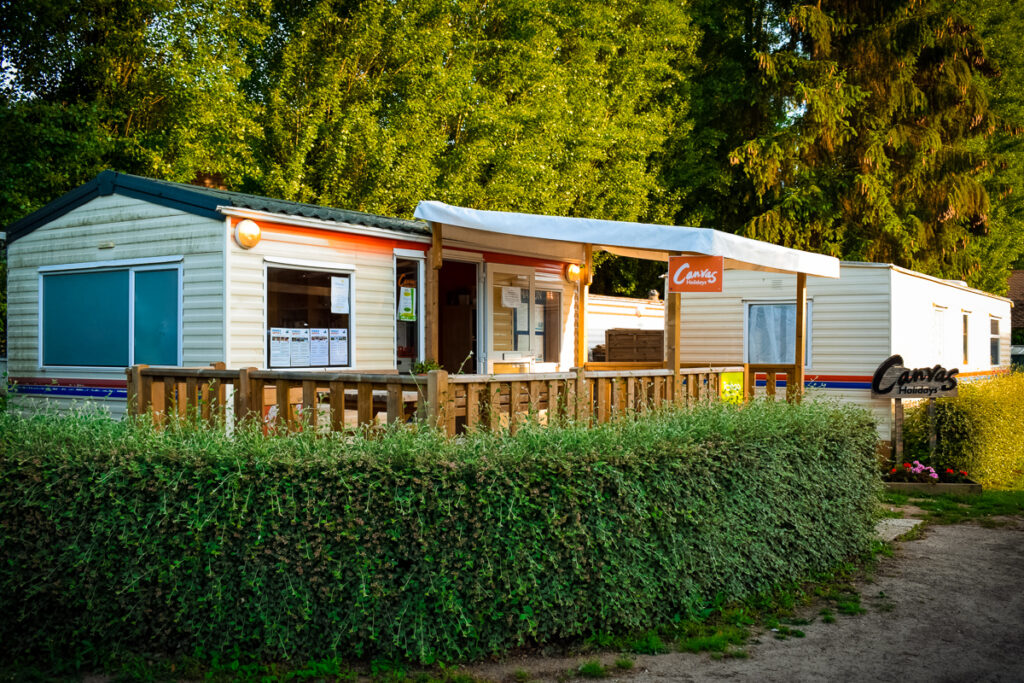 Dotted around the campsite were a fair few children's free play areas and parks. With climbing frames, slides, swings, see-saws and all the usual you'd expect from such a vast green space.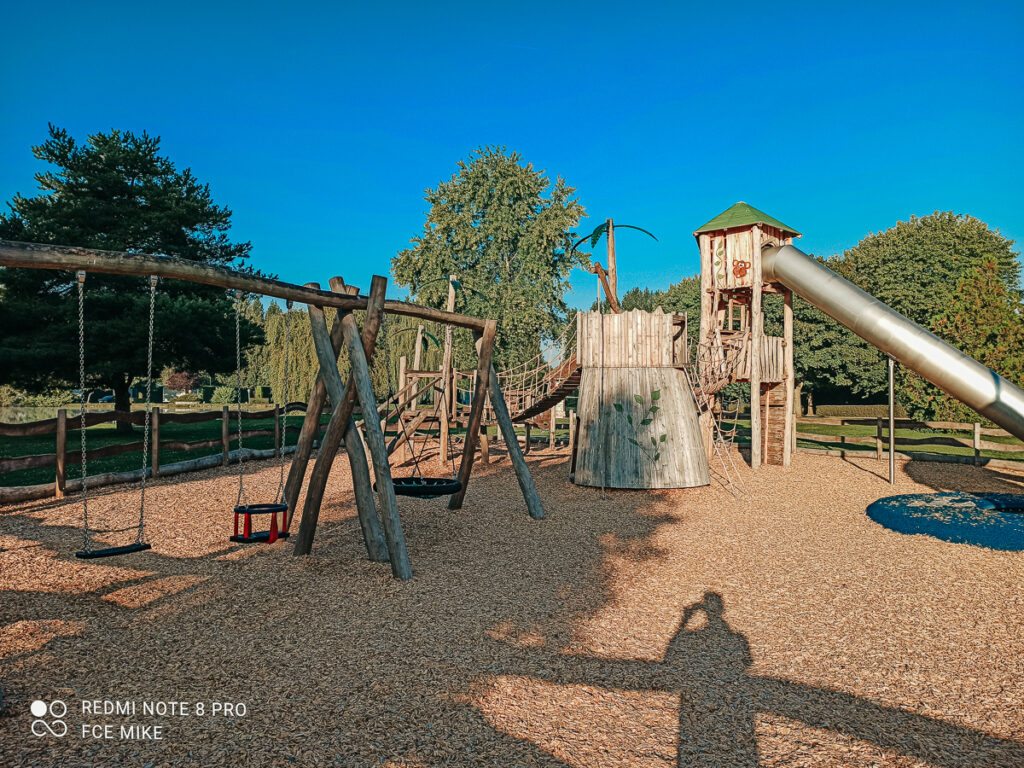 Le Kiosk Cafe and Leisure Activities
I'll go into detail about macao cafe in the bars and restaurants section, but here I'll discuss their leisure activities. There's a broad range of activities and if you're planning on using them regularly, like we did, then it's really cost effective to buy a leisure card. Basically, if you buy a 10euro card you get €4 free, €20 gives you 10 euros free, 40 euros gives you 30euros free and 60 euros gives you 40euros free. The card can be used between your family group and if unfinished during your stay, you can use it again next year/whenever you next visit. The card can be used towards the bouncy castle, trampolines, pedalos, canoes, bumper boats, mini golf, bungee rope, mini quads and the ejector trampoline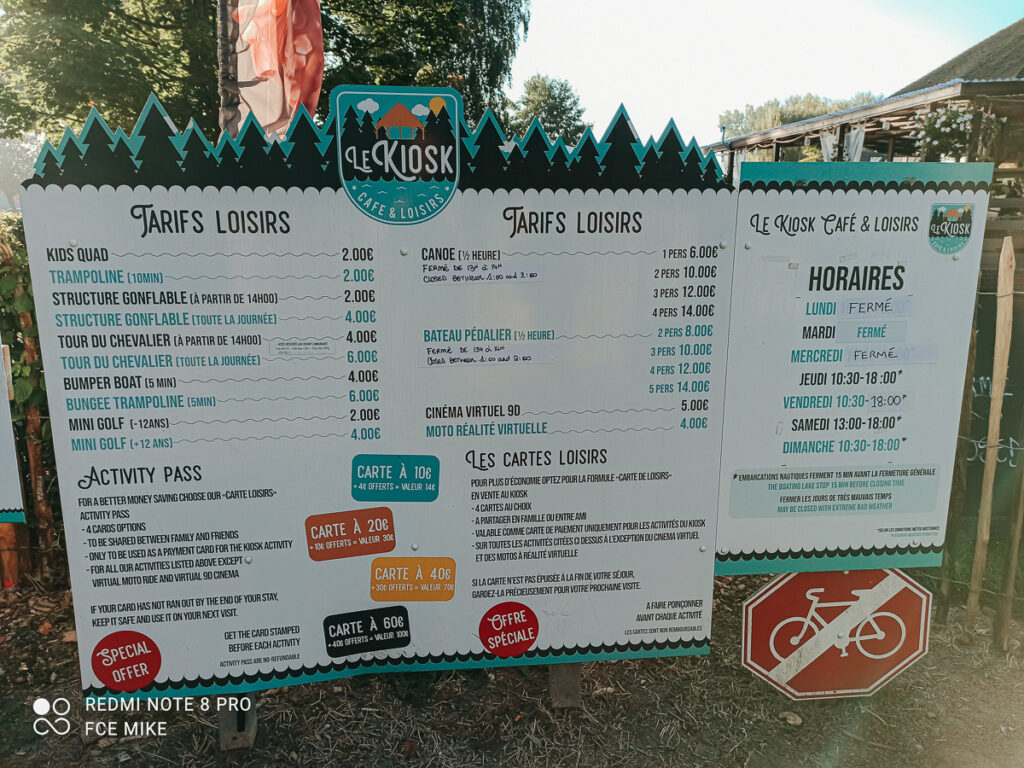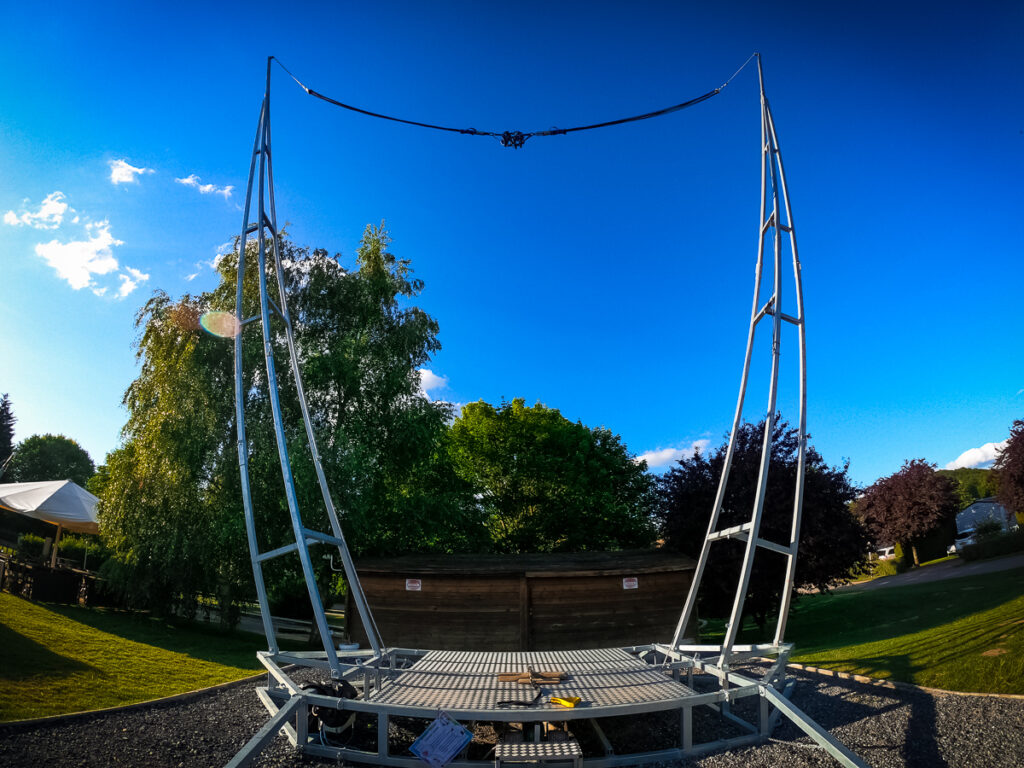 There's 3 types of trampoline you can use at the Macao Cafe. You've got the normal kind with 3 bouncy mats, suitable for all age groups and weights. My nephew loved bouncing around on these. It cost 2euros per person for 10 minutes and you get locked inside.
The next type of trampoline is the bungee ropes, these are where your harnessed in for an even bigger bounce. There are weight restrictions from 15kg to 90kg but I didn't see any age restrictions. These bungees cost 6euros per person and are for 5 minutes at a time.
The final style of trampoline is the giant ejector. Like the bungie's you're harnessed in, however this one is massive! It's a one jump kinda thing. You're basically "ejected" into the sky. I only saw one person doing this during our stay, none of us were brave enough for the challenge… it cost 8euros per person, per jump.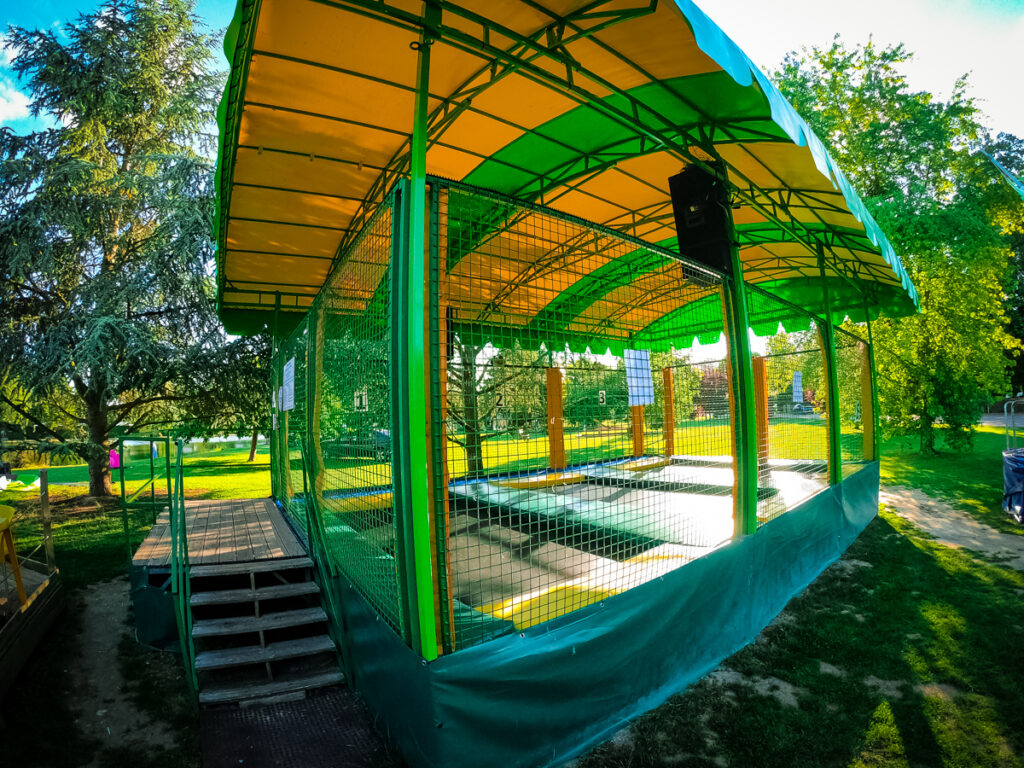 Something we did take advantage of were the Canoes. I've been wanting to try Canoeing for ages now and where better for a first attempt than a quiet, easy lake. It was great fun! It was made even more fun by trying to race other members of my family who also have no experience of canoeing. I definitely recommend giving it a try. It cost us 12euros per canoe per half hour and we had 2 people in each.
But it's not just canoes you can hire on the lake. It's also possible to get pedalos. There was a wide selection of cool ones to try like dragons, swans and flamingos and they could even fit up to 5 people on them. Costs vary by the amount of people and for 2 people on one pedalo it was 8euros, for 5 people it was 14 euros.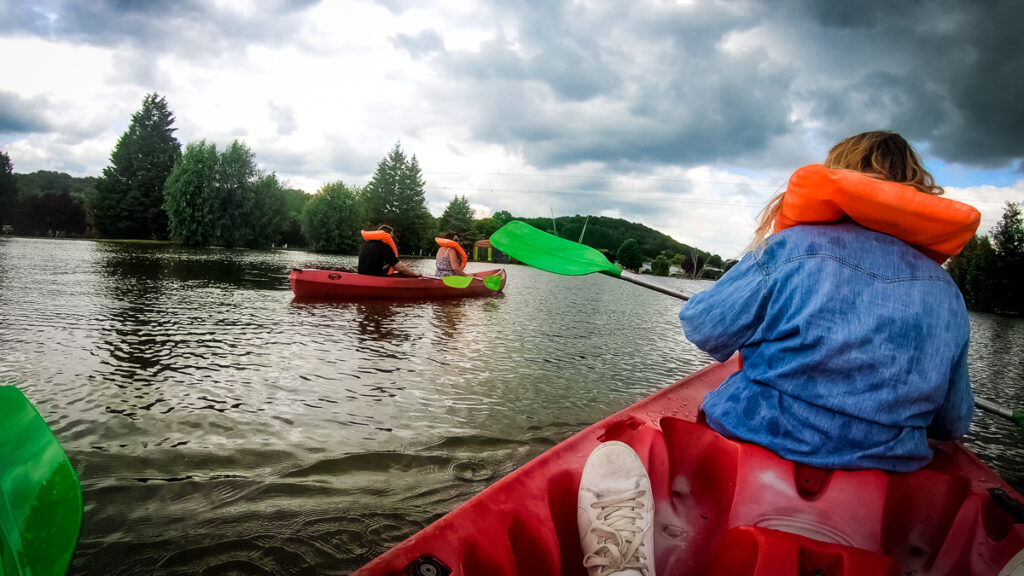 The oldest child in our group was just a little bit too young to try these kids go karts aimed at children between 3 and 10 years old, however he gave them a try anyway and unfortunately his feet couldn't reach the pedals.
They did however look like fun for the other young children using them. Unfortunately adults aren't allowed on and I did see a few parents getting told off for giving them a try. Tokens cost 2euros from the kiosk.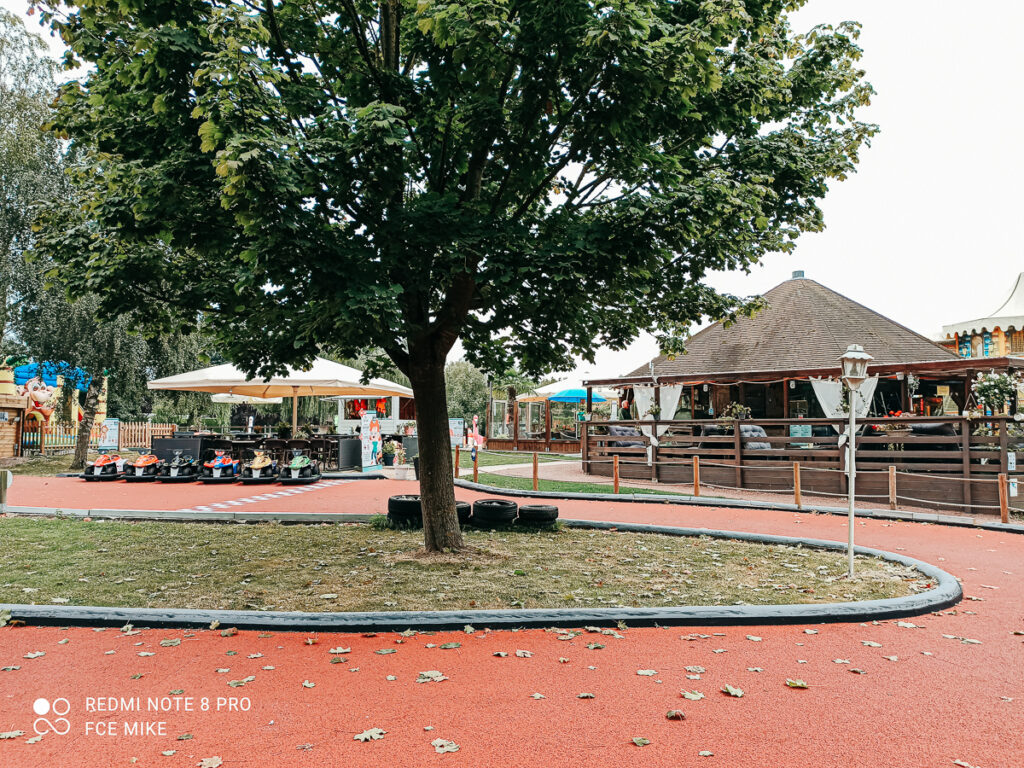 This was a massive hit with my nephew. They're only 5 minutes long, but he loved his small boat trip in a cordoned off part of the lake. He had a couple of goes on the boats, one with his dad and one with Mike and although there wasn't much bumping involved he enjoyed the little sail. For 2 people and 5 minutes bumper boats it's 4euros.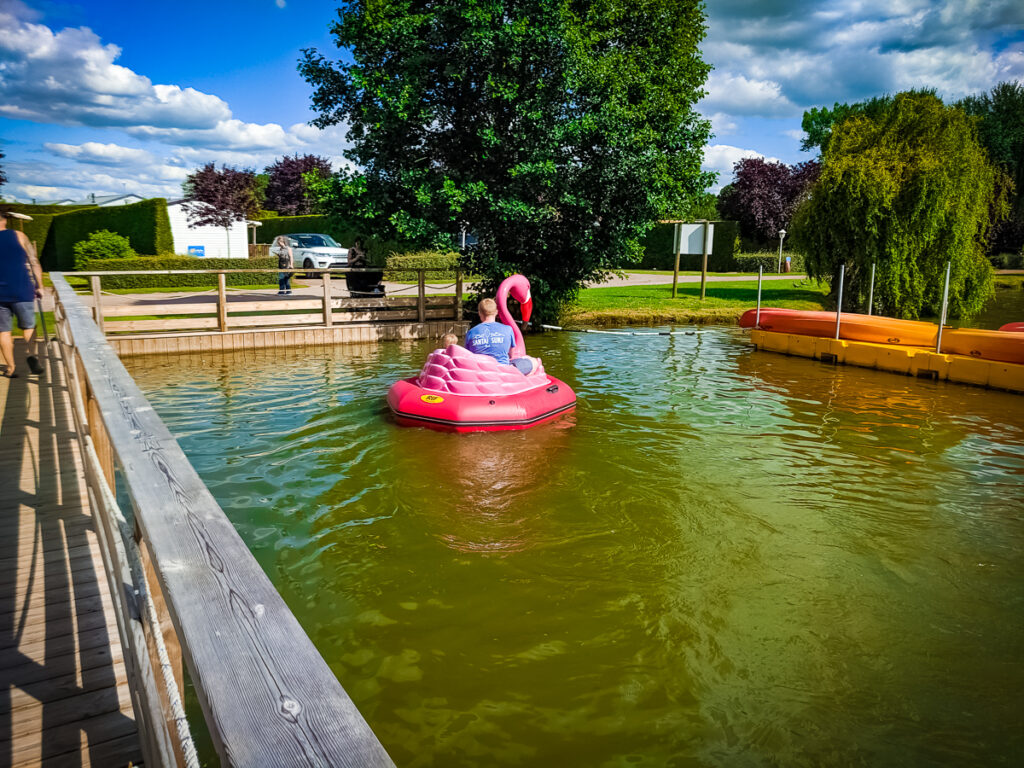 I think my mum spent the whole week trying to find the mini golf area as although you pay for it at the Le Kiosk cafe, it's actually closer to the beach bar. Mike and I found it on the second day after a little exploring but didn't get the time to give it a go. And kept the location hidden from my mum to keep her searching (lol). The prices were Adult : 4 €, Kid < 12 years old : 2 €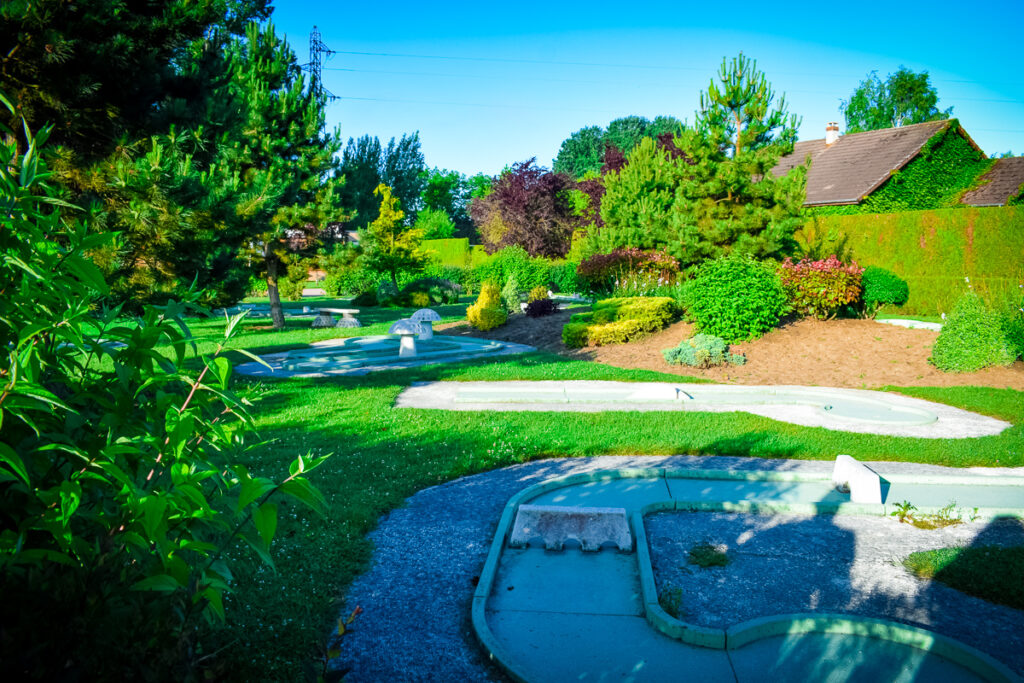 This was definitely my daughters favourite activity all holiday. I must have heard the words "bouncy castle" repeated about a million times. The castle can get quite busy at peak times. However, it's really enjoyable when not too overcrowded. My daughter really enjoyed going down the slide, although it took her a while to get the hang of sliding down the slide area instead of the steps… there's unlimited access all day at 4euros.

Unfortunately the kids were too young and the adults too old to take advantage of the virtual reality games inside the cafe area. There was a 9d cinema (no idea what that even means) and virtual moto ride which both seemed like simulators with VR goggles. They did look pretty cool. The 9D Virtual Cinema cost 5 € / per person and the Virtual Moto Ride cost 4 € / person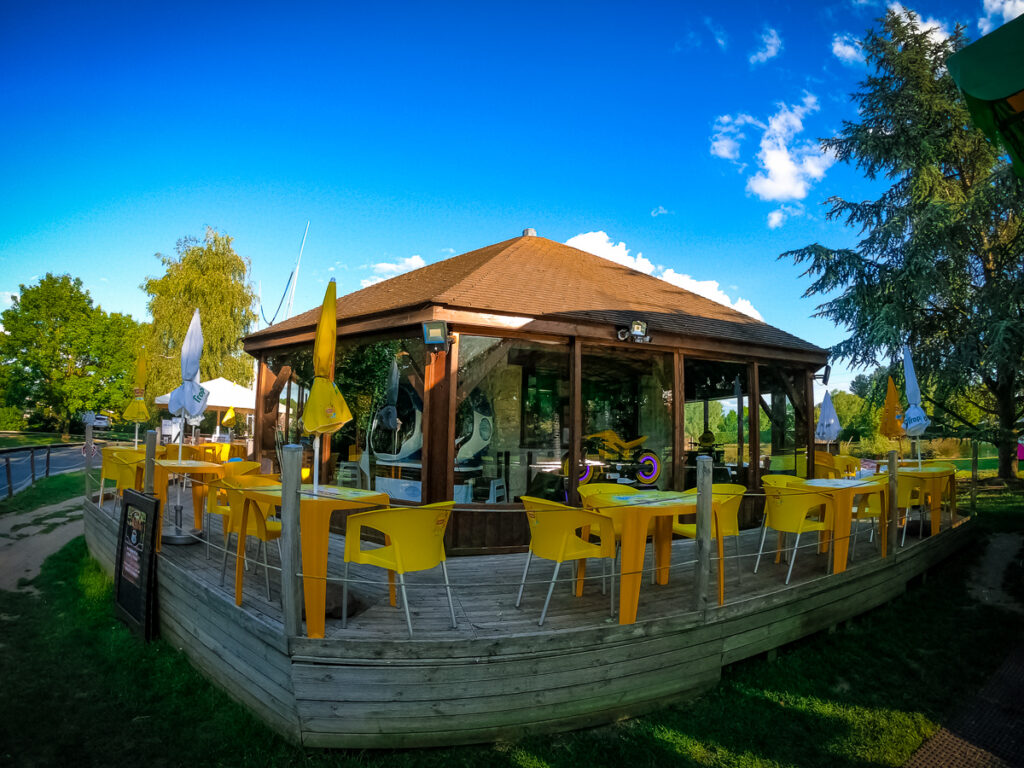 Tower pursuits, situated at the end of the campsite offer daily sessions including Zipwire, Archery, Trapeze, Climbing, Abseiling and their new activity for 2019, air rifles. Activities can be booked by heading down to the tower pursuits reception or by calling/texting (0044) 07501217439 (the number on the sign outside their door) or emailing towerpursuits@gmail.com – Where they can give you more information.
We headed down to ask for more information about the zipwire but unfortunately the instructor was busy with an archery session so we took down the number and my mum gave them a text later. But, unfortunately we heard no reply so didn't get to use the activities here.
All sessions are 1 hour long and Climbing wall, Abseiling, Trapeze session for 1 Session costs : 11€ – 4 sessions : 36€ – 20 sessions : 110€
Zip Wire session : 3€ for one – 5€ for two
Archery session: 1 Session : 11€, 4 Sessions : 36€, 20 Sessions : 110€
*Prices correct as of writing in 2019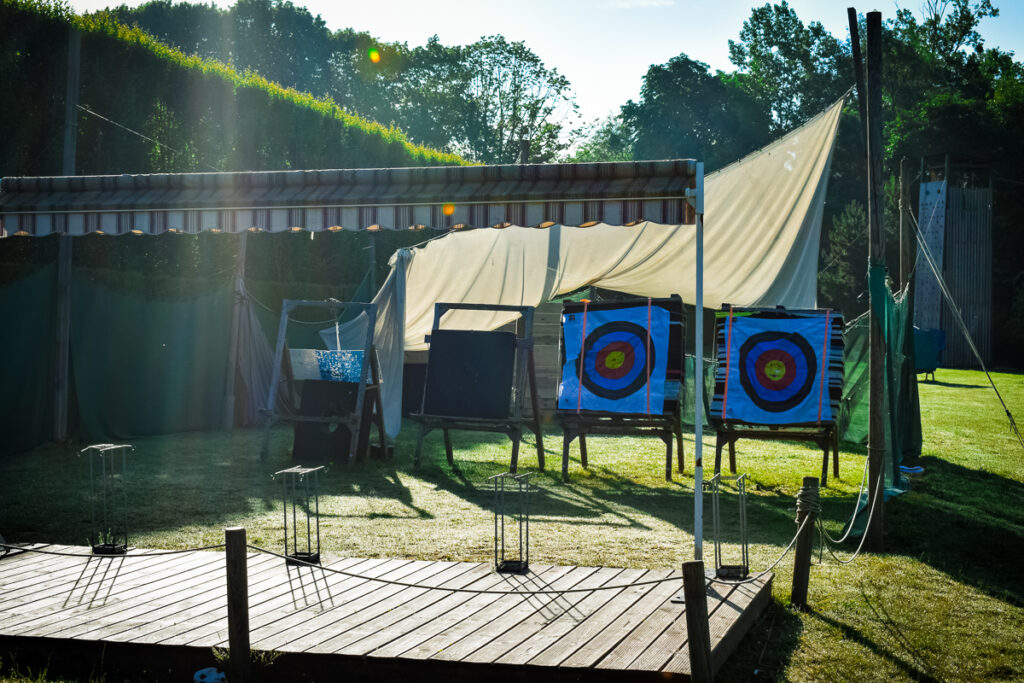 Another fantastic rainy activity is the soft play area. A reasonable sized play area for young children just upstairs from the bowling alley means that families with young children aren't restricted in activities by the weather. It cost just 3.50 euros per hour per child and is a great way to tire out energetic children.
I'm so gutted I didn't get to try this out but being 7 months pregnant I'm not sure how safe running around in the dark with laser guns would be. Like the bowling it's open from 2pm till 11pm and is priced 7euros per adult and 4euros per child under 12.
Billiards and Arcade rooms
Upstairs in the Summer bar there're a few billiards tables as well as a small arcade machine area. There's plenty of pool tables as well as quite a few air hockey tables and it's a perfect space for teenagers who don't want to hang out with mum and dad around the bar area.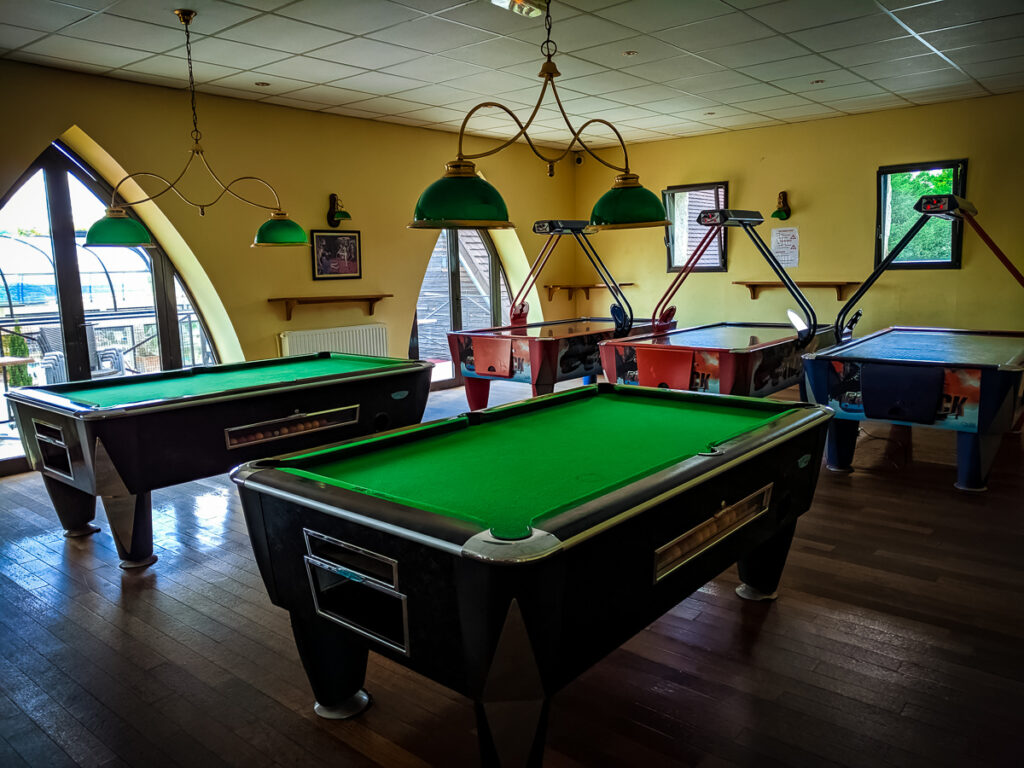 Tennis Courts and Multi Sports
As well as the play parks and paid for fun activities, there are also the Tennis and Multi Sports courts to play in. Whether you're a football pro, basketball champ or just fancy a game of netball the multisports courts are ideal. They're a great place for kids to make new friends and due to the campsites size, there's actually more than one court. There's a covered one indoors near the pool area which is great in extreme weather conditions and another, outdoors, situated close to the beach lake.
If tennis is more your thing then there's also a tennis court for your use. Situated over the overside of the campsite, accessed by using the underpass, the tennis court will cost you 7euros an hour and you can borrow all the equipment necessary when booking at the main reception.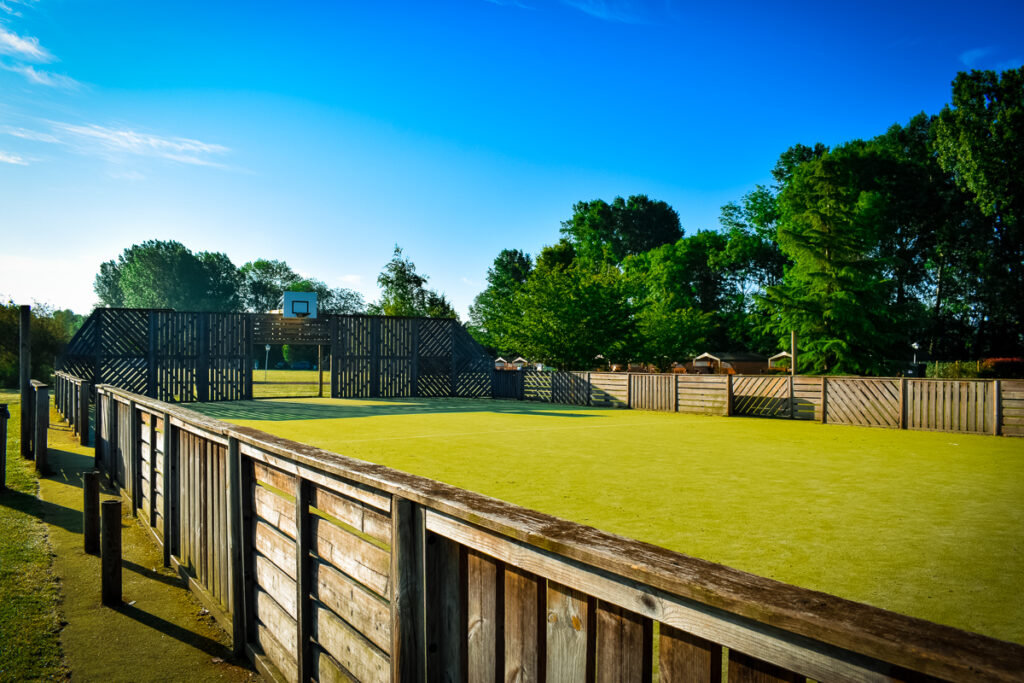 There are a few table tennis areas dotted around the campsite. Some indoor and some outdoor. There are lots of tables so you should always be able to find at least one to play on. Equipment can be borrowed from the main reception or from your own tour operator.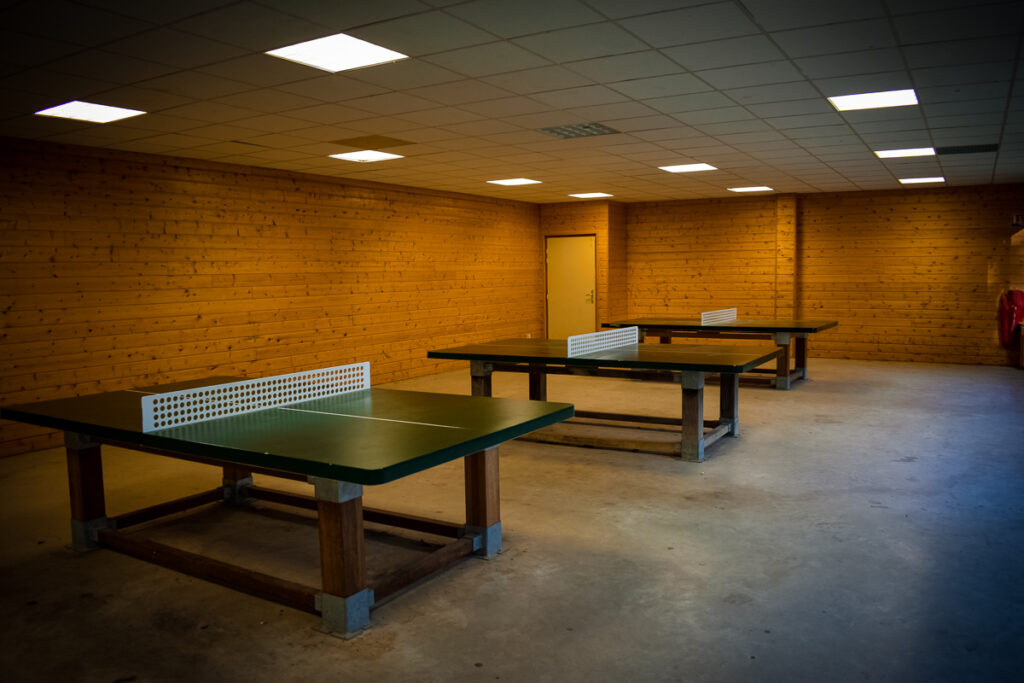 What goes better with a sandy beach than volleyball. Alongside the lake beach there is a volleyball court so you can have an action packed game and then dive into the beach lake to cool off – or just grab a beer and an Ice cream from the bar.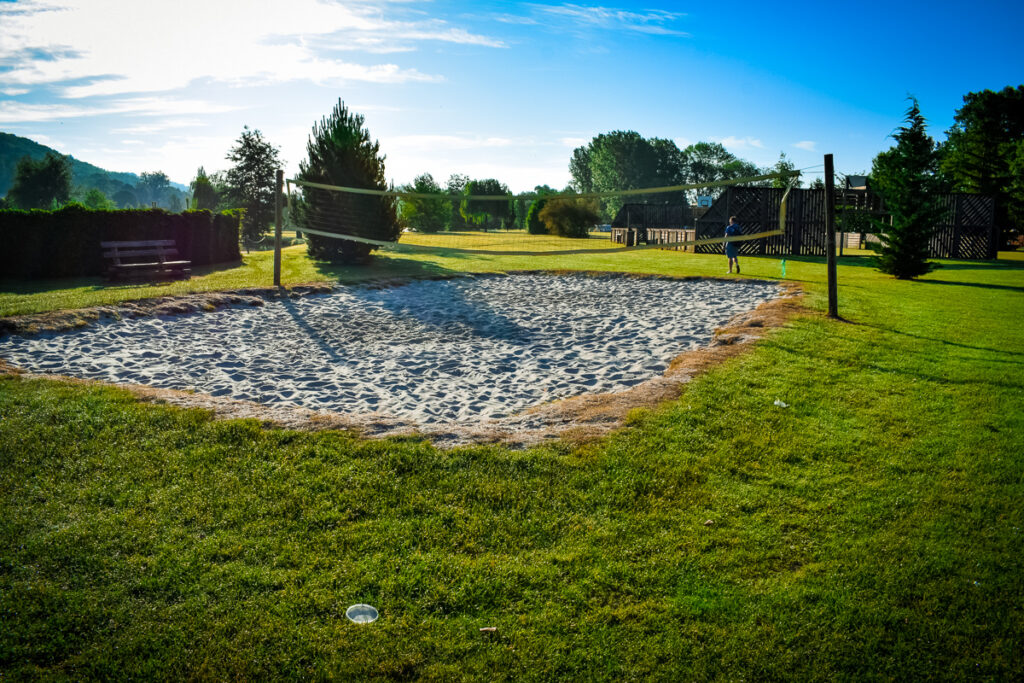 Check Availability And Book La Croix Du Vieux Pont Today
Clicking the button below will open the providers website in a new window.
One of the main reasons Eurocamp is so popular on this campsite is thanks to their extensive kids club program. Known as "Fun Station" the kids club is one of the main reasons customers return year after year. 
Open from 11/05/2019 to 15/09/2019 the Super Fun Station is FREE for customers of Eurocamp and Alfresco and is suitable for children aged 0-17. There's even activities for the whole family to get involved in.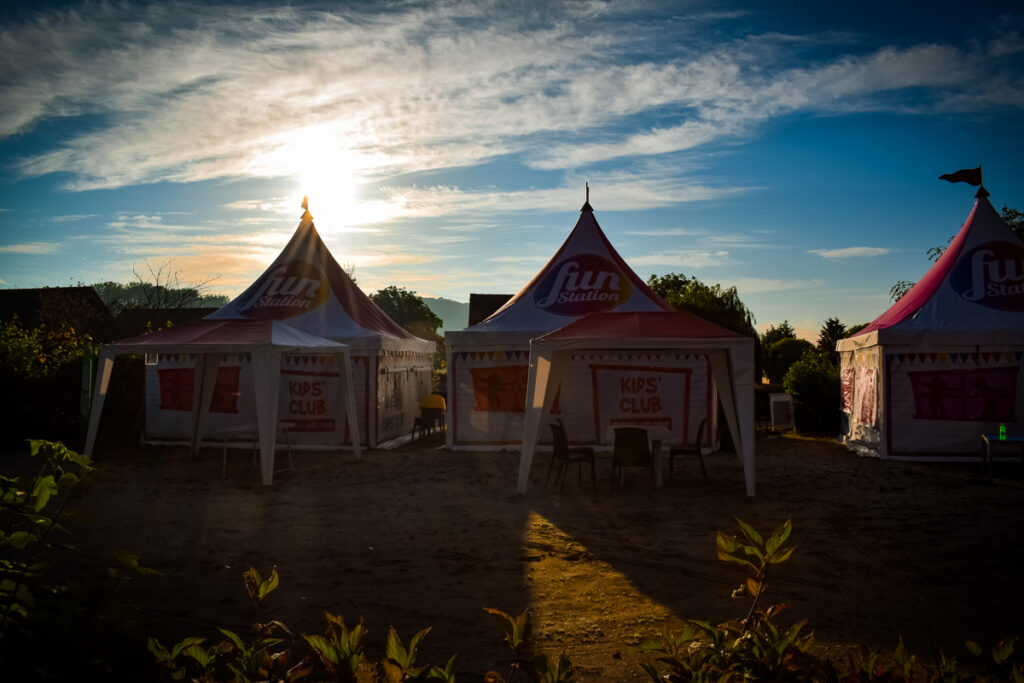 During our stay the Fun Station kids club was open 6 days a week and closed on Fridays. There was a broad range of activities for each different age range from activities like balance bikes for 0-4 year olds to cowboys and cowgirls for the 4-6 year olds, scavenger hunts for the 6-9 year olds, hoverboarding for the 9-17 year olds and zorbing for the whole family! There was so many activities to suit each member of the family. 
There was a board outside the Eurocamp guest services reception with more information about each staff member as well as a schedule of events and activities so you can plan in advance what activities you'd like to participate in.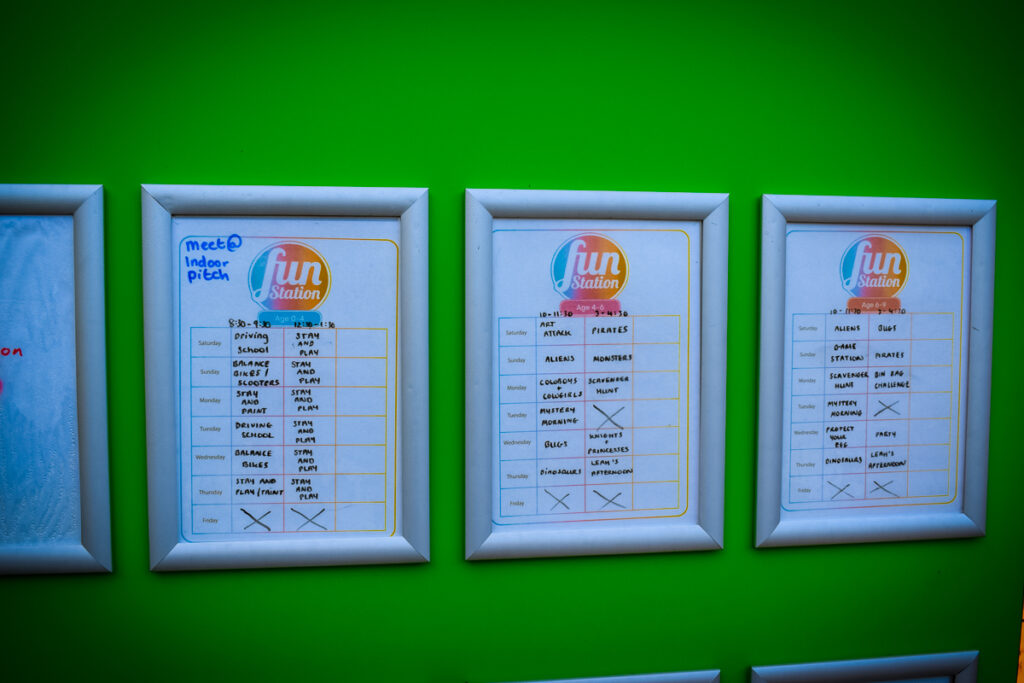 If you are booked through Alfresco you also have access to the Eurocamp kids club facilities however if you've booked through any other operator other than Canvas you will have no access to kids clubs. 
If you're a Canvas holidays customer they also have their own kids club through In2Action – although I'm afraid I don't have any extra information on this as I never saw it open or any of their staff.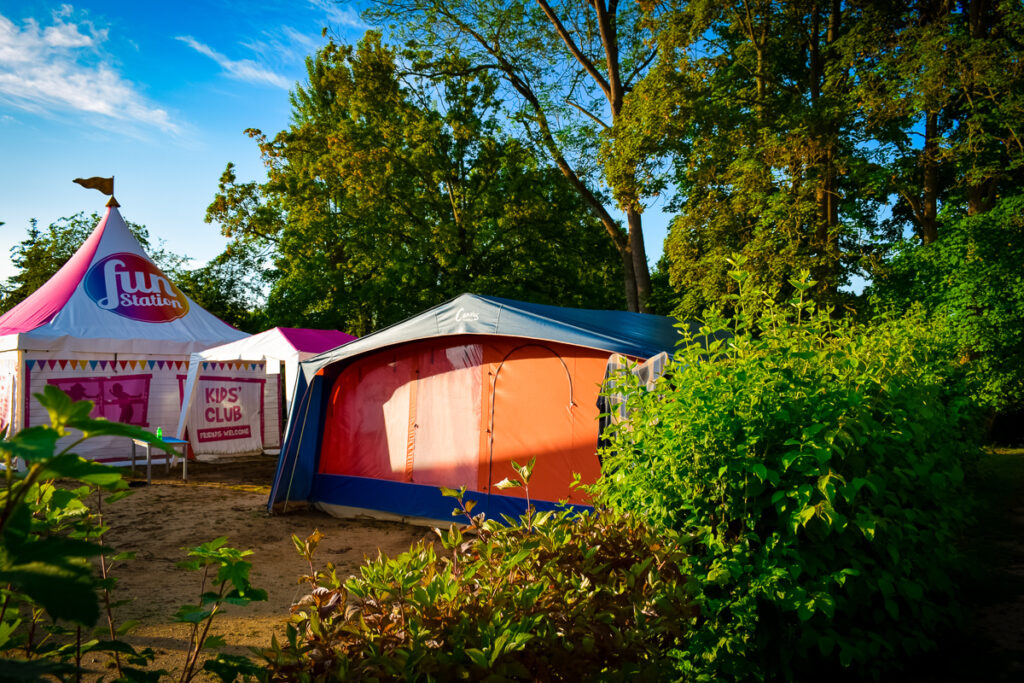 Although the kids in our family didn't use the fun station during our holiday we did meet one of the fun station members when he had to perform first aid on one of our family members. I think his name was Cal and he was very friendly and professional yet, at the same time, great at keeping up the banter and positivity.  
There are 3 bar areas on site. The main Summer bar, La Plage beach bar and the Le Kiosk Cafe & Leisure.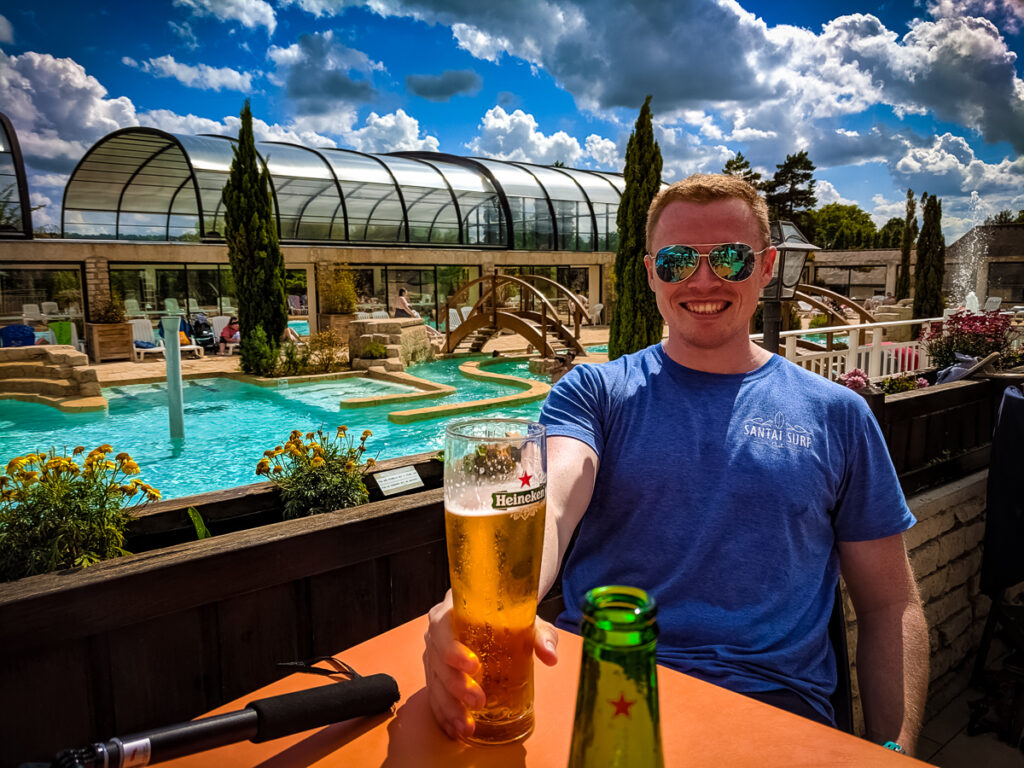 This is the main "pub". Here's where you'll find your evening entertainment, a cold beer and a decent outdoor seating area by the pool. It's situated in the main facility area and the bowling, soft play, laser tag and game facilities are attached to it. It's a great bar for a pre/post restaurant drink or to enjoy one of the entertainment nights. 
While we were there we enjoyed a super quiz with questions aimed at all members of the family and even some small and larger prizes for winners. It was a very entertaining evening.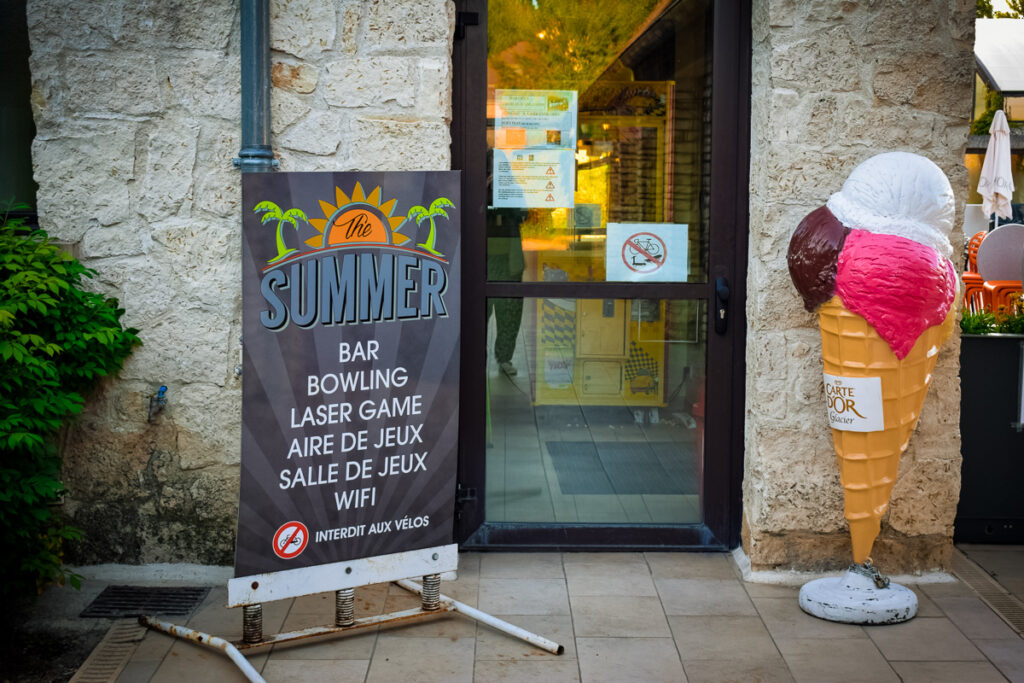 To find out what entertainment is on during your stay, there's a blackboard behind the bar area with events and times, but you can always ask your rep on site for more information. 
I do have one complaint about the Summer bar and it's more to do with the customers than the bar itself. Although it is a holiday, I felt some guests (not many, just a certain few) took that as an opportunity to neglect their children and let them run wild while they got very, very intoxicated. Some of the behaviour we witnessed was pretty terrible and children under 3 years old were crawling up stairs (with a massive drop) completely unattended. Not the bars fault at all, but a word of warning that you may be required to help "parent" when the others are too drunk…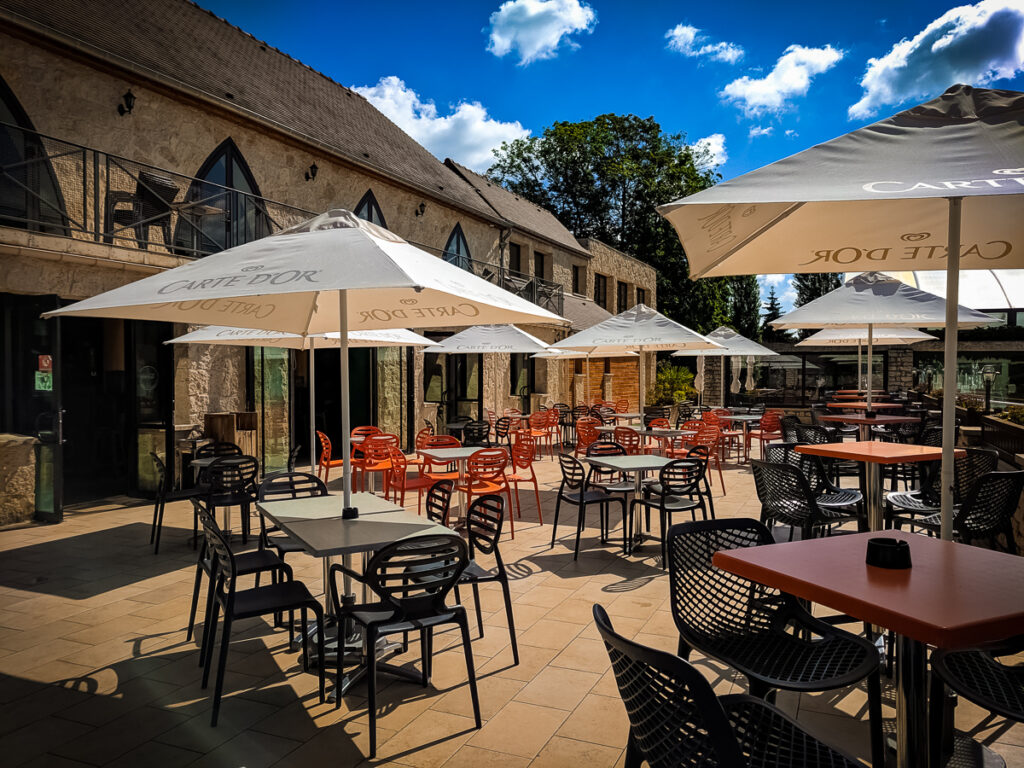 Before arriving I'd seen on La Croix du Vieux Pont's Facebook group some controversy over the beach bar. At the beginning of the 2019 season they decided (for safety reasons) to tear it down, rebuild and rebrand but unfortunately their opening didn't quite go as planned. Equipment didn't arrive on time, the bar opened a lot later than their scheduled date and there were some questionable complaints on food.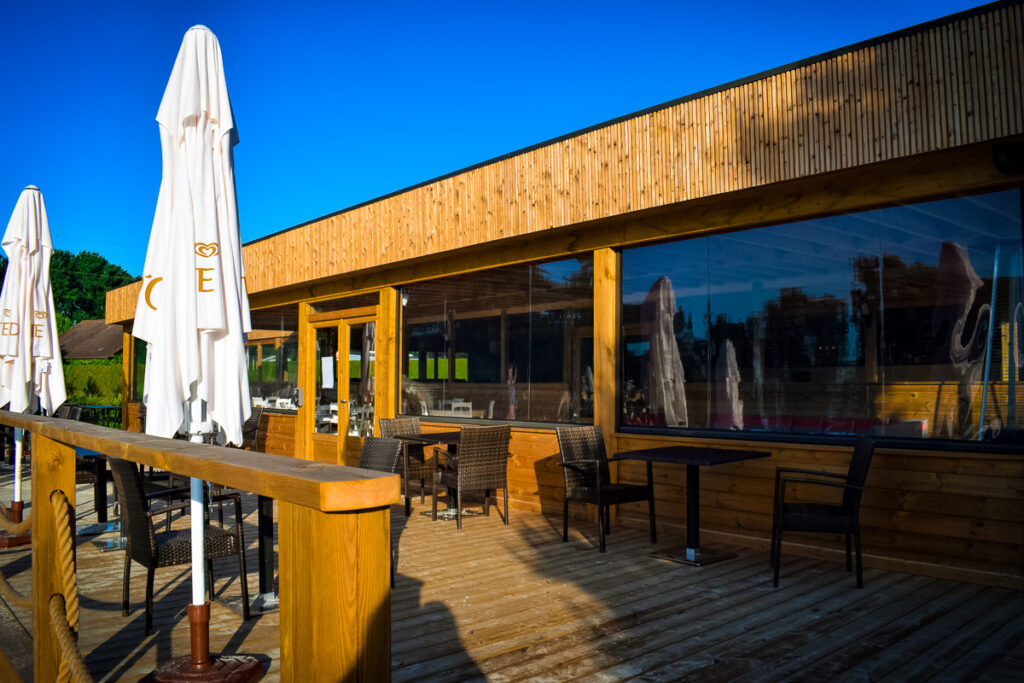 I'm pleased to say, during our holiday, everything at the beach bar was perfect (except some of the old furniture that they're in the process of replacing). The bar area is nice and fresh. The staff were lovely and friendly. The service was impeccable and the food was reasonably priced and tasty. It's obvious that some of the earlier issues have been ironed out super quick. 
The Beach bar was one of our favourite ice cream spots as it's great for getting the beach feel, enjoying the sunshine and relaxing with a cold drink.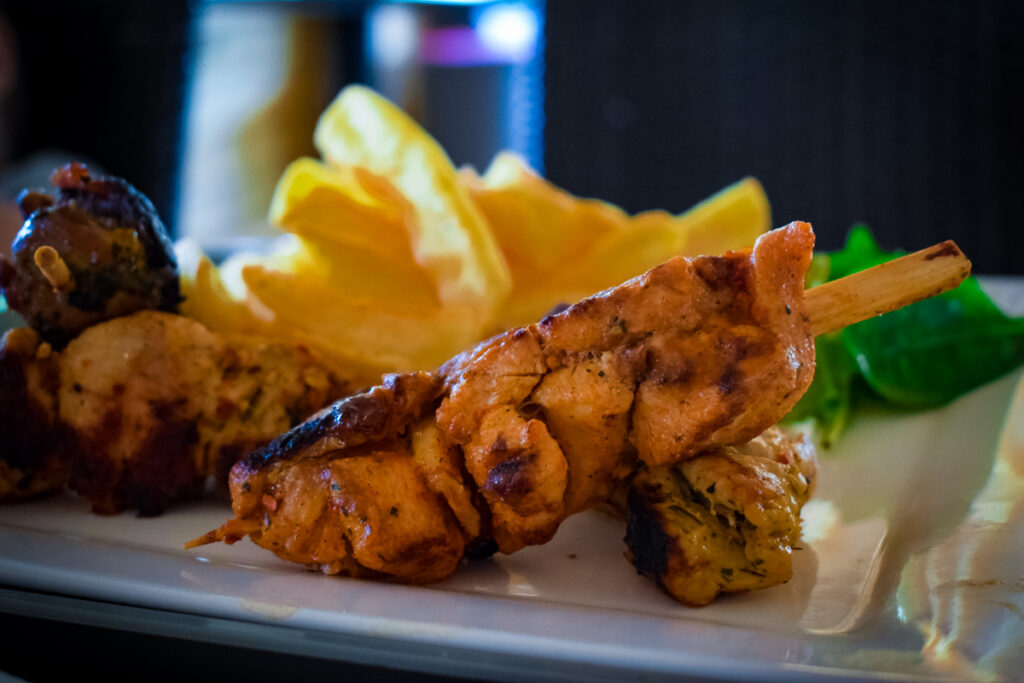 We spent a lot of time here as it was immediately opposite our 4 bed Villa Lodge and it's where the leisure activities mentioned above were located. As with the other bars, drinks were reasonably priced, the service was friendly and the location was fab – right next to the lake. There were plenty of seats under the large sunshade and a few others just outside in case you wanted to grab some rays. You're also able to get snack foods here including full English breakfasts, panini's and more.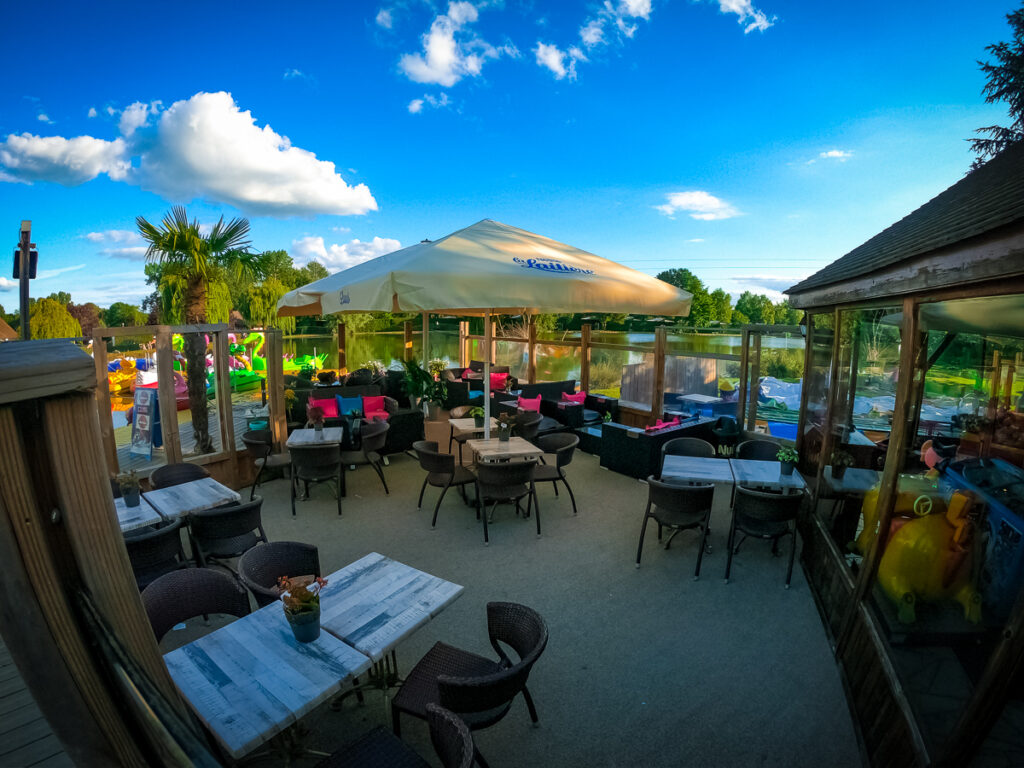 Check Availability And Book La Croix Du Vieux Pont Today
Clicking the button below will open the providers website in a new window.
Restaurant & Berny Burger
We've tried all the food places at la Croix Du Vieux Pont and here's what we think…
The campsite restaurant looks lovely and there's two sections to it. One inside a traditional stone building with rustic setting, wooden beams and fireplace and the other inside a modern, trendy glass box opposite. 
We were situated in the glass box section which, although had lots of windows did get rather toasty. 
The staff were lovely and couldn't be more helpful, they were friendly, professional and very smiley. Drinks and food arrived quickly and was well presented however we all admitted our starters weren't the best.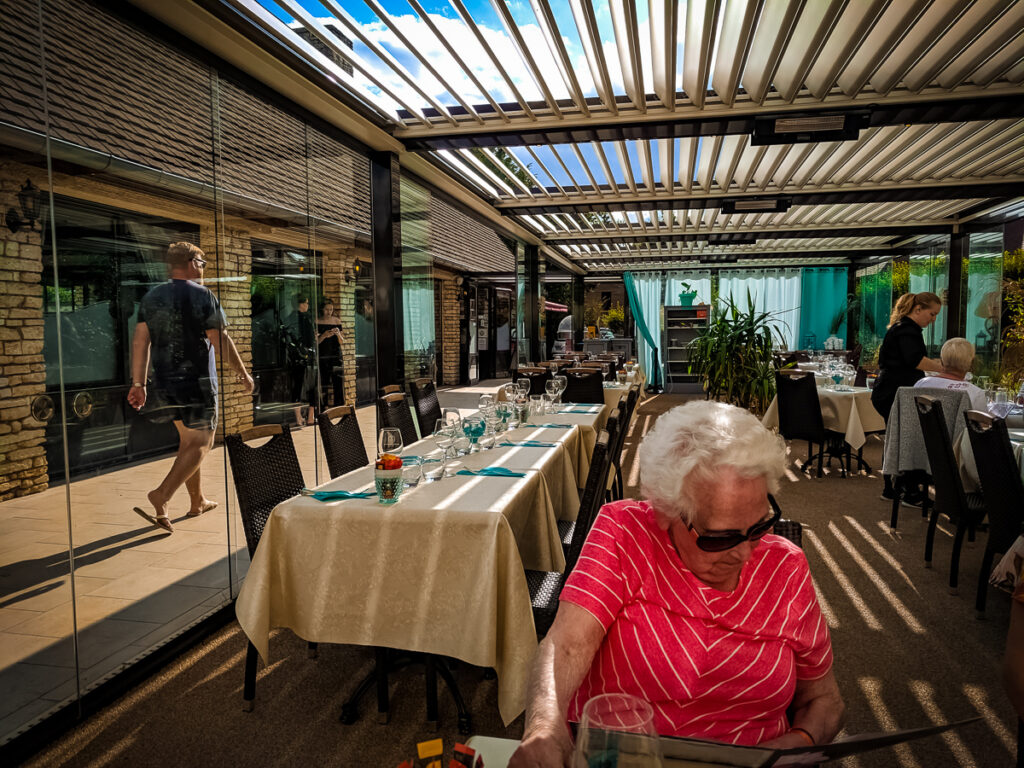 I had the frogs legs and I definitely regret the decision. Having previously only ever eaten the amazing frogs legs at the restaurant "chez Mich" just outside the campsite, I was really looking forward to trying them on site, but they were honestly so bland.
My main course, the vegetarian potato burger though was amazing and the chef definitely redeemed himself here. I did really enjoy it.
The rest of my family had mixed views on the food. Some of them really enjoyed it while others were not at all impressed. For the price we paid, we did feel the restaurant was a bit of a disappointment and would probably not go again.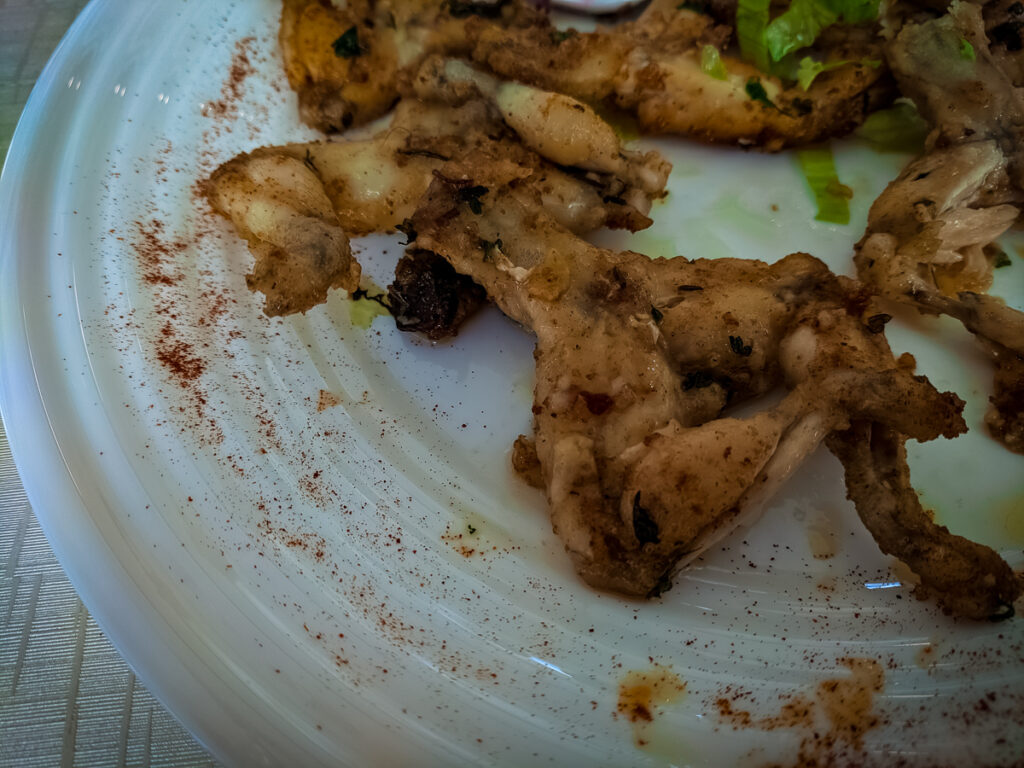 After missing out in 2019, we decided to try out the takeaway on our more recent visit and were not disappointed. Food arrived fast, was good value and tasty. We had half a chicken and chips to eat alongside a home made salad and I'd definitely recommend using them.
However, I do believe they are currently (2022) undergoing renovations and are not yet open. Here's hoping they re-open before the Summer season. In the meantime I believe takeaway is available from the restaurant.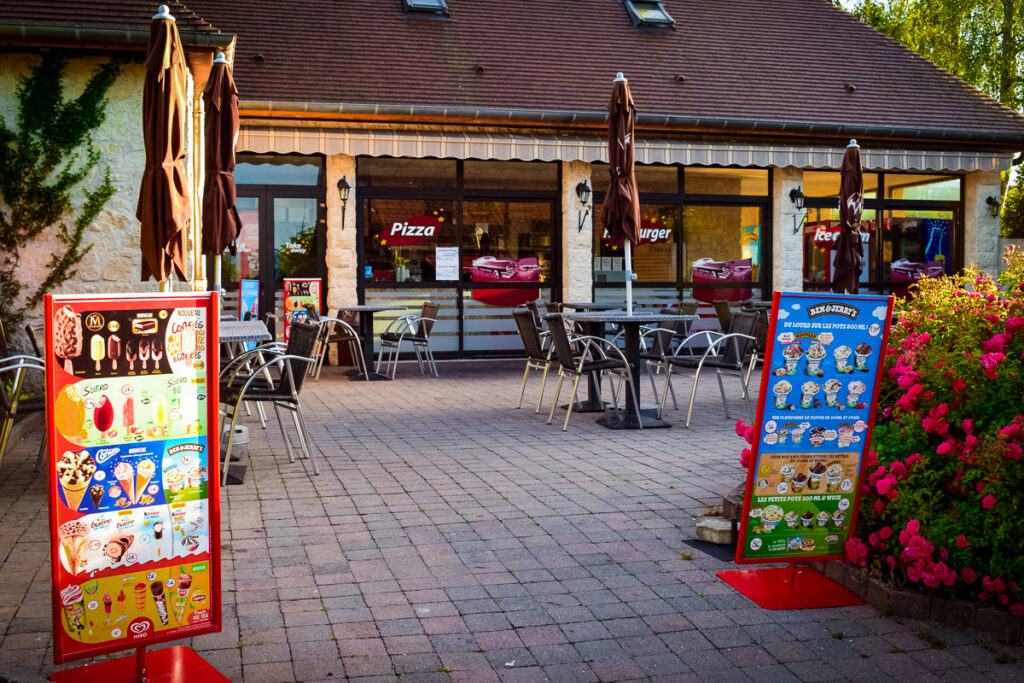 Shops & Boulangerie/Pattisserie
We did one large shop at the local supermarket during our stay and then small daily shops in the campsite shop for any little things we'd forgotten. And of course, we used the bakery for our morning pastries.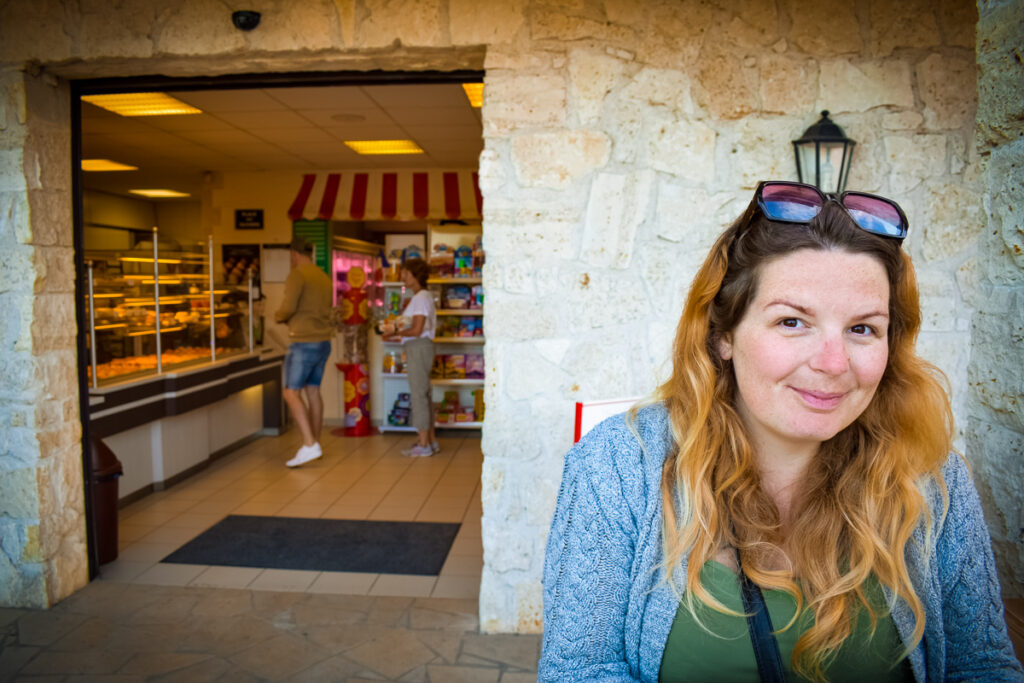 I've seen so many people recommending this place online, while it was ok – I wouldn't say it's the best. The normal croissants, suisse and Pain au chocolates were nice but the fancy looking Raspberry and chocolate croissants were like eating cardboard with some jam inside. But maybe I'm a pastry snob because I live in France next door to a beautiful patisserie?
I did like that you could sit outside the boulangerie with a coffee and a croissant in the morning and the nice relaxed feel – I was just a bit disappointed by the food.
I was also disappointed to find this closed during our September 2021 trip – however I imagine they just don't get as many customers out of peak season.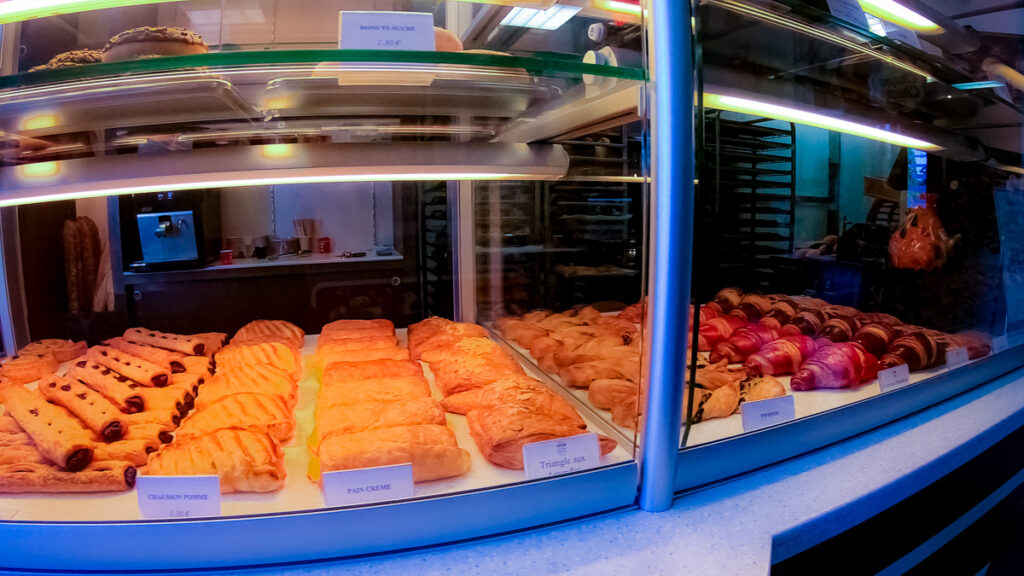 The supermarket is fairly small but good for grabbing any forgotten bits and bobs. The selection of crisps is probably better than the actual big supermarkets. For salad items, there were a few days when the campsite shop was really lacking and all we managed to get was a tomato, so maybe grab most salad stuff from the local Cora or Intermarche if you have a car.
As with all campsite shops, it was slightly more expensive than the main supermarkets, but that's because we were paying for the convenience.
During our September 2021 visit we found the shop absolutely useless. The shelves were practically bare and it seemed as though they were just trying to clear the last of their stock so they could close for the season.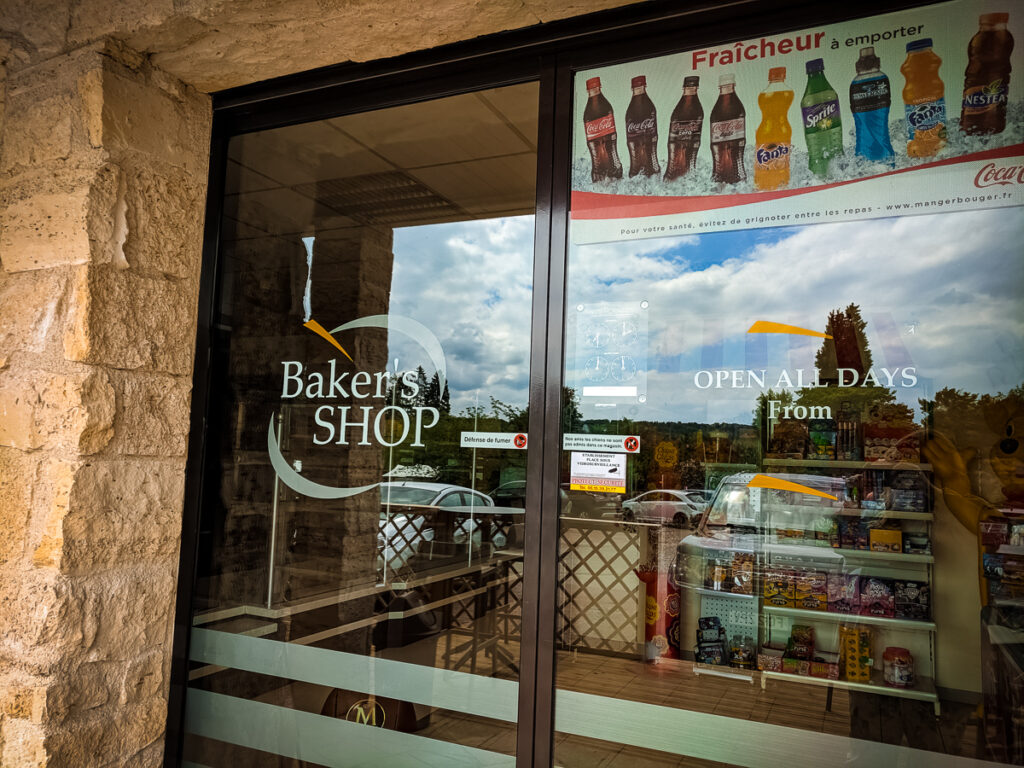 The K'DO shop is the campsites own gift boutique. Here's where guests can buy newspapers, souvenirs, toys for children, beach towels, jewellery and all the usual boutique goods. Surprisingly some of the kids toys here actually worked out cheaper than buying from the local intermarche!
The souvenir shop is open every day from 10am till 1pm and 3pm till 6pm in low season and non stop 10-6 in high season.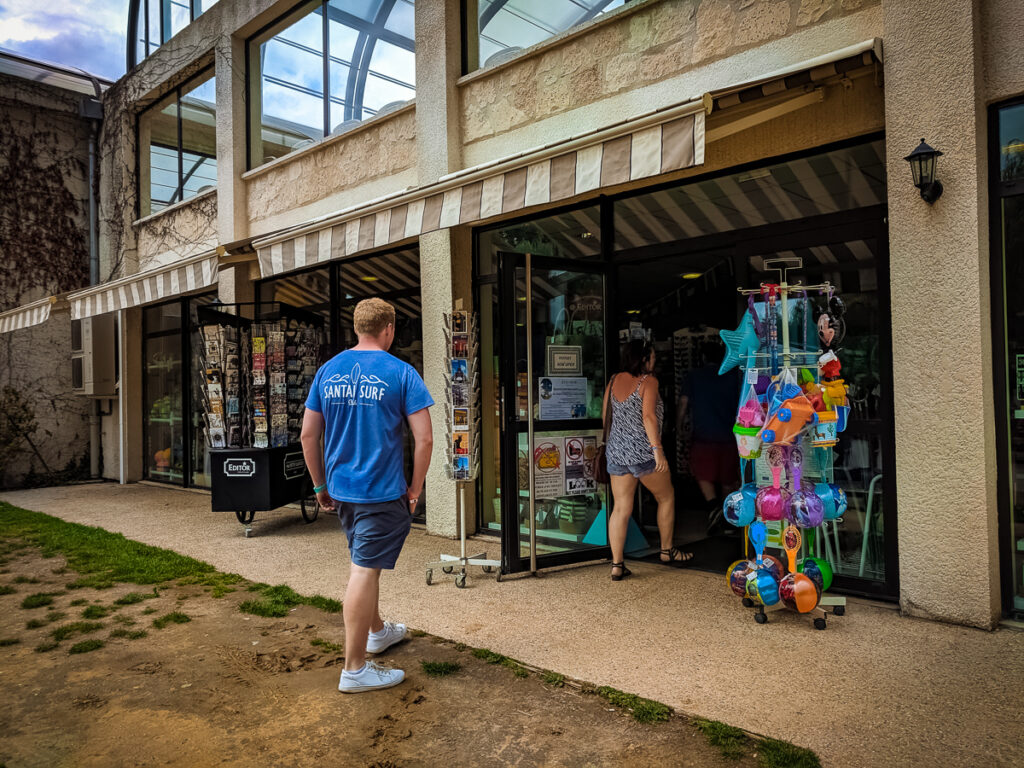 Campsite Video Review and Tour
Other Campsite Facilities
Beauty Salon & Hairdressers
I don't actually know if there's a hairdresser here as it was never open at the times I walked past and isn't something I personally required. However, all the signs and information led me to believe there is. 
The spa and beauty salon seemed to have a wide range of treatments including massages, balneotherapy, facials and body treatments as well as a small cardio room. 
The beauty salon is closed on both Sundays and Wednesdays. Saturdays, it's open all day 10 – 6 and every other day is 10-12 then 2-7pm. If you want more information or to book then you can contact the hairdresser on 03.23.72.65.53 or the salon on 03.23.59.31.56. 
*I have no idea if this still exists as it's not something I even thought to check out during our 2021 stay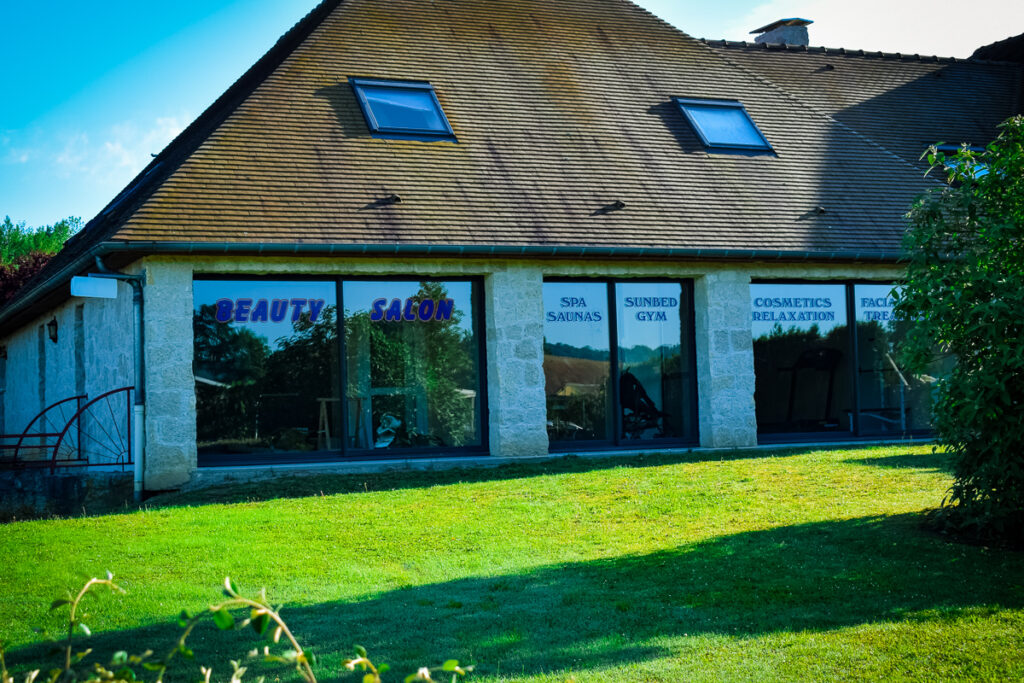 The campsite is massive! You might want a bike just to get around it, let alone take it off site. Not only can you hire a normal bike but you can also hire tandems and trailers too so the whole family can join in. (prices correct as of 2019) For a single bike for an hour, it'll cost 3.50 euros and for 10 hours it's 16euros. Previously they haven't had a deposit system but recently, I heard, they've just started trialing one due to damage and theft of bikes.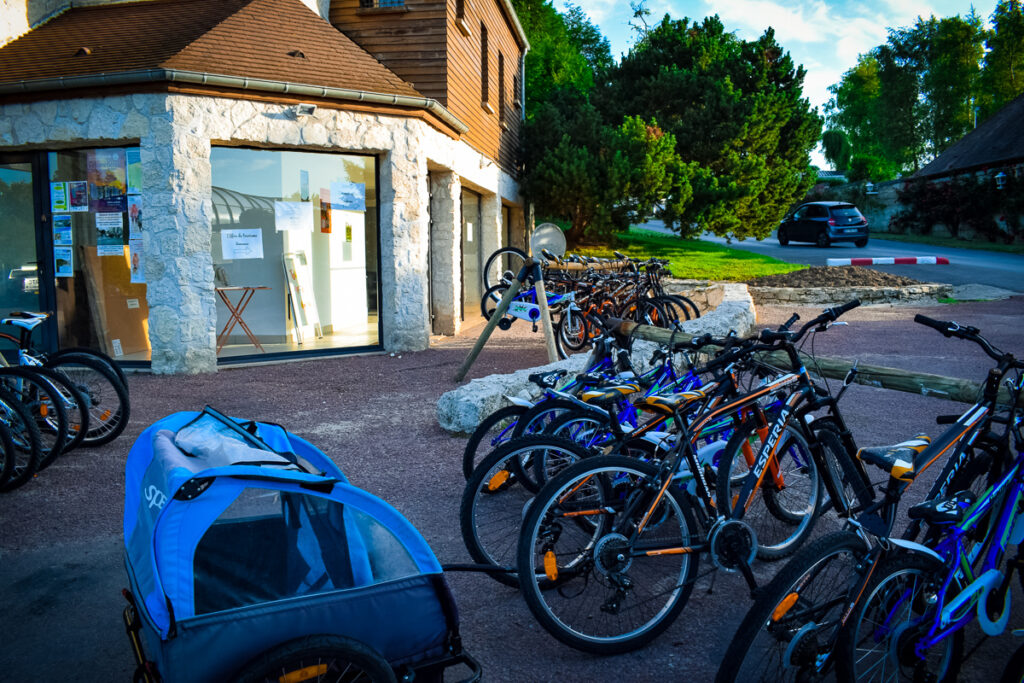 Shower Blocks & Washing Facilities
As we stayed in accommodation we didn't need to use the washblocks, other than to wash our clothes. However, if you were staying in a tent you'd definitely need to use them, so we wanted to check them out to let you know how they were.
As the campsite takes up such a vast amount of space there has to be a lot of shower blocks and thankfully there is. We managed to see most of them whilst looking for an empty washing machine. It turns out, loads of people want to do their washing on a Friday, who knew!?
The shower blocks we found were reasonably clean, although it seems they're definitely only cleaned once a day and we did notice one of the shower blocks had a couple of smashed windows. As it was low season, many of the showers/toilets were still locked as they did not need them all in use. I imagine in high season more will be open and, hopefully, they will be more regularly cleaned.
There are lots of clothes washing facilities around however they all seemed to be in use on the day we wanted them, so maybe they do need an extra couple.
Tokens for the washing and drying can be bought in advance from the main campsite reception at 4euros for a wash and 3 euros for a drying token.
The wash blocks we found all had disabled facilities and I'm sure if you're camping and you inform the reception when booking of your needs you'll be placed closer to one of these shower blocks.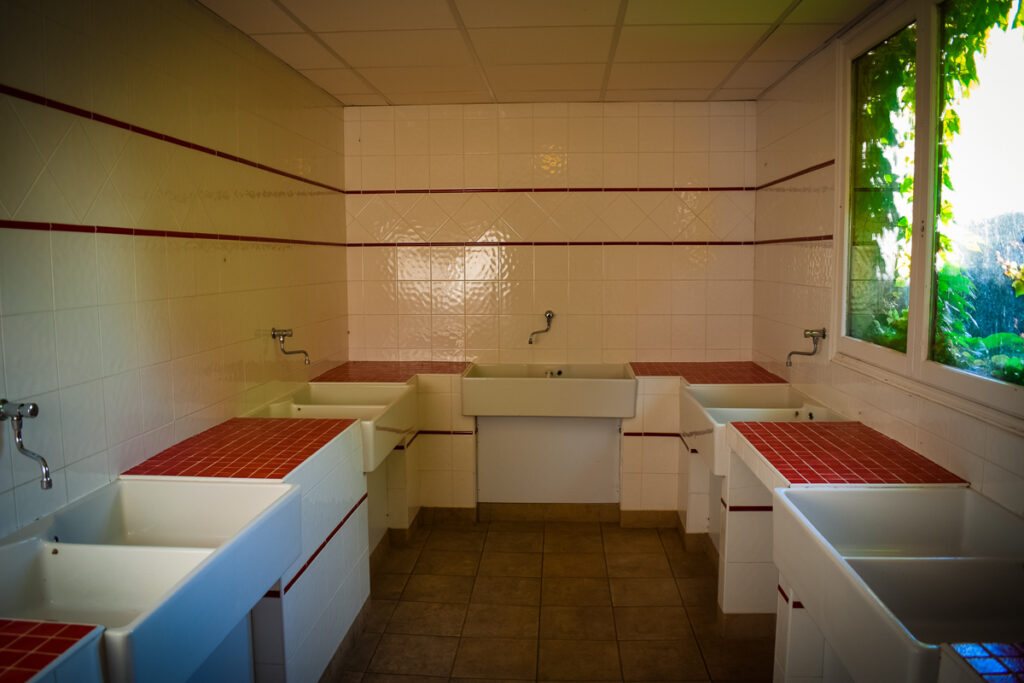 As I mentioned earlier we went to one of the quizzes at the bar which was great fun. In high season the bar entertainment becomes more regular and you'll find events like berny's got talent, karaoke, quizzes and mini discos a much more regular occurrence. I believe they also have high season entertainment in the beach bar as well as the Summer bar.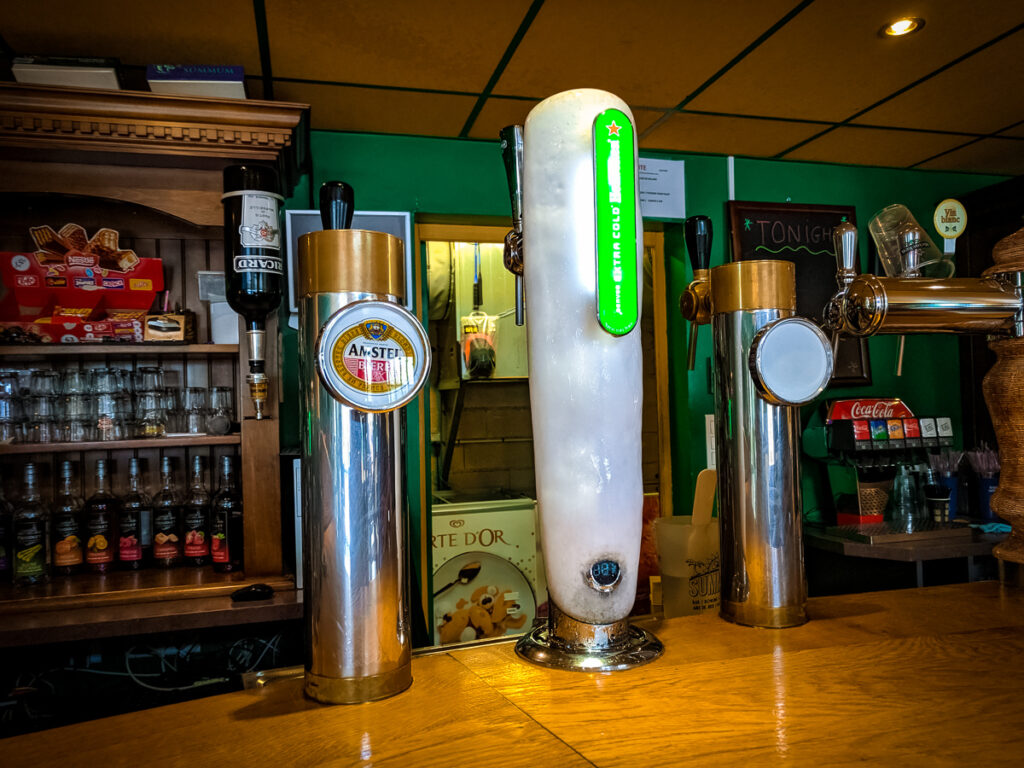 Check Availability And Book La Croix Du Vieux Pont Today
Clicking the button below will open the providers website in a new window.
Campsite Run Trips/Excursions
I'M NO LONGER SURE IF THESE EXCURSIONS ARE STILL RUNNING. But I'll keep the information here in case they are. But please double check for yourself.
The campsite bus runs two trips a week. One to Disneyland and the other to Paris. There were no set days as to when the bus runs and we had to go to the main reception to enquire when we arrived. The bus will only run with a minimum of 20 booked customers. All pushchairs and wheelchairs have to be manually loaded onto the small compartment on the back of the bus, so we made sure to pack light (well as light as you can with a wheelchair and two babies in pushchairs).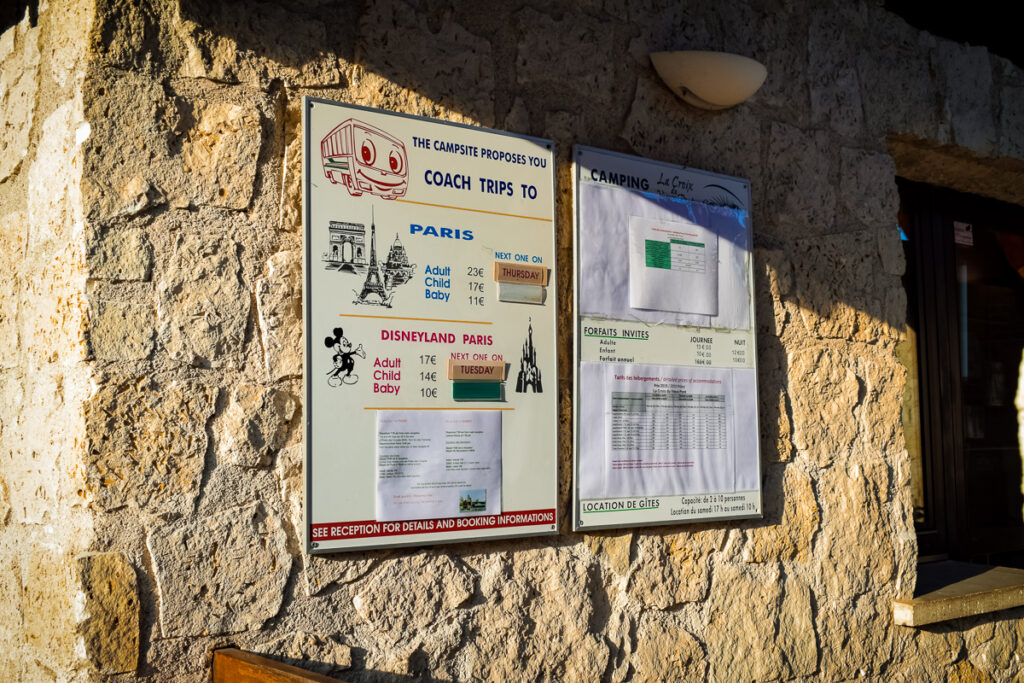 We used the bus for our day trip to Disneyland. We left the campsite on Tuesday morning at dead on 7.50am and arrived at Disney for 10am. Unfortunately we drove past at least 3 accidents on the way so the drive that should take 1 hour 15 minutes was slightly longer.
Once dropped off, the coach driver told us he would be back at 7.30pm and we would leave on the dot at 7.50, which again, we did. The driver was polite and we felt very safe on the coach. We were told when booking at reception that young children would need their own car seats, but these didn't actually fit on the bus so they ended up sitting on laps. The cost was adult 17€, child (2-11) 14€ and baby (0-2) 10€.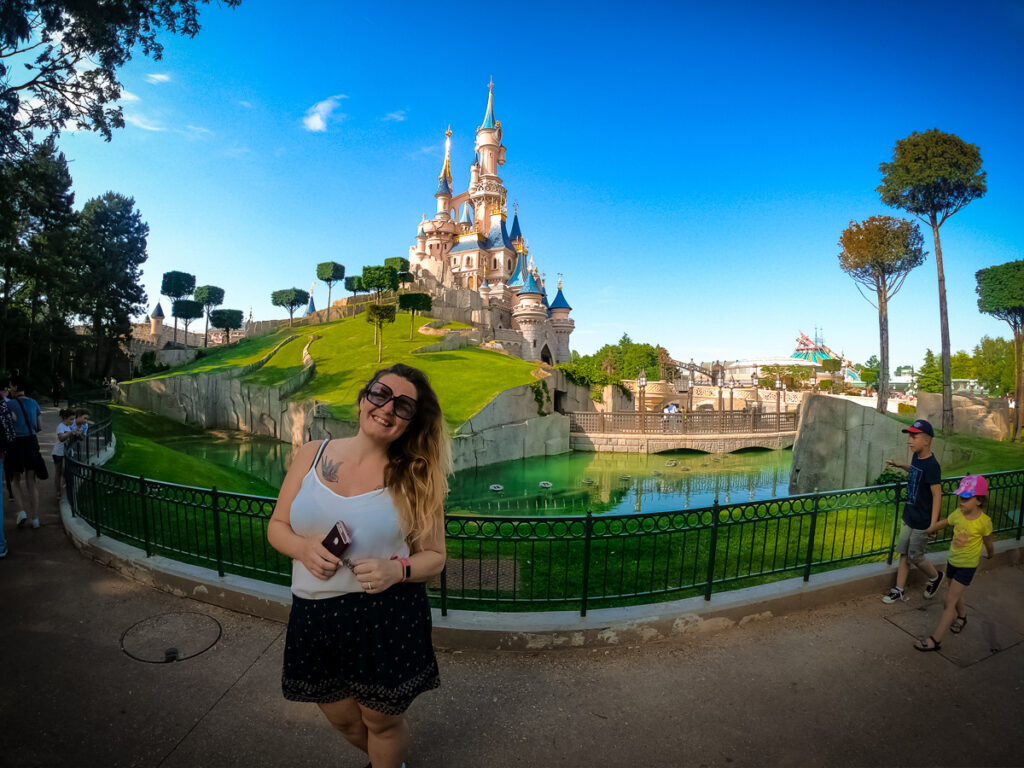 The Paris trip was on the Thursday and due to some bad weather, we decided against booking it. If we had booked it the times were 7.50 leaving the campsite again and leaving Paris at 6:45. The bus drops you off and pick you up from the Palais de Congress and cost adult 23€, child (2-11) 17€ and baby (0-2) 11€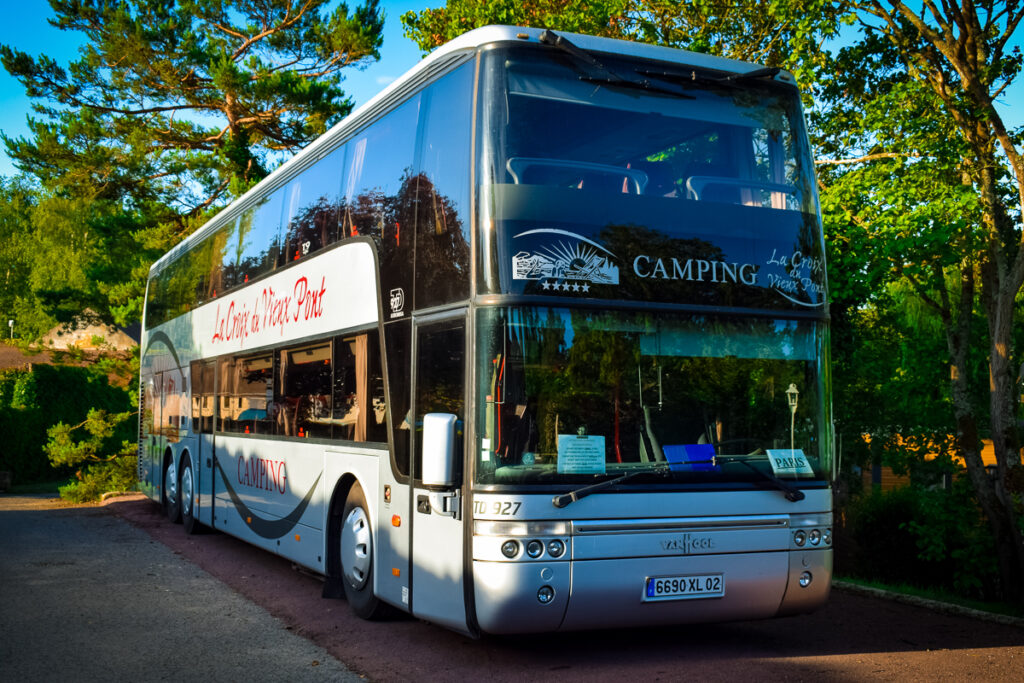 Check Availability And Book La Croix Du Vieux Pont Today
Clicking the button below will open the providers website in a new window.
Accommodation at Camping La croix du vieux pont
There are lots of different ways to book accommodation at la Croix du Vieux Pont to suit your needs. We booked through a tour operator as we felt it was the best priced for our needs and requirements (a family of 8).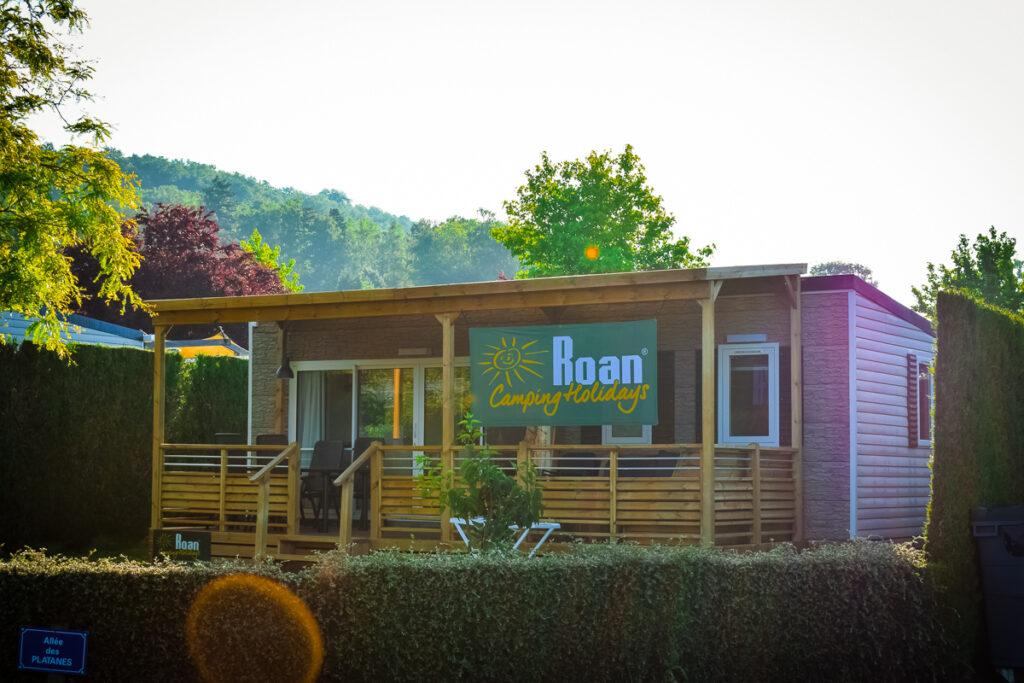 La Croix du Vieux Pont offers customers a wide range of accommodation from your bog standard tent pitch, all the way to 3 bedroom self contained apartments. They even have a range of wooden lodges and treehouses. 
We booked our accommodation through Eurocamp, but it wasn't just your standard mobile home or tent. We booked a 4 bedroomed wooden lodge which the company had recently acquired from Canvas Holidays. 
There are 21 different accommodation types (as of writing) from Eurocamp available on the campsite. All reasonably priced, especially in low season, and there's always some great deals to be had.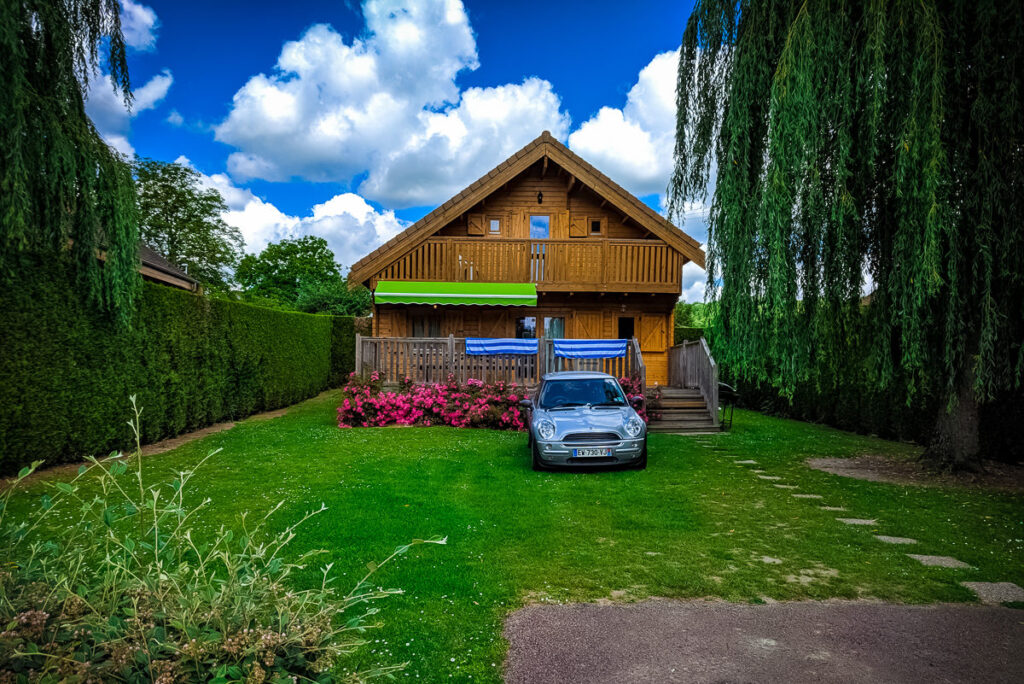 Other tour operators providing accommodation on the campsite include Lifestyle Holidays, Venue Holidays, Roan, Al Fresco and Canvas Holidays. There's so much choice when it comes to booking a mobile home and it always pays to shop around and price check between companies. 
Should I Book Direct Through the Campsite or Through and Operator?
It honestly depends on your needs and requirements. We needed large accommodation, so we booked with a company that provided that. There's a common misconception that booking direct with a campsite itself is always cheaper, but that isn't necessarily the case. You also find that many campsites have set arrival days that may not coincide with booked ferries or flights whereas most tour operators have flexible arrival dates and stay lengths. 
Check Availability And Book La Croix Du Vieux Pont Today
Clicking the button below will open the providers website in a new window.
Do You Need a Car to Get Round?
Yes and No. I honestly don't think you need a car if you're staying at this campsite as there really is so much to do on site. However, if you're wanting to explore outside the campsite, you will be restricted to taxi's and/or the campsite trips to Disneyland and Paris. 
If you want a relaxing break and don't plan to leave the campsite, you probably won't need a car. You can always take a taxi to do the big supermarket shop and book an airport transfer online.
How to get to The Campsite
Driving is always preferable, failing that there's flying and hiring a car. However, If driving in France isn't your thing then it is possible to use public transport and/or airport transfers. 
It's a lengthy process and needs to be timed to perfection but you can get a train from the airport to either Soissons or Compiegne and taxi to the campsite from there (around half an hour away). The best way to figure out an Itinerary for this is by using a website like Rome2Rio.
Another option is to book an airport transfer. There are a few companies who offer this, one of which is Le Petit Voyageur which comes recommended by many la Croix du Vieux Pont holiday makers. To get in touch with Bruno and his team, head to their Facebook page or contact him on 06.01.03.35.11 or lepetitvoyageur.fb@gmail.com
It's advisable, but not necessary. The campsite is located on an easy route from many ferry ports/Eurotunnel so driving would, in theory, be more convenient than flying. If you're confident driving in France, I'd probably suggest driving your own car and getting a ferry over hiring a car. 
But if it comes down to cost, flying may work out cheaper.
The nearest ferry port is calais and you can get there via the tunnel or ferry. It's then a really simple drive to the campsite that takes around 2 hours. You can also easily get to the campsite from Zeebrugge, Le Havre and possibly Caen although the drive will be a little longer.
The closest railway station is Soissons at 19km away. You may also find Compiegne a good train station to use depending on your schedule. 
Address: La Croix du Vieux Pont Campsite
8 Rue de la Fabrique, 02290 BERNY RIVIERE
GPS Coordinates: 49.405479 3.128775
We found the campsite easy to find using Google maps, but couldn't pinpoint the location on our actual sat nav so just typed in Berny Riviere and it was easy to find from the village thanks to the sign posts.
Day Trips and Local Area around La Croix du Vieux Pont
We generally spent most of our time on the campsite as there was so much to do, but if you like to explore then there's plenty to do on the campsites doorstep. 
The City of romance and the capital of France
The home of Mickey, Mini and friends
Another French theme park based on French characters Obelix and Asterix, reported to be more fun than Disney thanks to the rollercoaster selection.
Beautiful town with stunning Chateau that was used to film the BBC series Merlin.
Right near the campsite, these caves are in the forest and are great for exploring. In 2012 I even found an old war bullet. These however are on private property and it's not recommended for people to visit.
The place where the armistice ending WW1 and the surrender of France in WW2 took place is now a musuem, great for history lovers.
Fun rainy day out with the kids in Paris.
Nice French city to explore
The home of Champagne, great for taking back gifts for the family.
Check Availability And Book La Croix Du Vieux Pont Today
Clicking the button below will open the providers website in a new window.
Frequently Asked Questions
Being such a massive campsite, there's a ton of FAQ's about La Croix du Vieux Pont. 
Are the mobiles close together?
Nope, this is one of the best campsites we've been to for pitch space. The mobile homes and pitches are arranged in beautiful streets with plenty of separate space, many separating bushes and well maintained emplacements.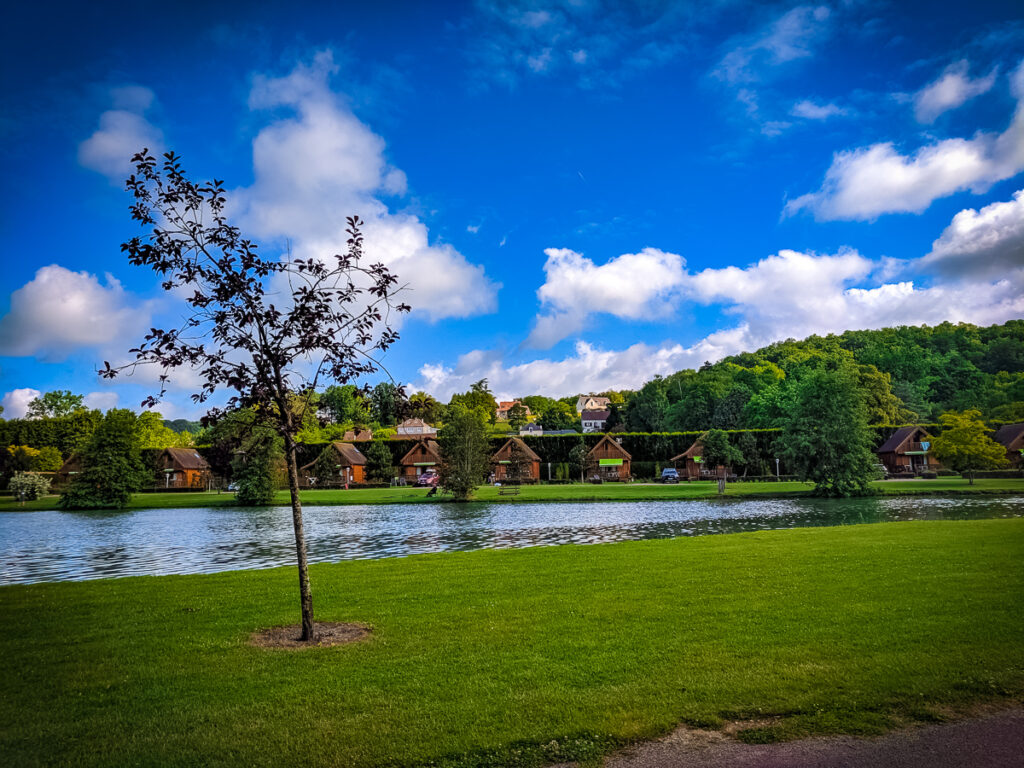 It is in places but can also be deep in others, like a real lake it's very unpredictable so make sure your children have armbands if not confident and are under constant supervision. 
Mostly, there is a small hill in the Plateau Road near the reception/shop area and a very small hill to the restaurant, bar and pool area. My nan was in a wheelchair and none of the hills were too difficult for her to be pushed in. 
For the most part the campsite is flat and easy to bike and scoot around on.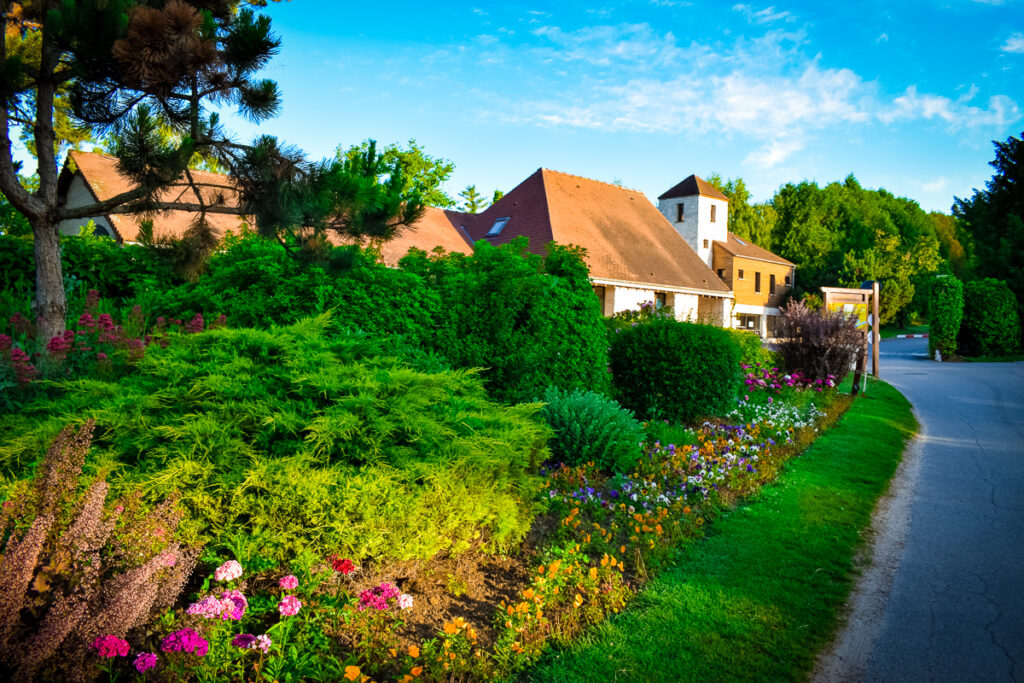 Nope. It's northern France and pretty rare to find mosquitos up here. We definitely didn't come across any during our stay. There was however some annoying black bugs who love the colour yellow – so if you're not into creepy crawlies, avoid wearing yellow. 
Is it easy to get a sunbed around the pool?
We had no trouble at all and found there was actually loads unused inside near the toddler pool area. I imagine in high season it can get a little busier though.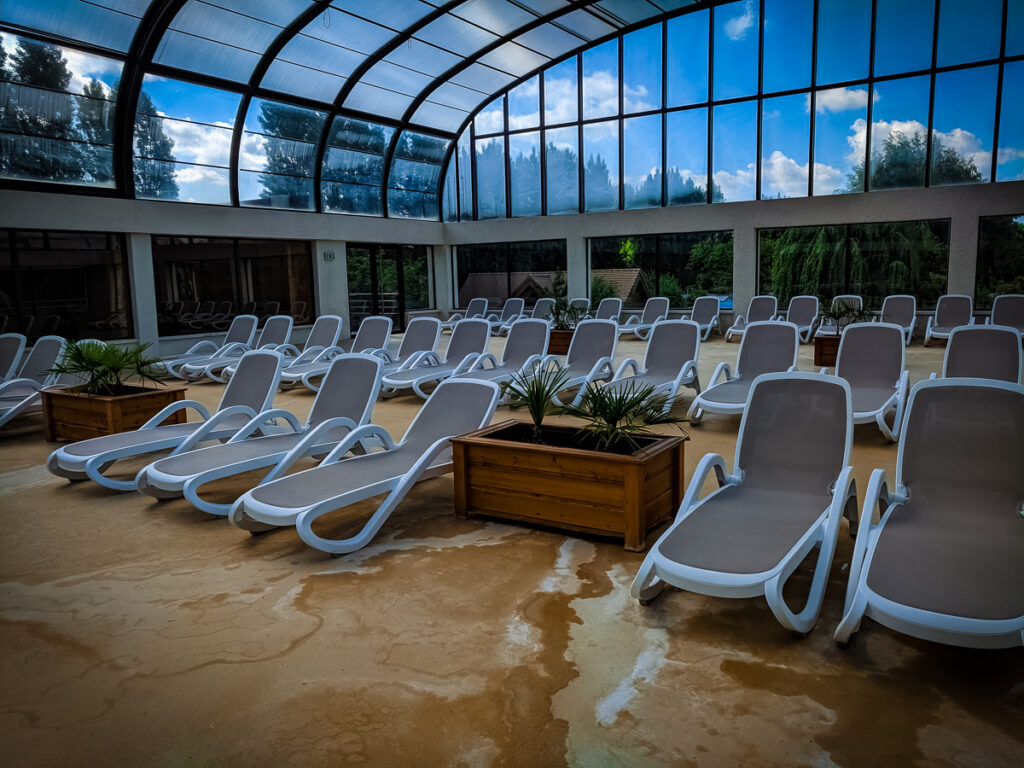 What happens if I arrive to the campsite late?
The barrier closes at 10.30pm however there is night staff onsite who should be able to assist you if you have any accessibility needs. You may find that you need to park in the main car park overnight and move your car in the morning at 7am when the barrier re-opens.
If you're booked through a tour operator like Eurocamp you will have received an emergency number via text that you can use to contact them, this will also be on your booking voucher and written at their reception. You can contact them to find out the exact late arrival procedure or you may even find your keys with a map have already been left at the reception waiting for you.
Do you need to wear a wristband?
Yes you do. It's provided to you on check in with your tour operator or main campsite reception. You'll get one for each member of your family including babies, although we didn't put it on the baby and instead strapped it to the nappy bag.
Do men have to wear swim trunks?
The campsite didn't seem to be strict with the speedo rule and men were allowed to wear bermuda style trunks as long as they were above the knee. However, as I advise each and every time the rules could easily change and all it takes is another local campsite to be fined for not adhering to the law and things will change. 
I advise buying a pair of speedos or jammers in the UK for "just in case" and if you don't end up needing them, you can take them back when you return.
There are. We had a gas bbq with our lodge however charcoal bbq's are also allowed and provided with some Eurocamp accommodation. You'll have to check with your tour operator to see what's available to you or whether you'll have to organise one of your own. You may find yourself lucky and placed in one of the emplacements with a built in bbq area!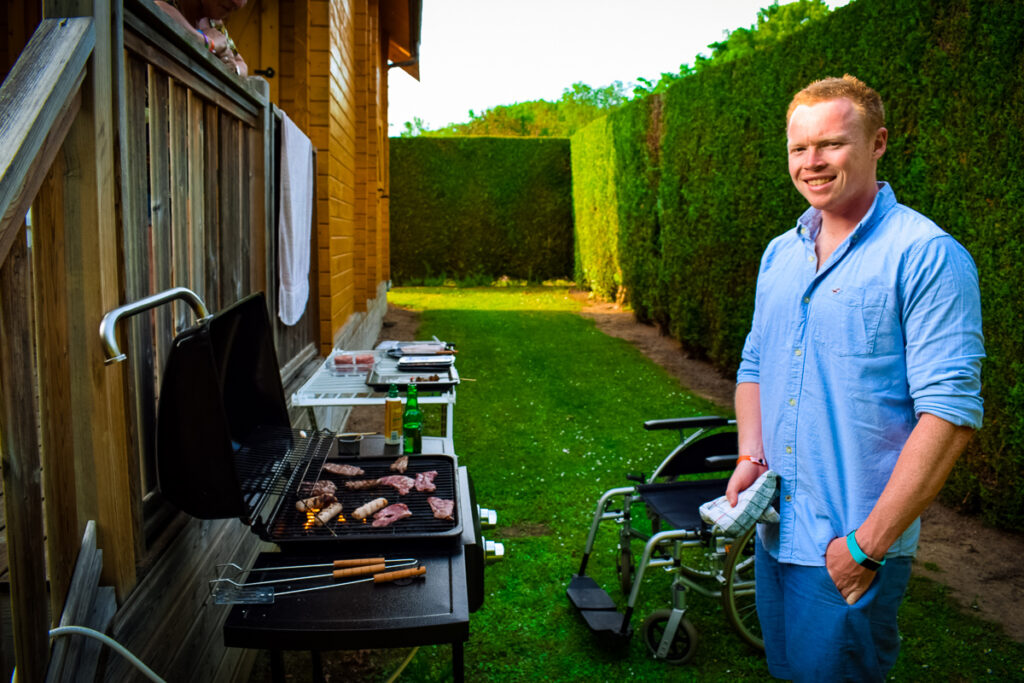 Can You Use Inflatables at the Pool?
Inflatables aren't allowed in the pool area but they can be used at the beach lake. This pool is specifically for recreation and there were so many kids with large inflatables in here. If you've forgotten to pack one, the campsite shop sells them and there may also be some available in your tour operator reception to borrow.
What's the weather like in Spring/Summer?
Being in the north of France the weather can be very similar to that in the UK. I've stayed here before in late spring and it rained for the entire week. Luckily the campsite have made so many facilities suitable for bad weather too. It's unlikely that it'll rain all week, but it can happen so make sure you plan your holiday around all weather types.
Can you park on your pitch/Emplacement?
You can. We didn't see any pitches that were too small to fit a car. in fact, we managed to fit 3 on our pitch and still have room to play with. The general rule is one car per pitch however many families had at least two.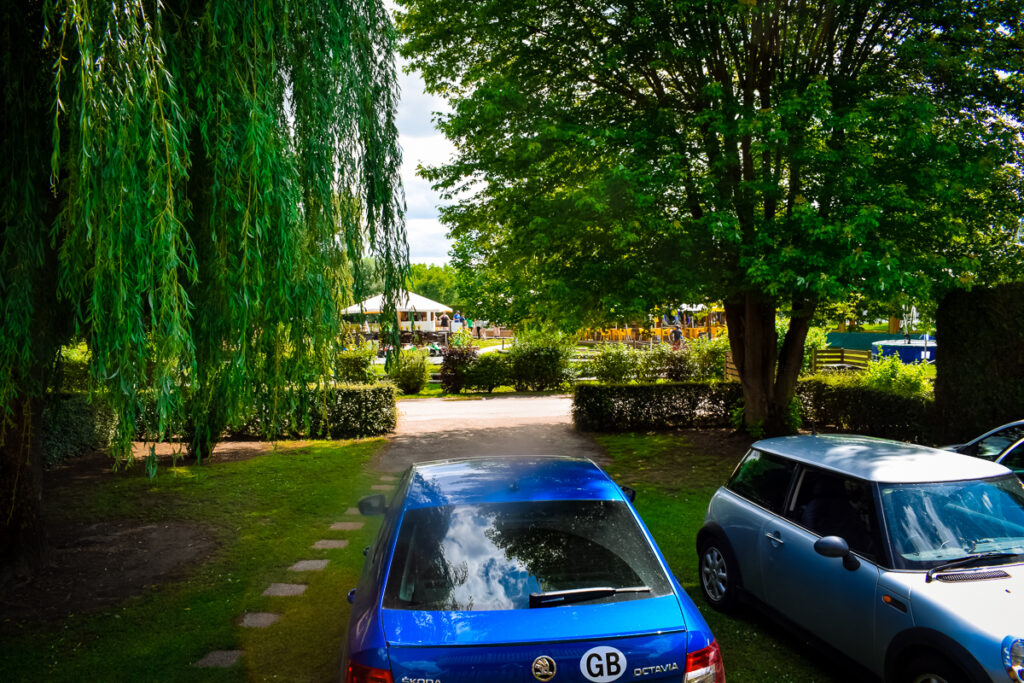 Can you take pets on the campsite?
Pets are more than welcome on site. Check with your accommodation provider to check which mobile homes they are allowed in and if there are any extra booking charges before hand though. As with all campsites in France, make sure you follow the rules regarding dog litter and leads.
Is there disabled accessibility on the campsite?
Yes, the campsite is easily accessible for those in a wheelchair. My nan had no problem getting about. Even the pool area caters for wheelchairs. You can even book many types of wheelchair accessible accommodation through Eurocamp.
Nope. The nearest ATM is in the nearby village of Vic sur Aisne around a 15 minute walk away. You can use card around the campsite though.
Where's the nearest supermarket?
There is an intermarche contact nearby however we decided to drive a little further to the Intermarche super as it's larger and has more options. Many guests prefer to shop in the Cora which is around a 15 minute drive away.
My flight isn't till late, can I stay on site after check out?
As long as your all packed up, out of your accommodation and off your pitch by the required time then there's no problem staying on site. My families ferry wasn't till 8pm so they took the final day enjoy their holiday at the pool before making a slow drive back home.
Just make sure to leave a pool bag out instead of packing it like my nan did…
Is It Loud In The Evenings?
We did have some unruly guests behind us in the Lifestyle accommodation making noise till 2 am and some rather loud guests walking home late from the bar but entertainment wasn't too loud and in the grand scheme of things we had no real problems.
Quiet time is supposed to be between 10.30pm and 7am and there is security roaming around at night to ensure this is adhered to – however, they're not superheroes that can be in two places at once. If you have any trouble with noise then get a hold of your reps via the emergency number and they'll be able to request security to shut the noise down.
What Can We Do If It Rains?
There is so much choice. On site you've got the indoor pool, bowling, laser tag, soft play, multi sports courts and table tennis and then offsite you can visit places like chateau de pierrefonds and aquariums. Why not head into Paris for a bit of retail therapy?
Can I use my bank card on site
You can use your bank cards and credit cards across the whole site without problems. Contactless payments can be a little ropey as the wifi signal isn't ideal in the shop.
The restaurant expensive? Pizzas/takeaway?
We didn't particularly enjoy the restaurant and found it expensive for what we received. I think we paid over 250 euros for 7 people and 2 courses each (Only one course for a child). It was much more expensive than the meal we had at Chez Michelin down the road, where we had 3 courses, more drinks and tastier food for a lot less money.
The beach bar food was much better priced and tasty as was the takeaway too.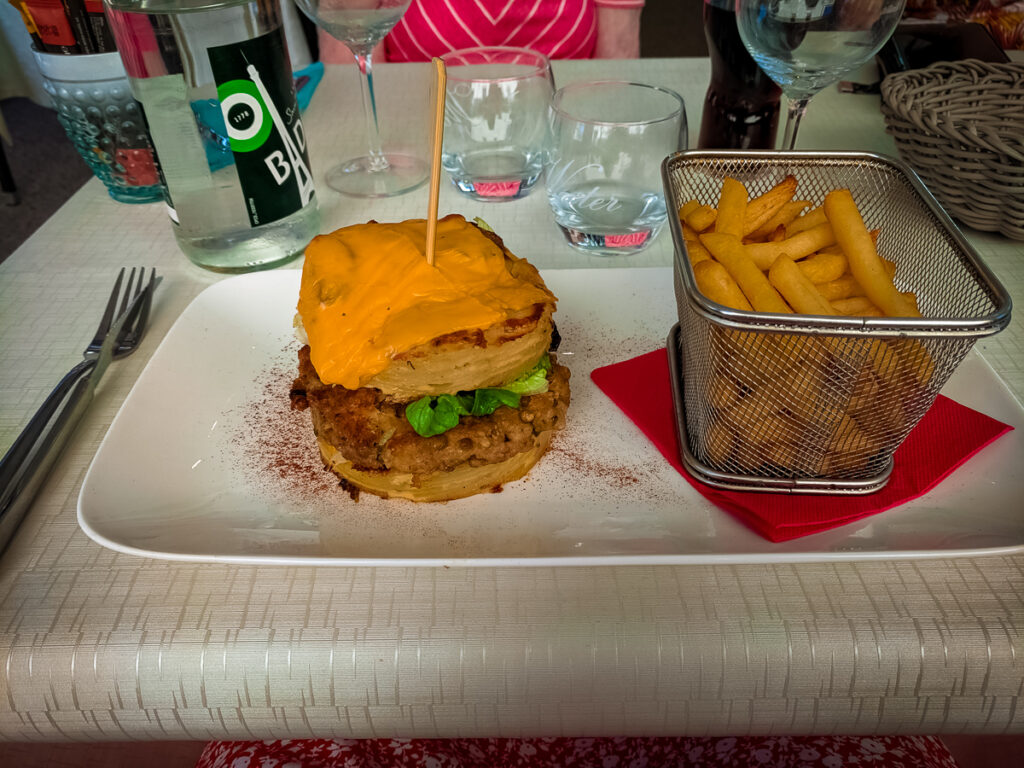 Is there wifi on site? what are the costs?
There are a few different options available and if you connect your device to the La Croix du Vieux Pont wifi it will let you buy via your card. For a family pass, 1 week which you can connect 3 devices simultaneously to costs 34euros. For just 1 device it costs 20euros for the week. 
Check Availability And Book La Croix Du Vieux Pont Today
Clicking the button below will open the providers website in a new window.
I honestly don't think you can get a better campsite than this, at least not in france. It's perfect for the whole family, for the needs of everyone. Whether you're a fisherman, a toddler who loves soft play, an adventurer who loves climbing, a wanderer who loves to walk, a nature lover who enjoys wildlife. There's honestly something for everyone. 
We love entertainment but we also love walking around in green spaces watching ducks with their babies, waking up to bird songs and seeing baby rabbits feeding on the grass. The campsite is well maintained with beautiful, colourful flowers, well trimmed bushes and freshly chopped grass. 
I had this misconception that I'd be arriving at a French version of Butlins, and in some respects, it could be a little like that at times. However I, and my family, still really enjoyed it and it didn't really bother us that much. 
My only complaints were that there was a real lack of recycling facilities and some guests were better suited at a lads/ladettes holiday in Magaluf with their bad language than a family holiday in France… But that's not the campsites fault.  
Check Availability And Book La Croix Du Vieux Pont Today
Clicking the button below will open the providers website in a new window.