Camping le Vieux Port (Resasol) review
Check Availability And Book Camping le Vieux Port Today
Clicking the button below will open the providers website in a new window.
Camping le Vieux Port in France's Landes department is a delightful coastal campsite with direct passage to the beach. We've been eyeing it up for years, and finally, in July 2020, we booked our first short break here.
The campsite is owned by a holiday company called Resasol. A holiday company with a wide range of holiday villages, campsites, and more within the Landes region of France. They're a company I'd never previously heard of; therefore, I was unsure of their reputation. Perhaps I should have read the bad reviews before choosing to stay direct with Resasol themselves.
Let's just say our experience was far from perfect, but I'll get to that a little later.
Pros of Camping le Vieux port
We loved this campsite and absolutely plan to return, but next time we'll go through a tour operator
Cons of Camping le Vieux Port
Every family prefers certain things about a campsite, so our "cons" could be on your "pros" list!
Pool complex at Camping Le Vieux Port
At 7,000 m², the aquatic park at Camping le Vieux Port features seven swimming pools heated to 25°C as well as two jacuzzis. According to the campsite's website, they claim to have the biggest aquatic theme park ever seen on a French campsite. Whilst we believed the pool area was big enough and fully enjoyable, I'm not convinced it was the largest in France.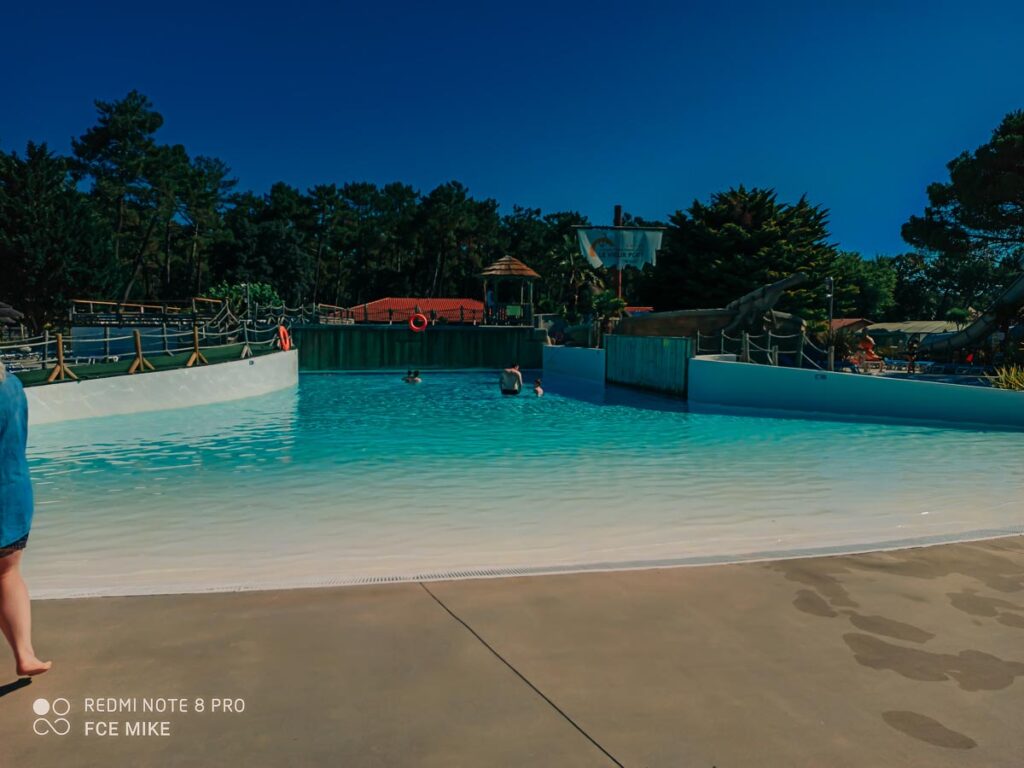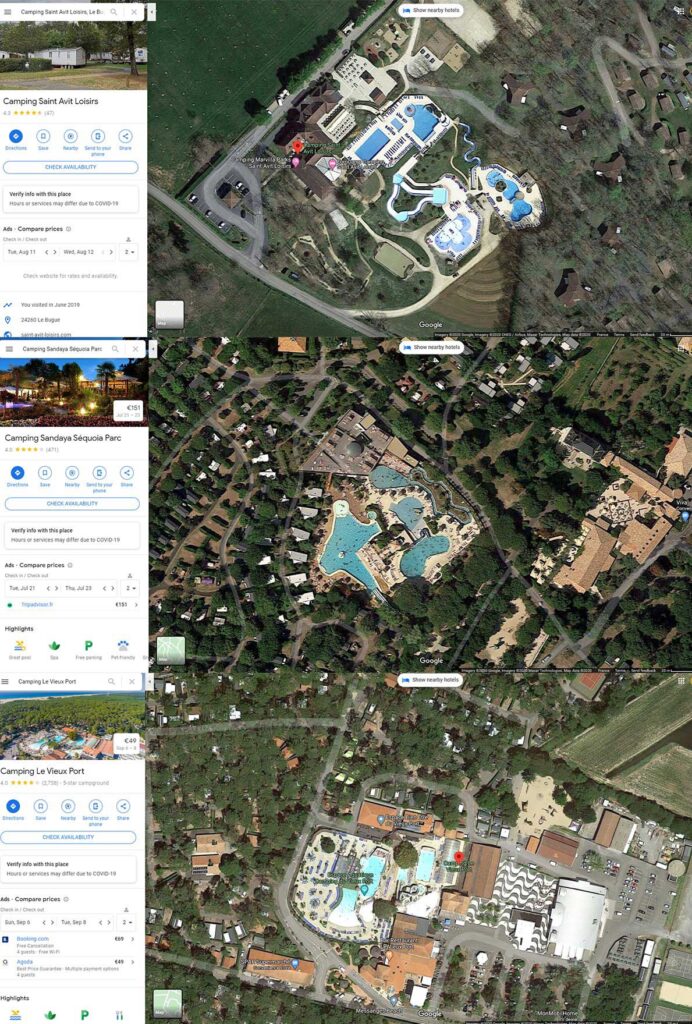 Don't get me wrong, I thought the pool area was great. There was a pool option for every member of the family. We particularly loved the wave pool, which runs every 10 minutes between 11h30 and 18h30 during high season and on weekends during low season.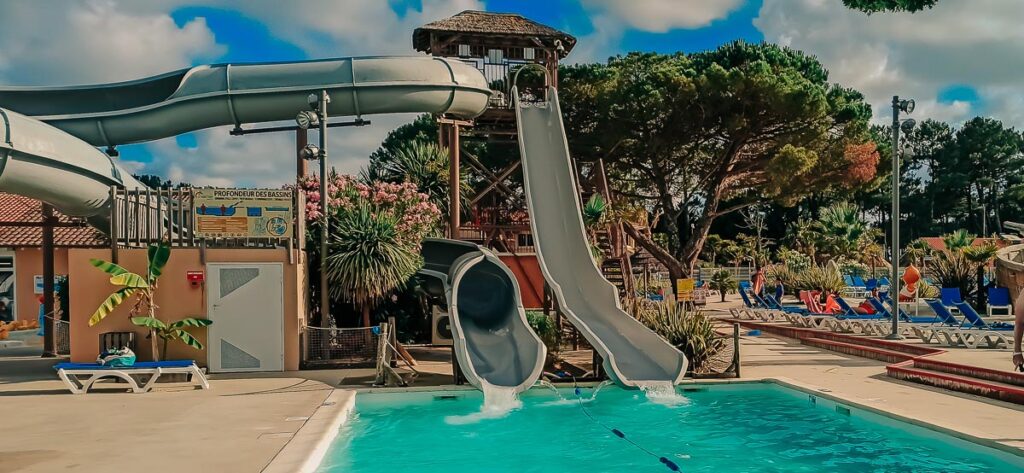 Another pool that was ideal for us was the splash pool for children. The temperature was pleasant and warm, and the depth was just right for babies and toddlers to paddle around in.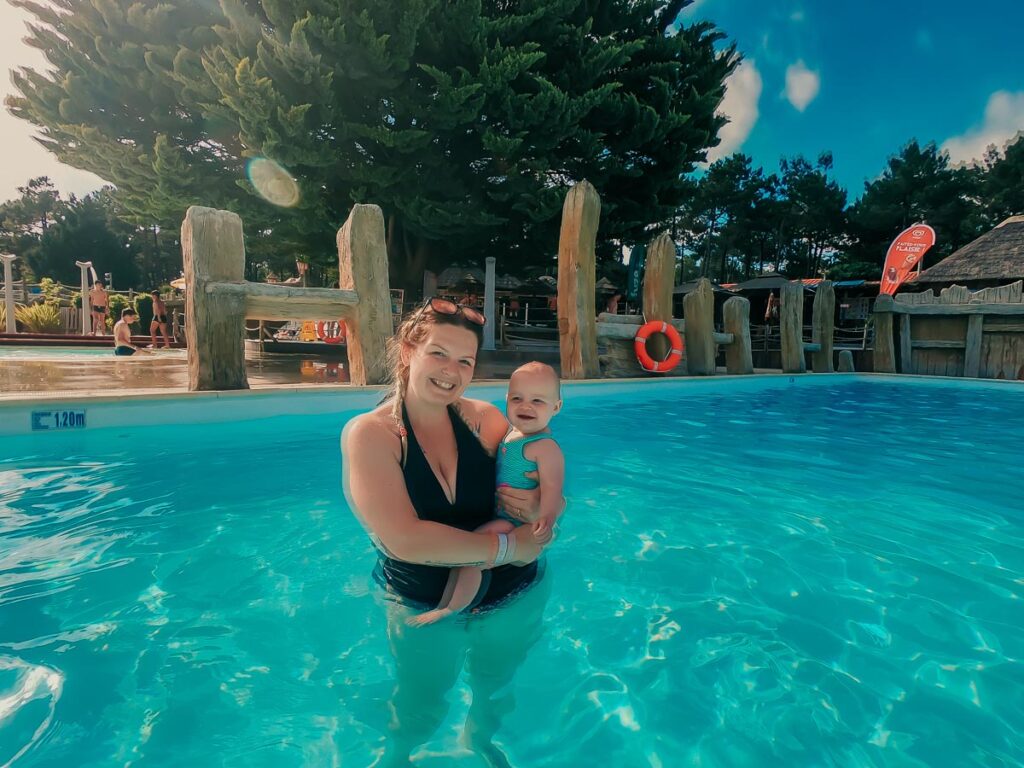 We, sadly, didn't manage to use the waterslides during our stay. A bit of a disappointment because Mike is a huge kid when it comes to toboggans. We actively decided to avoid them this holiday. We found the queues considerably long with no social distancing in place. And although they looked great, I think we made the right choice for our family's health and safety.
One slide was a standard fun toboggan, one was a 'scary' kamikaze-style slide, and the third was a little slide for the smaller kids. The two big slides can be used by children aged 10+ and the small one is for children aged over 3.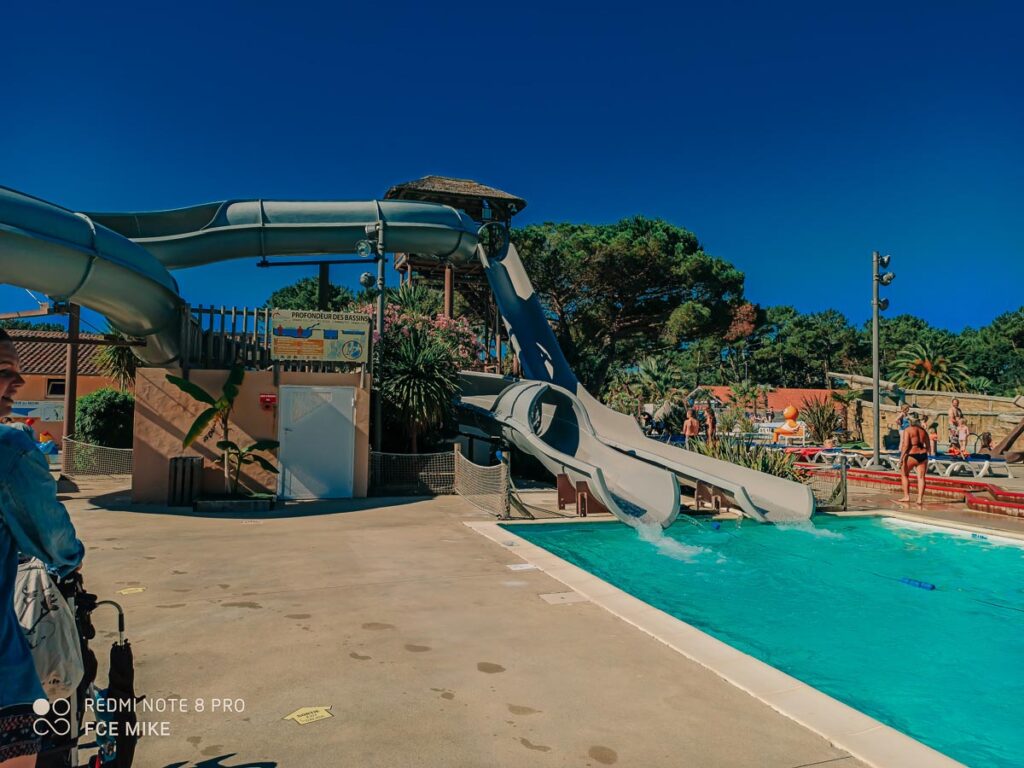 Other pools comprised the two outdoor pools; one lane pool and a fun outdoor style pool, two jacuzzis, and the indoor pool area (which we found a little too overcrowded for our liking).
The pool area was spacious with plenty of room for sun loungers (although I think they had reduced the amount due to covid19). The pool area was clean, tidy, and there were lifeguards on duty. I even saw them whistling at several people. One of our favourite things about the pool area has to be the pool bar. I'll tell you more about it in the bars and restaurants section, but I just love being able to sit at a bar whilst watching the water crash around and people having fun.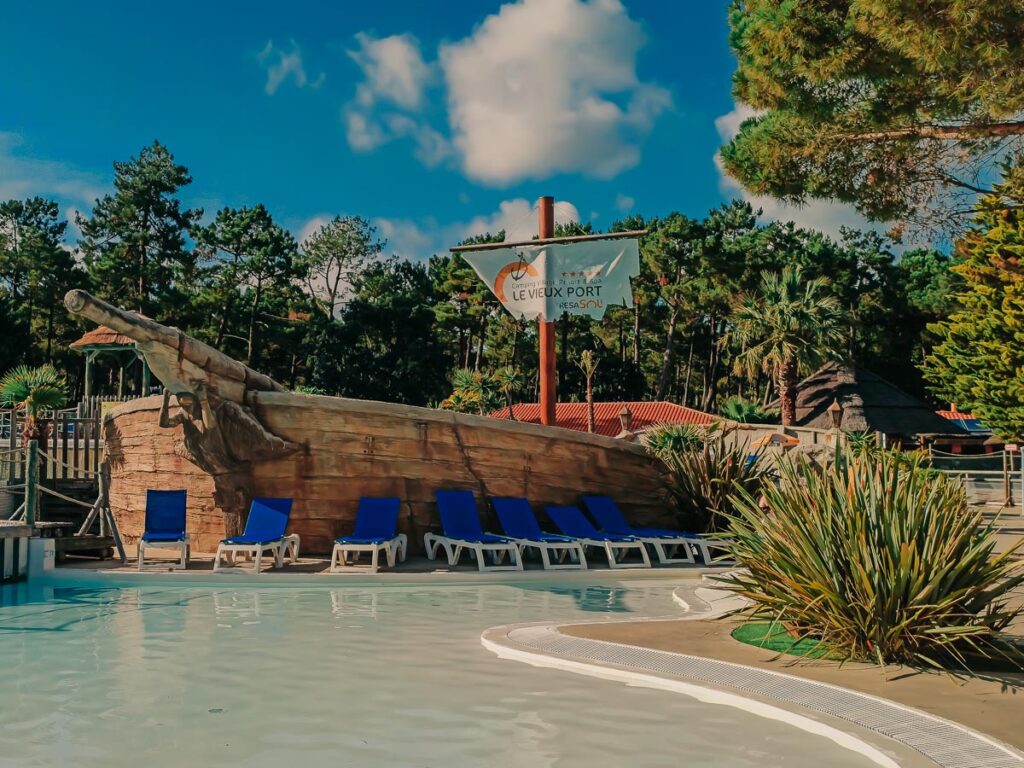 On entry to the pool, there was a staff member who scanned wristbands to make sure guests were staying at the campsite. Normal wristbands had a barcode on which allowed access to pool and arena facilities. Premium guests had a chip in their wristbands that they could scan themselves at entry points.
Covid Restrictions to the pool area
To be honest, I didn't notice any substantial differences in the pool area. Their website mentions "no sun loungers at the pool". It then contradicts itself, saying "reduced sun loungers at the pool spaced apart". When we got to the pool, we discovered there definitely were sun loungers, but they were in pairs separated from the next pair. There were lots of empty ones, and social distancing seemed to be well respected (except at the slides and the covered pool).
Extra hygiene controls were in place at the pool entrance. Alcohol hand gels were provided and obligatory, and there were security staff ensuring you had used it.
This campsite has a strict "tight shorts" rule. No bermuda style shorts allowed and only speedos/Jammers are allowed.
This was absolutely my favourite thing about Camping Le Vieux Port. The connected beach is amazing. It's a sandy beach with 2 surf schools and the most amazing Atlantic waves.
There are lifeguards on duty from mid-June to Mid September. In low season they're there between 12:30 – 18:30 and high season between 11:00 – 19:00. Blue flags indicate the safest and monitored section of the sea.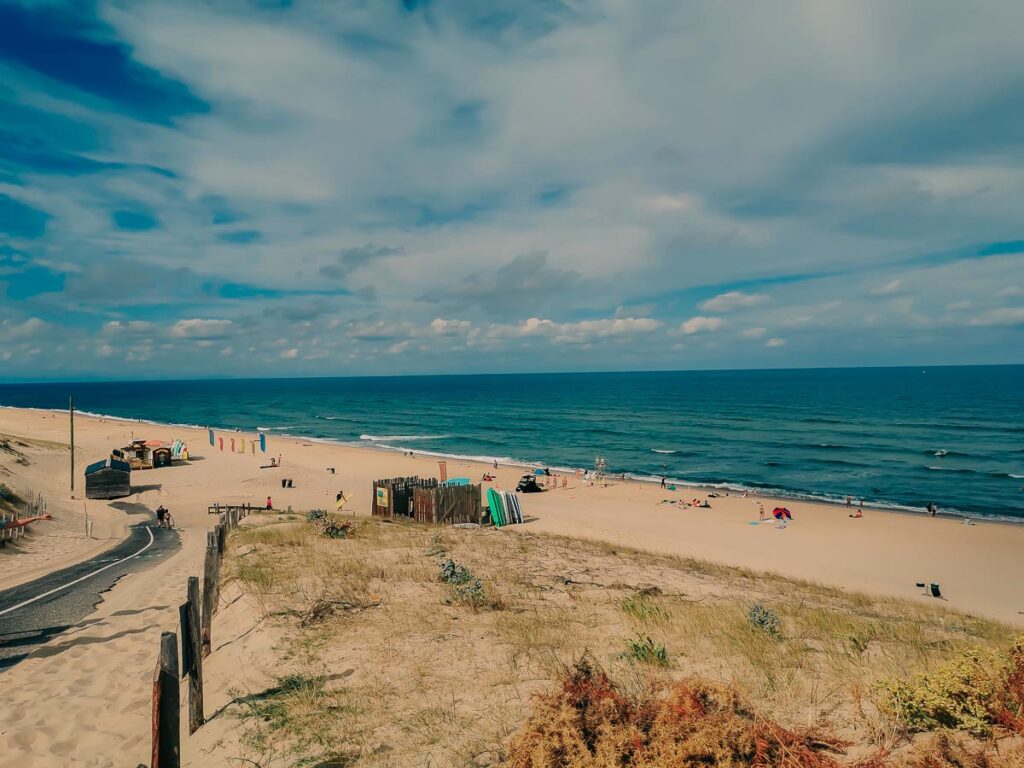 Mike bought a bodyboard from the campsite shop and spent lots of time out on the waves. Depending on the time of day it could get quite crowded, and I'd advise if you want to surf/bodyboard then go earlier rather than later.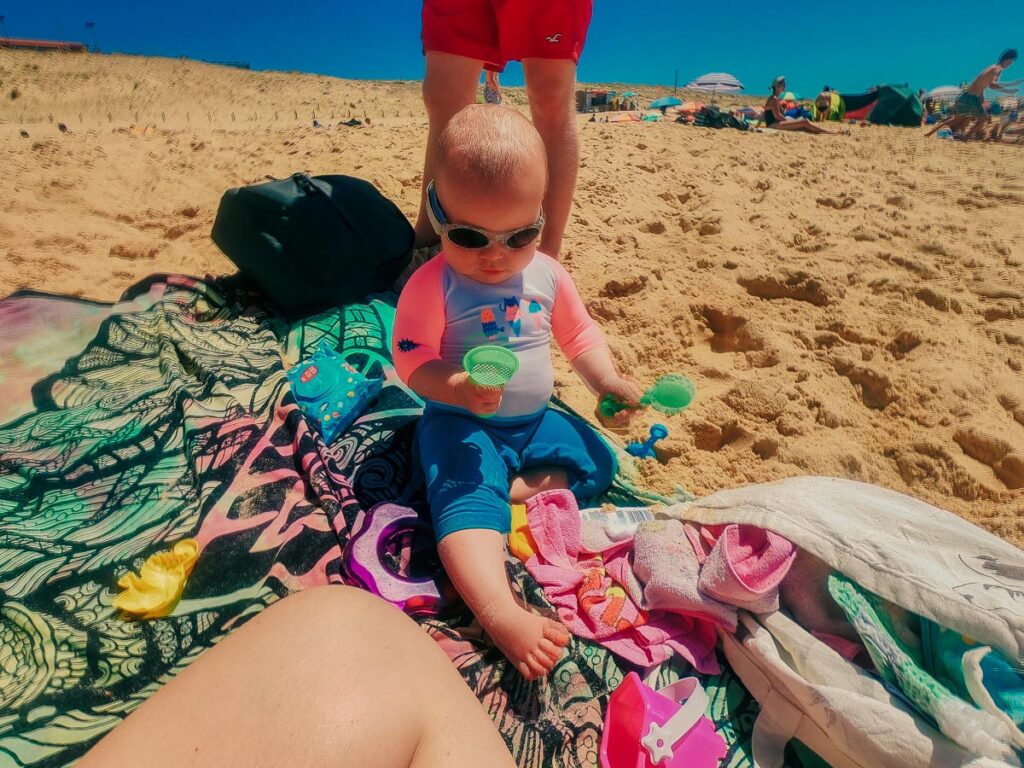 It's a great beach. Baby loved it, I loved it, and Mike loved it too. It's ideal for families who love digging moats, building castles, swimming, body/skimboarding and surfing. Make sure you pack a parasol and lots of water as there is absolutely no shade.
The campsite doesn't have its own lake, but there is a fantastic man-made lake in the town of Vieux Boucau just a 20-minute walk from the campsite. It's called Lac Marine and is a hot spot for those wanting to paddleboard and kayak. You can swim and fish in the lake (from separate parts), and there's even a lovely circuit around the lake that will take you approximately an hour to complete.
The town of Vieux Boucau is also pleasant, and I will discuss it in the Things To Do Section of this review.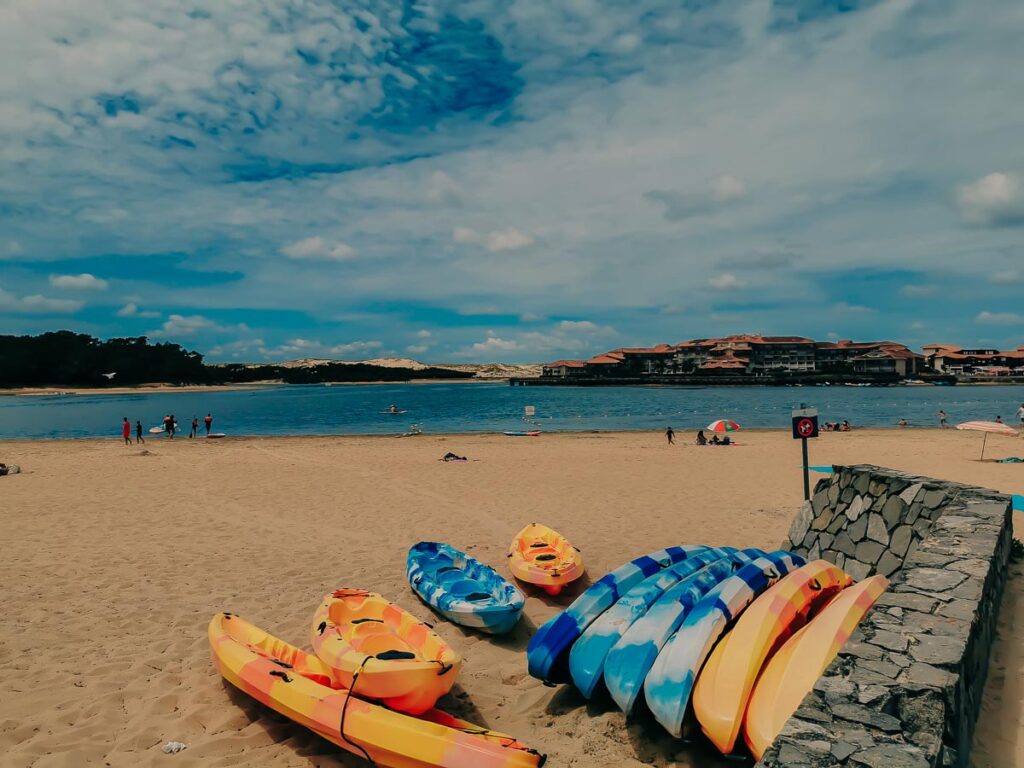 This is quite possibly the largest campsite we have ever been on, which means there happen to be lots of facilities to review. I think we read that there are more than 1500 emplacements on the site, so it really is huge.
We stayed direct with the campsite, so we used the main reception to check-in for our stay. Arriving at around 4pm, we parked in the almost full car park at the entrance to the campsite. The reason the car park is so full isn't because there's a ton of arrivals, or because you can't park on your emplacement, but because the car park is a public parking area for anybody who wants access to the local beach too. We arrived on a really sunny/warm day which fully explained the busy car park.
Once we managed to find a space, Mike headed to the main reception to join the lengthy check-in queue. After waiting around 30/40 minutes to get seen by the receptionist, they swiftly took our details, gave us our wristbands and checked us in. We did actually notice, a few days into our stay that there were electronic check-in machines. However, I'm unsure how they work as the main reception surely have to still provide you with your keys/wristbands? I didn't see a single person use them either so I don't know…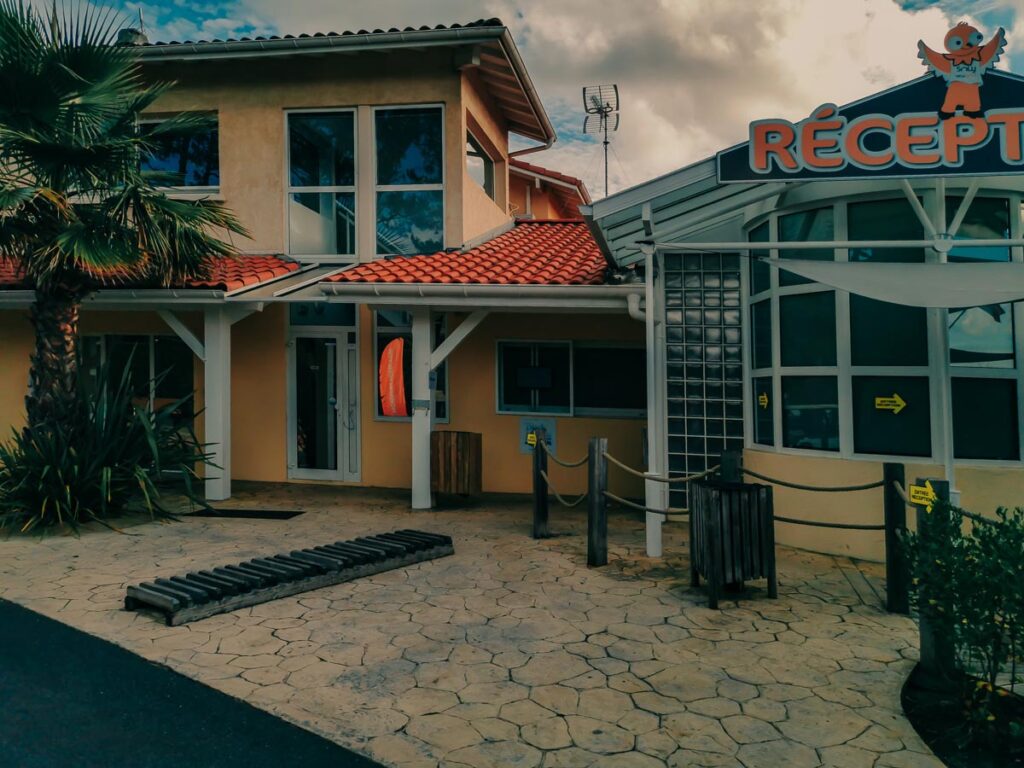 Before heading to our mobile home, we were joined by a guy in a golf buggy who escorted us to our accommodation and showed us around. A personal touch that we've been missing on our other recent camping trips.
He showed us how to unlock the hot tub and how to use the premium keyless door locks, and then he wished us a good holiday. It wasn't until after he left we realised we were missing the baby kit that we had ordered. Luckily he came back around an hour later and dropped it off.
In addition to our check-in, I did have to deal with the reception a few more times during our stay. One time was because our keyless locks failed. Something I half expected to happen after working in hotels where it occurred a lot. Annoyingly, it failed at 10pm, and we had a tired baby who needed to sleep. As reception had closed, we called out the on-call guy to come let us back in. We rang him up, and he explained he'd get to us in time, but he was busy and had lots to do. I thought that was pretty rude, so Mike insisted that we needed to get in ASAP because of our baby. It took about 20 minutes, but he finally came and let us in. Anyway, that's why the next morning, I had to go to reception and ask them for 2 new keyless wristbands that worked.
The second time I had to go to reception was the morning we left as I wanted to make a complaint about our accommodation. I'll explain more about that in our accommodation review.
  I definitely don't usually make complaints, and I think it's actually the first campsite I've ever made a complaint on. I wasn't rude, and I calmly explained the situation to the receptionist, essentially just to inform her that we had a problem, I would be taking it further, and I'd appreciate it if the manager would speak to me when they're available. A tip I learnt whilst working in camping and hotels is to always log the complaint on-site. I know it can be nerve-racking and us brits are complaint-phobic but, if you wait until you are home to log it, you firstly don't have a leg to stand on and secondly haven't given the campsite a chance to rectify the problem.
I waited a good few weeks to finally hear back from the manager. We explained our issues, and he tried to defend what happened. We received a half-hearted apology and then got ignored when I replied stating how unhappy I was. Ultimately, our conversation with Resasol management has taught us one thing, and that's to never book through them again.
As you know, I've stayed with lots of camping companies and worked for a few too and never have I experienced post-stay customer service like it.
I didn't expect a refund, a free stay or anything like that but perhaps a "real" apology and some assurance that they'd look into the issues we had and not let them happen again.
Anyway, enough about that, let's go back to the reception…
Both the receptionists I spoke to were wearing masks and stood behind a glass screen. I find it a lot harder to understand what people are saying behind a mask. The first time I went to reception about the keys I spoke in French (as it wasn't so complex) but the second time I had to speak English because I had no idea how to explain my complaint in French and the receptionist understood me perfectly.
All the receptionists I met appeared to be (at least) trilingual, speaking French, English and Spanish.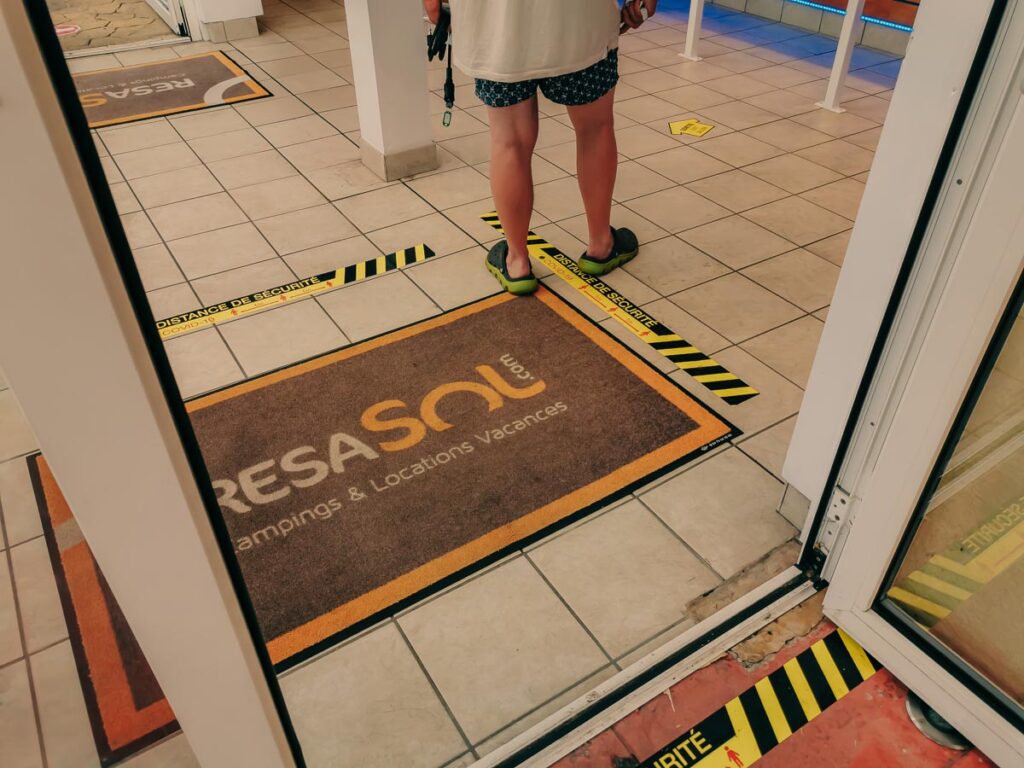 We went before masks became mandatory, so we didn't HAVE to wear them in reception, we did, but many others didn't. However, French law currently (as of writing) states that masks must be worn indoors, so make sure you pack them.
According to the Resasol App, the reception is open from 10am to 12 and then again from 4pm – 7pm. However, the below photo shows very different times. There is also an on-call number that we were provided with for urgent problems.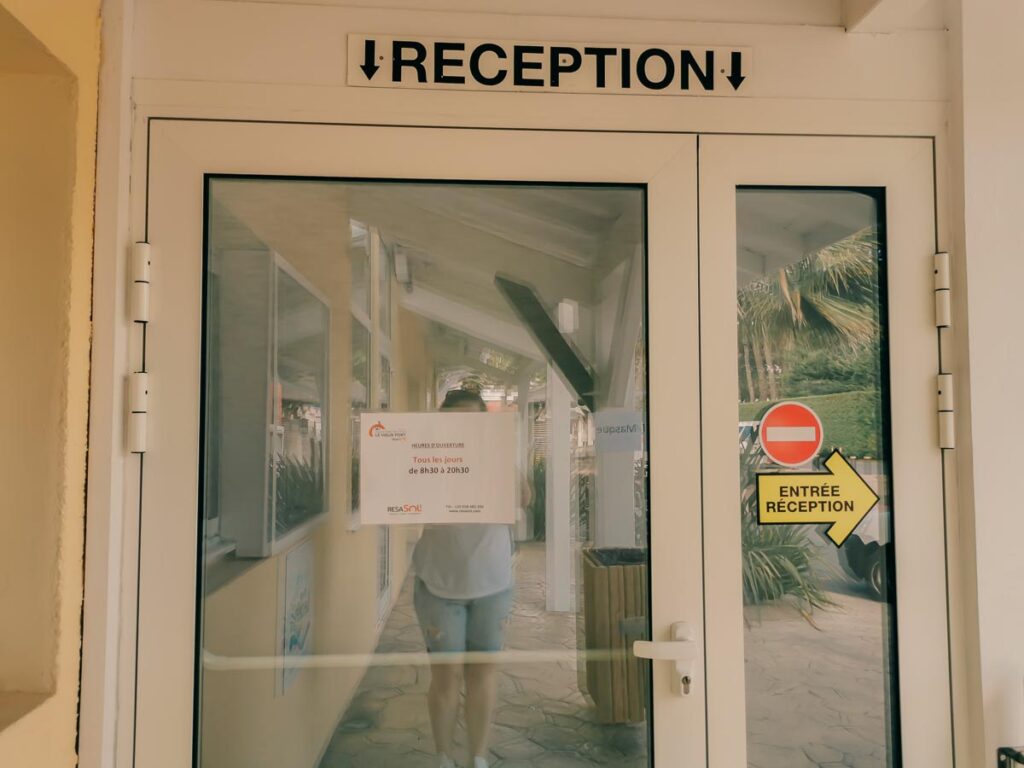 All of the tour operator receptions are on the campsite away from the main reception. If you are booked with a tour operator, you may have to check in with the main campsite first, but I'm not 100% sure.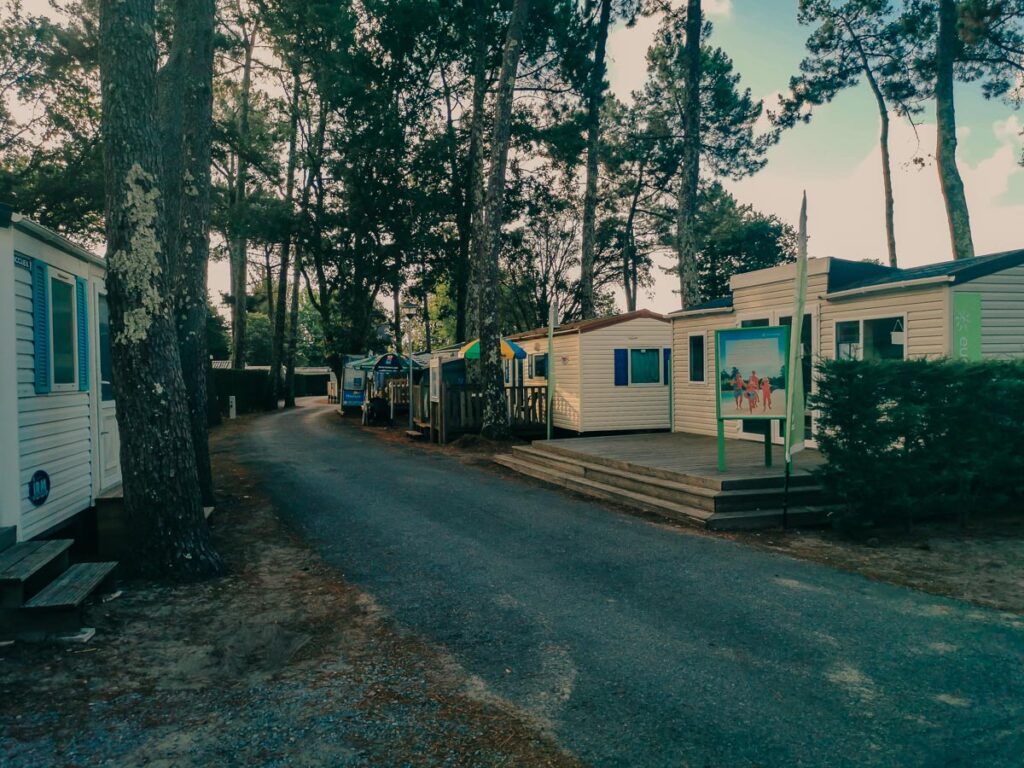 With a campsite so huge, there needs to be a large number of amenities, especially for children. Camping Le Vieux Port does not disappoint. There are TONS of things to do here to keep kids (and parents) amused for days!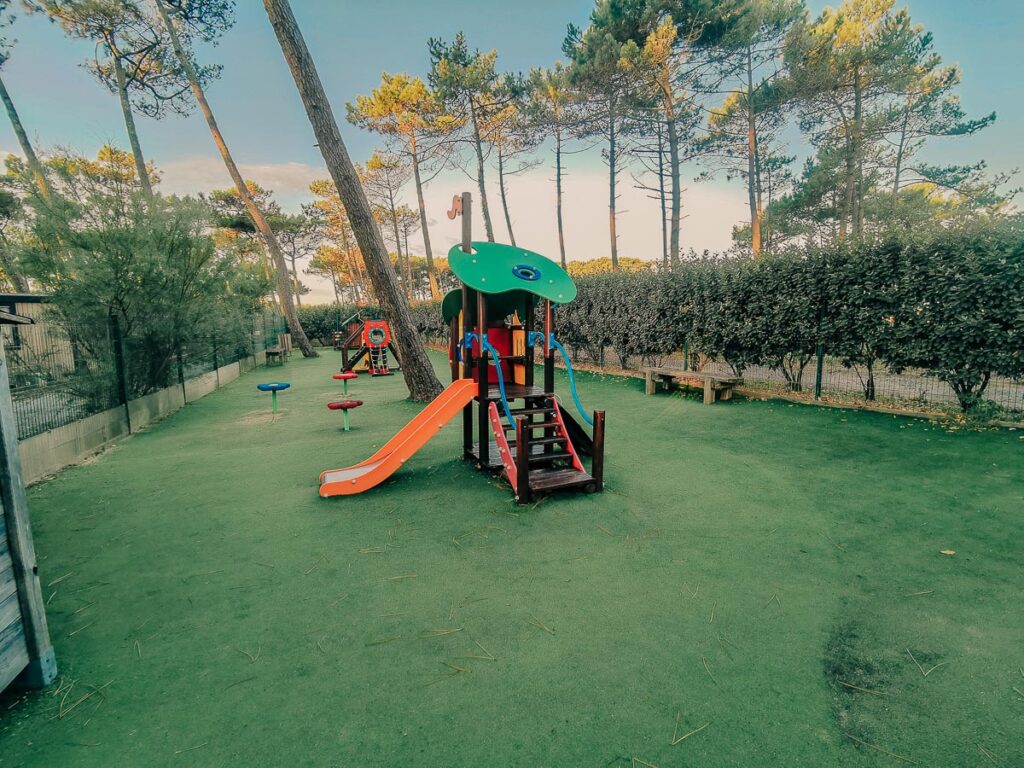 Let's start with play areas and parks. There are 2 "Aire de Jeux" (playgrounds) on the campsite. One is situated near the Tour operator receptions, and the other is near the gate to the beach.
Playpark 1, by the tour operators, is a sandy park with lots of climbing frames and slides. It's open from 7am until 10:30pm. I would say that this park is definitely more aimed at older children as opposed to park 2.
Park 2, near the beach, is smaller, astroturfed and features a few smaller climbing frames and slides. This park is definitely for younger children.
The multi-sports area is large and perfect for playing football, basketball, netball and whatever else people use multi-sports areas for. We took a stroll down one evening, and it was jam-packed with kids playing football and plenty of spectators watching. It's definitely the place sporty teenagers go to make friends.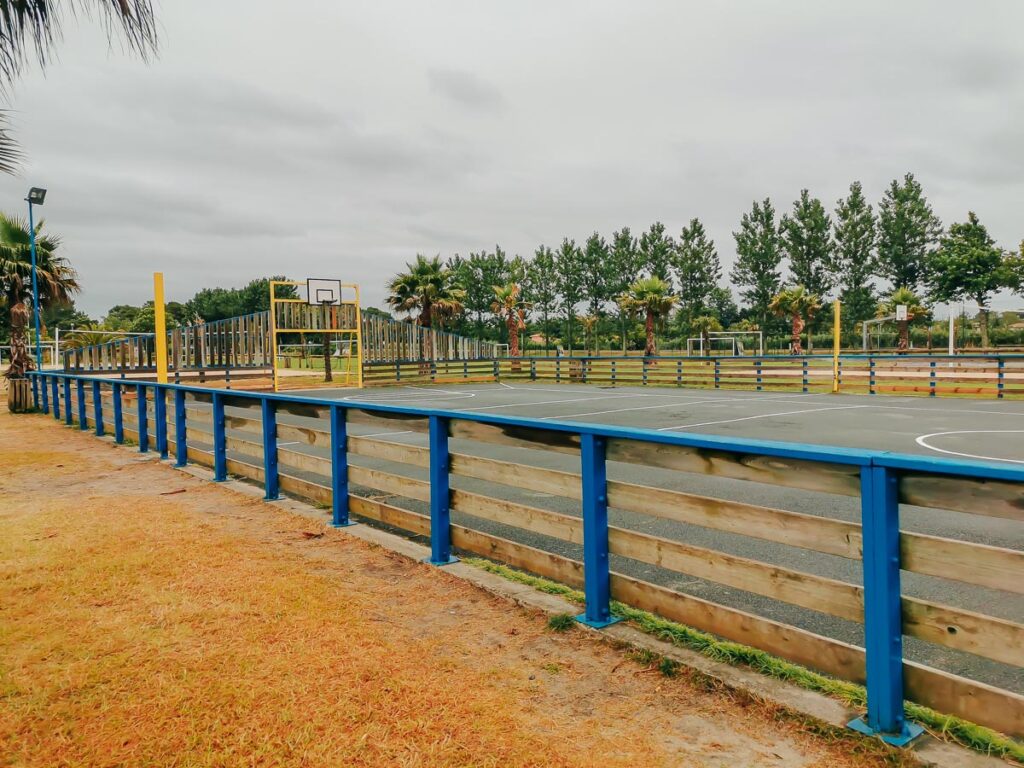 I find kids don't need to speak the same language to make friends, especially if they make friends through the sport. We saw plenty of Spanish, French and a few English playing together and it's easy enough to understand what another person is trying to say.
In The village square, at the entrance to the campsite, there's a small merry go round for young children. In low season it's open Mon-Fri 10:30 till 1pm and at weekends 10:30-14:30 and 17:00-20:30
In High season it's open daily 10:30-14:30 and 17:00-20:30.
Camping le Vieux Port has 3 Tennis Courts which are free to use during the low season. You can hire rackets from the main reception for €2. However, if you are booked with a tour operator, check with them first as you may be able to hire the equipment for free.
During the high season, the Tennis Courts are Pay to Play and booking will be required. The costs are as follows: 1h : 8,50€ // 5h : 39€ // 10h : 59€.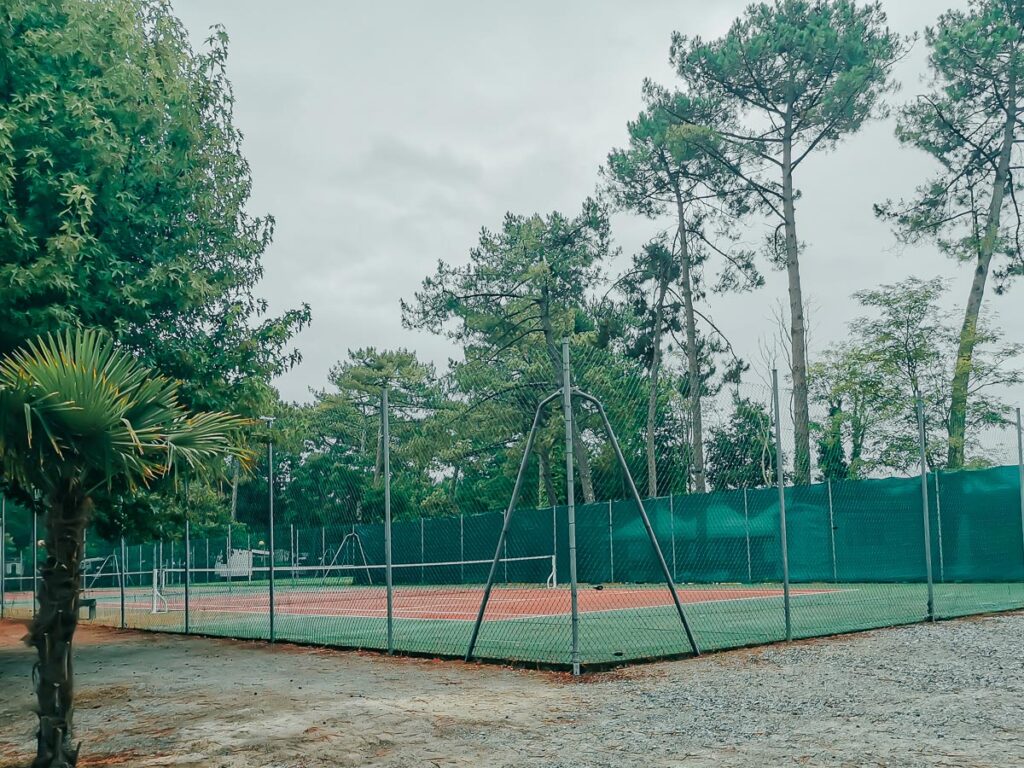 There are 5 table tennis tables situated near the tennis courts. You can rent equipment from the main reception for €1. However, if you are booked with a tour operator, check with them first as you may be able to hire the equipment for free.
One of the unique play areas at Camping Le Vieux Port is the skate park. It's not very often you see a campsite with a skate park, but it's great entertainment for kids. We all know that skating and surfing go hand in hand, so it makes perfect sense for a campsite on the Atlantic coast to have a skate park.
Now, I don't know much about skating (at all), so I can't tell you what equipment there is, so instead, I'm just going to share a photo.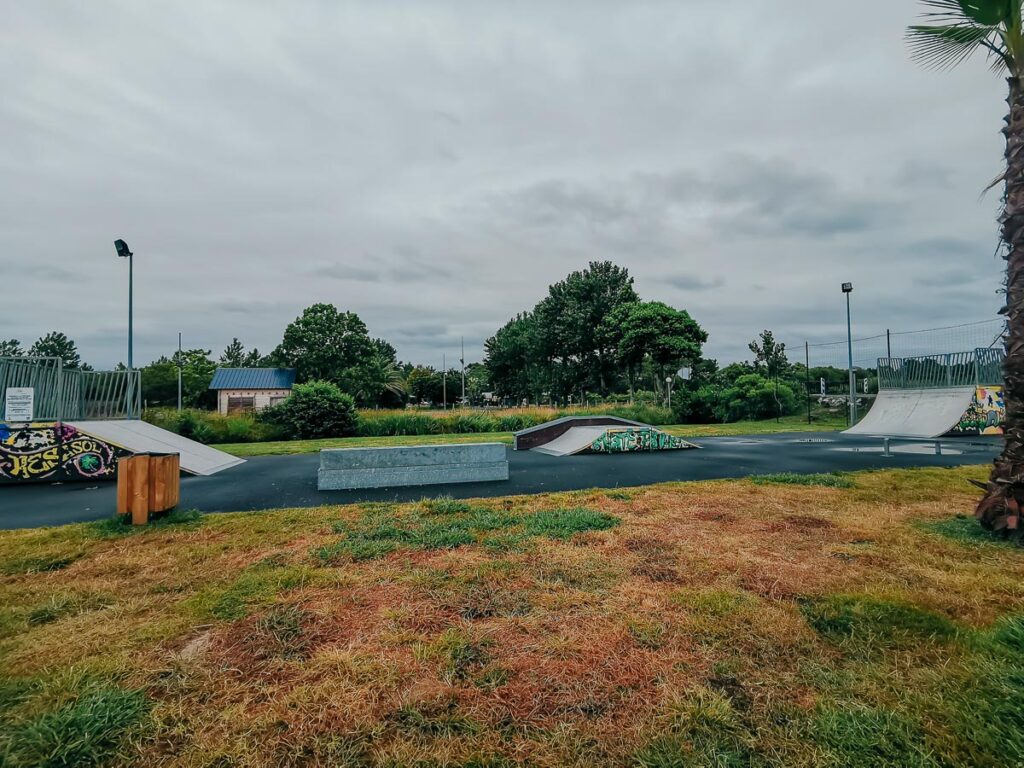 Many campsites now have these outdoor bodyweight gyms, and I think they're so great. The bodyweight gym here at camping le Vieux Port was unquestionably one of the most extensive I've seen, and it was always in use.
Many of the guests at this campsite were clearly into keeping fit and active. We saw lots of families out running, cycling and surfing. The bodyweight gym was a great place for said active families to warm up and cool down their muscles.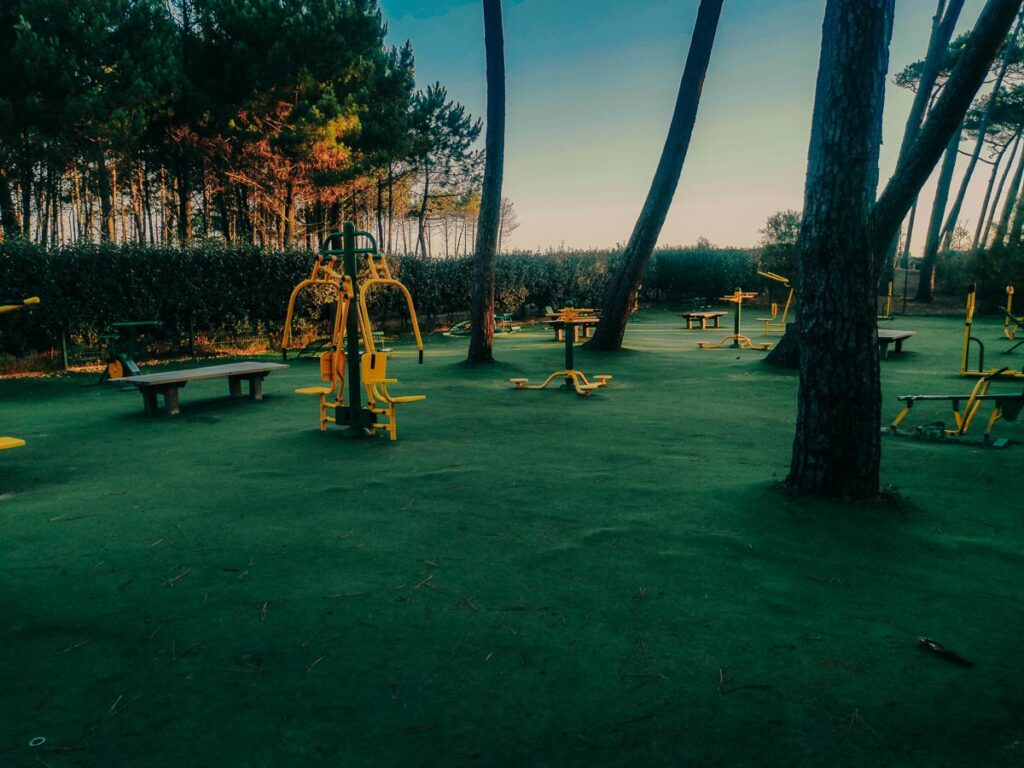 There is a large football pitch located in the recreation area alongside the skate park. It's a grassy pitch with goals on all 4 sides (so that you can play a smaller team). I have no idea about football, but Mike (who now plays weekly) informs me that the pitch isn't great. It's full of uneven levels and really isn't the correct terrain to play on if you want a "professional" game. But, I mean, a holiday kick about doesn't need a professional pitch does it?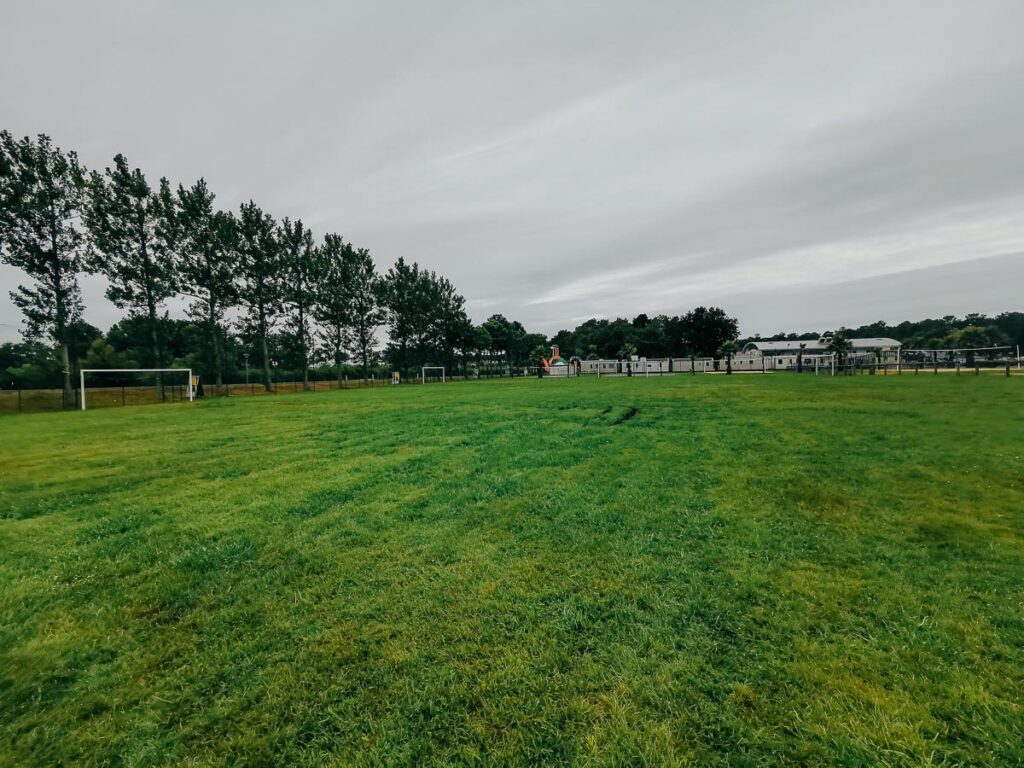 There are 3 volleyball courts (do you call them courts, pitches or something else?) in the recreation area. Two are sandy, and the other is tarmac. These can also be used to play Badminton on.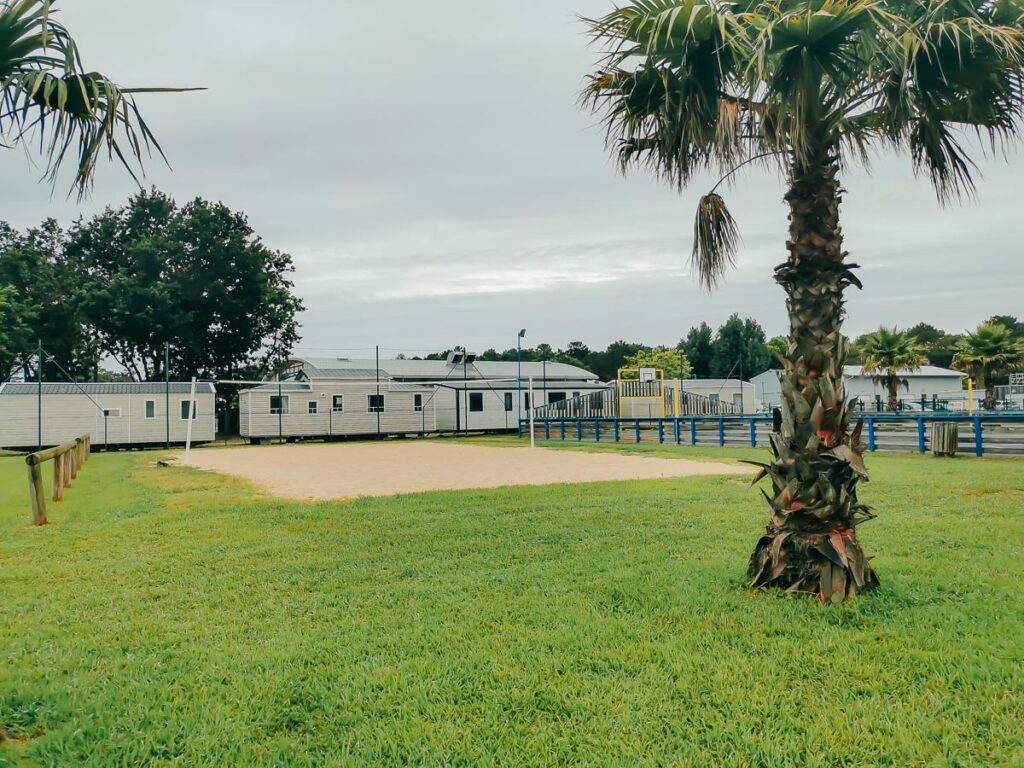 If you prefer to play football on sand over the grass or multi sports pitch there's even a beach football area to play on.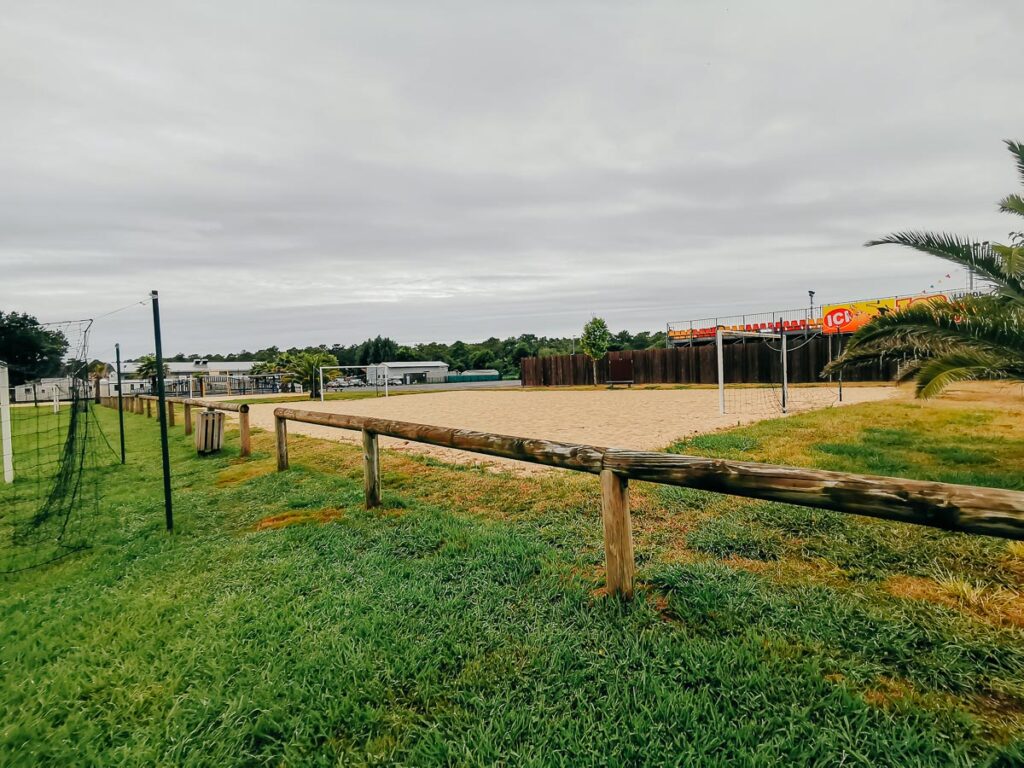 If you don't wish to use the multi-sports area there is also a separate basketball court to play on. But get there early, by the late afternoon-evening the courts were rammed.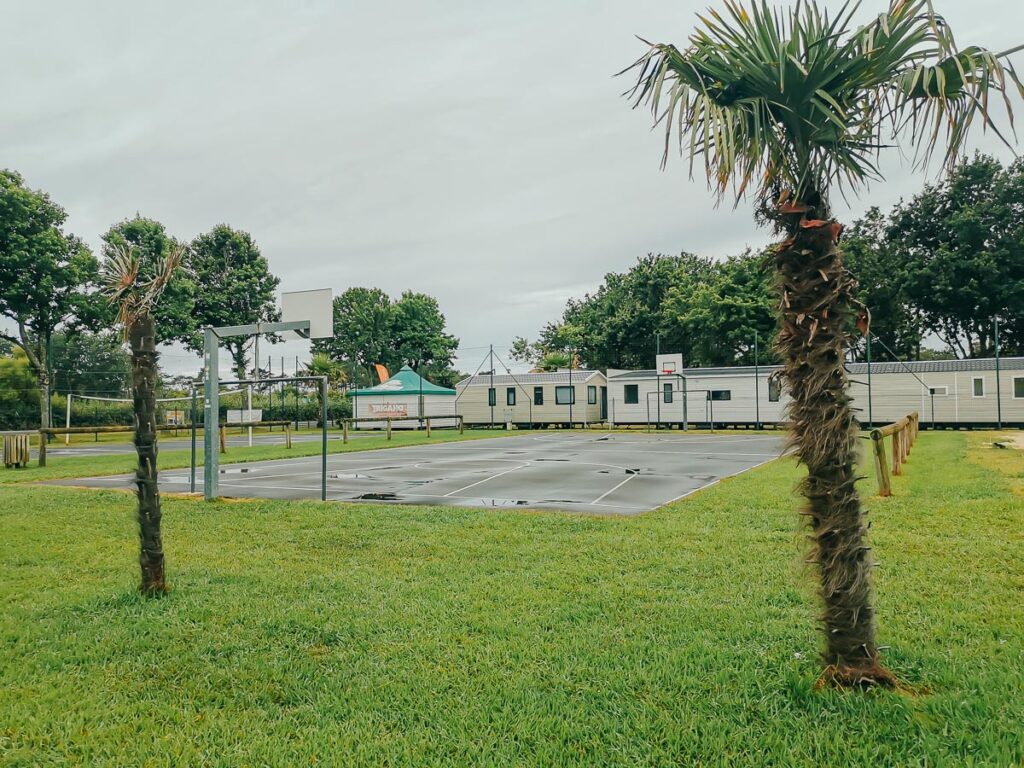 The French LOVE Petanque (or Boules to us Brits). They love it so much there are 6 Petanque courts in the recreation area. 5 single lanes and 1 huge area to play (which you could probably fit a few games on). Check with the campsite reception or your tour operator reception to see if you can rent/borrow a petanque kit and give it a go.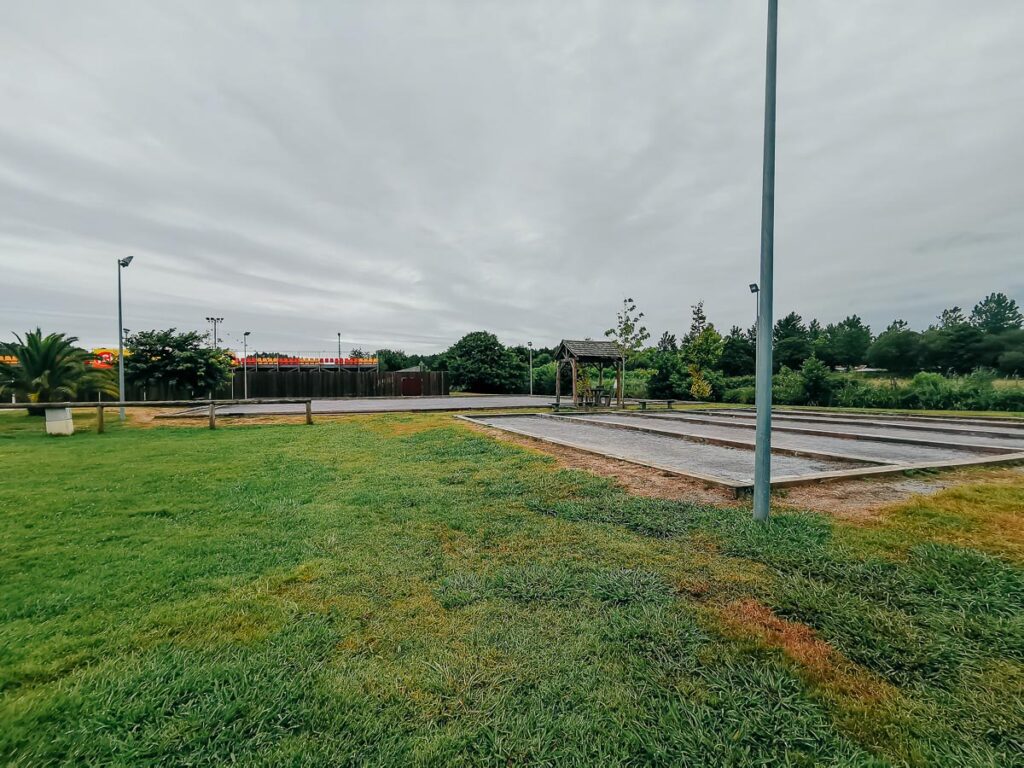 The arcade was a bustling area and still open post lockdown. It amazes me actually that it's open when I think about all the dirty fingers touching all the same places. Still, I suppose we should all just be a little cleaner. 
I didn't actually go to the arcade because it was too busy for me, but from the outside, it looked large and "flashy". Somewhere to avoid unless you want to lose all your change…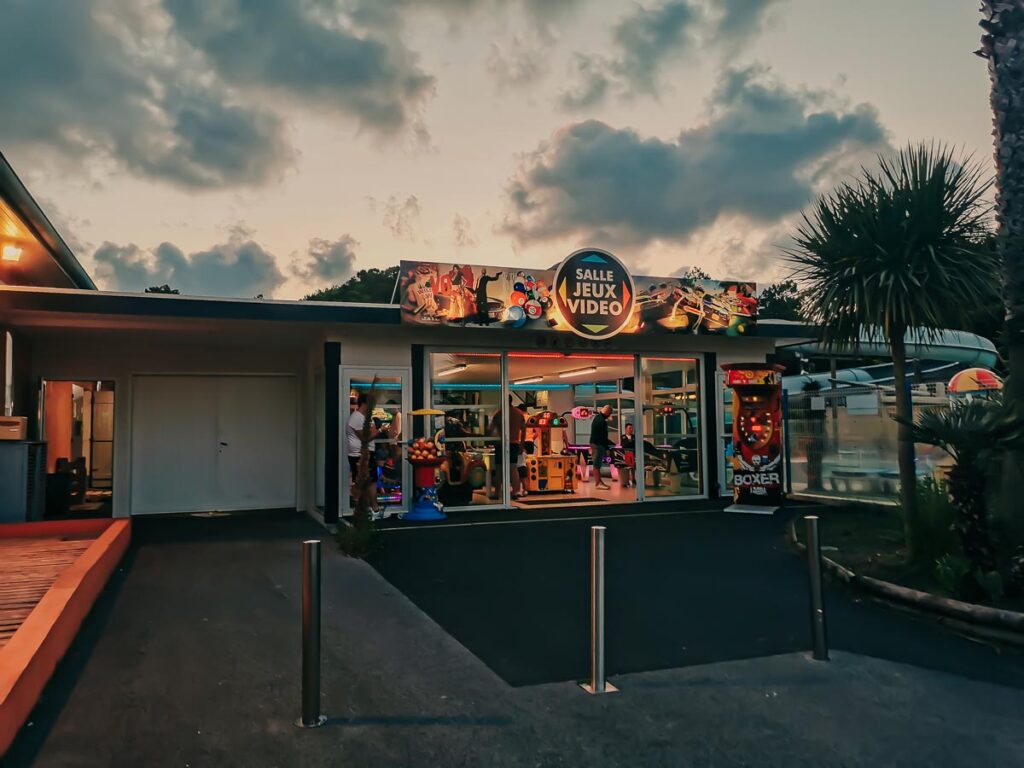 The campsite runs a free kids club for all guests. It's supervised by qualified kids club leaders, and the ages range is from 4 to 12-year-olds, with 4 – 6-year-olds in the mini club and 7-12-year-olds in the older club.
We met some of the kids club leaders during the welcome meeting on our arrival day (Sunday), and they seemed like a fun group of people. Their language skills are wide, and one of the girls was Irish.
There's also a Teen Club for those aged 12-17. At the teen club, there's plenty of sports tournaments as well as Pizza parties and other pre-arranged activities. 
Due to covid19, the campsite has warned that some activities may be changed to align with the health measures in place.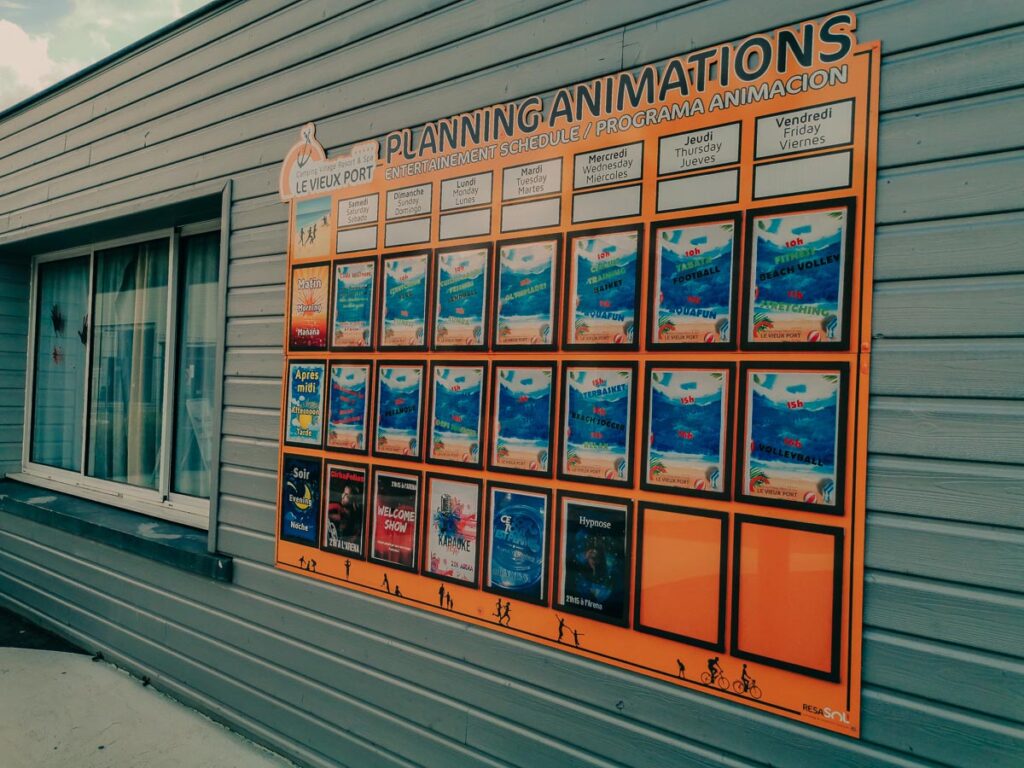 Animation for kids and adults
There are so many things going on at Camping Le Vieux Port, and it's not just for the kids. At our welcome meeting, we were told all about the nightly arena shows, exercise classes, sports tournaments, day trips, karaoke and more.
We didn't really take part in any activities, but we did head to the Arena to watch one of the nightly shows. It changes nightly, but the show we saw was "Ce Soir Tout Est Permis" which I think basically means a free for all – and that's exactly what it was. We had no idea whatsoever what was going on. People were doing a push-up challenge one minute, and then people kicking their shoes in the air the next – it was bizarre, but enjoyable – especially if you like people watching.
Bars, Restaurants and Takeaway
There is a whole host of options on where/how to eat and drink at Camping le Vieux Port. For some, camping is all about al fresco eating at your tent/caravan/mobile home. But for others, it's about trying out everything the campsite has to offer. Which, at le Vieux Port, is a lot! So, with that in mind, the campsite even offers half board and full board options for dining.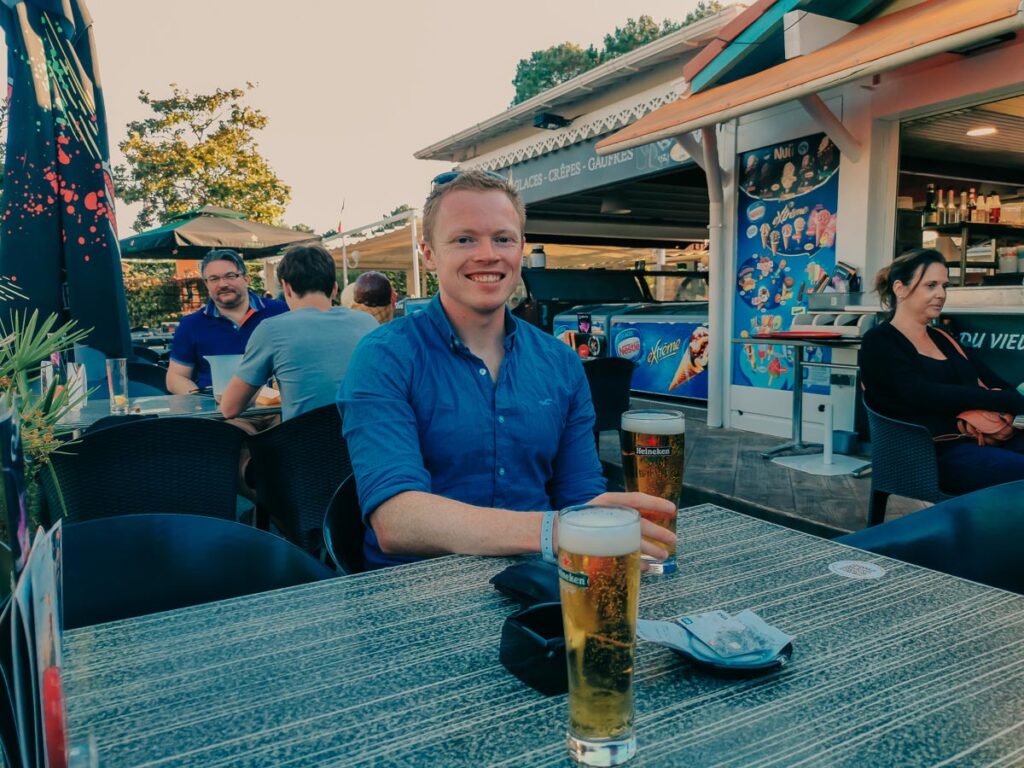 We really liked the Bar area of the Brasserie. We didn't eat there, so, regrettably, I can't tell you about that, but I can tell you about the service. We had drinks there every night of our stay, and I can hand on heart say that it was the fastest table service we've ever had in France.
I dislike table service. You sit down, wait for ages for someone, wait for ages for your drink and then wait for ages to catch the attention of someone to ask for the bill and then you have to wait for ages to pay. I normally hate it, BUT NOT HERE!
Within minutes of sitting down, we were asked what we wanted to drink and once ordered, it arrived really quick. The waitress was really welcoming and spoke very clearly even through her mask, and I wish I had got her name to mention in reviews, but I totally forgot.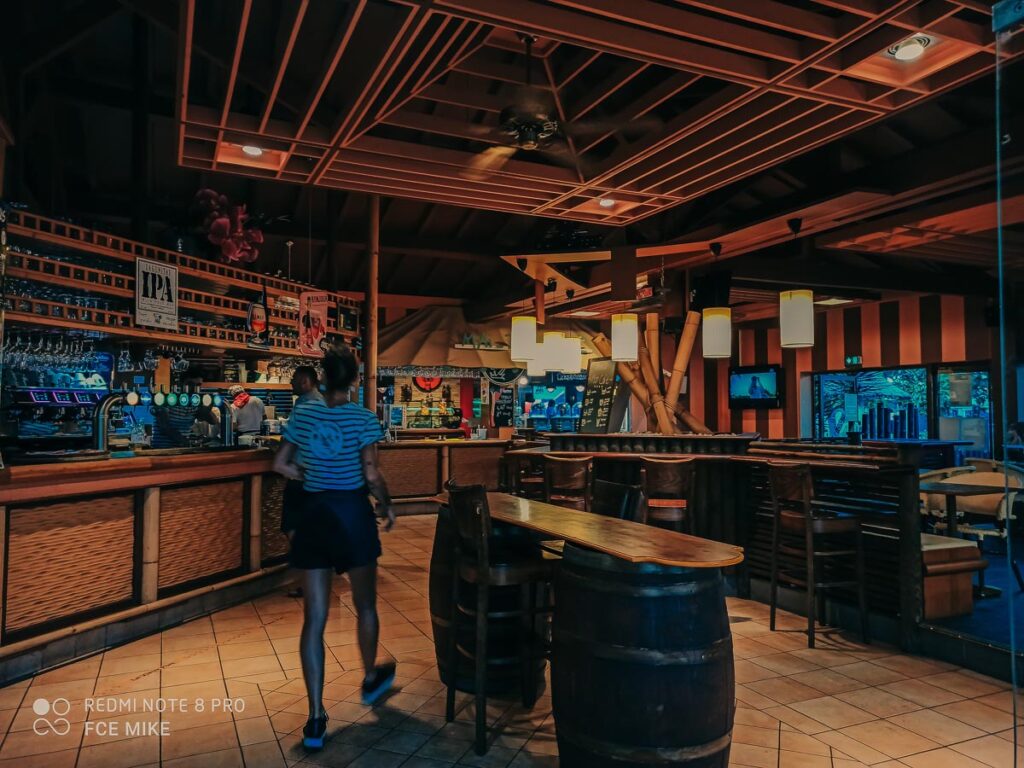 The atmosphere in the bar was nice. It wasn't just families with children, there were older people, younger people, single people and surfers, which was refreshing. We didn't go inside, just outside but it's a lovely spot for a drink, and a people watch.
Menu wise, it looked pretty broad, I took a photo as we did think about eating there one night, but opted for the Tapas restaurant instead.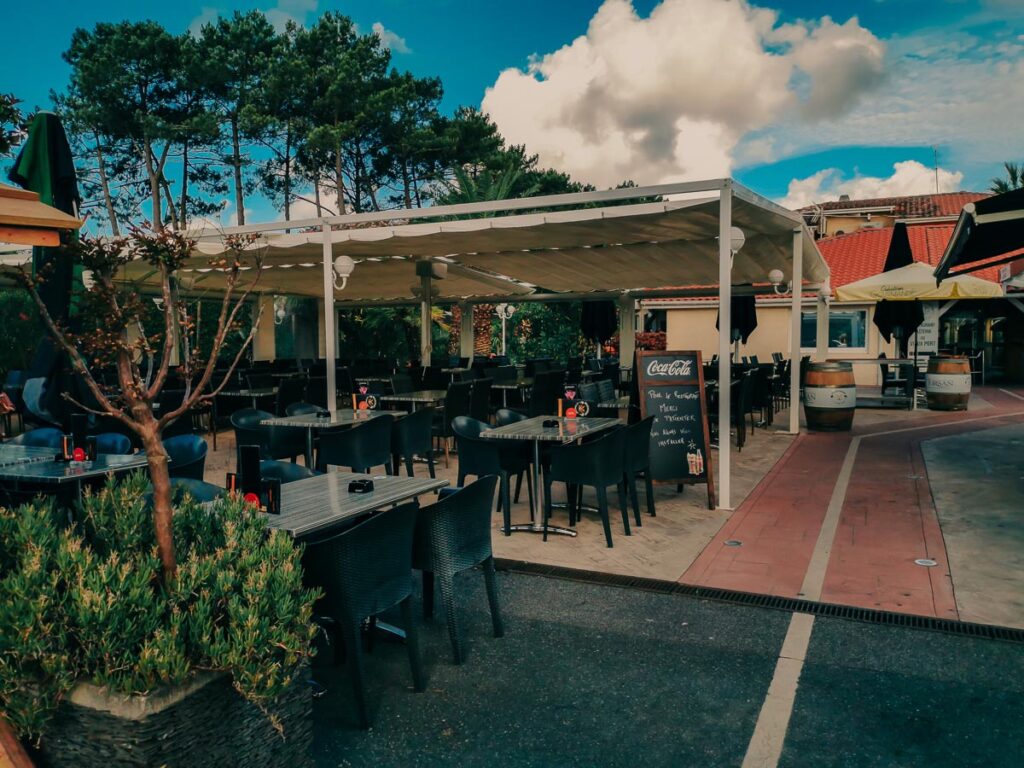 The campsite Brasserie is where you'll get your Full or Half board meals (should you opt for it). You can choose half board: Breakfast PLUS Lunch OR Dinner. Full Board: Breakfast lunch AND Dinner. Or, just choose no board as we did.
The Prices for boarding options are as follows:
Adults (aged 12+):
Half Board
(Breakfast: 1 hot drink + 1 pastry + bread/butter/jam + 1 orange juice | Lunch/Dinner comprising a starter + main dish + dessert + 25 cl wine)
€25 PER PERSON PER NIGHT
Full Board (Breakfast: 1 hot drink + 1 pastry + bread/butter/jam + 1 orange juice | Lunch AND Dinner comprising a starter + main dish + dessert + 25 cl wine)
€39.90 PER PERSON PER NIGHT
Child (5-12 years):
Half Board
(Breakfast: 1 hot drink + 1 pastry + bread/butter/jam + 1 orange juice | Lunch/Dinner of nuggets/beefburger/fish fillet + yogurt drink or icecream)
€12 PER PERSON PER NIGHT
Full Board (Breakfast: 1 hot drink + 1 pastry + bread/butter/jam + 1 orange juice | Lunch AND Dinner)
€25 PER PERSON PER NIGHT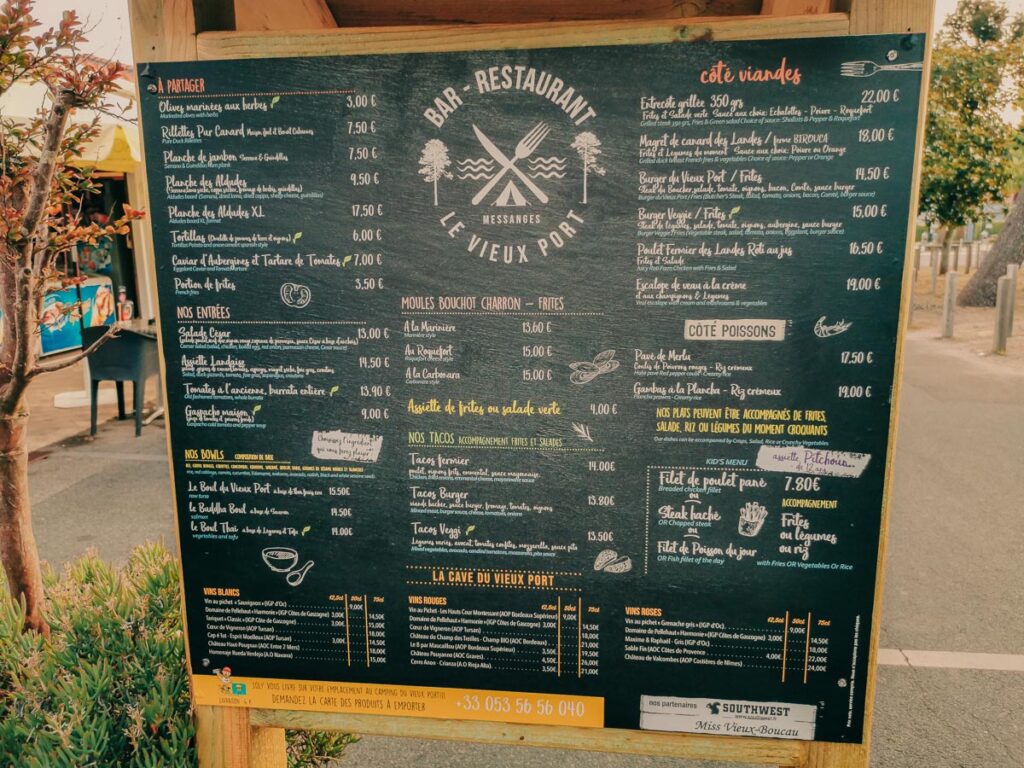 For our final evening, we decided to eat at the tapas restaurant, and it was pleasant. The menu did seem overly fried, but France doesn't do healthy tapas as Spain does. We ordered some Tortilla, Jalapeno and Cheddar balls, garlic and tomato bruschetta (kinda thing) and some sweet potato. The food was delicious, and the staff were accommodating and friendly. We ordered a Giraffe of beer which amused a few of the other diners as well as the staff, but hey, camping and beer go hand in hand, right?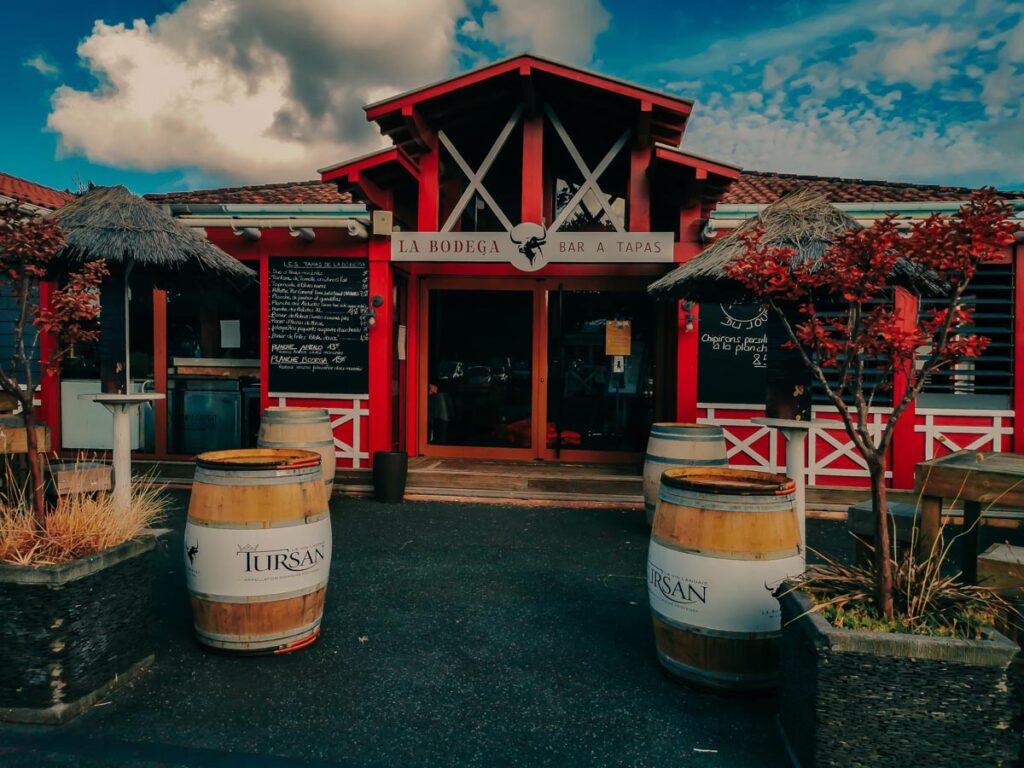 My only complaint is that the menu was short. I know, sometimes loads of choices can be too much, but I really hoped there would be some Tuna steak or Padron peppers and a few more common tapas items.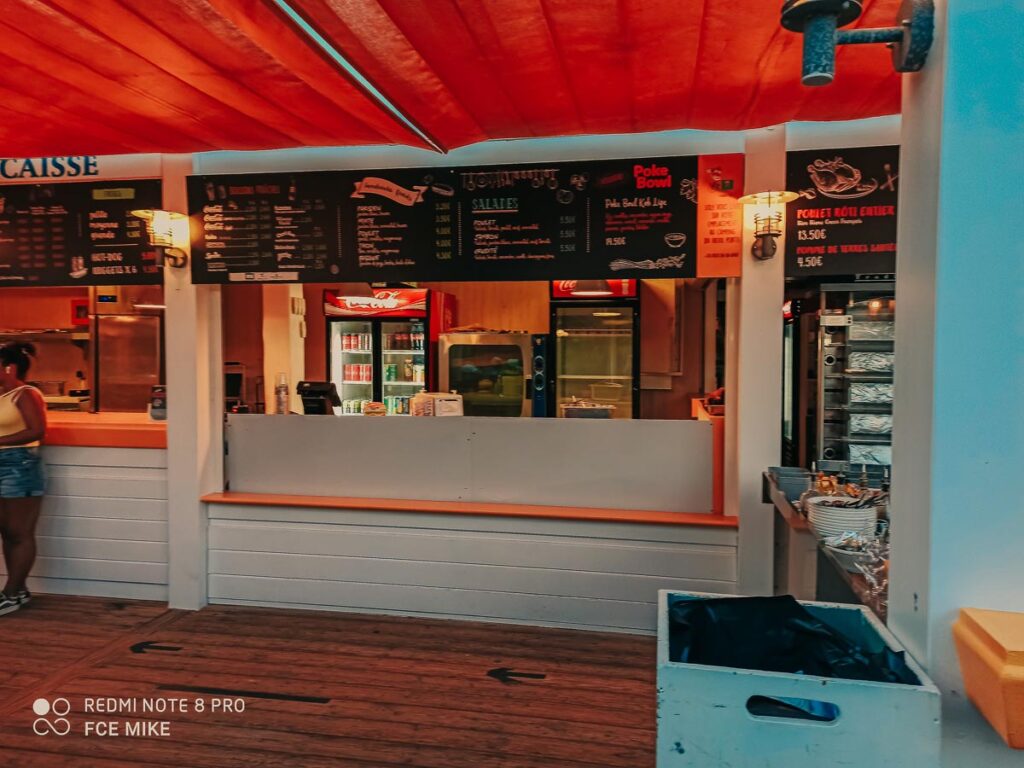 We didn't use the Takeaway/ Snack bar so I can't comment on much, however, they did seem to have a wide range of food options and not too overpriced. 
Every hot, sunny campsite needs an ice cream parlour. We got ice cream on our first night, and there was a nice range of choices. I got a mint choc chip because I was feeling boring. We had no problem paying with cash even though I've told Mike a hundred times now to use contactless cards everywhere because of Covid…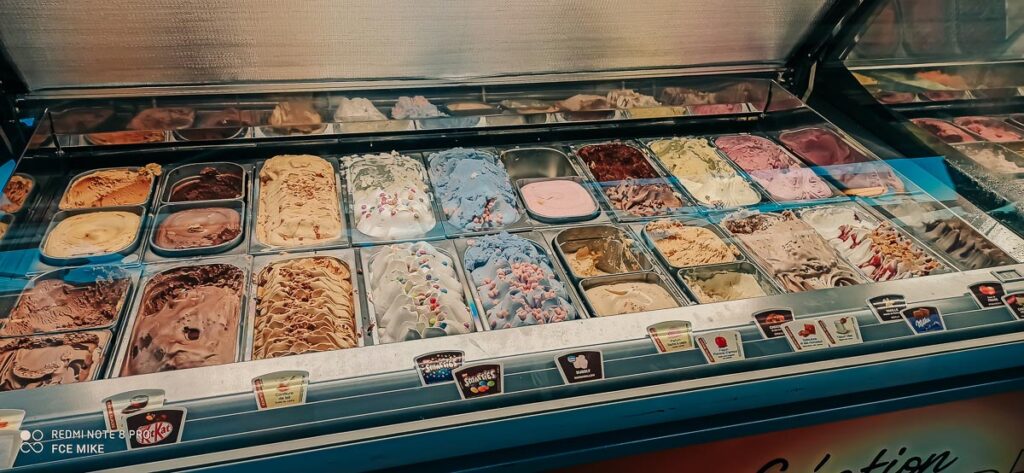 We didn't try the Pizzeria during our stay but had we been there longer we definitely would have. It seemed really popular, and we saw quite a few queues of people there. On the floor, social distancing measures have been marked out to ensure that queues can be made appropriately. 
I tend to base my view of Pizza prices on a Margherita, and if it's under €10, then it's a good price. If it's under €8, it's a great price, but anything above €10 is too much. Here, the pizza only just got into my good price category at €9.50
Another great thing about the Pizzeria is that you can order it over the phone and have delivered directly to your emplacement.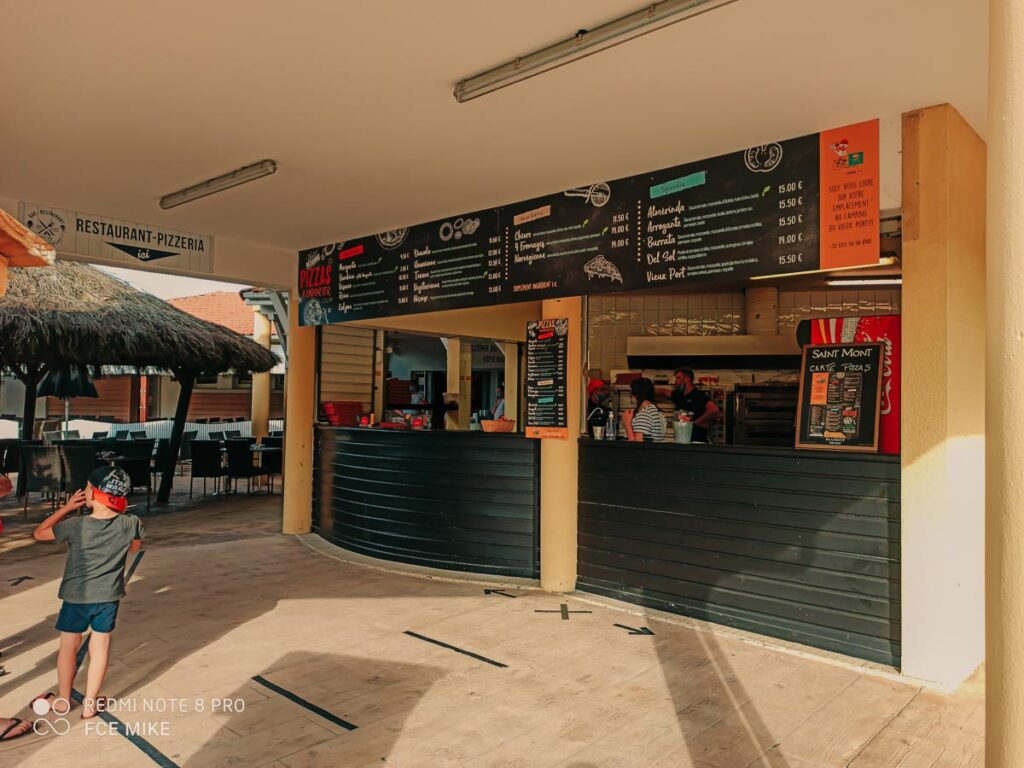 The pool snack bar is situated in the aquatic centre of the park and has a range of hot and cold refreshments. Things like Ice creams, coffee, beer, panini, salads, hot dogs, etc., you can get it all at the pool snack bar. It's a great location for people watching as well as monitoring your children whilst relaxing with an ice-cream or 2…(ok, yeah I mean a glass of wine or 2). The atmosphere was nice, and although it was quite empty when we went, I have heard it can get hectic in high season. 
With the new social distancing measures, we noticed there were circulation arrows on the floor to ensure customers weren't walking into each other's paths.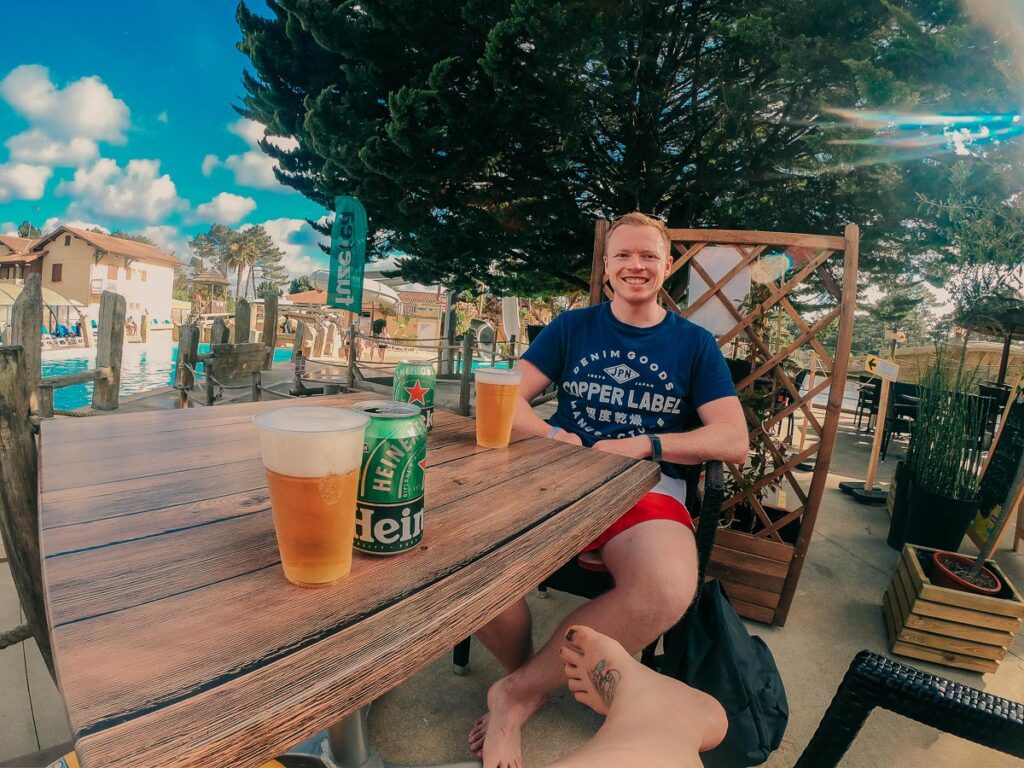 At the entrance to the arena, security guards scan your bracelet to let you in, and there is alcohol gel at the entrance. The Arena is a large, well, arena and it has its own bar and restaurant area. Every night L'Arena has themed food nights ranging from Moules et Frites to Paellas and bbqs. There is also an A La Carte MENU.
The Arena is where the nightly shows are held as well as the welcome meeting every Wednesday and Sunday in high season. There's a 2,800 person capacity, and it's the 10th largest venue in the whole Nouvelle Aquitaine region. I also read somewhere that L'Arena is actually the building they use to evacuate the site incase of a cyclone.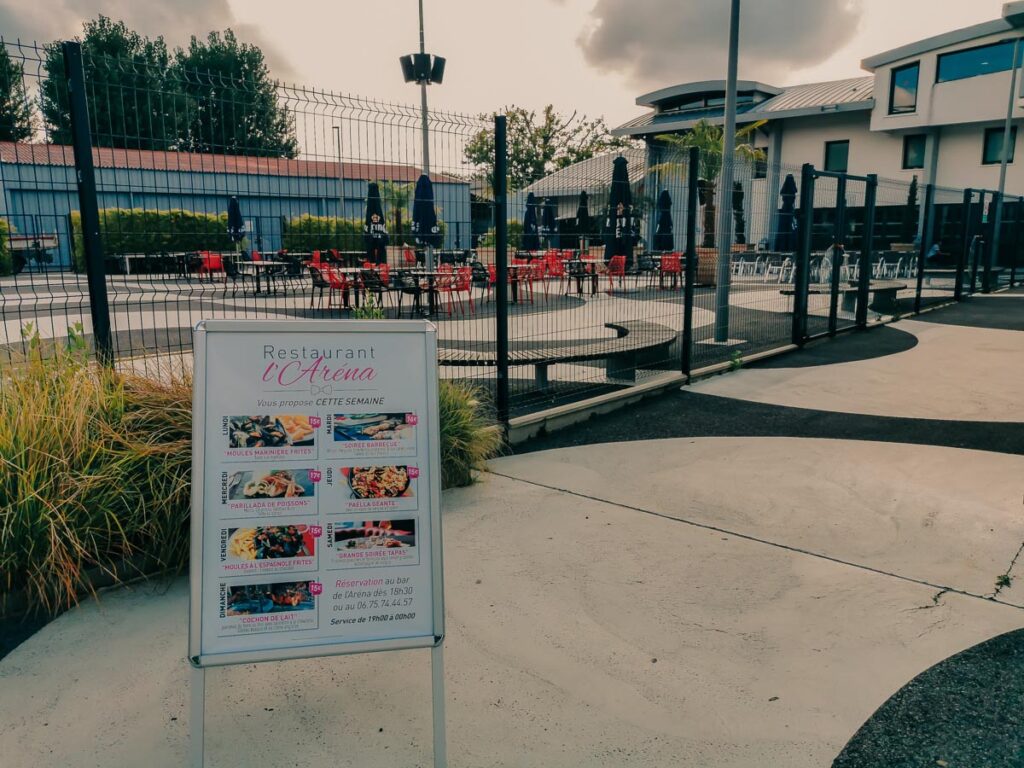 As well as the supermarket Camping le Vieux Port also has 2 seperate gift shops and a swimwear shop.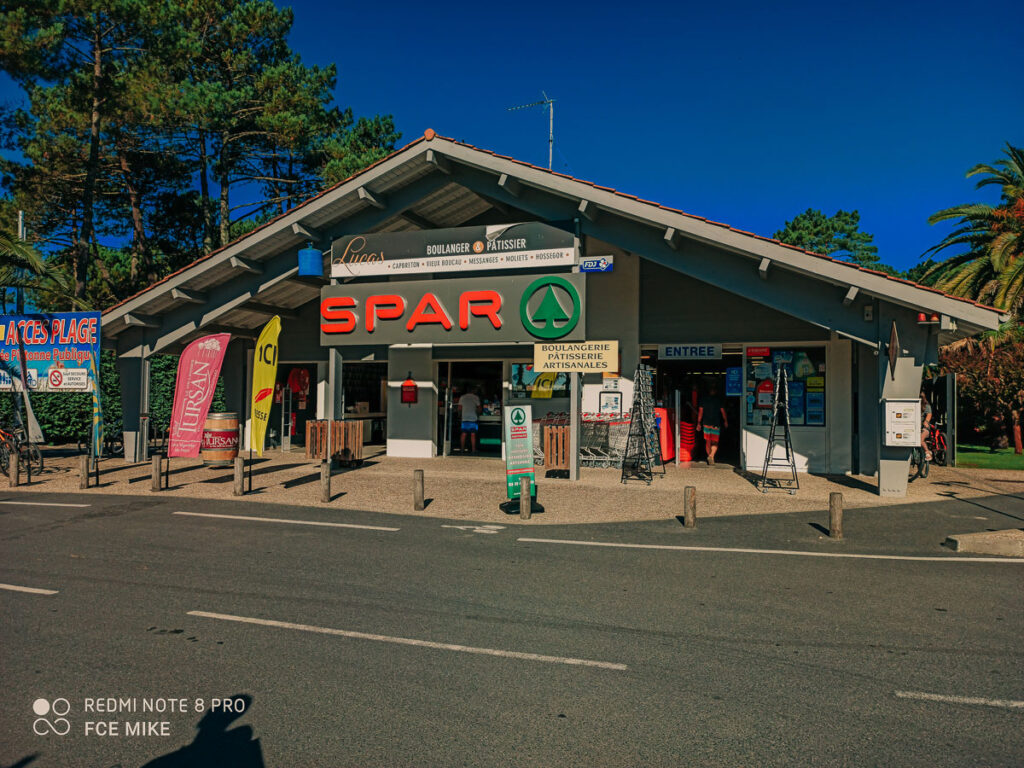 The on-site supermarket is a Spar. It's a large size and has a massive freshly cooked bakery section. It has everything you could want during your stay, and we never needed to go to the main supermarkets. It is, like most campsite shops, more costly than normal supermarkets. If you'd rather, there was a large Super U less than a 15-minute walk away.
 My only complaint is that, although it's a large shop, on a campsite with lots of guests, they didn't seem to have enough staff for peak times. During the morning rush, the bakery queue and checkout queues actually wrapped around the whole back end of the shop. And that's when the campsite is hardly even full! Apparently, you can order online, but I didn't try it out. I was worried I'd go through the process and not be able to book the same day spot and have wasted all my time.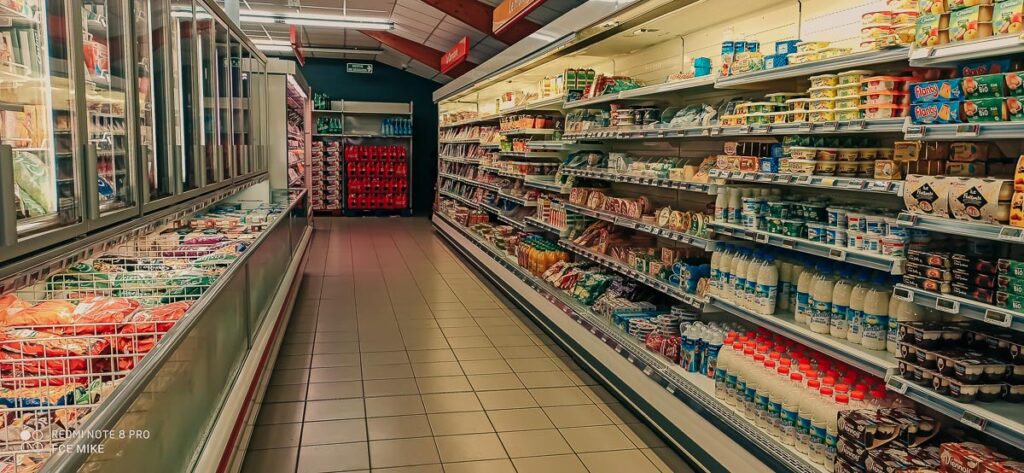 We didn't use this shop, but we did have a look in. There was a wide range of swimsuits, bikinis, shorts and other swimwear as well as beach clothes, bags, hats and sunglasses. I'm not sure what the opening times are, but the shop was still open when we went at 9:50pm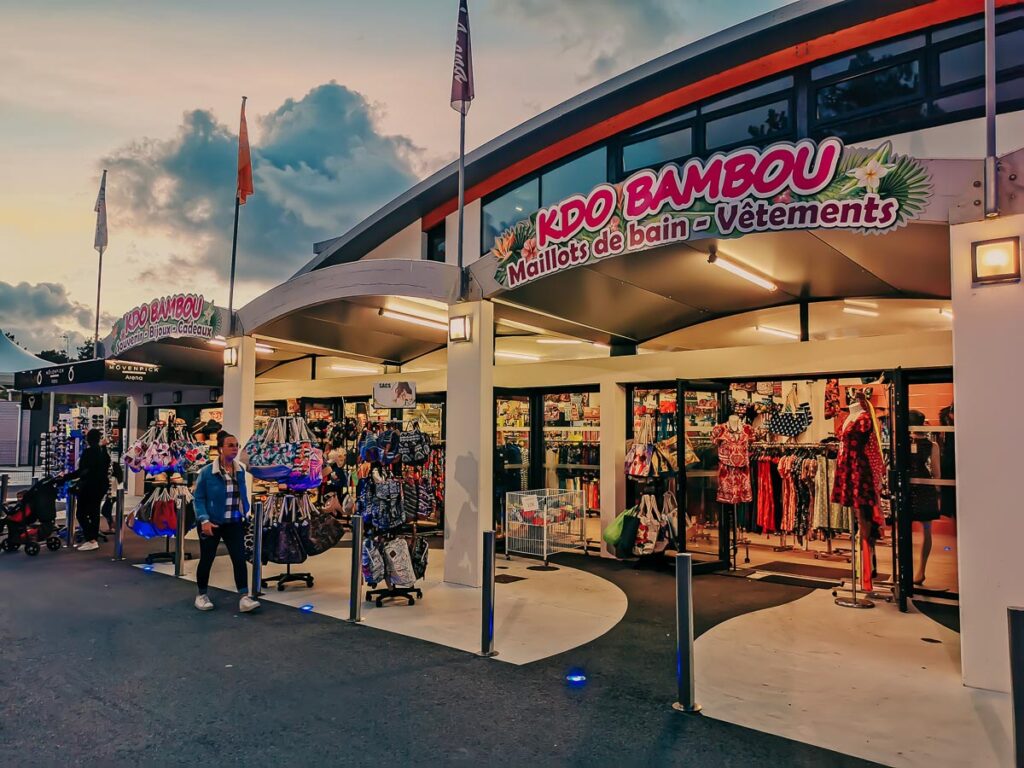 This shop sold everything you could want on a beach/pool holiday. Inflatables, rubber rings, fishing nets, shoes, balls, bucket & spades, skimboards and more. Mike bought a bodyboard and board wax from the shop. He said that the man in there was really knowledgeable and helped him make the correct purchase. The prices aren't bad, either. For the same bodyboard Mike bought, he looked online, and it would have cost him over €10extra! The Bazar opening times in low season are 10:00-18:00 and high season 9:30-midnight.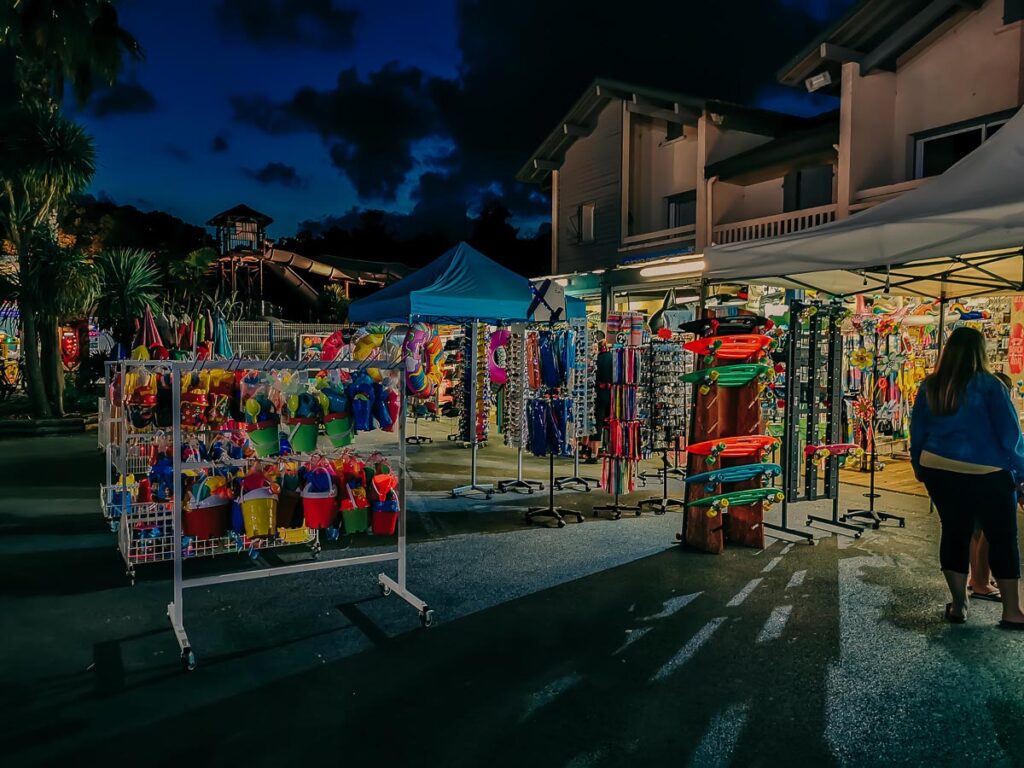 As much as I would have loved to, I didn't get a chance to use the spa facilities, but I did manage to grab a price brochure. For Campsite customers wanting to access the spa, it costs €18 and for outsiders €20. Included in that price, there is access to Hammam, Sauna, Whirlpool bath, Shower experience and Ice fountain. 
The spa also offers a range of massages/treatments ranging from 30 minutes to 120 minutes long. A 30-minute relaxing massage will set you back €45, a 60-minute relaxing massage is €75, and 90-minute is €105.
There are loads of other options available and to find the price of nails and hair removal you have to contact them directly. To contact them you can email spa-levieuxport@comspa.fr or call them on 05.58.47.67.50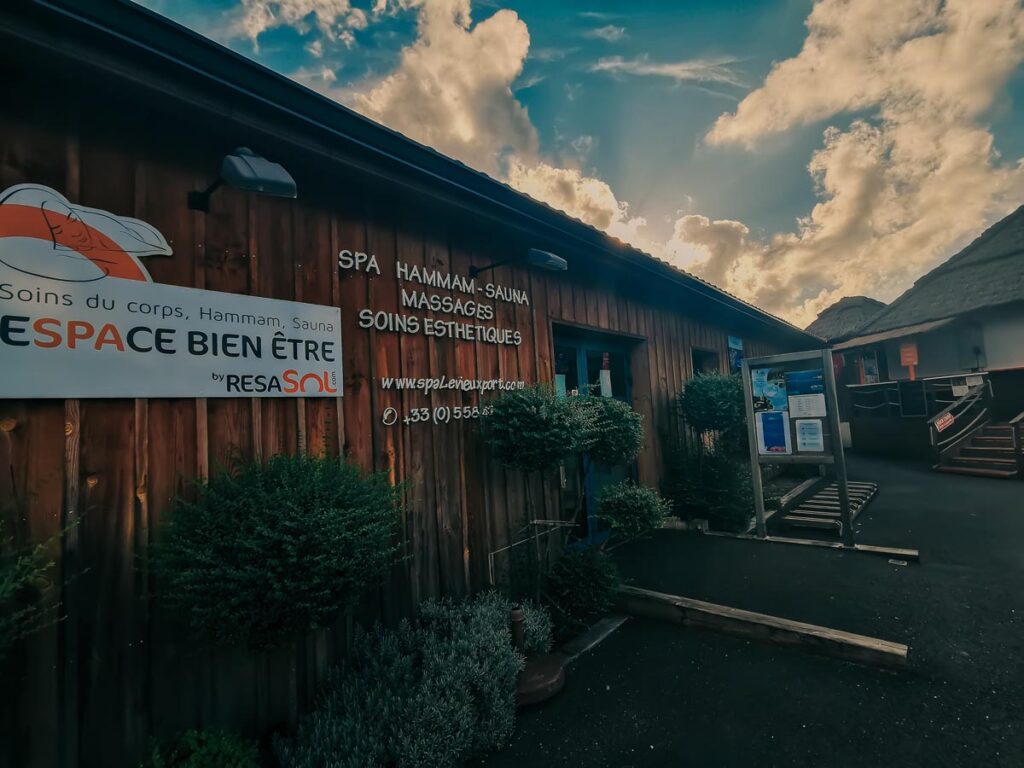 Wireless internet is available throughout the campsite, and if you have booked directly with Resasol, you will get a package with 1 device for free. If you have booked through a tour operator or want to add another device the costs are 
1 day = €9
3 days = €19
1 week = €25
2 weeks = €35
Family Pack (wifi for 3 additional devices) 
3days = €32
1 week = €43
2 weeks = €60
We didn't actually use the wifi during our stay as there was more than enough 4g signal around the site. 
Cycling is one of the most popular active family activities on a camping holiday. But if you've not packed your bikes, there's no need to worry. Camping le Vieux Port, like most of the large campsites we've visited, have a bike hire service on-site. Open Monday to Sunday 10am-1pm and 3pm until 6.30pm, Please see below photo for pricings.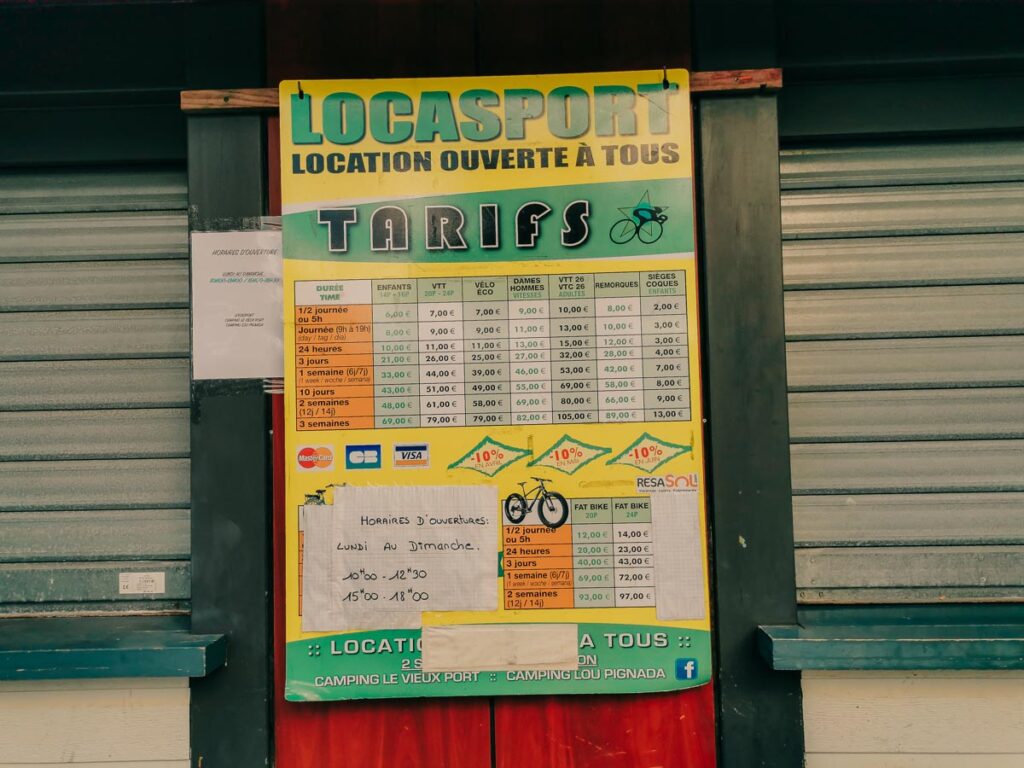 Because the campsite is set in an Impressive pine forest, bbq's on your pitch are banned. However, there are a few communal bbq areas set in safe locations. In fact, I counted over 23 communal bbq sites. So if you want an authentic charcoal bbq, then you're free to use them. On our pitch, and many of the campsites own accommodations, we were provided with a plancha grill.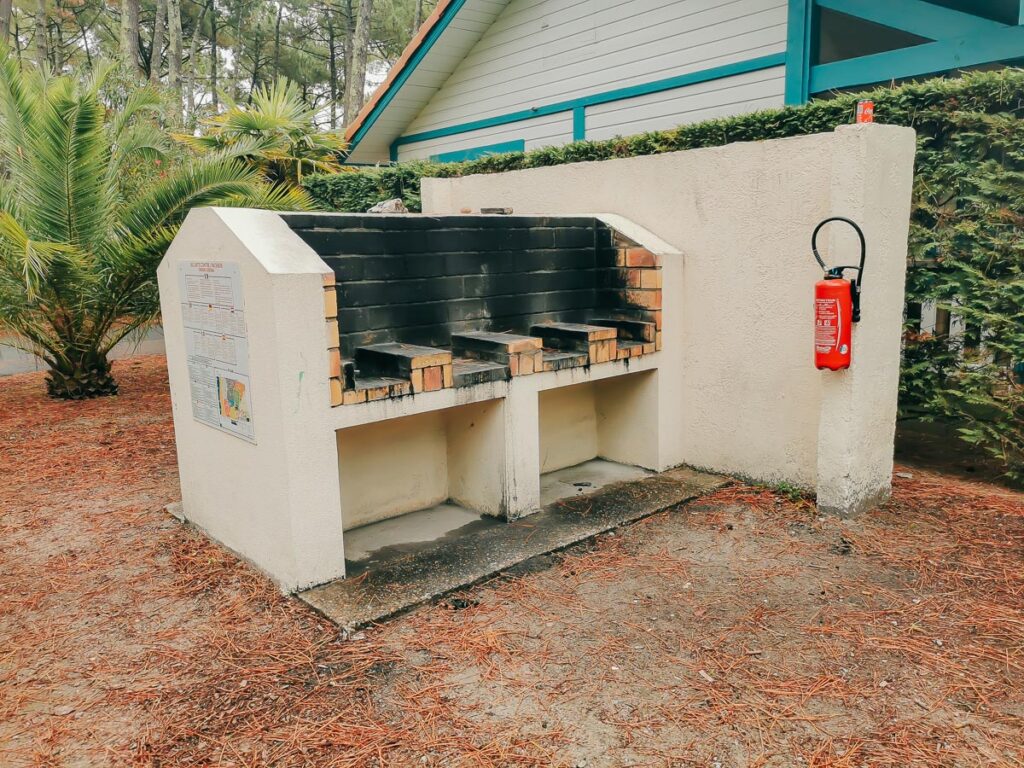 Kinesitherapeute/Osteopath
Camping le Vieux Port has their own Kinesitherapeute/Osteopath who visits and is available through booking only. If you need to see an Osteo or Kinesitherapist while you are staying, then you can contact M.Stephane Ladoucette on 06.13.20.82.55. His leaflet suggests that he speaks both English, French and Spanish. Do remember, however, that you will now be required to wear a mask throughout your treatment.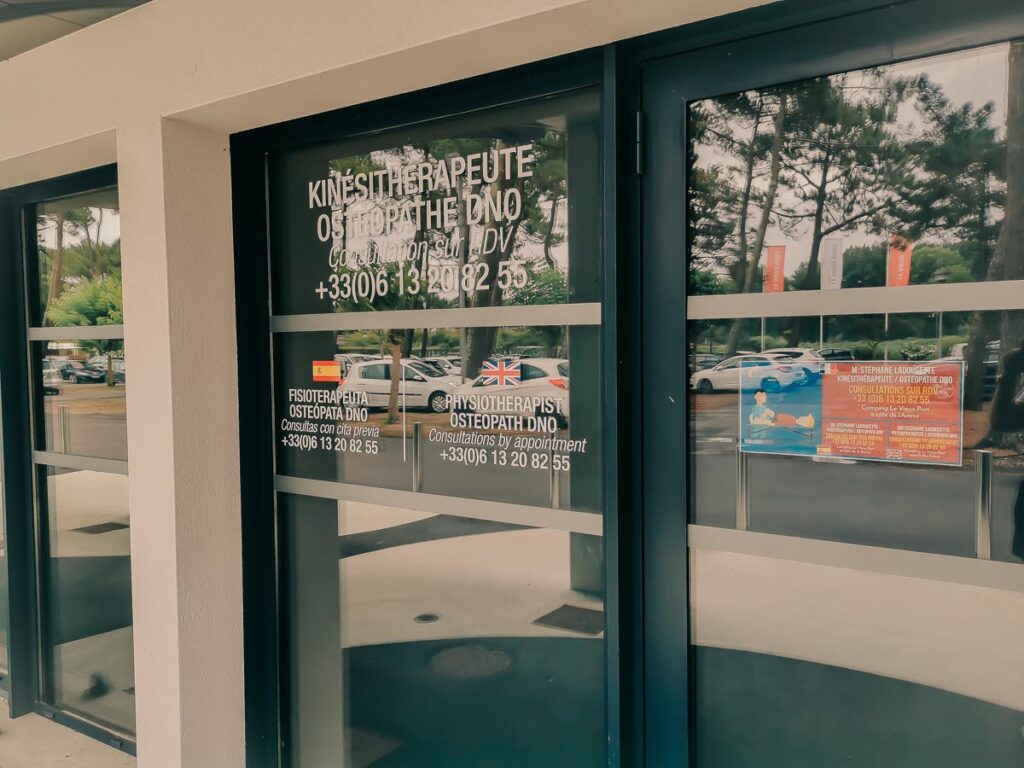 Camping le Vieux Port is a pet-friendly campsite. However, animals are not allowed in any Resasol accommodations. If you are booking with a tour operator, then check their rules regarding bringing pets as you may have to book a particular accommodation and pay a supplement. Animals are allowed on camping emplacements. There is even a special shower outside one of the toilet blocks for showering down dirty animals.
The shower blocks here at Camping le Vieux port have such a fashionable design. I can't tell you what they are like to use, because we had accommodation, but the design and layout seemed really well produced.
My photo doesn't do it justice, but the shower blocks we went in had trees in the middle and were partially open air. They also have the facilities for the whole family with cubicles for babies and even dog cubicles.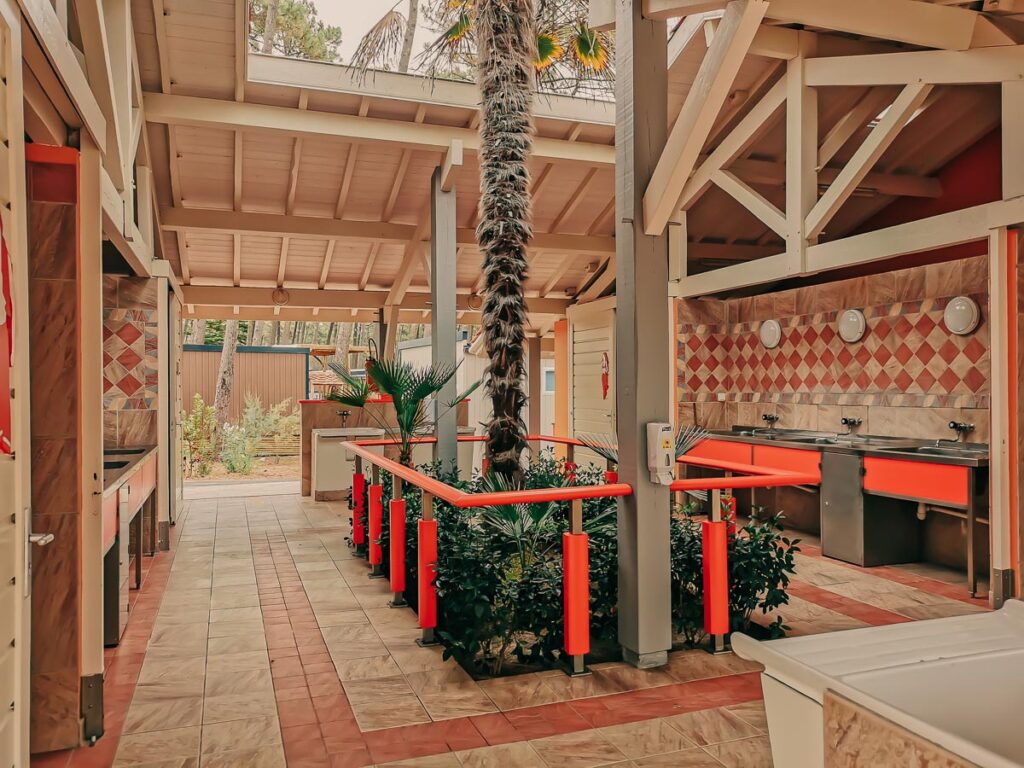 The campsite has a few laundry centres dotted around the site, and they're usually teamed together with the fridge box hire. The fridge box hire is such a cool idea that I've never seen elsewhere. Basically, you hire a locked box inside a big fridge, almost like a refrigerated locker. It's a great idea for campers, especially those without electricity on their pitch.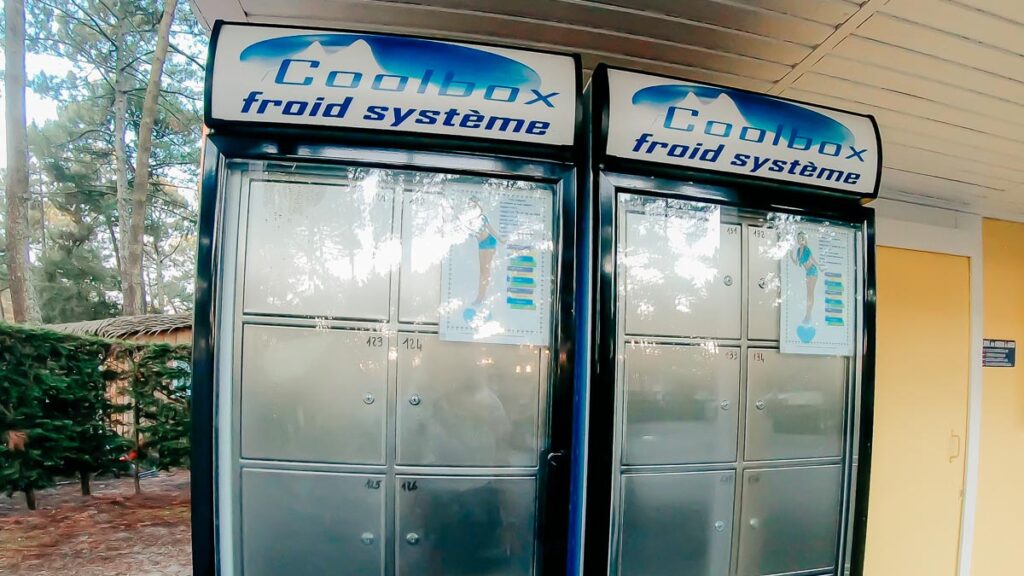 The site is mostly flat; however, there are definitely some hilly sections. Our accommodation in the premium area was up a small hill, and the sand dune to the beach would also be very difficult for wheelchair users. So, whilst the campsite is "ok" for wheelchair users, I would say that you probably wouldn't be able to get the most out of it that you could elsewhere.
I didn't venture far enough across the campsite to find the equestrian centre. However, it is fairly close to the Tennis and table tennis courts. So, if you want to horse ride through the beautiful Landes forests, or the stunning beach, then here's where you do it from. They even have their own Facebook page with 5* reviews. You can contact them directly via the Facebook page below. https://www.facebook.com/pg/centreequestreVieuxPort/
We're not going to get into a debate on whether it's right/wrong or whether we agree with it or don't. Still, in the interest of giving the information, I should let you know about it. Every Monday and Friday there is a Comico-bullfighting show at the campsite from 9pm Tickets cost = Adult: € 13, Under 10: € 7 and Under 3: free.
Statement on the Resasol App says, *" Important: Our animals are naturally playful and do not surfer any mistreatment."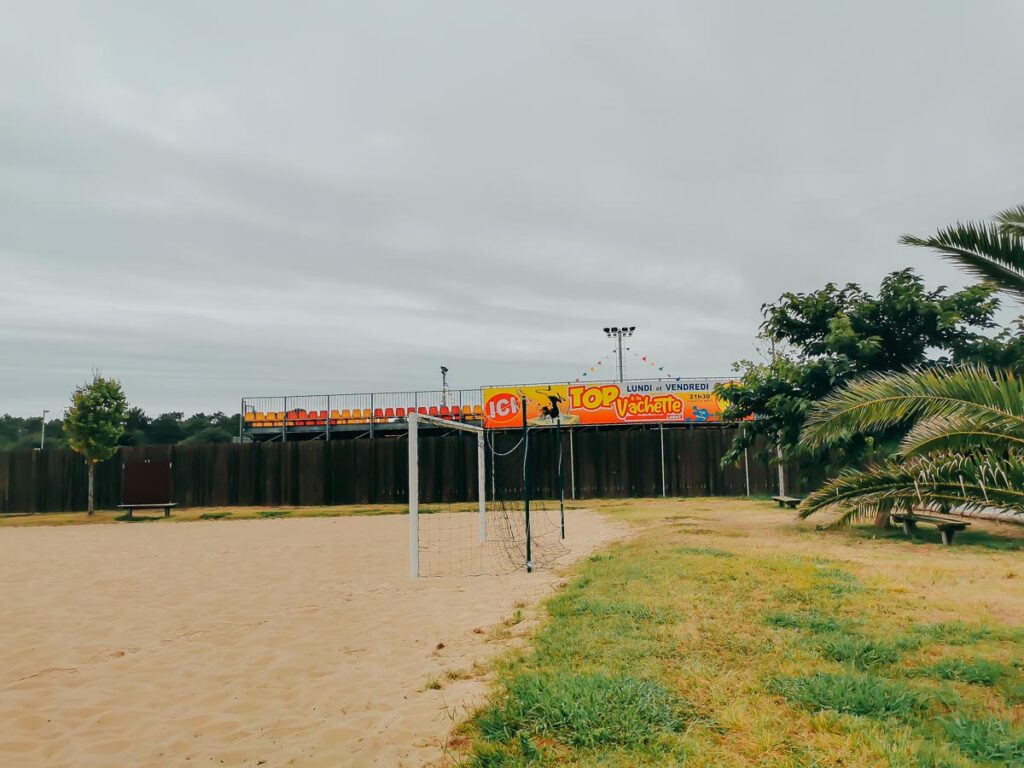 Close to the entrance of the campsite is the car wash area. This isn't just a hose and go for it kinda wash, but a full blown car wash. There's even a hoover for cleaning out the inside.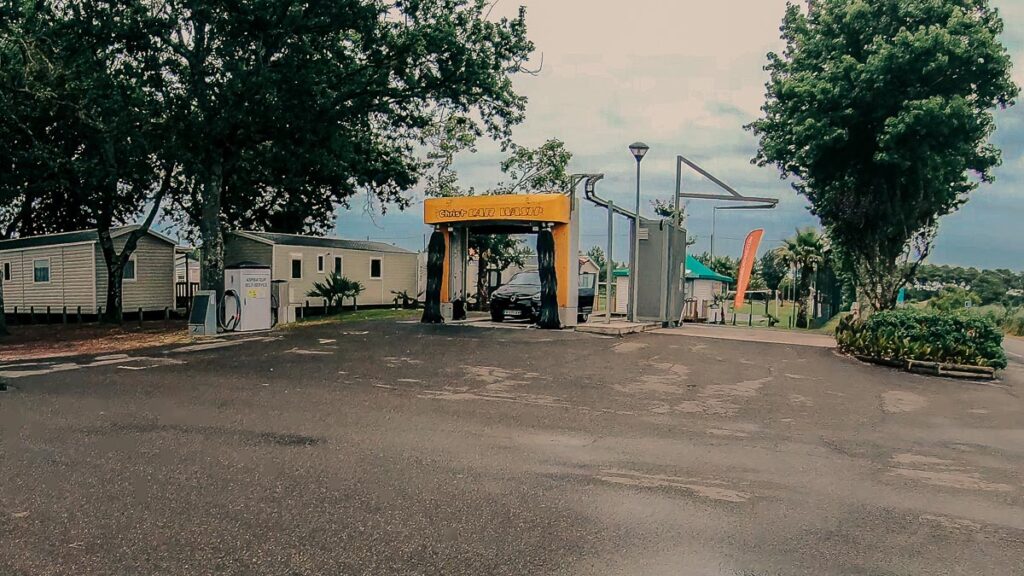 Accommodation at Camping le vieux port
Before arriving, I had seen many, many complaints, especially from tour operator customers with regards to the spacing between mobile homes, and it's definitely a problem here. Some mobile homes are that tightly squeezed together; you can get a real close look at your neighbour's lunch.
Even in our premium zone, what we thought would be a private, enclosed pitch emplacement, we were overlooked by many of the neighbouring mobile homes who could also use our emplacement as a walkway. 
So, no matter who you book with, I think it's one of those things you really need to think about and consider. To be honest, many campsites these days have smaller pitches than they used to. The only one (that we've been to) I recommend fully for the large pitch sizes available on virtually every mobile home is Camping La Croix du Vieux Pont.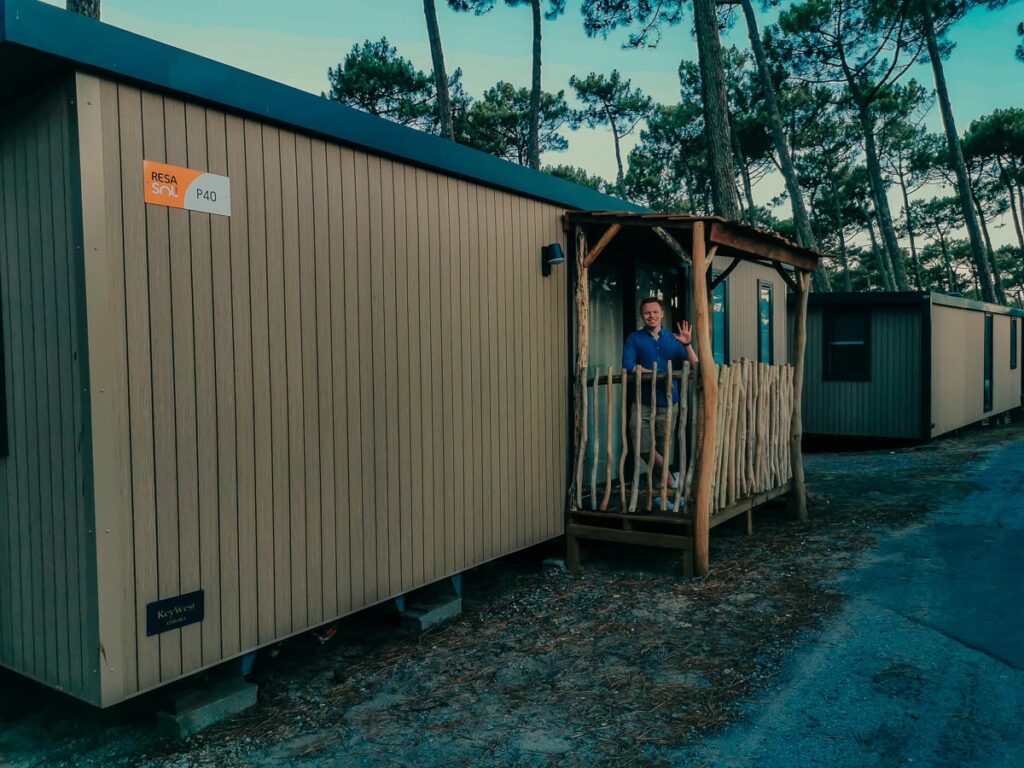 At the end of the day, most families spend their holidays outdoors and not inside their mobile home. They visit the beaches, pools and local towns. So you really have to weigh up your priorities? Is having all that outdoor space a priority? Then maybe this campsite isn't best for you.
Should I Book Direct Through the Campsite or Through and Operator?
We booked through the campsite themselves, but due to the service we received and the issues with our accommodation, I think we would be certainly more likely next time to book through a tour operator.
The reason we booked through the campsite originally was because we wanted to try out their luxury mobile home with a hot tub. However, after having problems with it, we would probably just go for a standard mobile home next time. Price-wise, I think the tour operators work out better. Service-wise, I'd also say the tour operators are better. The only thing Resasol is better for is their wide range of accommodations.
There are lots of different operators to choose from here too. There's, of course, the usual, Canvas Holidays/Tohapi and Eurocamp Holidays. However, there were also a few that I'd never even heard of before like, Koko holidays and Palmiers ocean.
But whoever you book through, there's usually deals to be had. Keep an eye on Camping Le Vieux Ports Facebook page for discount codes and offers (if you want to book direct) as well as the Eurocamp website, canvas website and any of the other operators below.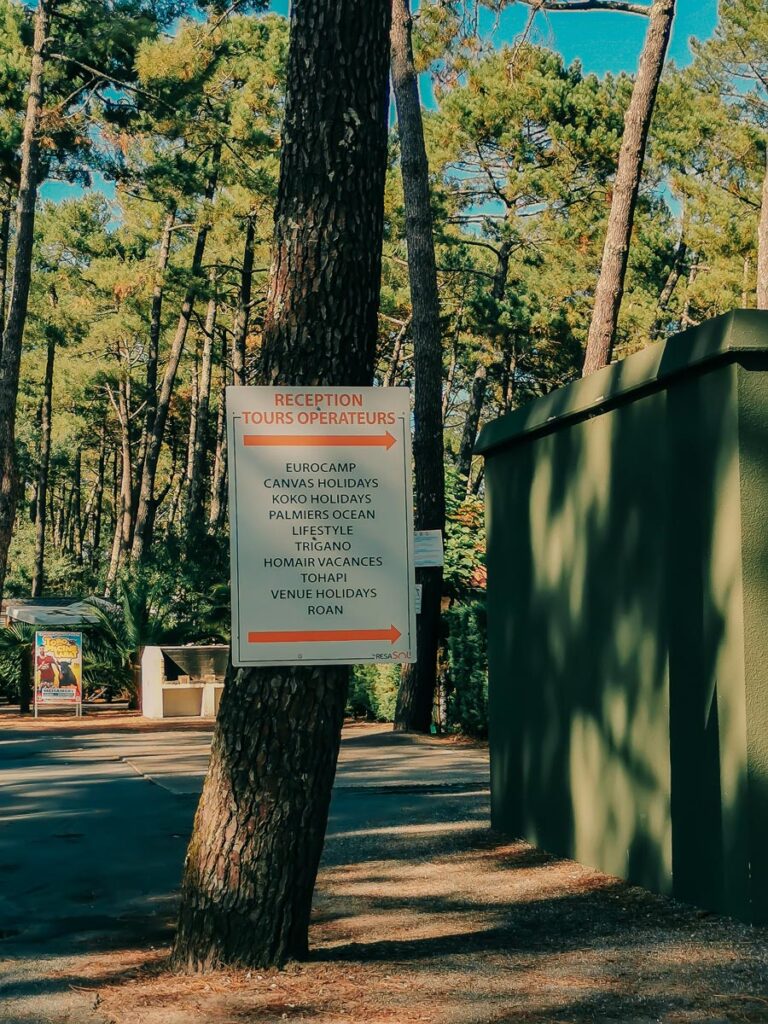 Do You Need a Car to Get Round?
For once, I'm going to say no. Of course, if you want to explore the wider area then absolutely but the campsite has so much going on that for a short break, you probably don't need a car.
There's a nice town nearby called Vieux Boucau, and there's a lake there. The beach is basically on the campsite, the local supermarket is a short walk away, and the pools are enough to keep most families busy.
However, there is then the question of how do you get to the campsite without a car. Some airports offer transfers at better prices than taxis. Otherwise, sun transfers are a very commonly discussed airport transfer company.
How to get to The Campsite
Your nearest airport is Biarritz at just 57km. Still, many people fly into Bordeaux as there can be more regular budget flights from the UK. 
Driving wise the recommended port is Bilbao (208km away) however this route can work out very expensive. If you're happy to drive the long journey St Malo is around a 7 hours drive away whilst Le Havre is 8 hours away.
If you are planning to fly and want to do lots of exploring then yeah, hire a car. But, if you're planning to relax on the campsite and not travel around that much, perhaps looking at airport transfers would be your best option. 
Closest is Bilbao at 208km away.
Address:
850 Route de la Plage S, 40660 Messanges
GPS Coordinates: 
43.797962, -1.400808
Day Trips from Camping le Vieux Port
Whilst the campsite is great for activities, some of us want to explore the wider area. If you're more of an explore than a beach bum, then these are some of the best places and days out from camping le Vieux Port
The closest town with lots of cafes, bars, restaurants and shops. The local man-made lake here is excellent for water sporting as well as fishing, swimming and walking. Or, if you'd prefer, you could just chill on the beach area and soak up the atmosphere.
This coastal resort in Spain really isn't that far if you fancy crossing the border. It may be a small city, but it is one of the most famous tourist destinations in Spain. Thanks to its dynamic cultural scene, you'll find plenty of events to coincide with your holiday. 
Located on the France/Spain border Col D'Ibardin is the perfect place to stock up on wine, beer, tobacco and other necessities at great prices. There's also some spectacular views over France and Spain.
The local surf school located at the beach in Messanges is perfect for those families who want to spend an active holiday perfecting new skills.
CapBreton, Hossegor and Seignosse
I promise you this area will be our future home. We actually stayed in Seignosse just after our trip to VP as we loved it so much. Hossegor has a cool surfer vibe, Capbreton is slightly more touristy and Seignosse is a little more residential. The area has beaches, lakes and even forests to explore as well as some amazing cafes and restaurants.
The St Tropez of the west coast. Biarritz is famous for its glitz, its glamour and its big waves. If you're there for a day, check out the Cité de l'Océan et du Surf.
Frequently Asked Questions
Are the mobiles close together?
Yep, yep and yep. Of course you might be a lucky one, but lots of the accommodations here are on top of eachother.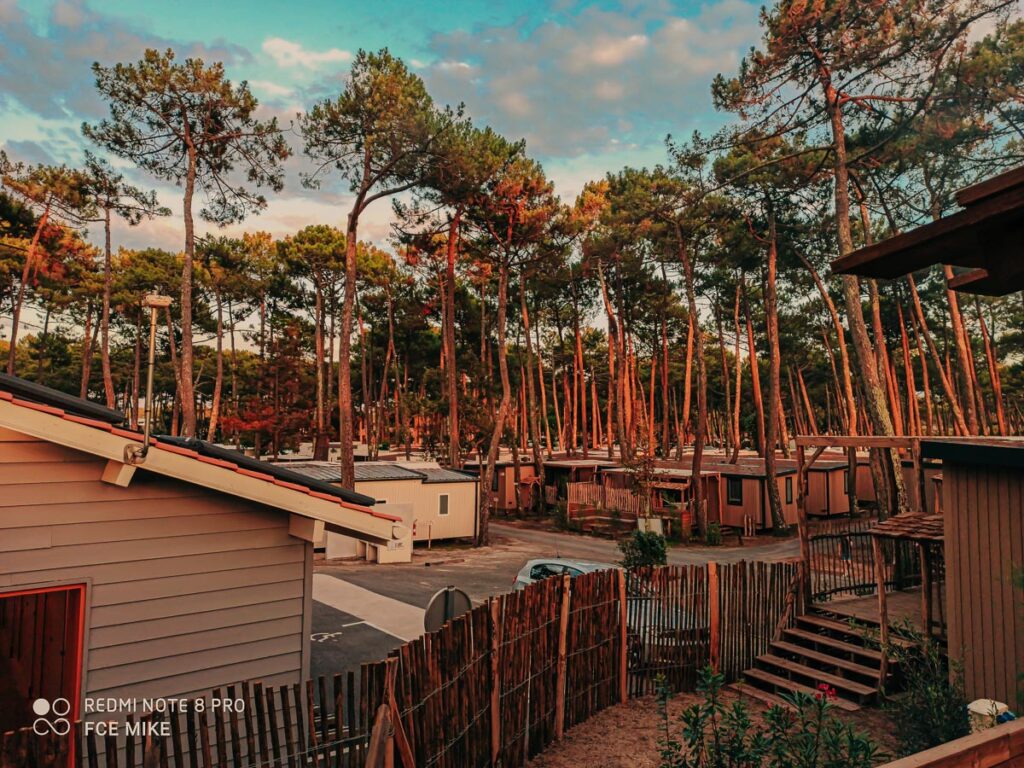 Mostly, but there are a few inclines and the route to the beach is definitely a big incline.
Are there mosquitos at Camping la Rive?
I actually can't believe it but I didn't see a single flying bug let alone a mosquito throughout our whole stay!
Is it easy to get a sunbed around the pool?
We had no problems getting one and that's with an apparently reduced amount out. However, there was also a reduced amount of customers. I couldn't advise on a "normal" high season pool area, but I personally think the pool area has lots of space.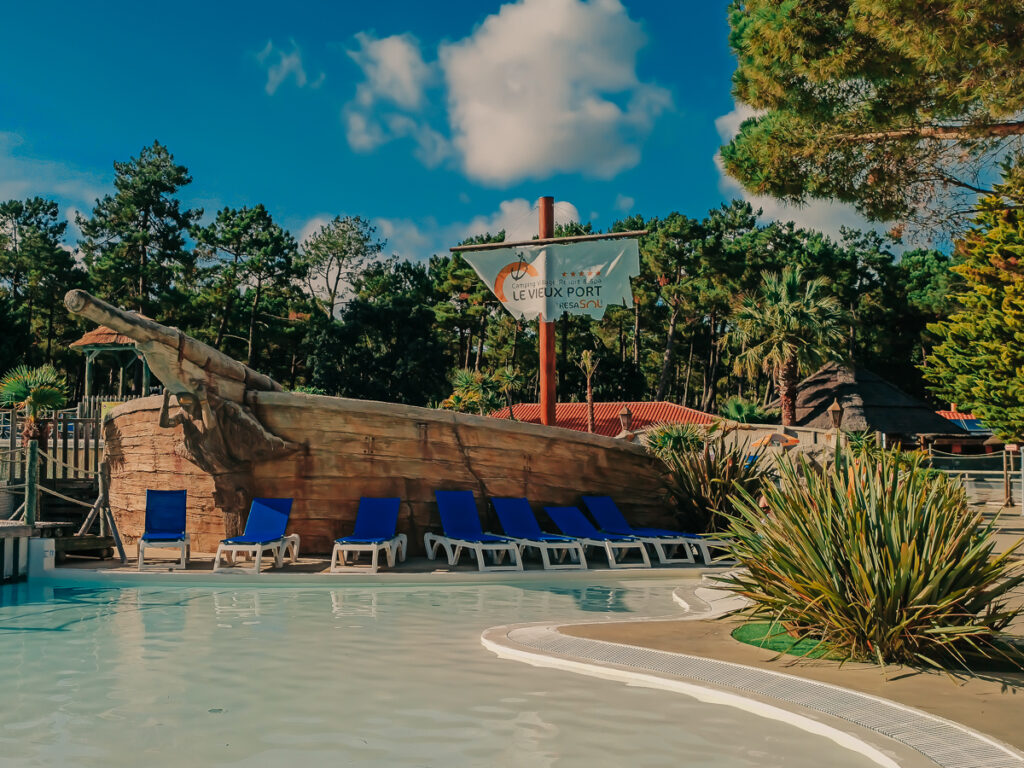 Do you need to wear a wristband?
Yes and it will have a barcode on it that can be scanned at the pool area and L'Arena. If you are in a premium accommodation unit you will have a chip in your wristband that controls the keyless locking/unlocking of your mobile home and can also be scanned at pool/Arena
Do men have to wear swim trunks?
Yep! Tiny pants are in…The life guards are pretty strict when it comes to the speedo rule so make sure you've got your budgies or your jammers packed.
There are communal bbqs on site but not at your accommodation. You might, however, be provided with a Plancha grill like we were.
Is the beach sandy enough to do sandcastles and play, or is it more shingle?
Yes it's really sandy and perfect for digging moats and building sand castles.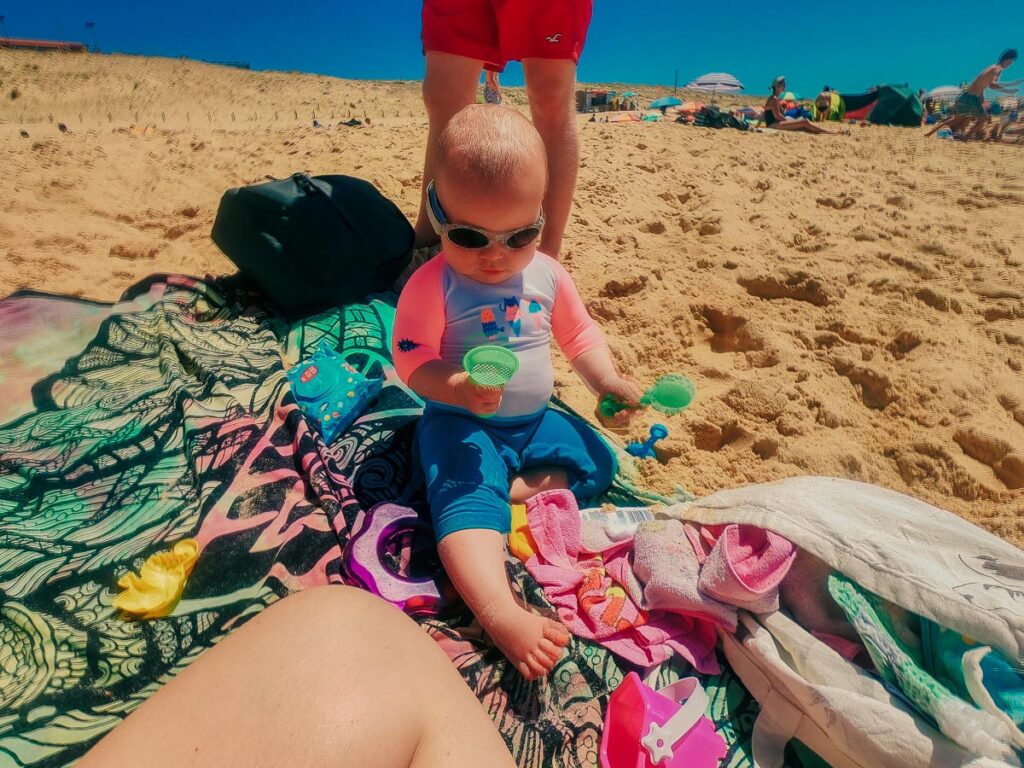 Can you use inflatables at the pool?
I didn't see any being used so I would assume no. I would also advise people not to use inflatables at the beach as the sea has huge waves that drag you back in. One would assume the life guards wouldn't let you in.
What's the weather like in Spring/Summer?
Incredible! The Atlantic coast is known for having quite temperamental weather but in general Spring/Summer is pretty decent with average temperatures of:
April: 18° / 7°

May: 21° / 11°

June: 25° / 14°

July: 27° / 16°

August: 27° / 16°
September: 25° / 13°
Where can you watch the sunset?
The sun sets at the beach so it's the perfect space to watch it go down. Or you can watch it sink over the dunes, lovely wherever you watch it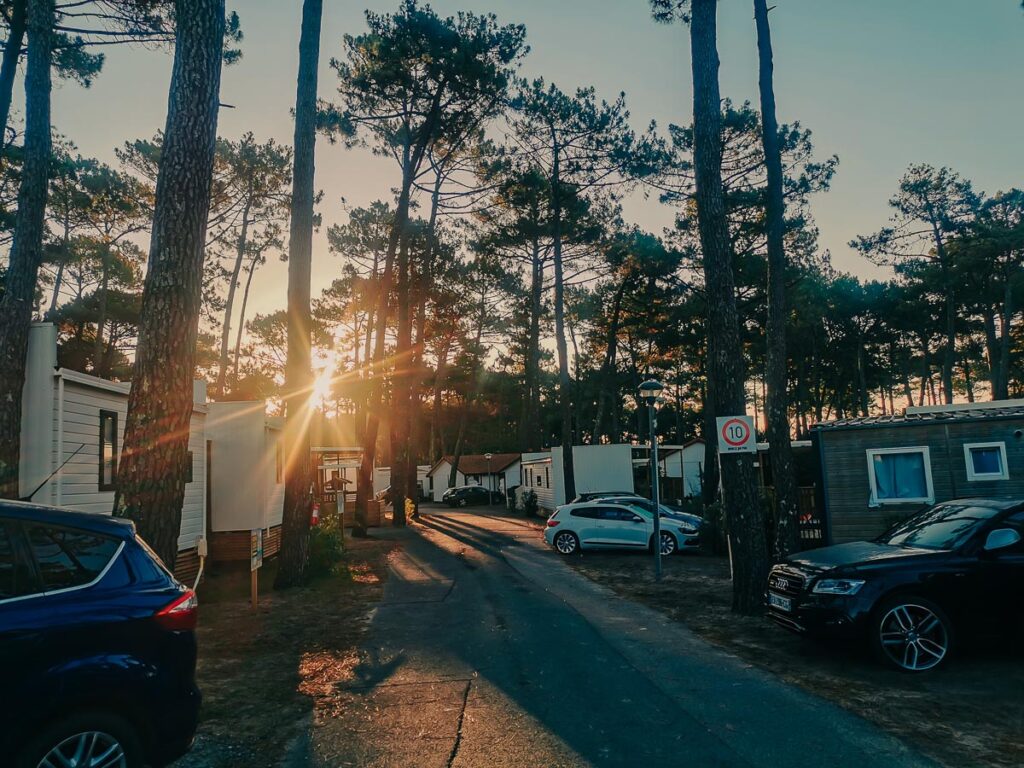 Can you park on your pitch/Emplacement?
Our emplacement didn't have parking on it so we had to park elsewhere and walk to our accommodation. Definitely frustrating when you have a baby, but we coped and we could see the car from our mobile home. But be prepared that not all accommodations do have parking.
Can you take pets on the campsite?
Yes, but only on camping emplacements and tour operator mobiles that allow it. Animals are not allowed in campsite owned mobile homes.
Where's the nearest supermarket?
Not far away at all. There is a large Spar supermarket on the campsite but there is a (much cheaper) Super U just a 15 minute walk away. Just go straight out the campsite and when you get to the roundabout it's in front of you.
Is It Loud In The Evenings?
We couldn't hear anything from our accommodation even though entertainment runs until past 2am sometimes. L'Arena is very soundproof so it shouldn't be a problem.
What Can We Do If It Rains?
There is a small indoor pool area but I don't think it would be large enough to hold that many people. To be honest most of the activities on site and in the area are all outdoor sports activities so you may struggle with rain. However, board games, cards and standard family games are a great way to have fun on holiday.
Can I Use My Transferwise Card On SIte?
Yes and there is an ATM on the campsite too. Post COVID19 Crisis most people/places welcome the use of cards over cash.
Review Conclusion and Summary of Stay
In general, we had a great holiday here, and the campsite itself was amazing. Still, we have left feeling a little disappointed with the customer service experience.
One of our favourite things about the campsite/beach was the cleanliness. Every morning at about 8AM we saw staff litter picking the campsite and at the beach the tractors were out cleaning the sand. It was great to walk around such a big site and for it to look clean and tidy all the time.
We loved the choice of drink and food options on-site and enjoyed spending time at the pool. But mostly, we really enjoyed spending time at the beach. Mike spent hours out on the bodyboard whilst baby and me made sandcastles…well, I made sandcastles, she tried to eat them…
But definitely, the beach is the campsites greatest perk.
Another thing we enjoyed about the holiday was our trip to Vieux-Boucau. It's a lovely town that really comes alive in Summer. So much so that the population over winter is less than 2000 people but in Summer can be over 15,000. There are loads of restaurants there to try as well as a man-made lake with beach, watersports and lovely walks around it.
If you're trying to google map your way to Vieux Boucau from the campsite and it tells you it's over 30minutes – It's wrong! Ours sent us in completely the wrong direction. On the way home, I actually put the campsite next door in instead of camping le Vieux port, and it took us on an easy straight path that was just 20 minutes back.
Our stay was in the middle of July, a time when most campsites would be full/filling up but, thanks to Covid19 Le Vieux Port was unbelievably quiet. They were definitely on a lower capacity than normal, and lots of the units were empty. However, being such a big site, there was still so much atmosphere. The bar was still full, and the evening entertainment had lots of viewers and participants.
The staff on-site, especially the animation team, bar and tapas team, were amazing. So friendly and welcoming and when the baby is a little older, I know she will love the kids club there.
One thing I found really bizarre but actually such a great idea was the welcome meeting that the campsite runs on a Sunday and Wednesday in high season. It's held in the Arena, and it's a really great way of finding out information on all the activities available. They can do the meeting in French, English and Spanish and it's also a good way to meet the animation team.
As you can see, overall we had a good time and loved the on-site staff. It's just a shame that the few issues we had with our accommodation and the customer service/relations team have really let us down. Had our accommodation been up to scratch and we had not needed to deal with customer relations I'd be marking the campsite a 5. But the issues we've had have really spoiled our view of the place and in future, I definitely plan to book again, but this time through a tour operator.
If you like the waves, the beach or have teenage children, then this campsite is definitely one to consider!
Check Availability And Book Camping le Vieux Port Today
Clicking the button below will open the providers website in a new window.