Last weekend we took a family trip to one of my favourite childhood theme parks, Paultons Park. In recent years this small theme park has grown into a worldwide attraction thanks to the addition of Peppa Pig world.
At first, I was worried, after a chaotic trip to Disneyland in 2019 with young children, I wondered just how many rides would actually be suitable for our toddler. At less than 2 years old and under 90cm in height, I feared there wouldn't be a whole lot of rides she could go on – but boy was I wrong.
Paultons Park and especially Peppa pig world is IDEAL for younger children. There are plenty of rides and attractions to keep them busy for the whole day.
The inner planner in me spent the whole night before planning out exactly what rides she would be able to ride on, where these rides were and if we'd have time to do them all. I figured we would, but actually, we definitely didn't have enough time to complete the selection of rides I had listed.
In fact, if we were to go back again, especially once she has grown a bit more, I'd definitely book Paultons park and Peppa pig world tickets for more than one day.
Peppa Pig World at Paultons Park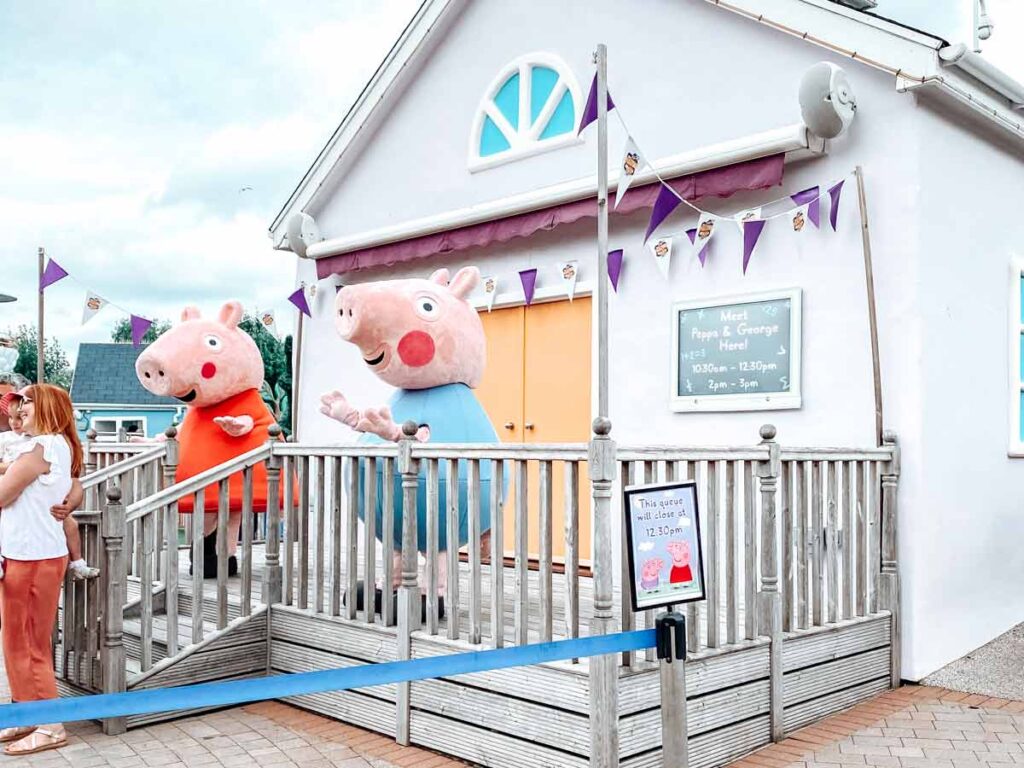 Peppa pig world was the main reason we decided to book tickets for Paultons Park. My almost 2-year-old has recently developed an obsession with pigs, mainly the spoiled bratty kind like Peppa (sorry Peppa fans, but I think we all know what a diva she is after THAT phone call with Suzy sheep).
Peppa pig world was built in 2011 and became the staple attraction of Paultons Park. Bringing in over 500,000 extra customers in the year of opening.
It's exactly what you imagine it to be. Bright colours, loud music, slow rides, people dressed up in costumes and giddy kids everywhere. It's like stepping into the real cartoon – kinda…
All of the rides in Peppa pig world are suitable for everyone, except George's dinosaur ride which has a minimum height of 85cm. Although our daughter is 86cm, this is one of the few attractions we didn't manage to ride on during the day.
Peppa pig world isn't just about the rides either. There's a muddy puddle based water splash park, perfect for those super hot days, an indoor soft play area, perfect for rainy days and an outdoor play park for all the days…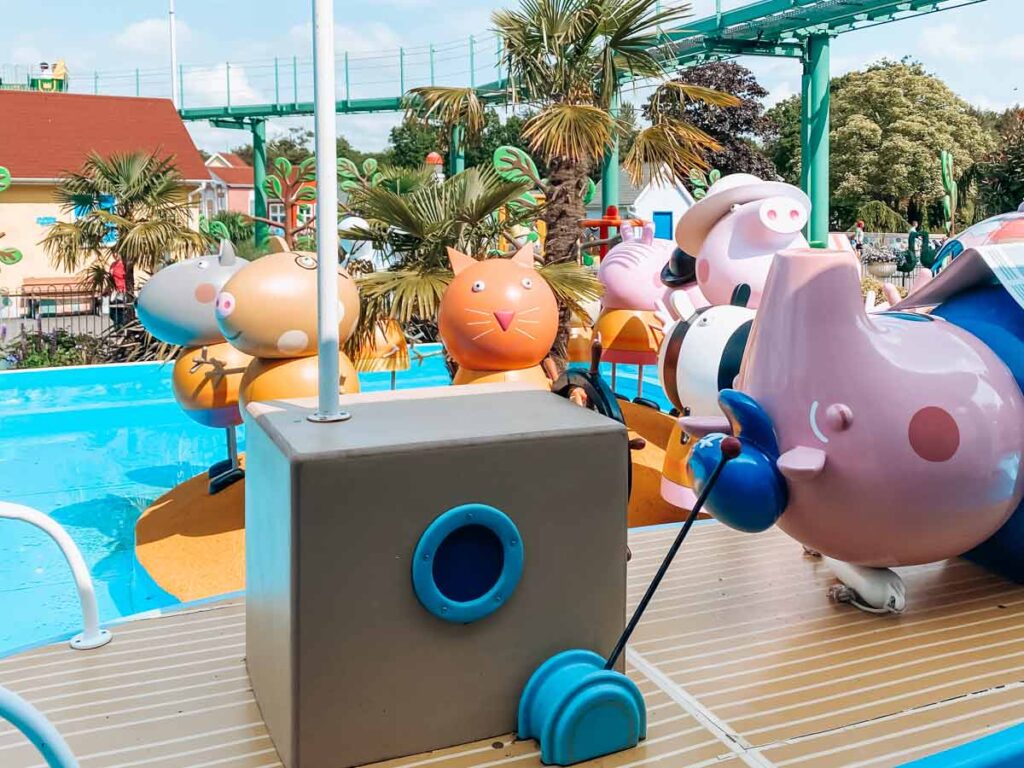 We visited on a Thursday in term time so we didn't expect many children of school age to be there. The weather had also forecast some bad storms and tickets had to be pre-booked in advance, so although our day started really nice and sunny, there weren't that many customers in the park.
That being said, I think they all had the same idea as us which was to get Peppa pig world out the way first and then head to the main Paultons park. So actually, it did end up reasonably busy. Although none of the wait times extended more than 20 minutes, dealing with a restless toddler really meant that we had to go on rides with a minimal wait time.
Therefore we downloaded the Paultons Park app and navigated our day using the real-time wait times listed on there.
If we go back again I will certainly start at the main Paultons park area and then head for Peppa Pig world at the end of the day as it was seemingly a lot quieter then. Probably because most pre-school age children have gone home for naps.
Is Peppa Pig World Separate from Paultons Park?
Nope, Peppa pig world is really just another area of Paultons Park. However, because it is such a popular attraction it has gained its own reputation of being its own theme park.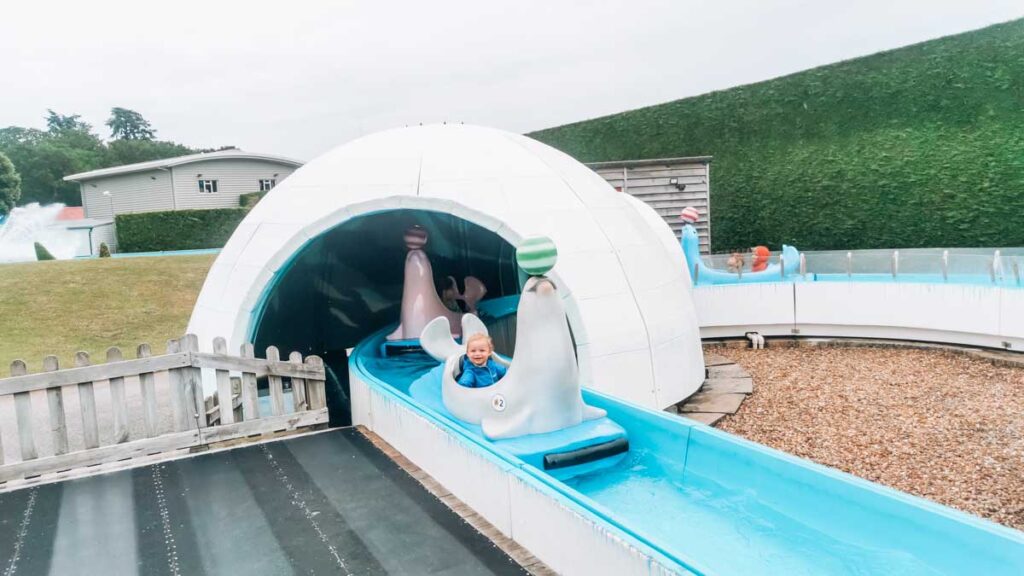 The Main Theme Park: Paultons Park
Growing up we regularly visited Paultons park as it was only a 15-minute drive from our home in the New Forest. Back then it was a small park with just a few rides, a few animals and lots of space to run wild. NOW, it's epic.
One of the best things about Paultons Park is that, although children are the main focus, Paultons Park is also amazingly fun for adults too. There are plenty of rides for the older kids and adults to seek their thrills on. This is especially exciting if you've had to hear Peppa pig music on repeat while slowly going round Grampy rabbit's sailing club for the 50th time…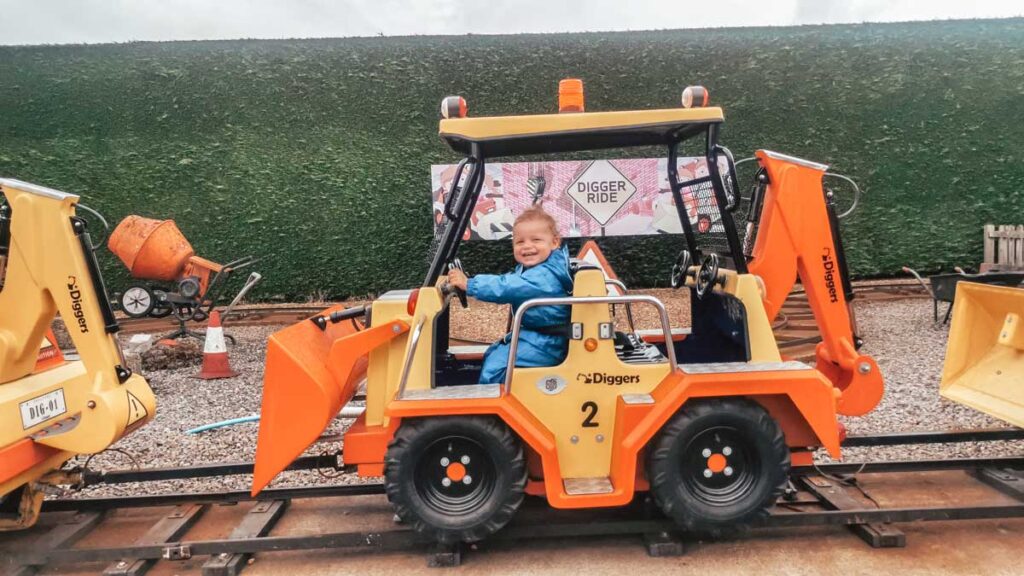 The park is split into themed worlds: Peppa Pig World, Tornado Springs, The Lost Kingdom, Critter Creek and Little Africa. Each themed world contains different rides and attractions.
As previously mentioned, Peppa pig world is the park most suitable for preschool-age children, yet there are plenty of rides situated around the other worlds which are also suitable.
Tornado Springs at Paultons Park
This area features 8 rides and attractions. It's set in an American desert town of the 1950s. The area is suitable for both children and adults. While in this area we went to Al's driving school and our toddler learnt to drive a car (with me supervising on the back of course). Al's driving school is suitable for kids with a minimum height of 80cm.
I also went on the storm chaser (sans enfant) which is an exhilarating roller coaster with a minimum height of 1m.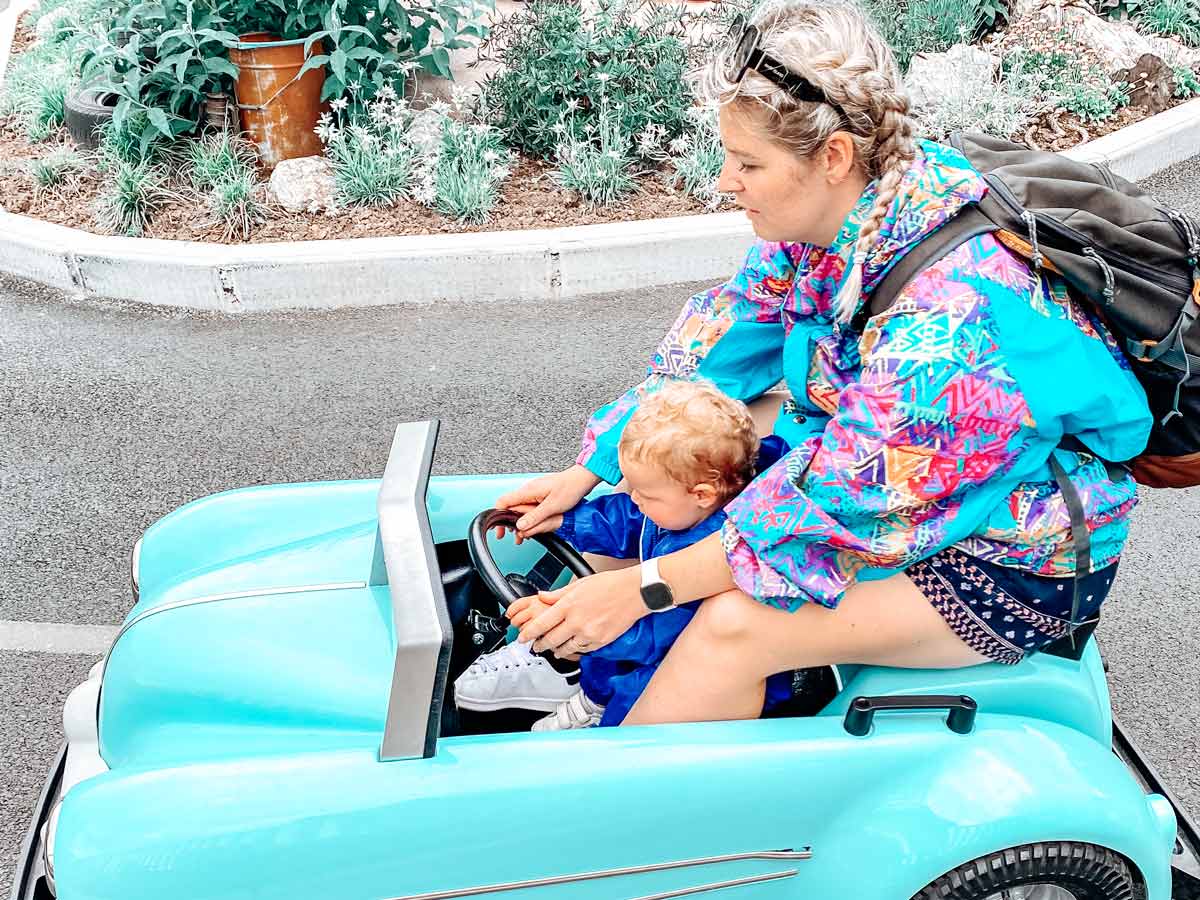 The Lost Kingdom at Paultons Park
Home to a whole host of dinosaurs and a few dino-themed rides this area is home to our toddler's favourite ride the Dino Chase. This children's roller coaster was actually a bit more aggressive than I thought it would be, considering every other children's ride we had been on was slow and boring (for adults, not for kids – they love that stuff…) It has a top speed of 15mph and has no height restrictions.
It's also home to two other fun roller coasters that we went on, sans enfant, The Flight of the Pterosaur and Velociraptor. The two rides are great fun for adults as well as older kids. The only downside is that these two roller coasters are over too fast.
Critter Creek at Paultons park
There's a reason this world sounds like something from "I'm a celebrity get me out of here" and that's because it's home to a real-life bug emporium, filled with unusual insects and fascinating wildlife. It's also home to a couple of rides including the Cat-O-Pillar Coaster which our toddler was just a few cm short for (90cm minimum) and Prof. Blast's Expedition Express which our toddler thoroughly enjoyed.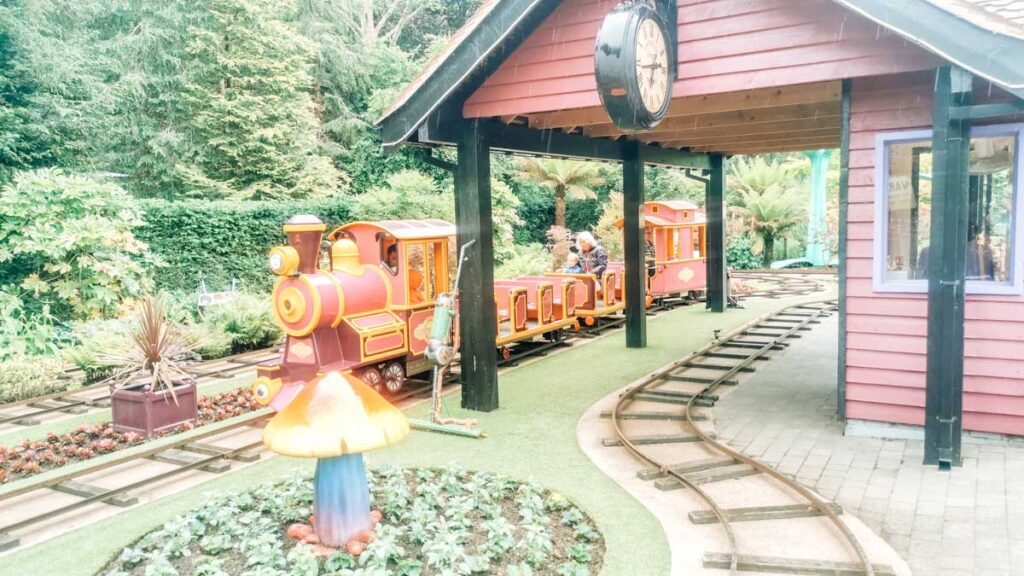 Little africa at paultons park
This area is home to some of Paultons Parks animals including a fennec fox, African crested porcupines, meerkats, Savannah monitor lizards, giant train millipedes, Gambian pouched rats and African pygmy mice.
Other Attractions at paultons park
Other attractions include the bird aviaries, the penguin pools and feedings, flamingos, giant tortoises, Water Kingdom – a large splash park and the other great rides which aren't featured in a "themed world".
Long established family rides like the teacups, Viking boats, pirate ships, raging river ride, go-karts and other roller coasters are all situated to the left side of Paultons park
Can You "Complete" Paultons Park and Peppa Pig World in One Day?
Paultons Park is BIG. It's set across 140 acres of land. There are over 70 rides and attractions and I really don't think it would be possible to "complete" all the rides in a day. We struggled and weren't even able to go on all the rides suitable for children under 90cm as we didn't have enough time. Not because the queues were long, just because there really are that many rides to go on plus stops for lunch, snack and toilet trips. I would definitely suggest making a weekend of it.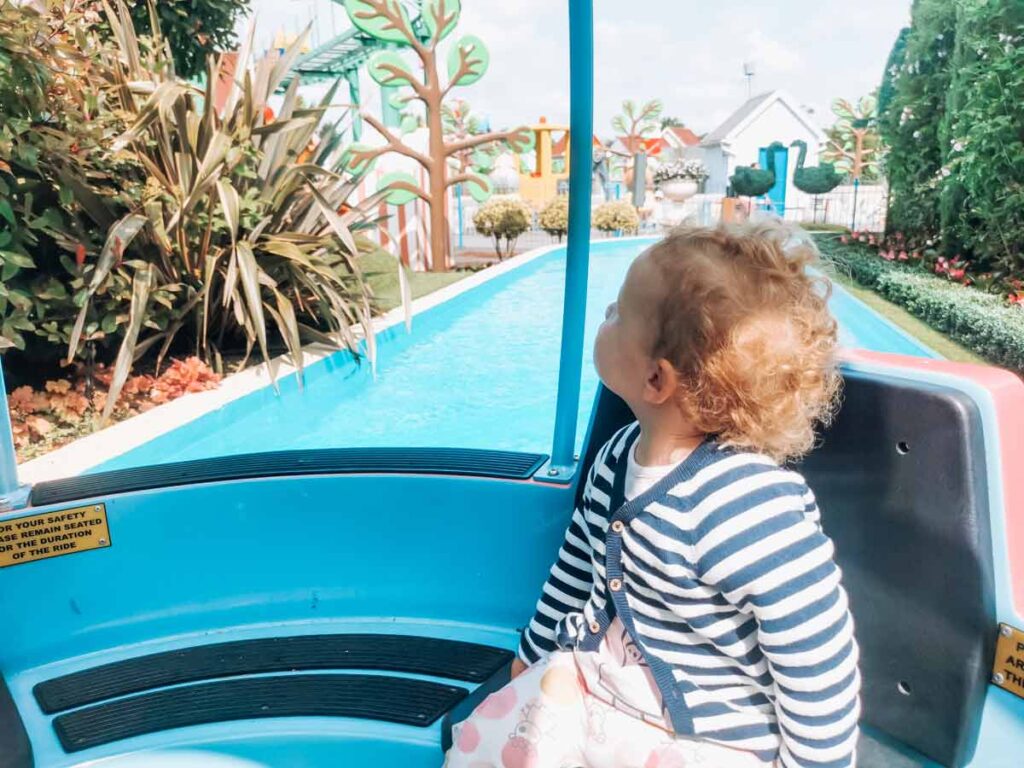 How Much Will I Spend At Paultons Park and Peppa Pig World?
You can easily be conservative with your spending here. Take a packed lunch, lots of snacks, avoid the shops and you'll be winning. We spent some money in the Peppa pig shop and to be honest, I didn't actually find it that extortionate. Lots of the Peppa pig clothing inside is made by Regatta and is of good quality so worth the price on the label.
We also spent money on food and I would definitely say this is not worth the money. The sandwiches we had at Daddy Pigs Cafe in Peppa pig world were so stale and also cost a fair bob.
Is Paultons Park A Good Day Out In The Rain?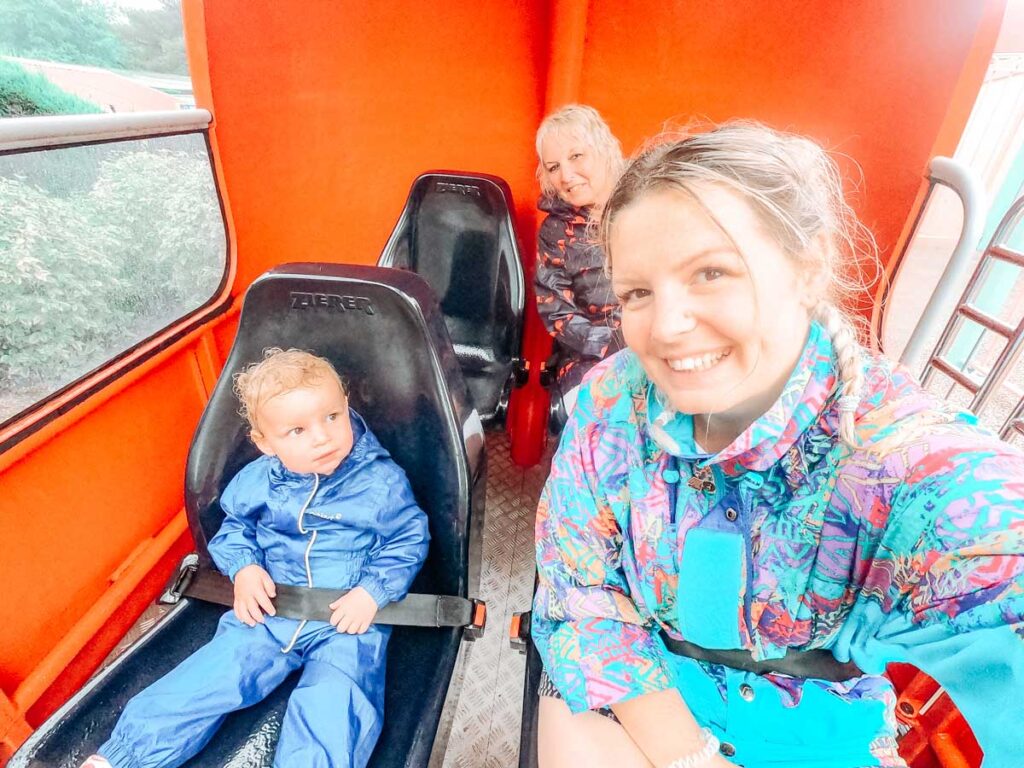 We fully expected rain on our day out at Paultons Park so we turned up armed with wellies, raincoats, umbrellas and more. Yet, when we got there it was sunny and if anything too hot – I found myself searching around for families using suncream so I could steal a pinch for our daughter. It was that hot.
But the weatherman wasn't wrong. A few hours later we left the park drenched from head to toe looking like a group of drowned rats. Was it still fun? You betcha!
If the rain is warm enough and you're fully prepared for it with raincoats, etc then you can absolutely still enjoy Paultons Park in the rain. The rides were all still working and if anything it was less busy and easier to get on rides immediately.
Is Paultons Park Suitable for non conventional (2 adults & 2 children) families?
I think families with more than 2 children will definitely struggle on a few of the rides. If it's an option, I'd definitely encourage bringing some extra adults along. Many rides are laid out in a 2 adult, 2 children/1 adult, 1 child fashion. 
Stroller Hire at Paultons Park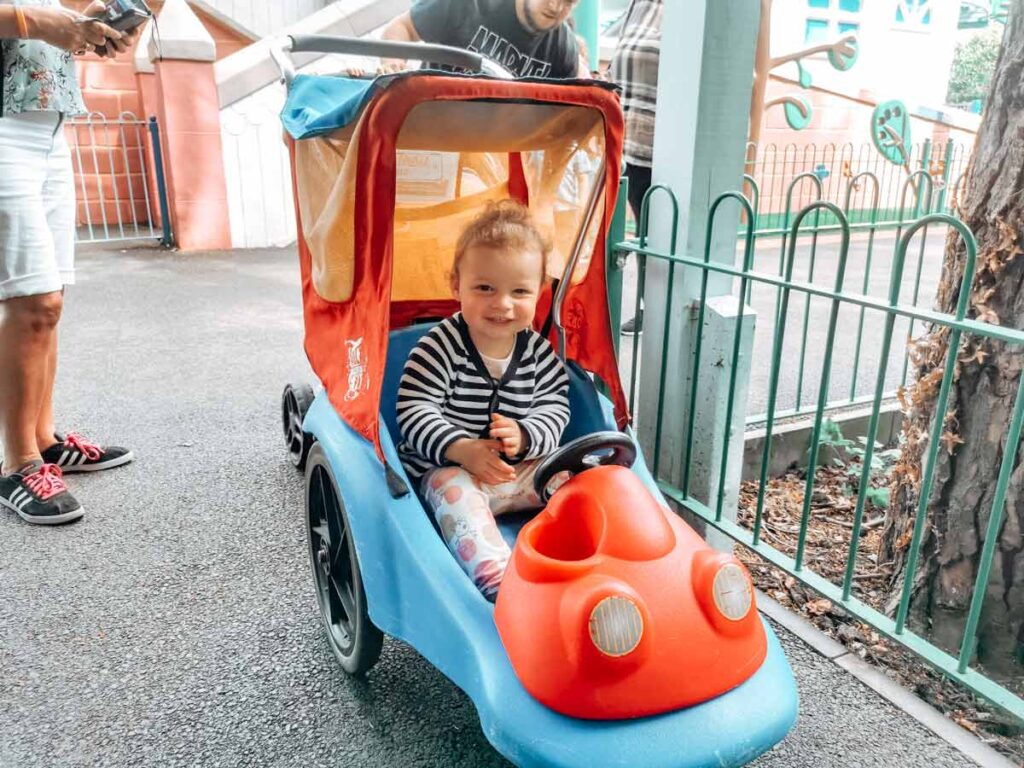 As we were travelling around the Uk lightly we only had a baby carrier and no pushchair. As much as I love our Lillebaby carrier, it's not really convenient for a theme park where it's a constant in/out/in/out. So, we booked online for the Paultons Park stroller hire and I have no regrets.
This little plastic buggy was a lifesaver for us. Thank god we got one with a steering wheel on (as the website says they don't all have them) because every time we got off a ride I said: "hey, shall we go drive your car" to our toddler and she was eager to get back in, no tantrums!
The cost of stroller hire was £10 for a single and £14 for a double and they must be booked online a day in advance to secure one.
What are the baby changing facilities like at Paultons park and peppa pig world?
There are plenty of toilets with changing facilities dotted around the park and there are also separate changing facilities. We used them a few times during our trip and found them all to be clean and well maintained. There are also separate rooms for mothers to breastfeed in, should they wish.
Paultons Park and Peppa Pig World Opening Days, Dates and Times
In high season the park is open daily from 10 am until 5.30 pm and then at the end of September this changes gradually to 10:30 am – 4:30 pm however the park is still open every day.
In October the opening times and days vary depending on events and maintenance closures and then from November onwards Paultons Park is only open at the weekends.
Ticket Prices For Paultons Park
Most people will have to pay for an individual ticket. The only exclusions are for Children under 1m (when wearing shoes) which are free as are wheelchair dependent visitors.
There are discounts and savings in place for individuals of 3/4/5 members and Parking is free.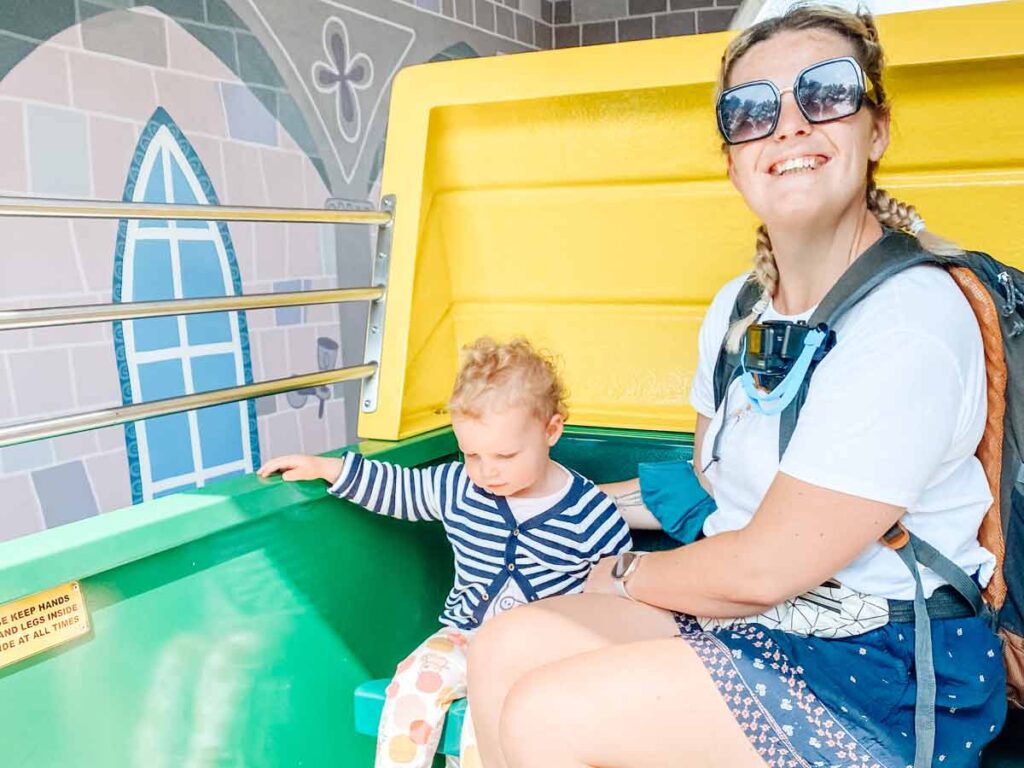 Where Is Paultons Park and Peppa Pig World and how do I get there?
Peppa Pig World at Paultons Park is situated in the New Forest.
Paultons Park,
Ower,
Romsey,
Hampshire
SO51 6AL
Find the Google Maps directions here
Getting there via car couldn't be easier as it's easily accessible from junction 2 of the M27 motorway.
There is also a coach travelling from London Victoria from May till October
Where Can i stay to visit peppa pig world?
There's a plethora of Hotels and campsites near Peppa pig world and Paultons Park including the one we stayed at during our visit, Hoburne Bashley Holiday Park.