Sandaya Soustons Village Campsite Review The perfect campsite to explore the landes department
I wouldn't say no to returning…
Check Availability And Book Camping Soustons Village
Clicking the button below will open the providers website in a new window.
Pros of Camping Sandaya Soustons
The busiest time of year leaves most customers hard to impress – but we were!
Cons of Soustons Village Campsite
Every family prefers certain things about a campsite, so our "cons" could be on your "pros" list!
Pool complex at Camping Sandaya Soustons Village

The pool area at Soustons village is uniquely designed with gentle slopes from shallow to deep. It features a wave pool, regular pool, splash area and an indoor heated area with a lane pool and shallow pool.
The outdoor pool is a spa, relaxing, styled pool instead of a functional swimming one. The pool area is very cramped in high season, but we were happy. 
There were enough sun loungers for everyone, and the whole area felt spacious and looked after.

The splash area was great for cooling down from the 40-degree heat and keeping our 2-year-old occupied. 
Outside the pool area runs a large pond filled with carp. The fantastic thing about this pond is that it is supplied by dechlorinating the pool water and reusing it for the fish. A great way to reuse and not waste water.

Everyone at the pool was wearing typical French, tight swimwear. As usual, long board shorts are prohibited, and I wouldn't recommend risking them. Sandaya campsites tend to be quite strict on the swimwear rule.

Just because this site looks rustic and authentic doesn't mean its facilities are.
Receptions, Check-in and how the car-free campsite works
We checked in at the main reception around 5pm on one of August's hottest days. The staff were friendly, attentive and speedily helped us with our check-in. 
As the campsite is car-free, we were given a keycard for the campsite car park. So the 2-year-old and I walked to our accommodation whilst we left Mike to deal with the luggage. Because of the car situation, the campsite staff will drive you and your luggage to the lodging on electric golf buggies. So don't be like us and pack all your stuff into a million small bags as it will take so much time to organise. 

Other than check-in, we didn't have to use the reception at any additional time except to book our check out, where staff looked over our accommodation to make sure we'd kept it clean and tidy and then repacked our stuff into the golf buggy and took us back to our car.
You might wonder what to do if you've been shopping and have lots to carry from your car. Outside the main reception, there are many free-to-use wheelbarrows in which you can wheel your shopping.

The campsite has lots to keep children (and adults) occupied during the day.
The campsite's play area is in the heart of the campground, near the bar, pool, shop, etc. It has climbing frames, swings, slides and more. Whilst it isn't a massive park/play area, kids will be occupied by many other activities such as…

Also near the bar area is Sandayas trusty Koolaya land bouncy castle. This was our 2-year-old's favourite activity, and we found if we went early in the day, it'd be nice and quiet – however, in the evenings, it's jam-packed with screaming bigger kids.
Near the front of the campsite, by the main reception, you'll find the multisports court area. You can play various sports like football, basketball, netball and more here. The campsite doesn't have a large playing field, so this would probably be where most older kids hang out to play sports.

The volleyball area is located near the multisports court and is sanded with two nets alongside each other. So you could turn your friendly game into a tournament. 

The tennis court is located near the front of the campsite, alongside the volleyball and multisports. You can also book tennis lessons with an instructor from the campsite reception. 
The pedal karts are next to the campsites shop. It costs 6 euros for 30 minutes or 10 euros for an hour to hire. You can also hire double karts for 8 euros per half hour. There is also a 50 euro caution deposit.

The campsites arcade is also located near the shop. The payable activities include car racing, air hockey, fight machines, kick machines and more. There is also a seating area for teenagers to "hang" in. 


Our child was too young for the kid's clubs which start at five years old; however, we did make the most of the kid's disco. 
There are Three kids club groups; 5-7 Kids Club, 8-12 Juniours Club and 13-17-year-olds Teen Club. They are all free and included in your stay and feature various activities for each age group.
Animation for kids and adults

The evenings at Sandaya Soustons are filled with entertainment. The evening Jeux/Cocktail (games and drinks) at 7pm had so many families out to join. Then at 8.30pm, there was a kid's disco, and there would usually be some entertainment for the adults. We only stayed out one night, to watch the French Polynesian dancers and they were wonderful.
Some evening entertainment is held in the bar area at the heart of the campsite; other nights, it can be held at the Theatre at the front of the grounds. Make sure you check your timetable before heading out. Our accommodation was at the front of the campsite so we could hear it quite loudly during entertainment at the Theatre.
There was also a night market at the campsite during our stay. Situated in the heart of the village, by the bar, there were oysters, pastries, clothes, and more. The market started at 5pm and stayed on till late.
Other animation included exercise activities throughout the day, dancing at the swimming pool, lotto's, pool games and lots more.

Bars, Restaurants and Takeaway
La Terrasse is the place for all things bar, restaurant and snack.

Bar
The bar had a great outdoor seating area. Situated underneath the beautiful Landaise Pine trees, you feel so in nature. The seating is all rustic benches, barrels and a few other tables, but it just felt really cohesive with the relaxed vibe of the campsite. Inside, the bar area was quite empty. There was a pool table and a few other tables. You could tell the main focus was on the outside area. And why not? The weather here at Soustons Village is perfect for outdoor living. 
The restaurant area was to the side of the bar, overlooking the pool. Unfortunately, we never got to try any food on the campsite during our stay. We spent most meal times heading into our favourite town of Hossegor to eat instead.
There was also a snack kiosk located next to the bar area. This sold things like pizza, paninis, etc.

The campsite shop was well stocked, not the largest, but it sold enough for us to get by. They also have a coffee machine and sell pastries, so we got our croissants and coffee from here each morning. There was a small selection of fruit and veg (better than the shop at La Vallee, which sold no fresh produce). The fridges were stocked with dairy, meats, cheeses, beers, and some ready-made sandwiches.

Located on the far side of the pool area is the campsites spa. Here you'll find a sauna, jacuzzi, massages and other treatments. It's a great place to relax when the kids if they're old enough (unlike ours), are at the kids club.
Animals are welcome and are allowed in the majority of accommodations. However, they are not allowed in premium chalets and cocoon cottages. Obviously, all vaccinations need to be up to date. No category 1 or 2 dogs allowed. And there is a fixed price – although I need clarification on this. 
There are some public toilets near the shop and pool area. I cannot remember if they had showers, but they might have. Although, the campsite doesn't have any camping emplacements so they wouldn't be needed. 

I don't usually add this section, but I should. Soustons village has an indoor library area near the reception where you can chill out, lounge in the chairs, and read books. It also has a lot of nature. One of my favourite things about camping is being in nature; this campsite is perfect. You can sit in the trees, and you can hear the birds. So many flowers are around, and there are also bug hotels and bees.

Check Availability And Book Camping Soustons Village
Clicking the button below will open the providers website in a new window.
Available accommodation at Sandaya Soustons Village
The campsite is a Sandaya site, so all the accommodation is theirs. There are two premium areas; The Badiane and the Cocoon. The Badiane is set within the tranquil forest environment, and the Cocoon is positioned at the south end of the campsite, right next to the bike path. The other accommodations are scattered around and range from safari tents to mobile homes. The mobile homes range from 19m2 to 62m2 with many different styles and range to suit every family type.

Do You Need a Car to Get around?
No, one of the perks of this region is the extensive cycle paths. The Landes department is fantastic for natural living, fresh air, cycling and all that lark. It's the reason they created a car-free campsite there. The supermarket is a 10-minute cycle, the main village is also around ten minutes and to get to our favourite town of Hossegor it's about 45 minutes.
How to get to The Campsite
Address:
63 Av. de Port d'Albret,
 40140 Soustons
GPS Coordinates: 
43.755670, -1.354078
Google Map Link:
Consider your options if you are flying into Bordeaux, Biarritz or other surrounding airports. Hire a car if you'd prefer driving around the area to cycling. France has yet to be known for its public transport options. If you are happy to cycle, flying in and finding a transfer/taxi to take you to and from the campsite may be cheaper.
The nearest ferry port would be one of the Spanish ports.
By Car Ferry:
If you're travelling by car, you can take a ferry from the UK to Northern Spain or northern France. 
Ferry routes from the UK to Spain include Portsmouth to Santander or Bilbao and Plymouth to Santander. 
Santander and Bilbao are around a 2 to 3 hours drive from Soustons Village. 
The distance between Santander and Soustons Village is approximately 295 kilometres, and between Bilbao and Soustons Village is around 214 kilometres.
You can also travel via French car ferries. These are quicker crossings, but you'll have more driving to do in France. 
The ferry ports that connect the UK to France include Dover, Portsmouth, Plymouth, Poole and Newhaven. 
The journey from Calais to Soustons Village takes around 10 hours and covers a distance of approximately 1000 kilometres.
By Plane:
The nearest Sandaya camping Soustons Village airport is Biarritz Airport, approximately 45 minutes away by car. There are direct flights from the UK to Biarritz Airport, including from London Stansted and Manchester.
Once you arrive at Biarritz Airport, you can take a taxi or hire a car to drive to Soustons Village.
Whilst Biarritz is the closest airport, you'll find more regular flights by flying into Bordeaux. Although, this will be a slightly longer drive through France at 1 hour 30.
By Train:
If you prefer to travel by train, you can take the Eurostar from London St Pancras to Paris Gare du Nord and then take a connecting train to Dax or Bayonne. From there, you can take a bus or taxi to Soustons Village.
Alternatively, you can take the Eurostar from London St Pancras to Lille and then a connecting train to Bordeaux. You can take a connecting train from Bordeaux to Dax or Bayonne and then take a bus or taxi to Soustons Village.
Check Availability And Book Camping Soustons Village
Clicking the button below will open the providers website in a new window.
Day Trips from Soustons Village
We always find something to do when we stay in this area…

Europe's tallest sand dune is just over an hour and a half away from Soustons Village. Although the area and many campsites were partially destroyed in 2022, the Dune is still just as perfect. The breathtaking views across the ocean and the impressive forests are the best reason to visit this truly remarkable place.
One of the reasons we love this region is its ferocious Atlantic waves. The beautiful yet dangerous ocean is home to many surfers, body boarders and water lovers. We enjoy going to the beach, watching the waves and having a little swim on a calm day. As you probably know by now, we love going to Hossegor as it's the best beach town in France.

On the border with Spain and France, this mountain features spectacular views of both countries. It is also popular with consumers thanks to its range of shops and restaurants, which are free from French tax and offer a wide range of "duty-free" items such as perfumes and cigarettes. https://tendance-voyage.fr/le-col-dibardin-le-guide-complet/
1h from the campsite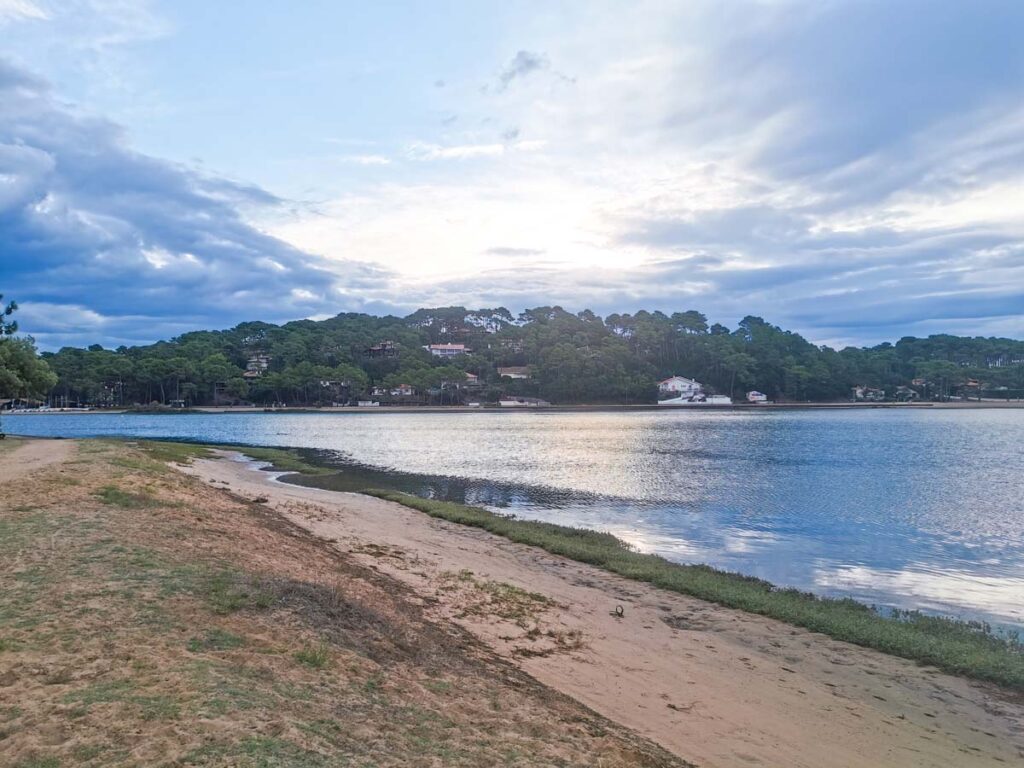 If you want a town/city wandering day out, there are many beautiful places to visit. So small, but we love Hossegor and Capbreton. We'd also recommend Biarritz, Bayonne and Dax if you are looking for bigger towns. If you're looking to go a little further afield, you could cross the border to Spain to visit San Sebastian or head north from the campsite to see Bordeaux and Saint-Emilion. There is no end to the beautiful places in this area.
Frequently Asked Questions
Are the mobiles close together?
Nope. The mobile homes are laid out really nicely. I felt like we were in our little cul de sac with a few neighbours to whom we could wave and say hi but weren't crowded out by.
Yes. It was the perfect campsite for riding a bike on.

Are there mosquitos at Camping Soustons Village?
We didn't notice any during our stay in August. In fact, there were not many bugs at all considering how wooded it was.
Is it easy to get a sunbed around the pool?
It was a struggle but not as bad as Le Soleil Des Landes. We found the shaded area by the kid's splash park the easiest to find a lounger.

Do you need to wear a wristband?
Yes, we did. I always love my campsite wristband tan at the end of Summer.
Do men have to wear swim trunks?
Yes. All the men we saw were wearing jammer or speedo-style swimwear.
The campsite is situated in the woods. I don't remember seeing any BBQs; it wouldn't surprise me if they were prohibited. 
What's the weather like in Spring/Summer?
When we stayed, it was a scorcher, and our mobile home had no aircon. I'm pretty sure we reached 40 degrees, and I was 38 weeks pregnant. It was insane. Of course, it's not guaranteed, but the Summer weather here is excellent. Spring can be a little unpredictable, though.
Can you park on your pitch/Emplacement?
NO! This is a no-car campsite. All the cars are stored safely in a barrier car park at the front. 
Can you take pets on the campsite?
Where's the nearest supermarket?
In Soustons there is a great big E.Leclerc. It even has a sports shop and a burger restaurant attached to it. 
Can You Use Inflatables at the Pool?
The pool was quite cramped, and there would need to be more room for inflatables. So barring armbands, inflatables are not allowed at the pool.
Is It Loud In The Evenings?
 It depends on where your mobile home is. 
What Can We Do If It Rains?
The museum of sea life at Biarritz is a great shout for a rainy day, as is the Aviation museum in Dax. Then, of course, there's also the indoor pool. Although, that gets a little cramped on a rainy day.
We loved our stay at Soustons Village. Like other Sandaya sites we have stayed on, the campsite was well-maintained and looked beautiful. I loved the bug hotels, beehive and plants. I loved the trees ad the relaxed vibe. I LOVED that there were no cars so my 2-year-old could ride around safely. She loved the bouncy castle and the pool.
All in all, it is a fabulous campsite. However, it can get busy in the pool. The dusty floors mean you'll be cleaning the mobile home constantly, and it could do with a bigger/better play area. But other than that, it's fantastic. It gives a base to explore the Landes and made for a beautiful end to our last holiday as a family of 3. 

Check Availability And Book Camping Soustons Village
Clicking the button below will open the providers website in a new window.