The Dordogne, known for its picturesque scenery, rolling hills and charming chateaus. This region in the southwest of France is a hotspot with tourists from all corners of the globe. Commonly described as "the real France", the Dordogne is primarily made up of small, quaint and sometimes medieval villages. 
Arguably one of the prettiest places to visit in France, it's no surprise that the Dordogne sees around 3 million visitors per year.
We've visited the Dordogne on many occasions and have always enjoyed our days out and about exploring what this remarkable French department has to offer. From our favourite Dordogne campsite Saint Avit Loisirs, we explored so many quaint villages, charming chateaus and lovely scenery,
But other than admiring the beautiful countryside, chateaus and villages, what else is there to do in the Dordogne? 
What to do in The Dordogne With kids

Become a knight at Castelnaud Le Château:
Our favourite activity for the whole family in the Dordogne has to be Castelnaud le château. It helps that I was watching Game of Thrones when visiting, but this place is impressive. 
The castle is filled with medieval weaponry, and they even give you demonstrations on how to use a trebuchet. Other themed tours include costume visits, a medieval show, blacksmith demonstrations and more.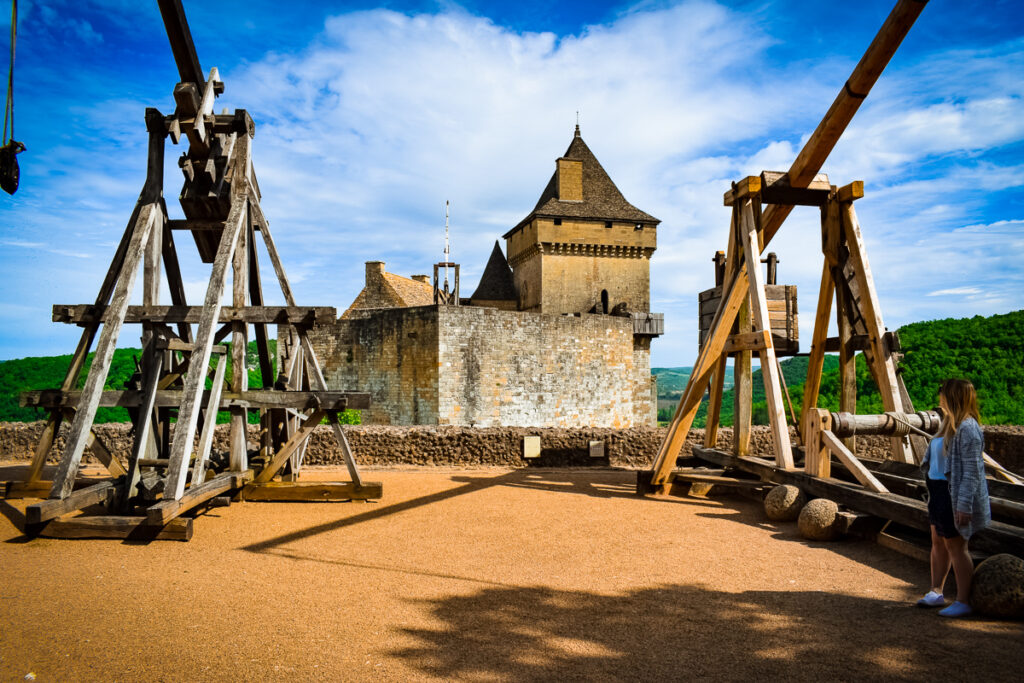 Run around the Jardins de Marqueyssac
Situated just over the river, the Marqueyssac gardens are the perfect place for younger ones to let off steam and for the older ones to admire the views. These picturesque hilltop gardens show a panoramic view across the whole valley. 
Kids will love the peacocks which roam freely, the mazes, plus there's also an educational circuit which teaches you about flora, fauna, geography and history of the Dordogne valley.
Taste local delicacies in Sarlat La Caneda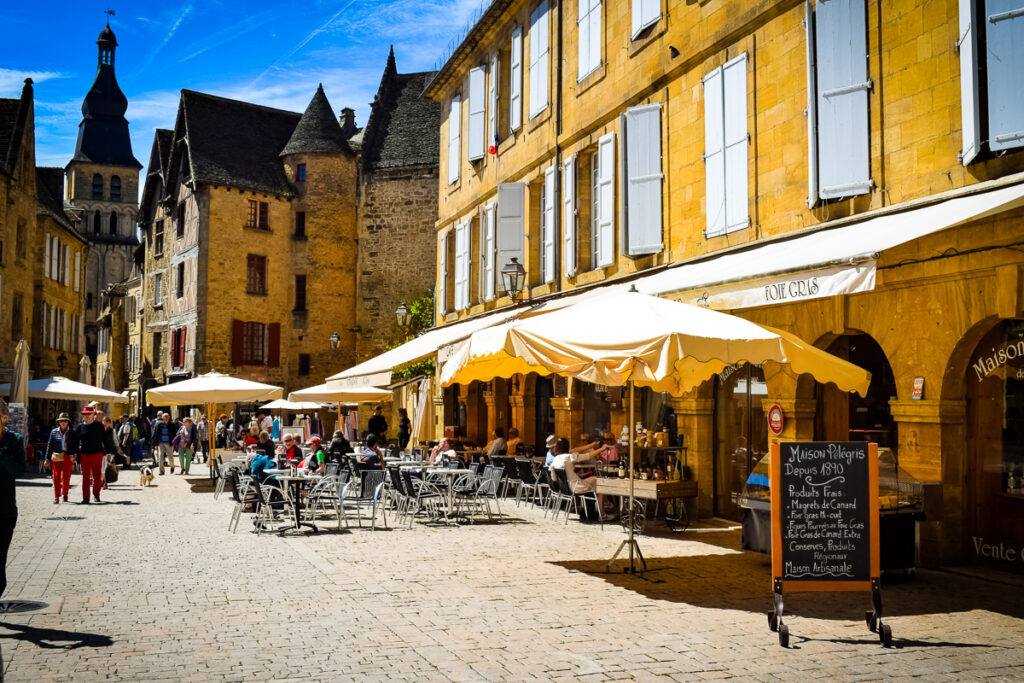 We know that exploring towns isn't a popular kids activity, but us mums and dads need to do something for us now and then. The town of Sarlat is the most famous in the Dordogne. It's the place you go for a nice lunch, a relaxing coffee and a quick shop. We loved the beautiful medieval streets, and the well looked after buildings here. 
If you're looking to try some local Dordogne specialities, then Sarlat is the place to do it. It's a gastronomic hub. If you're a fan of Foie Gras, then you'll find plenty of it here. Visit during a Saturday or Wednesday for the town's market where you'll find plenty of fresh produce and locally sourced foods.
If you find that your children are getting restless during your visit to Sarlat, a kids play park called Parc Du Plantier is just around the corner, and there are picnic benches there for a nice lunch.
Become a paleontologist at Prehisto Parc
This prehistoric walk takes you around a walking trail all about your ancestors. Life-size scenes depict the first Neanderthal hunter-gatherers and Cro-Magnons, while prehistoric animal footprints take you around the nature trails. It's an excellent, entertaining, whilst also educational day out in the Dordogne.
Imagine you're on a film set in Beynac et Cazenac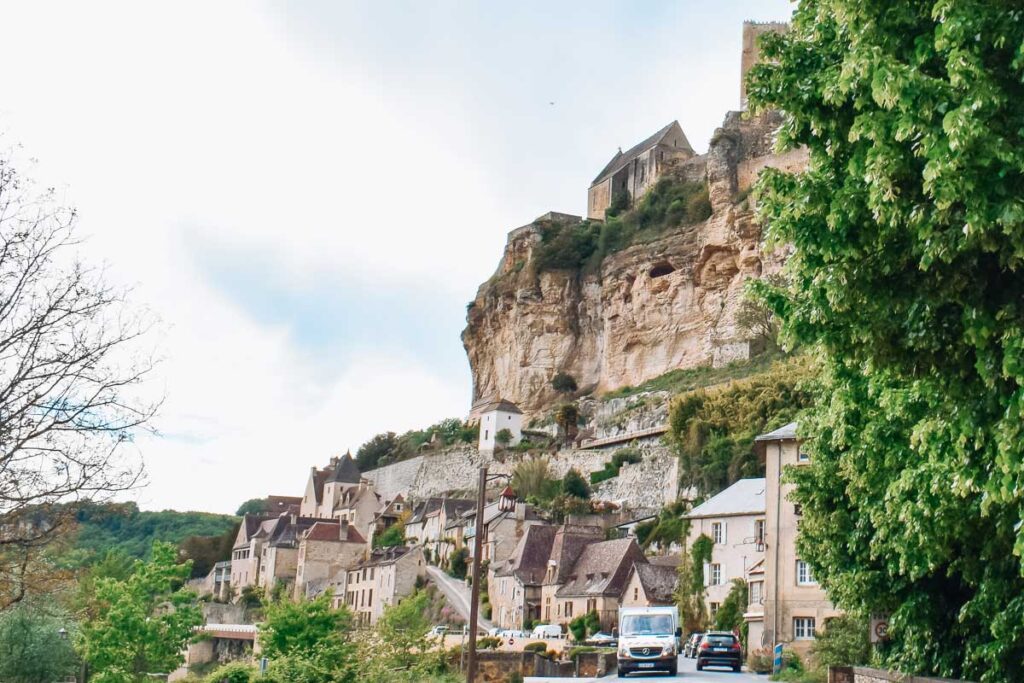 You may recognise this stunning location from films such as Chocolat and Ever After. Classified as one of the most beautiful villages in France, Beynac is situated 10km west of Sarlat and lies at the Dordogne river bank. 
Like Castelnaud-la-Chapelle, there is a medieval castle in Beynac. It's perched on the edge of a cliff and welcomes visitors who come to admire its nine centuries of history.
The village of Beynac itself is lovely for a stroll. The old medieval buildings are so well maintained, and it's the picturesque Dordogne we so frequently imagine.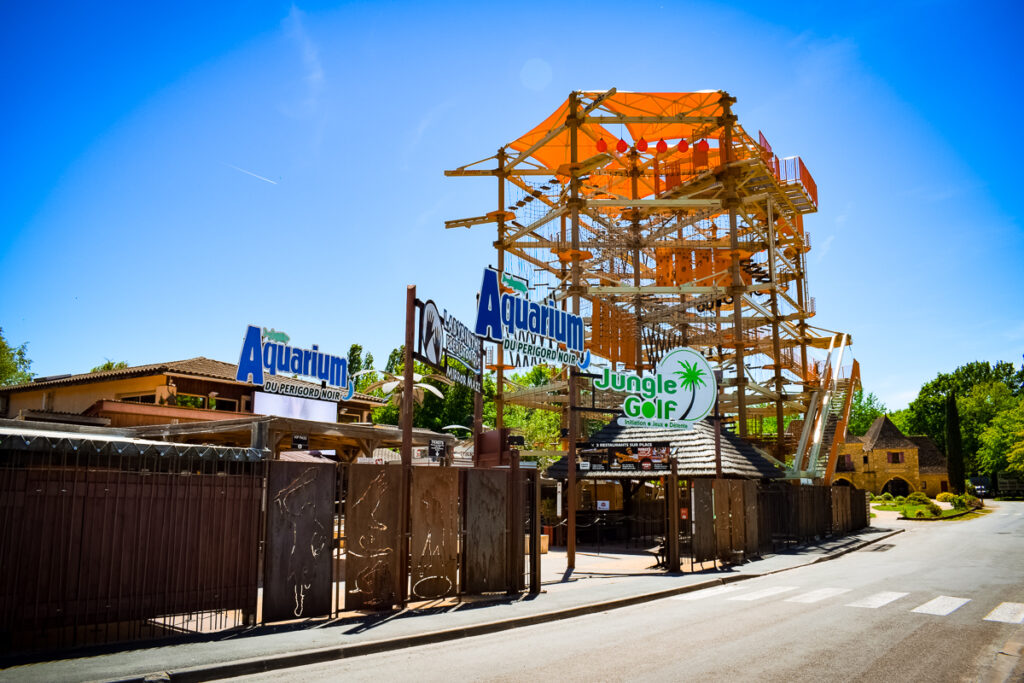 Le Bugue is another small Dordogne village situated on the Vezere river. It's a bit of a tourist hub which means there's plenty for kids and families to do. The town is home to the Aquarium du Perigord Nord, which brings in plenty of tourists from throughout the Dordogne. 
The town is also home to a prehistoric labyrinth, a giant climbing frame called "Big Bird, " which is the tallest in Europe, Jungle golf, an 18 hole mini-golf course, and Parc Bournat reconstructed village theme park set in the 1900s.
The campsite Saint-Avit loisirs is located perfectly for exploring Le Bugue and is just a short car journey away.
Not only is La Roque-Gageac another stunning Dordogne village to meander around, but it's also perfect for setting off on a kayak adventure. From here, you can sail up and down the river, castle hunting and soaking up the Dordogne scenery. 
This village was one of my favourites during our trip. I found it utterly stunning how it was all built into the rock (similar to Beynac et Cazenac) with the bars, restaurants and cafes lining the front row.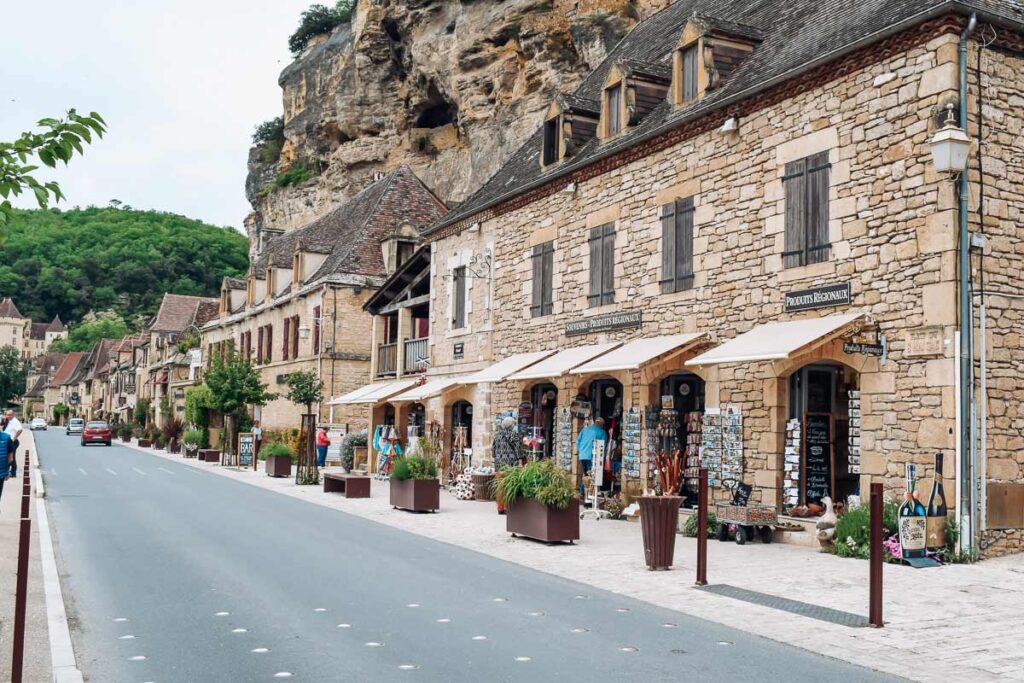 View the Dordogne from the sky in a hot air balloon
Yet another charming Dordogne village, can you sense a pattern here? Again, I know kids aren't big fans of village-hopping, but this one is different. Here, the village has a cute little tourist train that younger kids will love riding on. Plus, it's a great spot to grab an ice cream and admire the luscious green countryside out across the Dordogne valley.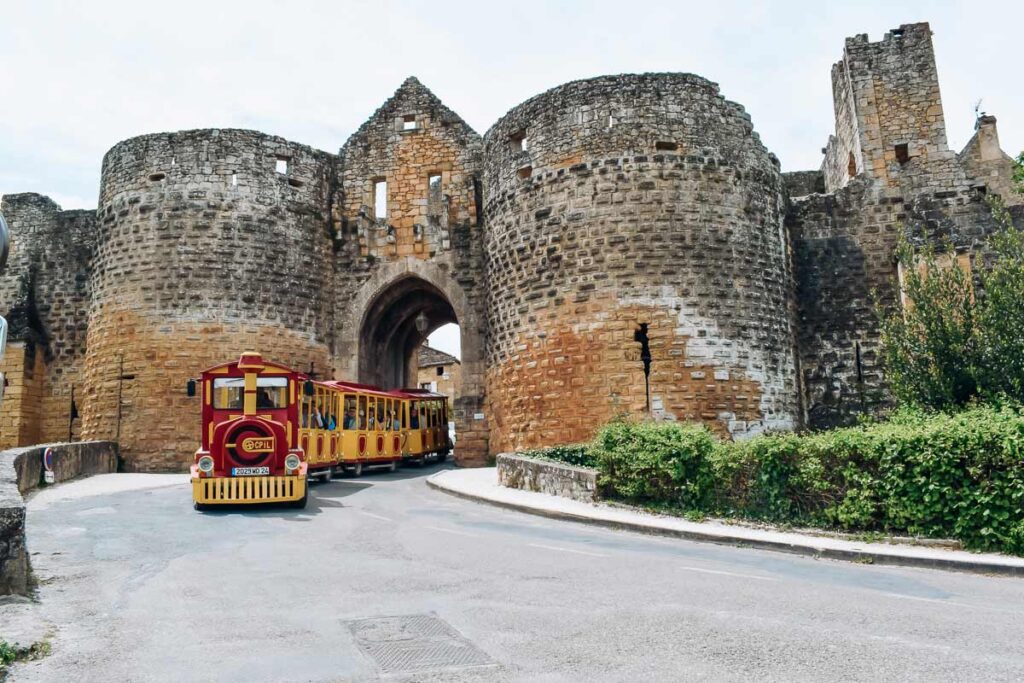 Explore the prehistoric history
Prehistoric history dominates the Dordogne. It's known throughout the world as one of the first birthplaces of human evolution knowledge. There are prehistoric paintings and caves nearly everywhere you turn, and you're never too far away from the next prehistoric site. 
So whilst this is just 1 "thing to do in the Dordogne," I can list a whole ton of different places you can do it. The most popular sites include: