Camping-Village Saint Avit Loisirs, le Bugue Review The scenery was breathtaking, the staff were friendly, the campsite was well-maintained and we loved being outdoors here
Check Availability And Book st Avit Loisirs Today
Clicking the button below will open the providers website in a new window.
Saint Avit loisirs is a 5* resort style campsite set in the beautiful rolling hills of the Dordogne. Situated between the towns of Bergerac, Sarlat and Perigueux the campsite is nestled, right, in the heart of Perigord.
We had always wanted to visit the Dordogne and had heard so much about its natural beauty – so where better to stay, than a campsite right in the centre of it!
The department of the Dordogne also known as the Perigord is a natural area is filled with unspoilt scenery and wildlife in abundance, making it the perfect location for camping and outdoors adventures.
We visited Saint Avit loisirs in May 2019 and loved it so much we actually went back again during the mid June heatwave.
Pros of Saint Avit loisirs
It's safe to say we absolutely loved this campsite and will definitely be back again with our baby.
Cons of Saint avit Loisirs
Every family prefers certain things about a campsite, so our "cons" could be on your "pros" list!
The pool Complex at Saint Avit loisirs
The pool facilities at Saint Avit Loisirs are amazing. There's a small splash park area for young children, slides for the older children (and adults), a pool for swimming, a paddling pool and even an indoor pool.

We really loved the "Crazy River". To use it, you need to have a rubber ring, which you can buy one from the campsite shop but it's definitely better value if you bring one instead, you can grab a great deal on Amazon. 
There are two crazy rivers to choose from, a light, easy, cruising river slide or a fast and thrilling one, pick wisely. 
Being pregnant and unsure if I'm even allowed to go down slides I took a nice slow cruise down the easy river – However, Mike really enjoyed the fast one.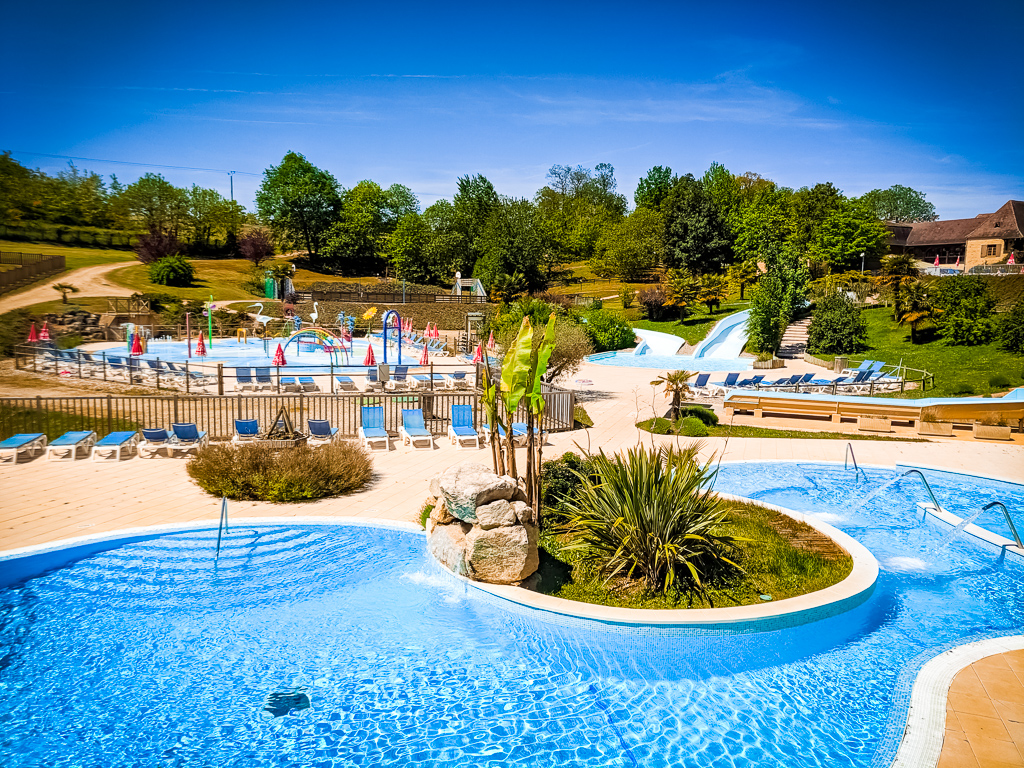 We were so lucky arriving when we did. It was a sunny day in the middle of May and not a single other person was at the pool. Which really surprised us, considering the pool complex was so well equipped. We discovered two reasons for this:

The first was because the campsite was in low season, we went out of school holidays and there really was only a few families on site. 
The second reason? 
The outdoor pools were really cold – but that didn't stop us enjoying them. 
In fact, we really liked the pool area being so quiet as it meant we didn't have to queue for slides, didn't get hit by inflatables and didn't get tripped up by over excited children. 
*When we returned to the campsite in June at the start of the UK school holidays, the pool area definitely didn't look as tranquil. Be prepared to queue for the crazy river and pack your headphones!

The indoor pool complex was reasonably small but heated. There are signs up around the room asking people to respect the calm environment so I think this pool area is more suited for a peaceful swim rather than bombing and splashing. Although, I imagine on a rainy Summers day in high season this pool may not be as peaceful.

Swimwear wise, Mike had no problem with above the knee shorts. But do remember, the conventional swimwear rule is law in France and if any campsite or pool facility in the local area gets fined by the government for not observing, you'll notice a change.

The best option is always to buy a pair of swim trunks from the UK and bring them just in case. You don't have to get budgie smugglers a pair of Jammers or square legs should be sufficient.

Check Availability And Book st Avit Loisirs Today
Clicking the button below will open the providers website in a new window.
Being a 5* campsite, Saint Avit Loisirs has to have facilities that reflect this and although in May and mid June we found some of the facilities closed due to low season, we believe the campsite deserves its 5* status.
Personally, I don't think the campsite has enough facilities to spend every waking hour there, like you can with some resorts, but with the Dordogne on your doorstep, why would you even want to.
Below I've listed all the facilities we found and what we thought about them.
Main Reception & Information
The main reception is your first point of call when checking into St Avit Loisirs. Just pull into the car park outside and have your details like car registration and booking name handy. The reception team were really friendly and spoke perfect English – we also found them patient enough to deal with our French language attempts, so if you want some language practice, try your best French here.
At the reception we were given information on various aspects of the campsite, including the cash free system, which I will explain further on. We were then given wristbands and handed an envelope with our name on containing various leaflets, flyers and even a recycle bag (this site is pretty good with recycling!).

The leaflets in the envelope were very handy. One is a booklet full of discounts to use at various tourist sites around the Dordogne, one was for the campsites own app where you could check out facilities and upcoming entertainment, another was the pizza takeaway/delivery service (will explain the delivery service further down) menu and there was also a handy campsite map.
Once we'd given the receptionist our number plate, they registered it on the system for the barriers and our access was given. There's no need to remember any pin codes or swipe any cards as it's all automatic. You can enter the campsite between 7-30am and 11pm, after this the barriers may be closed and you'll have to park your car in the car park.
We didn't, but you may end up using this reception a lot during your stay. This is the place where you can order your pizza, get wifi, top up your cash card and also get your reimbursement at the end.

Wifi costs:
We were too busy to need it but our phone signal was terrible, so had we of needed to use the internet for work – we'd of had to of bought a wifi card. The prices vary depending on the length of your stay or how many devices you require but I'll add a photo of the wifi leaflet below so you can see the cost of wifi at St Avit Loisirs (prices photo taken in 2019).

The next point of call if you haven't booked direct is with your holiday reps. There are 3 different reception units, Eurocamp, Alfresco and Roan all situated next to each other. We booked through Eurocamp so we headed straight there to see if we could check in early as we'd arrived at lunch time.
Although check in is from 3pm, occasionally, if the accommodation is ready early you'll be allowed in, but definitely don't rely on this.
As it happens, our accommodation wasn't ready but as we'd received our wristbands at the main reception we were able to access all of the sites facilities.
One thing I've learnt from my work on campsites is, always have a swim bag easily accessible and make the most of the pool (and bar) while you wait for accommodation. It wasn't the case here, but sometimes accommodation can take longer than expected to be prepared so it's always best to be prepared and pack your car up accordingly.

Once checked in at dead on 3pm, the Eurocamp rep Jazz checked that we understood the cashless system and pointed us to our Classic Tent, which was literally opposite the reception unit. We asked her a few questions about the pool, where facilities were and any restaurant recommendations and all were answered with knowledge and competence. We were really impressed with how friendly the Eurocamp staff were here unlike some of our other trips. 
The Eurocamp reception was open from 9am till 7pm so if we needed to speak to a rep, they were there between these hours (unless they'd gone to run some errands for other customers). If they weren't there or we needed them out of hours then we had a contact number on our paperwork and it was also on the door of the reception. We needed to use the number at 10:30 one evening and one of the friendly reps Leanne was with us in minutes.

The Eurocamp reception isn't just for speaking to the reps. It's a hub of information, leaflets, games and more. So, it's definitely worth exploring during a stay. You can even borrow books, games like guess who and even boules sets.
If you're wondering where the local markets are or the best places to visit are there are posters on the walls in the reception and everything you need to know is there (if it's not – ask the reps!).

Shower block & washing machines
As we were staying in a Classic Tent during our first stay, we had to use the campsite shower blocks. Thankfully, they were super clean, never full and well maintained. I only have one complaint, which I raised with our rep (so should definitely be sorted now) and that was that a hornet had started making its nest in there.

Look, I totally get it's a campsite. Had it have been spiders, beetles even mice – I'd be ok with it, but a hornet? Maybe I have an irrational fear, but they're the only bug/insect I think might kill me.
The showers in the shower block are push buttons, so there's no water wasting and the temperature was amendable, I accidentally turned it right up thinking they'd probably not be that hot and it felt like someone had poured a kettle on me, so definitely pick your temperature before you get in.
The washing up area is also in the shower blocks as well as washing machines and tumble dryers that cost 4€50 and 3€ respectively.
St Avit Loisirs is a campsite filled with wildlife and nature. It's lush, green and you can tell they work hard to maintain the beauty. This is reflected across the whole site, including the fishing lake. Although it's man made, that doesn't mean there isn't any nature at this large lake. There's tons of beautiful flowers covered in thriving insects, plenty of fish and we even found hundreds of tadpoles ready to turn into frogs.
The lake is there mainly for fishing  and is free to use for customers, so if you're into fishing it's a great place to teach your kids and get them doing it too.
It's also a really nice place to watch the sun go down over the fields – so why not make an evening of fishing, picnics and sunsets.

The campsite shop was fairly small but would stock everyday essential you may have forgotten and is perfect for grabbing fresh bread and pastries in the morning.
They sell a small range of swimwear, rubber rings and inflatables as well as sun lotion and Summer wear.
There's plenty of alcohol, snacks and basic food goods, but I would definitely advise heading to the supermarkets in Le Bugue over using the campsite shop.
The Shop was open from 8 am to 12.30 am and from 4.30 pm to 7 pm (low season) and from 8 am to 8 pm in July and August.

Outside the shop entrance is a small arcade area. There's air hockey, table football, a game of thrones pinball machine as well as a couple of racing games. It's by no means big but as it's close to the shop, bar and restaurant facilities it may help keep the children occupied for a short while.  

Check Availability And Book st Avit Loisirs Today
Clicking the button below will open the providers website in a new window.
The Bar, Restaurant & Snack bar, Pizza
All the above facilities are in the central area near the front of the campsite, situated in a small square above the pool area.
The bar area at St Avit Loisirs has a traditional French feel and sells a reasonable range of drinks. Unfortunately there wasn't any alcohol free beers, but I did have a beautiful tasting mocktail. Drink prices are in line with most French bars and the campsite even has its own happy hour everyday between 6pm and 6.30pm (I'm not sure if they understood the term hour?)

Unfortunately we didn't get to try the restaurant during either of our stays. Honestly, with the campsite being so quiet on May we didn't think there would be a single other person in there and sometimes you just want some atmosphere. We did look at the menu and the variation and prices seemed good but unfortunately not enough to draw us in. We did love the setting though. The seating area outside was a really beautiful area in between the stone walls with pretty flowers.

This was unfortunately another facility we didn't make the most of. Situated near the bar area, I believe the cafeteria/snack bar had more options for children and casual foods which could be eaten in the outdoor seating area or taken away. We did use the cafeteria counter to order our pizza though as you can't directly order it at the pizza counter.
Not only can you get takeaway pizza, but you can actually get it delivered to your emplacement too. To order all you need to do is ring the number on the menu (given to you on arrival) or visit the main reception between 9am and 6pm and give them the time you wish for delivery which can be between 12-2(lunch) or 6.30pm and 9pm (dinner).
We didn't take advantage of the delivery but we did order some pizzas from the snack counter on our first night. They were massive. It actually took me two days to eat mine and it tasted just as good cold the next evening as it did the first night. Prices range between 5€70 for a child's small margherita to 12€50 for the most expensive perigord pizza (a local foie gras style pizza).

Check Availability And Book st Avit Loisirs Today
Clicking the button below will open the providers website in a new window.
Campsite Activities & Animations
This campsite is so popular due to its child friendliness and kids activities.
Fun Station and Campsite Animation
With eurocamp you get their kids club – Fun Station – included. This year the giant fun station tents have been replaced with sleek new kids club cabins situated in a car park near the Eurocamp reception. Previously they had been on a sports field near the far end of the campsite but now they are more central and accessible, they're also located near the kids playground.
I did notice the campsite maps haven't been updated to reflect this so I wonder if it will change in high season or if the maps will get updated?
The kids club team put on activities at this campsite for children aged between 0-17 years old and also activities for the whole family to take part in. We unfortunately didn't see a schedule for the weeks activities but the Eurocamp fun station teams put on a wide range of age suitable activities like zorbing, hovercarting, water fights, painting, messy time, quizzes and more. If you ask at Eurocamp reception you should be able to receive a schedule of events.

There are plenty of sporting activities to help families get outdoors. Near the main entrance and reception units you'll find a big playground for children as well as a climbing area and even an outdoor bodyweight gym.

Just past the pool area is where we found the mini golf and the multi sports area where you can play things like basketball, netball football and more.
Near the fishing lake, as well as being able to fish you'll find 2 tennis courts which are free to use until July and August (where they become 7€ an hour).
And there's also a bike rental so you can get outdoors and explore. I wouldn't cycle on the road outside the campsite as it's small and very windy, but maybe more experienced bikers would be happy to.
There's also a few table tennis courts.

High Season Sports Activities
In high season there are a few more activities you can enjoy, unfortunately these weren't available during our stay but as the campsite was so quiet it's easy to see why.
In July and august the campsite puts on fun activities like the Elastic trampolines, A golf driving range, quad biking for kids and an adult version.

Check Availability And Book st Avit Loisirs Today
Clicking the button below will open the providers website in a new window.
Cash Free System, How Does It Work?
As you may have read, St Avit Loisirs is a cash free site. When you check in at reception, you'll be give a card with your name on that you top up with money. This card can be topped up at the main reception, campsite shop or at the restaurant area.

I think it's great, and I prefer people using cards as it's generally a lot quicker, but I can understand why some guests may be confused.
You don't actually have to use the card. If your purchases are above 10€ you can still use your normal debit/credit card – it's only for small purchases that the top-up card is required. However you may wish to use it for everything to avoid transaction fees on your normal bank card, unless you have a transferwise, revolut or other currency account.
If there is any money left on your card at the end of your stay, these can be refunded in cash at the main reception desk when you leave.
Safety wise, if you lose your card or suspect it is stolen, inform the main reception immediately and they will be able to block any transactions.
So to put it basically:
There are two options available when making purchases on site: 

Customers can use the  'Saint Avit Card' they receive at the main campsite reception.

Cash can be loaded onto this card in the main campsite reception, restaurant and shop.

This card must be used for all purchases made that are under €10 (or over).

For purchases that total €10 or more you can use the Saint Avit Card, or your usual debit or credit card.

You can have as many cards as your family needs. No deposits are required for the cards.

When purchases are made using the Saint Avit Card, a receipt is provided for the transaction which will show you the remaining balance.  

Any money left on the card can be exchanged at the main reception before departure and if the card is lost, it can be blocked.
Check Availability And Book st Avit Loisirs Today
Clicking the button below will open the providers website in a new window.
This isn't really a facility but I wanted to make a point of pointing it out. Saint Avit loisirs have made a commitment to respect the environment. They are part of the green key (la clef verte) environmental program which means they will take action required for sustainable tourism.
You'll notice this action during your stay. 
At the reception you'll be given a yellow recycling bag with instructions on what can be added and what can't and at the bin area you'll find a composting bin for all your compostable food waste.
Camping is all about being within nature, so it's really important we continue to look after it.
Although, we were disappointed when we returned in June to find the bar supply drinks with plastic straws. Not just kids drinks, or those who struggle to drink from a glass, but pretty much every drink (minus beer and wine). 
I think it would be great if customers started refusing the straws and instead opted for a reusable type like these funky ones.

Accommodation at Saint Avit Loisirs
There are loads of different accommodation types available through the campsites themselves as well as the tour operators.

With the campsite you can book a touring pitch for tents or caravans, one of their ready made residences, chalets, mobile homes, safari tents or even a gite!  
For our first stay in May we decided to book a classic tent with Eurocamp as sometimes I feel being in a tent is the best way to experience camping and because it cost us just £8 a night. But tents aren't the only available accommodation with Eurocamp. You can pick from one of their high end mobile homes (of which there's loads of!) like the Aspect Avant and Azure. One of their mid-range mobiles like the Vista, Espace and Esprit. Or, like us, try on of their tents – either the Classic or Safari tent
You can read our review on the Eurocamp Azure or Eurocamp classic tent on here
Or check out our video tours on Youtube. 

During our second stay during the June heatwave, we were lucky enough to grab a pet friendly mobile home with air conditioning. This meant we could escape our boiling hot home and take the cat along with us. 
The other holiday companies who operate on site also offer a range of mobile homes. Roan is a dutch company who have two types of mobile home on site. Alfresco is Eurocamps sister company and have 3 different mobile home as does Homair.
Check Availability And Book st Avit Loisirs Today
Clicking the button below will open the providers website in a new window.
Should I Book Direct Through the Campsite or Through and Operator?
I personally would always compare prices before choosing who to book with. Sometimes you'll find the campsite direct cheaper and sometimes you'll find Eurocamp or alfresco cheaper. We booked our pre-erected classic tent for just £8 a night and I don't think you could get any more reasonable than that.
Keep an eye out for offers, we plan to start sharing some on our Facebook group over the coming months.
Another perk when booking through an operator is the service you receive. They are your liaison to head office, to the campsite staff and to the outside area. They clean your accommodation as well as offer you customer service and know the accommodations like the back of their hand.  Plus it also means with many sights you can arrive on flexible days instead of just 1 or 2 set arrival days a week. 
Check Availability And Book st Avit Loisirs Today
Clicking the button below will open the providers website in a new window.
Do You Need a Car to Get Round?
Definitely. The nearest town, Le Bugue, is 6km away down winding, hilly roads and it's really not suitable for walking. There is bike hire, available to help you explore the Dordogne region, but you'll really need car.
How to get to The Campsite
Driving with your own car and gear is one of the best ways to explore a campsite in france, but if it's easier for you to fly then the nearest airports are Bergerac and Brive. From there you can hire a car and head to the campsite.
The nearest train station is Le Bugue and you can get the train to Sarlat and Bergerac, although I can't imagine it being very regular.
If driving from the UK, the recommended ferry port is Bilbao which is 509km away, however sailing to Northern France (Roscoff, St Malo, Cherbourg, Caen, Dieppe, Le Havre, Calais) and breaking up the journey on the way down is also an option.
Address: Saint-Avit-de-Vialard, 24260 Le Bugue, Perigord
GPS Co-ordinates: 44.95155 0.850604
Our Sat Nav couldn't find the address so I would advise using the maps on your phone/computer first to get the general gist of where the campsite is located.
The site is well sign posted from the main road outside, however sat navs have a tenancy to ignore sign posts.
Day Trips & Things To Do In The Local Area
Although our stay was short, we still managed to pack in a few activities and explore some nearby locations and the day trips we'd recommend are below.
Aquarium, Parc Bournat, Maze, Jungle Golf and Big bird in Le Bugue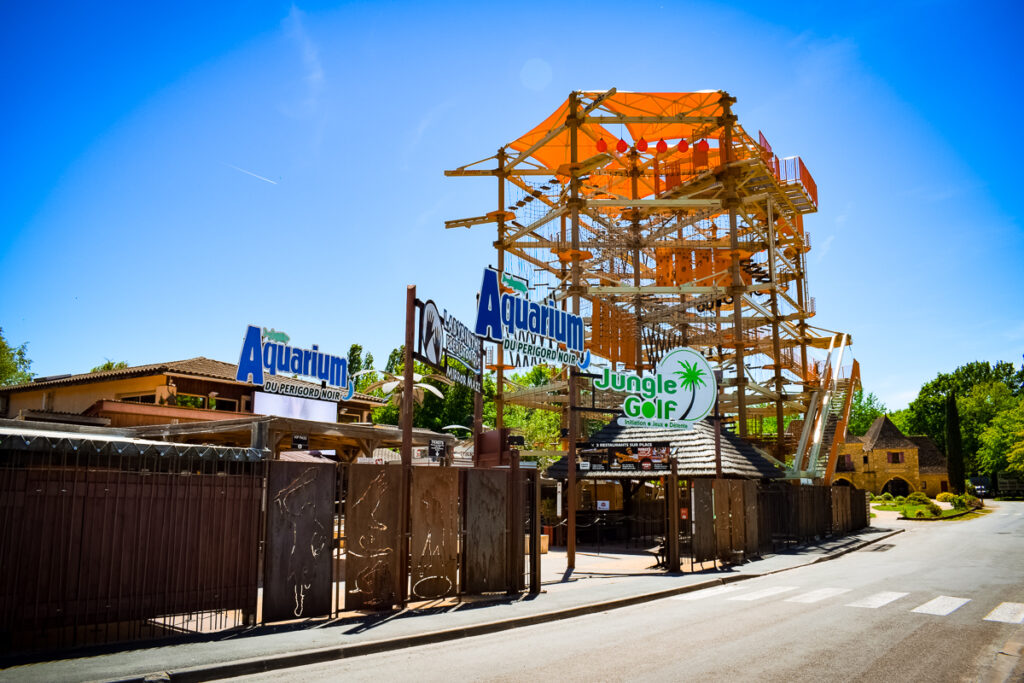 In the town nearest the campsite you'll find these excellent facilities perfect for families. Le Bugue is just 6km away and you can park right outside the amusement area. The places above are all within meters of each other and although you may be able to cram them all into one day – I'd say you've got 2/3 days worth of activities just here.
The Aquarium Perigord north is highly recommended and is the biggest freshwater aquarium in Europe. There are plenty of different species, even alligators, and you'll receive an animation program with all the different feeding times.
Parc Bournat is a reconstructed village theme park set in the 1900's. You can experience what life was like in the Perigord by exploring crafts, riding carousels, watching the villagers reenact life on a farm and even by tasting local delicacies. The parc is great for the whole family thanks to its mini farm, animal island and vintage fairground.
The Labyrinthe Prehistorique is a prehistoric mirror maze and interactive universe. There's 16 different puzzles On more than 1000 m2. It's a surprisingly educational leisure activity in which you can learn more about Cro Magnon and his life.
The Jungle golf is an 18 hole mini golf course. Filled with vegetation this mini golf course is designed to mimic the jungle thanks to interactive sounds, mists and shadows. In July and August you can even explore the park after dark.   
The Big bird is the highest climbing frame in Europe at over 22 meters high! It's insane and looks like so much fun. The climbing frame uses a belay system and users are constantly hooked up and secure. A similar concept to parks like Go-Ape in the UK, except the Big Bird goes upwards to each level instead of outwards.
Sarlat, Domme & La Roque-Gagéac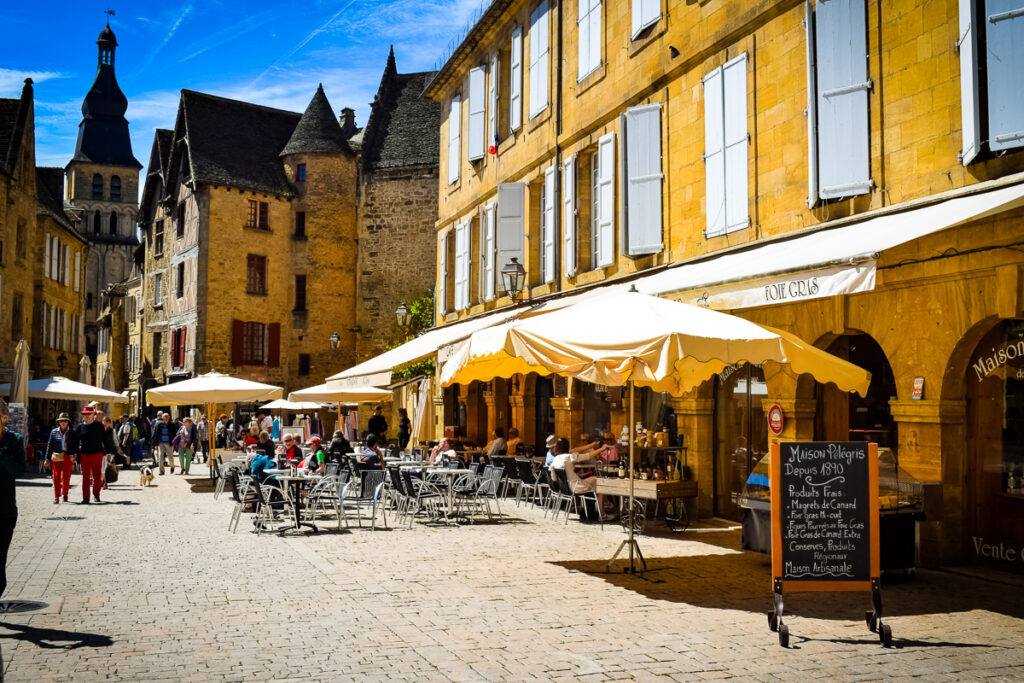 This is the sight seeing day out. I think we underestimate children and think we can't take them sightseeing but really you can, and it's a great way to involve them in culture rich activities. We visited the 3 places above in one day, as they were all in a row from the campsite and other than Sarlat, I don't think you could spend a whole day in them.
Sarlat La Caneda is one of the most famous towns of the Dordogne and for good reason. It's absolutely stunning. You could easily spend a day here browsing the arty shops, the local produce shops and enjoying the sun on a bar terrace. There's even a play park and picnic area so the kids can let off some steam. Parking is easy and if you park in the free car park near the cemetery you can easily walk into town.
Domme is a lovely place to take the kids on a fun tourist train tour ride around the town and its sights. Here you can grab a lovely ice cream and take in the breathtaking views across the Dordogne and explore one of the Plus Beaux Villages de France.
La Roque-Gagéac is a beautiful river side town of the Dordogne. Like Domme it's classified as one of the most beautiful villages in france and it's easy to see why. 8km south west of sarlat this village is overshadowed by the giant limestone cliffside which also means the village enjoys its own microclimate, which thanks to the heat retention has meant they're able to create an exotic garden. We stopped here for a quick coffee and although I doubt you could spend a whole day here it's a lovely place to take a break. You can get a boat ride or hire canoes from here or just take in the scenery.    
We drove past this parc on the way to the campsite and it looked pretty epic. However due to the low season it was closed. In April and May the parc is only open on Sunday but in June the days vary and it's open more – July and August the parc is open daily. The theme park is a mix between water park and theme park, with roller coasters, carousels, fairground rides, water slides and a splash parc. It looks like a fantastic day out for kids and was one of Eurocamps top rated local activities.
See the region how its meant to be seen, by canoe. There are plenty of places to hire to hire canoes and the nearest is CanoEric in Le Bugue. From here you can canoe on the Vezere river via one of their many routes. There's even 50% off for children under 10. Another recommended canoe company was Canoe 24 in Les Eyzies village.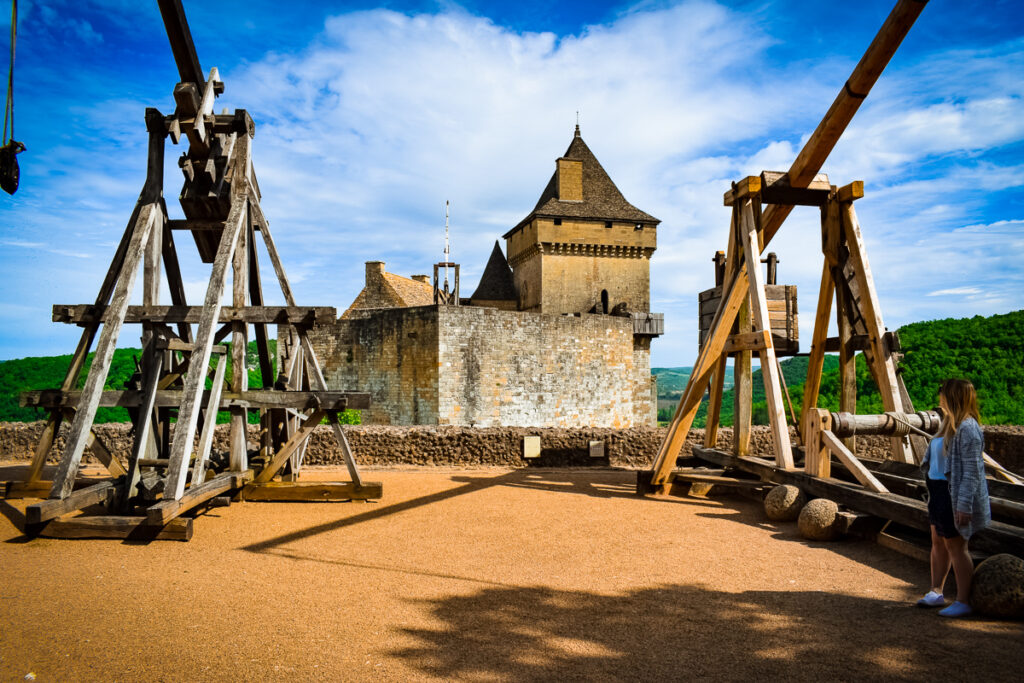 For a Game of Thrones inspired day out then definitely explore chateau de castelnaud. It's a museum of medieval war held in a 12th century castle. It's open every day of the year, however, more activities will take place in the Summer months. Tickets are fairly reasonable at 10e90 per adult and 5e50 per child over 10 – children under 10 go free. It says on their information free parking in the village however we couldn't find this so did have to pay for parking near by. When exploring in the Chateau there are a few tight squeezes and steep steps, so I would only recommend visiting if an able walker.  
Grottes and Caves (great rainy day activity)
Luckily we had great sunshine during our stay so we didn't have to use our rainy day card, however I had planned a whole itenary for rain which included exploring the tons of caves the Dordogne has to offer.
Rouffignac cave was the main cave I wanted to visit. At more than 8km long this cave is one of the largest and most famous caves in Europe. There is an electric railway that you can board to explore some parts of the cave. The cave contains over 250 paintings dating back to the paleolithic era and is classified a Monument historique since 1957 and a world heritage site since 1979 by UNESCO. Visitors are strictly restricted to just 550 people a day and is open from april the 1st till November 1st.
Other caves/Grottes i wanted to visit in the area included:
Grotte de Lascaux, Gouffre de Proumeyssac, Les Grottes du Roc de Cazelle and the Grotte de Villars.
Check Availability And Book st Avit Loisirs Today
Clicking the button below will open the providers website in a new window.
Frequently Asked Questions
Are the mobiles close together?
We found the pitches really large and spacious, especially those by the fun zone area. 

Are pets Allowed on Site?
Animals are allowed and Eurocamp has pet friendly mobiles, check when booking in case there is an extra charge and to make sure you're in the right animal friendly accommodation unit.
Is it loud in the evenings?
When we stayed in low season our tent was near the bar area. Whilst we could hear a little bit of evening entertainment, it wasn't overly loud and finished really early – however I imagine high season will be a lot noisier. The site is quite big though, so if you request a pitch far away from entertainment and noise they may be able to accommodate it.
can you use inflatables in the pools?
yes but not in the main pool at the top. This is just for swimming and sports use. You need to use an inflatable rubber ring for the crazy river.
How can I find out about local events?
Speak to your reps on site and follow the Facebook page for Le Bugue (the nearest town to the campsite). Here they share local events, markets, firework shows, concerts, etc.  
What can we do if it rains?
The Dordogne is perfect for the rain. Many of the tourist attractions are indoor, like museums and Grottes.
Can you swim in the lake?
I wouldn't, I think it's definitely a fishermans lake not a fun lake.
No, it is quite hilly in areas but nothing extreme. If you have any issues with hills, the main area of the campsite is quite flat so I'd request being around there.

We did see one, but it was still a bit too early for them. The site is quite wooded and there were a lot of insects. Remember it's camping and we are in their home.
Is It Easy To Get A Sunbed Around The Pool?
We didn't struggle at all because it was quiet however I'm not sure what high season will be like. There did seem to be plenty of loungers, but I'm afraid I don't know – If you do find out, let me know, I'd love to be able to update this answer.
What Happens If I Arrive To The Campsite Late?
Give your Eurocamp rep a call on the number provided. It may be that you have to park at the main car park and walk to your accommodation if you are after 11pm. Any earlier and you should be fine.
Do You Need To Wear A Wristband?
Yep! Wristbands are mandatory for security reasons. You'll receive it from the main reception when you check in. Unfortunately it is a bit scratchy so pack some vaseline to soften the fabric.
Do Men Have To Wear Swim Trunks?
Mike didn't but the rule can be enforced at any time. Pack an emergency pair just in case – they're always handy to have when camping in france.

Yes, we had a charcoal bbq with our Eurocamp classic tent and we noticed some accommodations were given gas bbq's. Check what's provided with your booked accommodation.
What's The Weather Like In Spring/Summer?
When we stayed we'd booked 2 days of sunshine and 2 days of rain, that was in May. Spring can be quite rainy in the Dordogne – how do you think it gets so green? Summer can be super hot, make sure you pack the factor 50 and sun hats.
Where Can You Watch The Sunset?
We watched from the bar area one night as the sun set over the beautiful hills and the next night was saw it from the lake area, the mobile homes around her get a great view of sunset.
Can You Park On Your Pitch/Emplacement?
Easily, there was plenty of space on all the emplacements we saw.
Is There Disabled Accessibility On The Campsite?
It may be struggle for disabled person as the campsite is quite hilly although the front area of the campsite is flat. The shower block at the front of the campsite near where we stayed had an accessible toilet so I believe the campsite is accommodating. 
It's a cashless campsite so an ATM would be unnecessary.
Where's The Nearest Supermarket?
In the nearest town, Le Bugue, 6km away there is a big Intermarche which we used. There is also a Lidl and an Aldi.
My Flight Isn't Till Late, Can I Stay On Site After Check Out?
Most tour operators will have check out before 11am, however once you're out of your mobile home you can continue to use the campsite facilities like the pool and kids play areas.
Check Availability And Book st Avit Loisirs Today
Clicking the button below will open the providers website in a new window.
We loved Saint Avit Loisirs. The scenery was breathtaking, the staff were friendly, the campsite was well-maintained and we loved being outdoors there. However we've only experienced it in low season and I can imagine in High season the campsite seeming completely different.
Low season was so quiet and peaceful, but almost a little too quiet. I'd love to visit again sometime and find the happy medium between the peacefulness of low season and the atmosphere of high season.
We will definitely go back.
Once our baby is a little older I imagine her/him making friends around the pool and having outdoor adventures with different families. This site really is perfect for toddlers and young families.
To find out more information or to book via Eurocamp click here
Check Availability And Book st Avit Loisirs Today
Clicking the button below will open the providers website in a new window.