Camping Des Menhirs Review Carnac, Brittany
Camping des menhirs Review Contents
Check Availability And Book Camping des menhirs Today
Clicking the button below will open the providers website in a new window. See you again in 2021 Camping Des Menhirs
We loved it so much, we're making it a yearly holiday.
Camping Les Menhirs in the beautiful Brittany town of Carnac was the destination for our BIG holiday of 2020. We were supposed to be meeting our family there to celebrate the baby's 1st birthday, but due to the re-imposed quarantine restrictions from the UK, they couldn't make it over.
Fortunately for us, we were still able to go, and we even took some friends with us.
But enough about that – you want to hear about the campsite, don't you?
Located between Quiberon and the Gulf of Morbihan in southern Brittany, this campsite is not only close to a beach, but it's within walking distance to the vibrant town of Carnac.
It's unusual for campsites to be in town centres which is one of the reasons that this campsite is so unique. It's one of those destinations, which, other than for getting there – you could park up and never use your car.
The campsite has recently become a Marvilla park, just like La Croix du Vieux Pont and Saint Avit Loisirs which we have also stayed at. That means it's owned and run by French camping company Homair. It's under the European Camping Group umbrella, just like Eurocamp, Al Fresco, Roan, Palmiers Ocean, Go4Camp and Camping Vision. Based on our previous experiences, I like to think they're a reputable company, unlike our encounter with another camping company Resasol.
If you're wondering why the campsite is called "Les Menhirs" (or sometimes Des Menhirs) that's because Carnac is famous for Its Menhirs:
"Menhir: Noun: A tall upright stone of a kind erected in prehistoric times". So not only do you have the town and the beach, but you also have some amazing prehistoric Stone rows to explore too.
Anyway, let's get to the pros and cons of the campsite…
Pros of Camping Des Menhirs
Cons of Camping Des Menhirs
Every family prefers certain things about a campsite, so our "cons" could be on your "pros" list!
Review of the Pool complex at Camping Des Menhirs
For the size of the campsite, the pool complex at Camping des menhirs is more than enough, especially when you consider that the beach is just meters away too. Not only is there an outdoor pool, a toddler pool and fun slides, but there's an indoor complex too!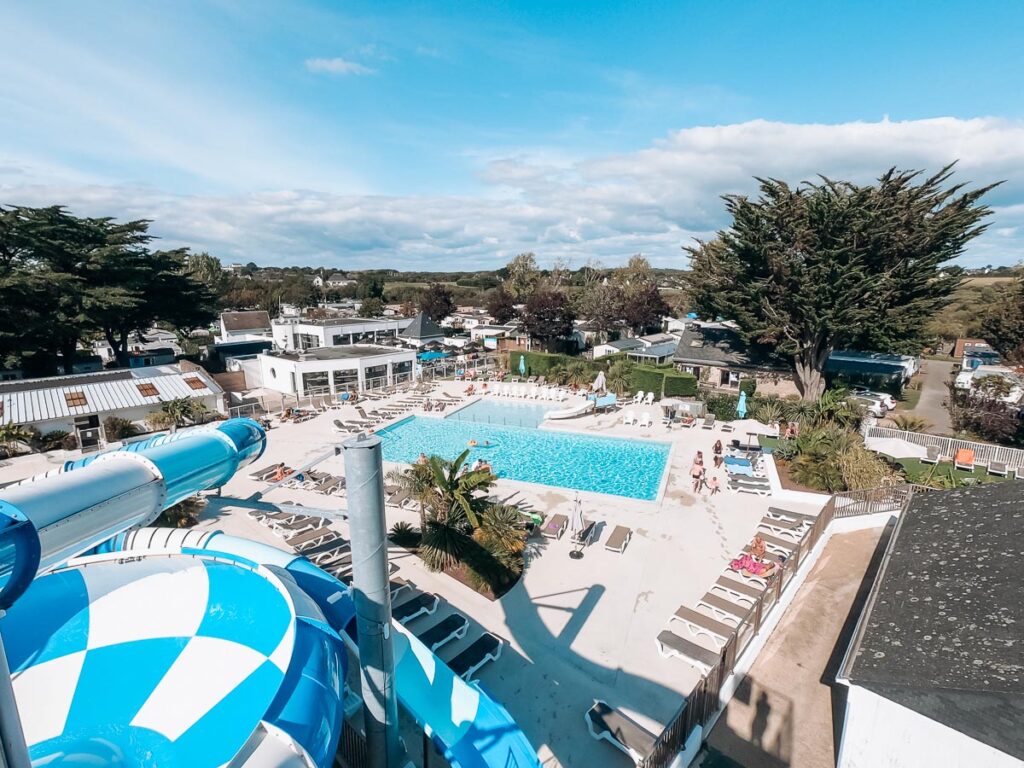 We spent most of our time on the slides and in the outdoor pool as the weather we got, even at the beginning of September was lovely. Although, we did pop in the indoors a couple of times when it was just a little too chilly.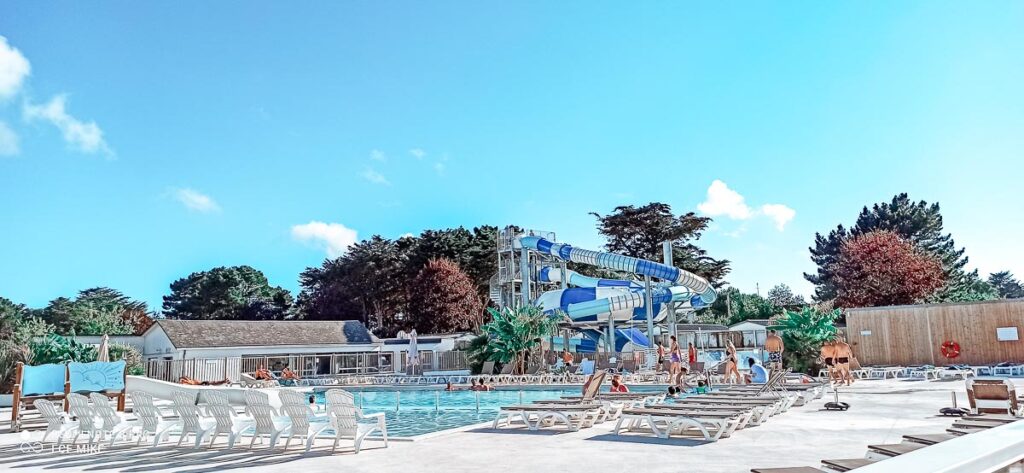 The outdoor pool complex is awesome. It looks great, it's clean and there's plenty of places to laze around on a sunlounger. The pool itself is a more than reasonable 23mX10m size and is also heated, although on a colder day, it definitely still feels freeeeeezing. It is 1.6 meters deep at one end but a shallow 0.9meters at the other end.
Outside, attached to the main pool there's also a toddler pool with climbing frame and slide in. It's only 20cm deep, so just above your ankles which makes it the perfect depth for young infants to toddle around in. Our baby loved being able to walk (while holding our hands) in this pool.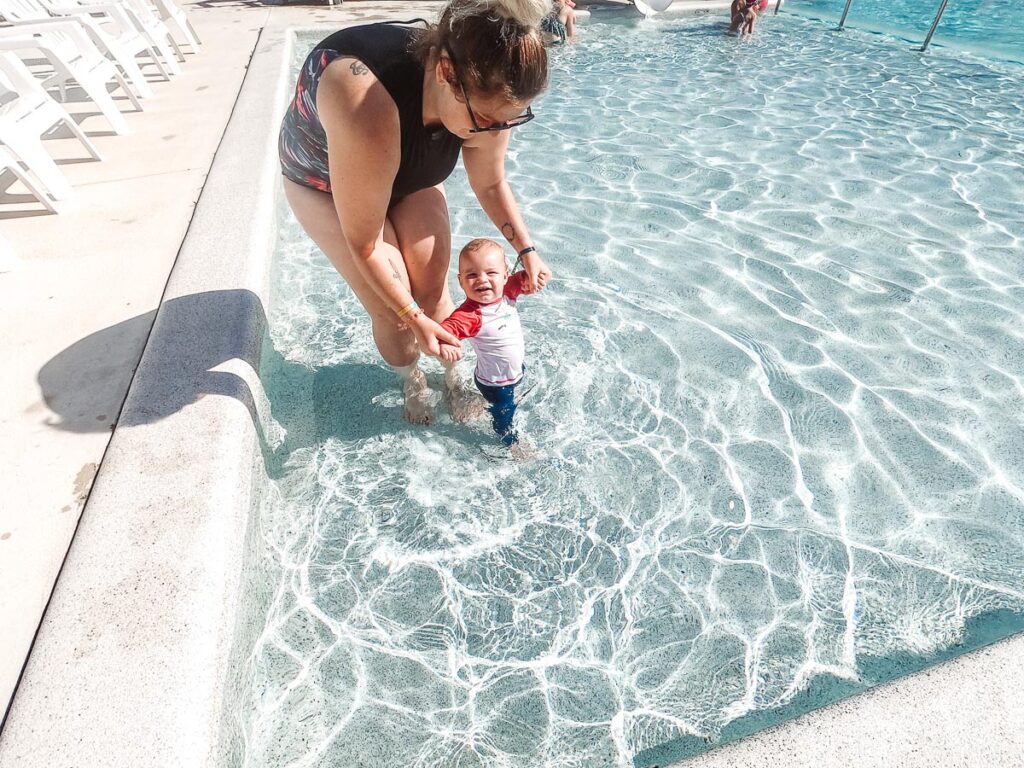 Next, let's talk about the amazing slides. There are 3 modern water slides in the aquatic complex. One is a giant space bowl style slide, which starts really fast! The second is a standard, but still enjoyable, flume slide and the third is a 3 lane fast slide. We tested out all 3 on quite a few occasions, and they are definitely fun for adults as well as children. You will have to be atleast 1.2meters tall or 7 years old to give them a go though.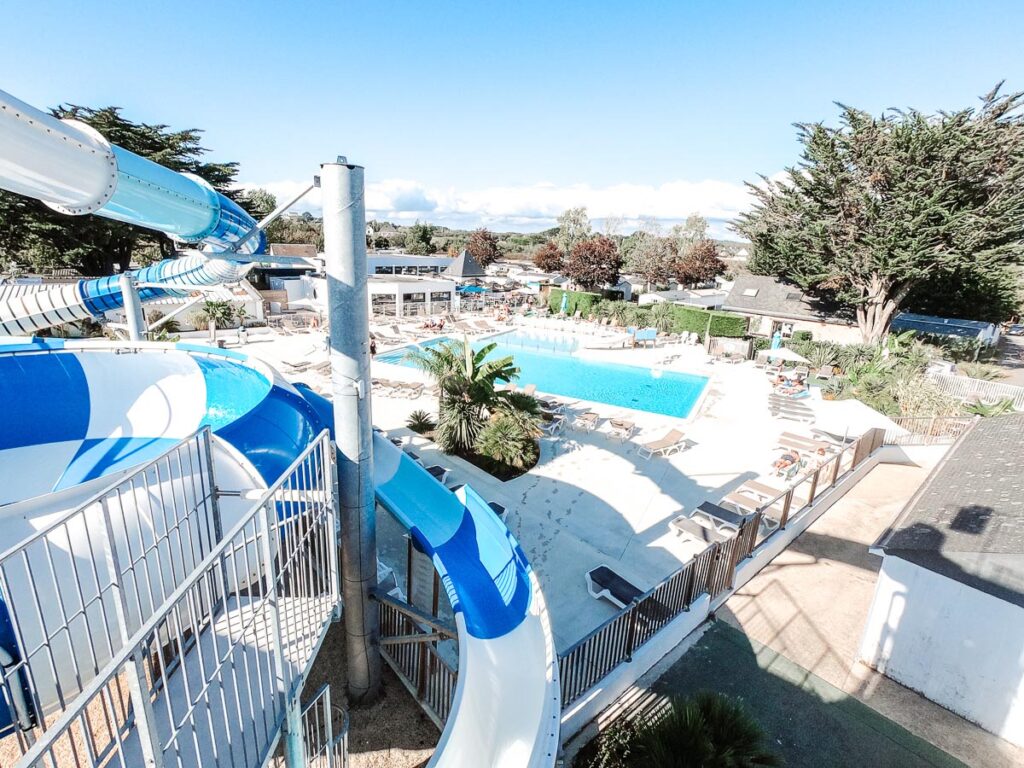 The Indoor pool area has a large (17mx8m) lane style pool and is very well heated. It's a constant 1.2meter depth meaning most adults can walk around no problem. There is also a small paddling pool for infants inside. I found the indoor pool area very dated and old fashioned. It felt like I was in a 70s swimming lesson commercial. Both times we used it the floor was quite dirty, and there were a lot of hairs caught in the drains at the side. It was unmanned, so I assume it didn't get checked often and had just gone unnoticed.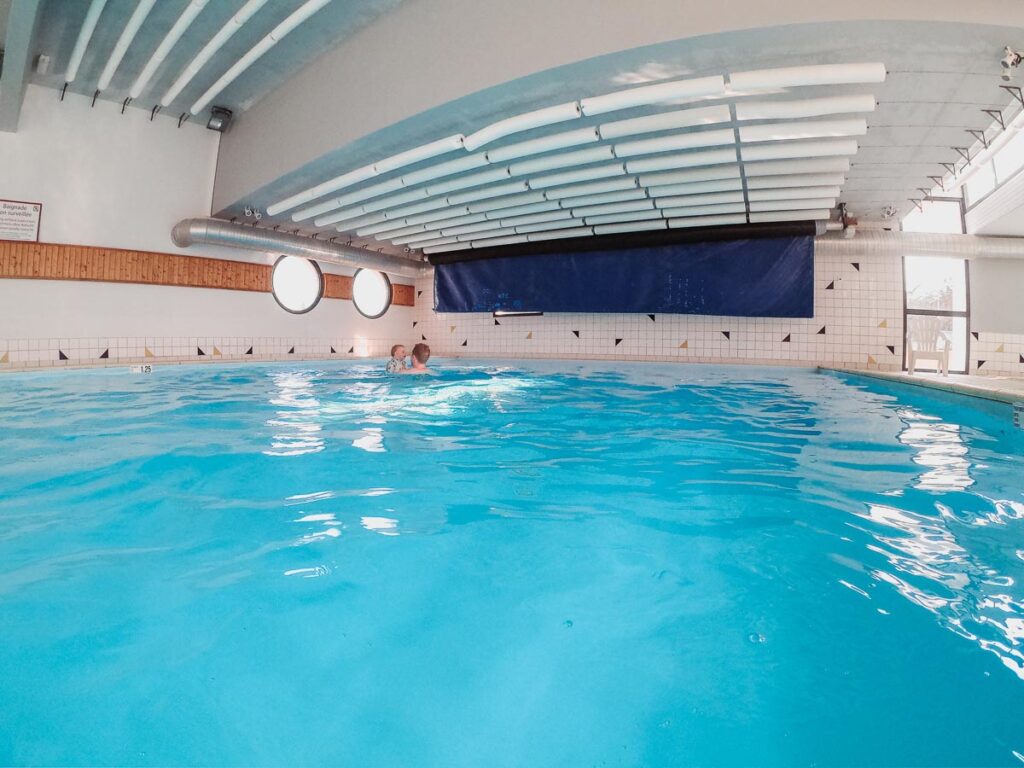 Covid Restrictions to the pool area
There weren't many obvious differences in the pool area. Arrows marked out the "flow of traffic" for people going in and out the changing area and hand sanitisers were obligatory at the entrance, and seemingly, these rules were being followed. 
The sun loungers were placed at a distance from one another and actually, the pool was so quiet during our stay that social distancing was most definitely being adhered to. 
The changing rooms were all open, and the only difference we noticed was that every other shower was taped off. 
The campsite has a "lycra only" swimwear rule however during our September visit there was never anyone manning the pool, and therefore many customers were wearing normal Bermuda style shorts.
However, the swimwear rule could be enforced at any point; therefore, it would be stupid to risk it. We always pack a pair of Jammers, and Mike usually wears them underneath his Bermudas. 
Another rule we noticed, on the notice board outside the pool is that UV vests are only allowed on children under 3 years old. It seems like a strange rule, and I'd probably challenge it if I had older children.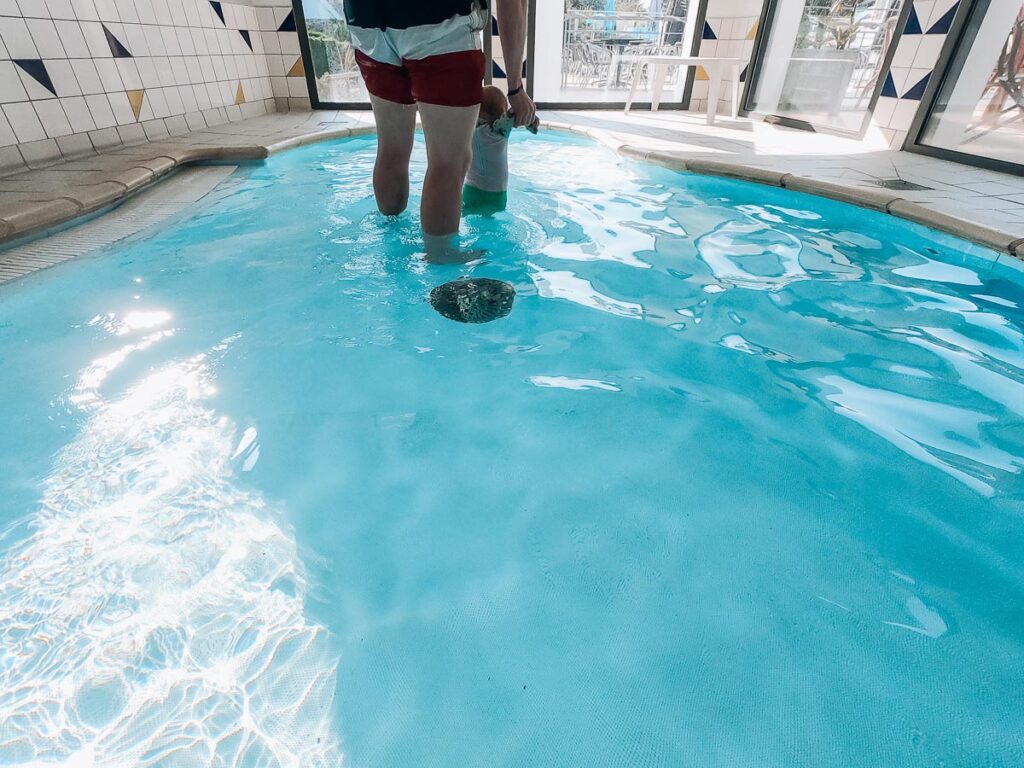 Although it's not attached to the pool in any way, I felt it important to categorise this section with the aquatic facilities as Jacuzzis and pools generally go together. The spa and relaxation area is an over 18's zone and features two 34°C jacuzzis, a solarium, an outdoor gym and a pay to access sauna. There's also a masseuse who works throughout the Summer season.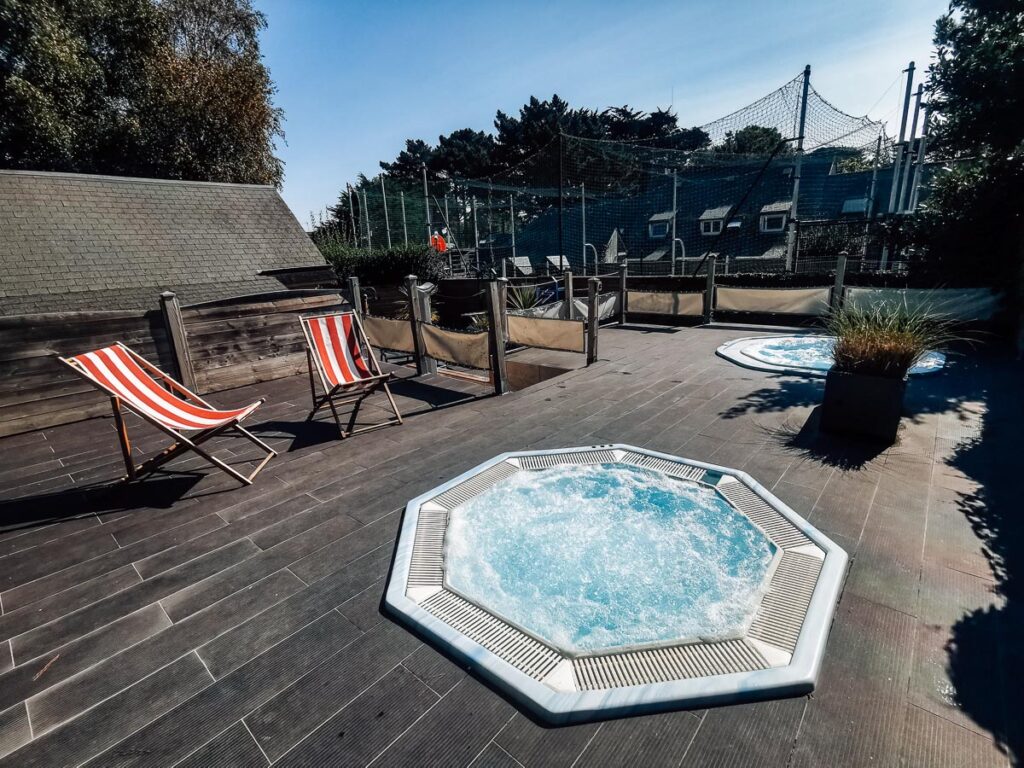 The Beach, Carnac and The Stones
Not a part of the campsite but a big reason why many people come to Des Menhirs is because of the stunning beach, seaside town and of course the stones. I'm going to be brief in this section as I will be writing up a larger post about all things "Carnac", but I just want to give you an overview of this incredible area.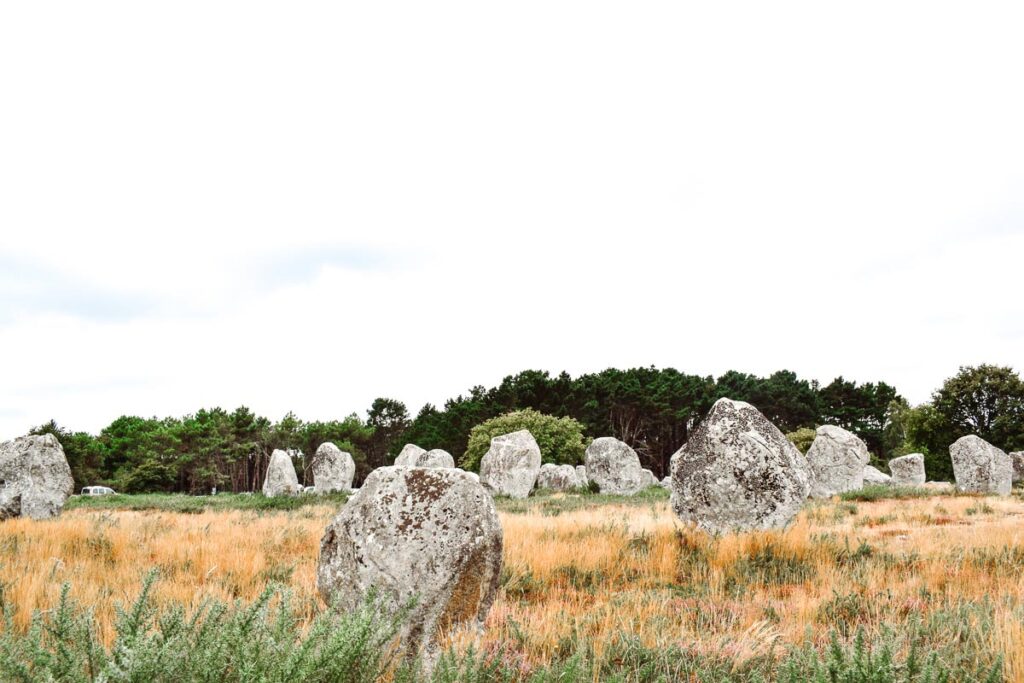 First and foremost, Carnac is famous for its stones. There's a massive collection of megalithic sites here. There's alignments, dolmens, burial mounds and single standing stones (Menhirs). Personally, I found them quite boring, but lots of people enjoy them. I grew up near Stonehenge, and to me, Carnac doesn't even compare. 
I much preferred the beach and modern town over the historical sites. Don't get me wrong, I generally love learning about the history of a place, and most of the time History enthrals me, but here? Not so much. The beach, on the other hand, that excited me. There are not many waves here as it's in a bay, but it's great for paddling, swimming, digging, sunbathing and relaxation. 
If you want to explore a little further around the coastline, you can follow the cycle track along the beach into the next commune of Men-du and then along into Trinite-Sur-Mer where you'll find some even nicer beaches. We did a short cycle to Trinite one day but decided to stick with the local beach and the town most days.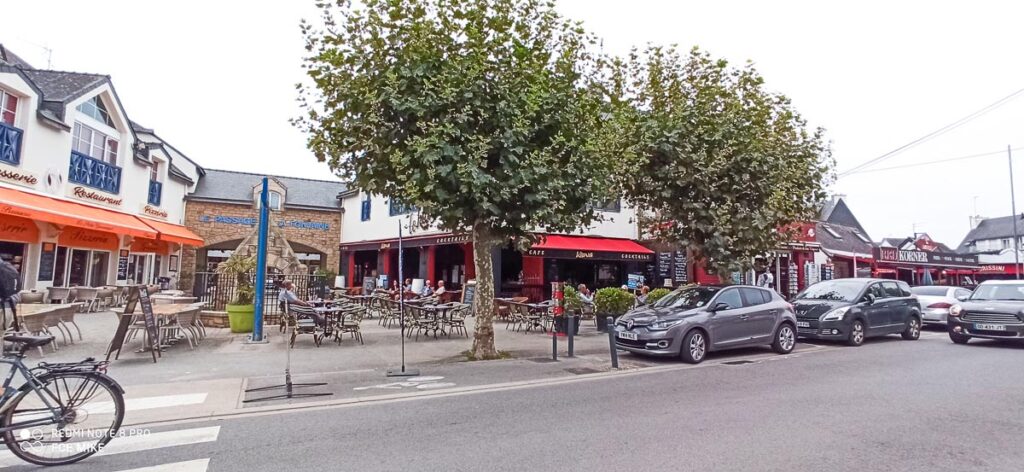 In the town of Carnac, we were absolutely spoilt for choice when it came to eating and drinking. There are so many restaurants. Trip Advisor has listed at least 84. We tried quite a few during our 10-night stay and loved them all. But it's not just restaurants. The town has some lovely gift shops, local produce shops, boulangeries, sweet shops and even an amazing ice cream parlour. So amazing, that when I mentioned, we were staying in Carnac to friends they all said we had to check out Igloo ice cream.
Review of the Campsite Facilities
This campsite is quite compact when compared to some of the resort-style campsites we've previously stayed on, but it still has a varied range of facilities. 
We stayed with Eurocamp during our holiday and the check-in procedure couldn't be easier. At first, we went to the main reception, although this wasn't necessary as they directed us straight to the Eurocamp reception.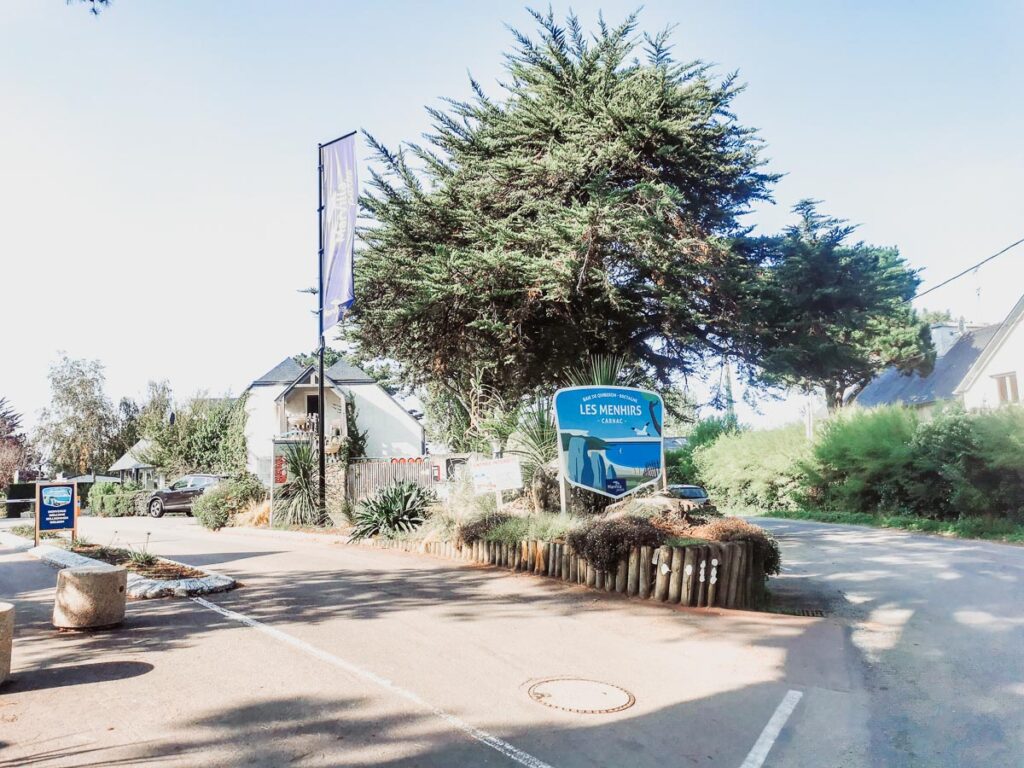 Once at the Eurocamp Reception we rang the number on the board and Leanda the Eurocamp receptionist arrived promptly via golf buggy. We were given an envelope with a map, our keys and our wristbands inside. Leanda directed us to our accommodation and gave us all the necessary information on the campsite, our accommodation and even the surrounding areas. As she's worked there for a few years, she was able to recommend restaurants to eat at, sights to see and things to do. 
Inside the Eurocamp reception, we also found plenty of information about the local area as well as practical information regarding COVID19. In fact, we learnt that the town of Quiberon nearby had recently made it compulsory to wear masks outside – something we wouldn't have known about if it wasn't for the sign in the reception.
Pre covid, this reception building would have been full of games, books and equipment to borrow during our stay but unfortunately, these items were no longer there and the shelves where they once were looked bare. I hope once all this is over, we can have these little extras back again.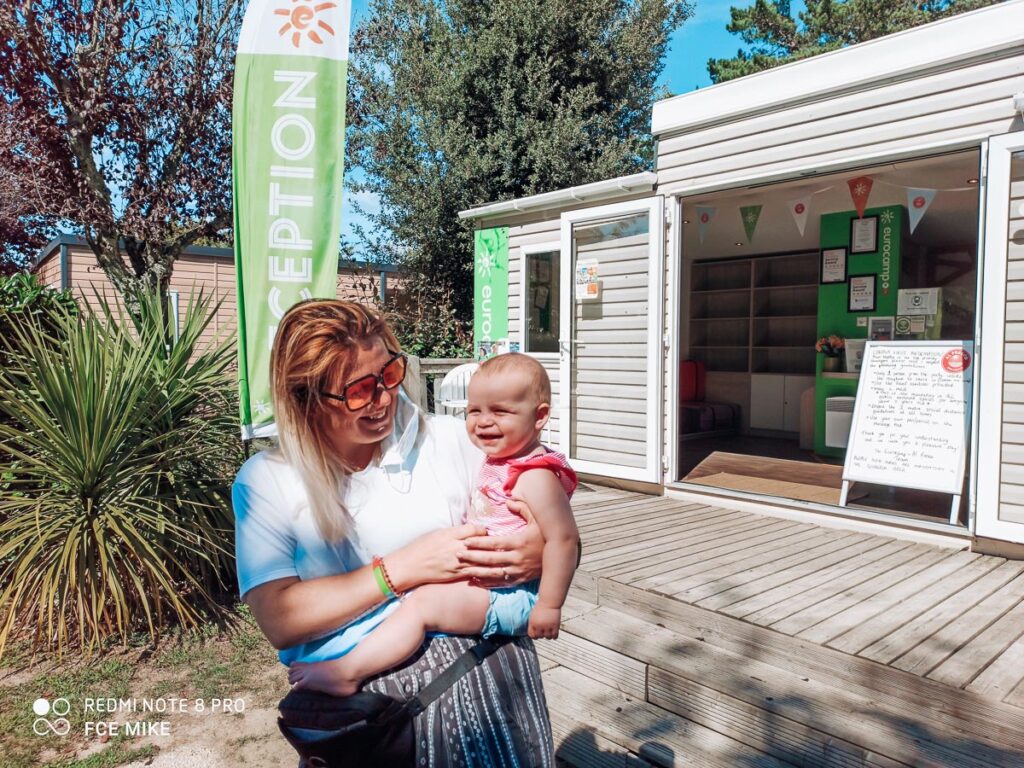 Although our check-in was solely through the Eurocamp reception, we did still use the main reception a few times during our stay. Once to get tokens for the washing machines and the second time was because we had to get a couple of emergency baby items delivered to the campsite. By emergency baby items I mean a 'sack'a'seat' because we discovered not a single restaurant here seemed to have high chair straps, and we have given birth to Houdini mk2… Anyway, every time we visited the main reception we were greeted well and the staff were pleasant and friendly. There were always lots of staff at the desks and only once did I notice a reception queue during our stay.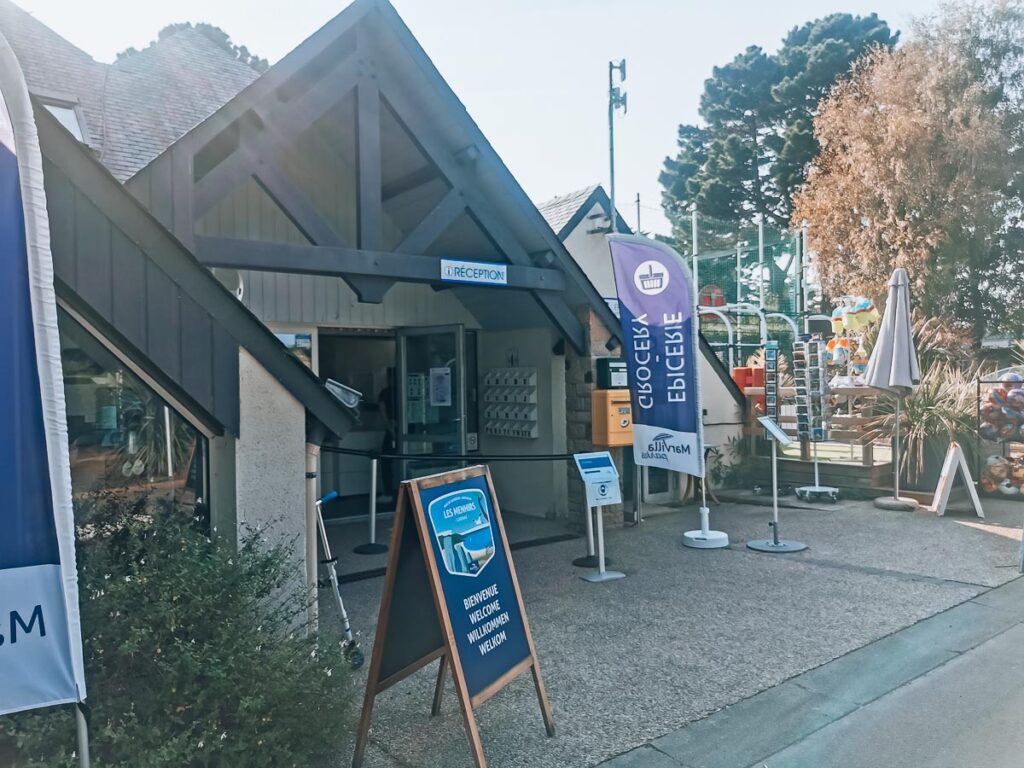 Although Camping Les Menhirs doesn't have much green space for playing on, it does have a fair few other playtime options.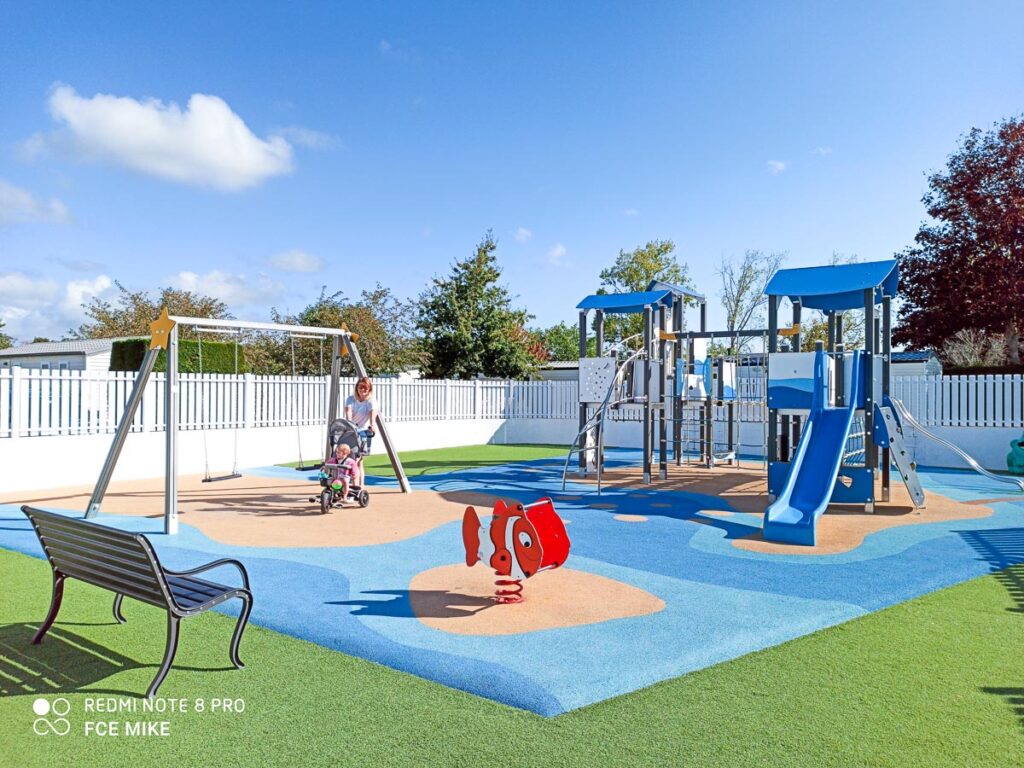 The playpark is a bright coloured area at the centre of the campsite. There are 2 swings, a climbing frame with a slide and one of those solo seesaw style things for the tiny ones.
The ground is bouncy to soften any potential falls, and outside the square of equipment, there's a nice astroturfed "crawl space (as we like to call it)" with a bench for parental monitoring.
It's not the largest playpark in the world, no, but on a campsite like this, it's perfect.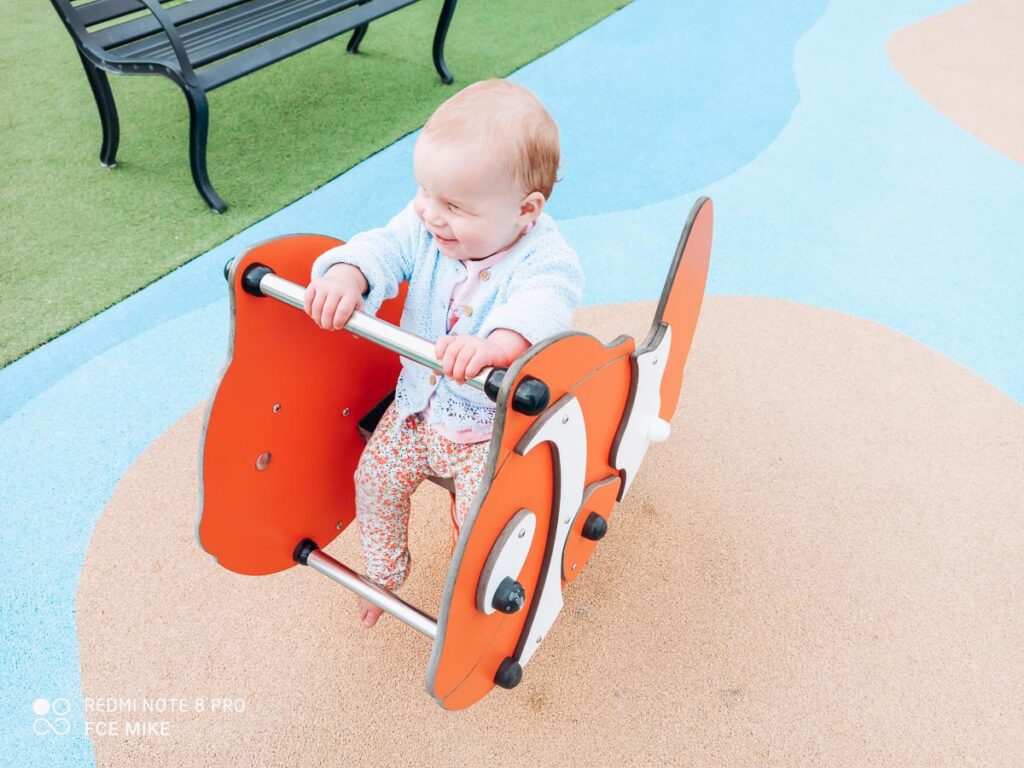 Obviously, like every single campsite we have stayed on, there are ping pong tables for you to enjoy. The table tennis courts we saw were situated by the bar area at the heart of the campsite. If you haven't brought your own equipment then usually you can hire them from the main reception, however, with the current COVID19 situation, I'd probably suggest packing your own in case games/equipment hire is stopped.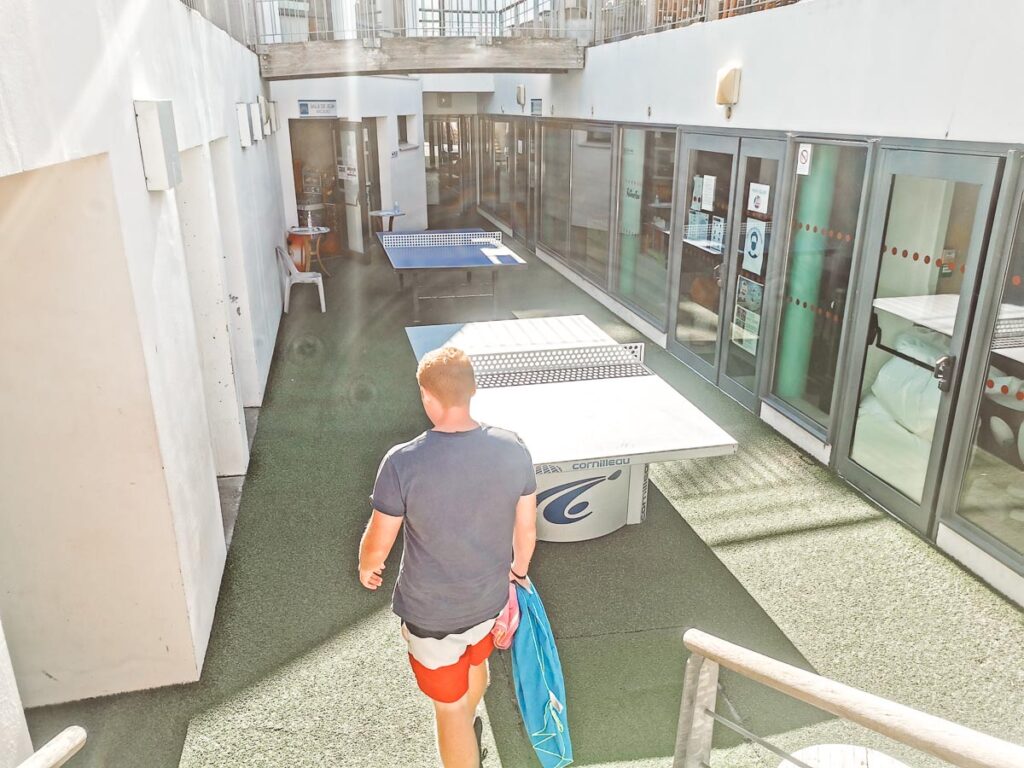 Body Weight Gym (Adults only)
The campsite has a small, adults-only bodyweight gym. It's situated inside the adults-only relaxation area where the Jacuzzis and spa are. There are only 4 pieces of equipment in there; however, there is also a "real" indoor gym (which I'll get to in a minute).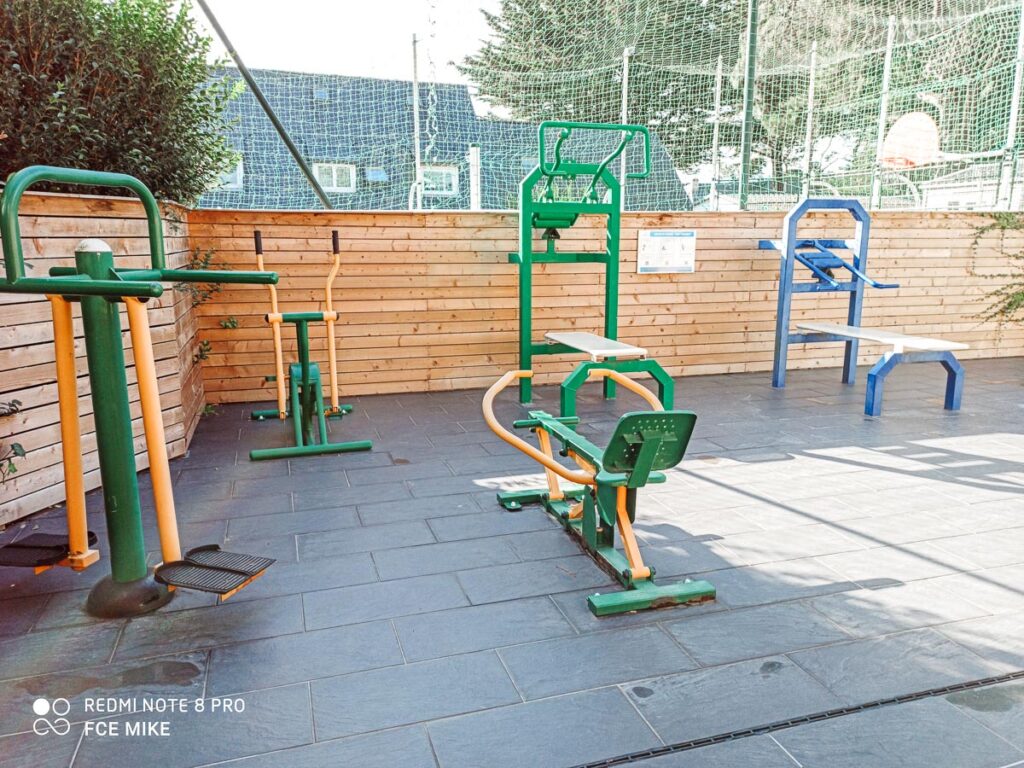 At the entrance to the campsite, alongside the reception and shop, is where we found the Multi-sports court. Usually full of children playing football, this space is the main play area for older children/teenagers. Although it's outdoors, the court is fully enclosed so, there is no need to worry about balls flying through the air and smashing windows or hitting people. 
The arcade room is right in the centre of the campsite downstairs underneath the bar. There's a pool table, ride-on games, pinball, air hockey, table football and more. Just make sure you pack lots of spare change to keep kids occupied if you want a quiet drink in the bar.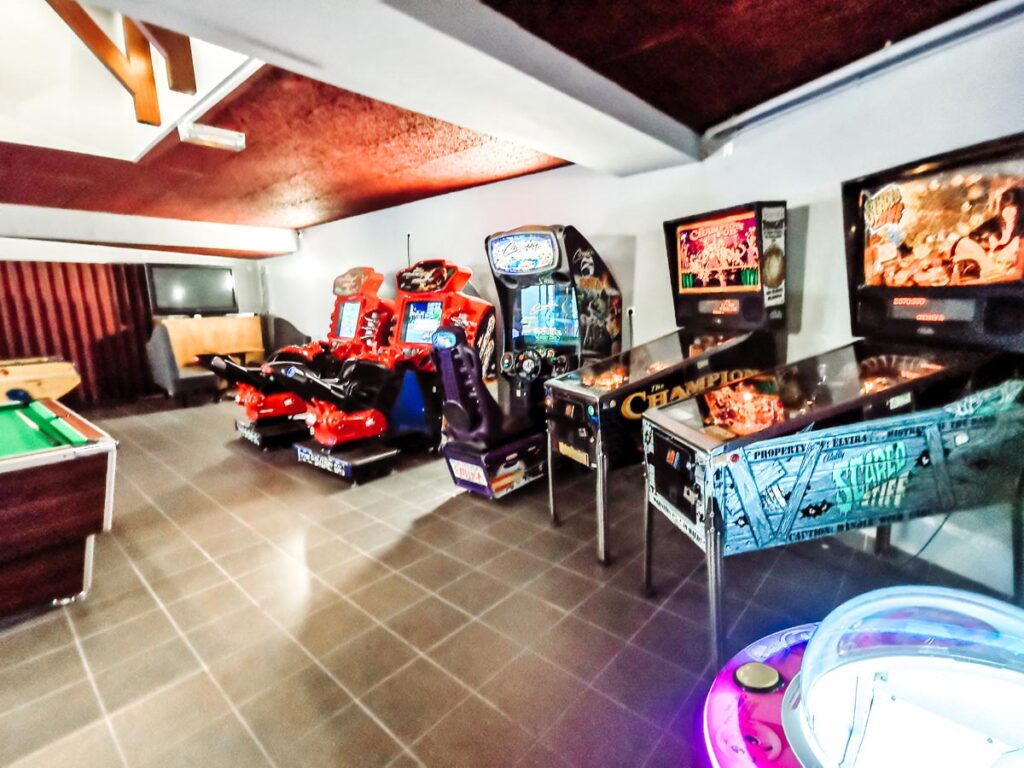 The campsite has a kids club for children aged between 4 and 10. There is also a group for adolescence (or as the French call them "ados") between 11 and 17. The clubs are only available in July and August and, they are free to join. They run daily, except Saturdays and activities vary day by day.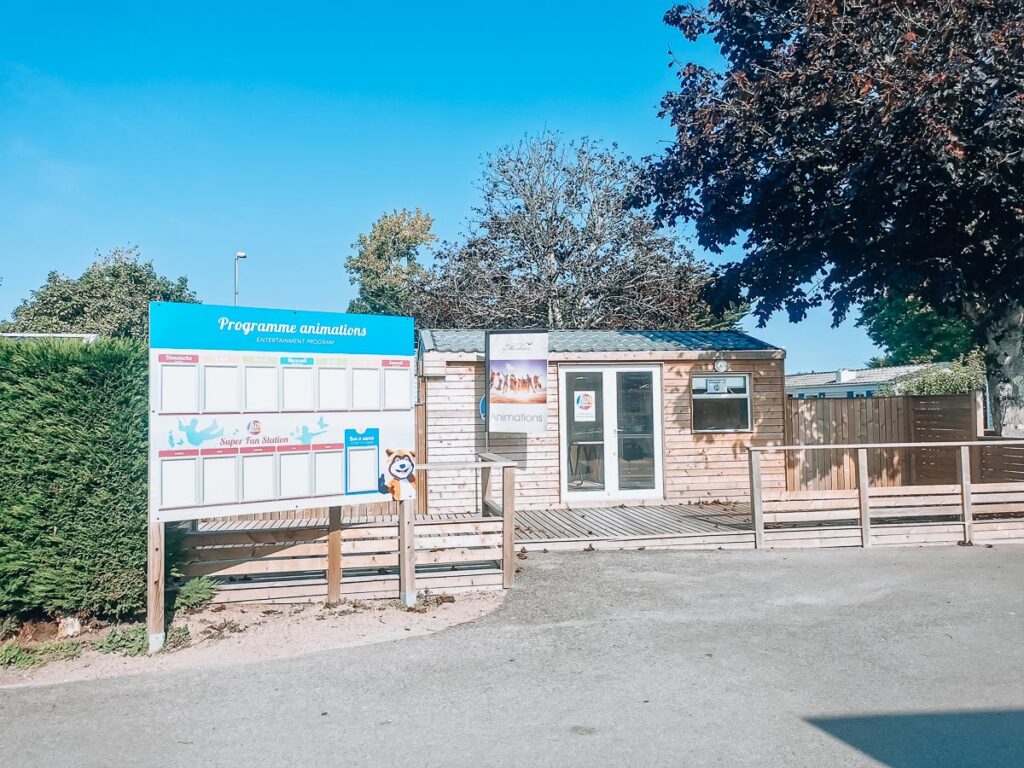 Unfortunately, the kids club was closed during our stay so we didn't get to observe any of the activities. Still, we did meet one of the kids club team members, Leanne. Now working as a Eurocamp rep for the end of season, Leanne came and visited us, met Harriette and even played a few games on the decking with her which I thought was really lovely.
Eurocamp offers a fun station for all service which means they work with children ranging from babies all the way to 17 year olds PLUS they even have activities for the whole family. 
If you check out the Eurocamp website, you can see exactly what activities this service provides.
I asked Leanne whilst we were there why there are so many animation/kids club buildings. She said it was because the kids clubs are for so many different age groups they are separated into different areas. It makes sense really because a 17 year old would definitely not want to do the same activities as a 4 year old…
Animation for kids and adults
When we arrived, the animation team had mostly gone home, although a couple remained. On our first night, I think we witnessed the last night of animation, which consisted of a quiz in the bar area. Unfortunately, we missed the main entertainment of Summer; however, from what I heard and saw there is a comprehensive schedule featuring live music nights, karaoke, quizzes, discos, magicians and more. There's also daytime entertainment like sports tournaments, aquarobics and more.
Due to its location in the centre of town the campsite doesn't actually have a restaurant. It does however, have a bar and a small snack shack to feed your hunger.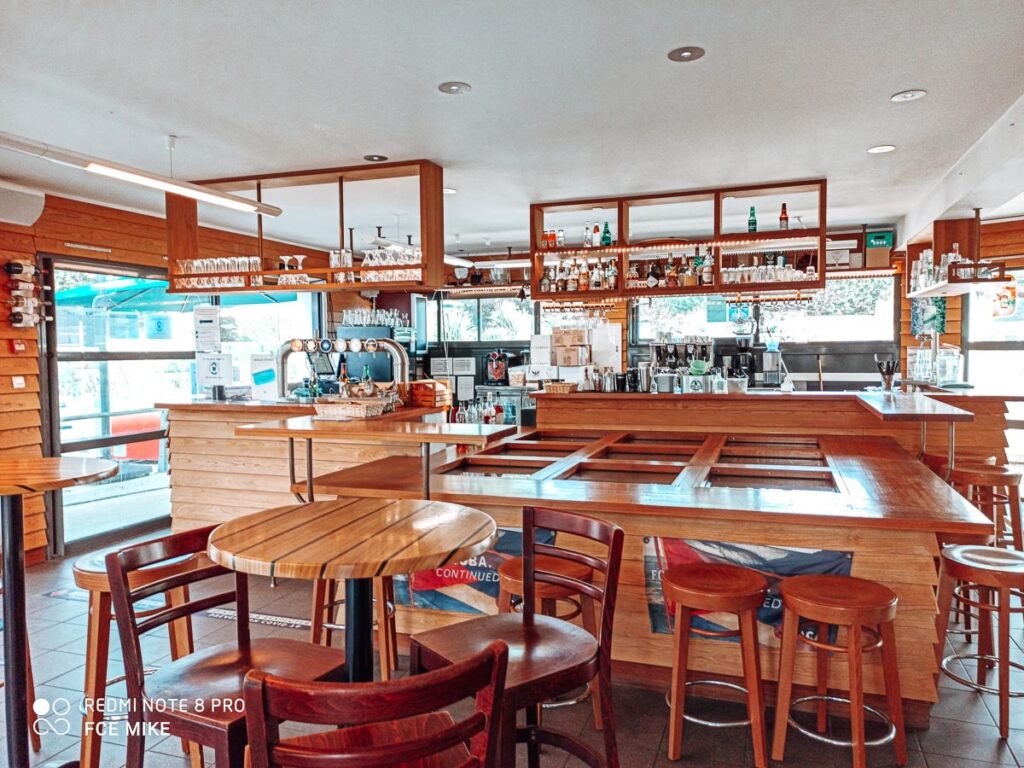 The bar area is at the heart of the campsite and features a lovely outdoor terrace stretching all the way to the pool area. There are outdoor heaters so you can sit outside as long as you want in the cold and parasols for the sun.
It's a nice space to sit outside and soak up the holiday vibe, and I imagine in Summer, great for evening entertainment. 
Inside there is more seating, the bar area itself, a TV and a pool table. It looks good. It's all wooden and modern, but we found there really was no atmosphere there in September.
We did stop at the bar for a few drinks throughout our ten nights at Des Menhirs, and service was always friendly. The drinks were inexpensive, and we found they also had a "drink of the week" style offer.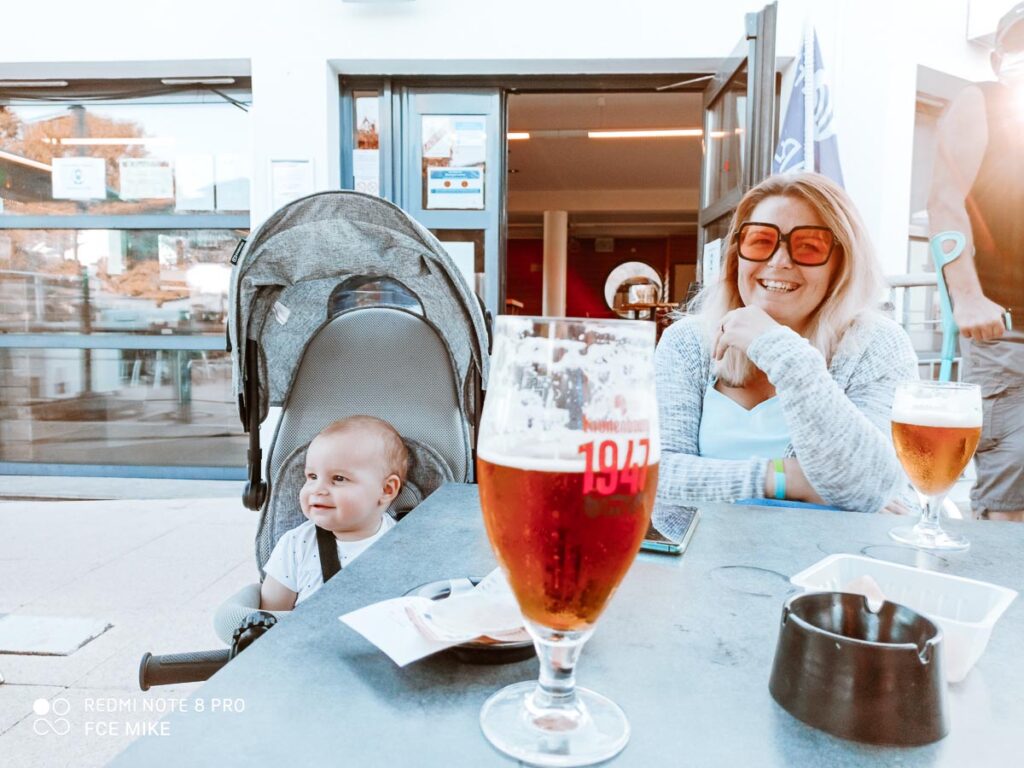 We didn't use the snack bar during our stay because there were so many amazing restaurants in the centre of Carnac to try. I think that's the reason the campsite doesn't have its own restaurant. 
The Snack opens Monday to Friday 7 pm till 9 pm and at weekends from 6 pm till 10 pm. It serves a wide range of pizzas, burgers, paninis and even some home comforts like fish and chips or chicken and chips. 
A standard Margarita pizza costs 8.80 euros whilst the most expensive pizza is 13.80 euros, so I think it's fairly regular campsite pricing.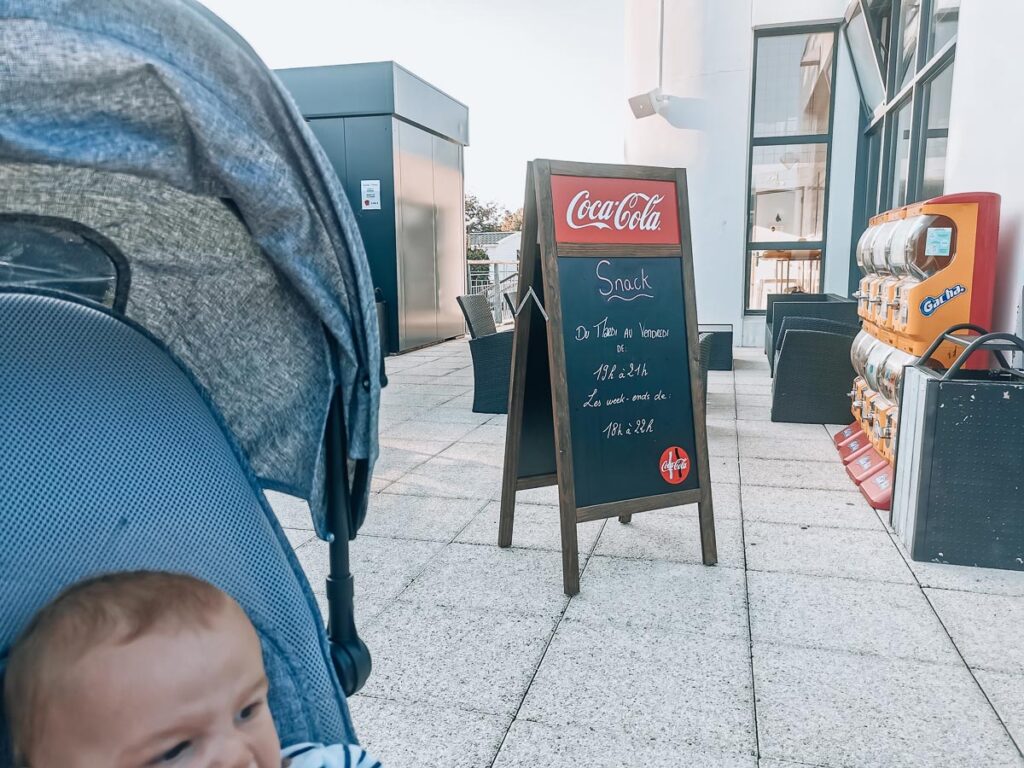 The campsite shop is located right next to the reception at the entrance to the campsite. It's very, very small and stocks a lot of gift style toys and games for kids, newspapers and random stock. We couldn't get anything we needed from there and never managed to find any fresh fruit or veg. If you want a fresh baguette or croissant you *could* get it from there but during low season you had to be there early otherwise they'd sell out. My advice would be to do the short walk into town and head to "Au Petit Prince" and brave the morning baguette queue. It may take a while to get served, but for the pastries and bread, it's worth it.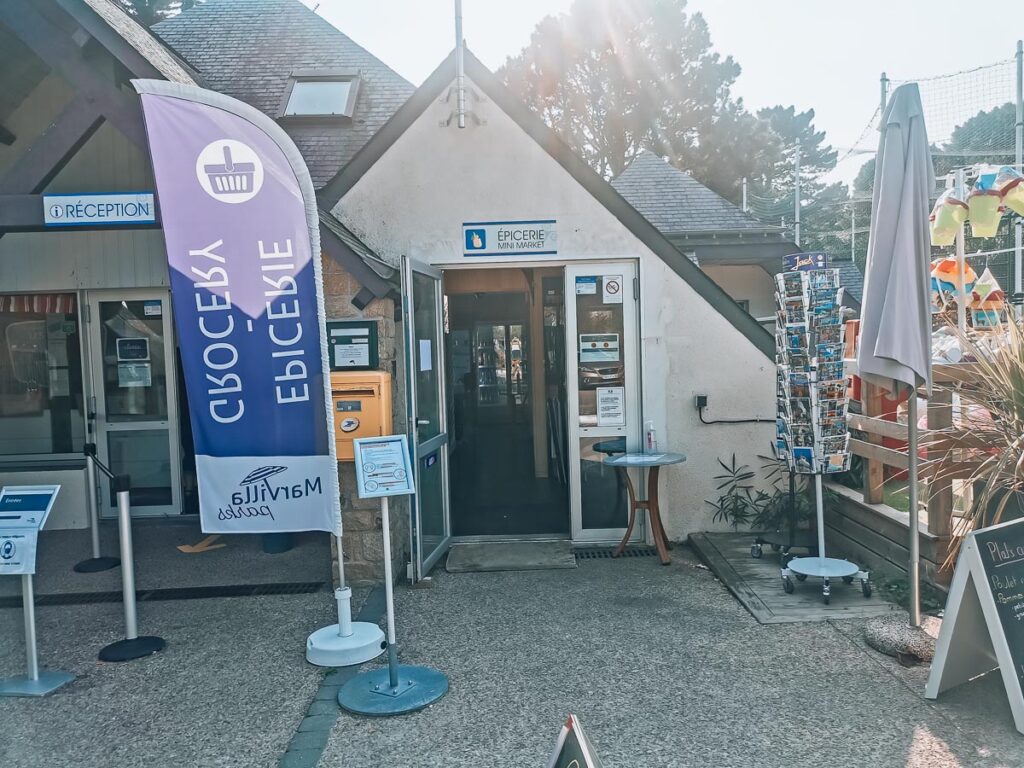 In the Relaxation Area, there is a small spa with treatments like massages and facials. It's open from Monday to Sunday from 10 am till 8 pm; however, they close on Saturday morning. A 30-minute body or back massage will set you back 30 euros while a 90 minute "Global Relaxation" massage will cost you 80 euros. During our stay, Delphine, the spa manager, handed Mike a leaflet with some offers, including a 60-minute face treatment reduced from 55 euros to 40. So if you need some relaxation time during your holiday? Here's where to come.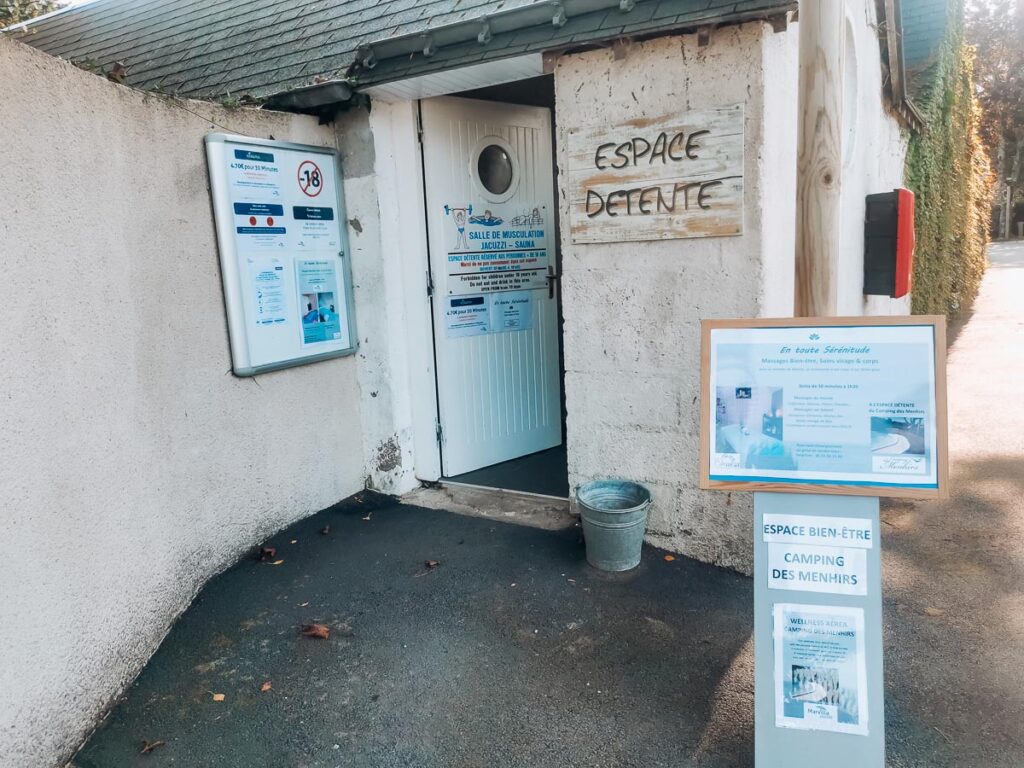 The campsite gym is located just before the pool (if you're walking from the entrance). It's easy to miss, and I had to ask for directions. It's in what looks like a storage shed down a short path, so you can see why I was lost.
It has a fair amount of "Holiday Equipment" as I would call it. Just enough to keep you routined but not enough to start training for a competition, if you know what I mean. 
There are bikes, cross trainers, a cable machine, resistance machines (some that I've never seen before) and a few dumbbells. I was surprised to see no treadmills, but I imagine because the campsite and surrounding areas are so flat, many people would go outside for a run.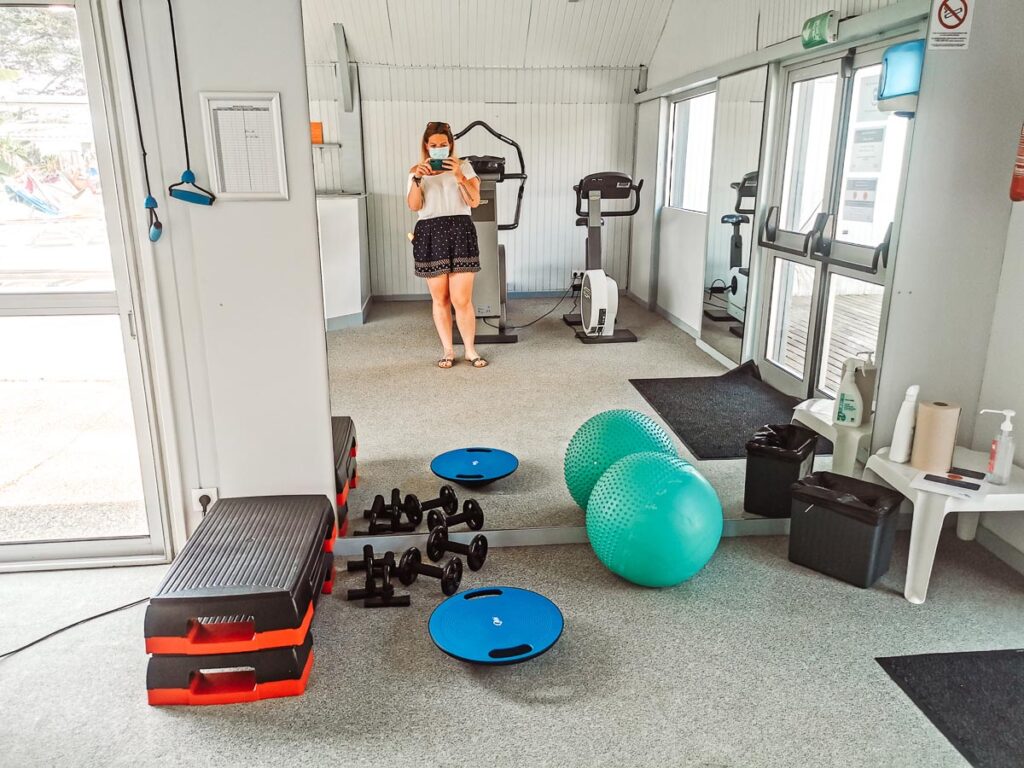 Wifi is free at the campsite bar and payable from your accommodation. For one day it's 6 euros, and for a whole week, it's 20euros. I think that's just for one device though as you can buy a "family pass" for 34 euros a week.
I'm afraid we didn't use it as our mobile data was incredibly fast on the campsite and we had a large enough allowance.
The campsite doesn't have its own bike hire service, but that's because just a few meters down the road is a bike hire shop called A Bicyclette. We rented 2 bikes and a child trailer during our holiday, and it was very reasonably priced. We left our ID as a form of deposit, and the whole process took minutes from walking in the door to leaving with some bikes. The hire shop was open every day 10 am till 6 pm, and they had a wide range of bikes to borrow. You could even hire a Quadricycle for the whole family should you wish.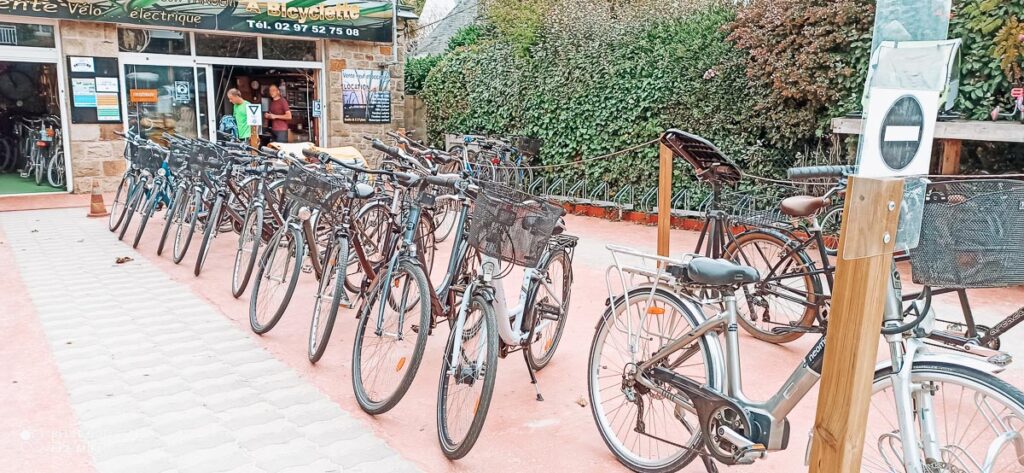 Pets are allowed in some basic Eurocamp accommodations like the Classic and Comfort ranges however they are not allowed in any of the campsite own accommodations. 
The campsite is wheelchair friendly. The whole site is flat and the bar, shop, reception and pool areas are all wheelchair adapted. I didn't find any wheelchair adapted accommodation though so I am unsure if this is something they offer. The only thing I did notice was that the lift down to the arcade area needs a key to unlock it – I assume you would ask the bar area for this.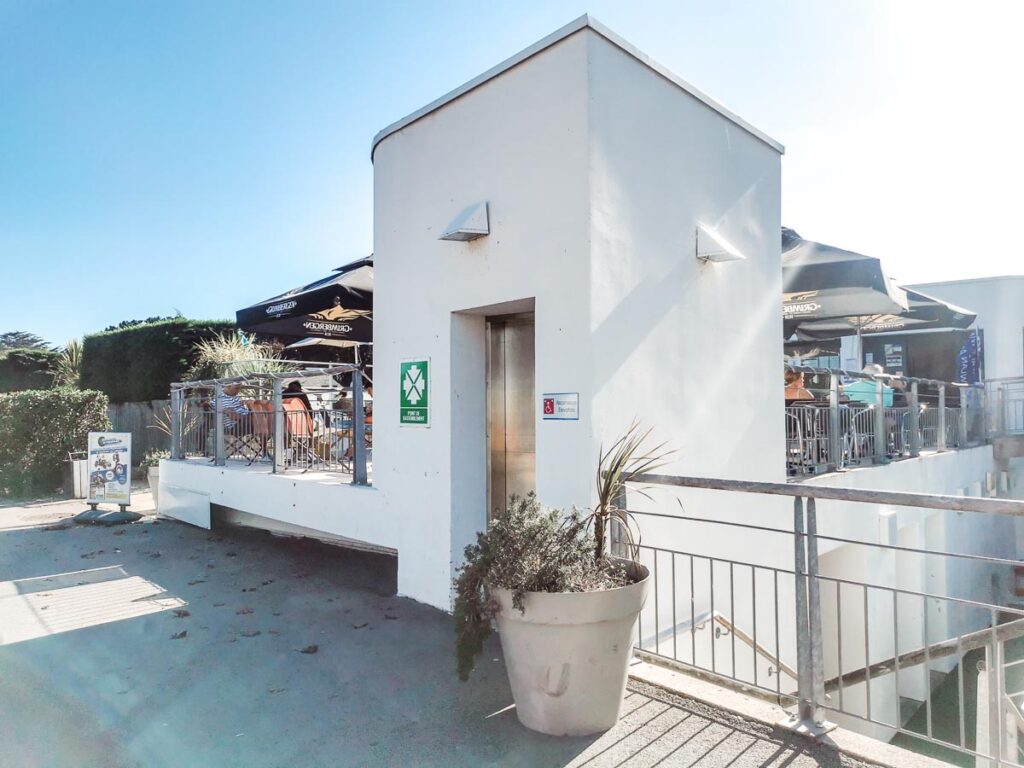 Overview of the Accommodation at Marvilla Parks Camping Des Menhirs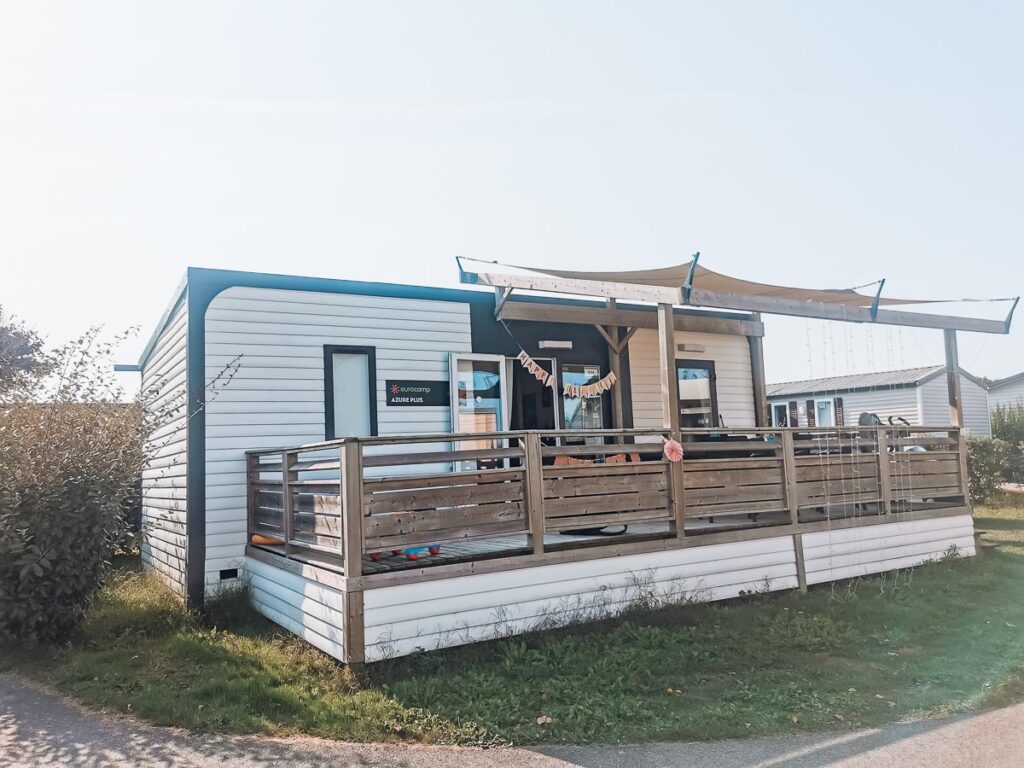 We stayed in an Azure Plus 2 bed from Eurocamp, and we absolutely loved it. We'd previously stayed at Sequoia Parc in a 3 bed Azure Plus and can tell you now that the 2-bed versions are WAY superior. Unfortunately, though, Des Menhirs only has 2 of these mobile homes across the whole site, and it's already booked up for our 2021 dates!
But luckily, there's a whole range of other mobile homes to choose from be it with Eurocamp, Alfresco holidays or the campsite itself.
The campsite is mobile home only meaning there are no campervans, tents or caravans on site.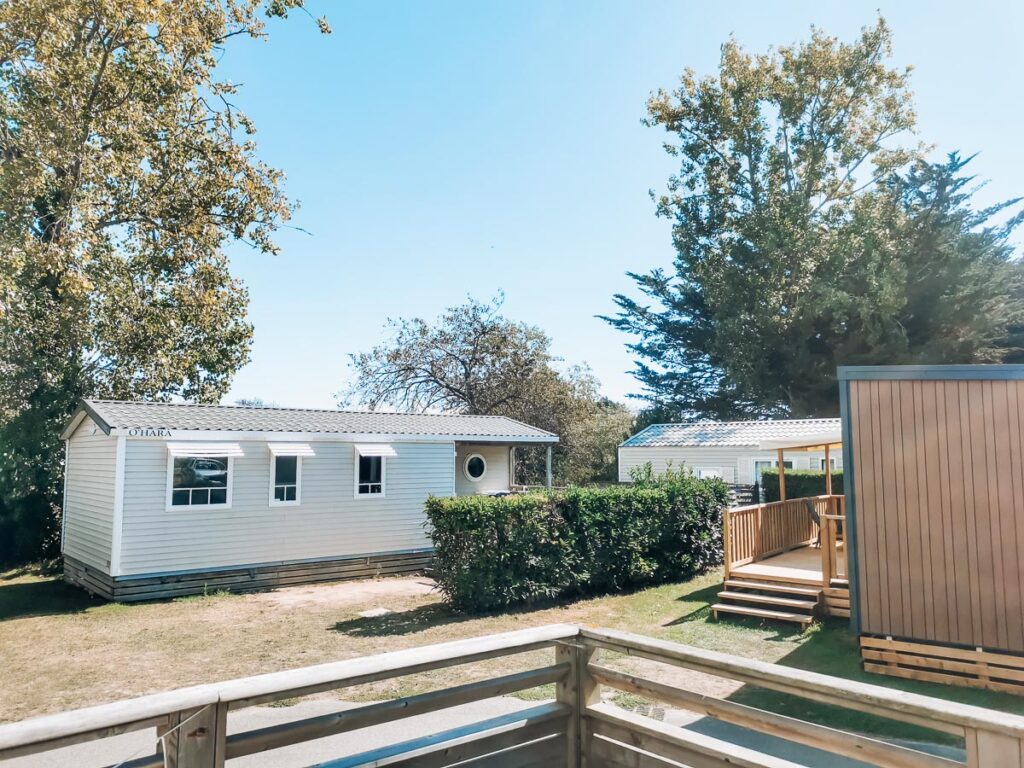 The campsite itself has 3 ranges of mobile homes to choose from. There's the bottom tier Confort Range, then the Confort+ range and then there are the premium mobile homes. The campsite accommodations we saw generally had larger pitch spaces than those booked through tour operators; however, we also noticed many of the deckings were smaller. I know I'd rather prioritise decking space over land space. 
Eurocamp/Alfresco Accommodation
On this campsite I would definitely recommend booking a Eurocamp Classic XL for space, an Azure for a modern design or an Azure Plus for the dishwasher and covered canopy. There is a whole lot to choose from through Eurocamp or Alfresco which you can check out on their websites, but when returning, we will definitely be booking one of the above.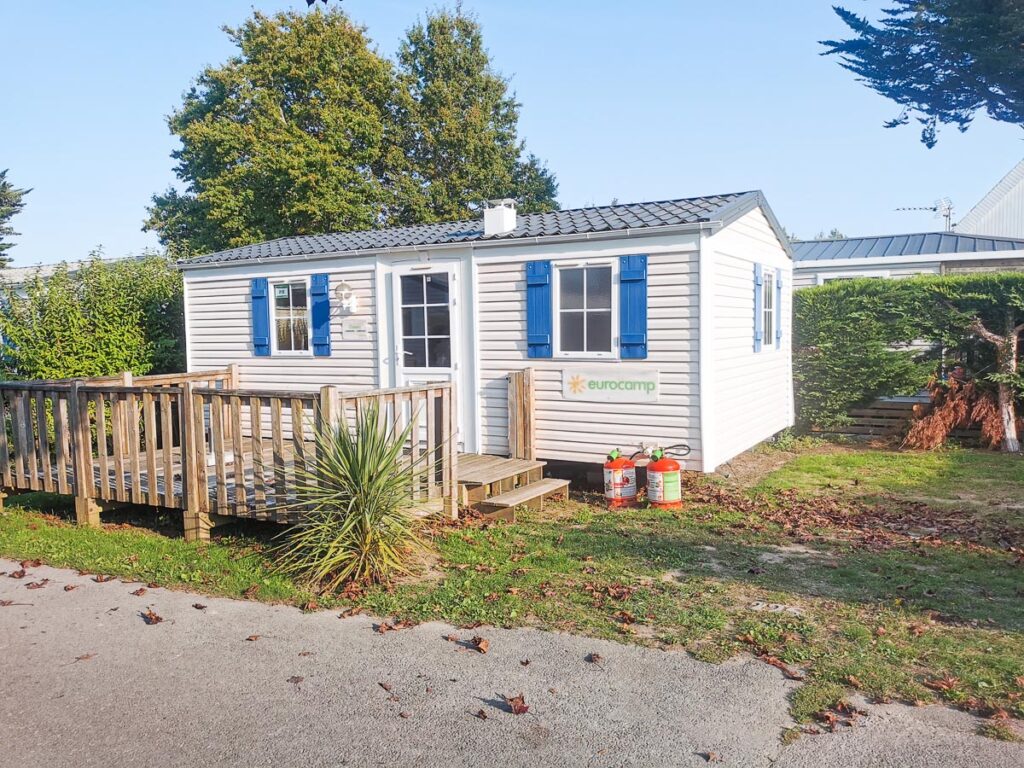 Check Availability And Book Camping des menhirs Today
Clicking the button below will open the providers website in a new window.
Should I Book Direct Through the Campsite or Through and Operator?
I would personally book through a tour operator to receive that individual touch that comes with choosing a holiday company. The Eurocamp/Alfresco team were wonderful and full of information. Plus they have a more substantial range of accommodation choices.
Do You Need a Car to Get Round?
NOPE! This Campsite is minutes away (by foot) from the town centre, local supermarket and beach. You could leave your car parked here for days without ever needing to use it. We really only ventured out of the Carnac area for a couple of day trips to Quiberon, West Wake Park and Vannes. It's even worth getting a bike if you want to venture a little further afield. Our friends cycled to Quiberon and said the route was suitable for all. The furthest we cycled to was Trinite-Sur-Mer, and that had a beautiful coastal cycle route. 
How to get to The Campsite
I would advise if travelling from the UK to take any of the Brittany ferry routes. We like the DFDS route from Newhaven to Dieppe for its low price cost, but it will be a very long journey to the site, as would the Eurotunnel. Portsmouth St Malo is probably our favourite for convenience. 
If you are flying over, I'd probably advise hiring a car to get to the campsite from Nantes otherwise you'll be looking at a costly taxi or a long-winded train and bus journey.
The closest ports are: 
Roscoff = 2:20
or
St Malo 2:14
Please check your journey times before booking a ferry. So often holidaymakers will book a cheap crossing via Calais and not realise it will actually take almost 7 hours to cross the length of France.
Address:
 Camping Des Menhirs, Allée Saint-Michel, 56340 Carnac
GPS Coordinates:
GPS: 47°34'30.9″N 3°04'05.9″W
We almost missed the campsite as it's at the centre of a crossroads and our sat nav prematurely told us we were already there – so keep your eyes peeled.
Day Trips from Camping Des Menhirs
Because we had 10 days to explore this time (unlike our usual weekend camping trips) we managed to cram loads of activities in, on and off-site. Below I've featured our favourite activities.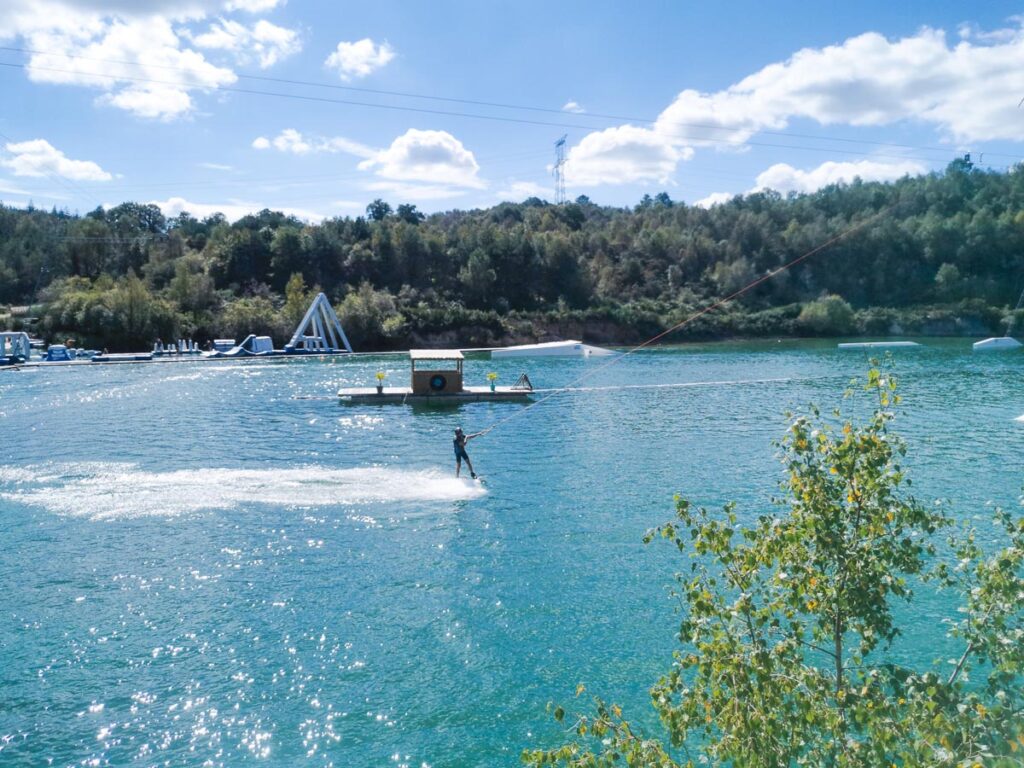 This was such an awesome day out. This wakeboarding activity park has been built in an old quarry and features something for the whole family. There's the wake park itself with wakeboarding, kneeboarding, wakeskate and waterskiing. Then there's the inflatable aquapark. It's kind of like a total wipeout style assault course. Then there's the delicious Chez Pops bar and restaurant. We had a lovely lunch here after Mike's first attempt at waterskiing.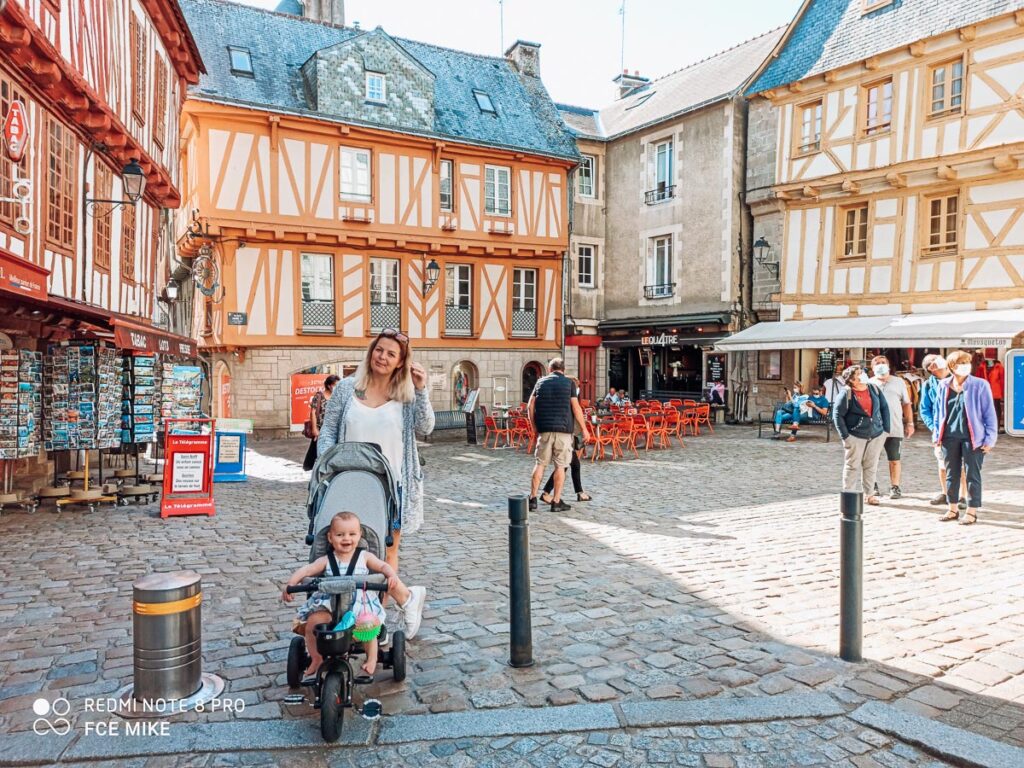 Vannes is a lovely city with traditional French/Brittany style architecture. It's lovely for a wander, a croissant and you should also check out the aquarium.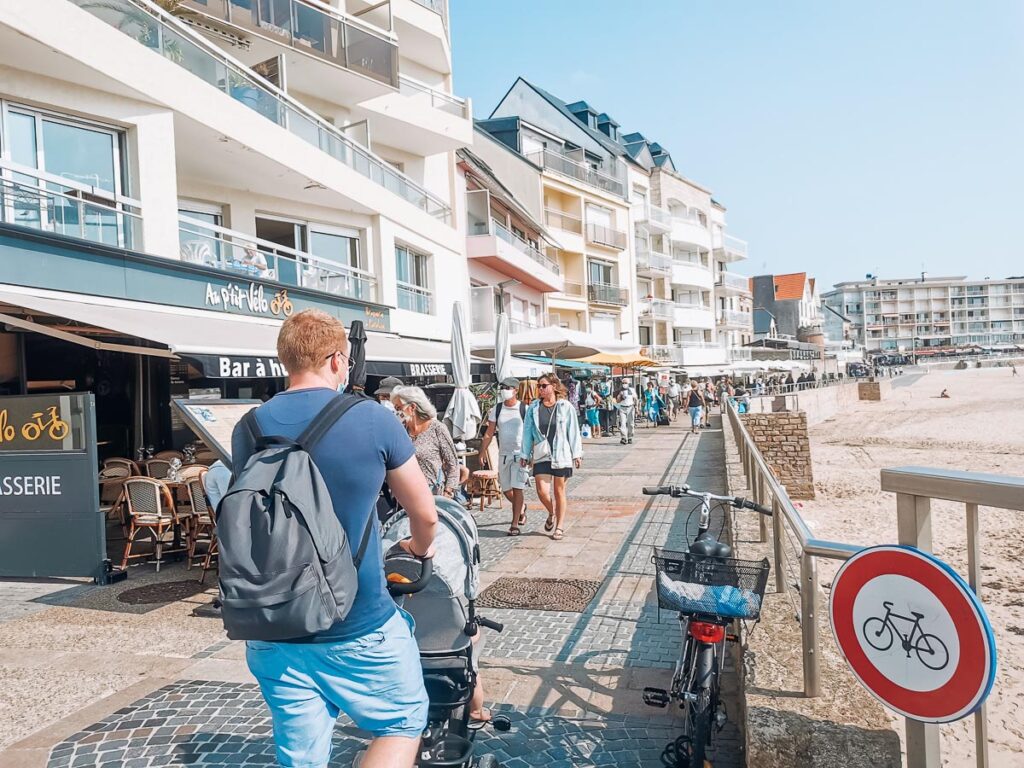 Quiberon is a quaint seaside town. It's beautiful. There are nice restaurants, fantastic scenery and great waves for surfing on.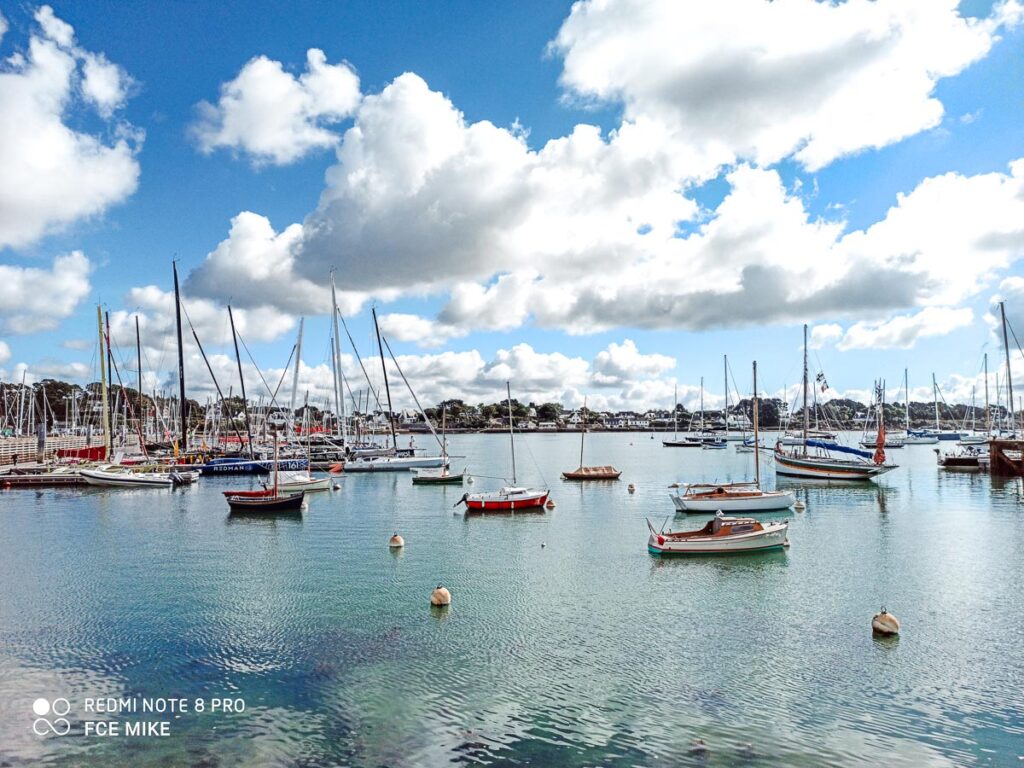 Trinite-sur-mer is another nearby town that we cycled to. It has a beautiful port with lots of lovely bars and restaurants.
At just over an hours drive away, Concarneau is a walled town on a long island at the centre of the harbour. It's a town that thrives on tourism, and you'll find many of the shops and restaurants are aimed at tourists.
This amusement park is perfect for the whole family. There's a water park, go-karting, trampolines, slides, tree climbing and so much more. Children under 2 go free.
This tree-climbing adventure park is perfect for the thrill-seeking members of your family. It's just 10 minutes from the centre of Carnac and features 2h30 of acrobatic course as well as net games. It can even be enjoyed by children aged 2!
If you're into time travelling then head back to the 19th century in this unusual village. There are guided tours and exhibitions as well as nature and heritage workshop. You can discover everything about 19th century living in Bretagne.
Frequently Asked Questions
Are the mobiles close together?
There are a few mobile homes with small pitches but, we had no problem. The campsite is structured fairly well to avoid too much intrusion.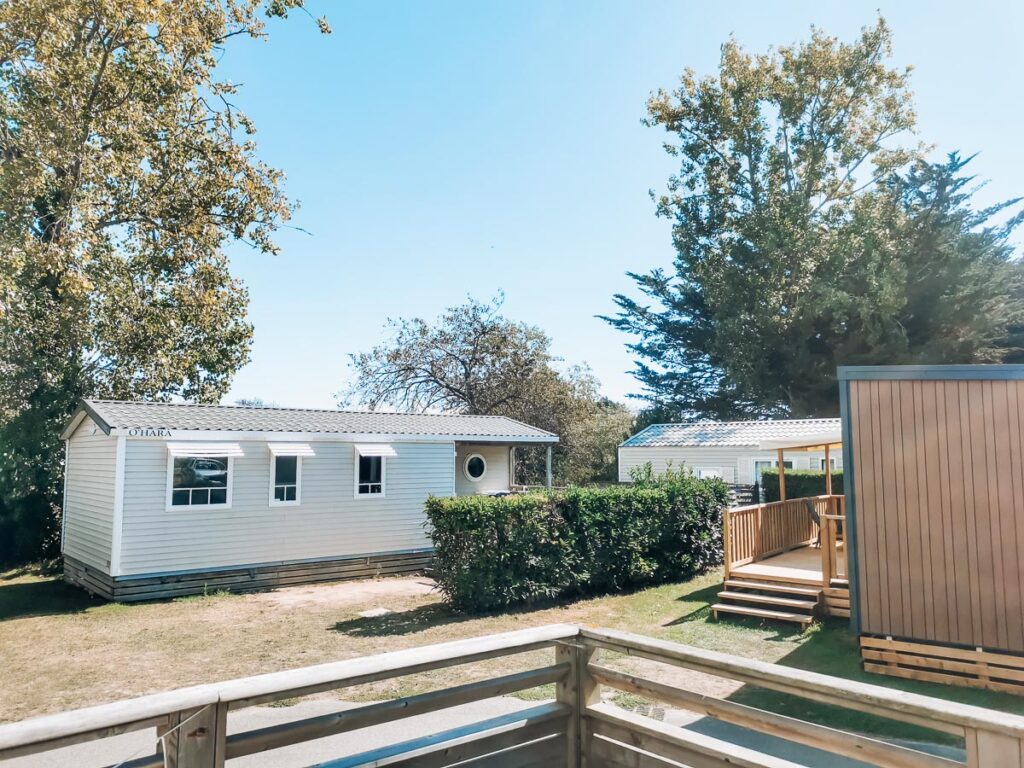 Yes, the campsite and route into town was flat and very easily accessible.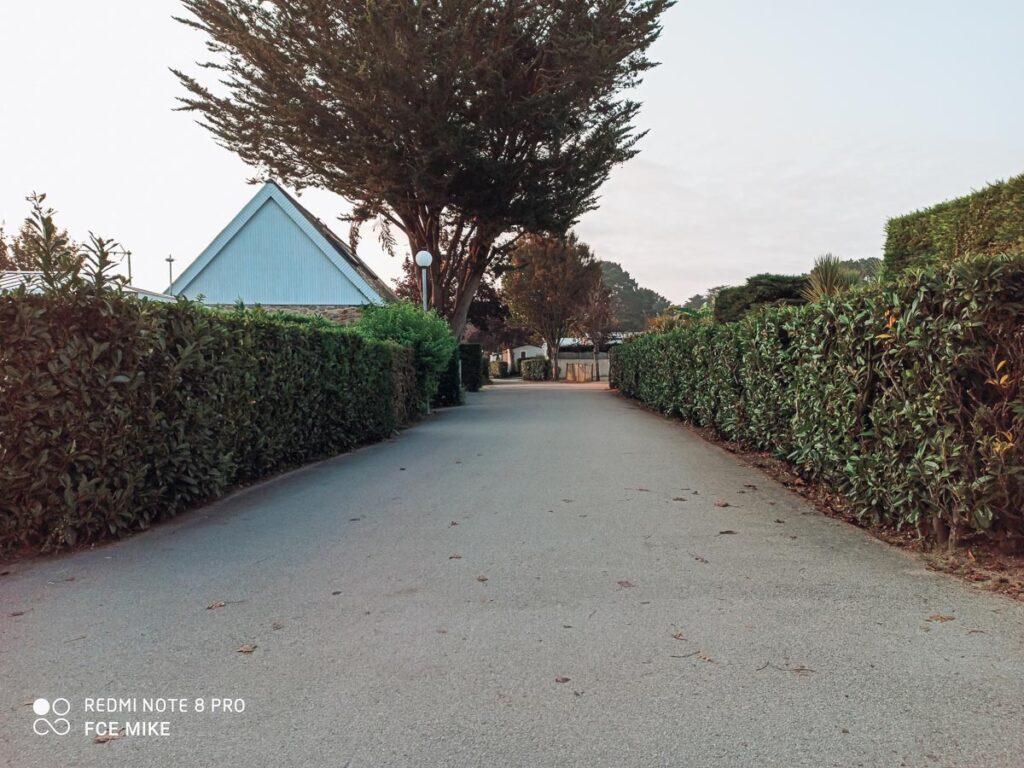 Are there mosquitos at Camping Des Menhirs?
Surprisingly yes. I really didn't expect to see any this far north, but in fact, we did see a few. One of them was an annoying night screecher that woke me up at 3 am. It wasn't so bad that I wouldn't stay here again, and none of us actually got bitten.
Is it easy to get a sunbed around the pool?
The pool was so quiet every day of our stay, so we had no problems at all; however, I imagine in the height of Summer it could be a little different.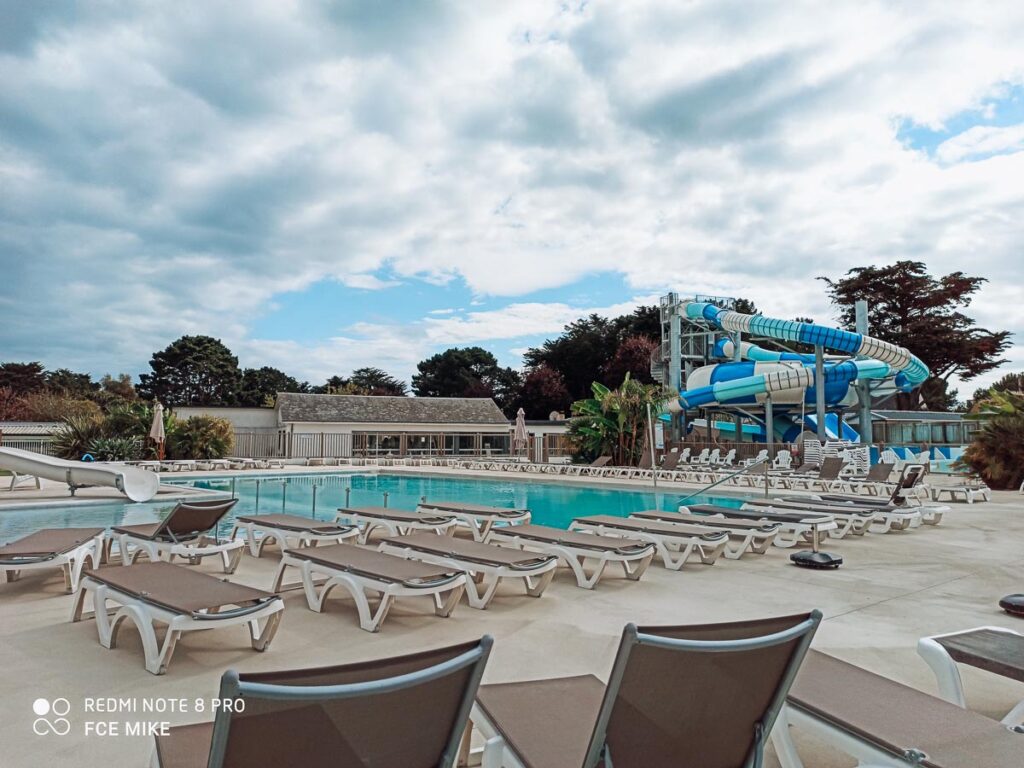 Do you need to wear a wristband?
Yes, we were all given wristbands from the Eurocamp reception on arrival.
Do men have to wear swim trunks?
Yes, apparently, although nobody was there to check it. I'd pack a pair just in case.
Yes, we had a gas bbq provided with our mobile home.
Is the beach sandy enough to do sandcastles and play, or is it more shingle?
It varies. It starts of shingly and ends up sandy. For a sandier beach, I'd take a short walk/cycle to the next village along called "Men Du" where the beach is amazing and you can walk really far out in shallow water.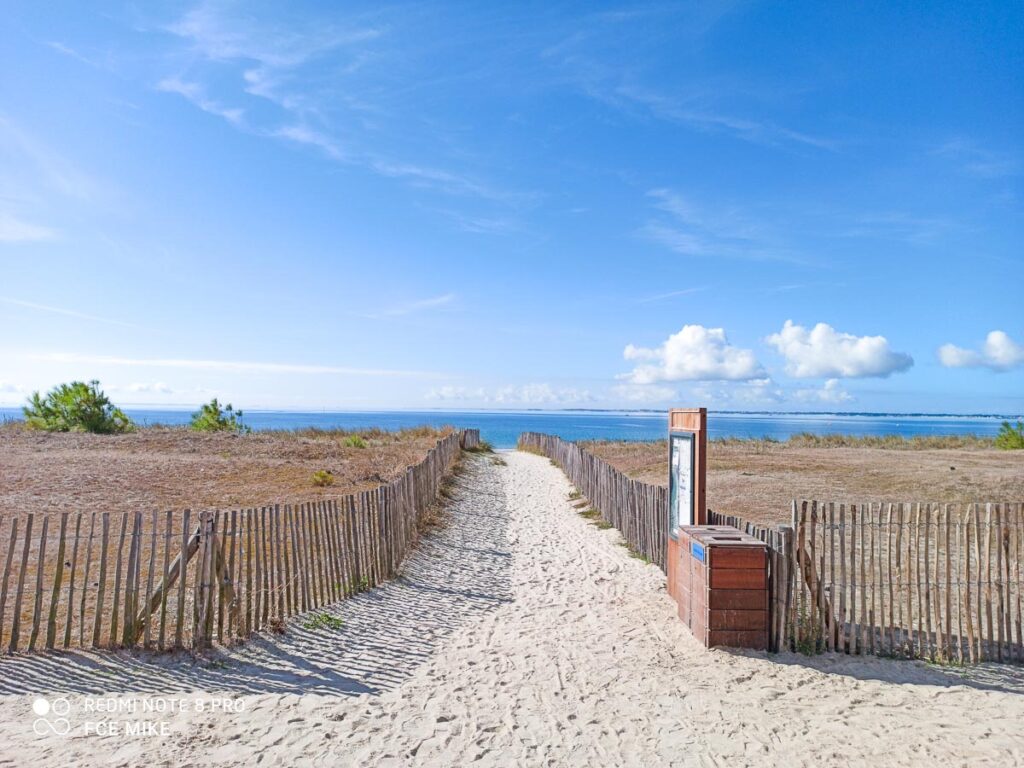 What Happens If I Arrive To The Campsite Late?
If you are booked with a tour operator, there will always be someone on call. When you get to the campsite, head to the tour operator reception and call the number written there. You may have even been given the number already in your paperwork. Let them know your arrival time and they will inform you of the procedure.
What's the weather like in Spring/Summer?
Northern Brittany can be very similar to the UK however, here in Southern Brittany seems to have a more favourable climate. When I spoke to the reps they said for the last 2 years of working there they had had brilliant weather. 
All I can suggest is, don't look at the weather reports – they will be wrong. And, if it's sunny when you go out, pack a coat because the weather can change dramatically. We didn't have a single day of rain during our holiday but the sky was constantly changing with the tides from sun to clouds.
Can you park on your pitch/Emplacement?
Yes. We were able to. Some French customers even managed to squeeze 3 cars onto their tiny pitch. 
Can you take pets on the campsite?
Only in certain mobile homes. Please see the Pets section above to find out which accommodations accept pets.
Where's the nearest supermarket?
The Super U is within walking distance of the campsite and has a wide range of stock.
My flight isn't till late, can I stay on site after check out?
Yes, just let the reps know your plans and ensure you and your belongings are out of your accommodation by the time given.
Is It Loud In The Evenings?
We didn't hear any noise at all. In fact, we were probably the loud annoying ones sat out on our decking all night (sorry fellow campers).
What Can We Do If It Rains?
There's the aquarium in Vannes, a bowling alley in Carnac, A casino, the indoor swimming pool or even a soft play center (Alrekids) in Auray
Can I Use My Transferwise Card On SIte?
We had no problems using our transferwise cards on the campsite and in fact, cards were definitely preferred across most of France over cash.
Is There Disabled Accessibility On The Campsite?
Yes, the campsite is very suitable for wheelchair users.
Camping des menhirs Review Conclusion
Camping des Menhirs is a brilliant campsite choice if, like us, you enjoy the beach and exploring new places. Yes, the campsite isn't full of amenities like Camping La Croix du Vieux Pont, but it doesn't need to be. The whole area provides so much that a clean, well-maintained campsite with friendly staff is just what you want.
The only complaint I have was really the state of the indoor pool, and it wasn't even that bad compared to others we've been to. Other downsides like the shop being low stocked can easily be explained by the proximity of the campsite to an actual supermarket.
All in all, the campsite was perfect for its purpose, and we had an amazing holiday.
We will be returning in September 2021. I'm almost certain I will see some of you readers there…
Check Availability And Book Camping des menhirs Today
Clicking the button below will open the providers website in a new window.