Camping Domaine De La rive Review We will definitely be returning
The campsite facilities at Domaine de la Rive are second to none.
We've explored and worked at a magnitude of campsites, and this is definitely one of our favourites.
Check Availability And Book La Rive Today
Clicking the button below will open the providers website in a new window.
Camping Domaine de La Rive, located in Biscarrosse, the Landes department of France, is a beautiful family friendly campsite just an hour south of Bordeaux.
Surrounded by forests and lakes filled with nature, we found camping de La Rive the perfect place for exploring.
Although we felt like we didn't have enough time to discover everything, the large and lively campsite has so many features for the whole family.
With over 750 pitches, the campsite can hold hundreds of families at the same time, which is great as we often find the livelier the site, the better the atmosphere.
Pros of domaine de la rive
It's safe to say we absolutely loved this campsite and will definitely be back again next year.
Cons of domaine de la rive
Every family prefers certain things about a campsite, so our "cons" could be on your "pros" list!
Splash Park and Pools at Domaine de la Rive
One of the main draws of this campsite is the extensive pool area. During our visit the outdoor splash park and pool area wasn't yet open as it opens on May the 1st but we did get a sneak peak at it as they were preparing it.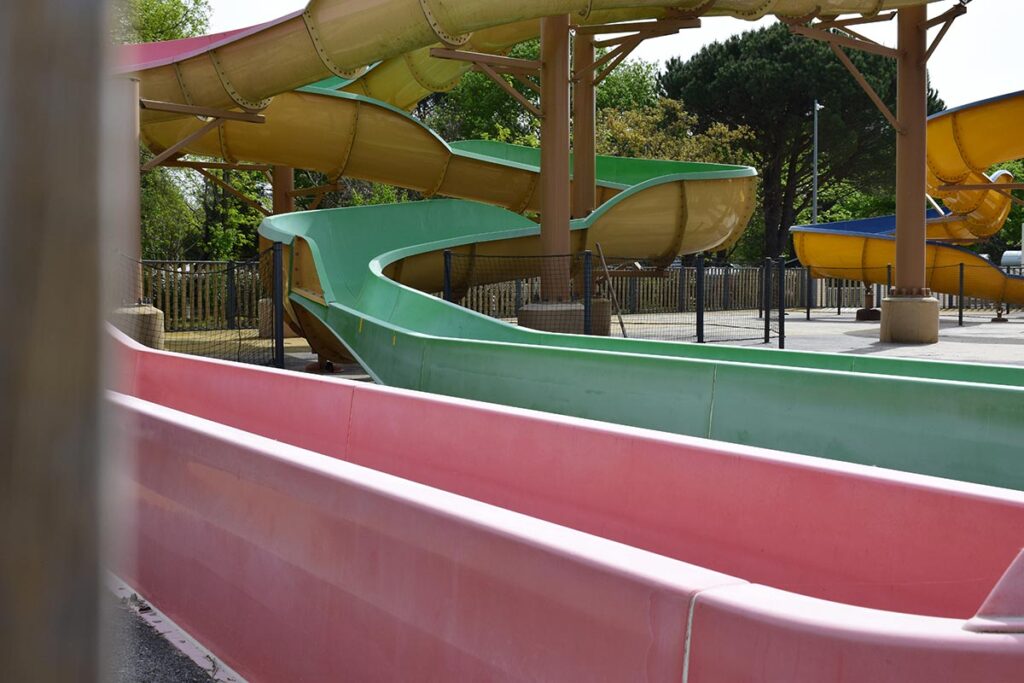 Not only is there pools and flumes outdoors, but there's also a spray park with a giant bucket that tips water everywhere. In Summer/peak season it's guaranteed to be packed with excitable children running around enjoying the jungle features.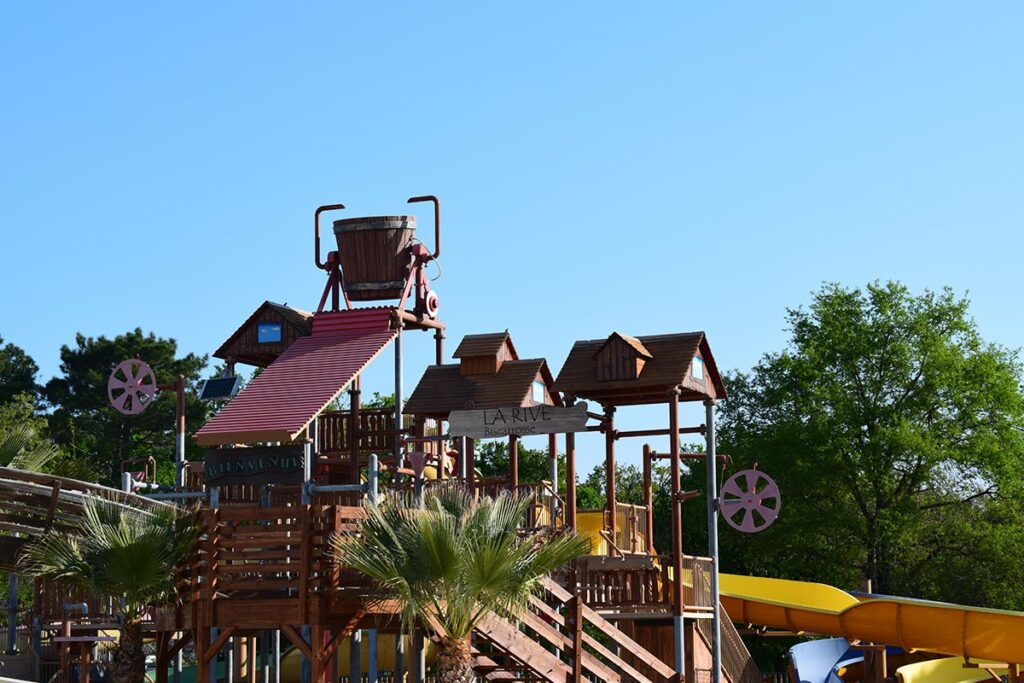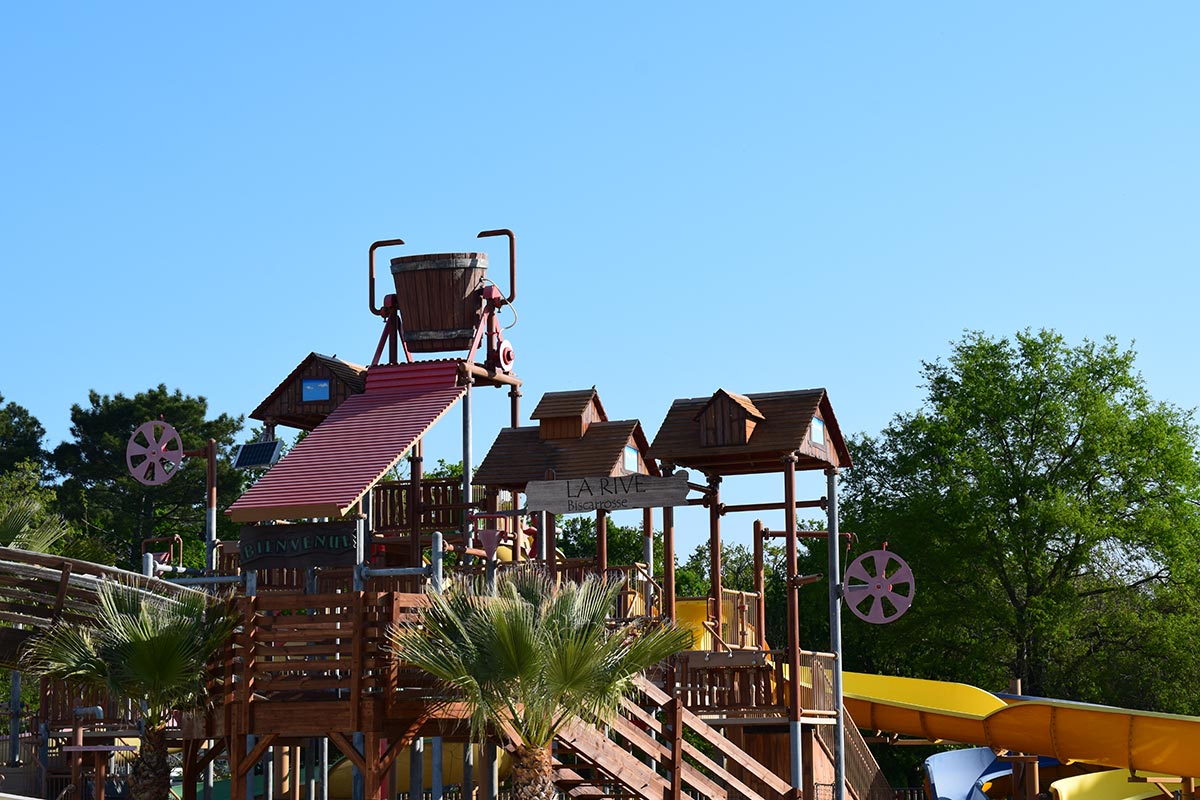 Don't worry though, because adults can enjoy the outdoors and relax too around the new outdoor lane pool. Shaped for lane swimming with an infinity style, the lane pool would probably be where I'd be spending my sunny days.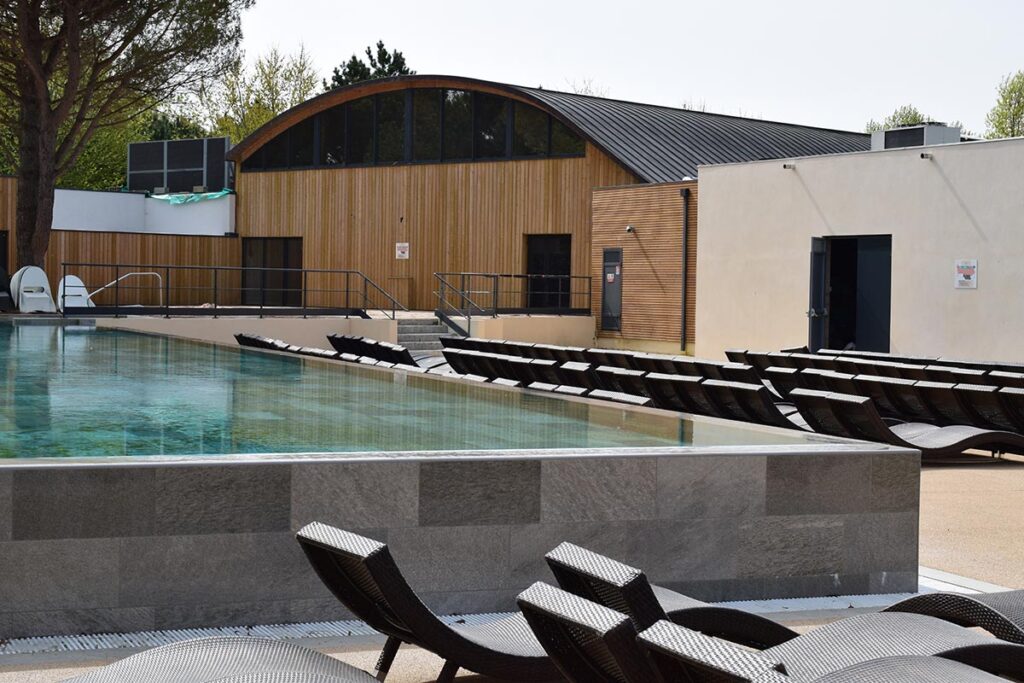 Around the outdoor pool area we noticed quite a few sun loungers dotted about. I'm unsure if in peak season there will be more but I have heard lifeguards are quite strict when it comes to people leaving towels on loungers and going out for the day. I believe they have a 30 minute rule and if your towel has been sat alone for 30 minutes plus, they will take it away to allow other families to use them.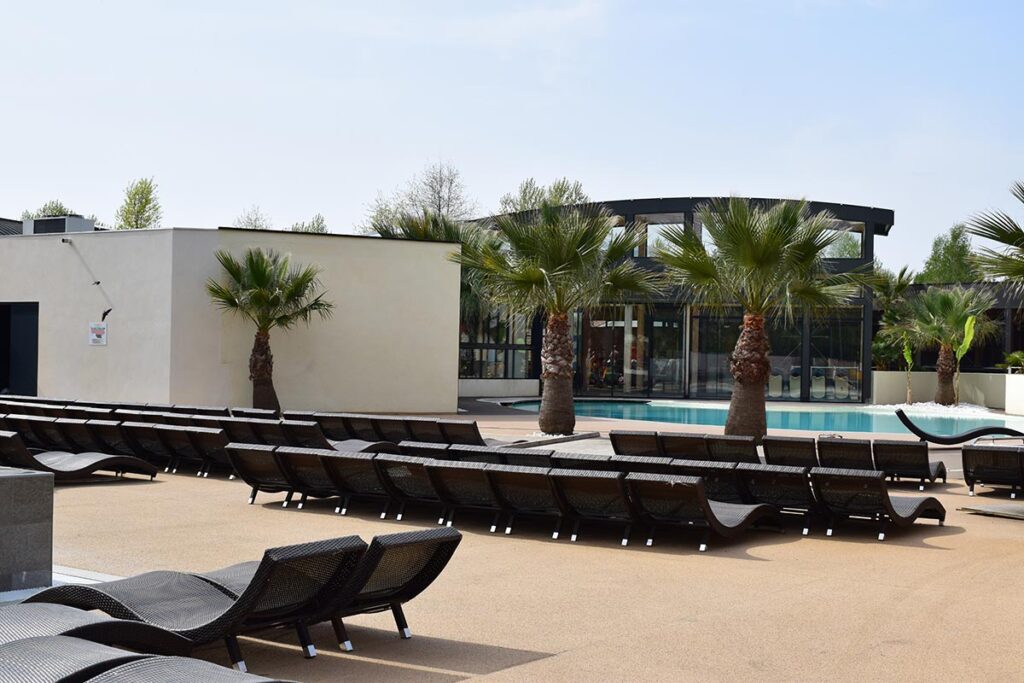 The indoor pool facilities open when the campsite does, so we managed to enjoy use of these during our stay.
When you enter the pool area you'll find loads of shower and changing areas and then a cupboard to store your shoes. For some reason, I'm unsure why, the French don't allow you to take your shoes into swimming areas, but as I don't like leaving them in a public cubby hole, I tend to just wrap them up in my beach bag instead.
Once in the pool area you'll find another splash park for children, mainly aimed at toddlers and younger children, so we didn't use it, a wave pool which is great fun, a lazy river with a more than welcomed jacuzzi halfway round and a lane pool.
Although there was a lifeguard on duty the pools are generally unsupervised so it's so important to be monitoring your children and looking after yourselves and those around you.
As with most public pools in France – the swimming trunk rule applies, much to my husband's dismay.
It's actually law and although some campsites don't enforce it, La Rive definitely does, and people found wearing baggy shorts will be removed from the pool area.
You can buy swim trunks on the campsite and there is a dedicated swim shop on site, however we found it cheaper to go to Decathlon on our day trip to Bordeaux and picked up a pair for 10 euros.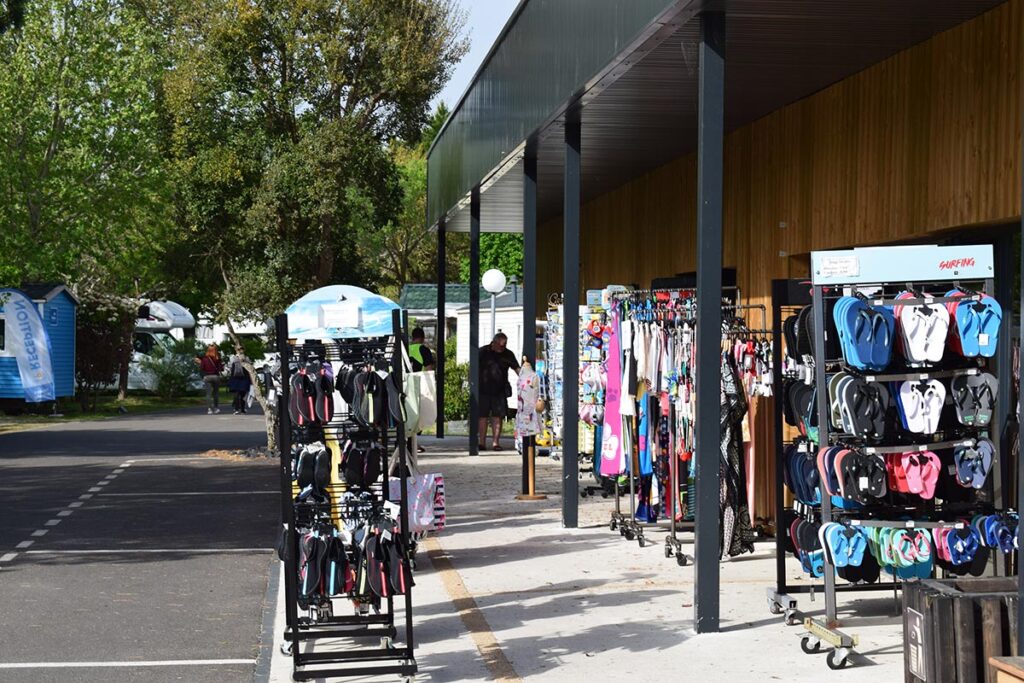 The Lake and Beach at Camping La Rive
Although the campsite is around 30 minutes from the coast, it still manages to have a beautiful sandy beach thanks to its location on one of the Grands lacs of Biscarrosse.
We loved sitting down here in the evening with a few drinks and a picnic watching the incredible sunset across the lake. In peak season you can hire pedalos, kayaks and paddleboards and explore. We found the lake to be really clean and surprisingly not too cold for April and I actually took a little paddle.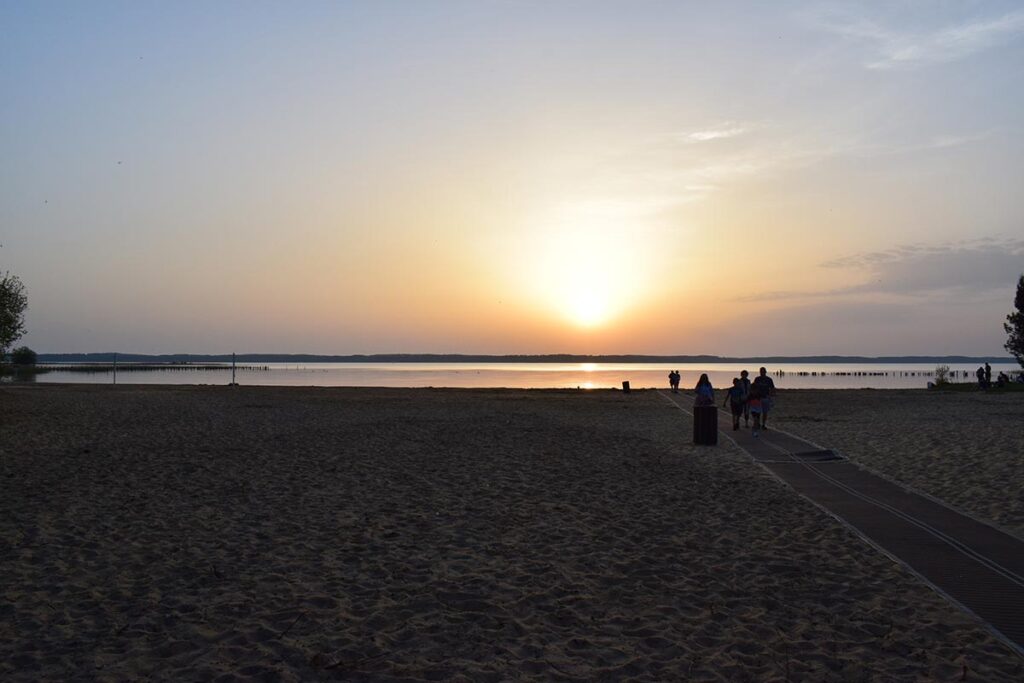 The lake is accessed directly from the main campsite facilities and is just opposite the restaurant area and is easily accessible for strollers and wheelchairs thanks to the material path over the sand.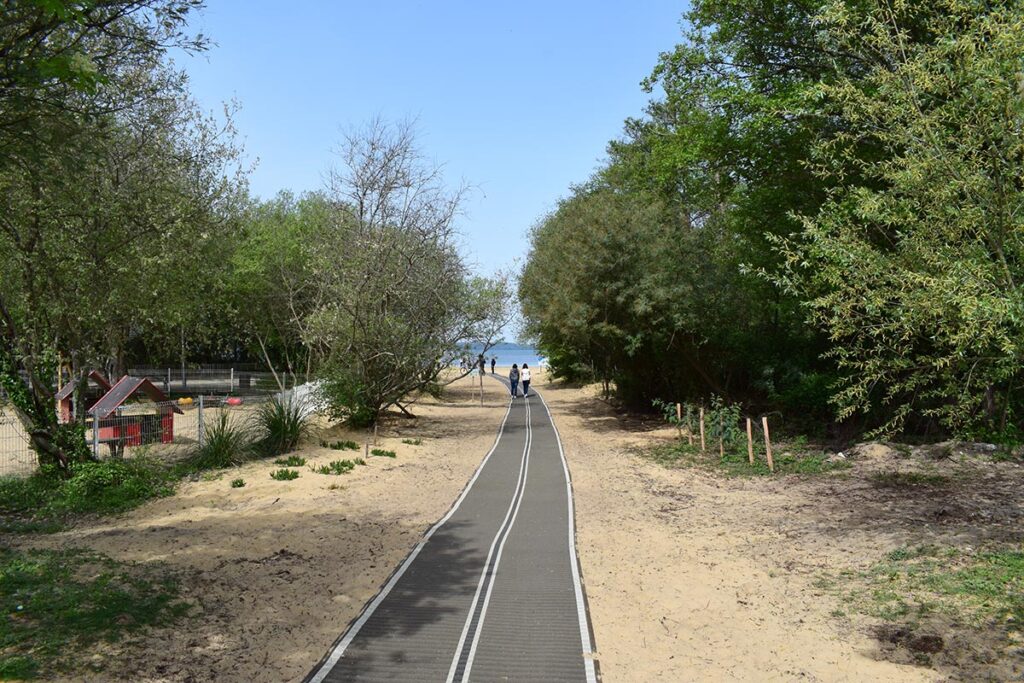 The beach is real sand and not shingle so it's great for kids who love to build sandcastles, dig holes and generally get messy in the sand. The water is nice and shallow close to the shore. It's crystal clear and perfect for paddling and swimming.
The campsite facilities at Domaine de la Rive are second to none. We've explored and worked at a magnitude of campsites and this is definitely one of our favourites.
The award winning site had so much to keep us – a pregnant couple – entertained as well as younger families, older guests and teenagers.
We found all the campsite facilities clean, well maintained and fully functional.
Being low season during our stay (April, Easter weekend), we didn't expect everything to be complete or open, but barring the outdoor pool area, everything was perfect and ready for customers.
Camping La Rive Reception Area
The campsites reception is located just outside the main barrier opposite the main car park.
Other than the campsite shop, this is the first facilities you'll find. If you're camping directly with the campsite, in a tent, mobile home or a caravan – here's where you'll check in.
As we were booked with Eurocamp, a tour operator we were directed straight to their reception instead. I'm always unsure whether to check in first with the campsite or with the tour operator because every campsite has a different procedure.
Some campsites like you to check in with them first, get your wristbands and barrier entrance. Others like you to check in with Eurocamp/your tour operator first then go to the main reception for extra administration. Then there's campsites like La Rive which don't require you to use their main reception at all.
We found Eurocamp were able to check us in, set up our barrier entrance and give us our wristbands. So, if you're booking with a tour operator, head straight to their reception desk, just after the main barrier instead of waiting at the main campsite reception.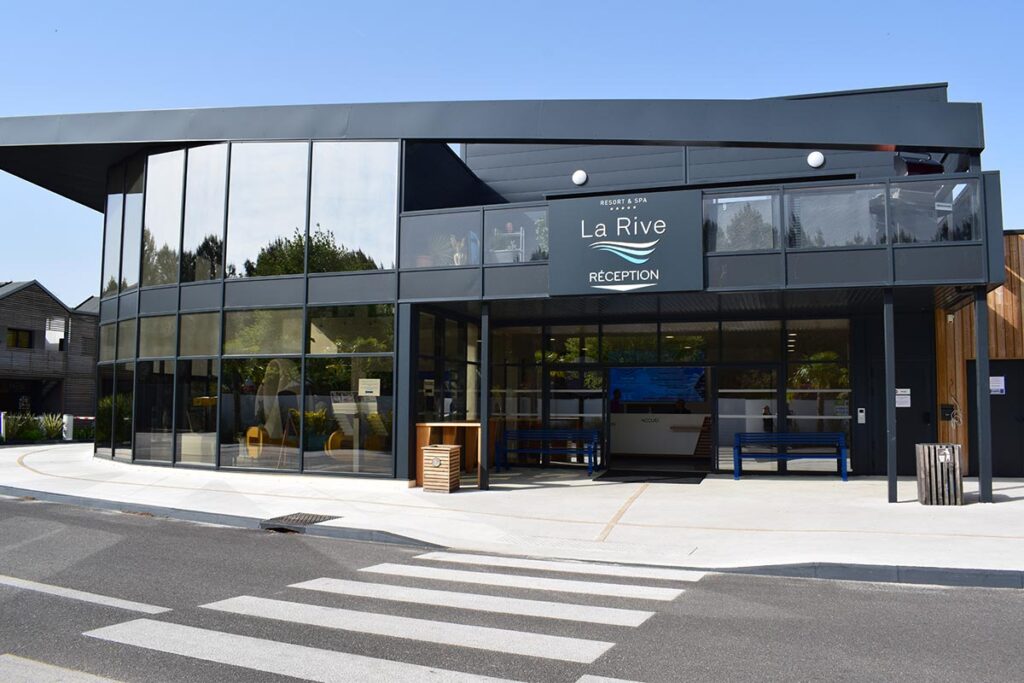 If you do need to use the main reception during your stay, either because you've booked with them or you want to buy Wi-fi then there's no need to worry as the reception staff we spoke to were really friendly, helpful and spoke perfect English.
One thing we really loved about the main reception was the style and cleanliness. The building is so sleek and gives the campsite such a prestigious feel.
There are information boards with the coming weather, local information, leaflets and even a kids play table to help take the stress away during peak time arrival days.
We arrived at 8pm, a little after our scheduled check in of 15:00 – 19:00 but we were still able to check in normally at the Eurocamp reception as usual.
If you're arriving late (after 10pm) and the receptions are closed there will be a security guard on site to direct you to your accommodation or pitch. Unfortunately you will have to leave your car behind the main barrier until reception re-opens in the morning.
Had I not been pregnant this is where I imagine spending most of my holiday. With massages, skin treatments, Sauna, Jacuzzi and gym, this is the perfect hideaway while the children are at kids club.
Located at the front of the campsite next to the wine & produce shop was the laundry room. Inside were a few washers and dryers. Washing tokens cost 5 euros and drying tokens are 4 euros. To use the machines you have to buy a token at reception.
For the campers staying in caravans and tents there are 3 shower blocks on site. We only went in one by the pool area which was very well maintained and thoroughly cleaned in the mornings, unfortunately due to the busyness I was unable to take photos inside.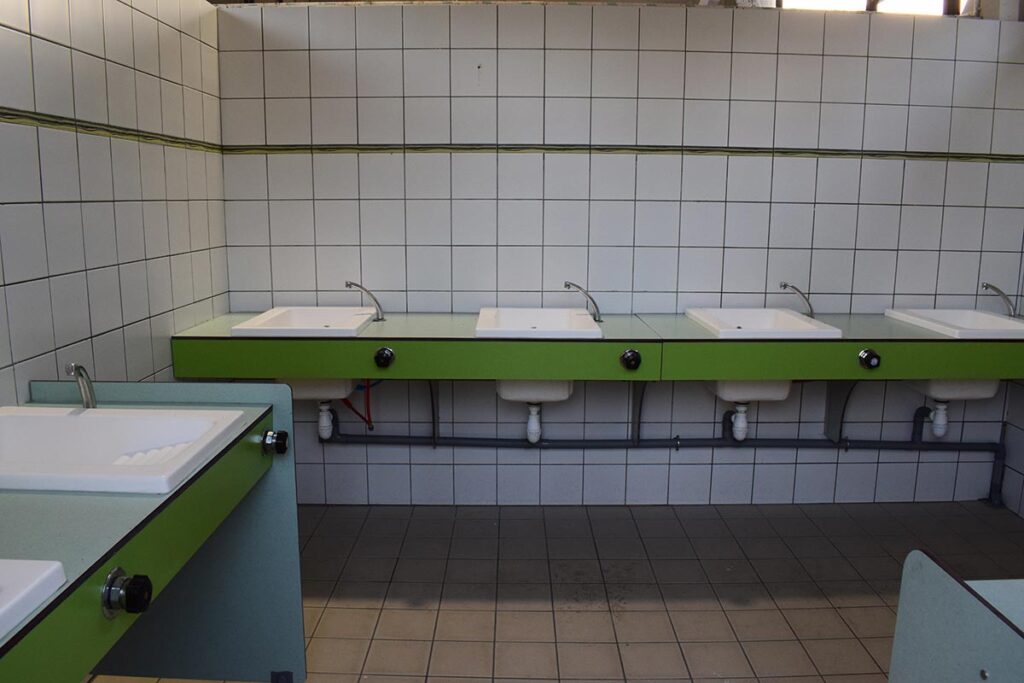 Dotted around the campsite are a few communal charcoal bbq's. Although some accommodations, like our Eurocamp Azure, come with gas bbq's those that don't have the opportunity to use one of these communal ones. Electric bbq's are banned on site, I assume they use more power than a campsite can handle.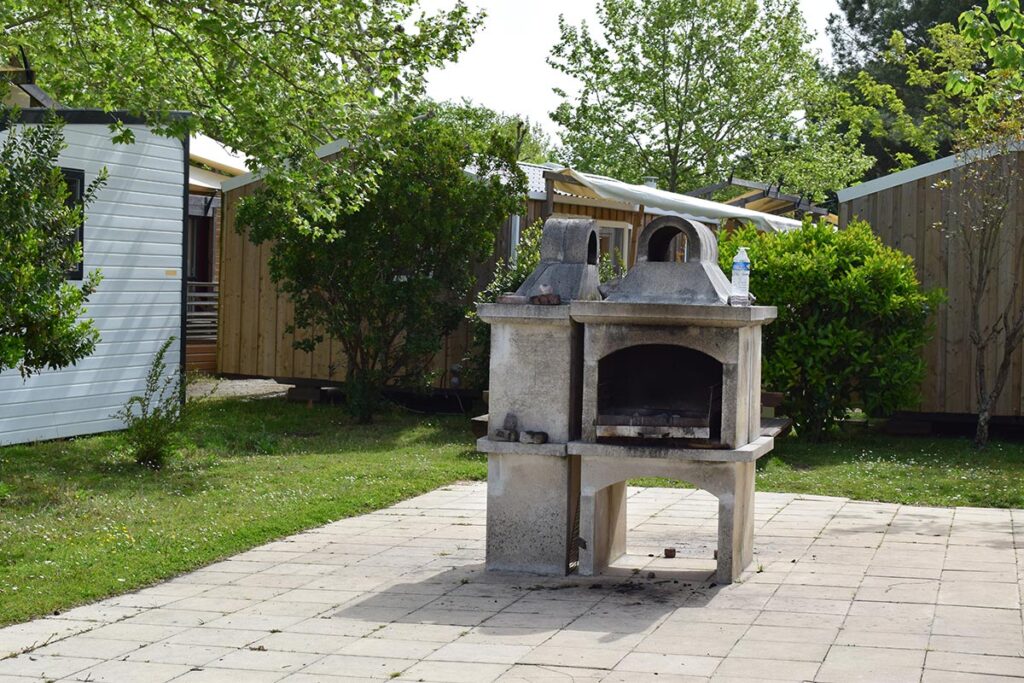 Like the table tennis, the tennis courts are located away from the main facility area, so much so that when we took a walk around the campsite we couldn't actually find them. My map reading skills are pretty terrible though… Again, I believe equipment can be hired from the main reception and I would assume it's a case of paying a small amount to rent the courts.
Campsite Shops at La Rive
Unlike most campsites this Domaine de la Rive has more than just a supermarket. There's a swim shop, gift shop, a bike hire shop, camping equipment hire, a wine shop, a supermarket and a local produce shop. You don't really need to leave the campsite…
Because we arrived to the campsite late and the supermarket was opposite the main car park we managed to run in just before closing at 19:30 and we must say prices were pretty reasonable.
Of course, there is a supermarket just down the road with BETTER prices, but as campsite supermarkets go, the Petite Casino on site really wasn't too expensive AND it had a really wide range of goods – even some British style Fish and Chips in case you're missing some home delights.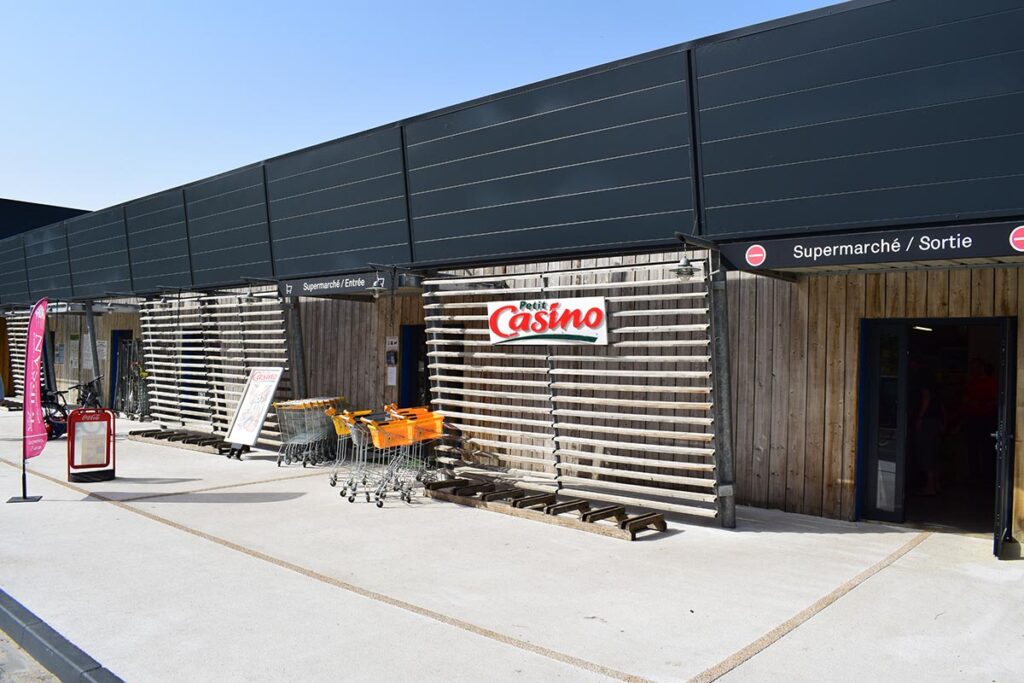 The Local Wine & Craft Beer Shop
This was my husbands favourite shop (of course). During our stay there was free wine tasting outside where my husband got to try a range of different rosé. I think in total he had around 5 or 6 small glasses full. I, on the other hand, was offered two glasses of really lovely non alcoholic grape juice from the same vineyards.
If you're looking for a regional gift to take home for loved ones this is where you'll find it, as all the beers and wines are brewed locally.
I believe the wine tasting is on daily and as far as I am aware there is no limit on how many times you can go back (I may be wrong). The Sommelier who provides the tasting was really friendly and invited us back the next day to do some beer tasting, but unfortunately we were leaving in the morning so couldn't take him up on the offer but we did buy a few bottles to try anyway.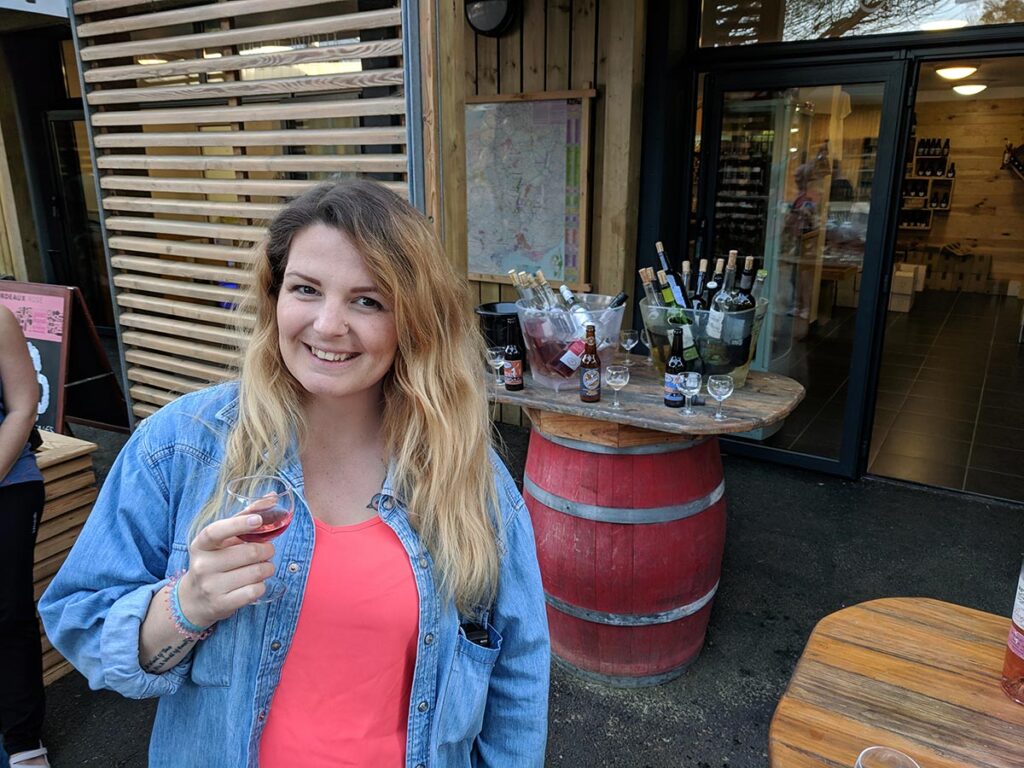 Connected to the wine shop is the local produce shop. Here you can buy regional foods like bread, cheese, biscuits, cakes, saucisson and so much more. France is renowned for its culinary delights so if you're looking to try something different during your camping adventure then grab it from here.
Location: Bike Hire and Other Rentals
The Location shop has everything you could require during your stay. Not only do they hire bikes and scooters, which every child seems to have, but you can hire: vacuum cleaners, fridges, microwaves, Irons, toasters, cots and baby equipment, bed linen, towels, outdoor furniture, coffee makers, adapters and even a Gopro camera!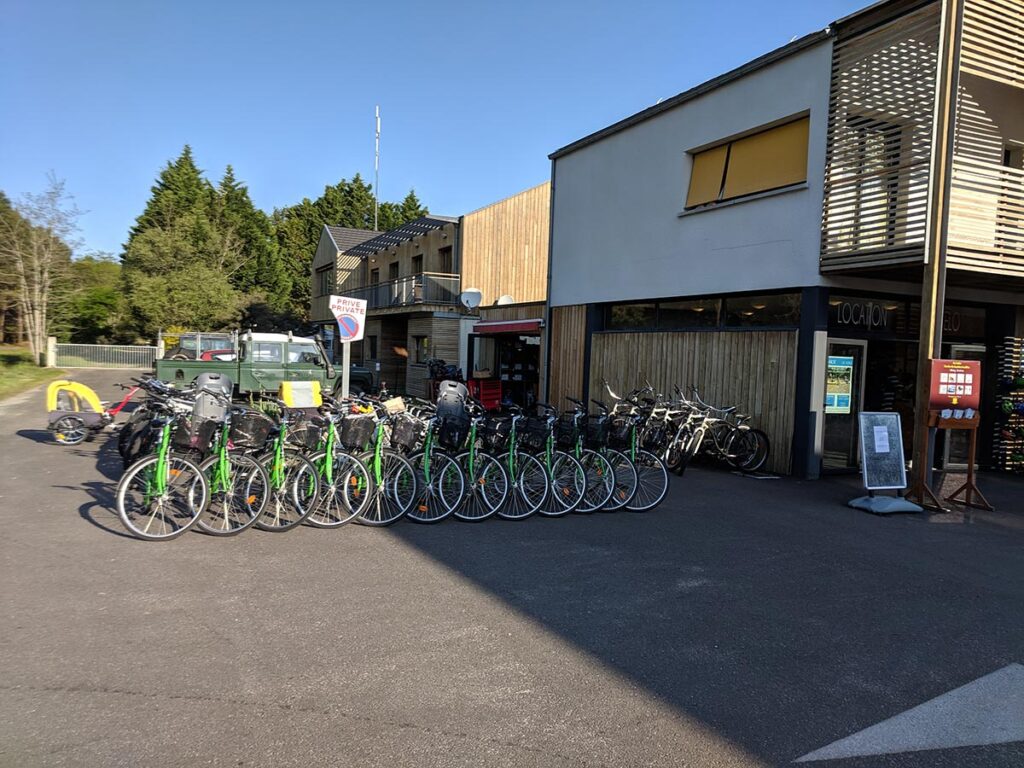 Boutique, Swimwear, Newsagent & Gift Shop
If you need to buy swim trunks but don't fancy a trip to the city like we did, here's where you'll find them. You can also grab postcards, newspapers from home, gifts for loved ones, beach towels and beachwear, bodyboards, inflatables (for the lake not the pool), parasols, sunglasses, flip flops and so much more. So if there's anything you've forgotten during your stay – we think this is a really handy little boutique.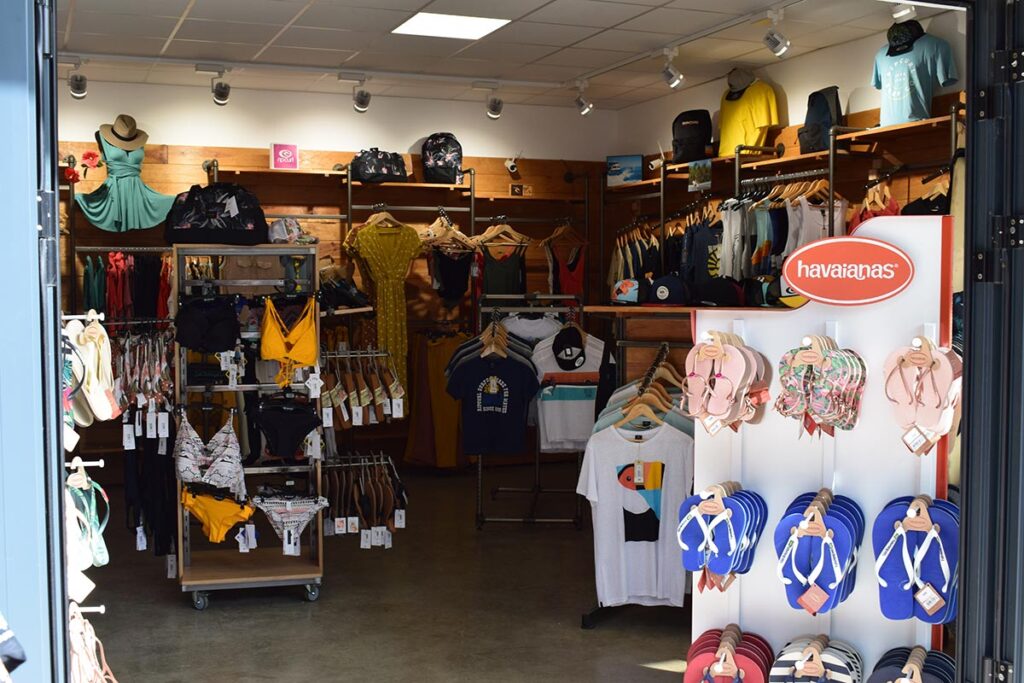 Situated in between the shop and the reception there is an ATM on site although most shops will accept card payments too – but watch out for bank charges.
We use a transferwise card to ensure the best exchange rates when taking out money or making card payments in Europe.
The Bar, Restaurant & Takeaway
This is one area of the campsite we really enjoyed on our short stay.
After unpacking on our first night we headed straight to the bar to check it out. Drink prices are pretty reasonable for French campsites and for 9 euros we got a Perrier and a Pelforth. Seating is in abundance and you can choose to sit outdoors, indoors or in between (mostly outdoor but sheltered. We sat outdoors were there was a large screen showing the Arsenal vs Napoli football game. A word of warning if you do choose to sit outdoors, due to the campsites location between forests and lakes there are quite a few flying bugs around.
One of the best things about the bar area is that you can get served at the bar and pay at the same time – one thing we're not too keen on in France is sitting at the table, waiting to get served and then waiting for the next drink or bill. The bar and restaurant area is in the same building so you may find it better to sit outdoors in a more casual setting if you are there for just drinks. We found the indoor area quite loud from the diners.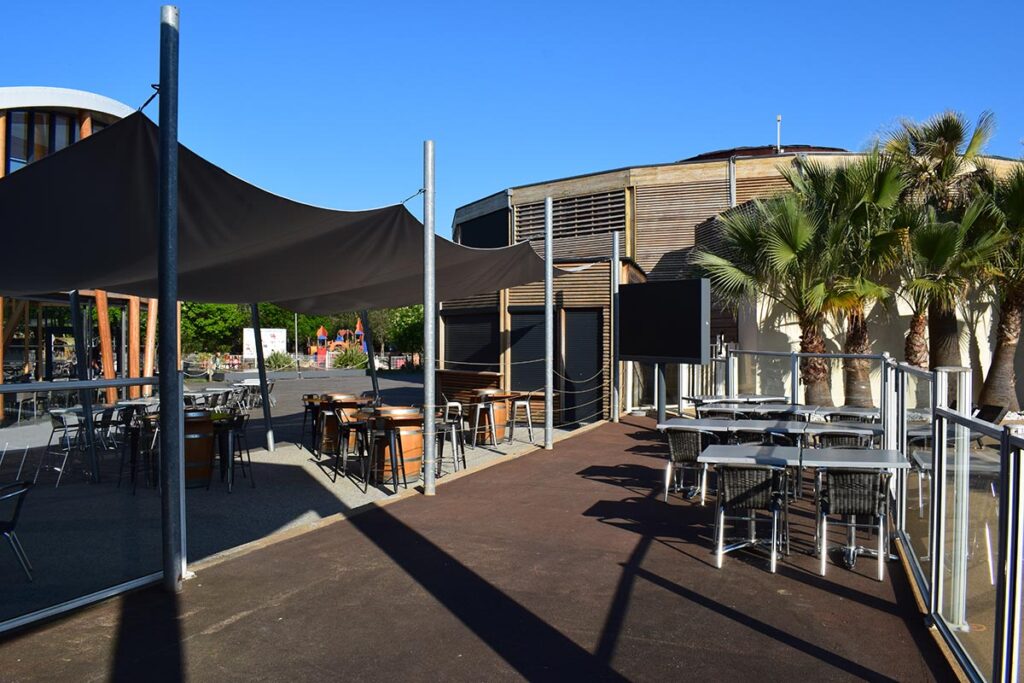 We ummed and ahhhd over whether to eat in the restaurant during our stay, firstly because I'd bought enough bbq food to feed a family of 5 and secondly because campsite restaurants are usually really expensive. However, we bit the bullet and went for it.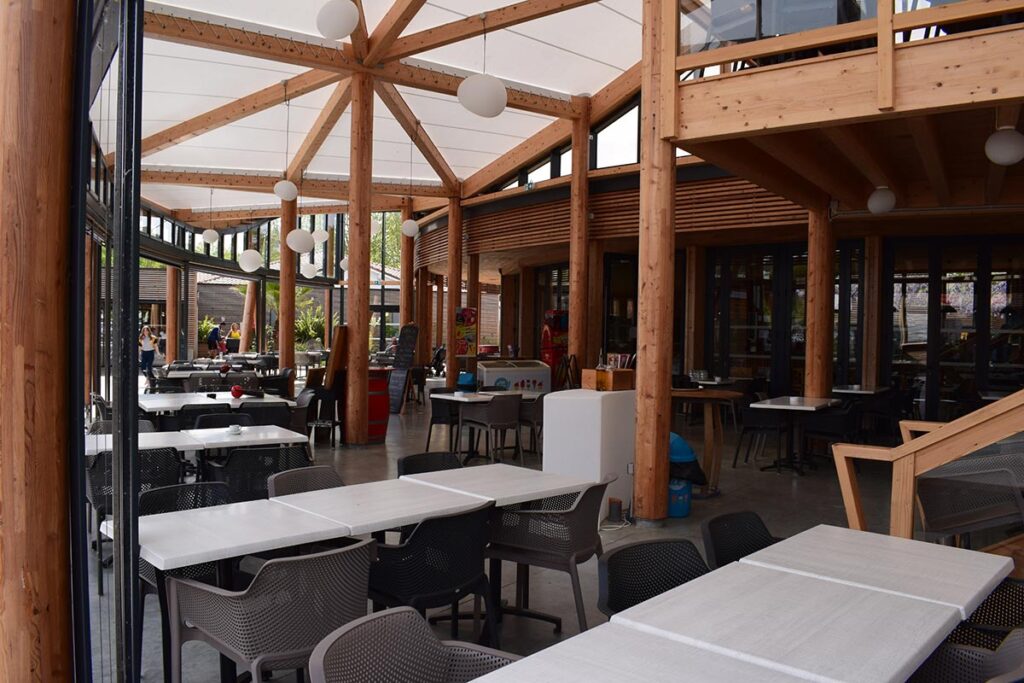 We ordered a beer, Chorizo pizza and the sea bass with creole sauce and rice – I also asked them to alter the seabass to add on some grilled vegetables too and they did this free of charge! On the table we were given table water and bread (a thing I love about many French restaurants) and the total cost was just 39 euros.
But not only was the food good value, it was tasty too. I absolutely loved the seabass (something I would never normally order – but I was feeling adventurous), veggies and the sauce. Unfortunately I can't comment on desert because our meals were large and filling enough to not require one, BUT, I did have a look at the menu and they seemed to have a wide range of tasty delights and I did see the table next doors Ice cream sundae which look delicious and could have feed 4 people.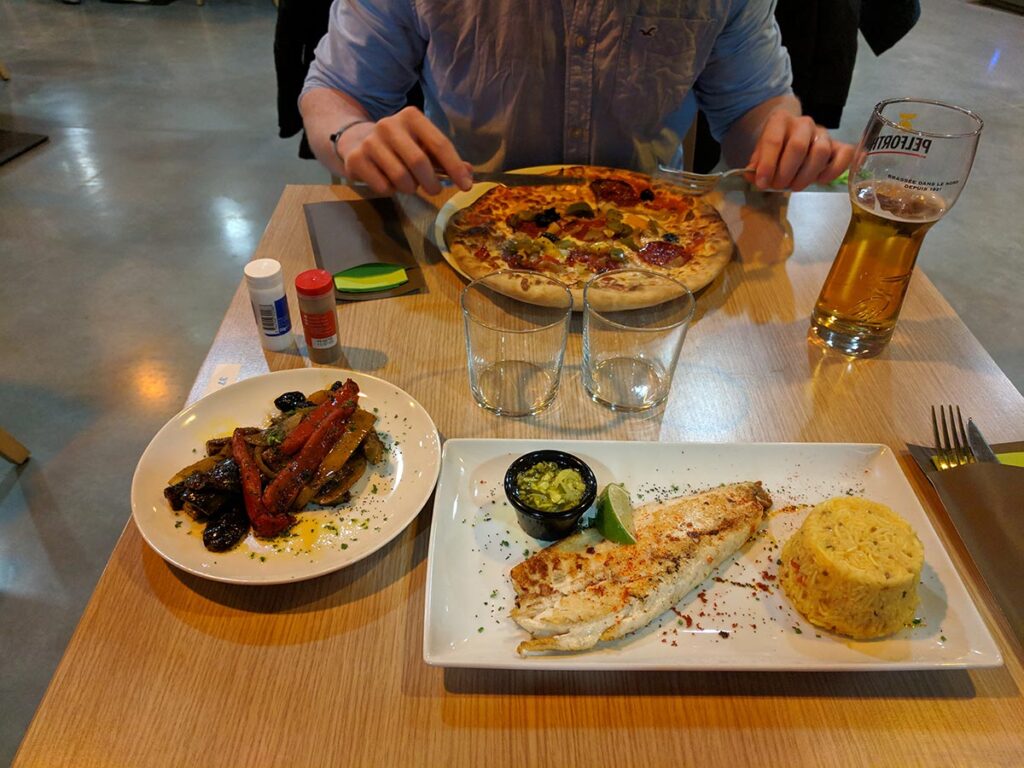 The snack bar is located just to the left of the bar/restaurant area and although we didn't have enough time to try it out we did see that you could get takeaway pizzas, panini's, fries and a roast chicken for 4 people. To give you an idea of price, during our stay the roast chicken and frites for 4 people cost just 22 euros – which I personally think is a reasonable and fair price.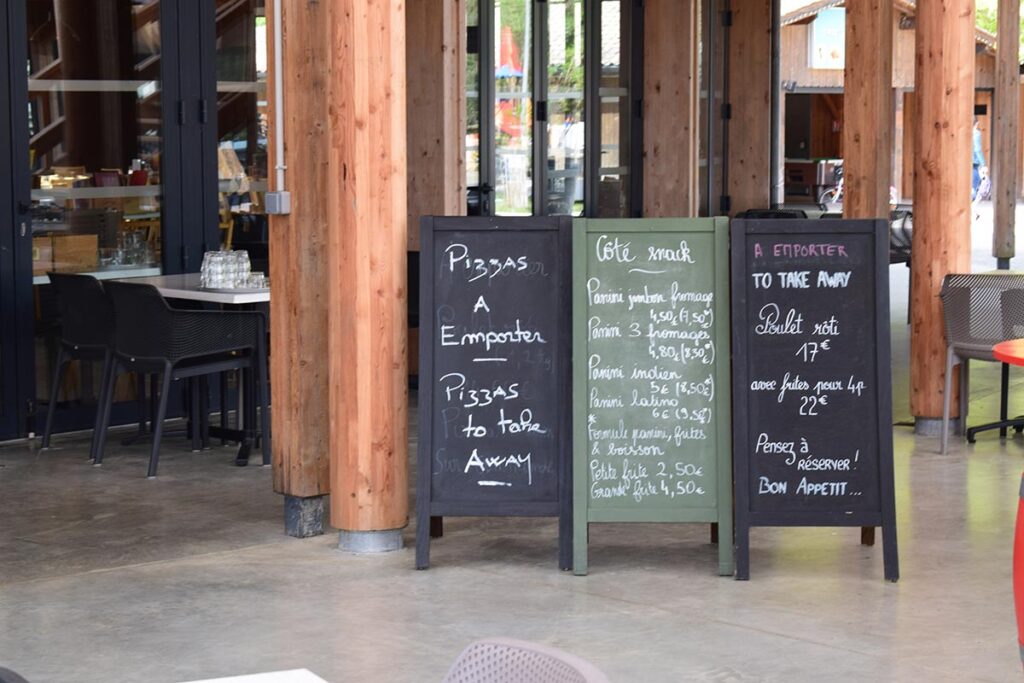 Entertainment & Activities for Children & Adults
The campsite has their own kids club for children aged 4-12 years. Groups are held in both French and English so all children will feel included. As we're still awaiting the arrival of our first child I don't have first hand knowledge of what the groups were like but I did take some photos of the entertainment programme.
From what we could see the kids were all having loads of fun and enjoying the group activities which included cowboys and indians, painting, superhero mornings, mini disco and karaoke.
The kids club opens at 9h30 and closes for lunch between 12h-15h30 reopens until 18h closes for a break and the kids evening entertainment runs from 20h30-21h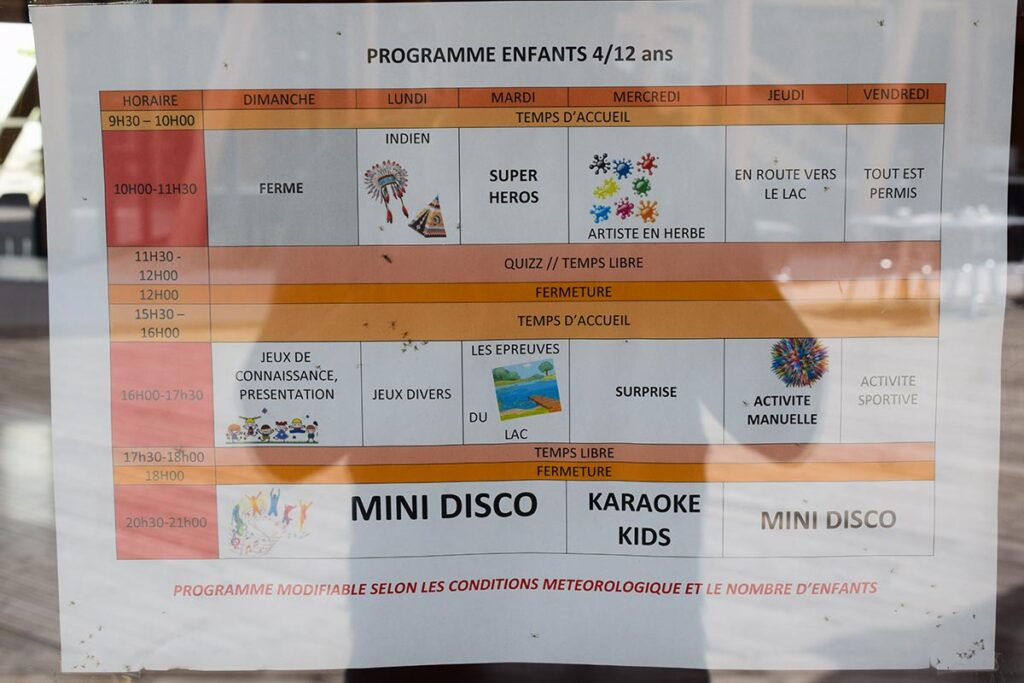 Entertainment for the whole family
It's not just the kids that La Rive caters for. During our stay we witnessed some afternoon zumba – which had a really large crowd, a cabaret show which could be heard from our mobile home and even a Friday night disco!
I've added a photo of the weeks program during our stay so you can get a feel for the campsites animation. The animation staff that we saw were all friendly, smiley and seemed really great at what they do, especially the Mr Motivator style Zumba teacher.
However, the evening entertainment does go on quite late. If you're not into evening noise then request to be placed further away from the facilities. Our mobile home was within 100 meters of the Salle de Spectacle and if we'd have wanted to get to sleep before 11pm it would have been near on impossible.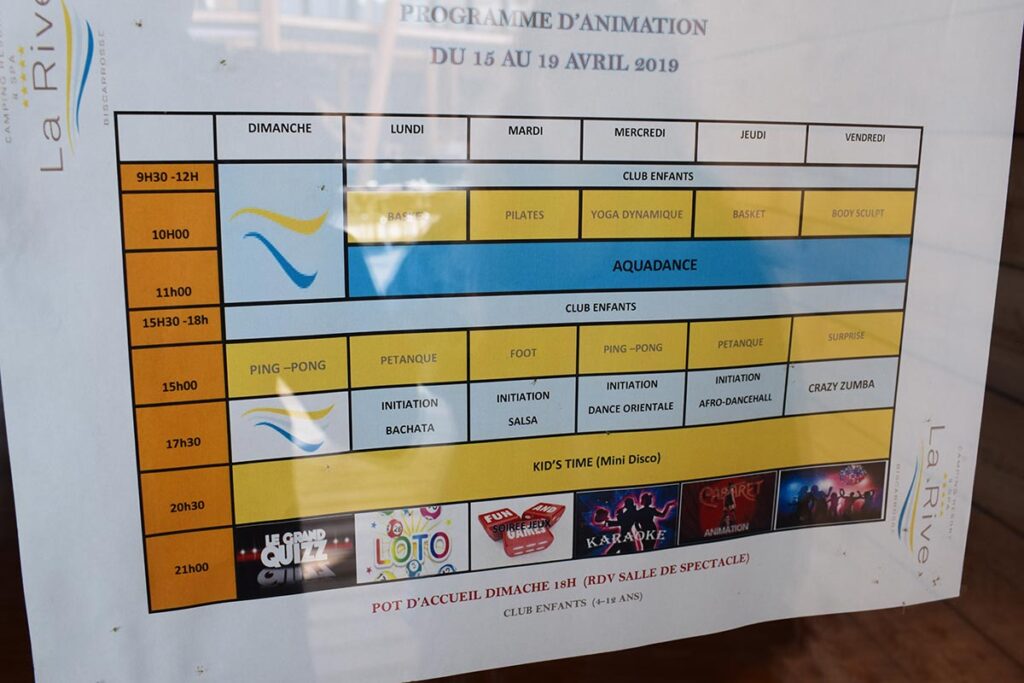 Other Child Friendly Activities
The place kids love due to flashy lights and loud sounds and the place adults hate due to the drain on their wallet. The playroom at Camping La Rive has so many retro arcade style games including pinball machines, dance mats, table football, air hockey pool and of course go kart race simulators.
Throughout the evening this games shack was filled with excitable children trying to grab teddy bears and compete against each other. Although it can be a bit of a money grabber, I have fond memories of arcades as a kid and I think things like pool and air hockey can be a great way to bond and spend time with your family.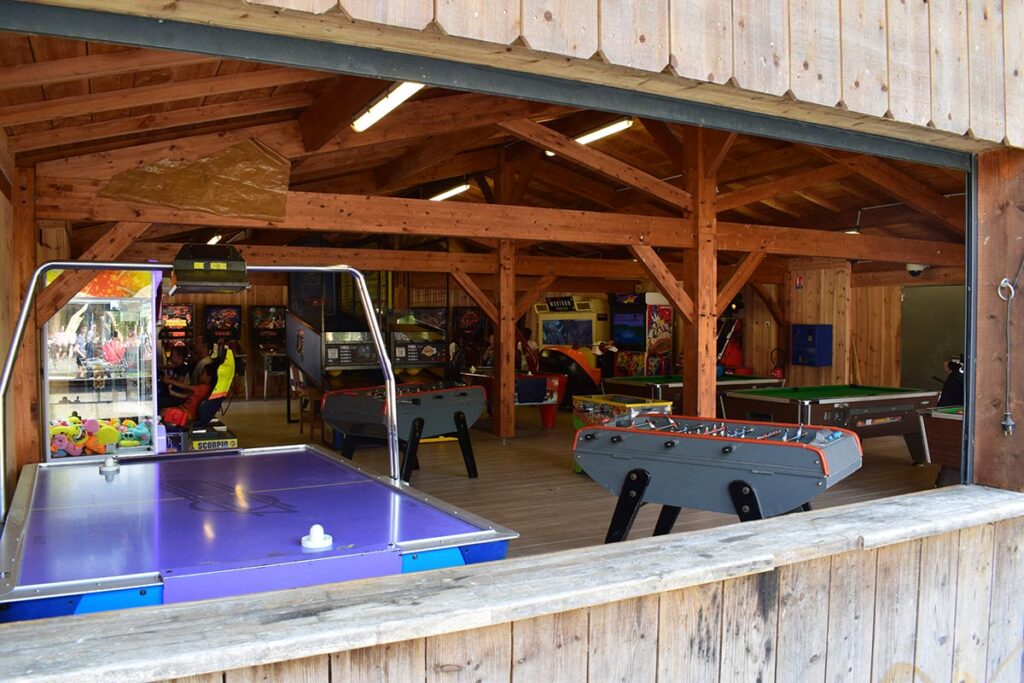 Swings, slides, ziplines, seesaws and so much more this play area has so many different attractions. Situated opposite the bar area in a sanded area the play park is suitable for children aged between 2 and 12 years. As with all play areas parental accompaniment is necessary.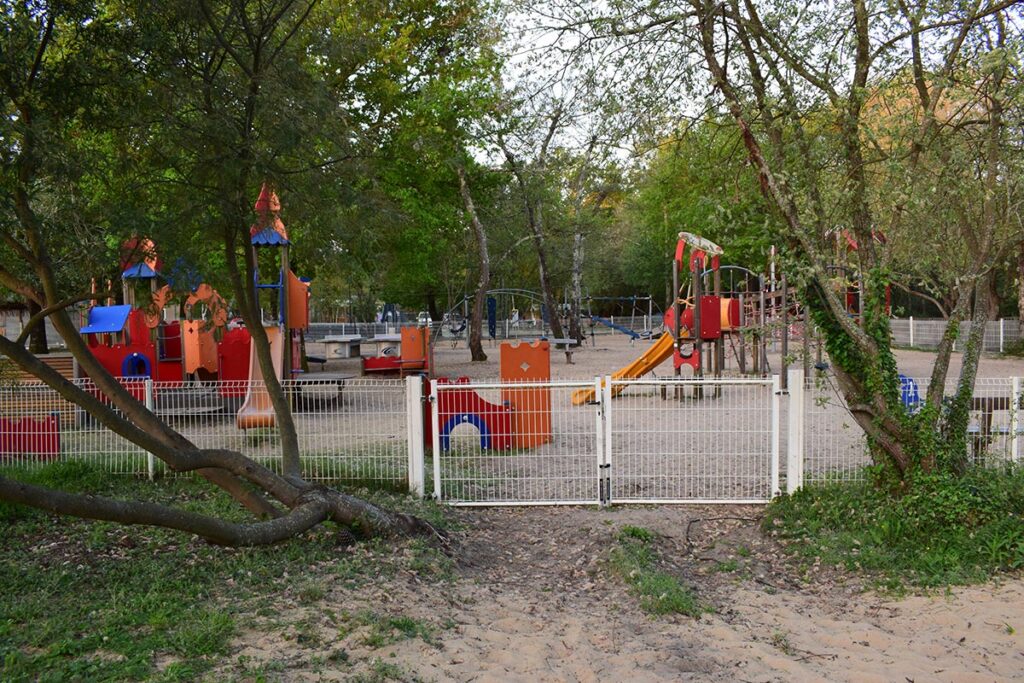 Football and Basketball court
Our mobile home was situated right next to this sports court which if we had kids would be perfect. It was in use all day from about 9am till 11pm and it's probably the area where most children made friends and bonded with each other. We heard kids speaking in French, Spanish and English, all bonding over their love of football.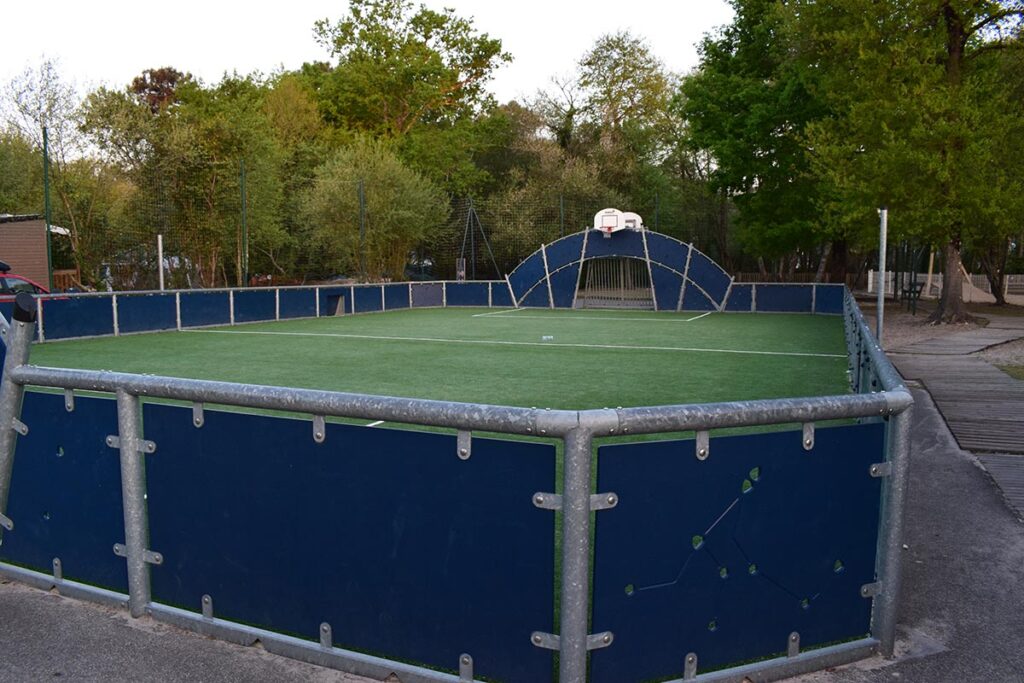 I think every child on the campsite had either a scooter or a bike. We had no idea how popular they were. I'd definitely invest in getting one if we had children but they can also be hired from the campsite rental shop. The bar, restaurant and entertainment area is a "pedestrian zone" and children are encouraged to leave their scooters and bikes in the racks outside – however this pedestrian zone didn't seem to be observed that well…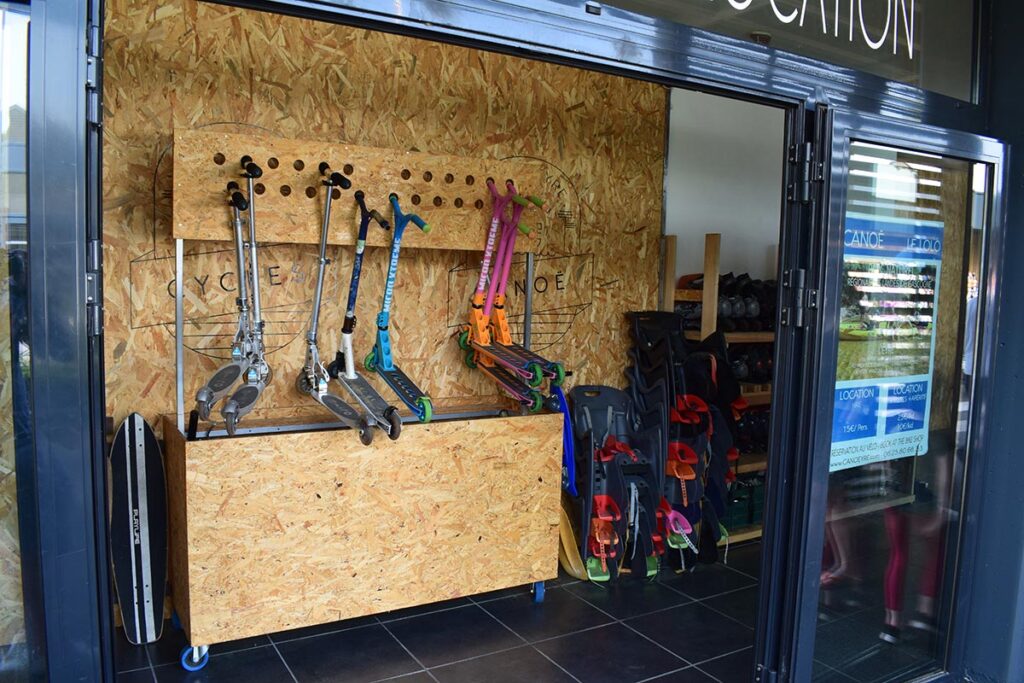 If your child wants to show off their scooter, bike or skating tricks then there's a small skate park onsite located near the swimming pools. It is a small park so perfect for younger children.
Away from the main facility area there is a couple of ping pong tables located within the tent/caravan camping area. We didn't use it, but i assume you can hire the table tennis equipment from the main reception.
Check Availability And Book La Rive Today
Clicking the button below will open the providers website in a new window.
Accommodation at Camping La Rive
There are 765 emplacements at Domaine de La Rive. Some filled with tents, some with mobile homes, some with caravans and some with campervans. We noticed there were definitely more mobile homes than camping emplacements.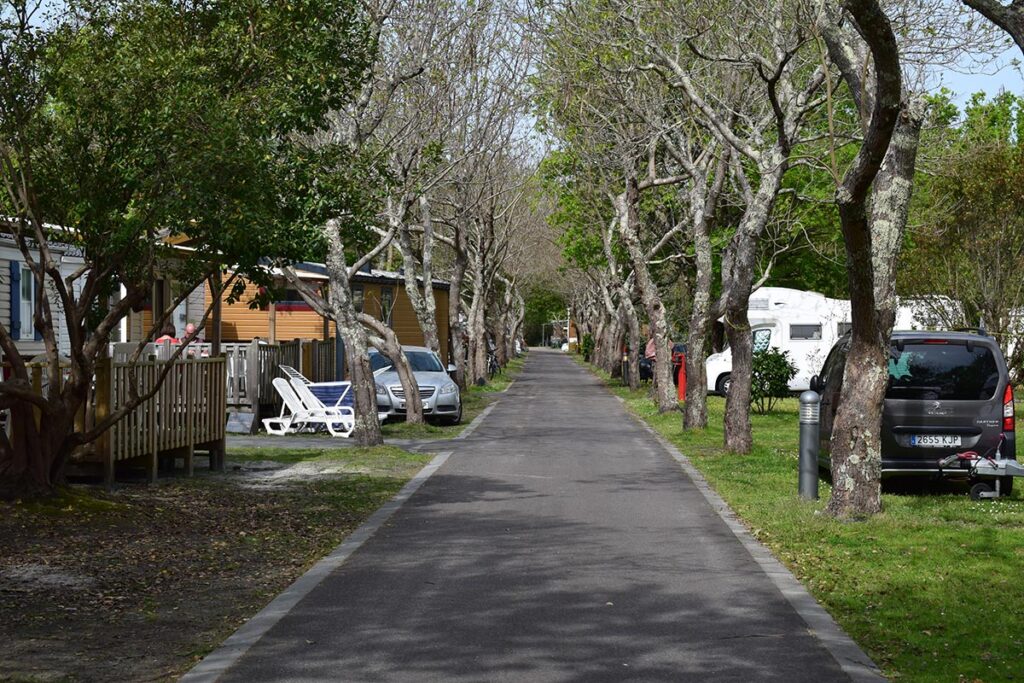 The campsite has a wide range of lodges, comfort pitches, mobile homes and chalets. These are all dotted around the campsite but the interactive map on their website allows you to pinpoint where they all are.
We stayed in Eurocamp Azure mobile home. It was brand new to site this year and you could tell by how well maintained and clean it was. To read our full accommodation review – click here or to watch the video tour, click here.
Not only does Eurocamp have the brand new Azure mobile homes but they also have Safari tents, Avants, Aspects, vistas, Esprits and classics, suitable for families up to 6 or 8 people depending on which type of accommodation you choose.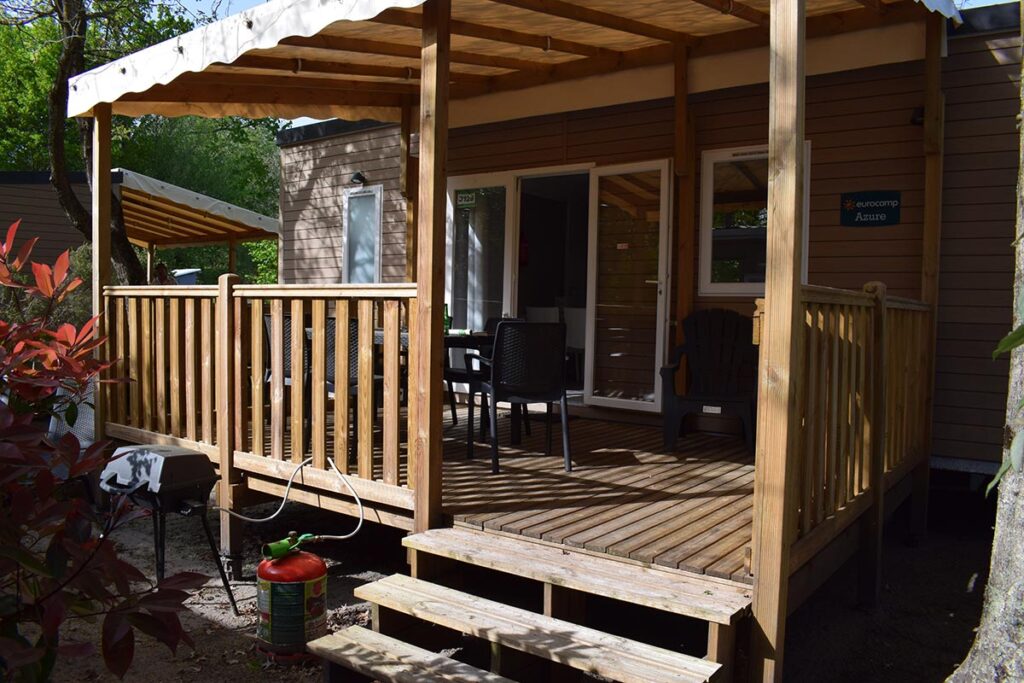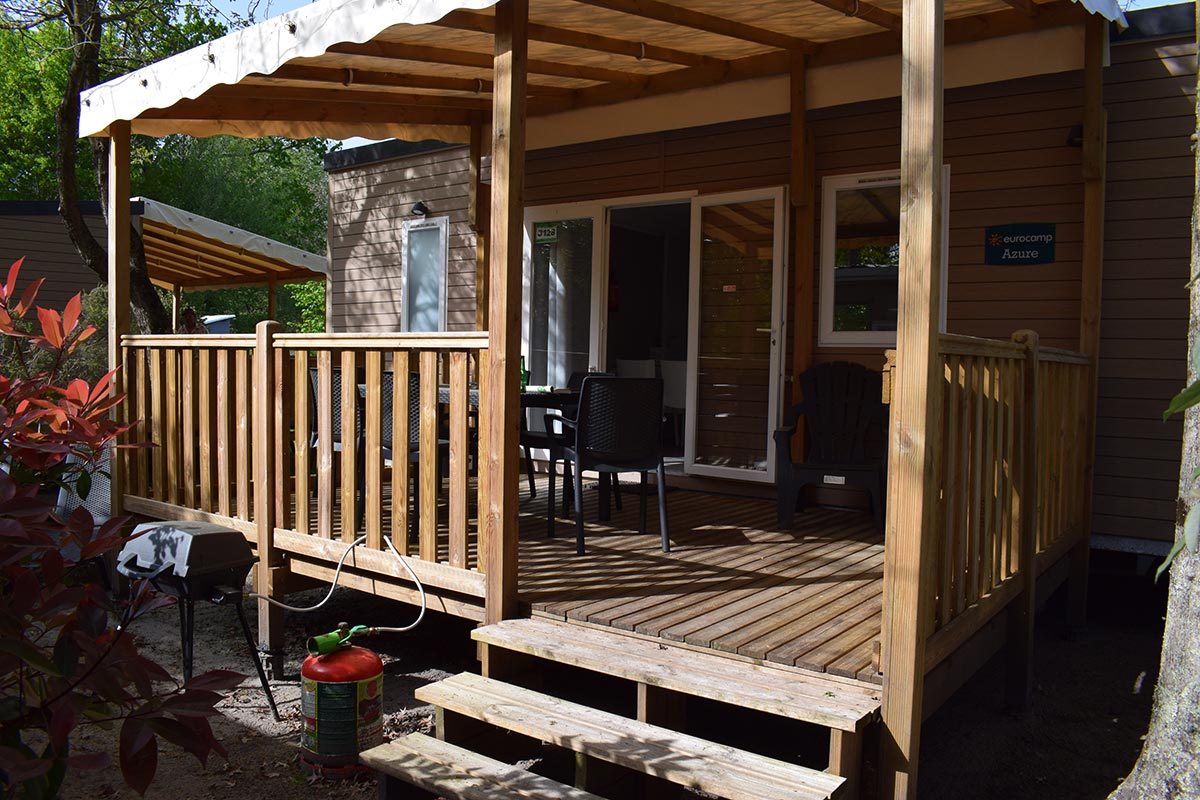 Should I Book Direct Through the Campsite or Through and Operator?
Most people assume that booking direct with the campsite will save them money, but this isn't always the case. In fact, currently (as of writing) it's much cheaper to stay in a mobile home with Eurocamp for 3 nights than it is to rent an empty camping pitch direct with the site for the same 3 nights.
One of the other perks with booking through an operator like Eurocamp is that the price doesn't change per person. Whether there's two people staying in a mobile home or 6 people, the price for the mobile home will stay the same.
Do You Need a Car to Get Round?
Definitely. There is lots to do on site, some never leave, but if you do choose to get off site, you'll probably want a car. Although there are lots of good cycle paths around it's quite a distance from the campsite to the next village (around 5 km).
Like most smaller towns in france public transport is minimal and if you're thinking of exploring anywhere other than the campsite itself then I would recommend hiring a car at the airport or bringing your own.
How to get to The Campsite
The nearest airport to the campsite is Bordeaux 67 km away and around an hour drive. It would be possible to get an airport taxi, however it wouldn't be advisable. I would always advise guests coming to this park that driving is best.
We drove from within France so luckily our journey was a short 3 hours however depending on you get there your journey may be fairly time consuming.
If you are planning on flying into Bordeaux, then hiring a car is advisable.
There is Hertz, Enterprise and Firefly car rental situated at the airport.
If driving from the UK, the recommended ferry port is Bilbao which is 310km away, however sailing to Northern France (Roscoff, St Malo, Cherbourg, Caen, Dieppe, Le Havre, Calais) and breaking up the journey on the way down is also an option.
Address: 6523 Route de Bordeaux, 40600 Biscarrosse
GPS Coordinates: 44.460449 -1.130669
Our Sat Nav couldn't find the address so I would advise using the maps on your phone/computer first to get the general gist of where the campsite is located.
The site is well sign posted from the main road outside, however our sat nav sent us to a completely different place. The campsite is located off a side road from the main road (70km/h speed limit) through the forest.
Day Trips from Domaine de La Rive
Although our stay was short, we still managed to pack in a few activities and explore some nearby locations and the day trips we'd recommend are below. Of course if you'd rather, which I'm sure many families do, you could just stay on the campsite the whole stay – there really is plenty to do.
We spent a day exploring the beautiful city of Bordeaux. There is plenty to do, especially if you like wine and food. The city has some stunning architecture and your kids will love the Science and Nature museum situated in the cities beautiful gardens. To read our full list of things to do in Bordeaux, click here.
I think this seaside town is little known by us Brits because we didn't hear a single English speaking person during our trip – which to us is a great sign of a good place to explore. The town of Arcachon is where the French go to holiday within their own country and is even popular with French celebs. This upmarket seaside town is definitely one of our favourites – to read our full review, click here
If you're not pregnant the Dune du Pyla is a fantastic sand dune to climb. It's the largest in Europe and what an incredible sight it is. Although I really wanted to make it to the top It definitely takes a lot of oxygen, more than I have at the moment – however my husband made it and said the views were great – to read more about it click here.
A surfers paradise. The waves here are amazing and we loved watching the surfers ride them out. Even in the cool April breeze there were so many young people donning their wetsuits and getting in the sea. For more information on this young and vibrant beach town, click here
Camping La Rive is located right in the centre of the Landes Forest. It's the largest man made wood land in western Europe. If you're taking your bikes to the campsite or hiring some there you can take the cycle path from the campsite and explore around the forests.
Unfortunately the Aquapark wasn't open in April during our visit although I've seen plenty of photos and the place looks like so much fun for kids and adults alike, it's definitely worth checking out if you're staying during the peak Summer season.
For children and adults aged over 4 years old Bisc Aventure is the French answer to Go Ape. With over 180 activities you can climb around in trees, climb up walls  and even ride on a giant catapult!
Check Availability And Book La Rive Today
Clicking the button below will open the providers website in a new window.
Frequently Asked Questions
Are the mobiles close together?
The mobile homes were quite close to one another and we could see into others mobiles, however most people spend the majority of their time outside the mobile homes anyway and you can always close your curtains. We didn't hear any noise from other mobile homes except for when they were sat outside on their deckings.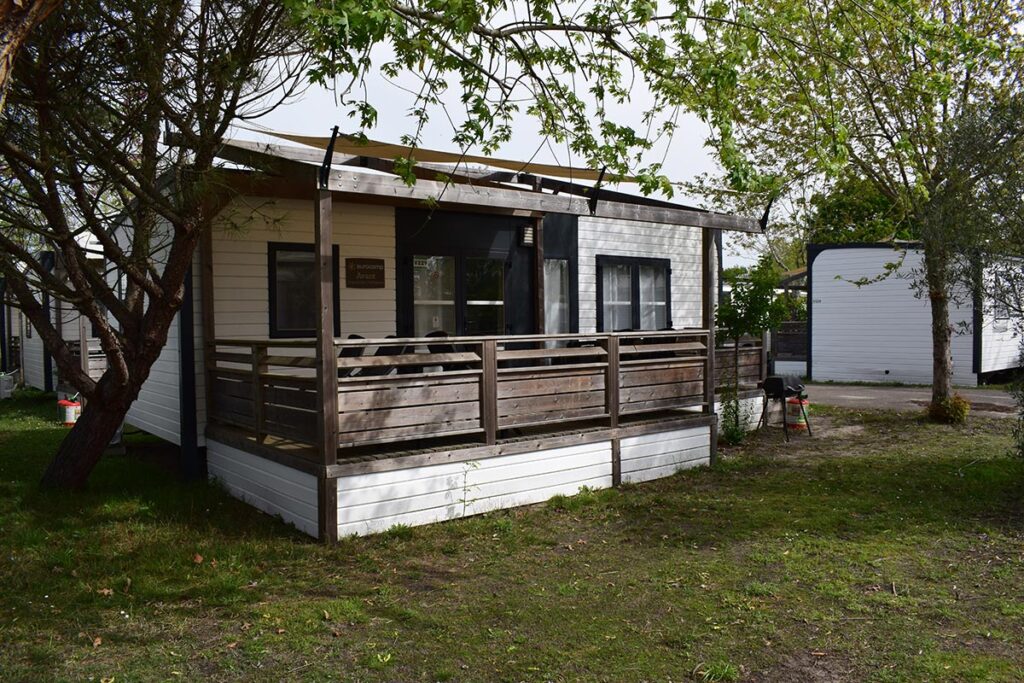 The lake is very shallow for a good few meters making it really good for young children to play and paddle in (with supervision obviously).
The campsite is really flat and perfect for bikes and scooters. Children will really enjoy being able to scoot around the site – you can even hire bikes and scooters from the campsite itself, so if you're flying and can't pack one your child doesn't have to miss out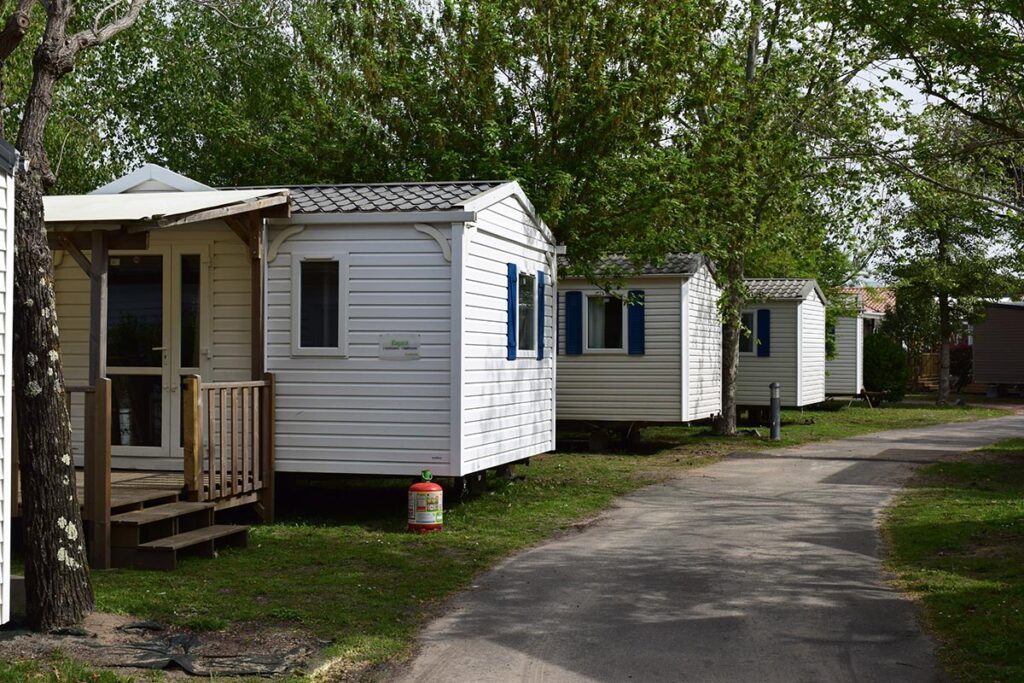 Are there mosquitos at Camping la Rive?
Mozzies are a bit on the carnivorous side and there are a lot of bugs around because you are so close to the lake and forests. Take some good plug in mosquito killers if you're in a mobile home, and lots of deet or similar to spray on yourselves.
Is it easy to get a sunbed around the pool?
Low season is fine but in high season it can be difficult to get a sunbed. In fact, if you have left your sunbed unattended for a long period of time, the lifeguards will remove your towel – nobody messes with them!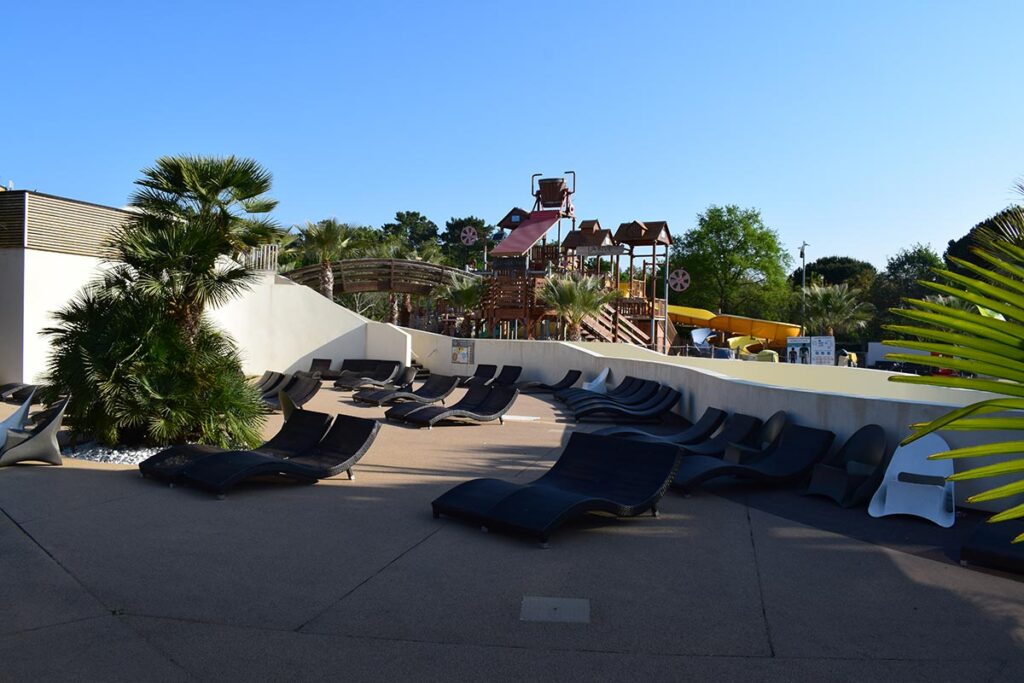 What happens if I arrive to the campsite late?
If you arrive really late the gates may be shut. There is security on site who will be able to get you sorted with your accommodation, however you will have to leave your car on the other side of the barrier in the main car park.
If you know you're arriving late, pack an overnight bag with your essentials for that night until you can get your car through in the morning.
We arrived just after 8pm and there was a Eurocamp courier in the reception (working late because of opening day).
If you're with a tour operator and arrive after 7pm you will need to phone the telephone number provided to reach your onsite representatives. They will be able to provide you with a map, and input your car details in the system so you can enter the campsite barrier.
Do you need to wear a wristband?
YES. Wristbands are mandatory for security reasons. If you are booked with a tour operator like Eurocamp you will receive it at their reception. I happen to like keeping campsite wristbands as memorabilia but I'm strange like that.
Do men have to wear swim trunks?
Yes, there is a swim shop on site but may be cheaper to buy in supermarket or at Decathlon like we did.
Yes you are allowed BBQs. There are gas BBQs provided by Eurocamp and communal charcoal BBQs dotted around the site.
Electric BBQs are banned, probably because they use too much of the campsite electricity and cause power outages.
Is the beach sandy enough to do sandcastles and play, or is it more shingle?
Both Biscarosse beach and the lake beach at the campsite are really sandy and perfect for digging moats and building sand castles.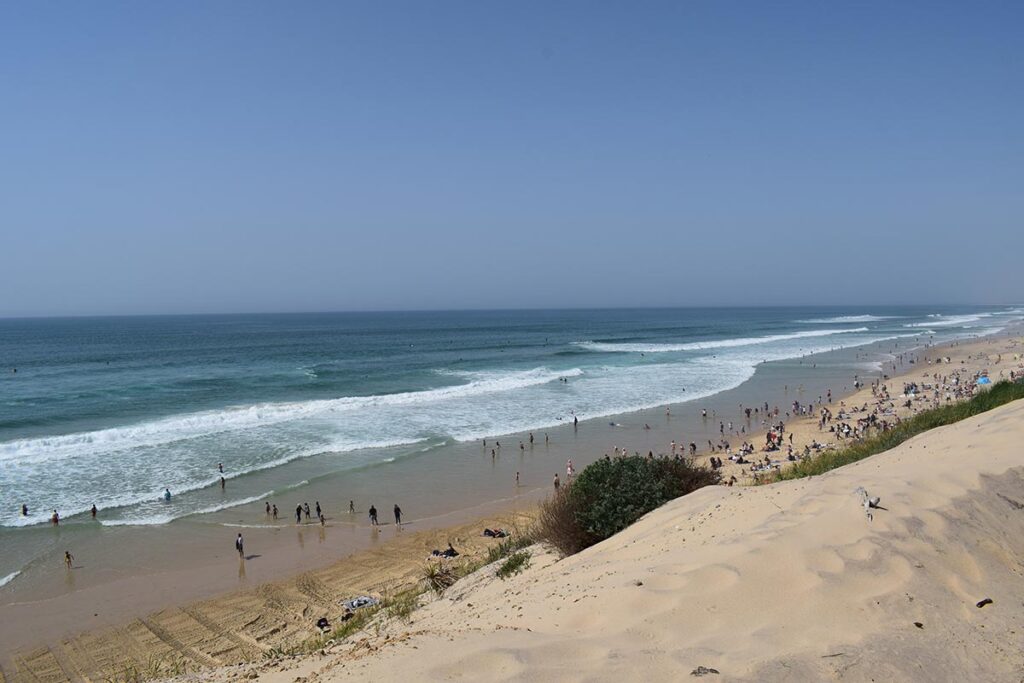 Can you use rubber dinghies and floats on the lake?
You can definitely use dinghies, but I'd be careful using lilo's – stay safe and keep close to the shore.
What's the weather like in Spring/Summer?
Generally warm and sunny in April, May and late September. Throughout June, July, August and September it can be scorching hot with temperatures averaging mid 20s to mid 30s. During times of a heatwave it can feel more like you're in Egypt, so we would advise booking a mobile home with air conditioning.
Bear in mind that the Atlantic coast can suffer from freak storms and weather, so although in general the weather is good – do be prepared for a storm or two.
Where can you watch the sunset?
The sunsets at the campsite lake are amazing! It's the perfect time to grab a picnic and some drinks and sit on the beach and relax.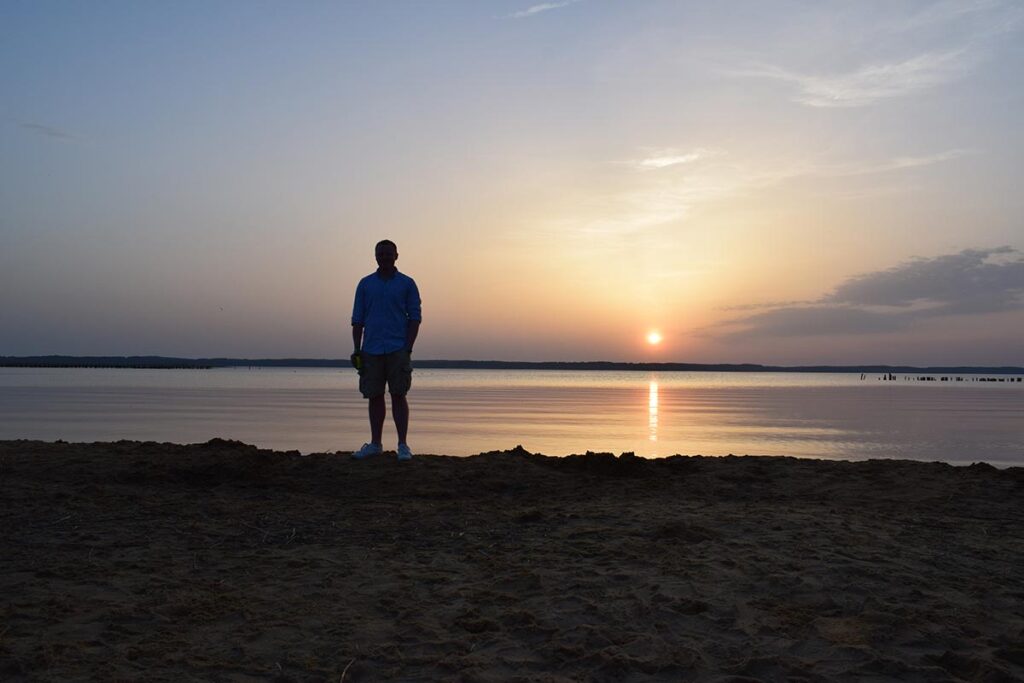 Can you park on your pitch/Emplacement?
We could park on our Eurocamp pitch although it was slightly tight and that's with a mini. If you have a larger car, it may be worth adding a request to your booking to see if they can place you somewhere with a larger pitch.
Can you take pets on the campsite?
Yes. We saw plenty of dogs and even a rabbit. Double check with the campsite or tour operator when booking to ensure you are placed in the right accommodations that allow for pets – you may incur some extra charges for this.
Is there disabled accessibility on the campsite?
The campsite is really flat and would be easy to push a wheelchair around. Even down to the lake there is a wheelchair friendly path. Though, I am unsure if the accommodations are wheelchair accessible and you would need to double check when booking.
There is an ATM located at the front of the campsite near the reception area.
Where's the nearest supermarket?
Lidl is 10 mins away, but turn right at the roundabout and 2 mins further is a huge E. Leclerc which is really good. We drove past a small intermarche on our way to the campsite in Sanguinet but unfortunately it closed at 7.30 and we got there at 7.33…
My flight isn't till late, can I stay on site after check out?
Most tour operators will have check out before 11am, however once you're out of your mobile home you can continue to use the campsite facilities like the pool and kids play areas.
We will definitely return to Camping Domaine de La Rive.
The campsite gave us everything we could have wanted from a family camping trip in Europe. The resort was lovely and met our expectations fully, we particularly loved the pools and lake area as it made us feel like we were right on the coast.
Domaine de La Rive will be a great place to return once our baby is here and we can make the most of the splash park, facilities, and kids clubs.
I believe It's the perfect site for families with children aged between 6 months and 13 years old, thanks to the wide range of facilities and activities.
Check Availability And Book La Rive Today
Clicking the button below will open the providers website in a new window.