 The Ultimate (formerly The Aspect) is one of the BEST Eurocamp mobile homes out there
We loved the luxury feel of this high end mobile and honestly don't know how we could ever go back to basic camping again after this.
Check Availability And Book Your Ultimate holiday home Today
Clicking the button below will open the providers website in a new window.
Eurocamp Ultimate (formerly the aspect) Mobile Home
The Ultimate (formerly the Aspect) mobile home is right at the top end of Eurocamps range. It's the creme de la creme. Introduced in 2014 these holiday homes are still recognised as the best in Eurocamps repertoire, and there's a good reason for that. 
The Ultimate (formerly the Aspect) is described by Eurocamp as "a holiday home like no other" – but why is this holiday home any different to the likes of the Azure or the Azure Plus mobile homes? Keep reading to find out what we think…
Pros of The Ultimate Mobile Home
We've stayed in nearly every type of Eurocamp mobile home, and this was one of our favourites.
Cons of The Ultimate Mobile Home
There's little to complain about here!
Tour Of The Ultimate Mobile Home
If you head to the bottom you can see our video tour inside our Ultimate (formerly the Aspect) 3 bed mobile home, but for a detailed written view we'll start with the bedrooms.
We loved the amount of space we had in this double room. Not only could we easily walk around the large queen sized bed but we had so much storage space. 
There were bedside cupboards, overhead cupboards as well as a double wardrobe AND lift up under bed storage too. We were absolutely spoilt for choice on where to store our bags and clothes.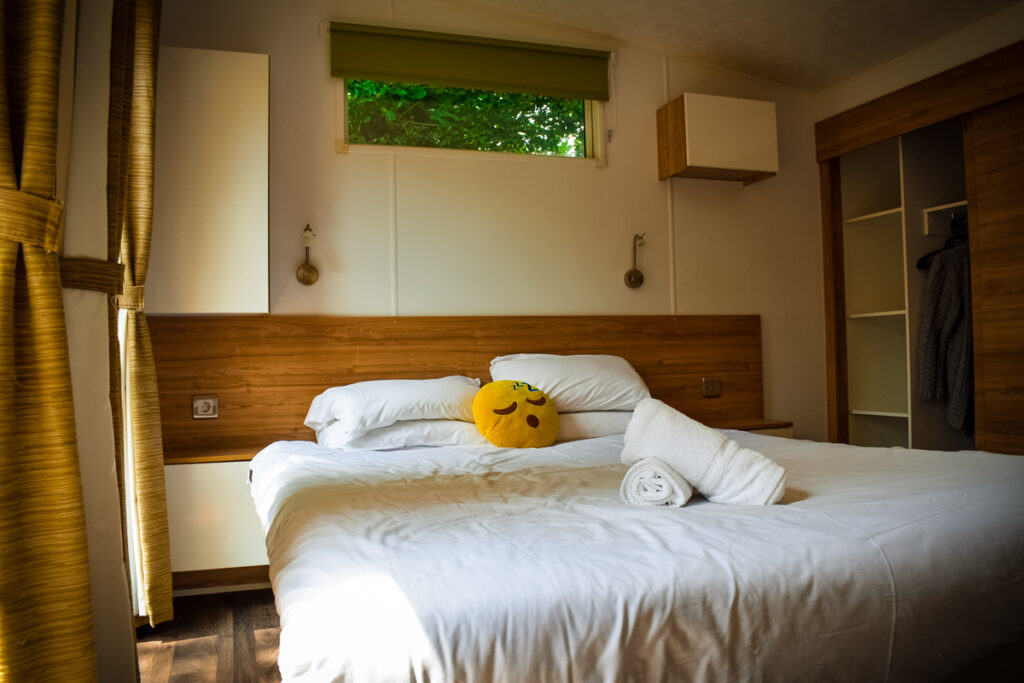 As well as being super spacious, the bedroom was also significantly brighter than many we have stayed in. Most likely down to the full length windows spanning one of the walls. 
The room was great. 
One of the perks of booking an Ultimate (formerly the Aspect) is that your bed linen is included and all beds are pre-made on arrival so when we arrived on a Thursday afternoon wanting a quick nap, we didn't even have to unpack the car and make the beds first. 
Our bed was really comfortable, the linen was clean and fresh and we were also given 2 bath towels – folded neatly on the bed.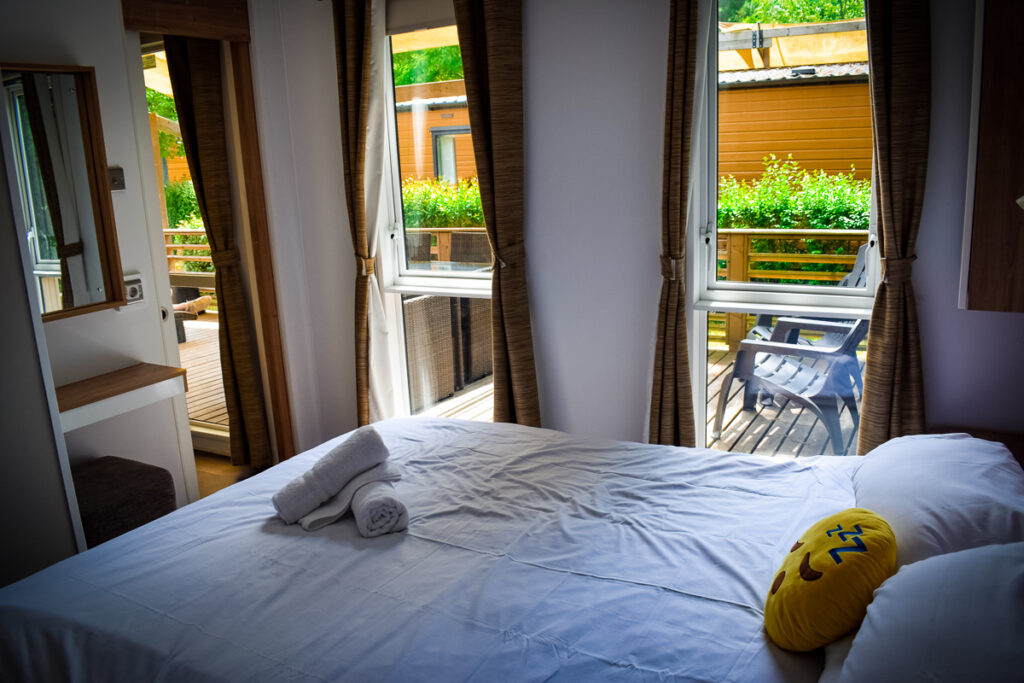 There was however one thing I was confused about in our bedroom and it relates to the full length windows. For some reason, the blackout blinds only covered the first half of the window and basically served no purpose whatsoever. Thankfully, the main curtains were pretty thick and did an ok job at blocking out some light. But I'm still confused as to why they even bothered to blackout half a window…
Large Bed

Underbed storage

Massive wardrobe

Full Length Windows

3 plug sockets

Lots of space

Light and airy

Dressing table with mirror

Windows on two sides

Heater
While not dissimilar to other mobile home twin rooms, the distinguishing feature of the Ultimate (formerly the Aspect) twin room is definitely the space. There is plenty of space between the two beds and enough room to fit a normal sized night stand with cupboard.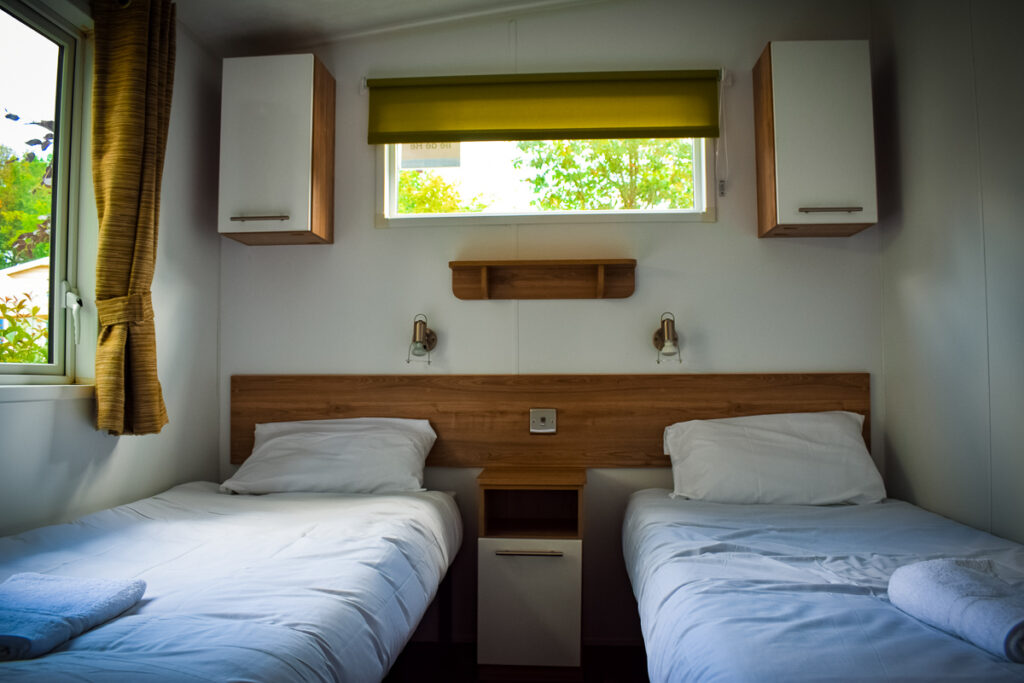 There is some overbed storage as well as a good sized wardrobe in the room and one of the single beds can be folded underneath the other to really maximise the rooms space. 
Like the double room, all beds were ready made for us, with towels included and although we didn't use the room, it was a great touch. 
There was however one thing I noticed about the room which surprised me. There was no mosquito or blackout blind, even though the window was a normal size. I don't know if this was a design error, if it was just simply forgotten or maybe it was awaiting being added…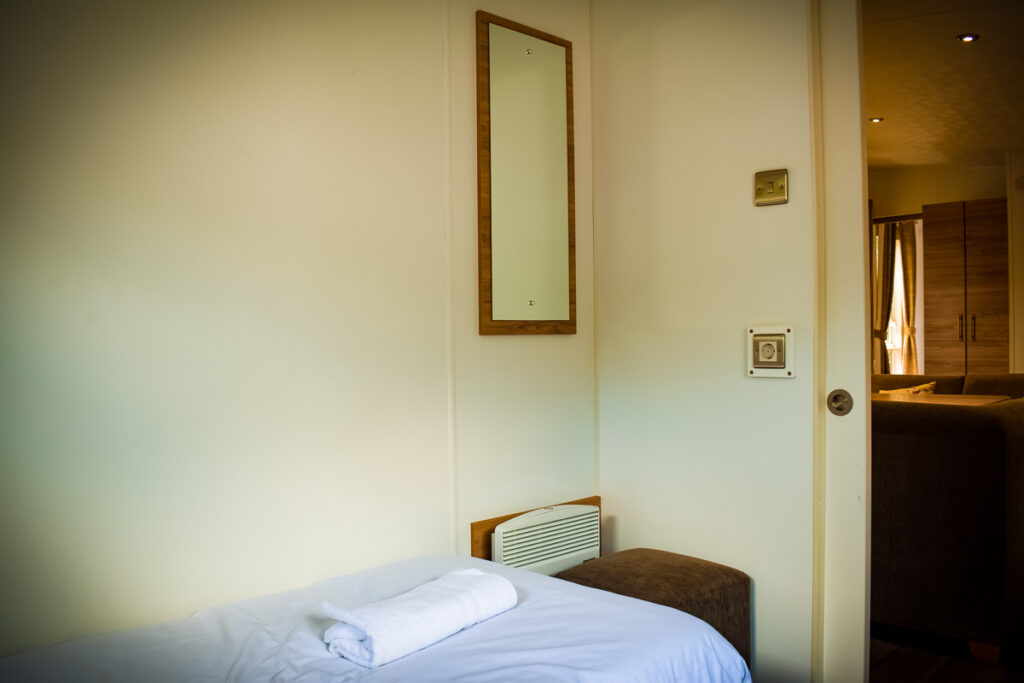 Over head storage

Fold under bed

Ready made bedding

Reading lamps

Good sized Wardrobe

Lots of space

1 EU plug socket

Windows on two sides

Heater
I usually dread walking in bunk rooms as a 7 months pregnant women however this one had plenty of space. The room was light and airy thanks to the white walls and full length windows. I personally wouldn't want to sleep on the top bunk because there's not much space between the bunk and the ceiling, but for a child it's perfect. 
The room was clean and the beds were nicely made, like the other rooms. There was even a reasonable amount of storage in there with the wardrobe and bedside table. 
Again though, the room featured a blackout blind that only reached half way down the window…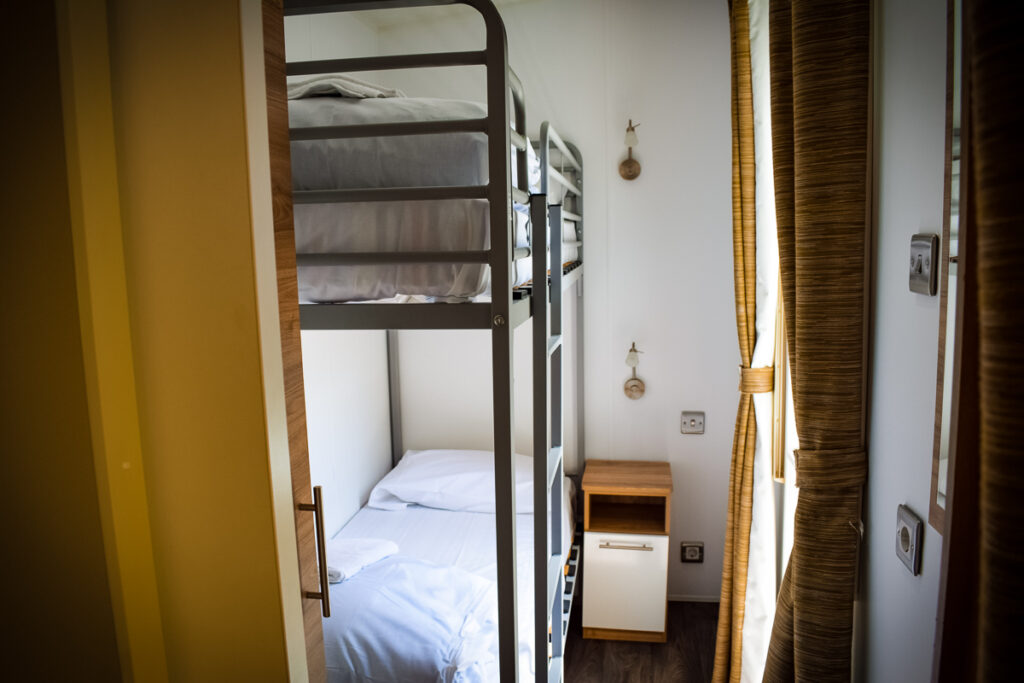 Reading lamps

2 EU plug sockets

Ready made bedding

Spacious

Bright and airy

Mirror

Lare windows
I hate photographing bathrooms as the angles are always so awkward to get to. The shower was a large size – not a double – but not one of the usual small sized ones. There was more than enough room to get my elbows in the air to wash my hair…
The toilet, well that's pretty standard, it worked and was clean. The sink was also pretty standard and basic, although I did like the modern looking tap.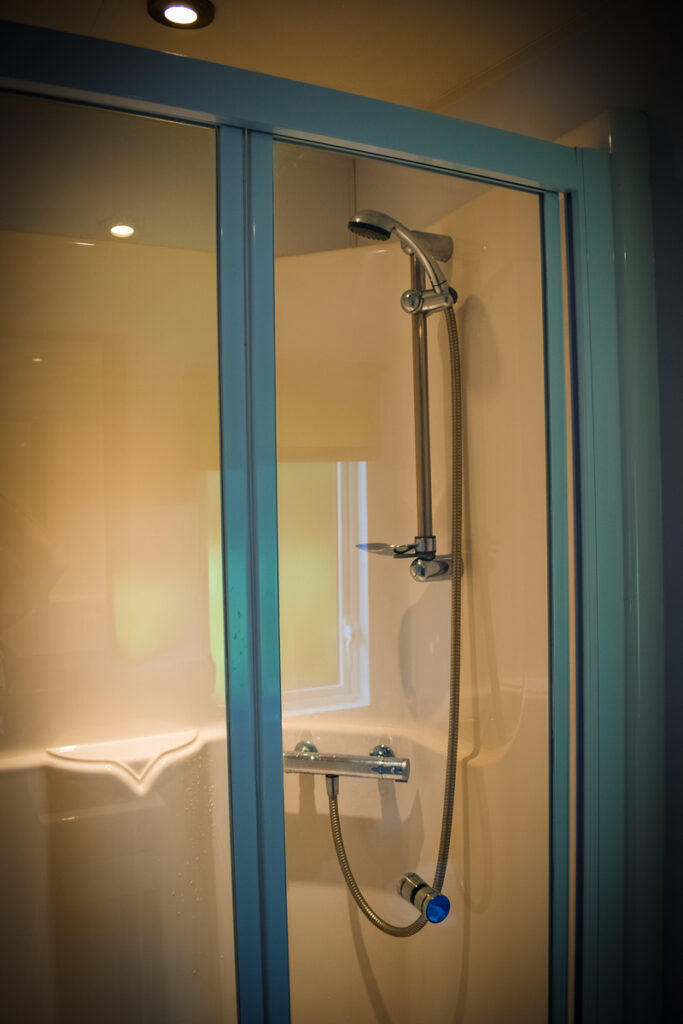 One thing I did like about the bathroom was the extra storage space. There was a large cabinet next to the toilet which was perfect for storing toilet rolls, towels and toiletries and under the sink there was even more storage space and a hair dryer. 
We did also have a heated towel rail in our mobile home, again, I don't think this was a standard feature and ours didn't actually work, but I have seen in many photos a normal bathroom heater.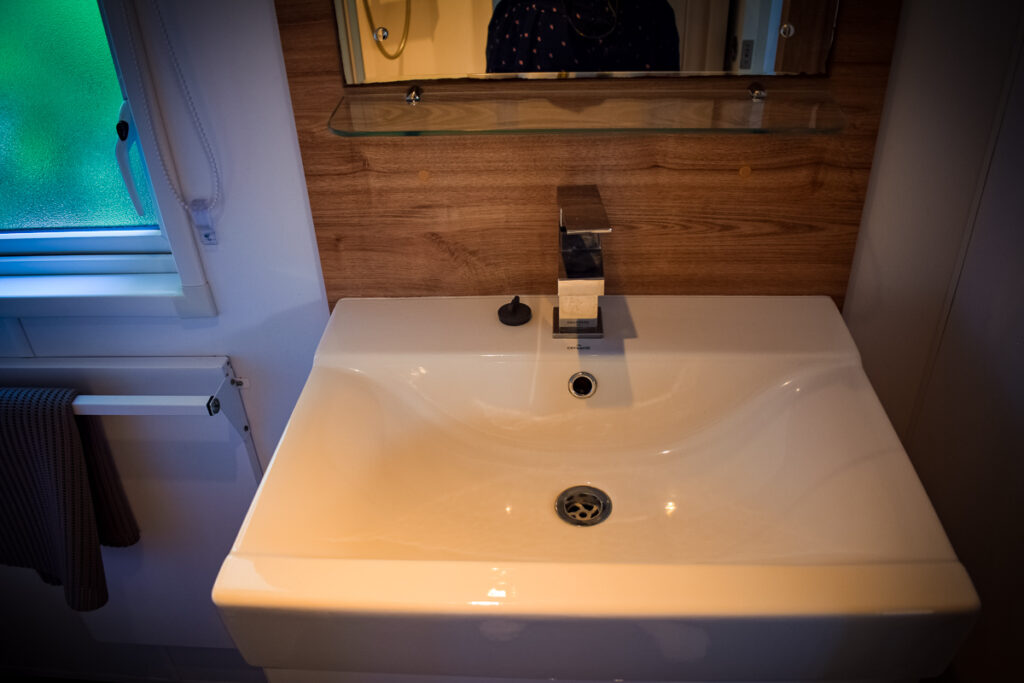 Hair dryer

Large shower

Large storage space
The living space in the Ultimate (formerly the Aspect)  is so unique and way better than any we have experienced in other mobile homes. We had 2 really comfy fabric sofas surrounding the dining table, with enough room to fit 2 or maybe 3 people each and there was a set of 4 matching poufs for any extras. The table itself was adjustable meaning it could be repositioned to suit any of the guests at the table.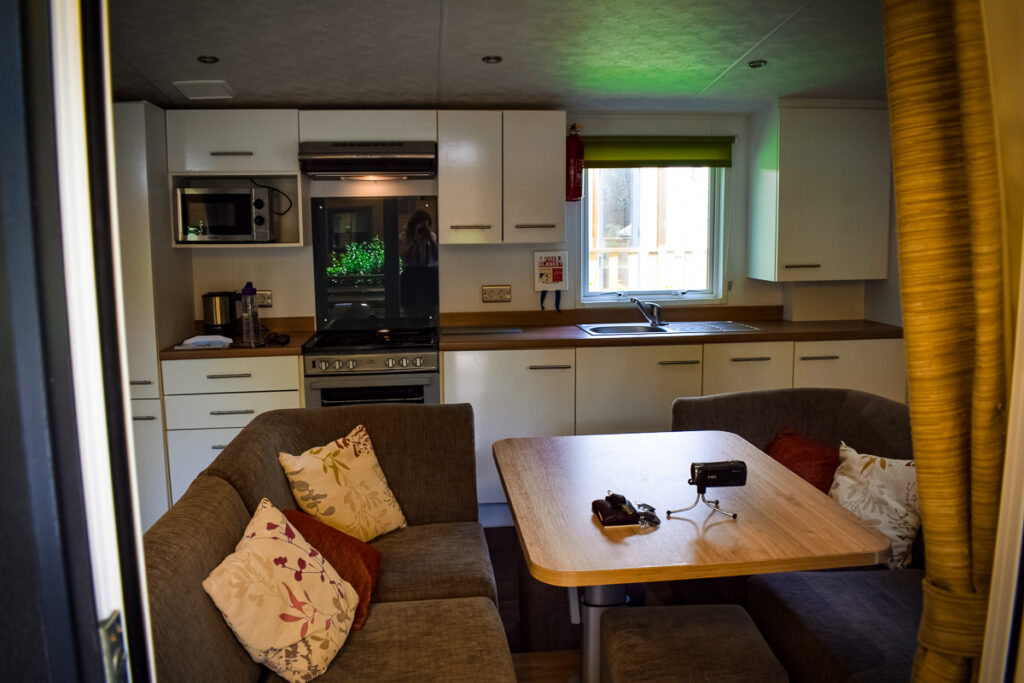 One of the sofas was in fact a sofa bed, although I only realised this after picking something up off the floor and realising the underneath looked different to the other. 
In front of the dining table and sofas, there's also a dvd monitor. You may be mistaken into thinking this is a TV but it doesn't actually pick up any channels. It is however, really handy for sticking a dvd in the side or even using some of the connectors to plug in your gaming devices should you wish to bring them.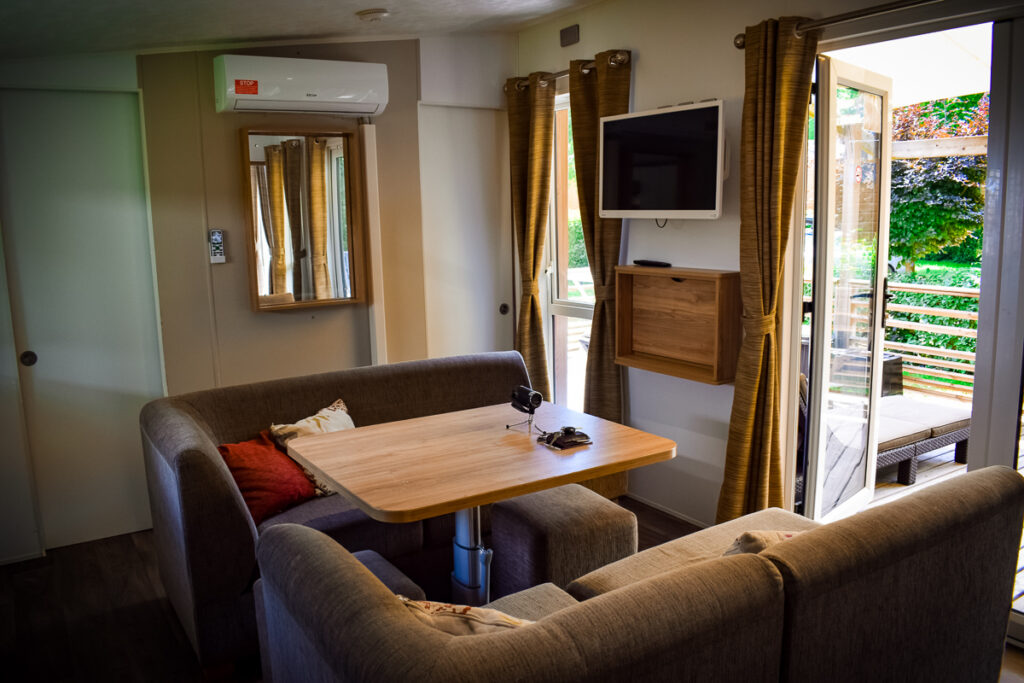 We didn't bring any dvd's or anything like that, but maybe I would have brought some cd's and used it as a music player if I'd have known. You see, Mike actually tricked me and booked it all as a surprise and I had no idea we would be staying in such a high-end mobile (or even where we would be staying!). 
One of the perks that the Ultimate (formerly the Aspect) has is its sliding bedroom doors which means open doors don't interfere with the space like they do in some of the lower end mobile homes. Another feature of the living area is the large cupboard. With space to hang coats, put extra kitchen items or store cleaning equipment this mobile home is definitely the best for storage and space.
Comfy, fabric sofa

Sofa bed

DVD player/Monitor

Adjustable table

Extra poufs 

Heater

Large cupboard

Air conditioning

Large Mirror

Full length windows 

Large patio doors
Dishwasher, dishwasher, dishwasher – did I mention…DISHWASHER! Oh yes! 
One of the best features in this Ultimate (formerly the Aspect) mobile home is definitely the dishwasher. Because firstly, who wants to wash dishes while on holiday…certainly not me. Secondly, how cool is it that camping can now include such luxuries!?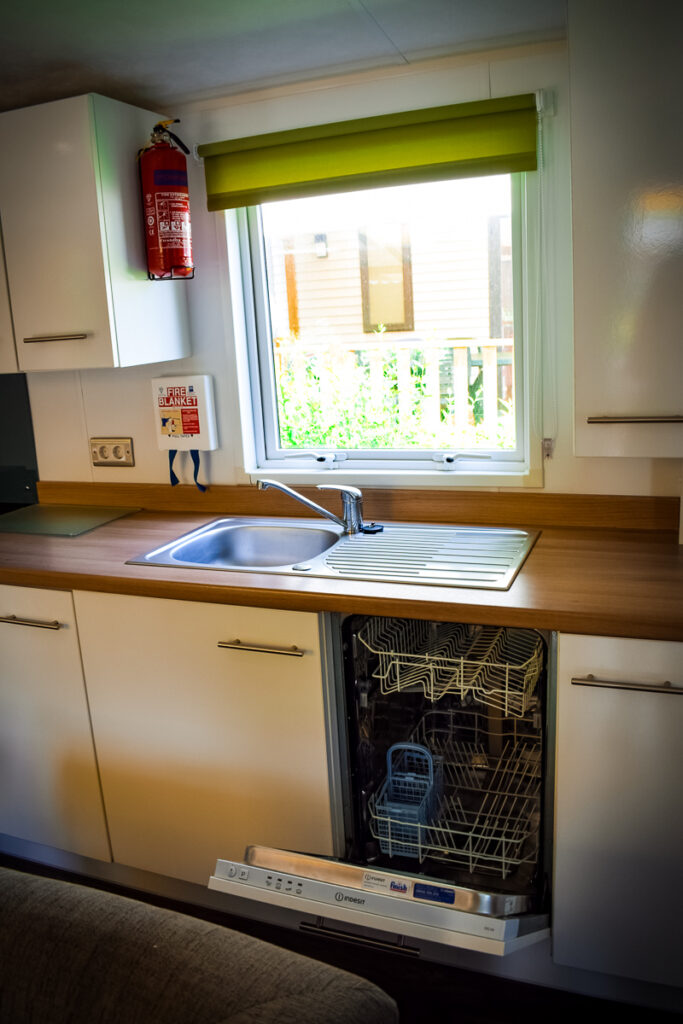 But the dishwasher isn't the only great thing about this kitchen. There was a full sized Fridge/Freezer with super freeze settings. A gas oven, hob, separate grill and microwave. So much space to store our food goods as well as a fully kitted out kitchen inventory. And some wicked extra additions like a 4 slice toaster, coffee maker and an electric kettle. 
Eurocamp even seem to be working on their blunt knife situation (if you've ever used one of their kitchen knives before you'll know what I mean), and provided us with 4 knives instead of the usual two – although, they definitely still weren't as sharp as what we have at home.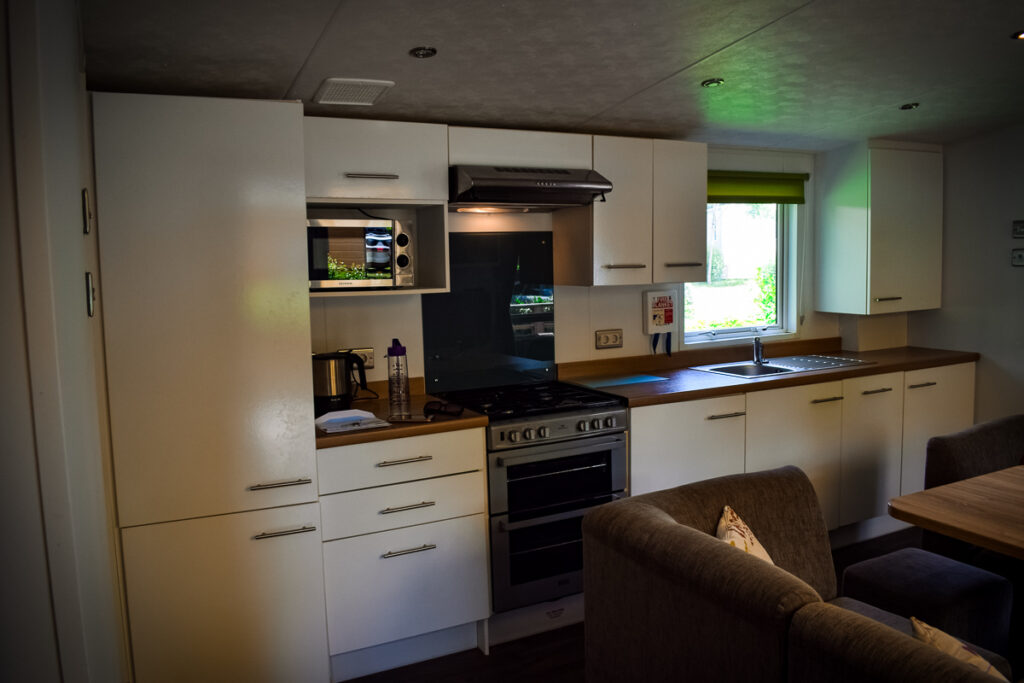 Dishwasher

Toaster

Electric kettle

Coffee maker

Full sized fridge freezer

Lots of knives and kitchenware

Glossy kitchen cupboards

Microwave, grill, gas hob & oven

Plenty of plug sockets

Ample space for food goods. 

Large window

Sink with washing up bowl and drainer
As if the living and kitchen area space wasn't enough, we were so spoilt with the outdoor space too. With a massive sized decking and luxury furniture we couldn't have been comfier alfresco dining outside our Eurocamp Ultimate (formerly the Aspect) mobile home.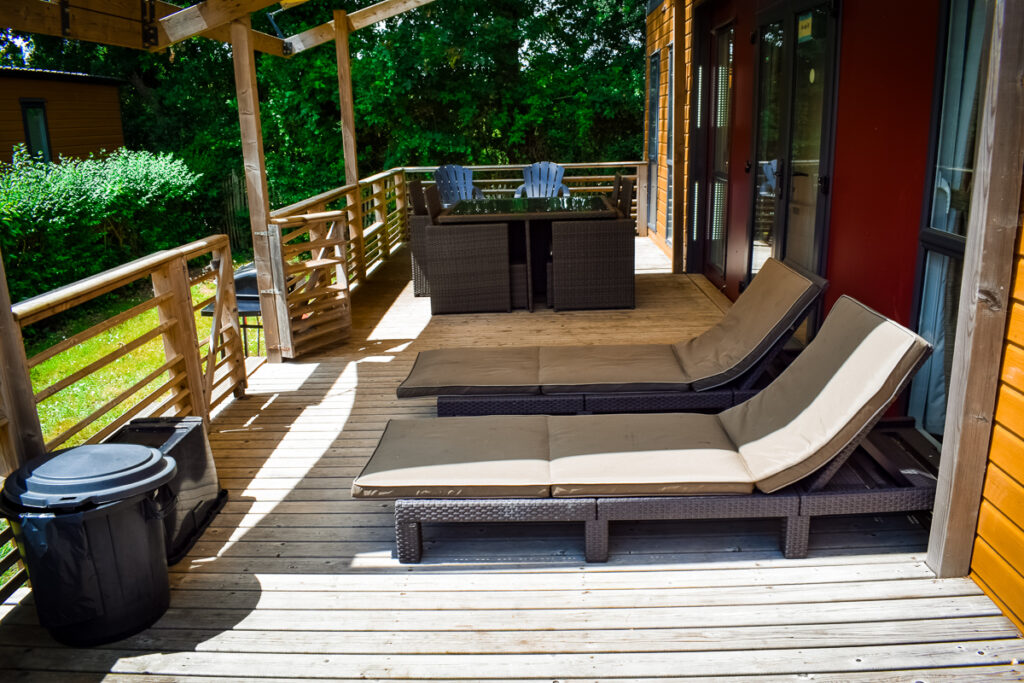 Honestly, the furniture outside is 1 million times better than any other and it's definitely worth upgrading to the Ultimate (formerly the Aspect) just for this feature alone. The outdoor chairs come with comfy cushions so you get a luxurious seat instead of a sore bum. There's foot stools around the table, which is a beautiful wicker style glass table top. The sun loungers also come with comfy cushioning and the bbq is way bigger than standard.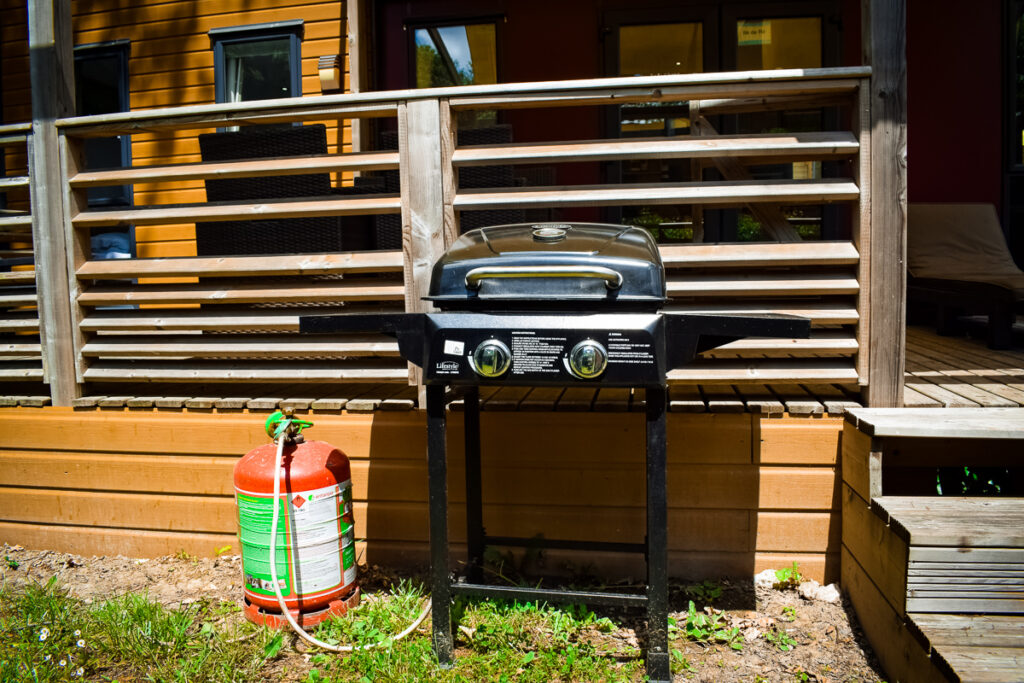 The whole decking is covered by two sail canopies, comes with a sturdy decking gate and there's also two relaxing recliner style chairs. 
Our pitch was massive and we had enough room to both, park our car, and be outside which is great, especially if you have young children who want to kick balls around. 
Even when it started to rain slightly the outdoor space was great for having a couple of drinks and snacking on some food as the sails kept the seating area dry.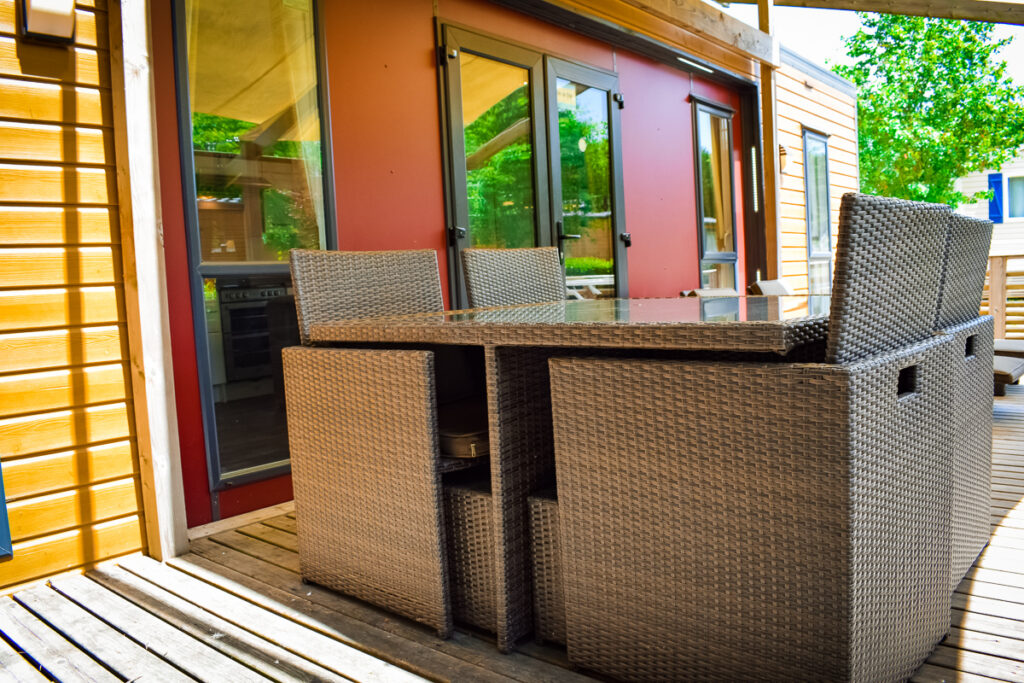 The mobile home itself features a stylish wooden styled exterior with wide double doors you can pin back and beautiful outdoor lighting. Not only are there two standard outdoor lights but there's also some bright strip lighting making the outdoor space perfect for sitting out in the evening once the children are in bed. 
Luxury outdoor furniture

Table, Chairs and footstools

2 sun loungers

2 recliner style chairs

Luxury gas bbq

Bins

Partially covered canopy

Decking gate

Large pitch size
Features Of The Ultimate Mobile Home
The Ultimate (formerly the Aspect) mobile home is the most expensive mobile home in Eurocamps repertoire but what exactly do you get for that extra cost? Here's all the great features we found in our Ultimate (formerly the Aspect) at La Garangeoire that we feel deserves the extra price tag…
Firstly, we were overwhelmed by the amount of space. From the under bed storage to the large wardrobes and cupboard spaces. Our mobile home had so many storage solutions. If you have a large family with lots of belongings then i'd definitely recommend it for the storage alone. 
The spaciousness. I loved that I could walk around freely, even with a giant pregnant belly that normally gets in the way everywhere. I had no problem walking around beds, fitting into rooms and the sliding doors really helped to maximise the mobile homes space. 

The outdoor area is always one of the holiday highlights, especially when camping. It's where you eat, lounge, sunbathe and play. Our Ultimate (formerly the Aspect) had a really large decking area as well as pitch and had the most luxurious outdoor furniture, a massive upgrade from mobile homes like the Esprits and Espaces. 
The added extras. If you've stayed with Eurocamp before you'll know that most mobile homes come with old school, gas hob whistling kettles – but not the Ultimate (formerly the Aspect) . Here you get a normal, fast working electric kettle. But not only that – you get a toaster, coffee maker, dishwasher, DVD player/Monitor, full sized fridge freezer and a luxurious sofa. 
The beds are already made! We always love a nap when we arrive somewhere new, a long day in the car means snooze time and there's nothing better than jumping into a ready prepared bed. It also helps on space by not having to pack linen and towels. 
Video tour of the Eurocamp Ultimate Mobile Home
Check Availability And Book Your Ultimate (formerly the Aspect) holiday home Today
Clicking the button below will open the providers website in a new window.
If you're flying over and can't pack everything in your luggage then Eurocamp have the handy option to add bookable extras to your mobile home – These include:
Linen and Towel Hire Packs (Including Cot linen)
Essentials pack, full of cleaning products like washing up liquid and cloths
Welcome pack, perfect if you're arriving late and don't have time to get to the supermarket as it contains some nibbles and drinks
Travel cots (free)
High Chairs (free)
Baby baths (free)
Potties (free)
Changing Mats (free)
Bed Rails (free)
If you're driving over and don't need to book linen or added extras then don't forget to bring these along with you – a few other things we always remember to pack include:
Oven glove
Veg peeler & sharp knives
Sponge, Washing up liquid & cleaning products
Bed linen (queen size for the Azure)
Baby Extras if needed (or add to your booking for free)
The Ultimate (formerly the Aspect) mobile home is one of the BEST Eurocamp mobile homes out there. The extra space, storage and outdoor furniture warrants the higher price tag alone. But they aren't the only extras you get included. The ready made beds, the kitchen extras, the comfy sofas and the stylish design make this mobile home so unique. 
We loved the luxury feel of this high end mobile and honestly don't know how we could ever go back to basic camping again after this. 
The Aspect is the perfect mobile home for space, storage and absolute luxury! 
Check Availability And Book Your Ultimate (formerly the Aspect) holiday home Today
Clicking the button below will open the providers website in a new window.