Biscarrosse is an ideal location for active, outdoorsy, families. Whether you're into waves, bike riding or just chilling at the beach, Biscarrosse is perfect.
Finding family activities in a new location is always a hard task so we've made it easier and created a list of family friendly activities in Biscarrosse, we found, that both you and the kids will love. Whether you have young kids, older children or even babies, I've hopefully added something to satisfy each and every member of the family.
What to do in Biscarrosse with kids
As kids, we loved bodyboarding and would have definitely taken advantage of the incredible waves the atlantic coast has to offer. Biscarrosse plage has 4km of beautiful sandy coastline but do watch where you choose to bodyboard. Throughout Summer there are lifeguards on duty and always go in the sea within the safe blue flag zones.
If you or your family want to take bodyboarding to the next level, why not take a family surf lesson. Biscarrosse is a surfers paradise and we saw plenty of people riding the large waves during our visit. Kiwi surf offer lessons for beginners to advanced surfers and start from 5 years old.
When you're at the beach, it's a crime not to try the ice-cream, right? One thing we love about France is the seaside ice-cream stalls and their amazing flavour choices. From sweet and sickly flavours like Kinder Bueno, bubble gum and Biscoff to refreshing fruity sorbets French ice-cream stalls have thought of it all.
Biscarrosse is famous for 3 things. The beach, the forests and of course, the lakes. There are so many lakeside activities to choose from. If you're adventurous enough you can try paddleboarding or kayaking or why not take your inflatables to the shallow lake beach in Sanguinet.  
For the thrill seekers in your family Bisc Aventure is a treetop adventure course located in the stunning Landes forests. There's over 180 different activities colour coded by difficulty and height restrictions. Alongside the treetop adventure course there's also a climbing wall, giant catapult and bouncy jumping options. The adventure parc is suitable for anyone aged 4 years and above but, of course, activities will vary by age. You could easily spend a whole day here enjoying the activities.
Build sandcastles and chill at the beach
Some of our favourite holiday memories are from the times at the beach. Building sand castles, digging moats and burying dads. Mike still has a compulsion to dig holes whenever we go to the coast. The beach area at bisca plage is perfect for sandy play as it's 4km long and without a stone in sight. Grab your bucket and spade, shady tent, windbreaker and picnic and head for the plage.
When I first heard there was an aquapark in Biscarrosse I assumed it would be the usual plastic flumes with boiling hot metal steps and kids running around with sticky ice creams, but I couldn't be more wrong. The Aqua park in Bisca is an entirely different type of water adventure. It's the largest inflatable water park in the world! Set on the lake shore the aqua park features a range of different inflatable activities including a giant waterjump and catapult, a 5 meter high climbing wall, the cyclone hamster wheel and so much more – so if you fancy a total wipeout kinda day then the aqua park is open from June till September, can even be used at night and the aquakid zone is suitable for ages 4 and above.
This 18 hole mini golf course is set within the forests directly opposite Lake Maguide. There's moveable obstacles, audible obstacles and even a hole that changes the colour of your golf ball. Snack bar, toilets, picnic areas and family fun, all set in beautiful nature – what more could you want from a day out.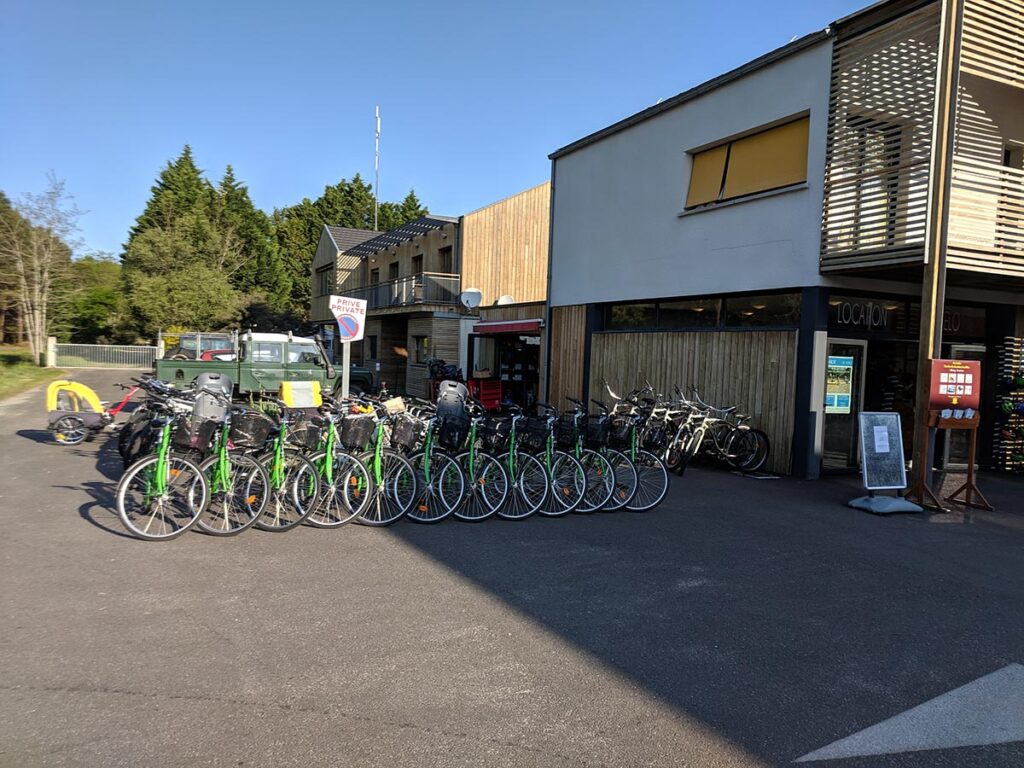 Take a day trip to Arcachon
Arcachon is another nearby seaside town with a completely different feel. Beautiful indoor and outdoor markets, plenty of clothes shops and coffee shops and a calm shallow bay. The sea here is perfect for smaller children as the bay keeps the giant atlantic waves at…well, bay. You can grab a boat trip from the many sellers and check out the oyster farming villages in Cap-Ferret, go to the island of the birds or even check out the largest sand dune in Europe, the Dune du Pilat from the sea.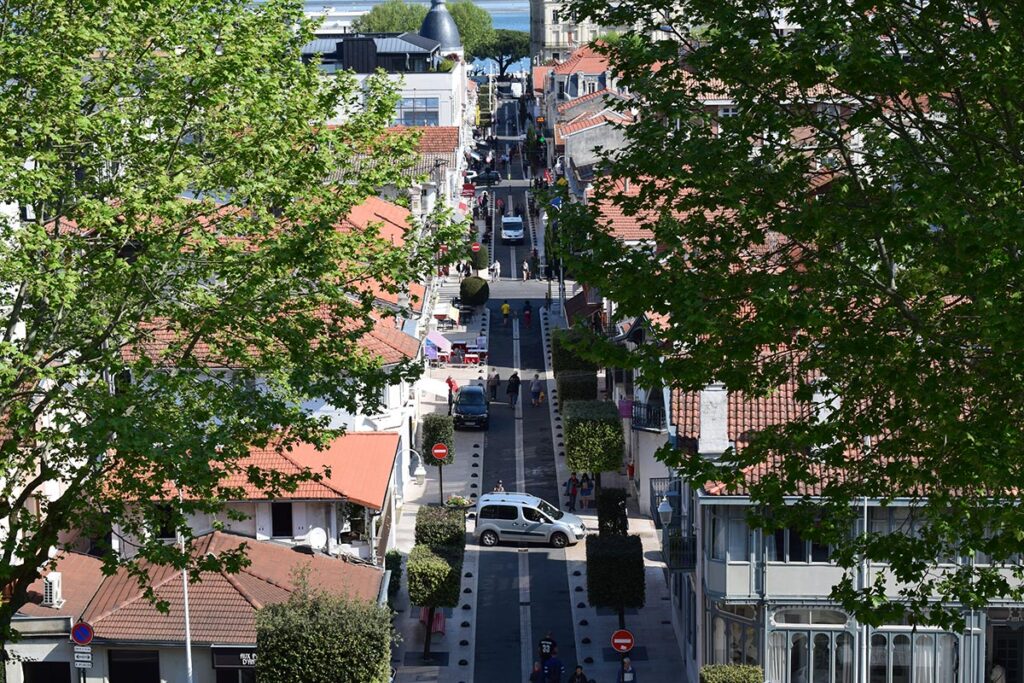 We stayed at the beautiful Camping Domaine de La Rive resort located right on the lake in Sanguinet during our trip to Biscarrosse, but if you're looking for something different – then take a look at our top list of campsites nearby…