Castel Camping La Garangeoire Review We Need to see this campsite in better weather
The campsite facilities and entertainment at La Garangeoire are fantastic and it's clear to see why people return year after year. 
It's a shame we didn't get to see it in it's best light, but we'll definitely return
Check Availability And Book Garangeoire Today
Clicking the button below will open the providers website in a new window.
On the face of it, compared to some of the other campsites we've visited this year, camping La Garangeoire seems like a relatively small campsite. However, once we delved further into what the campsite offers we realised there's so much more than meets the eye. 
Camping La Garangeoire is a 357 pitch, family run, Castels campsite. Covering 20 hectares of land the campsite, first opened 6th of June 1964, belonged to the de Kerautem family and is now owned by their granddaughter Anne and her husband Eric Bourgon. 
One of the reasons Mike chose to book this campsite was for the family run feel. After staying in some big, slightly soulless campsites, finding one with a family centered feel was a priority. But what did we think about it…
Pros of Castels camping la Garangeoire
What did we LOVE about this campsite
Cons of Camping La Garangeoire
Every family prefers certain things about a campsite, so our "cons" could be on your "pros" list!
Pool Complex at Camping la Garangeoire
During our stay, thanks to storm Miguel, we didn't actually get the chance to use the pool complex. We planned to, but the weather was too bad for us to even consider it. Instead, we just enjoyed it from the pool bar area and watched the Irish guests (who must have been freezing) use it instead.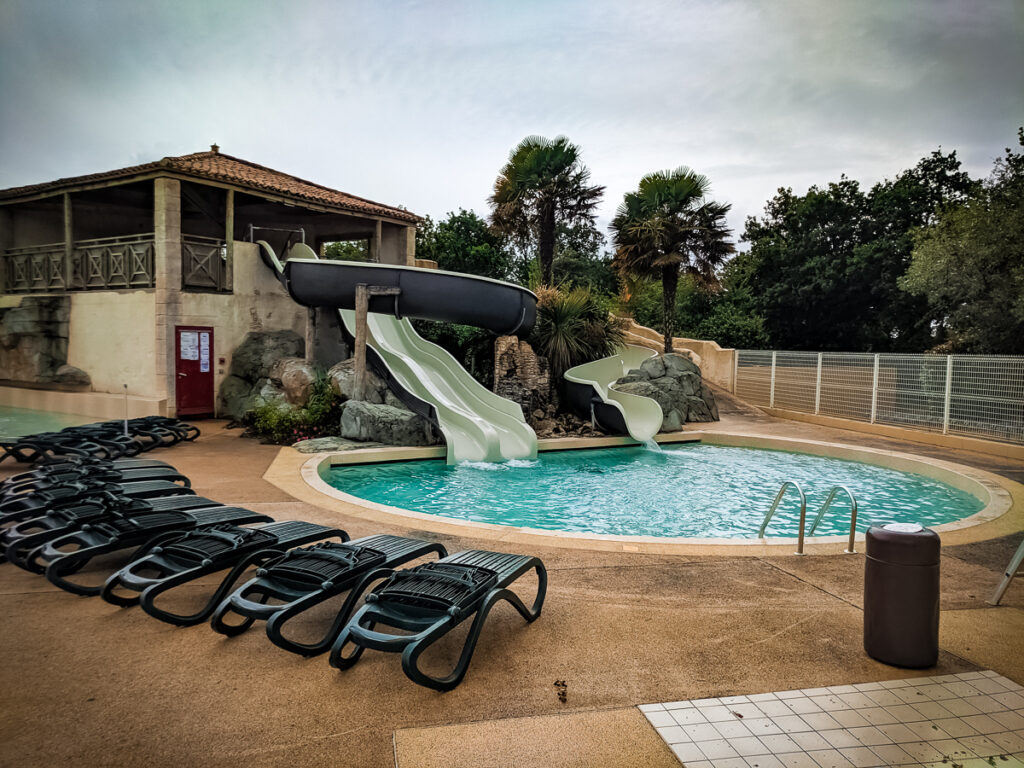 The pool complex comprises of a warm 26degree, heated outdoor pool, heated covered pool,  a children's paddling pool with mini slide, and 3 large fun slides. 
The pools are open from 9am till 8pm and one thing we really loved is that the covered pool is reserved in the morning just for lane swimming, aqua fitness and water polo. The slides open from 10am till 7pm.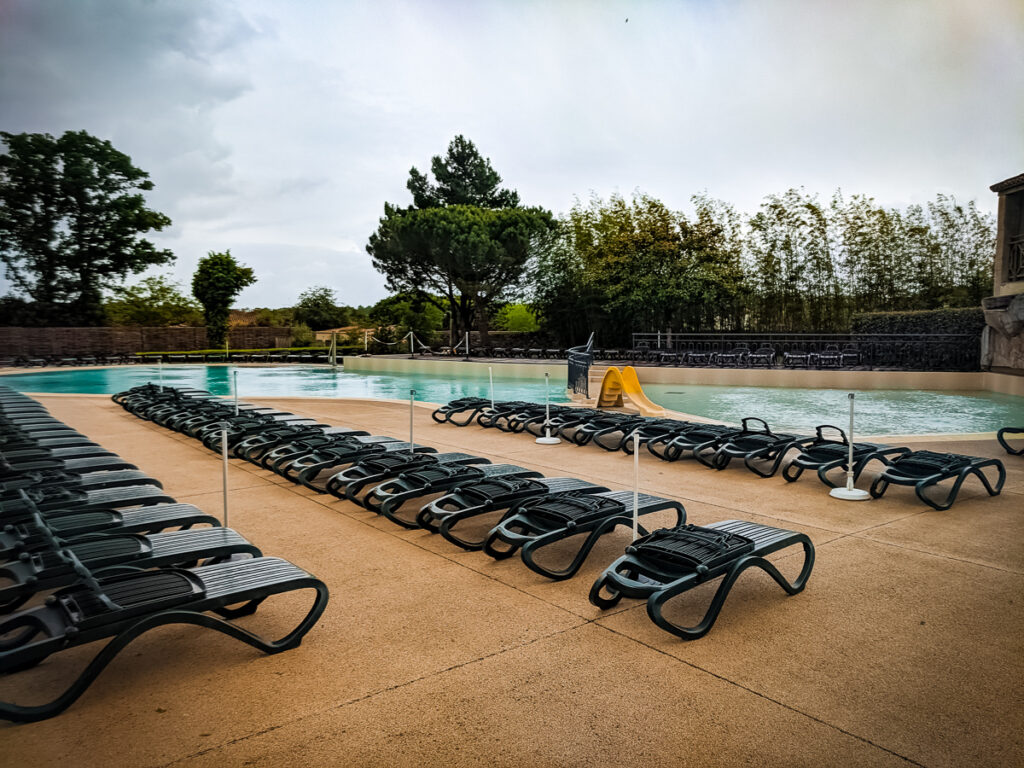 I'm actually gutted we never got a chance to use the pool as it seemed like a good one. Although a small complex, It wasn't too overcrowded and there were plenty of sunbeds available.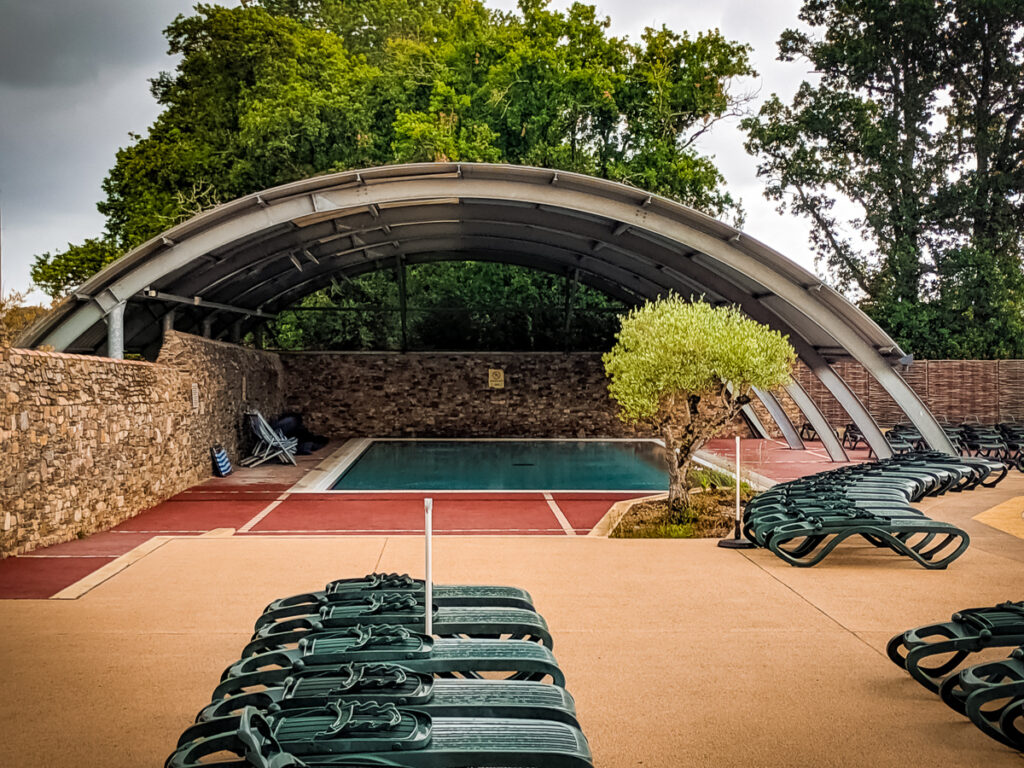 Bermuda style shorts are tolerated here (for now) ensuring that they contain no metal and are only used in the pool area. Basically, don't go wearing them to play football then head to the pool.
The Lagoon Pool & beach at La Garangeoire
As well as the pool complex, there's a lagoon pool with sandy beach area. In here you're allowed to take inflatables and the depth is just 90cm. It's perfect for fun, splash about time. 
The lagoon is 100% chlorine free and stays clean through a natural, eco friendly filtration process.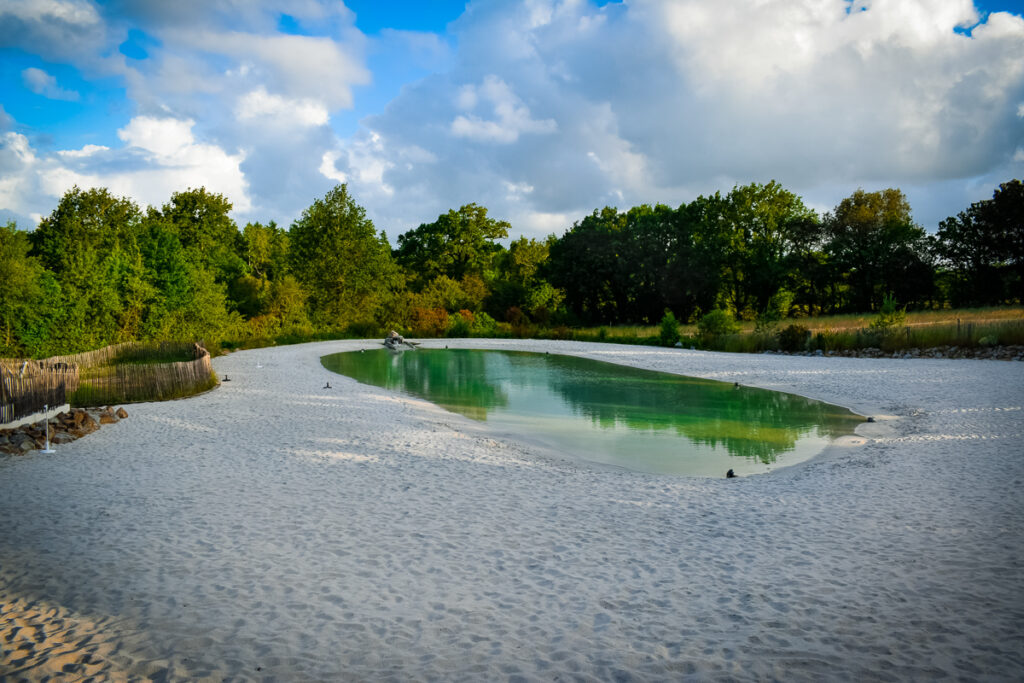 The Lakes, Pedalos and Fishing at La Garangeoire
I love pedalos, and here you can use them for FREE – well for the first hour!! All you need to do is leave a 20euro deposit at reception and receive a key and life jacket. You can also hire a canoe and the reception will give you paddles too. The lake is unsupervised so parental supervision is definitely required.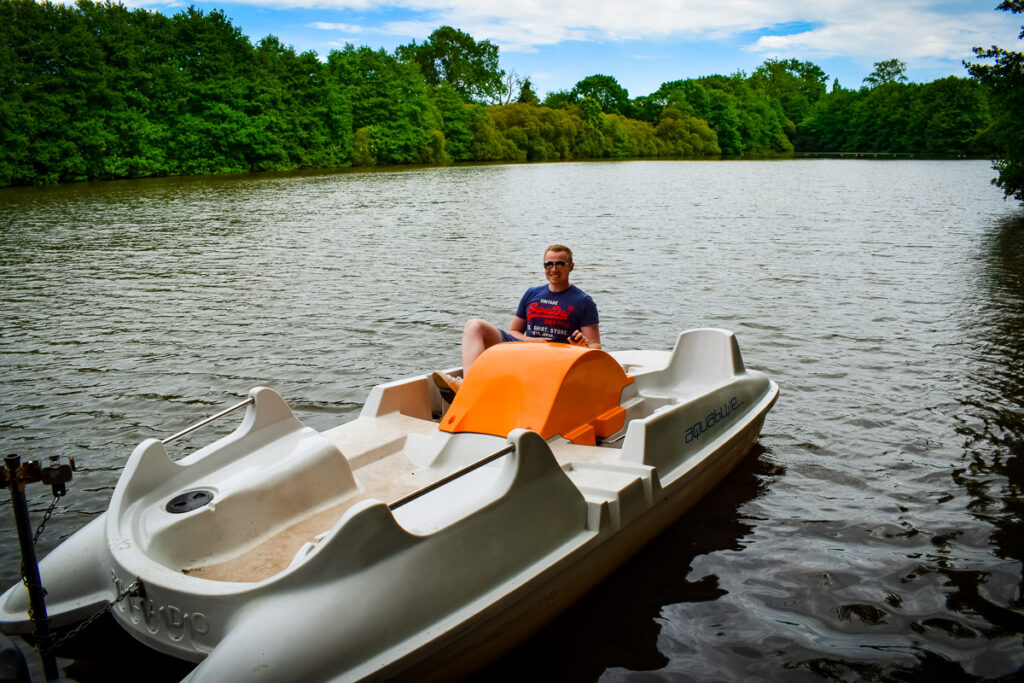 If you want to use the canoe's or pedalos for longer than the free hour, it'll cost just 5euros for each extra 30 minutes. 
Another use for the lakes is fishing. There are 4 different fishing lakes and more information on where they are is available when you pick up your fishing card from the main reception. There's a no kill rule and you can fish for carp, pike and many other fish.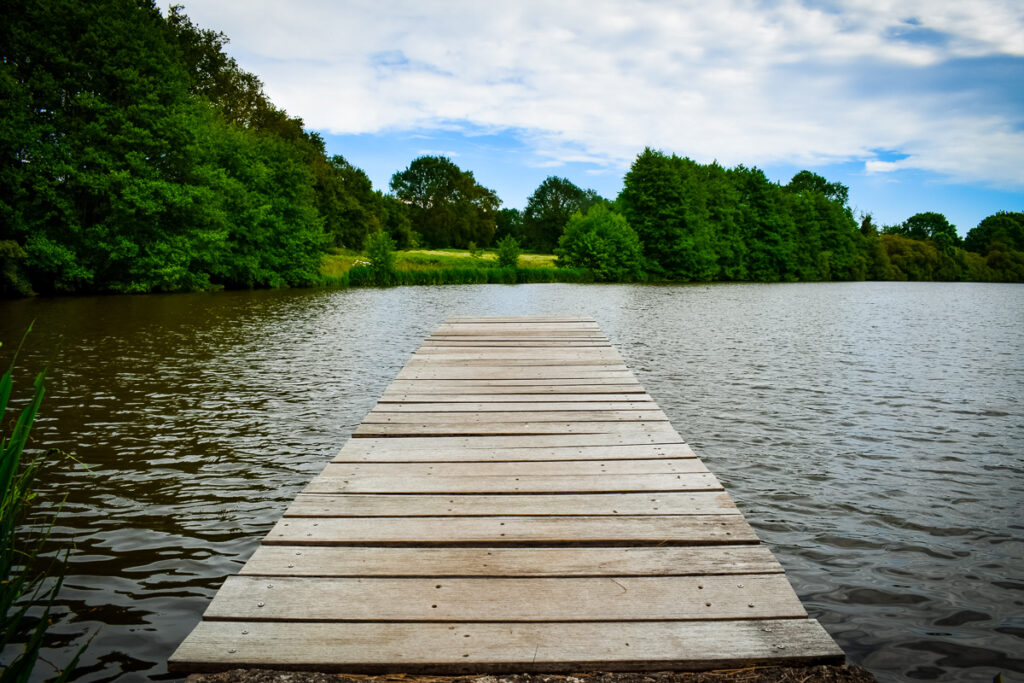 La Garangeoire may seem small, but in fact, the grounds are massive. There are plenty of facilities and activities around the campsite too. From wine tasting, and nature walks to kids clubs and babysitting, we found there was plenty to do for the whole family.
Camping La Garangeoire Reception Area's
We booked our stay at La Garangeoire with Eurocamp, however, there were a few other operators we could have booked with like Alfresco and Canvas. When you book with a tour operator here, you need to check in with both their reception and the main campsite reception. I sent Mike to the main reception whilst I dealt with the Eurocamp check in.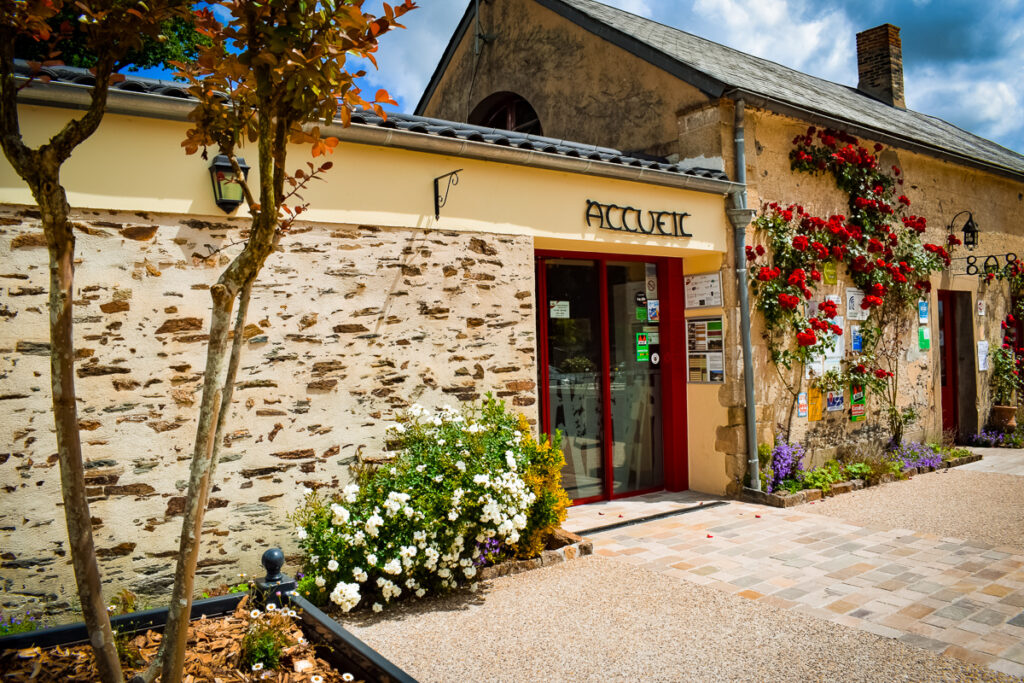 The reception area is very welcoming, organised and modern inside. There were two desks and as I entered, a receptionist at each desk greeted me. I simply had to fill in our address and car registration details to complete our customer file. 
The polite receptionist then went through some details of the campsite, gave us a re-usable shopping bag, and provided us with a welcome guide. 
This was great as it contained an excellent amount of details on the campsite, it's facilities, opening hours, campsite rules and information on the surrounding area.
We arrived at midday, not expecting our accommodation to be ready until 3pm, but surprisingly, it was. We called the rep number on arrival and one of the Eurocamp staff members came to greet us, take our details, and check us in. After a few phone calls to check our Aspect mobile home was ready, we were given our map and key in an envelope and sent on our way. 
The Eurocamp reception was organised well with plenty of local information, toys and games for families. I also noticed a massive collection of tennis racquets, great for any families wanting a quick game over at the tennis courts. 
The Eurocamp staff were ok, but definitely not the best we've met so far. But, we've put it down to them all being new and slightly inexperienced as the site had only opened mid-May. They did nothing wrong per say, but conversations were clunky, awkward and not as free flowing as we'd previously had. They all seemed quite unknowledgeable about the campsite itself as well as the local area. When I asked at the Eurocamp reception desk about rainy day activities I was met with a "I'm sorry, don't know any local information yet" even though the reception actually had a poster with "10 rainy day activities on"… And unfortunately we found their cleaning standards not as great as our previous stays – but again, I think that'll come with time, we were still in low season. 
I think if customer service, kids clubs and having a rep service available during your stay is a priority then definitely still book with Eurocamp as I'm sure as the season progresses things will get better (plus most of the staff changes every year anyway!) – or even try Alfresco as they can still use the kids clubs. The Alfresco rep we met seemed lovely and friendly and I'm sure she'd make any guests feel welcome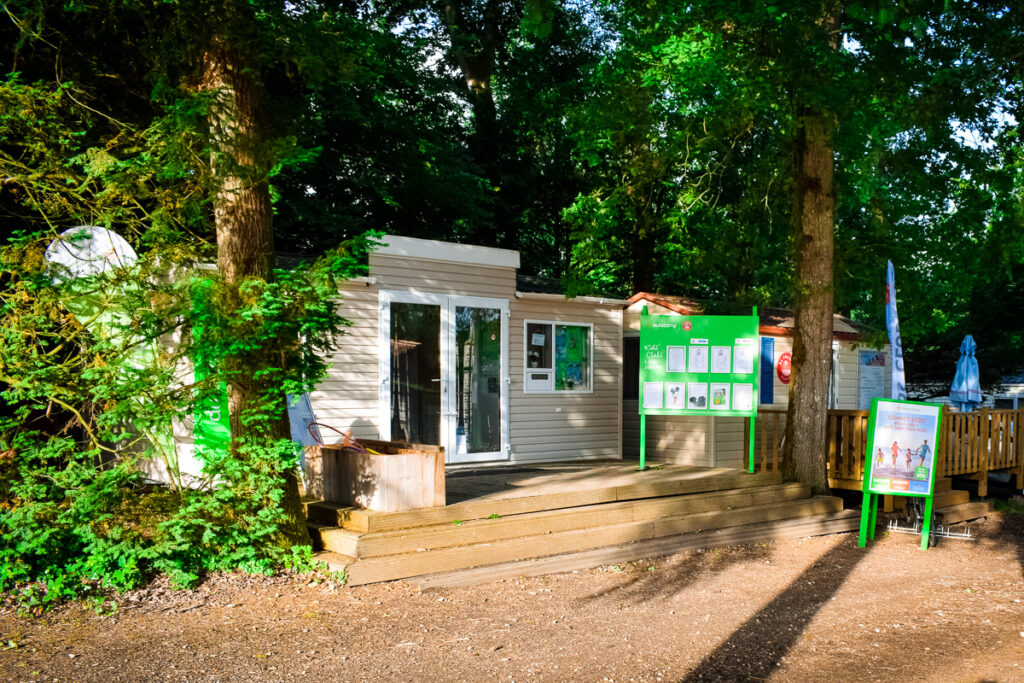 Play Areas & Sports Field
Just behind the tour operator receptions was the main sports field and play areas. There are so many different features here so I've broken it down into a few separate sections.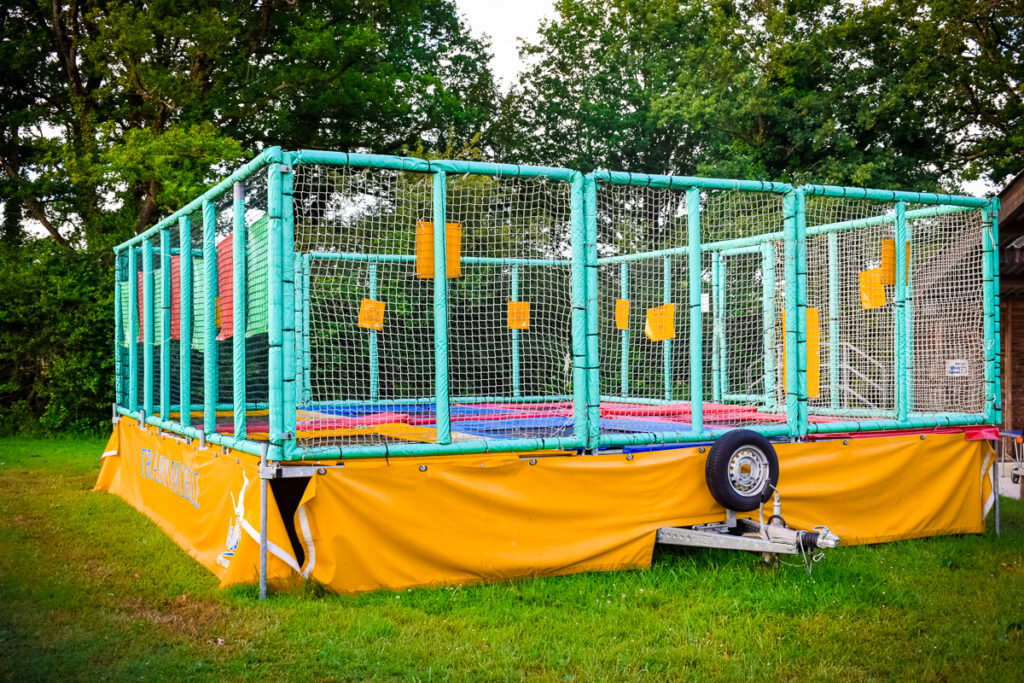 There are 6 trampolines freely available to use during low season. During high season, due to busyness, these become supervised and are open for 2 hours a day. We didn't try them out as I'm pretty sure, pregnancy and trampolines definitely don't mix too well!
We found 2 lots of table tennis area's with a 6 tables in total. One was by the bike hire at the entrance to the playing fields and the other was in a barn at the end of the playing fields. Equipment can be bought from the campsite shop, or if you're lucky, found in your own tour operators reception too. During high season table tennis tournaments are arranged regularly, so get practicing…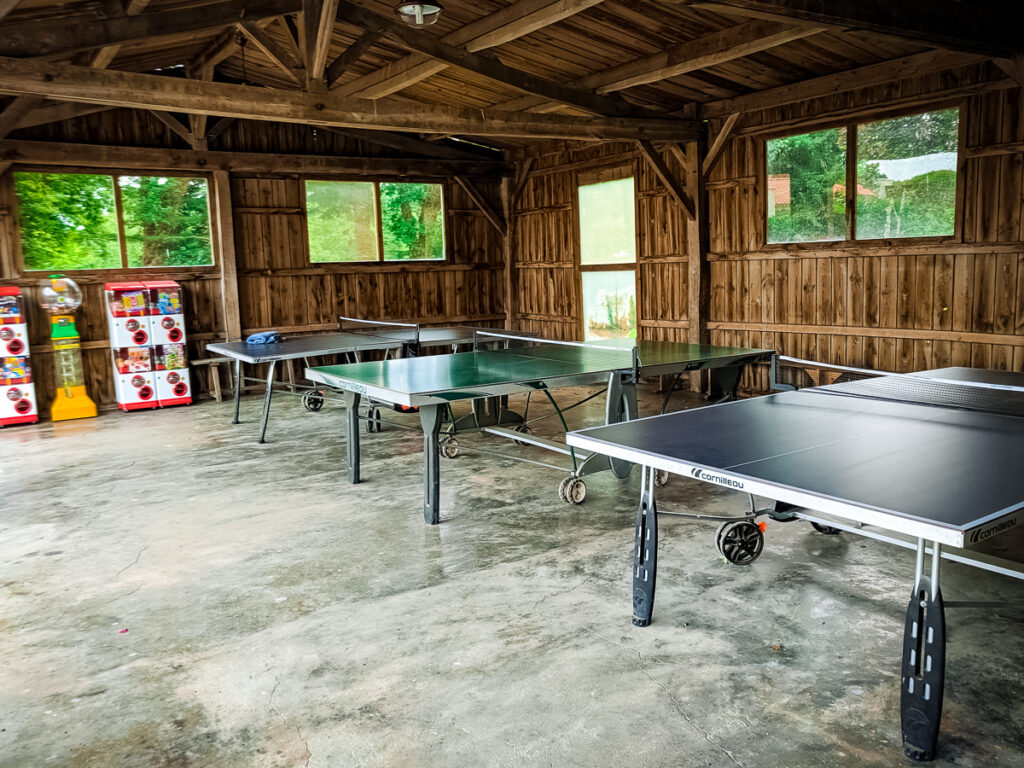 There were a few different park sections with swings, climbing frames, slides and see-saws all organised in age group sections. I noticed that many of the young children's play areas were fenced in, making it easier for parents to keep a close eye on the young ones.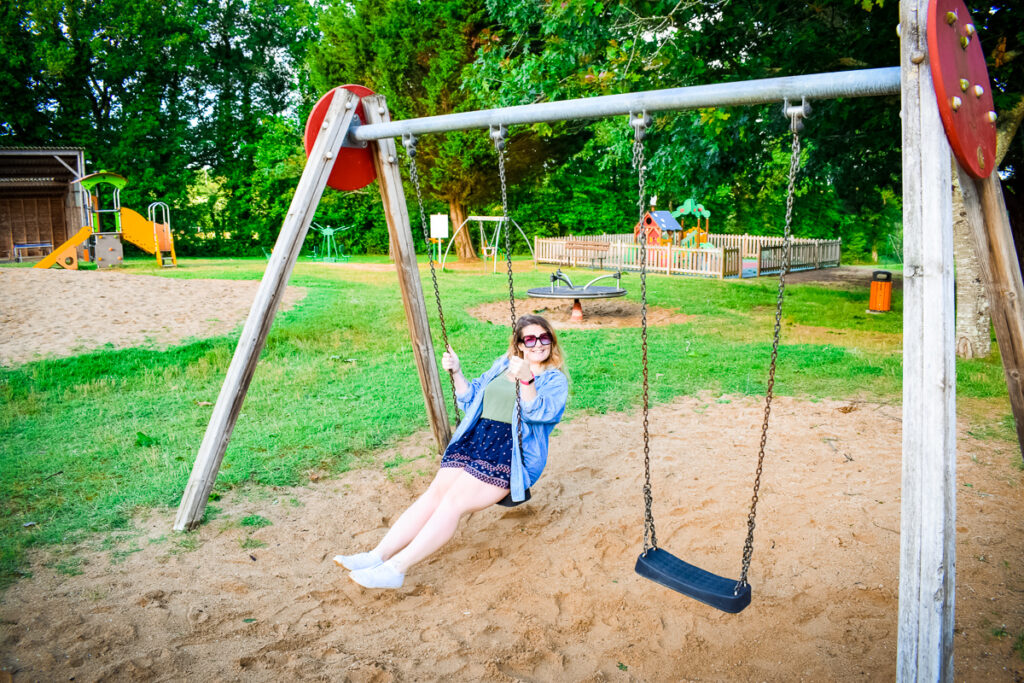 These are growing popular in France and especially on campsites. For adults, or kids, these are great at testing your resistance levels and getting a small work out during your holidays. We normally see people using them to stretch out after a run.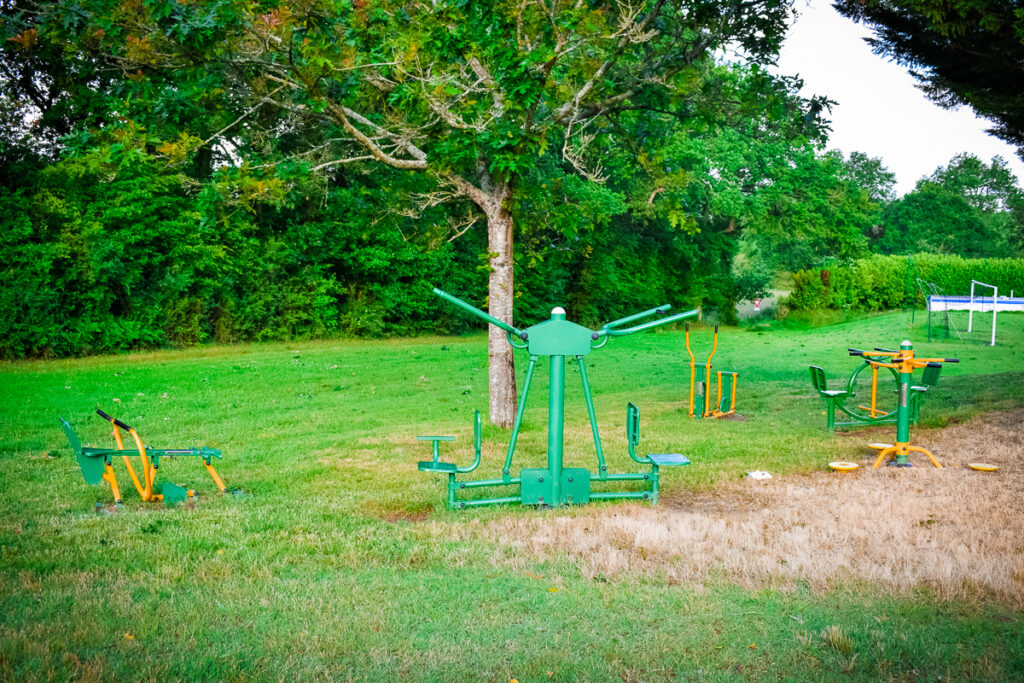 If you enjoy a crazy golf session on holiday then La Garangeoire offers a small, but fun course near the playing fields. Putters can be hired from reception and balls can be brought, but check your tour operators reception to see if they have any available first. Many customers at the beginning of the season will buy these items and then leave them behind for later customers to use.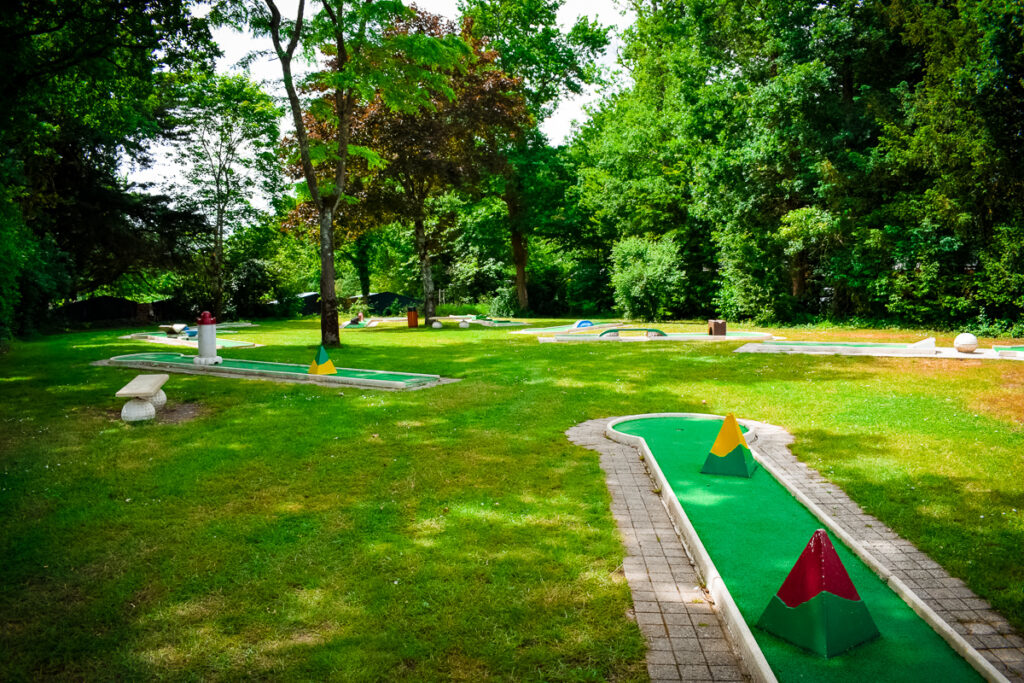 Football Field and Multi Sports Area
There is a massive football field at the bottom of the park area. In low season this can be used for fun. But in high season, between 10am and 12pm there's a soccer training course. It's a paid for activity but could be really fun if your family is into football. As well as a football pitch, there is also a multi sports court. Here's perfect for younger kids or those who want to play things like basketball or netball as well as football during their holidays.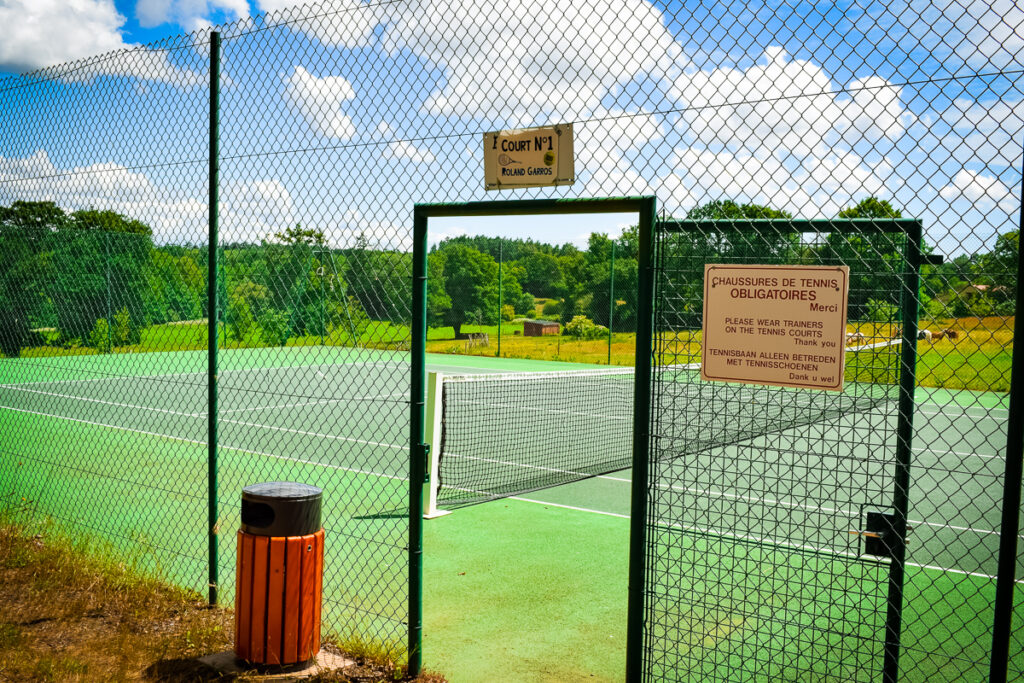 Away from the main sports and play area on the campsite there are 2 tennis courts named "Roland Garros" and "Wimbledon". These courts are free to use in low season and in high season become payable at the main reception. The campsite also offers lessons with a qualified tennis coach and weekly tennis tournaments take place.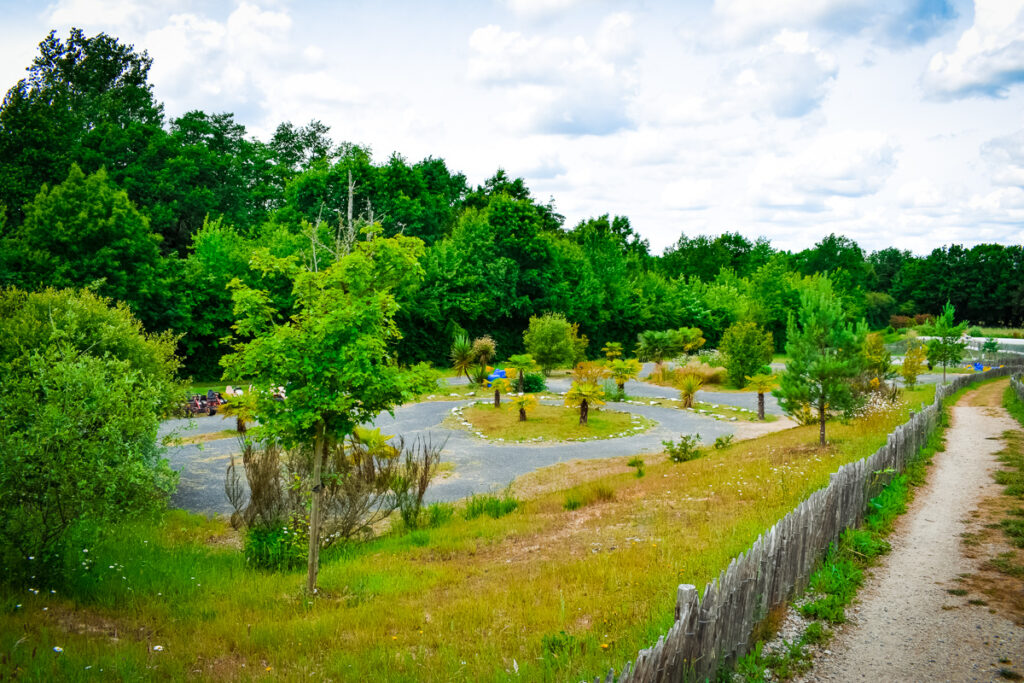 This isn't situated with all the other play activities, but it is linked to it. The pedal go kart circuit is actually situated right next to the lagoon pool area. Here you can take the pedal go karts for a spin around the bendy tracks Open 5 days a week, from 4pm to 7pm, in July and August but only open once a week in low season. We didn't see it open during our stay, but we only ventured down to that area a couple of times when the weather allowed us too.
Kids Clubs and Facilities at La Garangeoire
One of the main selling points of this campsite, especially to Eurocamp customers, is the selection of kids clubs. As well as the sites own kids clubs and Garderie, Eurocamp and Alfresco customers get to use their exclusive fun station clubs. 
The garderie is a FREE evening care are for children aged 3 to 10. It's great for parents who wish to have a quiet evening alone, at the restaurant or even at the bar – it's also great for the campsite customers who don't want to listen to children running around the restaurant at dinner times. 
However, we did find this didn't seem to be used by many customers during our stay and they decided to let their children run riot around the restaurant instead…
If you did wish to use the garderie during your stay, your children will be entertained by quiet games, DVD's, colouring and reading. Opening times for your stay will be written on your animation schedule that you receive on arrival. Ours stated that the Garderie was open most days except for one which was the same day the restaurant was closed.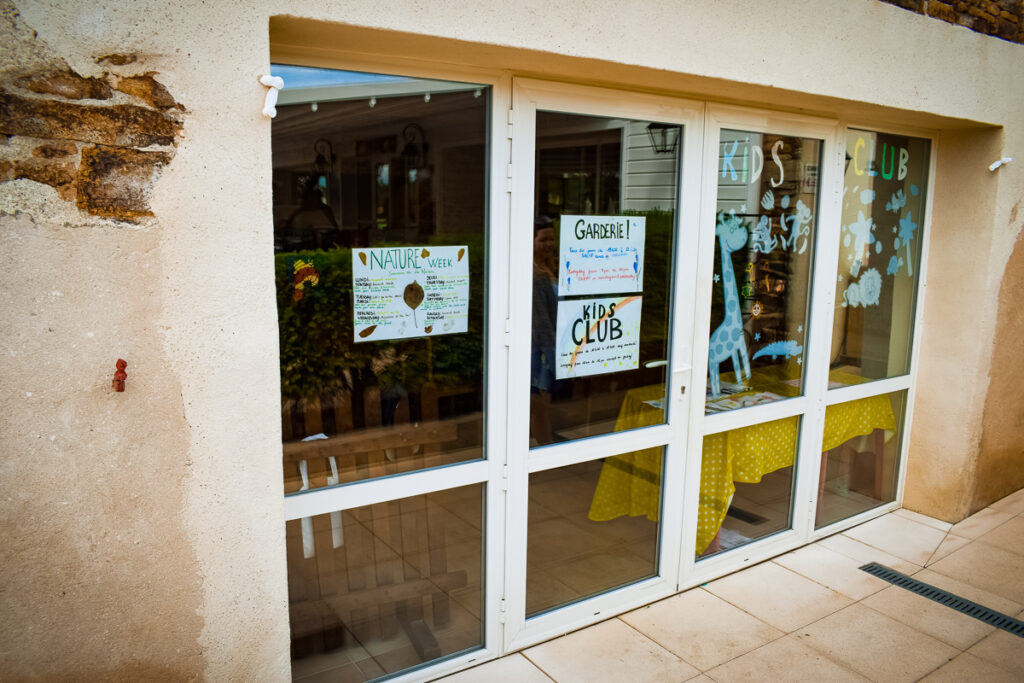 The campsite run kids club is open to children aged between 4 and 12 and welcomes families who have booked through any tour operator or directly with the campsite. However, it's only open in July and August and just for a few hours in the morning. 
If you are looking for a comprehensive animation schedule and kids activities during your stay then it's definitely advisable to book through Eurocamp.
Eurocamp Kids club / Fun Station
The Eurocamp kids club "Fun Station" is for exclusive use by Eurocamp customers. It's open from the 18th of May and runs all the way until the 1st of September. The specially trained English reps welcome children from ages 0 all the way to 17 and organise a ton of activities including the whole family. 
Over the last few years, the fun station has undergone a few changes and there's now even more activities for your children, depending on their age. For the really young ones you get activities like Mini Driving School, Messy Playtime and Mini Archery – while older children get activities like Zorbing, Movie directing and takeaway nights. 
For more information on the activities available for children and their ages, click here to head to the Eurocamp Fun station page.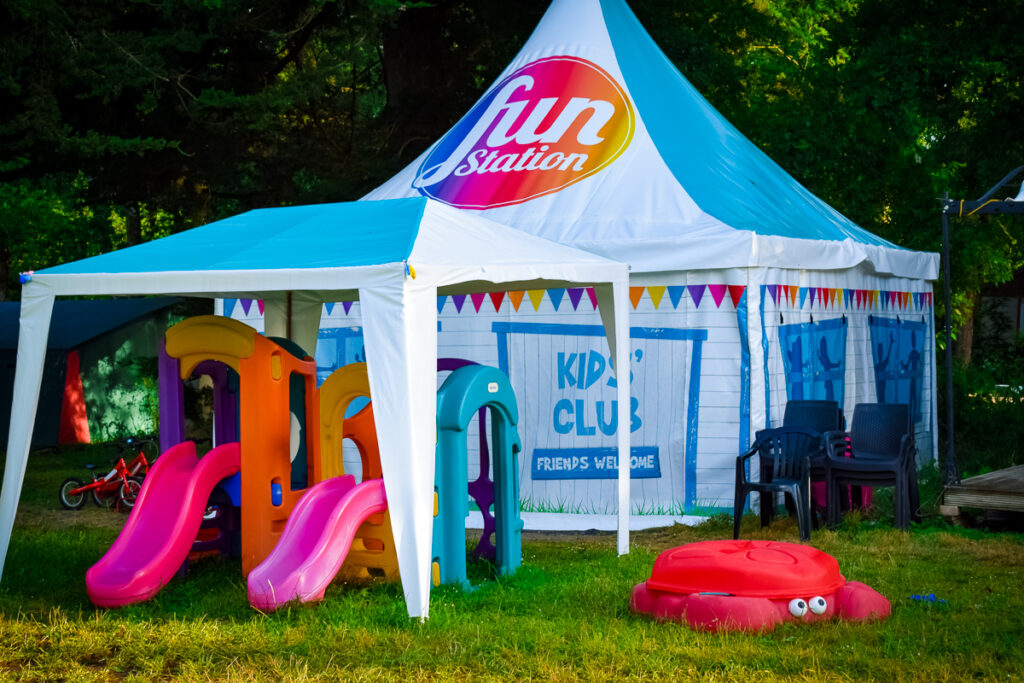 Animation For Kids and Adults
As well as providing entertainment for kids, the campsite also makes an effort to provide adult amusements too. During our stay the animation schedule included activities like "practice your french", wine tasting, Archery, Yoga, Aqua Fit, Canvas Painting, Cooking Classes and Fishing contests. In the brochure, we even noticed that in high season they have CrossFit sessions and scuba diving! 
There's a whole host of activities to suit every member of the family, old or young. So if you like to get involved – you'll find something to keep you occupied.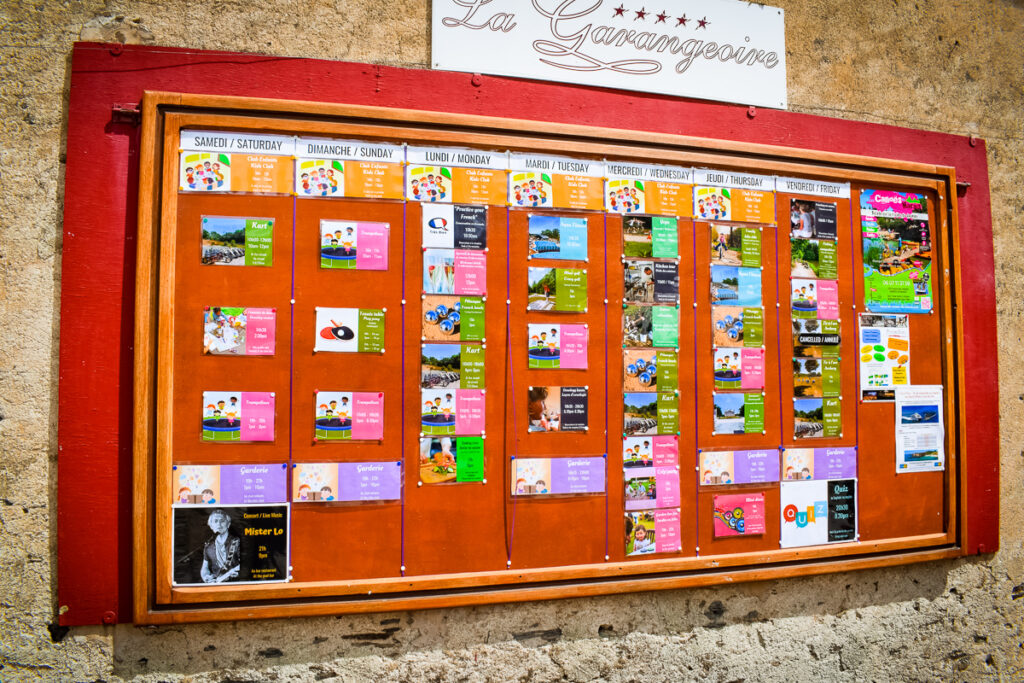 The Bar, Restaurant & Takeaway
We tested out both the bars, the restaurant and takeaway during our stay so here's a section we can really advise on
This bar is situated right next to the main reception. It's fairly small but is decorated really trendily. There's 2 tv's and a small library as well as a small back room too. In the evenings, this bar is adults only so it's a great stop while the kids are at the Garderie. Drinks wise, there was a large selection of spirits available and of course, the usual wines and beers.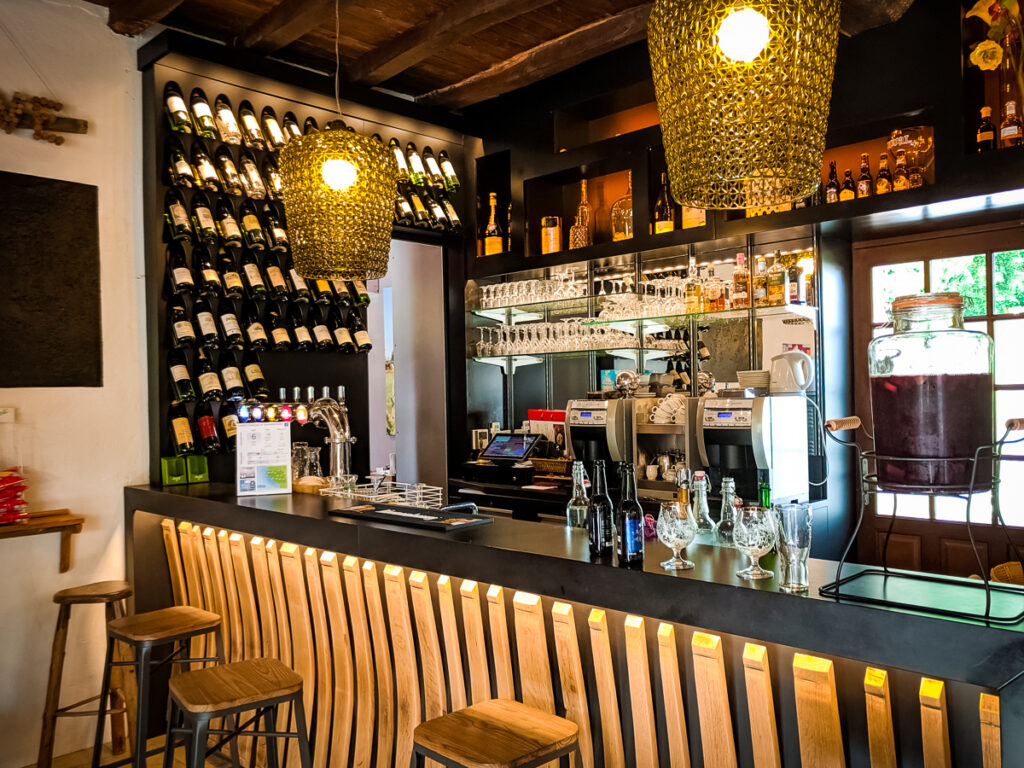 This bar was a bit more relaxed. Lots of children playing games like pool, running around and there was a much louder environment. Decoration seemed a little basic and you could be mistaken into thinking it was more of a soulless cafe than a bar area. However, we did find the bar staff very friendly especially Mathilde and Florient (who also served us in the restaurant). 
One of the best ways to enjoy the pool bar is to sit outside, however thanks to the cold, wet, stormy weather during our stay, this wasn't really possible. The weather was so bad they even closed up the Ice cream stand (much to Mikes disappointment)…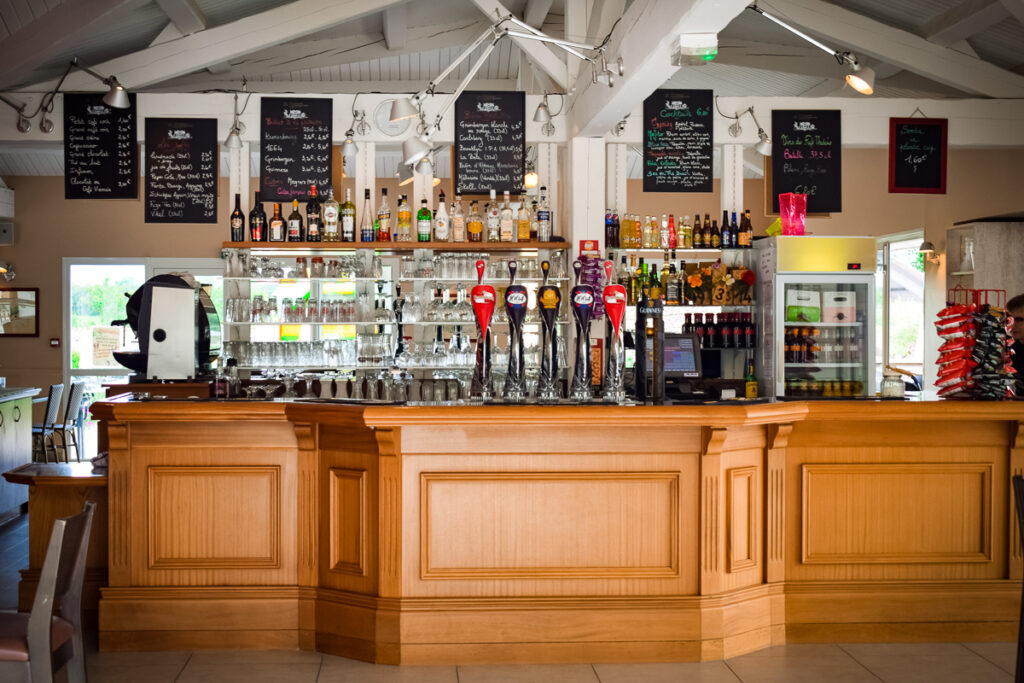 The restaurant was ok. Like the pool bar, the decoration left a lot to be desired. For a family run, traditional stately home style campsite, I expected something grander. Instead, we were in a white box room with some cabinets and artwork that seemed better suited to a spa.  Maybe we had been spoilt by the restaurant at Sequoia Parc?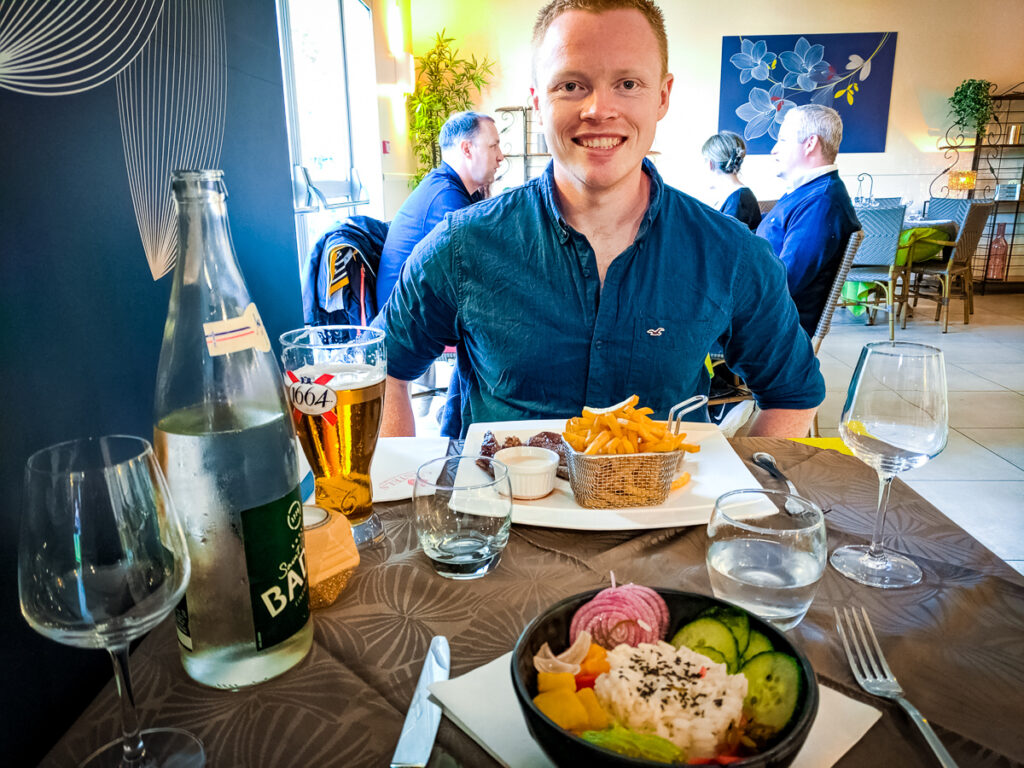 The service however couldn't be faulted. 
The restaurant team were lovely, friendly and efficient. Food came quickly and any special requests I had related to my food were no bother at all. I asked for a starter as my main meal as I wasn't blown away by the selection of mains available and Mike had the steak. 
My salad was lovely, tasted fresh and I would have definitely had again, but Mike thought his steak was a bit more well done than medium rare. 
I personally felt the restaurant lacked atmosphere. There was no music. Instead, the only noise was that of kids running in and out every 5 minutes asking their parents for extra arcade money. 
All in all, the restaurant is ok, but had I been staying any longer I probably wouldn't use it again.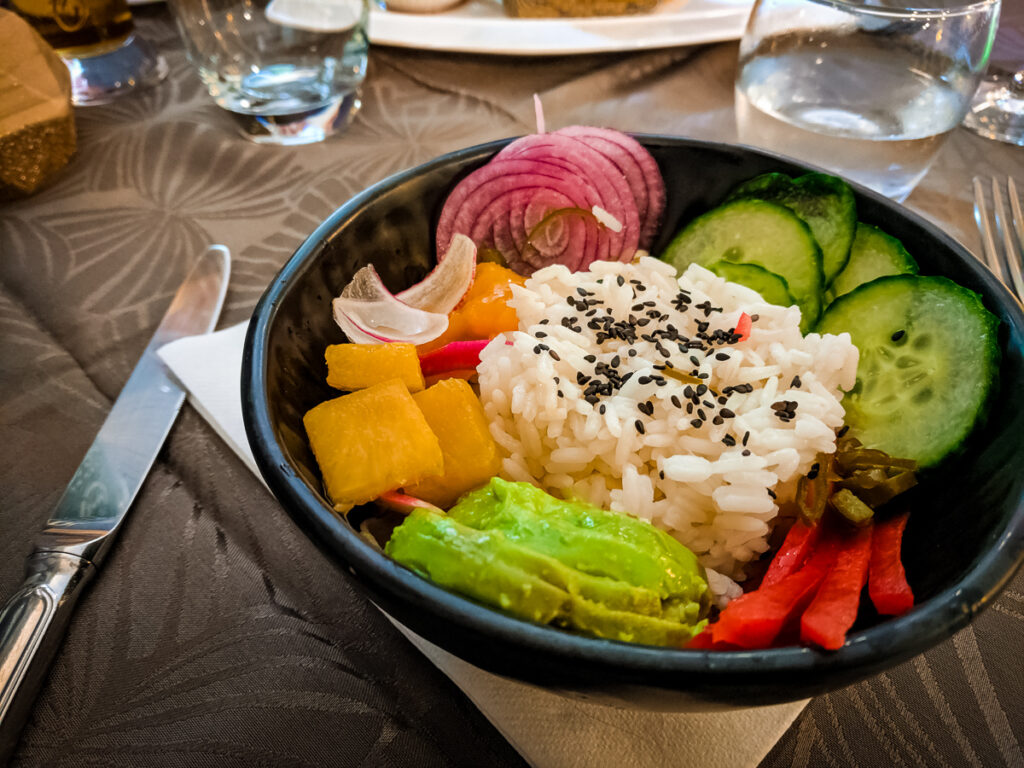 We used the takeaway during our first night and instead of our usual pizza order – we opted for something different and got a chicken panini and chips each. 
The girl who served us was friendly, our food was decent and it was all a good price. Food was also very quickly made so no waiting around. There's a seating area outside the takeaway so you could either sit there and eat or take it back to your accommodation. We chose to take ours back and enjoy it on our decking.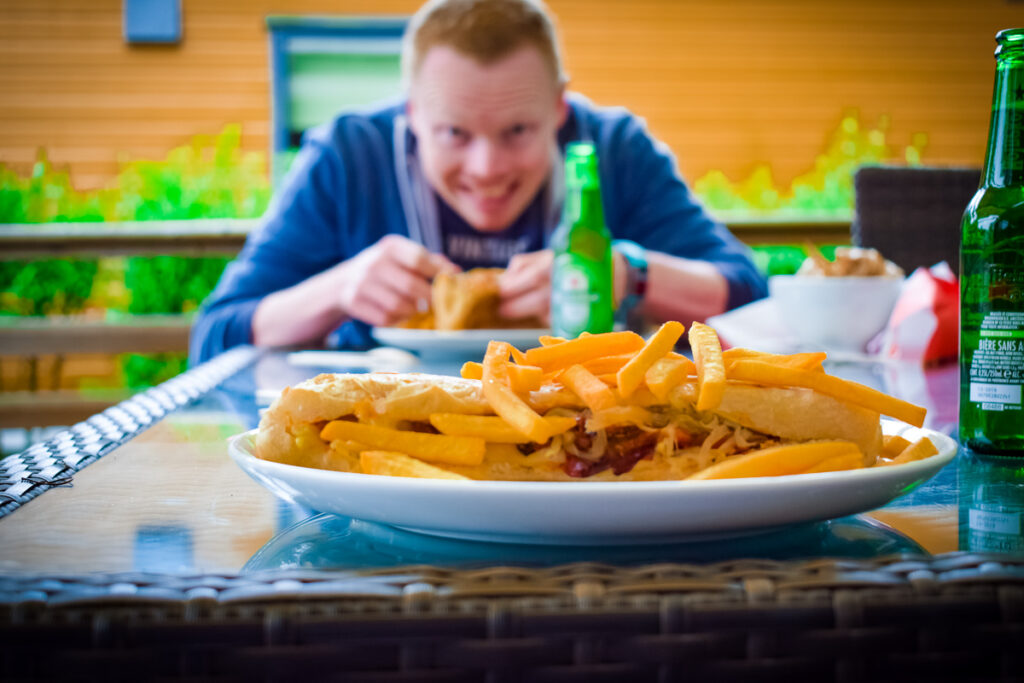 Twice weekly the campsite runs its own crepe parties on some special outdoor tables. You basically pay for your mixture and pour it onto the crepe cooker on your table. It seems like great fun for all of the family. We managed to miss out on this during our stay as we were booked Friday to Sunday and the crepe parties take place Wednesdays and Mondays. Make sure you ask for more information when you arrive because it's definitely a great, unique activity to participate in.
The campsite shop was tiny, but stocked all the basics you'd need (crisps, wine, chocolate, bbq food, ice cream, pastries, etc…). Again, like most of the campsite staff we encountered, staff here were friendly and efficient. We went most mornings for our pain au chocolat and every evening for our Brets Cheddar and onion crisps (honestly – amazing crisps). 
The spa looks like just a small shed but in fact provides guests with a range of treatments and massages. Guests can enjoy the sauna and hot tub during their stay or book with reception for one of the facials, manicures, massages, waxing or body treatments.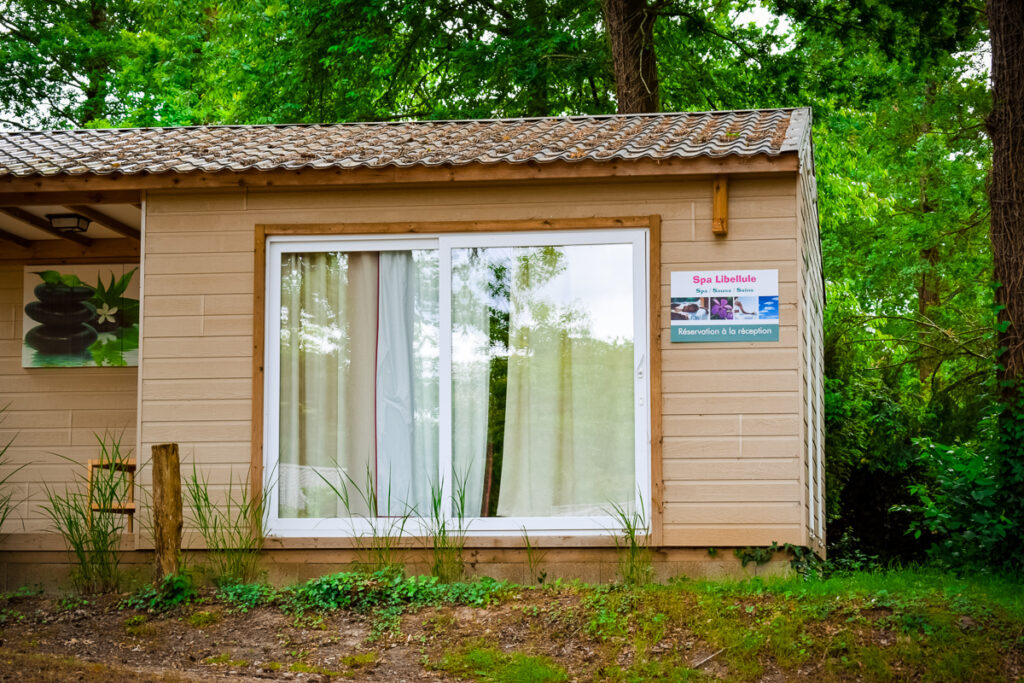 There is no wifi in accommodations on this site. There are however 5 wifi zones at the main facilities. These free wifi zones include the reception bar, swimming pool bar, takeaway courtyard, games room and the table tennis shed. 
There is also a computer room near reception for those customers wishing to catch up on work which can be used from 10euros an hour. 
Honestly, we did struggle with the lack of internet in our mobile home. We also had no mobile data signal so it made planning our days quite difficult especially when we wanted to look at maps or book tickets to Puy du Fou. Had I researched before and known about the WIFI situation I'd have better planned out our days out ahead of time.
La Garangeoire had a small arcade/games room with a few arcade style games as well as pool tables. We were shocked by how quiet this room was whenever we walked past but were pleasantly surprised to see most young children enjoying the outside world instead.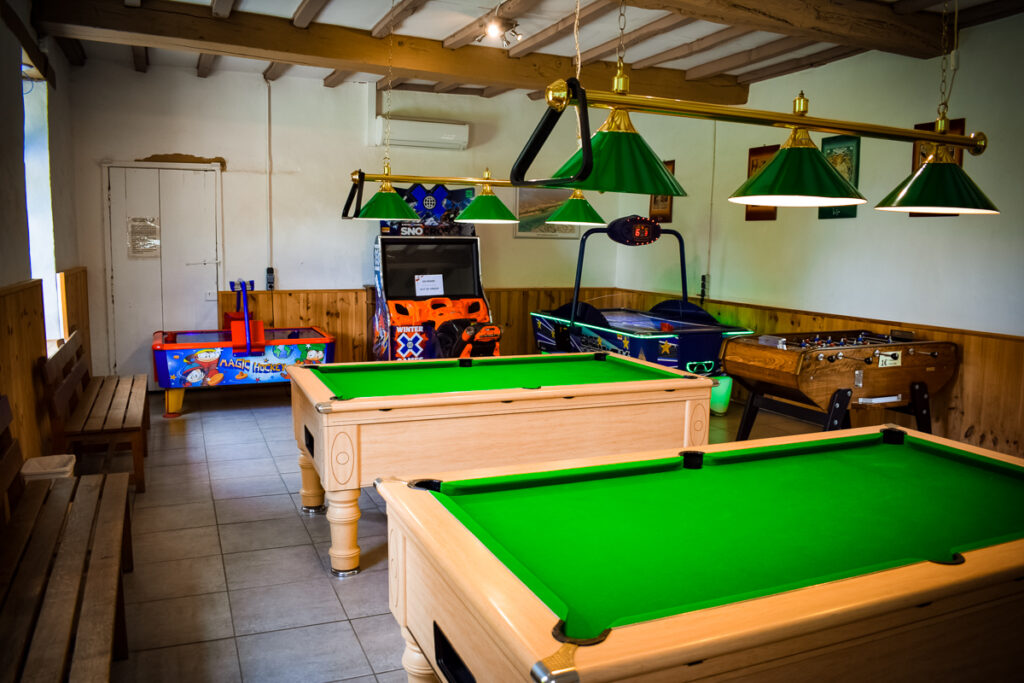 Like many campsites, La Garangeoire has a bike hire station. Situated opposite the takeaway, you can hire bikes for all members of the family. From balance bikes to electric bikes the campsite supplies a wide range for variable prices.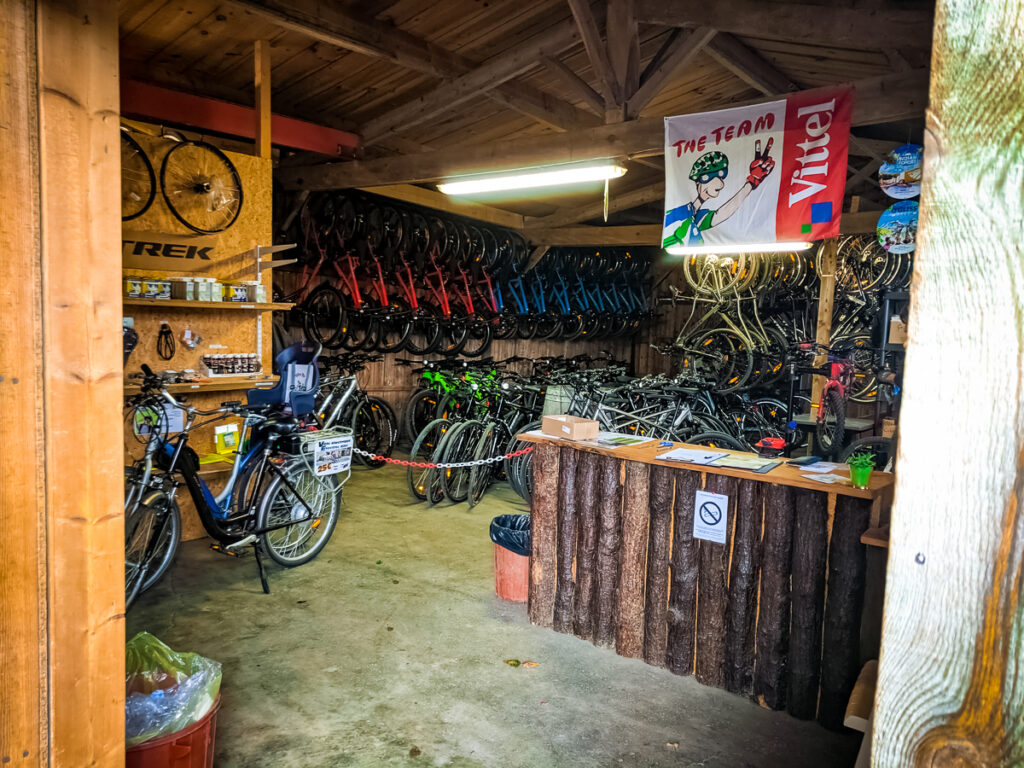 During our stay we counted 4 sets of shower blocks. One even included a dog shower! All the ones we found were clean, well maintained and modern. There were family changing rooms, child specific toilets, baby baths, washing machines and all the facilities you'd expect from campsite shower blocks. We had a shower in our mobile home, so can't tell you what the water pressure was like, or how the showers worked, but we did go inside a few to use the toilets.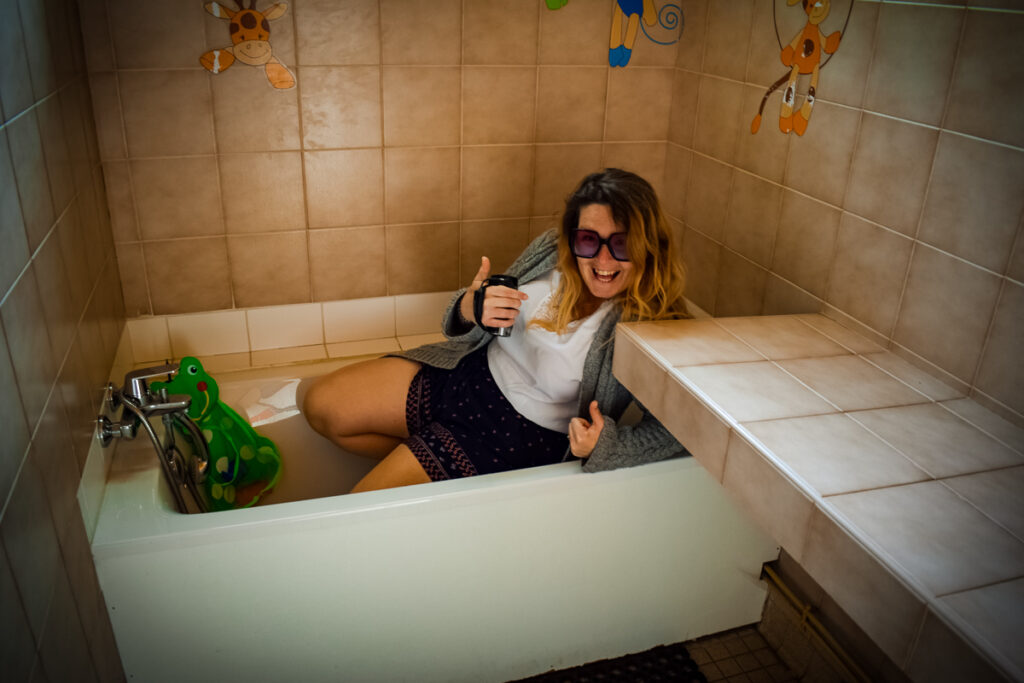 La Garangeoire is a part of the EU ecolabel process – "the EU Ecolabel is a label of environmental excellence that is awarded to products and services meeting high environmental standards throughout their life-cycle:"
Camping is all about being outside and in nature. In order to protect nature, we need to be greener. This campsite, and many others like it are trying to encourage that change. When checking in Mike was handed a reusable shopping bag as the on-site supermarket does not provide bags – I believe this is just one of the ways the campsite is trying to reduce single use plastics. 
Another way is through the "Fontaines Fontero". An automatic vending machine for still or sparkling water. Here you can get fresh, micro filtered water in a bio-plastic bottle supplied by the campsite shop. These vending machines, situated around the site, are great at reducing the amount of single use plastic bottles. Although, it's also perfectly ok to drink the tap water…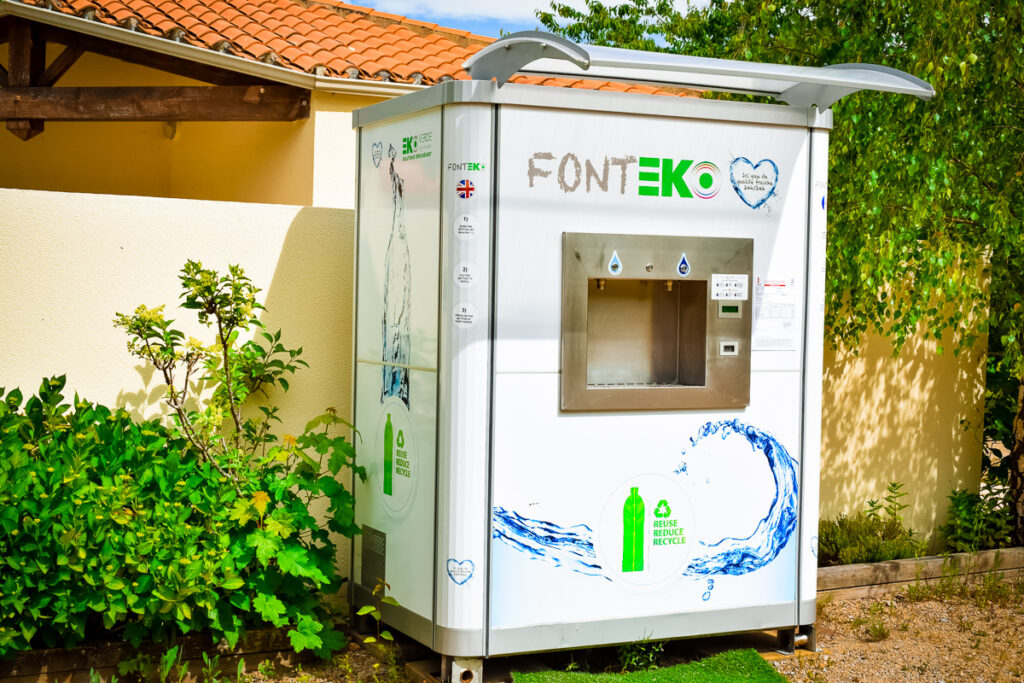 La Garangeoire have made every effort to ensure there campsite is accessible to absolutely everyone. They have their own range of adapted accommodations as well as 60 camping pitches situated near accessible shower blocks. There's a chairlift system to aid around the pool area. Wheelchairs are available (at a cost) and in the reception they have provided a system for the hearing impaired too.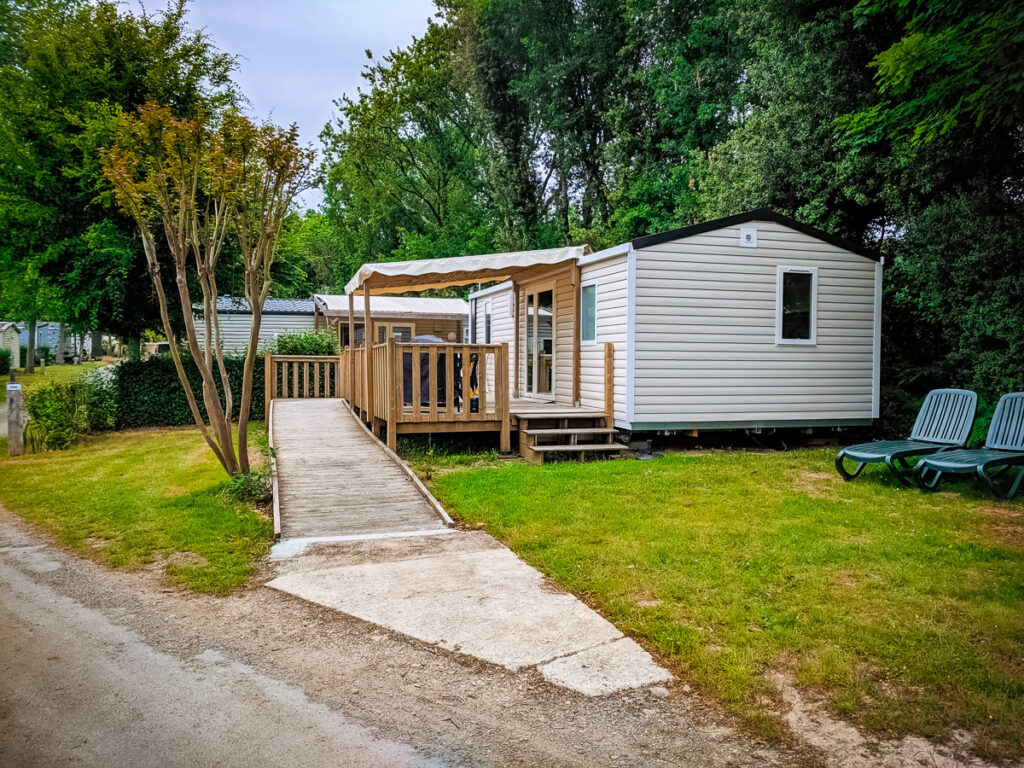 We love walking and it was one of our main reasons for staying at this campsite. There are some beautiful nature walks around the campsite grounds, one of which is almost 7km long. We did a short walk, just around the lake area and would have done a much a longer walk, but unfortunately the weather turned. 
Once we returned to our mobile home, I noticed that I'd managed to get a tick attached to my leg – the first one ever – so I'd advise if you're susceptible to them bring some insect repellent and tick removers. If you're like me and have never had or never worried about them before, definitely check yourself after walking through the forested areas or long grass. The one I had was super small and could have easily been missed.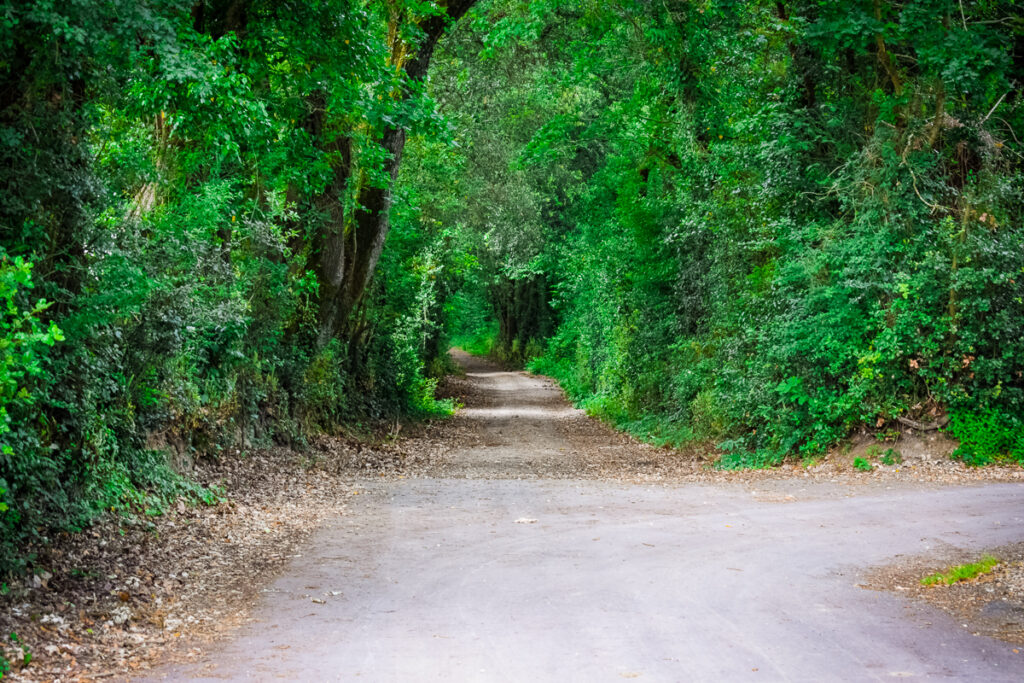 We're not really horsey people so it didn't appeal to us, but the campsite has a pony and horse riding center. It's open everyday and lessons can be taken with a parent or one of the two qualified instructors. You will be provided with a helmet and you must wear closed toe trainers or shoes. All bookings and enquiries can be made at the equestrian center itself between 10am and 12pm. 
Check Availability And Book Garangeoire Today
Clicking the button below will open the providers website in a new window.
Accommodation at Camping La Garangeoire
We stayed in a Eurocamp Aspect mobile home, and we absolutely loved it. But, that's not the only accommodation we could have stayed in. We love checking out other accommodations and eyeing up what we could stay in next. With a few different tour operators on site, as well as the campsites own accommodations available – there is so much to choose from.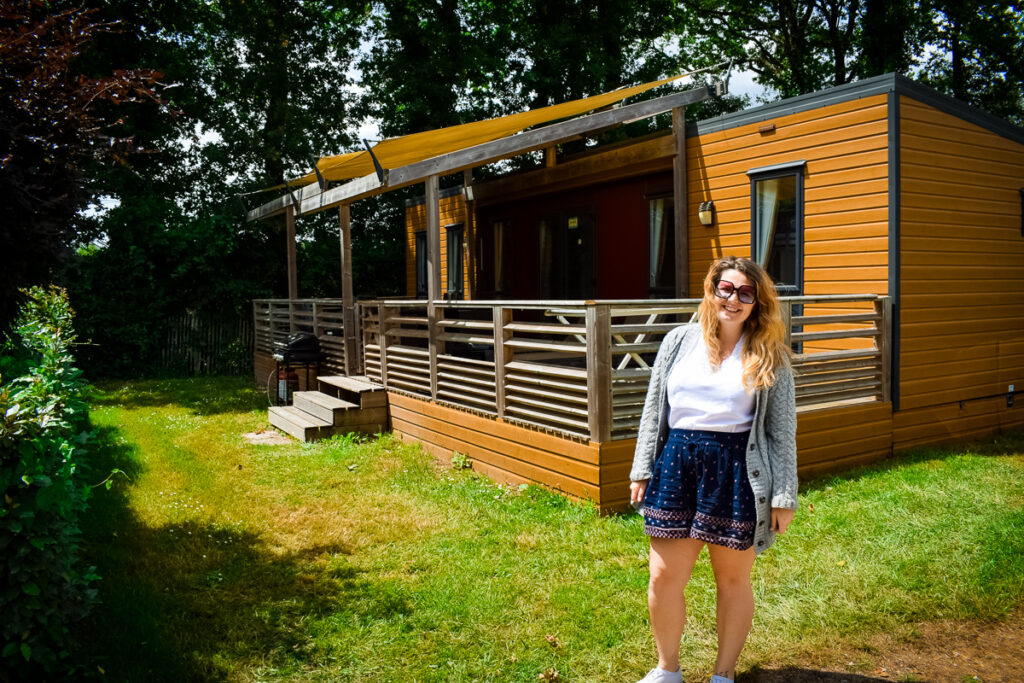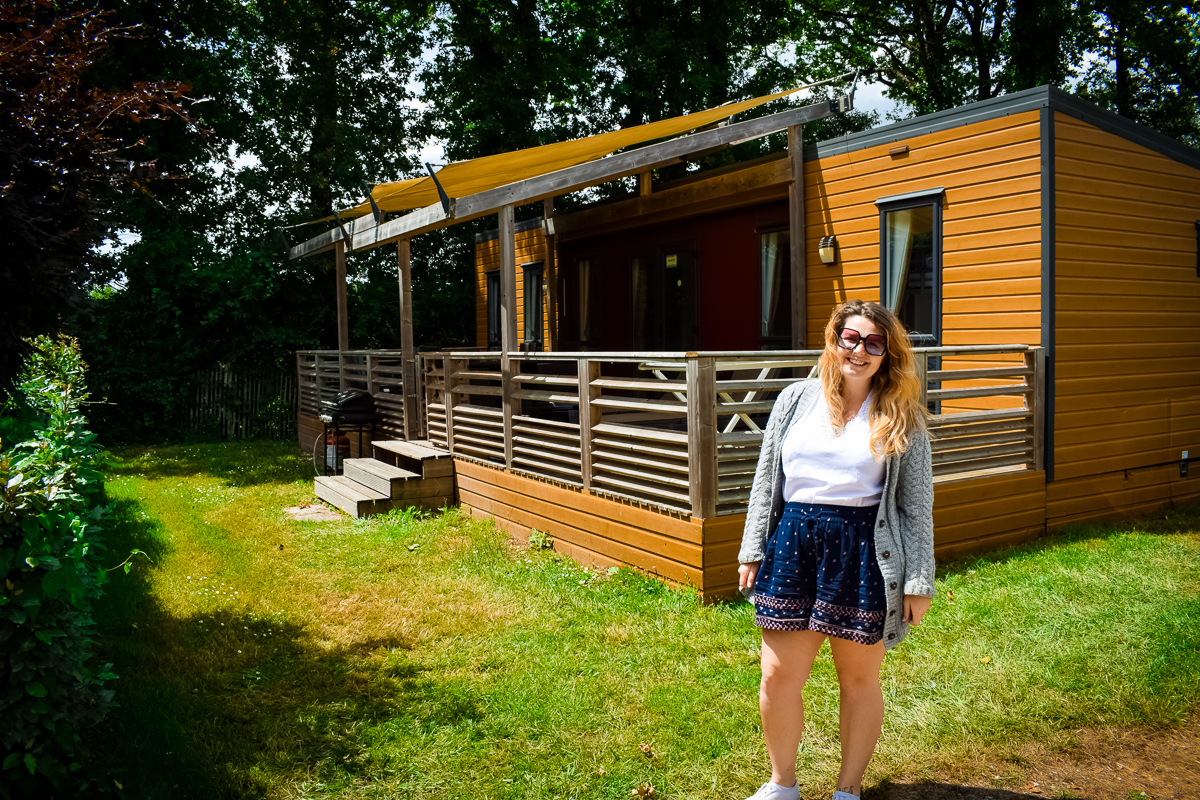 In total the campsite has 357 pitches. Some of these pitches hold tour operator accommodations, some have campsite accommodations, but 155 of them are kept JUST for traditional touring camping. So, if you have your own tent, camper or caravan it's perfect. 
Some of the camping pitches even come with private sanitary facilities on the pitch. 
If traditional camping isn't your style, they also provide a large range of mobile homes. From the basic one bedroom chalets to their premium Taos holiday homes. We absolutely loved the look of the Taos but it was well out of our price range at 812euros a week minimum.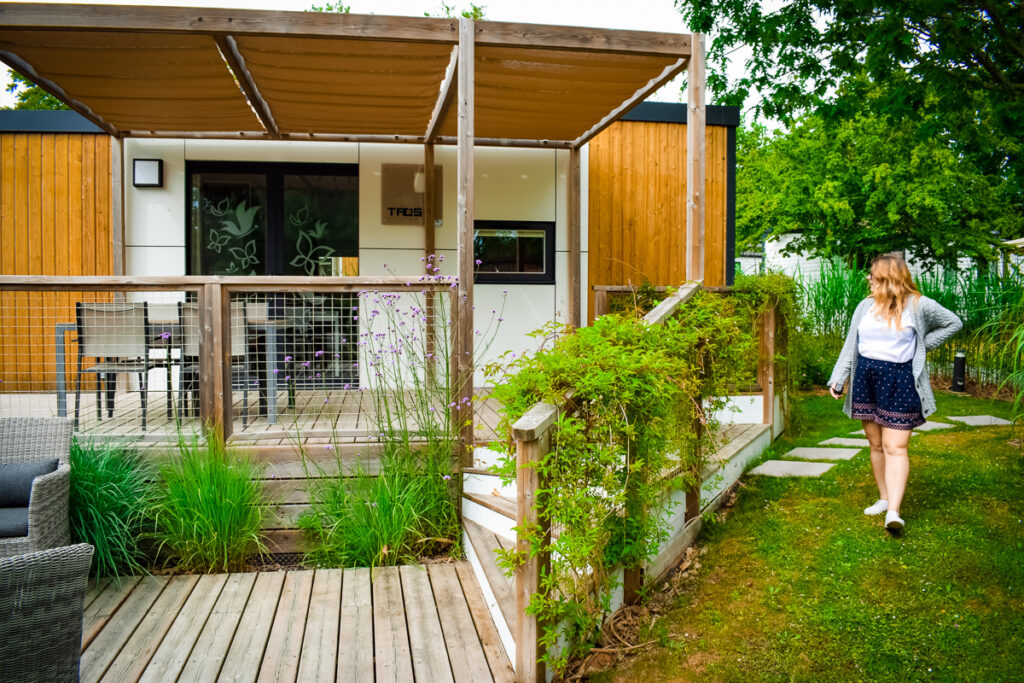 Eurocamp, Alfresco, Canvas and Europarcs Mobile Homes
Other mobile homes provided by the tour operators include our Aspect mobile which we absolutely loved, Safari tents, Classic tents, Azure's and so much more… There's an accommodation and tour operator to suit every kind of family.
Should I Book Direct Through the Campsite or Through and Operator?
We booked through a tour operator because we felt they had the best prices during our stay. However, sometimes the campsite will be cheaper. It's worth searching around for the best price but be careful not to skimp out on accommodation. Sometimes, when something is a lot cheaper, there's a good reason for it. 
If you want a great kids club during your stay and a rep service then there really is no better option than Eurocamp. They ARE the best kids club – and you can't join in unless you're booked through them. 
Check Availability And Book Garangeoire Today
Clicking the button below will open the providers website in a new window.
Do You Need a Car to Get Round?
Definitely. The campsite is around a 15 minute drive from the nearest supermarket and the campsite shop is definitely not enough to keep you going for a whole holiday. While the onsite facilities are great, there is so much to do and explore in the local area and it would be a waste to spend a holiday here without a car to access it all. So yes – definitely drive down or hire a car. 
How to get to The Campsite
The campsite is situated in a small village area near Saint Julien Des Landes. It's kinda in the middle of nowhere so you have two real options on how to get there. Drive or fly/drive. 
If you prefer to fly than ferry and drive, then yes – I definitely recommend hiring a car. I just think you'd really struggle without one. The campsite is very secluded and with such a small on site shop, it's definitely better to be able to drive to a real shop.
The nearest ferry port is Saint Malo which is around a 3 hour drive away and 269km. Although other ports like Calais maybe cheaper, do remember the north of France is massive and driving from here will significantly increase your driving time. 
Address:
La Garangeoire Campsite
Route de la Chapelle Hermier, 85150 SAINT-JULIEN DES LANDES
GPS Coordinates:
46.663648 -1.713395
We couldn't find the address on our sat nav but were able to add the local village of La Garangeoire and followed sign posts. If you're using google maps on a phone this may be easier as you'll be able to find the campsite straight away. 
Day Trips from Camping La Garangeoire
We had a very unfortunate few days with weather so we unfortunately weren't able to visit and see all the places we wanted to. We did however manage to get to the main which was Puy du Fou. I'll go into more detail about it below, but it was incredible!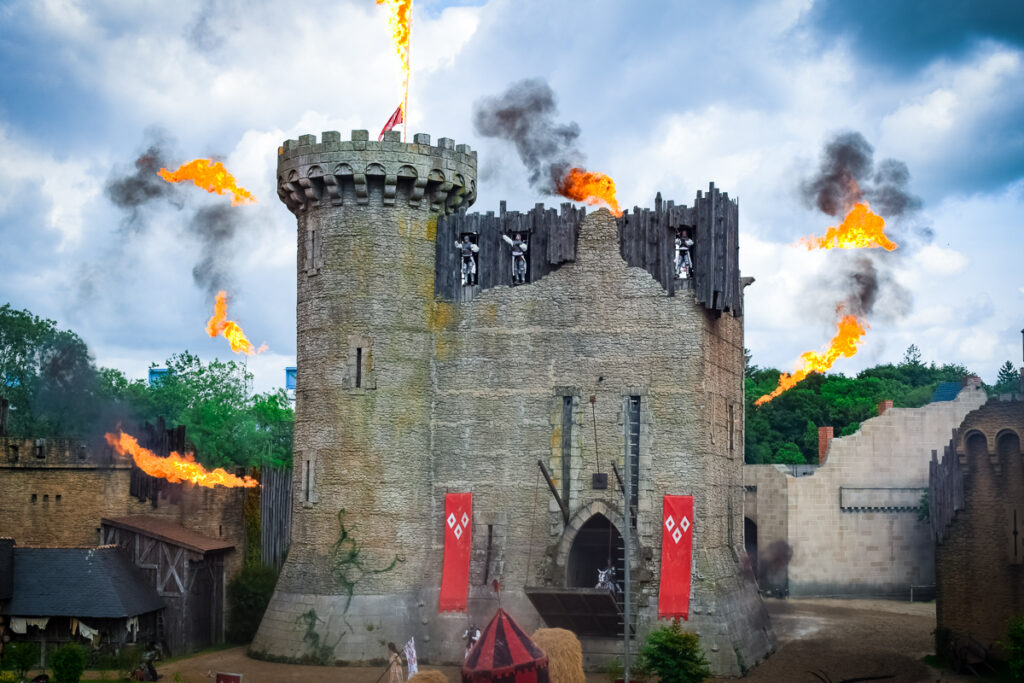 Bretignolles Sur Mer (Nearest Beach)
Nantes (To see the elephant)
Frequently Asked Questions
Are the mobiles close together?
Quite the opposite. We found the pitches to have loads of space outside. We definitely didn't feel crammed in.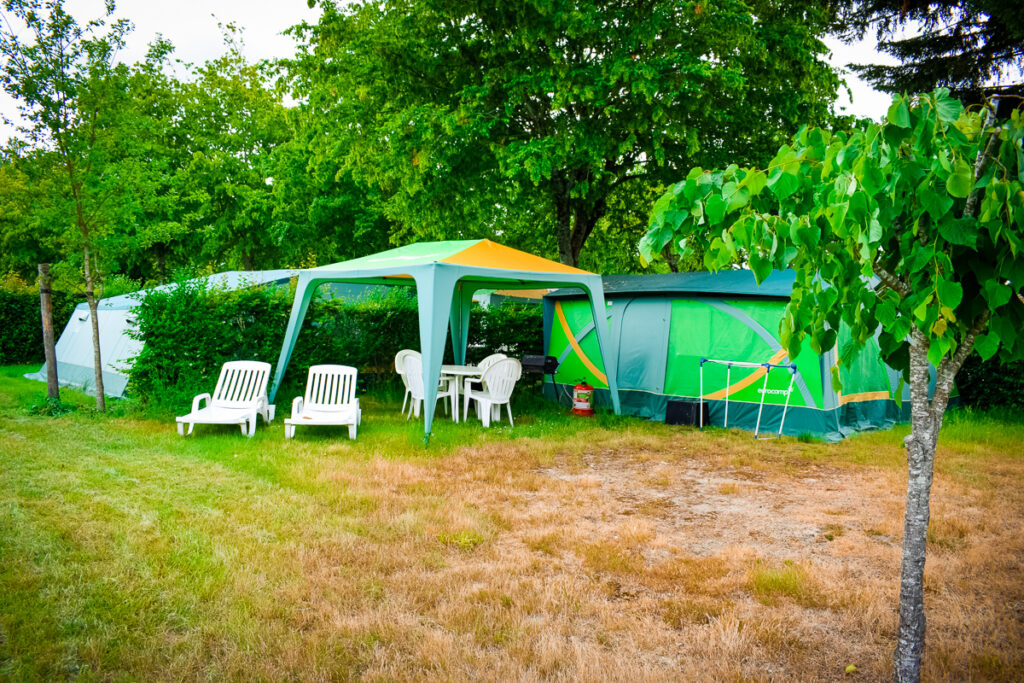 Reasonably. We were at the bottom of a hill, but all of the main facilities near the front and a range of mobile homes are on flat ground. I'd add a request when making your booking if you struggle with hills. The lagoon pool and pedal go karts are at the bottom of a hilled area.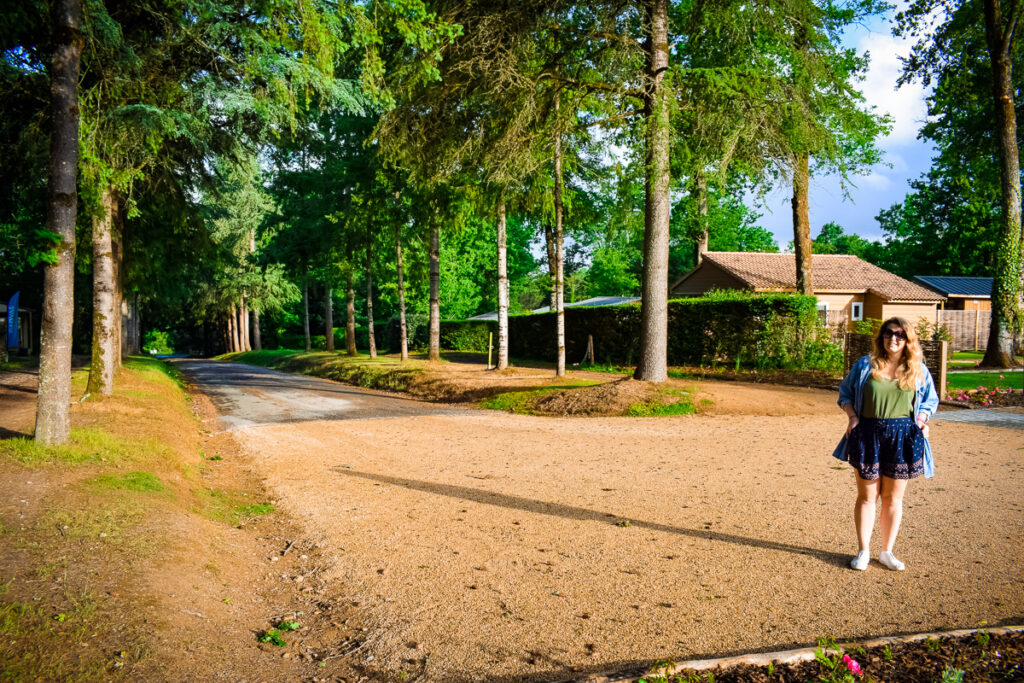 We did see a few but didn't receive any bites. I think there were more due to the rainy weather we've had.
Is it easy to get a sunbed around the pool?
When we went to the pool bar on the sunniest day there were a few people at the pool but it wasn't crammed and there were plenty of sun loungers available. However, the site was fairly quiet and I can imagine in Summer it being slightly harder – although not a massive problem.
What happens if I arrive to the campsite late?
If you're booked through a tour operator call your rep and they will be able to advise. There is a night guard on site, situated near the main barrier so he will be able to assist, check you in and direct you to your accommodation. The barrier is closed from 10.30pm so if you arrive after this time you will have to leave your car in the main car park. There is a strict no car rule between 10.30pm and 7am.
Do you need to wear a wristband?
We did not have a wristband during our stay but were given a sticker for our car. In high season it may change as some campsites like to enforce wristbands throughout July and August.
Do men have to wear swim trunks?
Bermuda style shorts are tolerated here (for now) ensuring that they contain no metal and are only used in the pool area. Basically, don't go wearing them to play football then head to the pool.
We had a luxury gas bbq included with our Aspect mobile home and they are available with other tour operator homes too. Charcoal bbq's and electric bbq's are banned due to the surrounding forests.
Can You Use Inflatables at the Pool?
Nope, but they are allowed at the lagoon beach as this is a recreational pool.
What's the weather like in Spring/Summer?
The weather can be so hit and miss, we suffered from an awful storm but the week previous they were receiving 31 degree temperatures. I'd personally pack and prepare for all weather types and hope for the best. Also, don't always listen to the weather man. We were told our day at Puy du Fou had 0% chance of rain so we didn't prepare and got absolutely soaked! (they do sell ponchos though…)
Can you park on your pitch/Emplacement?
Yep, we had no problem parking on our pitch and couldn't see any problems for others parking at theirs.
Can you take pets on the campsite?
Yes, the site is dog friendly. They even have doggy showers! As with all campsites, dogs must be kept on a lead around the site.
Is there disabled accessibility on the campsite?
There is. There's specially adapted mobile homes and disabled access across the site. The only difficulty I can imagine for a handicaped person would be the hills around the lagoon area and accommodation around there.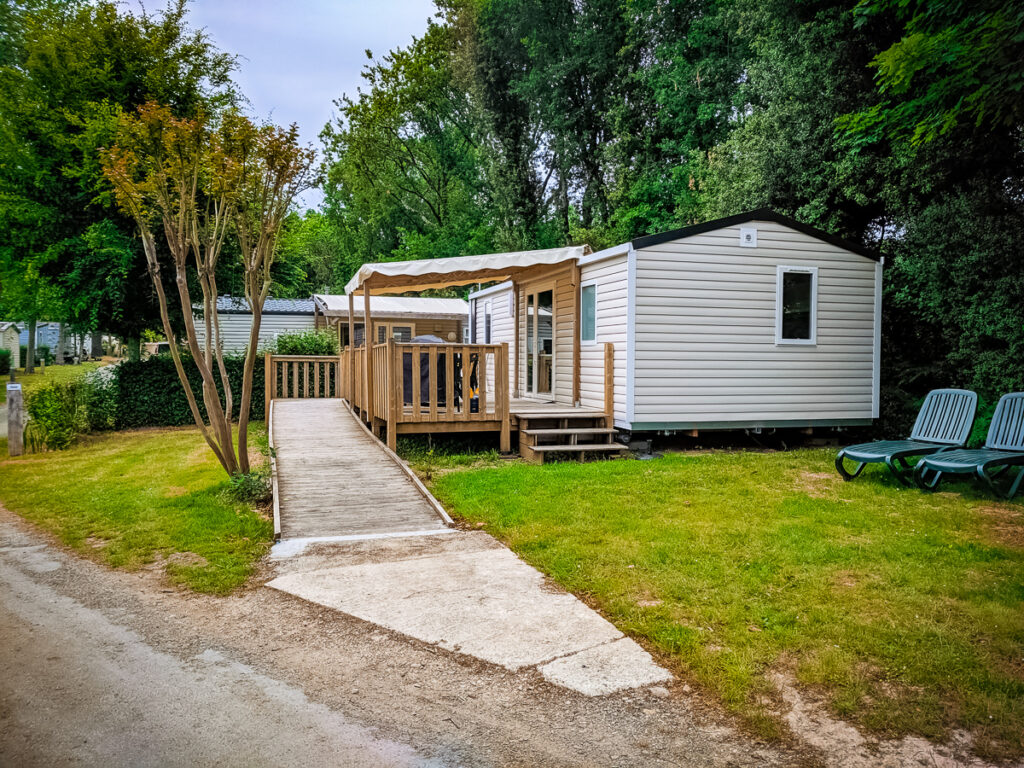 Where's the nearest supermarket?
We found a massive Hyper U in Aizenay (around a 15 minute drive)which was great for browsing during a rainstorm (who doesn't love a French hypermarket!). There's also a Lidl around a 10 minute drive from the campsite
My flight isn't till late, can I stay on site after check out?
Sure. As long as you're out your mobile by whatever time the campsite or your operator requests, packed up and parked in the car park, you can use the facilities. 
What can we do if it rains?
We went bowling in Aizenay and shopping at the hypermarket there. There's also a few choices for lunch (including a mcdonalds if that's your thing). Puy du Fou is also a good day out in the rain. All the shows will still take place no matter the weather and ponchos are available to buy there.
Can I Use My Transferwise Card On SIte?
Yes, card is accepted in the bars, restaurant and shop. We had no problem using our cards during our stay.
If I'm honest we were slightly underwhelmed during our stay here but I'm putting that 90% down to the weather. It's amazing how rain and storms can affect your view of a place… The campsite has so many activities and things to do, yet we couldn't do most of them because the weather was so bad. I definitely think we're going to have to return, when we know the weather will be good and try again. 
I have to be honest about our experience and although I KNOW the campsite is fantastic and has so much to offer families I can only really review how our stay was. 
I'm gutted we missed out on the crepe parties, couldn't use the pools and didn't get to enjoy the outdoor space as much as we should have been able to. 
We were however, really impressed with the customer service from the campsite staff. Reception staff were polite and friendly as were the bar and restaurant team and I feel they are an asset to the campsite. 
We did struggle with the lack of wifi throughout the site, especially when it was raining and we were trying to plan activities to do. But it wouldn't be a reason not to go. In fact, sometimes it's great to have a break from the constant mobile phone notifications. 
But all in all, It's clear to see, the campsite is run well and well maintained. If you like a traditional, family run campsite with more activities than you can ever dream of, then I completely recommend staying here. I'm rating it a 3.5/5 but If we visit again and the weather is better, be prepared for an updated score.  
Check Availability And Book Garangeoire Today
Clicking the button below will open the providers website in a new window.