Domaine De La Brèche Campsite Review 2021 High Season july yet Low Season facilities
pool closures, restaurant closures and more…
In 2012, I spent a few months working on the beautiful Domaine De La Brèche campsite in Varennes-Sur-Loire near Saumur. So you can only imagine my excitement when, this weekend, I had the opportunity to return for a short weekend break.
Packing up the car, the toddler and the cat, we headed en route to the Loire Valley for a weekend of sun, swimming pools and relaxation. Was the campsite as wonderful as I remember it being? Keep reading to find out…
Pros of Domaine De La Brèche
There are many things we loved about this campsite.
Cons of domaine de la Brèche
But there's also a few we didn't…
About Domaine De La Brèche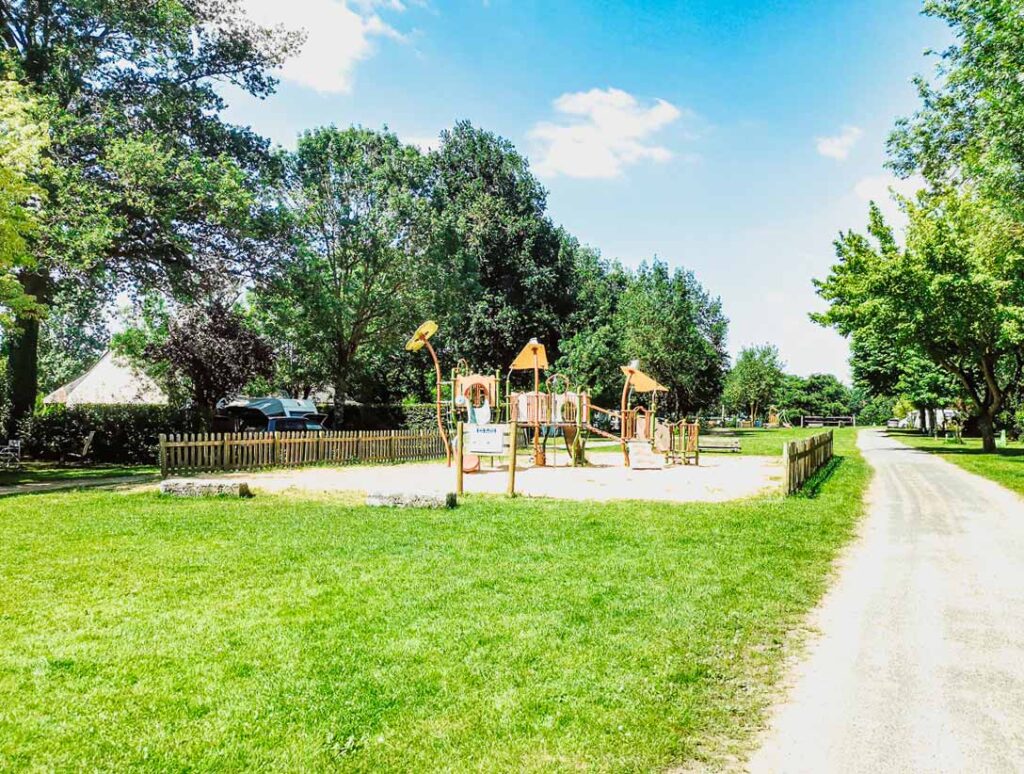 Domaine de la Brèche is a 5* Sunelia campsite located 5km from the town centre of Saumur. The campsite has its own mobile homes and Eurocamp mobile homes, and large pitches for tents, campers, caravans and motorhomes.
It is owned by the Saint-Cast family and has been with them since 1963. Although the campsite has now worked its way down the family tree, many of its original values still remain.
The campsite has a wide range of facilities (which I'll be reviewing below), including three heated swimming pools, slides and toddler pools. In addition, there's an on-site shop, restaurant, bar, pony club and play areas for children.
Pool complex at Domaine de la Brèche
This was the main reason we booked a stay at this campsite. With the weather forecast predicting sunshine and high temperatures, we wanted to stay at a site with a fun splash park area, like the one at Saint Avit Loisirs. Still, we didn't want to travel that far, so we settled on Domaine de la Brèche because of their fun toddler pool area. I had always remembered that Domaine de la Brèche was renowned for being a good site for toddlers thanks to their paddling pool, so we decided to book there.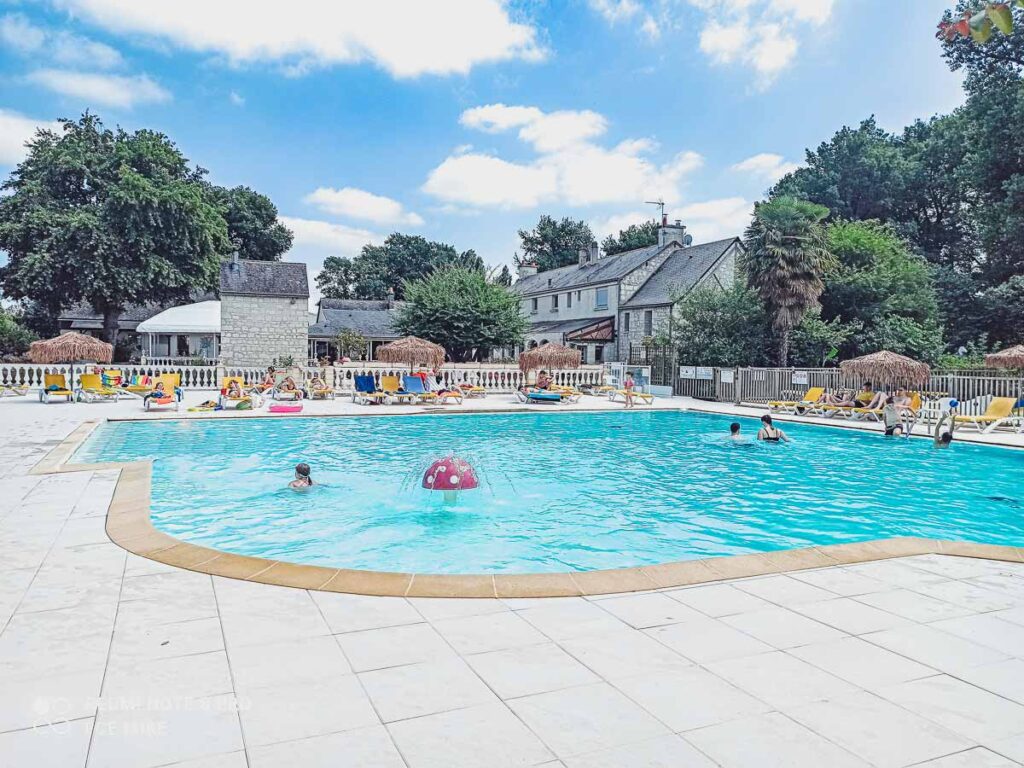 Big Mistake.
It turns out that the paddling pool/splash area we so desired was actually closed. We are so disappointed about this. Had we known, we would have never booked to stay at Domaine de La Brèche. Unfortunately, there was no information about the closure on their Facebook, Instagram, website, or any of our booking confirmation emails.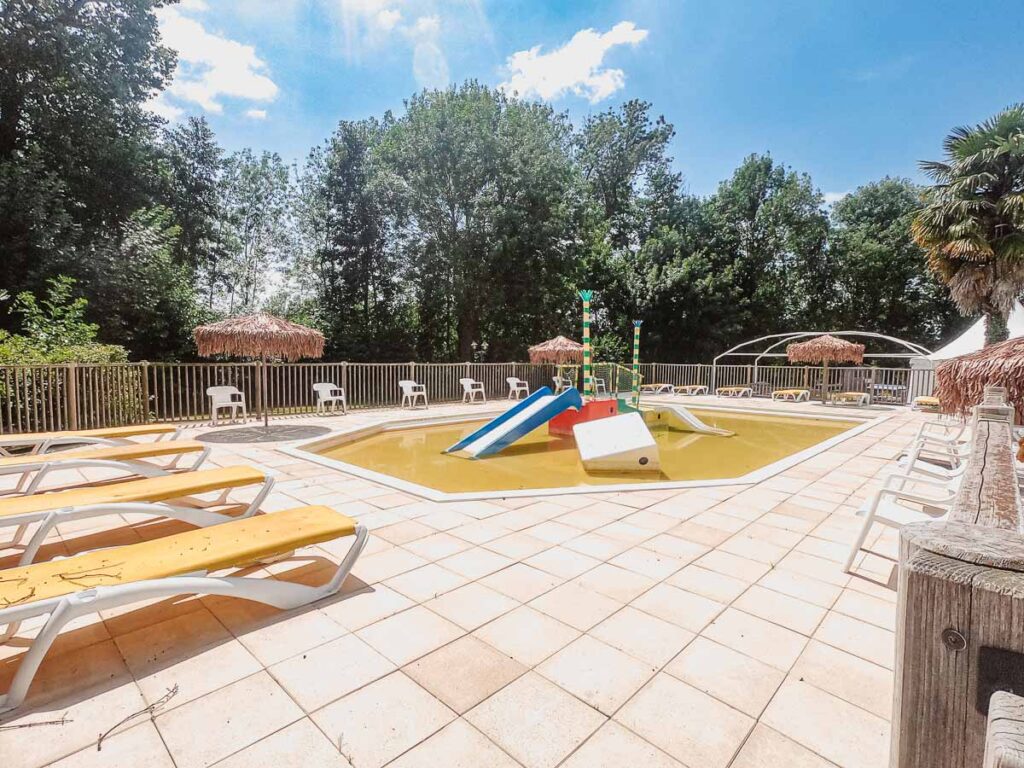 But, without wanting to kick up too much of a fuss, we decided to make use of the other pools available to us. There are 2 separate swimming pools and a slide area. The main swimming pool is 1.5m deep and is heated. The best thing about this pool is that it has a cover that can be pulled across in lousy weather. Whilst the other pool, the family pool, is more for fun splashing around. It has a shallow end, where we spent most of our time and the other side, which is 1.2m.
There are 4 waterslides – 3 which are identical, and you can race together on, and 1 flume style ride that circles around the back. 
The pool area is well maintained, clean, tidy, and plenty of sun loungers are available.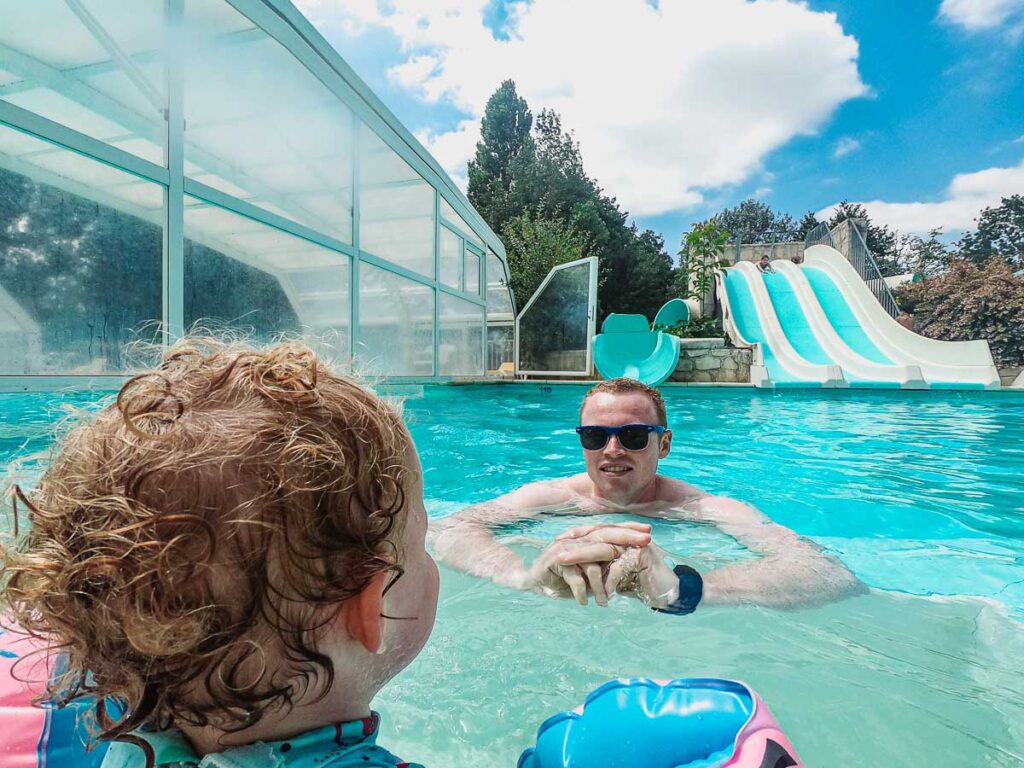 Covid Restrictions to the pool area
No noticeable restrictions except signs saying keep the sun loungers 1m apart.
The rules state Bermuda shorts aren't allowed; however, the pool was unmanned, and everyone was wearing the Bermudas
Campsite Facilities at domaine de la Brèche
Domaine de la Brèche may be a small campsite, but it has a wide range of unique facilities for the whole family.
The reception area is sleek, clean and modern. Glass screens surround the reception staff, and hand sanitisers are at the entrance. On arrival, I checked in at the main reception and was greeted by a friendly man who asked if I wanted to check-in in French or English. Whilst my French is ok, for ease, I opted for English. 
The check-in procedure was thorough, I was given a lot of information about rules, times, systems, etc. – most of which I have now forgotten, but thankfully most of it's written down in the leaflet we were given. I do remember a digital screen in reception to book activities; assumably, this is to minimise contact.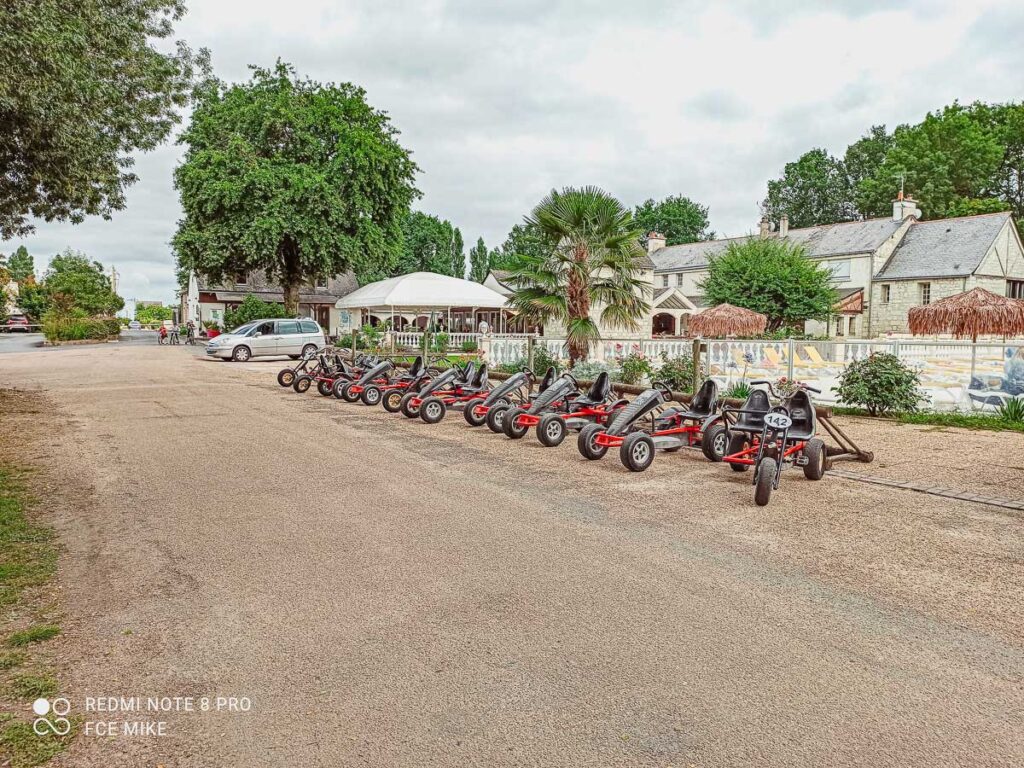 Once checked in, we were led, via biking receptionist, to our accommodation. I really like it when we get shown into our accommodation as it's a personal touch I feel is missed with companies like Eurocamp these days.
We were told if we had any questions to pop back to reception and ask. Which we did the very next day. We decided that an extra night to make the most of Sunday's weather would be a great idea. Unfortunately, when we asked, we were told this was impossible as someone had requested the exact pitch we were staying in Z7. Frustratingly we then wondered if it was possible to move to another mobile home for one night, but because they "normally book a minimum of 2 nights", this was also impossible. I'm pretty disappointed that this wasn't possible as realistically we aren't making a new booking, just extending our current booking. Anyway, we decided that it wasn't worth paying for 2 extra nights just to stay for one.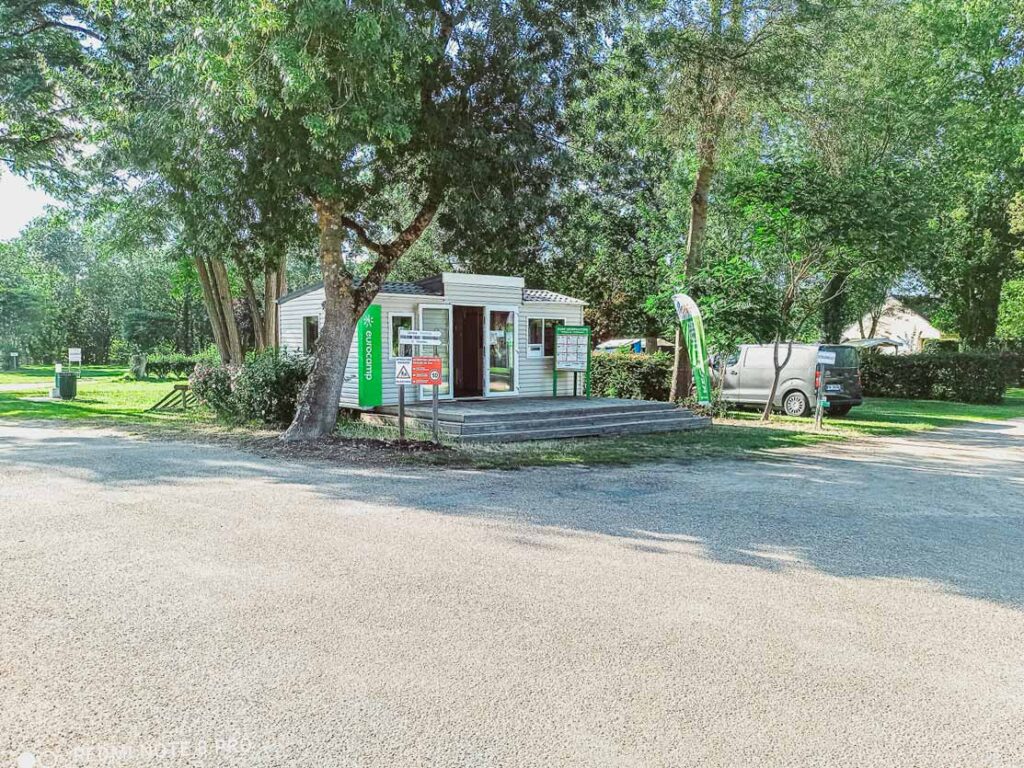 We then headed to the Eurocamp office. We wondered if they were able to book single night stays. However, nobody was in, so we left a message on their message pad asking them to text us if they could accommodate us. Unfortunately, we later received a text to say that they couldn't take our booking either.
Whilst all the reception staff we spoke to were kind and courteous, I feel like they weren't very good at coming up with solutions. For example, we wanted to stay longer. We wanted to give them more money for accommodation and spend more money on-site, and even though they had the capacity available, they opted to leave it empty instead.
Main reception Opening hours are:
High season: 7 days a week from 8 am to 8 pm
Low season: 7 days a week from 9 am to 7 pm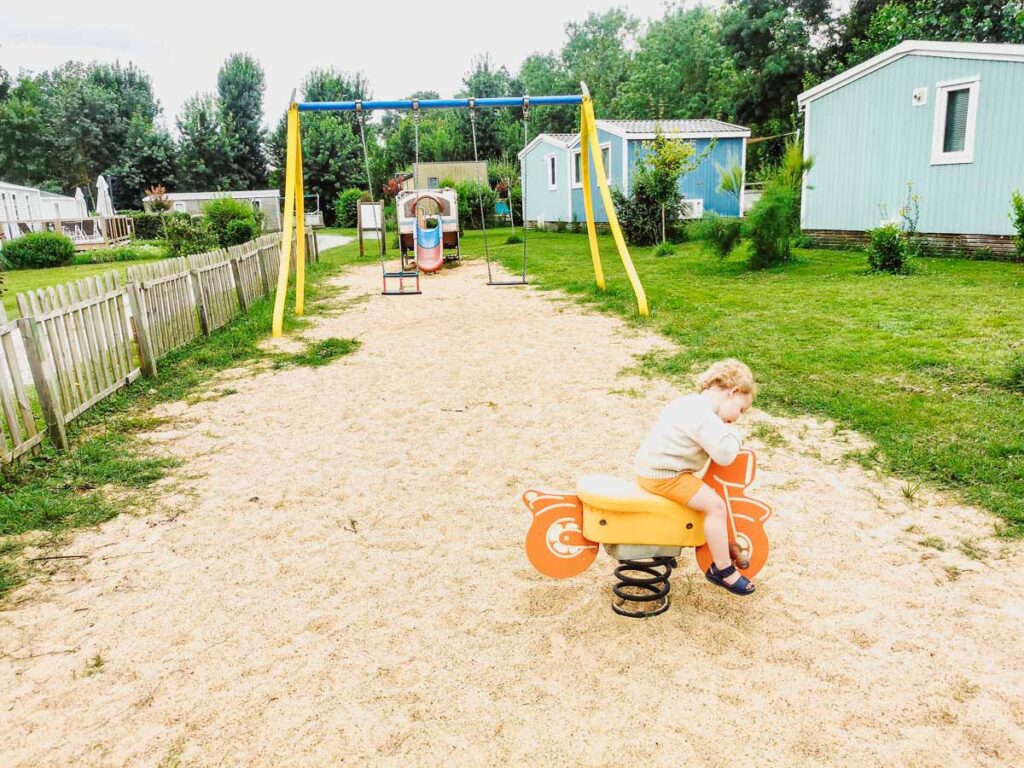 The play areas and facilities are some of the things that makes this campsite so unique compared to the others we have visited.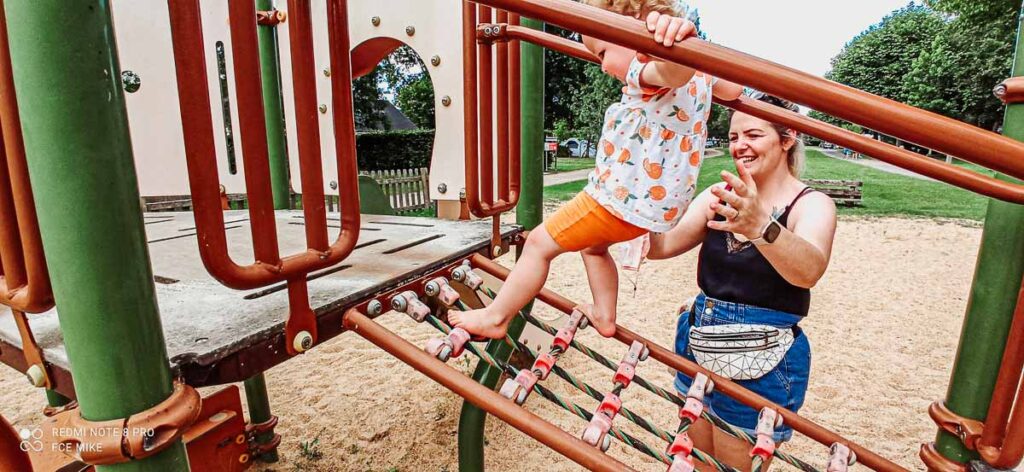 The campsite has 5 different play parks dotted around the grounds. Each play area is varied and offers a variety of activities for different age groups. We were delighted that the park, a stone's throw away from our mobile home, was perfect for toddlers. We had a small slide, swings and a small solo see-saw (I have no idea what the official name for these are).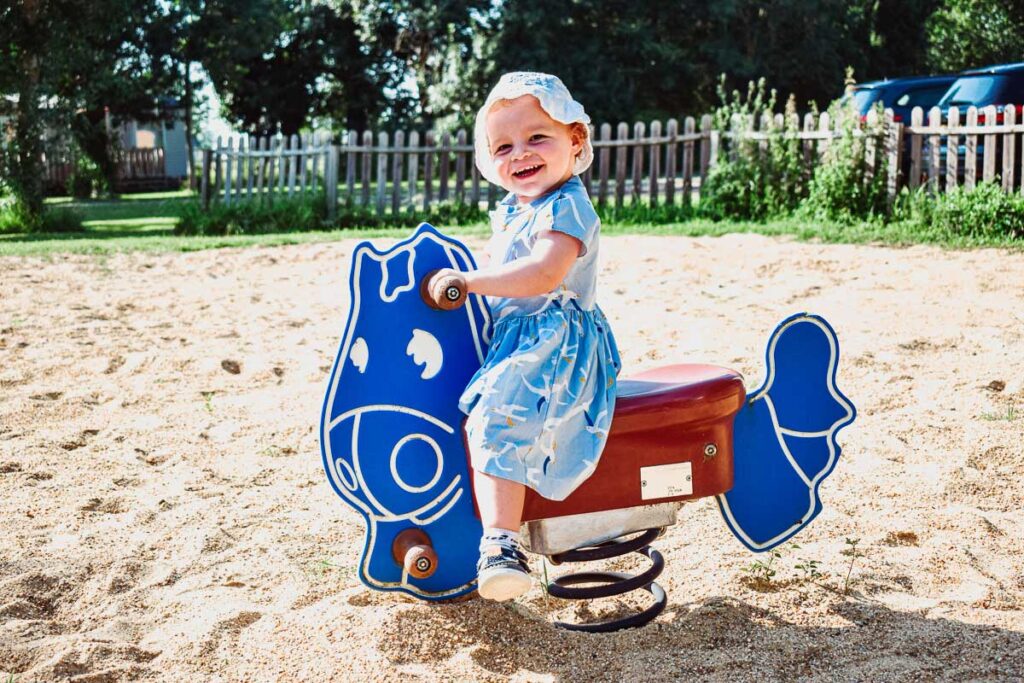 The more extensive park near the main reception and facility area had a large climbing frame with a slide, and although our toddler really enjoyed this one, it was aimed at a more grown-up age group.
There was another slightly further back from the main entrance, and this was much better for her as it had a baby swing and a smaller slide.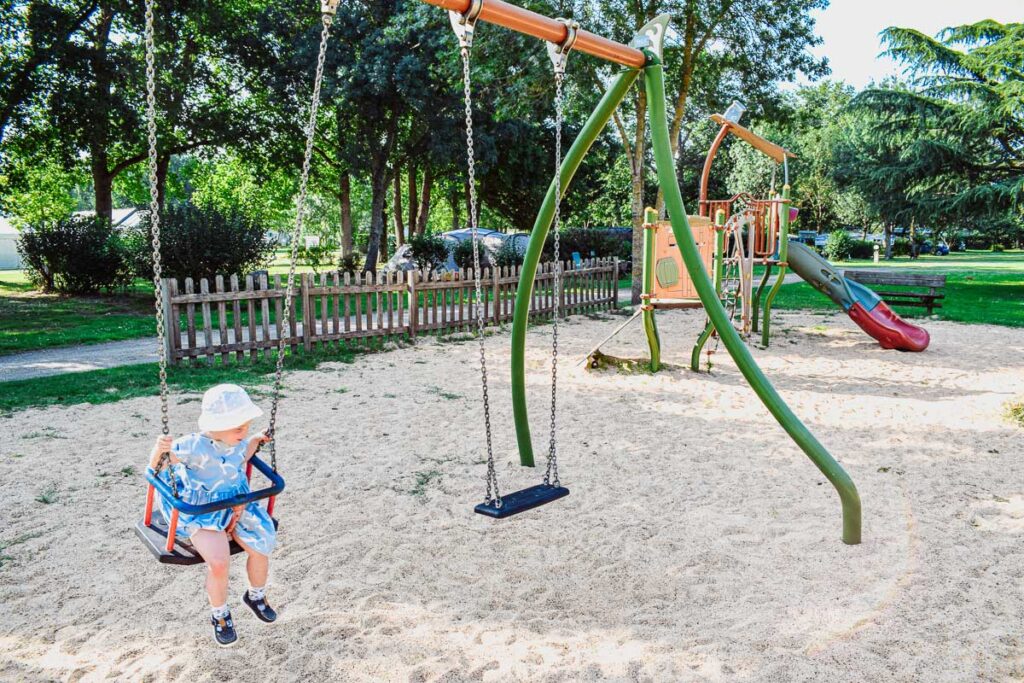 The two other parks are situated in the Eurocamp mobile home areas. One of these parks is pretty cool with climbing walls, poles and solo see-saw things, but the last park was atrocious. The last park was just a large sandpit with one see-saw ride that didn't really move well because the sand was too high.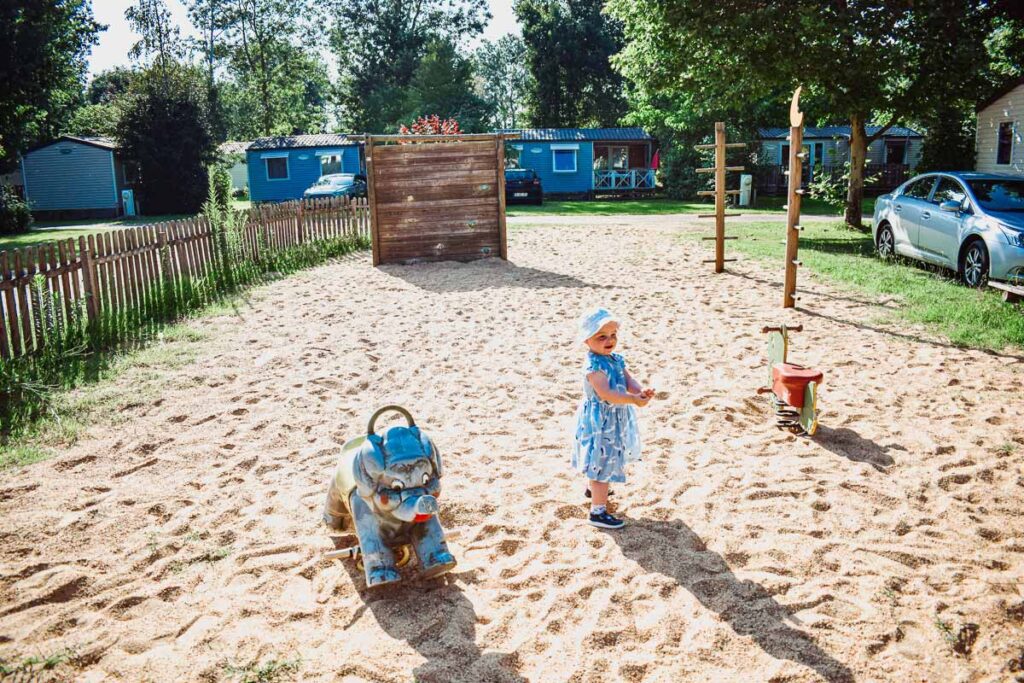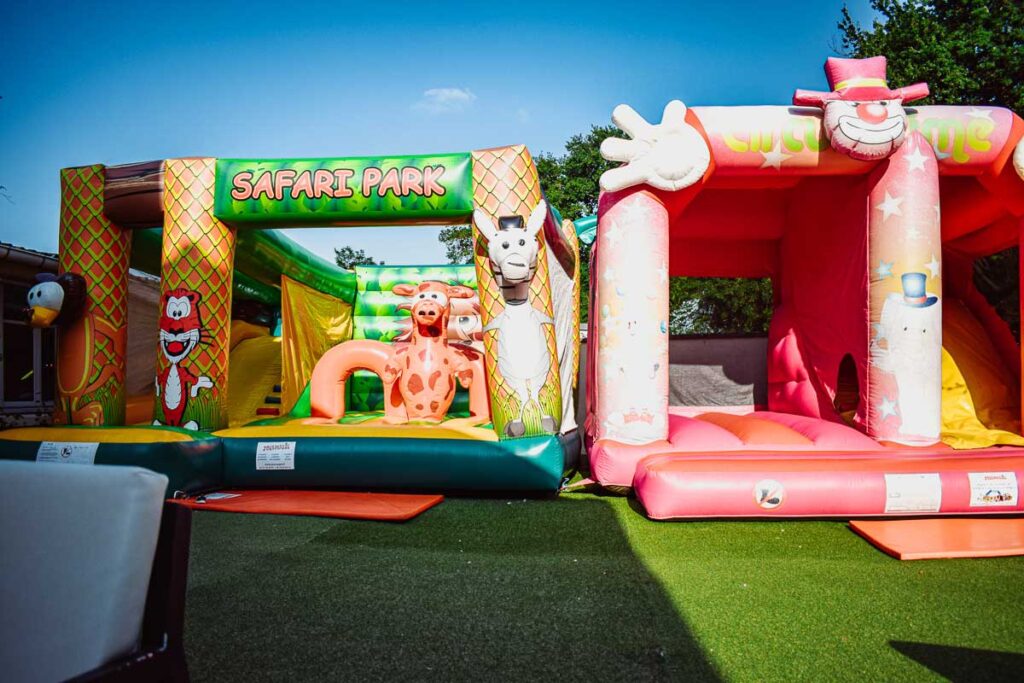 Situated near the bar area are 2 bouncy castles. These were a great way to let our toddler burn off some steam before bedtime. There was a smaller one for younger kids and a larger one for older kids, but realistically they weren't much different except for one being pink and the other orange. The age does say from 4+, so we only let the toddler use it when no other kids were around, and we could safely supervise.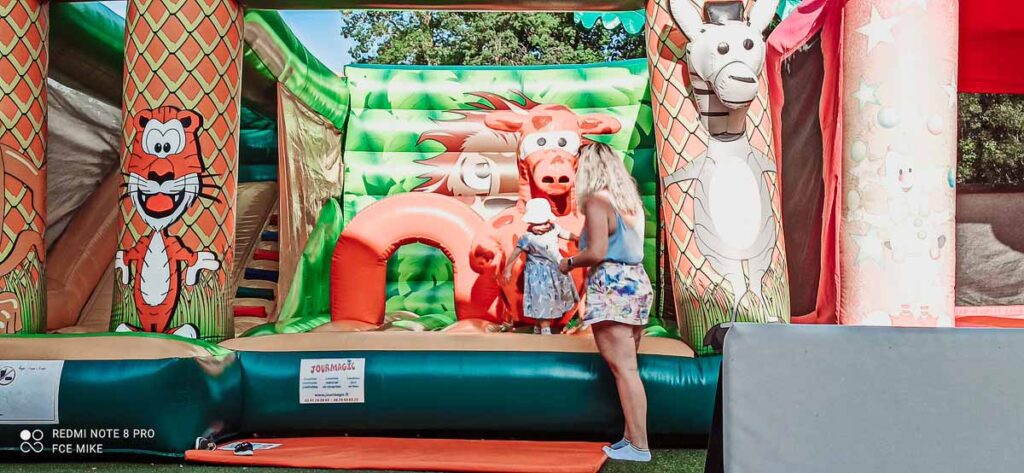 Green Space and Football Pitch
One thing that holidaymakers prefer about campsites over holiday parks is the amount of green space. This is where the campsite is absolutely winning. Domaine de la Brèche does not hold out when it comes to nature and greenery. Just next to the pony club is a fantastic area of land. It hasn't been filled with mobile homes as some campsites do; it's just left open and green and is excellent for kids to run around on. At the end of the green space is a football pitch, and just a bit further down is where the tennis, multi-sports and mini-golf and laser game are located.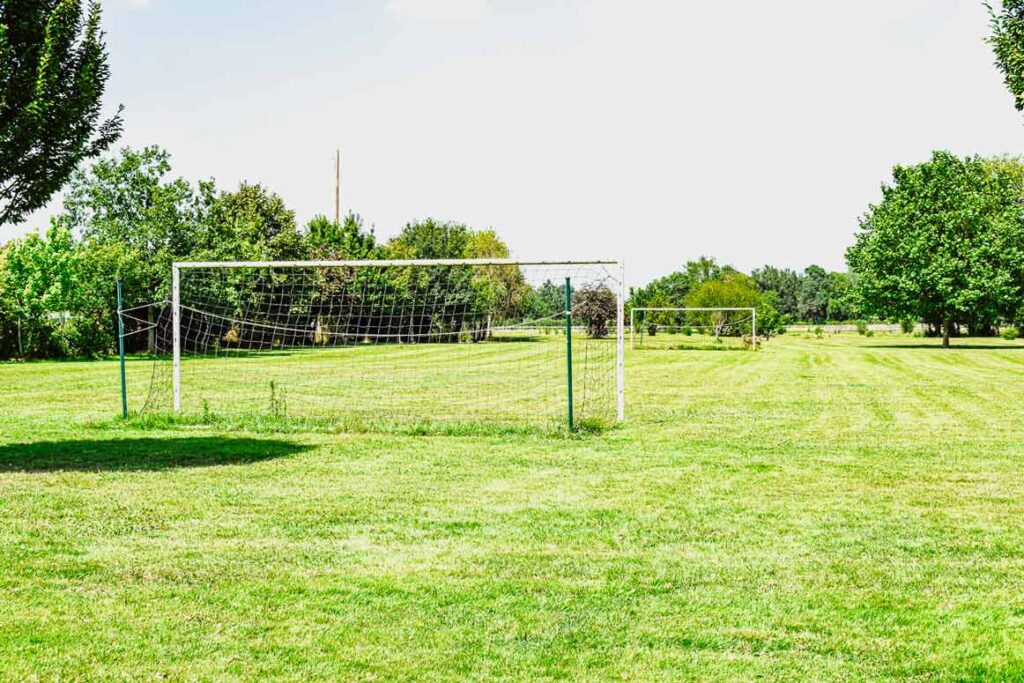 The tennis court is situated to the left of the campsite behind the fishing pond. In low season, the court is free to use; however, you'll have to pay 6.50euros for 1 hour or 50euros for 10 hours in the high season. There's a 10euro caution deposit, and equipment can be borrowed from the main reception.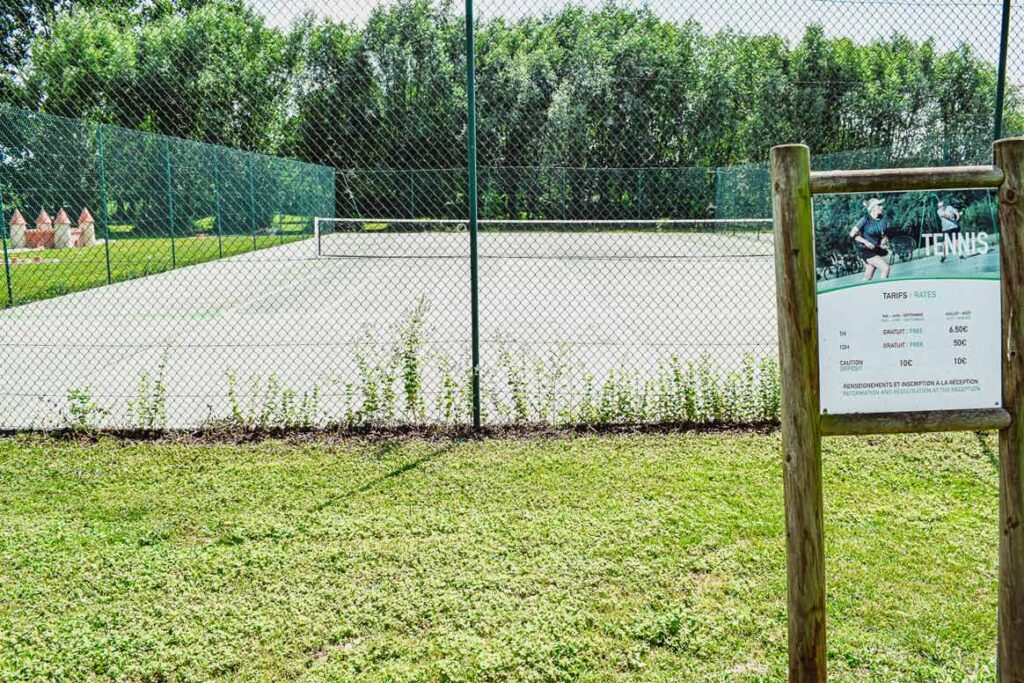 This pitch and putt game has 18 holes and is situated in the leisure area alongside the tennis courts, football and multisports court. You can hire the equipment from the main reception for 3euros with a 10euro deposit.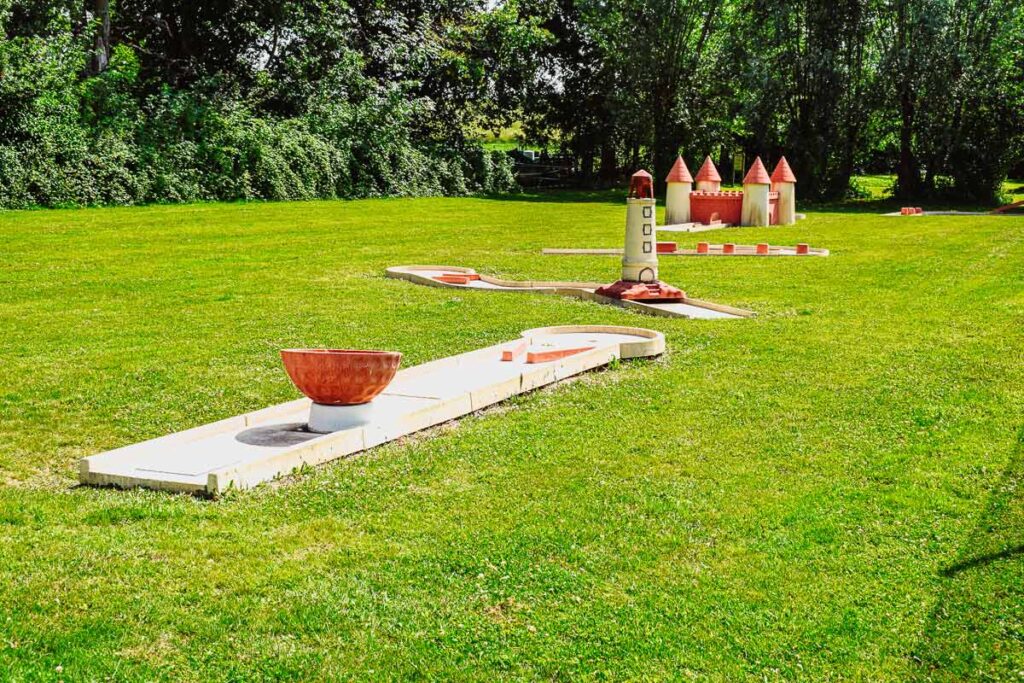 This outdoor laser game court is situated behind the multisports area. I didn't realise where it was until the morning we left, and I don't know if it was open during our stay.
This didn't seem to be set up during our stay. However, the leaflet we received quoted the prices for a 45-minute session as 8euros per child and 12euros per adult.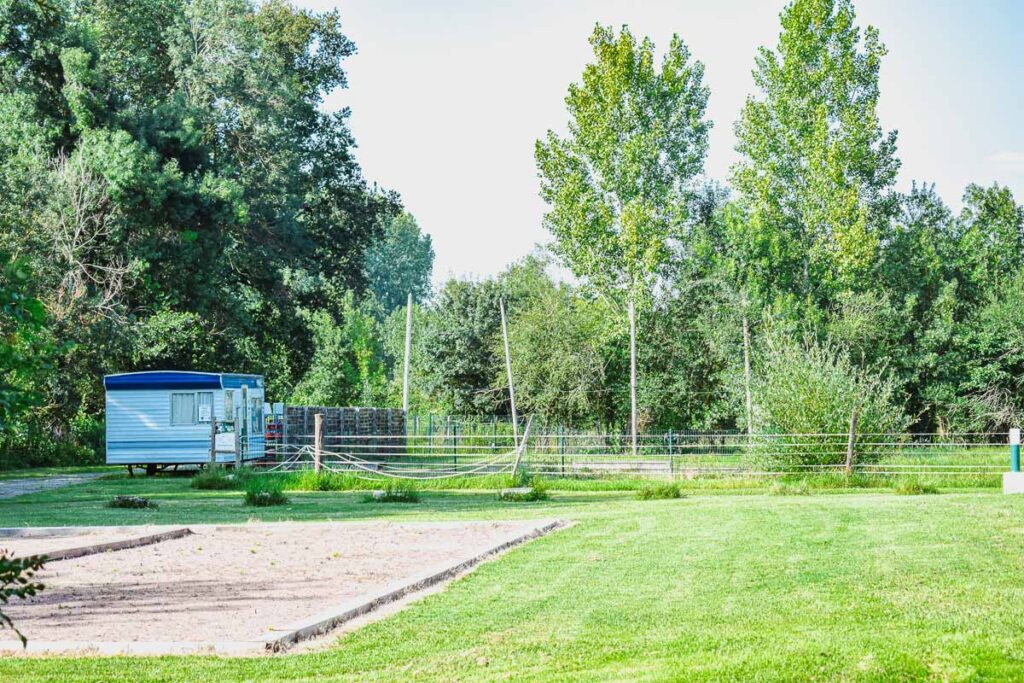 Like all campsites, Domaine de la Brèche has a multi-sports court. It is situated next to the tennis courts at the bottom of the green. Although, this court was looking a little worse for wear. There was only one net at the near side, so real games would be impossible.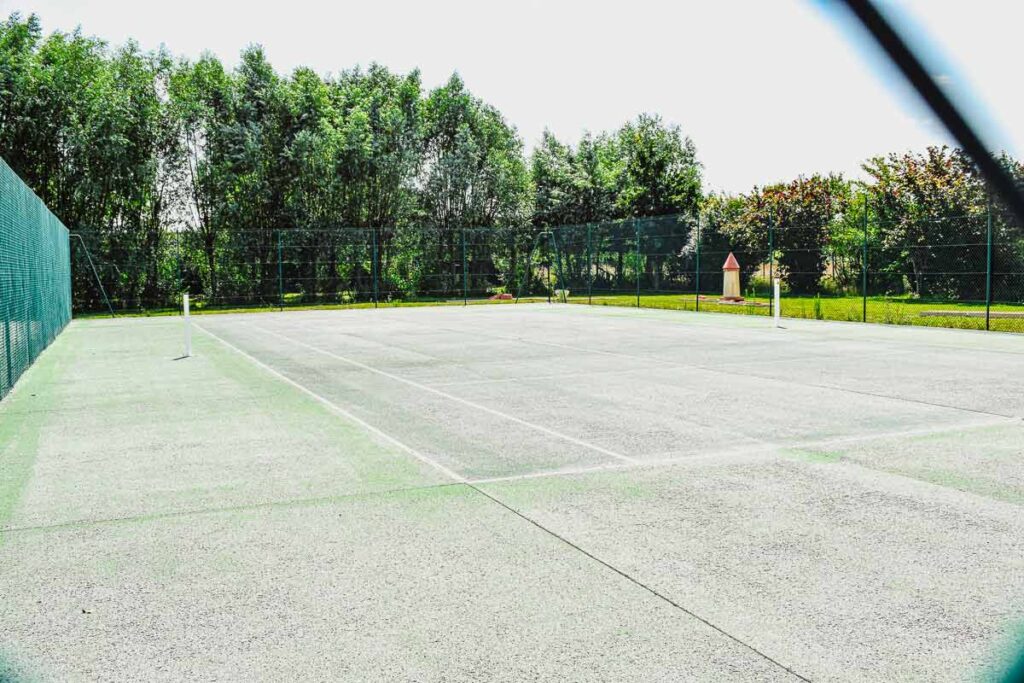 The campsite offers a selection of pedal karts to its customers. Our toddler loved sitting on these, but we didn't bother hiring them as she was still too young to ride one. They can be hired on an hourly or half-hourly rate: 30 mins for 5euros and 1hour for 8euros. There is also a 10euro deposit.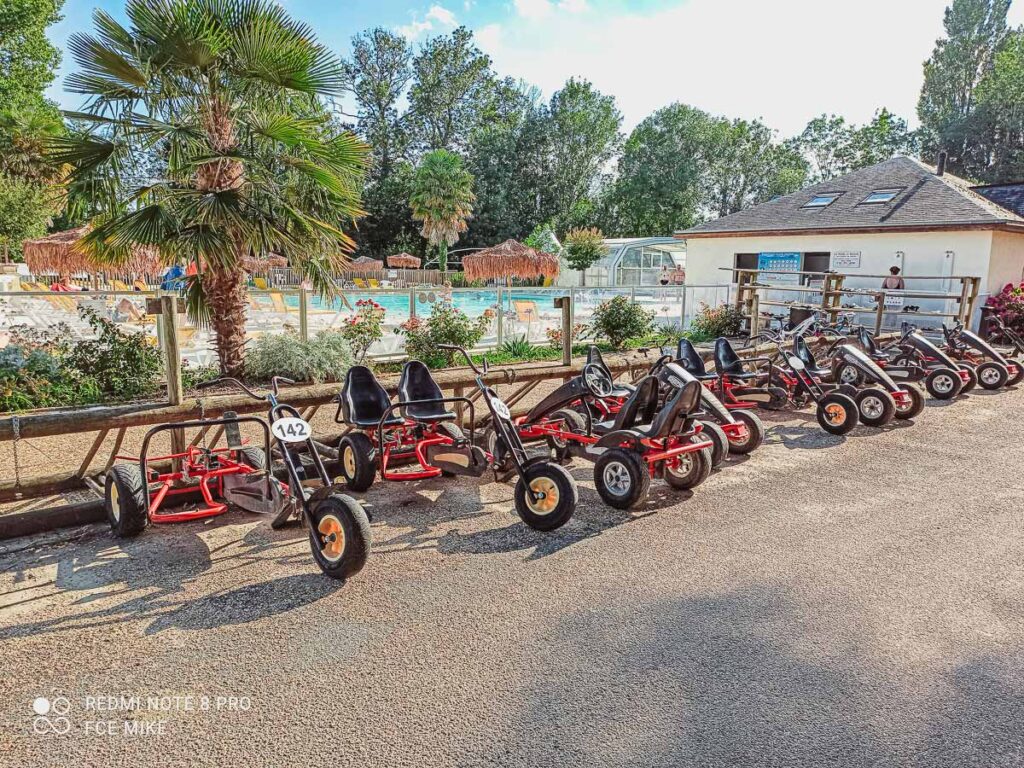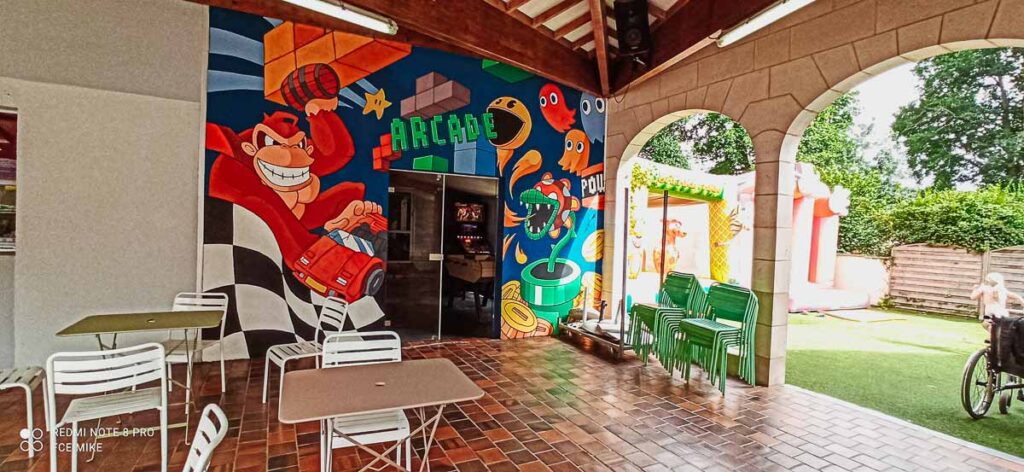 The arcade room is relatively small but has all the usual arcade games you'd expect, like air hockey, table football and racing cars. Make sure you bring lots of spare change.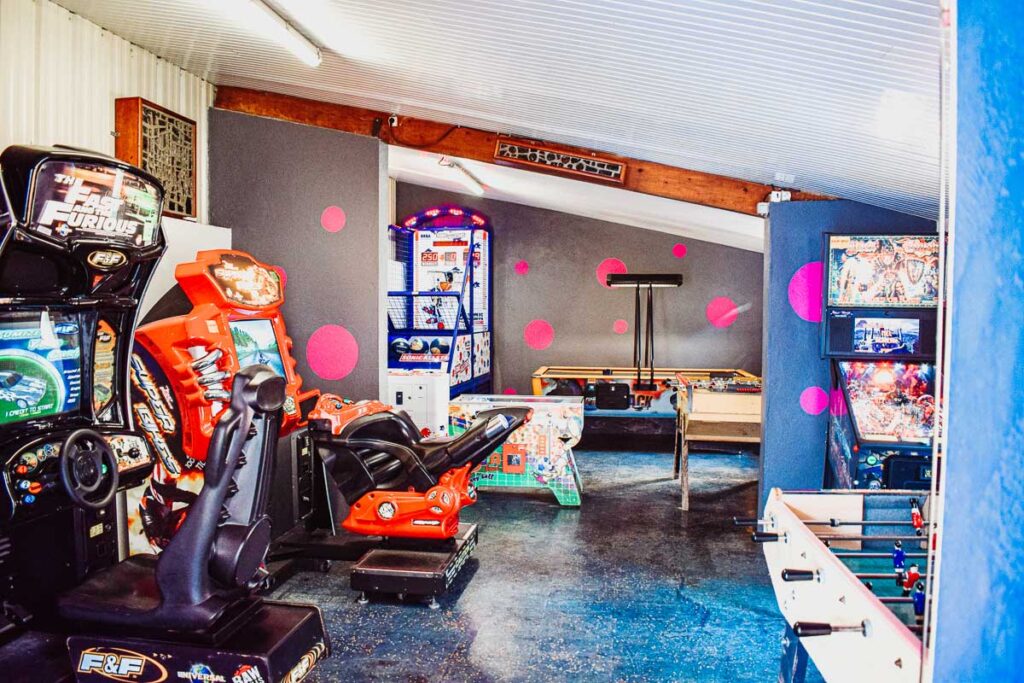 The kids club on Domaine de la Brèche is for children aged between 3 and 8 years old. It's the perfect place to send your children while you go to the city to explore. It's open for the high season (so that means July and August), and it's FREE! The Animators also speak multiple languages, so there's no need to worry about your children being confused. During our week of the holiday, activities at the kids club included treasure hunts, mini-golf, board games, and creative activities.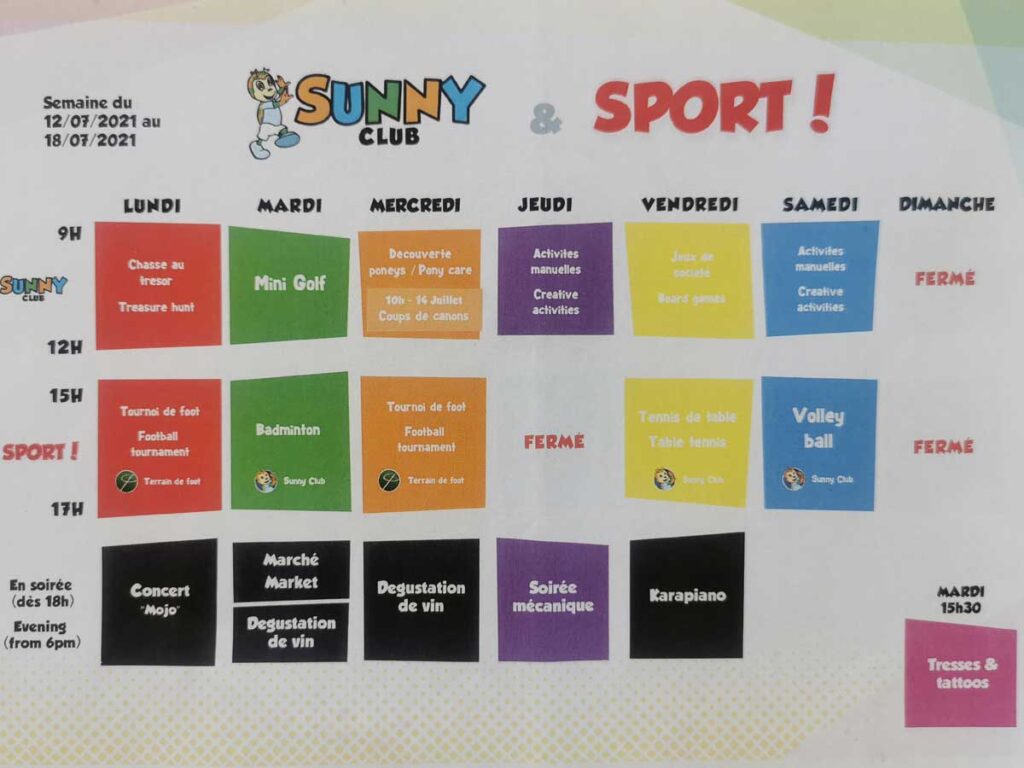 Animation for kids and adults
During the week of our stay, the evening entertainment included wine tasting and Karapiano. Now, if you're wondering like I was, what Karapiano is, it's basically karaoke with a piano man. Unfortunately, we actually missed all the evening entertainment as our toddler was tired every evening except Saturday when we decided to go out, and there was no entertainment that night.
Some of the daytime family entertainments included football tournaments, table tennis tournaments and volleyball. However, I didn't notice any of these events taking place, perhaps because the campsite was too quiet for them to run.
Bars, Restaurants and Takeaway
Sadly, the off-site restaurant was closed, and the campsite doesn't have its own restaurant, but we still made time to enjoy the bar and takeaway.
The bar offers lovely ice creams and lovely seating areas. I really appreciate the outdoor area of this bar. Sitting at the front, savouring the pool views and observing the world float by is a great way to spend some time here. The indoors of the bar area is narrow with old Loire stone walls and whilst it's a nice area, I much prefer the outside. But, from the inside, you can watch sports on the screens.
Situated to the other side of the bar is the bouncy castle and arcade. A good spot for restless 2-year-olds (although the bouncy castles do say from 4+).
If you're wondering what to drink, Saumur is home to some fantastic wines. I'd definitely request to try some.
The bar is open every day from 8:30 am to 11 pm (July and August) or from 10 am to 10 pm in the low season.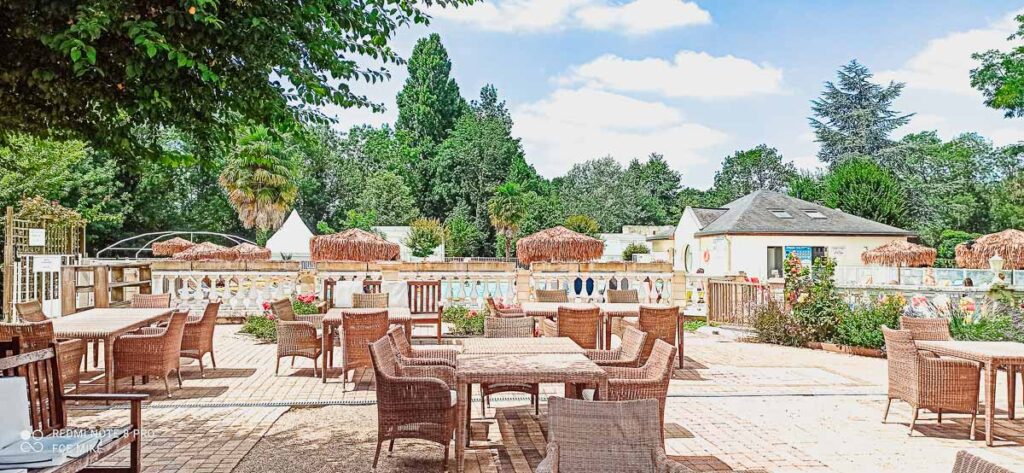 The restaurant is currently closed due to the covid19 pandemic. I was actually there for its first opening night back in 2012, and I can remember it did delicious food back then, but for obvious reasons, I can't say if the standard still remains the same or not these days. 
The campsite takeaway is situated near the bar area and is open in high season from 12:30 till 21:00 inclusive and in low season between 12:30-13:30 and then reopens at 18:00 – 2:00.
During our visit, the only thing available from the takeaway was pizza, which is fine by us as we LOVE pizza, but I think there should definitely be more on offer for the high season. Especially as there is nowhere else to eat on-site and the off-site restaurant is closed. The menu can be found by scanning the QR code that was placed outside the takeaway window.
We opted for a Mediterranean and chorizo pizza on Saturday night, but sadly, there were no children's options, so we ended up buying her some snacks from the shop.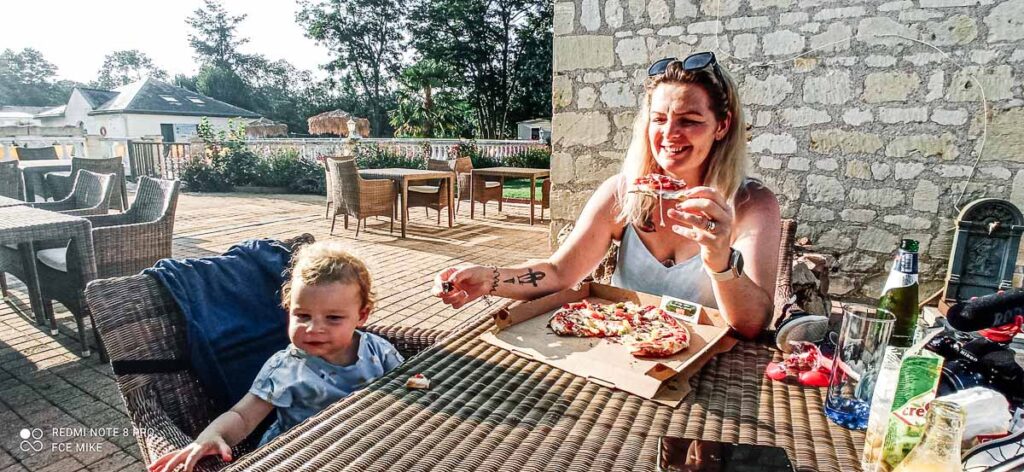 The fishing pond is one of the main attractions for guests staying at Domaine De La Brèche. Try your luck at catching Pikes, Carps and Bream. Although, all I've ever managed to catch is catfish (but then again, that's probably because I'm rubbish at fishing!).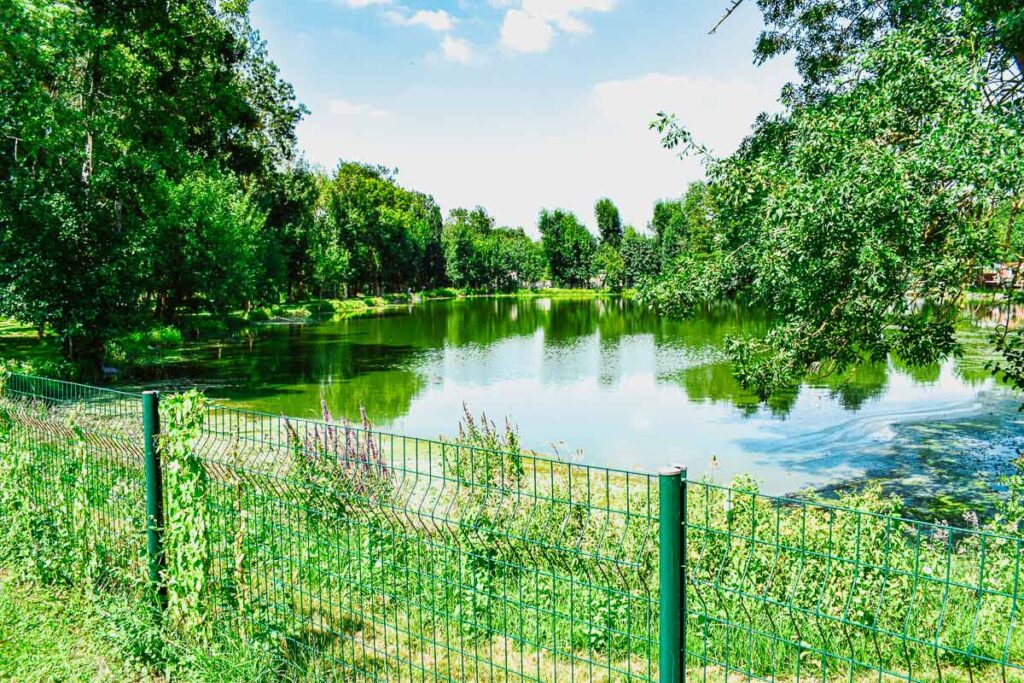 The campsite shop was pretty disappointing. The shelves were lacking, and there weren't many food choices, which is surprising as size-wise, it's a reasonably sized shop.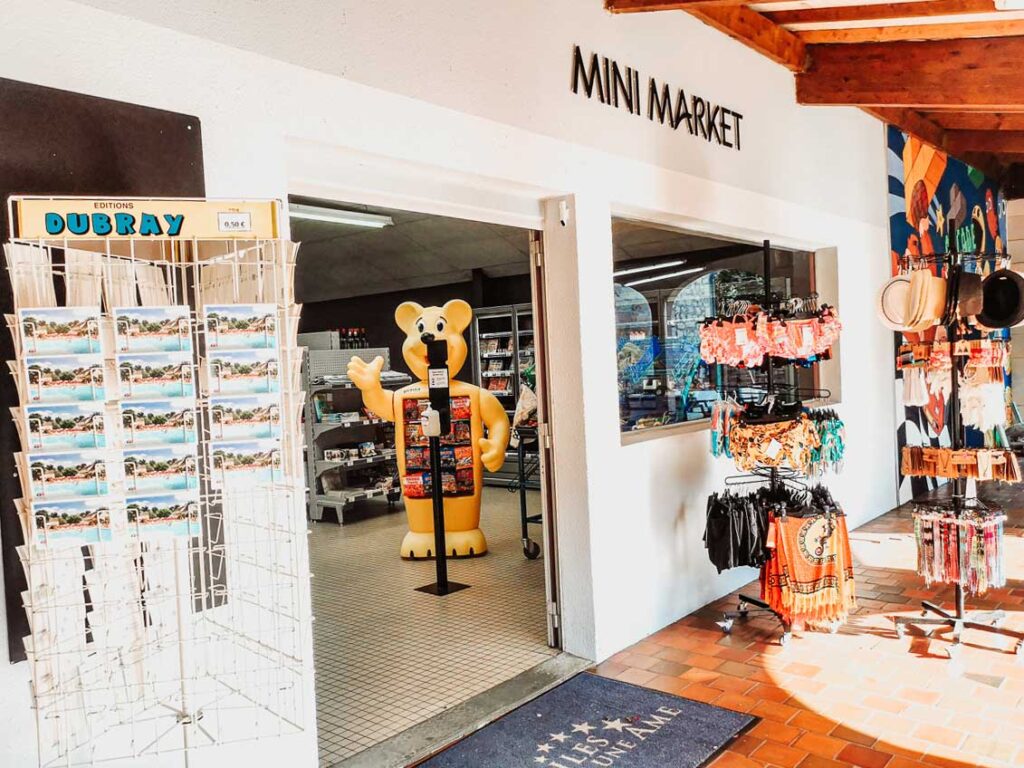 There are no other food shops within walking distance. Due to the lack of kids options at the takeaway, in addition to the lacking shop, our toddlers' dinner on Saturday night consisted of olives, baby bells and coco pops.
You may think, "Hey, why weren't you more prepared? You could have bought some fruit earlier in the day to take".
Well, friends, that was my plan. But, unfortunately, if you watch our video tour, you'll see I took a trip to the shop mid-day while the other two were sleeping, and it was closed. Although I assumed that the high season times would stand, seeing as it was over halfway through July, the shop was closed between 12:30-5.
On the morning we left, we figured we'd grab a few pastries for our road trip home, and these are definitely the shop's redeeming factor. Those pastries are yummy!
Opening time :
High season: 7 days a week from 8 am to 8 pm.
Low season: 7 days a week from 8:30 am to 12:30 pm and 5 pm to 7 pm.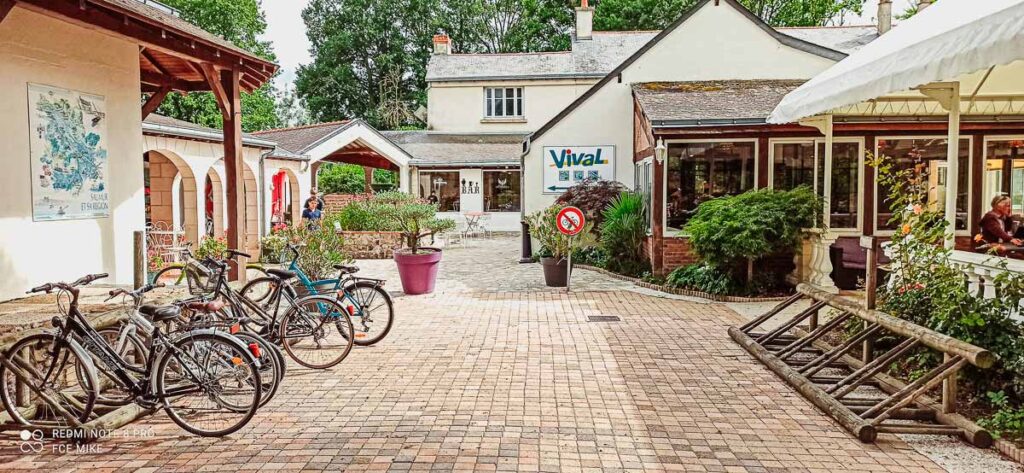 We were given free wifi for 2 devices during our stay. We presume this was because we had booked accommodation direct with the campsite. If you don't have WIFI inclusive, you'd be looking to pay 4euros a day with discounts for more days.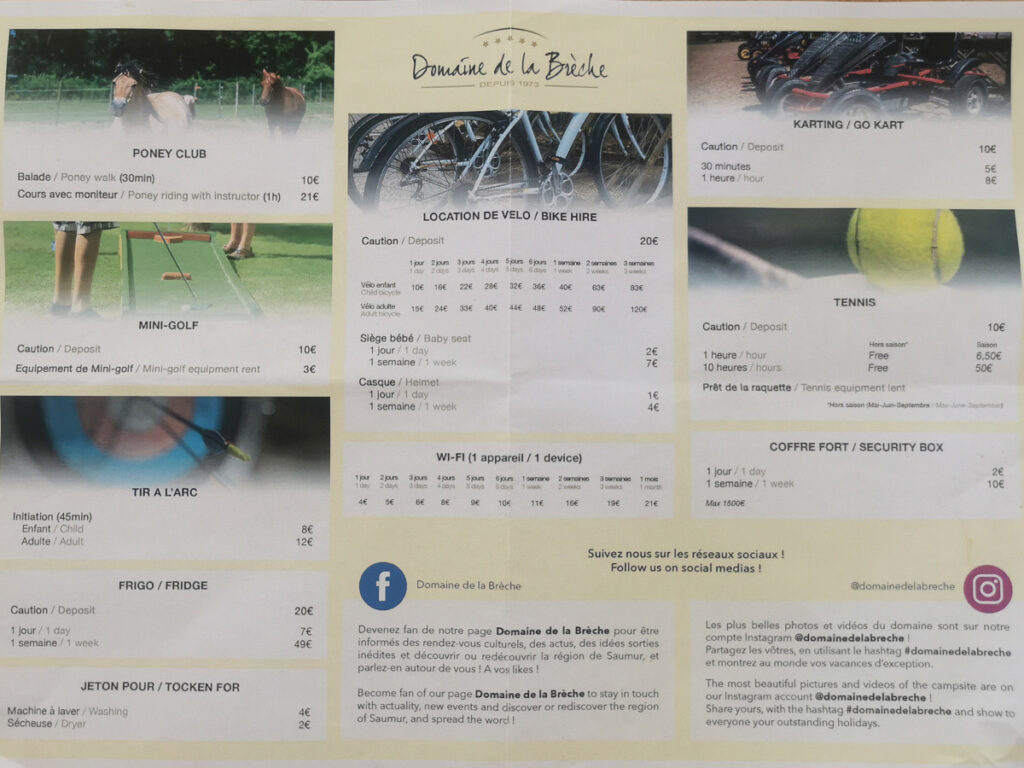 Bike hire is available from the campsite and is a great way to explore Saumur and the chateau. For an adult bike for the day, it'll cost 15 euros with a 20 euro deposit. I have added a photo above of the price list to get an idea of the discounts on longer rentals. 
Pets are allowed on camping Domaine De La Brèche, so we took the opportunity to bring our pet cat with us. It only cost us an extra 6 euros to book her for our 2-night stay.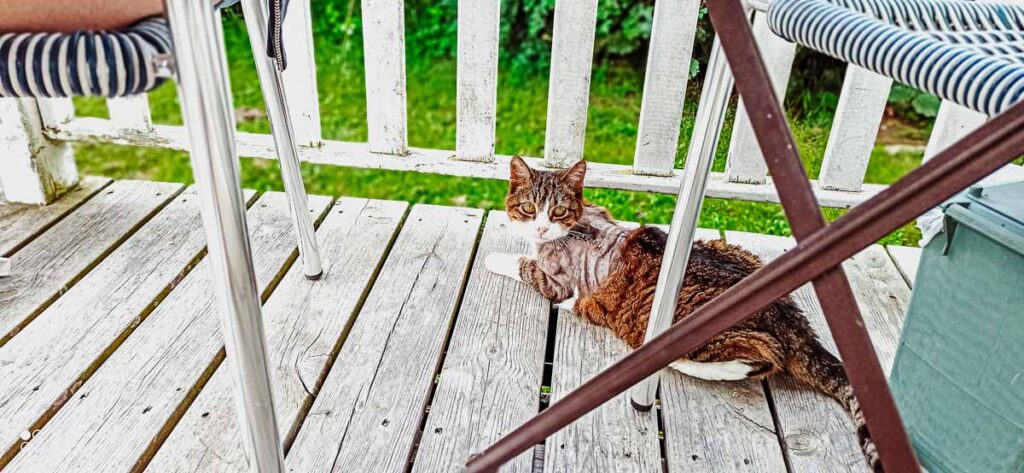 Situated in the car park before the campsite reception is a small mini-farm. I'm not sure how much of a campsite attraction it is, and to be honest, the area looks messy with broken wood everywhere. However, our toddler enjoyed saying hello to the goats and pigs. The website states that you're able to stroke them, but we were unsure how that worked as there was no staff around the area.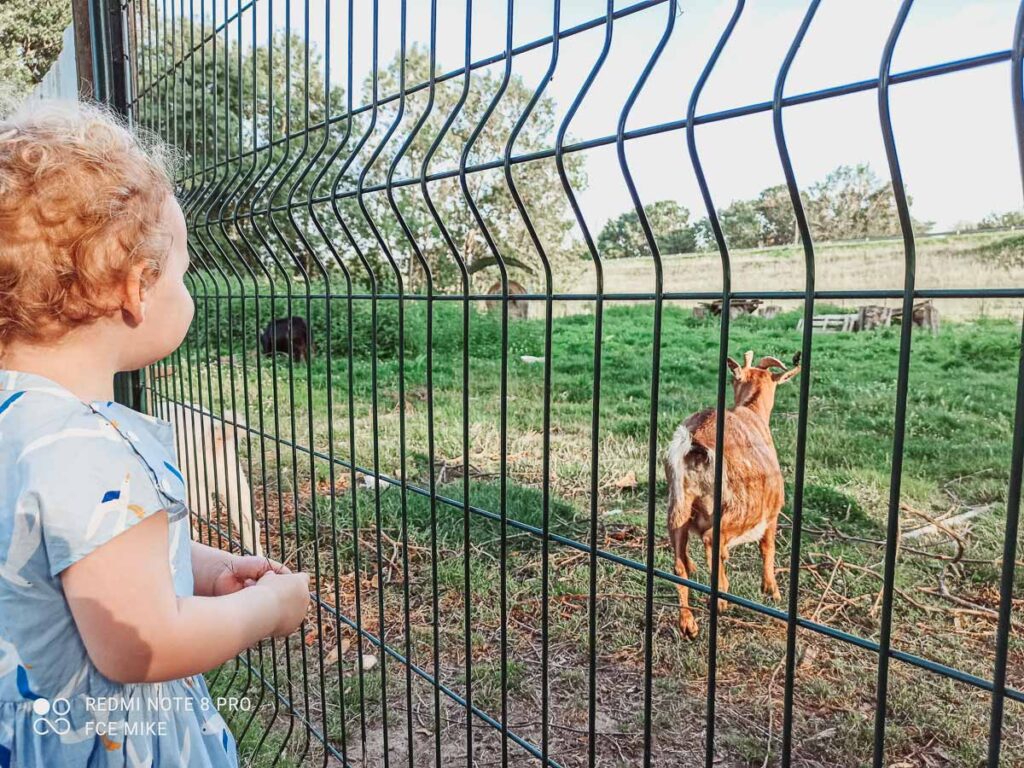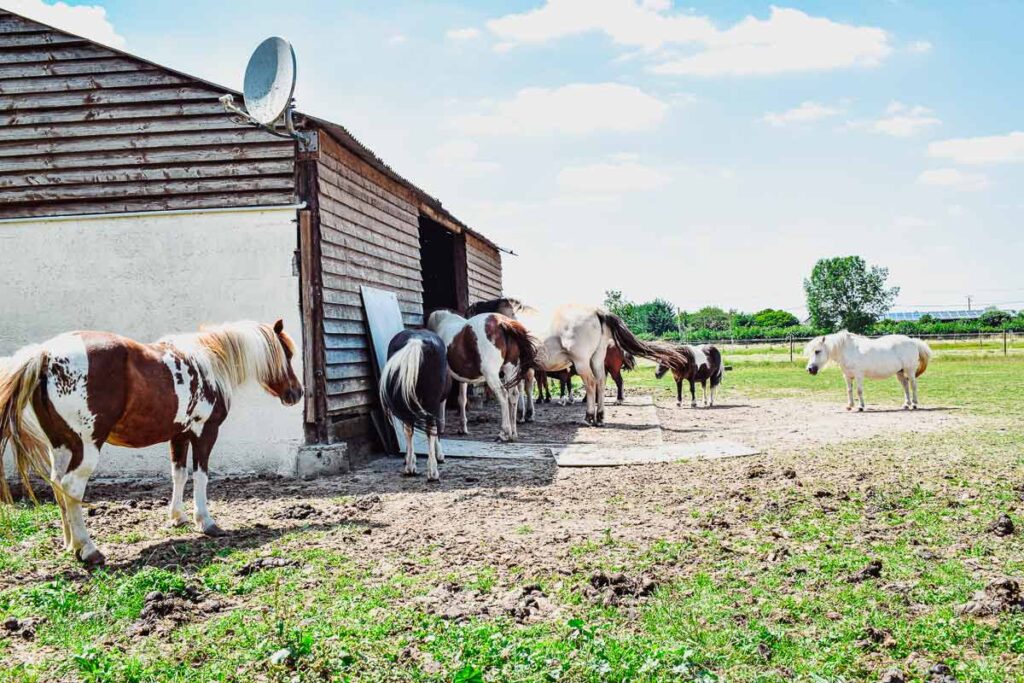 The campsite has its very own pony club. Which luckily for us, was situated right by our accommodation. This little field holds over 10 ponies and horses available for riding lessons and pony walks. For a 30 minute pony walk it will cost 10euros and participants must be aged 3+. For pony riding lessons with an instructor, you'd be looking to pay 21euros, and classes start for kids aged 8+. For other riders, the campsite often organises outdoor gallops and outings in the fields nearby.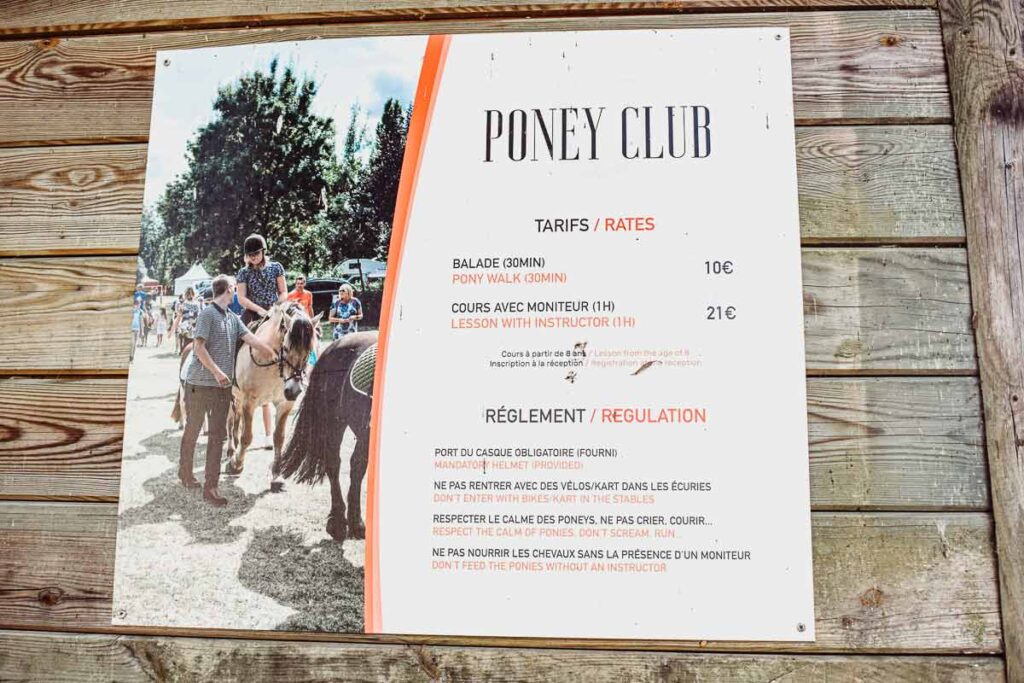 Our Video Tour Of Domaine De La Brèche
Accommodation at Domaine de la Brèche
We booked one of the cheapest accommodation units on the site, and I really think the phrase "you get what you pay for" is accurate in this case. The decking was unsteady, and the paint was flaking everywhere – but it was functional, clean and whatever they used to clean it smelt lovely.
We booked directly with the campsite and stayed in a Valley 2 bedroom mobile home which cost us around 220euros for the two nights. While the mobile home was slightly worn and tired, prices are excessive in high season, so it'd be hard to find anything cheaper other than pitching up and camping.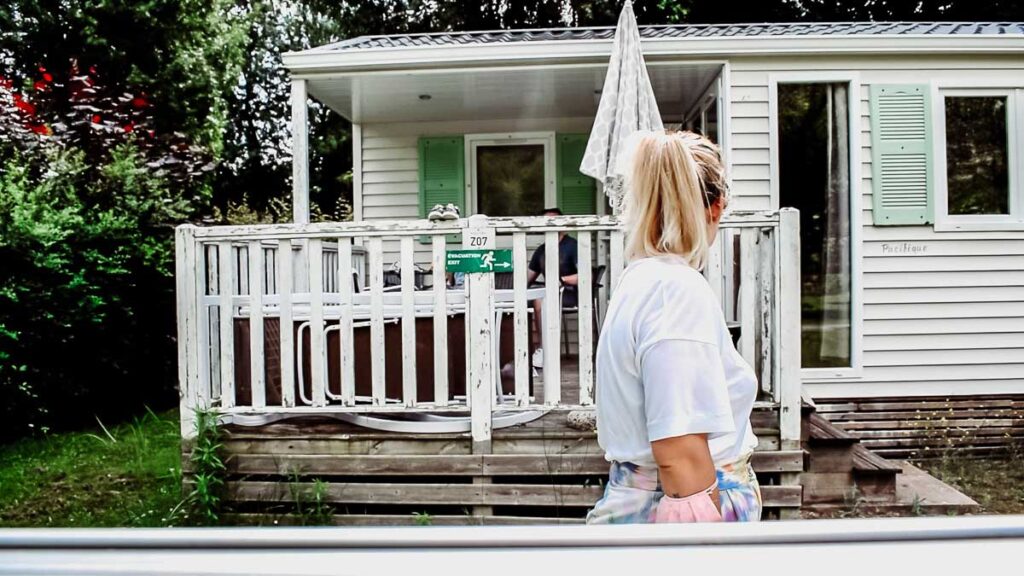 We stayed in one of the low-end accommodations but don't let that deter you from booking directly with the campsite. There is a wide range of mobile homes available, from the cheaper low ends to the super high ends with hot tubs and lake views.
If you're looking for a high-end mobile with a touch of luxury, then take a look at the Residential Luxury Taos home, 3 bedrooms, 2 bathrooms.
For a mid-range mobile, we'd recommend 
And for the lower end, we'd recommend 
A valley like we stayed in or a loft.
Otherwise, I'd recommend camping in a tent or motor home as the camping facilities are excellent, the prices are reasonable, and you can even book premium pitches with your own sanitary facilities available.
Eurocamp is the only tour operator on the campsite. They also offer a wide range of accommodation options with flexible check-ins and stays. 
Ranging from the low end classic mobile homes all the way to the high-end Aspects and Azure Plus accommodations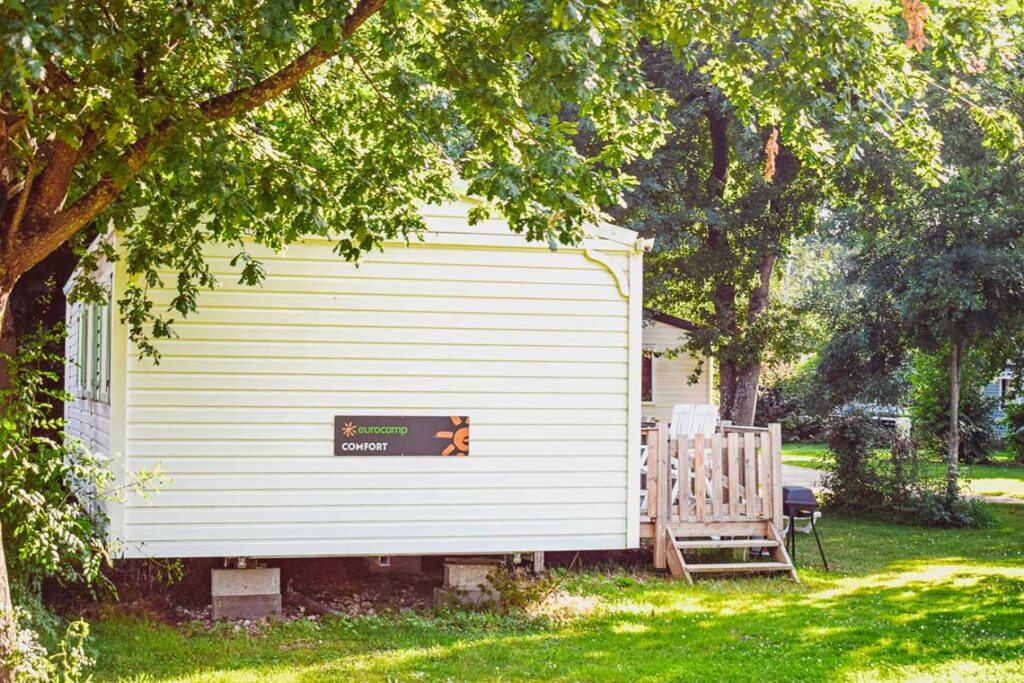 Should I Book Direct Through the Campsite or Through and Operator?
It's really down to preference. We chose this time to book directly even though we usually book via Eurocamp because we saw a deal on the campsite's website. However, I should have probably price checked to see if we could have got something better with Eurocamp. 
Do You Need a Car to Get Round?
No, if you love cycling, then this is a site for you. The beautiful city of Saumur is just a short bike ride away, and there are plenty of bike routes around the Loire Valley. However, the issue with not having a car is that the campsite shop is slightly lacking and you may find you need to do a "big shop" to get all your essentials.
How to get to The Campsite
Address
Domaine de la Brèche Campsite
5 Impasse de la Brèche
49730 Varennes-sur-Loire
GPS Co-ordinates
47.24712
0.00049
The nearest Ferry ports would be any of the Caen, Dieppe, St Malo ferries from Brittany Ferries of DFDS. Travel from Calais, although cheaper, would take a lot longer.
You could also fly to Tours or Angers in the Summer months and hire a car. You could also fly to Poitiers airport out of season, which is just over an hour away.
If you are flying, I would hire a car, mainly for shopping and travelling further afield.
Any of the Caen, Dieppe, St Malo routes would get you to the campsite within a reasonable time.
Address:
Domaine de la Brèche Campsite
5 Impasse de la Brèche
49730 Varennes-sur-Loire
GPS Coordinates: 
47.24712
0.00049
Day Trips from Domaine de La Brèche
There are lots of places to visit from Domaine de la Breceh, here's just a few of our favourites…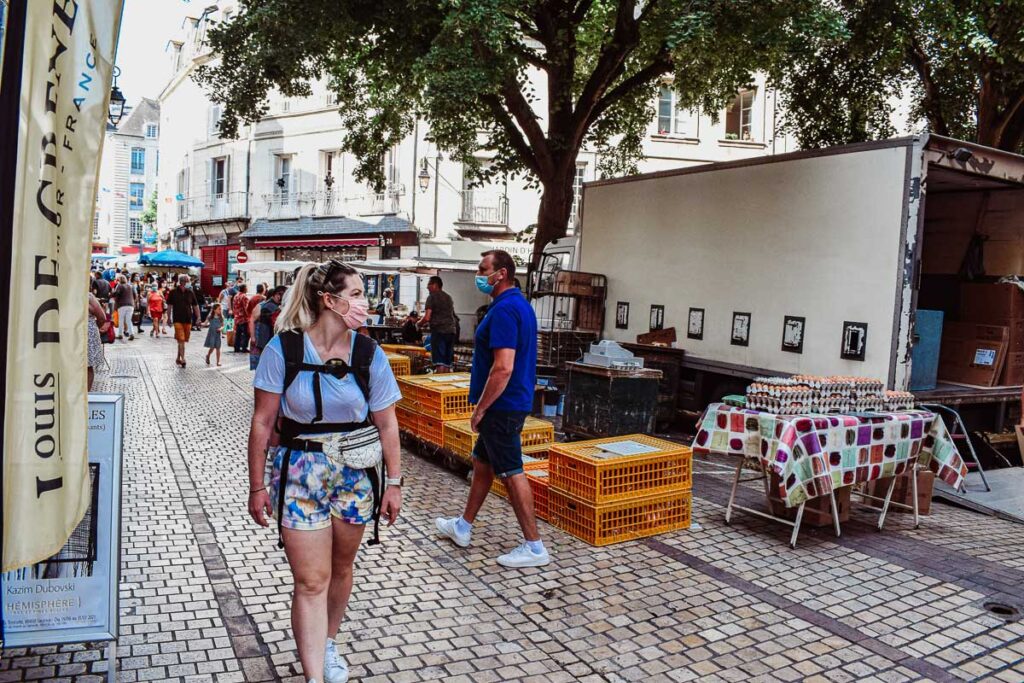 The beautiful city of Saumur is such a lovely place and is just on the campsite's doorstep. Take a bike and cycle the old streets. Visit on a Saturday morning for the city's market and enjoy Place Saint Pierre with fresh produce, croissants and coffee.
Futuroscope is a scientific theme park in the Vienne region of France. Based on multimedia, many of the attractions of the park are centred around cinematographic and audio-visual techniques. You'll find several 3d and 4d cinemas as well as magic shows, planetariums and "robocoasters". It's a great day out if you're wanting an educational yet fun trip.  
This lovely market town is home to a unique zoo built into the caves. It's also the number one roses producer in the whole of Europe so look out for the beautiful rose gardens around the town.
Home to the inspiration behind Sleeping Beauty's castle. This stunning chateau is one of Loire's most famous. It also has a beautiful garden which is worth checking out whilst you are there.
Le-Mans isn't too far from Domaine de la Breche, and if you're a car-mad family and happen to be visiting at the right time, then it's definitely worth heading to the 24-hour car race.
Frequently Asked Questions
Are the mobiles close together?
No. This is one thing we loved about the site. The pitch spaces are fantastic, and there is plenty of space between mobile homes. Most pitches are also separated with shrubbery and plants.
Yes. The campsite is easy for cycling on and the perfect location to get little ones learning to ride.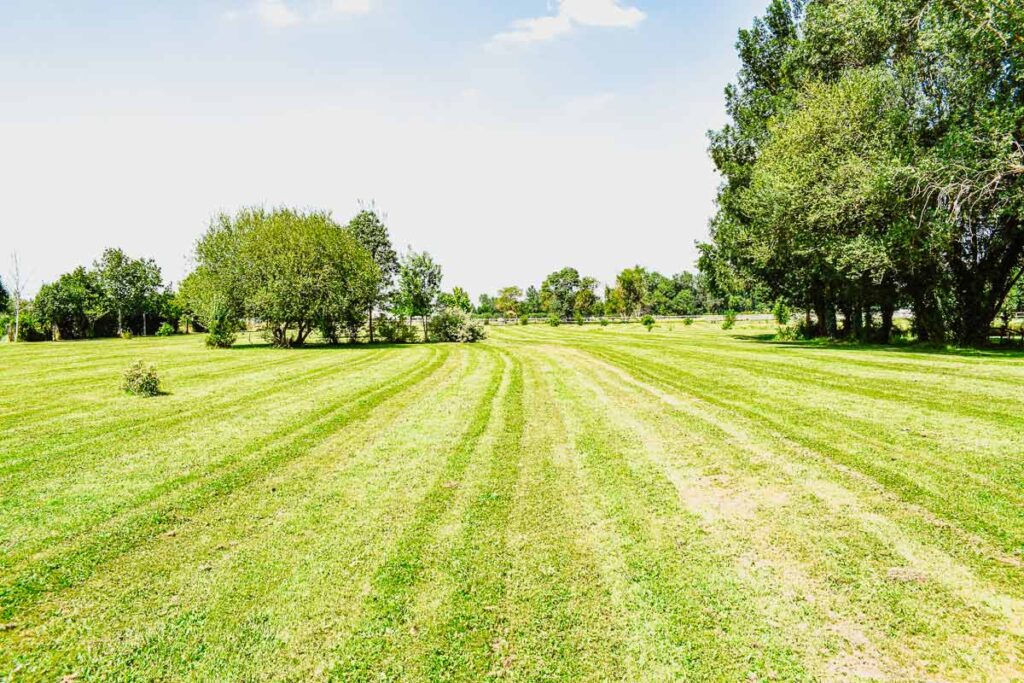 Are there mosquitos at Camping la Breche?
We didn't notice any during our stay in mid-July.
Is it easy to get a sunbed around the pool?
We had no difficulties in the middle of July. However, the campsite was surprisingly quiet for the high season, so perhaps it may be a lot harder in a "normal" year.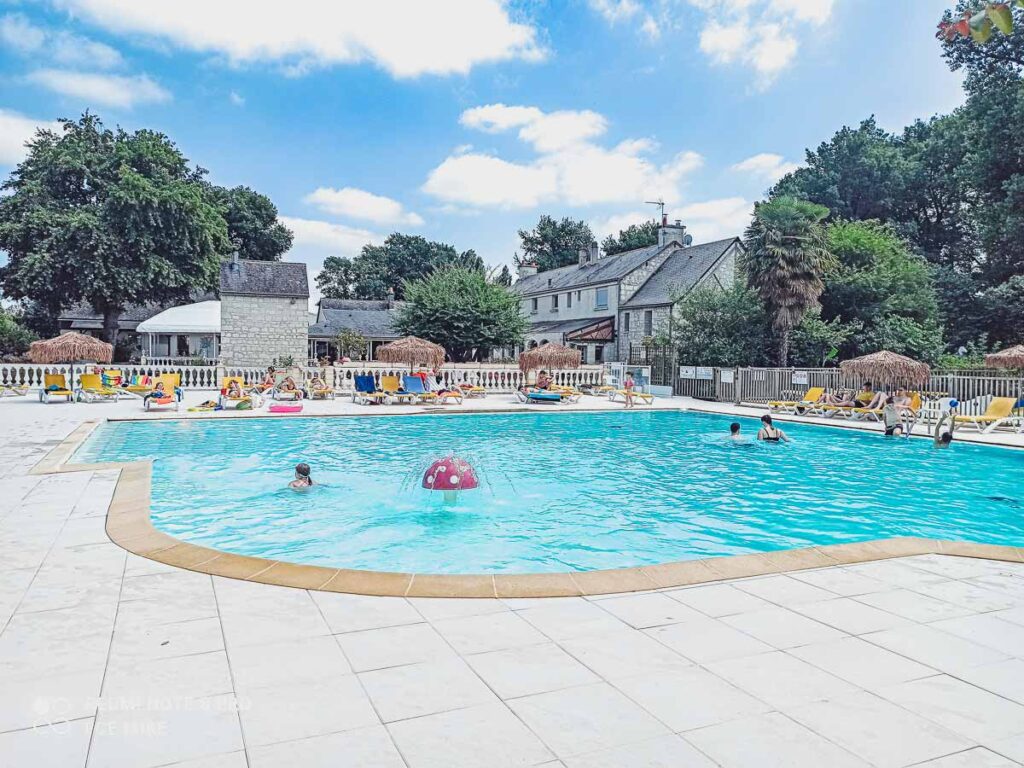 Do you need to wear a wristband?
Nope, we weren't given a wristband during our stay at Domaine de la Brèche.
Do men have to wear swim trunks?
According to the rules and regulations, yes. However, nobody was checking the pool and every man had Bermuda style swimwear on.
We didn't see anyone with a BBQ on-site, and after further research, we discovered that only gas barbeques are allowed to be used.
What Happens If I Arrive At The Campsite Late?
There is a car park just off-site which you can leave your car in. 
What's the weather like in Spring/Summer?
The weather in the Loire Valley can be unpredictable at all times of the year. You could go in May and have a heatwave yet visit in July and have rain the whole time. We were very fortunate with the weather during our stay, but we camped a week earlier; it'd have been a washout. 
Where can you watch the sunset?
The sun sets over towards the pond and grassy green. If you're looking to create some golden hour photos, this is the best place.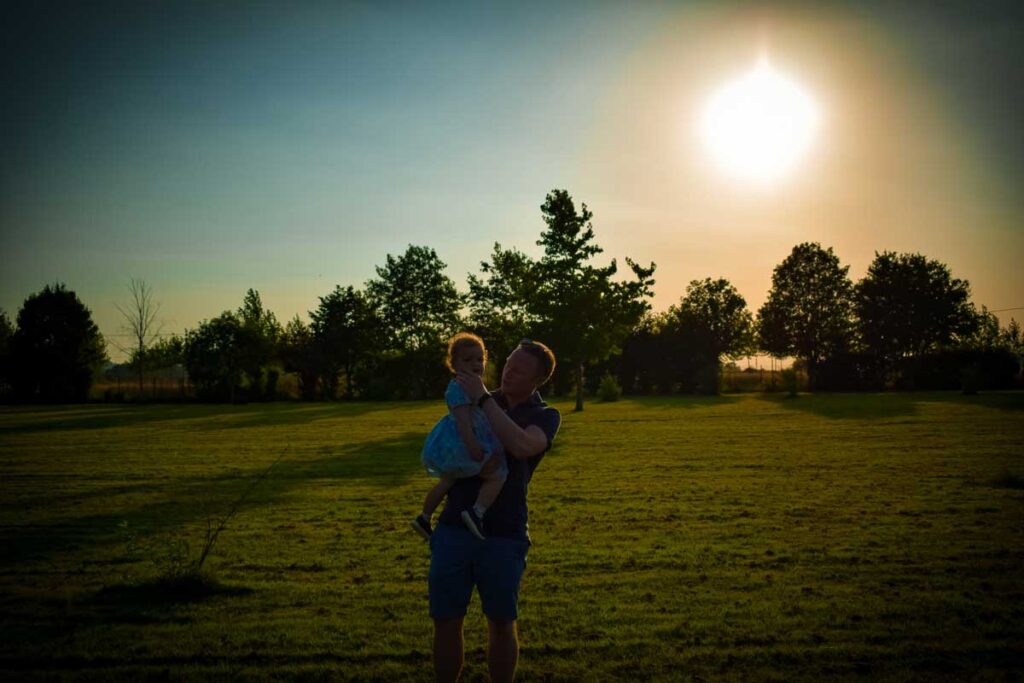 Can you park on your pitch/Emplacement?
Yes, we had no parking problems on our emplacement, but I noticed the new premium area had its own car park behind the mobile homes, so assumably, you can't park right up to those.
Can you take pets on the campsite?
Yes, pets are allowed on-site, so we took our cat. However, check with the receptions and review the rules of the individual accommodations before you bring a cat, as some mobile homes (especially with Eurocamp) don't accept animals.
Where's the nearest supermarket?
There's a LIDL just 8 minutes away by car and a SuperU 14 minutes away over the other side of the river. There is also a smaller Carrefour Contact just 10 minutes away.
My flight isn't till late, can I stay on site after check out?
This would have to be pre-arranged with the campsite reception. You will have to be out of your accommodation by 10 am, and the car would also have to be moved to the main car park.
Is It Loud In The Evenings?
The accommodation is situated away from the bar areas so it's unlikely you'd hear any noise. However, the camping emplacements are located closer to the bar area, although I imagine most of the noise is contained.
What Can We Do If It Rains?
The campsite pool has a cover to ensure that it is still usable in bad weather – so that's always one option. Another option is to explore some of the local chateaus and museums. 
Can I Use My Transferwise Card On SIte?
Yes, using cards is actively encouraged across France due to the Coronavirus pandemic.
Review of domaine de la Brèche and Conclusion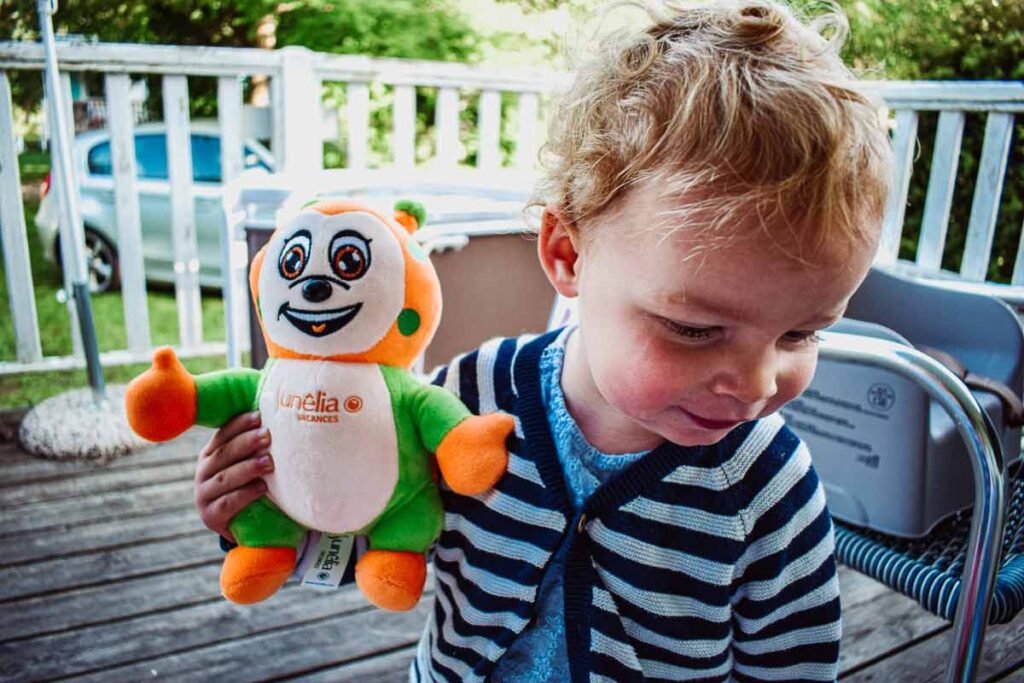 While there are many things we loved about this campsite, like the green space, large pitches, scattered play parks, and wholesome family feel, I can't help but feel like they're not really open yet.
They are charging high season prices yet offering low season facilities.
The toddler pool closure was a massive disappointment. This wasn't communicated to us before booking or even before arriving, or EVEN on arrival, Which is all the more disappointing.
The takeaway had minimal options, the restaurant was closed, the shop was half empty and closed for half the day, and it just felt like they weren't ready for Summer.
I imagine lots of these problems are thanks to COVID however there are lots of campsites offering all their usual high season activities which have been fully booked for the whole of July. So indeed, something has gone wrong somewhere.
For such a lovely campsite offering such open, natural space, good pool facilities and being part of a chain like Sunelia, I expected a lot more. But, unfortunately, it seems nothing like the memories I had of it in 2012.
Perhaps it'd be worth returning in a few years when even the mention of covid-19 seems like a distant memory, and things may be better.
I'm rating the campsite a 2.5 out of 5. So many things I loved, so many things that disappointed us – so it seems only fair to sit my rating in the centre.