Marvilla Parks La Vallee Campsite Review Perfect for first time european campers heading across the channel
Or those meeting with family…
La Vallee Campsite is situated in Houlgate, Calvados department near Caen. Camping in Normandy has never really been a desire of mine. However, with its proximity to Ouistreham ferry port, La Vallee campsite is an excellent option for first-timers heading across the channel.
We used the campsite as a toddler and baby-friendly base to meet with family based in England. Whilst our holiday was great, it wasn't perfect; as always, there were a few niggles, but we'll get to that later on…
Pros of Camping la Vallee
Lots of things to enjoy with this one…
Cons of camping la Vallee
Every family prefers certain things about a campsite, so our "cons" could be on your "pros" list!
Check Availability And Book Camping La Vallee Today
Clicking the button below will open the providers website in a new window.
Pool complex at Camping la Vallee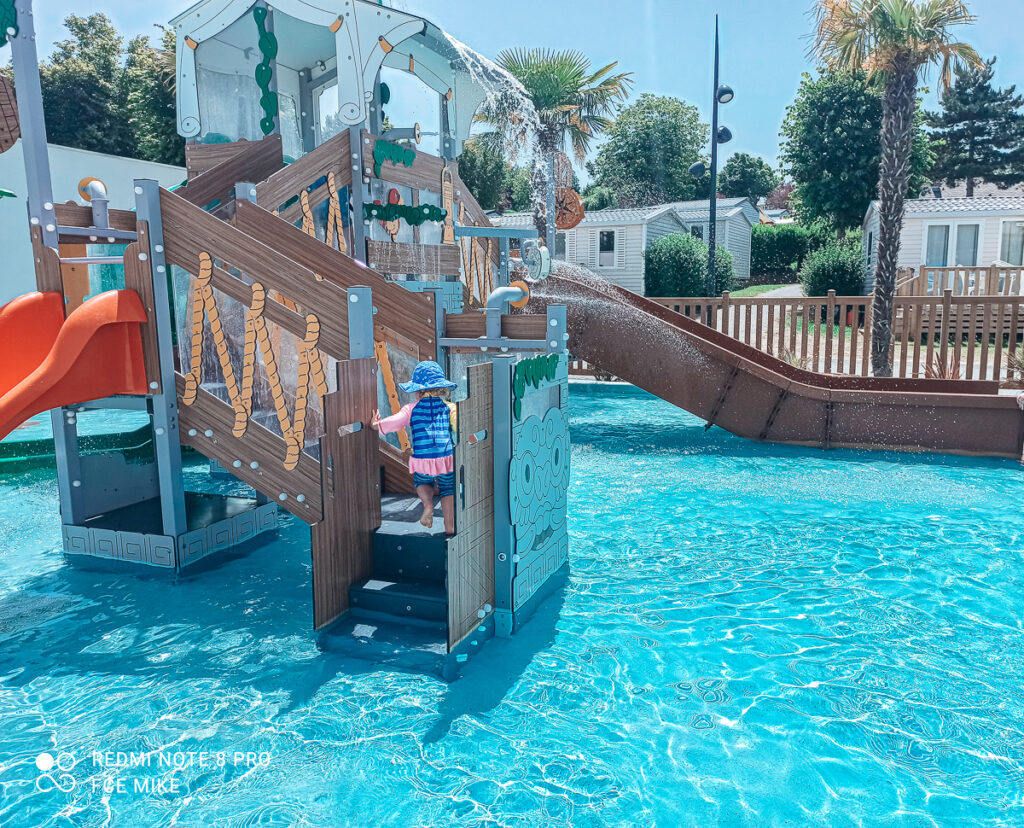 The pool complex here is excellent! There's an indoor/covered pool, an outdoor lane pool, a toddler pool, a splash park AND fun, fast slides. Our favourite area was definitely the splash park. It was absolutely fabulous for toddlers and young children. It was also brand new this year (2022).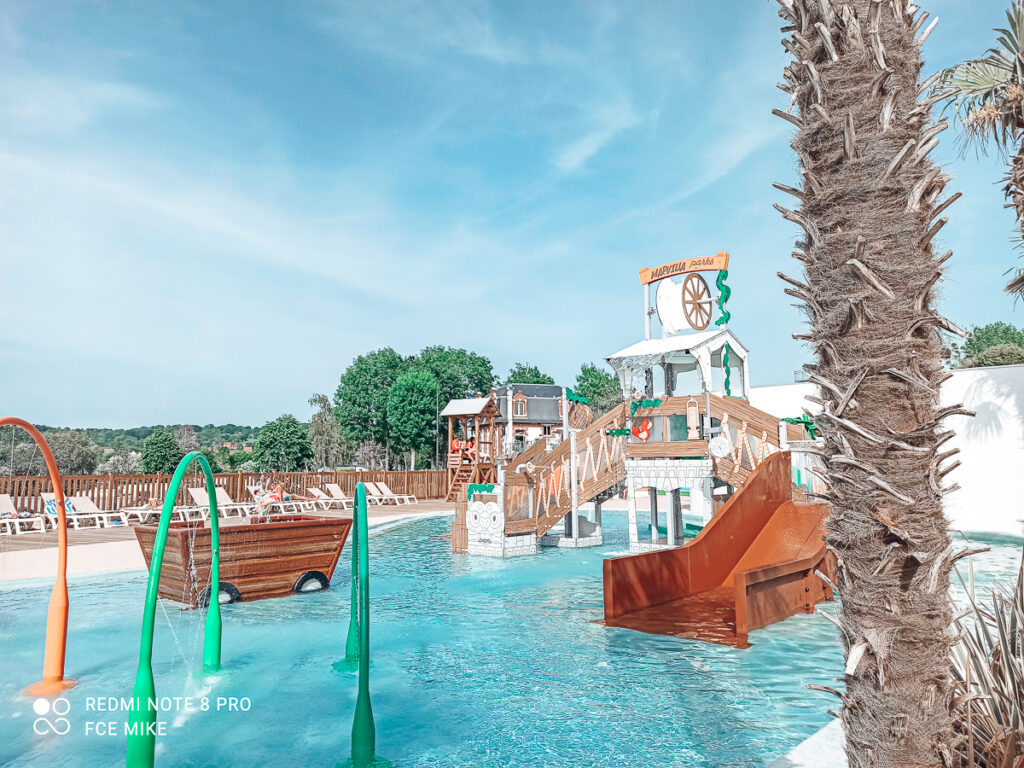 The splash area and pools were surrounded by plenty of sun loungers; however, we were surprised to discover there were no parasols at all. During our holiday, we had a heatwave of over 30 degrees temperatures. So if you need the shade, definitely invest in a parasol to bring with you.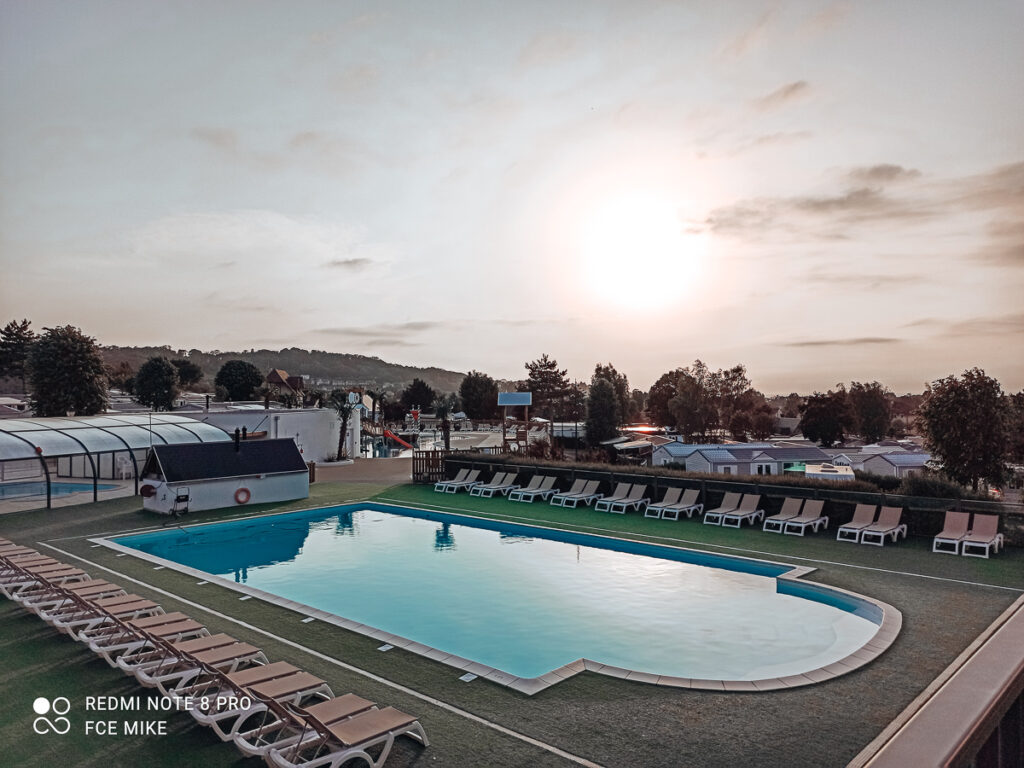 All the pools are heated, which is definitely needed in Normandy; however, you may still feel the cold on a particularly dreary day. For example, on one of the miserable days, we figured using the indoor pool would be a great idea. Yet, with all the sides open, it was freezing and very crowded.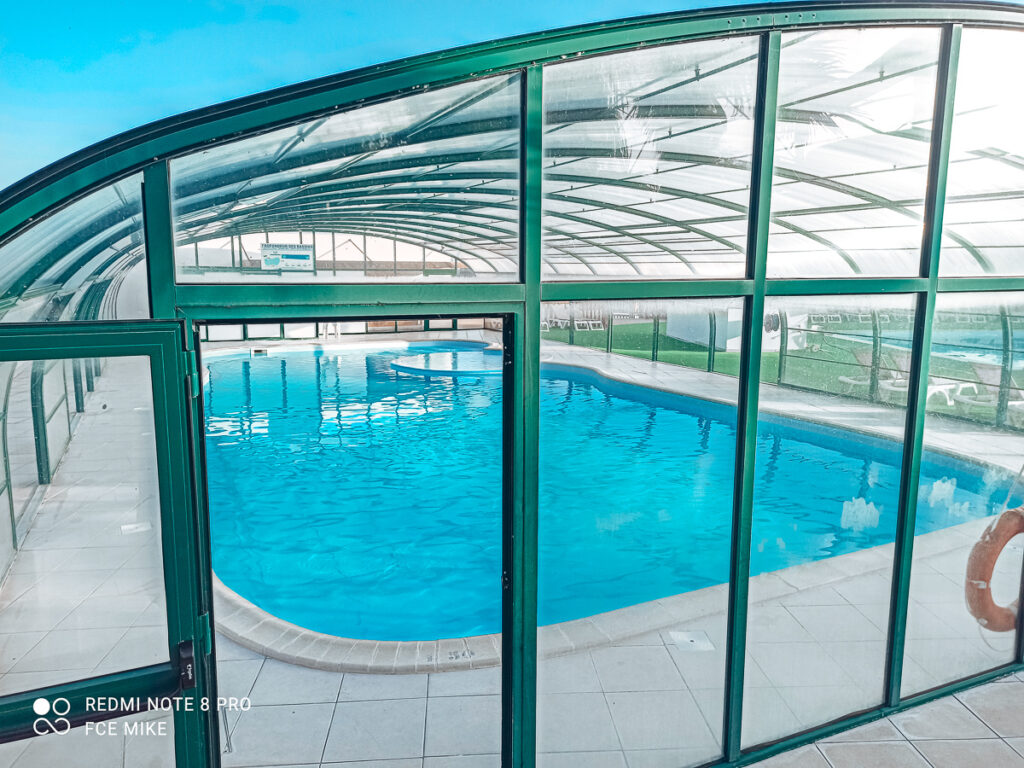 The waterslide area has 3 types of slides. A 3-lane fast, racing-style slide, a blue toboggan and a big red space bowl. The space bowl is pretty aggressive and has a minimum age limit of 16. If you watch the vlog from our stay, the slide footage is in real-time, and you do go that fast!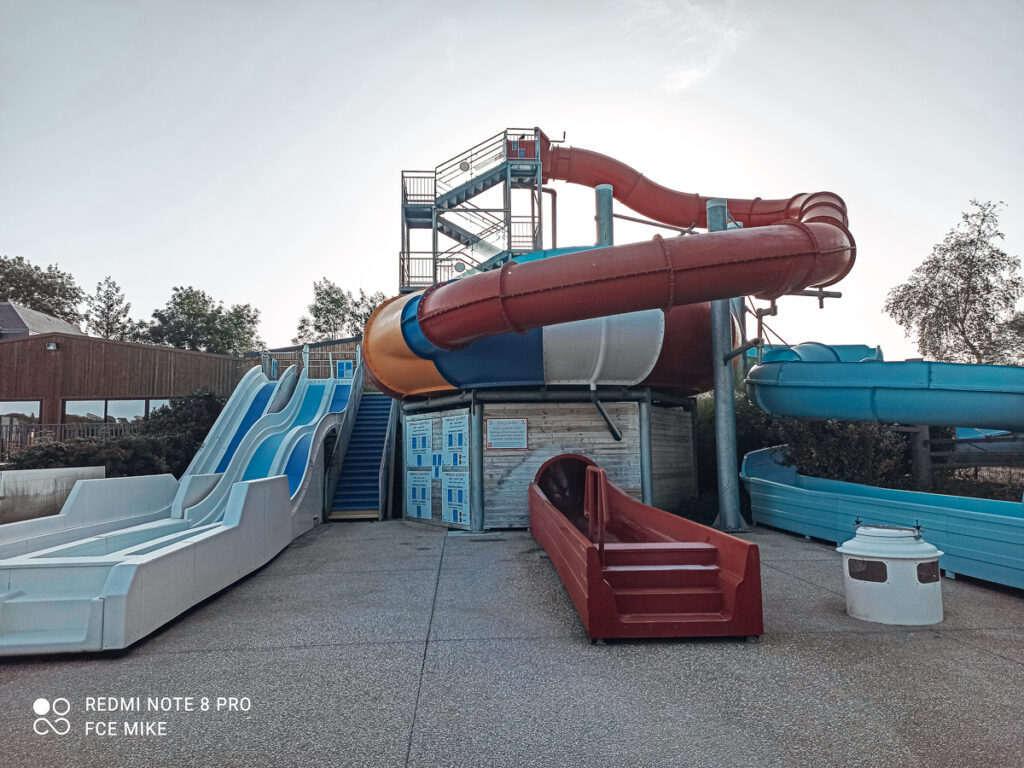 We were often warned about how strict the "speedo rule" is on La Vallee. And like always, Mike wore his under his regular board shorts with the idea of taking the board shorts off if required. However, we were never stopped. This isn't to say board shorts are OK because the law can be enforced at any time, and a different lifeguard may see fit to implement it. So risk it if you will but always have a pair of speedos/jammers just in case.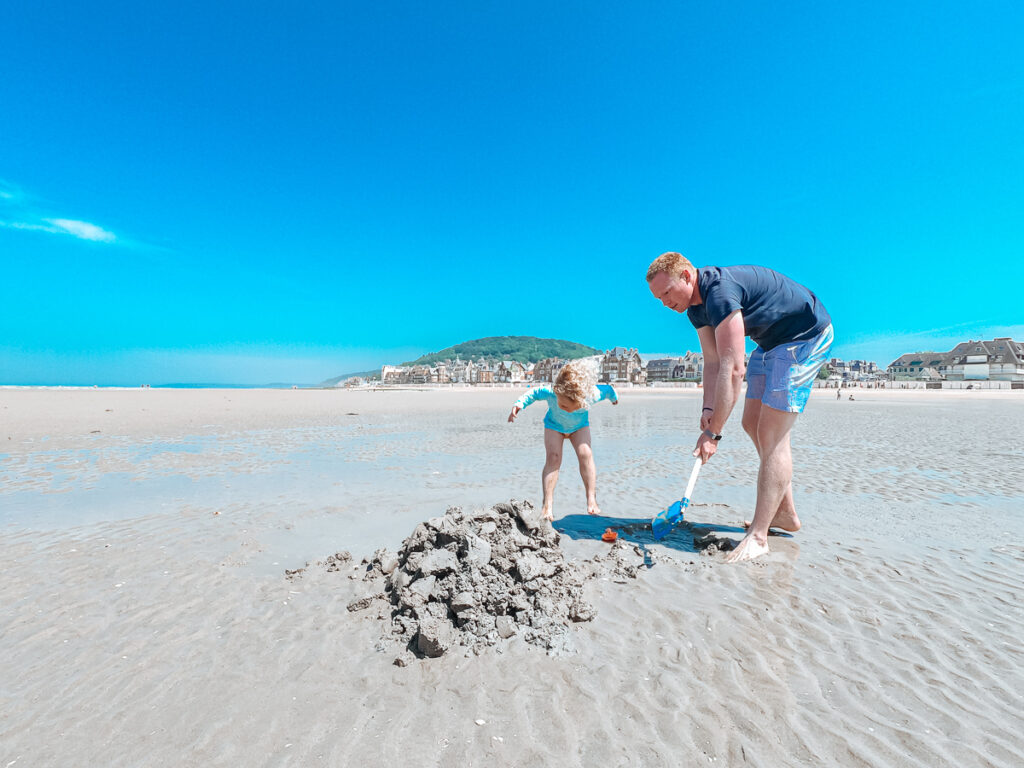 The beach is around a 25-40 minute walk, depending on whether you're walking with a toddler. The route to the beach is primarily flat, with a slight decline, although pavements are poorly maintained. Though we still managed to drag our new chariot filled with beach equipment to and from the beach. We spent quite a few days at the beach and enjoyed the warm water pools when the tide was out.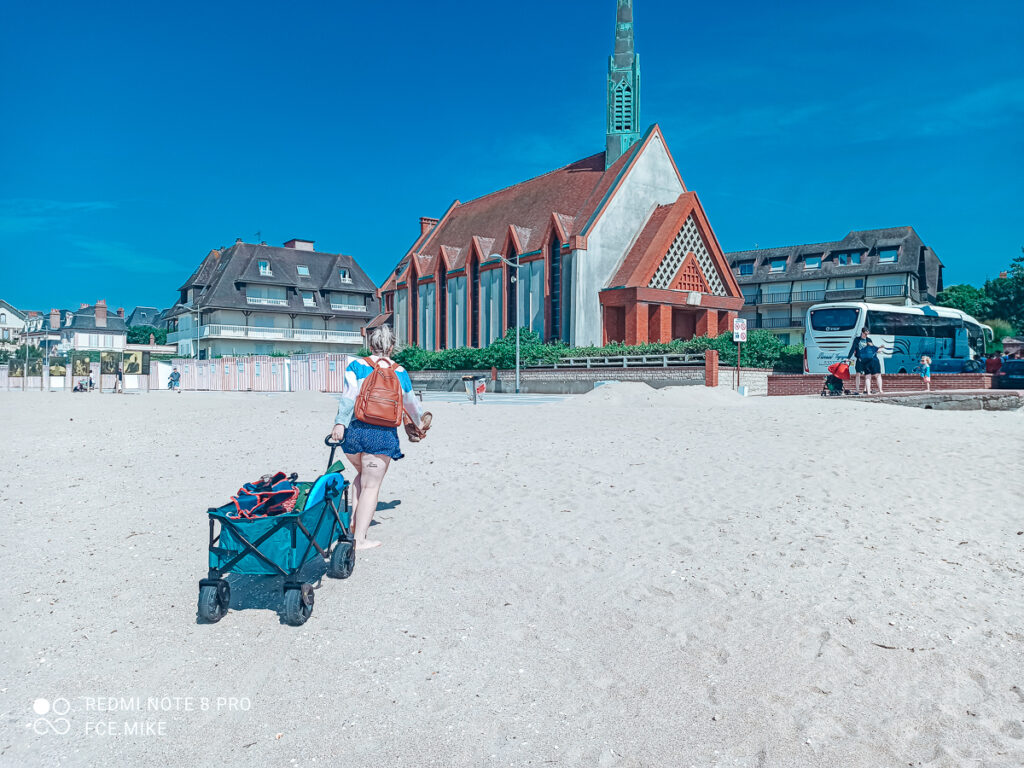 However, we found the beach area very windy even in good weather. Warm but windy. The sand was very shelly, so beach/sea shoes would be helpful for little feet. It's an excellent beach for digging, as Mike and the toddler discovered. I also found it was a good beach for relaxing!
There are a few toilets along the beachfront, but you'll need to bring your toilet roll. 
There's also a beach bar to the left side of the beach, which sells drinks, food, and snacks and has fun children's play area alongside it.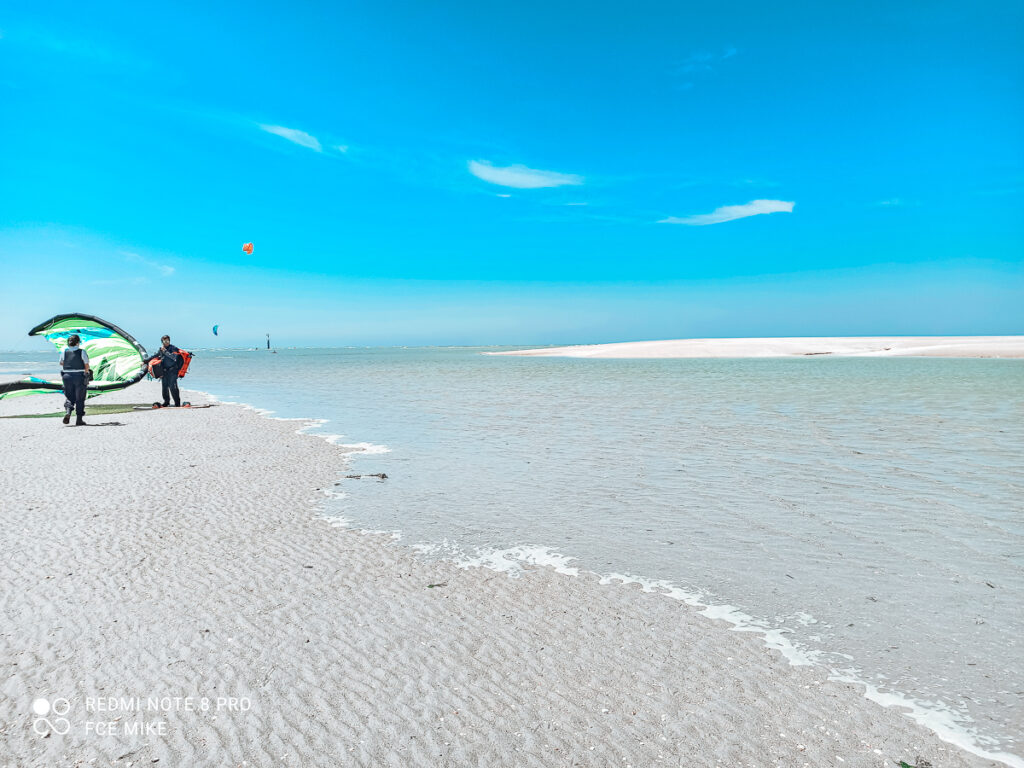 A point to note is that when the tide is out, it leaves a sizeable sandy embankment. Every day the police and lifeguards turn up to have to remove stranded sunbathers from the island. The tide comes in very fast and surrounds the island, making it challenging to get off. Then, the island is swallowed once the tide is entirely in.
The beach is a kite surfing hotspot if you are also into watersports. There's an area specifically for it, and we saw many kite surfers practising during our stay.
Check Availability And Book Camping La Vallee Today
Clicking the button below will open the providers website in a new window.
Whilst it's not a massive resort, Marvilla Parks La Vallee campsite had plenty to keep us all occupied.
The place you go to let them know you've arrived…
Located at the entrance to La Vallee, the main reception looks like a glass box. We rarely used their services during our stay, which is always a good thing, because regular reception use generally means there's a problem.
We used the main reception to buy some laundry tokens because our barrier code stopped working on the final day. Everyone we spoke to at the main reception was helpful, friendly and kind. We mostly spoke French to them, but if needs be, they could also speak English.
If you require any day out ideas, the reception is also full of leaflets and flyers from the local area.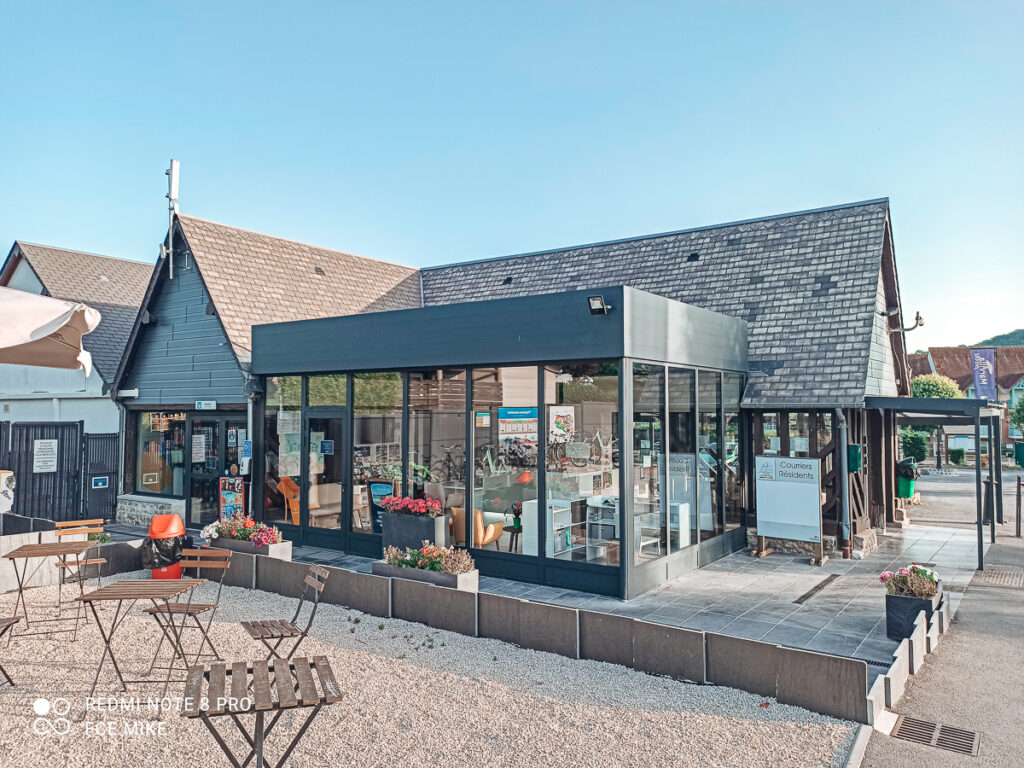 At most Eurocamp sites we've stayed at, the Eurocamp team have their own reception unit. However, at la Vallée campsite, they are situated at a desk inside the main reception. I'm not sure I like this. I loved visiting a Eurocamp reception and finding their personalised space filled with local information, maps, games and photos. However, this desk all felt a little soulless. When we arrived, I checked in with Félix, a German rep. He asked us for our name and booking reference. He then gave us information about the facilities and the local area. Finally, he handed us an envelope with our key, information about tide times, kids clubs, entertainment and a map with directions to our accommodation.
Although this was the only time we used the Eurocamp reception, we were also visited the next day by a friendly French Eurocamp rep called Kruzty to check everything was OK with our accommodation and to ask if we had any questions.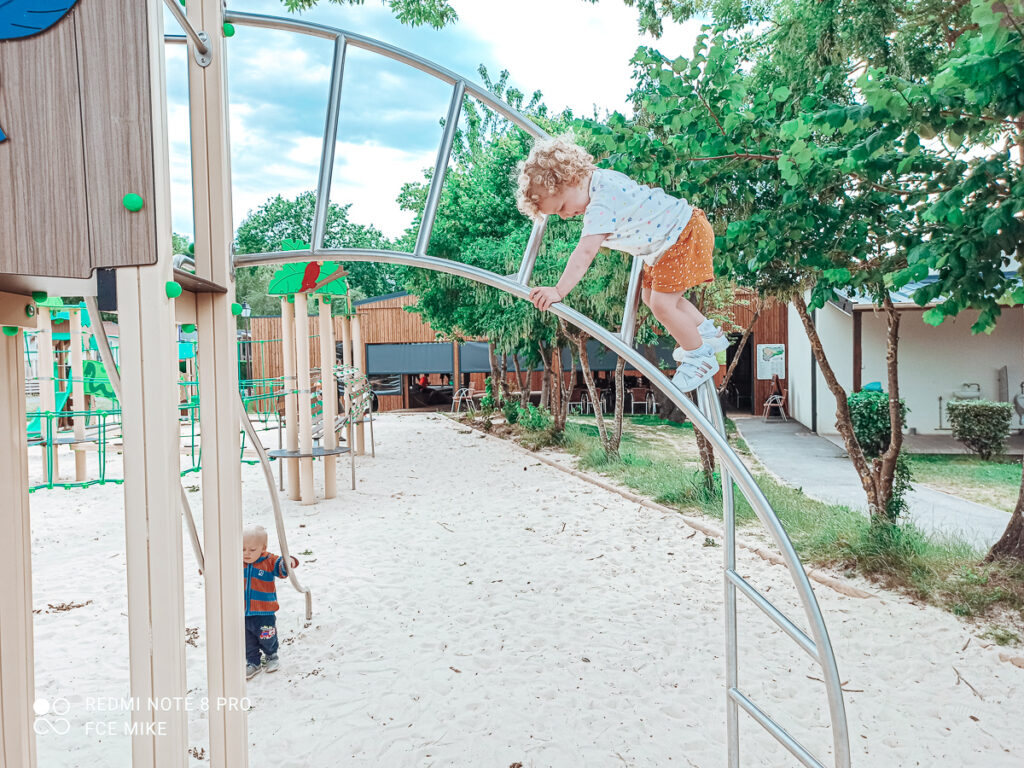 We enjoyed the play areas at La Vallée, especially the brand new one near the bar. 
The play park near the bar was a little tired but definitely still a good park. There were slides, climbing frames, seesaws, swings and a rocking pirate ship. It's located right near the camping pitches, so sanitary blocks are close, as are the bouncy castle and ping pong tables.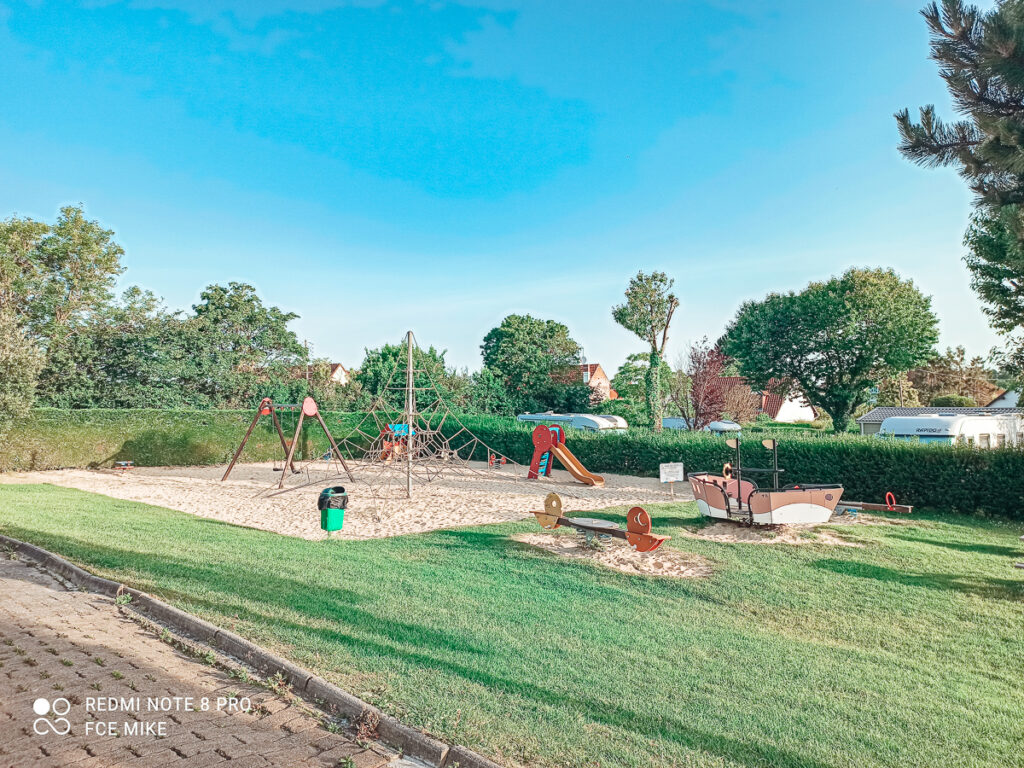 Behind the bar and entertainment area is the new "green" park (as we fondly call it). This latest play park had 2 slides, a climbing frame and an obstacle course-style frame in the middle. Our toddler really enjoyed this park, although she did need constant parental assistance on the larger climbing frame.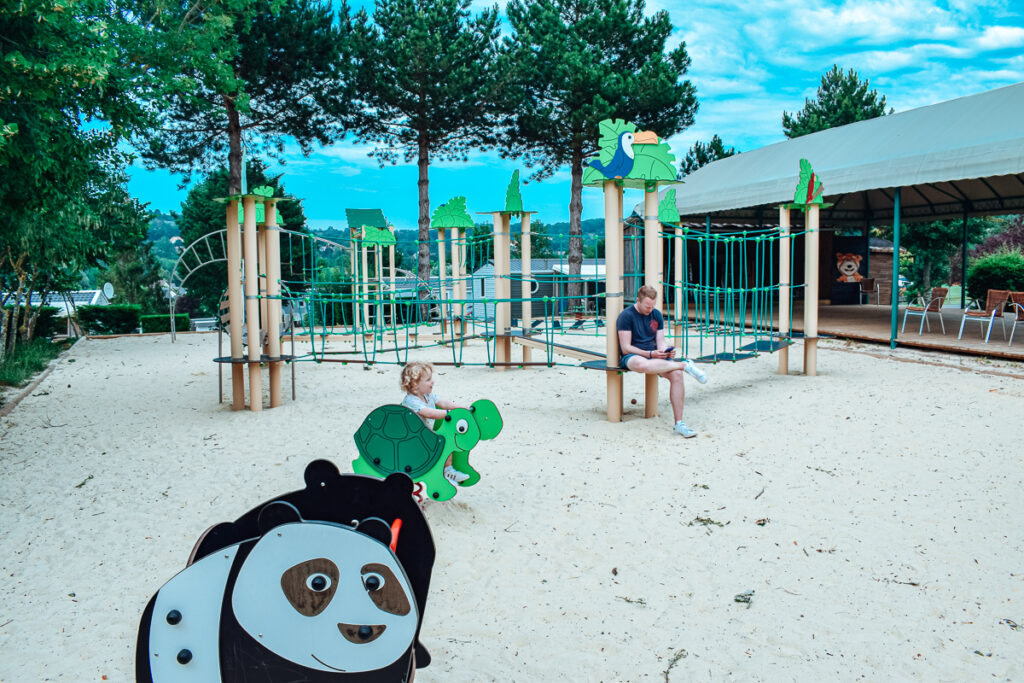 The bouncy castle is located In the sheltered area next to the ping-pong table. It seemed to be up every day, although some mornings it was inflated earlier than others. We found the mornings were best for solo bouncing, whereas some afternoons were full of bigger kids.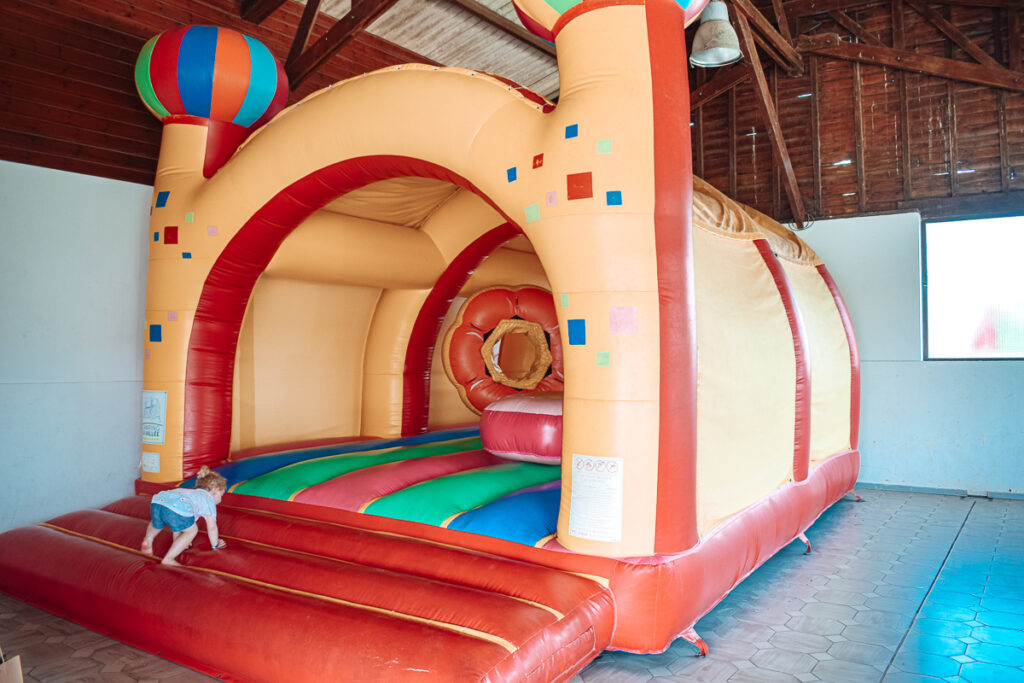 Along with the bouncy castle are 4 table tennis tables under the shelter, so good for rainy days.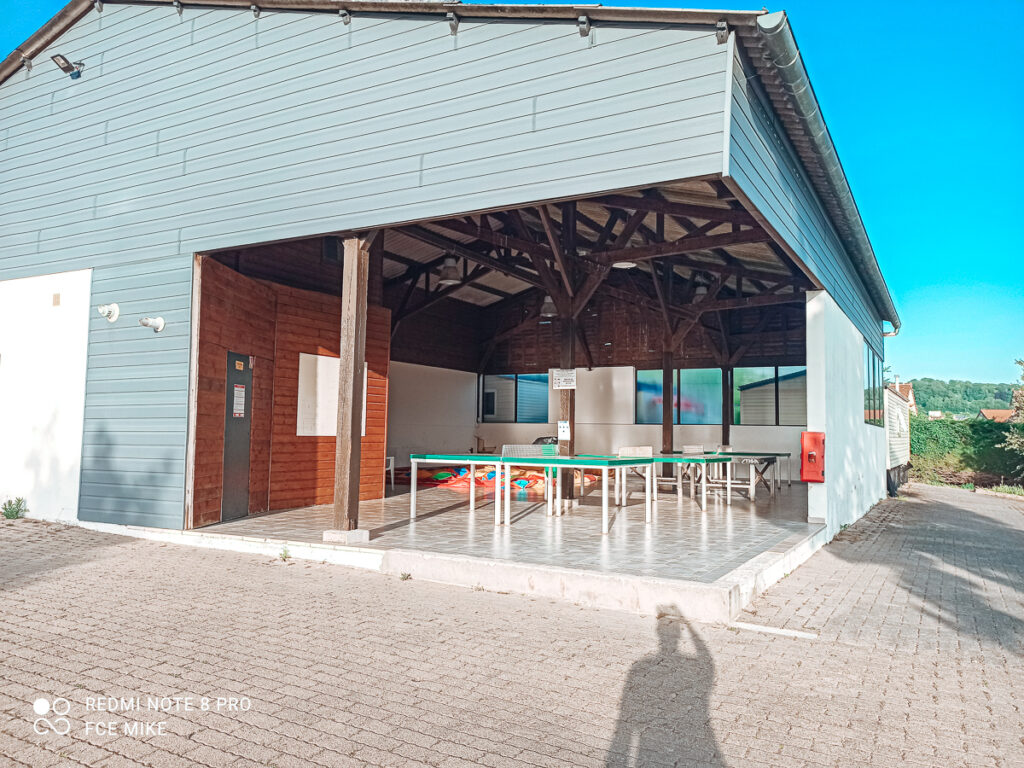 Another great rainy day activity, especially for older kids, is the games room. Here you'll find air hockey tables, electronic basketball, car racing, dance mats, pinball, pool tables, mini football and more.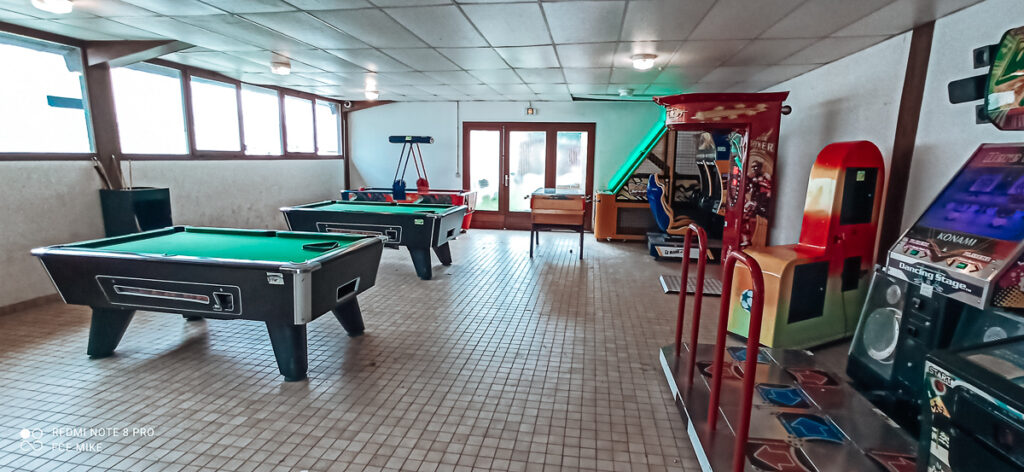 There was a large football field to the far end of the campsite. However, there is a scaffolding stricture blocking the pitch. I think it has been built for climbing activities. Yet, we never saw it in use.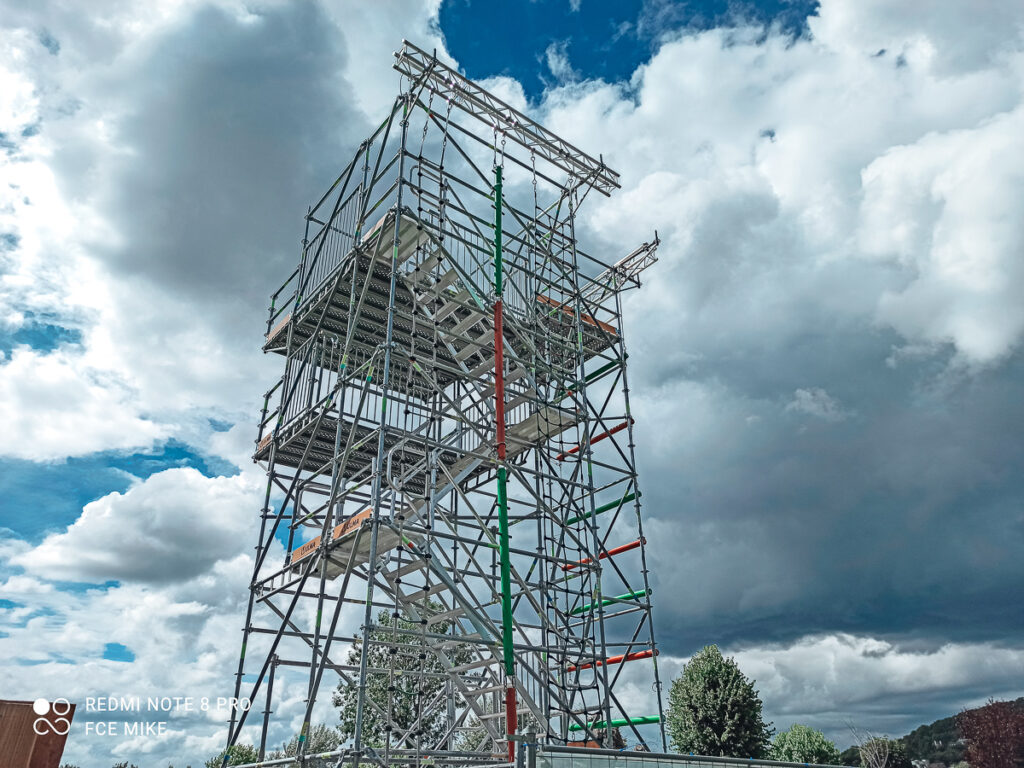 The multi-sports court was well maintained and situated at the campsite's far end. Perfect for playing 5-aside, basketball and a whole host of other sports.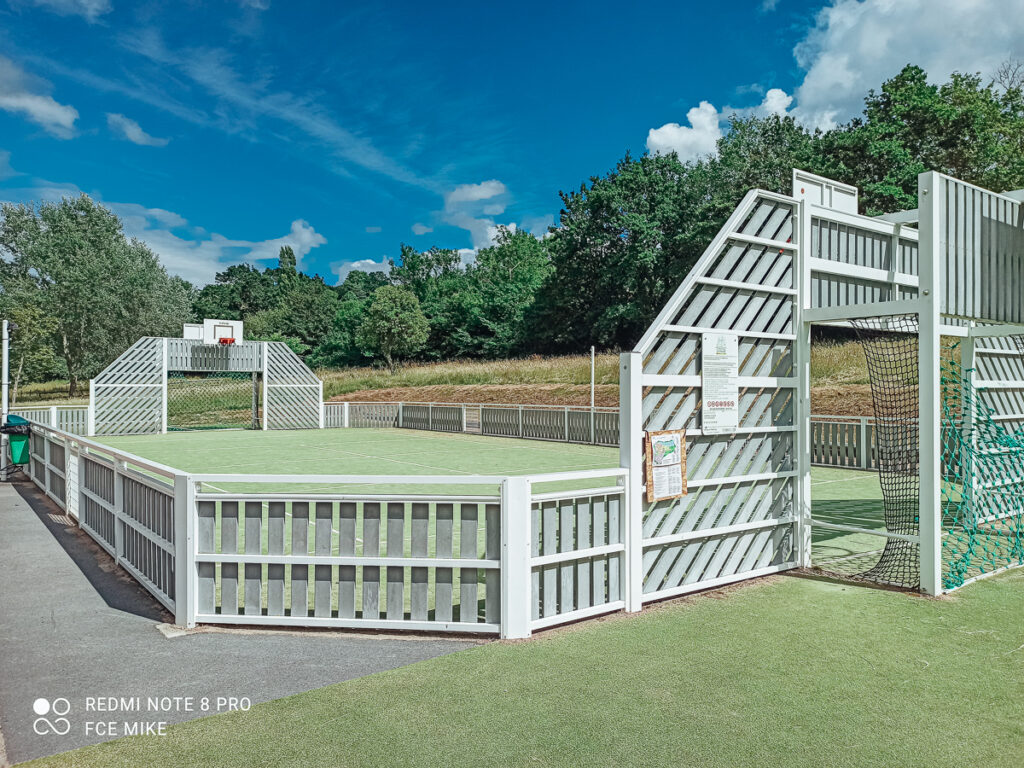 The tennis courts were regularly in use during our stay. The court is well maintained and must be booked 2 days in advance at the main campsite reception.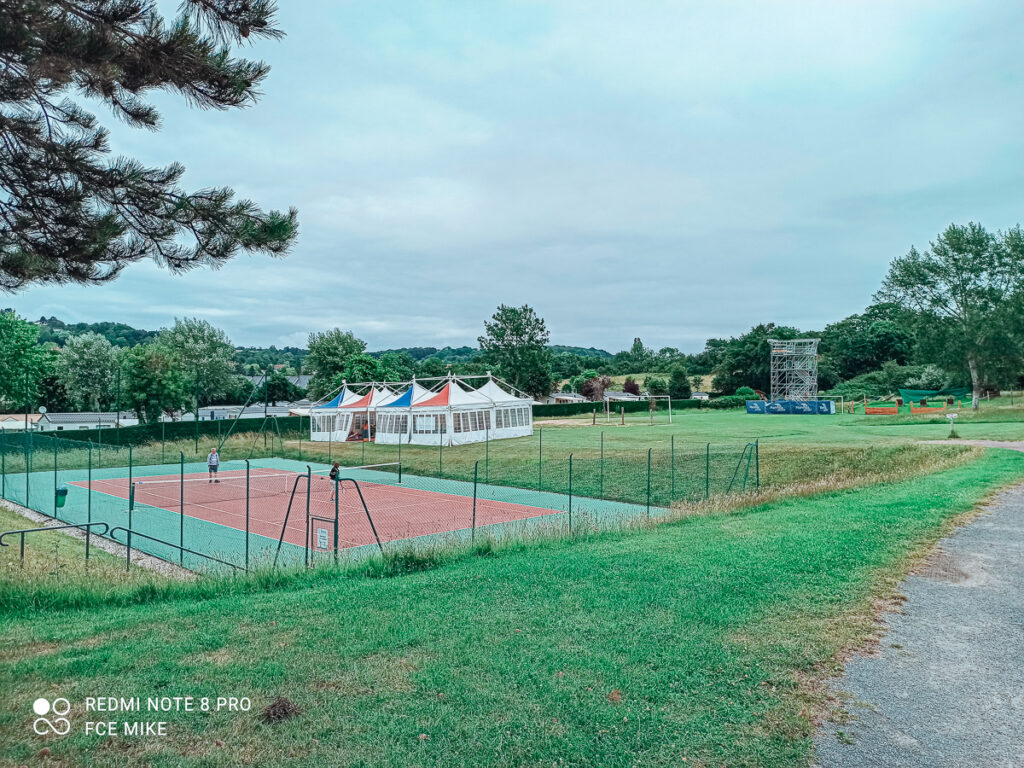 Like tennis, the volleyball court was in regular use during our stay. However, this area did look a bit tired and could definitely do with a revamp.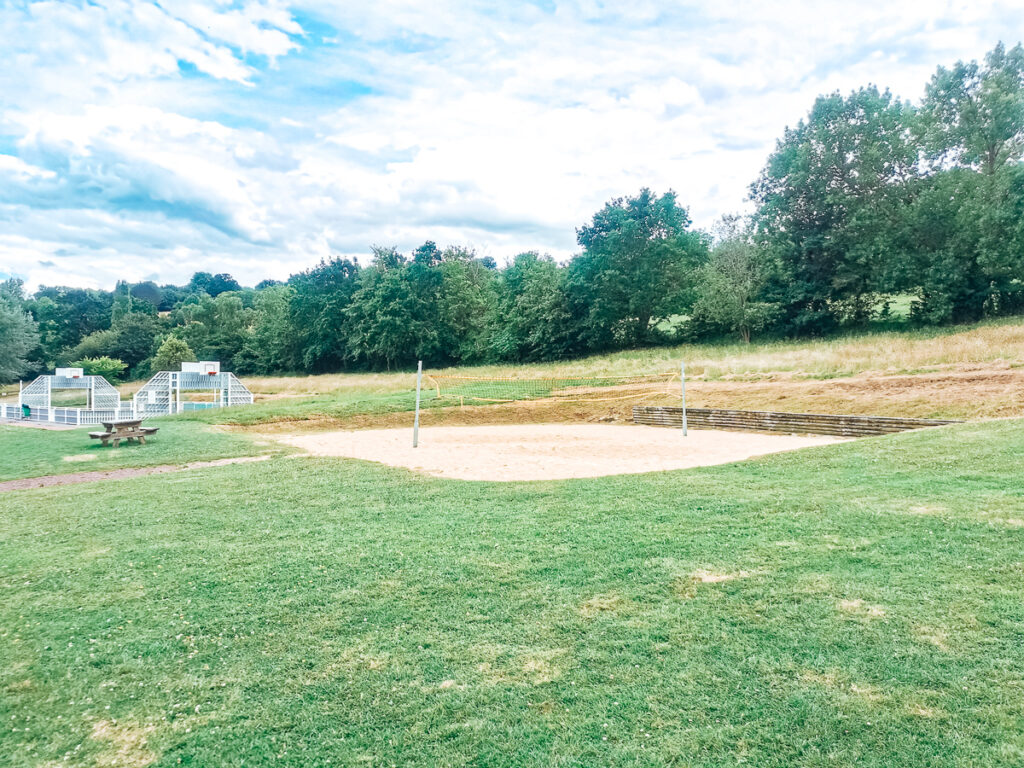 The favourite sport of the French, also known as boules. We regularly saw guests playing petanque during their stay. Sometimes on the petanque area outside the main sanitary block at the campsite's entrance. Other times at the other court by the bar area. And other times were just playing on their pitches.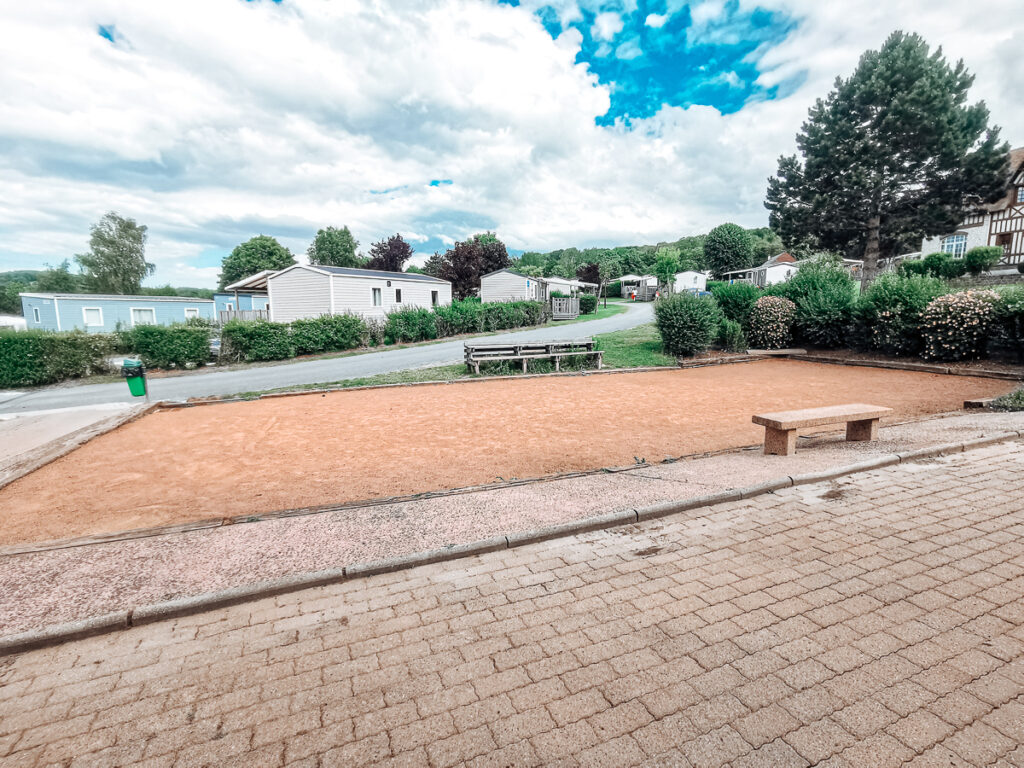 We also noticed an area at the back of the field for archery, although we didn't see this in use during our stay. I imagine it must be part of the animation schedule.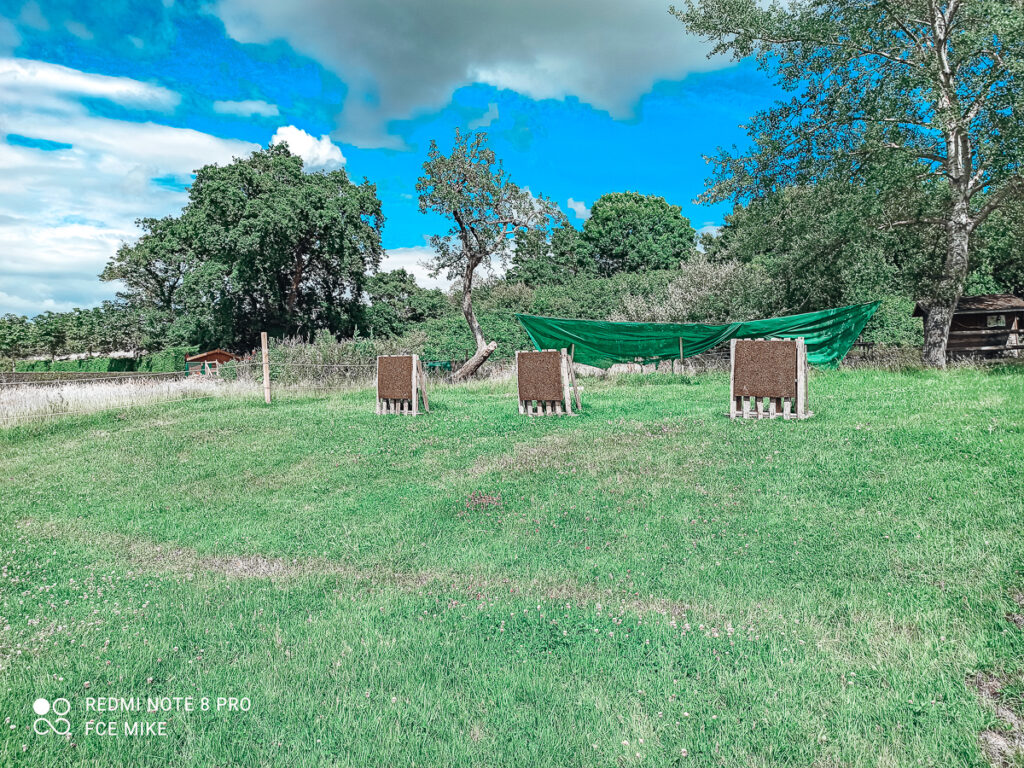 I had such high hopes for the kids club, in fact, it was one of the reasons we chose La Vallee. However, like our trip to Le Vieux Port, I was left underwhelmed by the kids club team.
In my head, I imagined lively animateurs who knew how to talk to kids. But maybe my expectations were just too high? I arrived at the "fun station" tents Friday morning at 9 am for the "Motor Skills" session aimed at children aged 0-4. We were the first family there and were barely welcomed with a hello. In fact, I had to ask if it was open as the kids club rep didn't communicate with my toddler.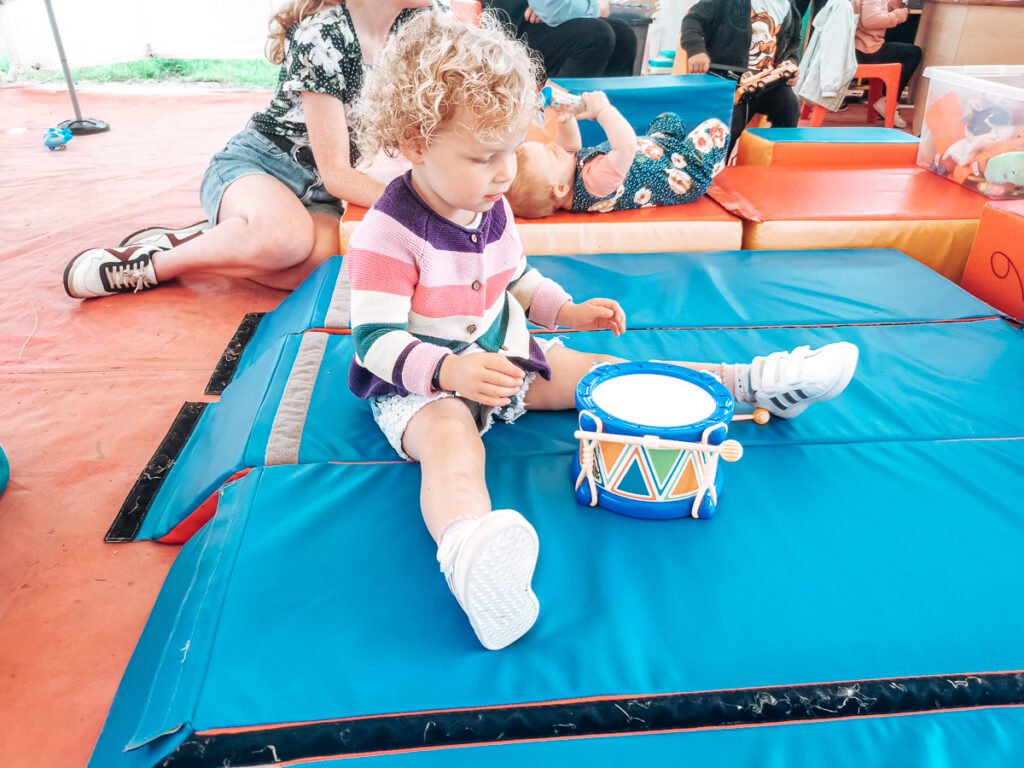 After confirmation that it was, in fact, open, I sat there waiting to see what was going to happen; what was the kids club like? But there was nothing…no interaction whatsoever. So, in the end, I told my toddler to just play with the toys I could see and hope that more children would arrive. Thankfully they did. Lots of children came even. And after about 30 minutes, the kids club rep reluctantly taught a few of the older kids how to make magic wands with arts and crafts – the interaction I had been searching for. 
I'm not sure if it's a language barrier, a cultural thing, or just how the kid's clubs are these days, but it definitely wasn't what I expected. So we didn't bother trying again. I wanted to see if it'd improve with a different rep; however, the early 9 am starts meant rushing around with breakfasts and getting dressed. We were usually only ready for the day at about 9.45.
Perhaps the older kids' clubs were better; it was just a bad day. I'll never know the answer.
The kid's clubs are on Monday to Friday and run in 3 groups: 0-4, between 9-10 am. 4 to 12-year-olds which runs 10am till 12 and then again 3pm till 5pm. Then lastly the 13-17-year-olds which runs 3pm till 6pm.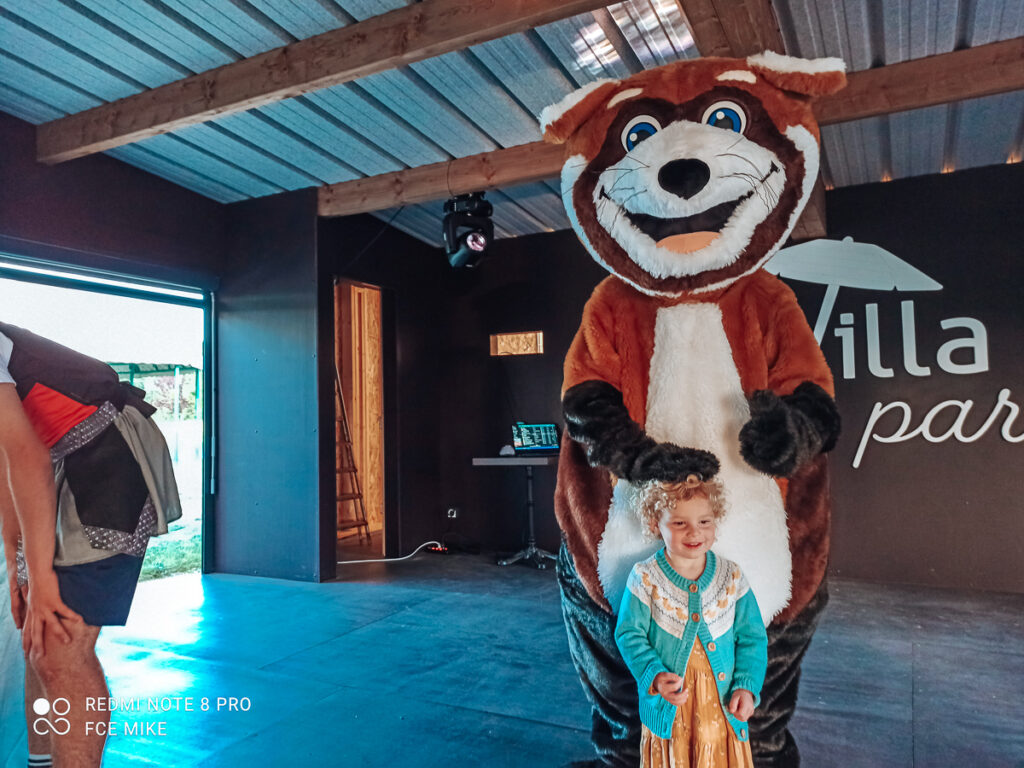 Another activity from the Marvilla parks meets fun station team is the campsite Mini Disco. A firm favourite with our active toddler. It started around 8.30, which I feel is too late, but as it only lasts 25 minutes or so, we extended her bedtime a few times to let her dance it out. The songs are the same, so if you religiously go every night, no doubt your children will learn the dance routine and recite it repeatedly.
Animation for older kids and adults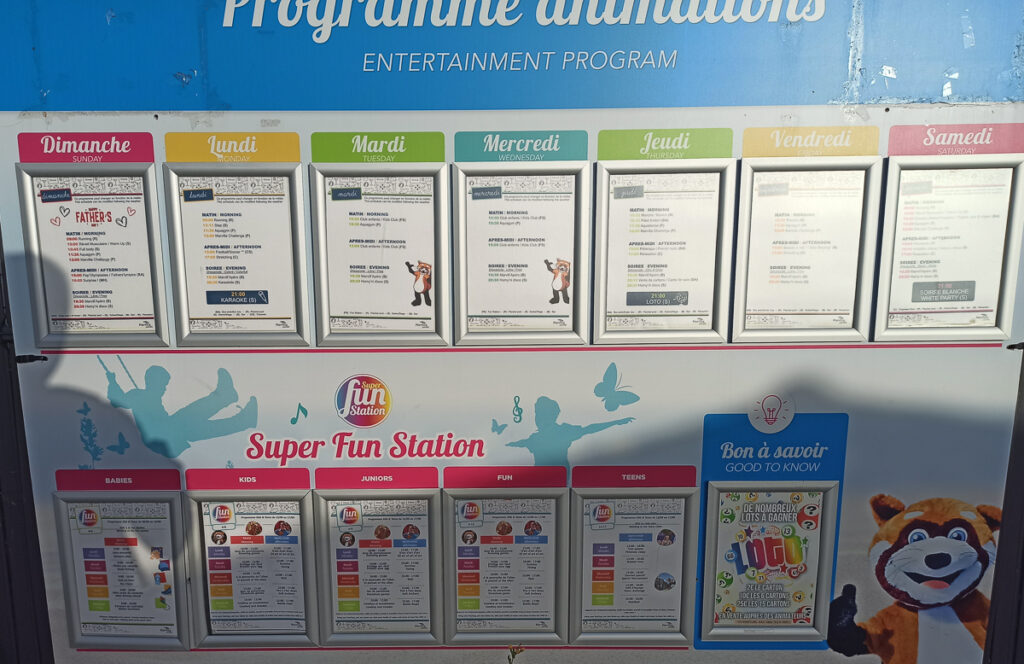 Throughout the day, Marvilla Park animation teams ran activities for everyone. Sometimes you'd find them at the pool teaching aquagym; other times, they'd be stretching at the pavilion. There were plenty of sporting activities to sign up for. In the evenings, they also put on entertainment like Karaoke, card games and parties in the "stage" area.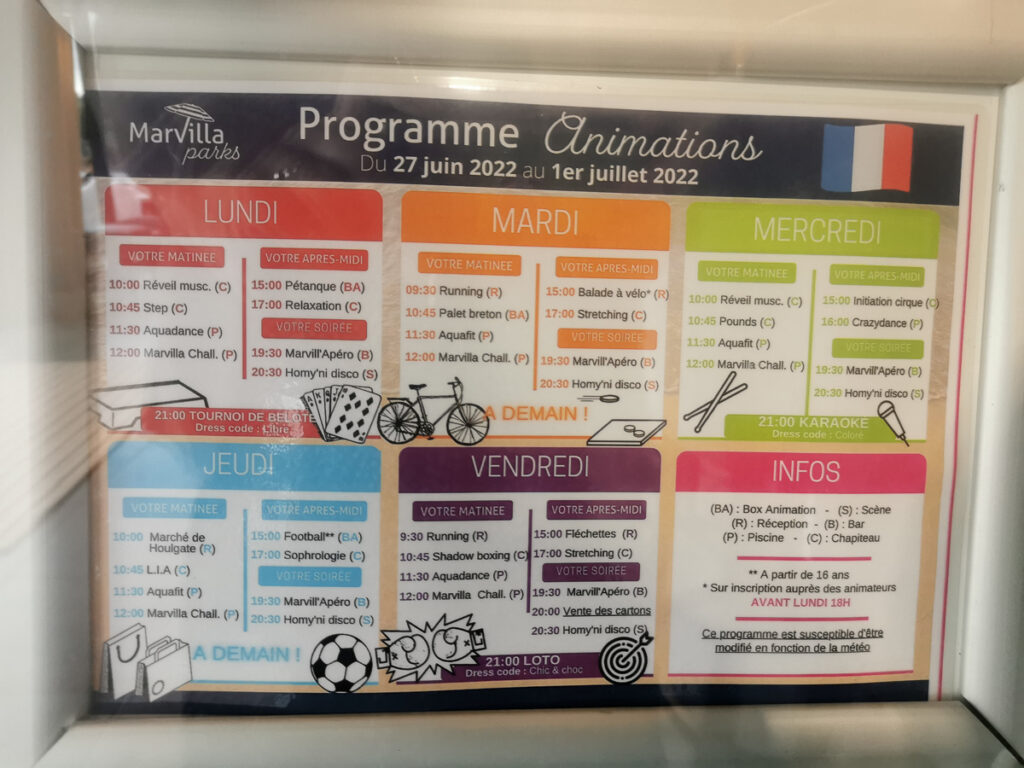 Also, every night at 7.30pm is the Marvill'Apero, a small, half an hour quiz to get everyone in the mood for the evening. We did partake in this a couple of times and won ourselves a free drink – thanks to our knowledge of early noughties music (Thank you Britney Spears!).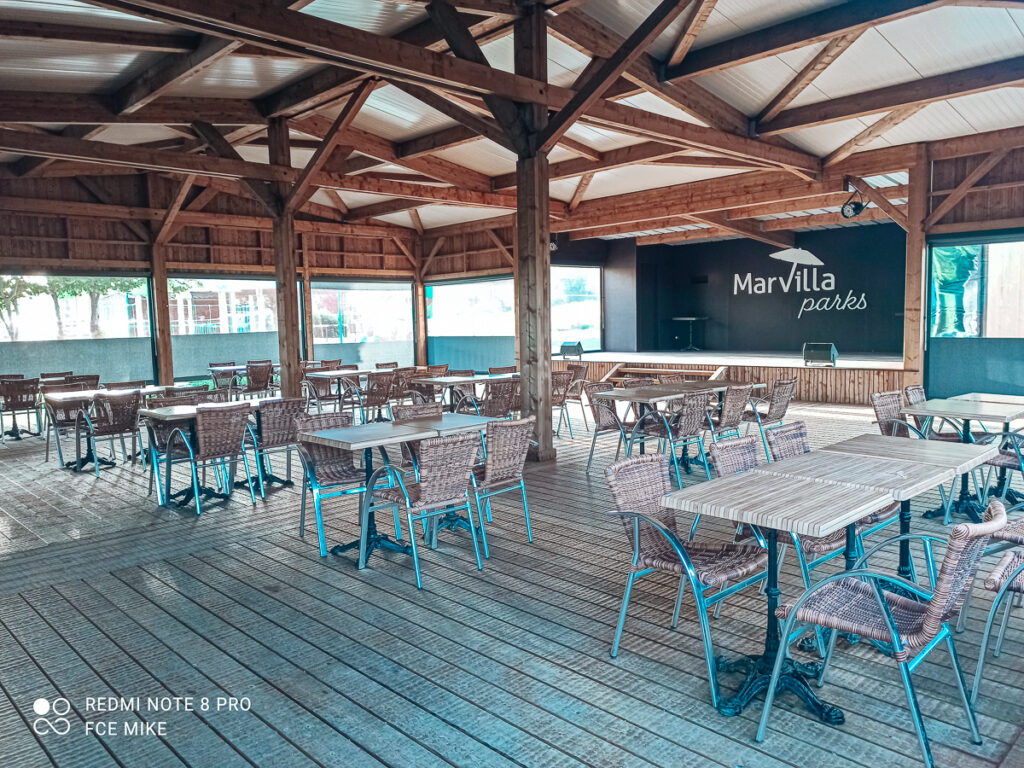 Check Availability And Book Camping La Vallee Today
Clicking the button below will open the providers website in a new window.
Bars, Restaurants and Takeaway
I almost find it hard to believe we didn't eat in the restaurant here, even though we stayed nearly 2 weeks! However, we got plenty of use out of the bar and even managed a takeaway.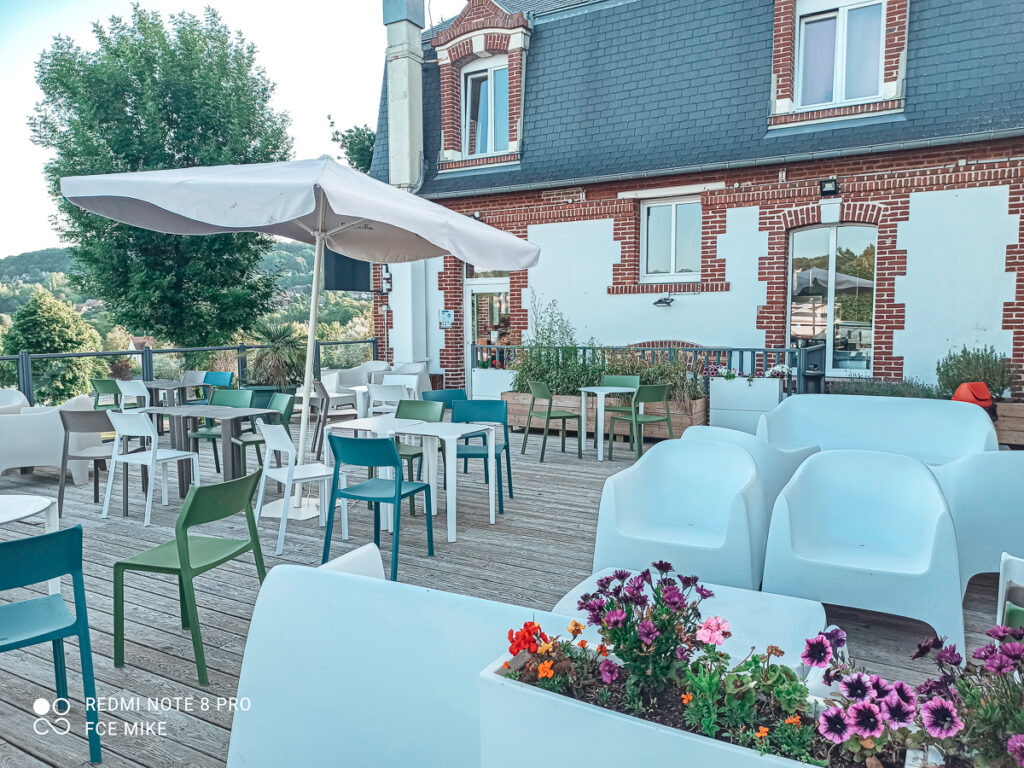 I like to start my paragraphs off with a positive. Still, unfortunately, I don't have many positives about the bar except the entertaining atmosphere around MarvillApero time. The bar opens at 5pm, which is too late for a campsite bar. Even the 2* municipal campsites have bars open all day with drinks and ice creams.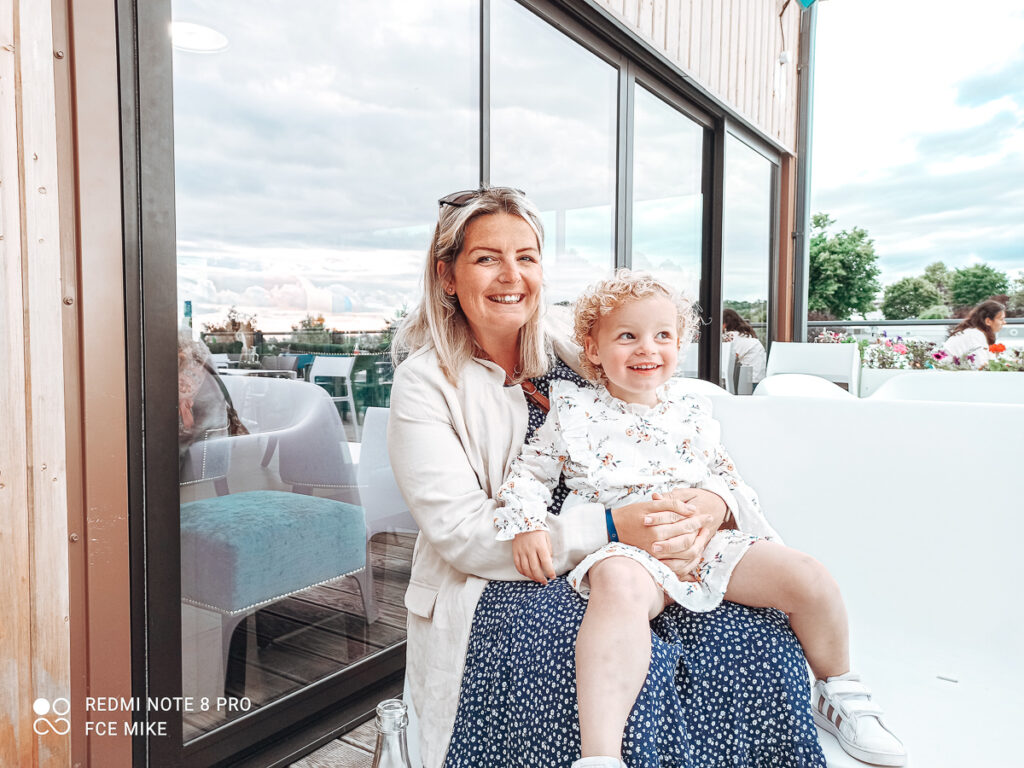 Our second issue with the bar is slow service. So many times, I waited for a drink, but the barmaid was too busy talking to other people. I wouldn't be the only one queuing; I gave up out of frustration most times – 7 months pregnant and finding it hard to stand for long periods meant Mike dealt with it primarily.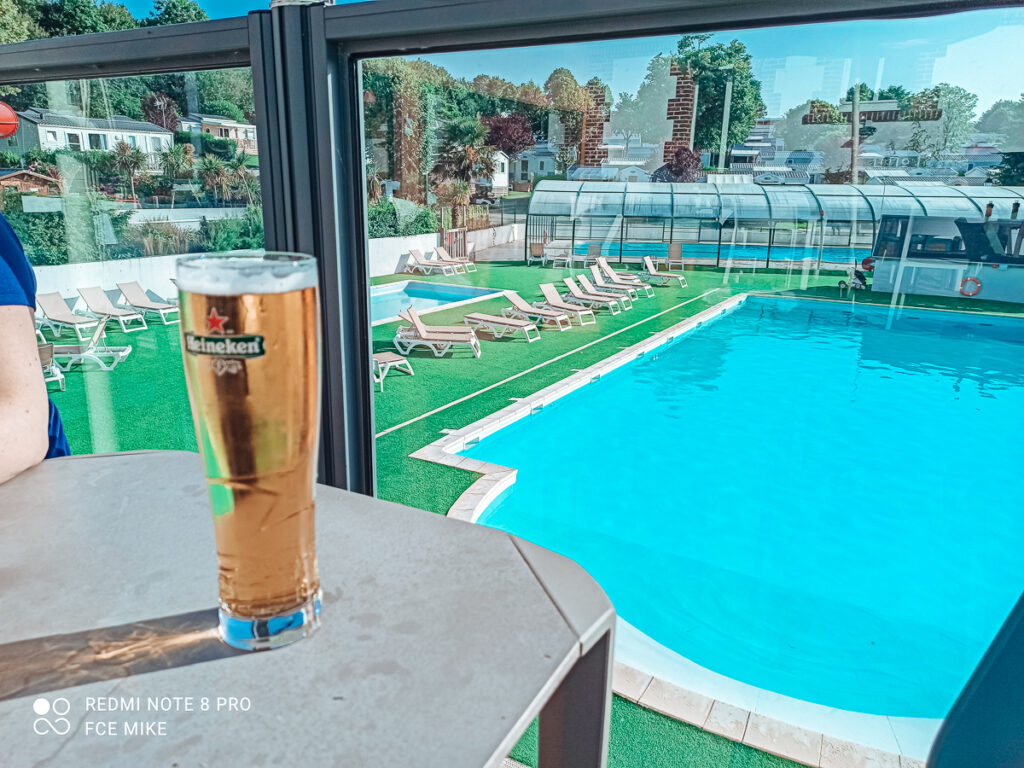 My other frustration was with the prices. I understand that campsites are more expensive than everywhere else, but the prices here seem extortionate. If it wasn't for the fact that Mike loves a cold pint of Heineken on a sunny day and the toddler feels the same way about ice creams, we probably would have avoided going.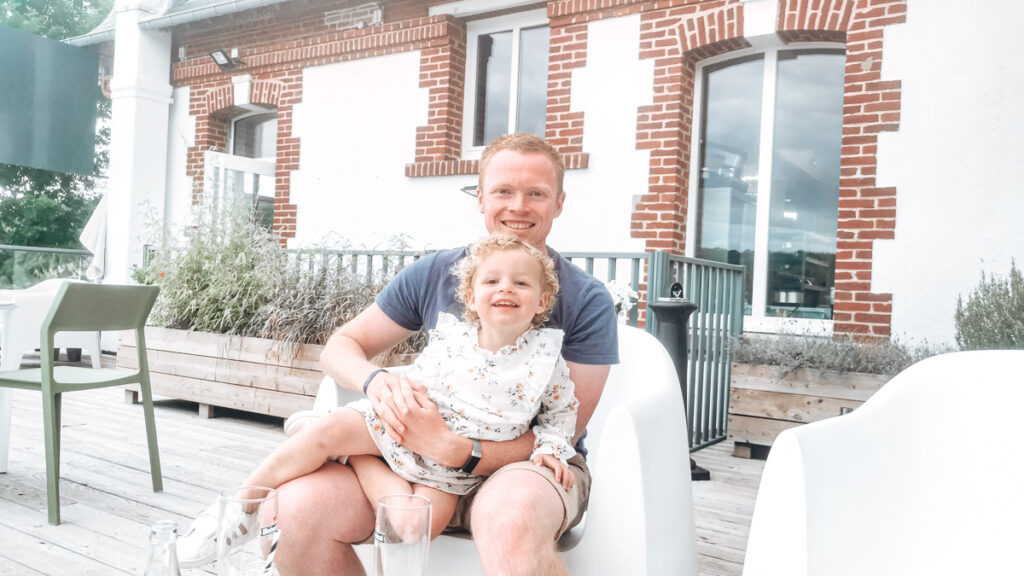 We didn't try the restaurant food, but it seemed pretty busy most nights. I looked around at people's plates; there was a nice-looking salmon meal, and the burgers looked pretty appealing.
I had heard from previous guests not to bother with the pizzas. Nevertheless, after a fathers day drink at the bar and with the lack of shops open on a Sunday – we found ourselves buying a Margherita pizza.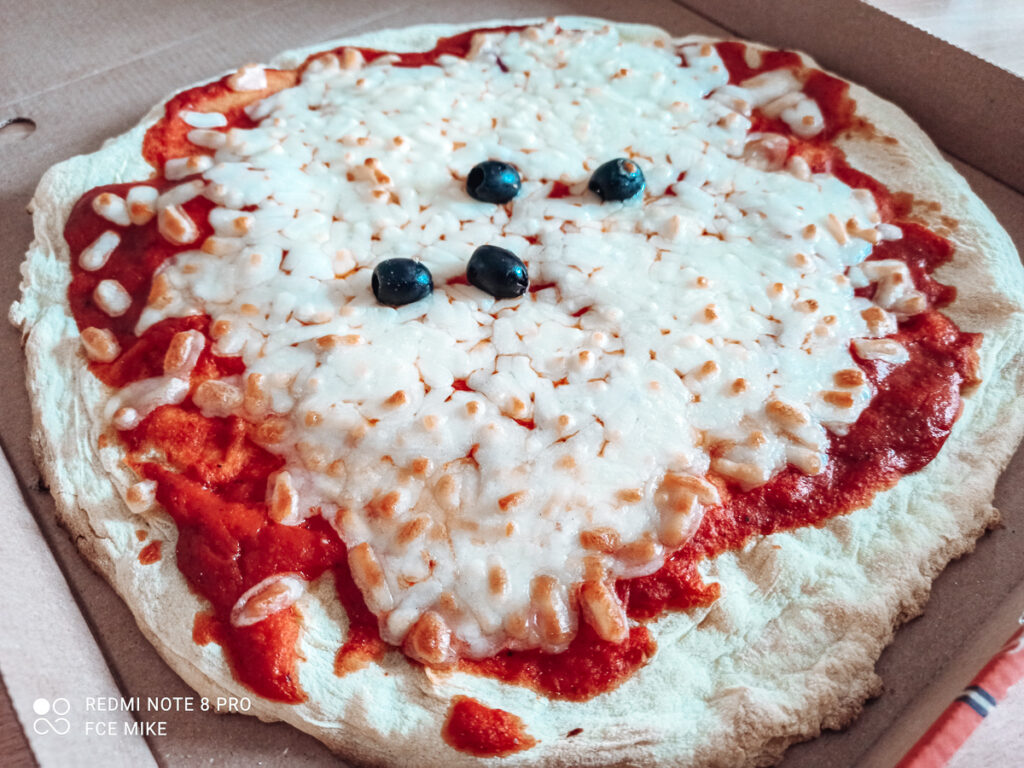 I can quite honestly say it was one of the worst pizzas we've ever had. I think it was made by a 5-year-old doing food tech for the day. The base was burnt, the top was pale white yet crispy, and it looked terrible. I decided to try and glam it up with a few bits in the fridge. However, nothing could fix the abomination of a base. Definitely didn't go for campsite pizza again after that. However, we had some AMAZING pizza at a restaurant in Cabourg called L'Olivier. Highly recommend it if you love an Italian wood fire pizza.
The campsite shop was perfect for tinned items, sweets and heavily processed foods. Not so great if you are looking for anything fresh. There were no salad items or fruits, and the only refrigerated meats we could find were highly processed. So we found ourselves driving to the nearby supermarkets at Dives-Sur-Mer for a broader range of options.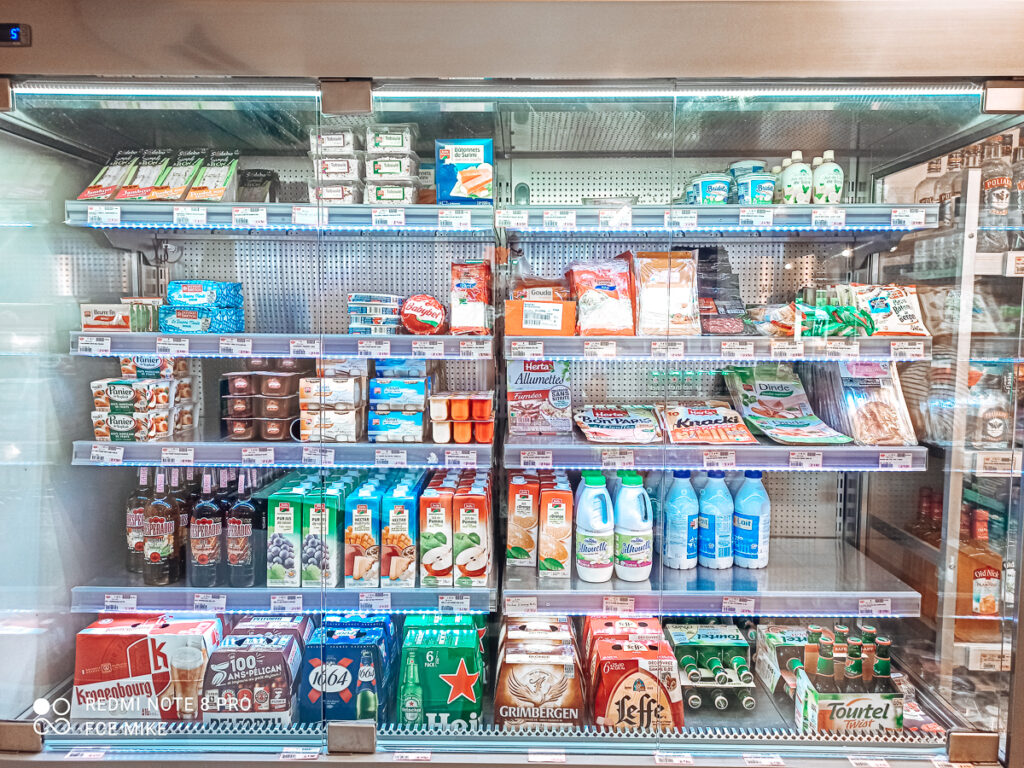 If you enjoy bread and croissants in the morning, you'll need to pre-order these in the shop with your emplacement number the day before. The croissants and pain au chocolates were pretty decent. Though we only got them on the final day as we were in a hurry. Most mornings, we walked the 15 minutes into Houlgate to try a boulangerie or visited a new town and got some there. 
The campsite rents out bikes from 13euros a day and 50 euros a week. Bikes were available with trailers and kid's seats. We didn't notice any cycle paths off the campsite; however, the roads to the town were very quiet.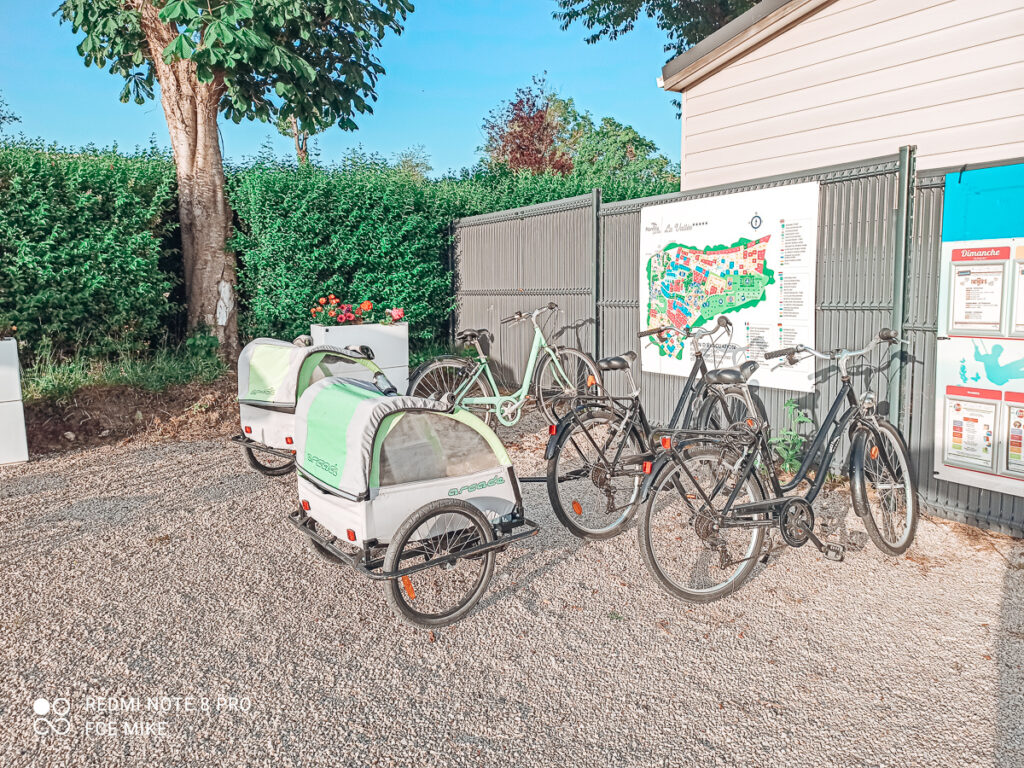 Wifi is payable, and there is coverage throughout the site. You can buy 30 minutes for 2euros, 2 hours for 3euros, 4 hours for 5 euros or 100 hours for 25euros. We didn't try this out during our stay as our 4g signal was more than good enough for everything we required.
Animals are allowed on La Vallee but double-check with the company you are staying with as to what accommodation they are allowed in. They must always be kept on a lead and cleaned up behind. We did notice the campsite has a few friendly cats roaming around.
Shower blocks and washing machines
The shower block we visited at the front of the campsite was poorly maintained and not very clean. I personally would not enjoy using these on a camping emplacement. However, I am curious if Marvilla Parks plan to renovate these or irradicate them, and the camping pitches altogether as so many campsites seem to be doing. 
We used the washing machines plenty during our stay and mostly found one; however, there were a few occasions we had to wait as many of the machines were out of use.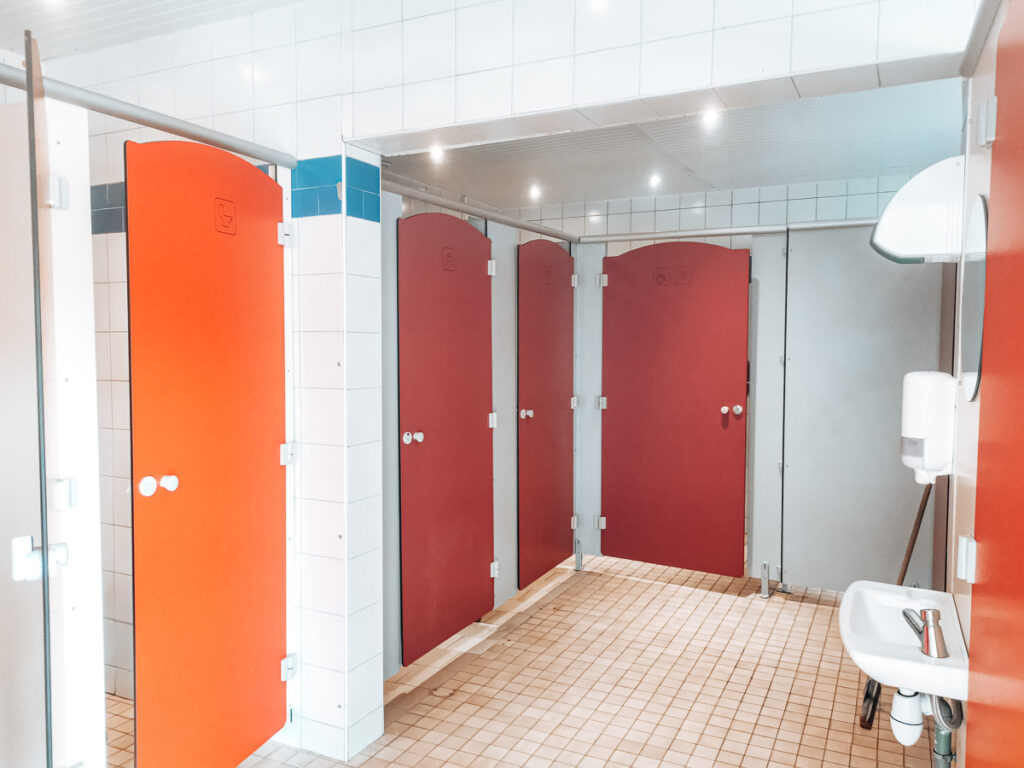 The campsite is very hilly. Regardless, we did notice a few Homair accessible mobile homes towards the front of the campsite. From here, access to most of the facilities is flat. The walk from La Vallee to the local town would not be suitable for a wheelchair user as the pavements are atrocious.
Check Availability And Book Camping La Vallee Today
Clicking the button below will open the providers website in a new window.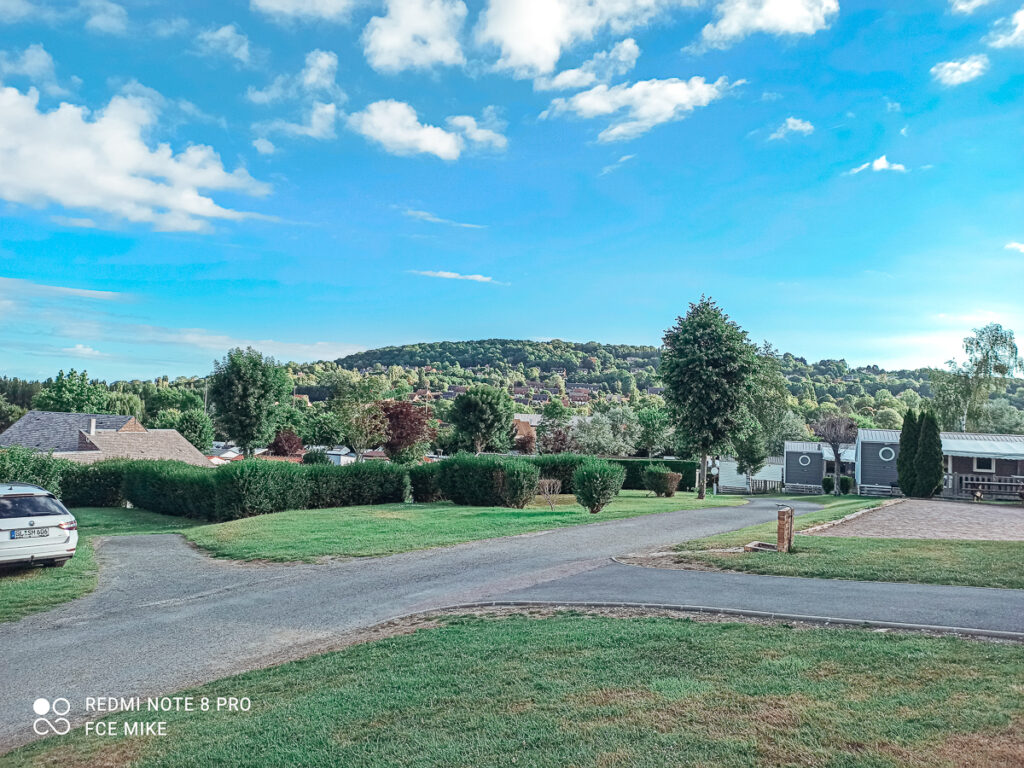 This is an unusual section for me to add to one of my campsite reviews, but I felt like we had to add it because we had the most bizarre weather. The first 3 days were a 30degree heatwave where we were all struggling to cope with the lack of shade. The next day we had a tornado which was missed entirely by the weatherman 
Every day our weather report was changing. On days where it said rain all day – there was none. On days where it said sun all day, we had torrential rain. There really was no rhythm to it. Completely unpredictable. 
Under normal circumstances, Normandy is known to have very similar weather to the south coast of England. Therefore I wouldn't recommend it as a place for a "sunny Summer holiday". Yes, you may be lucky, like we were most days, but it's not guaranteed sunshine
Watch our holiday vlog on youtube!
Available accommodation at camping la Vallee
La Vallee is a Marvilla Parks campsite which means it is owned by the European Camping Group. The same group owns the camping companies Eurocamp, Homair and Roan. That means you'll find their accommodation ranges across Marvilla Parks like La Vallee. We stayed with Eurocamp, but after scouting around the campsite at some of the other mobiles homes, I'd also be inclined to book with Roan in the future. Purely for their swinging chairs and lounging sofas on the decking.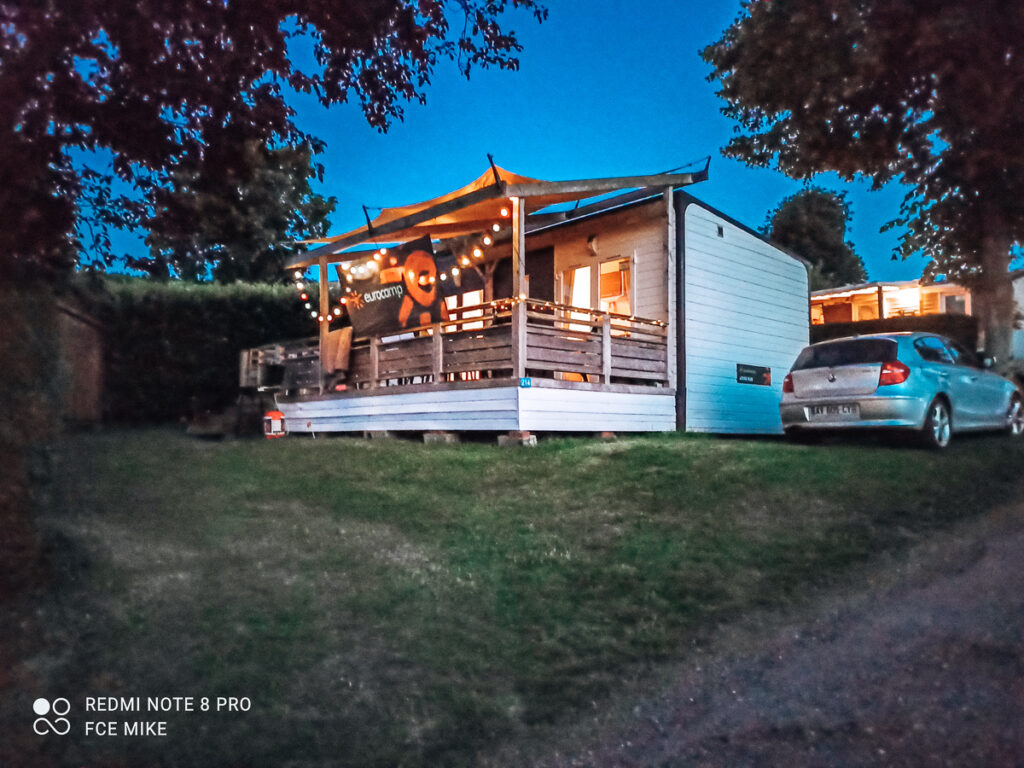 We stayed in a Eurocamp 3-bedroom Azure Plus, which we reviewed previously. We chose this accommodation for 2 reasons. 1, The dishwasher is convenient when staying with a large group of friends or family. 2, the covered decking means we could still enjoy the outdoor space while it was raining.
However, we prefer the Azure plus 2 bedrooms as I find the living and kitchen space is much more extensive in this model. Unfortunately, there were no 2 beds available during our stay.
Should I Book Direct Through The Campsite Or Through And Operator? (How To Book)
It wholly depends on what you are looking for. We enjoy the personalised service from Eurocamp, the ease of use when telephoning head office and the loyalty discount. So have a search around to see what suits you best. For camping pitches, booking direct would be the best option through the Marvilla Parks website. But for rental possibilities, search through Eurocamp, Roan and Homair to see what takes your fancy. 
Check Availability And Book Camping La Vallee Today
Clicking the button below will open the providers website in a new window.
Do You Need a Car to Get around?
Yes. One of the main reasons people book this site is because it's one of the easiest to drive to. Many "beginner" campers choose here to get used to driving in France. Whilst walking to the local town is easy, you'd be silly not to bring a car when there are so many unique places to visit off the campsite. 
How to get to The Campsite
The campsite is around 30 minutes drive from the port of Ouistreham.
Camping La Vallee
88 route de la Vallée
14510 Houlgate
49.294009
-0.068278
I can't imagine many people would fly and hire a car for this campsite but if you are, then yes, hire a car and explore.
Ouistreham is so close. It doesn't make sense to go elsewhere. The port is less than 25km away. 
Day Trips from Camping la Vallee
One of the main reasons people visit Normandy is to explore the beautiful towns…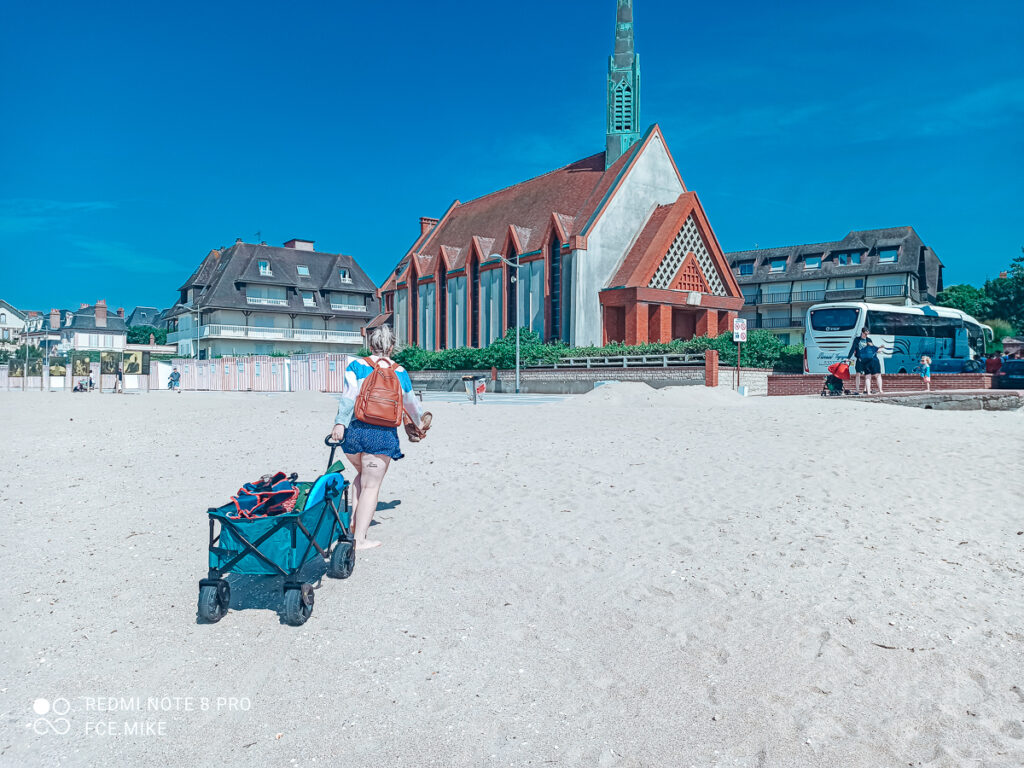 The local town/village of Houlgate is a quaint Norman market town. It's great for grabbing a croissant, heading to the pharmacy or grabbing something quick in a convenience store. It also has a lovely toy shop which stocks Jelly cat soft toys. 
The nearest beach is in Houlgate town centre, and there is also a small train station. Behind the train station, we discovered a hidden park with public toilets for anyone who may be in need.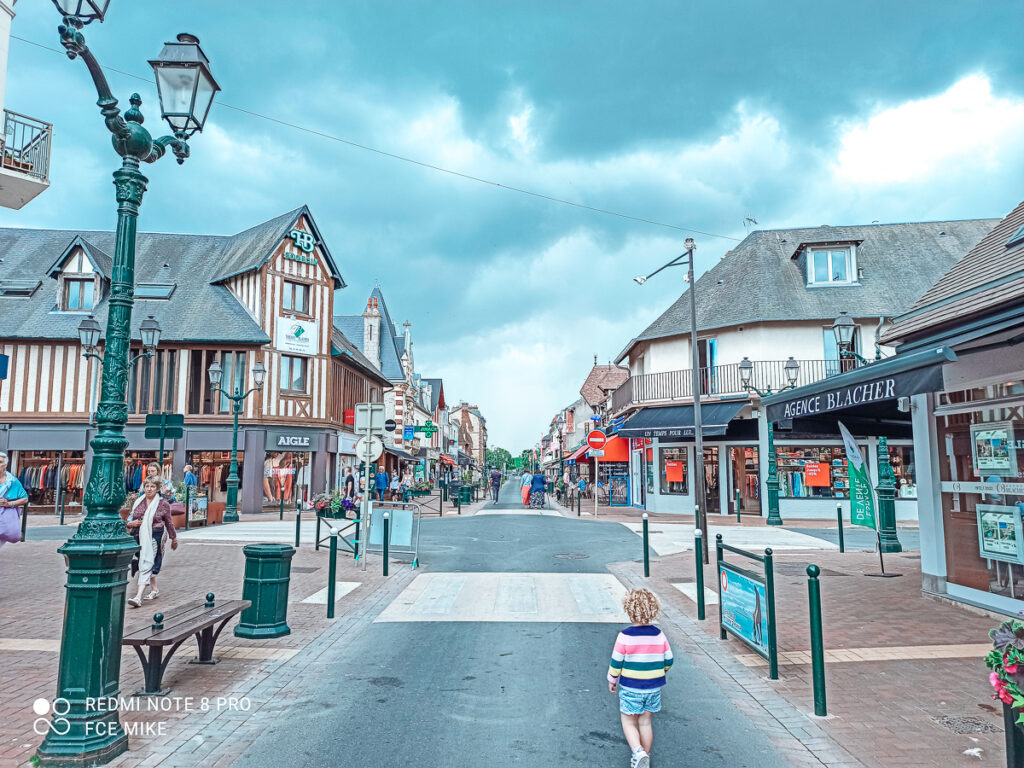 The next town along the seafront and one we really loved. Very picturesque with lots of clothes shops, tourist and local produce shops. All pedestrianised too.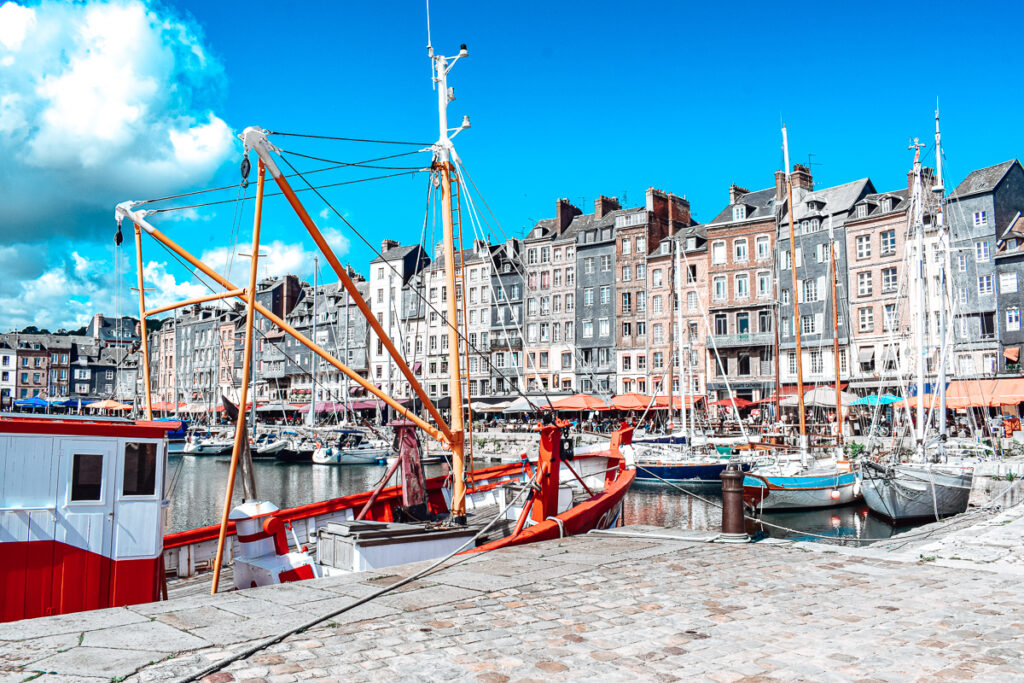 Honfleur is one of Frances's most visited towns. The picturesque harbour surrounded by restaurant terraces is just perfect. Beautiful cobbled streets and stunning old buildings make it easy to see why so many people flock here.
Another perk of Honfleur is the outlet shopping centre just outside the town, which is open every day from 10 am till 7pm, including Sundays. We loved the Lindt, Haribo and Addidas outlets.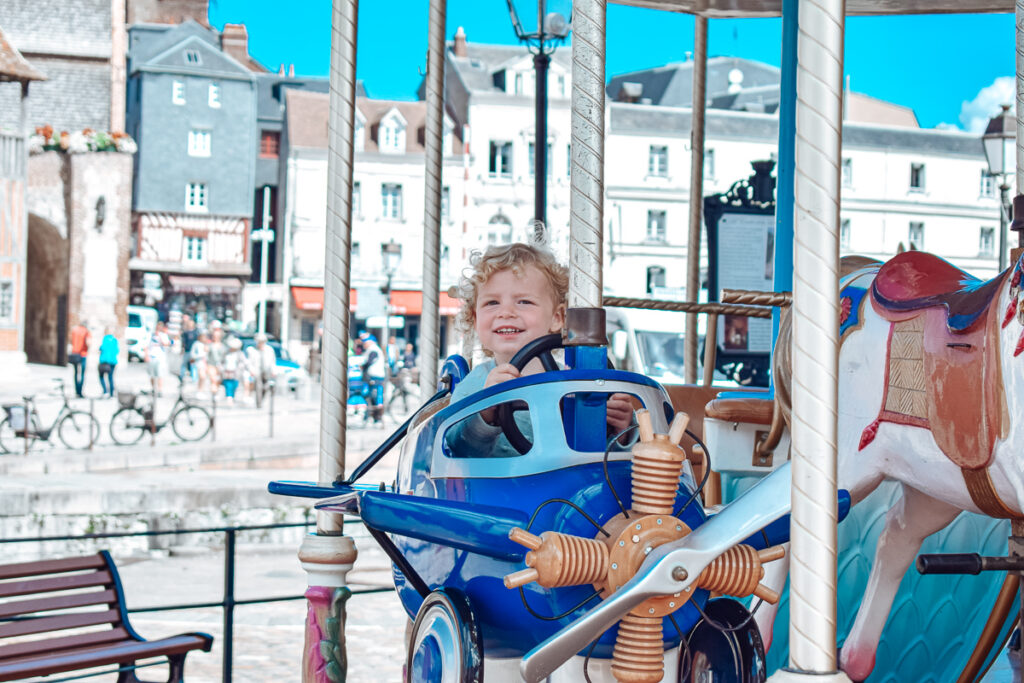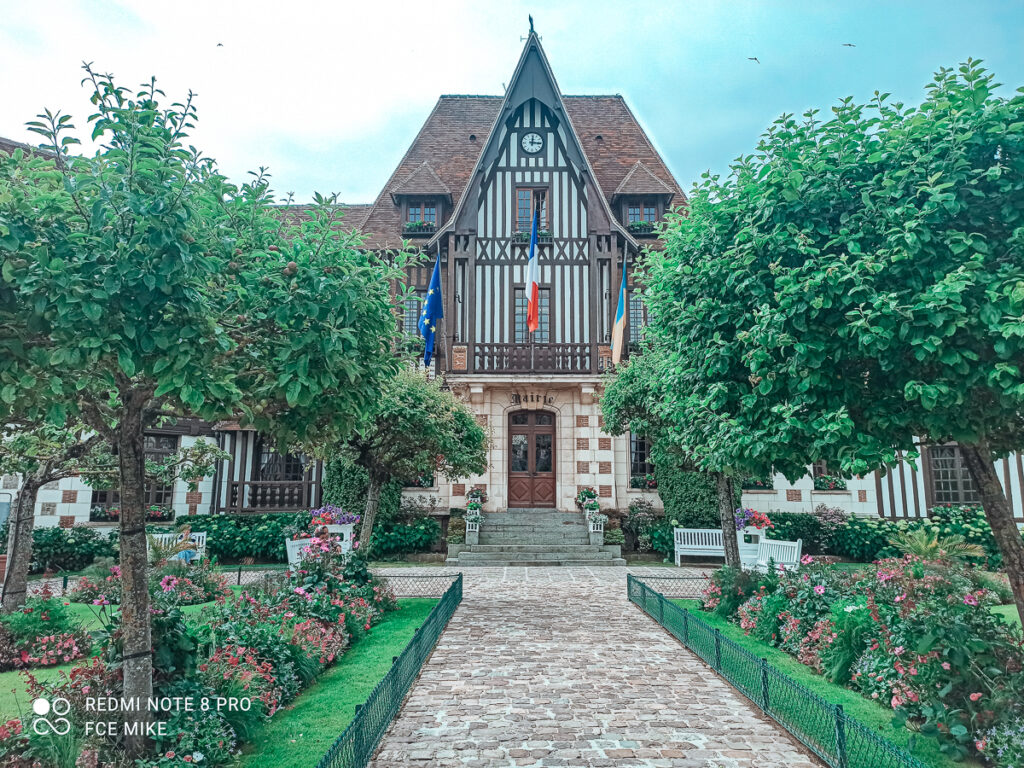 These seafront towns are next to one another, separated by a river estuary. Both sides have beautiful bars and terraces and lovely streets lined with shops. There's also a petit train.
D-day beaches/museums/cemeteries
This is one of the main reasons tourists travel to Normandy. Unfortunately, it's also one of the things we didn't do during our stay. Whilst it is something we are both very interested in, we didn't feel it was an appropriate day out for a 2-year-old. However, as she gets older, it's definitely something we will return to do.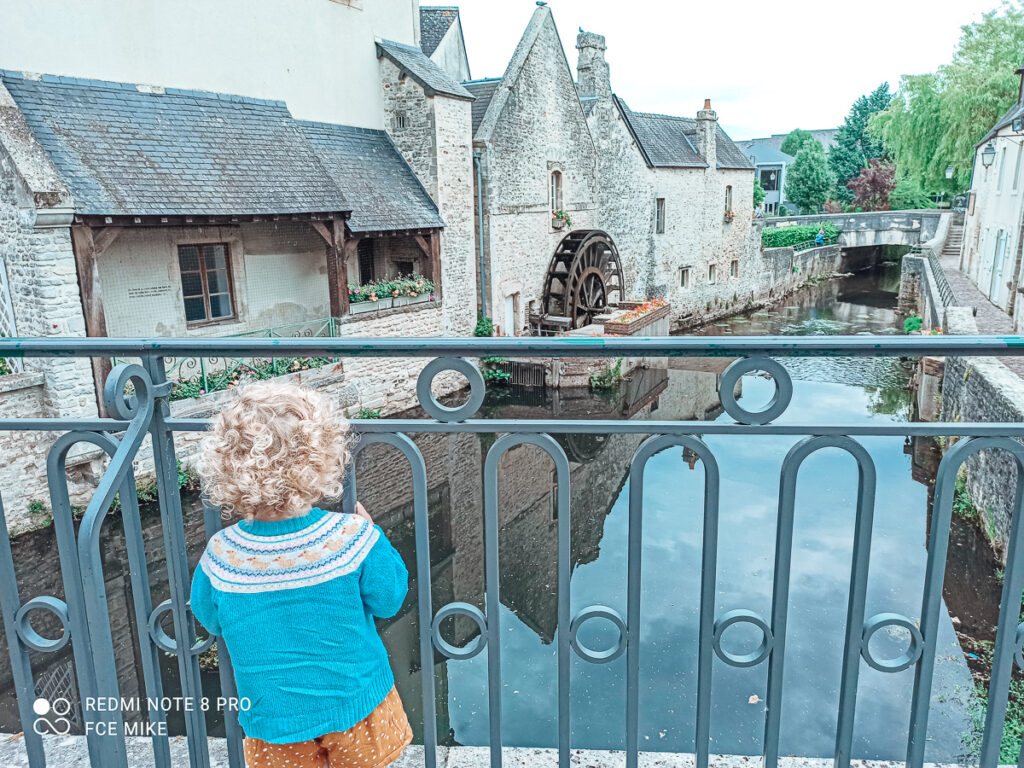 Like the other museums, we avoided visiting the tapestry one with a toddler. I've seen how she treats soft furnishings at home; I wasn't going to risk that trip! Nevertheless, we explored the town of Bayeux and stopped for some lunch. There are plenty of quaint shops and lovely little Salon de the's.
Arromanches and Longues Sur Mer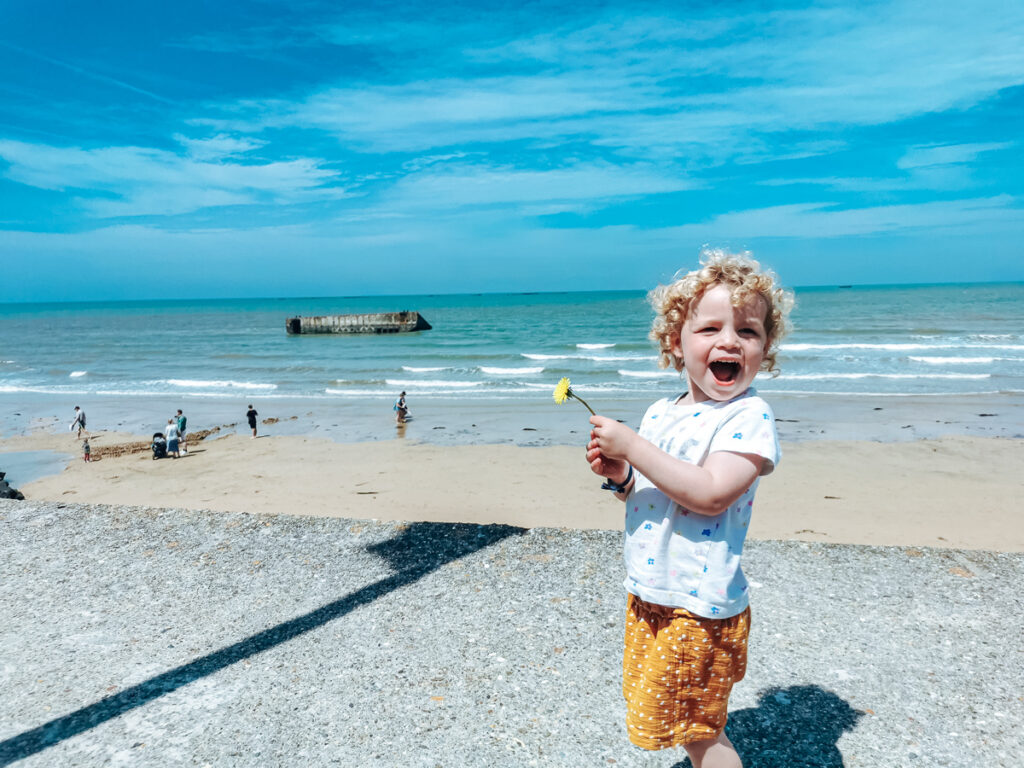 Whilst in Bayeux, we decided to head to Arromanches-Les-Bains and Longues-Sur-Mer for a short history lesson (from Mike) and an exploration. The Battery at Longues-Sur-Mer is an excellent place for a walk, even if you aren't interested in the historical side of things.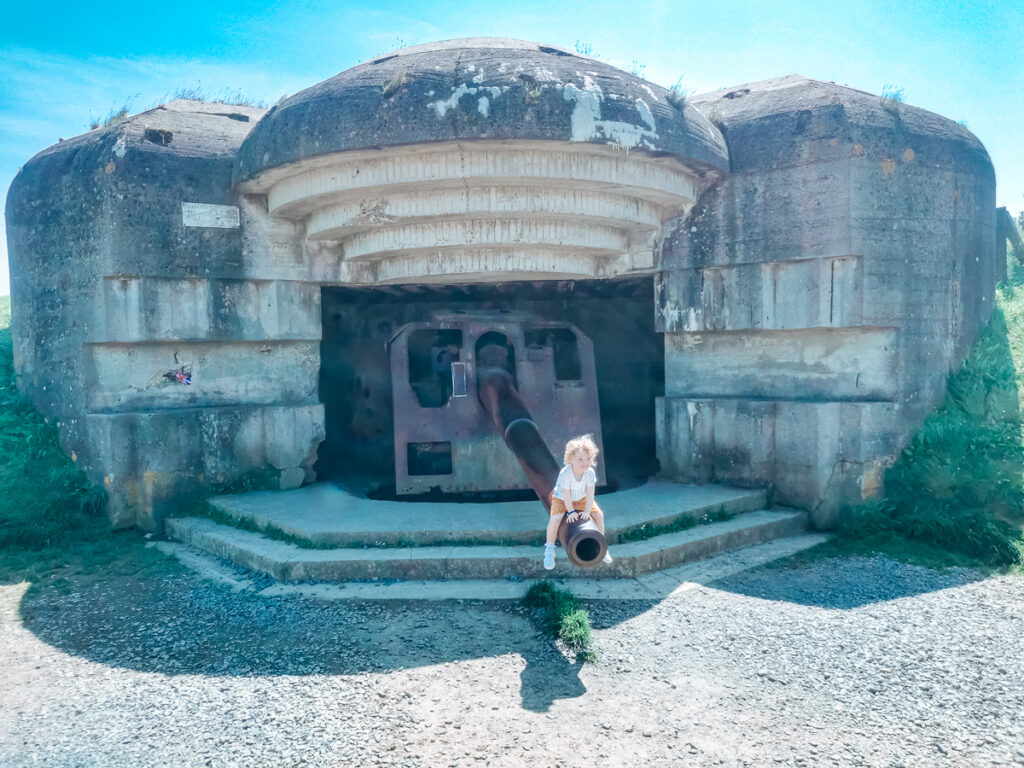 This was our final trip out. The stunning capital of Normandy. I remember visiting here many years back on a school trip, and its beauty has always stuck with me. The architecture is lovely, and we felt safe walking the city streets. To get to the city, we headed for a park and ride tram car park at 52 Av. Georges Braque, 76120 Le Grand-Quevilly. It was free to park and then caught a tram ride to the city centre. The tram cost 1.70 euros a ticket.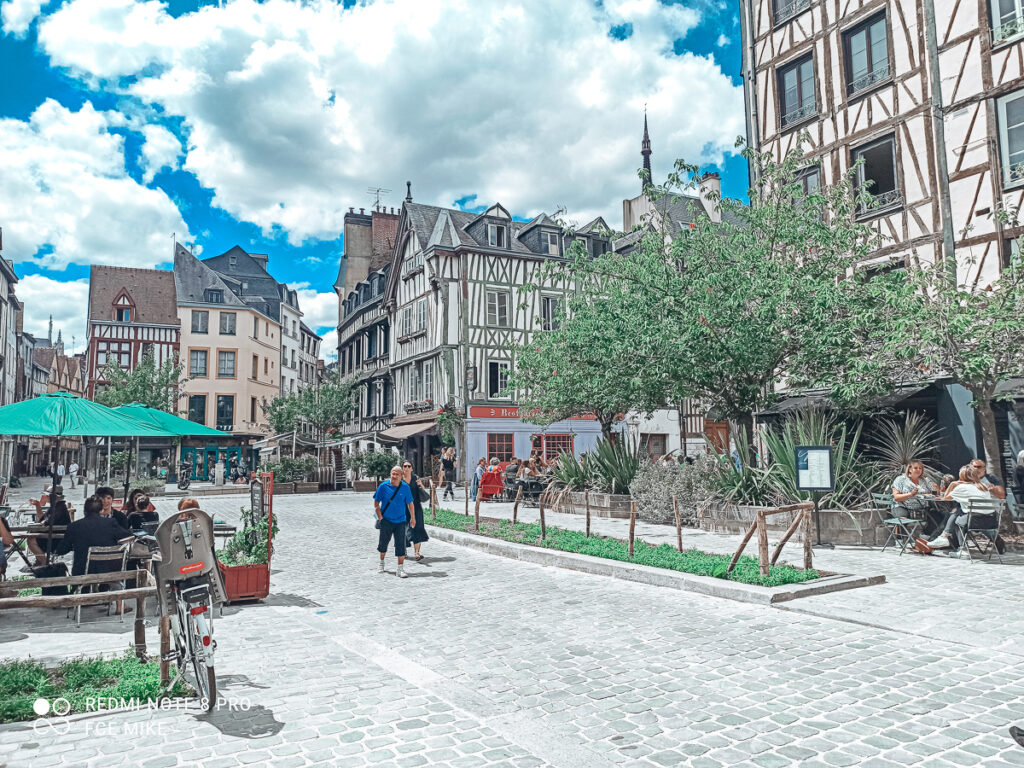 This is one place I'm gutted we didn't visit. It's around 40 minutes drive and has a wide range of safari animals. You can get so close to the Girrafes that you can almost touch them. There's also a safari train that takes you around specific enclosures. The only reason we didn't visit was due to the unpredictable weather forecasted for our stay. It was an activity we had planned for a cloudy but not rainy day.
Check Availability And Book Camping La Vallee Today
Clicking the button below will open the providers website in a new window.
Frequently Asked Questions
Are the mobiles close together?
Whilst the pitch sizes were smaller than some campsites we have stayed at, I didn't feel overly cramped or close to neighbours. However, I do believe some pitches are closer than others. Perhaps if this is a dealbreaker, make a request when booking.
No, no, no. In fact, it is hillier than I expected. I should have figured, really, considering the campsite's name.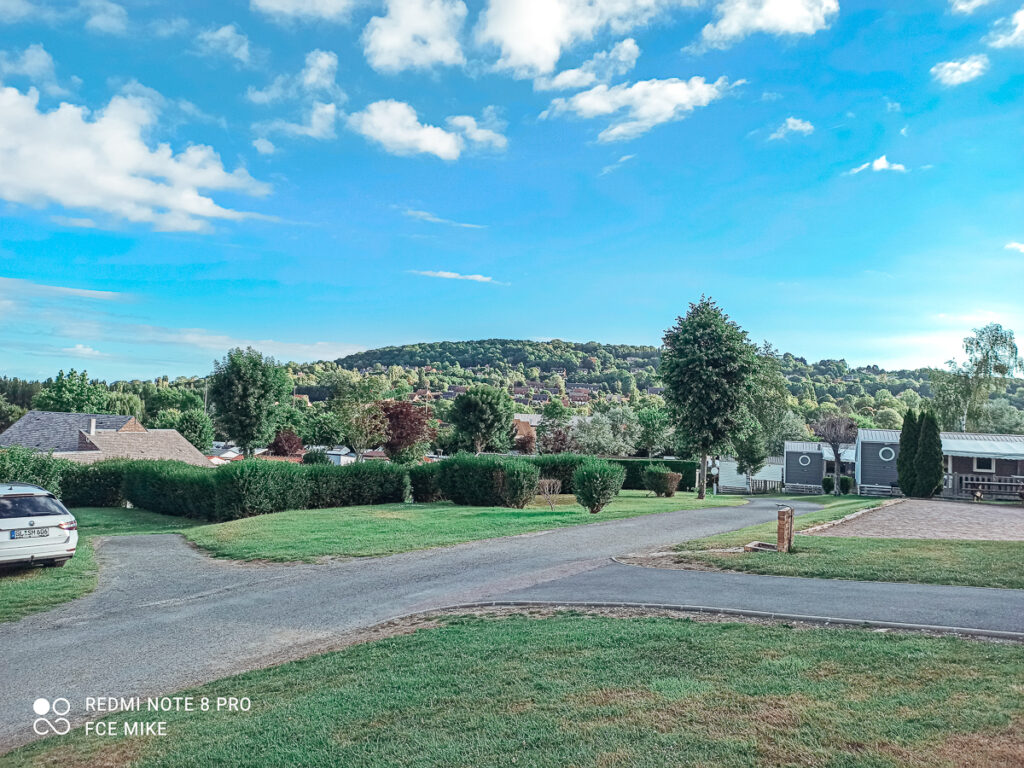 Are there mosquitos at Camping la Vallee?
We didn't see any at all. Actually, we had no problem with flies at all. We did find a million money spiders every day. I'm not sure if it was the campsite or the time of year, but we were covered in them daily.
Is it easy to get a sunbed around the pool?
Yeah, we had no problems, but as I have mentioned in my vlog, there is no shade whatsoever. Take a parasol if it's meant to be hot.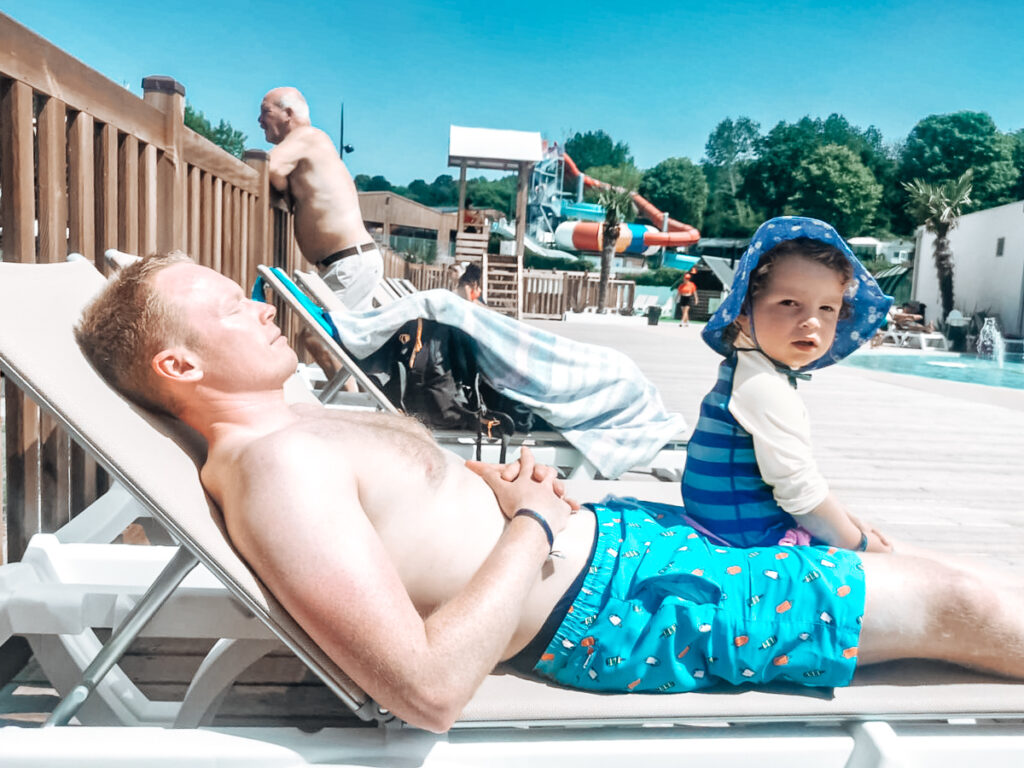 Do you need to wear a wristband?
Yes, a blue Marvilla Parks wristband is obligatory.
Do men have to wear swim trunks?
We didn't get stopped for not wearing them, but the rules say you should be wearing them, so make sure you bring a pair just in case. Mike wears his under his boardshorts and then takes them off if he needs to.
Yeah, we were provided with a gas bbq with our Eurocamp mobile home. 
What's the weather like in Spring/Summer?
Pretty much the same as the south coast of England. Not too hot, not too cold, but it could be very unpredictable.
Can you park on your pitch/Emplacement?
Not always. We and many others could, but one of the other bookings in our group had a smaller pitch without parking.
Can you take pets on the campsite?
Yes, pets are allowed as long as they are well looked after, kept on a lead and cleaned up behind.
Where's the nearest supermarket?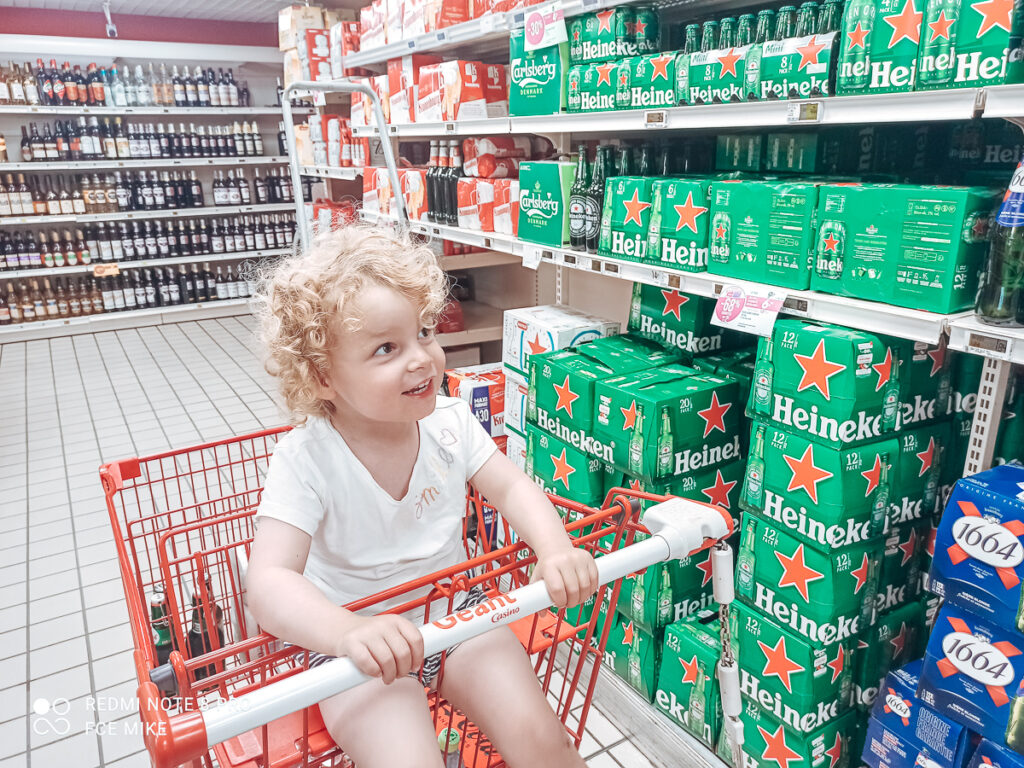 In Dives-sur-Mer, you can choose either a Geant or an Intermarche. Both supermarkets are expensive, so it's worth finding Lidl, also in Dives-Sur-Mer. Another option is stopping on the way home from a day out if you find an ideal hypermarket. For example, the Hypermarket Carrefour at Caen Mondeville is insanely big with plenty of choices. 
Is There Disabled Accessibility On The Campsite?
La Vallee is very hilly. However, we did notice a few Homair accessible mobile homes towards the front of the campsite. From here, access to most of the facilities is flat. The walk from the campsite to the local town would not be suitable for a wheelchair user as the pavements are atrocious.
Is It Loud In The Evenings?
We could hear the bar quiz and evening entertainment, but it wasn't loud or annoying. All music and entertainment are finished by 11 pm for the campsite quiet time. 
What Can We Do If It Rains?
Use the covered pool, head to the games room and bouncy castle, find the local bowling or soft play centres, and check out Caen Mondeville and the Decathlon Village.
Can I Use My revolut Card On Site?
We had no problems using our currency cards on-site. In fact, bank cards were actively preferred throughout. However, we found many places in some of the towns and beach areas had a 15euro minimum spend to pay on a card.
Can You Use Inflatables at the Pool?
Some young children were using inflatable boats in the splash park area, which wasn't stopped by the lifeguards. So I would assume it's OK.
La Vallee is perfect for camping with toddlers who love beaches and swimming pools. It's also an excellent option for those wishing to camp close to Caen ferry port. Many people we spoke to said they chose this site for their first French holiday to get a feel for driving and travelling abroad. 
Though, it isn't perfect. The sanitary facilities at la Vallee seemed tired and worn, and many washing machines were out of order when we wanted to use them. The road into town and the beach are poorly maintained, and the children's mini club definitely wasn't what I expected.
However, most of these negatives are outweighed by the fun we had at the kid's splash park, the new play park, and the beach itself.
We had been so fortunate with the weather during our stay that whilst there were a few rainy days/hours – we generally managed to accomplish everything we wanted during our holiday. 
La Vallee campsite isn't one I'd plan to return to for guaranteed sun and a beach holiday. Still, definitely one I'd look into if I wished to explore the D-day museums, beaches and history that Normandy has to offer.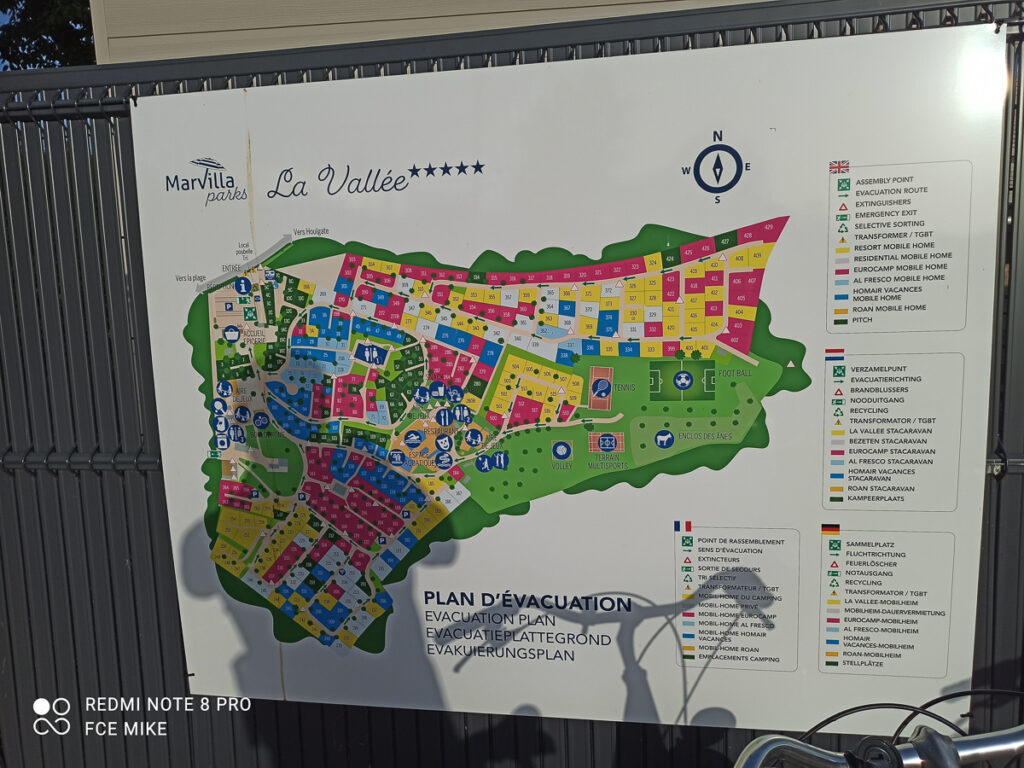 Check Availability And Book Camping La Vallee Today
Clicking the button below will open the providers website in a new window.