Yelloh Village Sylvamar Campsite Review Loud and lively with a great pool and beach
Maybe a bit too loud for us…
Yelloh Village Sylvamar is a luxury 5* campsite situated on the Atlantic coast of France. It's a family-friendly campsite, loved by the French, Spanish and English too. The recently upgraded pool complex gives this stylish resort a volcanic edge above the local competition, and the campsites' smart technology reflects the digital age we live in. 
But what did we think about it? We've been spending the week here, in our tent, during the August Summer holidays and we want to tell you all about it.
Check Availability And Book Sylvamar Today!
Clicking the button below will open the providers website in a new window.
Do the pro's outweigh the cons?
Cons of Sylvamar Campsite
Every family prefers certain things about a campsite, so our "cons" could be on your "pros" list!
Pool complex at Yelloh Village Sylvamar campsite
The Sylvamar pool area was upgraded this year to add a new, fantastic attraction: The volcano. This giant crater features a pool in the centre with jets, waterfalls and volcanic eruptions. You can enter the pool gracefully via one of the few entrances or take the 80m long water slide and enter with a splash. We obviously chose the slide entrance…

There's also another new slide which is the volcano's lava river. Don't be deceived by this chilled out looking slide. Whilst there are many peaceful pools within the lava river, the rapids can be fierce. We took our toddler on it, and although she loves the water, she did look a bit dazed when we got to the end.

You'll find the original pool away from the new volcano area, featuring a lazy river and more slides. The slides over this side are definitely a little tamer but still enjoyable. There's a triple toboggan, perfect for racing friends and family and two fast and fun flumes.

Over on the shallow side of the pool, there is also a splash slide for young children, although our toddler wasn't too fond of this as the sprays were quite aggressive.

Inside is the toddler splash park. This is one of the best splash parks we have ever seen! It's absolutely crammed with fun, water activities which can be enjoyed by all kids. From newborn babies to pre-teens, this splash area was always full of FUN.

You need to scan your smart wristband to access the pool, which you receive on arrival at the campsite. These wristbands open the electric gates and let you into the aquatic area of the park. They can also be used to make payments in the shops – but I will get to that later.

The rules mention that swim shorts are not allowed. Nevertheless, we saw many people breaking the rules, and it didn't seem to be enforced by the lifeguards.

The campsite doesn't have direct access to the beach, though, it is one of the main reasons tourists travel here. The beach is around a 15-minute walk or a 5-minute cycle. The coastline may be famous for surfing and wild waves, but you'll also find a few calm days in summer. Keep your eye on the flag colours while you are there. Green generally means safe waves, whilst orange is risky, and red is dangerous. There are lifeguards on duty throughout Summer, but the beach does get very busy, so stay aware.
Check Availability And Book Sylvamar Today!
Clicking the button below will open the providers website in a new window.
This campsite has the perfect amount of facilities for its size and, like other Yelloh village campsites, has a vast entertainment schedule.
We checked in on a busy Saturday. Check-in is generally from 2 PM; however, as we were only staying half-hour down the road at Camping Le Vieux Port, we arrived early at 1 PM. Thankfully, the reception was quiet, our pitch was empty, and we were allowed straight on.
The check-in was very detailed, similar to another Yelloh Village we stayed on; Camping La Roche Posay. This is great if you aren't in a rush and the reception is empty but not so great when you just want to get settled, and you have to wait for half an hour in a reception queue.
At check-in, we had our Pass Sanitaire's scanned and were handed our smart wristbands, a map with directions to our pitch and a booklet filled with all the animations, sports and kids entertainment.

They did, however, forget to give us our fridge box key at check-in. We returned the following day to pick this up. Other than this we didn't use the reception during our stay as most things could be organised through the tourist office.
When we left the following Saturday, the queue for the reception to drop our smart wristbands back in was insanely busy but thankfully fast-moving. Perhaps they should create a key/wristband drop off outside to reduce the queues? The downside of the smart wristbands, over regular wristbands, is that obviously, they have to be returned; otherwise, you will have to pay for them.

For some reason, I expected this campsite to have more than one play park, considering its size. Nonetheless, there were more than enough play facilities to keep us 3 occupied during our holiday.
The kids play park is situated near the entrance to the campsite, and unfortunately, it's pretty unremarkable. Many of the climbing frames were old and rotting, and it's really in desperate need of an upgrade.

As much as we usually love taking our toddlers to the play parks, this wasn't an overly friendly one, with lots of "big kids" being particularly boisterous. So we opted to spend more time in the small soft play area by the restaurant instead.

The football pitch on Sylvamar campsite is very popular. The campsite organises regular tournaments during the high season, and you'll find games there every evening. We love Yelloh village campsites because they run great activities like this for both kids and adults. 
Like the football pitches, regular table tennis tournaments are also a thing. We cycled past one afternoon and found at least 30 people surrounded by the tables watching a game.
The campsite has one tennis court. The tennis courts are open between 9 AM and 8 PM. Time on the court can be reserved at the tourist office. Since we often found the courts to be in use, I'd advise you to book in advance.

The bodyweight gym at Sylvamar was pretty ancient. The equipment is in desperate need of upgrades. We used it briefly one day, just for fun, but it wasn't ideal, and there weren't many exercise structures.

The multisports court was pretty standard and regularly used. Most mornings, the campsite schedule had basketball listed, although we never observed it as we were usually at the pool during the listed times.
There is a beach volleyball court at camping Sylvamar, situated just past the football pitch. Like all the other sporting activities, regular games are held here via the animation teams.
These both seemed to be closed during our stay. I was disappointed to find the arcade looked like a storage room, and the TV room had its door locked every day, except for Wednesday when they had a virtual reality gaming day.

The most popular game in France and you can tell when you're at this campsite. The Petanque court always had people playing on it. And unsurprisingly, Sylvamar animation also organises petanque tournaments. 

On Thursday, Camping Sylvamar hosts an inflatable structure day. From 3–5 PM, the green space near the football pitch become home to 4 different bouncy installations. There's a different inflatable for everyone. We loved watching people on the total wipeout style one that knocks everybody's legs over…

One of the biggest surprises was the campsites own soft play area for newborns and kids up to 4 years old. Having a toddler, soft play is one of our best friends. Situated next to the snack bar/takeaway, this soft play was a great place to spend some time whilst the toddler was restless. Mike could do the washing up and shower while I'd take her here and vice versa. Although, the opening times could be a little more inclusive. It would be great to open a little earlier in the morning and a little later in the evening. I'm unsure why it's only open from 10 AM till 5.45 PM as it's unsupervised. 

The kids club here looked insanely good! On arrival, the brochure we received had the kids club schedule in, and it was packed to the brim with fun and games. There's a mini club for kids aged 5-7, another for kids aged 8-12 and a teenagers club for 13-17-year-olds. 
Unfortunately, our toddler was only 2, so she could not participate in any of the activities. Although I'm sure, she'd have absolutely loved it. We walked past the kids club building one night, and she was desperate to go play inside.
To give you a little insight into what kind of activities were offered during our stay, I'll add an image of the activity schedules.

Another activity for the kids was the campsites mini disco. Which can you believe starts at 9 PM. I couldn't believe how late it was, considering most English kids are in bed by 7 PM… But then again, we are in Europe, on a campsite filled with French and Spanish kids who go to bed a lot later as standard.
We decided to give our toddler a late nap one day and keep her up to experience it. She absolutely loved the mini disco at La Roche Posay, so I wanted to see what this one was like.
Located at the large amphitheatre, I thought there would be loads of space for dancing, and boy was I wrong. The whole area got absolutely rammed. So busy that the security man at the gate was doing a 1 in 1 out when we left.

The disco itself was odd. I was expecting upbeat pop music and dancing, but instead, it was all "clap your hands, touch your nose" style music (if you know what I mean), which the kids seemed to absolutely love. Yet, a little babyish, I thought, considering it was on so late at night.
It's a massive event with the animation teams fully kitted out in costumes dancing on the stage with lights and music. I felt like I was at a theatre production. It was a good disco, not necessarily my cup of tea, but the hundreds of kids who were partying definitely enjoyed it.
Animation for kids and adults
After the mini-disco, the campsite puts on their "spectacle", the main show of the evening. Sometimes it's a magician, a singer, a theatre show, cabaret, hypnosis; it changes daily. Unfortunately, we didn't stay for the show as it really was too late for us, so, sadly, I can't comment on what they are like. Also, I will mention that the amphitheatre is away from the bar, so I'm not sure what the situation is for getting drinks while watching the shows. Most campsites I know have their animation at the bar or around the bar, but this seemed totally separate, so I'm unsure how it works. 
Sports and Exercise Animations
My favourite thing about the animation schedule here is the emphasis on sports and outdoor activities. There are 2 daily animation schedules for adults that run alongside the kid's clubs schedules. There's fitness, which includes things like yoga, circuit training, Zumba and aquagym and the sports schedule, including boxing, basketball, football and archery.
This really is such an active campsite. If we had a child of kids club age, we would have made the most of these sports and fitness activities while the kids were at the club.
I did manage to take part in one of the yoga sessions, which was a great break. The class was all in French, but it was simple to follow and located above the spa, in the fitness suite. I would thoroughly recommend taking part if you get the chance.
Check Availability And Book Sylvamar Today!
Clicking the button below will open the providers website in a new window.
Bars, Restaurants and Takeaway - Sylvabar
It was our 4th wedding anniversary during our stay, so we made the most of the bar and restaurant facilities for a celebratory dinner.
Located near the pool entrance, the outdoor terrace has some lovely poolside views. The area has a friendly, relaxed vibe to it and was always clean and tidy. We found most staff friendly and helpful, although we did find the ice cream girl a little abrupt.
On our anniversary we went to the restaurant with our toddler. We had wanted to book for 7 PM when the restaurant opened, but when I asked that morning, it was already fully booked at that time. Therefore, we opted for 8:30, a little late for a toddler – but we definitely should have thought about booking a table a few days in advance. The restaurant was always busy when we walked past.

If you have kids, then you'll know, tired toddlers = restless toddlers. We found the service to be relatively slow, and it was hard to catch the waitresses attention as they were so busy. We ordered water for the table when we ordered our main drinks, and this arrived over an hour later when we had finished our meal. Food was faster, but the ice cream dessert with the kid's meal took ages to come out – so much so I regret ordering it and wish we'd have just left without. Our supposed to be relaxed evening dinner was far from it. The food was okay. We both ordered cajun chicken burgers, which were nice, but not something to write home about.

However, we really loved the atmosphere on the terrace. The lights, decor, ambience was all charming. It was great for people watching and soaking up that holiday atmosphere. We were also big fans of the non-alcoholic mocktails on offer.
We used the takeaway/snack bar at Sylvamar a few times during our stay, mainly to grab late-night cookies, but we also tried a couple of their poke bowls. Tasty poke bowls, but expensive. Again we found the staff here to be pleasant. There is seating outside the snack bar, we didn't use this, but lots of families did. It's also very close to the communal bbq area, which is excellent for grabbing a portion of chips to go with your bbq.

The Vival shop at Camping Sylvamar was very convenient and of a good size. We used it every morning for bread, pastries, fruit juice, etc. The staff were friendly and we hardly ever found any queues.

Pastries were delicious, and you could get all the basics you needed in the store. If you need a more extensive shop, there's an Intermarche around 15 minutes away via bike. Prices in the main supermarket are obviously more reasonable too.
The campsite spa is lush. Also available to off-site customers, the Dune & Eau spa offers a wide range of treatments in their well-equipped area. They also provide a beautiful relaxing adults-only spa pool which is heated to 32degrees. I took a quick solo trip here one day and booked an hour at the spa pool, which as a Sylvamar resident, cost me €8,10.

The campsite has a cardio room style gym located just off of the bar area. It contains some treadmills, bikes and cross-trainers. I can't remember the exact opening times, but I'm sure it was around 10 AM.

We hired bikes for the entire week, and I'm so happy we did. It made getting to Labenne beach much more effortless and allowed us to easily explore the local area. The bike hire cost for the 2 of us for the week was €92, and we were required to leave a piece of ID as a security deposit. We hired the bikes from the tourist office. unfortunately, they only accept cash, not cards, so we had to go to the local cashpoint in the town to get money out to pay for them.

On Mondays, the campsite had ponies that allowed rides around the grounds. You could pay to ride one of these ponies at the entrance to the camp. 
Pets are allowed on the campsite, although we decided to send Kitcat to the cat hotel as we thought she'd hate a whole week in the tent. We saw lots of campers with dogs, cats and even birds. One family even lost their parrot in a tree…
Unfortunately, although we were offered free wifi when booking directly with the campsite, we couldn't get this to work on any of our devices. I'm assuming it's because the internet was overloaded. I'm glad we didn't pay for it to find out it doesn't work. So, instead, we just used our 4g from our phones (which meant paying for extra data). 
Shower blocks and laundry
The shower blocks were okay. However, they are in desperate need of a deep clean and perhaps an upgrade. The walls had lots of damp and mould, and some of the showers had missing showerheads. In addition, many of the showers were dirty in the evenings, which isn't the campsites' fault, but other customers.
There are squeegees available to clean out the shower after you have finished; I just wish all customers would actually do this instead of leaving conditioner all over the floor

The campsite does actually offer VIP bathrooms. I'm assuming you get to use these if you book a VIP pitch. I imagine these are kept a lot cleaner than the standard shower rooms.
There were two separate shower blocks in the Andalou area, which was the one nearest to us. A white one and a red one. The red one had a shower in a separate cubicle and a mirror and sink in another, while the white block was designed for families as they were more extensive with everything in one. 

All the shower blocks have laundry areas that cost €5 in coins. So I was very confused when I went to the tourist office to ask for washing tokens, and they swapped my fiver for 5 coins. I thought they must have misheard me and figured I wanted change instead.
Check Availability And Book Sylvamar Today!
Clicking the button below will open the providers website in a new window.
Available accommodation at Sylvamar Campsite
I was so impressed by the wide range of accommodations available at this campsite. Ranging from high-end mobile homes with private swimming pools to the basic camping pitches like we stayed on, camping Sylvamar offers its guests everything!

Some impressive mobile homes can support large families, some with private jacuzzis too. There are chalets, cottages, mobile homes and more. One of the accommodations I liked was the "cottage Sylvamar Kids" these came with slides attached to the deckings to keep young kids occupied, and they're also in a "no car" district.
Eurocamp and Kellair at Sylvamar
Camping tour operators Eurocamp and Kellair both have mobile homes at Sylvamar campsite. The Eurocamp accommodation is mainly at the far end of the site, and they have vistas, comforts, Azures and Aspects available.
Kellair Campotel is another well-known brand (especially with the Irish). They also have a wide range of mobile homes available.

We stayed on a camping pitch, one of the most basic ones, in fact, and whilst it was a little dry and dusty, we had running water and electricity. There are 3 types of pitches: our basic one, one with private sanitary facilities on-site, and the premium pitches with grass and a lovely decking area. I also believe the premium pitches are entitled to use the more attractive VIP toilet blocks.

Check Availability And Book Sylvamar Today!
Clicking the button below will open the providers website in a new window.
Should I Book Direct Through The Campsite Or Through And Operator? (How To Book)
We booked directly through the campsite for our camping emplacement; however, we considered booking a mobile home with Eurocamp. Though, we didn't because during 2021, Eurocamp was not running on the campsite, and Sylvamar themselves were using the Eurocamp mobiles for direct booking instead. I assume this was thanks to the Coronavirus pandemic coupled with Brexit issues.
However, if I were to rebook Sylvamar for 2022, I would definitely price compare between Eurocamp, Kellair Campotel and booking direct. Depending on the time of year you'll find each one cheaper or more expensive than each other. So it's always worth comparing prices.
Do You Need a Car to Get around?
We managed fine with just bikes. The area is famous for its cycle paths, so it's definitely possible to go without a car.
How to get to Yelloh Village Camping Sylvamar
If driving, the closest ferry port would be Santander, at 265km away (around 3 hours drive). If driving across the country, then Calais is 1041km and about 10/11 hours away. If you decide to take that crossing, I'd advise stopping overnight. 
Camping La Roche Posay is just over midway and another Yelloh village campsite I'd recommend. And exactly midway would be Domaine de la Breche which we reviewed if you wanted to find out more.
If flying, we'd recommend flying to either Biarritz, which is 25km away, Pau which is 129km away or Bordeaux, at 175km away.
If flying from Biarritz, you could get there without hiring a car, although taxis may be expensive, the trains aren't very often, and the train station is 4km from the campsite. Therefore I would probably recommend hiring a car. Though, you may find you only use it to get to and from the campsite, especially if you hire bikes.
The closest ferry port would be Santander at 265km away (around 3 hours drive)
Address:
Camping Sylvamar
59 Av. de l'Océan, 
40530 Labenne
GPS Coordinates: 
43.597704, -1.458267
Day Trips from Sylvamar campsite
There are so many beautiful places to visit in the area, you'll already know a few if you've read our review of the Natureo campsite in Hossegor. However, I'll list a few more of them here so you can really see just how much there is to do here.
Labenne itself has so many places for a day out. All within walking distance of Sylvamar campsite. Firstly, you have the beautiful Atlantic beaches on your doorstep. Then, there's the aquatic park literally next door to the campsite. Finally, let's not forget that Labenne has both a zoo and a reptilarium, perfect for animal-loving kids.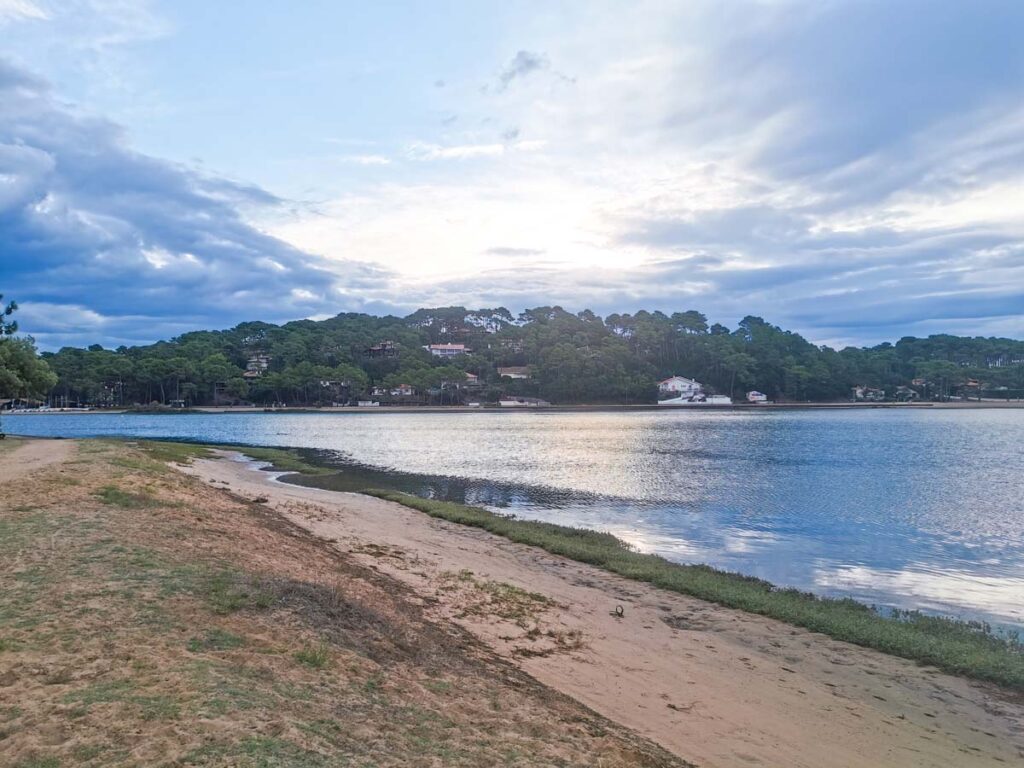 As many of you know, my favourite town in the whole of France. Hossegor has the perfect mix of nature and life. The town is small but excellent for people watching, the beaches are incredible, and the lake is ideal for sports and relaxing. They even have kids clubs around the lake beaches. Watch our Hossegor video on Youtube to discover more about this town. 
This was such an incredible day out. Located at lake Guiche about 45 minutes drive from the campsite. There are so many activities here. You can do the massive water jumps (via rubber ring, body/surfboard or on your body. You can do the inflatable circuit, zipline and dive into the lake. You can hire paddle boards and canoes – or you can just go there for the day and relax. There is a snack bar for drinks and lunch, so you can easily spend a whole day at Base De Pop.
If Labenne waterpark isn't enough for you. Just down the road in Seignosse, there's another aquatic park! There are paddling pools for toddlers, 23 slides for the older kids, lagoon rivers and plenty of sun loungers for adults to relax on.
The Musee de la Mer, or the museum of the sea to us English speakers, is situated in Biarritz. Here you'll find all sorts of marine life, including 7 sharks, Jellyfish, rays, turtles, octopuses and more. You'll also find the City of the Ocean, a museum that helps you better understand the why's and how's of the ocean.
Check Availability And Book Sylvamar Today!
Clicking the button below will open the providers website in a new window.
Frequently Asked Questions
Are the mobiles close together?
I thought there was a reasonable amount of space between most mobile homes, but it really depends on what you've booked. The more premium homes direct with the campsite definitely have more space.
Yes, perfect for pushchairs, scooters, bikes and wheelchair users.
Are there mosquitos at Camping Sylvamar?
Yes, although not as many as I expected. I imagined I'd get eaten, but actually, we had it worse 2 weeks later in Paris. They really weren't a massive problem here.
Is it easy to get a sunbed around the pool?
We had difficulties on the very sunny days at peak times, yes. However, we just left our bags at the side and went in the water. When we came out, there were loungers available.

Do you need to wear a wristband?
Yes, the campsite has an intelligent wristband system which means you scan your wristband to get into the pool area, premium toilets, and you can even top it up and use it to pay in the shop!
Do men have to wear swim trunks?
Officially yes, although not everyone was following the rules, we saw many people in regular swimwear.
We saw a few people with bbq's on their pitches, although we are unsure if this is allowed as there are also communal bbq's around the site. I would say that they are not permitted at your pitch, and some people were just breaking the rules.

Are Inflatables allowed in the pool?
In promotional videos, people were using the lazy river in yellow inflatable rings, although we didn't see these available, and we didn't see anyone using their own. So I would assume no.
What's the weather like in Spring/Summer?
The Atlantic coast can be very hit and miss. You'll find a lot of mornings it'll rain and the afternoon will be bright sunshine. We were so fortunate with the weather during our stay at Sylvamar campsite. We had perfect sunshine for the entire week. But like I said, it can be hit and miss – though I doubt if you book in Summer, it'll rain all week.
Can you park on your pitch/Emplacement?
Nope. Not everywhere. Many of the emplacements have parking away from the pitch. The camping emplacements all allowed cars, whereas the Eurocamp emplacements, the kid's district and many other campsite areas were car-free.
Can you take pets on the campsite?
Yes, pets are allowed on site, although you will have to pay a supplement for this.
Where's the nearest supermarket?
The nearest supermarket is Intermarche in Labenne. However, it's 3.5km away, which means 6 minutes via car or a 40-minute walk.
Is It Loud In The Evenings?
Oh, My GOODNESS YES!! So Loud. I'm not sure if the low season would be the same, but it was insanely noisy in high season and staying in a tent. Especially around the area, we were staying. One night we were kept up by an event next door with loud music, a megaphone and fireworks till around 1 AM and other nights, it was rowdy families partying by the snack bar.
I mean, I'm not sure what I expected – it's a busy, loud site with evening entertainment.
Thankfully the white noise that we used helped the baby stay asleep…unfortunately, it didn't work so well for us.
What Can We Do If It Rains?
Can I Use My Transferwise Card On SIte?
I don't think I used cash once during our week-long holiday. Even when buying pastries that cost a few pennies. So yes, cards are widely accepted around the campsite. 
Check Availability And Book Sylvamar Today!
Clicking the button below will open the providers website in a new window.
We're so divided on this campsite.
On the one hand, you have these fantastic, newly renovated pool facilities. Particular emphasis on health, wellbeing and sports. A massive animation schedule and the addition of the new amphitheatre. Smart technology watches, bringing campsites up to the digital age. Lovely community-focused events like welcome drinks, salsa dancing, quizzes and aperos. Fancy VIP and luxury pitches and accommodations. All situated under the beautiful Landes trees, in the tourist resort of Labenne with its wonderful beach.
Then,
On the other hand, you've got a park and bodyweight gym in desperate need of upgrades. A restaurant that takes too long to get their drinks out. A mini disco that starts 2 hours after kids bedtime. Extremely busy check out queues and Dirty and broken shower blocks. 
So, I'm torn. Perhaps I hyped this campsite up too much. It was one of those sites we were desperate to visit. And maybe, it was just kinda underwhelming in comparison to what I thought it would be like.
Had our toddler been older and able to go to the kids club, would we have had a different opinion? Perhaps. Maybe then we could have made the most of the activities available.
I do genuinely think this is a fantastic campsite, for all the activities and entertainment they offer. You'll search hard to find somewhere with as much emphasis on sports and tournaments that camping Sylvamar has.
Plus, it really is in a fantastic location.
But maybe, something was just missing for our family. I'd like to return one day when our toddler is older and stay in one of the mobile homes. I wonder if being away from a dry, dusty pitch and the loud, late-night noise would change my opinion?
I would recommend this Camping Sylvamar to young families. Who enjoy lively campsites with a range of activities.
I'm going to give it a 3/5

Check Availability And Book Sylvamar Today!
Clicking the button below will open the providers website in a new window.